This year has not been very great so far for smartphone manufacturers. Suppliers have faced uncertainty over the Russian-Ukrainian war, ongoing quarantine in China and the threat of inflation. All this is superimposed on the traditionally low seasonal demand. In the first quarter of 2022, global smartphone shipments fell by 11%. According to Canalys, Samsung continues to lead the market with a share of 24% compared to 19% in the fourth quarter of 2021. With 18% of the market in second place is Apple. This is due to good performance in the first quarter due to the growing demand for the iPhone 13 series. And Xiaomi continues to confidently hold third place thanks to its Redmi Note series. OPPO (including OnePlus) and Vivo topped the top five with shares of 10% and 8%.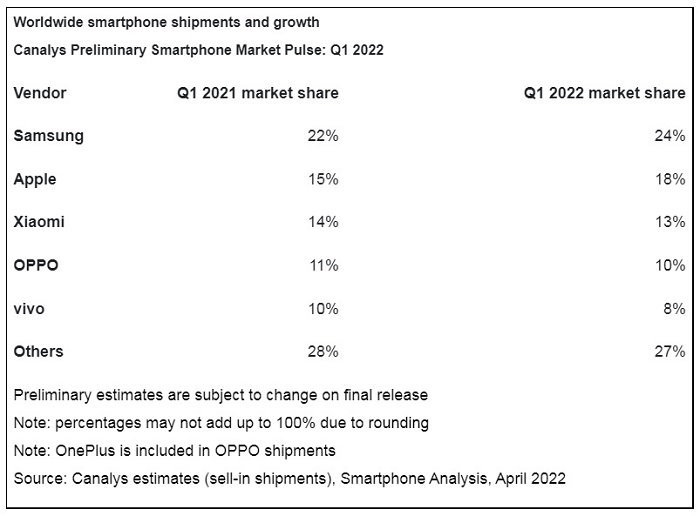 "Despite the looming uncertainty in global markets, the leadJing vendors accelerated their growth by broadening device portfolios for 2022," said Canalys Analyst Sanyam Chaurasia.
While the iPhone 13 series continues to attract consumer demand, the new iPhone SE, released in March, has become Apple's sales engine. For the same price as its predecessor, it offers updated chipset and improved battery life, and adds 5G support. At the same time, Samsung has increased production of its popular A series to compete in the middle and budget segments, updating its portfolio in 2022, including the flagship Galaxy S22 series.
You can also help Ukraine fight with Russian occupants via Savelife or via an official page of the National Bank of Ukraine.
Read also: