In our modern world of industrialization and globalization, standards are very important. And where standardless chaos reigns, it is impossible to conduct business or even develop civilization. There was also chaos in the world of photography and videography, which was associated with platforms.

With quick release platforms for cameras and camcorders. Before the appearance of the hero of the review, Arca-Swiss, the situation resembled different charging standards from different mobile phones. One charge for five brands and wireless headphones? Don't even dream about it!

But by today, fortunately, the clouds of selfishness have dissipated, and just as USB Type-C rules the industry, so Arca-Swiss has spread around the world and greatly simplifies life for those who have a camera as a fifth limb, and not a box with lenses. And yes, the Ulanzi Claw Generation II platform helps a lot with this.
Also I express my gratitude to the DreamTech store for their support in creating the material.
Video review of  Ulanzi Claw Generation II
Don't want to read? Watch the video:
Standard's history
For starters, let me clarify. The Arca-Swiss standard for quick release platforms is NOT the only one in the world. There are at least the Manfrotto RC2 and Manfrotto 501 platforms, for photo and video, respectively, which are less popular, but very well known and actively used.

Moreover, there are platforms that are compatible with both Arca-Swiss and Manfrotto RC2. They exist, and that is very good. But below we will only talk about Arca-Swiss, keep in mind.
If you think that Arca-Swiss is some kind of universally recognized and international standard adopted by a consortium a la USB Implementation Forum, then no. The company of the same name was founded in Zurich, Switzerland in 1926.

At that time, as I understand it, it did NOT manufacture cameras, but it repaired them quite successfully. And its first professional camera was created in 1952. And so it went on and on. By the way, it was the late Ansel Adams who used the Arca-Swiss cameras, if anyone knows.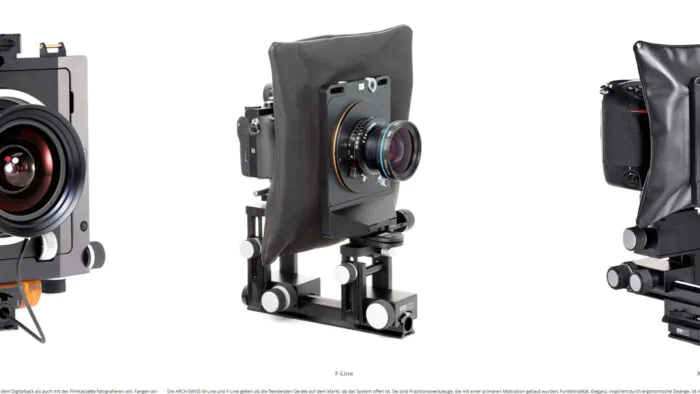 It is interesting that in 1964 the company created a hinged head, which quickly established itself as the most reliable in the world at that time. This inevitably laid the foundation for the creation of the very Arca-Swiss quick release platform in the 1990s.
It consists of two things. Plate and clamping platform. The plate has a profile a la dovetail, with a cut angle of 45 degrees. I can't say with 100% certainty that this standard is public, but given how much it has spread around the world…

Well, in general, it will obviously be easier for you to make a hinged head using it than an accessory for Lightning or MagSafe. However, if you know more than me – do not forget to write in the comments whether I am right or not.
Merits and analogues
The bottom line is that this platform has proven to be reliable, easy to use, and has taken over the market very quickly. My evidence is simple – you, without knowing it, can buy a mid-budget or even a budget tripod or video head.

And it will have a platform with the Arca-Swiss profile. Even if it is NOT mentioned on the official page. An example is the Promate Precise-155 tripod. Bought by me and broken in not the easiest times for me. But the articulated head remains and the platform is absolutely compatible with Arca-Swiss.

So yes, insane availability and very impressive cheapness are on its side. The Manfrotto RC2 has its advantages, as the platform is set FASTER and with one hand, although it is much more difficult to remove. And the clamp there can be more reliable.

It's funny, by the way, that Ulanzi just solved the problem of the speed of removal and installation and solved it perfectly.

As for Manfrotto 501… This is the same Arca-Swissin its essence, but larger in area, with a heavier clip, and from Manfrotto, so it is more expensive and not so common. And Arca-Swiss is made by a bunch of people, and frankly, not every instance fits the standard perfectly.
Ulanzi Claw Generation II
Now let's move on to Ulanzi, who simply adjusted everything to perfection. That's how much happiness the company sent me when I asked for Ulanzi Claw Generation II platforms.

Why? Because I was very happy with the first generation Claw, but the second one solved ALL my claims to the first one.

Instead of a reinforced concrete mount with a great, but still articulated head, here is 1/4 inch from the bottom. The platform does not protrude upwards like a hinged head, but it is high enough that fingers can crawl into the gap between, say, a camera and a teleprompter, like mine.

Plus – a profile compatible with Arca-Swiss. That is, the same MT-47 tripod, and this tripod is now useful! Because instead of a standard platform I can mount the Claw 2nd generation platform on top!

And since both my favorite Blackmagic Pocket Cinema Camera 4K and my Panasonic Lumix G7 already have the Claw platforms screwed the bottom, I can move the cameras from my Manfrotto tripod to the teleprompter, from the teleprompter to the small tripod…

I can even hang it on my belt thanks to the amazing Claw belt mount.

Which is clamped dead and can withstand up to 2.5 kilograms of load, and comes with a magnetic coin, which you can use to unscrew or tighten the flat screws, say, on the Claw platform.

The size of the coin turned out to be the same as 2 hryvnias, 20.3 mm in diameter and 1.86 mm in thickness.

Features and price
As for the other interesting things, there are 1/4 inch holes on the base, as many as seven in different places, in order to fasten it with two screws at once.

Of course, if the accessory has any. The maximum load is still 50 kilos, there is a metal sliding block against accidental unfastening.

AND! I absolutely justified the fact that the 1/4 inch screw can be completely unscrewed from the platform. This helped me a lot, because, say, the SmallRig NP-F power adapter cannot be installed on the platform, because it has its own screws that work only in one direction.
And these screws can be screwed to the platform from which its screw is removed. And after that, you can hook the adapter to the base, already screwed to the clip on the tripod leg, or wherever you want.

Yes, it's kind of DIY, but I have material being prepared about how troublesome the cage for Blackmagic is. It's not about DIY, but it's fun in its own way.

Of course, the Gen 2 Claw system is reverse compatible with the Gen 1 Claw wherever possible. Well, the price is $15 for the base with Arca-Swiss, $16 for the platform, $30 for the full set and $57 for two sets. Oh, and $50 for a belt clip.
Drawbacks…?
I will single out one moment as disadvantages. Not the price, it is justified, these are not plastic tripods WITH A PLASTIC SCREW. This is all full metal that will survive the universe if you do not hang 100 kilograms on it.

No, the fact is that Arca-Swiss often comes with special screws that prevent the equipment from slipping until it is fixed. For example, the MT-47 has them, BUT ON THE PLATFORM, and not on the clamp. Therefore, let's say the 2nd generation Claw slides at any direction.

These screws are NOT an obligatory part of Arca-Swiss as a standard, here everyone decides for himself, and Ulanzi has such screws, you see for yourself. I even lost one, because they goy in the way with me. But it can be better, as you see.
Conclusions on  Ulanzi Claw Generation II
Summing up, I will gradually transfer my entire studio to this standard. Lights, microphones, recorders, cameras, everything that I will have, sooner or later will be fixed with Ulanzi Claw Generation II.

I DO NOT advise everyone to switch to it in general, of course, these things are not suitable for expensive production. The loads are much more significant there, and the requirements are very different. But I recommend it straight away even for mid-budget shootings. As well as Arca-Swiss, in fact, but there are no surprises here.
Read also:  Synco MMic-U3: 5 THINGS to know about
Prices at AliExpress
You can also help Ukraine fight with Russian occupants via Savelife or via an official page of the National Bank of Ukraine.