Hello everyone, I'm Vladislav, the editor of a popular site about gadgets, and I seem to be behind the times. I realized that after I got XGIMI CC Aurora projector for testing. Which turned out to be not quite a projector. For some time I rejected the offer to try it out and in every way evaded this review. Which, however, is not surprising. When I heard the word "projector", what was I thinking about? I imagined a traditional projector, of course. Surely many of you have seen such a device at presentations or lectures. A huge thing which must be connected to a PC or laptop with a cable to show slides or video from it on a large screen.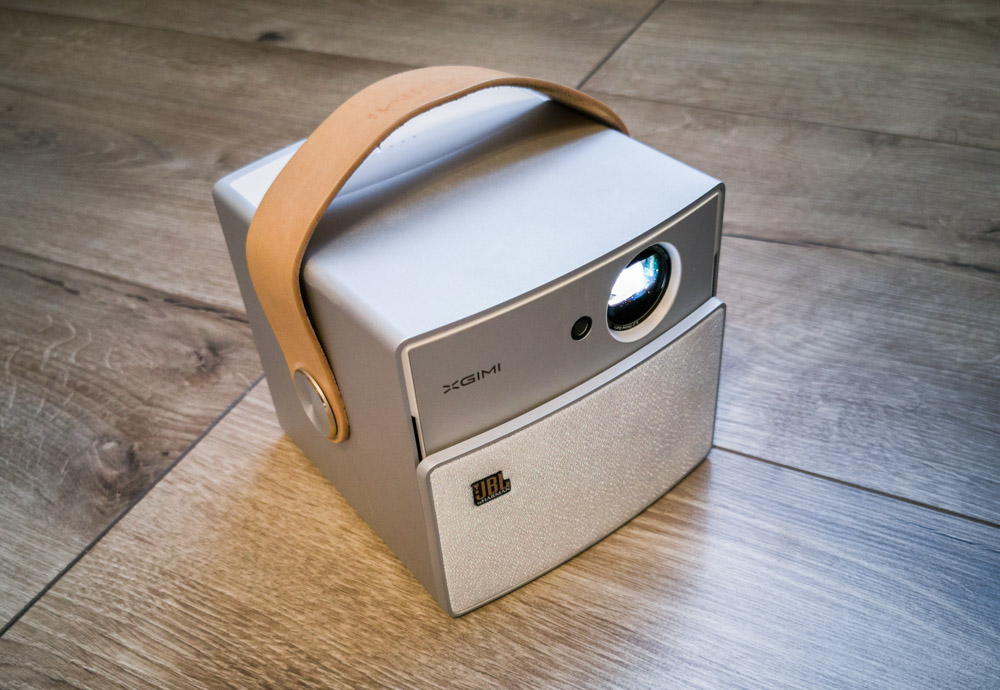 But when the courier handed me a compact, pretty, slightly rounded cube with a handle, I was a taken aback. And I got more than one portion of surprise when I started using this gadget. It turned out that the XGIMI CC Aurora is a mobile mini-PC for Android with a battery, a projector and a built-in JBL speaker. And it is capable … Yes, really – of a lot! Let's figure it out.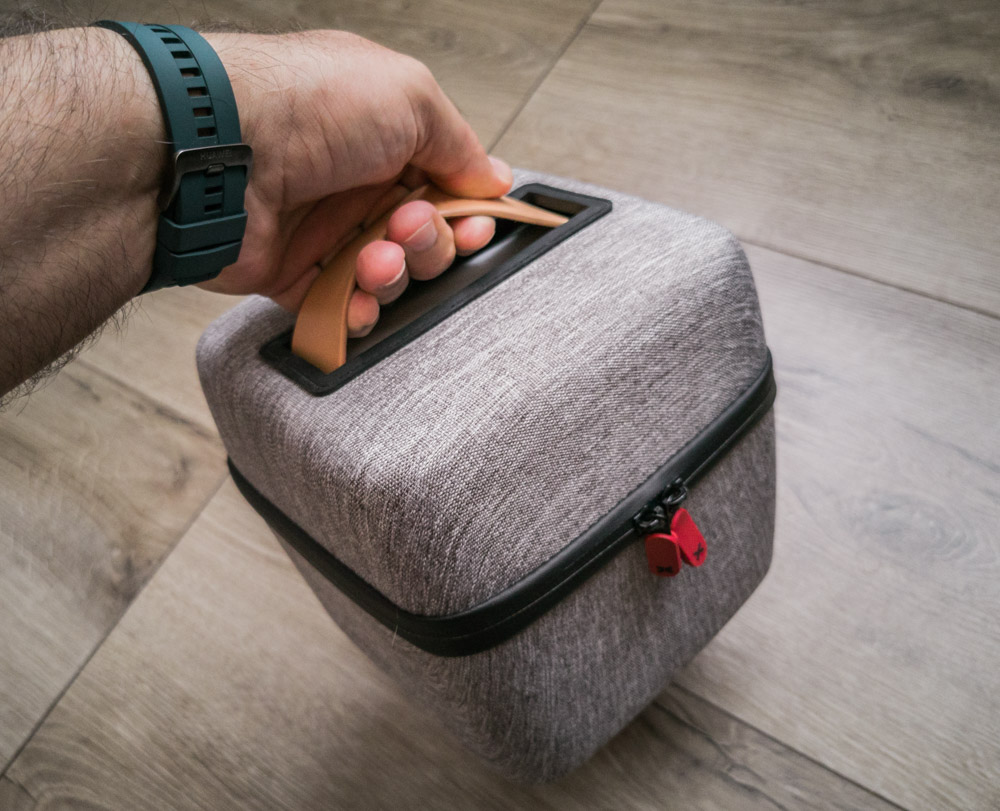 Specs
In order to fully understand all the capabilities of the device, it is worth stating its main technical parameters. The hardware here is not very powerful – MSTAR 6A638 processor, Mali-T720MP21 graphics accelerator, 1 GB of RAM and 16 GB of flash memory, of which 5 GB are occupied by system files, so the user gets only 11 GB for all needs. But in principle, this is not a problem, since you can connect external drives.
Other characteristics:
Native matrix resolution: 1280×720
Supported Resolution: 1920×1080, 2K, 4K
Contrast Level: 5000:1
Category: Home Cinema
Image Aspect Ratio: 16:10
Diagonal of the screen, m: Maximum: up to 4.57
Noise Level, dB: 30
Input Ports: HDMI 2.0 x 1, USB 2.0 x 2
Output Port: Headphone x 1
WiFi: dual band 2.4/5 GHz, 802.11a/b/g/n/ac 2×2 dual antennas
Bluetooth: 4.0/BLE
Up to 8 hours of watching video from the built-in battery
Up to 12 hours of music non-stop from the built-in battery
Acoustics: JBL
Auto Focus Dimensions (WxHxD): 138 x 135 x 119 mm
Weight, kg: 1.5
Light Source: LED 20 W Projection Ratio: 1.1:1
Brightness: 350 ANSI Lumens
Technology, matrix: 0.3 "DMD RGB-LED
What's in the box
For starters, what we have in the box. The device itself, of course. By the way, the handle is the device's just pass through a slot in the case, made of leather.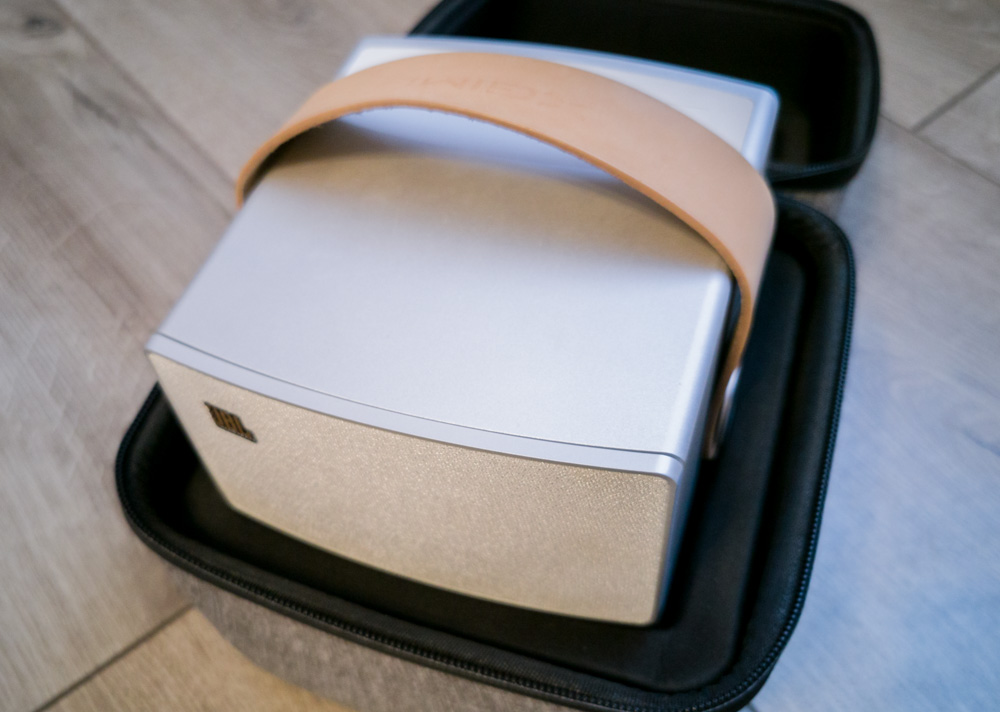 Below the projector we find a power adapter that looks like a laptop's, the control panel issmall, then the HDMI cable and instructions in different languages. There is also another spare handle.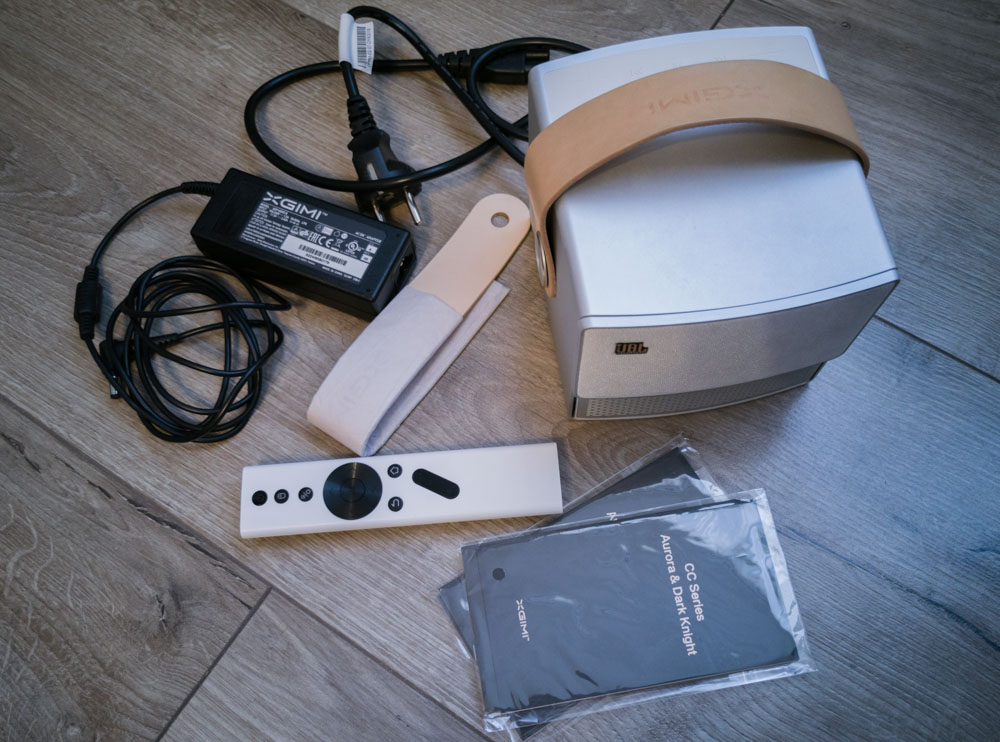 Unfortunately, they gave me a device without 3D glasses and a tripod. It turns out that these accessories are often offered with a projector, but not in our area. These items will have to be purchased separately if you wish.
Design, materials, build quality
XGIMI CC Aurora has the shape of a cube, but the front and back panels are slightly curved. And the upper and lower ribs are rounded. The main body material is aluminum.
The back panel is made of high quality plastic. At the front there is an aluminum grill at the bottom and a plastic slide-down panel with a textile insert and JBL logo. When the shutter slides down, the projector's lens, camera sensor, and XGIMI logo open.
Simultaneously, the device turns on, which is signaled by iridescent LEDs on the rubberized panel on top. Immediately we see three mechanical playback control buttons and touch volume buttons.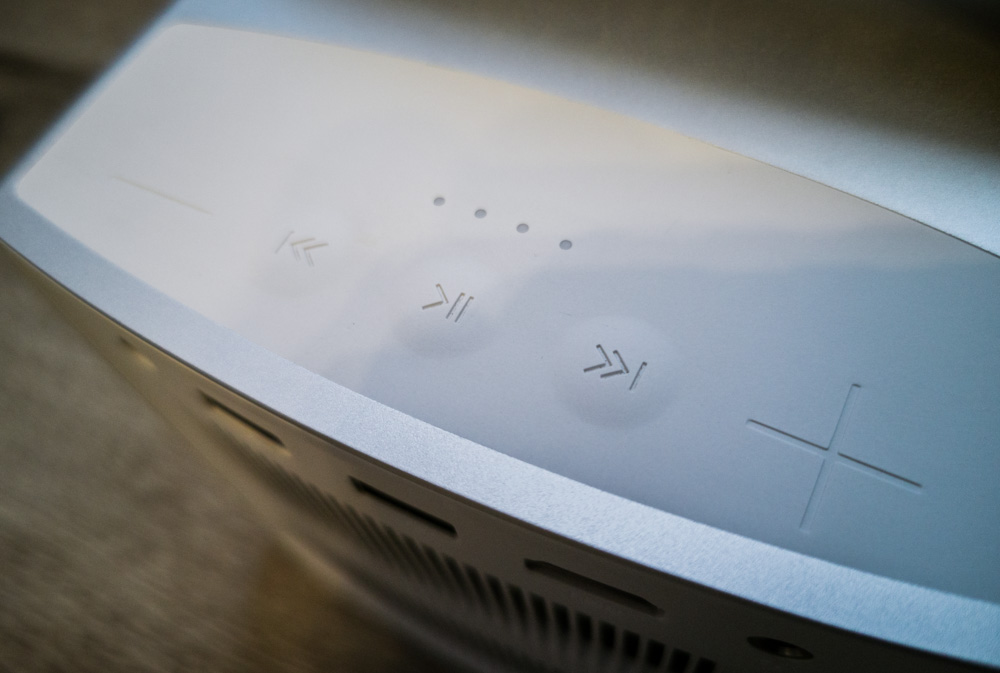 The entire rear panel is occupied by the cooling system grilles and a number of ports at the top for the power adapter, 2x USB, HDMI and 3.5 mm coaxial audio output.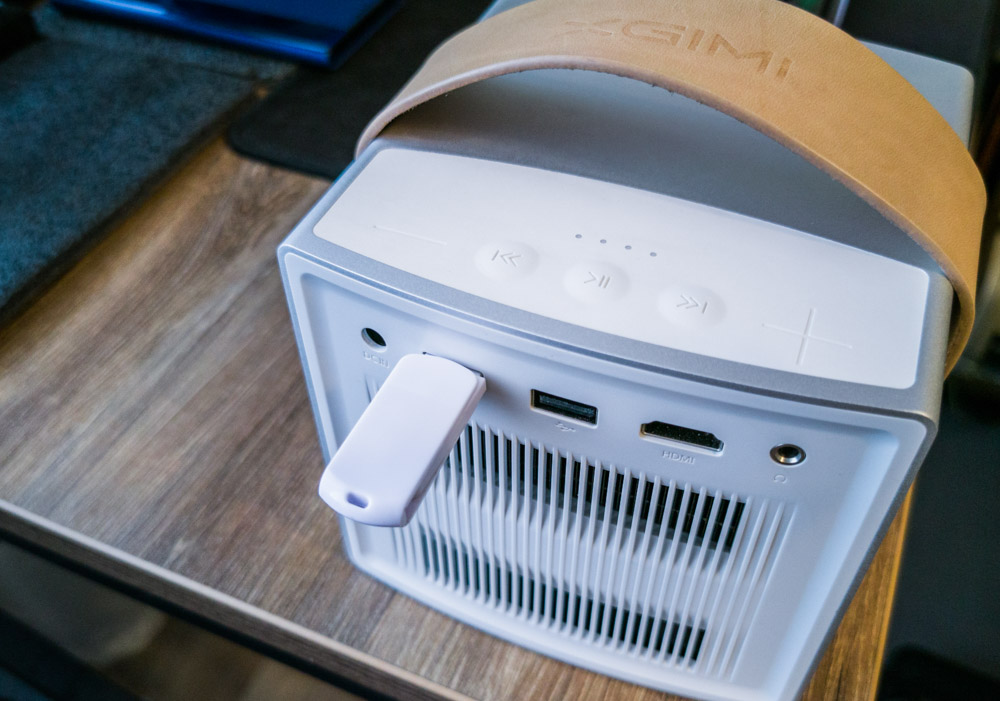 Below there are 4 rubber legs and a threaded mount, with which you can install the projector on a tripod. There are various inscriptions and official information.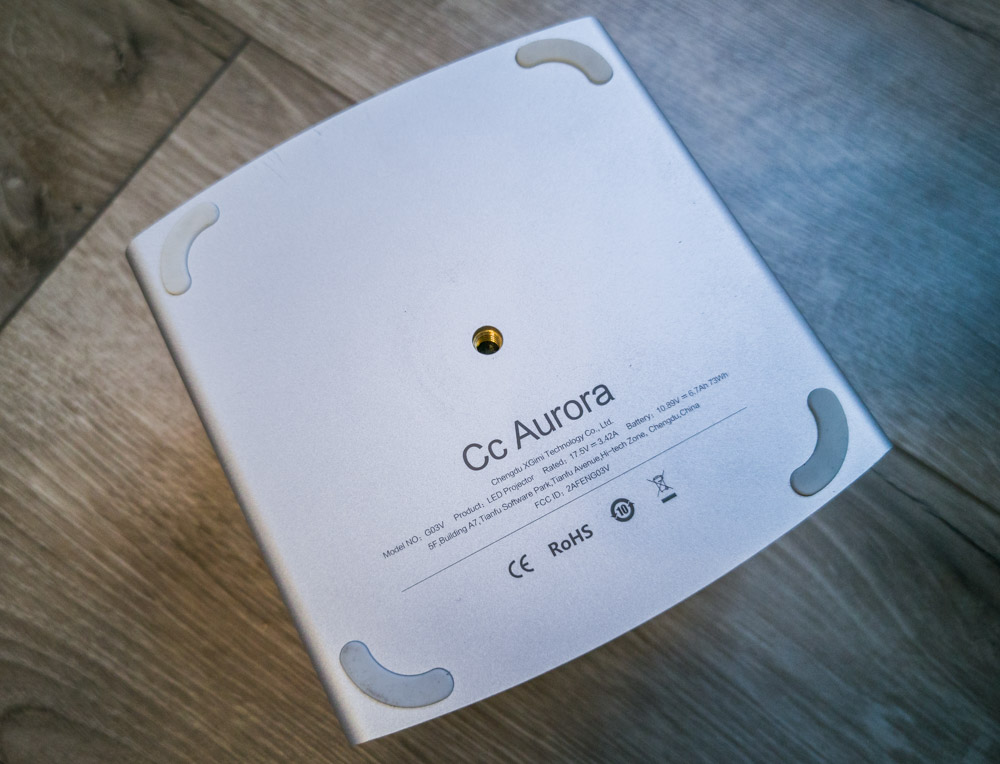 Key Features of XGIMI CC Aurora
Naturally, the main purpose of the projector is to use it as a home theater. XGIMI CC Aurora can show you both regular and 3D video. At the same time, it can play any video files from the internal storage or from an external media connected to USB. Of course, connecting a PC or laptop via HDMI to the projector is also possible and then it will work just like a traditional projector. You can also stream videos through the YouTube built-in app or browser!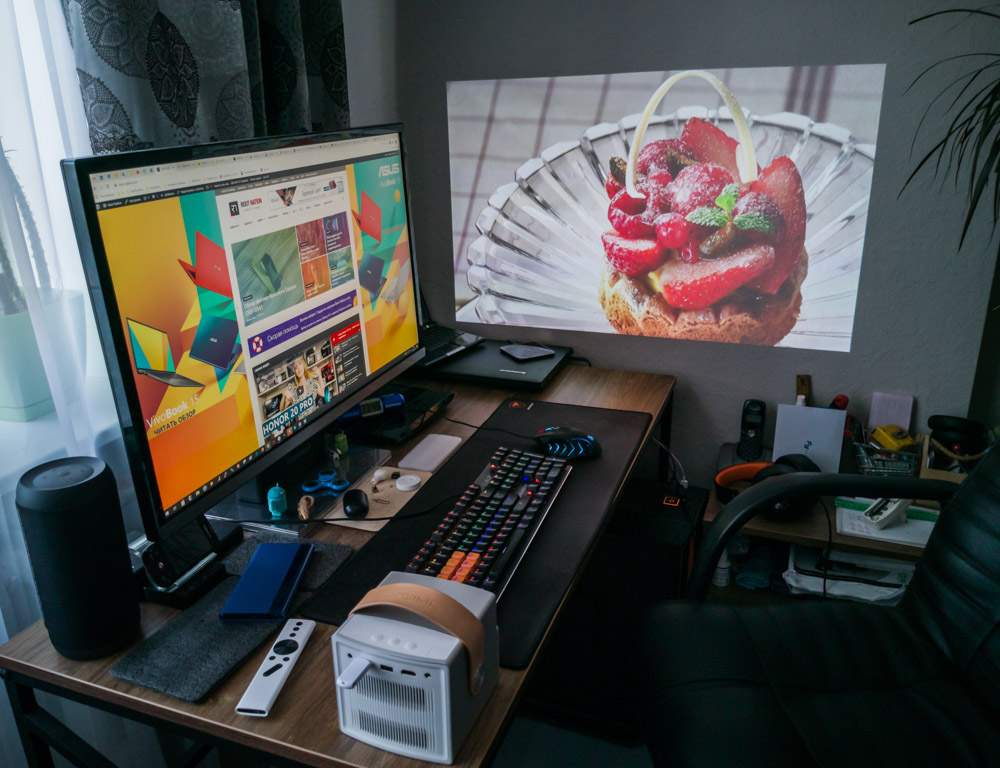 Yes, since we're talking streaming, it's worth noting that XGIMI CC Aurora is equipped with an excellent 5th generation dual-band Wi-Fi ac module, which greatly expands its application model. In addition, there is also Bluetooth for connecting a bundled remote control and other accessories, such as a mouse, a keyboard, or an external audio system. Also, through a special proprietary application, you can connect a smartphone (iOS or Android) to the device and use it both for remote control and for playing content from it through a projector. Now this is just awesome.
Activating and adjusting the picture
When I first turned on and set up the picture, I was surprised at once by several nuances. I thought that the projector needs a screen, but this one projects an image onto any bright and flat surface. In addition, it does not necessarily need a large distance to the wall. Rather, the greater the distance, the greater the "diagonal" of the image you get. But the closer – the higher the brightness and sharper the picture. In general, the effective working range starts from about 30 cm, which gets us a picture with a diagonal of about 12″. About a meter from the wall gets us a 42-inch image. And if you want a full-fledged cinema, move it further, about 3 meters, and enjoy the image diagonal a couple of meters in. Can you imagine the cost of a TV with such a diagonal?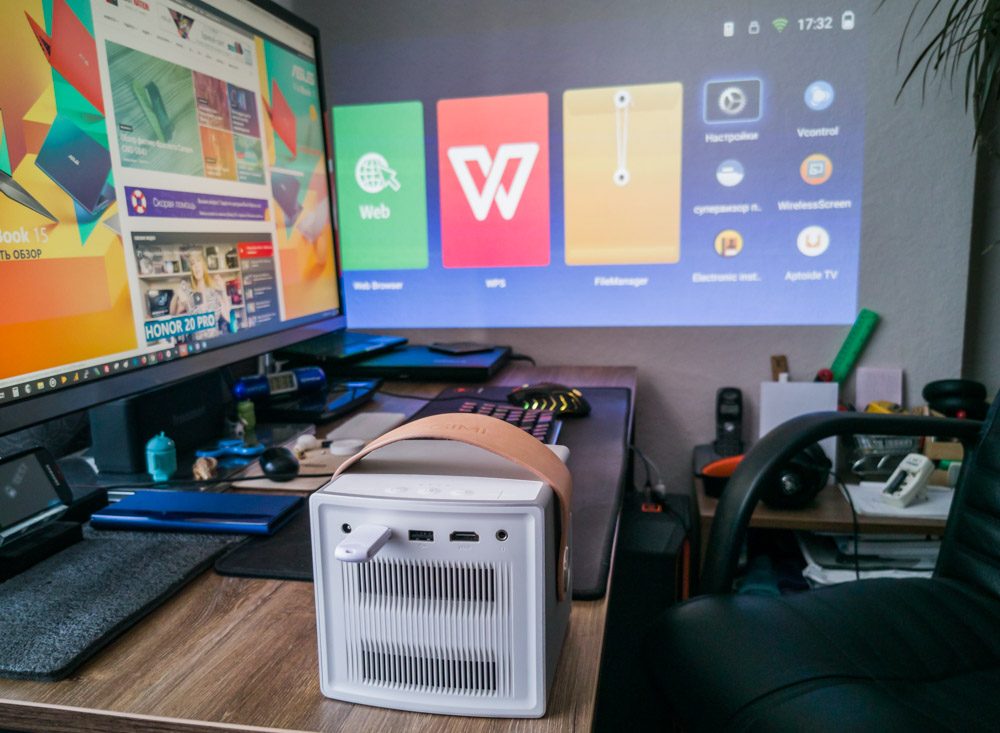 And here I want to note 2 more important points. The projector is absolutely mobile and does not depend on the location of outlets. Put where it is convenient and where there is a place for it. In addition, the autofocus system works just fine and does everything by itself and from any distance. Although the ability to manually adjust the focus and adjust the keystone of the "screen" are also available.
In addition, you can adjust the image scale, adjusting the image to fit the size of the available space. Really very cool and most importantly – simple. In principle, even if you install the projector slightly at an angle or not in the center of the "screen", you can adjust the image using software.
In the context of such mobility and compactness, you can immediately imagine a lot of user cases for XGIMI CC Aurora outside the house. You can take the projector to the countryside or on vacation or even on a camping trip or use it anywhere and anytime, for both entertainment and business purposes. The projector literally adjusts to any conditions.
I also want to note the high brightness of the LED backlight. It is not necessary to wait for the night or to shut up the room with blackout curtains to comfortably use the projector. But of course, if you want a complete immersion in cinema mode, it is better to watch movie shows in the dark. Here I want to note that in total there are five levels of backlighting – Standard (the brightest automatic), Office (the image turns yellow), Battery mode, ECO and User mode in which you can adjust the brightness from 0 to 9 and adjust the color reproduction manually.
As for the quality of the picture, it is excellent. Perhaps because this is the first projector on my test and there is nothing to compare with. Yes, pixels can be seen at close range. But at a typical distance for watching a video everything is very good.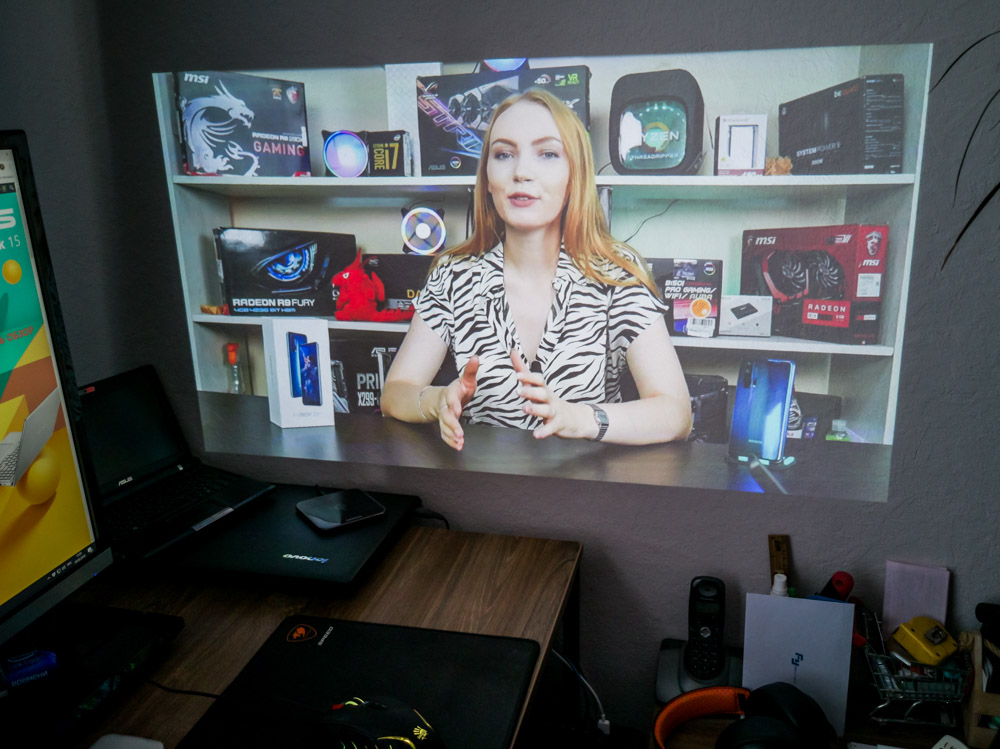 Sound
Separately, I want to note the sound component of the system. As you already noticed, the projector is equipped with built-in JBL speakers, which consist of two 40 mm speakers and a low-frequency resonator. The sound quality is quite decent. But if you wish, you can connect external speakers via Bluetooth or 3.5 mm output.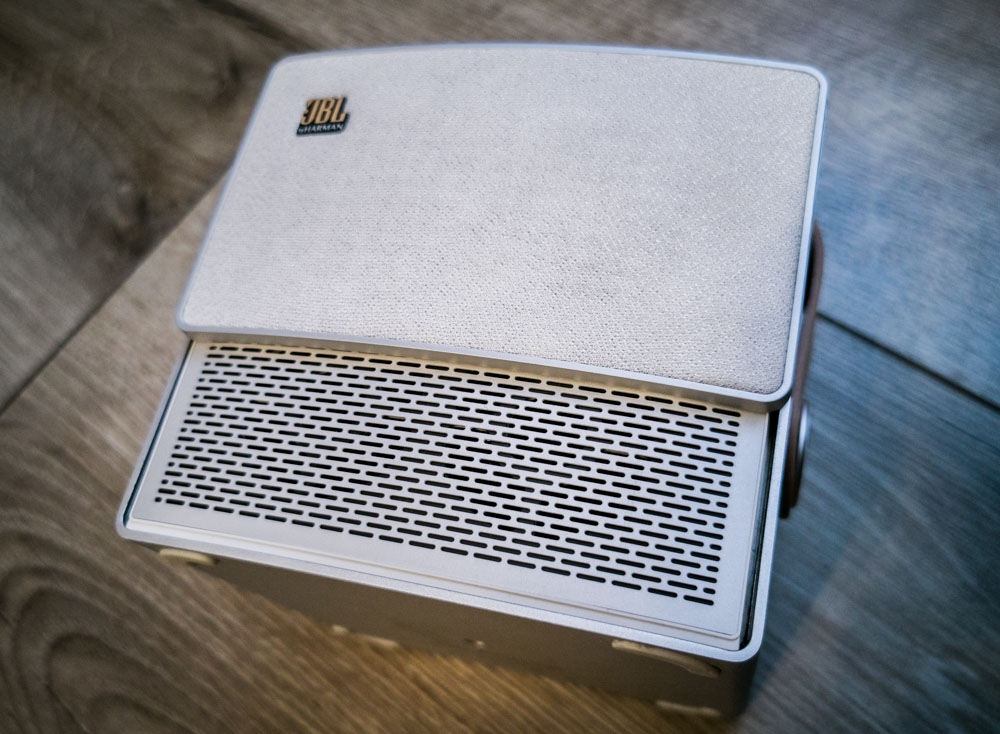 In addition, the projector can act as a standalone wireless speaker paired with your smartphone, for example. Or just play music from internal storage or external media. Playback control is carried out through the buttons on the case or from the remote control.
System and software
Yes, the projector is running Android OS. But the system is old – version 5.1.1, which is somewhat frustrating. As well as the fact that Google Play services and the application store are missing here. Accordingly – you can use the programs that are already on the device or install APK files. Also, the projector is preinstalled with a third-party Aptoid TV store, where in fact there is almost everything necessary for this class of devices. Of course, it is not Google Play, but still.
The projector interface is simple. There is a quick switching of sources, then there are large shortcuts to the main applications – YouTube, Chrome browser, KingSoft Office WPS office suite, file manager. Next are the shortcuts of all applications.
If you have difficulty setting up or using the projector, then there is a detailed, well-structured step-by-step instruction that is displayed directly on the screen in the form of slides.
Not just video
In addition to the main use as a home theater, you can use XGIMI CC Aurora projector as a karaoke system. There is a built-in player that projects the lyrics to the "screen".
Also, in the browser, you can do anything you want from what you do in the browser on your PC or mobile device – surf the Internet, chat on social networks.
Games? Of course, you can simply display the image from a PC or game console and enjoy gaming on the big screen. But you can also install any game from the Aptoid TV store or the APK file, connect the gamepad and go!
Control
The main element for controlling the projector is a compact remote. It is powered by 2 AAA size batteries and it is not infrared, but is connected to the projector via Bluetooth. Which is kind of very cool and expands the possibilities of use. In addition to buttons for basic actions (volume, home screen, return, joystick to move between items and selection buttons, context menu buttons), the remote control can be switched to mouse mode, which works with the help of accelerometer. Just move your hand in the air to move the pointer and click on the elements with the OK button.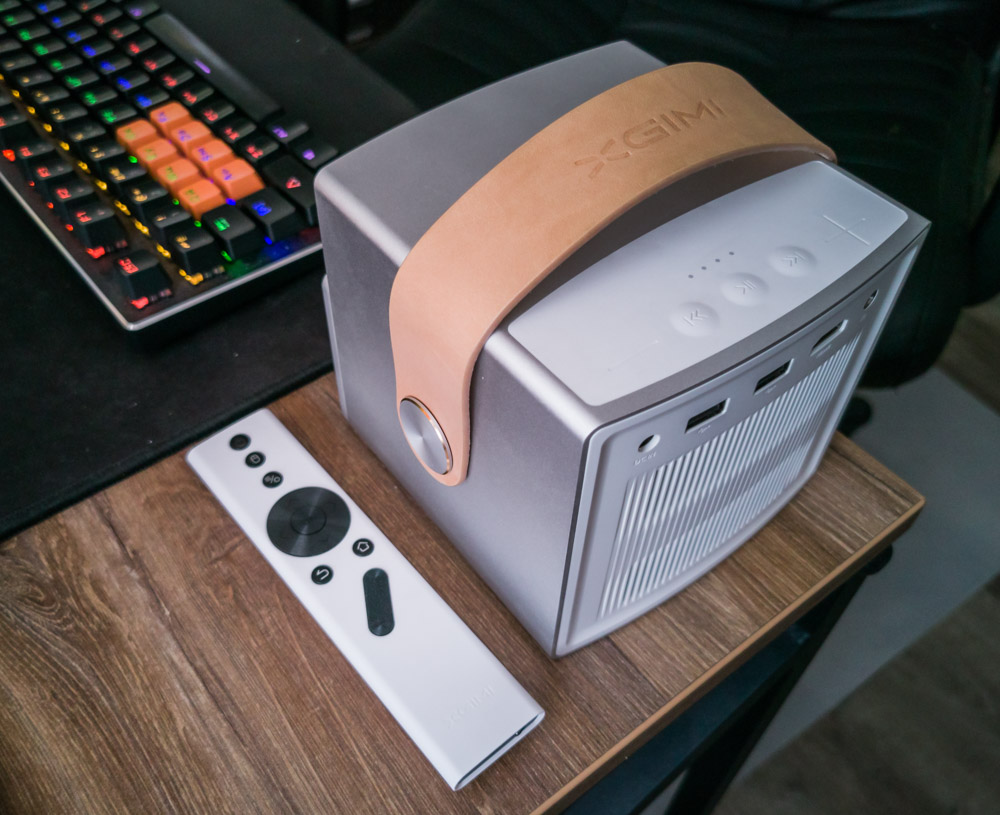 Also at the rear end of the remote control there is a miniature switch with which you can activate the manual focus mode with the volume buttons.
In addition, you can connect any manipulator to the projector – a keyboard, mouse, touchpad, gamepad and use them to control the projector and navigate through the interface.
It is also highly recommended that you install the XGIMI Assistant application on your smartphone or tablet and connect it to the projector. After that, you will have a lot of opportunities. The smartphone can work as a replacement for the remote control, as a touchpad, you get access to the menu with the basic settings. You can also start broadcasting (Mirroring) the smartphone screen through the projector.
Battery life
This point mainly depends on the brightness of the backlight during operation. With maximum brightness, you can expect about 3 hours of continuous operation. In ECO mode – about 8 hours. In music playback mode, the device can work for about 12 hours. A full charge from the bundled adapter lasts about 3 hours.
Cooling system
Everything is fine. At any intensity of use, the temperature does not exceed 60 degrees. The cooling system is very quiet, not annoying at all. It does not interfere with viewing the video.
Verdict
To be honest, at some point I even started to want a similar gadget for myself. The idea of ​​a large screen anywhere and anytime – an inspiring thought for sure. In general, XGIMI CC Aurora looks like the perfect projector for home. It even can be used not only at home and not only for entertainment.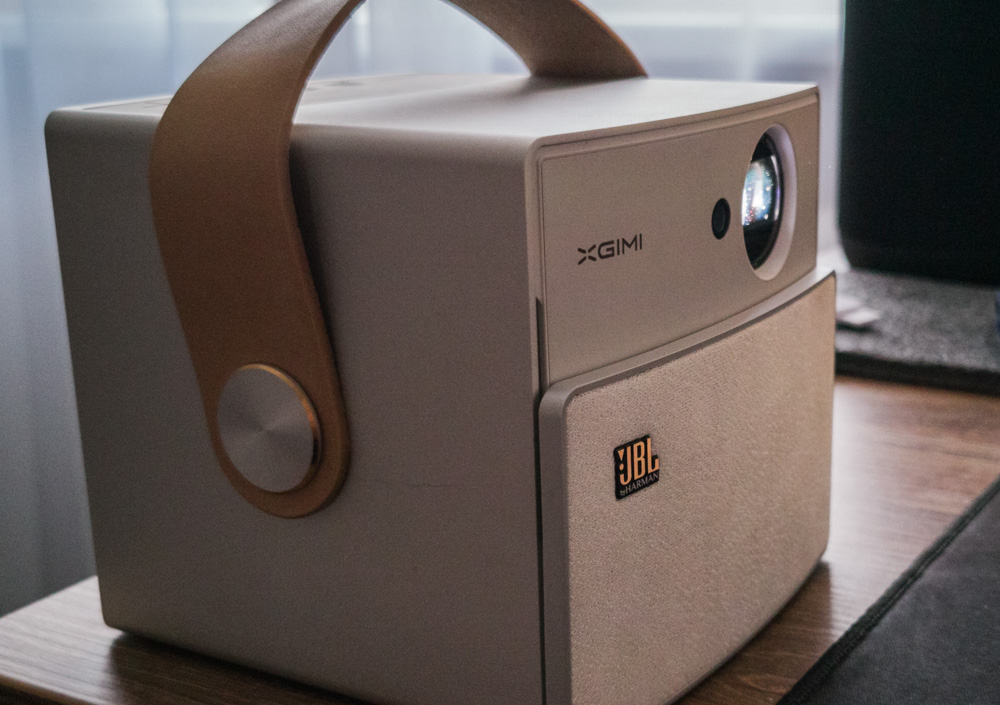 Of course, this projector also has disadvantages. They are mainly associated with weak hardware and an outdated version of the system. Limited software and the lack of Google services are also a little depressing, which means that it is impossible to conveniently install and update applications.
In general, I really liked the idea of ​​this device. In one compact cube we get a multimedia player for films, videos, games and other entertainment, and of course, for work. Since this is the first Android projector for me, it is difficult for me to compare it with competitors. XGIMI CC Aurora costs a lot – about $500. But it seems to me that the price of the device is justified by its wide capabilities. In general, I recommend paying attention to this gadget – maybe this is exactly what you need!
Subscribe to our accounts: