Microsoft wants everyone to love the new Windows 11, but it has quite a few problems. Let's talk about the most glaring ones today.
New doesn't mean the best?
This is the question I ask myself every time Microsoft releases its new Windows. It just so happened that I have been familiar with Microsoft OS since Windows 3.0, and I've seen it all – the good, the bad and the ugly. Every time you wait for a miracle, you hope that they listened, but these expectations are not always justified.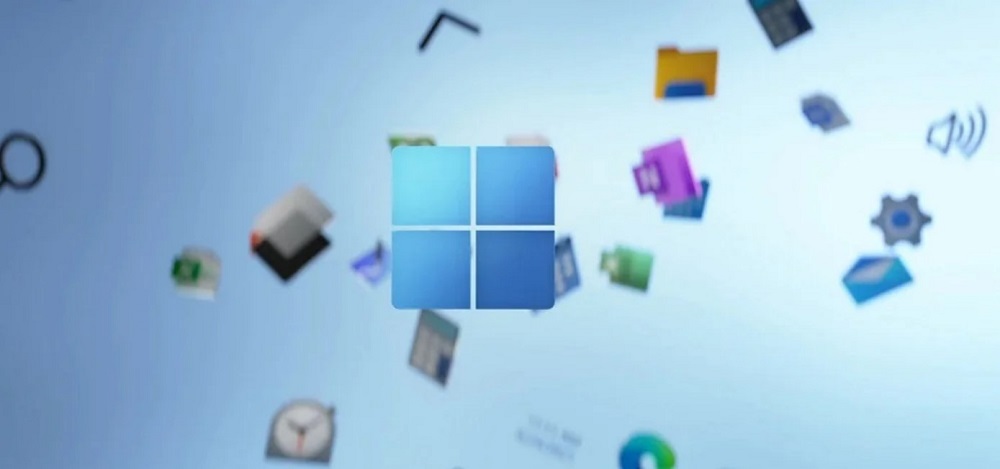 From the first day of the event, we only hear from Microsoft that their new operating system is designed to rethink our idea of a desktop OS, that it will become some kind of new solution for users, different from the previous one. Admittedly, Windows 11 contains many new features and improvements compared to its predecessor, Windows 10. It is more attractive in appearance, has a modern design, works faster, is endowed with useful functions for gamers, has received an updated Microsoft Store, will soon receive support for Android applications. You can write a lot about the advantages of the new OS from Microsoft.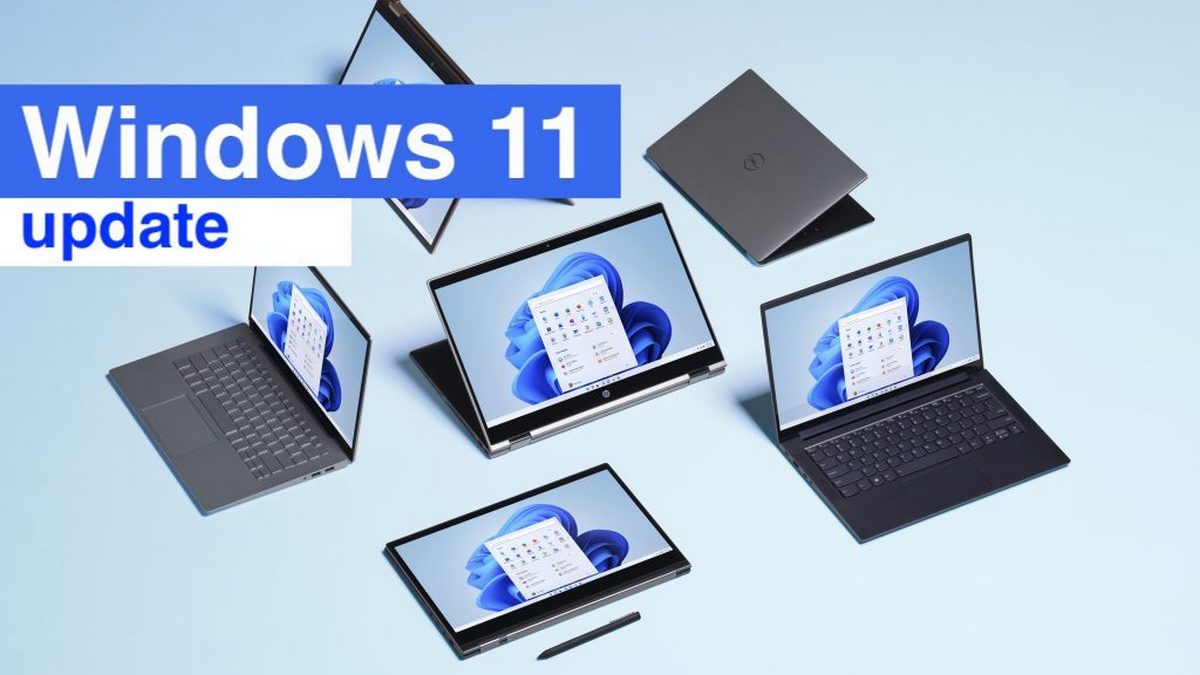 It should be noted that manufacturers and users reacted quite positively to the release of the new OS. And, according to Microsoft, it surpasses even Windows 10 in terms of installation and use. This, of course, is good news, but at the same time imposes certain obligations on Microsoft. This is especially true of some of the absurdities and problems of the new operating system. Sometimes it seems that Windows 11 was released in a hurry. Perhaps ordinary users do not always notice these problems, but they must be aware of their existence.
Today we will talk about the most notable problems of the Windows 11.
Limitations of the Windows 11 Start Menu
Everyone who has installed Windows 11 notices that Microsoft has significantly redesigned the Start menu in the new OS. Now it is located in the center. The "live" tiles that appeared in Windows 8 have disappeared. It will also be a revelation for most that the long list of all installed applications has also disappeared. In Windows 10, this was very conveniently done, but the developers decided to make such changes. You can pin applications to the Start menu and see the recommended or most frequently used application.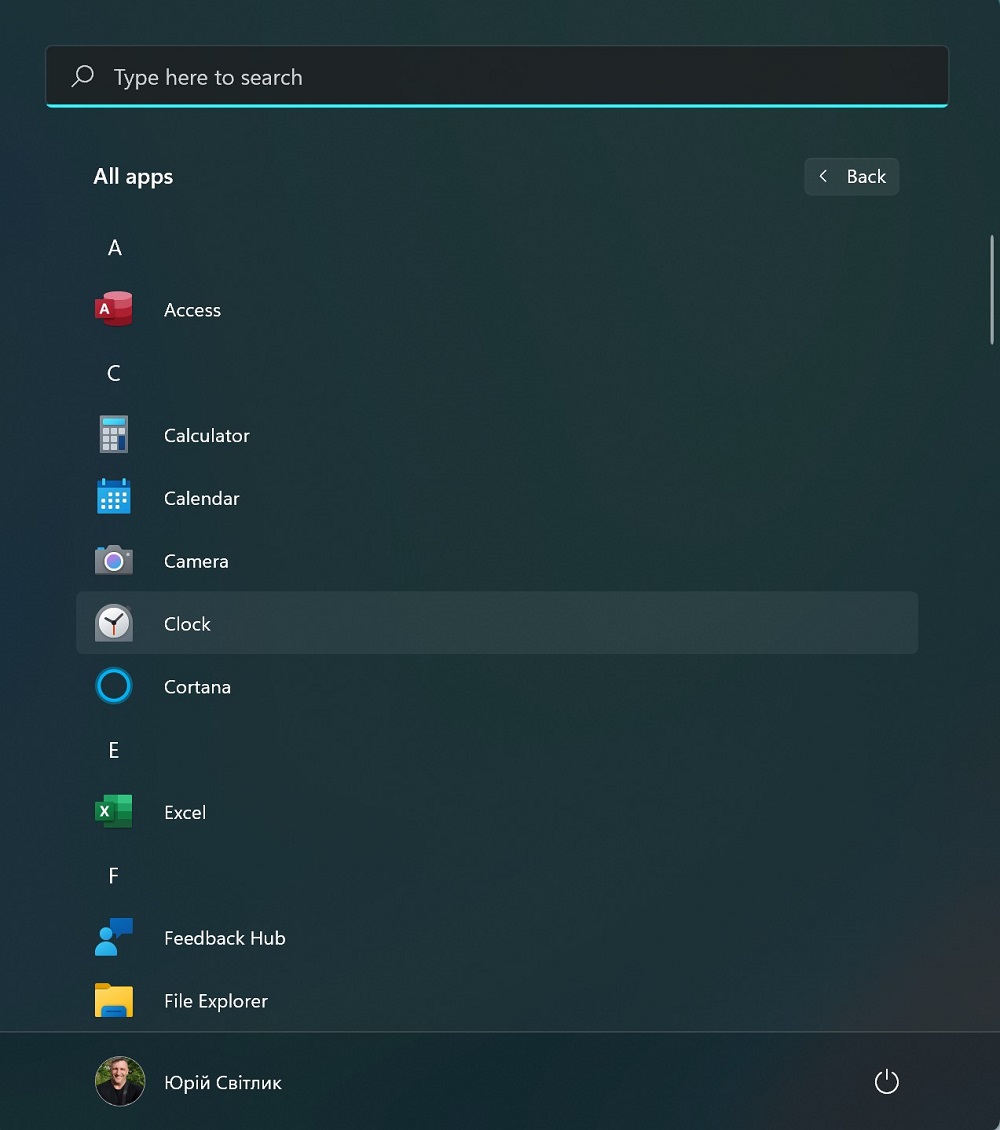 It is possible to see a list of all installed app, but for this you need to click on this option. Does this make the new Start menu look more aesthetic? I don't think.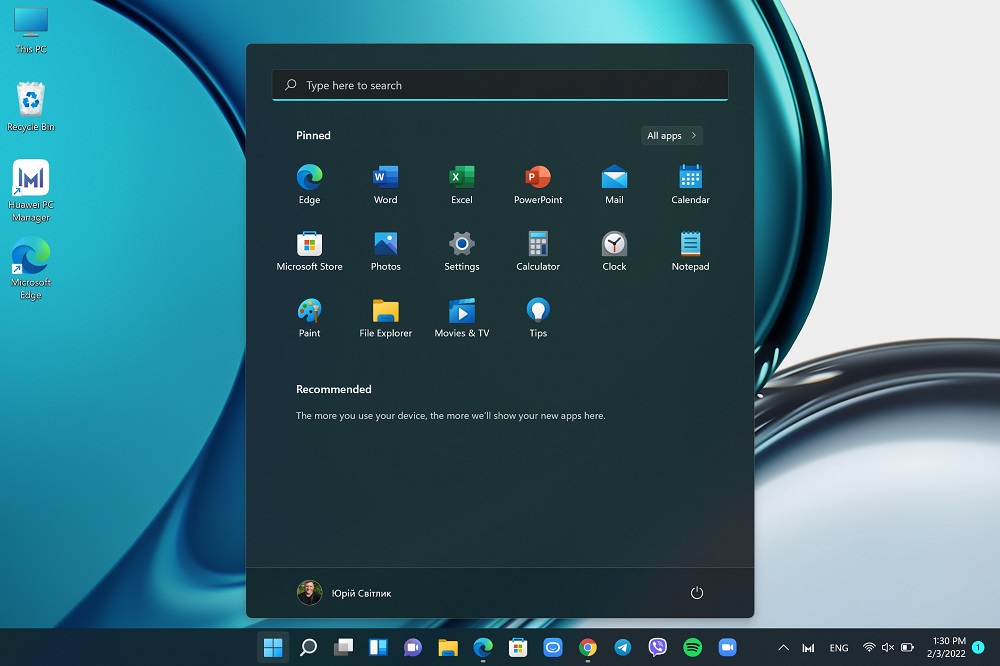 There are a few strange problems in the new Start menu. For example, when you delete recommended applications, there is a huge free space at the bottom of the menu. These are just design flaws. This gaping void does not look very nice.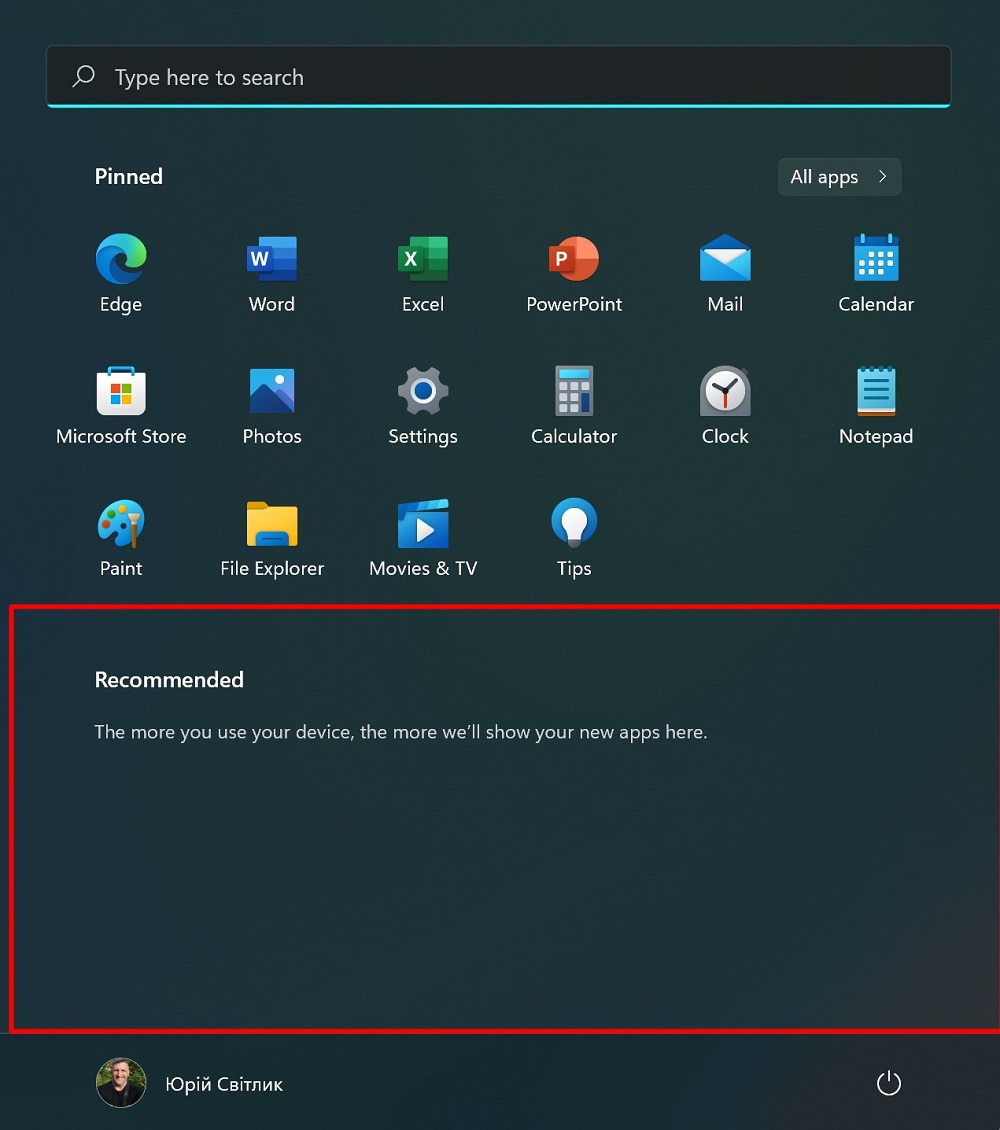 But the most controversial decision for me was the removal of the tiles without providing an alternative. That is, you have been teaching users for so many years that Live Tiles is cool, convenient and necessary and then you just abandoned this idea. I understand that not everyone liked the tiles, not everyone used them, but where is the alternative solution, where is the recognition of their mistake? A very strange solution from Microsoft. In addition, when used correctly, the tiles provided useful information.
For some users, it may also be a problem that we do not have the ability to group applications in the new menu. In Windows 10, I often used this feature. This made it easier to find the right app.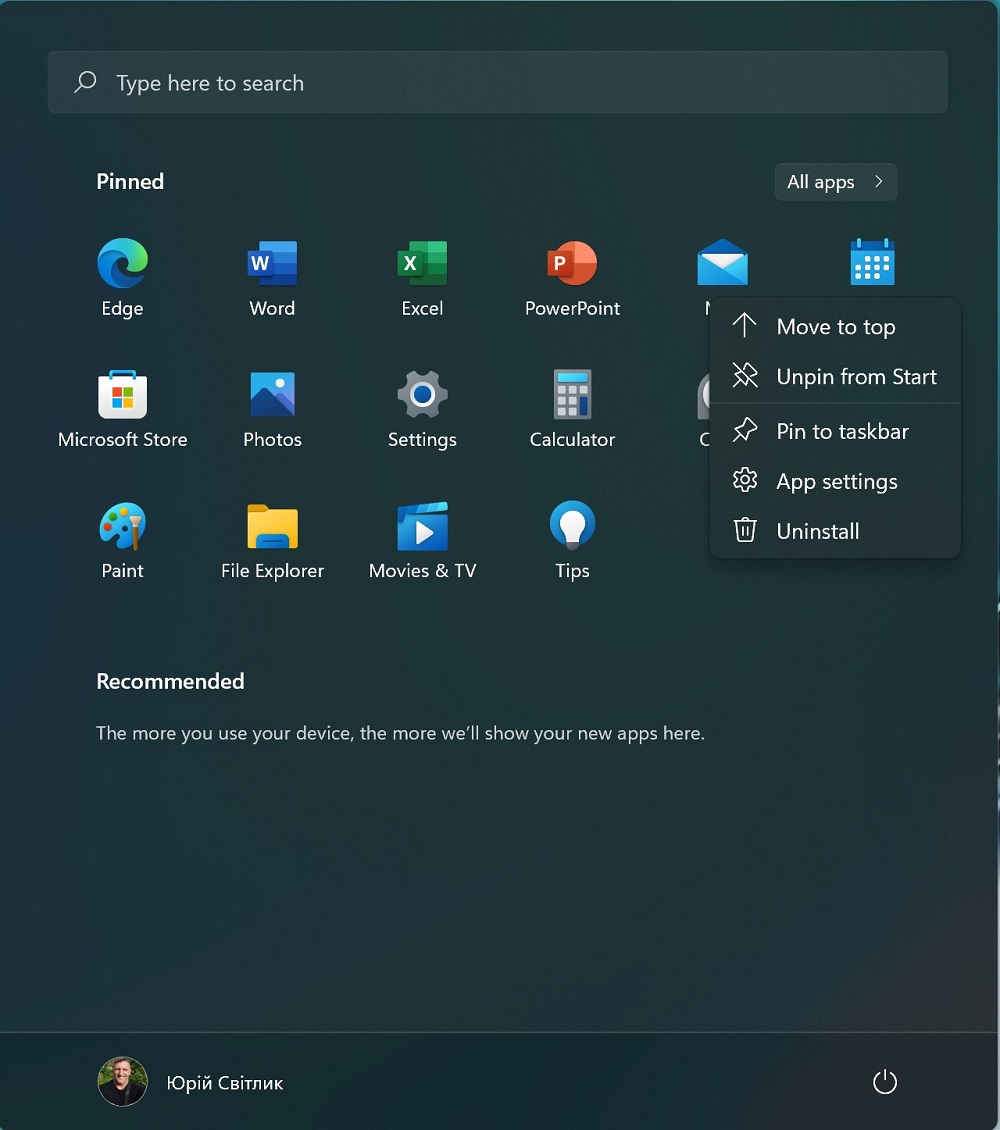 I really don't like that Microsoft developers have changed or even removed many functions of the Start menu. Someone will say that everything can be configured or rebuilt in Windows 11 itself or with use third-party programs, and they will be right. But why remove something useful and not give an alternative at the same time?
Windows 11 User Interface inconsistencies
There is another huge problem with the new Windows 11 – inconsistencies in the OS user interface.
Starting with Windows 8, Microsoft has sought to gradually abandon outdated elements of the Windows user interface in favor of a modern approach. Approaches changed, solutions changed, but the outdated user interface has survived to this day.
In Windows 10, Microsoft has upgraded a lot of elements. Of course, not all changes were positively received. Insiders, experts and ordinary users were constantly talking about the problems, but the developers seemed to just ignore it.
But Windows 11 made us hopeful, because the company promised us a new, rethought Windows, which will be a new milestone in the history of Microsoft. Admittedly, in the end, Windows 11 looks much cleaner and more aesthetically pleasing than Windows 10. However, there is still a long way to go.
And the problems of user interface inconsistency still remain since they just migrated from Windows 10 to Windows 11. It seems that when releasing a new OS, Microsoft forgot to fix old problems.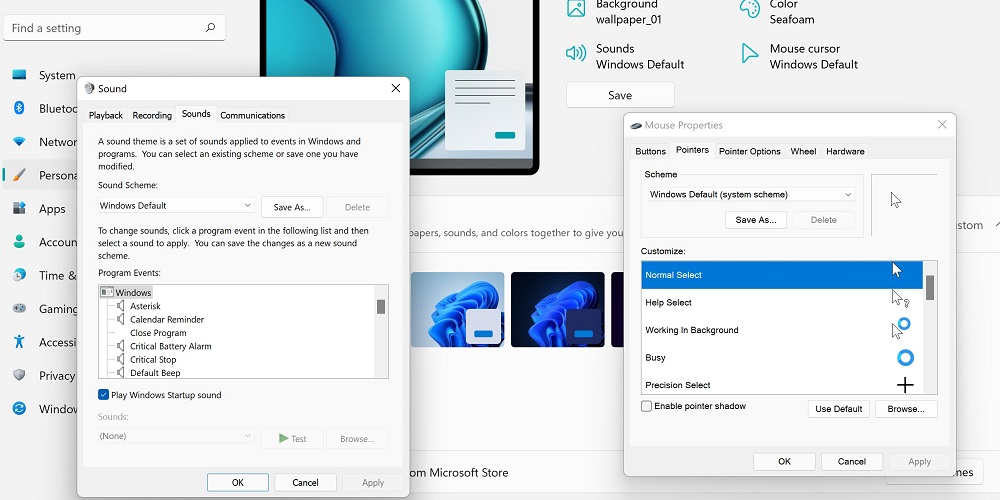 First of all, there was an old problem that most people talked about back in Windows 10 days. On the one hand, there is an elegant application called Settings, which has enough promising and interesting features. On the other hand, there is an old Control Panel. For 5 years, Microsoft developers have been promising to sort out these inconsistencies. It is worth admitting that some functions are slowly but surely migrating to the Settings application, but there are still a huge number of functions that can be configured only through the Control Panel.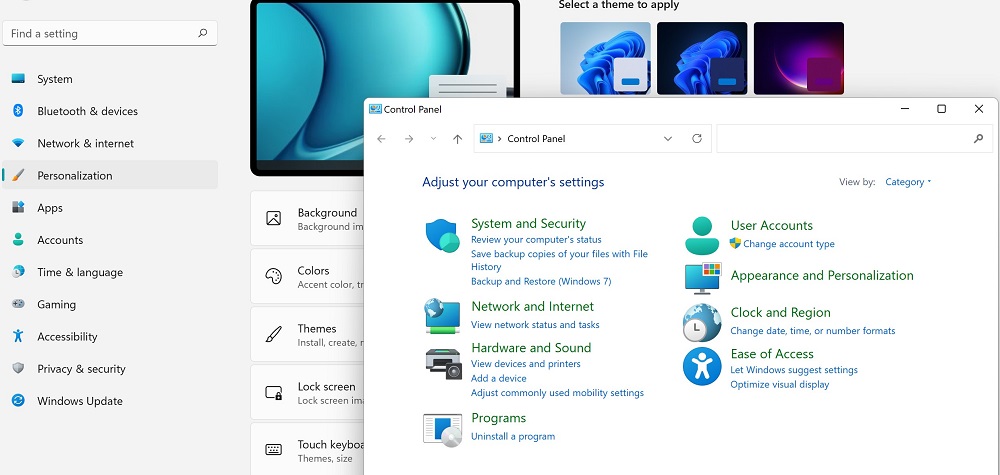 Similarly, there are remnants of the Windows Vista Aero design here, such as dialog box icons. Even Windows XP is presented in the user interface. It seems that some functions and properties just migrate from version to version. The outer shell has been changed, but no one is doing anything inside.
Now the user interface sometimes resembles an assortment of different versions. Sometimes you have to frantically remember where and what to look for now in Windows 11. There is no integrity yet and it is unlikely to change soon. Microsoft urgently needs to make the Windows 11 user interface more consistent.
Very bloated Windows 11 software
This is a problem not only for Windows 11, but probably for any operating system, both desktop and mobile. Every OS manufacturer tries to stuff it with unnecessary applications, utilities, games that no one plays as much as possible. Even in Windows XP, not everyone played embedded games, but they were still there. The legendary Klondike wandered from version to version.
It is no less cluttered with similar applications and games and Windows 11. Yes, there are a little less of them than in Windows 10, but they are there. Even the famous Microsoft Solitaire Collection is there. It's still a problem.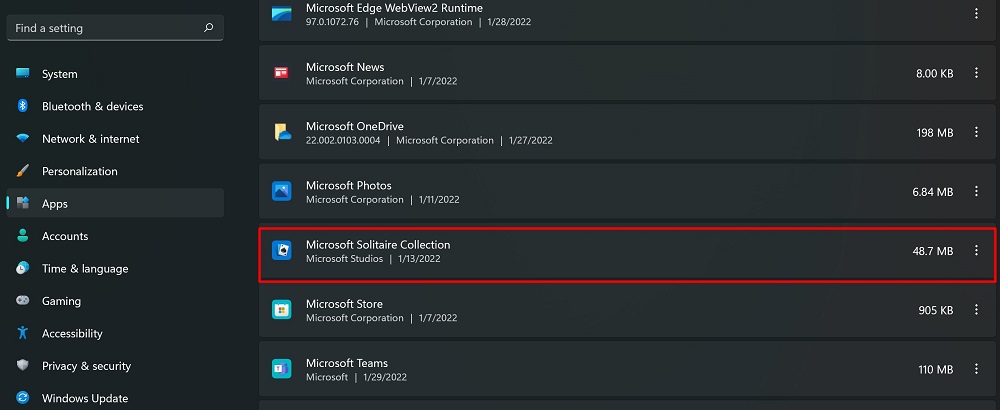 Of course, any user can solve this problem. Just carefully go through the list of installed programs, applications and games to remove unnecessary ones. But it will take time and attention. In addition, some inexperienced users are afraid to delete such programs, fearing for the operation of their device. And these apps and games take up space in the device's memory. Microsoft has to deal with this issue.
Read also: What's Privacy Sandbox in Google Chrome and how to disable it
Taskbar Limitations
The Taskbar is no less problematic. It is worth admitting that it is really ambiguous and has not been finalized. Some users believe that this is an update that the taskbar has always needed. For others (yours truly), it is a mess with missing basic functionality. Although I can't deny that the latest version of the Windows Taskbar looks modern, I still have to complain about the lack of many basic functions of the taskbar. It seems that the developers did not take into account the opinion of users.

Firstly, right now you can't resize the Taskbar or move it. In Windows 10, it is possible to move the taskbar across the display to the place you need. You can also make it higher. However, you can't do any of this in Windows 11. The taskbar can either be left in the center or placed on the left. The latter option is inconvenient for me. Some people are coming up with utilities to change this state of things. But why break something that used to work fine?

Microsoft also took away from us the ability to reduce icons on the taskbar.
Those who use multiple monitors now can't see the time and date on the second monitor. This means that Windows 11 does not work correctly with multiple monitors. There are other problems when working with the second monitor.
The same goes for the context menu that appears when you right-click on the taskbar. In Windows 10, the context menu is full of customization options, such as showing/hiding buttons. In Windows 11, the context menu is limited to only one option, Taskbar Options.
In short, Microsoft needs to fix the taskbar and make sure that it is at least as functional as in Windows 10. Currently, the Windows 11 taskbar seems raw and unfinished.
Numerous errors and inconsistencies
It just so happens that the release of a new version of Windows is always accompanied by numerous errors and inconsistencies. You can talk about how stable Windows XP or Windows 7 are, but believe me, they also had a lot of problems at the start. Over time, these problems were solved, the systems were polished, refined, but still they are not perfect. Of course. We all remember Windows 8 and Windows 10. Windows 11 has its own bunch of issues. To begin with, Microsoft was hastily finalizing its new operating system, while promising to eliminate some of its shortcomings, but did not keep its word. Like, there are a lot of compatibility issues. And how much outrage there was about problems with AMD processors and working with SSD drives. Microsoft had to urgently release patches and make excuses.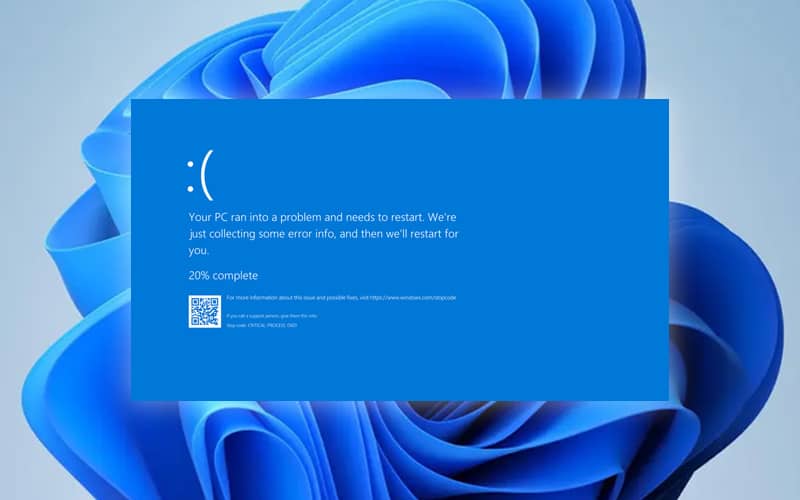 But some problems still remain. The same old printer problem that existed back in Windows 10, has migrated to Windows 11. They are not in a hurry to solve it.
Let's look into this issue a little. One of the biggest problems with printers in Windows 11 is the PrintNightmare vulnerability. This problem was in Windows 10, and Microsoft said it fixed it after releasing several updates. But, as reported, these updates have not solved the problem, and PrintNightmare is still unstable.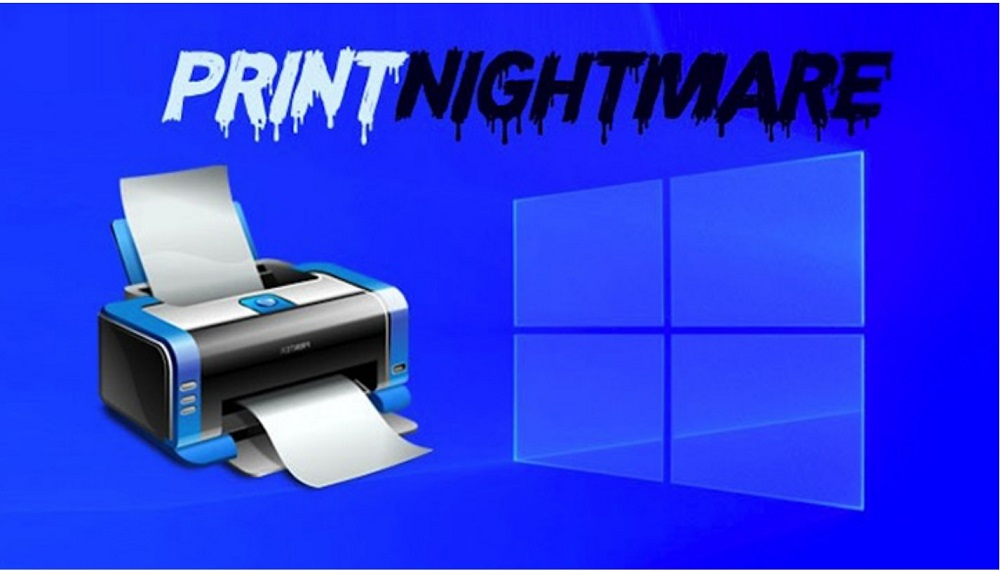 In short, if you visit the Windows forums, you will most likely encounter users complaining about these and other errors in Windows 11. Needless to say, Microsoft needs to fix the major Windows 11 bugs. At the very least, the company must eliminate long-standing problems, if it wants users to switch to a new OS.
Verdict
It's worth admitting that although Windows 11 is off to a difficult start, it has a lot of potential. It just seems that Microsoft has rushed with the release of the new Windows 11. It was necessary to fix the existing problems first and only then enter the market with a new version of Windows. Besides, there was plenty of time. Competitors are far behind, first improve Windows 10, then refine the new Windows 11 and eventually imagine it as a truly rethought vision of the future of the OS for desktop PCs. But what can you do. We can only hope that Microsoft understands this and will soon try to fix all the problems, but the most important thing is not to make new ones. Then Windows 11 will not only please the eye with its design, but will also become a modern, productive and balanced operating system.
Read also: