Armed Forces of Ukraine can now definitely count on one of the most awaited reinforcements, the PzH 2000 self-propelled howitzers. You are welcome to read about these self-propelled howitzers below.
It was first spoken about the transfer of these vehicles by the Minister of Defense of Germany, Kristin Lambrecht, when Berlin announced that it was going to transfer Gepard anti-aircraft guns and train Ukrainian artillerymen to use the PzH 2000 that were to be delivered by Amsterdam. Our foreign partners do their best to help Ukraine in its fight against Moscow in bulk.
The training of our military may take place either in Poland or Germany. In addition, the German government is also negotiating with Eastern European countries to supply tanks to Ukraine. Germany could provide these countries with modern tanks if they agree to send Soviet-era equipment to Ukraine.
During the first month of the invasion of Ukraine, Russian armored columns encountered effective ambushes by Ukrainian infantry equipped with portable anti-tank weapons in the forests and suburbs of Kyiv. This tactic proved to be very effective in those conditions.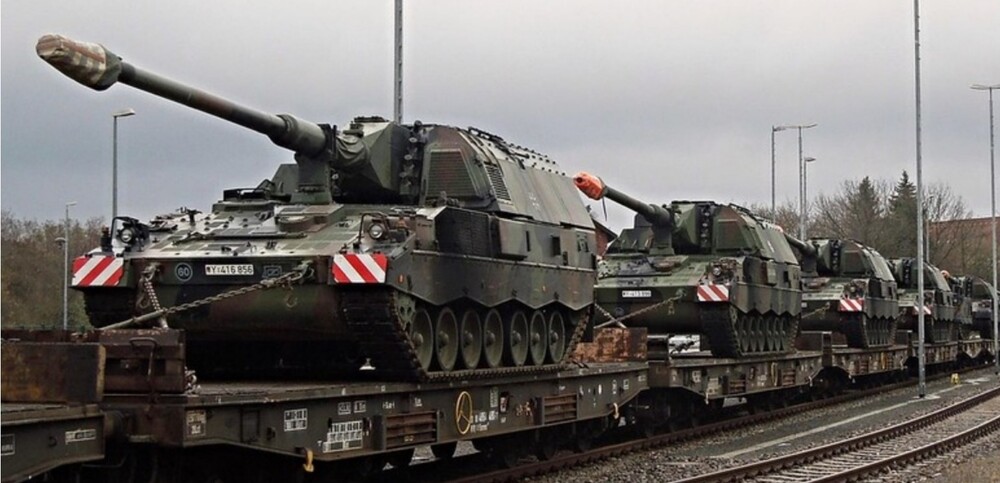 However, now the Russian command has concentrated its troops in eastern Ukraine, which has a relatively open area, so in the flat terrain, Ukrainian infantry with portable missiles can not defeat the Russian mechanized battalions without the support of artillery. The Ukrainian armed forces are going to need more tanks and mobile artillery to strike at long-range targets without endangering personnel.
Therefore, modern PzH 2000 self-propelled artillery units can surely help Ukraine conduct an effective counteroffensive in Donbass region. So, let's get acquainted with this equipment.
Read also: Weapons of Ukrainian Victory: German Gepard Self-Propelled AA Gun
155 mm PzH 2000 SPH
PzH 2000 (Panzerhaubitze 2000) is a 155 mm self-propelled howitzer developed for the German army by Krauss-Maffei Wegmann (KMW) in collaboration with the main subcontractor Rheinmetall Landsysteme.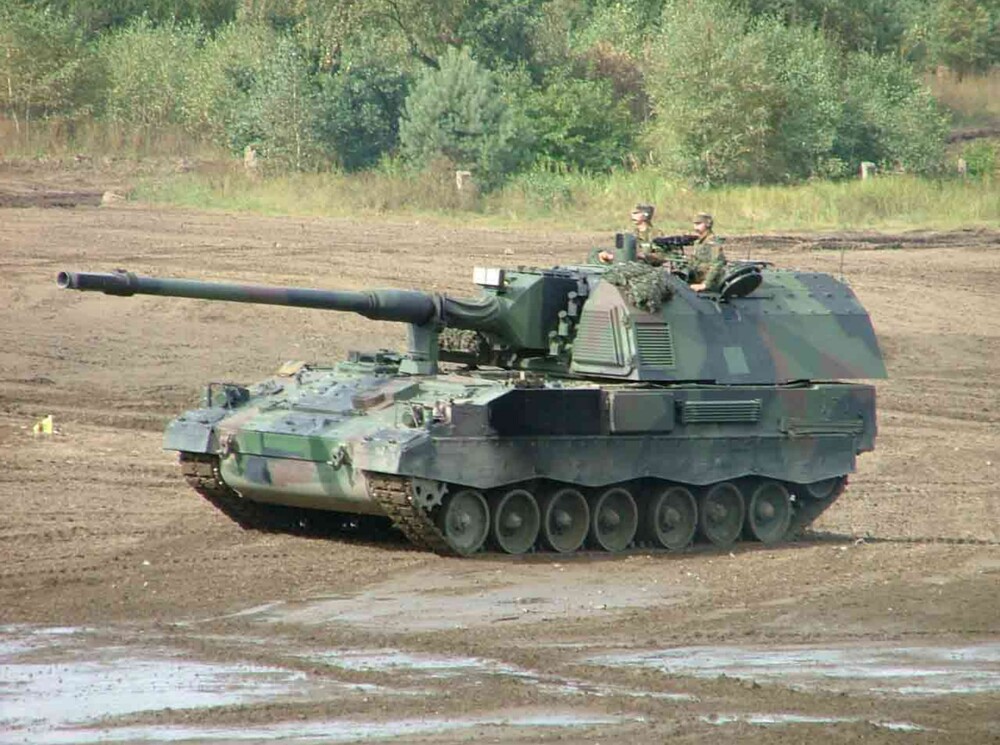 The development of PzH 2000 (Panzerhaubitze) started in 1987. It was based on the international SP70 program, which was canceled in the 1980s due to funding problems. The first PzH 2000 prototype was introduced in 1993. Initially, the German army planned to order 1,254 new self-propelled howitzers, but in 1996, due to the end of the Cold War, a contract was signed for only 185 artillery systems. The first systems were delivered to the German army in 1998.
Read also: Weapons of Ukrainian victory: The military praise the Piorun MPADS
German quality in everything
The strict requirements set by the German customer for artillery armament systems, which are still applied worldwide, have even been exceeded in some key aspects. From the very beginning, it became clear that PzH 2000 has great potential. In parallel with the development phase, a wide range of capabilities of these weapons were demonstrated to NATO partners at numerous international presentations. Among other things, hitting moving naval targets with accurate single shots was very successfully demonstrated in Sweden in 1996, which opened up completely new operational opportunities for conventional artillery. Successful tests, including demonstration of Multiple Rounds Simultaneous Impact capabilities (firing different combinations of projectiles from one cannon that can hit the same target at the same time) in 1997, and providing an effective firing range of more than 40 km, cemented ambitious claims that PzH 2000 would appear in the arsenal of many NATO countries.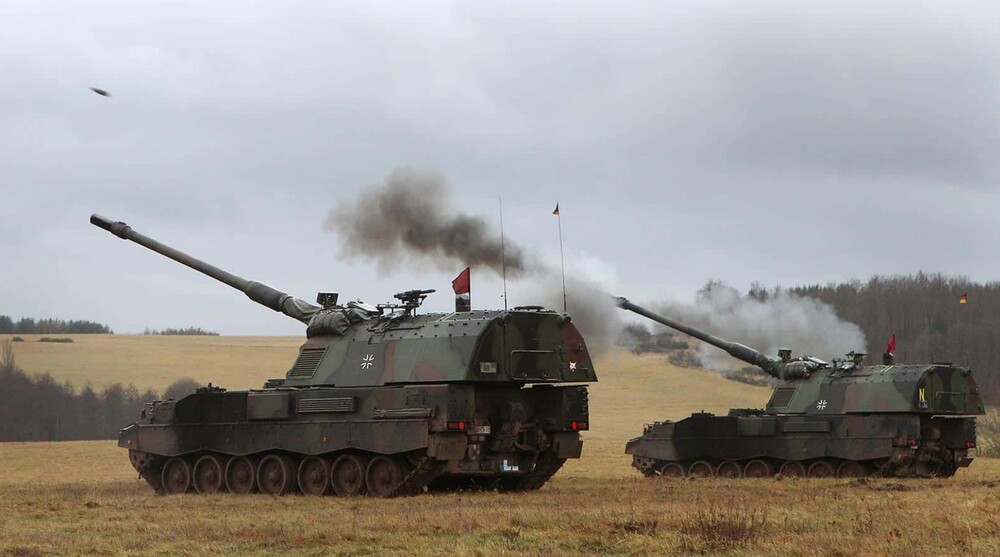 PzH 2000 meets all international requirements for artillery weapons systems and can be considered the best product of the German defense industry, and KMW is the main contractor of the system. Delivery of the first serial PzH 2000 GR system to Greece in May 2003 marked the beginning of adoption of these howitzers by armies of other NATO countries. In addition to Greece (24 PzH 2000), there are contracts with the Netherlands (57) and Italy (70). In 2014, Croatia signed an agreement to purchase 16 PzH 2000. The first deliveries were to take place between 2015 and 2016, and they entered service in 2019. Lithuania ordered 21 PzH 2000 in 2015, these howitzers entered service with the Lithuanian Army in 2019. The German SPH has also been in the Qatari armed forces since 2015. In December 2018, Hungary ordered 24 new PzH 2000s from Krauss-Maffei Wegmann. On April 9, 2022, the German company KMW offered Ukraine to purchase 100 PzH 2000 howitzers. This artillery system also took part in the fighting in Afghanistan.
Read also: Russian chemical weapons: Threats and possible consequences
Modifications of PzH 2000
In addition to the main version of the PzH 2000 SpH, there is also an upgraded PzH 2000M. This option, which expands the field capabilities, is in service with the Italian army. It has improved performance in high heat use scenarios due to integrated generator cooling systems and charging compartment cooling systems. In addition, the upgrade improves crew safety with the fire-fighting system in the crew compartment, and has a firing compartment equipped with a set of tools that allow cleaning and maintaining firing mechanisms directly during the fire.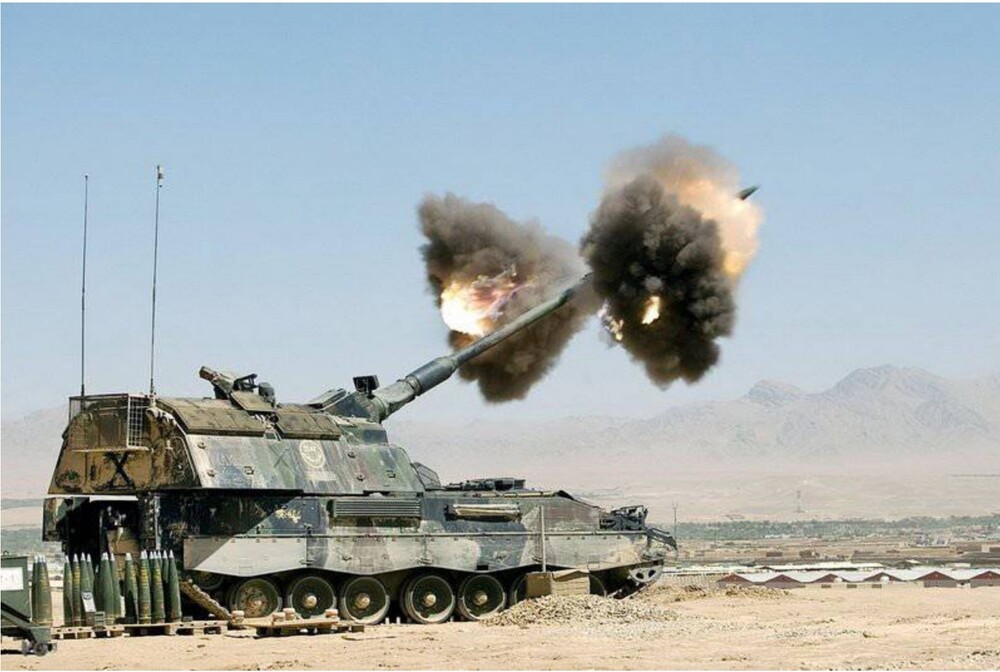 There is a variant of MONARC (Modular Naval Artillery Concept), which is actually an attempt to install the PzH 2000 howitzer turret  on a naval ship. It was tested on the deck of the Sachsen-class frigate 'Hamburg'.
155-mm AGM (Artillery Gun Module) self-propelled howitzer. This is a modified version of PzH 2000. It was developed as a supplement to PzH 2000, for those cases where heavy weapons are not available, not recommended or too expensive. This artillery system is controlled by a crew of two. This is a much lighter version of PzH 2000, but provides the same efficiency. The first prototype was installed on a tracked M270 MLRS chassis. Although the AGM unmanned turret can be integrated with other chassis, or even used as a stand-alone block.
155-mm DONAR self-propelled howitzer, further development of the Artillery Gun Module based on the caterpillar chassis of the ASCOD 2 IFV. This version is mainly export-oriented.
Boxer RCH 155 is another modification of the artillery system based on the Boxer 8×8 armored personnel carrier. This self-propelled unit has retained the features and performance of PzH 2000. It was introduced in 2014.
Read also: Weapons of Ukrainian Victory: Australian Bushmaster IMVs
Armament of PzH 2000
The main armament consists of a 155 mm Rheinmetall gun 52 calibers long, with a chrome-coated barrel, and a semi-automatic lifting shutter with an integrated standard capsule magazine for 32 rounds, and a machine gun. Rheinmetall DeTec has also developed a six-zone modular propelling charge system (MTLS), DM72, which provides faster operation, less weapon wear, reduced fire risk and improved range. In PzH 2000, propelled charges form up to six MTLS modules. The maximum range of the L52 gun, which uses MTLS charges, is 30 km with a standard projectile L15A2 and up to 40 km with improved projectiles.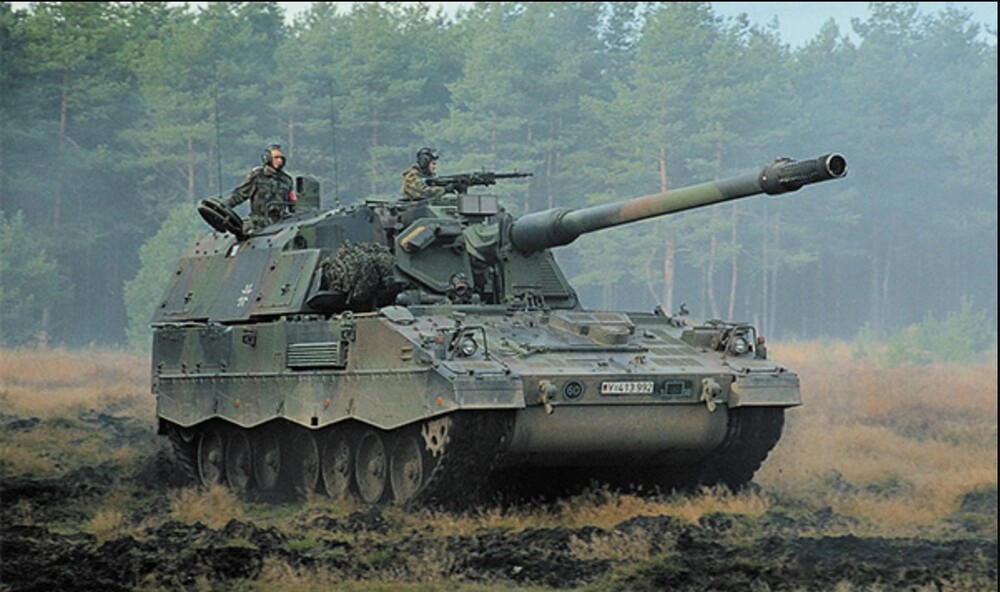 The howitzer, which has a chrome-coated and laser-tempered barrel channel, embodies state-of-the-art technology and is fully compliant with the 'Joint Ballistics Memorandum of Understanding'. It is an international memorandum that defines the design and parameters of armaments and thus allows fire from all standardized NATO systems. The PzH 2000's stable firing platform and high-precision gun guidance system meet the requirements for an effective firing range at any angle of elevation, with 360º rotation, with high accuracy, even at a firing speed of 10 shots per minute. The main element of PzH 2000 is an automatic projectile loading system with electric power and digital control, designed to work with 155-mm projectiles during loading and unloading of the magazine for 60 shells. The shells are delivered to the barrel by means of a pneumatic piston with adjustable ram pressure depending on the rise angle of the gun. Crew members need less than 11 minutes to take on a full combat load, consisting of 60 155 mm shells and the appropriate number of charges. In addition to fully automatic modes, degrading modes up to manual are possible, so high firing and response speeds can be maintained even in reserve mode. An anti-aircraft machine gun of 7.62 mm caliber is installed on the left side of the tower.  There is a block of four 76 mm smoke grenade launchers on each side of the gun in front of the tower. The tower can rotate 360° with a rise of + 65° and a variance of -2.5° for the gun.
Read also: Silent killers of modern warfare: most dangerous military UAVs
Fire control and surveillance
PzH 2000 can use automatic mode, including data transmission over a radio channel from an external control system. Autonomous fire control functions are performed by the MICMOS on-board computer supplied by EADS (formerly DaimlerChrysler Aerospace). In automatic mode, the target can be hit by a crew of two, using fire control data provided by a ballistic computer.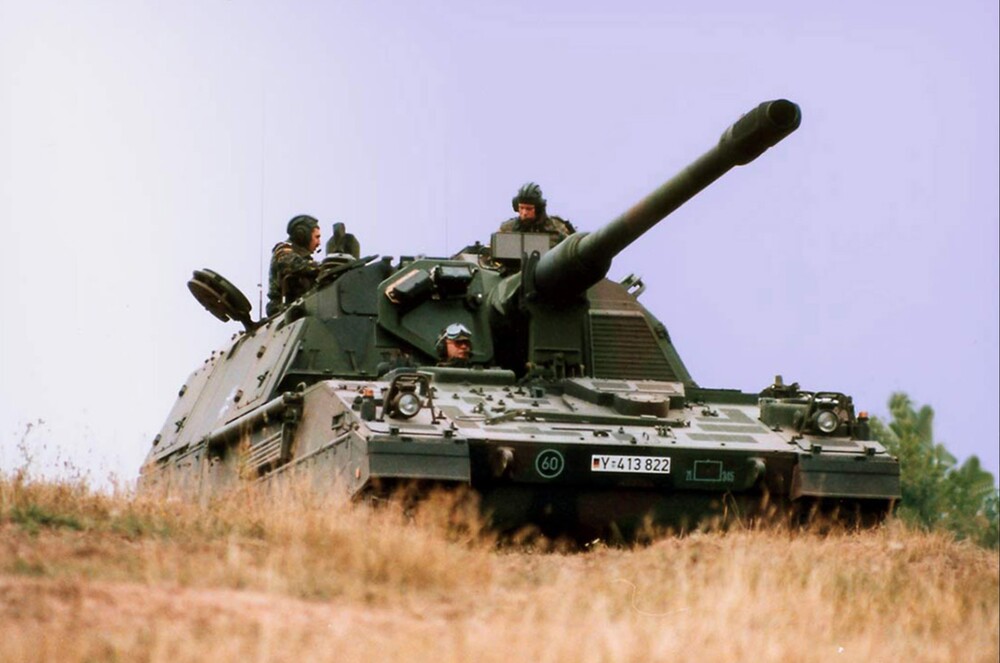 Various backup targeting modes are available to ensure system stability in the event of a component failure. An optical-mechanical targeting backup system is available as the lowest level backup mode.
The commander has a Leica PERI-RTNL 80 panoramic periscope, which is used for targeting when firing. The PERI-RTNL 80 has day and night vision channels and a laser rangefinder. The gunner is equipped with a day and night sight Leica PzF TN 80 for direct aiming of the gun.
Read also: Weapons of Ukrainian Victory: Review of Starstreak MPADS
Design and protection of PzH 2000
The hull and the turret are made of all-welded steel armor, which provides protection against small arms fire and shell fragments. The driver's seat is located in the front right part of the hull, and the power unit is on the left. The turret is equipped with two roof hatches. PzH 2000 can be equipped with additional armor on the roof to increase protection against damage from above. The crew can quickly install it with onboard equipment.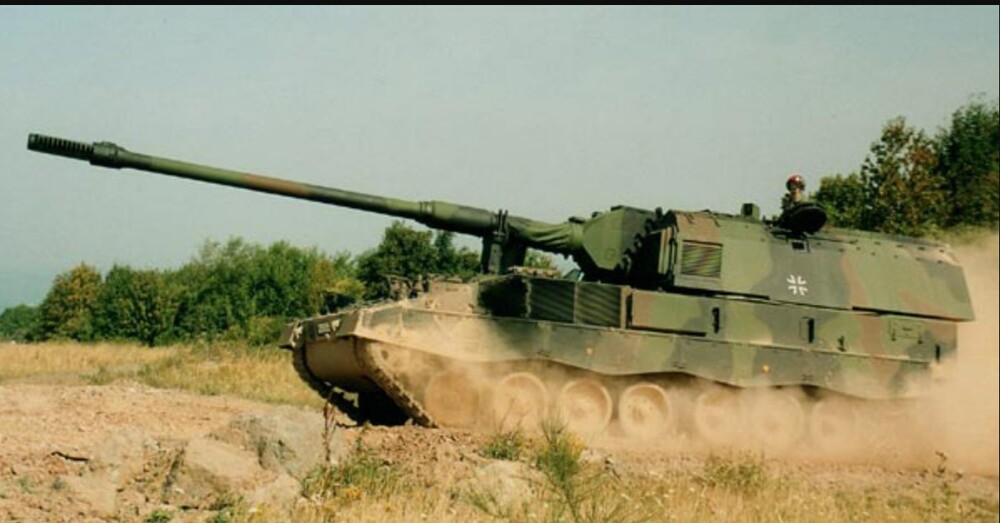 The front armor of PzH 2000 provides protection against 14.5 mm shells. If necessary, anti-explosive jet armor can be installed. PzH 2000 is also equipped with NBC automatic fire extinguishing and protection systems.
Read also: All about the General Atomics MQ-9 Reaper
Outstanding mobility of PzH 2000
The short overhang of the barrel,  provided by placing the turret at the back of the chassis with front-wheel drive equipped with a 736 kW (1000 horsepower) engine, provides excellent tactical and operational mobility compared to an average battle tank. The torsion suspension has seven double wheels on each side with three support rollers, a drive sprocket at the front and a tension wheel at the rear.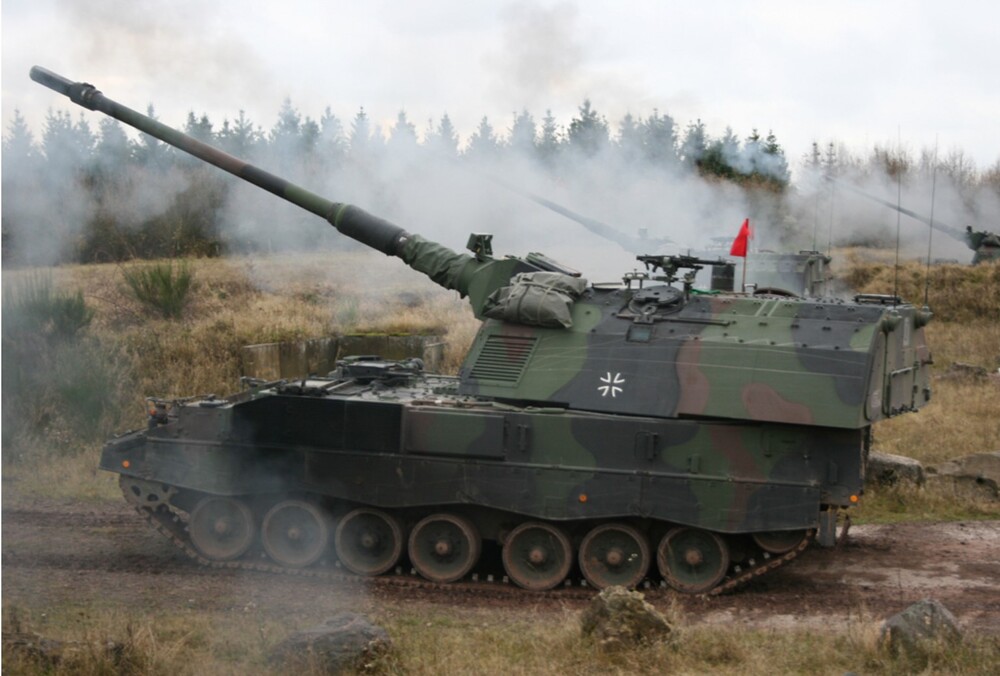 The PzH 2000 is equipped with a 1000 hp MTU 881 diesel engine combined with a Renk HSWL 284 automatic transmission with 4 front and 2 rear gears. PzH 2000 can move at a maximum speed of 60 km/h, a maximum range of 420 km. The self-propelled unit can overcome slopes up to 50%, vertical obstacles up to 1 m, move on 25% side slope and cross a trench up to 3 m wide.
Read also: Switchblade: American kamikaze drones to protect Ukraine
Equipment of PzH 2000
The frequent question is, what is so special about this self-propelled howitzer? The equipment of the PzH 2000 ACS is clearly the answer here. The self-propelled unit is equipped with a panoramic day/night sight with a laser rangefinder and a day/night sight for direct fire. PzH 2000 is the only 155 mm artillery system that has a fire control computer with integrated NABK (NATO Artillery Ballistic Kernel) for autonomous calculation of firing commands. Downloading fire control instrument data and related ammunition designations simplifies the integration of new country-specific ammunition types into the on-board fire control computer.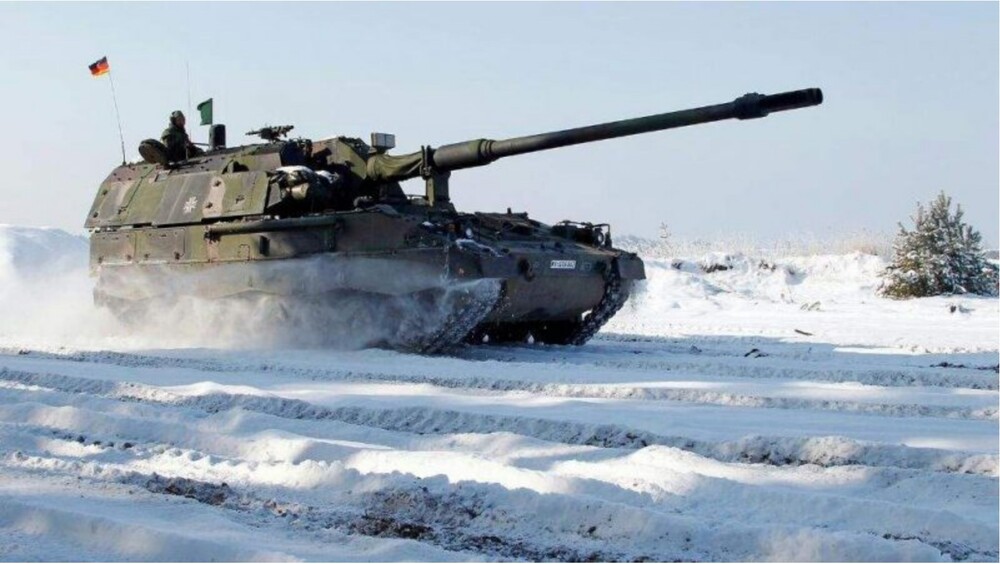 An on-board ballistic computer, muzzle speed measurement and control system, and an inertial GPS-based navigation system that determines position, bearing, altitude and barrel position, make the PzH 2000 a fully autonomous weapon system. While driving, the self-propelled howitzer receives target data from a higher-level command post via a radio channel. After calculating the onboard calculation and projectine loading data, the firing command is executed, after which the vehicle leaves its firing position immediately after the last projectile is fired. This ability to fire a volley and high mobility makes it virtually impossible for enemy intelligence to provide a timely response with counter-battery fire. Standard equipment includes a fire alarm and extinguishing system for the engine compartment and an NBC protection and ventilation system for the crew compartment.
Read also: 'Neptunes' knocked out 'Moskva' cruiser: All about these anti-ship cruise missiles
Specifications of PzH 2000
Armament: 155 mm L52 cannon, 7.62 mm machine gun
Armor: protection against small arms and shrapnel
Weight: 55.33 t with full payload
Top speed: 60 km/h
Cruising range: 420 km
Dimensions:  length 11.66 m, width 3.58 m, height 3.46 m
Equipment: automatic fire suppression system, panoramic day/night sight, laser rangefinder, day/night sight for direct fire, NBC protection
Crew: 5 чоловік (commander, driver, gunner, 2 заряджальники)
Manufacturer: Germany, KMW
Operators: Croatia, Germany, Greece, Hungary, Italy, Lithuania, the Netherlands, Qatar, Ukraine.
Read also: All about the 155mm M777 howitzer and M982 Excalibur guided projectile
Why does Ukraine need such artillery systems?
As it turned out, the Russian-Ukrainian war is also an artillery war. In the first days, the orcs had a significant advantage over our troops, which allowed them to fire not only on the positions of our troops at the front, but also to destroy our cities and villages. This was especially felt by my native Kharkiv. Even yesterday I could hear artillery duels outside my window many times. Now our artillerymen win them more often, which certainly angers the occupants. In such cases, they would launch a missile strike on MLRS in residential areas, which I saw with my own eyes yesterday.
The advent of modern self-propelled artillery changes the course of such duels. The Russians have limited opportunities to fight them, and this already gives an advantage to the Ukrainian Armed Forces. Our guys skillfully smash the invaders, destroying their positions, command posts, tanks and armored vehicles.
We are already looking forward to our victory. And it will definitely come, because evil must be punished. Everything will be Ukraine! Glory to Ukraine! Death to enemies! Orcs, burn in hell!
You can also help Ukraine fight with Russian occupants via Savelife or via an official page of the National Bank of Ukraine.
Read also: Weapons of Ukrainian victory: ATGM Stugna-P – Russian tanks are in trouble