Today we take a look at the wonderful ASUS ROG Zephyrus Duo SE GX551 gaming laptop. It features a powerful AMD Ryzen 9 5900HX processor and Nvidia GeForce RTX 3080 graphics, but most of all it impresses with its two screens: a 15.6-inch 120Hz 4K display and an additional touchscreen tilted above the keyboard.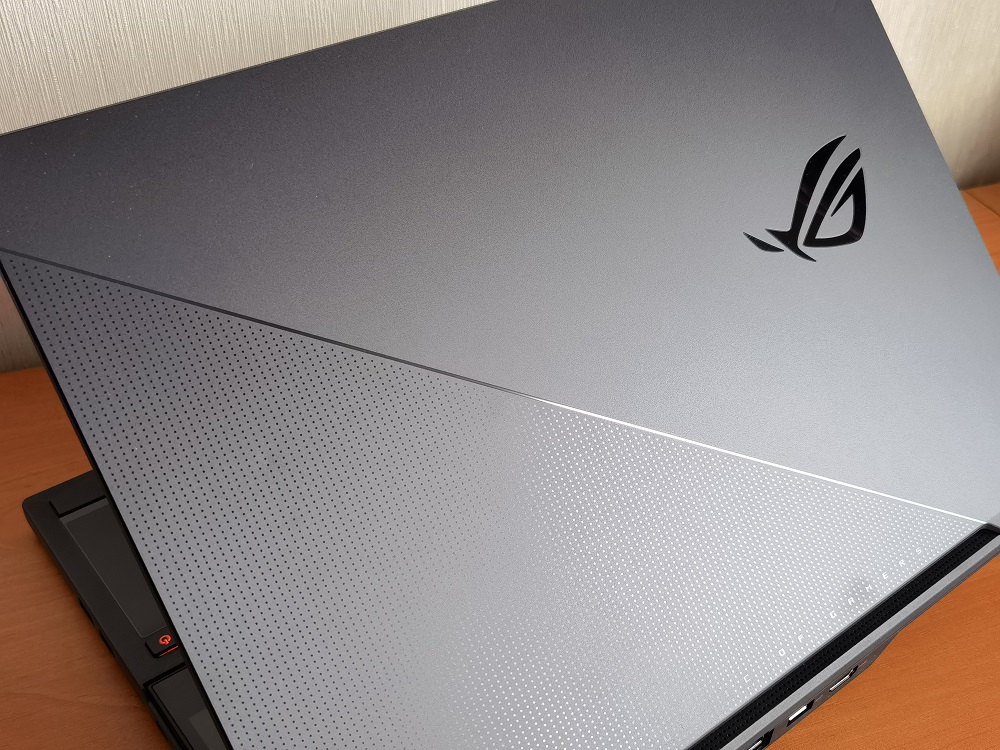 Positioning and price of ASUS ROG Zephyrus Duo SE
ASUS introduced its innovative ScreenPad Plus technology along with the ASUS ZenBook Duo series. Content creators liked this technology the most, and the increased viewing area made working in a laptop form factor much more convenient. Then the Republic of Gamers team also took this technology and applied it to the ASUS ROG Zephyrus Duo 15 GX550, which was introduced last year. This provided additional screen space for gamers as well.
At first glance, the hero of our review ASUS ROG Zephyrus Duo 15 SE GX551 hasn't undergone any significant changes compared to its predecessor, but it is equipped with a more powerful AMD Ryzen 9 5900HX processor and the latest NVIDIA GeForce RTX 3080 graphics card, which is a really serious improvement in performance.
May I remind you that we reviewed the previous Zephyrus Duo 15 GX550L. It was powered by an NVIDIA GeForce RTX 2080 Super graphics chip (Max-Q version) and an Intel Core i9 10980HK processor. The new laptop model we are reviewing today has an even more efficient processor, this time from AMD Ryzen 9.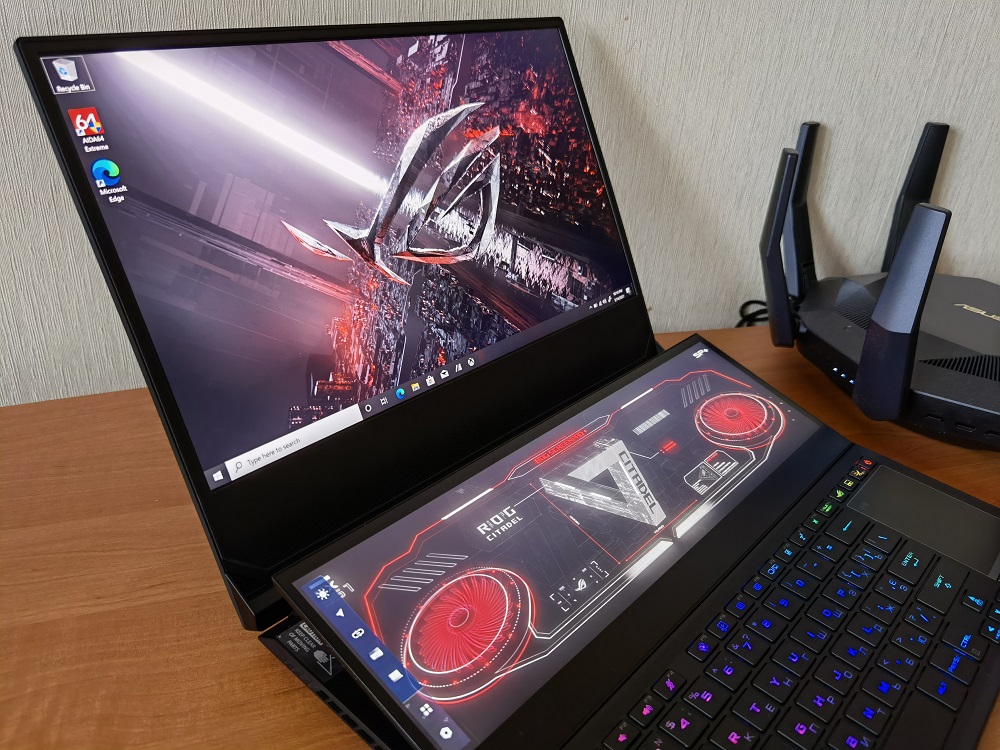 It is enough to look at the documentation to make sure that there are actually quite a few changes, both large and small. The cooling system has been improved, now with liquid metal, which was previously only used in ROG laptops with an Intel processor, and the power supply has also been improved. There's Dolby Atmos certification (audio) and a microSD 4.0 slot (312 MB/s), all ports are UBS 3.2. It is the second generation, and the AI noise reduction technology works in both directions. It's nice that ASUS is not only improving the design of its flagship devices, but also pays great attention to even more efficient components.
This is exactly the kind of near-perfect gaming laptop I have on review. Let me tell you about it more.
What you should pay attention to?
This is the ASUS ROG Zephyrus Duo SE GX551 in a nutshell:
two screens – one 4K with a refresh rate of 120 Hz and the second is touch sensitive, which is located above the keyboard
powerful NVIDIA GeForce RTX 3080 laptop graphics card (Ampere)
powerful AMD Ryzen 9 5900HX processor (Cezanne)
48GB RAM and two PCIe SSDs in RAID for a total of 2TB
exquisite design and high quality materials
But if anyone is interested, here are the full specifications:
Type
Gaming laptop
Operating system
Windows 10 Pro
Diagonal
15,6″ + 14.1″
Coating type
Anti-reflective
Resolution
3840×2160 + 3840×1100
Matrix type
IPS
Touchscreen
Additional
Screen refresh rate
120 Hz
Processor
AMD Ryzen 9 5900HX
Frequency
3.3-4.6 GHz
Number of processor cores
8 cores, 16 threads
Chipset
С socket FP6
Ram
48 GB
Maximum amount of RAM
48 GB
Memory type
DDR4
Memory frequency
3200 MHz
SSD
2×1024GB M.2 NVMe PCIe 3.0 x4 with RAID 0 Samsung MZVLB1TOHBLR
HDD
–
Graphics adapter, memory capacity
Discrete NVIDIA GeForce RTX 3080

Z ROG Boost to 1645 MHz per 115 W (130 W with Dynamic Boost)

16 GB GDDR6 + integrated Radeon Vega 8

External ports

1×3.5 mm combined audio connector

1×USB 3.2 Gen 2 Type-C supports DisplayPort / power supply

Card reader
1×microSD
WEB-camera
–
Keyboard backlighting
+
Fingerprint scanner
–
Wi-Fi
6, Gig+ (802.11ax)
Bluetooth
5.1
Weight
2.48 kg
Dimensions
36.0×268.0×20.9 mm
Body material
Aluminum
Case color
Black
Battery
90 W*h
I know you're already rubbing your hands in anticipation of the RTX 3080's performance, but there is more to look out for. Upgrading from Intel to AMD also comes with much more efficient integrated graphics, which means the transition from Intel UHD to Radeon Vega 8 is more reliable.
Although the most interesting components for us are, of course, the processor from AMD and the graphics chip from NVIDIA. There can be no doubt about the CPU here, but the situation with the GPU is quite different. The laptop version of the GeForce RTX 3080 has a very different layout than the desktop version, and the Max-Q version is even more different. Compared to desktop cards, the RTX 3080 has fewer shaders (6144 versus 8704), less VRAM (8GB versus 10GB), lower bandwidth, and of course lower clock speeds. That's it with a 115W TGP. But compared to the previous model, this is a significant step in the right direction.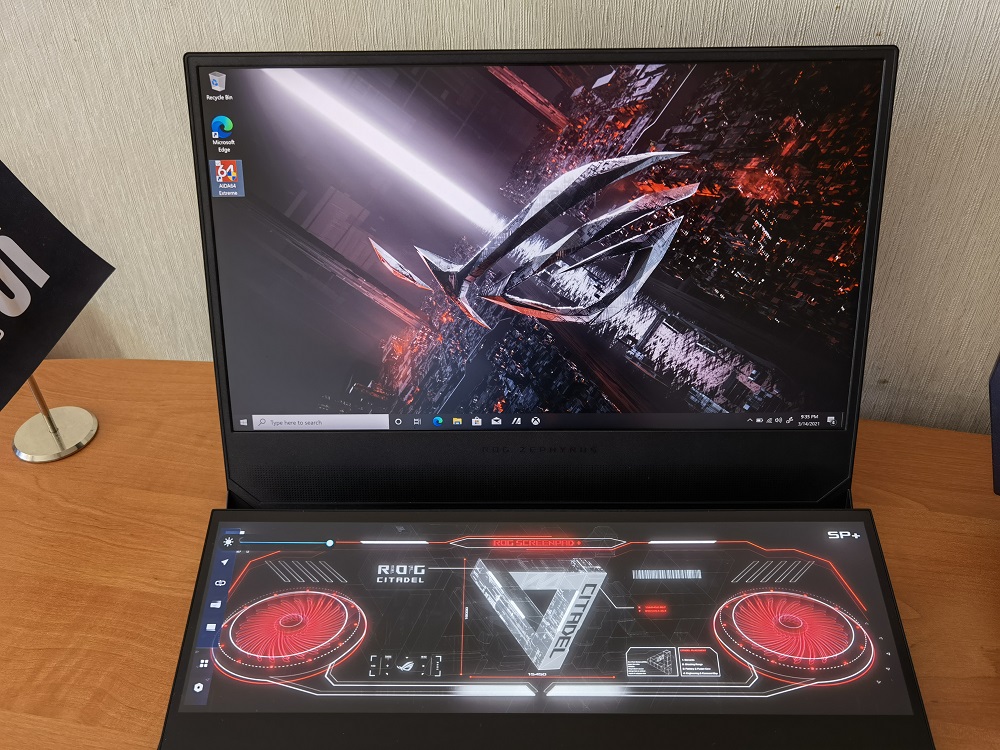 Of course, the key feature of the ASUS ROG Zephyrus Duo is its dual screens. The optional (touch) ROG ScreenPad Plus is tilted at a 13-degree angle for improved visibility and ease of multitasking. The advantages of the second screen are obvious, and here, of course, you need to remember the software that has already been adapted for this work – for example, the Adobe package or DaVinci Resolve.
"But what use is the additional screen for gamers" – you might ask. This laptop will definitely appeal to streamers who find a way to use it. In addition, some games make use of two screens, such as the long-awaited Dying Light 2. By the way, the manufacturer promises that the code for Dying Light series will be included with the Zephyrus Duo 15 SE laptop. But let's take a closer look at the hero of my review.
ASUS ROG Zephyrus Duo SE GX551 design and build quality
If you've read our review of the Zephyrus Duo 15 (GX550), you'll notice right away that the two laptops are nearly identical in design. But there is one, albeit not a very significant difference – the body of the new SE GX551 is now black, and not gray.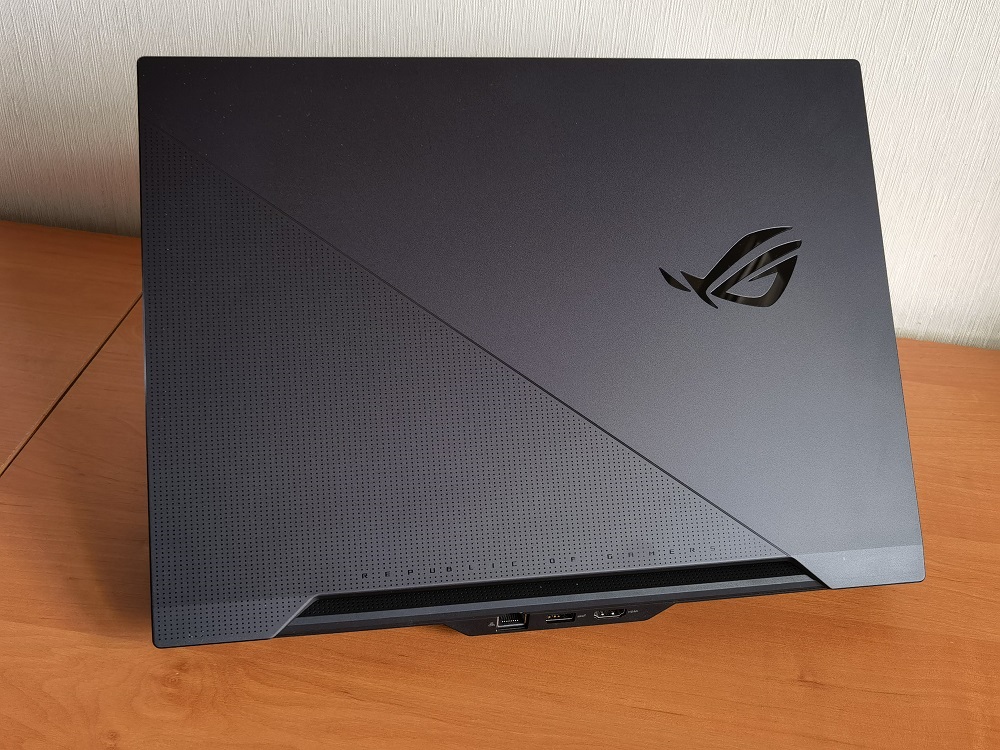 The ROG Zephyrus Duo SE GX551 has an atypical design for a gaming laptop, because it looks quite restrained and elegant, which rarely happens with gaming laptops. The body is finished in steel black and has a practical matte finish that hardly collects fingerprints. What's more, the case is mostly made of metal and has a compact structure, which makes the device look very solid and tough. The stylish character of the device is underlined by the exquisite ROG logo on the lid, beveled edges and a diagonal strip that runs along the outside of the lid, breaking its monolithic look.
What's more, the laptop is very compact as it measures only 360 x 268 x 20.9 mm and weighs only 2.48 kg. So the thickness of the laptop is about 21 mm, or about 30 mm if you take into account the rubber pads designed to facilitate air circulation. Such elements contribute to the mobility of the device, which also distinguishes the laptop from other devices in its class.
However, the real magic begins only after lifting the case lid, when our eyes see a 14-inch additional screen located above the keyboard, which occupies more than half of the work area. The modern design of the device is emphasized by narrow bezels around the screen, on the sides they are only 5 mm thick, but the bottom edge is clearly thicker, but this is due to the design features of the laptop itself.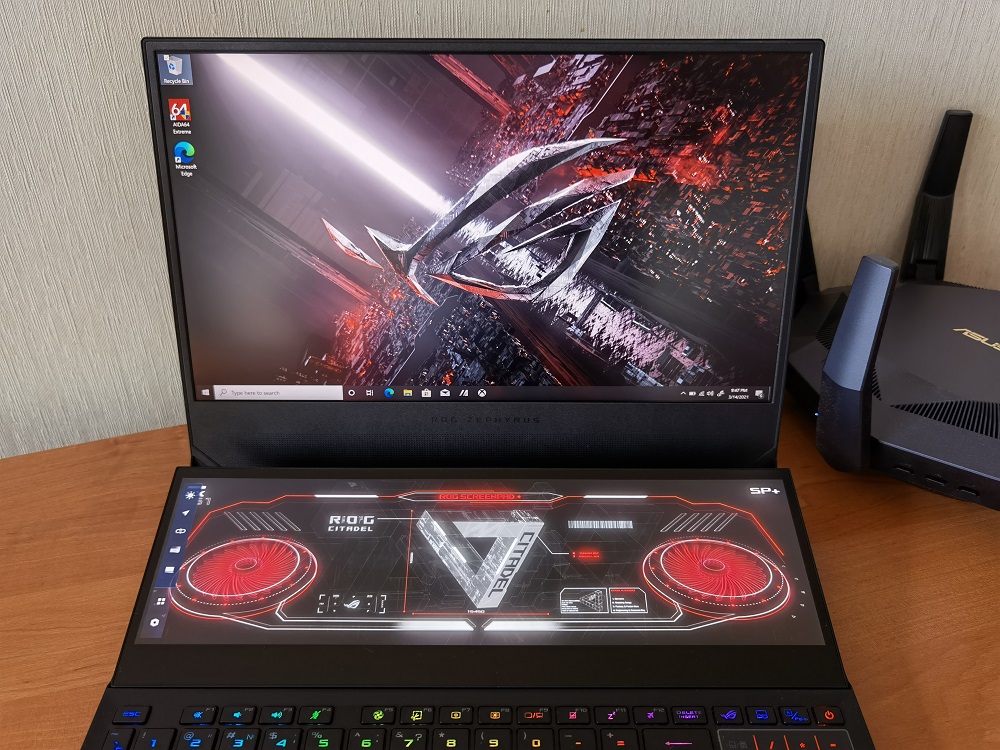 Here it is worth paying attention to the unusual hinges, thanks to which the laptop lid, when opened, slightly lifts up the back of the additional screen, exposing it at an angle to the user, which improves the visual perception of information. ASUS designers deserve a bonus for this idea. Moreover, this constructive solution, in addition to improving ergonomics, has one more practical application. There is a 28.5mm air intake beneath the secondary screen that allows cold air to enter the two turbines while reducing noise levels.
Another unique solution is the placement of the touchpad to the right of the keyboard. This  allowed the keyboard to expand towards the bottom edge. We've already seen this type of touchpad layout in previous Zephyrus models. The touchpad can be switched to the numeric keypad mode, just press the corresponding keys displayed on its surface.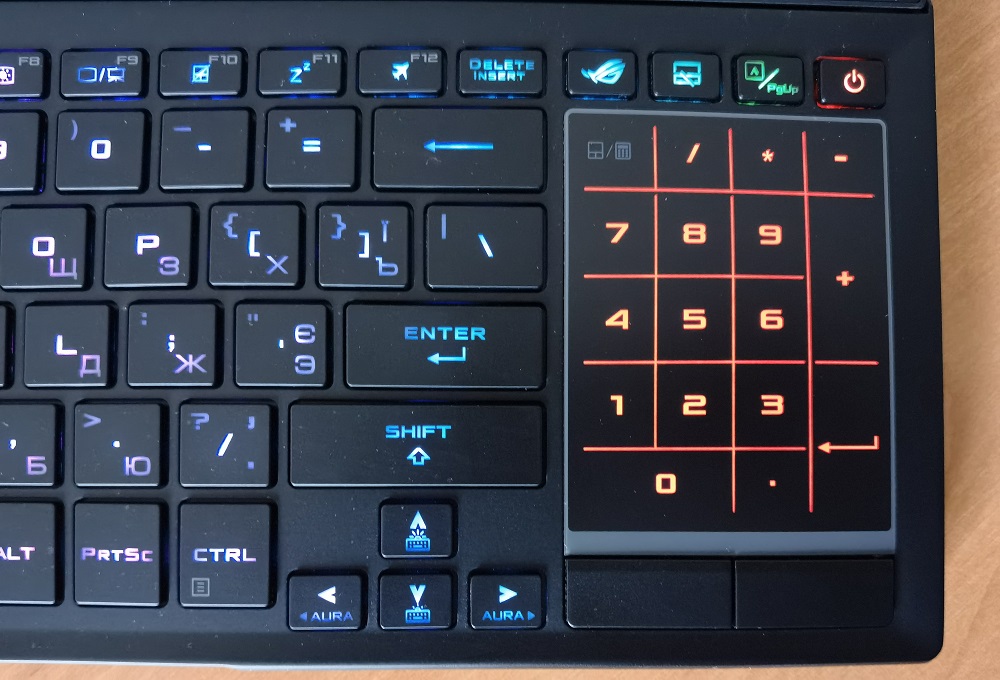 The bottom of the laptop has two speaker grilles, a large number of air vents and six rubberized sliding pads.
The computer looks great as a whole, and the meticulousness of the execution is visible in every detail. In terms of workmanship and material selection, the Zephyrus Duo 15 deserves a very high rating.
RGB backlit keyboard
The additional screen forced not only to shrink the keyboard, but also to move it closer to the bottom edge, which in turn causes justified concerns about the comfort of its use. This is due to the fact that in this position we cannot put our wrists on the panel, and the edge of the laptop presses on our hand. We must honestly admit that using the keyboard this way is not a pleasant experience. ASUS has included a rubber wrist rest that attaches to the bottom edge of the device (there are no latches or magnet systems here). This element inherently improves ergonomics, but it moves the user away from the screen a little, and using the laptop on your lap or anywhere other than a table top can be problematic. Moreover, the bottom edge of the laptop is slightly higher than the bottom row of keys, which makes them difficult to press. Unfortunately, this stand was not in my set, so I had to get used to this keyboard design for a couple of days.
The keys themselves are pressed with a pleasant crunchy click. In addition, although the travel is rather shallow (it is 1.4 mm), I did not get the feeling that the key hits the bottom hard and, therefore, the unpleasant firmness of the buttons was missing. Of course, the system has RGB lighting with individually backlit keys. The backlight intensity can be changed (it has three levels), or turned it off. Decreased arrows on the keyboard are a minus. We also get additional shortcuts; in addition to the typical options for adjusting the volume or brightness of the screen, there are some less obvious ones, for example, for the Turbo cooling mode, quickly replacing the content displayed on both screens, turning off the second screen or cutting out image fragments on screens that are saved to the clipboard.
The Zephyrus Duo 15 touchpad is a rather controversial element, not only because it has been moved to the right side of the keyboard, which takes some getting used to (especially for left-handed people), and it is also small in size. On the plus side, however, we have separate keys, which in the case of the Zenbook Duo Pro have been integrated with the touchpad.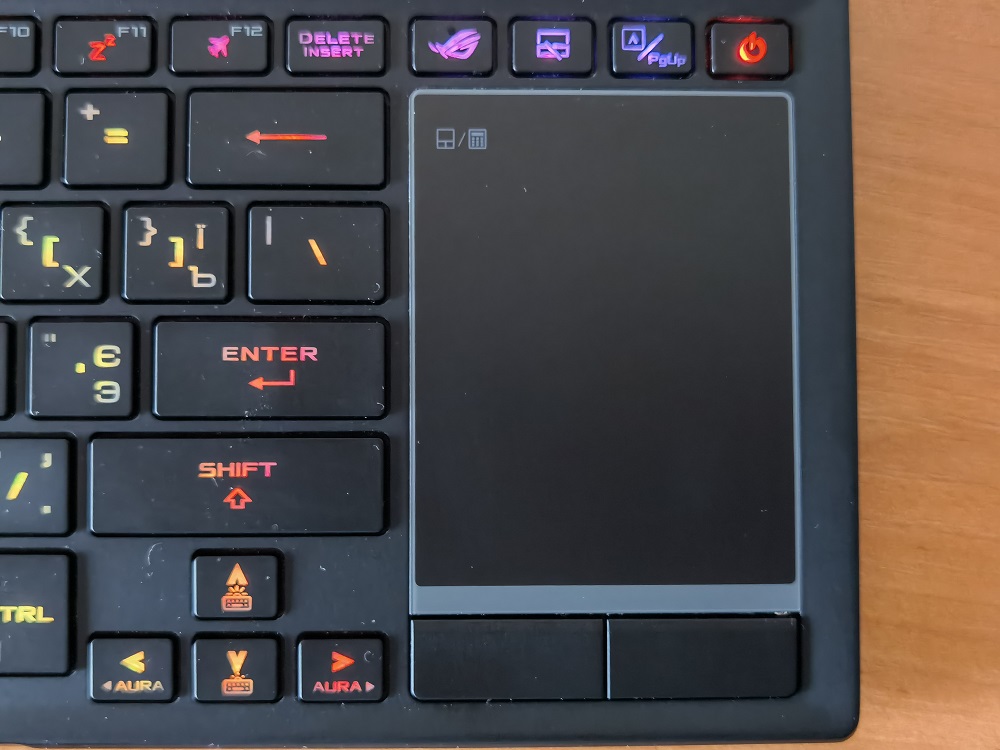 However, the touchpad coating allows the finger to glide smoothly over the surface, there are no issues with gestures (even with 4 fingers), and the ability to switch to the NumPad mode will be useful to users, it is just as convenient as a physical NumPad. While the touchpad is not very convenient to use due to its location and size, it doesn't really matter for a gaming laptop.
ASUS ROG Zephyrus Duo SE GX551 Port Set
The wide cooling system forces the manufacturer to position the ports on three different sides. So, on the left you will find only the power connector and a combined 3.5 mm audio mini-jack port (for headphones and a microphone). The only thing missing from the predecessor was a memory card slot. Now it has appeared on the left side of the ASUS ROG Zephyrus Duo SE GX551, although only for Micro SD memory cards.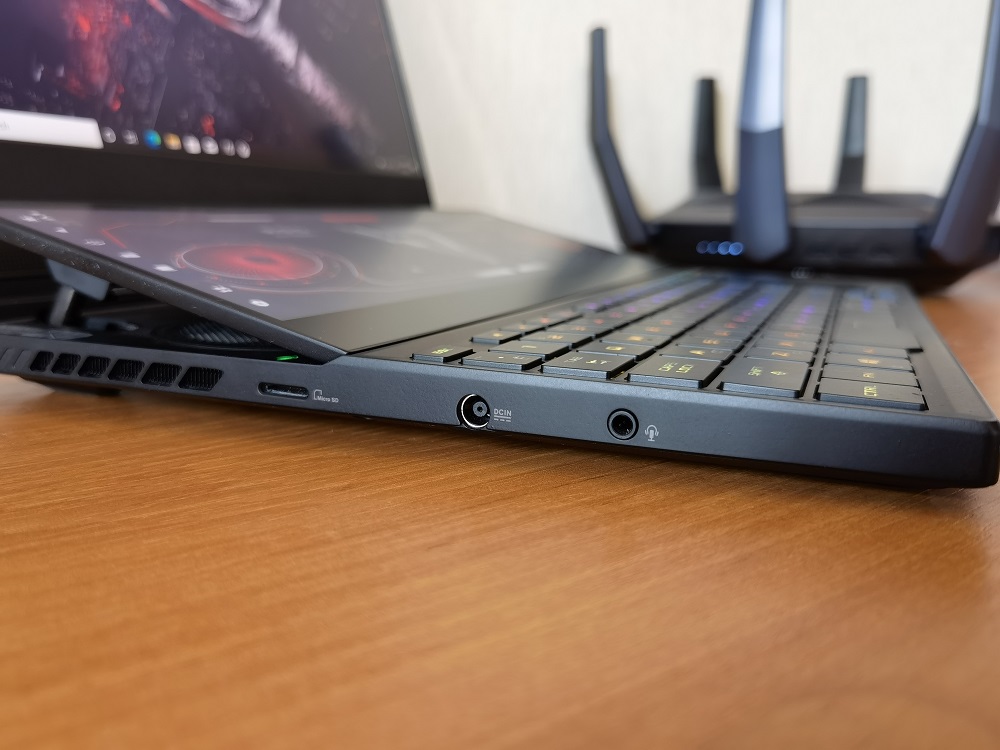 On the right side, there are two USB 3.2 Gen 1 Type-A and one USB 3.2 Gen 2 Type-C that implements Thunderbolt 3 with DisplayPort 1.4 and a Power Delivery 3.0 option, which allows the laptop to be charged at up to 65W (although that's not enough under a heavy load).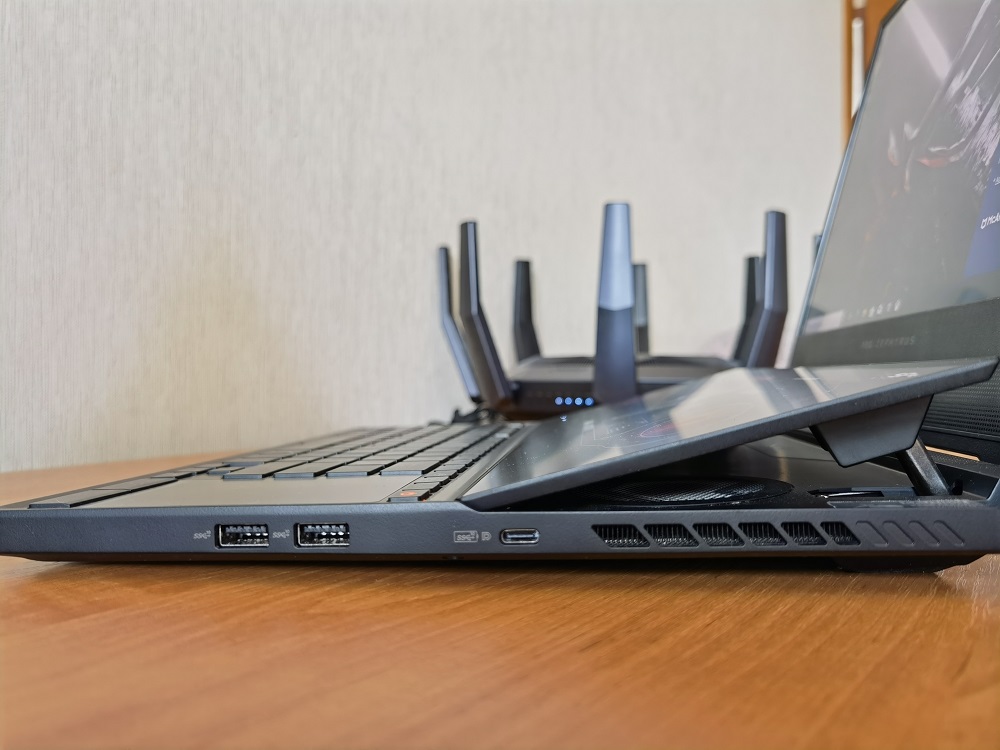 There is an Ethernet RJ-45 port on the back, another USB 3.2 Gen 2 Type-A port and HDMI 2.0b. In terms of ports and connectors, this laptop pleasantly surprised me, given its gaming nature, and I'm especially pleased with the Thunderbolt 3 support.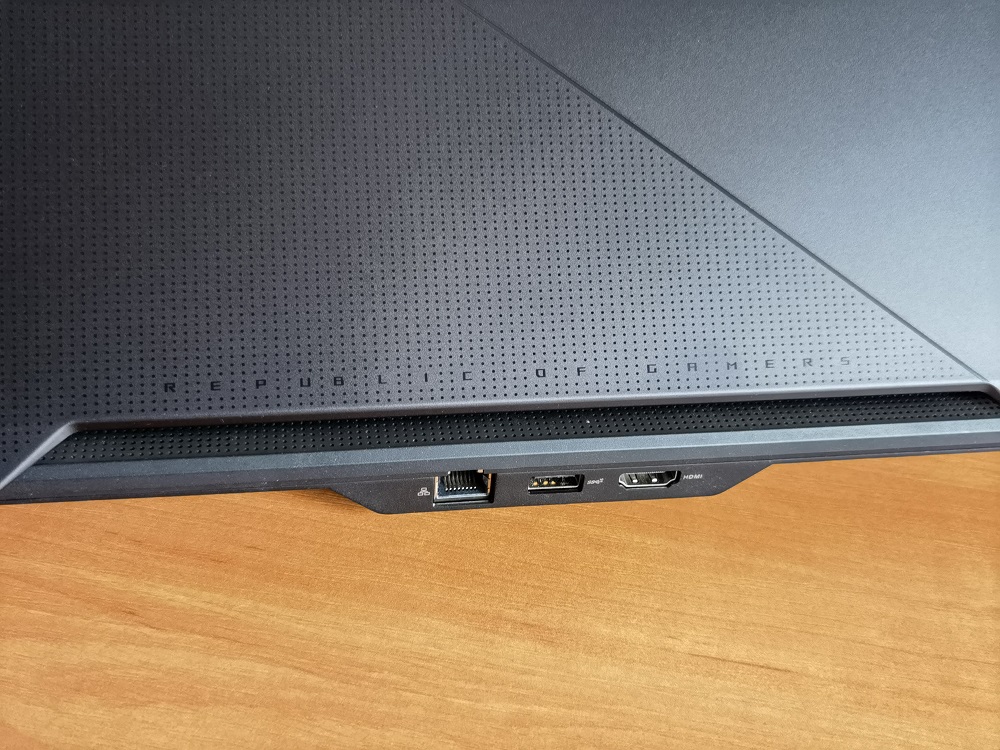 One small note on the placement of the ports on the sides. They protrude quite strongly outside the case, which can sometimes get in the way, for example, the hand that holds the computer mouse.
Connection and communication interfaces
A modern gaming laptop is hard to imagine without a fast internet connection if we want to get the most out of our gaming experience. The ASUS ROG Zephyrus Duo SE GX551 is great in that regard. An RJ-45 Ethernet port will provide the ultimate wired convenience.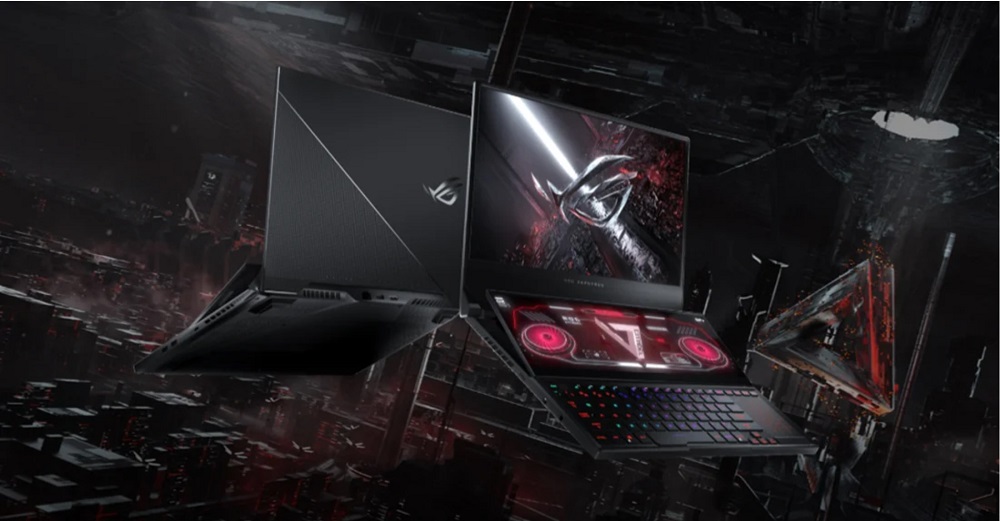 The Intel AX201 NIC is responsible for wireless connectivity, providing support for both Bluetooth 5.1 and Wi-Fi 6 (ax) support with data rates up to 2.4Gbps. A quick test confirmed the high speed of the Wi-Fi 6 network, since the speed in my case even reached 850 Mbps. I also haven't noticed any issues with connection stability or signal strength.
Read also:
What about sound and webcam?
The ASUS ROG Zephyrus Duo SE GX551 speakers are pretty mediocre, but you must admit that this is typical for most laptops. ASUS used stereo drivers, but the lack of a dedicated subwoofer is noticeable as the sound is fairly smooth and well balanced, but sometimes distorted. The volume and the fact that we hear some kind of bass, which is rarely found in laptops, is a plus. However, we expect more from a laptop for that kind of money. But the ESS Saber Hi-Fi DAC system should be praised, since it provides really high quality sound when connected to headphones.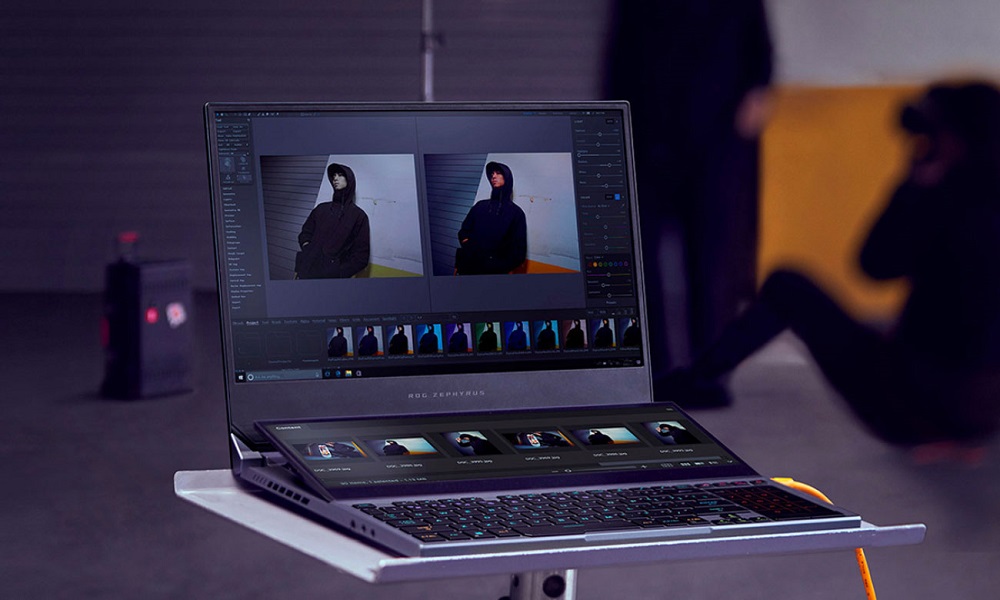 However, with a webcam, things are much worse, because there isn't one. For some reason, the company decided that a webcam is not needed in a gaming laptop. This is surprising, since the high-end ASUS models that did not have a built-in camera at least had an external camera.
ROG Zephyrus Duo SE GX551 Displays
As I said, the two screens are the main attraction: a 15.6-inch 4K matrix with a refresh rate of 120 Hz and an additional touchpad tilted above the keyboard.
Primary 15.6-inch IPS panel
Let's start with the base display, which is a 15.6-inch panel from AU Optronics. This time, instead of the OLED from the ZenBook, we get IPS LCD, but it supports 4K resolution (3840×2160 pixels) and 120Hz refresh rate, which is of great importance for gamers. But ASUS also offers a model with a Full HD screen and a refresh rate of 300 Hz. My 4K test device had a reasonably fast response time, but given the 120Hz limitation, it's still hard to see it as the optimal choice for games who play online.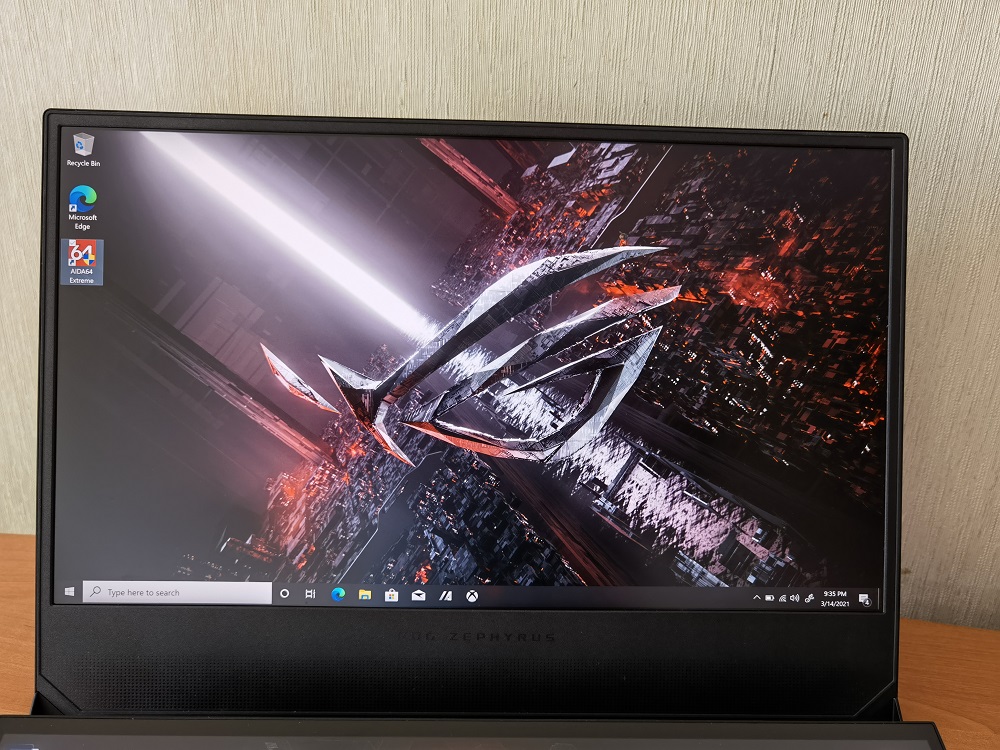 In single-player games, where the visuals are important, everything is fine. It is worth mentioning the support for G-Sync technology here, but it should be noted that in order for it to be active, you first need to disable Optimus mode, which allows you to switch to the integrated GPU.
More detailed colorimeter measurements:
| | |
| --- | --- |
| White dot | 6806 K |
| Brightness of white | 384.8 cd/m2 |
| Brightness of black | 0.2634 cd/m2 |
| Contrast | 1460,4:1 |
| Middle Delta E | 3,35 |
The screen is wide, and a check with a colorimeter confirmed that we are dealing with a screen that can be used even by professionals who work with color, although it needs to be calibrated. The manufacturer promised 100% coverage of the Adobe RGB color gamut, and this is true, because our measurement equipment recorded a value of 99.6% with a gamut volume of 104.2.1%. It should be remembered that this is a very demanding standard, applied mainly in the high quality printing and film industries. In the case of the more popular sRGB gamut, the results are also impressive, as coverage is full (99.9%) and volume is 151.2%. DCI-P3 also performed very well at 87.8% and 107.1%, respectively.
ASUS ROG Zephyrus 15-ekran
The average Delta E error is worse (3.35), which was quite unexpected, since the manufacturer boasts a factory calibration for Pantone color compatibility. The naked eye can see that the colors are clearly defined and saturated. From the point of view of the average user, this may be attractive, but such image may not appeal to professionals and therefore additional calibration will be required. On the other hand, the color temperature is at an acceptable level of 6808 K, so the white color cools a little and takes on a slight bluish tint. Contrast is also good for IPS as it goes up to 1460.4:1. In terms of maximum brightness, we recorded 384.8 nits, which is also a very good result, which allows the computer to be used in brighter lighting conditions. The backlight uniformity is decent, which is also not seen often. In short, this is a truly high-end panel, although the factory color calibration leaves a lot to be desired.
ScreenPad Plus
ASUS ROG Zephyrus Duo 15 SE GX551, like its predecessor, has a second screen, which ASUS calls ScreenPad Plus. This 14.1-inch IPS LCD has a resolution of 3840×1100 dots and a matte anti-reflective touchscreen.
ASUS ROG Zephyrus 15-ScreenPad Plus
ScreenPad Plus Windows sees as a second display, which means that we can freely move windows and other elements between screens by dragging and dropping them to the desired location. ASUS has also taken care of the smaller screen and added special options.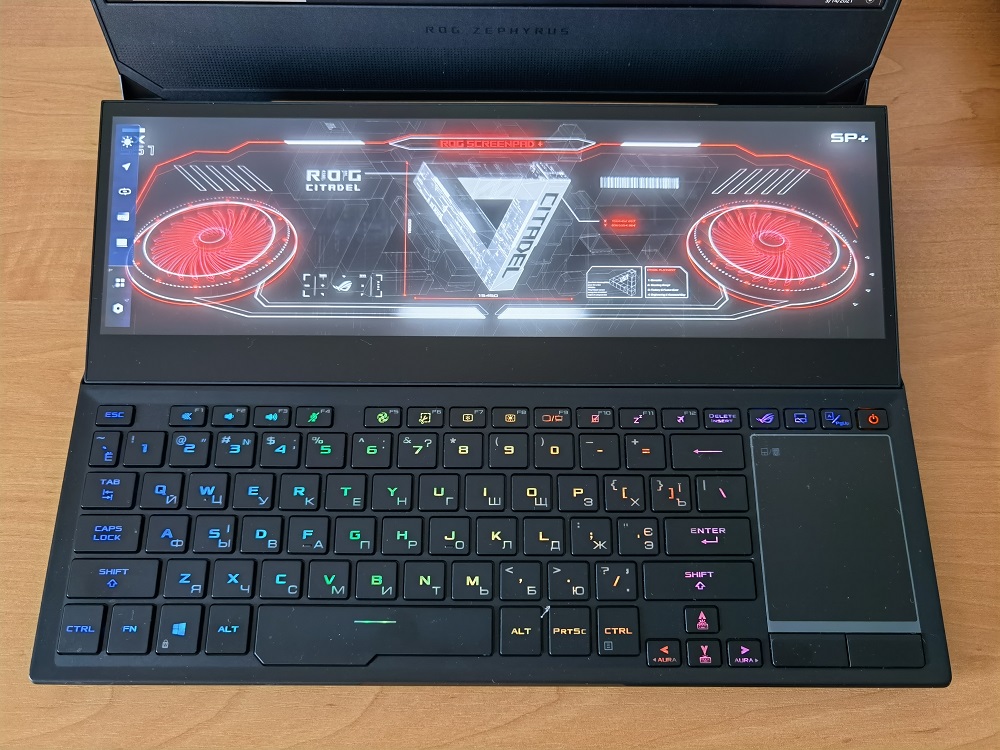 And yes, there is a dedicated launcher on the left side, that is, a menu with numerous ScreenPad Plus special features. We will find here, among others, popular keyboard shortcuts (like copy, cut, paste or undo, which we can always have at hand), a drawing/handwriting note tool (this model does not support a stylus, but you can use your finger as we're dealing with a touchscreen), or shortcuts to Armory Crate, MyAsus, or a browser. You can assign shortcuts to your favorite programs.
There is also an option to adjust the brightness, a shortcut to quickly move programs between screens and the ability to lock the main keyboard. Another interesting feature is the settings group, where we can program four different sets of programs that will work on both screens – up to two in the main and three on the ScreenPad Plus. This solution turns out to be extremely useful. Plus, even little things like the automatic setting of programs on the bottom screen are nice. Just lower the corresponding window so that it takes up a third of its area. This makes it easy to group them.
I didn't like the fact that waking the laptop out of sleep mode is not as fast as with a regular laptop, since both screens start independently, which takes longer and sometimes causes minor problems. Sometimes it happened that ScreenPad Plus did not want to respond to commands or programs, and the windows displayed on it lost/changed their proportions or position and even switched to the main display. Anyone who has used multi-screen configurations probably knows what this is about.
There is still room for improvement here, but the functionality is surprising, because usually everything works as it should, and the ScreenPad Plus really is impressive. The reasons for using the second screen are many, ranging from gaming to design or multitasking in everyday use. ScreenPad Plus is ideal for all kinds of tasks, for example, in graphics programs that support two screens, thereby increasing the work surface. Moreover, it makes it possible to launch additional windows on the second screen, which turns out to be extremely useful in graphics programs. ASUS is also trying to get game developers to directly support this feature and, for example, Dying Light 2 (you get the game for free when you buy a laptop, like we said) from Techland allows you to transfer items such as the mission bar, equipment and the like to another screen. … When it comes to other gaming software, the ScreenPad Plus is great for streaming.
In day-to-day use, the secondary screen can then be viewed as an extension of the main screen and used for handwritten notes or additional programs (e.g. calculator, Spotify, or Twitter). Therefore, it is a very interesting and functional addition, although it is hardly a revolution. However, support for this technology by game developers is still rather modest so far, but we hope that this will change soon.
Sweet couple: AMD Ryzen 9 5900HX and NVIDIA GeForce RTX 3080
This is by far the most interesting part of this test. I tested a model equipped with an AMD Ryzen 9 5900HX processor and an NVIDIA GeForce RTX 3080 GPU (130W TGP). This is a very successful combination, which has convincingly proved that it has a right to exist.
How can I briefly summarize the performance of this couple? If we draw an analogy with figure skating, then they are absolute champions in their class. The hero of my review is much more efficient and much quieter than the Zephyrus Duo 15 (GX550), the battery life is also noticeably better. ASUS has improved the cooling system with two 45-50mm fans, but that still doesn't explain the improvement in overall behavior.
The fans are activated more rarely, which means that the laptop does not make noise when you do your day-to-day office work. I even sometimes felt like I was working with an ultrabook with low processor power consumption. I have written several articles and reviews on this game monster. The fans are only activated when the NVIDIA GeForce RTX 3080 graphics chip is running. This low noise level is actually the result of the efficient operation of the AMD Ryzen 9 5900HX chip.
It was only when I was running games, or doing heavy editing, that the cooling system produced around 40dB of noise, which could go up to 50dB in stress tests. Please note that a headset is required for noise above 45dB. But this is normal for gaming PCs or laptops.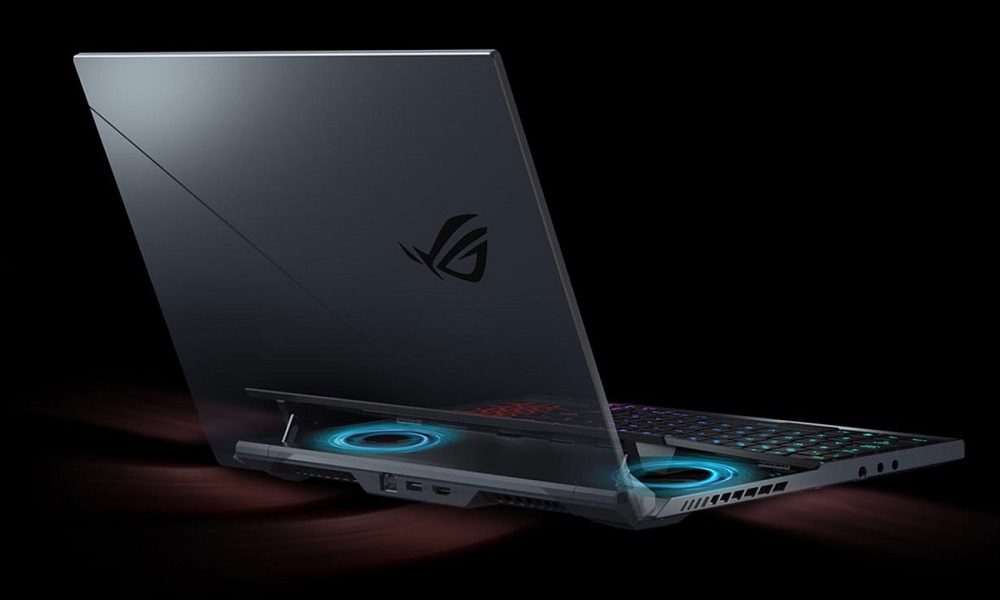 Continuing the theme of the laptop's cooling system, I must admit that the Zephyrus Duo 15's case heats up significantly, especially the underside of the laptop, where in some places I recorded results exceeding 55°C. Therefore, using the laptop on your lap, despite its relatively light weight, is not recommended. However, given the unusual design of the device, it is unlikely that this is how someone will use it. In Turbo mode, with the fans operating at maximum, the noise reaches 50 dBA. This is, of course, is a lot, so the noise is clearly audible, but compared to other gaming laptops, this is still a decent result, and besides, we are only talking about extreme cases, and usually the volume is lower than this figure. Quiet mode is a bit disappointing, however, as the device can still generate up to 42 dBA, although the innovative solution of using liquid metal instead of thermal paste helps keep the laptop cool as much as possible.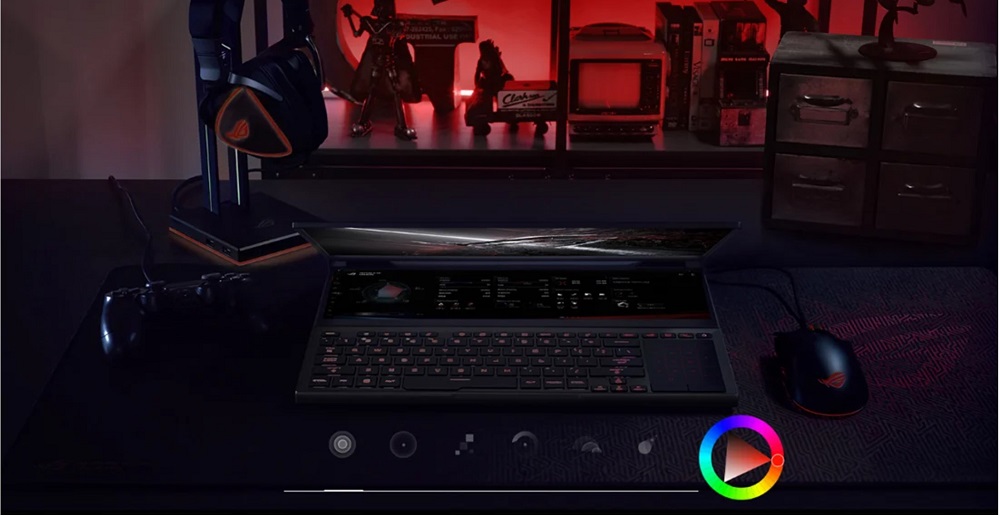 The high performance also allows the Ryzen 9 5900HX to maintain its Turbo Core Boost much longer than Intel's Turbo Boost. Therefore, we get more stable performance, but above all, better performance in multi-threaded and single-threaded tasks. In short, this Ryzen 9 5900HX chip outperforms Intel's most powerful chip today.
The base frequency of 3.3 GHz (4.6 GHz in Boost mode) and a TDP of 45 W of this chip is more balanced than Intel chips in a lot of situations, and not only in synthetic benchmarks (Geekbench 5, PCMark 10 Cinebench R20… ), but also when working with specific programs (Adobe Lightroom, file decompression, video conversion, etc.).
When it comes to laptops, dissipation is very important. The ASUS ROG Zephyrus Duo 15 SE is available in several versions, but I was able to test the model with the most powerful graphics system to date, NVIDIA GeForce RTX 3080.
The first thing to note is that you shouldn't expect the same performance as the GeForce RTX 3080 desktop graphics card. However, the mobile version of the GeForce RTX 3080 is the most powerful mobile graphics chip on the market. It is even much faster and more efficient than the GeForce RTX 2080 Super Max-Q. Compared to a desktop PC, the actual performance of an RTX 3080 mobile device is equal to that of a GeForce RTX 3060 Ti.
According to official figures, Control should hit around 80fps at 1440p on high settings. Meanwhile, I managed to get around 60-70 fps in 4K resolution on high settings optimized in GeForce Experience. When I raised the graphics quality to ultra, with RayTracing Control enabled, the indicator dropped to a maximum of 40 frames per second, and even to 30 frames per second during intense battles.
In Red Dead Redemption 2 on high settings, I hit a maximum of 75-80 fps in open spaces and about 60 fps when there are lot of NPCs.
However, in less demanding games we can count on very high frame rates. In Call of Duty: Warzone, I managed to easily get over 150 frames per second at high settings, while Forza Horizon 4 at ultra settings reached 100-120 frames per second, depending on the number of opponents along the route.
But this time, I wanted to run modern games in 4K. Note that everything can be reproduced in high quality even if ray tracing is enabled. I was able to test competitive games like Overwatch as well as Call of Duty: Modern Warfare. During testing, it was possible to maintain the 4K resolution, but I reduced the graphics quality to reach 120 frames per second, which, of course, since there's a 120 Hz screen.
If you intend to play on this computer exclusively, then it would be logical to choose a model with a Full HD screen and a refresh rate of 300 Hz. For example, I read that in Full HD Cyberpunk 2077 runs at over 60fps with ray tracing enabled. Even in 4K at 30fps with ray tracing enabled I still managed to enjoy the graphics and the fluidity of the game. In addition, enabling DLSS dramatically improves performance while maintaining visual fidelity, meaning there is no reason to disable it if your game supports DLSS 2.0.
In short, the architectural advantage of the Ampere GPU creates an even wider gap between the ROG Zephyrus Duo 15 SE and its predecessor, as the new GPU has great performance. It can compete with the latest generation of desktop PCs. Note that the laptop has these characteristics due to the fact that ASUS has managed to make the most of the performance of the GPU thanks to the well thought out case design.
ASUS ROG Zephyrus Duo SE GX551: Memory
The Zephyrus Duo 15 has two 16GB modules (Dual Channel configuration) + 16GB separately inside, which adds up to an incredible 48GB of DDR4 RAM. Moreover, the manufacturer focused on fast memory at 3200 MHz (albeit with high CL22 latencies), i.e., going beyond the official support of the processor controller. It should be emphasized that only the 32GB version is available in our market, and this is a smart choice because the laptop only has one SO-DIMM at the user's disposal, since the second module is permanently soldered to the motherboard, which limits future upgrades. Although 32 GB should satisfy the majority of potential users, even professionals and gamers.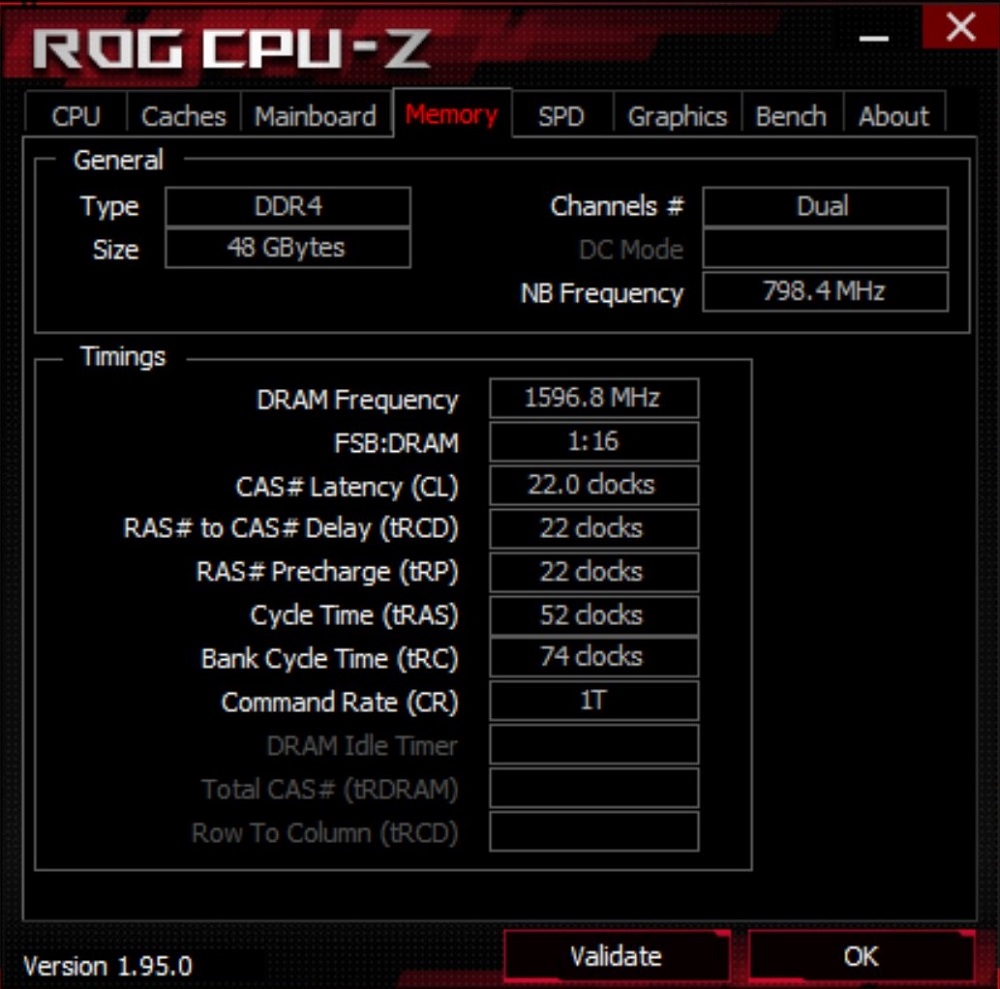 As for the storage medium that ASUS uses in this gaming device, it is almost uncompromising. Under the hood are two M.2 SSDs connected in RAID 0. These are two Samsung MZVLB1TOHBLR 1TB (2TB total) models that boast 3500MB/s sequential reads and 3000MB/s writes. It uses 96-layer 3D-NAND TLC cubes, PCIe Gen. 3.0 × 4 and NVMe 1.3 protocol. I have to admit that in this aspect I had no reason to complain, especially since in practice the drives work flawlessly (instant copy, fast loading of games), and this element increases the attractiveness for the professionals as well.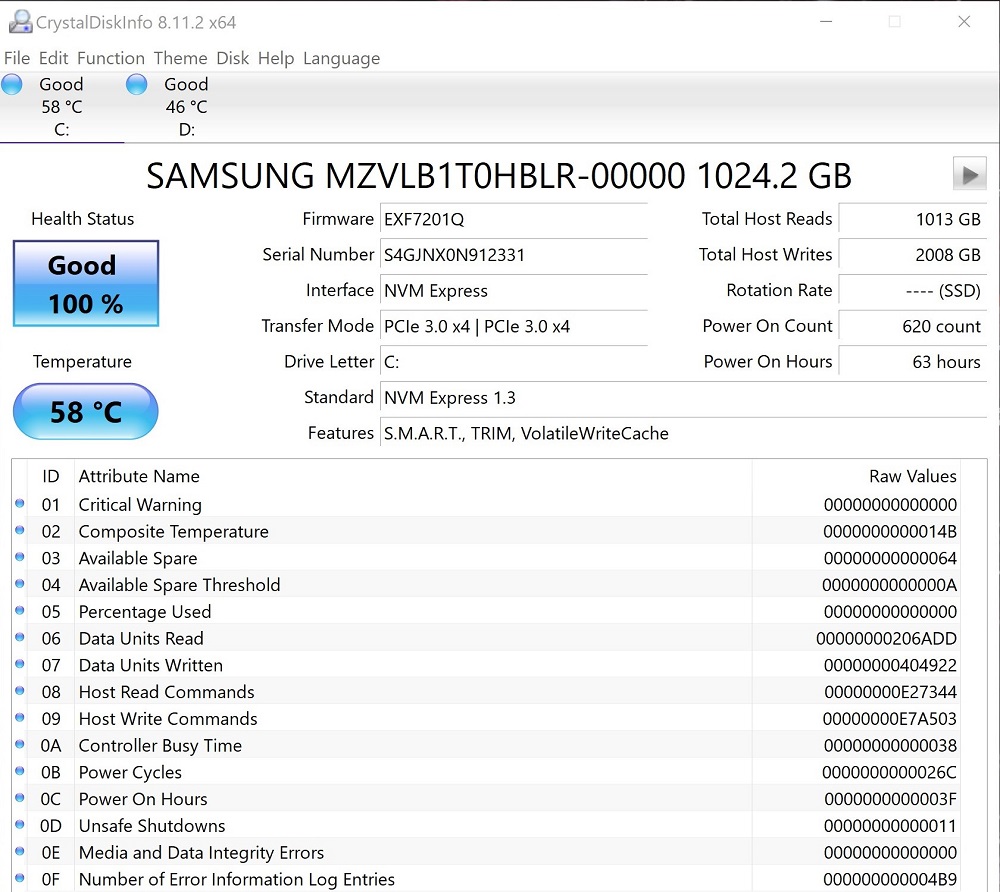 Considering the fact that gaming laptop manufacturers tend to install budget SSDs even in high-end designs, ASUS deserves credit for this choice.
However, a controversial issue is the RAID 0 array, since the PCIe 3.0 x4 interface limitation does not allow the full potential of such a configuration, and the performance is almost the same as when splitting these drives (in addition, RAIDs seem to have problems with random samples), which would also be more practical.
ASUS software
Laptop manufacturers always pre-install software on their devices, and there is a lot of it here too. The manufacturer provided several unnecessary apps and games, and a prime example is McAfee antivirus, which persistently tried to convince me to subscribe.
The most important program that actually works is, of course, Armory Crate, a kind of command center that monitors the main components, offers performance modes, profile management (for example, for specific games) and many other useful options. Of course Armory Crate plays a key role here, as this app even has a dedicated key on your keyboard. This program is distinguished by its simple interface that allows you to control system settings (including clock speed and temperature of key components) and performance level (five modes: Windows, Silent, Performance, Turbo and Manual, where you can set the fan speed yourself). We can even save up to four profiles that automatically load specific settings for different games, select programs to close during gameplay, or control other tools.
Also of note are programs like GameFirst V, which maximizes the bandwidth of internet connection for gaming and streaming. GameVisual offers eight preset images for specific game genres and media types. Sonic Studio III is a suite of audio tools where we get different sound modes and many other interesting options (volume stabilization, ambient noise reduction or echo cancellation during recording). Also Aura Creator to personalize keyboard lighting and ROG MacroKey to customize macro keys.
All this is complemented by MyASUS, diagnostic tools, driver updates and a technical support center. Here we can find a solution that allows you to limit the battery charge to 80% or 60%, which is important for increasing battery life.
ASUS ROG Zephyrus Duo SE GX551 battery life
A few words about the battery life of the ASUS ROG Zephyrus Duo 15 SE GX551. It is equipped with a really large 90Wh battery. This is understandable when you take into account the fact that the device has two displays and very energy-intensive components. For these reasons, you can't expect record battery life, but the results from the PCMark 10 benchmark are decent, not too shabby.

By switching to a power-saving mode (which leads to a decrease not only in performance, but also in the brightness of the screen and deactivating the keyboard backlight), we can achieve more than 4 hours of operation with the second screen on. Turning off the additional screen extends this time by about another hour. This is slightly better than its predecessor, but do not plan on more than 3 hours and 30 minutes of office work, or an hour and a half of playing games.
Verdict
The ASUS ROG Zephyrus Duo 15 SE is pretty much like its predecessor. However, the components here make a difference. A 4K display with a 120Hz refresh rate delivers crisp colors without sacrificing speed. That's how it achieves perfect balance.
The AMD Ryzen 9 5900HX processor paired with an NVIDIA GeForce RTX 3080 GPU under the hood is also significantly more reliable than the previous set. It is worth noting that the ROG Zephyrus Duo 15 SE also has the best battery life.
Who is this wonderful laptop from ASUS for? First of all, gamers. They are the ones who should be most satisfied with the ASUS ROG Zephyrus Duo 15, which is why it receives high marks from us for quality and design. However, it's not for everyone, and it's not cheap.
Yes, the only thing stopping the ROG Zephyrus Duo 15 SE from going mainstream is its price. But if you're looking to buy a really powerful gaming laptop, then this incredible gaming machine is your best bet.
Pros
modern and innovative design
elegant and very high quality finish
IPS 4K panel with 100% Adobe RGB coverage and practical optional ScreenPad Plus for a multitude of use cases
high performance AMD Ryzen 9 5900HX and NVIDIA GeForce RTX 3080, suitable for professional use
48GB RAM, fast SSD storage
ESS Saber HiFi converter
good set of ports (including Thunderbolt 3) and connection interfaces
nice RGB backlit keyboard
sufficient battery life
Cons
no webcam
inconvenient to use the keyboard without a stand
the small touchpad is not very practical and takes some getting used to
high price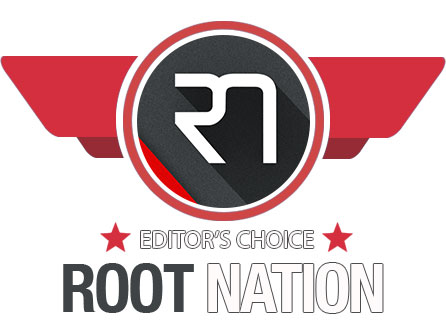 Subscribe to our accounts: