Most often, a laptop is a portable solution for working at any location. But if you need not the most compact, but the most functional machine for regular work? Then you should look at laptops with a larger diagonal and a more powerful processor, such as Huawei MateBook D 16. Today we will consider what this laptop can offer its users.
Specifications of the tested MateBook D 16
Processor: Intel Core i7-12700H, 3.5GHz (up to 4.7GHz in Boost mode), 14 cores/20 threads, 10nm, 24MB cache
RAM: 16 GB LPDDR4X, 3733 MHz
Video chip: integrated Intel Iris Xe, 1400 MHz
Disk: 512 GB SSD M.2 NVMe PCIe gen 3
Screen: 16″, 16:10, LTPS, 1920×1200 pixels, 300 nits, 60 Hz, glossy
Battery: Li-pol, 60 Wh, 4 sections
Dimensions, W×D×H: 357×248×184 mm
Weight: 1.7 kg
Case material: aluminum
OS: Windows 11 Home
Keyboard: membrane, backlit
Touchpad: matte, smooth
Data transmission: Wi-Fi 6 802.11 a/b/g/n/ac/ax (Intel AX201), Bluetooth 5.1
Connectors: 2×USB type-A; 2×USB type-C; 1×mini jack 3.5 mm; 1×HDMI 1.4
Deilvery set and price

In a compact box, in addition to the MateBook D 16 laptop, you will find a cable with two USB-C connectors at the ends and 65 W charger.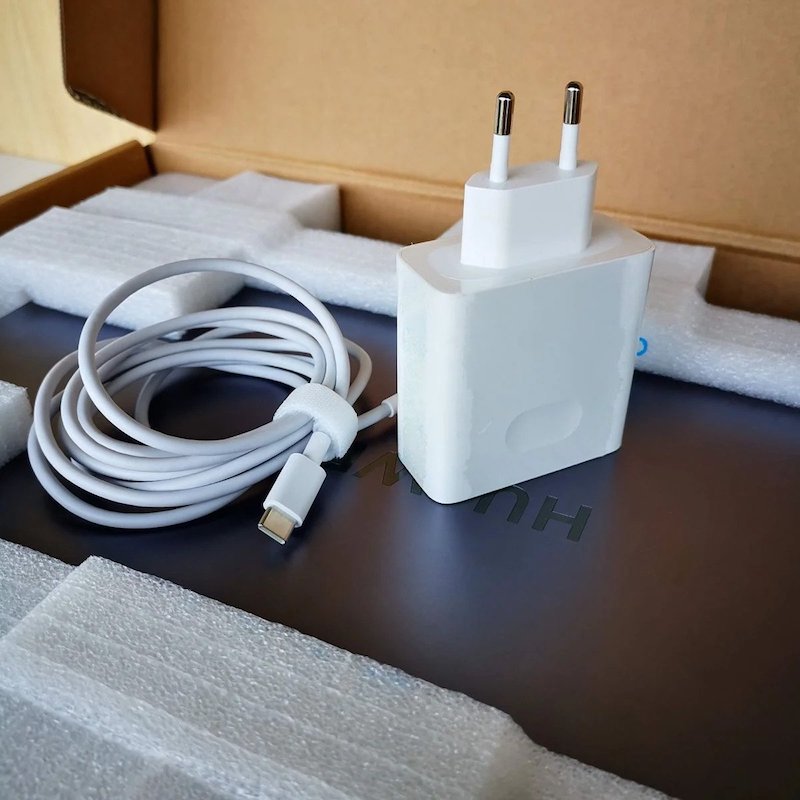 MateBook D 16 design
The laptop looks as minimalistic and stylish as possible. At first sight it is clear that this is a model for "white collars" – minimalism in design, matte polished metal of the case, which looks expensive, and a glossy logo as an elegant decoration. Everything in balance, everything is sustained in the same style, and as it often happens, the main thing is under the hood. And there we have no less than the latest generation processor, 16 GB of RAM and 516 GB SSD – in general, there is something to surprise.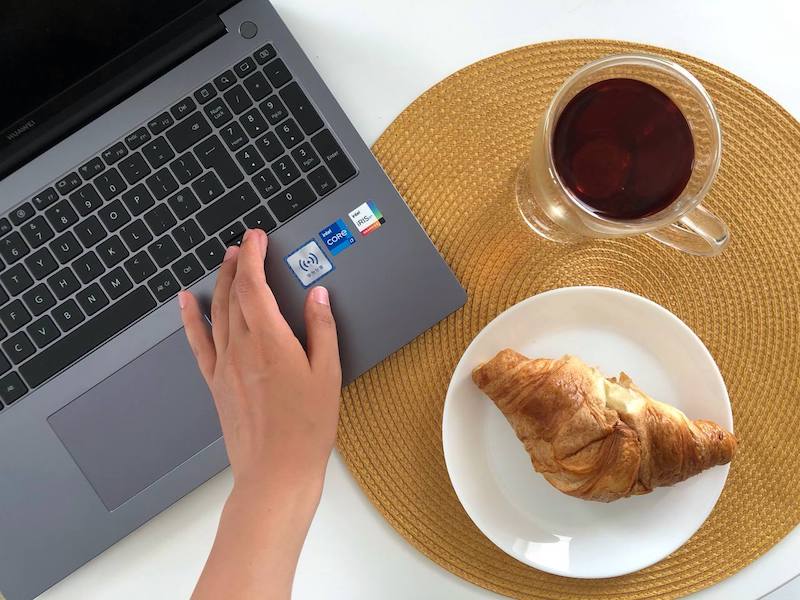 A notebook with such diagonal can hardly be called a particularly portable solution. Here the comfort of long-term daily use prevails over compactness. So this model will be a great assistant for organizing a cozy workplace in the office or at home. And for this purpose, besides a large diagonal, there are other useful features.
The laptop case is metal, not prone to scratches. The edges of the case are beveled and polished to a shine. The HUAWEI inscription on the lid is also polished and shines. Metal and status were emphasized by the choice of colors of the model – Space Grey and Mystic Silver.
Below you can find two small legs and one long leg with two points of contact with the surface. Thus, the laptop stands confidently on the table plus there is a small gap for air circulation. Given the ventilation holes, this is more than reasonable. There are also speaker grilles on the rear panel.
The lid opens easily, but the laptop did not pass the test for opening with one hand. The case has rounded edges, which goes well with the design of the new Windows 11. When opened, we see a fully glass-protected display with minimal bezels and an aspect ratio of 16:10.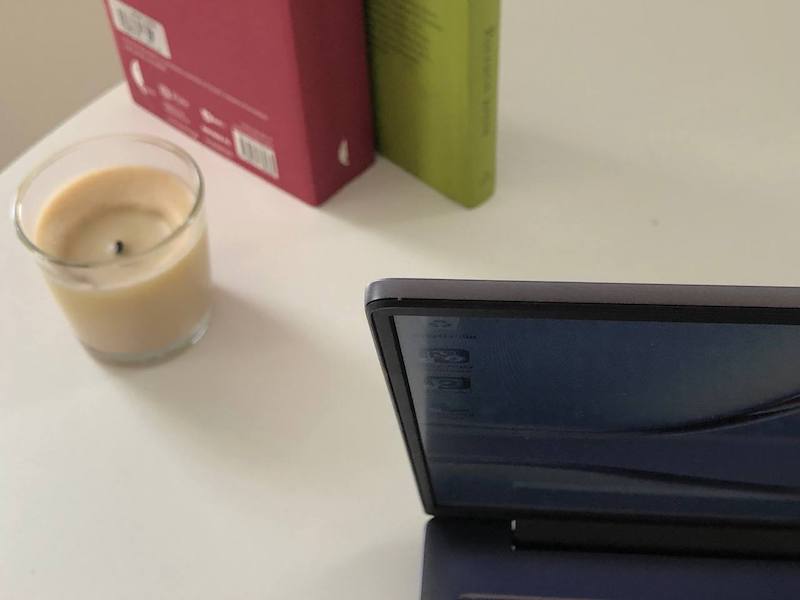 The top bezel is only 8 mm high but contains a camera for video calls. The side bezels are less than 5mm. The lower one is 12 mm, although compared to other laptops it still looks narrow. The screen occupies 90% of the top panel of the MateBook D16.
The assembly, as you expect from a representative of the MateBook line, is excellent. Nothing creaks or bends when pressed.
The dimensions are quite moderate – the width is 35.7 cm, the length is 24.8 cm, and the thickness is 18.4 mm. Huawei MateBook D 16 weighs 1.7 kg. Quite acceptable numbers, given the other parameters of the laptop.
Read also: Acer Aspire 7 A715-51G Laptop Review: Cutting Corners
Keyboard and touchpad
The keyboard is occupying almost the whole width of the laptop. Key placement is convenient, intuitive, without surprises. If you had other MateBooks, you will not have to get used to it. But personally I find the short left shift quite tiring. Since I am used to using hot keys in different programs, at first instead of fast functions I received slow error corrections. But it's a matter of habit.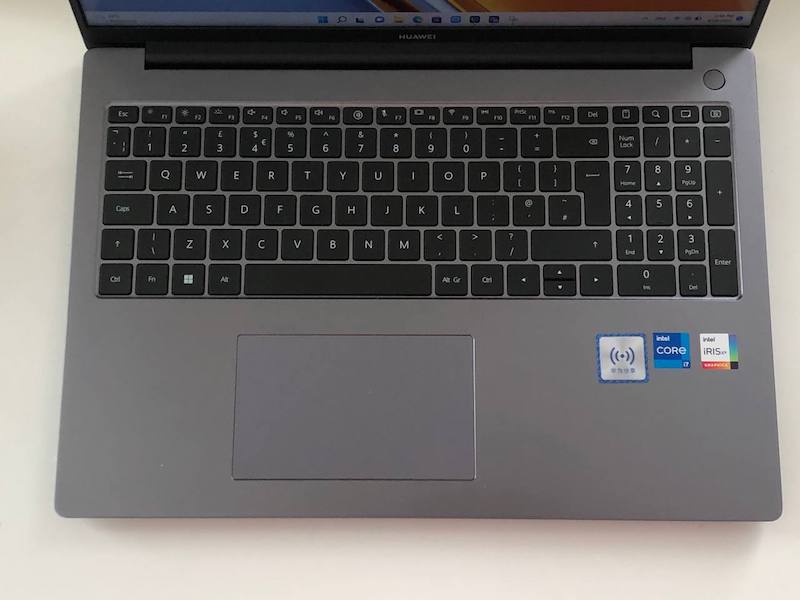 If your work, like mine, is connected with typing, writing a large number of lines of code or conducting business correspondence then you will appreciate one of the features of this notebook – an excellent keyboard. The keys are made of pleasant to the touch and durable polycarbonate, quite large.
Again, another not very pleasant moment that requires a habit is the small ↑ and ↓ arrow keys. But the numpad here is just royal, if you work a lot with numbers – it's just a pleasure for your fingers.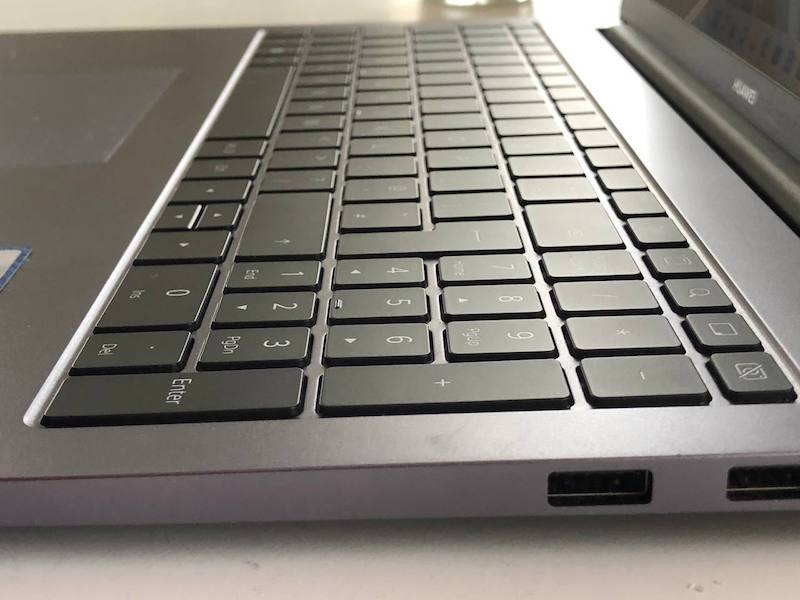 The keys have white backlighting, two levels are available – brighter and pale. However, even in the maximum variant it cannot be said that the backlighting is very bright. If in gaming models you see a halo around each button, then here, there is rather a weak glow in the gaps between the keys, and only if you look at an angle. So the presence of backlighting is certainly a plus, but it would not hurt to work on its quality.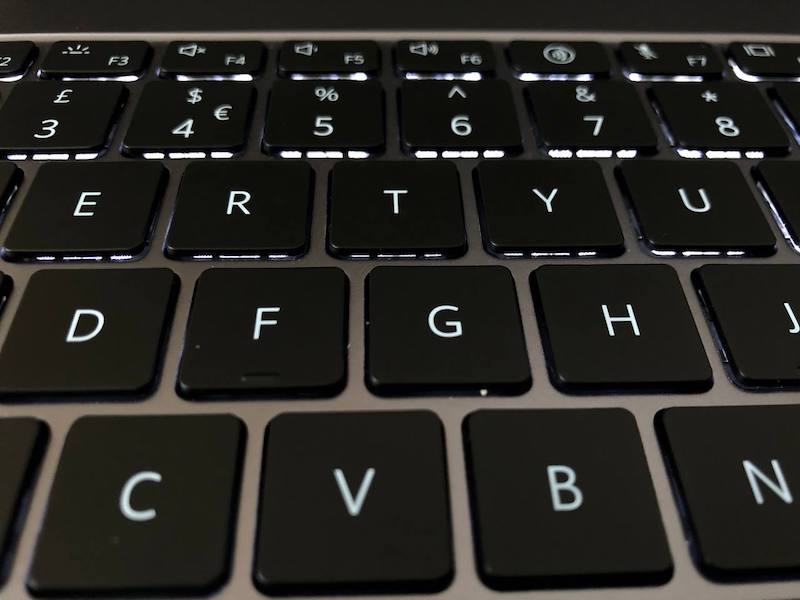 The power button is located on the right above the keyboard. It is not simple, but golden, that is, not just a power button, but also a fingerprint scanner. It is logical, intuitive and qualitative. The scanner worked well, and the ability to enter the system securely with one touch without constantly entering passwords is definitely convenient.
The touchpad is large, smooth, pleasant to the touch. Sensitivity is on top, touches are recognized without any problems. The touchpad buttons are not separated, the entire lower part is pressed. As for the style – perfect, functionally as usual. I have no questions or complaints, as well as false or incorrect presses.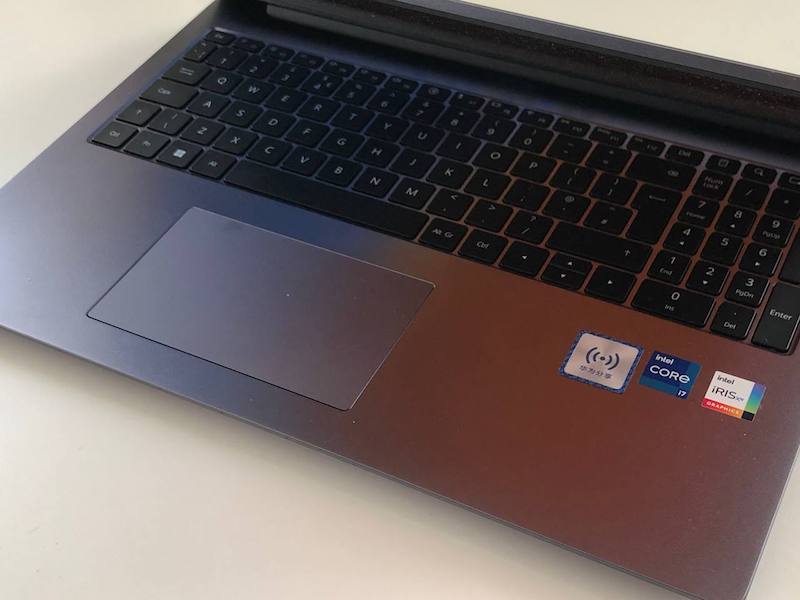 MateBook D 16 ports
Everything is fine with the ports here as there is everything you need. On the right side there are two USB type-A. On the left side you can find HDMI, 3.5 mm headphone jack and two USB 3.2 Gen 2 type-C (one of which supports Thunderbolt).
Display
As I said, this laptop is a real treasure for those who are looking for a device for long daily work. The screen here is proof of this. It has a high resolution of 1900×1200, so individual pixels do not catch the eye when used. At the same time, the load on the system when displaying the picture does not consume all resources.
The refresh rate here is not a gamer one either – modest 60 Hz. However, flicker suppression technology is added here so that your eyes do not get tired from long work. There is a special certificate of TÜV Rheinland to confirm this.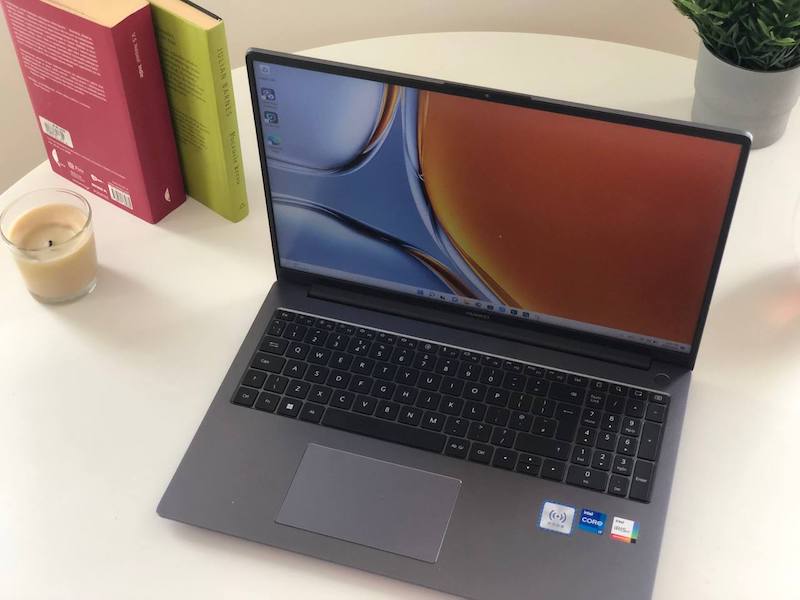 The matrix itself is of high quality, bright, with wide viewing angles. As I said, the display occupies 90% of the laptop area, and it gives a wonderful effect of immersion in what is happening on the screen.
The MateBook D 16 display has excellent brightness – 300 nits, high contrast (about 1200:1), as well as 100% coverage of the sRGB color space. Thus, the laptop immediately expands the circle of its potential buyers to visual content creators who are interested in a universal device not for all the money in the world.
For professional video editing or photo editing, the screen, of course, does not reach, there are other models for this, for example, Huawei MateBook X Pro, which we recently reviewed. But for bloggers or marketers who work with banners and other creatives – the laptop will do just fine.
MateBook D 16 hardware
CPU and video chip
The MateBook D 16 is powered by Intel's new 12th generation processor, with a choice of Core i5-12450H, Core-i5 12500H and Core i7-12700H models. The letter H at the end of the processor name means that it belongs to the Tiger Lake-H35 (TGP 35W) line, designed for powerful computers. The base frequency of the processors is 3.3 GHz (i5) or 3.5 GHz (i7). In Turbo mode, the frequencies increase to 4.4 GHz/4.7 GHz respectively.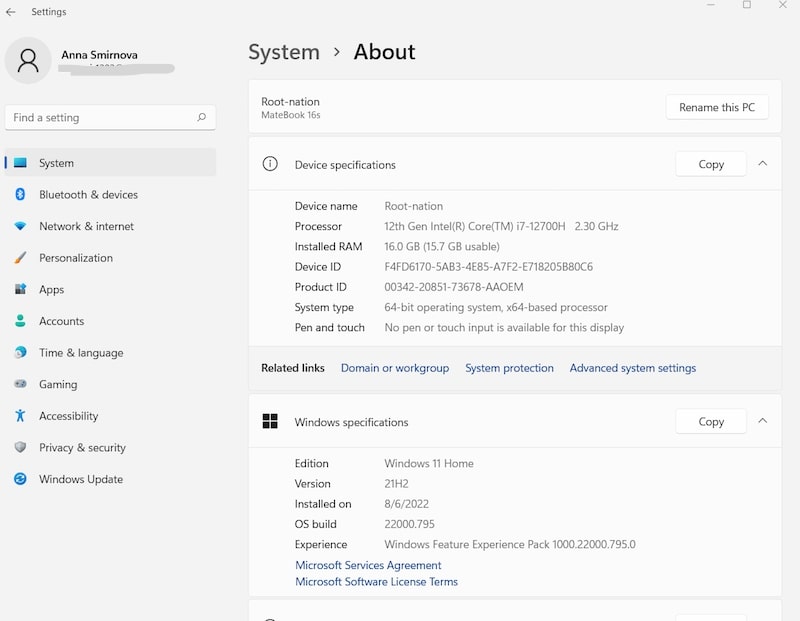 The graphics chip in the two senior models is Intel Iris Xe Graphics, the junior model has Intel UHD Graphics. The maximum frequency of the graphics chip Intel Iris Xe Graphics of the senior model is 1400 MHz.
RAM
Huawei MateBook D 16 is available in two configurations – with 16 and 8 GB of RAM. This is not the fastest option – LPDDR4X-3733, the processor supports faster models. This affects performance, in particular in games. Although we understand perfectly well that this is not a gaming laptop at all – you can play some old titles, but not new AAA-projects.
Read also: Huawei MateBook X Pro 2022 Review: The Promised MacBook Killer?
Storage memory
The manufacturer made a reasonable compromise by installing a 516 GB drive with PCIe 3.0 data transfer – enough for most common tasks, storing files and installing programs. If you need additional storage, you can always use a cloud service or pick up a fast external hard drive for convenience.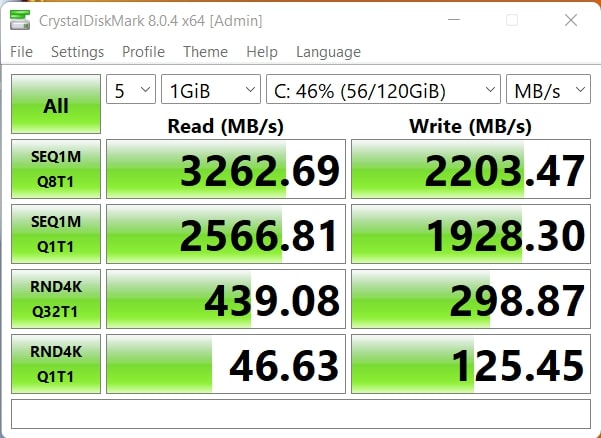 Wireless networks
Intel AX201 chip with support of the new Wi-Fi 6 standard (MIMO 2×2 up to 2400 Mbit/s) and Bluetooth 5.1 is used. There were no complaints about the operation of wireless modules during the test.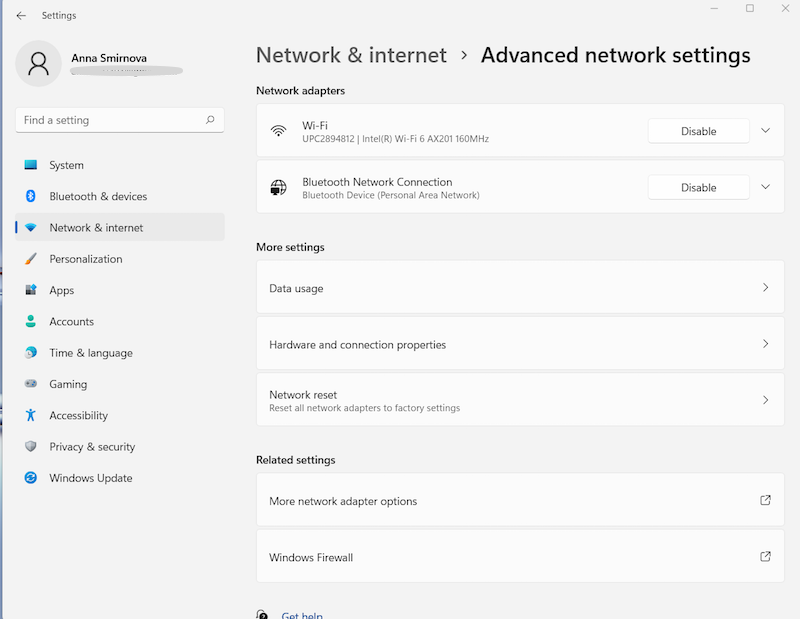 Work speed, games
Huawei MateBook D 16 is a very productive tool, the main thing is to understand where to use it. The laptop copes with everyday tasks, it is also perfect for working with photos and videos at the amateur level. It will make a great workstation for convenient work from home. It will also satisfy the needs of a student well, especially if we are talking about professions related to visualization and those that require above-average screen quality.
The good thing is that even when running on battery power the notebook does not sag in terms of performance. In addition, I must note that the relatively modest diagonal of the screen in this case plays to its advantage, confidently bringing it to the leading positions of performance.
Cooling system
The laptop pleased me with its noise indicators, or rather, its absence. Of course, I didn't run heavy games on it, but in normal work – with a dozen tabs in Chrome, a couple of instant messengers and while watching movies, the notebook showed excellent results of the cooling system operation – without unnecessary noise.
It should be noted that if the device is loaded to the full, for example, by rendering video, the fans will reach the maximum speed, then the noise starts to be annoying.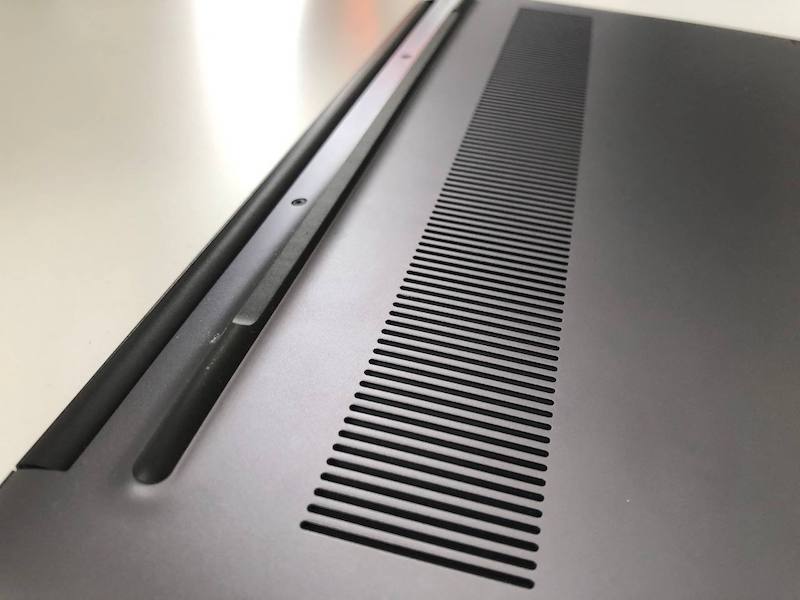 Again, during normal office work, Huawei MateBook D 16 does not heat up, the metal case remains cool. Under high load, the lower part of the case heats up – in the area of the ventilation holes, which is quite expected. So if you consider this laptop as a home workplace, you can think of a functional stand with additional cooling in advance.
Battery and working time
Huawei MateBook D 16 received a 60 Wh battery – and it became the weakest link in this whole system. With the screen brightness above average in power saving mode (without connecting to charging), the laptop lasted a little more than 5 hours of working with documents or surfing the Internet. You can watch a movie in Full HD at medium volume with Wi-Fi for about 6 hours. If you play some resource-demanding game, the battery will last only for a couple of hours.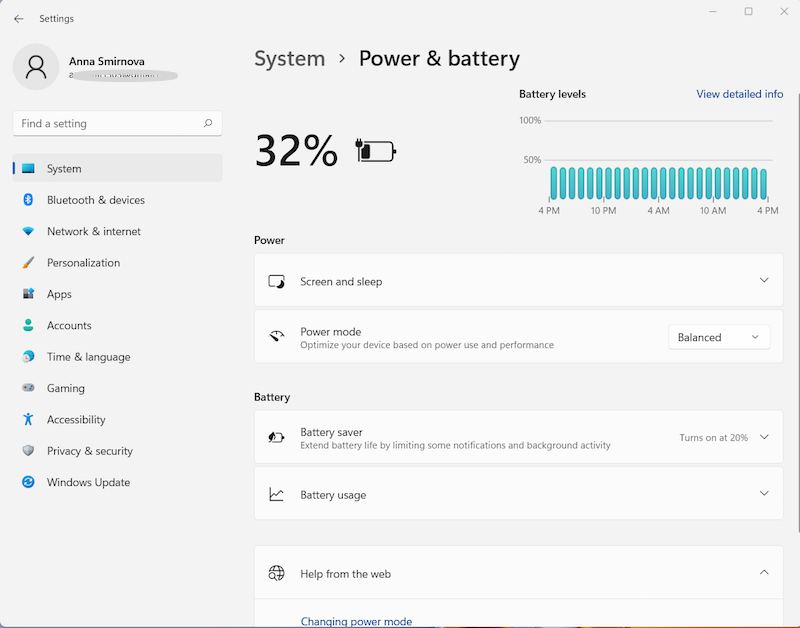 The laptop comes with a 65 W power supply. It is not much bigger than modern smartphone chargers, so if you decide to take the laptop with you, it will fold up quite compactly.
The charging speed is high – 30 minutes is enough to restore 50% of the charge, the model is charged to 100% in about an hour and a half.
Software, sound and camera 
Out of the box, Huawei MateBook D 16 runs on the latest Windows 11. The most useful feature in terms of software was the ability to set unlock by fingerprint – it's fast, simple, and as safe as possible.
Everything is much better with the camera in this model  than in many other MateBooks – apparently, having conceived this laptop as a working machine, the manufacturers installed here a quite decent Full HD camera with good optics.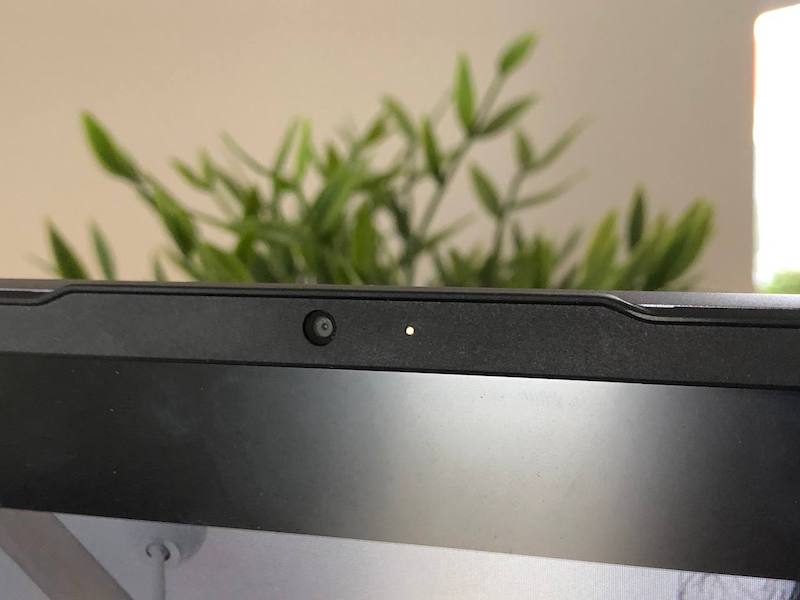 I have no special complaints concerning the sound quality, although I cannot call the sound perfect. Speakers reproduce quite good stereo, but because of their location on the bottom of the case the sound may seem a little muffled and not so clear.
Conclusions
I can safely call Huawei MateBook D 16 a great solution for arranging a workplace in the office or at home. It has a high-quality large screen, which is suitable for long continuous work, and an excellent keyboard, which is a pleasure to type on. The speedy processor allows you to solve all work tasks, switching between them without delay. Office workers will also appreciate the good camera for video conferencing.
Of course, it was not without drawbacks – the autonomy is not as positive as we would like. Although on the other hand, a large diagonal does not imply special mobility, so in stationary usage the issue of battery operation ceases to be so critical.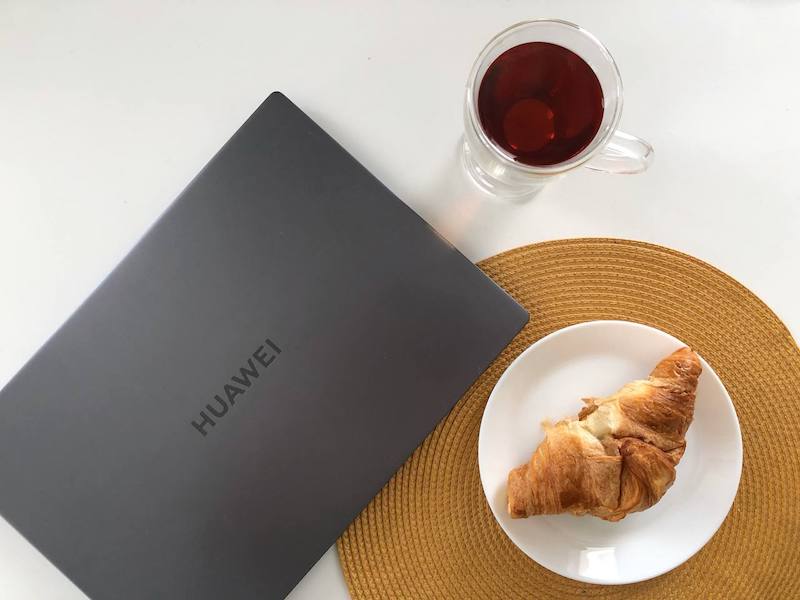 You can also help Ukraine fight with Russian occupants via Savelife or via an official page of the National Bank of Ukraine.