As I said earlier in my Acer Swift X 16 review – this is a great machine that can handle all the necessary tasks under a $1000 budget. But what if you have less money, or simply want to save $100 for other stuff, while not sacrificing a lot of performance or features? Acer has a solution for you. At $899, Acer Aspire 7 looks almost like an identical twin of the Swift X 16, even outperforming it in some ways. But could you create a comparable product at a lower price, without cutting some corners? That's what we are going to find out in this review.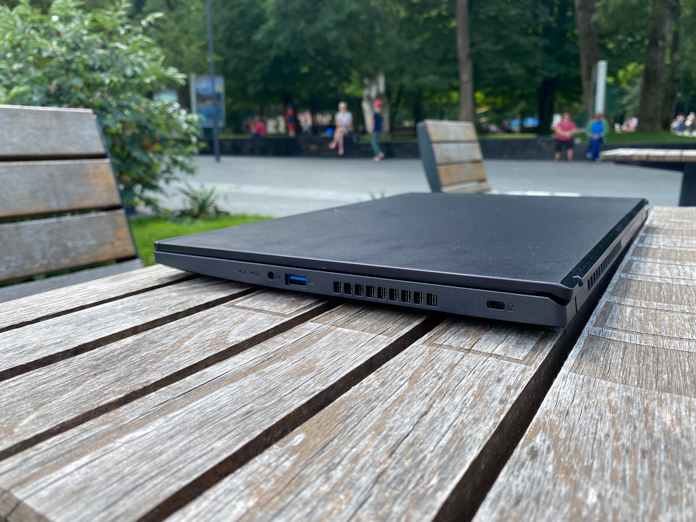 Available Modifications of Acer Aspire 7 2022
Acer's US website lists 3 modifications of the Aspire 7 2022 with Intel processors, which differ mostly by processor and GPU.
A715-51G-529E

Windows 11 Home

Intel Core i5-1240P, 12 ядер,

1,70 ГГц

NVIDIA GeForce RTX 3050, 4 ГБ

15,6″ Full HD (1920×1080), 16:9

8 ГБ, DDR4 SDRAM

512 ГБ SSD

$ 899,99

A715-76-765N

Windows 11 Home

Intel Core i7-12700H, 14 ядер,

2,30 ГГц

Intel Iris Xe 

15,6″ Full HD (1920×1080) 16:9

8 ГБ, DDR4 SDRAM

512 ГБ SSD

$ 869,99

A715-76-73L8

Windows 11 Home

Intel Core i7-12650H, 10 ядер,

3,50 ГГц

Intel UHD Graphics

15,6″ Full HD (1920×1080) 16:9

8 ГБ, DDR4 SDRAM

512 ГБ SSD

$ 849,99
Acer Aspire 7 Modification As Tested:
Model: Acer Aspire A715-51G
Dimensions: 078" (h) × 14.3" (w) × 9.3" (d) or 19.9 mm (h) × 362.3 mm (w) × 237.4 mm (d)
Weight: 4.63 lb or 2.1 kg
OS: Windows 11 Pro
CPU: Intel Core i5-1240P, 4 P-cores, 8 E-cores, 1.70 GHz
GPU: Intel Iris Xe, 1 GB + NVIDIA GeForce RTX 3050 Laptop, 4GB
RAM: 16 GB, DDR4, 3200 MHz
Storage: 512 GB, NVMe, PCIe Gen 3
Screen: 15.6", FullHD (1920×1080), IPS, 16:9
Connectivity: Wi-Fi 6, Bluetooth 5.2, Gigabit Ethernet
Ports: 3×USB 3.2 Gen 1 Type-A; Thunderbolt 4; HDMI 2.0, Gigabit Ethernet, 3.5 mm headphone jack
Battery: 50 W•h, max runtime – 8 hours
Additional features: 720p webcam, Fingerprint scanner with Windows Hello support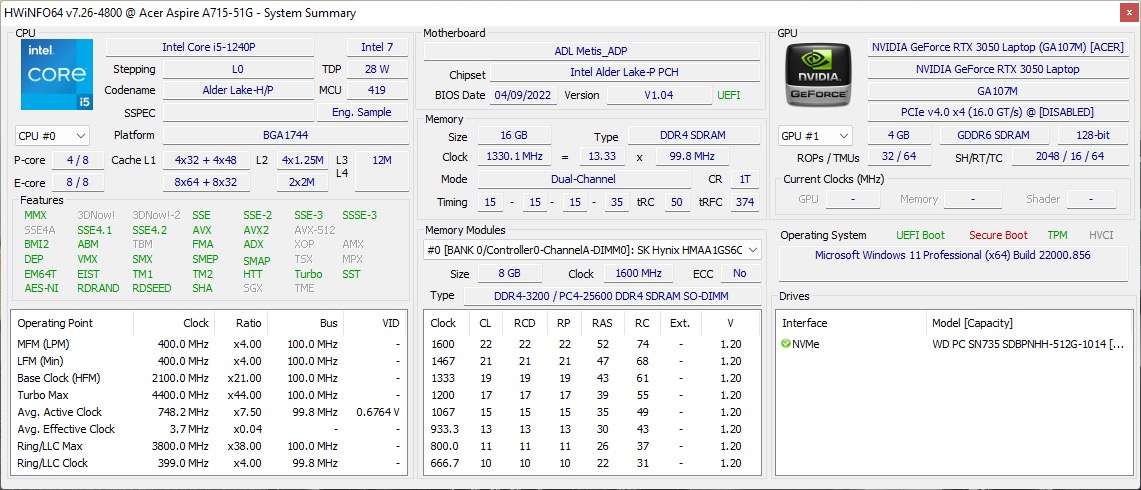 As always, the review unit is slightly different than the available modifications of the laptop. However, the only two apparent differences from A715-51G-529E to me were an additional 8 GB of RAM, and Windows 11 Pro instead of Home. The good news is that RAM is user upgradable, so you can always add 8GB to any of the available modifications. Otherwise, everything about the review unit can be applied to the top-spec retail A715G-51G-529E modification.
The tested modification is also very close to the one of the Acer Swift X 16, that I tested earlier. And cost-cutting measures, on paper, are very apparent: a lower-tier processor (12-gen Core i5, vs. 11-gen Core i7), slower RAM (DDR4, 3200 MHz vs. LPDDR4X, 4266 MHz), smaller screen (15.6" vs. 16.1"), slightly less powerful GPU (RTX 3050 vs. RTX 3050 ti), smaller SSD (512GB vs 1TB) and a smaller battery (50 W•h vs. 59 W•h). But lower specs on paper don't mean that the laptop looks or feels worse. Especially, if you consider that the tested SwiftX 16 was closer to the top-spec model, which costs $349 more than the top-spec Aspire 7.
So the question is, does Aspire 7 feels and performs much worse than its more expensive brother? Spoiler alert: results may suprise you.
Recommended reading:
What's in the Box, Design, Build, and Ergonomics
Like the older brother, Aspire 7 is supplied with a bare minimum: a laptop, a new power brick, and (probably because it's a review unit) two interchangeable power cables: with EU, and with a US plug. All this comes in the cardboard box.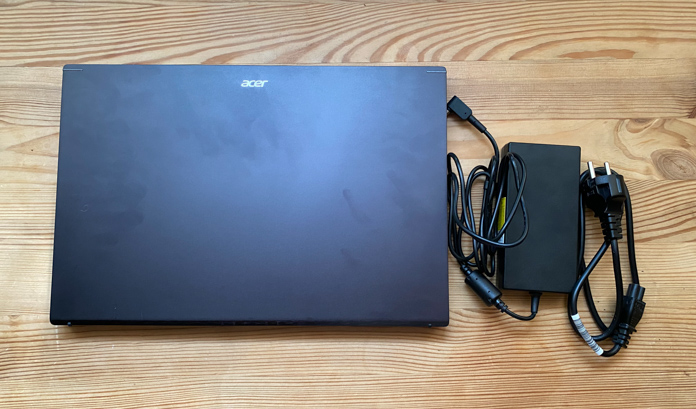 The power brick deserves closer attention. Yes, it still has a proprietary connector, and it's even larger than the one that came with SwiftX 16, although thinner. But it's for a reason. The new power brick is 135W and charges the laptop pretty fast. A good option for home use and gaming, but for on-the-go use, I'd still prefer Thunderbolt 4, thankfully it's available and supports charging as well.
What is also good is the laptop's overall look. While Swift X 16 looked stylish and minimalistic, Aspire 7 doubles down on both parameters with a stylish black anodized aluminum lid cover, and an even smaller Acer logo on top. There's also a small Aspire inscription on the edge of the lid, but it's subtle and will be covered most of the time when you open the laptop.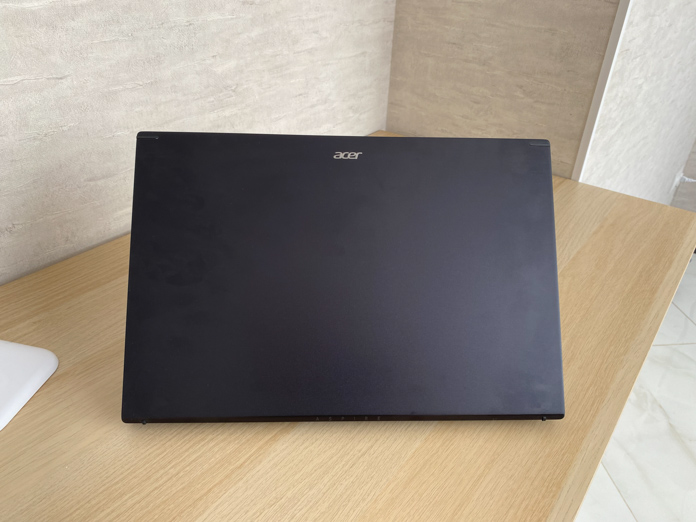 Opening the laptop is a pleasure in general, the lid is so thin and light that it's easy to do with one hand, despite the large 15.6" chassis. I also like how the elevated hinge mechanism works: it allows a decent 140º open radius, and at the same time slightly inclines the bottom chassis. Yes, it is made for cooling, but it also makes typing more pleasing.
However, pleasure ends when you look up at the screen. Don't get me wrong, it's a good 1080p IPS panel, but it's surrounded by thick plastic bezels. So thick that Acer decided to put a huge sticker on it.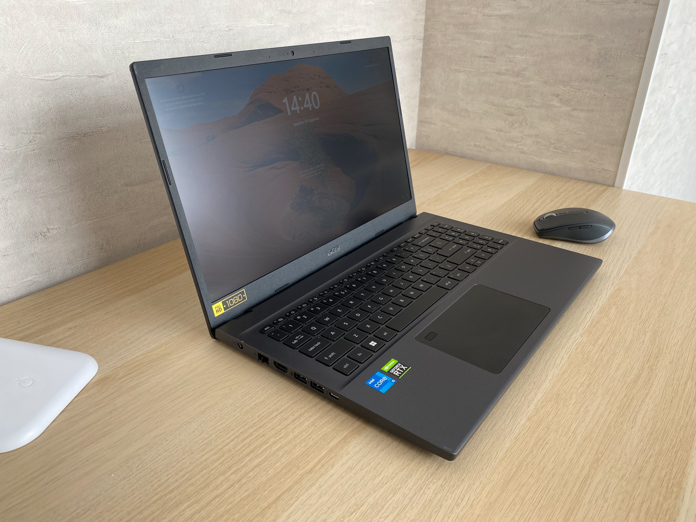 Beneath the screen, we see a backlit keyboard, which has absolutely the same key size and configuration as Swift X 16. Although it has a new font (I like it more), and a much darker gray shade. The later one didn't help seeing keys in the dark, as Aspire 7 has the dimmest backlit keyboard that I've seen recently. Photos can't tell, but 2 available levels of keyboard brightness don't help much when you're working in a dark environment.
What's good is that the touchpad doesn't stand in the way of typing. Whether it's palm rejection software or a better placement, I've never felt the need to disable the touchpad, when using the mouse. The touchpad itself, while smaller, is much more comfortable to use than the one on Swift X 16 – it's still plastic, and I still prefer my MacBook's touchpad more, but it's definitely an improvement.
I can't say the same about the fingerprint reader. While aesthetically I like how it blends with the touchpad, its accuracy is hit-or-miss: it recognized my finger 6 times out of 10.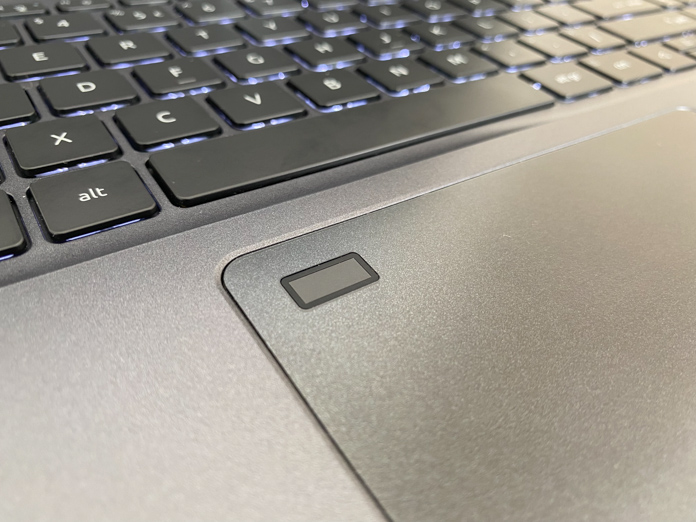 However, Aspire 7 is "good" at collecting your fingerprints. Due to a darker shade of the lid and a touchpad area, they almost instantly become covered in "material evidence". Unfortunately, Acer does not ship Aspire 7 in different colors, so microfiber cloth is the #1 accessory you should buy for your laptop.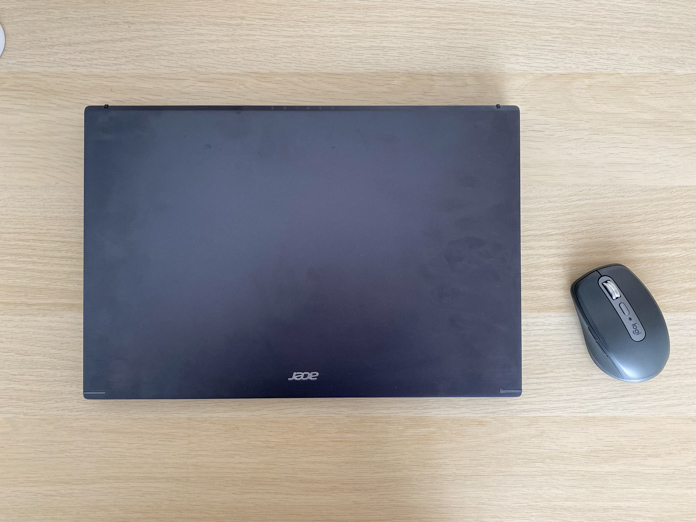 What accessory you shouldn't buy for this laptop is a dongle. Aspire 7 has almost all necessary ports: 2×USB-A's, Thunderbolt 4 Type-C, HDMI, and Gigabit Ethernet on the left; with one more USB-A, 3.5 mm mini-jack, and Kensington lock on the right – everything you may need for leisure or work.
Just keep in mind that if you want to use the Thunderbolt 4 port for charging or, like in my case, for connecting to an external monitor, it's placement is slightly uncomfortable – right in the middle of the left side. Swift X 16, for comparison, made it right by placing the Thunderbolt port near the charging one.
But perhaps you don't have the need to work with an external monitor through USB-C. Or don't need an external monitor all together. Then most of the time you'll be looking at the laptop's own screen. So let's talk about how good it is.
Screen
"Unremarkable" – probably the best word to describe Aspire 7's screen. We are dealing with a pretty standard 15.6" display with Full HD resolution, 16:9 aspect ratio and 60 Hz refresh rate. So people like me, looking for higher resolution, or gamers, looking for a higher refresh rate – should either settle, or look for a more capable laptop.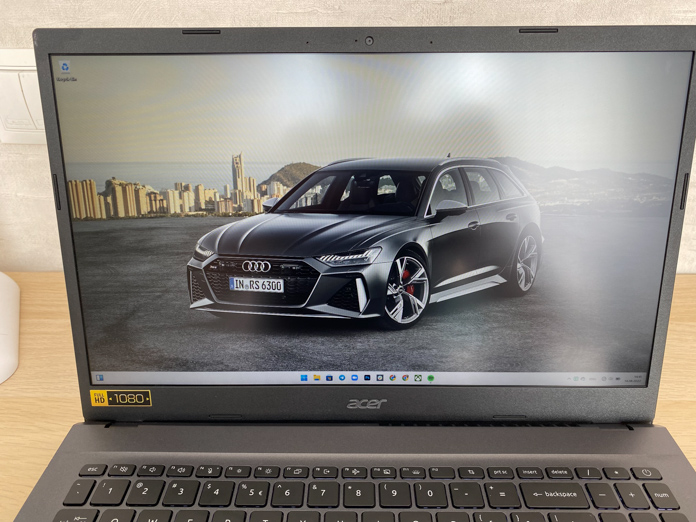 It is not particularly bright as well. Acer does not specify the max brightness, but when placed alongside my external monitor with 250 nit max brightness, and an M1 MacBook Air that peaks at 400 nits, Aspire 7's brightness is somewhat in-between – 300-350 nits.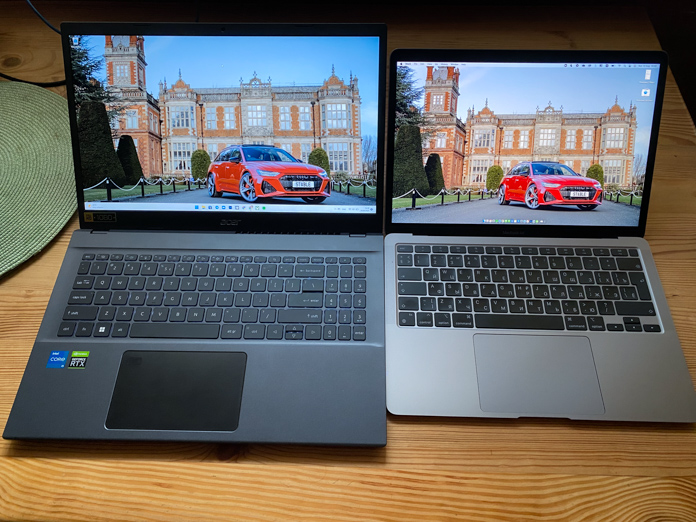 It's good when used at home and when the sun doesn't shine directly on the screen, but using it outdoors on a shiny day might be a struggle. So keep it in mind and look for shadow.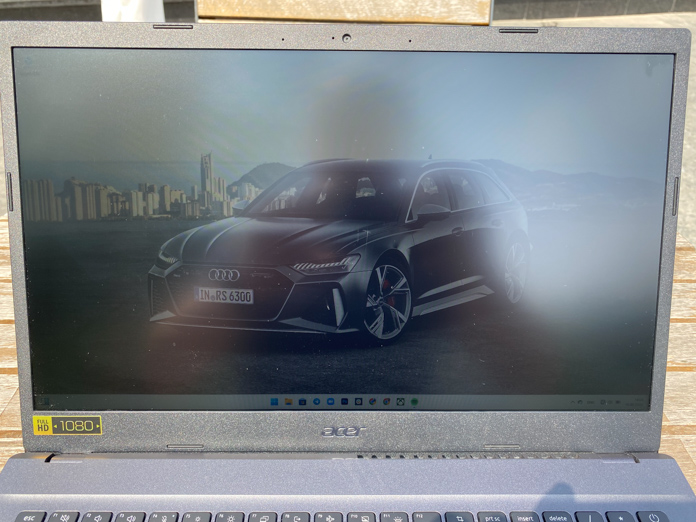 It also doesn't support HDR content in any capacity. But it's pretty obvious with a max brightness of 300-350 nits. What is not obvious is the color temperature. Despite Acer's claims of using an ExaColor technology that should bring colors close to natural at 6500K, I still find the display leaning towards colder temperature. Especially when compared to my MacBook or Samsung M7 monitor. I also wasn't able to adjust it – but that's probably specific to my review unit.
In general, the screen is not particularly bad. It just doesn't offer anything new. But the screen is just a part of the experience, and probably another corner cut to deliver an all-in-one machine at a lower price. But how does it perform in real world tasks? That's what we're going to find in the next section.
Recommended reading:
Acer Aspire 7 2022 in Use
To give you the best snapshot of a real-world experience with Aspire 7, I've used it exclusively as my daily driver laptop for 2,5 weeks: performing my daily work tasks, chatting with colleagues and friends, listening to music and occasionally gaming.
My weekly routine hasn't changed much from Swift X 16 review and consists of:
Messaging in Slack;
Creating posts in Slack Block Kit Builder;
Creating documents, spreadsheets and presentations in Google Suit;
Translating and creating articles for Root Nation in WordPress;
Attending Zoom meetings;
Creating some web graphics in Photoshop;
Listening to music on Spotify, to focus;
Playing games with Xbox Game Pass, to relax, when I'm not working;
Doing all of the above at home and on the go, quickly switching between the tasks.
I can't say that any of the above tasks is particularly resourceful, but being able to do any of them fast and smoothly, without bugs/errors or additional hussle – is my top priority.
Swift X 16 proved itself as a decent work and play machine, so let's find out what its younger sibling has to offer.
Setting It Up and Dealing With Bugs
I can't say that setup experience on Aspire 7 is any different from other Windows 11 laptops: it's still smooth and pretty straightforward.
What wasn't straightforward is the laptop's behavior when the setup was complete: external monitor, connected via Thunderbolt cable was turning on and off every 20 seconds; internal monitor was flickering like crazy – what the flick have I signed to review?
The solution is to install all the latest Windows Updates at once, when you log into Windows. It fixed almost all the bugs that I've experienced. All-in-all the review unit is still very much a work in progress, even processor in there is still an Engineering Sample. However, don't underestimate the Windows Update. Forewarned is Forearmed.
When all the problems are dealt with – it's time to clean up the laptop from Bloatware. Nothing has changed from the latest Acer Laptop – Acer and Microsoft preloads Windows Laptops with tons of unnecessary apps and links to unnecessary apps. I know my words won't change anything, but please, Acer, Microsoft – stop this practice.
So we're up to a rough start. But will it spoil the whole working experience?
Working on It
It doesn't! 2,5 weeks passed like a charm, and I've never been pressed to go back to my personal laptop. Obviously Aspire 7 proved to be more than capable of Slack messaging and working with WordPress. And thanks to the universal clipboard: moving multiple chunks of text between apps or tabs is just 2 clicks away.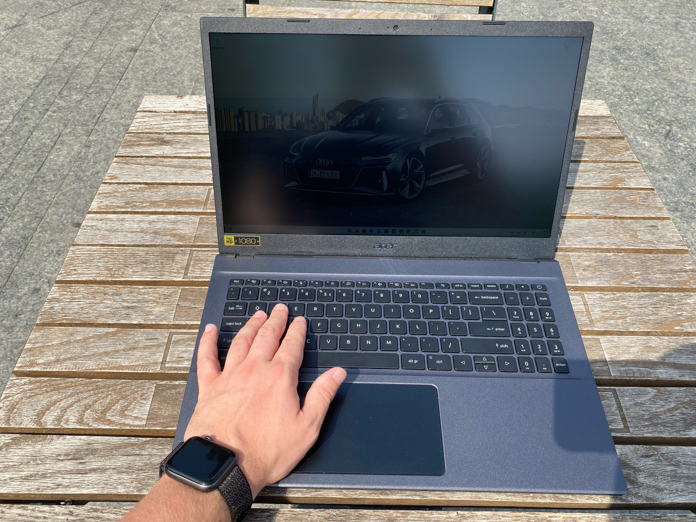 Thanks to generous config with 16 gigs of RAM, I was also able to keep multiple tabs open in Chrome with Grammarly enabled (yes it's a RAM hoarder working in another RAM hoarder). It worked flawlessly and helped me to create a couple of large presentations and comparably large guides.
And while the built in screen's resolution is not enough for me to use Block Kit Builder properly, even with amazing Windows Snap, after a short update an external 4K monitor worked as intended. It not just provided me with much needed additional screen real estate, but at the same time charged the laptop at 60W via Thunderbolt.
I had no trouble working in Photoshop as well, again thanks to generous config with 16GB of RAM. However, I should note that Photoshop loads a tad longer than on my MacBook – so it's probably worth keeping it running in the background rather than close and open it multiple times.
As for the other important aspect of my job, which is Zoom-calls, Acer Aspire 7 has a plausible webcam: you should not expect any outstanding results, and it may struggle with white balance from time to time, especially in low-light environment, but my colleagues never complained about the picture quality, and heard me perfectly fine through the built-in microphone.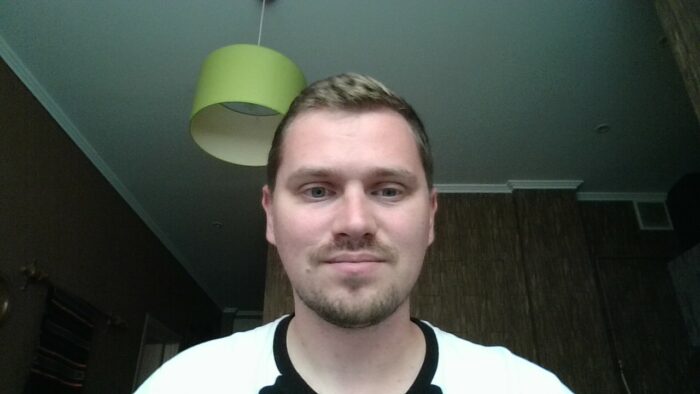 I also had no trouble connecting my AirPods Pro: while the laptop lacks Handoff support, I was pleased by how well my earphones worked with the laptop. Except for the microphone quality: colleagues complained a couple of times when I tried to use the AirPods' mic, so I found myself using laptop's microphones most of the time.
While the mic was good enough, I couldn't say the same about the laptop's speaker. It's OK for video conferencing, but if you'll try to play some media – you'd be disappointed by an absolute lack of bass. For example, one of my favorite songs for low frequency sound testing Sia – Cheap Thrills RAC Remix sounds just cheap with no thrills. So I'd recommend using good earphones or speakers, if you need music for focus work or leisure.
Read also:
Gaming on Acer Aspire 7

Speaking of leisure. It doesn't have a top-of the line video card, but Acer Aspire 7 proved to be a pretty capable gaming machine. With a standard Full HD screen, and Nvidia Geforce RTX 3050 GPU, you can expect hitting 60 FPS with High settings in modern games with no problem. And it's unlikely that you'll need more with 60 Hz display refresh rate.
I've tried to play Forza Horizon 5 and Wolfenstein II: The New Colossus, and both games played really great with frame rate staying at or close to 60 FPS with High Graphics settings Unfortunately all the footage has not synced with my OneDrive, so you have to believe my words.
However, you don't have to rely solely on my words, when I say that Aspire 7, like it's older sibling Swift X 16 is hot. Not in a good way. The footage below proves that In just 15 minutes the fan ramps up so fast that I was almost unable to hear the dialogue in Wolfenstein at the close to max volume (remember, bad speakers).
And don't even try to play on an external monitor with the lid closed. While ventilation holes remain open, the inflow will be restricted, because the keyboard serves a dual purpose of being an input method and air intake. Fortunately, it doesn't become extremely toasty to touch, so at least you won't need an external controller to play.
While cooling is relatively noisy, it is quite effective. Couple of minutes after closing the game the fan becomes almost inaudible, especially in silent mode. Whether it's due to improved fan profile, or due to more power efficient CPU, but in situations where Swift X 16 made distinct fan noises, Aspire 7 remains silent.
For example, when you download and install new games, Aspire 7 will not bother you at all. The whole process will be a tad faster, thanks to the available Gigabit Ethernet port – what a welcome addition.
And so we've worked hard, and played hard, maybe it's time to unplug… And test the battery life.
Battery Life and Charging
With the new 12-gen Intel chips utilizing the structure similar to the one used in modern smartphones, with Energy-efficient and Power cores, I've expected that Aspire 7 will surprise me with a battery life… Well, it's certainly improved over Swift X 16, but it's still not as impressive as recent MacBooks with their ARM-based SoCs.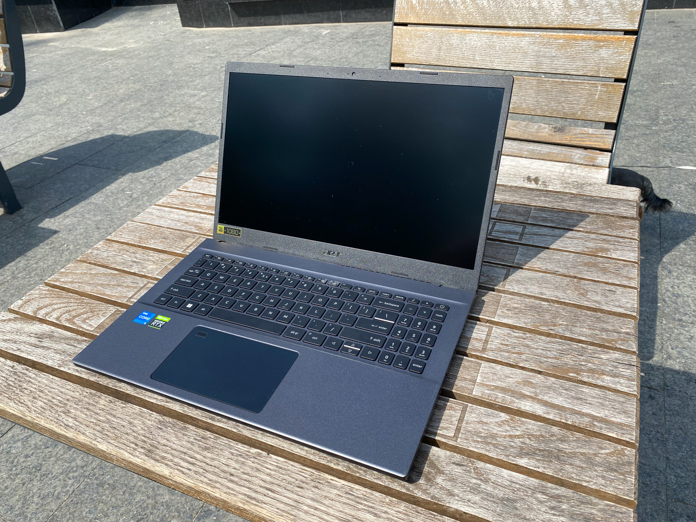 I unplugged the laptop at Noon, cranked the screen brightness to max and started translating a review in Chrome browser. At 4:55 PM the battery showed 26% charge, and 46 minutes of estimated time remaining. Almost 6 hours of continuous use with not the most power-efficient browser – it's not bad, but I would recommend taking a power brick with you, if you plan to work on the go.
First – because the default 135W one was able to charge the laptop from 20% to 80% in like 40 minutes, while I was still working on a translation. And second – USB-C charging is also a thing, so if you don't need to charge it fast, you can use your phone charger and USB-C power cable, and one charger for two devices won't take much space.
The only question remains: should you take the Acer Aspire 7 with you as a laptop of choice?
Verdict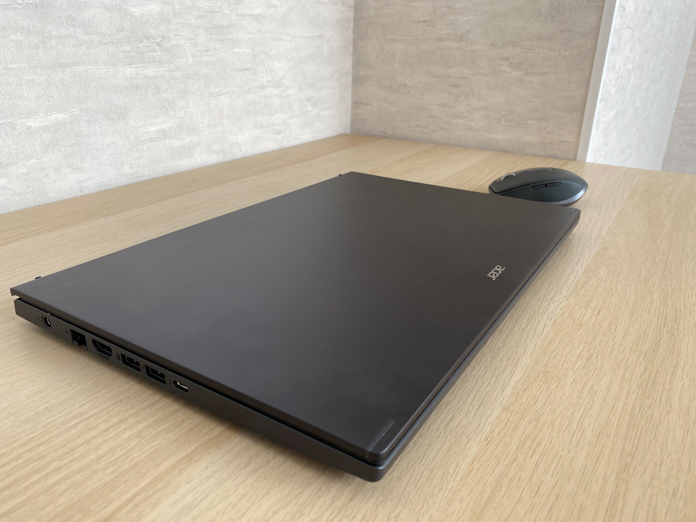 At the end of 2.5 weeks with the laptop I was surprised how much value a $900 machine can bring. I've never felt that I'm using a cheap or underpowered laptop – Acer didn't save on build quality or overall performance. However, it's clear that corners were cut to meet even tighter budgets. And these cuts are clearly visible (the screen) or audible (the speaker).
Where to Buy
Recommended reading:
You can also help Ukraine fight with Russian occupants via Savelife or via an official page of the National Bank of Ukraine.