Artificial intelligence (AI) is an ability of intellectual systems to perform creative functions, which are traditionally considered the prerogative of humans. At present, the development of AI is crucial. AI itself is used in various fields of science and technology, but in this article, we'll be talking mostly about its integration into smartphones.
Back-story
At the end of 2017, ARM presented a new generation of processors with Dynamiq microarchitecture. Developers of ARM promised that these chips will be easy to configure. This allowed manufacturers to create more powerful systems designed not only for conventional devices, but also for solving technological challenges of the future – namely artificial intelligence and unmanned vehicles.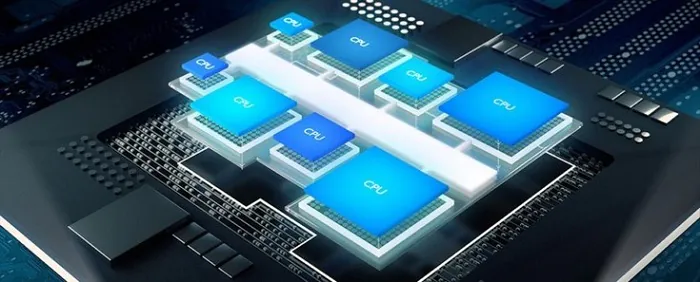 Dynamiq can be tailored to user needs – when in standby mode, it lowers the power consumption of CPU, and uses the more powerful processor cores to load an application or a game. Also, Dynamiq creates special conditions for working with artificial intelligence to provide a 10-fold increase in productivity.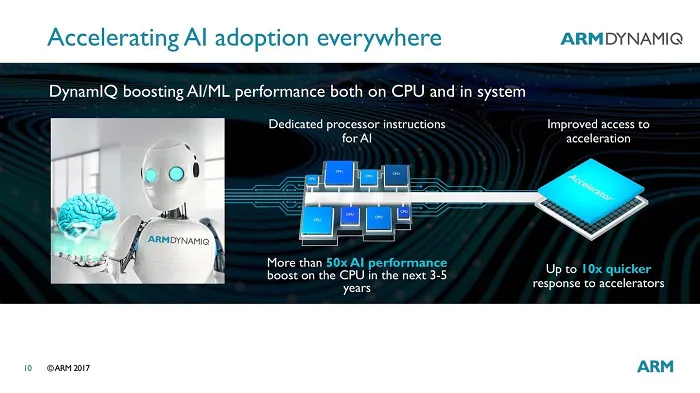 These functions, as expected, are used in modern smartphones with built-in AI. But that's not all: there are other, more interesting ways to use it.
Application in current devices
Huawei
There's AI in Huawei Mate 10 and Mate 10 Pro smartphones – the first production device with proprietary Kirin 970 processor with a dedicated neuroprocessor (NPU – Neural-network Processing Unit).
Camera
Smartphone camera software identifies various types of objects in real time to determine the scene, which will help inexperienced photographers to snap good shots. In this case, the neural network optimizes the color, contrast, brightness, exposure and other additional parameters of the camera when recognizing a photo. At the moment, AI in the smartphone can recognize up to 13 different objects (human, animal, plant, landscape, etc.). In the future, this list will be further expanded.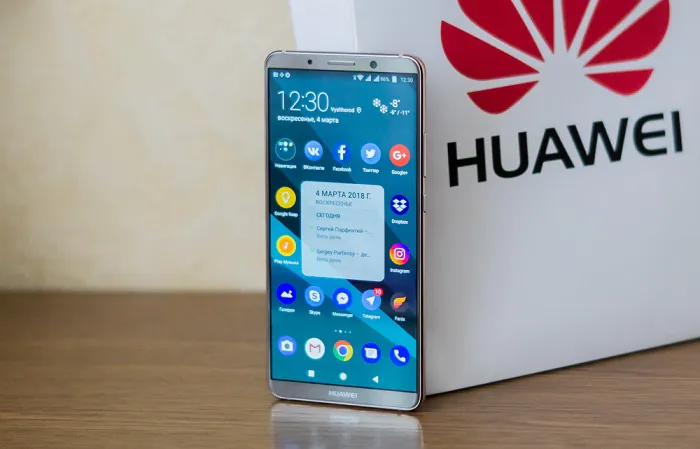 Thanks to intelligent algorithms, the quality of photos taken with the help of a smartphone is almost on the same level as professional photos enhanced in graphic editors.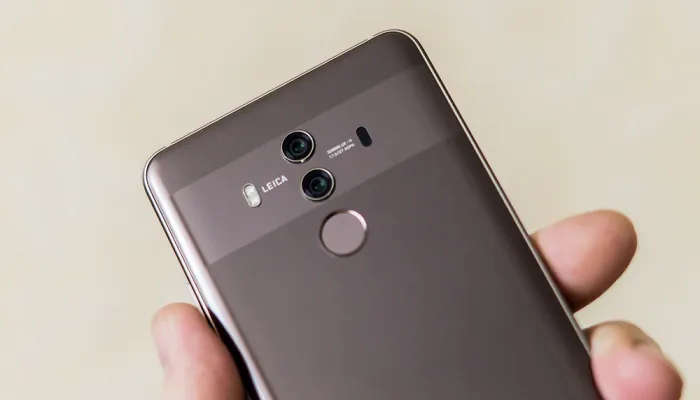 Using machine learning for system optimization
This technology ensures that the smartphone will be able to work equally fast, regardless of whether it has been in use for an hour or for several months. Huawei Mate 10 Pro is equipped with a Kirin 970 processor and intuitive EMUI 8.0 shell. The smartphone learns the habits of the user and adapts to them in order to optimize performance. The phone identifies applications that are used more often, and stores them in RAM, which speeds up their activation. A similar process occurs when managing processor resources: the most popular applications use the fastest processor cores. Less important applications are removed from RAM to free up space.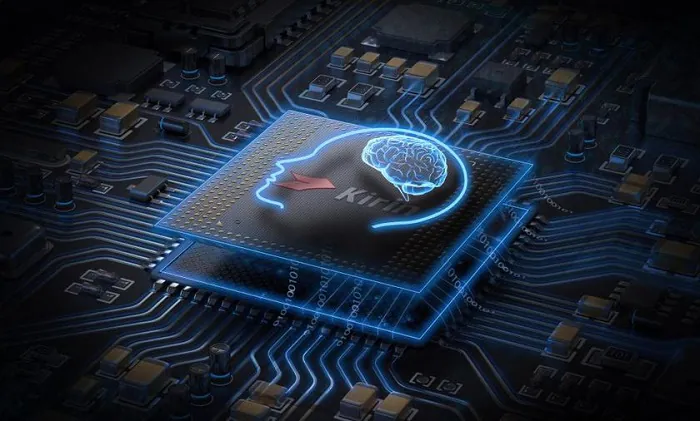 Real-time translation
Thanks to the AI text translation is 300% faster and occurs offline without access to the Internet. Huawei can translate from almost 50 languages, and the so-called "Conversations" allow real-time communication with people from other countries.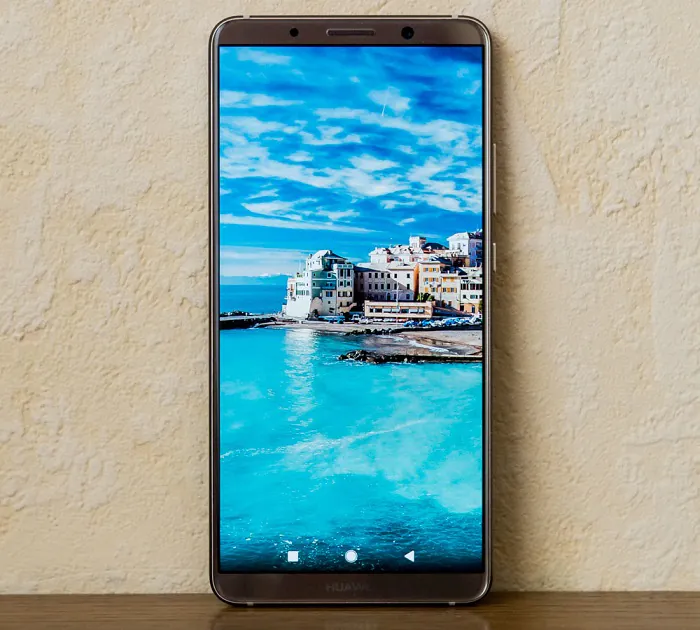 AI in the photo gallery
AI algorithms allow creating the intelligent photo library. Huawei automatically marks the photo, identifies the pictures, settings, people and the location.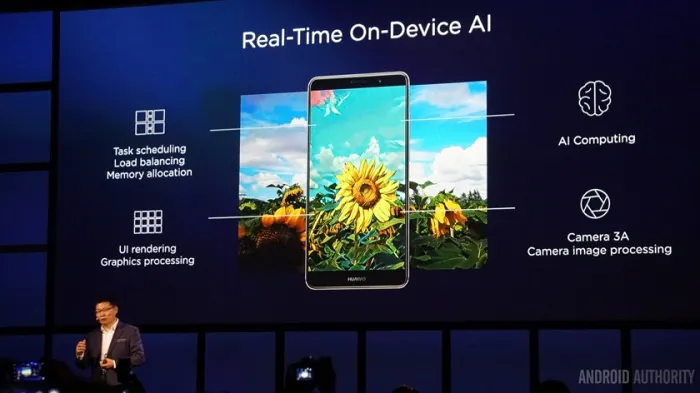 The developers of Huawei found another application for AI in the smartphone. It was aimed at driving and recognizing objects on the road. That's just another example of how AI in smartphones can be used in different areas.
More about the smartphone: Huawei Mate 10 Pro review – Fantastic flagship with AI support
Samsung
Samsung has developed Bixby voice assistant for S8 and Galaxy Note 8, as well as for new Galaxy S9 and S9 +. Unlike Apple Siri, which is primarily a search engine for voice commands, Bixby is able to identify items with the help of an application for smartphones.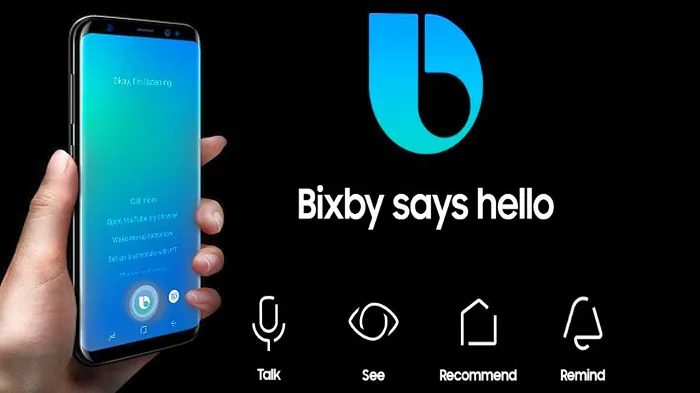 With Bixby Vision, you can learn about objects and places using the camera. The voice assistant allows you to learn how to buy products; can translate into different languages and perform many other tasks. Bixby Voice is available for smartphones and is able not only to extract information, but also to perform voice commands, such as opening an application or setting an alarm.
Apple
The AI in Apple is focused on image and animation, and is implemented in iPhone X, equipped with a new six-core A11 Bionic chipset, with built-in "neural system." NPU consists of two processor cores, which use "special algorithms of machine learning". Thanks to them, we have such things as Face ID, Animoji and support for augmented reality. Built-in smartphone neural networks are capable of performing up to 60 billion operations per second.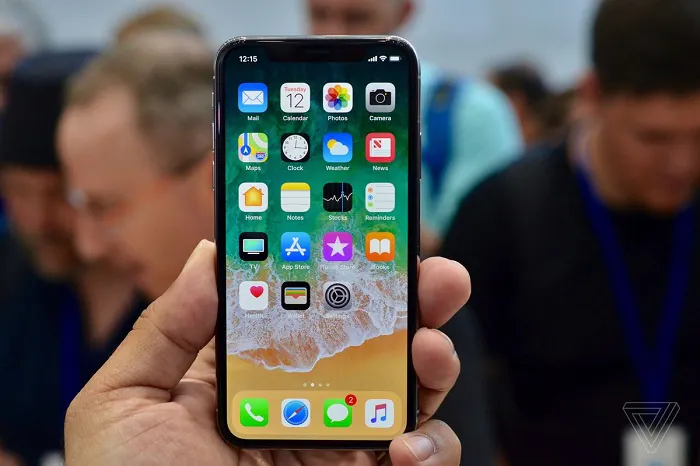 The implementation of the "neural system" allows the hardware for the AI to be inside the smartphone itself, while the company sends less data to the servers to better protect the privacy of users.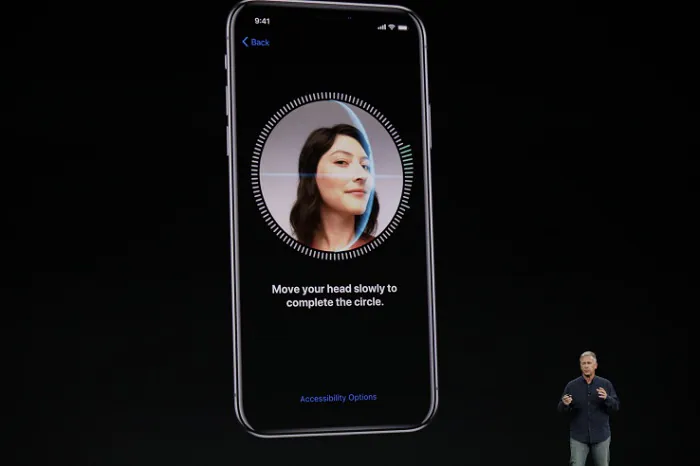 Google
Google also decided to use AI for photo and video. Here we are talking about image processing. It is called Pixel Visual Core and is used by the eight-core processor, installed in Google Pixel 2 and Google Pixel 2 XL. SoC Qualcomm Snapdragon 835 contains its own image processing engine, but Google, apparently, was not satisfied with it.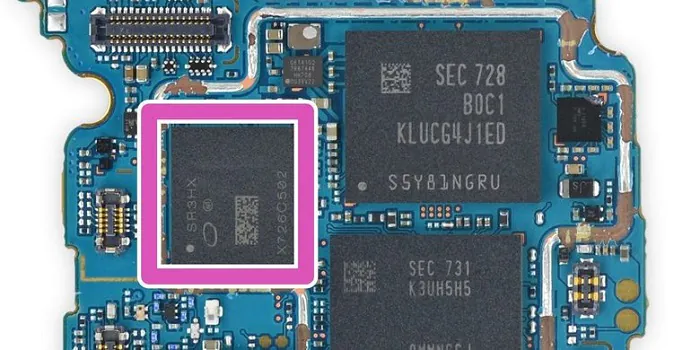 We don't know much about Pixel Visual Core. The processor's capable of more than three trillion operations per second, which makes it possible to process images in HDR+ mode five times faster than before. Pixel Visual Core provides the ability to shoot in proprietary HDR+ mode in any third-party camera application. The platform itself is a single-chip system, and not just a processor, since its configuration also includes the Cortex-A53 core, its own LPDDR4 memory and several other units.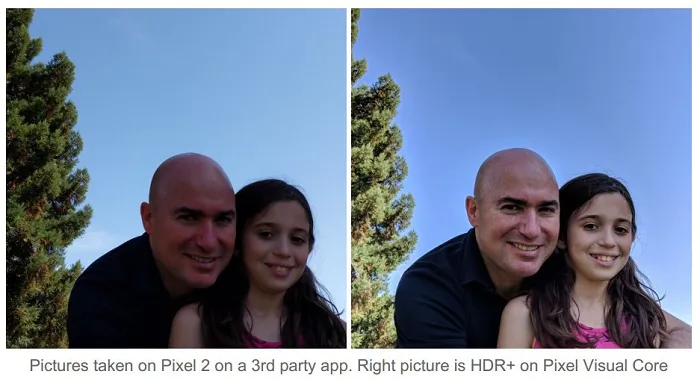 Amazon
This company decided to use AI in the software for Amazon Alexa. The main platform for Alexa are Echo and Dot Amazon smart speakers, which can turn off lights, read books and order goods to home. They collect data about their users and use it to learn and develop, gaining new skills and understanding what the user wants from them. There are also applications with this "intelligent" voice assistant for smartphones running Android and iOS. Alexa is mostly used for smart house systems.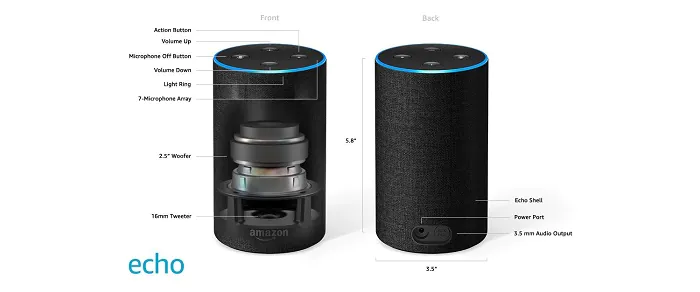 At the moment Alexa knows how to:
close the door, control the light, TV, air conditioning and other smart home systems;
set a timer or calendar;
tell the latest news;
play rock-paper-scissors or toss a coin;
Buy goods, order pizza, book tickets to a movie theater or a plane;
count, translate units of measurement;
quiz the user;
Consider how much time is left before the New Year;
find a smartphone in the house (apartment);
Tell how much gasoline is left in the tank and pre-start the engine, if the user is going outside (so far only for BMW);
read audiobooks or sing lullabies;
order / cancel Uber and Lyft;
count how many calories are in the food;
answer questions (depending on the context – either with humor, or in the style of Wikipedia).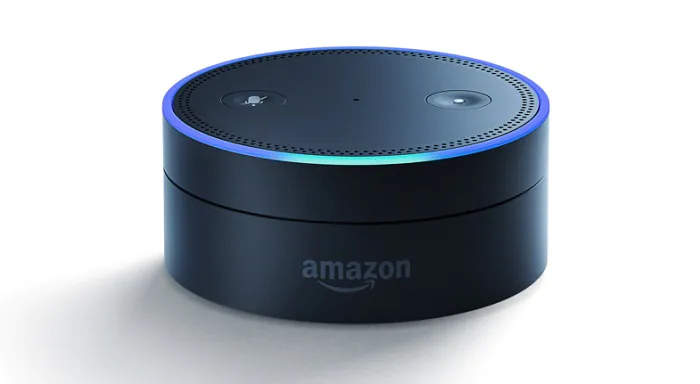 Motorola
Moto Z2 Force and Moto X4 are the first Motorola smartphones that use the Neural Processing Engine for artificial intelligence. Using Qualcomm Snapdragon NPE, the developers of Motorola Mobility have added the function of Landmark Detection to smartphone's camera, which is capable of instantly detecting more than 1200 objects around the world with the help of neural processing. The program works in beta mode, and the list of known objects is being constantly updated.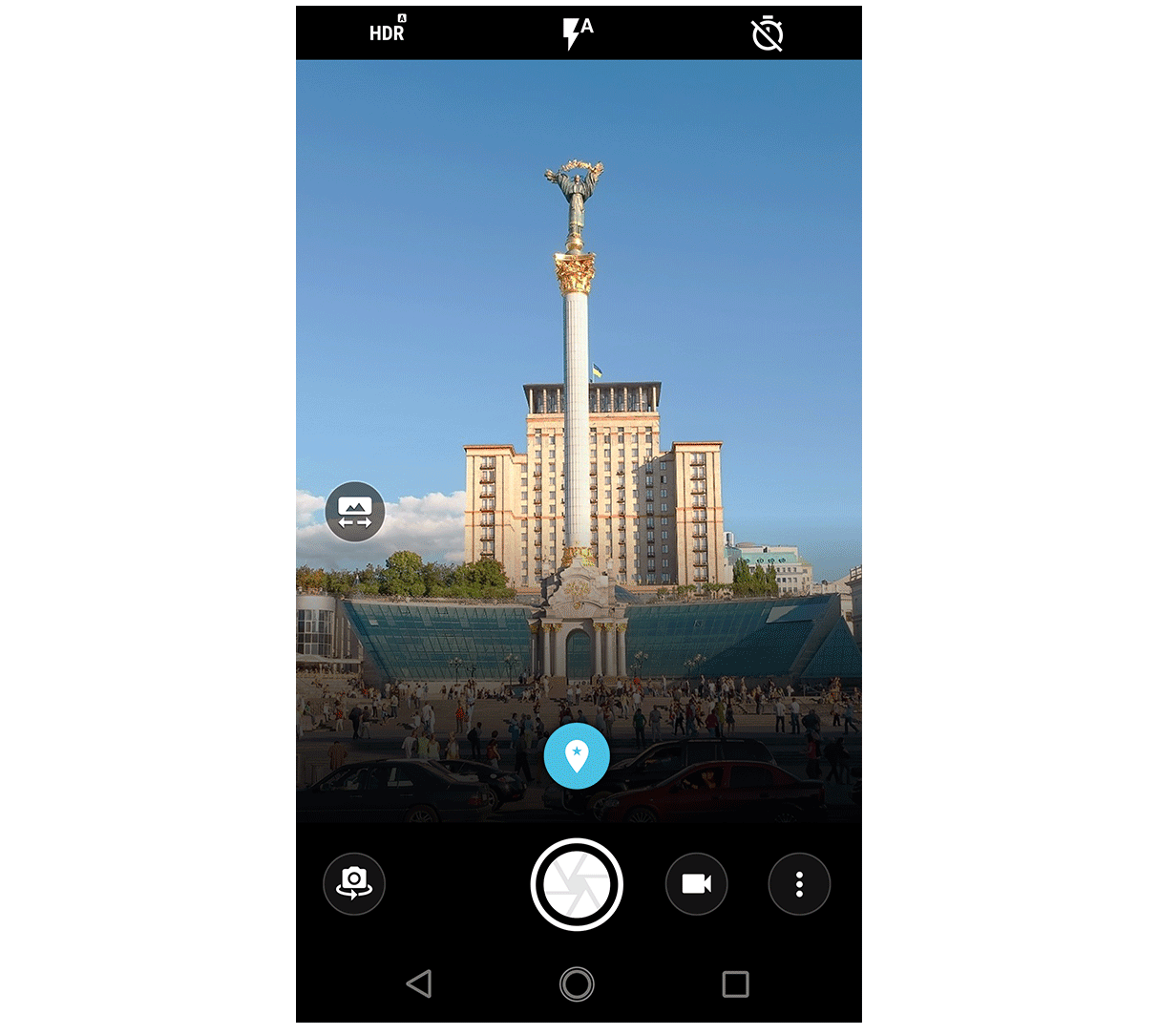 To activate the function, it is enough to select the object of interest on the smartphone's screen. Immediately after the phone shows info from Google Maps or Wikipedia.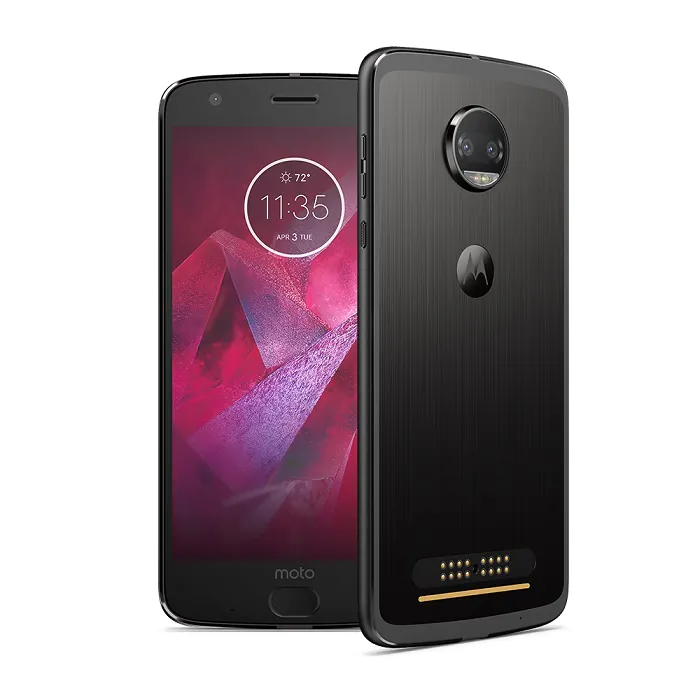 This function is especially useful for travelers. Even your own city becomes much more interesting with the help of Neural Processing Engine, which helps to look at it in the new light.
LG
LG V30S ThinQ is a smartphone that uses artificial intelligence. This is the company's first ThinQ smartphone with built-in artificial intelligence (AI). The smartphone uses Vision AI solutions related to the camera and AI Voice (recognition of a set of voice commands).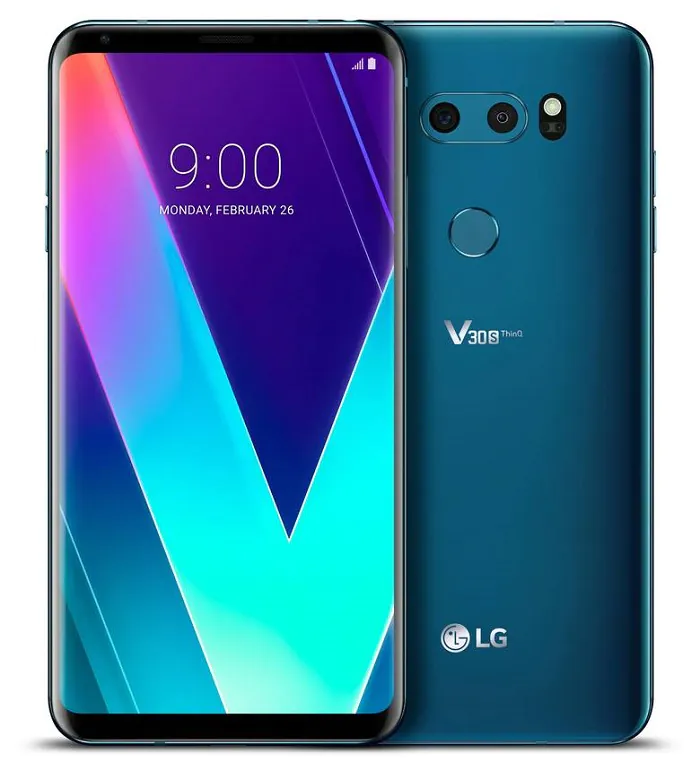 Vision AI includes AI CAM (the system analyzes the object and recommends the optimal shooting modes for this object), QLens (after scanning the QR code, the smartphone displays information about the product – where to buy it cheaper or shows similar products); search from the camera for information, for example, about sights; there's also Bright Mode (improve the quality of photos taken in low light – new algorithms allow you to take photos twice as bright and without noise).
The Voice AI voice interface works with Google Assistant. Owners of LG V30s can use 32 exclusive voice commands.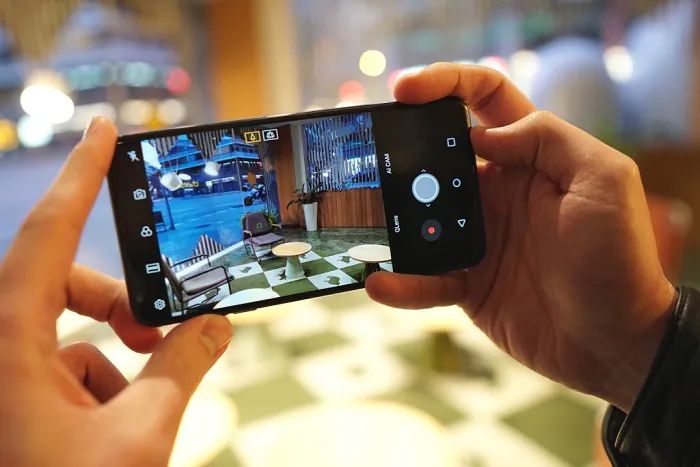 ASUS
The company has implemented AI functions for cameras and a general increase in the performance of ZenFone 5Z and ZenFone 5 smartphones presented on the MWC 2018. Both models support ASUS AI Boost technology, which is designed to increase performance in games and other applications that require high processing power.
As for artificial intelligence in cameras, we can distinguish the following 4 main functions:
AI Scene Detection (recognition of 16 different scenes and objects).
AI Photo Learning (study of user preferences during shooting).
AI Real-time Portrait (improving the portrait in real time).
AI Real-time Beautification (improving selfies in real time).
Development prospects
Analysts from Counterpoint Technology Market Research predict the gradual increase of smartphones with support for artificial intelligence (AI) and machine learning, built-in at the level of processors.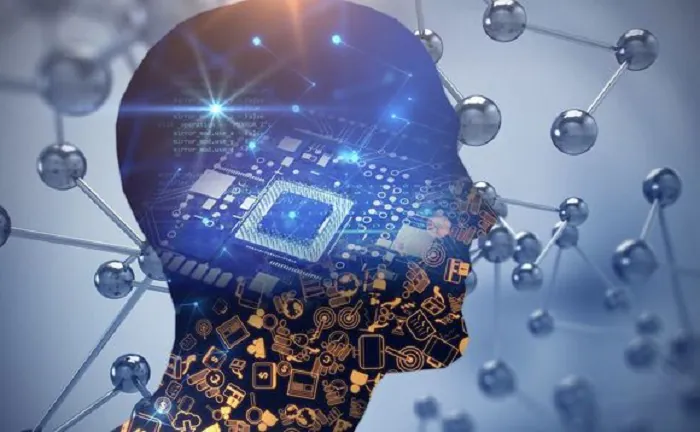 Thanks to the technologies of artificial intelligence and machine learning, smartphones already have the ability to perform a number of complex tasks, including translation into foreign languages in real time, photo and video shooting in high quality with automatic adjustment of optics etc.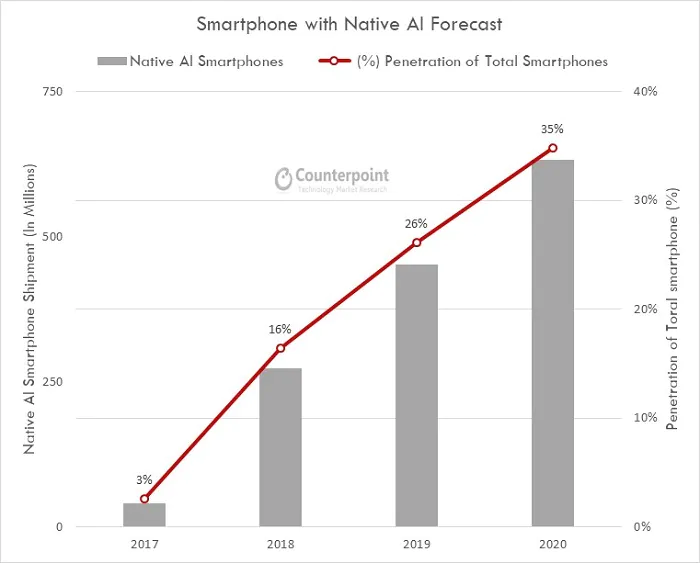 In the future it is expected that smartphones with AI will be able to fully act independently and provide users with only the information they need based on their interests and habits. It is difficult to guess how exactly are we going to use these "extra smart" smartphones. Even now a smartphone with AI can drive a car; in the future, perhaps, its application will affect production processes.

In addition, with AI capabilities, virtual intelligent assistants will become even smarter and better equipped to help users. Artificial intelligence will also be more effective in combating the growing number of cyber threats, preventing virus infection and blocking phishing attacks.
Analysts predict the rapid spread of smartphones with artificial intelligence in the segment of flagship devices, and by the middle or the end of 2018, AI will get to middle-class devices. Forecast Counterpoint says that in 2020, more than a third of all smartphones on the market will have built-in AI capabilities.
Final thoughts
The development of AI in smartphones is an interesting and promising trend. Despite the fact that the introduction of new solutions based on AI requires great investment and knowledge of all fields of science, the effect of this technology should make a person's life easier. AI in smartphones serves as an assistant who will take care of itmself so that the user has more free time to do other things.