The price of a flagship smartphone gets reduced only in one case – if the flagship is no longer new. And right now it's time to cut prices on Huawei P20 Pro. I used this device for a whole year until I got P30 Pro. An excellent reason to write a detailed review of my experience and compare it a bit with the new device. My article will be useful to those who have long been waiting for the right moment to purchase one of the best smartphones of 2018. Let's evaluate the relevance of its purchase in 2019. I promise minimum of technical details (you can read about them in the main review of the smartphone), maximum impressions and real operating experience of the device!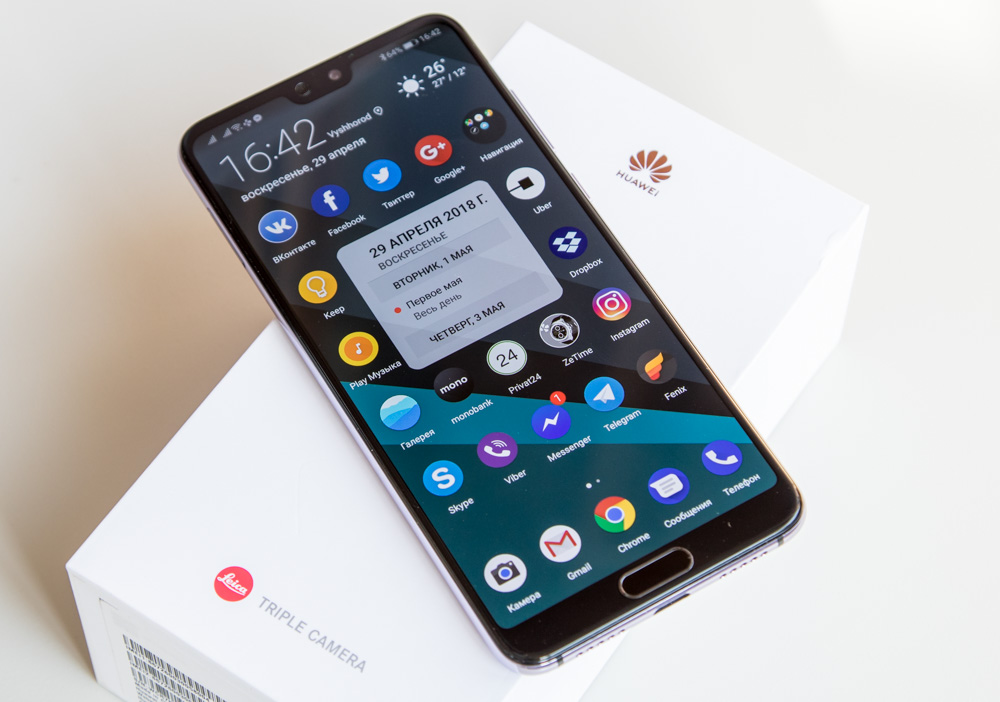 Positioning and price of Huawei P20 Pro
At the very start the phone was very costly – it was more than 1000 euros. And nevertheless – even then millions bought it right away, judging by the sales reports. At the moment, Huawei P20 Pro can be purchased almost 2 times cheaper. Of course, this smartphone has become a little less flagship over the past year, but it has not lost its relevance. It can compete in many ways even with fresh top-end devices. The smartphone is still attractive in appearance, powerful, with good specs and excellent cameras, and costs like a mid-ranger – it seems to me that many buyers are finally ready to purchase it.
Read also: DON'T PANIC! Huawei won't die, and that's why
P20 Pro is present in three versions – with 64, 128 and 256 GB of storage. In general, there are options for both the most undemanding and economic users, and for photography buffs who can store pictures and video in the device's memory; media content in high quality weighs a lot and this is the main type of files that clog up the memory of a smartphone .
Design, construction, build quality
Frankly speaking, in terms of design, the mobile industry has not advanced much over the past year. At this point in time, we are still being offered modern flagships made of metal and glass. From this point of view, P20 Pro is quite consistent with the trends.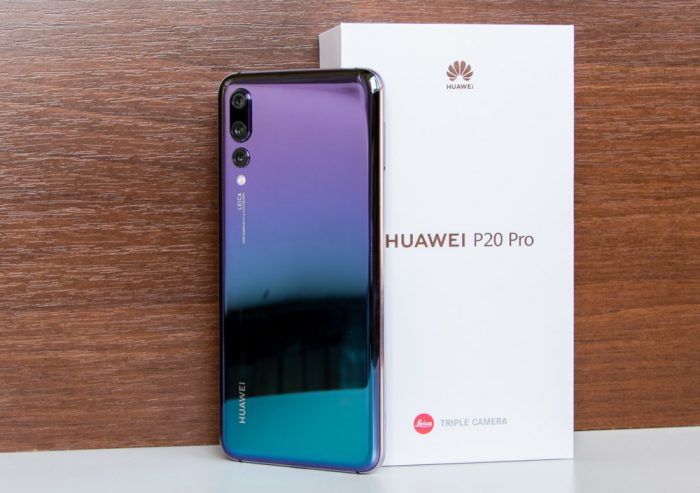 Of course, the notch at the top of the screen looks archaic. But it should be noted that at the time of release of the smartphone, it was one of the smallest on the market. And it seems to me that remains small today. In principle, in terms of functionality, it is not much worse than a teardrop notch. In addition, it can be masked in the settings.
The fingerprint scanner under the screen also does not look like a very modern solution: in 2019 we get used to in-screen scanners. But it's not that easy. On the one hand we have an enlarged bezel under the screen. With almost identical external dimensions, P30 Pro screen is slightly larger. But on the other hand the physical scanner works noticeably faster than the screen. In addition, the tactile component is also important. And taking into account the fact that with the help of gestures in EMUI you can control the smartphone without the on-screen buttons, I am sure that such a solution will have a lot of fans (me included).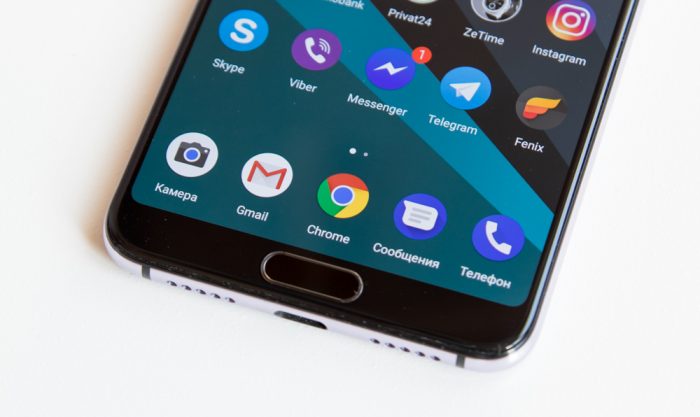 Another controversial point in the design of Huawei P20 Pro is a block with cameras at the back. Why put block of dual modules and one camera with a separate eye? And by the way, my stream of consciousness apparently reached the goal at Huawei headquarters, and in the new P30 Pro all three cameras were combined into one common unit. I think it's much better that way.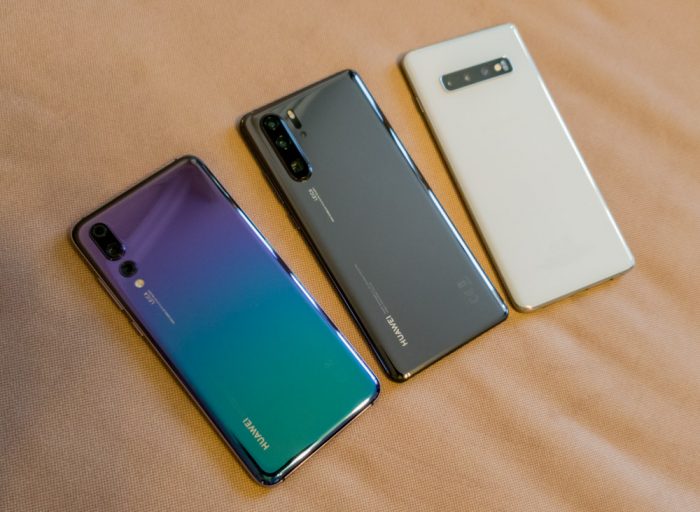 But on the other hand, an unusual solution with cameras has already become the hallmark of Huawei P20 Pro and its distinctive feature. Therefore, it's fair to say that there's some element of prestige – the smartphone is really not cheap, and thanks to this feature it's easily recognisable.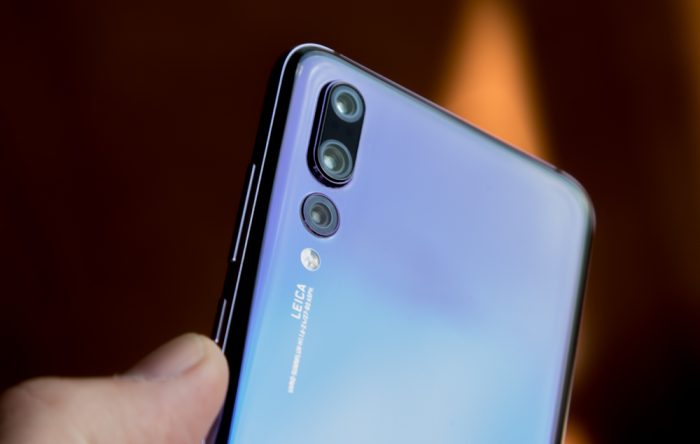 Well, the last bright design element of P20 Pro is its coloring, which once set the trend for the gradient design of smartphones. Now we can't even imagine the industry without these fervent colors. But do not forget who's boss – it was Huawei P20 Pro that put an end to boring back plates.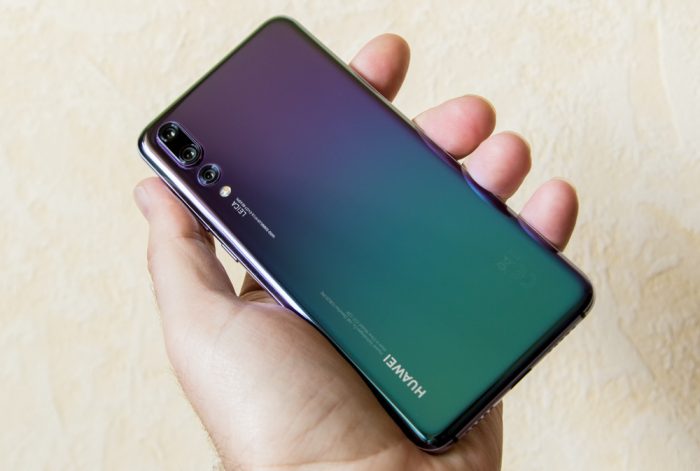 Ergonomics
Huawei P20 Pro is a large 6-inch smartphone, but I think everyone is already accustomed to this size, because it is the most popular today. In fact, it has the dimensions of a classic 5.5″ smartphone and a large screen size is achieved by reducing the bezels and 18.7:9 aspect ratio.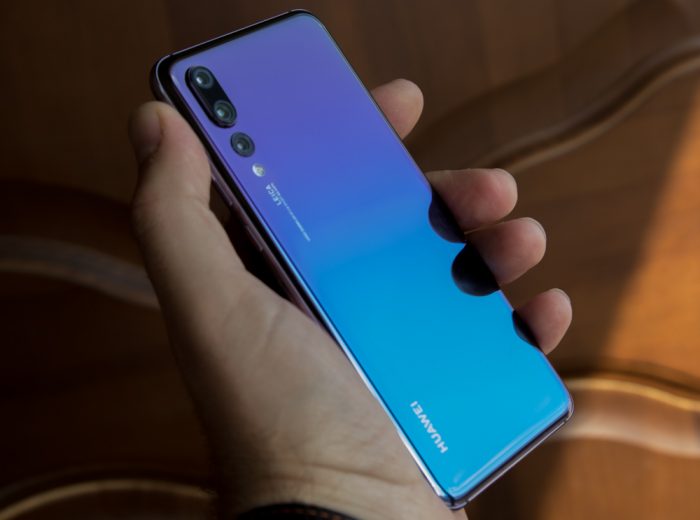 But here you ask the traditional question – is it possible to use a smartphone with one hand? If you have a large palm and long fingers, I think there will be no problems. All the rest – I advise you to remember the second hand.
As for the location of the buttons – just fine, as always with Huawei; if you use a smartphone with your right hand, then the power and volume buttons fall right under your thumb. If you usually hold smartphones in your left hand – that's fine too, use your index and middle fingers.

I also want to once again mark the fingerprint scanner in front. There is a lot of debate about the location of this element. Personally, I can use any options without any problems – front, back, side, in the screen. But the front scanner in my opinion the most convenient. Especially when the smartphone is located in the car holder. And it is super fast. Don't forget about gestures with the scanner – a real killer feature. In general, Huawei P20 Pro is one of the latest flagship smartphones with a similar location of the fingerprint. Hurry to buy, while there is an opportunity, soon all scanners will be in the screens!
Is it worth mentioning that a smartphone made of glass and polished metal is very slippery? You can drop it easily. I try not to use modern smartphones without covers. But here the decision is yours. Read more about my experience below.
Wear resistance
For more than a year of use, my smartphone has not completely lost its presentation and looks almost like a new one. Of course, taking into account the careful operation. I used a smartphone in one of the covers – first in an inexpensive Unicase Carbon, which I later replaced with UAG Plyo Series. I took the device out of the cover only to change SIM cards after testing other smartphones.
In UAG Plyo Series my smartphone has become an armor-piercing monster, who can quite successfully fight off suspicious personalities in a dark alley. With it, P20 Pro has turned into a fully-fledged rugged smartphone, especially considering the fact that there is also moisture protection. Thick shock-absorbing inserts in the corners protect the device from even the toughest drops, and massive front bumpers save the screen from any damage.
Read also: Huawei P30 Pro review – The best smartphone camera on the market?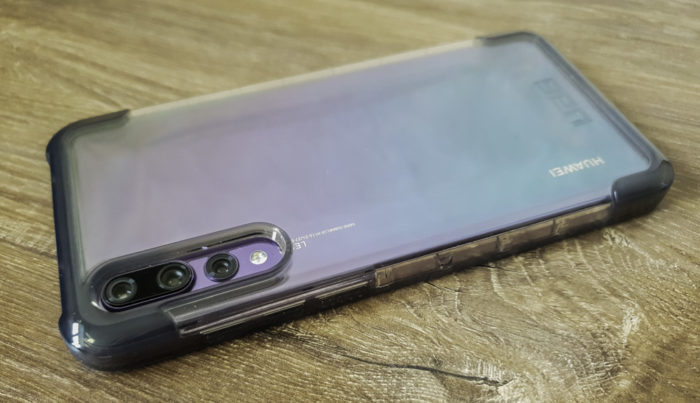 The case is worth a couple of words. It boasts good build quality, with solid transparent plastic in combination with inserts of thick milky gray translucent polyurethane.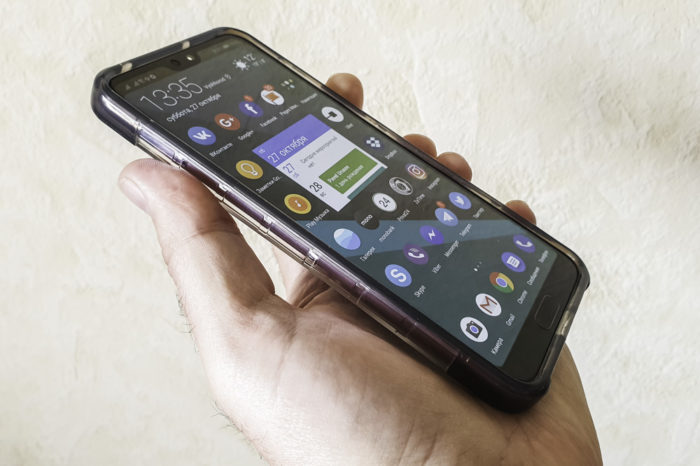 Transparency is both an advantage and a disadvantage of UAG Plyo Series. On the one hand, it allows you to show others the original color of your device. And with the development of gradient colors, this feature is becoming increasingly important. On the other hand, small dust particles can get under the cover forcing you to clean it. And removing it, by the way, is quite difficult, the smartphone sits very tightly.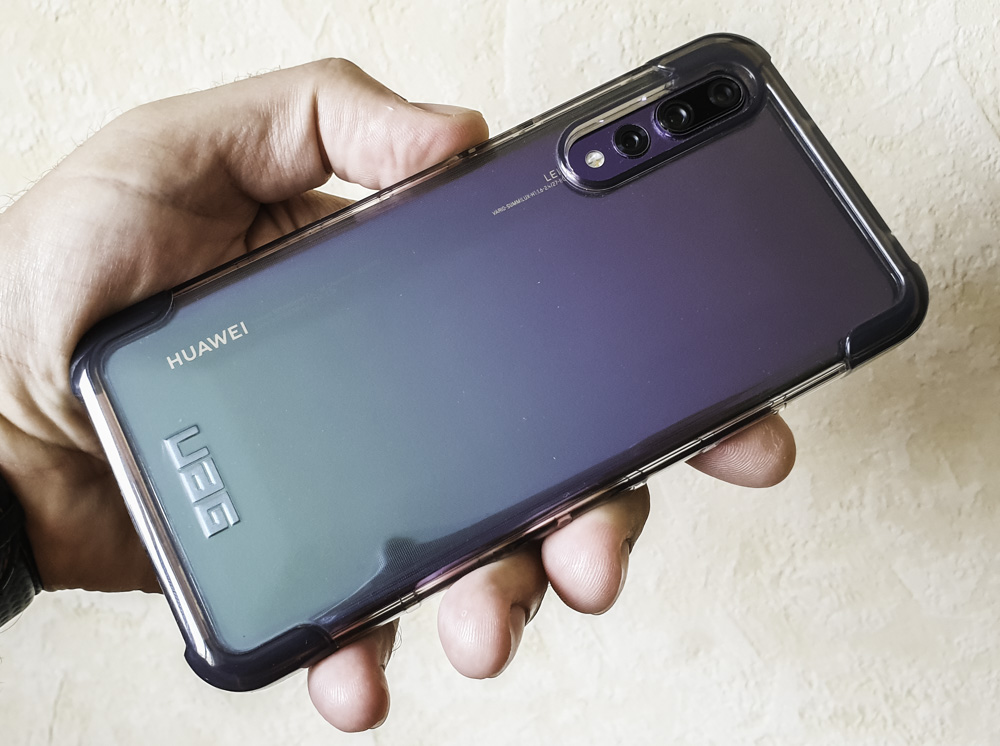 In addition, the plastic cover is easily covered with minor scratches, even with very careful use. But in principle – this is better than if the smartphone itself gets covered with scratches. In general, largely due to UAG Plyo, the body of my smartphone has remained pristine even after a year of operation. No wonder this famous brand is so popular. Recommended!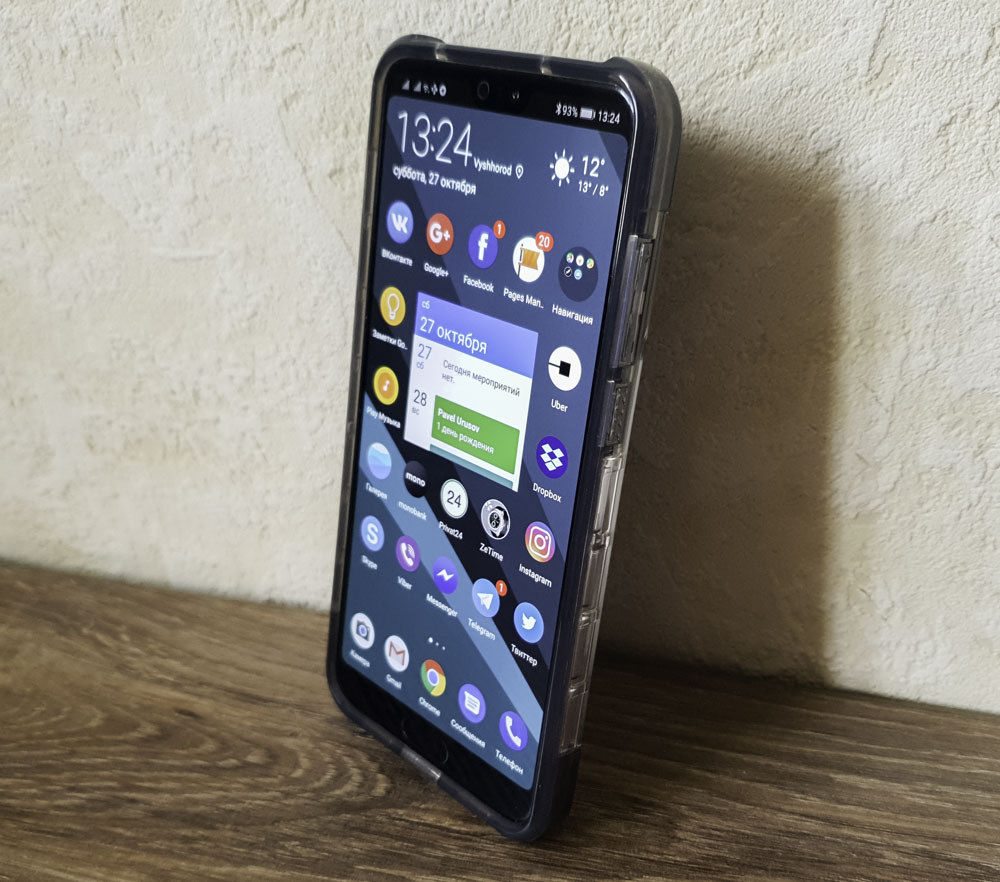 But the oleophobic coating of the front screen during this time has almost completely worn out. The finger slides on the protective glass of the screen not as easily as at the very start. In principle this moment is solved, albeit temporarily – you can periodically process the screen with a furniture polish (like Pronto). Yes, once a week, it is not difficult, but using the screen is much more pleasant. You can also try to find some special compositions for the restoration of oleophobic coating, but I used what I had at hand.
Read also: Huawei P30 Lite review – Perfectly balanced
I do not glue anything on screens. Perhaps this is why few micro-scratches are noticeable on the glass, although I managed to avoid serious damage. My smartphone fell five times, but the covers saved it every single time. Once, leaving the car, I even dropped the smartphone in a puddle, but thank God, the moisture protection of the case helped and there were no unpleasant consequences.
Screen
The screen of Huawei P20 Pro is a bit unusual. This is an OLED, but it feels very similar to IPS. Its black color (in fact, an inactive pixel zone) is not completely black, but rather a deep dark gray. Therefore, its contrast, as it seems to me, is a bit worse than the technology counterparts, but still decent, of course.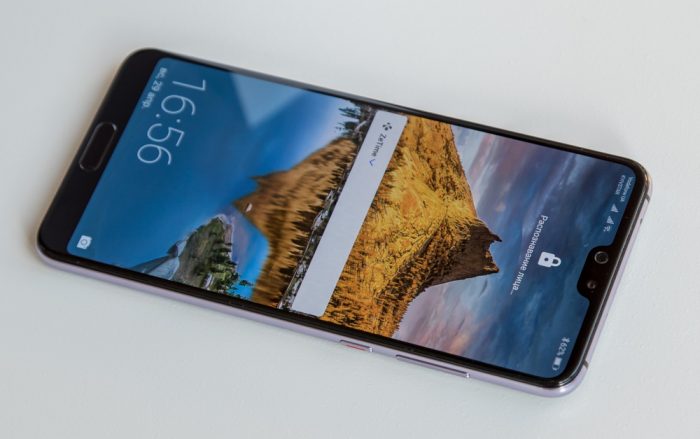 The range of brightness is wide. The auto-brightness function works fine. Maximum brightness allows you to easily use your smartphone in sunny weather. The minimum level of brightness is also excellent and the screen does not strain your eyes in total darkness. The screen is comfortable to use in any situation. This is its main feature; the display of the smartphone will definitely not disappoint you.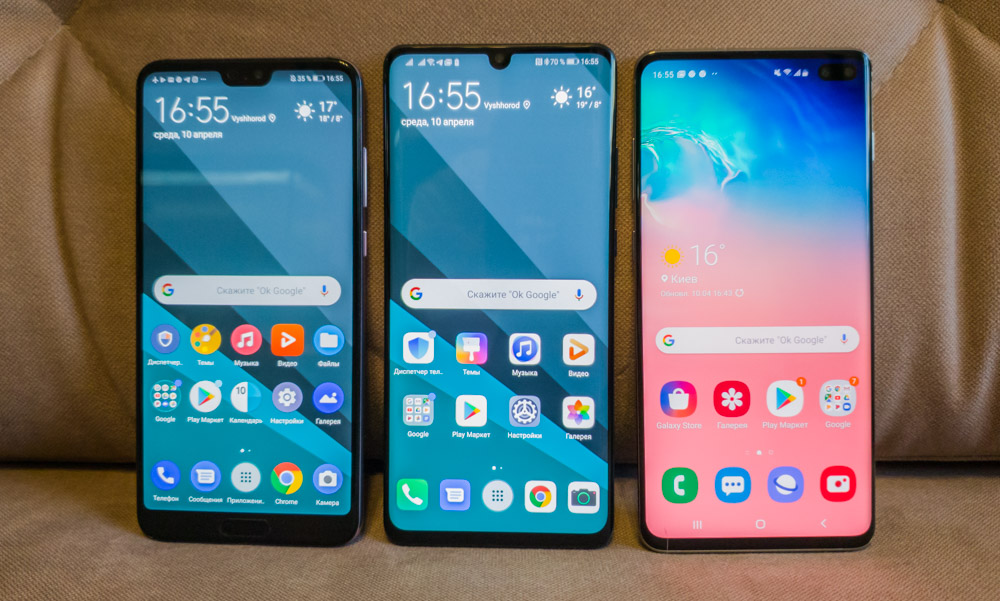 There is a function to automatically adjust the contrast depending on the lighting. At the maximum level on a sunny street, the display includes a display enhancement mode, which slightly distorts the colors, but improves the readability of the information.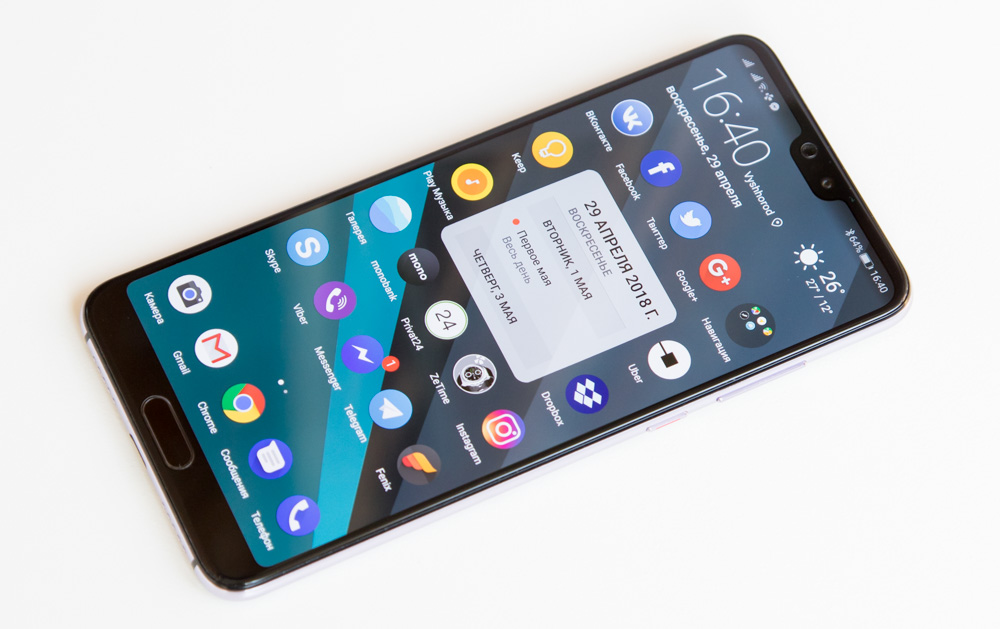 Naturally, in the settings there is a night display mode with a blue filter. And there is also a switch of color profiles and fine-tuning of color reproduction. There is also a switch to lower screen resolution to save battery power. But this is all usual for the EMUI shell.
In addition, the display is characterized by a small, compared to rivals and even P30 Pro, level of white distortion at certain angles. The white color of the screen stays natural. In my opinion, Huawei P20 Pro has a very high-quality OLED-matrix in terms of color rendering and features in general.
Huawei P20 Pro Performance
The race continues. And in this competition, any last year's flagship, no matter how powerful it was at the time of release, remains far behind the leaders, judging by the figures of synthetic benchmarks. But in real operation you can hardly notice it. Kirin 970 is still quite a vigorous chipset.
Personally, during the operation I have never felt any performance problems. In any task, the smartphone behaves like a flagship. After switching to P30 Pro, I also did not feel a noticeable increase in power. Although, if we compare head-on, you can certainly notice that the launch time of the new product is about 2 times less, and the scrolling of long lists, like social network networks, is perfectly smooth. But we are talking about fractions of a second and completely microscopic lags. I do not even know who in real life is concerned about such trifles. Maybe die hard perfectionists.
Of course, if you are an avid gamer and crave maximum FPS in games… then maybe you should give up the flagship design, cameras, screen, battery life and other features and pay attention to Pocofone F1 or other devices on Snapdragon platform? But for ordinary people, who mostly consider mobile gaming not serious, Huawei P20 Pro is powerful enough.
No, in games P20 Pro is far from weak. Asphalt, PUBG and Tanks run on high graphics settings. Expect a couple of years of acceptable performance. It's better than most modern mid-rangers. It can't guarantee the MAXIMUM gaming performance, since it is weaker than Qualcomm platform.
Another clarification about the games. It is better to run them through the built-in Games Center utility in order to gain additional acceleration due to GPU Turbo technology and features like restriction of notifications during gameplay.
Cameras
This section will have a little personal background; If you are interested in technical details about the cameras of the smartphone and software, as well as the features and artificial intelligence when taking photos and videos – all this info can be found in the review of the smartphone.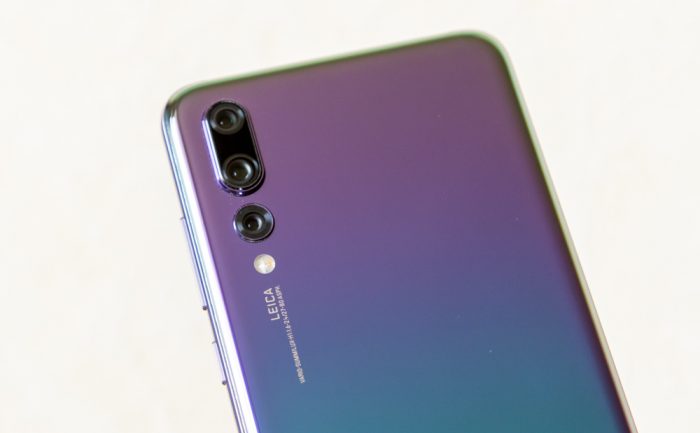 Back in 2012, I bought a SLR camera. I had to. Even then, a personal smartphone (Galaxy Note 2) was enough for my personal and family photos. But in order to shoot gadgets for the site, and to receive more or less decent photos and videos of presentations (often in conditions of disgusting lighting), the capabilities of a smartphone camera were still not enough.
Years passed, but there was no real alternative to a full-format camera (not specifically mine, of course, but in general) for my professional tasks. There were more compact options, but still – this is a separate bulky gadget. In general, I have come to terms for a long time with the fact that during presentations I have to carry a heavy tool around my neck. To make pictures of gadgets for reviews or make videos for our YouTube channel.
The situation has changed somewhat, after I switched to using Huawei smartphones. Specifically Huawei P9 – the first smartphone created by the Chinese in conjunction with Leica. But in any case, these were only prerequisites for real change. Yes, the smartphone could be used as a backup camera. But I could not fully rely on it in all situations. For obvious reasons – the lack of optical stabilization, not excellent video quality. A year later, I replaced P9 with Huawei P10 Plus. It seems that everything has become noticeably better, but still not good enough for a full transition to shooting with a smartphone in any situations.
And now – Huawei P20 Pro. It became the first smartphone that managed to meet my minimum requirements for taking photos and videos for the site. There was an opportunity to make high-quality images in RAW and after processing in Lightroom to get quite acceptable results at the output. Yes, printing posters will not work, but such media files are quite suitable for posting on the Internet.
As for the video, it was Huawei P20 Pro that literally opened up a new direction of our activity – reportage photography. Moreover, you can shoot video even with it, thanks to a perfectly working system of intellectual stabilization. We began making more videos from various events and presentations with a sign "Filmed on Huawei P20 and P20 Pro". And at the moment P30 Pro successfully continues this trend. All video examples can be viewed on our YouTube channel.
Handy links:
Battery life
At some point, 4000 mAh became the standard in the flagship smartphone segment. And this battery capacity ensures that Huawei P20 pro can work for a day in intensive mode. Or for 2 days if you don't overwork it. Or even three, if you use it exclusively for calls, email and instant messengers.
What's interesting, after a year of operation, I did not notice a noticeable loss of battery capacity. Although it is certainly present, but very insignificant.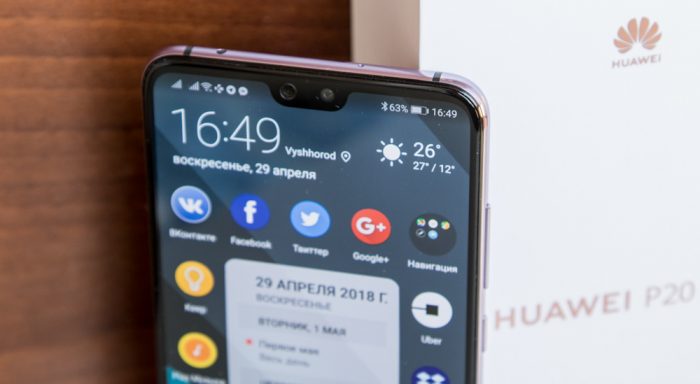 The smartphone can be charged very quickly. It was this device that radically changed my habit of charging my phone at night. Now it's not necessary. It is enough to connect the smartphone  in the morning and while you are doing your chores (toilet, shower, breakfast, etc.), in gains about 70% of the charge, which is enough for a full day.
After a short period of operation, I could point out a certain disadvantage of P20 Pro – the lack of wireless charging. It's is a damn convenient function, as well as "healthy" for a battery. Reverse wireless charging is also missing.
Communications
Everything's fine. No complaints about mobile communication and data transmission. Dual band Wi-Fi works fine.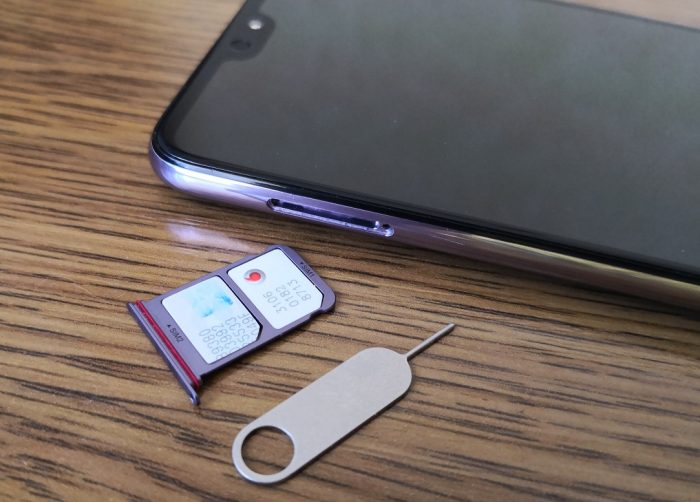 I especially want to mention smart proprietary technology Wi-Fi+, which provides maximum speed and a stable Internet connection. Its essence is as follows. The system constantly evaluates the quality of the network and automatically selects the best option. This especially helps in areas on the border of the wireless network.
The smartphone does not cling to the weak Wi-Fi with low Internet speed, but switches to mobile data transfer, where the speed is higher. Or it uses both communication channels. And it happens almost seamlessly.
Also, Wi-Fi+ remembers the location of the saved networks and can automatically turn on the module and connect to them when you are in the coverage area. I highly recommend activating this option in the settings. Wi-Fi+ and other smart features (Additional Huawei Services), appear when you first turn on your smartphone during the initial setup wizard. And it is better not to ignore them, because they make using the smartphone more convenient.
Bluetooth is also without pretence, my watch is constantly connected to the smartphone and this does not affect the parallel transfer of music to the TWS headset and speaker.
The GPS module is great. Fast, supports all possible types of networks – GPS, GLONASS, GALILEO. USB Type-C port. NFC for contactless payments, of course, is available. There;s even an infrared port that allows you to make a universal remote control for controlling household appliances from a smartphone.
The only complaint is the absence of a 3.5 mm jack. But this is the topic of the next section.
Sound
The first thing I would like to point out is the sound chip of the smartphone, which supports high bit depth and 32-bit 384 kHz audio sampling frequency, which corresponds to the Hi-Res Audio standard. So the hardware basis is good here. Next – Dolby Atmos software technology, which greatly improves the sound, but unfortunately the EMUI version up to 9.0 does not support Bluetooth headphones. Perhaps a subsequent upgrade to 9.1 will solve this problem, because P30 Pro does support it. In any case, it was Huawei P20 Pro that finally converted me to fully wireless headphones, which I don't regret.
Read also: Everything about headphones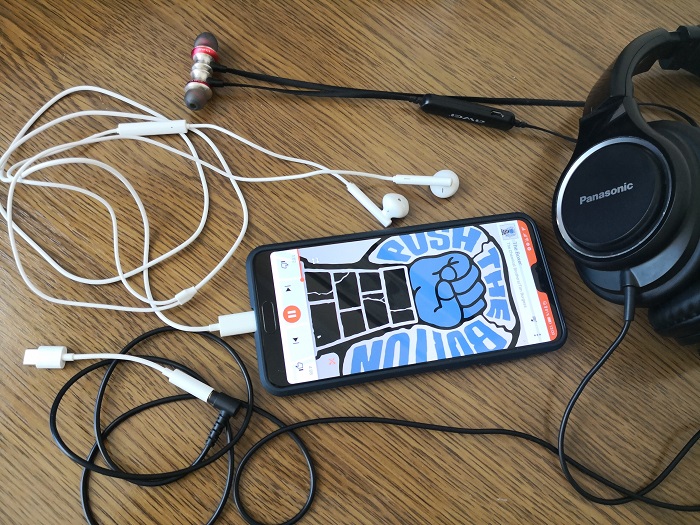 Another significant advantage of the smartphone is stereo sound. The role of the second speaker is performed by the earpiece speaker. Of course, it's not as loud as the main one, located on the bottom, but it sounds good in general and is aimed directly at the user, so it adds volume to the sound. In any case – an honest stereo that can be enjoyed in games and while watching a video.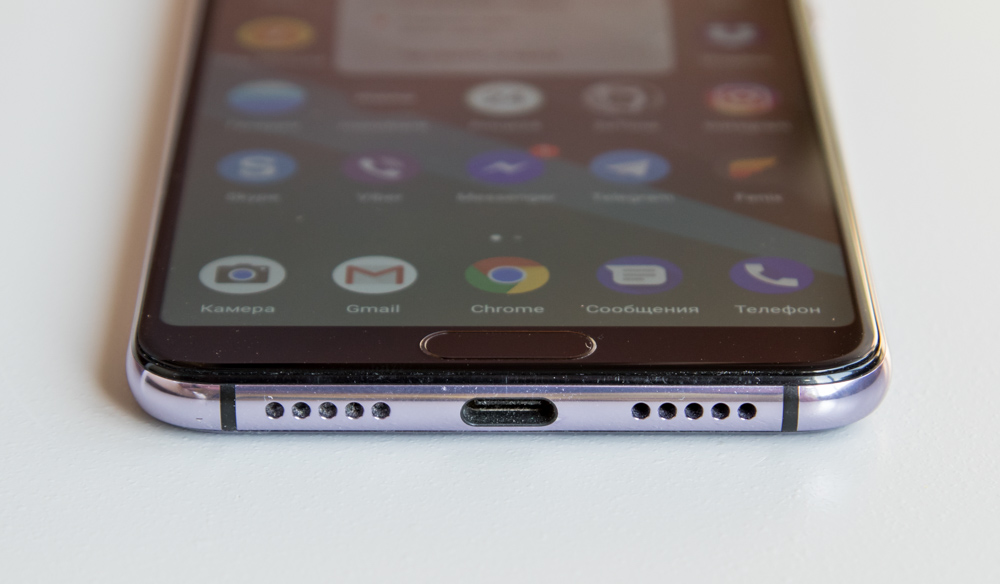 In general, I would characterise the multimedia component of the smartphone as a flagship – excellent, but with minor flaws that can be eliminated or simply ignored.
There are no complaints about the sound during telephone conversations, it is all great.
2 microphones are responsible for recording sound during video recording, the track is recorded in stereo and the quality is excellent. There are no sound artefacts when recording loud sounds, you can safely shoot video at concerts or in a noisy club.
Firmware and software
When it comes to software in Huawei smartphones, everything comes down to EMUI proprietary shell. The smartphone was launched with firmware version 8.1.0, but later got 9.0, version 9.1 is not far off, it is being tested at the moment and the update is expected around the end of summer. As for Android Q (EMUI 10), the manufacturer also promises this update for the smartphone, but the specific dates have not been announced yet.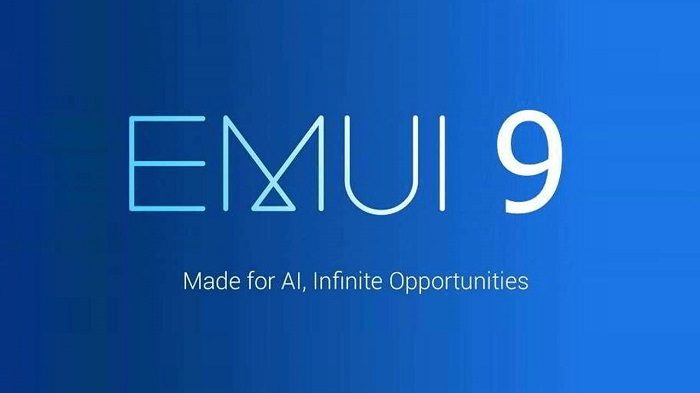 We have already talked about EMUI shell countless times, both in the reviews of Hiawei and Honor smartphones and in individual materials, and I don't want to repeat myself. Read reviews of P20 Pro and P30 Pro, as well as our other related articles.
Verdict
Huawei P20 Pro remains relevant, even a year after the release. Of course, P30 Pro is better in many ways – it received new modern functions, and the manufacturer has seriously pumped the camera. But if you do not want to pay a substantial amount for a new product, then you may want to look at the last year's model.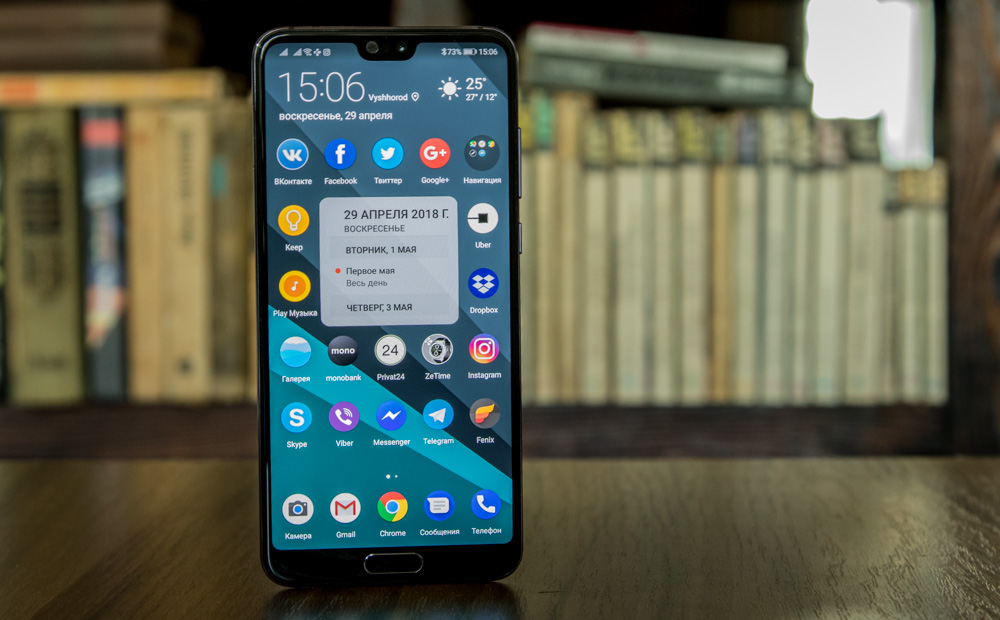 P20 Pro is a very balanced smartphone, a real flagship in all respects, which looks like a very attractive purchase, especially considering the relatively low cost at the moment. In addition, I am sure that it will not lose its advantages over the next few years.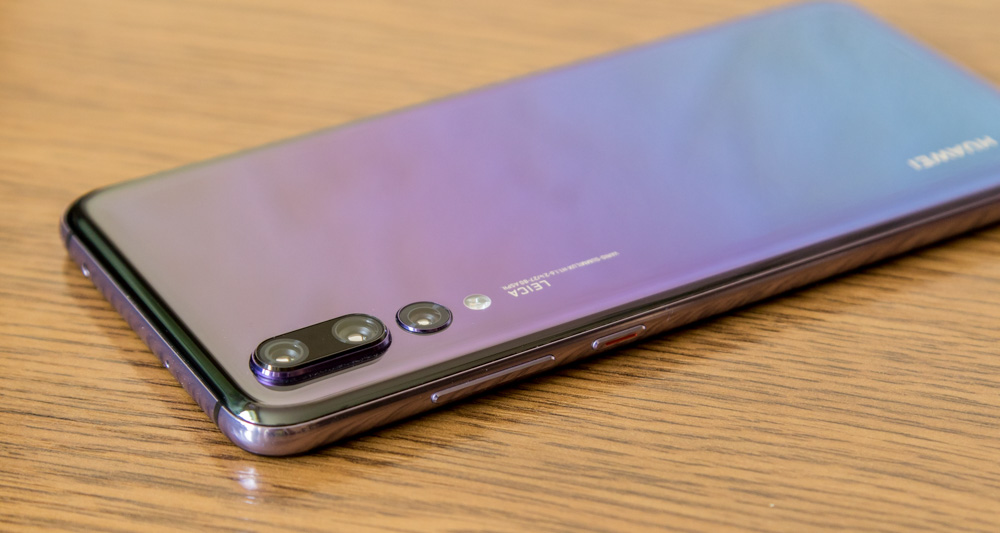 It is definitely worth considering as an alternative option if you are thinking about buying a mid-ranger smartphone of the current year. It's actually better than many of its rivals made in 2019, especially when it comes to photo and video capabilities. I definitely recommend it – perhaps now it is the best choice for the price!
Subscribe to our accounts: