Meizu has been going through hard times. For a long time only China seemed like the market it was interested in. But thanks the financial assistance from the government, Meizu decided to return to the global market once again. So, recently, the company held an event in Kiev, where it showed the world-famous Meizu Note 9, as well as a new product – the low-cost Meizu M10. And in this review we will try to figure out whether M10 will be able to return the brand to its former glory.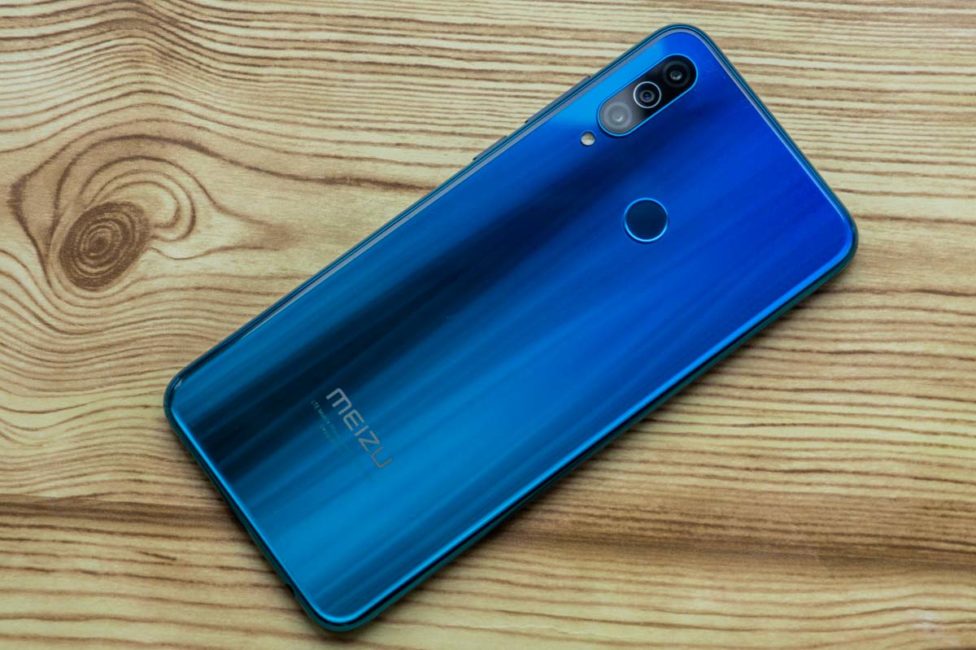 Meizu M10 specs
Display: 6.5″, TFT, 1600×720 pixels, 19.5:9 aspect ratio, 270 ppi
Chipset: MediaTek MT6757CD Helio P25, 8-core, 4 Cortex-A53 cores with a clock frequency of 2.4 GHz and 4 Cortex-A53 cores with a clock frequency of 1.7 GHz
Graphics Accelerator: Mali-T880 MP2
RAM: 2/3 GB
ROM: 32 GB
MicroSD memory card support: up to 128 GB
Wireless networks: Wi-Fi 802.11 a/b/g/n/ac, Bluetooth 4.2, GPS (A-GPS, GLONASS)
Main camera: triple, main module 13 megapixels, f/2.2, PDAF; 2 megapixels, f/2.2; 2 MP, f/2.2
Front camera: 8 MP, f/2.4
Battery: 4000 mAh
OS: Android 9.0 Pie
Dimensions: 164.87 × 76.33 × 8.45 mm
Weight: 184 g
Read also: Redmi 8 and Meizu M10 comparison
Where to buy Meizu M10
Design, materials and build quality
Nowadays the design of all smartphones, and especially low-cost ones, is practically the same. A drop-shaped notch on top of the screen, a spectacular backplate and a boring camera unit.
The Meizu M10 also has it all. The bezels are not very thin, the bottom margin is wide, but without a logo. The vertical module on the top left barely protrudes above the back surface, which I regard as a plus.
About the color. In the test sample, it is referred to as Sea Blue. The blue on top brightens a little closer to the bottom, where it turns into blue. Again, there are many layers that together create an iridescent effect. Beautiful, but everyone has something like that now.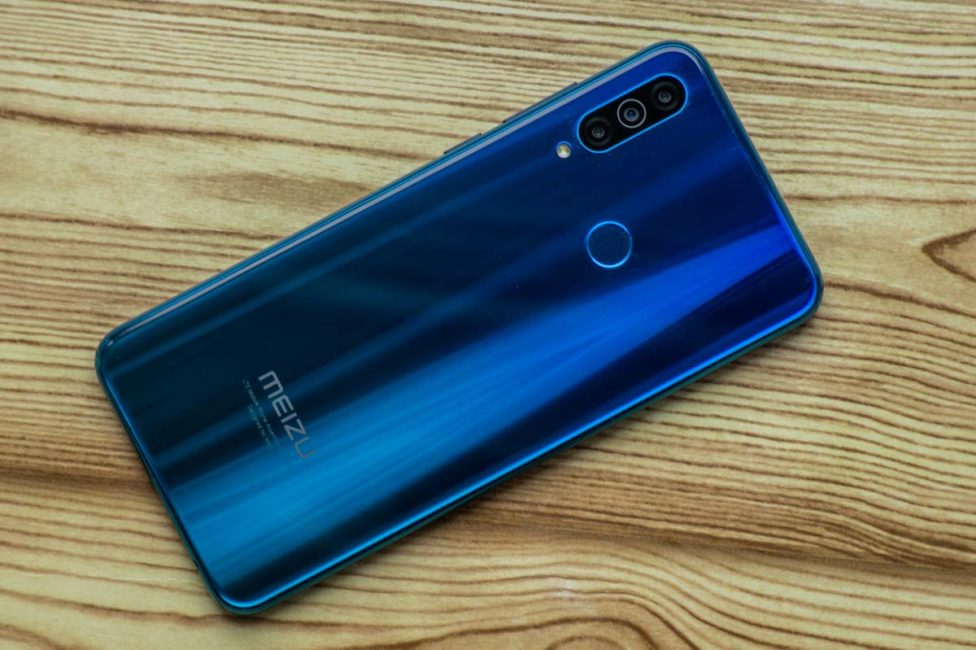 In addition to this color scheme, we have the more conservative Phantom Black color and Purplish Red, which I consider more of a girly color scheme.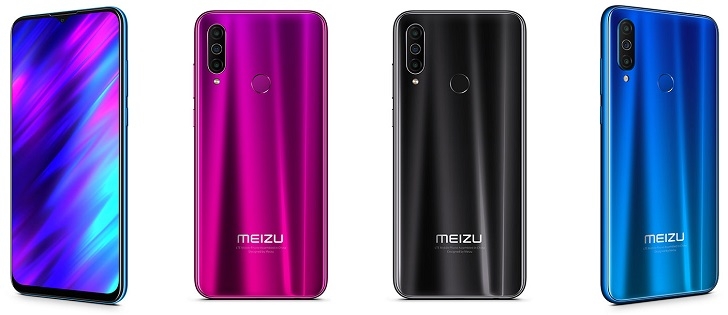 Glass at the front is slightly curved, plastic frame is made of glossy blue plastic. The material of the back panel is very reminiscent of glass, it is one of the best imitations of glass that I have ever seen. But a miracle did not happen: if you press on this panel the magic will instantly disappear.
But it's no problem, really. Glass in this price segment is as widespread as Meizu's smartphones on the shelves of local stores. In other words, extremely rare. But it is likely that this will change in the near future.
The build quality is great. The oleophobic coating is present, on both sides (less so on the back). However, this does not negate the fact that fingerprints remain visible. But it's easy to wipe them out.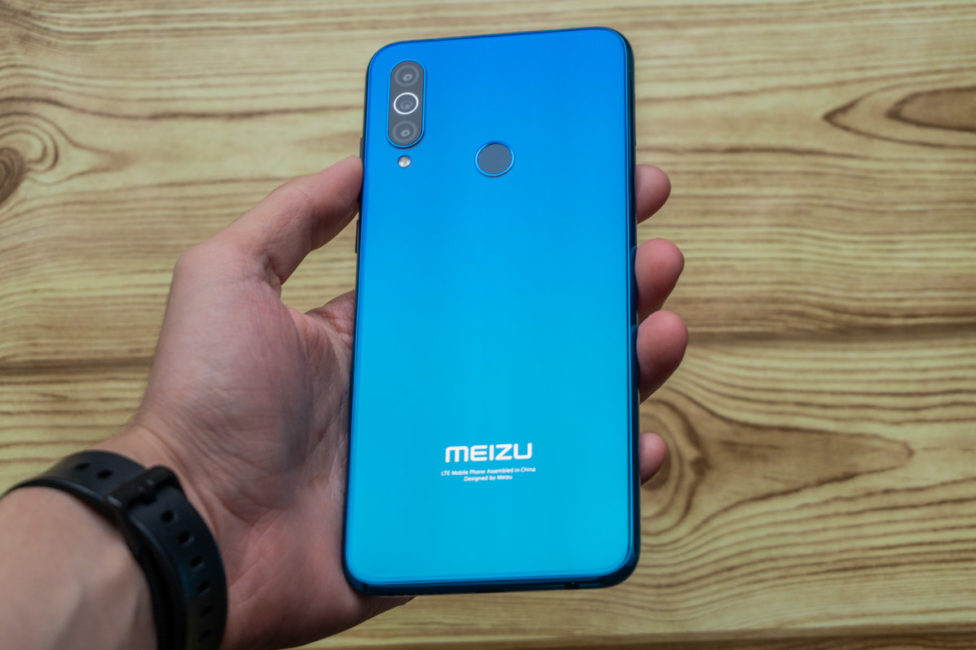 Elements configuration
Above the display, all the basic elements are present: light and proximity sensors, a speaker, a front camera and an LED indicator. Below you can see only a completely empty area. By the way, the front indicator periodically turns on by itself. No reason. There are no notifications, everything is closed, no third-party modes are turned on, but still it blinks. Then it suddenly stops.
The left side has a volume control key and a power button. On the right is a combined slot for a pair of nanoSIM cards, one of which can be replaced with a microSD-card.
At the bottom: a 3.5 mm audio port, microphone, microUSB port and multimedia speaker. The upper side, in turn, is completely empty.
At the back there is a block with three camera eyes; the central one has an additional edging, and under it is a flash. In the center below is a small round platform with a fingerprint scanner, and at the very bottom is the Meizu logo and a few other inscriptions.
Ergonomics
Meizu M10 is a large smartphone, you might even call it a phablet. Accordingly, using one finger to reach any place on the screen without changing the grip is impossible. Dimensions are as follows: 164.87 × 76.33 × 8.45 mm, weight – 184 grams.
The buttons are quite large, but due to the height of the smartphone increasing the volume is not always convenient. But the fingerprint scanner is located right at the idea place for me. The phone is not very slippery in the hand, but it can move by itself when on an inclined surface.
Meizu M10 Display
As I already said, the smartphone is large and therefore the display is also rather big. The screen size is 6.5″, the type of matrix is ​​claimed to be TFT in some sources. The official website for some reason does not provide specific information on the technology used. HD+ resolution (1600 × 720 pixels), 19.5:9 aspect ratio and pixel density 270 ppi.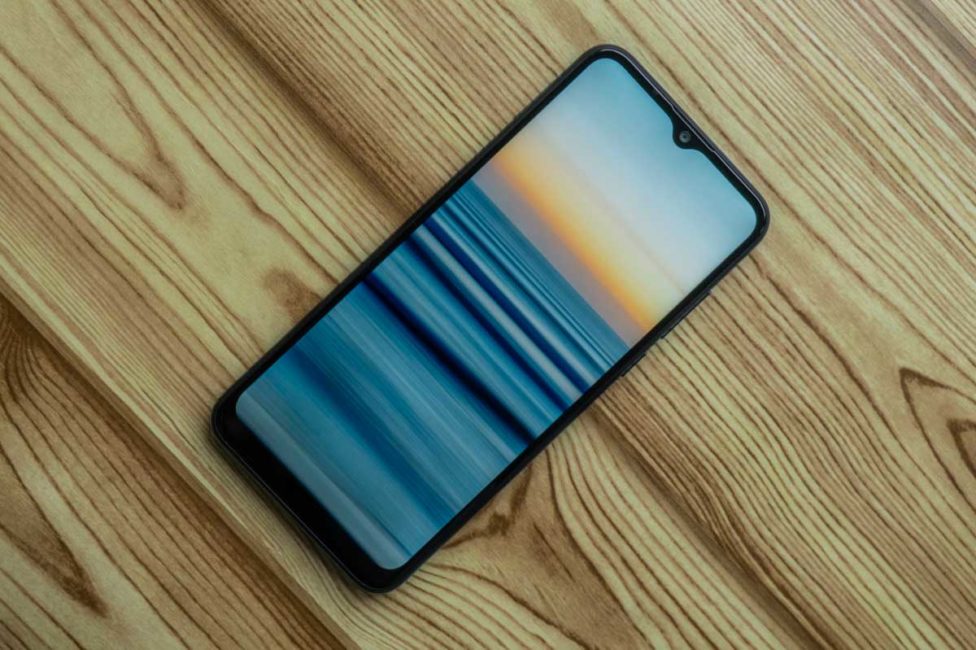 First of all, it should be noted that with such a diagonal and resolution, the screen lacks clarity. This can be seen in the fonts and more on the application icons. Of course, for the budget phone this is the norm, HD-screens cost money. However, this point is worth mentioning.
Everything else is fine: the color rendition of the screen is calm, not oversaturated. In all cases, brightness will be enough for comfortable use outdoors during the day. In the dark, the minimum threshold is also not bad. Viewing angles are generally very good, with slight fading of black under diagonal deviation.
True, there are practically no settings – there's the night mode with a decrease in blue glow and that's it. White balance, the image quality – regular capabilities can not be fixed. Adaptive brightness adjustment works fine, but sometimes you have to move the slider yourself.
Meizu M10 Performance
Inside Meizu M10 we get MediaTek MT6757CD or, if simpler, Helio P25. Far from the new 16-nm platform, consisting of eight Cortex-A53 cores divided into two clusters. The first 4 cores operate with a maximum clock frequency of up to 2.4 GHz, and the rest with a clock frequency of up to 1.7 GHz. The graphics accelerator is a dual-core Mali-T880 MP2.
There can be either 2 or 3 GB of RAM. This should be enough for several applications running in the background. M10 can run about five undemanding RAM programs at the same time.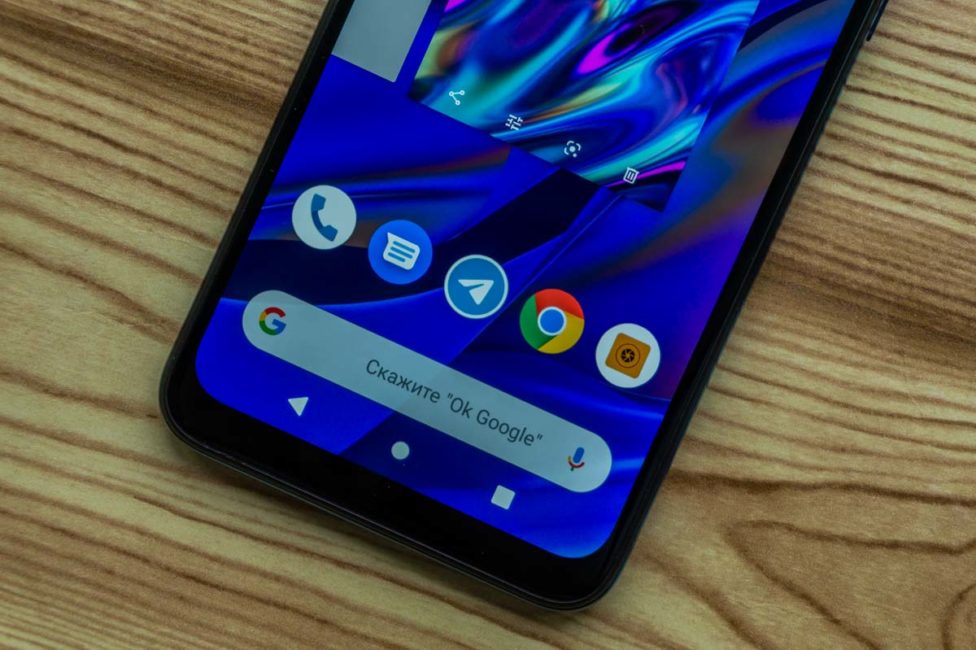 There's 32 GB of storage, and the user gets 24.89 GB out of that. You can expand it by installing a microSD card up to 128 GB instead of a second SIM card. Yes, you have to choose between the second SIM and the extended storage.
The interface behaves quite smoothly, I have not seen any critical lags. Except for the initial setup and when installing application updates. The applications themselves don't load as fast as in more expensive smartphones, which is quite logical. Meizu M10 can handle long lists, but barely. Don't really thing about the games, even the Lite version of PUBG. Although it's some undemanding games will surely run.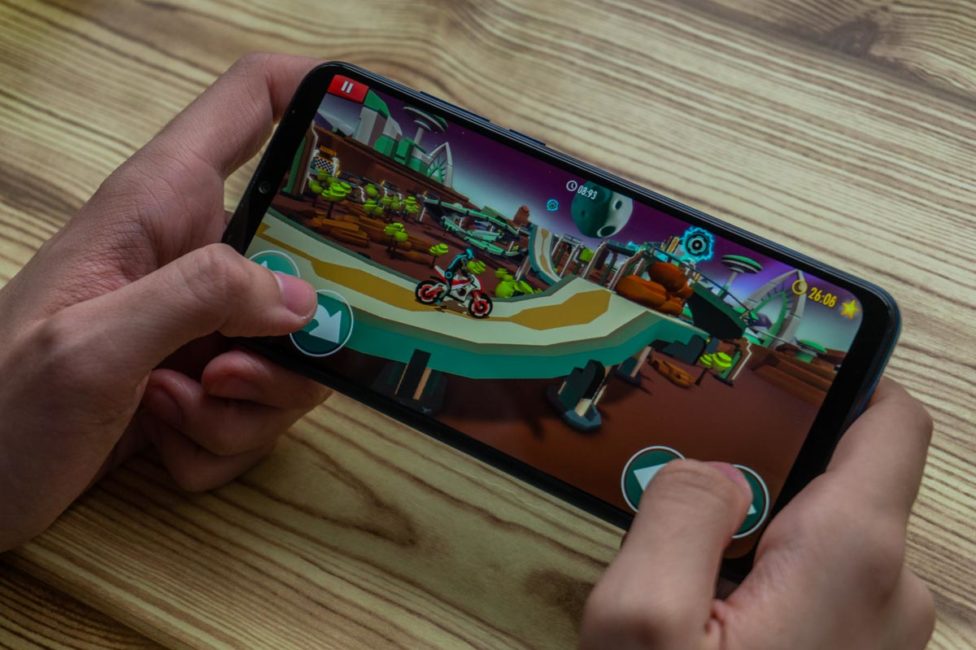 Meizu M10 cameras
There are likely to be more questions than answers in this section. There are as many as three cameras in Meizu M10, when most of the competitors are equipped with two or even one. True, there is one weighty "but", about which we'll talk a little later. So, here we have the main module with 13 megapixels (f/2.2 aperture) and PDAF autofocus. The other two modules are: 2 megapixels, f/2.2. Yep, two more completely identical modules.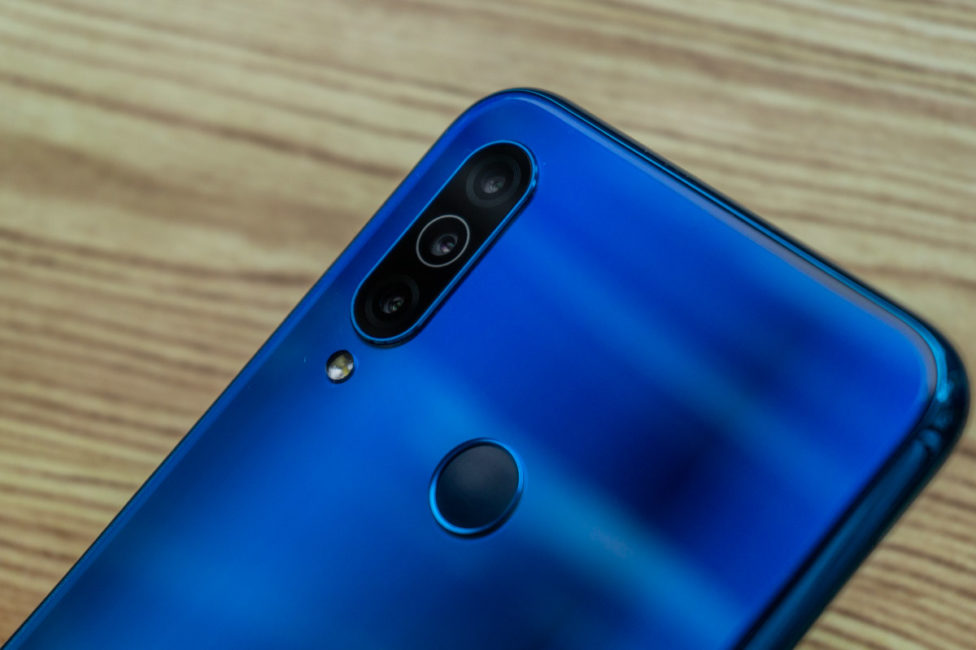 The official website indicated the aperture of the 13 megapixel lens as f/2.0. I don't know why I decided to check it, but the EXIF ​​image data showed f/2.2 aperture. Of course, the difference is insignificant, unlike TP-Link Neffos X20 Pro camera with f/2.8. You might say we're nit-picking – sure, for a budget phone it's okay. But the other modules are harder to explain.
In general, 2MP sensors are more often depth sensors that help to take photos with the background blur effect. Well then, why are there two of them in Meizu M10? Even the manufacturer does not seem to know this. On the site we are informed that Meizu M10 can take portrait shots and an additional camera will help it in this. Not cameras, but a camera, literally – "secondary camera". So why the third?
If we go further, such modest cameras can act as macro-modules in some smartphones, such as Honor 20 and Honor 20 Pro. There it is a separate mode, where the photos really have a resolution of 2 megapixels at the output, and the focus is fixed at a distance of about 4 cm. What about Meizu M10? There is no macro at all, neither in the camera application, nor on the site. Plus, if you close all the modules, a notification pops up that this may affect the effect of a dual camera. Once again, why forget the third one?
If there are two depth sensors, then portraits are probably amazing, right? Wrong, this mode behaves very weird. I even had one where it completely blotted out a person, and left the background in focus. Although in general, the separation of a person from the background is relatively good, if the smartphone correctly determines who is who, of course. Is it worth mentioning that some smartphones do this very well with a single camera? Yes, the same smartphone can take portrait photos on the selfie camera.
In short, my opinion is that the third "auxiliary" camera is unnecessary here. There's no real reason for it at all. And anyway – it used to be better, Meizu. In fact, most likely, this is a tribute to trends. And I do not approve of this approach at all.
And now, let's proceed directly to the pictures themselves. As often happens, in ideal lighting conditions, photos look very nice, as for a budget device. The colors are pretty saturated, as if someone turned on the AI, but it is not in the settings. With the deterioration of the shooting conditions, the photo quality also worsens, it becomes difficult to take a clear picture without blur. In addition, for some reason there is a delay a fraction of a second after pressing the shutter, and the picture cannot be taken instantly.
Video shooting in the M10 is also the simplest, maximum in Full HD; there is minimal electronic stabilization and shaking is slightly reduced. But nothing special.
The selfie camera boats 8 megapixels, f/2.0. In fact, it's f/2.4 and it's very dark. It smoothes the face, in the spirit of budgets three years ago. I'll clarify that the improver is turned off. It's most basic selfie camera. It can do bokeh, though not very good.
The camera application deserves a separate "praise", in the worst sense of the word. If you omit the design from 2016, then it becomes a matter of localization. "Picture" is a standard photo, "Stereo" means blurring the background. There is a night mode, but it does not work. Activating the ZSD option does not affect the speed of the camera. Pop-up notifications saying"Lens closed" appear out of thin air.
The fingerprint scanner
The fingerprint scanner is located on the back of the Meizu M10. The size of the site is small, it is slightly recessed. It's located in a perfect place, you'll find it only by touch. But when it comes to accuracy… out of ten times it didn't work four times. Several errors in a row mean you have to resort to manually entering a password or a pattern.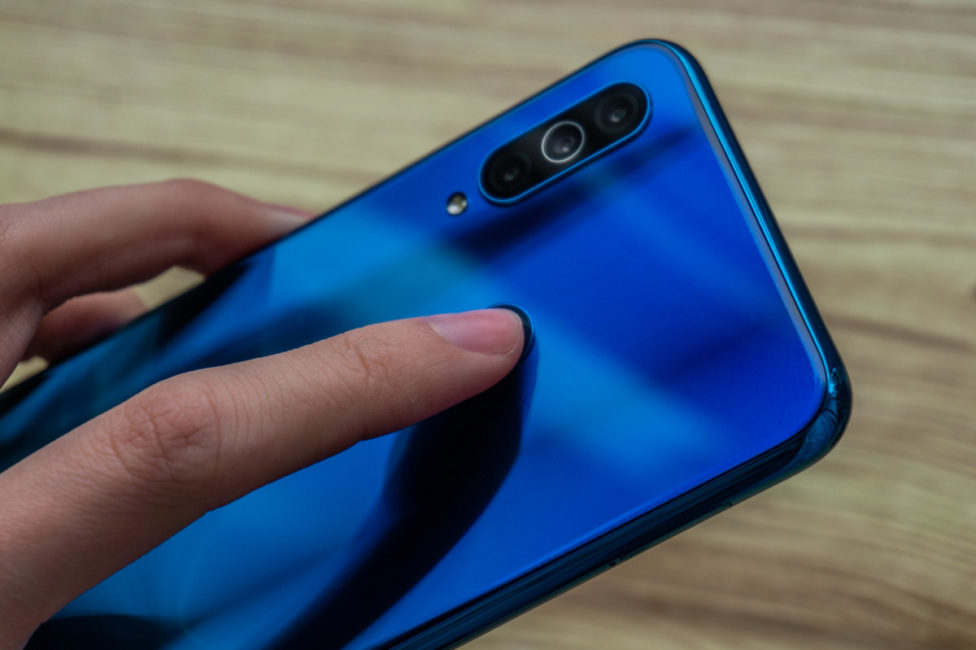 A separate unlocking function by face recognition in the smartphone is not provided, but you can configure it through Google Smart Lock. The method is not very convenient (after scanning you need to swipe to unlock) and, of course, it's not the safest. The speed is about the same as with a fingerprint scanner.
Meizu M10 battery life
The capacity of the battery built into the Meizu M10 is 4000 mAh, which at first glance is not bad at all. The HD resolution also contributes to decent battery life, but the screen is large, so the operating time is not that impressive, but still good. The phone can survive for a day without recharging, with the screen active for about 6.5-7 hours. Interestingly, in PCMark Work 2.0 test at maximum brightness the device lasted only 5 hours 55 minutes.
Sound and communication
The speaker is average, but loud. The multimedia sounds just fine. There is a slight superiority of high frequencies to low frequencies in sound through wired headphones, but the volume margin is excellent. Sound in wireless headphones is quite good. True, when listening to Tronsmart Spunky Pro, I ran into a problem when the volume slider on the smartphone showed another 50% of volume available, but the increase did not affect the headset volume itself. On another headset, RHA MA650 Wireless, everything was fine. So whose fault it was, a headset or a smartphone's, I don't know.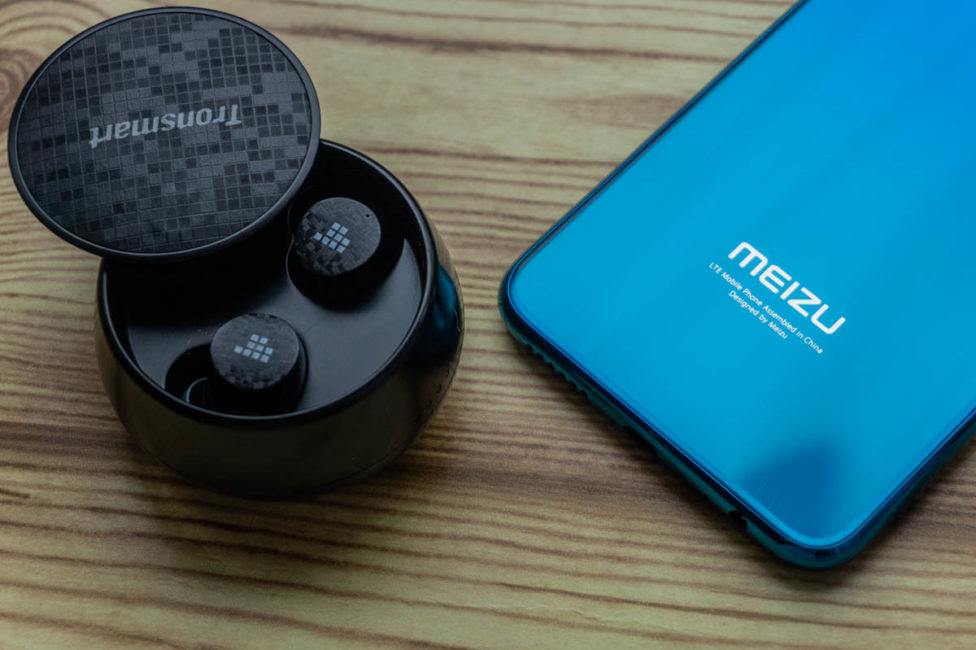 Meizu M10 can be praised in terms of communication capabilities. Dual-band Wi-Fi 5 (802.11 a/b/g/n/ac), regular Bluetooth 4.2 (A2DP) and GPS (A-GPS, GLONASS). It's a shame that there is still no NFC module. This is an old story for Meizu smartphones, and for low-cost phones in general. Wi-Fi is problematic – two meters from the router, and you lose one line, although it may return. It's all very uncertain. From time to time, data may simply not load when other devices quietly allow you to use the Internet. It is strange to observe this in 2019.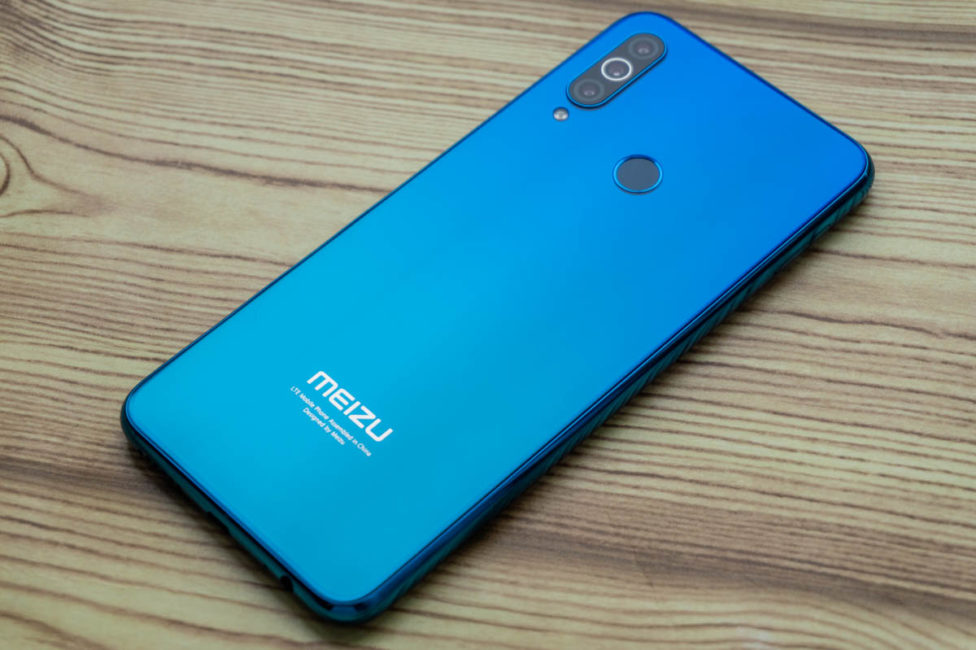 Firmware and software
Meizu M10 is also distinguished by the fact that it doesn't have manufacturer's proprietary shell (Flyme), and runs on pure Android. This is not the first smartphone of the company without a shell; it did the same with Meizu C9. But both devices are not Android One. And there are no guarantees of major updates or monthly security patches. Meizu did add something, but it's all not very good. For example, the ill-fated camera application, the update application, "My Flyme" and the branded App Store, which requires a Flyme account. Who needs it, I have no idea.
Of the additional settings on board there is DuraSpeed ​​(proprietary technology to accelerate the processor from MediaTek) and only two gestures – quick start of the camera by double-clicking on the power button and muting the sound of the call while pressing the power button and increasing the volume. There is no other way to navigate the system, except for the on-screen buttons in the firmware.
The software is problematic, given the issues I already mentioned. In addition to a suddenly flashing LED, periodically in the notification curtain you get a random streaming music service player that I closed an hour ago. At least it's paused. There are still smaller and minor things that will probably be fixed in the future.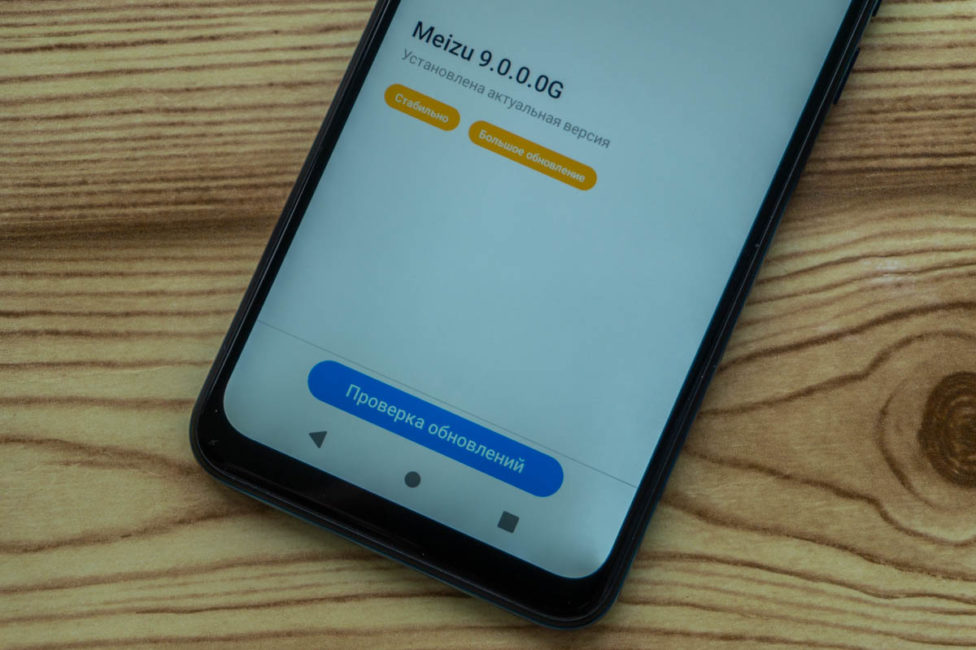 Verdict
Meizu M10 is a compromise smartphone without any unique features. It has a solid large screen and good battery life, but the list of advantages ends here. Unfortunately, during testing, I came across problems that spoil the whole impression of the device.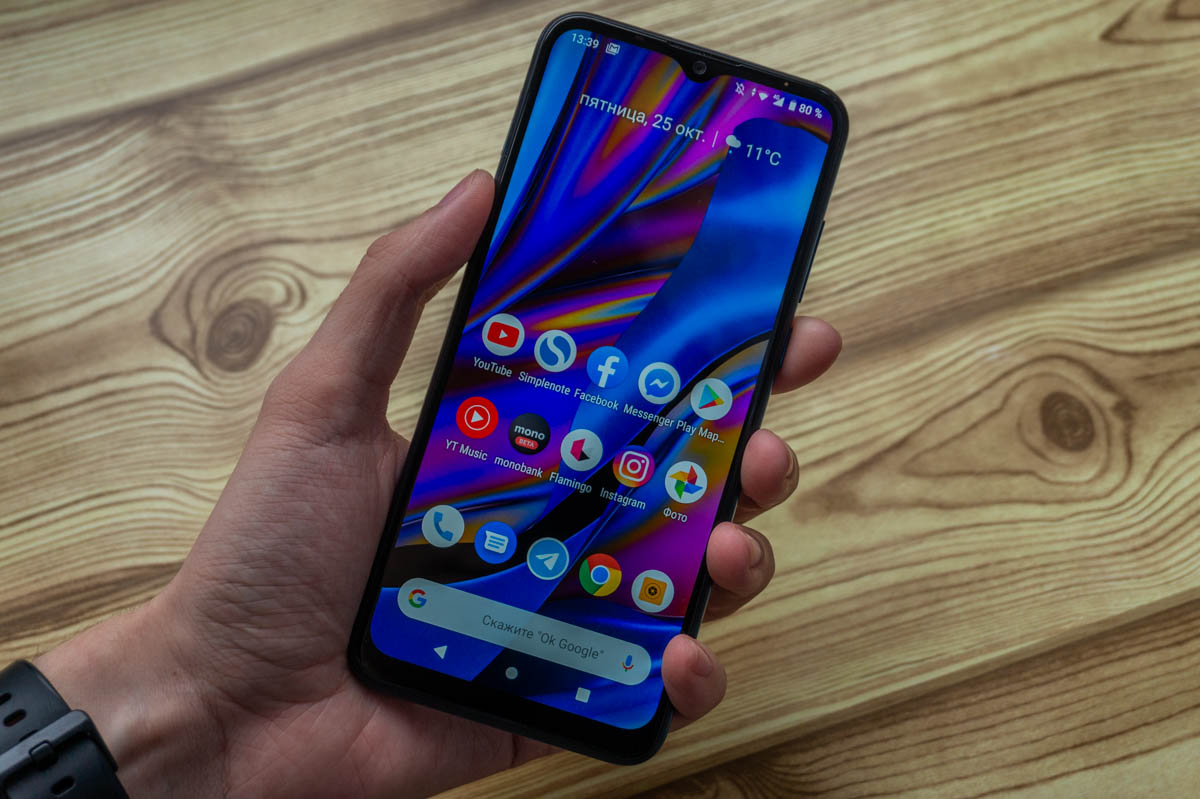 It is clear that a smartphone is inexpensive, but competitors at least offer reliable devices in the same price category. I can't say that about Meizu M10; there are problems which I hope will be fixed in the future. I can't recommend it yet, although the final decision, of course, is yours.
Where to buy Meizu M10
Subscribe to our accounts: