At the end of January 2022, Xiaomi held a presentation, during which it showed four Redmi Note 11 smartphones for the international market: Redmi Note 11, Note 11S, Note 11 Pro and Note 11 Pro 5G. We tested the most advanced model, the Note 11 Pro 5G, in February. Well, now it's time for the basic version, the Redmi Note 11. Here is a classic Chinese budget phone with a price tag of $ 180, let's find out how good it is, if so.
Specifications of Redmi Note 11
Display: 6,43″, AMOLED, 2400×1080 pixels, ratio 20:9, pixel density 395 ppi, 1200 nit, refresh rate 90 Hz
Chipset: Qualcomm Snapdragon 680 4G, 6 nm, 8-core (4×2.4 GHz Kryo 265 Gold, 4×1.9 Ghz Kryo 265 Silver)
Video accelerator: Adreno 610
RAM: 4/6 GB, LPDDR4X
Storage memory: 64/128 GB, UFS 2.2
MicroSD support: up to 1 TB (dedicated slot + 2 SIM)
Wireless networks: 5G, Wi-Fi 5, Bluetooth 5.0, GPS, GLONASS, GALILEO, BDS, NFC
Main camera: main module 50 MP, f/1.8, 26 mm, 0.64 µm, PDAF; extra wide angle lens module 8 MP, f/2.2, 118˚, 1/4″, 1.12µm; macro 2 MP, f/2.4, depth sensor 2 MP, f/2.4
Front camera: 13 MP, f/2.4, 1/3.1″, 1.12µm
Battery: 5000 mAh
Charger: 33 W
ОС: Android 11 with MIUI 13 shell
Dimensions: 159.9×73.9×8.1 mm
Weight: 179 g
Read also: Redmi Note 11 Pro 5G review: New design, 5G, fast charging
Positioning and price of Redmi Note 11
The new series of Redmi Note smartphones includes four devices. They all have different features, different characteristics and, as it turned out, belong to different price categories. The most advanced is not a flagship, but a strong middle class. The simplest is a typical budget phone. The parameters of screens, cameras, processors, the amount of RAM differ.

Unlike last year's Redmi Note 10, the novelty received a 90 Hz display, as well as a new generation Snapdragon 680 4G processor (6 nm process technology instead of 11 nm in the former 678).

What's in the box?
On the one hand, the delivery set may seem standard,  but it looks even plentiful if compared to many expensive flagships. For example, few manufacturers can afford to give up the charger in the delivery set in the budget segment, so the very fact of its presence with the Note 11 did not come as a surprise.
The phone comes with a  solid 33 W power adapter, a 1m Type-A/Type-C USB cable, a clear silicone protective case, a key to remove the card slot and accompanying documentation.
The out-of-the-box case is very ordinary. There is a solid edge around the main camera unit, an excessively high edge above the screen, all the necessary openings for keys, a duplicate volume key, and a cutout for the Type-C port even has a protective cap.

Read also: Realme 8 vs Redmi Note 10S: Budget smartphones head-to-head
Design, materials and assembly
In the new generation, the design of the Redmi Note 11 series has changed, but not completely. The front panel of the smartphones remains exactly the same: with the same neat front camera eye on the screen, the same thin frames on the left and right sides, as well as slightly wider top and bottom margins.
However, I still can't understand why the camera is highlighted with silver edging. There is no such thing in Xiaomi mid-range smartphones, but for some reason it is found in Redmi. Maybe it's a matter of drawing attention to the elegantly built-in camera of the budget phone, it would look better but without edging.
The body frame of the Redmi Note 11 smartphones is no longer streamlined, but flat, which the manufacturer is probably very proud of. Indeed, all promotional materials focus on the smooth flat faces of the smartphone, not to mention their description that reads like 'touch the frame – feel the power.' As if it is really something out of the ordinary, something new for Redmi, but I think everyone understands who the designers have spied these flat faces from. Of course, they are not glossy and plastic, but anyway.

But we can't say that it's a pattern break for Xiaomi. Let's remember at least the Redmi Note 4, whose edges were also flat, moreover, they were made of metal. Yes, it looks nice and fits well into the overall style, that's for sure, but are the flat edges of the plastic frame a good reason for pride today?
However, as you can see, although the side frames are flat, the rear panel itself is still streamlined, so there is no actual impressive effect of the 'plane'. The side panels of the Redmi Note 11 Pro are flatter and therefore look more interesting.
The camera unit looks convincing and is shaped as a large vertical rectangle with rounded corners. In its upper part there is another small protruding pedestal with a main camera module with a wide iridescent edging, and the rest of the stuff is at the bottom at the very base. With this design, the unit looks more austere than the Redmi Note 10 Pro with its silver edging around the main module. In general, it looks good.
Despite the fact that we have a budget phone here, the back panel is made of glass (but the model is not specified). It is matte, fingerprints are clearly visible on the surface, especially if the fingers are wet or slightly greasy. The panel is pleasant to the touch, almost soft-touch, does not slip in the palm.
And the front is covered with tempered Corning Gorilla Glass 3 with a high quality oleophobic coating. Although this is not the latest generation, but unlike the fresher ones, it has superior protection against scratches. By the way, Xiaomi did take care of additional protection, the screen of Redmi Note 11 is protected with glued film 'out of the box'.

The side walls of the phone are plastic, although they look quite 'premium'.
Redmi Note 11 comes in three shades: gray-black Graphite Gray, blue Star Blue (both gradient), and Pearl White with shades that change in light. The one that came to us for the test was… I wouldn't say boring, but strict and universal option.

Let's look at the location of the elements. In front, above the front camera, there is a speaker slot, next to which is a light sensor. The proximity sensor is also available, but it is a new generation virtual sensor, it works without problems.

The right edge has a volume control button and a power button, which also acts as a fingerprint scanner.

The button is not recessed in the side wall, looks like a standard key. Of course, there could have been an on-screen fingerprint sensor on the OLED display, but for some reason Xiaomi has saved on this. However, the capacitive scanner in the side key is not bad at all. Reading is fast, error-free. There is, of course, face recognition, but I prefer to unlock by fingerprint.

There is a separate slot for two SIM cards and a memory card on the left side of the phone. You do not have to choose between the second SIM card and the presence of a memory card, and this is a plus.

The upper side wall of the Redmi Note 11 has a 3.5 mm audio jack, slots for a second multimedia speaker, an additional microphone, and an IR port for home appliances. Below is the main multimedia speaker, main microphone and USB Type-C port.
Redmi Note 11 turned out to be small if  compared to many modern 'shovels', it is light, fits comfortably in the palm of your hand, easily operated with one hand.
The smartphone is perfectly assembled and protected from dust and splashes of water according to the IP53 standard, this is a plus, although not the biggest one.

Read also: Redmi Note 10S review: Affordable smartphone with NFC and Super AMOLED
Redmi Note 11 display
The screen of the junior Redmi Note 11 is almost as good as the older models in the line. This is the same AMOLED DotDisplay with FHD + resolution (2400 × 1080 pixels), only the diagonal is smaller. Compared to last year's Redmi Note 10, the refresh rate has increased from 60 Hz to 90 Hz, the image is noticeably smoother.

There are only two refresh rates to choose from: either 90 Hz or 60 Hz. There is no intermediate option in the settings, but the first mode is dynamic. So some programs will be displayed at 60 Hz even at 90 Hz setting. This could be a static state, such as a photo in a gallery.

The display is, of course, excellent for a budget phone, all models with IPS-matrices are left behind. Contrast and color reproduction are superior, viewing angles are maximum.
And the brightness is absolutely admirable, up to 700 standard nits and up to 1000 peak nits. However, according to tests, the peak brightness reaches 750 nits in automatic mode. But there is a feature: if you turn off the auto-brightness, the Sunlight mode option will be available in the settings, which increases the brightness to the maximum if the screen is exposed to particularly bright sunlight. Readability is really great (even in auto mode).
And the minimal brightness of the Redmi Note 11 turned out to be very comfortable: you can look at the screen without any discomfort in complete darkness.
The color rendering of the display directly depends on the selected mode and can be either automatically adapted to the content, or always saturated or more natural and neutral.
The settings include changing the system theme (light dark), reading mode, color scheme with three profiles and the ability to correct the color temperature, select the refresh rate, text size and auto-rotate. The Always On Display function is configured separately: display of clock, date, messages on the switched off screen.
Redmi Note 11 - Display Settings
It's nice, of course, that AoD is present in the smartphone and can widely customized, only it can be displayed for only 10 seconds after touching. There is no scheduled mode, no permanent display, so it's not completely 'always on display'.

Read also: realme 8 Pro vs Redmi Note 10 Pro — Mid-range smartphones head-to-head
Performance of Redmi Note 11
The market for budget smartphones is constantly improving, which, of course, benefits users. The Redmi Note 11 is a device worth less than 200 euros with features such as a solid 90 Hz AMOLED display, stereo speakers, a decent set of cameras and a 5000 mAh battery with 33 W charger. But the ideal is unattainable and something has to be sacrificed. In this case, the Snapdragon 680 chipset is one of the weakest parts of the Redmi Note 11.
At first glance, the Snapdragon 680 (SM6225) is a modern chip. It was released in the 4th quarter of 2021 and manufactured with a modern 6 nm process. However, if you read more about it, compromises start to surface. In particular, the four main Kryo 265 Gold cores are based on the ARM Cortex-A73 architecture, released in 2016. Moreover, the 4 auxiliary Kryo 265 Silver cores are based on Cortex-A53 from the distant 2012. These components can not keep up with more powerful new processor cores.

The Adreno 610 graphics processor is another outdated part of this 'set'. It works with screens with a maximum resolution of 2520 × 1080 pixels, and the Redmi Note 11 has 1080 × 2400, which is almost at the limit. Surprisingly, the device generally keeps up the screen refresh rate of 90 Hz.
Well, the new Snapdragon 680 has received restrictions on video recording, only 1080p, no 4K, this is a simplification compared to last year's Redmi Note 10. However, it is probably not critical for everyone.
5G is also not supported, but it is just a useful feature, 4G speeds are still more than enough for any everyday tasks. So it makes no sense to overpay for 5G in the budget phone.
As it was mentioned at the beginning, the available memory options are 4/64 GB, 4/128 GB and 6/128 GB. The basic version of Redmi Note 11 with 4 GB of LPDDR4X RAM and 64 GB of built-in UFS 2.2 memory came to us for testing. We assume that the model with 6 GB of RAM shows a higher level of performance.
Benchmark results for the tested model:
Geekbench: single core – 367, multi core – 1670
AnTuTu: 244034
3DMark Wild Life Vulkan 1.1: 437
Well, let's be done with technical specifications and dry figures, because the most important are the  personal impressions from everyday use of a smartphone. And here, no matter how we criticize the processor, but I can't help but admit that the Snapdragon 680 behaves decently. Performance is at the level of the most popular MediaTek G80 or G95 processors.
The phone works without any glitches or delays in basic tasks, the MIUI 13 shell runs very smoothly, applications do not crash while being in the background, there is nothing to complain about. However, if you like to play on a smartphone, with the Redmi Note 11 you cannot count on anything but casual games. The Snapdragon 680 simply doesn't have the graphics power for anything bigger.
Of course, all modern 3D games will start, because now game engines are flexible and adapt to almost any hardware. But still, do not expect a nice game and a good user experience. If gaming is a priority for you, it's best to choose a different smartphone instead of the Redmi Note 11.

But there are still some brighter sides! Due to the modern 6 nm process technology and limited performance of the Snapdragon 680, the new Redmi Note 11 does not overheat and is not prone to throttling. Stress tests show that there are no problems with heating and reduced productivity. Such are the charms of budget phones, since the performance actually has nowhere to fall even lower.

I will add that there is a function of 'software' expansion of RAM at the expense of permanent memory in the settings, and it is active by default. In the case of Redmi Note 11, you can add another 1 GB of virtual RAM to the 4 GB (in older models, this figure is higher). A 'paging file' of this sort is not the fastest option, but it seems to have some effect.
Read also: Xiaomi 11T review: Alternative to a Flagship?
Cameras of Redmi Note 11
The camera module turned out to be significant. We have a main 50 MP module, 8 MP wide angle, 2 MP macro lens and an auxiliary depth sensor.

The main module is an old familiar Samsung S5KJN1, which has been used in many budget phones, such as Redmi 10, Poco M4 Pro 5G, Realme 8i, Realme 9i, Samsung Galaxy A23, Motorola G51 5G, G71. There is nothing wrong with this sensor, as well as nothing outstanding.

By default, the main module takes 12.5 MP images (pixels are combined for better quality). There is no optical stabilization. In excellent lighting conditions, photos turn out good: clear, with natural color rendition, without decoration.
ALL PICTURES AT ORIGINAL RESOLUTION ARE HERE
Small amounts of digital noise appear in the images even at medium light levels, and detail deteriorates, although the shots still look normal.
As for the night scenes, the smartphone is not very strong in this regard, but you can take pictures in night mode. With it, the pictures will be brighter, bright light sources will look neater. Here are examples of night mode on the right:
The macro camera is a primitive 2 MP module without autofocus, although the Redmi Note 10 had 5 MP and autofocus. The photos are noisy and very rarely clear, so the module can be called meaningless. Here are examples ( the full scale of the disaster is better seen in full resolution, here is an archive of originals):
As for the video, the quality is acceptable for a budget phone, but as I mentioned, the Snapdragon 680 processor has received restrictions on video recording: only 1080p, no 4K and even no 60 fps. However, this is not critical for everyone.

A sample video from Note 11 is available here.
The Front camera is 13 MP. During the day and in good light, she takes good sharp photos with natural color reproduction.
The camera software is standard for MIUI, with all the necessary shooting modes: photo, video, portrait mode, manual, night, 50 MP, video clip, panorama, documents, slow motion, timelapse, long shutter speed and dual video. Manual mode works with both the main module and the ultra-wide angle, but it is not possible to save images in RAW format. Night mode only works with the main module.
Redmi Note 11 - Camera UI
Read also: Realme GT Master Edition vs Xiaomi 11 Lite 5G NE vs Samsung Galaxy A72: 2021's hottest mid-rangers go head to head
Unlocking
As usual, there are two ways to unlock: a fingerprint scanner and unlock with face recognition. Xiaomi smartphones have long had no problems with both methods, and the Redmi Note 11 is no exception. The scanner works quickly and accurately. As for the settings, there is a choice of recognition method: when simply touched or physically pressed.

All is well with unlocking through face recognition. Works quickly and in almost any environment, except in complete darkness. There is no screen backlight for the face on the smartphone, so this method will not work if there is no additional light source.
As for the special settings, you can add another face, stay on the lock screen after successful recognition, show the contents of messages only after face scan, and recognition immediately after turning on the screen for even faster unlocking, but this may slightly increase battery consumption.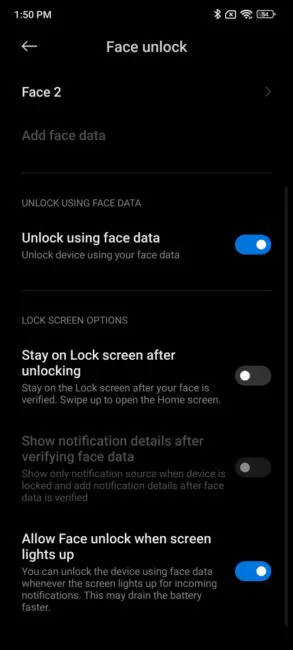 Redmi Note 11 battery
The battery in the smartphone is large as always, 5000 mAh. This figure will not surprise anyone today, especially when it comes to a smartphone from Xiaomi. And yet, it is safe to say that such a battery is more than enough for any activity throughout the working day. The chipset is energy efficient, it also matters.

I used Redmi Note 11 without Always On Display, but with a refresh rate of 90 Hz. With daily use, the device lasted for an average of 26-28 hours with 9-9.5 hours of the screen on, these are excellent results.
The power output of the Redmi Note 11 box set power adapter is 33 W (compatible with Quick Charge 3 and Power Delivery 3.0 standards). The manufacturer claims that the device will be fully charged within an hour. Our tests gave the following results: up to 52% in 30 minutes, up to 94% in an hour, and about 75 minutes in 100%.

Sound and communication
There are no comments on the smartphone's speakerphone: there is enough volume and the interlocutor can be heard perfectly. There are two multimedia speakers in the smartphone: one at the top, the other at the bottom. And together they offer a full stereo sound: surrounding, loud, decent quality. Such speakers are well suited for watching movies, listening to music and games.

Dolby Atmos sound effects with four presets (dynamic, video, music, voice) and a full-fledged 10-band graphic equalizer with 8 presets and a user profile are available for the speakers. So, even if the default sound does not suit you, you can always adjust it to your liking.

There are no problems with playback in the headphones. Both wired and wireless have good sound quality and a large volume margin. The aforementioned Dolby Atmos effects also work with wireless/wired headphones, but if you turn them off, you can get Mi Sound settings with volume control for specific Xiaomi headphones and a 7-band equalizer, as well as adjust the volume according to auditory perception. However, the latter option is already designed only for some wired headphones, while others work with wireless models.
Redmi Note 11 - Audio Settings
Also, one of the small but very nice features of the Redmi Note 11 is the high-quality and pleasant vibration output, which is accompanied by various actions and gestures both in the system itself and in many standard (but not only) applications.

As for wireless modules, there is no 5G, but I think that today it is not yet a 'must-have'. The Wi-Fi module is 5th version, although it would not be excessive to have a Wi-Fi 6. There is Bluetooth 5.0, GPS, NFC for payment in stores. Traditionally, Xiaomi has not forgotten about the IR port, through which you can control home appliances, and there is a built-in program to configure this feature.
Read also: Xiaomi 11T Pro review: Flagship smartphone with super fast charging
Redmi Note 11 software
The Redmi Note 11 operating system is not the latest version of Android 11, but with an updated version of the proprietary shell, the MIUI 13. Upgrading to Android 12 is promised, but it is unclear when it will arrive. You should not expect any serious visual or functional innovations from the shell.
Basically, all the key changes in MIUI 13 are present and they are aimed at optimization. The manufacturer itself distinguishes the following:
Liquid Storage — optimized file storage system, increases reading and writing efficiency by up to 60%
Atomized Memory — optimized RAM performance, RAM efficiency increased by 40%
Focused Algorithms — optimizing processor priorities, increasing overall performance and process speed
Smart Balance — automatic determination of the balance between performance and charge usage, the total battery life increased by 10%
As for the more mundane things for the user in the new version of the popular shell, I can note, for example, a message when the screen is off, when the edges of the display are carefully highlighted for some time. You can choose a color.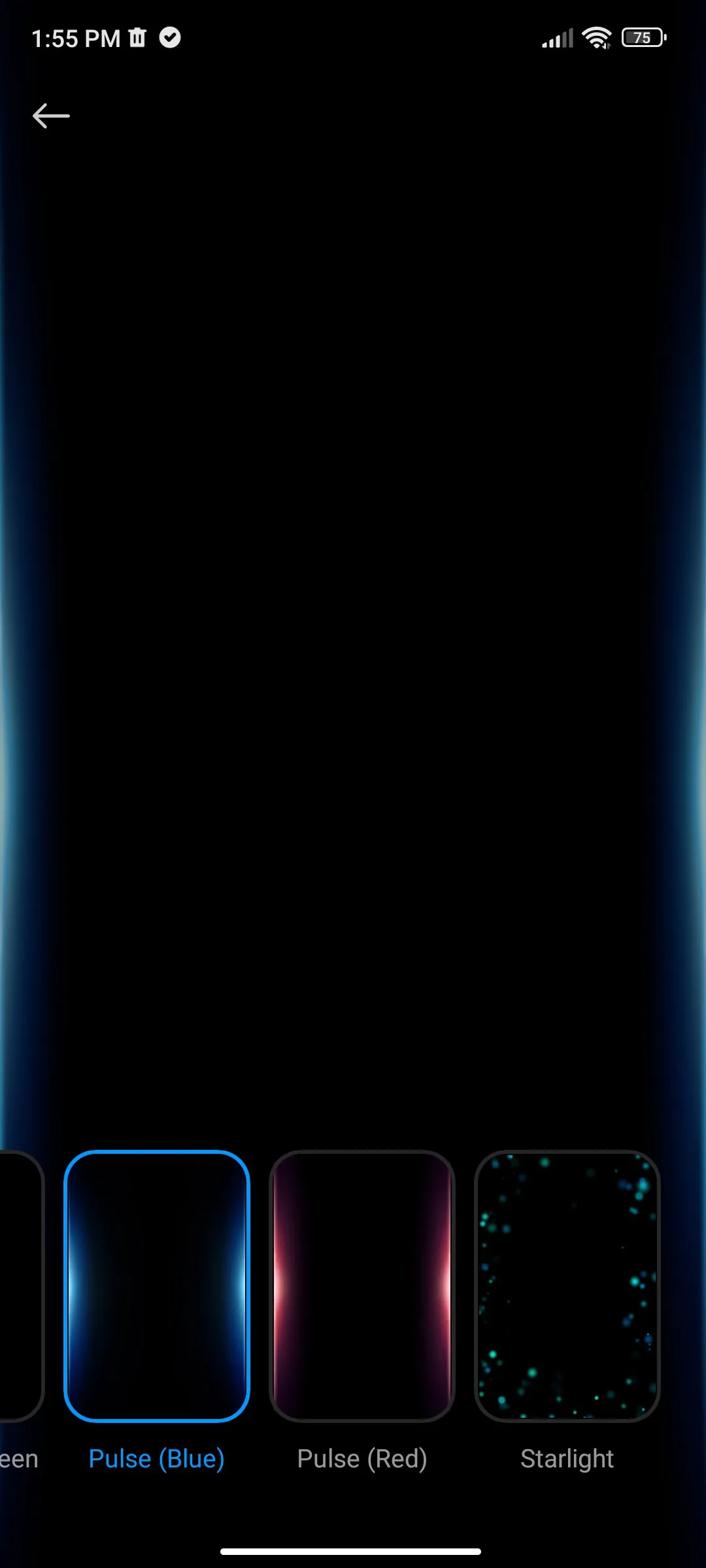 Unfortunately, the budget model didn't turn out to have a cool feature that is present in Redmi Note 11 Pro 5G. We are talking about a customisable sidebar  that can hold up to 10 applications, so they can be quickly launched from this sidebar straight from over the active window. And these applications fully retain their functionality, that is, we actually have multi-windows.
In general, MIUI 13 is a very bright, beautiful, smooth shell that has a lot of attention to minor details. It's even hard to label it a shell, MIUI looks so different from standard Android that it could be considered a stand-alone operating system. Although under the hood there is still Android, of course.
Conclusions
Redmi Note 11 is a worthy replacement for last year's Redmi Note 10. There are a number of improvements, though nothing extraordinary. The smartphone stands out with an updated 'flat' design, more energy-efficient processor, excellent 90 Hz AMOLED display.

Among the disadvantages are still not the most productive chipset, although new, but with its limitations: no 5G, no video recording in 4K. The cameras shoot well in general, but they could be better, especially in low light. The shell has been updated, but under the hood is not the newest Android 11.

Traditionally, let's take a look at the competitors. For about the same money you can buy Samsung Galaxy A32 4/128GB. It also lacks 5G, features a juicy Super AMOLED display, 64MP camera and 5000mAh battery. The MediaTek Helio G80 processor is quite good. And the shell in the Galaxy is very good. But the charger is only 15 watts.
OPPO Reno 5 Lite 8/128GB with AMOLED screen, plenty of memory (twice as much RAM!) And a productive MediaTek Helio P95 chipset falls into approximately in the same price category. The battery is not the most powerful, 4310 mAh, but there is a 30 W fast charge.
Another alternative is POCO M4 Pro 5G 6 / 128GB. IPS screen, but that's not a problem. There is 5G, if it is relevant to someone. The Dimensity 810 chipset itself is more productive if compared to the Snapdragon 680. 90 Hz screen, 33-watt charger, tenacious 5000 mAh battery, stereo speakers, 3.5 mm jack and so on. In general, POCO is an interesting option.

Moto G60s 6/128GB is slightly more expensive, but very noteworthy, there is a review of it on our website.
True, it has an IPS screen, but if you're willing to put up with it, it's quite good, and still has a refresh rate of 120 Hz. Plenty of memory, decent cameras, productive MediaTek Helio G95, 5000 mAh battery with 50 W charger.
It would also be wise to pay a little extra for the 'brother' model Redmi Note 11S with a more advanced set of cameras, more RAM in the base version and a productive MediaTek Helio G96 chipset.
If you look at the cheapest options, the base version of the Redmi Note 11 can compete with the affordable Samsung Galaxy A22. It has a great AMOLED screen with a 90 Hz update, though HD, not Full HD. The MediaTek Helio G80 chipset performs well in the low-cost model, the 5000 mAh battery is very durable, the set of cameras is strong. However, there are no stereo speakers and fast charging (more precisely, there is a 15-watt, no longer fast by today's standards). But the One UI interface is very good.

For each Redmi, as they say, there is a realme. For example, in this case, the parameters of Redmi Note 11 practically copies the available realme 9i in the 4/128GB version. However, the screen has IPS, and there is no wide-angle module. And the chipset is the same, the not the most successful Snapdragon 680. So I would not call it a strong competitor.
However, it might be worth looking for (although it is not widely available) a little more expensive, but more interesting Realme 9 5G. The assets include a productive MediaTek Dimensity 810 chip, support for fifth-generation networks, a 5000 mAh battery, and a 120 Hz screen (but IPS, not OLED). However, the amount of memory in 4/64GB could be larger, and there are no stereo speakers.
To sum up, Redmi Note 11 should be bought in the base version, if you do not have a lot of extra money, then it has almost no competitors, a high-quality screen stands out in this case. But if you look at the senior version with 6 GB of RAM, which is much more expensive, you should probably pay a little extra and take smartphones with more powerful processors, such as Galaxy A52, Galaxy M52, realme 9 Pro, Redmi Note 10 Pro, POCO X4 Pro 5G, Xiaomi Mi 11 Lite, Motorola G71 and so on. And what do you think about Redmi Note 11 after reading our review?

Read also:
You can also help Ukraine fight with Russian occupants via Savelife or via an official page of the National Bank of Ukraine.