At the end of January 2022, Xiaomi held an online event, during which it showed four smartphones of the Redmi Note 11 line for the international market: Redmi Note 11, Note 11S, Note 11 Pro and the Note 11 Pro 5G. Predictably, the latter is currently the most advanced smartphone of the most popular series. But does it correspond to this title?

In this review, we will get acquainted in detail with the Redmi Note 11 Pro 5G and find out whether the manufacturer will once again be able to win over crowds of fans around the world and whether it is worth overpaying for a model with a 5G prefix.
Our video review about Redmi Note 11 Pro 5G
Don't want to read the text? Watch our video!
Full specifications of the Redmi Note 11 Pro 5G
Display: 6.67″, Super AMOLED matrix, resolution 2400×1080 pixels, 20:9, pixel density 395 ppi, 1200 nits, refresh rate 120 Hz, HDR10
Chipset: Qualcomm SM6375 Snapdragon 695 5G, 6 nm, 8-core, 2 cores Kryo 660 Gold with a clock frequency of 2.2 GHz, 6 cores Kryo 660 Silver with a clock frequency of 1.7 GHz
Graphics accelerator: Adreno 619
RAM: 6/8 GB, LPDDR4X
Storage: 64/128 GB, UFS 2.2
microSD memory card support: up to 1TB
Wireless networks: 5G, WiFi 5, Bluetooth 5.1 (A2DP, LE), GPS (A-GPS, GLONASS, GALILEO, BDS), NFC
Main Camera: Triple, wide-angle module 108 MP, f/1.9, 1/1.52″, 0.7µm, Dual Pixel PDAF, 26 mm; ultra-wide-angle module 8 MP, f/2.2, 118; macro module 2 MP, f/2.4
Front-facing camera: 16 MP, f/2.4
Battery: 5000 mAh
Charging: Fast wired 67W
OS: Android 11 with MIUI 13 shell
Dimensions: 164.2×76.1×8.1 mm
Weight: 202 g
Positioning and price of the Redmi Note 11 Pro 5G
As you already know from the introduction, the new Redmi Note smartphone series includes as many as four devices. They all have different features, different characteristics and it so happened that they belong to different price categories. The simplest model is budget, and the most advanced one is a mid-ranger.

So, the Redmi Note 11 Pro 5G in the basic 6/64 GB modification, it costs about $329, the average modification with 6/128 GB costs $349, and the 8/128 GB version is $379. These price tags were announced at the same global online event, but it is clear that they may vary depending on the country and store. There is also a variant of a smartphone with 8/256 GB, but its price tag is still unknown. By the way, on February 16 on AliExpress it will be possible to buy the global version of Redmi Note 11 Pro 5G at a reduced price. Also buy on Amazon.
What's in the box
The Redmi Note 11 Pro 5G comes in a relatively small cardboard box with a traditional design for the company. The set, on the one hand, may seem standard, but compared to  expensive flagships it's quite good.
Impressively, the power adapter is rather big and the corresponding power is 67 wattsl! But it has a USB Type-A output. Also included is a meter-long USB Type-A/Type-C cable, a transparent silicone protective case, a SIM eject tool and accompanying documentation in the form of a brief user manual and warranty. We will return to charging in the corresponding section of the review.
The bundled case is the most common in terms of materials, it is unlikely to last for a long time, but it's okay otherwise. But surprisingly, there is no protective film on the smartphone screen.
Read also: Redmi Note 10S review: Affordable smartphone with NFC and Super AMOLED
Design, materials and build quality
In the new generation, the design of the entire Redmi Note 11 series has changed, but obviously not completely. The front panel remains exactly the same with the same neat compact eye of the front-facing camera, which is embedded directly into the screen from the top in the middle, the same thin bezels on the sides on the left and right, as well as slightly wider upper and lower margins. But now almost all smartphones in front look exactly the same, so it would be wrong to blame Xiaomi for this.

However, I still can't understand why highlight the camera in front with a silver border. This is not present in many Xiaomi smartphones of the middle range, but for some reason it is everywhere in Redmi. It's one thing to have a budget Redmi, where it probably makes sense to focus on a neat notch. But could they at least in the expensive Redmi Note 11 Pro 5G not allocate the camera in this way? Little things, I agree, but without edging it would look better and would not be so striking in my opinion.
Other parts of the case have already undergone changes, and not only the rear panel with the camera unit, but also the edge — we will start with it. Now the edges of the smartphone are flat. It's true, in all promotional materials, attention is too often focused on the smooth flat edges of the smartphone. Such design is hardly standard for Redmi.
The Redmi Note 4 also had flat edges. Yes, it looks nice and fits well into the overall style, but I'm not sure plastic flat edges are a way to go. At least don't boast like it's the hot new thing.
The camera unit looks impressive: it's a large vertical rectangle with rounded corners. In its upper part there is another small protruding pedestal with a module of the main camera with a wide iridescent edging, and from below, at the very base, everything else is located. With this design, the model looks more strict than in the Redmi Note 10 Pro with its silver edging around the main module. In general, it looks very good, although it sticks out so much above the surface.
The look depends on the color of the smartphone. In my case, this is the most strict and universal option – black, referred to as Graphite Gray. It has no additional texture, but in bright light, the black color brightens and turns gray, and under certain conditions gives off a slightly bluish tint. The previously mentioned edge is also painted in the main black color. What pleases in particular, both elements have a pleasant tactile and practical matte finish.
In addition to the Graphite Gray, the Redmi Note 11 Pro 5G comes in two brighter colors: Polar White and Atlantic Blue.

On the front we have Corning Gorilla Glass 5 with a high-quality oleophobic coating, the back is also tempered glass, but the type is not specified. However, due to the aforementioned matte coating of the edge and the glass at the back, the sensations from the case are very pleasant. It practically does not get dirty, it is not slippery, the build quality is great, with IP53 standard, as before.

Read also: Xiaomi 11T review: Alternative to a Flagship?
Layout
In front, above the front camera embedded in the screen, there is a slot for an earpiece speaker, next to which there is a light sensor, and the proximity sensor in the smartphone is virtual, from Elliptic Labs. There is no LED.

The right side has a volume rocker and a power button, which doubles as a fingerprint scanner. The button is not recessed in any way, it looks like a standard key with a different coating and is slightly wider than the usual one. The left side is completely empty.
On the upper end of the smartphone there is a 3.5mm audio jack, slots for a second multimedia speaker, an additional microphone, as well as an IR port for controlling household appliances. The main multimedia speaker, the main microphone, a USB Type-C port and a combined slot for two nanoSIM cards or one SIM card paired with a microSD memory card are located at the bottom.
At the back in the upper left corner there is a block with three camera eyes, a flash and various inscriptions and markings. It protrudes well above the body. At the bottom there is a vertical silver inscription Redmi 5G and some others.
Ergonomics
We have a smartphone with a large display with a diagonal of 6.67″, which means that its dimensions are appropriate: 164.2 × 76.1 × 8.1 mm. It is not only tall and wide, but also not very light, since it weighs 202 g. It is quite obvious that with such sizes it is impossible to use the phone with one hand comfortably.
There's a mode for using the phone with one hand. With a simple gesture, you can transfer the interface to a compact state only when navigating with buttons, and if gestures are selected as the control method, then you need to turn on a special floating menu.

The flat edges won't cut your hands, so there's no need to be afraid of that. It's smooth and comfortable for use.
All physical controls are located on one side — on the right. The power button with a built-in fingerprint scanner is located at the optimal height. There is absolutely no need to reach for it, but rather you will even have to move your finger a little lower. There are also no difficulties with the combined volume control button — there is not much to stretch and it is quite easy to distinguish it from the scanner by touch.

Display
In the new generation, the smartphone display has not really changed: it's stll 6.67″ with a Super AMOLED matrix with a resolution of FHD+ (2400×1080 pixels). The aspect ratio is the same – 20:9, as is the pixel density around 395 ppi. One of the most important features of the display has also been preserved — the refresh rate (120 Hz), support for HDR10 and 1200 nits peak.

And in another situation, one could complain that nothing has changed. On the other hand, there is nothing to improve to some extent. It's still a very good display, like for a mid-range smartphone. 4500000:1, DCI-P3 color space matching, high refresh rate and high maximum brightness level.
The display is really very good. It's very bright, so that even on a sunny day everything is perfectly visible on the street. When viewing HDR content, the brightness of the display will be even higher than usual. In addition, the minimum brightness turned out to be very comfortable and in complete darkness you can look at the screen without any discomfort.
Viewing angles are traditionally very wide, but at a certain angles the colors tend to change. The color rendering of the display directly depends on the selected mode and can either automatically adapt to the content, or always be saturated or more natural and neutral.
Among other things, the screen supports refresh rate of 120 Hz. Everything looks as smooth as possible.

It is also worth noting that there are only two modes to choose from: either 120 Hz or classic 60 Hz. There is obviously no intermediate option in the settings, but the first one is dynamic. So some of the applications, even in 120 Hz mode, will be displayed with 60 Hz.

In the settings there are two system themes (light / dark), a reading mode, a color scheme with three profiles and the ability to correct the color temperature, a choice of refresh rate, text size and auto-rotation. The Always On Display function is configured separately.
Redmi Note 11 Pro 5G - Display Settings
AoD can be widely customized, but it can only be displayed for 10 seconds after touching. No scheduled work for you, no permanent display. And that's exactly what's missing here.

Read also: Xiaomi 11T Pro review: Flagship smartphone with super fast charging
Performance
And if the Redmi Note 11 Pro 5G display is unlikely to disappoint anyone, then it's not so clear with the hardware. The smartphone received a fresh Qualcomm mSM 6375 Snapdragon 695 5G chipset. The platform is 6 nm and includes 8 processor cores: 2 Kryo 660 Gold cores operate at a maximum clock frequency of up to 2.2 GHz, and the remaining 6 Kryo 660 Silver cores operate at a clock frequency of up to 1.7 GHz. The Adreno 619 handles the graphics.
Redmi Note 11 Pro 5G - Benchmarks
And on the one hand, the Qualcomm Snapdragon 695 is slightly better than the Snapdragon 732G, which was installed in the predecessor. Compared to Redmi, the Note 10 Pro is not a downgrade. However, this smartphone appeared on the Chinese market earlier under the name Redmi Note 11 Pro+ with the MediaTek Dimension 920 5G. And it already surpasses Snapdragon 695 in many ways. It turns out that the global version of the smartphone has a less advanced and productive platform than the Chinese one.

Were this device cheaper on the global market, I'd understand and accept this. But the Redmi Note 11 Pro 5G, even in its basic configuration, is far from the cheapest smartphone. And why should the user be content with Snapdragon 695 for the same money? And it's not just about pure productivity. This chipset has prepared other "surprises" for us, which I will tell you about in the next section of the review. Qualcomm has much more interesting mid-level SoCs, but why Xiaomi chose this particular system-on-a-chip is baffling to me.

Despite the performance that is far from the best within the class, the smartphone also does not show any outstanding results in the trottling test. In balanced performance mode, a maximum CPU performance drop of 25% was recorded in 15 minutes of the test, and as much as 37% in half an hour. This is too much for a mid-level chip of this level.
In productive mode, things are not much better and in 15 minutes the performance of the cores decreases by a maximum of 24%, and in 30 minutes — by 31%. At the same time, it cannot be said that the processor in this mode becomes much more powerful. The difference in performance (in GIPS) is really minimal.
The RAM in the smartphone can be 6 or 8 GB of LPDDR4X type. To date, any of the presented volumes will be enough for the normal operation of the device. In the 8 GB version, there are no problems with restarting applications when switching between them. Moreover, there is a way of virtual expansion of RAM by 3 GB due to free storage space.

There are also several drives to choose from: 64, 128 or 256 GB of storage (UFS 2.2). 101.66 GB is available for a user out of 128 GB in an average modification. The storage can be expanded by installing a microSD memory card with a capacity of up to 1 TB. However, let me remind you that the slot in the smartphone is combined and the user will have to choose between an expanded amount of memory and a second SIM card. Although in the Redmi Note 10 Pro the slot was designed for simultaneous use of three cards at once.

The smartphone UI works quickly and mostly smoothly, but it does lag from time to time. At 120 Hz it's very noticeable.

With games, the situation is somewhat different. The smartphone will run any modern title, but not with the best graphics. Often you will have to use medium or high graphics settings, where possible, to achieve a comfortable average FPS. The figures below were taken using the utility from GameBench:
Call of Duty: Mobile – very high, all effects are included (except rays), Battlefront mode  ~44 FPS; Battle Royale ~33 FPS
Genshin Impact – medium, 60 frame rate , ~30 FPS
PUBG Mobile – high graphics with 2x smoothing and shadows, ~30 FPS (game limit)
Shadowgun Legends — high graphics, frame rate 60, ~55 FPS
Read also: Realme GT Master Edition vs Xiaomi 11 Lite 5G NE vs Samsung Galaxy A72: 2021's hottest mid-rangers go head to head
Cameras
The main unit of the Redmi Note 11 Pro 5G cameras turned out to be quite impressive in size, but there are even fewer modules there than in the predecessor — only three. The main wide-angle, additional ultra-wide-angle and macro module, but personally I don't miss the depth sensor, so we can say that all three cameras are useful. Their characteristics are as follows:
Wide-angle module: 108 MP, f/1.9, 1/1.52″, 0.7µm, Dual Pixel PDAF, 26 mm
Ultra-wide-angle module: 8 MP, f/2.2, 118
Macro: 2 MP, f/2.4
The wide-angle modules are the same ones that were used earlier in the Redmi Note 10 Pro. With macro, the situation is somewhat different, but I will tell you more about this later. Looking ahead, I will only say that, in general, the smartphone takes pictures at about the same level.

By default, the main module takes pictures in 12 MP resolution and in excellent conditions they turn out to be quite good: clear, sometimes even too sharp, but with natural color reproduction and without embellishments. With an average level of illumination, digital noises appear in small amounts in the images, and the detail drops. As for night scenes, the smartphone is not very strong in this regard, but you can use the night mode. With it, there will be less noise, the pictures will be lighter and the bright lighting sources will look better.
Shooting at full resolution (108 MP) is available through a separate mode in the camera app. First of all, photos, when compared with standard resolution, differ in white balance. By default, they are more warm, and in 108 Mp mode they are somewhat colder. It is also noticeable that the photos in this mode are less sharp, but it's hard to say whether it's good or bad.

118° photos do not differ much from those made by the main wide-angle module. But there are fewer details, and there is noticeably more digital noise in the shadows. During the day, this module shoots quite normally on the street, but at night or in poor lighting it is pointless to use it. The quality is very poor and the pictures have an incredibly large amount of digital noise. The night mode could have saved the situation a little, but it no longer works with this module.
The macro camera in the smartphone has changed for the worse, compared to the Redmi Note 10 Pro. Now here is the most primitive 2 MP module without autofocus, although it was previously 5 MP and with autofocus. It's decent, for a budget phone. The photos are noisy, not very detailed, but at least the color reproduction is fine. Still, this downgrade makes no sense to me.
The Redmi Note 11 Pro 5G video shooting has also worsened because of the ill-fated Snapdragon 695, which simply does not support video recording in a resolution higher than 1080P at 30 FPS. Judging by the specifications of the chipset, the maximum video resolution is 1080P at 60 FPS, but only if there is one camera. There are several of them in the Note 11 Pro 5G, which is why the 30 FPS limit is here. What can I say about video recording on the Redmi Note 11 Pro 5G? It's only 1080P at 30 FPS, which are available on both the main module and the ultra-wide-angle. The the detail is low, the colors are decent, there is effective electronic stabilization, but still it's hardly enough.

From my point of view, this is unacceptable, because shooting video in 4K was possible on the Redmi Note 8 Pro, which was released, for a second, in 2019. And, of course, there are much more questions than answers. What can I say about video recording? It's just 1080P at 30 FPS, which are available on both the main module and the ultra-wide-angle. It's fine, the detail is low, the colors are normal, there is effective electronic stabilization, but nothing special.
The front-facing camera in the smartphone is 16 MP and f/2.4. During the day and in good light, it makes very good sharp photos with natural color reproduction. It is noticeable, of course, that some small details are slightly blurred, but overall it's fine. Now, videos are a whole different thing. Firstly, the viewing angle is greatly reduced. Secondly, electronic stabilization does not work and the picture twitches slightly with light movements. The resolution is also not impressive – 1080P at 30 FPS.

The camera app is quite standard, as for MIUI, and with all the necessary shooting modes: photo, video, portrait mode, manual, night, 108 MP, video clip, panorama, documents, slow-mo, timelapse, long shutter speed and double video. Manual mode works with both the main module and the ultra-wide-angle, but there is no way to save images in RAW format. Night mode, in turn, works only with the main module, as I already noted earlier.
Redmi Note 11 Pro 5G - Camera UI
Read also: Realme 8 vs Redmi Note 10S: Budget smartphones head-to-head
Unlocking
Traditionally, there are two methods of unlocking: fingerprint scanner and face recognition unlocking. Xiaomi smartphones never have problems with both methods, and Redmi Note 11 Pro 5G is also no exception. The scanner works extremely accurately and quickly enough, as befits a high-quality capacitive fingerprint scanner in a smartphone. True, it is not lightning fast, either because of the system animations, or because of some delay. According to my personal feelings, something is slightly slowing down this process.

You can unlock with a simple touch or with a physical tap. The first one is not the best option for every day, because there are also random unlocks when you hold the smartphone in your hand. In the second case, you will have to press the scanner button, so there will be no false positives. Except when the screen is on — then it will also be enough just to touch the scanner.
With unlocking via face recognition, everything is fine too. The method is not the safest, obviously, but in certain situations it is more convenient. It works very quickly and in almost any conditions, except for complete darkness.

Among the special parameters, it is possible to add another face, stay on the lock screen after successful recognition, show the contents of notifications only after checking the face and recognition immediately when the screen is turned on.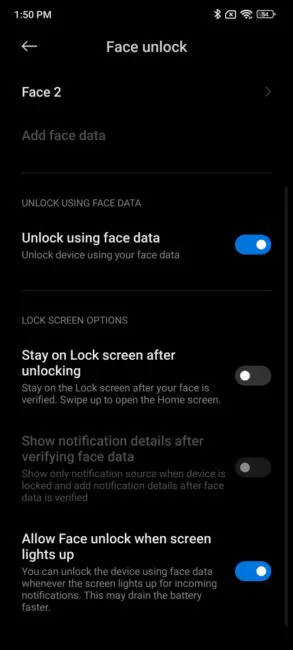 Read also: Samsung Galaxy Watch4 review: elegant smartwatch running WearOS
Battery life
The battery in the smartphone, as usual, is 5000 mAh. Nothing surprising, especially for a Xiaomi. And yet it is safe to say that such a battery is more than enough for any activity during the whole working day. The chipset is also quite energy efficient and despite the large display with a high refresh rate, the smartphone runs on a single charge for a relatively long time.

I used the Redmi Note 11 Pro 5G with a constantly active dark system theme, without the Always On Display function, but with a refresh rate of 120 Hz. With normal everyday use without games and frequent access to cameras, it lasts on average for 25-26 hours with 8.5-9 hours of the screen turned on and these are excellent results. In a separate test in PCMark Work 3.0 with the maximum brightness of the screen, it lasted 7 hours and 43 minutes — not perfect, but quite good.
You can't do without fast charging today, and even in the middle range there are quite powerful chargers in the box. The power of the bundled power adapter increased from 33 W to 67 W compared to its predecessor. As a result, the charging speed has also increased, and the phone should ne able to fully charge in just 42 minutes.

In reality, as always, the results are slightly different and for a full charge from 10% to 100%, the smartphone will need about 55 minutes. At first, charging is really very fast, but after 80% it slows down. According to my measurements, the phone can be fully charged about 35 minutes faster than the Redmi Note 10 Pro. Below are detailed measurements in 10-minute increments:
00:00 — 10%
00:10 — 40%
00:20 — 62%
00:30 — 83%
00:40 — 93%
00:50 — 99%
00:55 — 100%
Sound and communications
There are no issues with the earpiece speaker: there is plenty of volume reserve and the interlocutor can be heard perfectly. There are two multimedia speakers at once: one on the upper edge, the second on the bottom. And together they offer full-fledged stereo sound: voluminous, loud and very decent. These speakers are perfect for watching movies, listening to music, and playing games.

Moreover, Dolby Atmos sound effects with four presets (dynamic, video, music, voice) and a full-fledged graphic equalizer for 10 bands with 8 blanks and a user profile are available for speakers. So even if the default sound is not great, it can always be customized depending on your preferences.

There are also no issues with the playback in headphones. Both wired and wireless — the sound is very good. The aforementioned Dolby Atmos effects also work with wireless/wired solutions, but if you turn them off, the Mi Sound settings with sound adjustment for specific Xiaomi headphones, a 7-band equalizer and volume adjustment according to the user's auditory perception become available. However, the latter option is intended only for some wired headphones, while the rest work with wireless models.
Redmi Note 11 Pro 5G - Audio Settings
Also, among the small but very pleasant features of the Redmi Note 11 Pro 5G, we can note the high-quality and pleasant haptic feedback, which is accompanied by various actions and gestures both in the system itself and in many standard (and not only) apps.

With networks and wireless modules are fine. The smartphone can work with 5G networks, which was already clear from the corresponding prefix in its name. The Wi-Fi module, however, is the 5th version with support for two bands. There is Bluetooth 5.1 (A2DP, LE), a GPS module (A-GPS, GLONASS, GALILEO, BDS), as well as an NFC module. As usual, there's the IR port, through which you can control household appliances.

Read also:
Firmware and software
The Redmi Note 11 Pro 5G runs on Android 11, but with an updated version of the proprietary shell called MIUI 13. Don't expect any serious visual or functional innovations, especially in the global version, which is somewhat reduced compared to the Chinese one.
Redmi Note 11 Pro 5G - MIUI 13
Basically, all the key changes in MIUI 13 are "under the hood" and they are aimed at optimization. The manufacturer himself highlights the following among those:
Liquid Storage – optimized file storage system, increases the efficiency of reading and writing up to 60%
Atomized Memory – optimized RAM operation, RAM efficiency increased to 40%
Focused Algorithms – optimization of processor priorities, improvement of overall performance and speed
Smart Balance – automatic determination of the balance between performance and charge usage, the total battery life increased by 10%
You can note the sidebar in the new version of the popular shell. You can customize its scenarios and add up to 10 applications that can be quickly called from this sidebar right on top of the active window. Moreover, these applications fully retain their functionality. You can change the size of the floating ones, open applications in full-screen mode, or collapse them into a compact state by moving them to any corner of the screen, and continue using the main window, while maintaining access to the app that is running in the floating window.

We have already seen this in MIUI 12.5 for tablets. I didn't notice anything else special and new in the shell — everything in one form or another has already been in previous versions of MIUI.
Read also: Xiaomi Pad 5 review: Excellent Multimedia Tablet
Verdict
The Redmi Note 11 Pro 5G is a smartphone with an updated stylish and practical design, slightly more  advanced hardware with support for 5G, as well as fast 67W charging. True, it's not better in everything than the last generation, but this mainly concerns cameras. In terms of photo capabilities, everything remained on the same level, except for a more simplified module for macro, but in terms of video, the Note 11 Pro 5G disappoints.

Otherwise it is the same mid-range smartphone with a large high-quality AMOLED display and 120 Hz, excellent battery life and stereo sound. In addition, it offers newer up-to-date software, and therefore it will be supported by the manufacturer for longer.
Where to buy
Read also:
Subscribe to our accounts: