The new vivo V23 5G smartphone has many different features, but is it worth the money? You will learn about this by reading our review.
In recent years, the situation in the smartphone market of the mid-range segment resembles a battlefield. Mobile device manufacturers are doing their best to attract the attention of customers and win their trust. Therefore, it is here that the most interesting events have been taking place recently.
Vivo is also not standing aside, and is trying to get its piece of the pie. And it does pretty well. We all remember the vivo V20 smartphone, which is interesting from the point of view of design. But everyone especially remembered the vivo V21 with its stunning 44 MP selfie camera, 2x zoom and optical image stabilization. It offered an interesting design and good performance resonated with customers. Over the years, these smartphones have earned a reputation for offering one of the best selfie cameras in all their mid-range smartphones. Their design also almost always stands out from the crowd in many ways.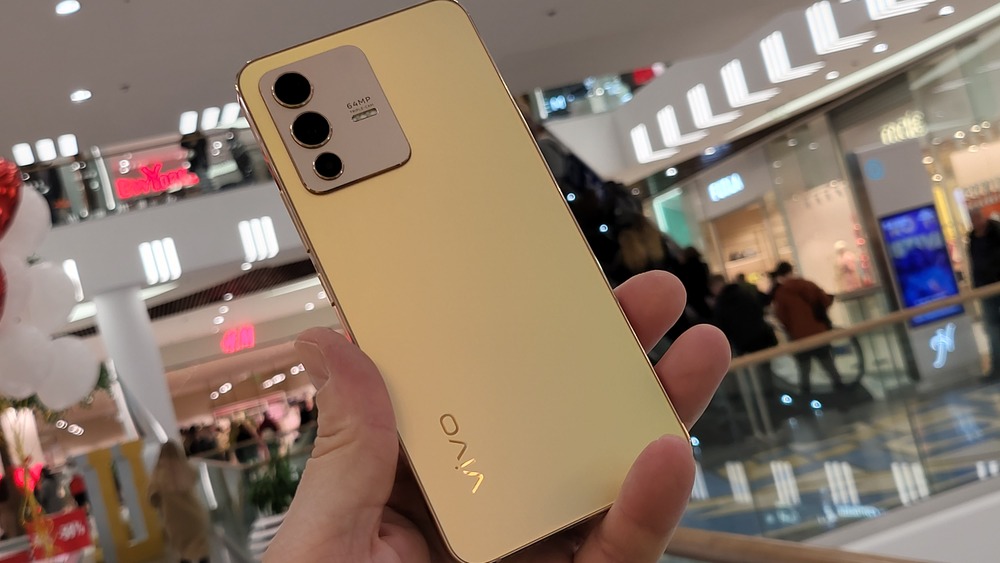 But everything changes. And today we will tell you about the new vivo V23.
Read also: vivo V21 review: Flawless selfies
What makes the vivo V23 stand out
For me, vivo is mostly associated with the industry's best camera performance, and the new V23 5G strives to maintain this status. As we will see, here style and performance go hand in hand.
It is worth noting that vivo V23 is the first smartphone that changes color, and the first smartphone with dual autofocus. It is a significant update of the V series, with the Dimension 920 chipset, an AMOLED display and a refresh rate of 90 Hz, a 64 MP main rear camera, a 50 MP main front-facing camera and an 8 MP ultra-wide-angle selfie camera. There is also support for 44W fast charging. The vivo V23 stands out also thanks to its back, which changes its color when exposed to sunlight or ultraviolet rays.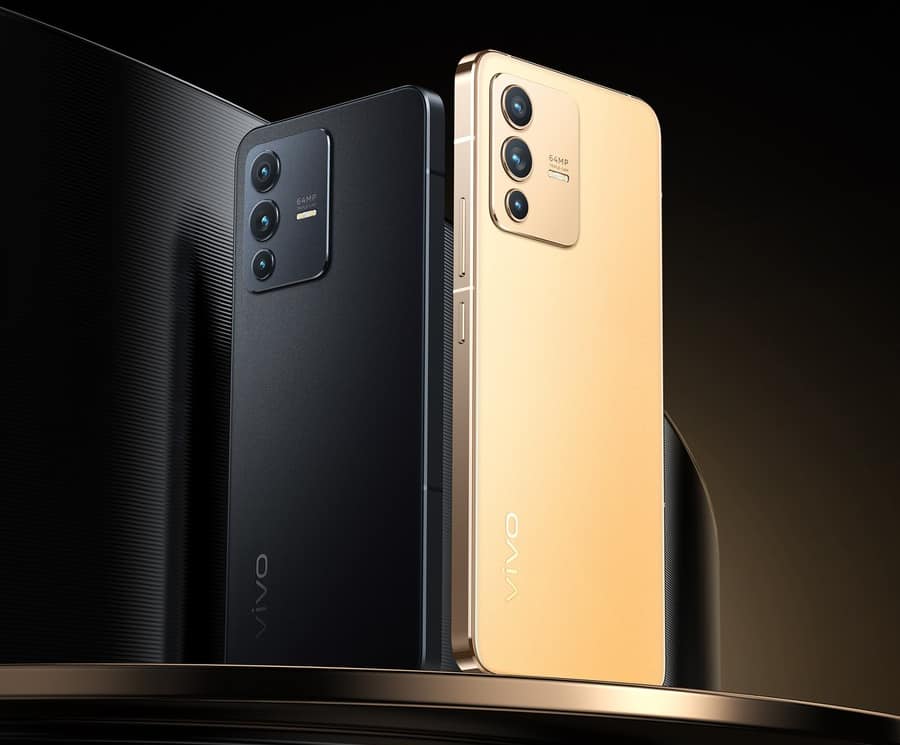 The Vivo V23 are available in two color versions, which have the pretentious names like Sunshine Gold and Stardust Black.
As for the price, it's about $565 for the version with 8/128 memory and $670 for the version with 12/256 memory. You can buy the V23e for ∼$388.
Full specifications
Display: 6.44 inches, AMOLED, 2400×1080 (Full HD+), aspect ratio 20:9, 409 ppi, HDR10, 90 Hz
Chipset: MediaTek Dimension 920 5G (6 nm): 8 cores (2 Cortex-A78 cores at 2.5 GHz and 6 Cortex-A55 cores at 2.0 GHz)
Graphics Accelerator: Mali-G68 MC4
RAM: 8/12 GB (+4 GB)
Storage: 128/256 GB
Wireless networks: Wi-Fi (2.4+5 GHz), Bluetooth 5.1, NFC, GPS, Beidou, Galileo, GLONASS, QZSS
Main camera: Main module – 64 MP, f/1.9. 26 mm, 1/1.72″, PDAF autofocus; wide-angle – 8 MP, f/2.2.16 mm, 120°, 1/4″, autofocus; Macro camera – 2 MP, f/2.4
Front-facing camera: main module – 50 MP, f/2.0, autofocus; wide-angle – 8 MP, f/2.3, 105°
Battery: 4200 mAh
Charging: Fast Wired 44W, Vivo Flash Charge, 1-68% in 30 min (advertised)
OS: Funtouch 12 based on Android 12
Case: Glass front panel (Schott Xensation Up), aluminum housing, glass back panel
Sizes: 157.2×72.4×7.4 mm
Weight: 179 g
Case Color: Sunshine Gold, Stardust Black
As you can see, it is a very interesting device, and this applies not only to the appearance, but also to modern technical characteristics and functionality. Let's get down to a more detailed review of the vivo V23 5G.
Read also: vivo V21e smartphone review: More colors!
What's in the box
The smartphone comes in an interesting branded box consisting of two parts. The upper part of the box has an attractive dark blue color scheme with an iridescent coating on top.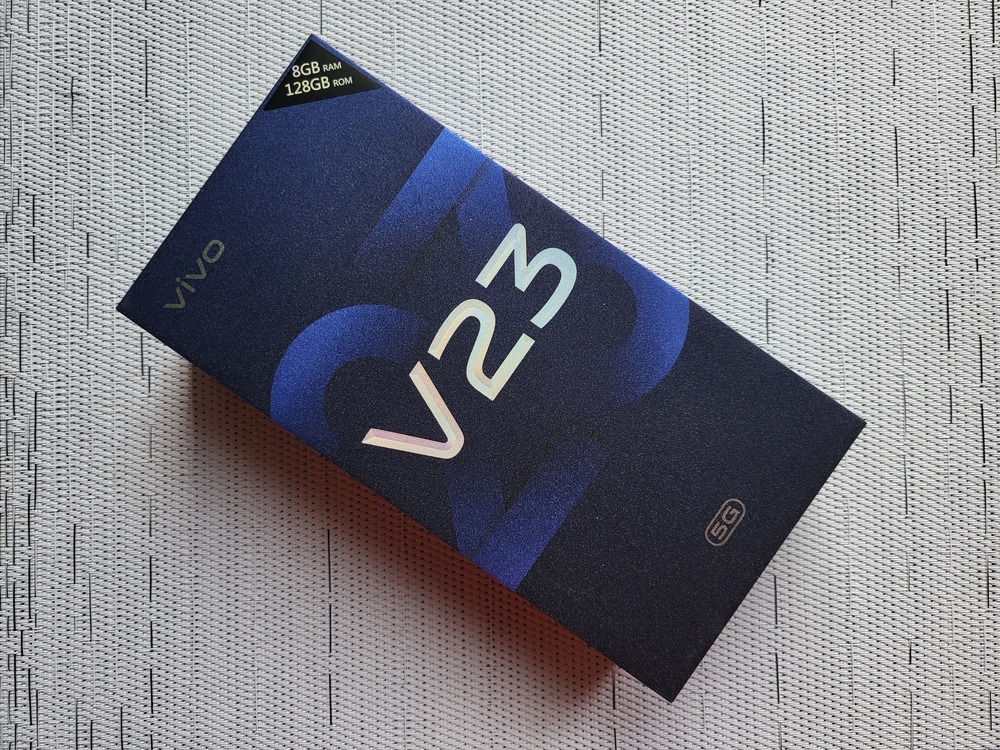 Opening the box, you will find the smartphone itself with a protective film already glued to the screen, a vivo FlashCharge adapter with a power of 44 watts and a USB Type-A-Type-C cable. There's also the plastic protective case, various papers with instructions and warranty cards. Also here you will find a SIM eject tool and a pair of neat white wired vivo headphones with a 3.5mm jack. vivo V23 does not have a 3.5mm jack, so a 3.5mm Type-C audio adapter was also added to the set. A very original solution that may appeal to most potential buyers.
Curious design
Vivo likes to experiment with the design and colors of the back side of its smartphones. I really liked the design of the vivo V23, its textured back panel, the thinness and lightness of the case. If creating beautiful smartphones is an art, then vivo should be among the best masters of its craft. But ergonomics also managed to impress me.
When I first picked up the vivo V23, I immediately noticed that it was a little different from its V-series predecessors. The ultra-thin edge made of aerospace aluminum has rounded corners, which provides a comfortable grip. The bezels have become smaller. And the thin profile cannot be overlooked, and the display leaves only a positive impression.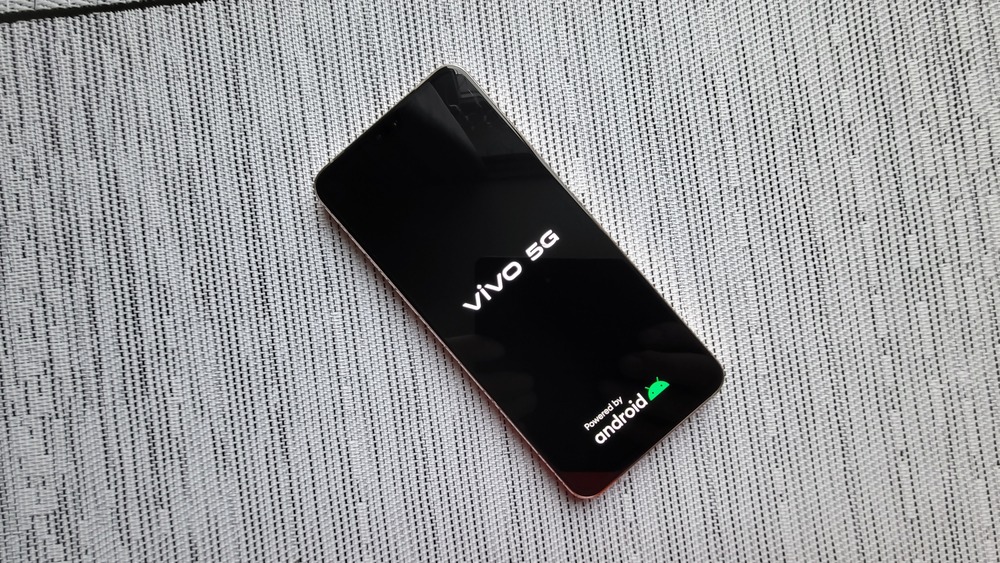 But what really seemed almost magical was the changing color of the back side. The basic colors are Sunshine Gold and Stardust Black, but the Sunshine Gold variant has its own trick in the form of a glass back panel that changes color. When exposed to sunlight or UV radiation, the panel can acquire a stunning blue-green gradient that gradually disappears as you move away from the light source.
All this has become possible thanks to the use of the Flourite AG process. In addition, the device with a soft velvety finish of the back side is very comfortable to hold in your hand, and there are practically no fingerprints left on such a surface.
The design of the case with sharp edges resembles the recent design of the iPhone. In addition, the double recess for the selfie camera on the front panel further enhances this similarity.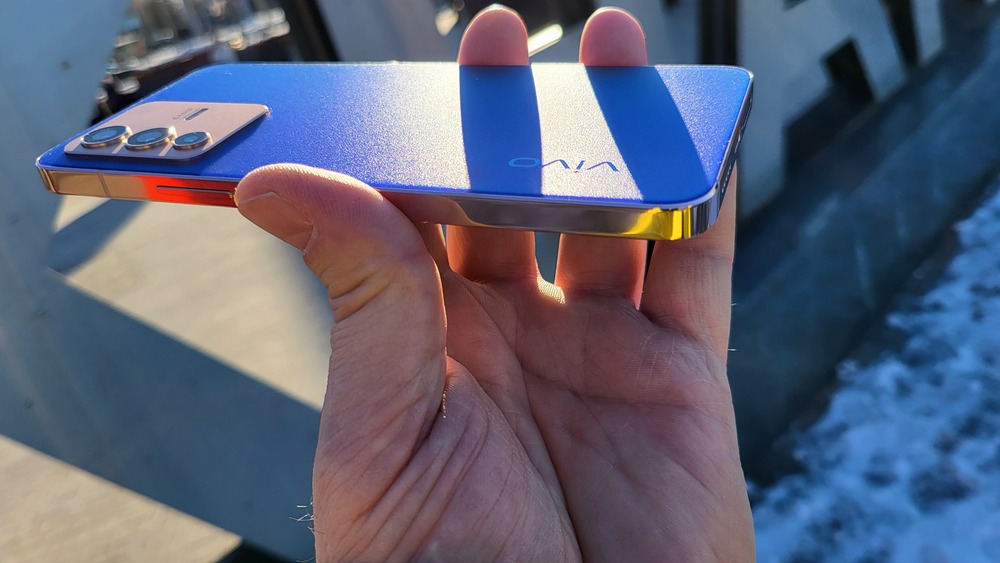 You can even leave your fingerprint or pattern on the back of the vivo V23 5G, but, alas, it will disappear over time.
The module of the 64-megapixel main camera vivo V23 is placed on an attractive ledge, which sets the bar for the design of mid-range smartphones. The camera island is also very impressive with its copper edging and lenses arranged vertically, while the LED flash is located next to them. Everything is very neat, it protrudes a little above the surface of the case, but it is easy to solve with the help of a silicone protective cover from the box.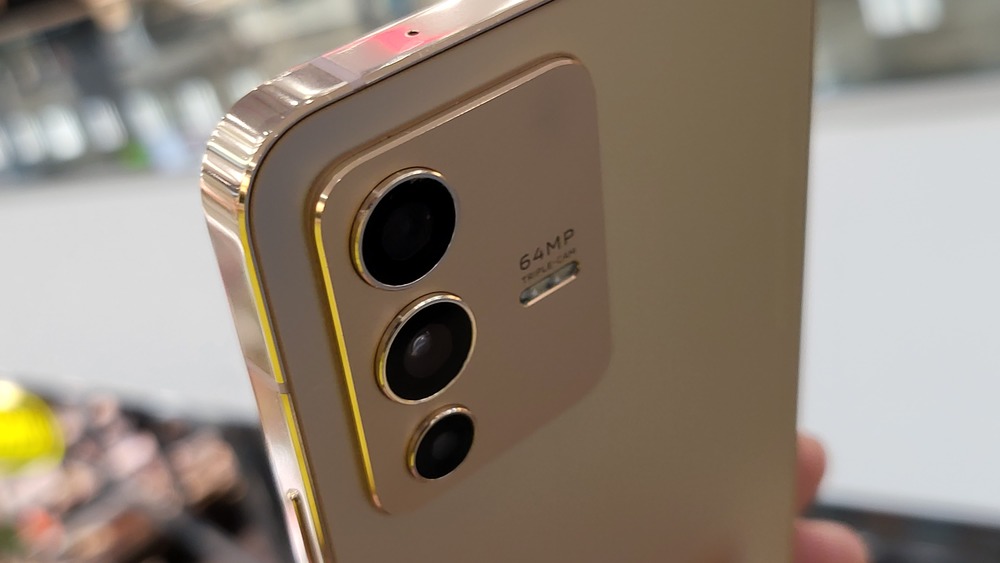 The color-changing back side is the most attractive feature of the device, and during testing I used the smartphone mostly without a protective case because I didn't want to hide this fascinating feature. On the other hand, the AMOLED display and the thin profile of 7.4mm are additional bonuses for users. In addition, with a weight of 179 grams, vivo V23 is incredibly light, especially considering that it has glass surfaces.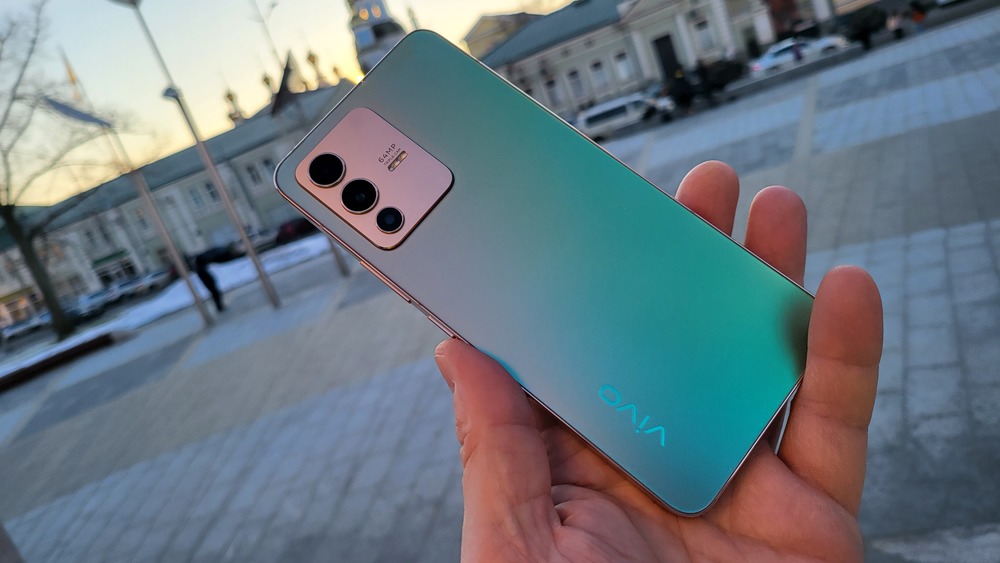 The vivo V23 is not only pleasing to the eye, but also convenient in everyday use. Despite the rather large form factor, the device can be used with one hand. I like the tactile feel of the physical sound and power buttons located on the right side.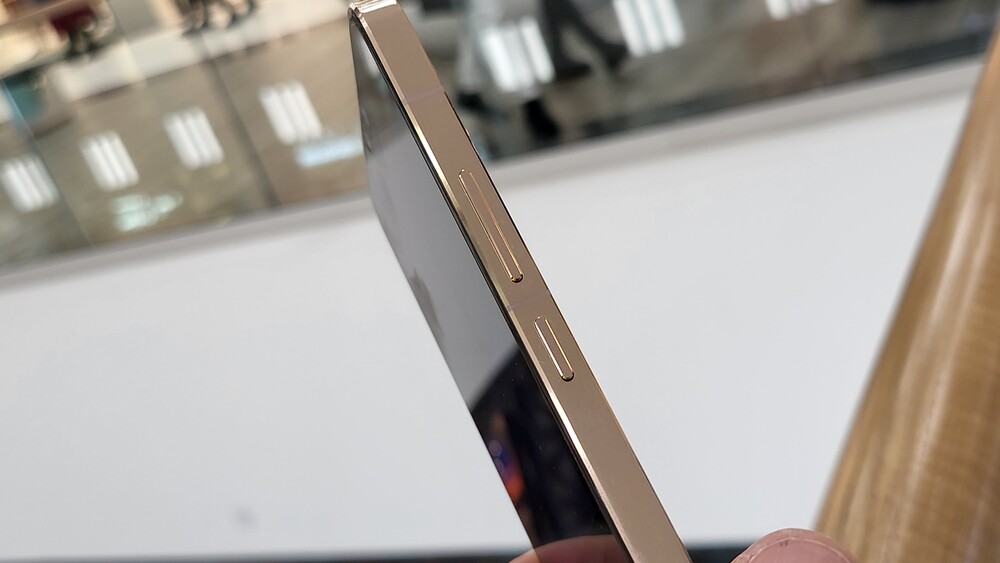 In addition, there is nothing on the left side, so the smartphone is very comfortable in your hand. Of course, flat edges also add convenience. This arrangement of the control buttons prevents accidental pressing when viewing videos in landscape orientation with the left side down.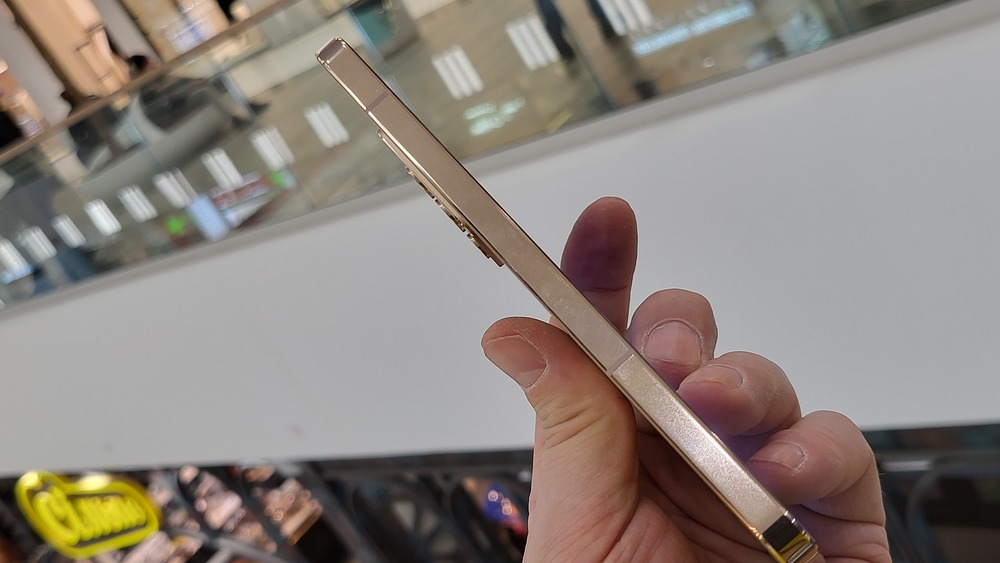 On the bottom side there is a speaker grille, a USB Type-C charging port and a SIM card slot. The SIM card tray has a rubber gasket that prevents water or dust from entering the slot. Although the smartphone as a whole does not seem to have an IP rating. As I mentioned, there is no audio jack, but there is an adapter for connecting classic wired headphones with a 3.5mm audio jack.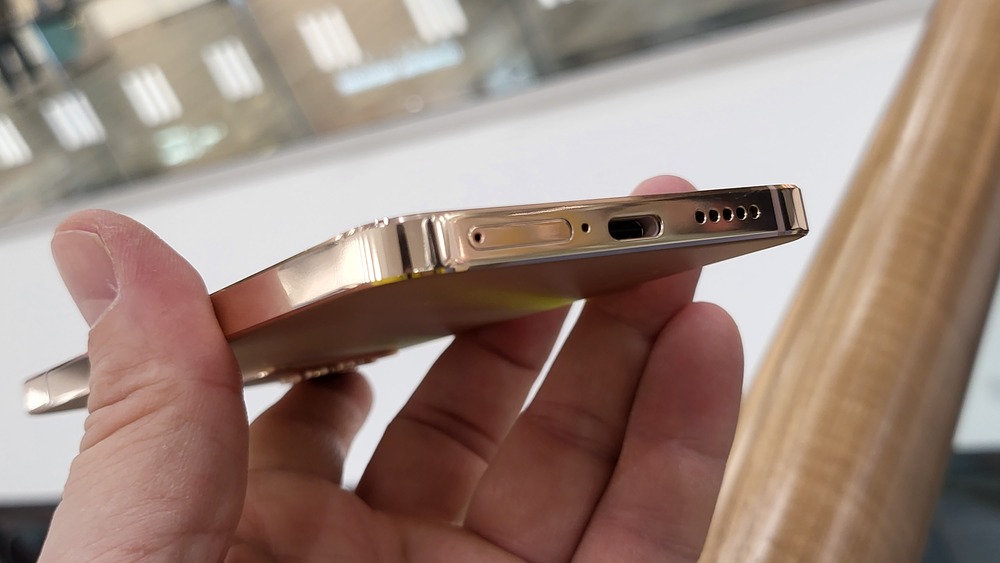 There is nothing on the upper edge except the microphone and antenna strips.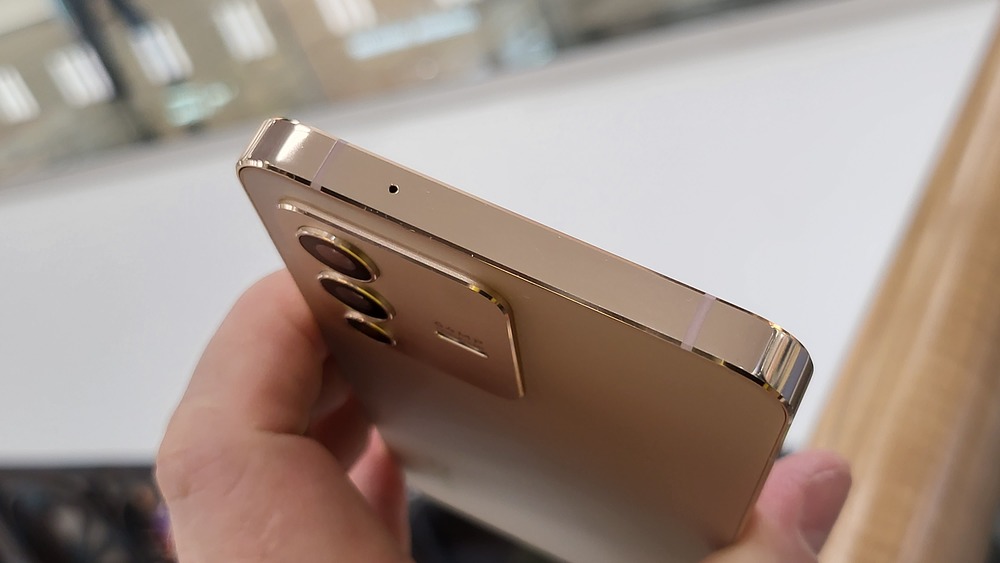 Just above the double notch for the front cameras is a slot for the earpiece speaker, next to which there is a light sensor and a proximity sensor.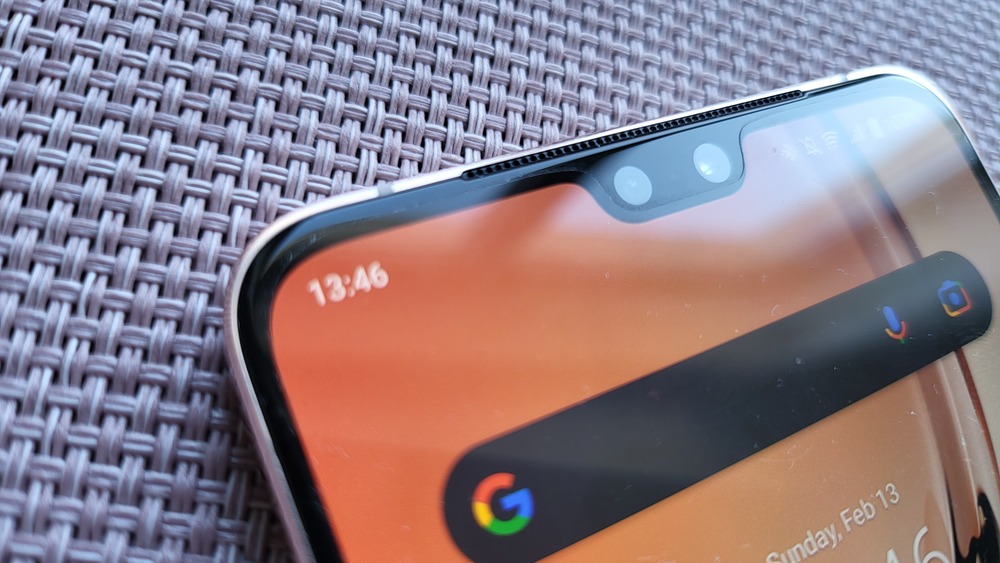 The design is really premium – it's slim and elegant. The vivo v23 5G is a stylish and modern device with a polished metal body and flat edges.
Read also:
Great AMOLED display
Over the past couple of years, smartphone manufacturers have taught us that a high-quality AMOLED display is often used in the medium-range segment. The hero of my review was no exception.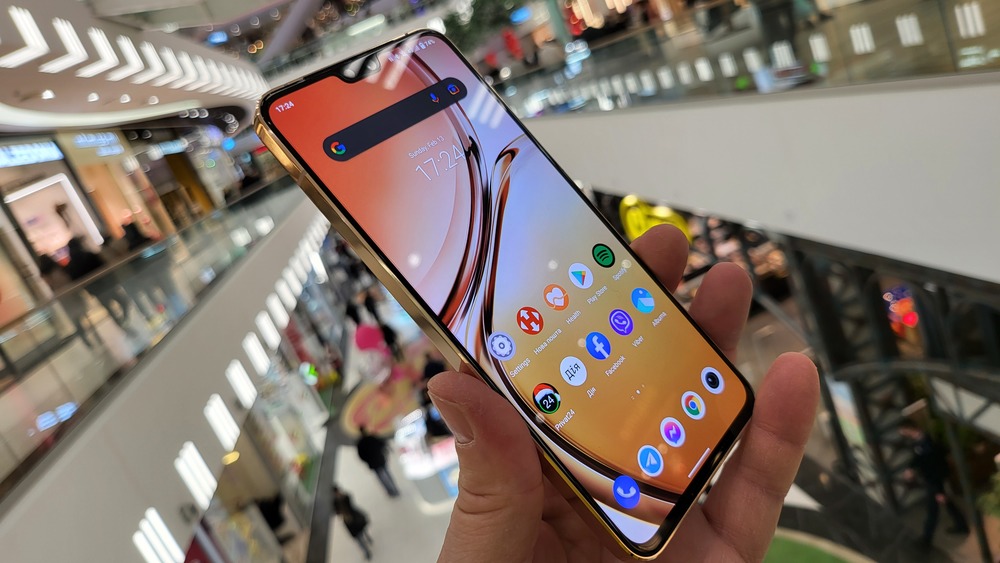 The vivo V23 5G has a flat 6.44-inch Full HD+ AMOLED display with a resolution of 2400×1080, a refresh rate of 90 Hz and support for HDR10+. It is protected by Schott Xensation Up glass, which is said to be stronger than ordinary safety glass and is able to withstand a fall from twice the height than its counterparts.
The bezels are narrow, which helps to reduce the size of the phone, and also makes viewing video more exciting. The ratio of the screen area to the body is 91.4%. In the upper part you can see an oblong notch, which houses two selfie cameras.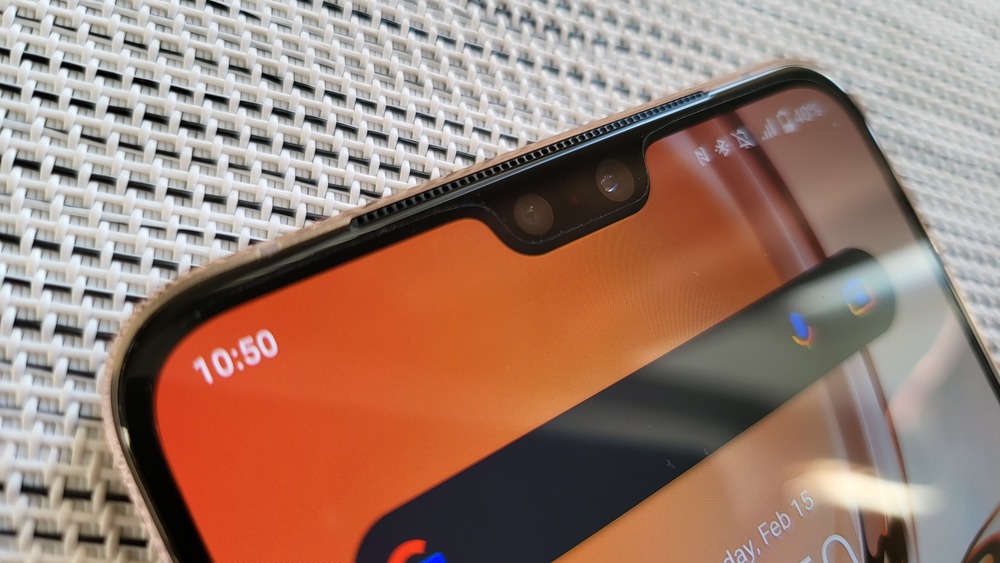 The display itself looks good – with bright colors, good viewing angles and a deep black color. Watching videos, viewing images and playing games is a joy.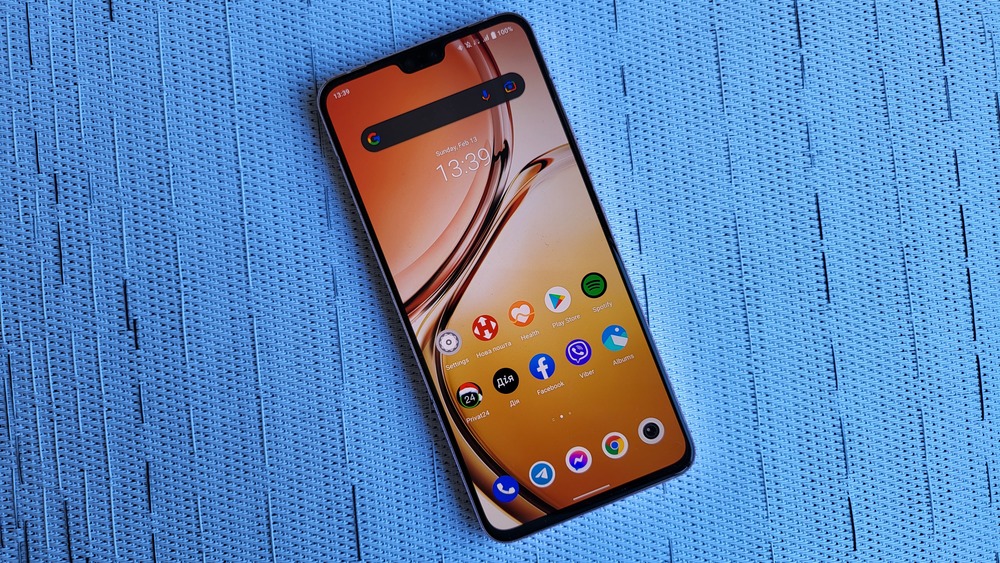 The AMOLED panel is more durable and displays colors more accurately than the IPS matrix, but the Full HD+ resolution is not the best in its class, and this gives a refresh rate of only 90 Hz compared to 120 Hz on competing devices. Although the refresh rate of 90 Hz is not bad as well. By default, the screen refresh rate is set to Smart Switch mode.
During testing, I found that this mode does not always work correctly for some reason. For example, scrolling in Chrome and social networks looked as if a lower refresh rate was used by default. Setting the refresh rate to 90 Hz fixes this problem.
Vivo decided to place a fingerprint scanner in the display. You definitely won't have any complaints about it's work. The scanner itself is located at a convenient height, unlocking occurs almost instantly, no problems there at all. Although I prefer to use face unlock, which works even in poor light and at night.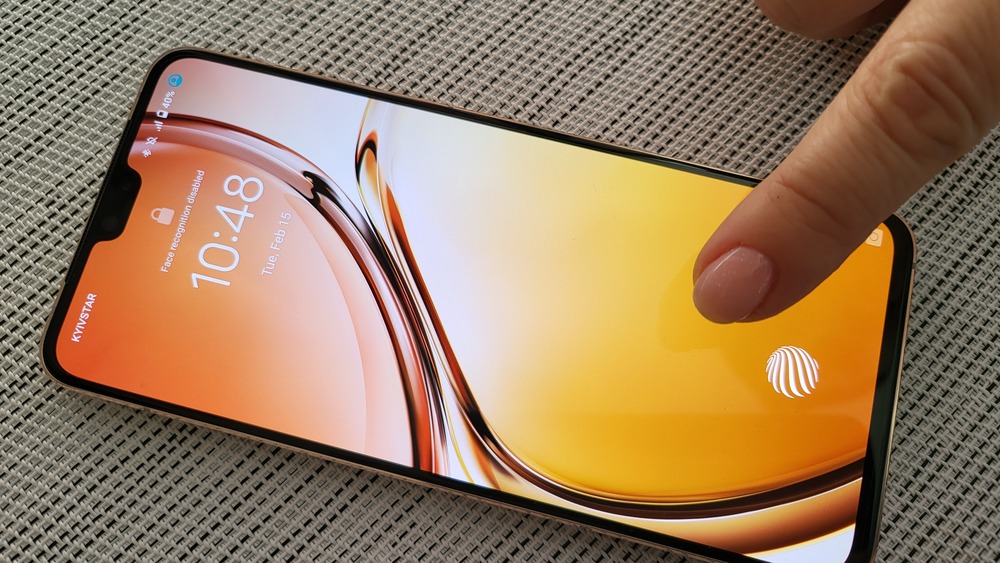 The vivo V23 5G has only one speaker. The speaker is quite loud, so there are no complaints about the sound, but a stereo speaker would be better for this price. The device is also equipped with an additional microphone with noise reduction, which will be very useful during conversations. In general, the sound quality is average, there are no problems while talking and listening to music. But I still often used wired headphones from the box, fortunately there was an adapter at hand.
Read also: Vivo X50 Pro review – Through the Eyes of a Grump
Cameras
The vivo V23 5G comes with a 64-megapixel main camera, an 8-megapixel ultra-wide-angle camera, as well as a 2-megapixel macro camera on the back.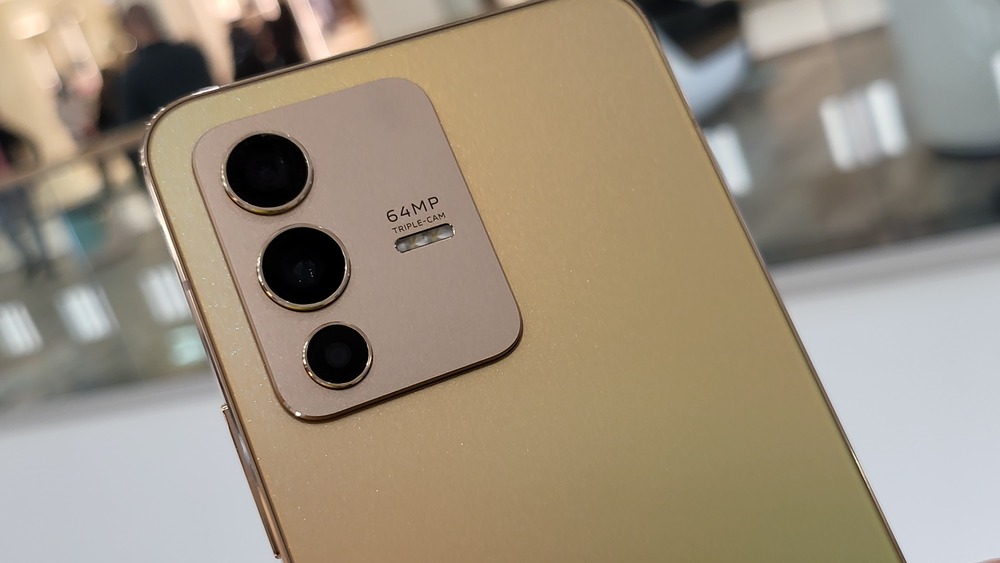 Meanwhile, the dual front-facing camera is equipped with a 50-megapixel JNV ISOCELL 3 sensor and an ultra-wide 8-megapixel sensor with a viewing angle of 105°. There is also a Dual-Tone Spotlight flash, which is essentially two LED flashlights on either side of the selfie camera.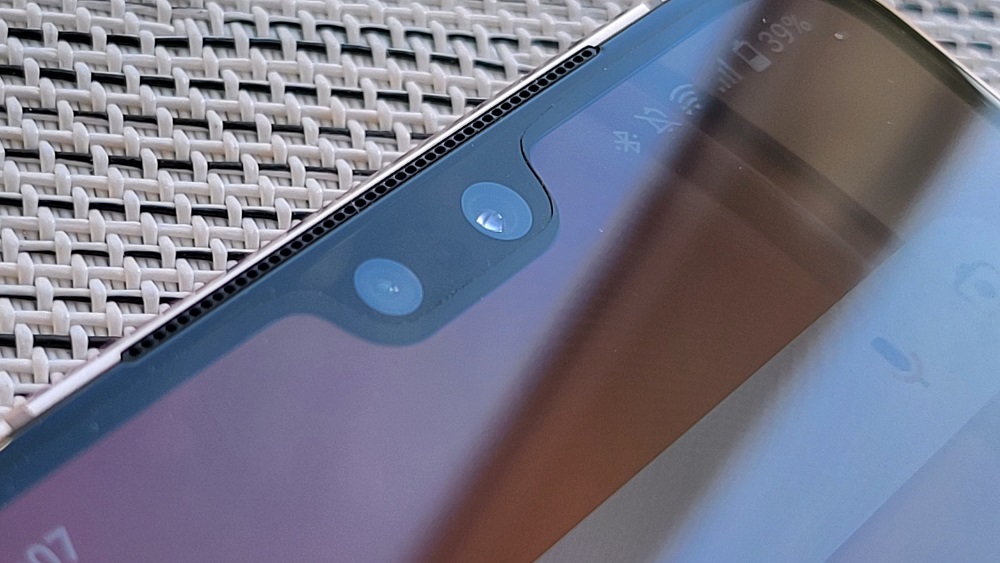 As a result, here we have the best option for capturing pleasant memories with the smallest details and excellent resolution. The vivo V23 5G is a camera-oriented smartphone, although I would call it a smartphone with a selfie-oriented camera.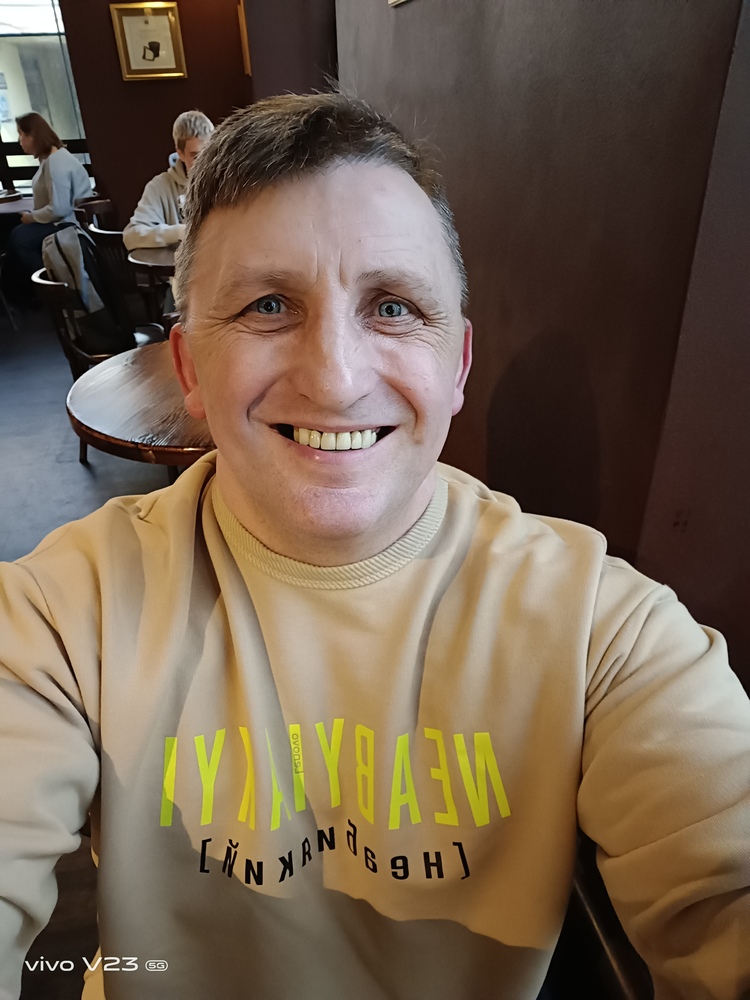 The dual LED flashlight on the front panel of the vivo V23 5G is useful when taking selfies at night. Depending on the environment, you can choose one of three lighting options: cool white, default and warm yellow. The quality of portrait photography is impressive, the pictures come out with a natural skin tone without excessive embellishment. In my opinion, the vivo V23 5G offers the best selfie camera in the mid-range segment on the market.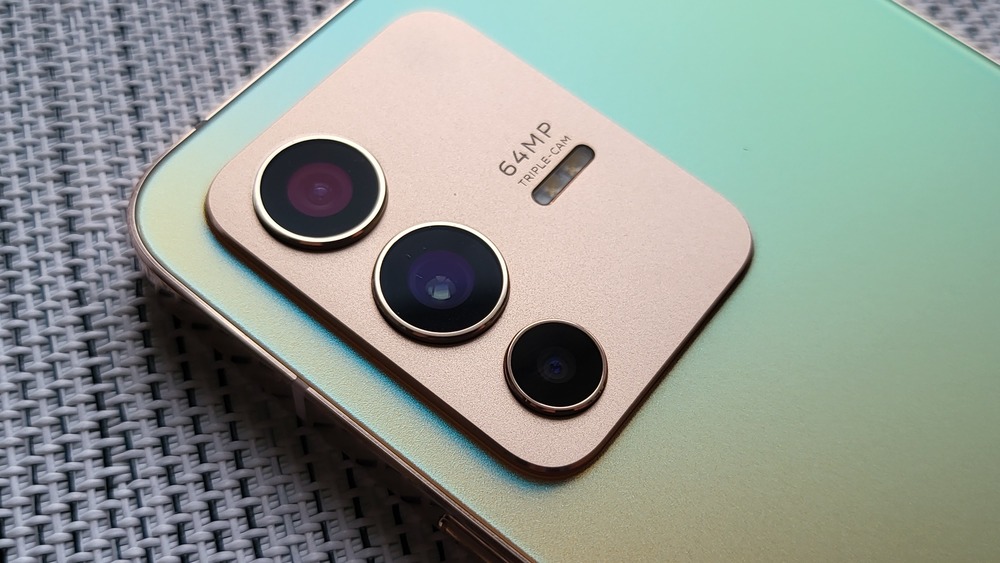 The 64-megapixel main camera makes 16-megapixel photos. The camera works well in brightly lit places. The image quality is excellent, the colors are pleasant. The dynamic range is fine, as is the level of detail.
Indoor shots are also decent, despite the fact that some images look over-processed. There's still good detail and color saturation.
The quality of the images that the ultra-wide-angle camera produces varies from average to good, depending on the lighting. However, this is enough for social networks.
In low light, the images are also quite good, with little noise and artifacts. You get good detail and colors.
From the first minutes you realize that this is a smartphone focused on the camera, and it is good at what it does. The vivo V23 5G has all the necessary features to impress you with high-quality photos.
It has dual LED flash, HDR, digital zoom, panorama, slow motion and EIS mode. In general, if you are the type of person who likes to take pictures, take a lot of selfies, or even use the front-facing camera to record videos, then the vivo V23 5G is perfect for you.
PHOTOS AND VIDEOS IN THE ORIGINAL RESOLUTION
Both the front and rear cameras can shoot 1080p video at 30 frames per second and 4K at 30 frames per second. The video quality is very decent, considering the price category. I am sure that you will not be disappointed with the photographic capabilities of the vivo V23 5G.
Good performance
The vivo V23 5G is powered by MediaTek Dimension 920, which is the successor to MediaTek Dimension 900. This is an eight-core SoC with 6 Arm Cortex-A55 cores with a clock frequency of 2.0 GHz and 2 Arm Cortex-A78 cores with a clock frequency of 2.5 GHz, based on the 6 nm process technology. The chipset is supported by the ARM Mali G68 GPU for smooth operation of the device. The smartphone also supports Dual 5G Standby and VoNR connectivity. The vivo V23 5G is available in two memory variants: 8/128 GB and 12/256 GB. I received a device with 8 GB of RAM for review, and during testing it performed well.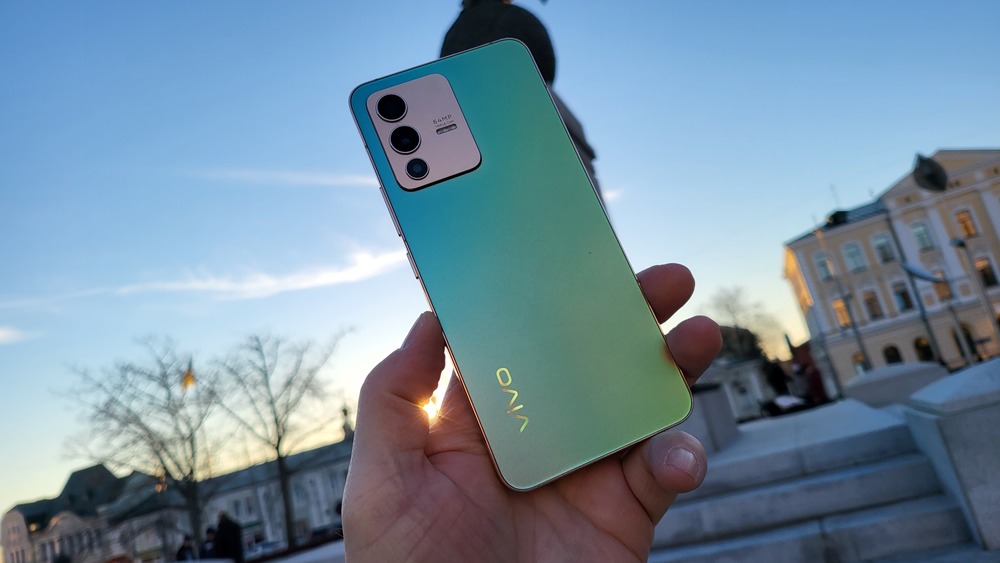 Without a doubt, the MediaTek Dimension 920 is a reliable processor, although it is not the best in this price segment. There are no lagging when using additional 4 GB of memory for 8 GB/12 GB + 4 GB variants, so you can keep all your apps open if necessary thanks to the expanded RAM 2.0.
Synthetic tests show that we are dealing with a fairly productive and high-quality chipset, which is able to please us with smooth operation and high performance indicators.
When stressed, there is practically no throttling.
The processor is able to run almost all mobile games without problems, so if you are a gamer, the vivo V23 5G will suit you. Again, I would prefer the MediaTek Dimension 1200, but since such a SoC is used in the more advanced vivo V23 Pro 5G, we have to settle for little here. Yes, to get something, you need to sacrifice something, and in this case it's the processor.
As for performance tests in games, I started with Genshin Impact. The game runs smoothly when the graphics settings are in balanced mode or performance mode at maximum settings, but as expected, performance drops if battery saving modes are enabled. The maximum graphics quality in Call of Duty Mobile is average, and the frame rate for testing is set at a very high level. The gameplay was as smooth as in Genshin, and the temperature did not rise. During the games, the smartphone remained warm almost all the time, but not hot. In general, you should have no problems playing games or using the vivo V23 5G in everyday life.
Read also:
FunTouch OS 12 based on Android 12
The vivo V23 5G runs FunTouch OS 12 based on Android 12. Yes, it comes with Android 12 out of the box, and this, of course, will please potential buyers. The Android-based operating system is constantly being updated and refined to meet the needs of the user. It includes many customization options according to your needs and preferences. The new widget interface is designed to quickly provide you with key information, as well as centralize the information in one place. Nano Music Player is a widget update feature that provides interactive interaction with music on the home screen: with one tap, you can immerse yourself in a completely new world of music.
When you play, a semi-transparent pop-up window will be displayed at the top of the screen for calls. Accepting a call will cause a small green rectangle to appear and quickly disappear. If you reject it, you'll just get the usual missed call notification. If you haven't disabled notifications completely, a tooltip may appear in your messaging app that you can click on to go straight to the chat window. The size of this window can be changed, and the keyboard can be moved around the screen.
The shell itself is not particularly overloaded and is closer to "pure" Android. The user interface looks cleaner than in the previous version and contains features such as small widgets, nano music player, album widgets, stickers for the home screen and more optimized multitasking.
Despite the fact that vivo has done a great job improving the overall user interface of FuntouchOS 12, I would still like to have fewer pre-installed applications. The vivo V23 5G comes with a lot of pre-installed apps like Themes, Vivo.com, iManager, Moj, Josh, Hot games and Hot apps. You can get rid of some apps by deleting them yourself, but some cannot be deleted or even forcibly stopped. I hope vivo will get rid of such apps in a future OS and instead make some of these apps part of the settings.
Read also: Vivo X70 Pro+ review: Powerful beast with fantastic cameras
Good battery life
The vivo V23 5G is equipped with a 4200 mAh battery with 44W FlashCharge technology. This battery has become significantly more efficient thanks to the combination of FlashCharge, 6nm chip, energy saving technologies and optimization of vivo OS power consumption, and you can quickly charge it when you need it.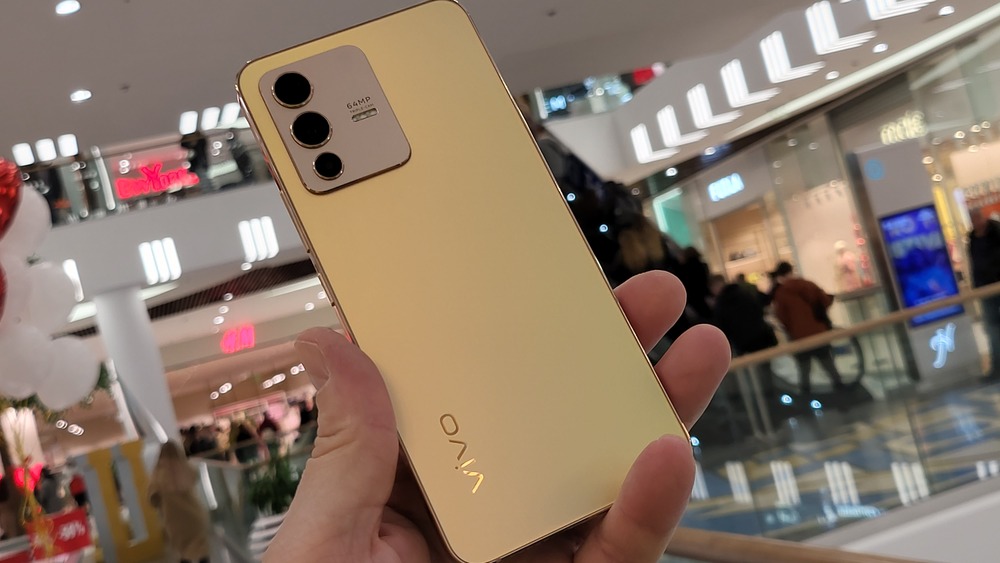 With intensive use of the smartphone, it can survive for the whole day, including a couple of hours of playing and using apps and social networks in the background. Of course, some applications, such as the camera app, consume more power if used for a long time, which affects the overall charge consumption. However, the vivo V23 5G can easily last more than a day with average usage. Overall, the hero of my review offers decent battery life.
As for the charging time, thanks to the support of vivo FlashCharge technology with a power of 44 watts, you can charge your smartphone by more than 50% in just 30 minutes, and a full charge takes about an hour.
Read also: Nintendo Switch OLED review: The handheld is all grown up
Verdict
I'll start summing up by answering just one question: "What was I missing in the vivo V23 5G?" Undoubtedly, protection from dust and water, a more powerful processor, a well-developed FunTouch OS 12. And, of course, the price. It might seem unjustified.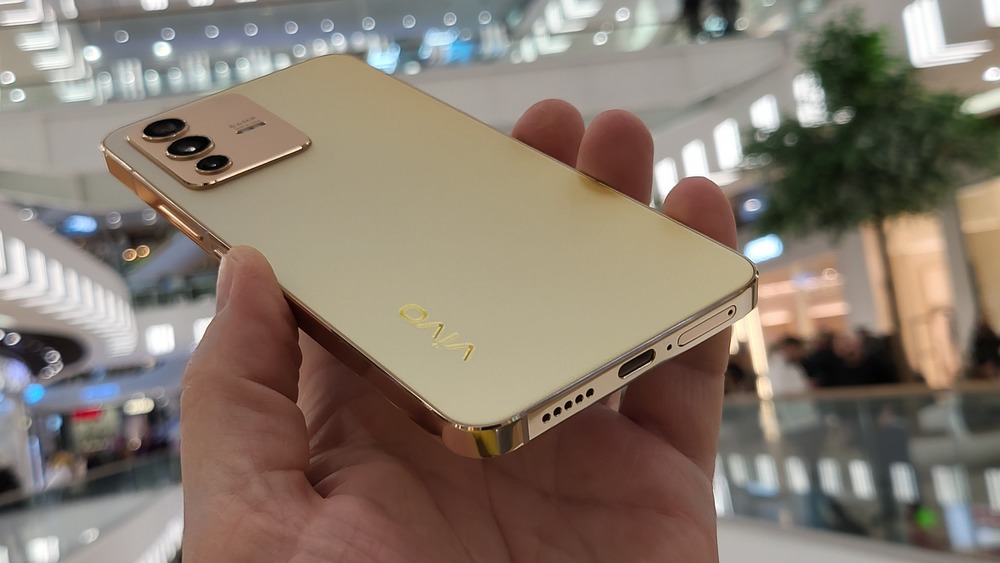 However, I really liked the smartphone. The vivo V23 5G is a well-designed mid-range phone equipped with a 90 Hz AMOLED display and a Schott Xensation Up protective glass, a good set of cameras, excellent selfie cameras and decent performance thanks to the Dimension 920 5G. Also, it should be noted that the battery life is good and the charging speed is too.
And, of course, I was very impressed with the photochromic design, an innovation that, I think, is a huge step forward compared to what you usually see in this same price range.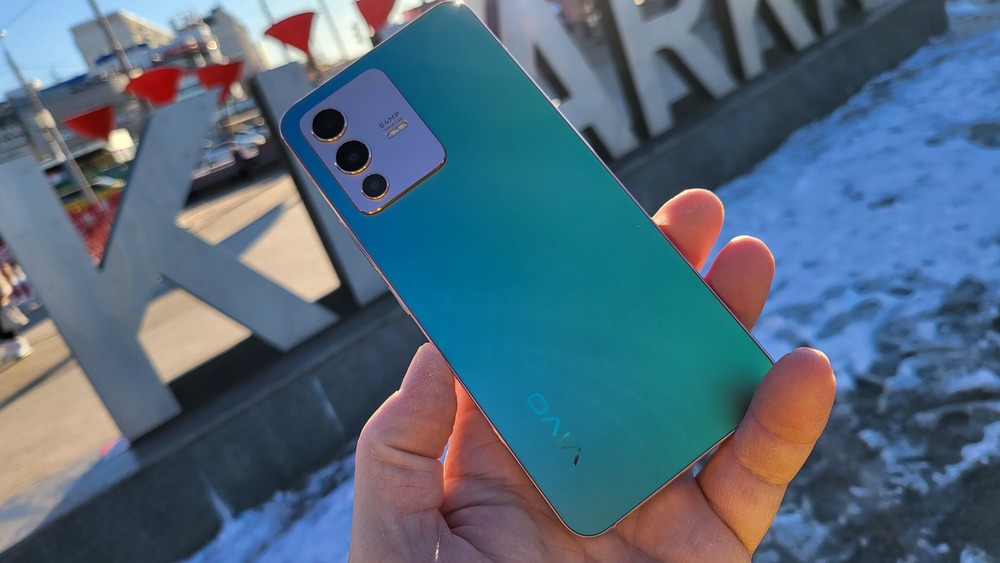 So, if you are looking for a decent smartphone with an unusual design and excellent front-facing cameras that allow you to take high-quality selfies and decent videos, then you should pay attention to the vivo V23 5G.
Pros
premium, elegant design with Fluorite AG
high-quality AMOLED display
efficient processor for everyday tasks
interesting set of cameras
excellent front-facing cameras at 50 MP and 8 MP
FunTouch OS 12 based on Android 12
fast charging
Cons
there is no full protection and stereo sound
unpolished UI of FunTouch OS 12
price
Read also: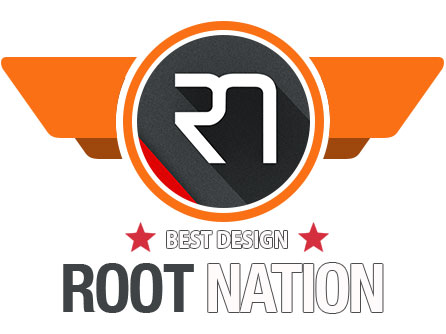 Subscribe to our accounts: