On the 11th of October Samsung hold a presentation in Malaysia where we were shown the first ever smartphone with 4 rear cameras. On the very next day, I was already testing Samsung Galaxy A9 2018. I had a week of active use to figure it out. Let's take a look.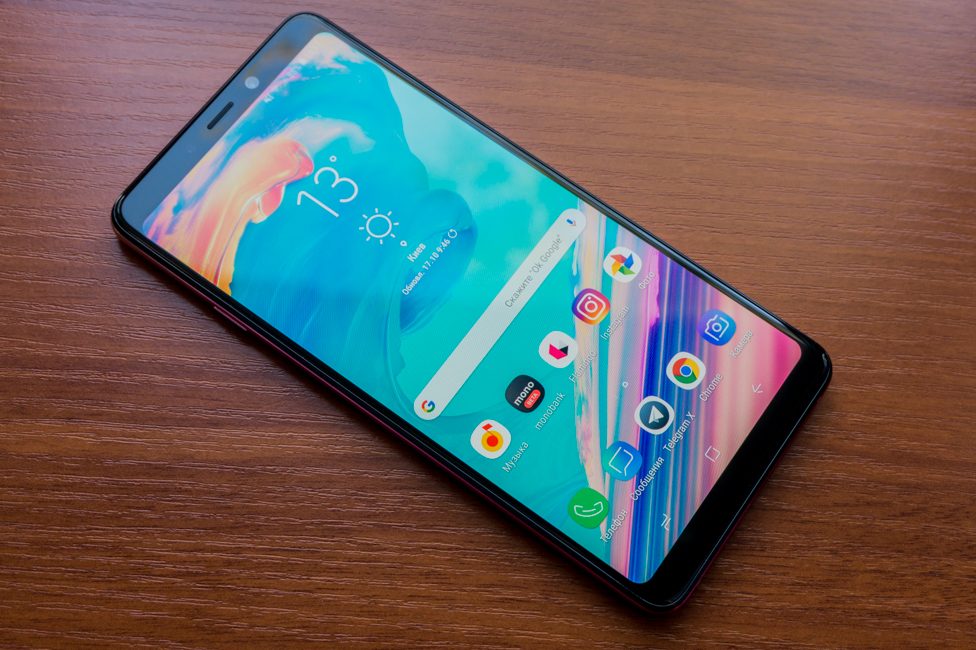 Samsung Galaxy A9 Specifications
Display: 6.3″, SuperAMOLED, 2220×1080 pixels, 18.5:9 aspect ratio
Processor: Qualcomm Snapdragon 660, 8-core, 4 cores with a clock frequency of 2.2 GHz and 4 cores with a frequency of 1.7 GHz, Kryo 260 cores
Graphics accelerator: Adreno 512
RAM: 6/8 GB
Storage: 128 GB
Support for microSD memory cards: up to 512 GB
Wireless networks: Wi-Fi 802.11 a/b/g/n/ac, Bluetooth 5.0 (A2DP, LE), GPS (A-GPS, GLONASS, BDS, GALILEO), NFC
Main camera modules: main 24 megapixels (f/1.7, PDAF), wide-angle 8 megapixels (f/2.4, 12 mm), telephoto 10 megapixels (f/2.4), auxiliary 5 megapixels (f/2.2)
Front camera: 24 megapixels, f/2.0
Battery: 3800 mAh
OS: Android 8.0 Oreo with Samsung Experience 9.0 shell
Dimensions: 162.5 × 77 × 7.8 mm
Weight: 183 g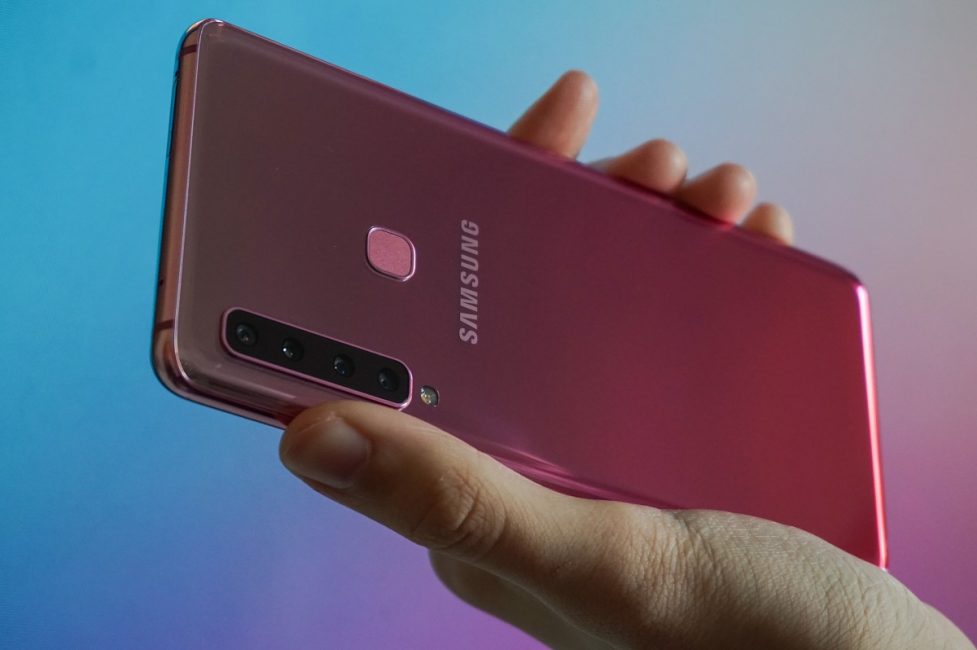 Samsung Galaxy A9 costs about $600.
Design, materials and build quality
I think it's no secret that nowadays using various unordinary colors and gradients in smartphones is very trendy. By the way, this trend was set by Huawei, starting with P20 Pro, P20 Lite and P Smart+, and all other companies actively copied this popular devices. And this trend is only gaining momentum.
So Samsung is also introducing fashion trends in its own smartphones. Only their take on it is more… restrained. In short, this solution is implemented a little differently. Samsung Galaxy A9 exists in 3 body colors: Caviar Black, Lemonade Blue, and Bubblegum Pink. With the first, everything is clear – a classic and discreet, but also dull black. The second is a blue gradient, and the third is pink.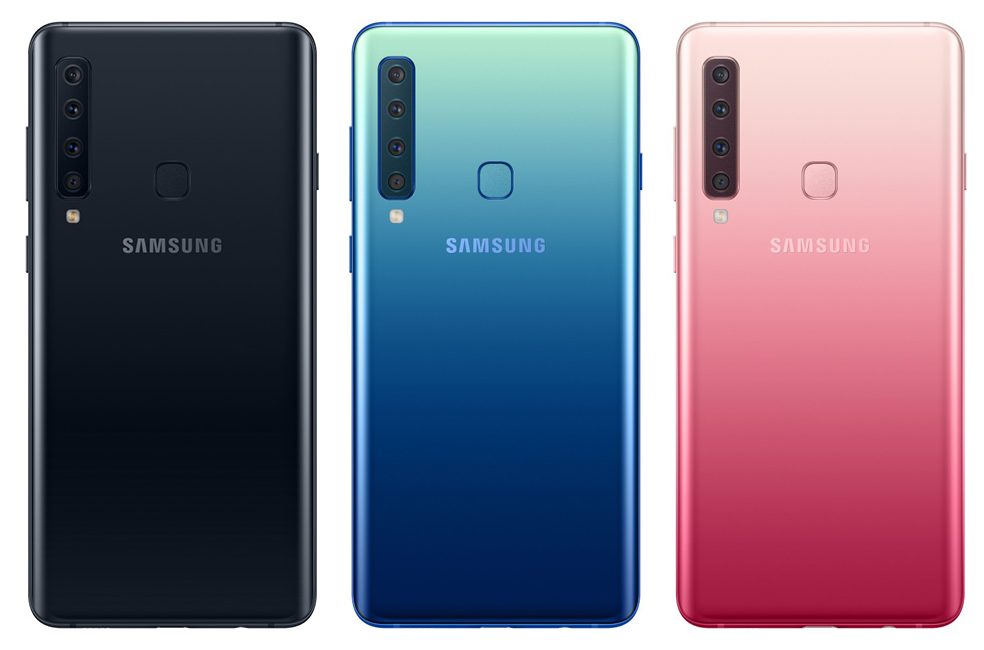 I had the latter. Of course, this option is most suitable for girls, but I have to say that the color is really interesting. From above, the pink color is paler.
And by the way, the frame around the perimeter of the case is painted the same way.
But the front is always the same – it's black.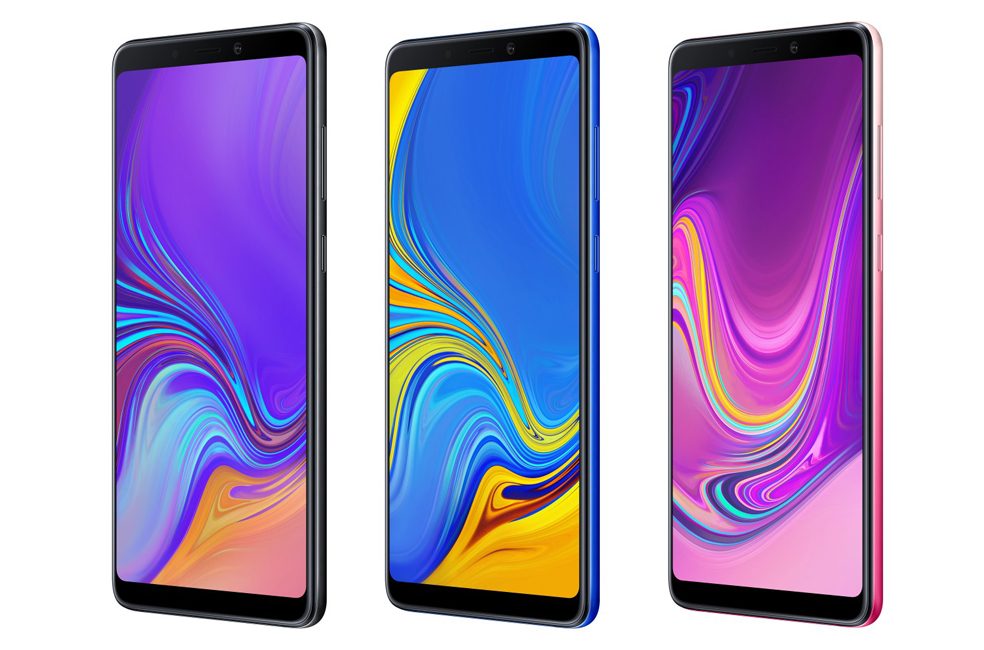 Structurally, the smartphone is nothing new – the glass in front and behind, a metal frame around the perimeter. The device resembles the midpoint Galaxy A8+ and the flagship Note9 – behind the glass it is curved closer to the edges, because of which the transition is smooth. Simply put, the phone feels good in the hand.
The front of the smartphone is similar to the rest of the manufacturer's smartphones. Small bezels around the screen are present, but they are already smaller than in the similar A8+, although they still do not reach the level of Note9. The corners of the screen are, as usual, rounded.
According to a good tradition, there are no identifying logos on the front panel of the smartphone. By the way, the glass in front has 2.5D effect and a good oleophobic coating. The back turned out to be a fingerprint magnet – even though the color is very bright. The other colors will probably share this downside.
A similar problem is with the frame: due to the fact that it is glossy and not matte, it is also possible to leave prints on it. But in fairness, they are barely noticeable.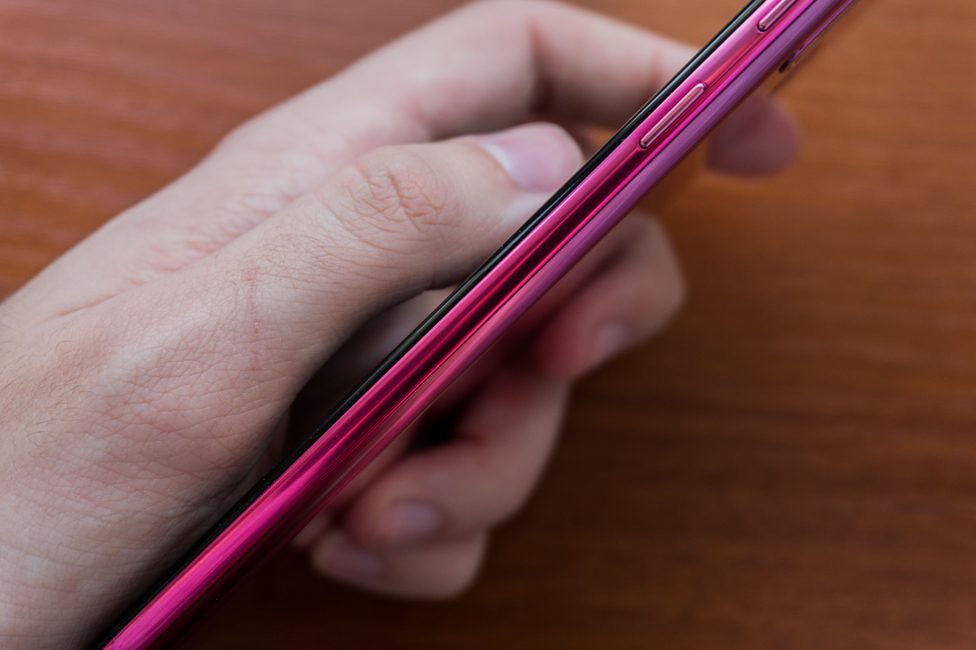 The back gets covered with fingerprints fairly quick. And if there is an oleophobic coating on it, I didn't notice it. Also, you won't wipe it all out from your first try.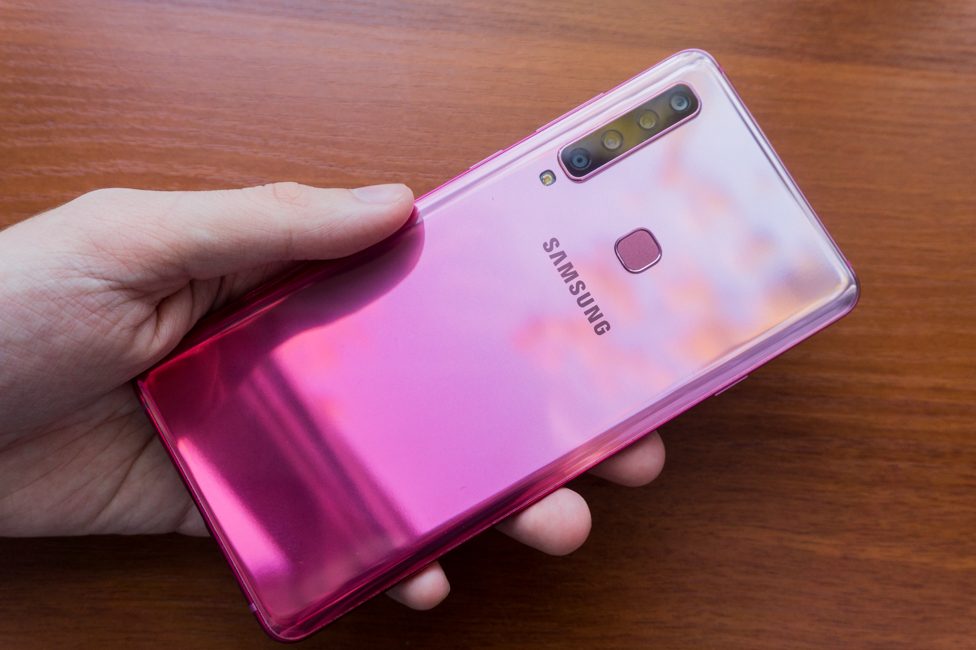 Although, on the other hand, it is good because the device does not slide off from different surfaces and is not prone to slipping from the hand. So, no oleophobic coating can be a good thing.
But it's not color, but a block of cameras that attract all attention. This is an oblong vertical block, in which there are 4 camera eyes, the purpose and operation of which I will discuss in the relevant section of this review. But it looks very unusual and cool!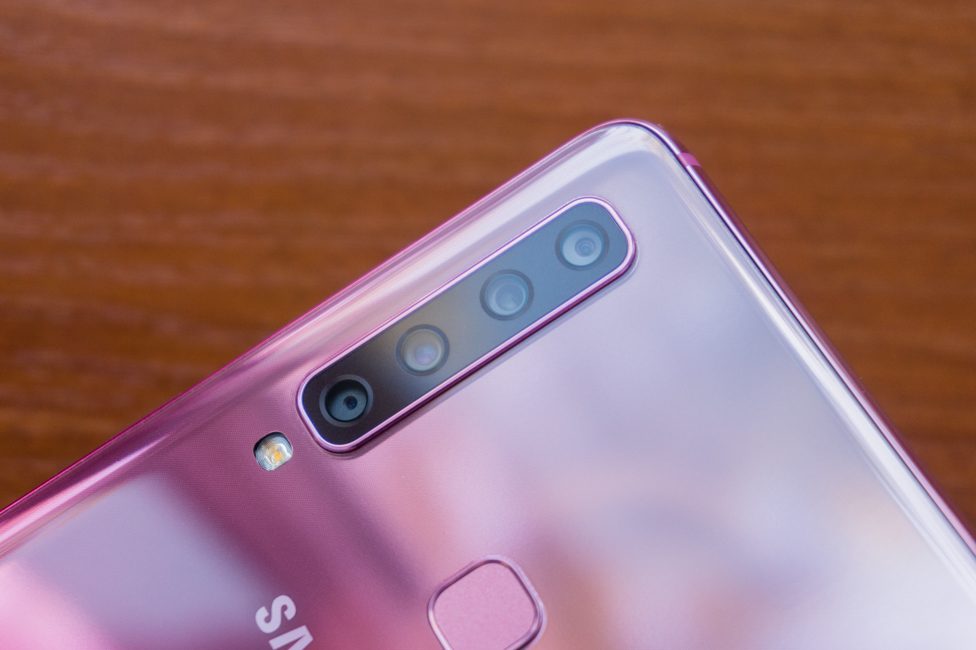 Galaxy A9's build quality is perfect, which is not surprising. I found it interesting that nowhere I found any info about moisture protection, but when I removed the SIM slot, I found a rubber seal to protect against water and dust. Just like the one I saw in A8+ and Note9 which they are protected by the IP68 standard.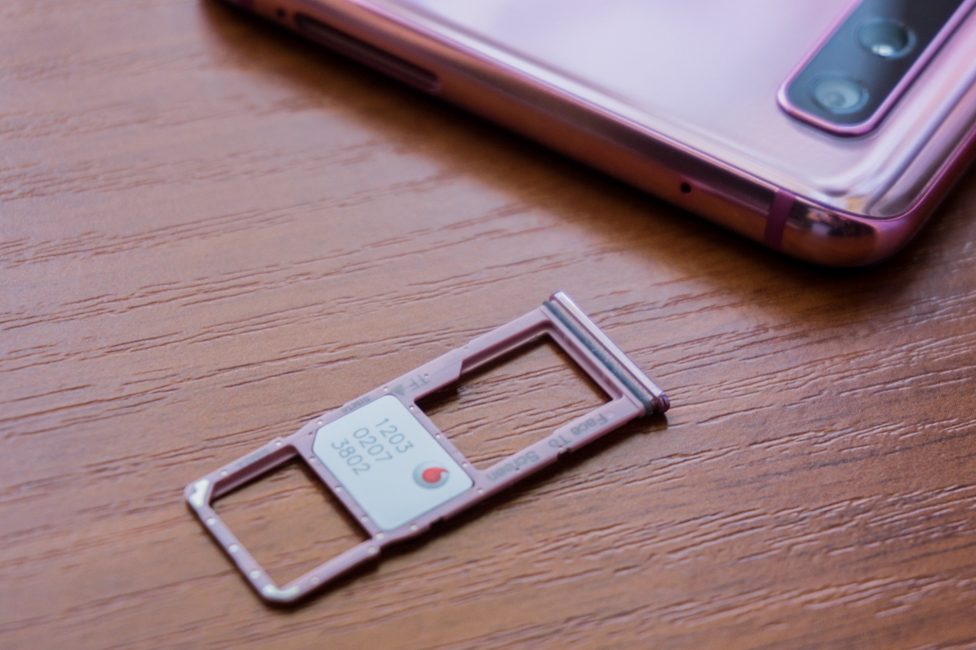 And here is a photo taken of the device's page on the manufacturer's official website. No seal…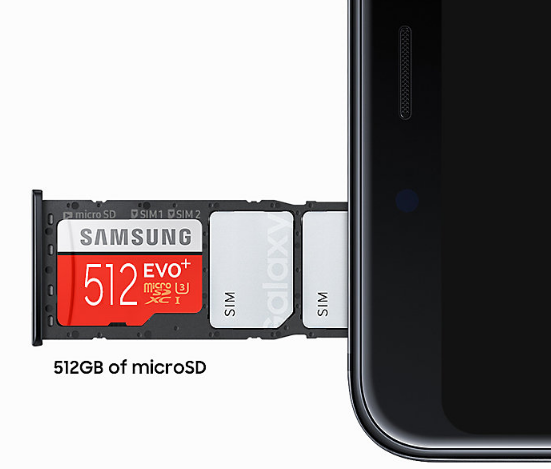 So what is it? Is Samsung hiding something from us? But it is not clear why would they, after all, it is a good feature. In general, since the manufacturer did not say a word about the presence of moisture protection, I certainly will not say anything for certain.
Elements' Configuration
Above the screen is a window with the necessary sensors, a speaker and a clearly defined eye of the front camera. But for some reason, there was no place for the LED event indicator. Under the screen there's nothing.
On the right side is a power button and a volume button. The edge on the left offers our favorite Bixby button.
Below you can see neat plastic inserts for antennas, between which is a 3.5 mm audio jack, a USB Type-C port in the center, the main microphone and 5 oval cutouts, and a multimedia speaker beneath.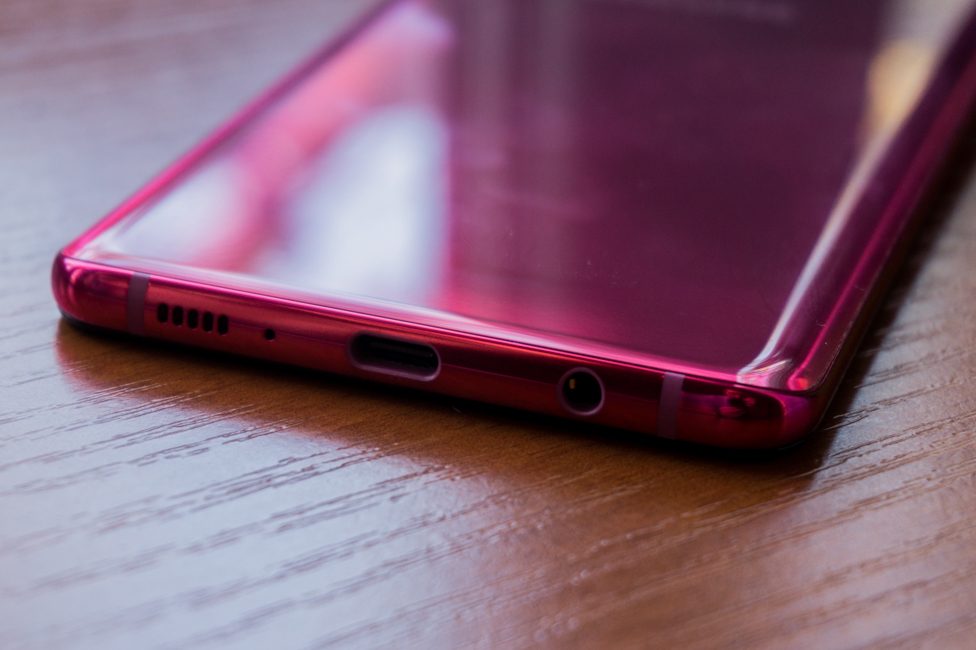 At the top, there are similar plastic lines of antennas on the sides, an additional microphone for noise reduction and a slot for 2 nano-format SIM cards and a microSD memory card.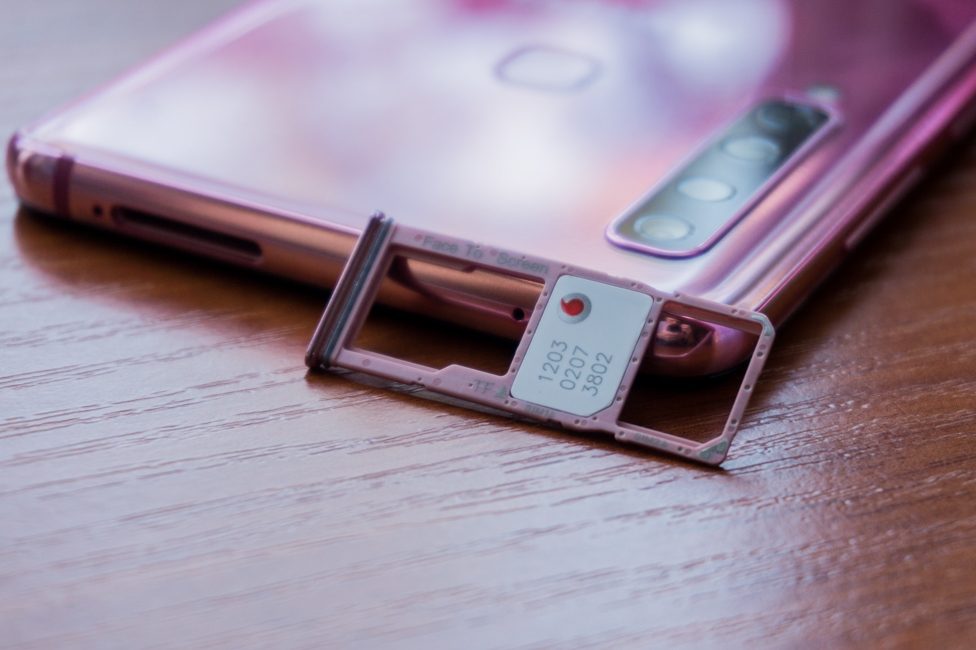 So, no compromise, which is great. But on top the holes are asymmetrical. Which is, you know…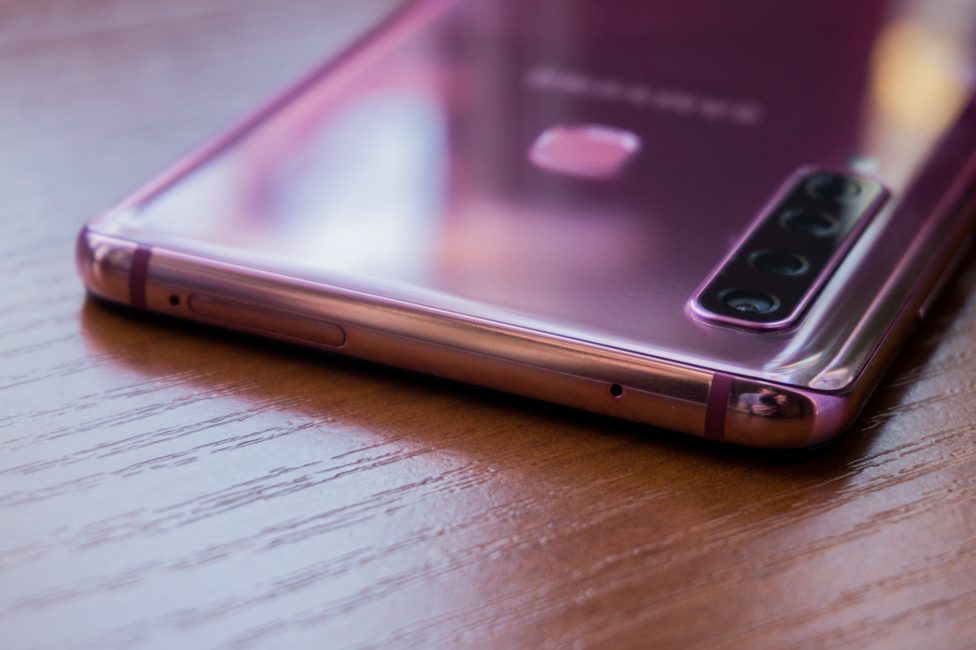 On the back of the device, in the upper left corner, there is a block with cameras. It protrudes slightly from the body and has a metal frame painted in the color of the body. But the frame itself has a noticeable height and protects the glass. Under the unit is single flash.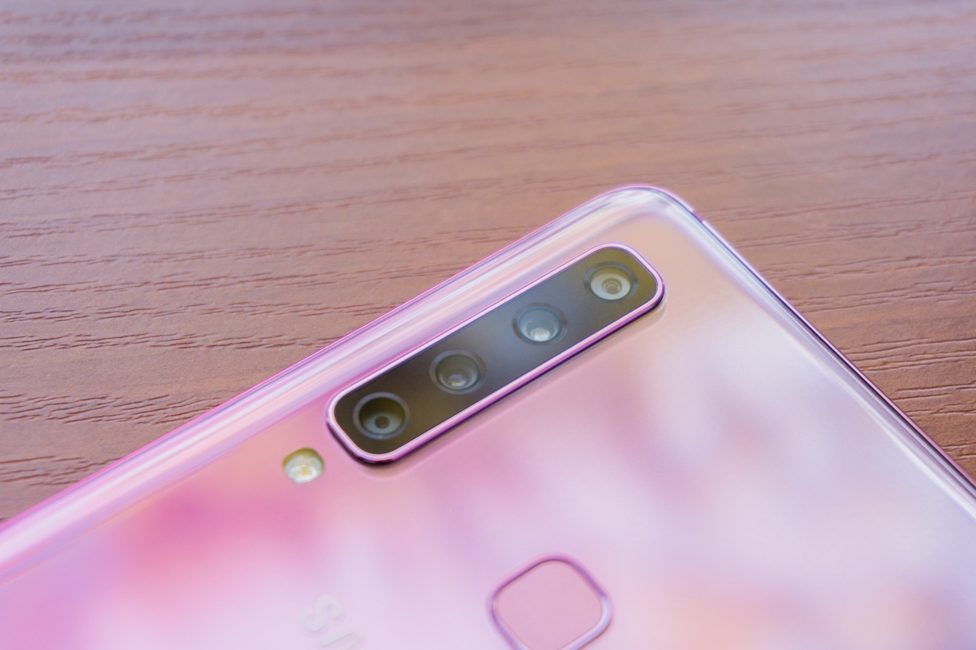 Then we see a platform with a fingerprint scanner in an unusual form. Also with frames. Underneath is a Samsung logo.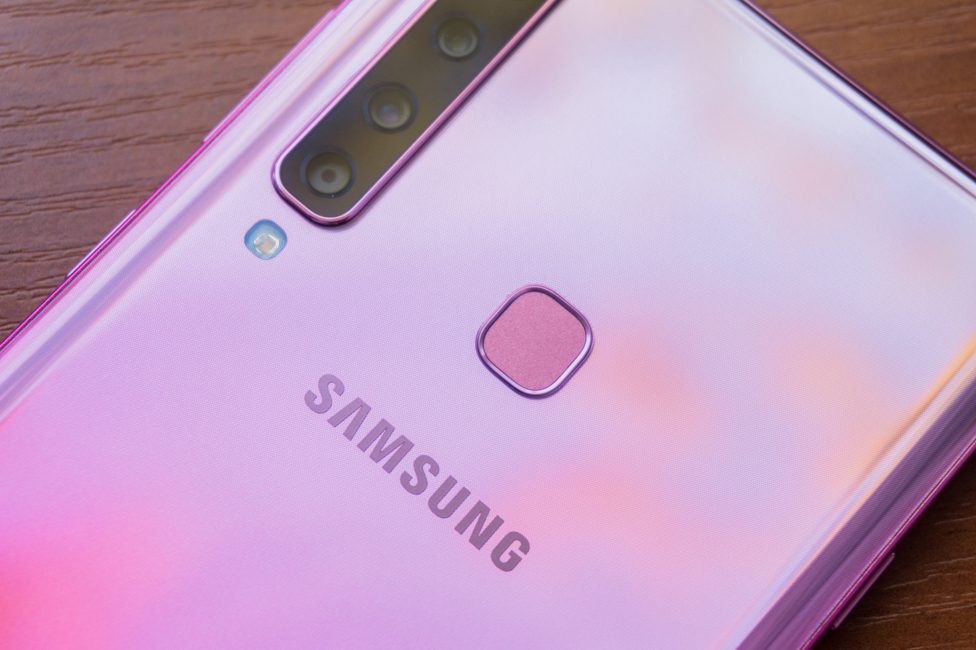 Ergonomics
Samsung Galaxy A9 feels wholesome in hand. It is slightly larger in height and width than Note9, but thinner and lighter, which makes it comfortable to use. The curved back glass, as I noted, feels good and does not cut into the palm.
But if you use your smartphone with your left hand, you can cover one of the cameras with your index finger. The fingerprint scanner is located in a neat place, and it is convenient to use.
A similar situation with the power and volume keys – all is in its right place.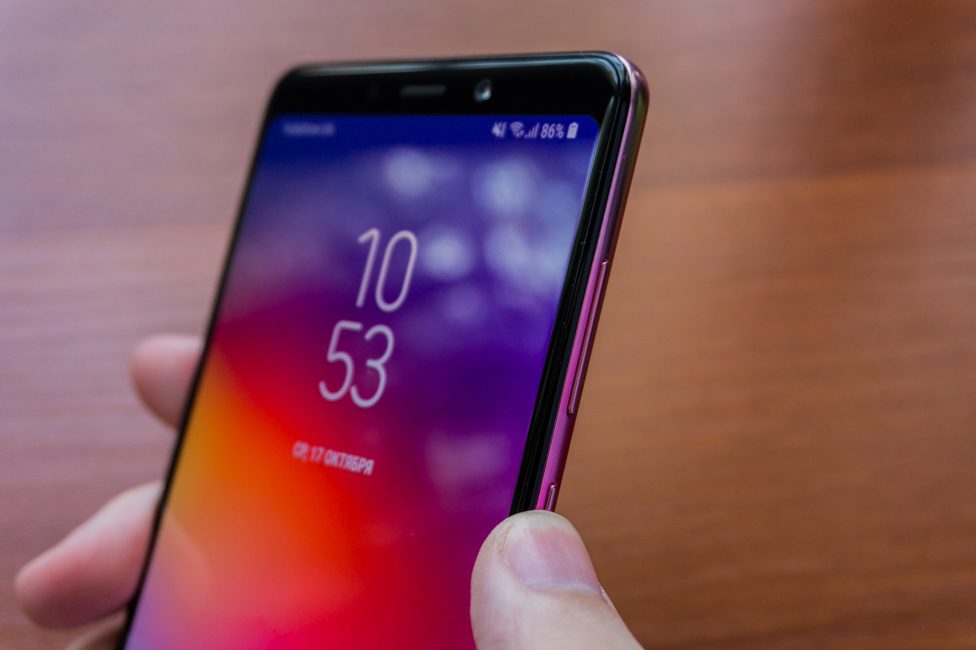 The Bixby button deserves a special mention. Its place is just right, although I'd like to see it gone in the future. Still, no false touches during the testing period.
It is higher than the place where the finger falls, so there is no such problem of false presses, as it was in Note9. But just in case, the button can be completely turned off by regular means.
Samsung Galaxy A9 display
The device is equipped with a 6.3″ display with an aspect ratio of 18.5:9, SuperAMOLED matrix. The resolution is 2220×1080 pixels and the density is 392 pixels per inch. The ratio of screen area to the front panel is about 80.5%.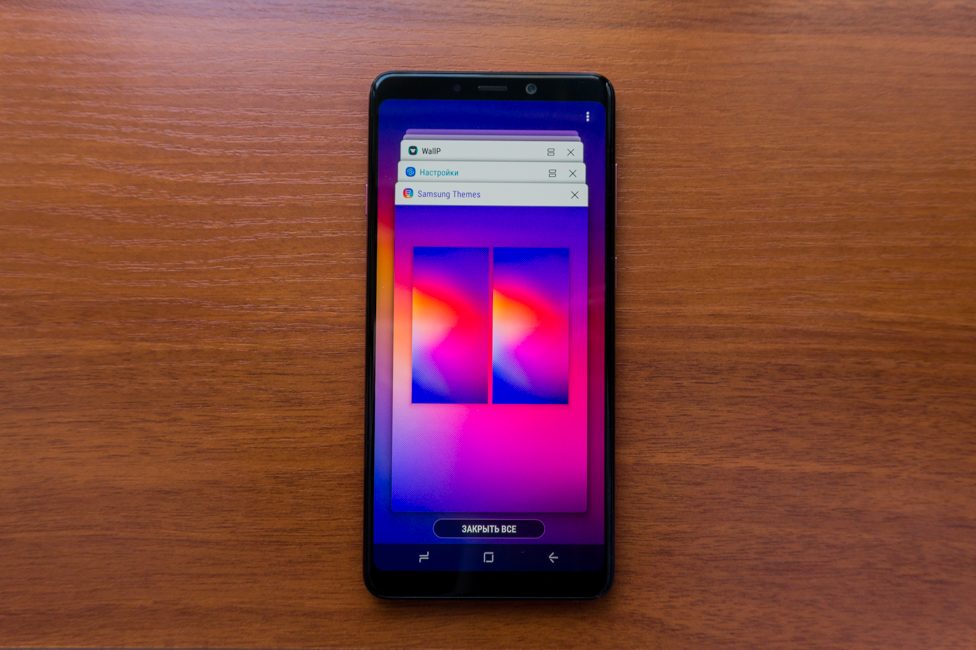 The screen quality is as it should be: bright, contrasty, rich, with a deep black color and excellent viewing angles.
There's a blueish tint of the screen when you look at it at an angle.
In general, the screen is excellent and suitable for any task. The spectrum of brightness control is wide: it's okay to use it in the dark, and the maximum brightness is enough for a bright sunny day.
In the settings, there is a blue filter, white balance setting and four color display modes: "Adaptive", "AMOLED Film", "Photo AMOLED" and "Basic".
The ALWAYS ON DISPLAY function, with a bunch of settings, is still here. Auto screen brightness also works well.
Performance
It is known that Samsung sometimes equips their smartphones not only with Exynos brand processors but also with Qualcomm chips. This is a common practice when releasing flagship devices for different markets. But sometimes it happens that in all markets get a single Snapdragon processor and Samsung Galaxy A9 is one such example.
It is equipped with Qualcomm Snapdragon 660 – 14-nm process technology, eight cores, of which four Kryo 260 cores work with a maximum clock frequency of up to 2.2 GHz, and the remaining four Kryo 260 cores have a frequency of 1.8 GHz. Adreno 512 handles graphics.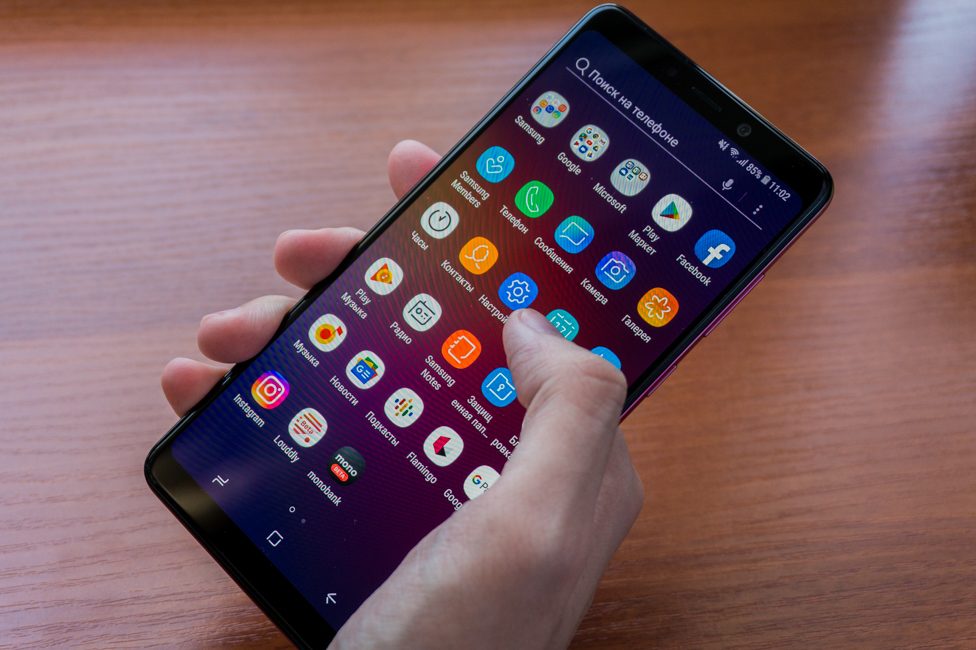 What we got here can be interpreted in two ways. On the one hand, Snapdragon 660 is a fairly powerful processor, which is enough for anything. Of course, it is inferior to modern top-level flagship chips in terms of performance in synthetics and games, but overall it shows excellent performance. On the other hand, Qualcomm already offers Snapdragon 710, which is technically superior to 660. And It'd be better to release a smartphone on a fresher hardware. In this regard, I do not quite understand the manufacturer, and I won't even remind you of the top Snapdragon 845 in many competitive devices for the same money.
Nevertheless, we abstract from all this and look at Samsung Galaxy A9. But first – synthetic tests.
It's all well with memory. Do you often see a non-flagship smartphone with 6 GB (and in some regions 8 GB) of RAM and 128 GB of storage? I find this pair the most optimal and I am happy to see it in more affordable devices. Of the 128 GB flash drive, the user gets 108.96 GB. Need more? MicroSD slot is here, and you won't need to sacrifice anything.
There are no problems with RAM, and multitasking works great. The speed and smoothness of the shell are excellent. The smartphone is fast, I didn't notice any micro-freezes at all, whatever applications I ran on it, so in this respect, it is definitely good.
A9 copes with games no problems. Not all heavy apps can be launched with maximum graphics, but most are okay. PUBG Mobile runs on the high settings; it's not perfect, and in heavier moments FPS can sink. But if you lower the settings, it will work smoothly.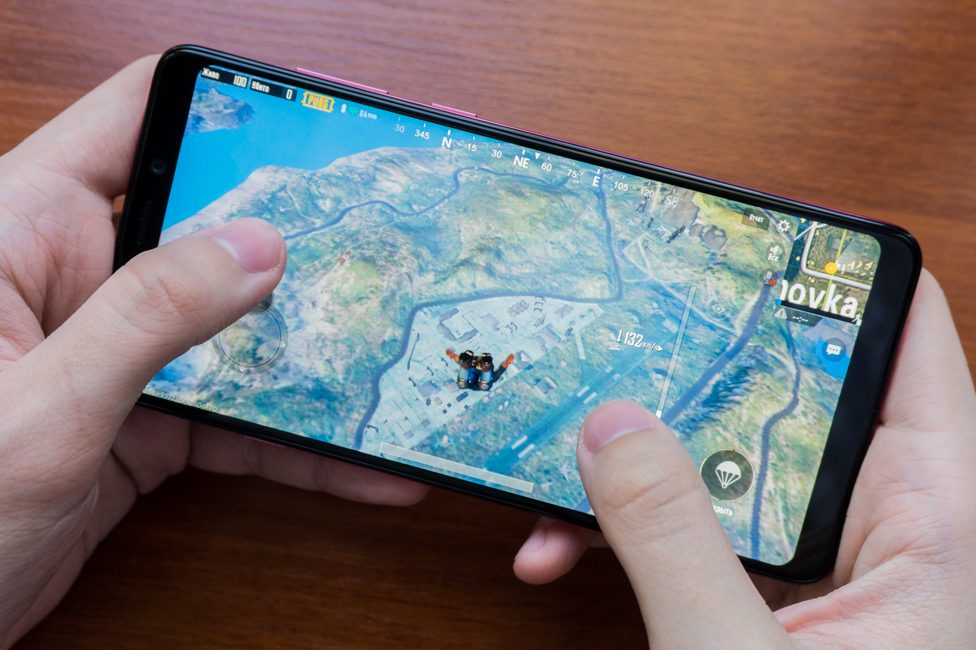 In WoT Blitz you can safely play on maximum settings and get 50-60 FPS. Simpler games are a breeze.
Samsung Galaxy A9 Cameras
Finally, we got to the main feature of the smartphone. Samsung Galaxy A9 is the first smartphone in the world with a quadruple rear camera.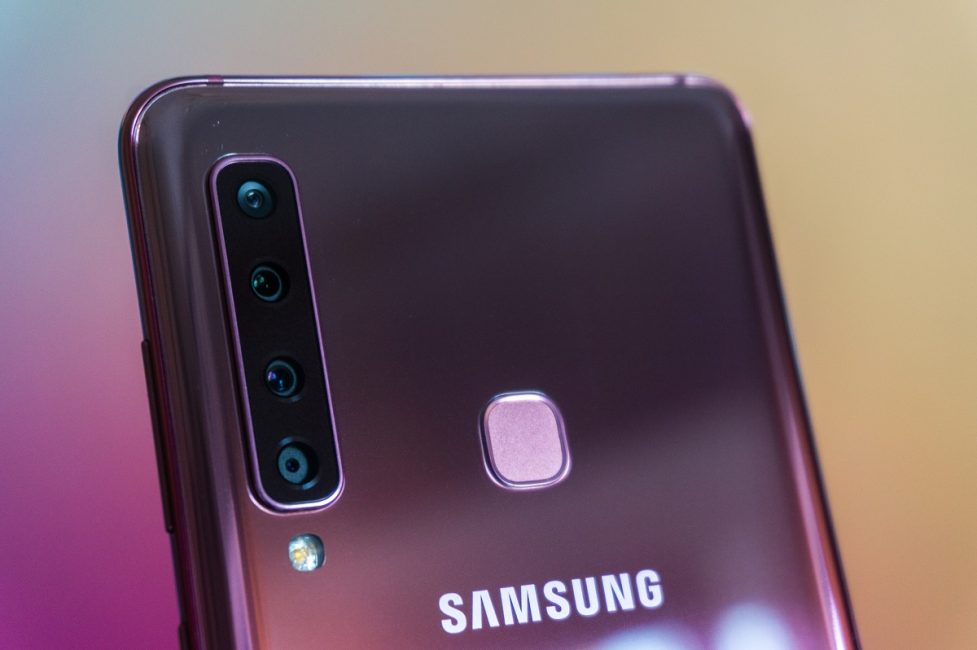 The first is a wide-angle camera – 8 megapixels, f/2.4, 120° viewing angle, FR 12 mm. Behind it is a telephoto module – 10 megapixel, f/2.4, it is responsible for a twofold zoom. The next is the main sensor – 24 Mp with a f/1.7 aperture. The camera is complemented by a 5-megapixel auxiliary module with f/2.2 aperture, which analyzes the depth of the scene and is responsible for Live Focus blurring mode. No optical stabilization.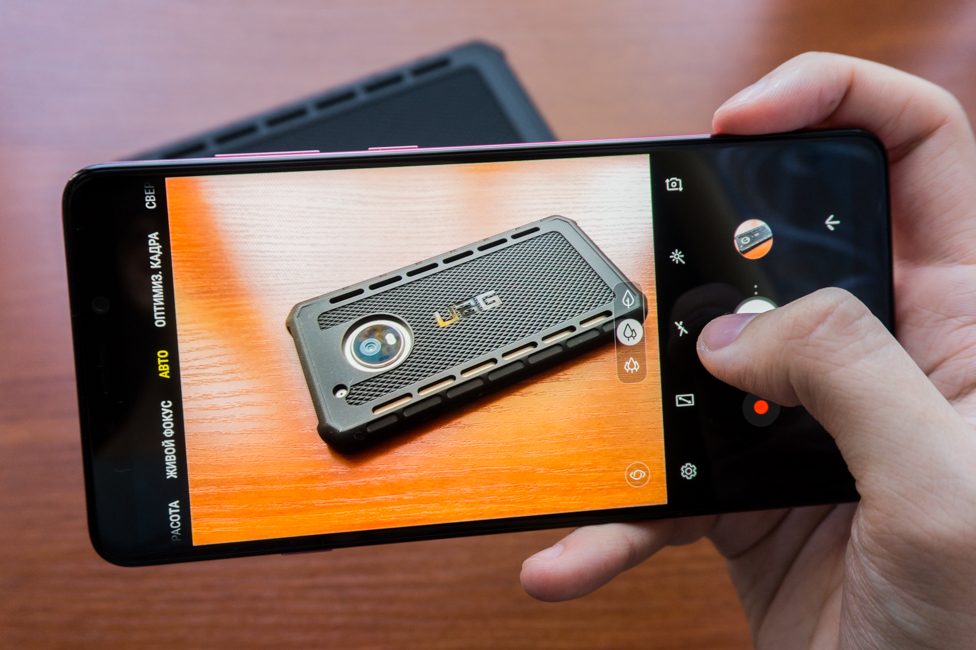 The main camera takes pictures with medium detail, which was surprising since you don't expect something like this from Samsung. White balance in automatic mode is very unpredictable, which is why it is difficult to estimate the overall color rendition. A photograph taken in even seemingly ideal for conditions can get unnatural colors – too cold and vice versa. The autofocus works quickly. Overall, the photo quality is.. Questionable. I was not impressed at all. I want to believe that all of this is because of raw software and will be fixed later.
PHOTO EXAMPLES IN FULL RESOLUTION
The video taken with the main camera has a maximum resolution of UHD (3840 × 2160) but without electronic stabilization. The latter is available when shooting in Full HD. It turns out decent enough.
The wide-angle camera has simpler parameters so the result is the same. The picture quality is not bad with good lighting, but indoors, for example, white balance is sometimes wrong. But on the street it works perfectly – the autofocus works much better than the main module. The video can be recorded in UHD (3840 × 2160), but again without electronic stabilization. But it's supported with Full HD. The quality is nothing special – it's inferior to the main one.
When it comes to telephoto lens, it is worth mentioning again the early software. If you simply switch to telephoto in the application, it will not work, just the picture from the main camera. To work with the telemodule after switching, you need to manually pinch the image with a pinch-to-zoom gesture. This is easy to check – you can cover the telephoto module with your finger and make sure when it is used and when not.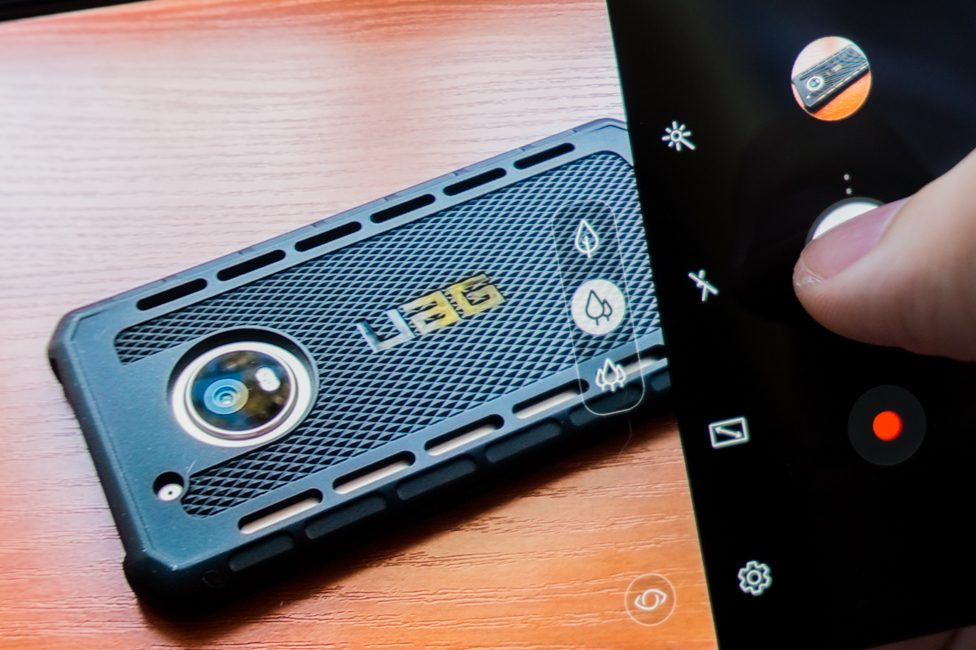 I, again, did not succeed in checking out how the telephoto was filming, because even with the procedure described above, the photos have artifacts.
In theory, the quality of the final image should be better. The module has autofocus, but it does not work very well.
The last module is a bit weird – I mean, do we actually need it at all? As practice shows with the front camera, the background in the Live Focus mode can be blurred with software. And I didn't see the difference that would justify this auxiliary camera. The module itself works – the camera application will tell you if you cover it with your finger. But the final photos are decent, and if you move the slider to adjust the degree of blurring to the maximum (which I do not recommend doing), the photos look very bad.
Now to the front camera. There is one sensor installed with a resolution of 24 megapixels and f/2.0 aperture. The camera is good, there are a lot of face enhancements, like Live Focus, selfiemoji and a panorama mode called "wide selfie" – you can use it if there are a lot of people in the frame and it's impossible to capture them all.
The Samsung Galaxy A9 camera application has received a wide array of functionality; modes can be switched by swiping to the sides on the shooting screen. There is a "Frame optimization" mode – 19 shooting scenes, according to the type: food, portraits, flowers, animals, landscapes, greenery, trees, sky, and others. There is a super-slow-motion (about 960 fps, but there is no exact information yet), usual slow motion and hyper lapse. There is a manual mode, but it does not support shooting in RAW-format.
It turns out that we still can't actually rate the main feature of the camera. We'll have to wait until the commercial model.
Ways to unlock
The scanner on the back of the smartphone works well – no complaints about it. Fingerprint scanning is speedy and subsequent unlocking happens quickly and accurately.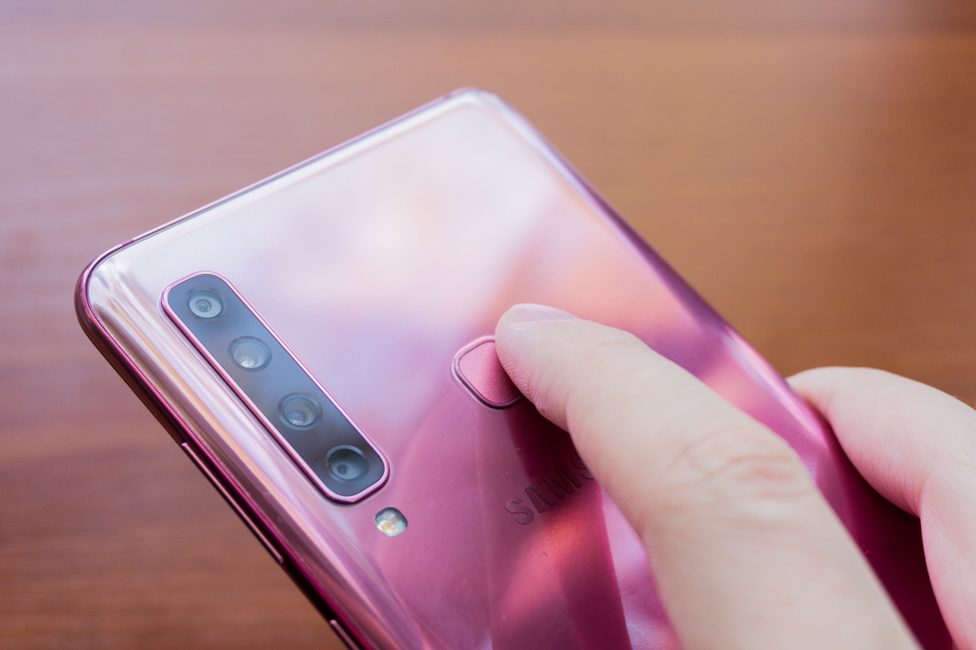 In addition to the standard functionality, a fingerprint sensor can open or hide the notification panel.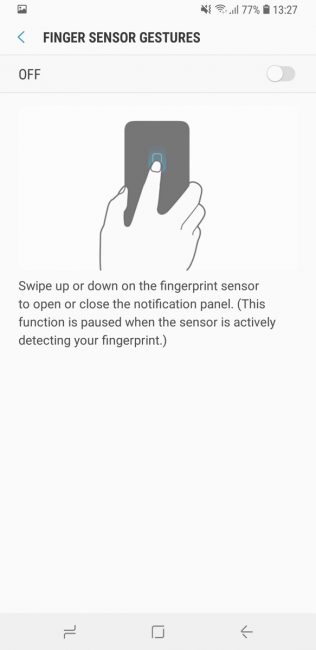 Also, the smartphone has face recognition. This method has two modes of operation: normal and accelerated. The difference between them is clear from the titles. With an accelerated unlock speed is higher, but at the same time, this method is less secure. This function works well with sufficient lighting.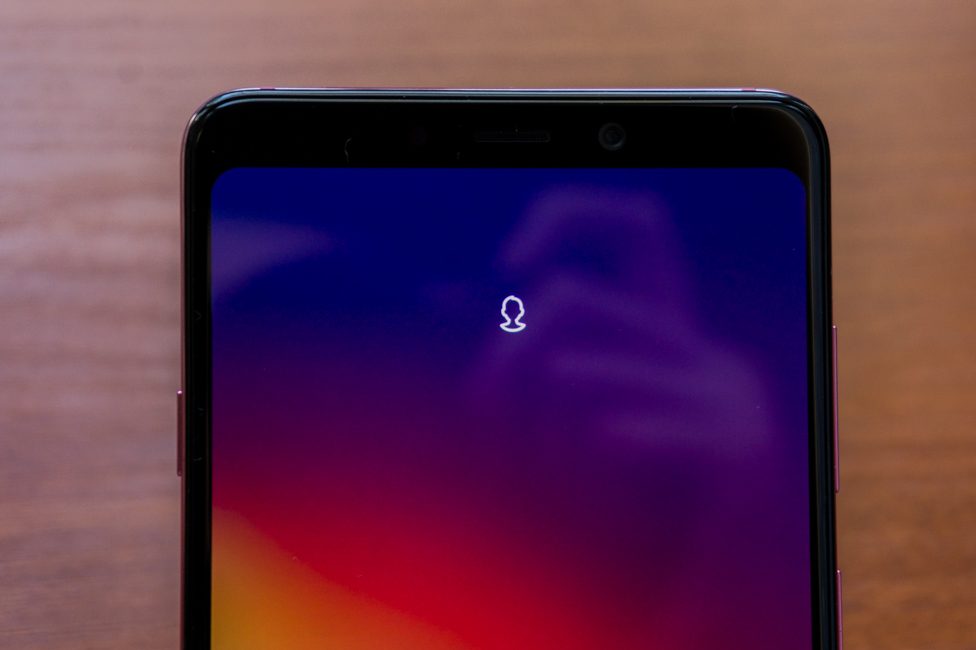 You can also turn on automatic face recognition. There's also the standard option with swipe up.
Battery life
Inside is the non-removable battery with a capacity of 3800 mAh – not bad. The smartphone works 24 hours a day during active operation with Always On Display turned on, showing 6-6.5 hours of screen activity.
But once again I have to note that my test sample has a tracking app that works in the background and constantly uses GPS. As a result, the results above cannot be called 100% valid and the commercial sample A9 will live for a little longer. Although even now I was satisfied with the results.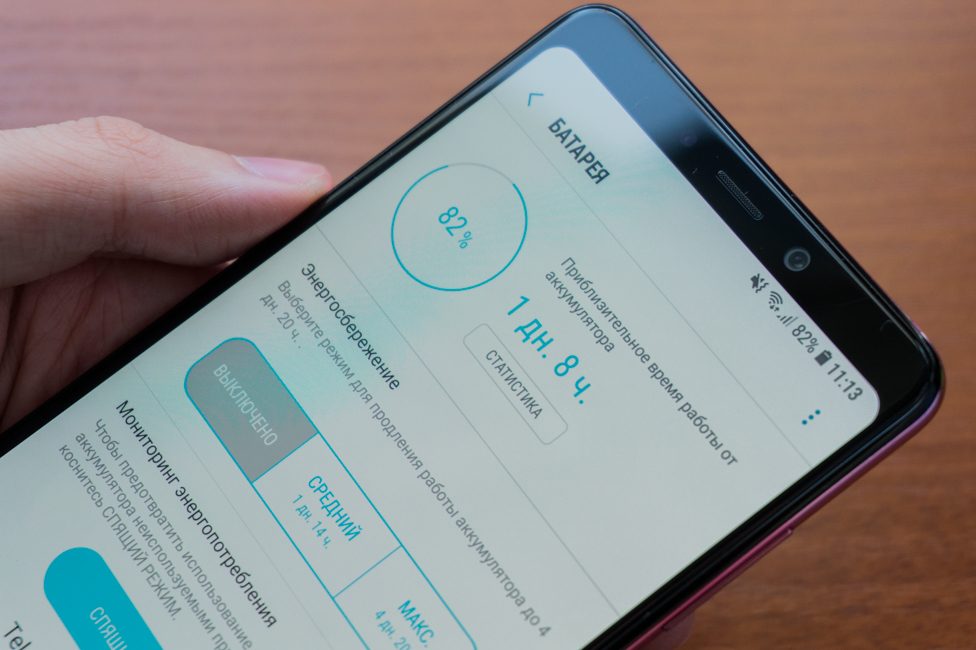 With a more moderate use, I think the device will be able to hold out for 1.5 or even 2 days without recharging.
And about charging. The manufacturer's website claims support for fast charging, but I didn't have the bundled charger on my hands, so I tested with the third-party charger that supports Qualcomm Quick Charge 3.0:
00:00 – 10%
00:30 – 37%
01:00 – 64%
01:30 – 87%
01:55 – 100%
Sound and communication
The sound of the speaker is excellent: loud and clear.
The main speaker is loud, the frequencies are not overloaded, but at the very maximum volume, the sound seemed to me slightly dull. Nothing critical. Normal sound, enough for any task.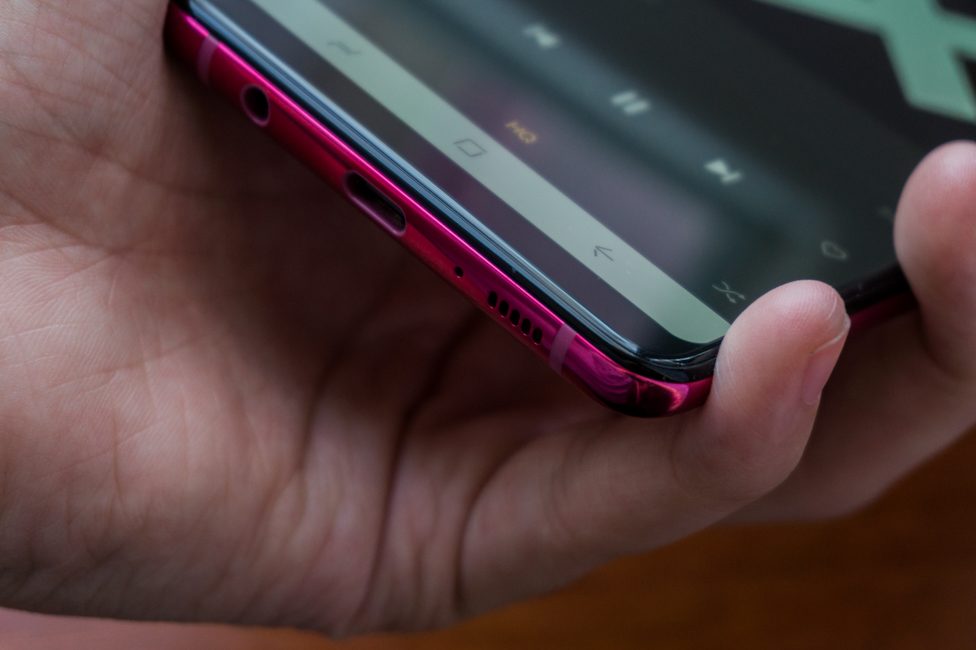 The sound in the headphones is good and there is nothing to add to this. Of course, in the settings, you can twist it any way you want. For this, software provides effects like Dolby Atmos, EQ, and some other functions.
There are no questions about communication capabilities of Samsung Galaxy A9. The mobile network is instant, there are no problems. GPS (A-GPS, GLONASS, BDS, GALILEO) works as it should. Wi-Fi 802.11 a/b/g/n/ac module supports 5 GHz networks and performs well. There are no issues with the Bluetooth module of the current 5.0 version.
And of course, the NFC module is here and working as expected.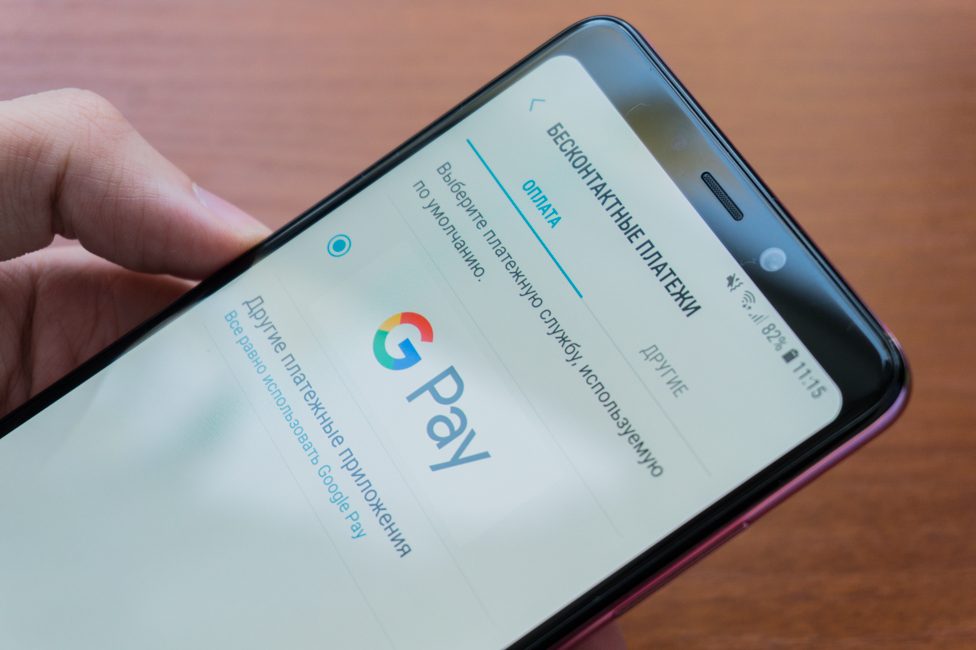 Firmware and software
Samsung Galaxy A9 is running Android 8.0 with the proprietary Samsung Experience 9.0 shell.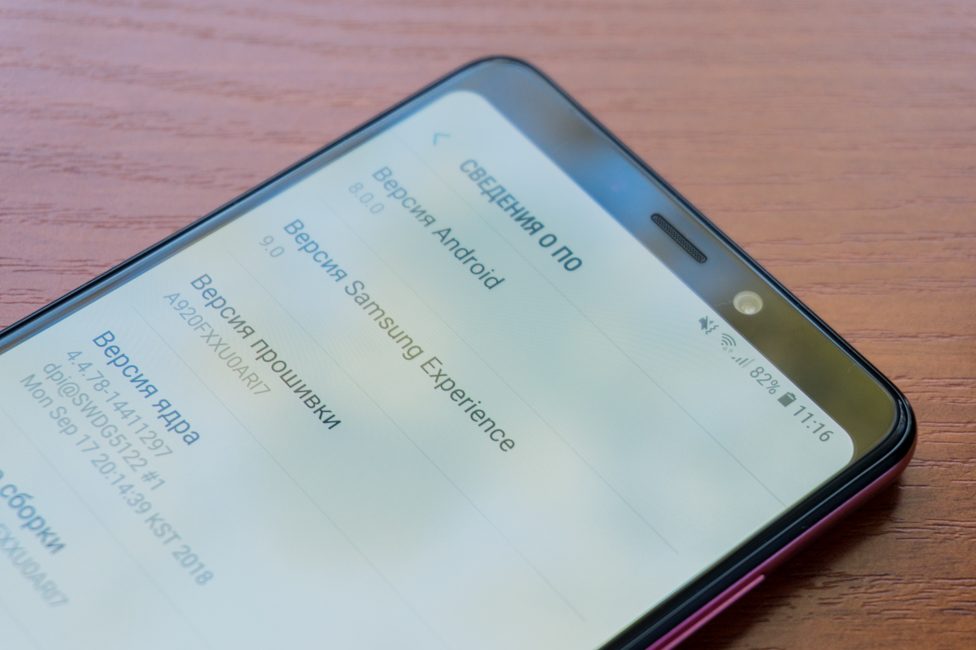 In general, the shell is quite familiar and we have already talked about it many times. It has its own store with themes, you can change the layout of the main screen – with icons on the desktops, or with a separate menu of applications, changing the grid of the main screen and application menu. You can clone separate programs to use with multiple accounts, but at this stage, only the Facebook application is supported. Unnecessary programs can be hidden, and the location of the buttons on the navigation bar can be swapped.
But the latter can also be completely hidden, or you can leave only small translucent markers – kind of a gesture control. A little unfinished, though: on the desktop, under the dock with program icons, it's just emptiness, and this is also observed in the camera. But most applications are displayed correctly – in full screen.
There is also a smart off function – the screen will not turn off until you stop looking at it. In addition, you can use the phone with one hand and use a number of gestures.
Verdict
Samsung Galaxy A9 is a curious device. You see the new Samsung philosophy: new features are first to appear in mid-rangers and not flagships. The consumer wins.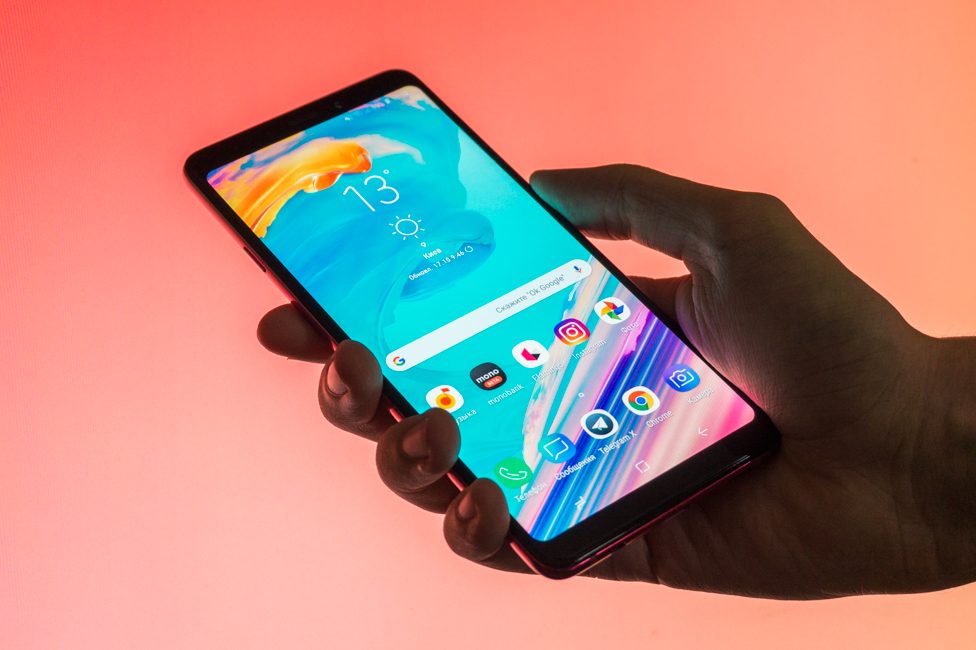 The main feature is 4 cameras. And I think this direction is the right one. More modes, no restrictions. And now this multi-camera thing is just beginning to develop, and personally, I'm waiting for the stage when all matrices are the same, just with different focal lengths, so that the quality is the same. But that's a different story. It's a bit too early to judge A9. Let's wait till it's sold in the stores.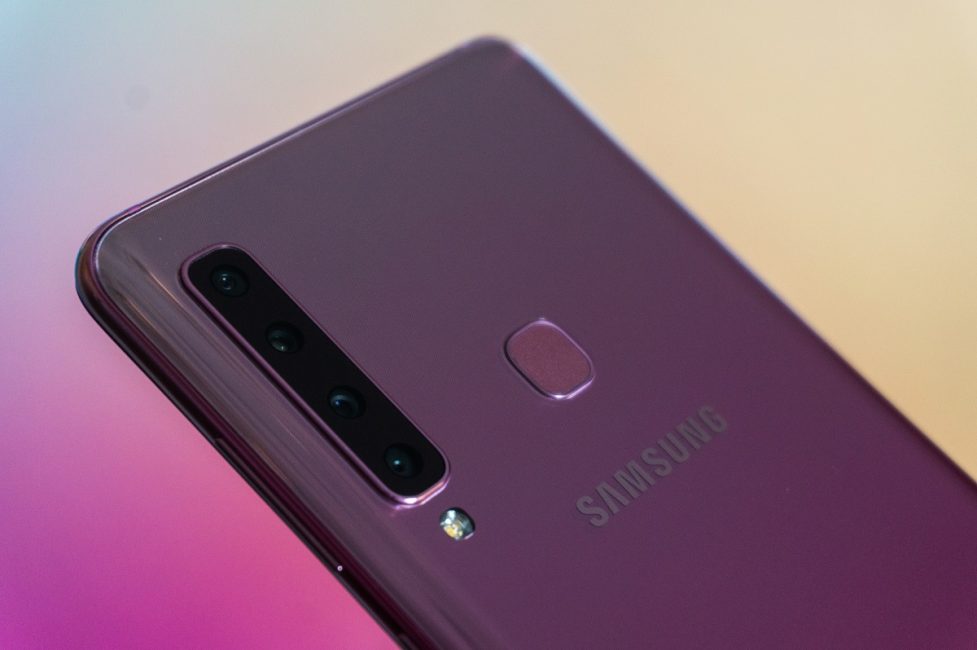 Overall, Samsung Galaxy A9 is okay: great design and build quality, and it feels like a flagship. The screen is also nice, and the power and RAM are more than enough. This is almost a flagship, which is why it's more expensive. We'll have to wait to see if the strategy works.