TCL, which we mostly know thanks to its TVs (No. 2 in the world after Samsung), has been making smartphones in recent years. Just the other day, the company introduced a brand new TCL 30 SE. This is a budget smartphone, but what makes it interesting? Let's see.
Read also:
Full specificatioons of the TCL 30 SE
Display: IPS, 6.52″, 720×1600, 269 ppi, 60 Hz, 400 nits
Processor: Helio G25, 8 cores, 4×Cortex-A53 (2.0 GHz) + 4×Cortex-A53 (1.5 GHz)
GPU: PowerVR GE8320
RAM: 4 GB
Storage: 64/128 GB
microSD memory card support: up to 512 GB
Wireless networks: Wi-Fi (2.4GHz), Bluetooth 5.0, NFC, GPS, A-GPS, GLONASS, Beidou
Main Camera: Master module – 50 MP (Samsung, f/1.85, 1/2.8″), Full HD 30 fps video shooting, Macro camera – 2 MP (f/2.4, 1/5″), Depth sensor – 2 MP (f/2.4, 1/5″)
Front-facing camera: 8 MP (f/2.0)
Battery: 5000 mAh
OS: Android 12 with TCL UI 4.0 shell
Dimensions: 165.2×75.5×8.9 mm
Weight: 190 g
Positioning and price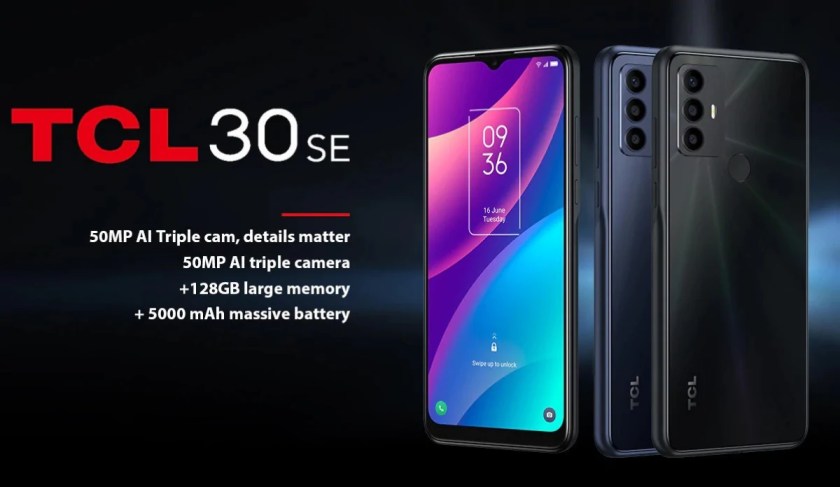 So, the TCL 30 SE is a classic budget device with all typical advantages and disadvantages. There is not much information about the cost on the global market and the main source was the TCL store on AliExpress. So, at the time of writing the review, the price tag was set at $213 for the 4/64 GB version and $227 for the 4/128 GB version. A typical price tag for a budget phone. The global presentation of the device is scheduled for February 26-27, but whether this will somehow affect the final cost is not known. What do we get for this money?
What's in the box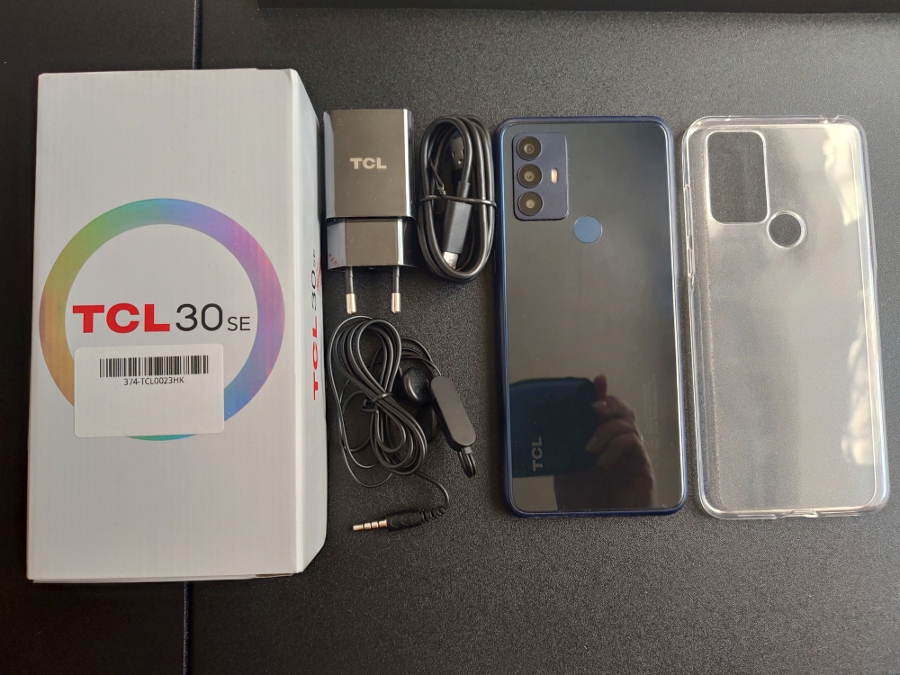 The TCL 30 SE comes in a modest white cardboard box with the name of the brand and model of the smartphone printed on the front and side. By today's standards, the packaging design is quite ascetic – no colorful prints, no eye-catching color of the box… The only decoration is a holographic ring on the lid. But still, it's what's inside is what matters the most. And inside we have, in fact, the smartphone itself, a transparent silicone bumper, a charger and cable, accompanying papers, an SIM eject tool and a very nice bonus – a wired headset.
Once upon a time, headphones included in the set were the norm, but now it's a rarity. Even if the earbuds are weak, it's still a nice addition.
The case is quite dense and more than usable, but we all know the fate of transparent silicone bumpers – after some time they will lose their original appearance. But it's definitely neat that there is a case in the box at all, and for the first time it will be very useful.
Read also:
Design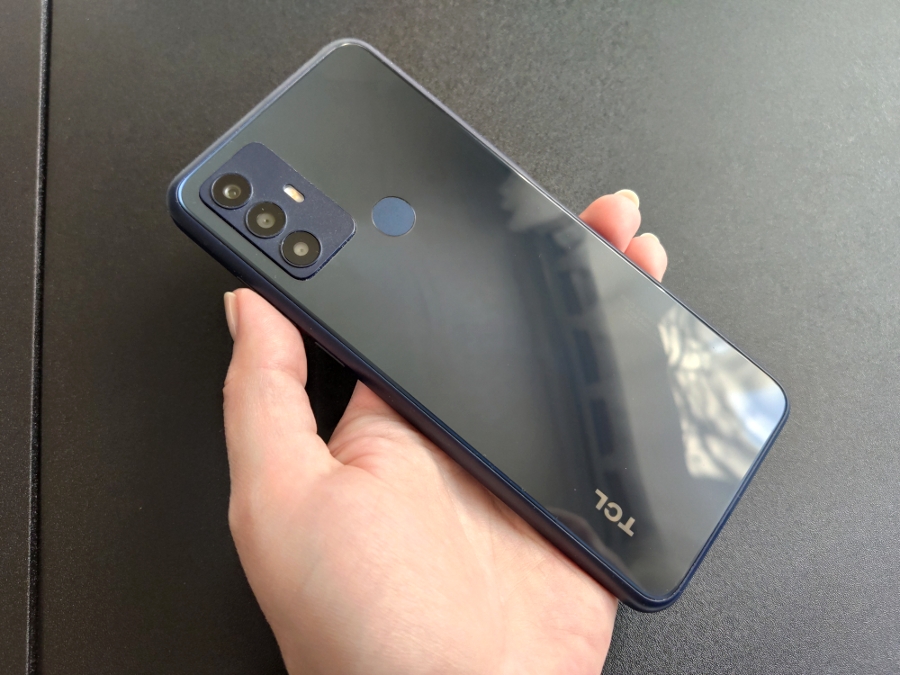 As befits an inexpensive smartphone, the TCL 30 SE received a nice plastic case, and its designis is minimalistic and restrained. There's nothing special about it, it's simple but tasteful.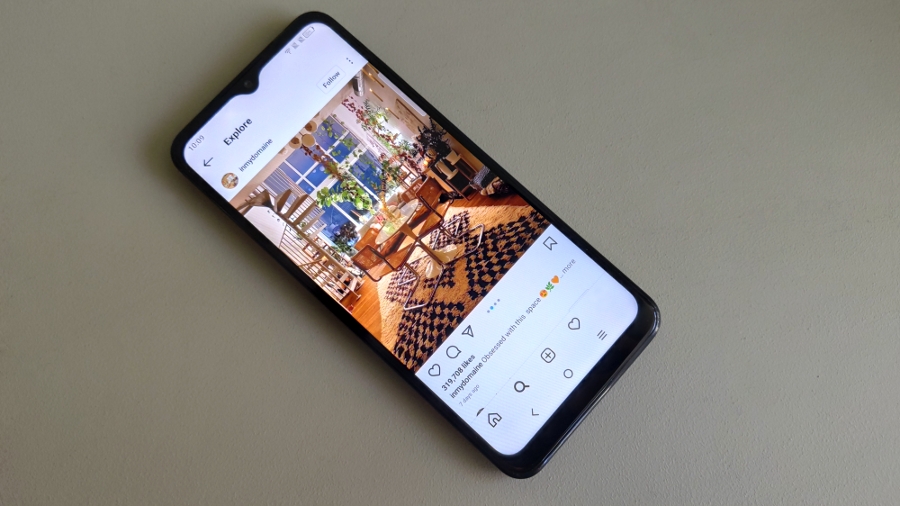 The phone comes in Grey and Blue, and the latter is on our review. The back here is glossy, deep blue with tints in lighter shades, creating the effect of semiprecious stone. The lid plays beautifully in the light, but it cannot be conveyed in the photo. And, since the back side is glossy, it collects fingerprints.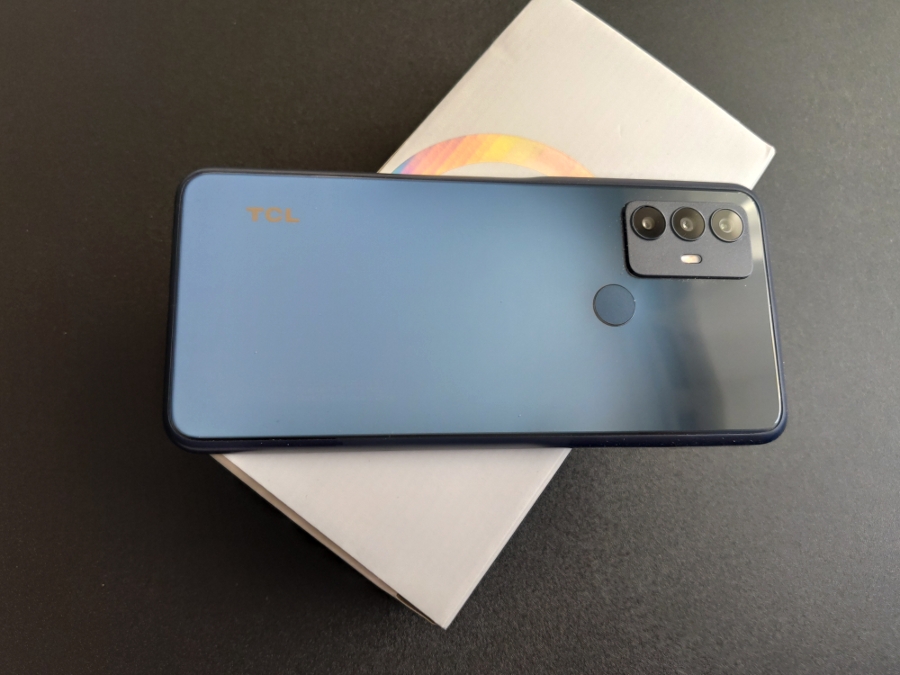 In the upper left corner there is a triple main camera with a flash. The modules are placed on a small pedestal made of matte rough plastic. A fingerprint scanner was placed next to the camera unit, a brand logo was applied in the lower right corner, and a technical marking was applied in the left corner, which is barely noticeable at a certain angle.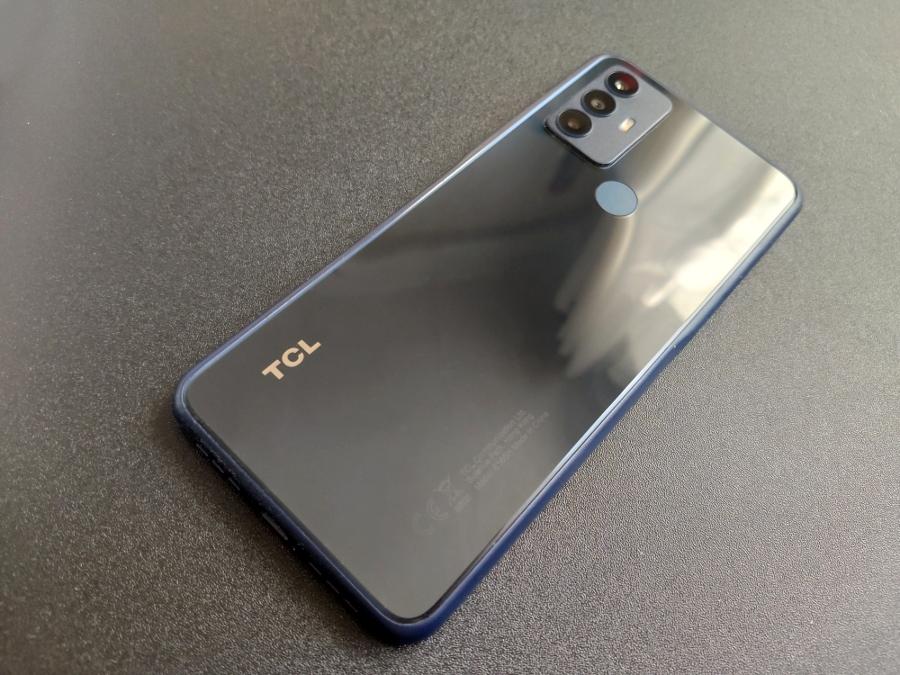 The edges are made of a matte plastic that is pleasant to the touch.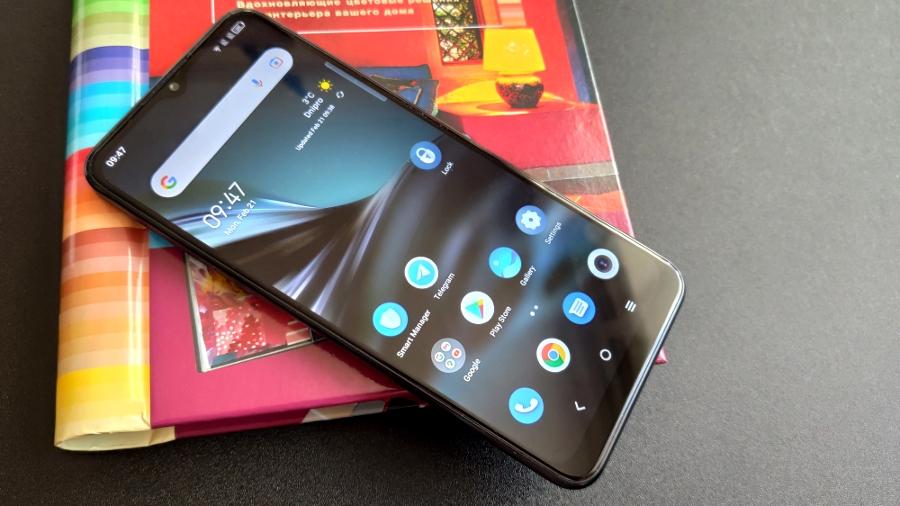 The display takes about 82.5% of the front panel. The bezels are quite large, with a massive chin. The front-facing camera is in a teardrop-shaped notch.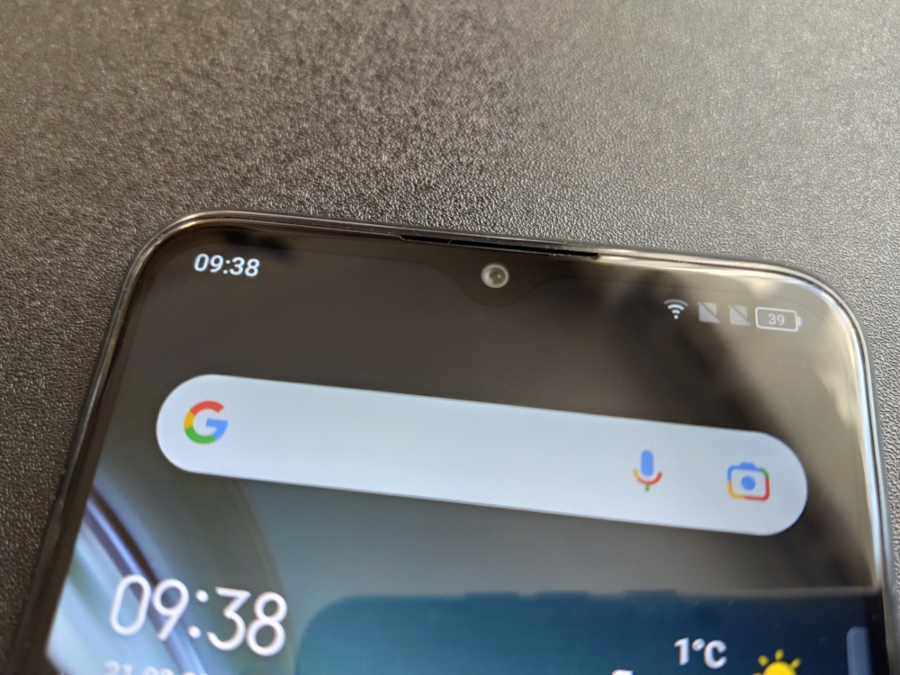 With dimensions of 165.2 ×75.5× 8.9 mm, the smartphone weighs an average 190 g. The TCL 30 SE fits well in the hand, and, thanks to the matte edges, is not prone to slipping.The smartphone and its 6.52″ screen are too big to use it comfortably with one hand. But the main elements, which include the fingerprint scanner and the control buttons, are in the right place and are easy to use.
Layout
The main controls and connectors are in their predictable places. To the left of the screen there is a slot for a memory card and a pair of Nano-SIM (slot for 3 seats), to the right there are volume buttons and a power button.
On the upper edge there's a 3.5 mm audio jack, as well as holes for a microphone. On the opposite side there is a USB Type–C charging slot and a symmetrical perforation for an external speaker. It is worth noting that the speaker is located only to the right of the charging port, and the left grille is for show.
Read also:
Screen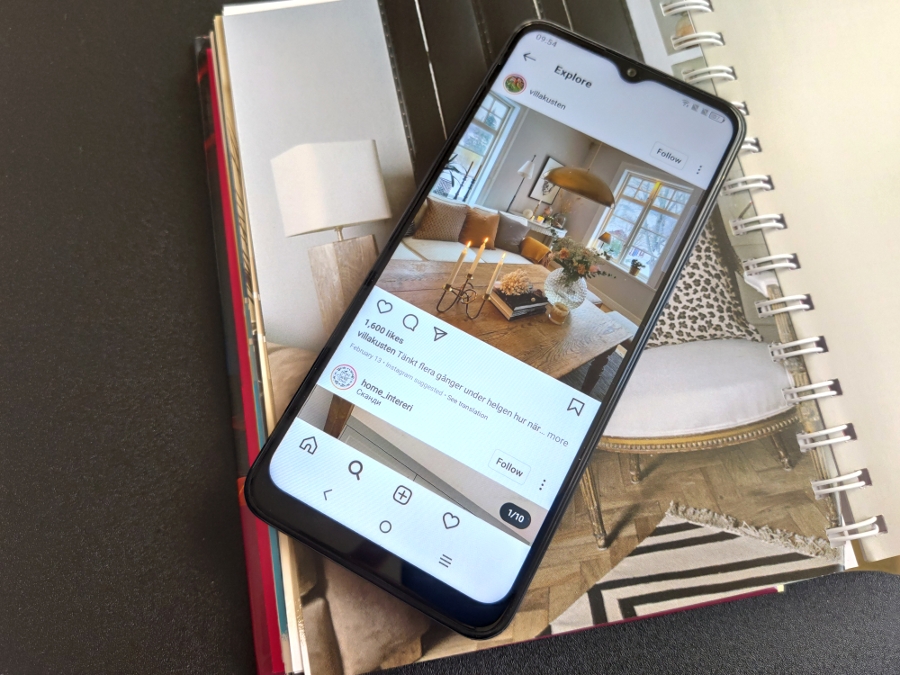 The screen is IPS, 6.52 inches with a resolution of 720×1600, a pixel density of 269 ppi and a brightness of up to 400 nits. The standard refresh rate is 60 Hz. The display is pretty good, it is characterized by natural color reproduction (IPS), decent, albeit not record viewing angles, a good supply of brightness, providing decent readability outdoors on a sunny weather. Low pixel density practically does not affect the image, whether it is text or graphic content. It is noticeable for the most part in small application icons.
In the settings, you can change the color mode – vivid, natural and advanced. In the latter, you can additionally select the saturated color mode or sRGB, as well as set the optimal display temperature. There is a dark theme, automatic brightness adjustment, customizable eye protection mode, lock screen settings and the like. There's a curious NXTVISION utility, in which you can find additional settings. For example, visual optimization of images, videos or games. In fact, it works like a filter that improves the picture by increasing saturation and contrast. In the preview, this feature dramatically enhances the image, but in practice the difference is not so obvious. In addition, there is also a soecial mode, which improves the readability of the screen on a sunny day.
Performance and wireless connections
The TCL 30 SE is powered by an 8-core Helio G25 processor, of which 4 cores are Cortex-A53 with a maximum clock speed of 2.0 GHz and the same number of energy-efficient Cortex-A53 with a frequency of 1.5 GHz. AIDA recognized it as Helio P22, but G25 is what it says in all sources. By the way, in addition to the TCL 30 SE, the Moto E7 Power and the Redmi 9A phones also use the Helio G25. The PowerVR GE8320 handles the graphics. The smartphone has two versions – 4/64 GB and 4/128 GB – and each has microSD support up to 512 GB. Wireless interfaces consist of Wi-Fi (2.4GHz), Bluetooth 5.0, NFC and geolocation services (GPS, A-GPS, GLONASS, Beidou).
Of course, it is worth understanding that a smartphone with such hardware is designed more for everyday use, not games. It copes with everyday tasks with no issues, multitasking does not bother it one bit and a lot of parallel running processes work as they should. But this hardware is not great for most of the games. Let's just say that Asphalt 9 runs on average graphics settings, but even during the loading process, friezes and slowdowns are noticeable. In general, there is enough capacity for simple titles.
Read also:
Software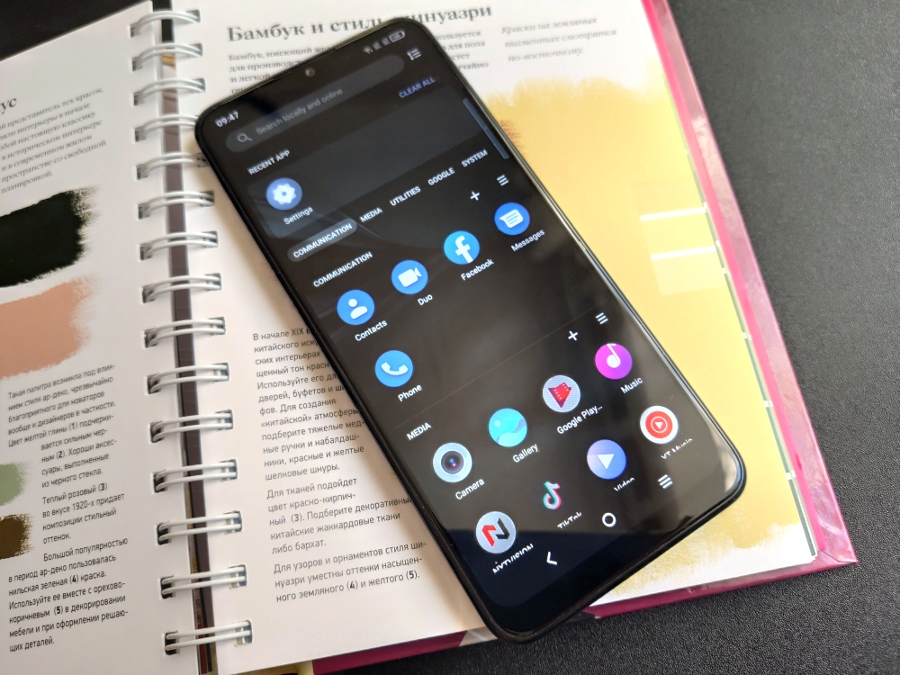 The TCL 30 SE is based on Android 12, and its proprietary TCL UI 4.0 shell. The UI is quite pleasant, although there is nothing unique about it. The main menu with apps, where all available programs are sorted by category, is very easy to use. Another interesting feature is the side panel, similar to the one implemented in the A-series and flagships from Samsung. You can set up quick access to the most frequently used apps and contacts, and as a bonus there is a screen with a virtual ruler.
There is also a utility to speed up games, a function for quick data exchange with surrounding devices, Android Auto and a number of quick gestures (flip to mute, split the screen by holding three fingers from bottom to top, etc.). The shutdown menu can be called by long pressing the power button. In addition to the standard actions (reboot, turn off, airplane mode), there is quick access to Google Pay, and you can also add several application shortcuts.
Unlocking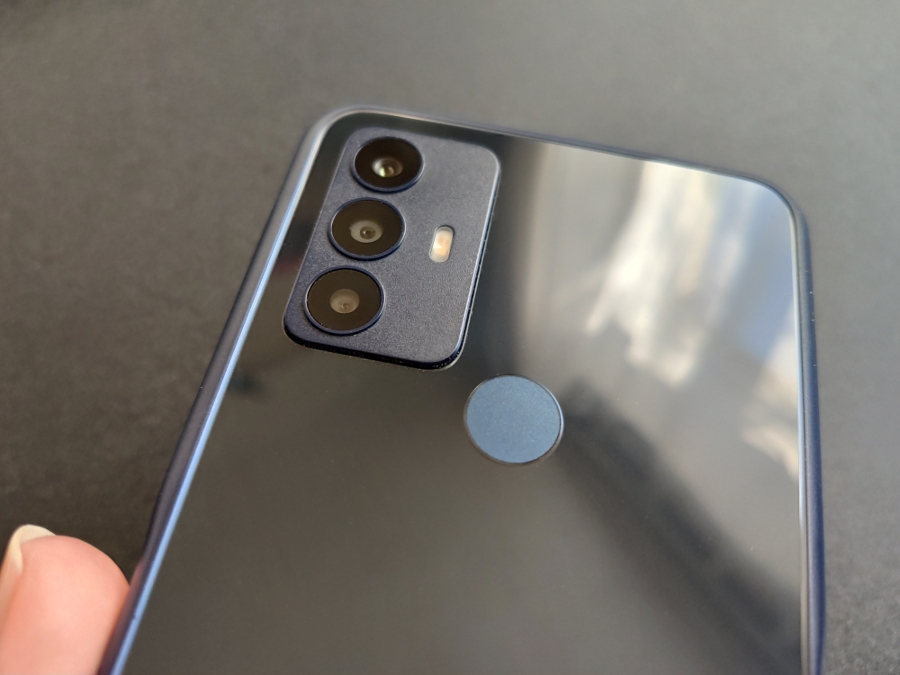 The TCL 30 SE has a face scanner and a fingerprint scanner. The fingerprint sensor here is capacitive and it is located on the back side under the camera. Like all scanners of this type, it works confidently, quickly and with a minimum number of errors. The face scanner is also nimble and works in pitch darkness, albeit not always.
Read also:
Sound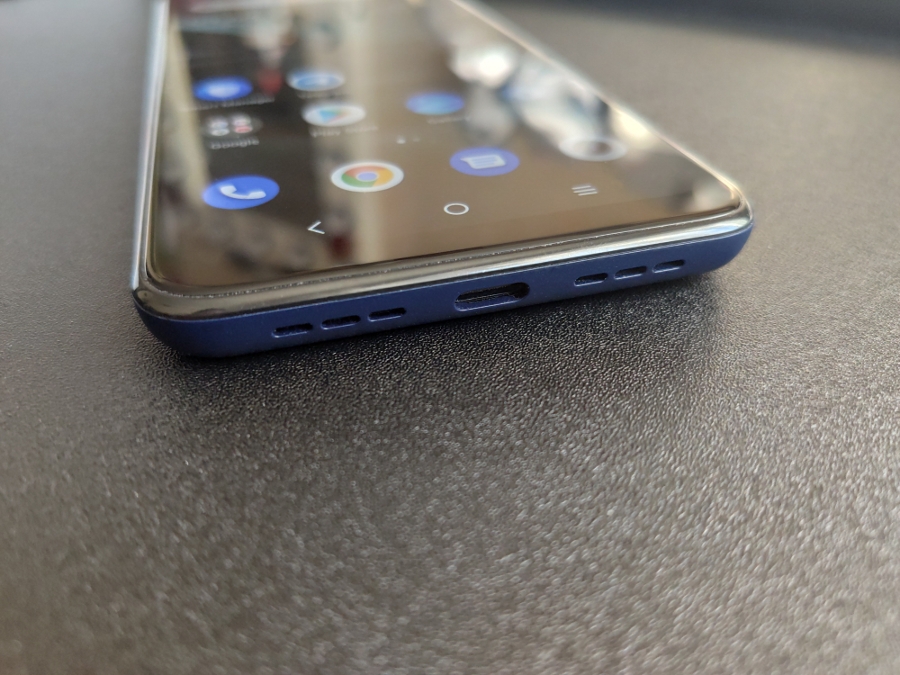 There is only one speaker here, so the sound is monoaural. The speaker is quite loud, but it's not good enough for movies or music. Better use headphones.
Cameras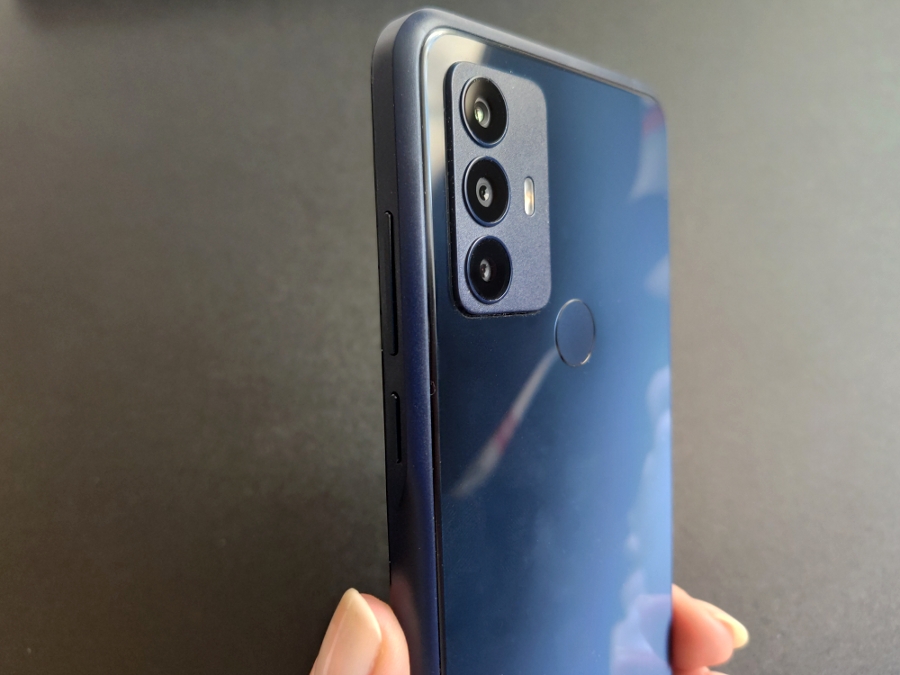 The main TCL 30 SE camera consists of three sensors: a 50 MP Samsung sensor with an aperture of f/1.85, a 2-megapixel macro camera with a modest 2 MP (f/2.4, 1/5″) and a depth sensor with the same parameters (2 MP (f/2.4, 1/5″). The main module allows you to shoot video only in FullHD with 30 fps. However, no 60 fps at all. The same applies to the front-facing camera (only FullHD 30 fps).
Shooting modes are represented by standard Video and Hyperlapse for videos, and automatic mode, Portrait, Panorama, Macro and Pro for still images. There is also an ultra-high resolution mode, for 50 MP pictures (usually we get 13 MP), but the difference between full and "trimmed" photos is so insignificant that I don't really see the point in 50-megapixel mode.
What about the quality of the shooting? The main sensor shoots quite well for its segment, and even well with sufficient lighting. It produces decent detail and soft natural color reproduction. In low light, noise, graininess appear and details are lost. But at night, the result in automatic mode is mediocre – the image is blurred, there is no clarity and depth. Here the night mode comes to the rescue, which in this case is not an independent mode, but one of the types of scenes recognized by AI. Albeit programmatically, AI enhances the image well at night, deepening the contrast and showing more details. The result is not perfect, but for a budget smartphone it is quite good.
A few examples to compare the so-called "night mode" and the standard mode when shooting at night. The night mode, according to tradition, is on the right.
And here are some more photos on the main sensor.
The second conditionally independent unit is the macromodule. It is only 2 MP, so you should not expect miracles. And I strongly doubt that someone will use it often since its possibilities are very limited. It kinda works.
MACRO PHOTOS IN FULL RESOLUTION
A selfie camera here is 8 MP with an aperture of f/2.0. Not amazing, but for the price, it's acceptable quality. The possibilities for video, as mentioned above, are limited to FullHD with 30 fps. There are filters and, of course, beatification. The latter is divided into two categories – skin texture and image highlighting. Each of them has its own slider and during the adjustment of any parameter there is a rather noticeable vibration response. This is the first time I've encountered this.
Read also:
Battery life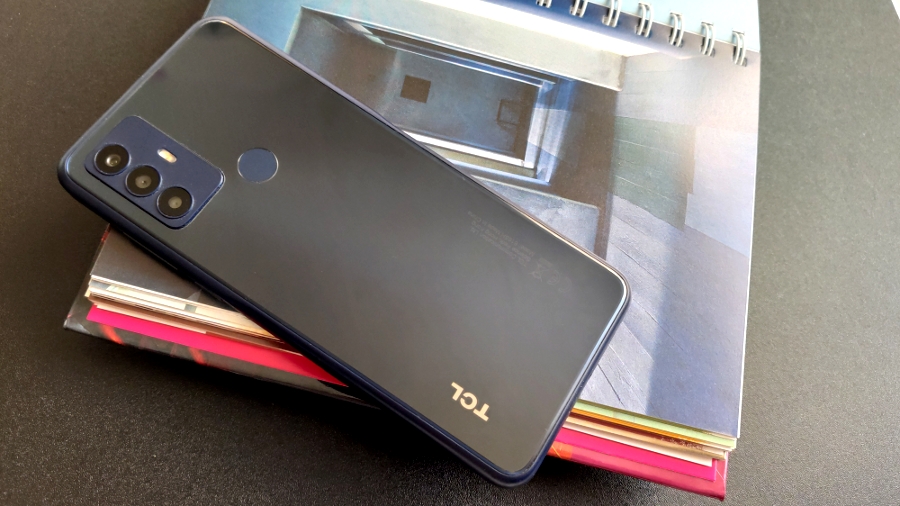 The battery here is at 5000 mAh and there is evidence that SuperCharge (15 watts) is supported. But a standard 10-watt charger is included. Maybe that's because we have a test version on the review (although the marking does not indicate this), and the retail version will have a more powerful charging unit.
Alas, I did not have a suitable 15-watt charger at hand, so we will judge the charging speed according to the charger we've been given. And, as you know, 5000 mAh and 10 Watts is not a fast combo. From 30% to 100% takes more than 2 hours, and a full charge is worth laying up to 3 hours. Of course, with this capacity, the smartphone can survive for a day with no issues.
Verdict
By itself, the TCL 30 SE is a budget solution for an undemanding user who needs, on the one hand, a simple device, and, on the other, modern features. The new phone has a nice screen with good viewing angles and brightness, a neat discreet design, sufficient performance for everyday tasks, a pleasant UI, a decent main camera module, NFC and decent battery life. But, a 10-watt charger in the box and the charging speed itself leave much to be desired. I would also like to change the macro sensor to at least an 8-megapixel wide sensor. The resolution could be better as well, but you have to compromise something in this price range.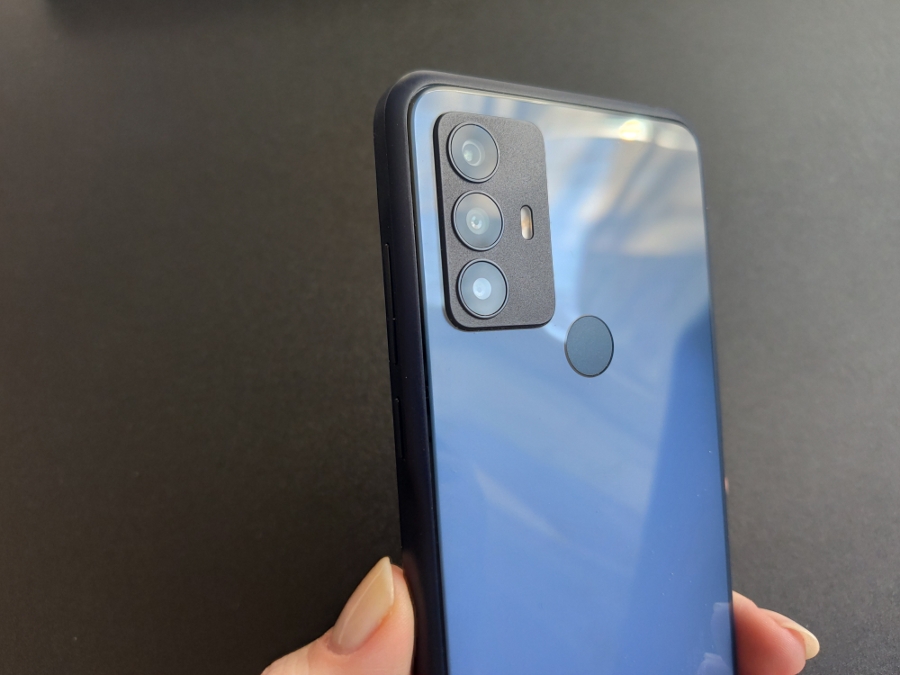 The catch is that TCL 30 SE has plenty of competitors in this segment. Even within TCL itself. For example, the ambitious TCL 10 Pro offers a more up-to-date design, an AMOLED display with Full HD resolution and an in-screen scanner, more advanced cameras, including a wide-angle sensor and an adequate 5-megapixel macro. Yes, the battery life is worse, but not by much (and it charges almost twice as fast) and Android version is 11, not 12.
Let's move on. The Motorola Moto G31 also costs about $220, but the OLED screen and cameras here are more interesting. However, it exists only in the 4/64 GB modification. But, for example, the realme C25Y, having similar characteristics, costs $170 (4/64 GB) or $185 (4/128 GB). Yes, it has no NFC, and has a speaker on the back, but still. In general, the competition in this segment is quite dense.
As a result, we have the following picture. If the currently known prices for the TCL 30 SE remain the same, it will probably fail on the market. The chances will increase significantly if the price tag drops a little – after all, for TCL, the release of smartphones under its own brand is a new direction and at this stage the right cost can really motivate potential buyers.
Read also:
Where to buy