At the end of 2021 it was time again to update the budget line, so right in December, Motorola introduced a whole scattering of new smartphones: Moto G71, Moto G51, Moto G41, and the Moto G31. The models are about to go on sale, but we have already tested one of them — the most inexpensive Motorola Moto G31.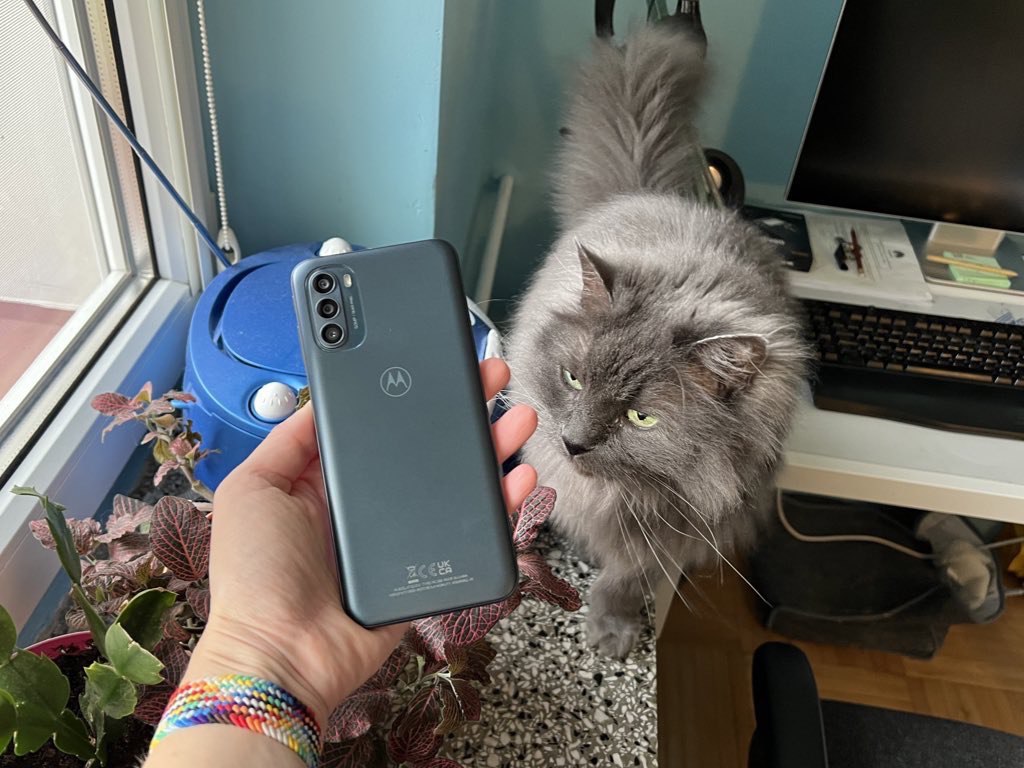 The G31 replaced the G30 model, which we reviewed in the summer. The device received a new processor (now MTK, not Qualcomm) and an OLED display instead of IPS, as well as a higher resolution. And the modification with 6 GB of RAM for some reason disappeared altogether. But the overall philosophy is the same — it's a decent budget device for about $220.
Read also: Motorola Moto G30 review – Impressive Budget Smartphone with 90Hz Display
Full specifications of the Motorola Moto G31
Screen: OLED, 6.4 inches, 20:9, resolution 1800×2400, 60 Hz
Processor: MediaTek Helio G85 (12 nm, 2 cores 2.0 GHz A75 + 6 cores 1.8 GHz A55)
Video Accelerator: Mali-G52 MC2
Memory: 4 GB RAM, 64 GB ROM, combined microSD card slot — either a second SIM or a memory card
Battery: 5000 mAh
Main Camera: 50 MP, 0.64µm, f/1.8, Quad Pixel technology + 8 MP wide angle lens 1.12µm, f/2.2, 118 + 2 MP Macro lens f/2.4
Front-facing camera: 13 MP, 1.12 µm, f/2.2
Data Transmission: LTE, NFC, Wi-Fi 802.11 a/b/g/n/ac 2.4+5 GHz, Bluetooth 5.0, GPS (A-GPS), GLONASS, Galileo, USB Type-C, FM Radio
OS: Android 11
Dimensions and weight: 161.9×73.9×8.6 mm, 181 g
Price: from $220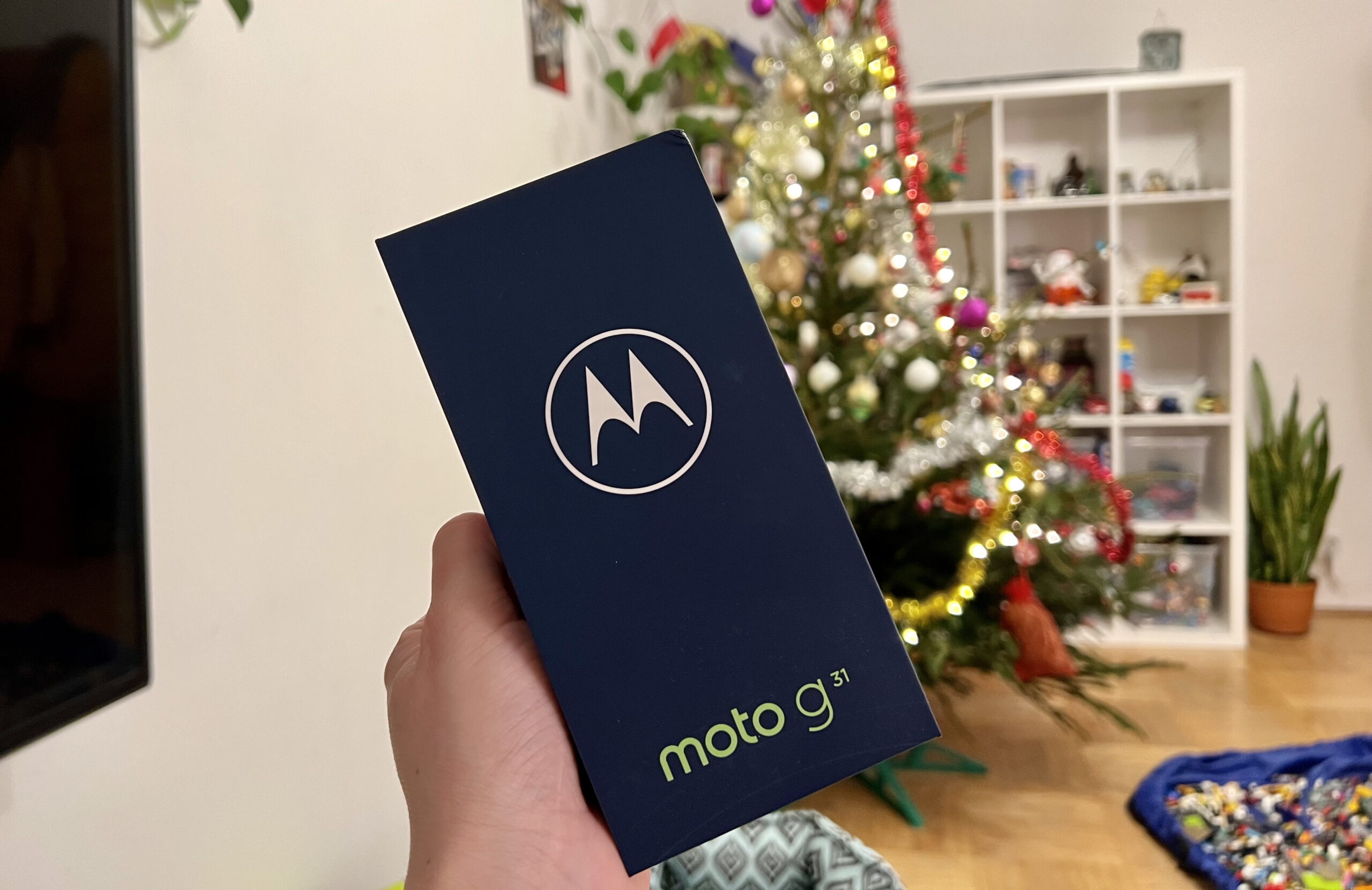 What's in the box
In the box you will find the phone itself, a USB-C cable, a 10-watt memory, a SIM eject tool.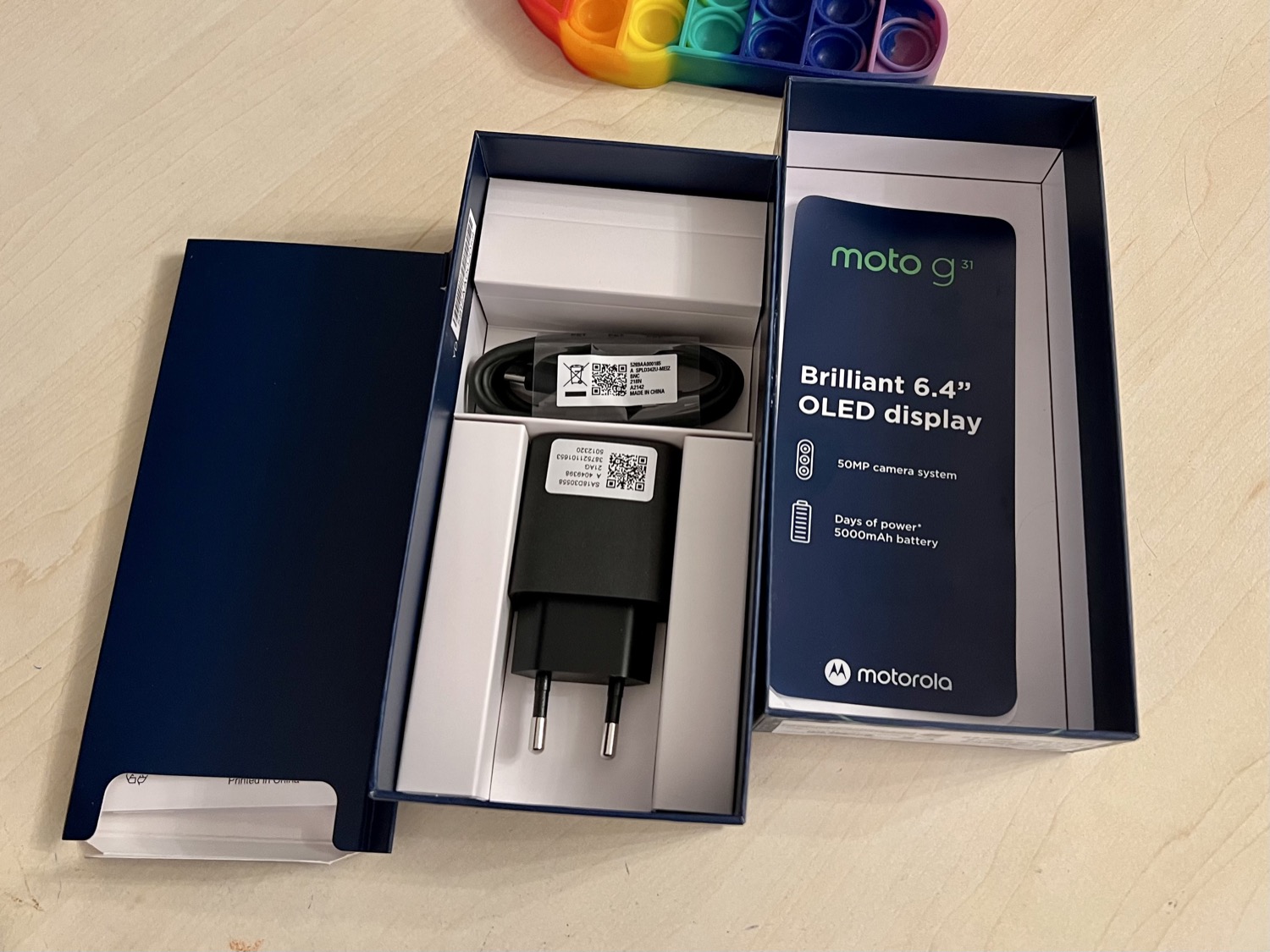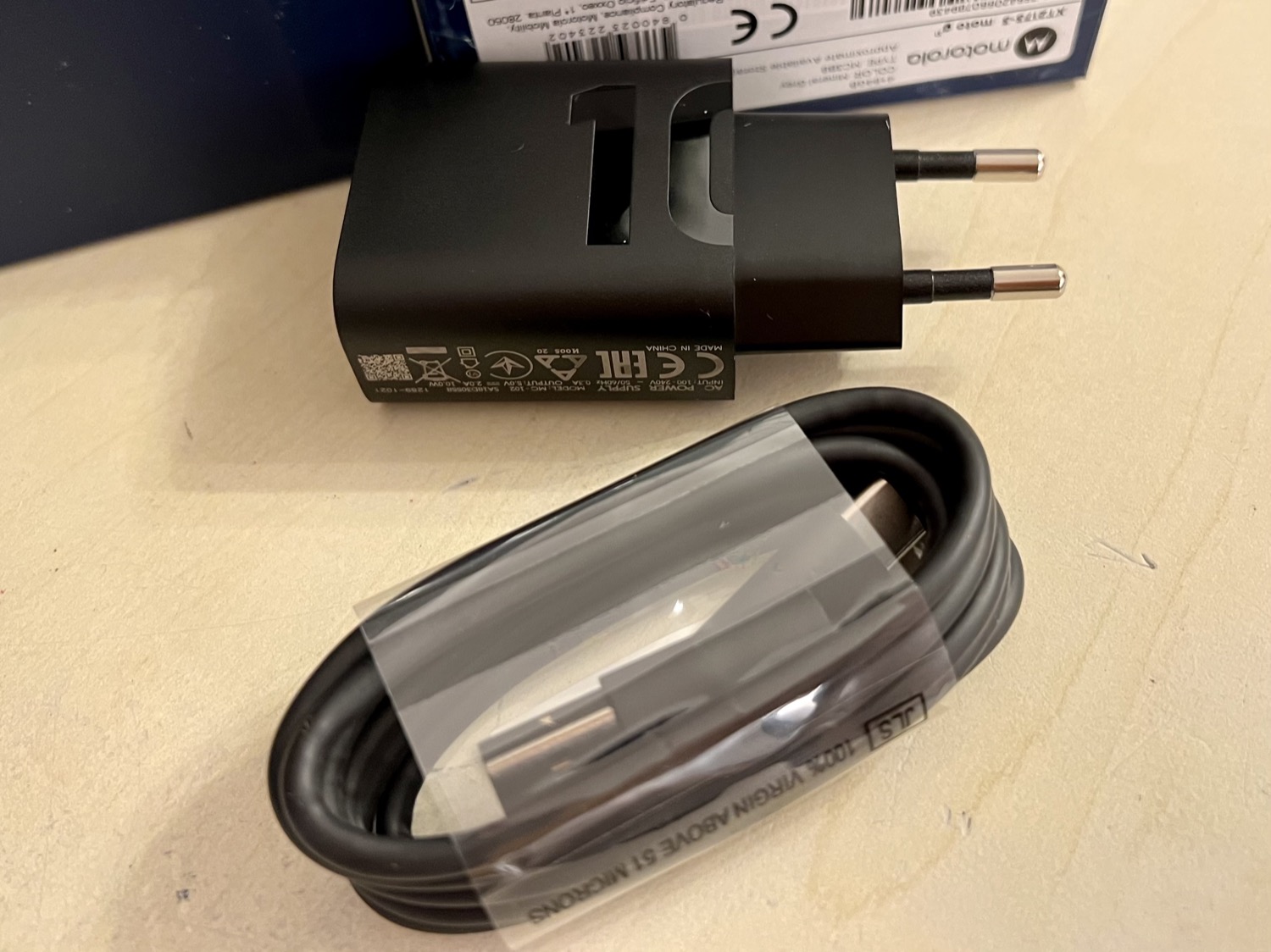 There is also a case included. However, it's pretty basic, with minimal buffers above the screen.
Read also: Motorola Moto G60 review: Budget phone with 6000 mAh and 120 Hz!
Design
This is a new generation of the G series, and the design is somewhat different. In particular, the camera module is designed differently. But nothing special and attention-grabbing: we have a typical budget phone in front of us.
The colors are also not particularly interesting (G30, for example, was pink) with Mineral Grey and Baby Blue models.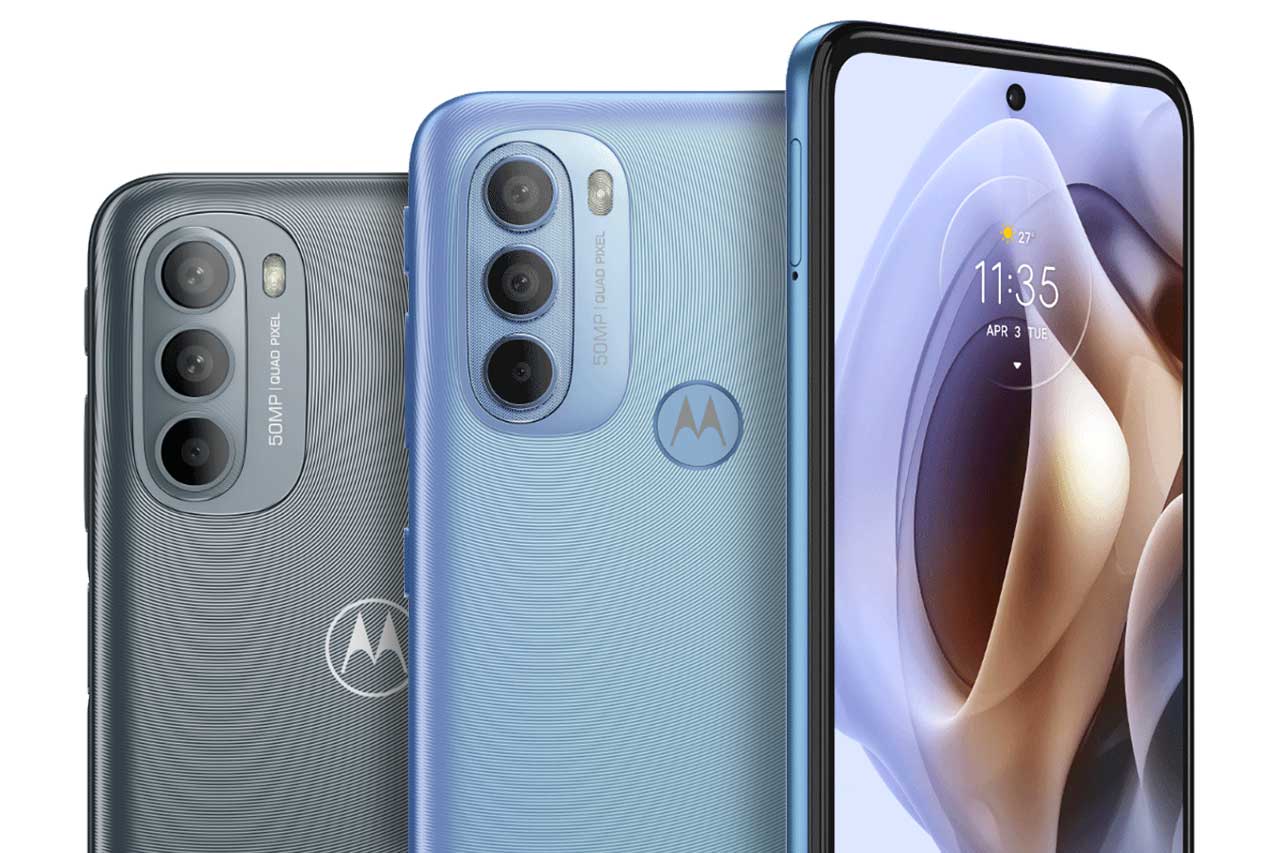 We tested the gray version. It has a neat shimmer.
The body of the case and the back panel are plastic. Motorola is still experimenting in that sense. The G10 model, for example, had a panel in the form of a wave. The G60s had small grooves. The G31 repeats this design, only the furrows are located differently, they now diverge in a wave from the rounded block of cameras. It looks interesting.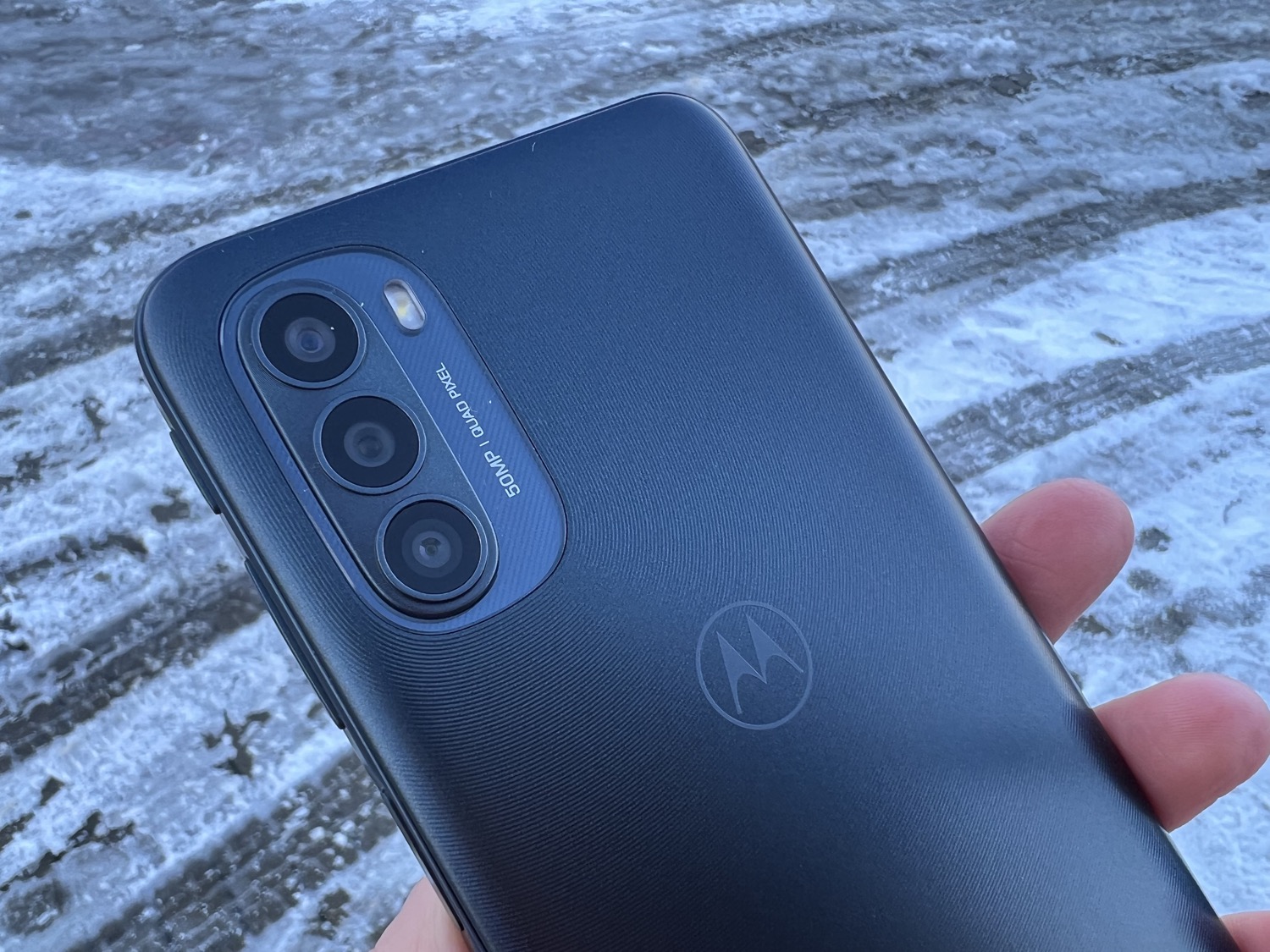 This back panel almost does not collect fingerprints. Scratches on it are not visible either.
The camera unit with flash is located on the protruding module. It sticks out quite a bit. The "substrate" of the camera block is smooth and transparent, under it we see the same texture.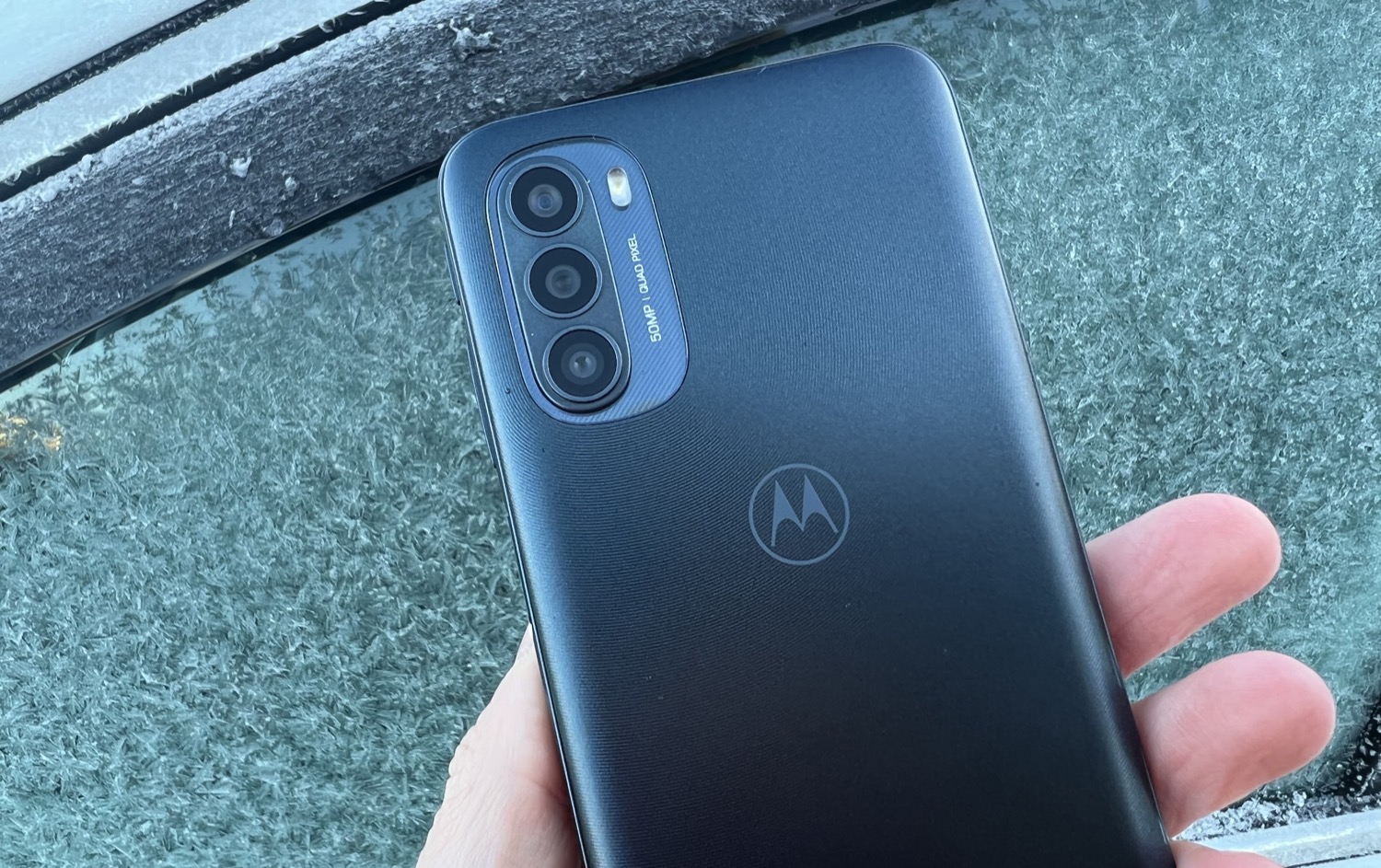 The screen bezel is relatively small. The upper and lower ones are wider than the side ones, but they look harmonious, especially for a budget phone.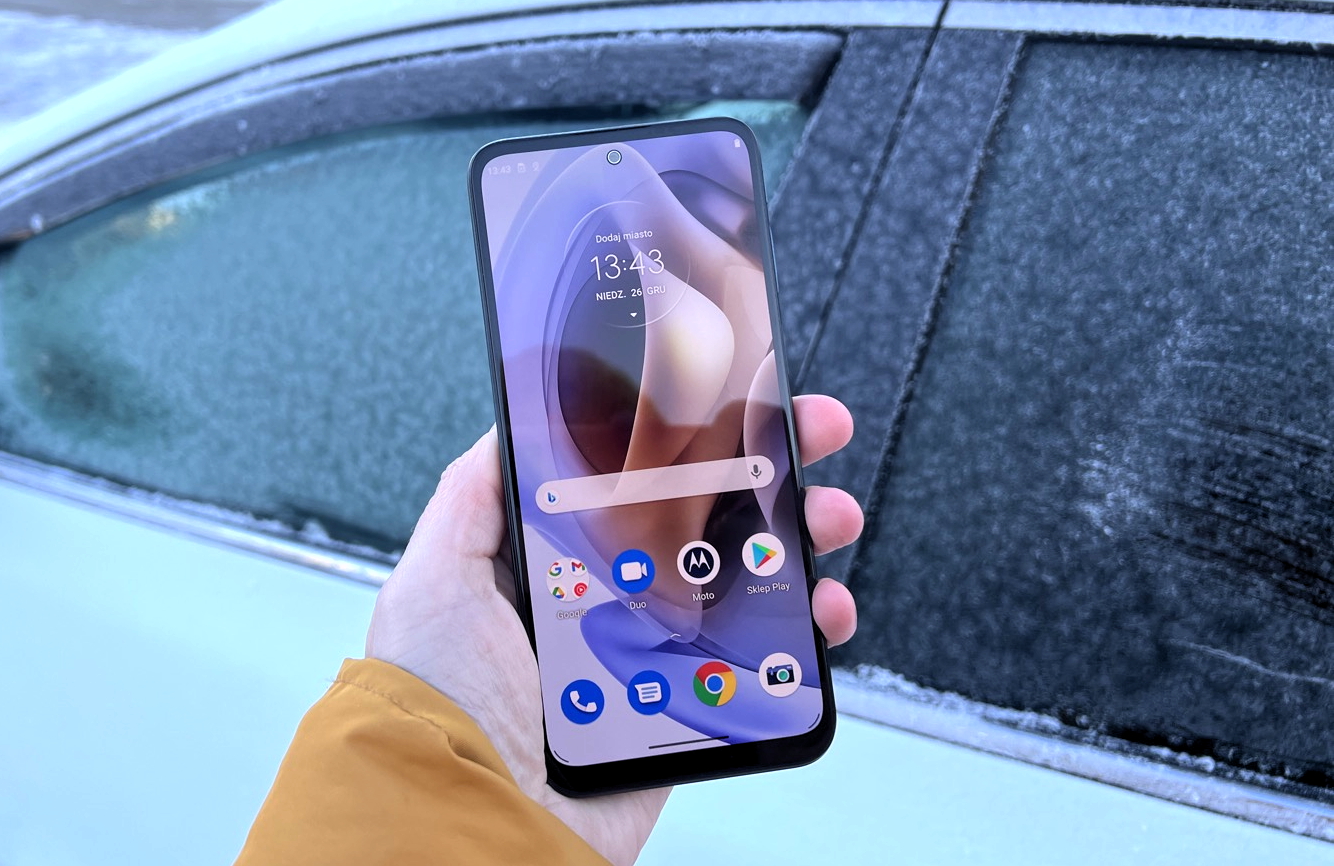 The front-facing camera is embedded in the screen and has a silver rim, which attracts attention.
On the left side of the smartphone there is only a slot for SIM cards and memory cards (either two SIM cards or one SIM + memory card).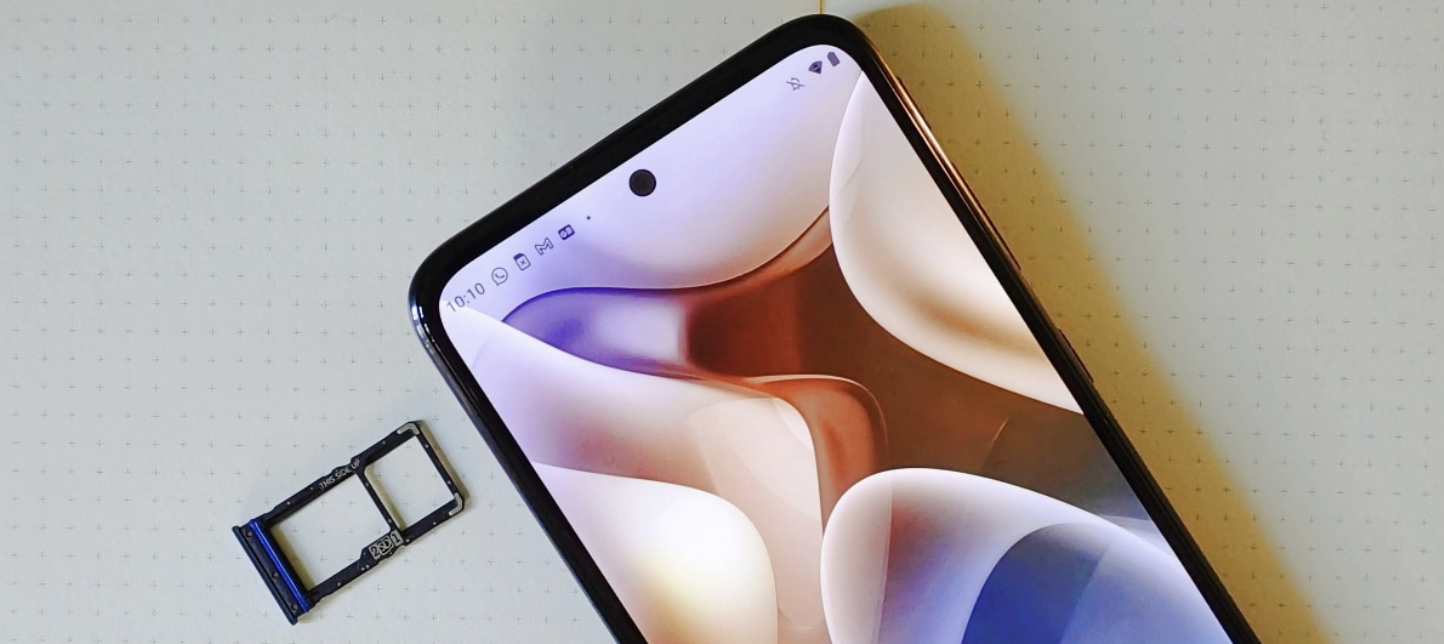 On the right edge, at the very top, there is a Google Assistant button, below there is a dual volume control key (located too high, you have to change the grip), and then an on/lock button, slightly recessed into the case and containing a fingerprint sensor.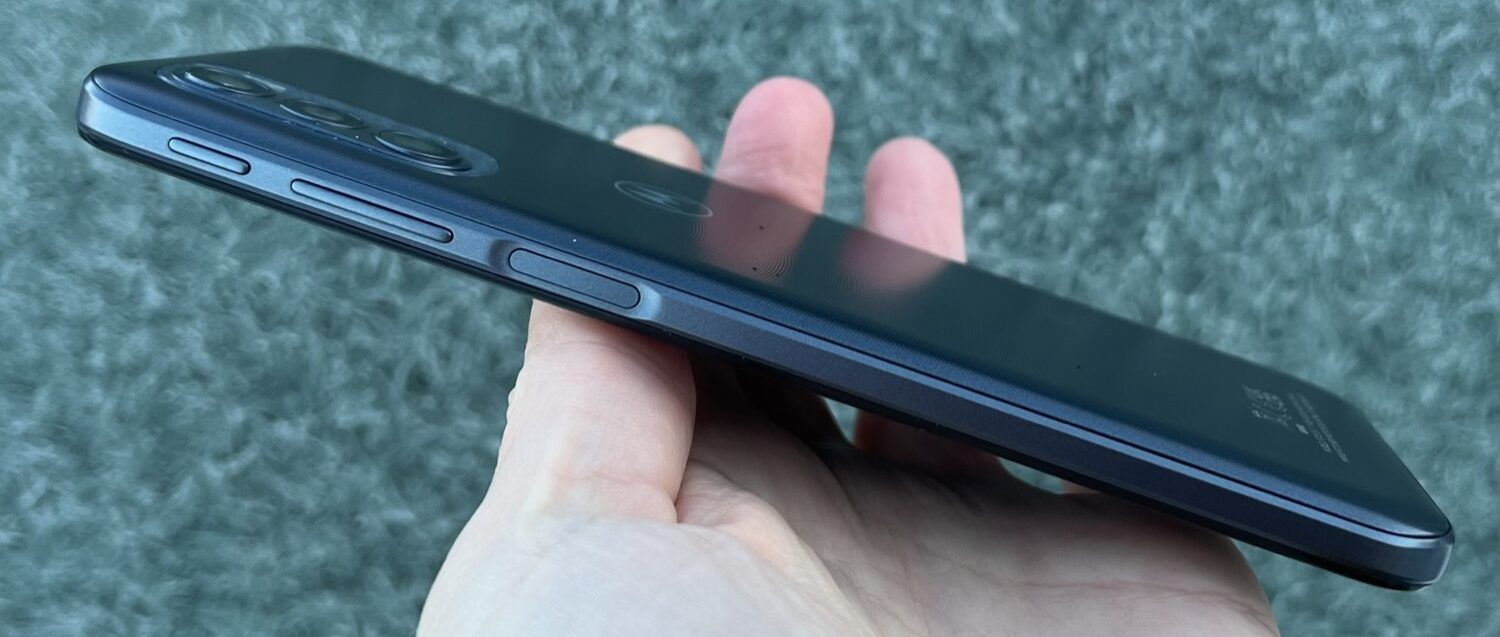 Of course, an OLED display can house an in-screen scanner, but there a conventional sensor works too. In cheap models, it even works better than in-screen ones. When you take the phone in your hands, your thumb falls exactly on the fingerprint sensor, unlocking happens quickly and without errors.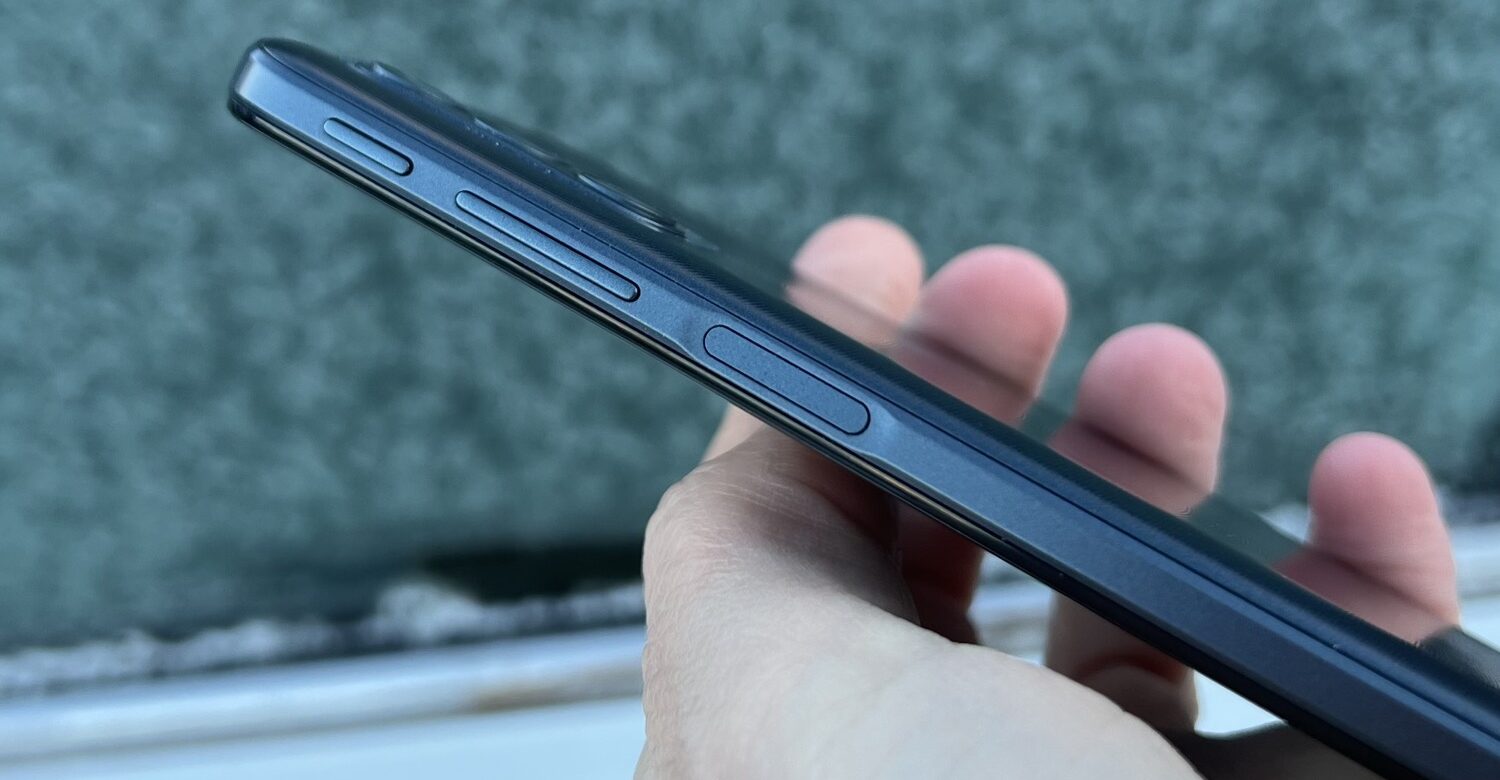 There is also a trick – double-tapping the lock key (not pressing, but only touching) opens a customizable menu with icons for quick launching.
On the upper edge of the smartphone there is a microphone that performs the function of a noise canceller, as well as a 3.5 mm headphone output (thankfully not all smartphone manufacturers dropped it). On the bottom there is another microphone, speaker, and Type-C charging connector.
The phone is hardly compact which is okay for now, when most of the phones are big.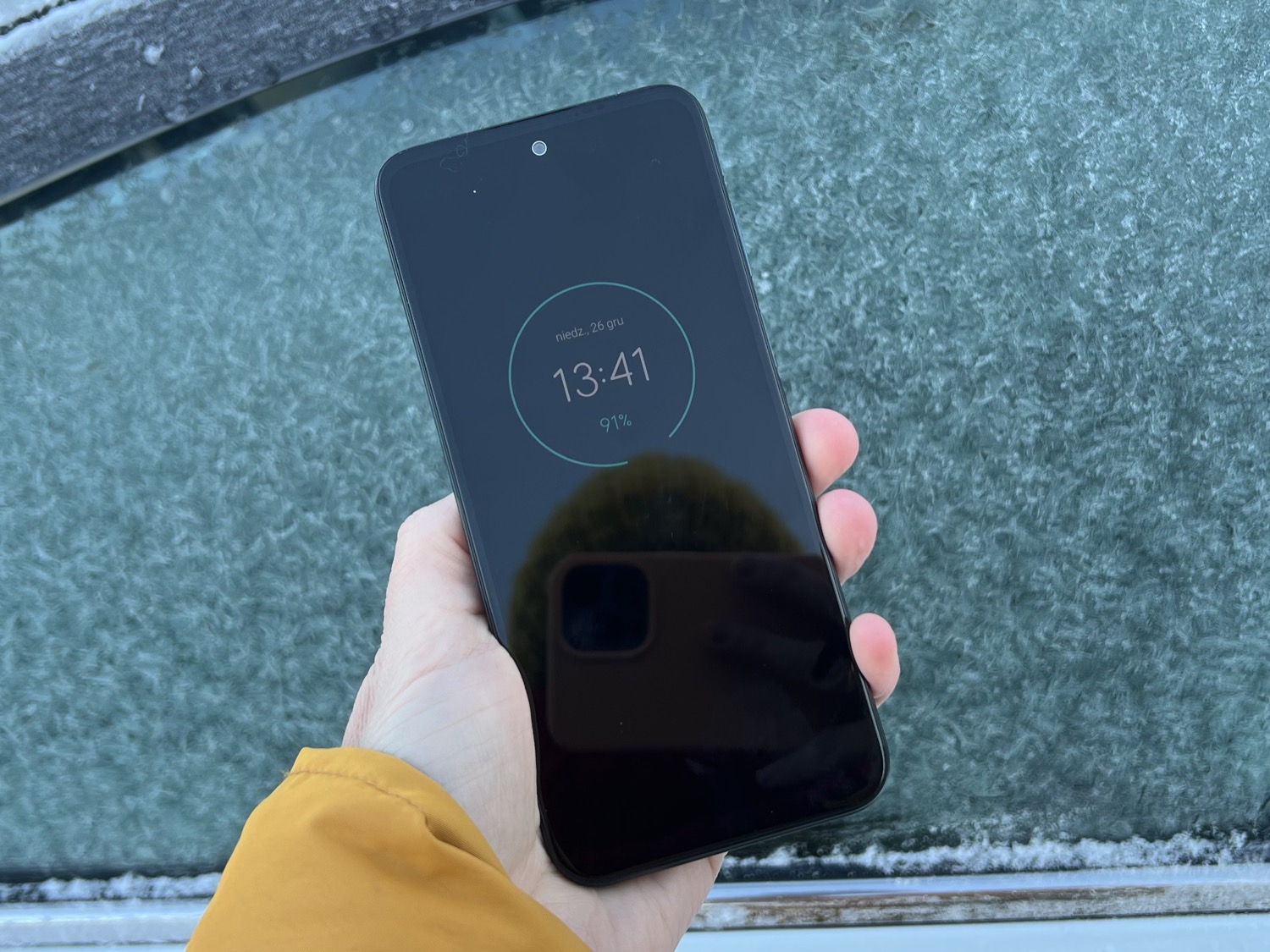 Moto G31 fits comfortably in the palm of your hand, easily controlled with one hand. This is helped by a thin body, a long, but at the same time narrow display. I will add that in comparison with the G30, the new G31 is a few millimeters thinner and 20 grams lighter.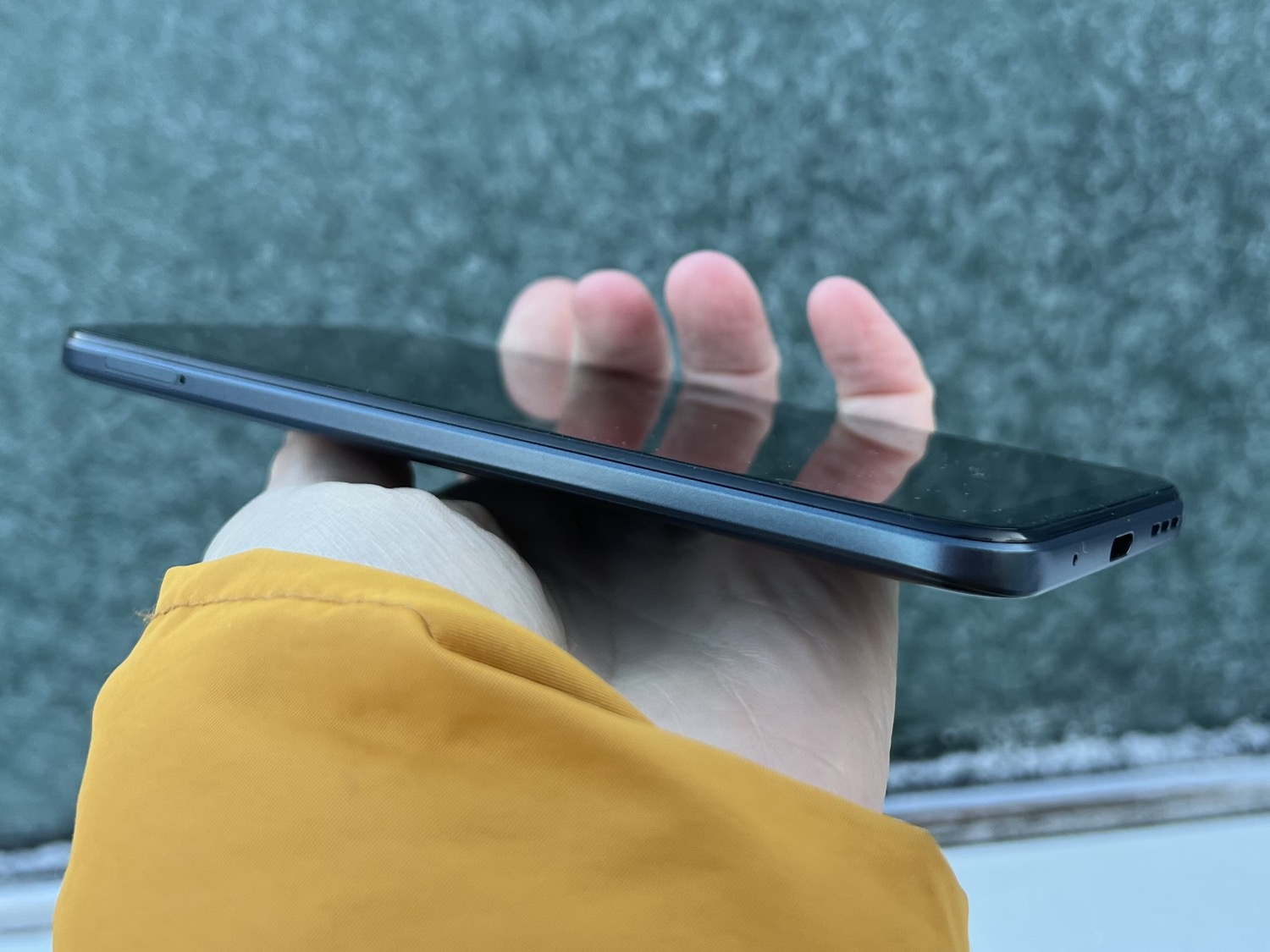 The build quality is perfect. The Moto G31 case, according to the manufacturer, has a hydrophobic shell. Of course, this does not mean that it can be dropped into the water, however, the G30 and the G-series models of last year met the IP52 standard and provide basic protection against water splashes and dust.
Read also: Moto Edge 20 Pro review – Not so Pro
Screen
Previously, the Moto G series from Motorola used exclusively IPS displays, even in the main smartphone of the 2021 line, like the Moto G100. However, now the company has decided to bet on OLED. Such screens are installed in the new G71, G41, G31. In general, there is nothing bad about good IPS, but the OLED display definitely offers a richer color reproduction, better contrast, high black depth, and better brightness. The picture is very nice and well calibrated. The resolution is FHD+, which is good enough. In our opinion, the Moto G31 has some of the best displays in the budget segment right now.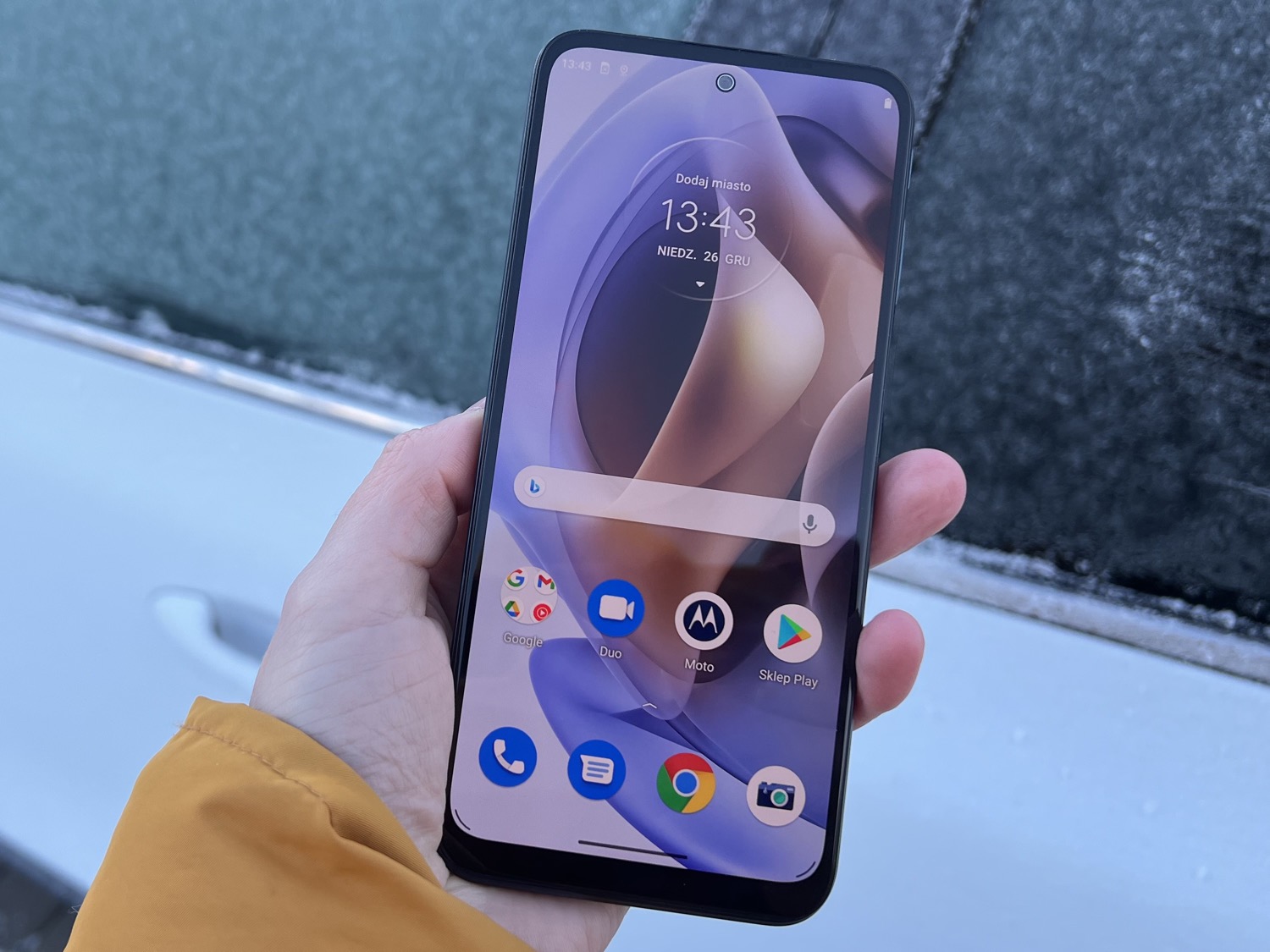 But there are issues two, like no increased frequency support, only standard 60 Hz.
Automatic brightness change works without misfires.
It is difficult to check this in winter, but, apparently, the maximum brightness is high and the Moto G31 display remains legible in the sun.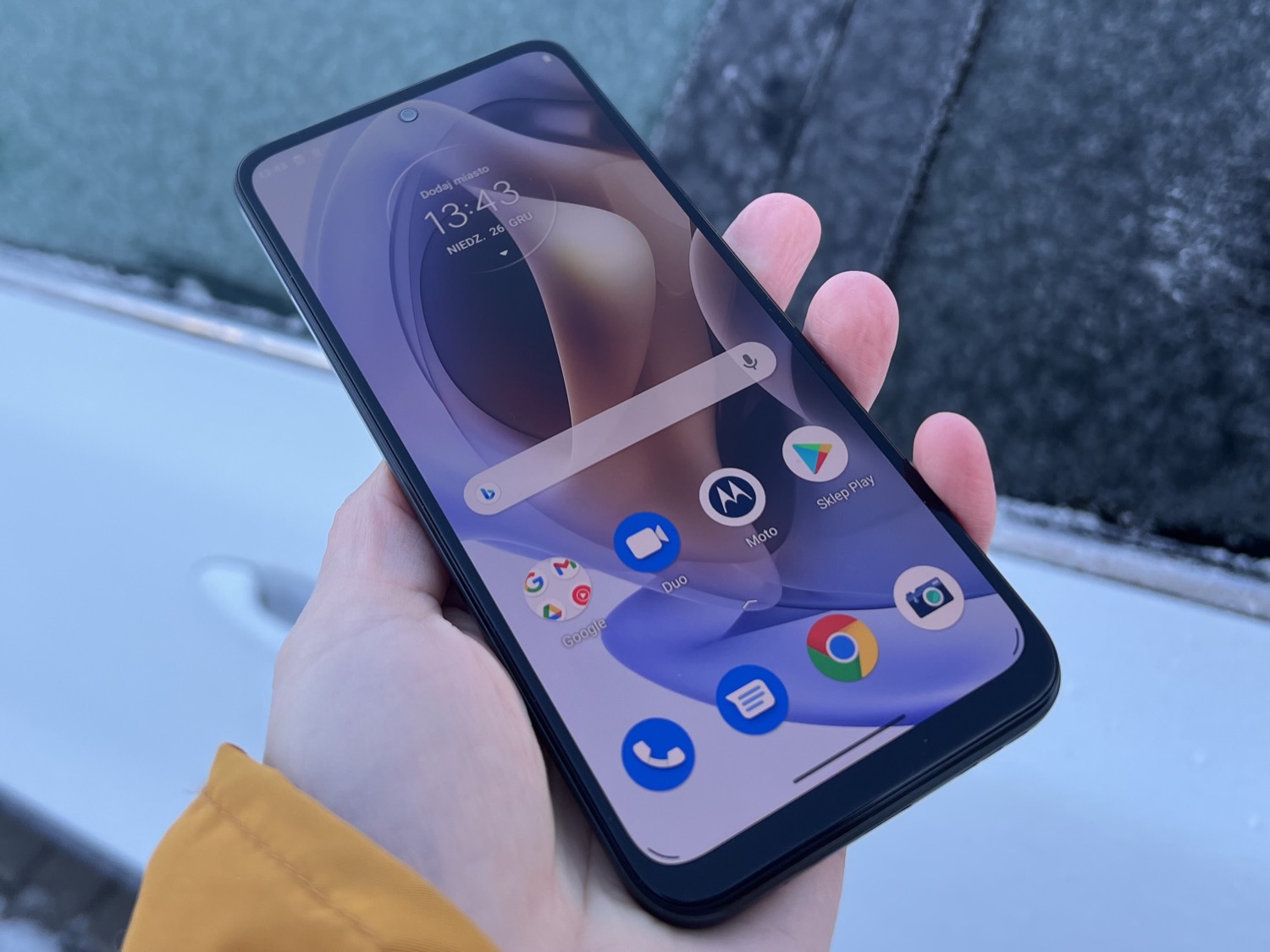 Read also: Motorola Moto G60s review — Big budget phone with super fast charging
Performance
The smartphone is powered by a MediaTek Helio G85 processor. It's not the newest, from the beginning of 2020. Of course, it's a budget phone. However, it copes well with everyday tasks, apps are launched and switched relatively quickly. Slowdowns may appear if there's a lot of tabs open along with a game in the background. Still, the Moto G31 has only 4 GB of RAM which is not serious.
However, the system actively kills unused applications in the background so that performance remains adequate. And in general, Android is usually well adapted to the hardware. For example, I tested budget OPPO and vivo, and with hardware similar to Moto models, they were slower.
You can play games, but not the heaviest ones. Demanding games like Call of Duty, PUBG, Asphalt 9, NFS only work on medium settings.
There's only 64 GB of storage, which isn't a lot. There is a 128 GB version, but you won't find it on the European market. About 42 GB of free space is available to the user. It is possible to use a microSD memory card with a capacity of up to 1 TB.
In Geekbench the device gains about 1300 points, in AnTuTu it got about 200 thousand points, in 3DMark Wild Life — 715 points.
Read also: Motorola Moto G60 review: Budget phone with 6000 mAh and 120 Hz!
Cameras
Motorola positions the Moto G31 as an inexpensive device with good cameras. I can say that the cameras are adequate. Of course, taking into account the price.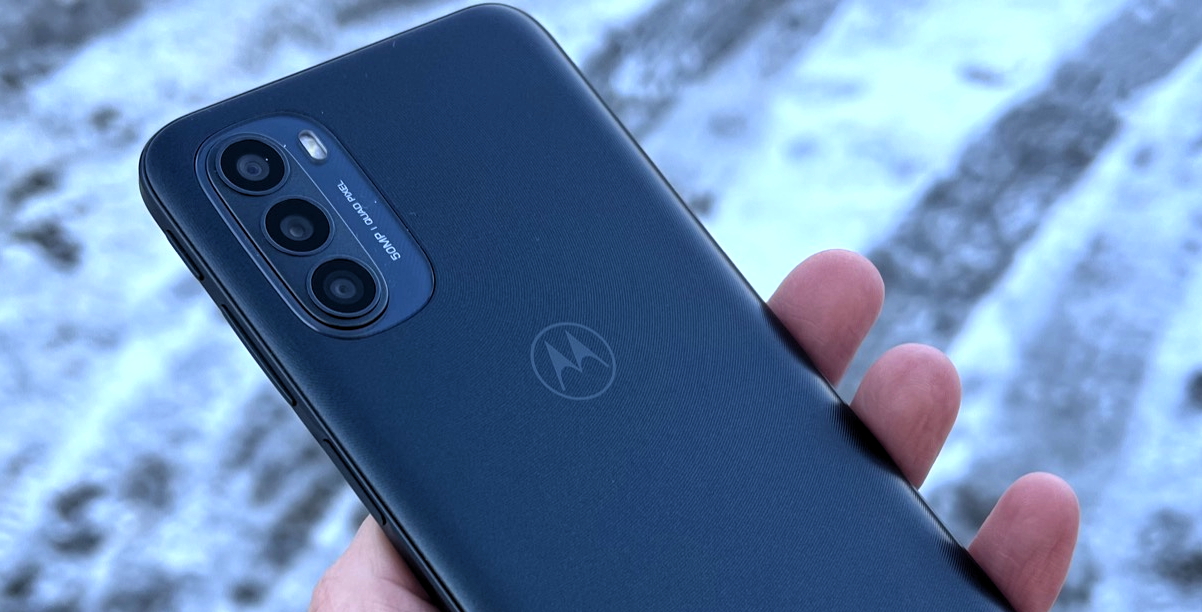 The camera unit consists of three lenses: the main 50 MP module, an 8 MP ultra-wide angle and a 2 MP macro camera.
In good light, the pictures from the main module are excellent. I was lucky to get some sun in the winter, and on a clear day the photos look beautiful.
If it's gray and cloudy outside, then the detail drops. Indoors the quality drops as well, but they photos still look fine enough for social networks.
Night photos are not bad for a phone for 200+ bucks. The less there is light, the less there's detail.
As with all smartphones, the Moto G31 has a night mode. In other Moto G, it usually makes photos unnaturally light. There is no such problem here. If there is enough light, then the cameras will capture it in normal mode, with no strong difference with night mode. If there is not enough light, then the night mode will highlight the photo, adding noise and graininess to the mix. Here are examples, night mode on the right.
Night mode is also useful if there are bright elements glowing in the dark, for example, holiday decorations or signs. With it, these elements become much clearer. Examples below, night mode on the right.
The wide angle lens is alright, even though the color rendering is worse and blurring appears. Examples of photos, wide angle on the right:
There is still a macro lens. In cheap smartphones such cameras are mostly for show. This is true in the case of the Moto G31, too: I didn't get any clear photos, however I tried. All photos are available at the link.
The front-facing camera is ok, taking into account the cost. With good lighting, you can get selfies good enough for Instagram. But the beautifier works too aggressively, making it look like I was wearing lipstick.
The smartphone records video in 1080p at 30 fps. For a budget phone for $200 it's fine.  The videos are dim, not very stable, although the digital stabilization option is enabled in the settings. At least you get fast autofocus. You can watch an example video from the Moto G31 at this link.
Motorola offers a slow-motion mode, "sports color" (highlighting one specific color on the recording), slow-motion video, as well as dual recording, which allows you to simultaneously record video from the front and rear cameras.
The camera UI is standard for Moto. In addition to standard shooting modes, there is also "selective color" (leaves one color on the photo), panorama, "live" photos, real-time filters, PRO mode with RAW support.
Connectivity
You get a standard set: WiFi 802.11 a/b/g/n/ac 2.4+5 GHz, Bluetooth 5.0, NFC for payment in stores, GPS, GLONASS, Galileo. 5G is not available, since the chipset does not support it. There is a magnetic sensor.
Sound
The main speaker is monophonic, loud, good enough even at the maximum volume. In headphones, the sound is decent (tested with Huawei buds). I am pleased with the presence of a 3.5 mm jack, which allows you to use wired headphones.
The other Moto G series I tested had a built-in equalizer. The G31 does not have it, but there is a Dolby Atmos mode with presets. However, they are only available if headphones (wired or wireless) are connected to the phone.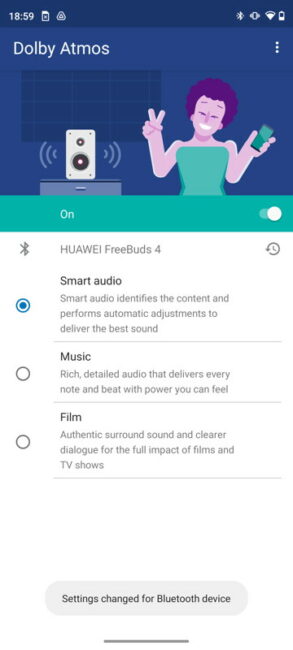 Read also: Moto Edge 20 review: Why do we need flagships anyway?
Software
The Moto G31 is powered by the latest Android 11 out of the box. There will be an update to the current Android 12, but we still don't know why.
The traditional advantage of Moto is a nimble, clean, perfectly optimized Android without any shells. Only its own launcher is used, but it does not differ significantly from a regular Android.
A cool feature is notifications on the lock screen with the ability to quickly preview them with a touch (Peek Display).
And, of course, there's Moto Functions, configurable in a separate application. We are talking about gesture control, themes and other features.
Out of curiosity— it is possible to launch apps in a separate window during the game. But their choice is very limited. There is also an option to split the display into two parts, but not all apps support it.
Read also: Motorola Moto G50 review: Extremely Affordable 5G Smartphone
Battery life
The battery has a capacity of 5,000 mAh, and for the Moto G-series this is the gold standard. During the tests, I always had enough of the charge until late in the evening. And not just enough, but 30 percent of the charge remained. And I am an active user and almost never let the smartphone out of my hands. On average, the phone offers about 8 hours of active screen at a brightness above average. I think that a less active user than me can use the Moto G31 for a couple of days.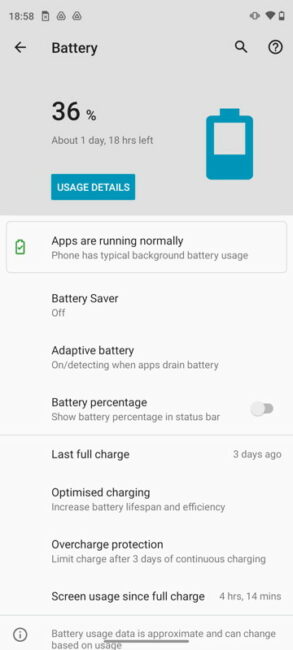 And now about the unpleasant stuff: judging by the characteristics, the smartphone supports 20 watt charging (which is not that fast by current standards), and for some reason in the box we only get a 10-watt charger. As a result, the phone charges for more than two hours.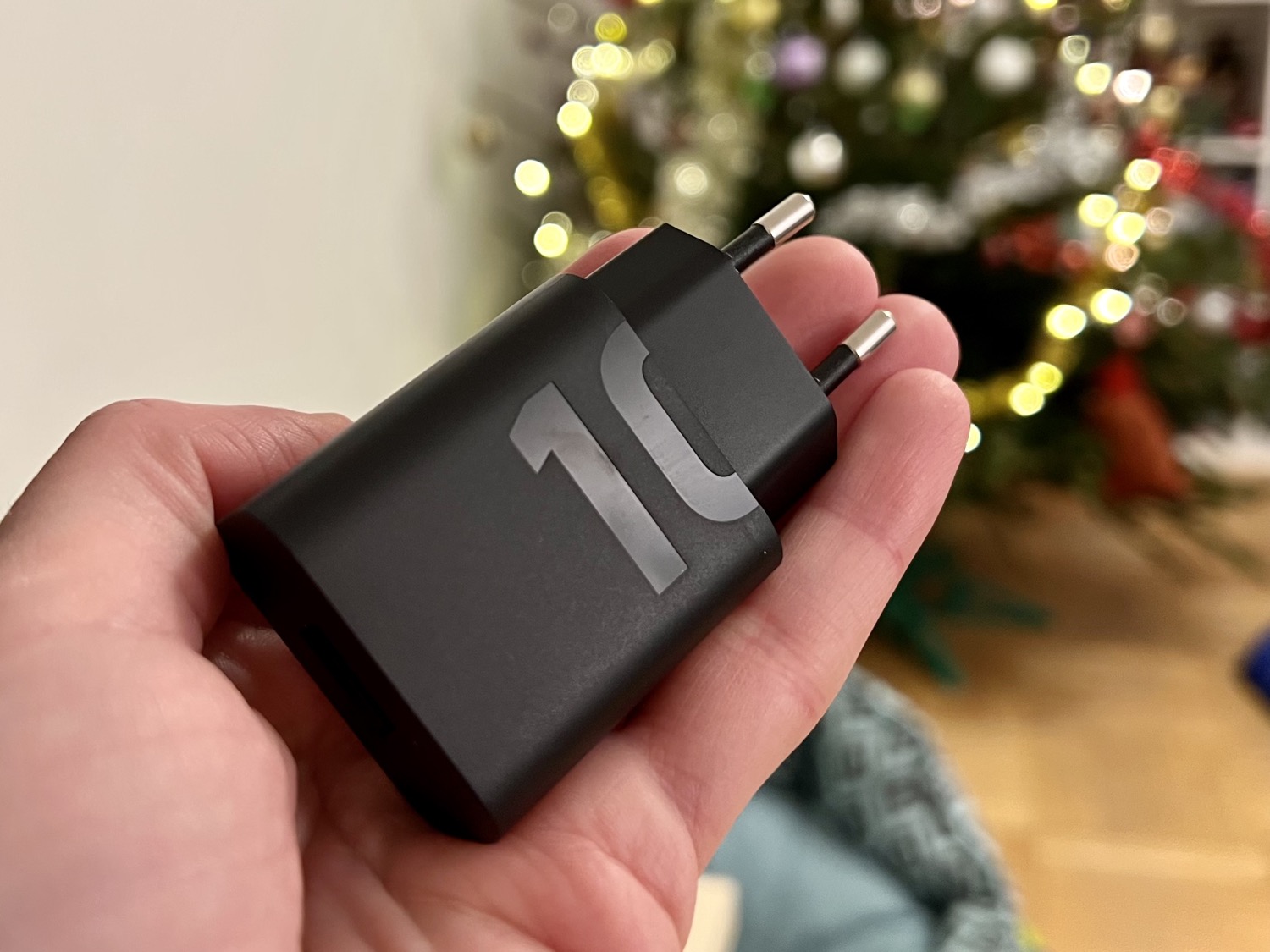 Read also: Motorola Moto G10 vs Moto G20: Which Twin to Choose?
Verdict
Motorola tried to make another successful budget phone for the undemanding users. It doesn't have the most powerful processor, but it works fast in basic tasks. It has not the most outstanding cameras, but the quality of photos during the day will suit most buyers. The 5000 mAh battery will easily last for 2 days. The OLED Full HD+ screen is juicy and clear, better than IPS in other budget smartphones.
However… it is clear that, trying to keep an affordable price, Motorola was looking for something to save on. The screen update rate is only 60 Hz, although Moto low-rangers supported 90 Hz before. The macro lens is worse than the competitors, hardly even usable. Compared to the G30, the depth sensor has disappeared. Not that it is necessary, but still. There is no IP certification as well. There is also no version with 6 GB of RAM, and 4 GB in 2022 is not serious. And the "cherry on the cake" is 10 watts charger in the box, which again is not serious even for a budget device.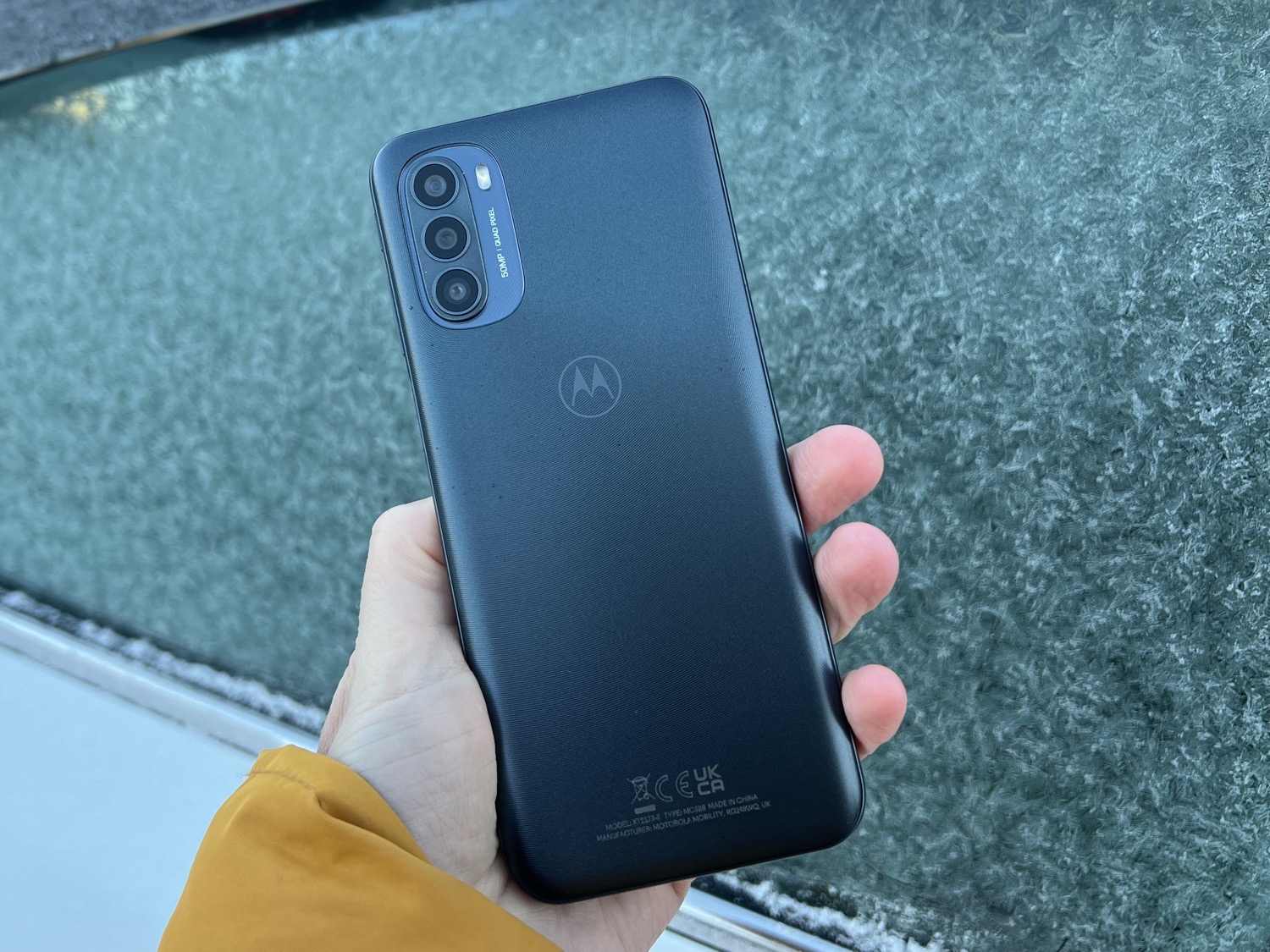 However, it's not a deal breaker. After all, the phone has great build quality, clean Android without shells and glitches, and regular security updates. The Moto G31 will certainly find its buyers.
Are there any competitors? There are a lot of Chinese brands. However, they are hardly better hardware-wise. For example, the Redmi 10 4/128 GB costs about as much as the G31. It has more storage and a 90 Hz screen, although not OLED. The processor is somewhat more powerful.
There is also the realme 8, which is better to choose in the 6/128 GB version so that the RAM volume is sufficient (our test). It costs slightly more than the Moto G31, works on the basis of the powerful MediaTek G95, shoots well, comes with a 30W adapter for fast charging.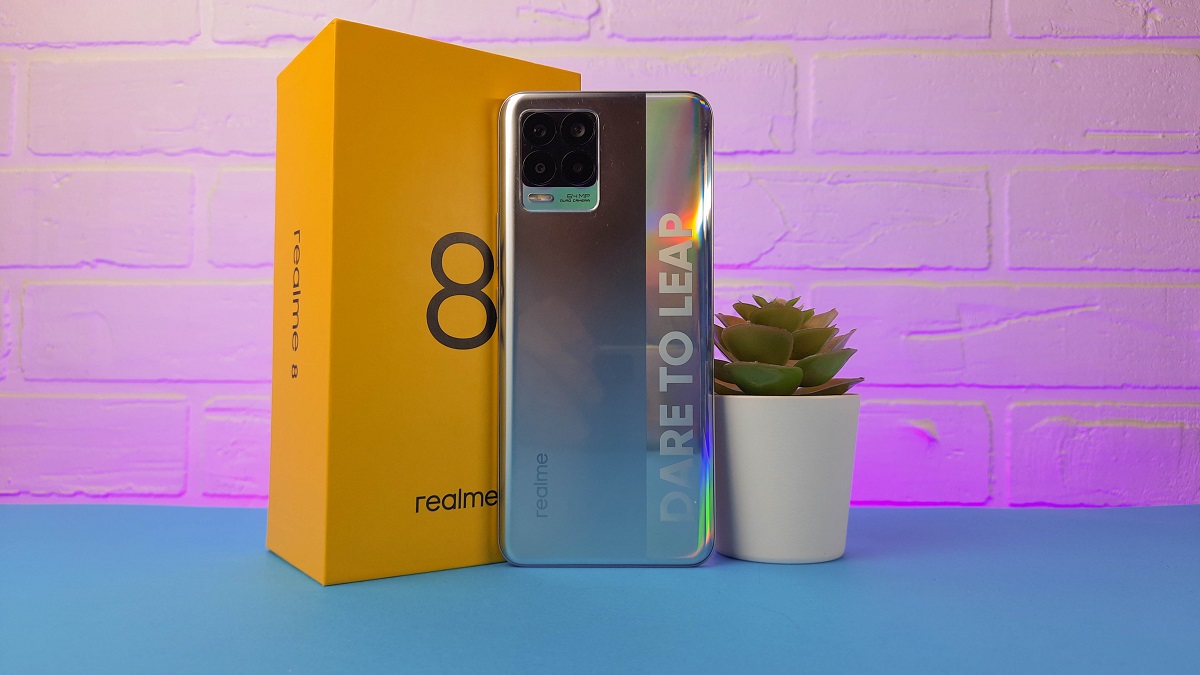 Also worth attention is the Redmi Note 10S, which is now available with good discounts and is not much more expensive than the hero of the review in the 6/64 GB version (our test). It is also equipped with a MediaTek Helio G95 chipset and has excellent cameras, a juicy AMOLED display, and 33W fast charging.
Vivo also offers interesting models. For example, the Y33s 8/128 GB and Y70 8/128 GB models are 20-30 dollars more expensive than the G31 (now with discounts again). One is based on the Helio G80, the other on a Snapdragon 665 and has an AMOLED screen.

Read also: realme C25Y review: solid battery life and a 50 MP camera
The Moto G31 also has competitors from the Moto G line. For example, the Moto G50 5G 4/64 GB (our test). Of course, it also does not break records (it's based on the mediocre Snapdragon 480), but it has a 90 Hz IPS screen and 50-watt fast charging. And here is a fingerprint scanner on the back, which is an outdated solution. So, in our opinion, the G31 is more interesting.
You can also pay extra for a relatively new Moto G60S (our test). Now the model is available with discounts and costs about $290. It's probably worth paying extra. The smartphone has 6 GB of RAM and 128 GB of storage, a powerful MediaTek Helio G95 processor, an IPS screen with a refresh rate of 120 Hz, 50-watt fast charging (100% in less than an hour). In general, get a more functional device with a high margin of performance.
The same applies to the Moto G60. The smartphone is equipped with a high-performance Qualcomm Snapdragon 732G chipset and a 6000 mAh battery (but with 20W fast charging).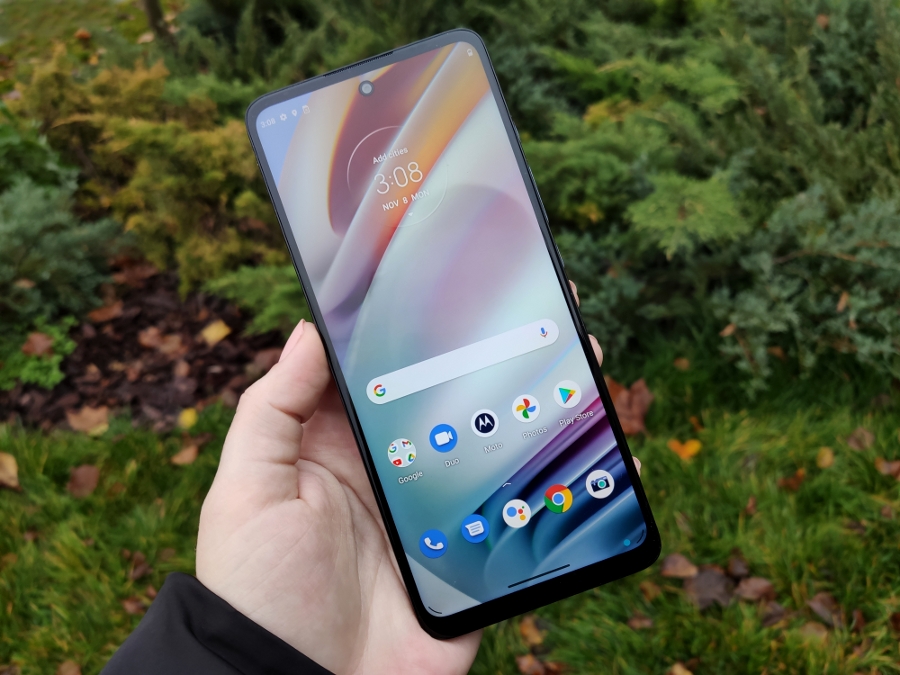 However, if your funds are limited, the Moto G31 is also not a bad choice. The OLED screen looks really good in this price range.
Are you interested in this smartphone?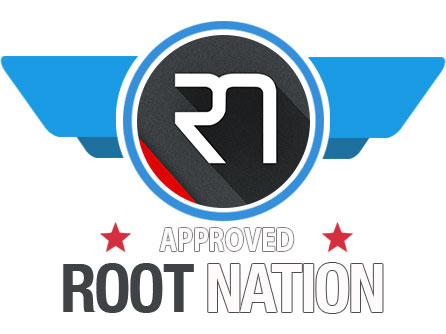 Subscribe to our accounts: