The Tecno brand, famous for good budget smartphones like Pop 2S Pro and Spark 3 Pro, decided to try to break into a more expensive segment. Which, in turn, is full of various cool (and not so) devices. Here you will find Samsung A-series, and Huawei with Honor, and of course Xiaomi. Today we look at Tecno Phantom 9 and find out whether this company managed to make a worthy competitive device.
Our video about Tecno Phantom 9
If you do not want to read the text – watch the video!
Tecno Phantom 9 specs
Display: 6,39″, AMOLED, 2340×1080 px, 19,5:9, 403 ppi
SoC: MediaTek MT6765 Helio P35, 8-core, 4 core Cortex-A53 2.3 GHz and 4 core Cortex-A53 1,8 GHz
GPU: PowerVR Rogue GE8320
RAM: 6 GB
ROM: 128 GB
microSD support: до 1024 GB
Wireless network: Wi-Fi 802.11 a/b/g/n/ac, Bluetooth 5.0 (A2DP, LE), GPS (A-GPS)
Main camera: triple, main 16 MP, f/1.8, PDAF; ultrawide 8 MP, f/2.4, AF, 13 mm; deep sensor 2 MP, f/2.8
Selfie: 32 MP, f/2.0
Battery: 3500  mAh
OS: Android 9.0 Pie with HiOS 5.0 UI shell
Dimensions: 158,5×75,3×7,9 mm
Weight: 164,4 g
What's in the box
The package of Tecno Phantom 9 can be called generous, especially compared to other smartphones, where we are often limited to a charger and some simple case. But first things first. The box makes it clear that our smartphone is not boring – it shimmers in the light.
Further inside: a power adapter (5V/2A), a USB/microUSB cable, wired headphones, a protective case, a SIM card eject tool, a set of documentation with a guarantee of 12 + 1 months. There is still a protective film, but it is already on the screen of the device.
Headphones with a headset function, with metal elements and a functional remote control: with a microphone, pause/answer button and a toggle switch to adjust the volume level. They sound quite good, as for bundled headphones.
The case deserves special praise. It is made of a very pleasant to the touch matte polyurethane with a sandy effect.
In general – just a funky thin case. Probably the best bundled one I've ever met. It would be good for others to copy Tecno in that regard.
Design, materials and build quality
If you start to describe the appearance of Tecno Phantom 9, then … this description will fit almost any smartphone in 2019. A drop-shaped notch in the screen? On the spot. The vertical block of cameras in the upper left corner? Sure. Gradient colors and iridescent back panel? Of course.
Now manufacturers are trying to distinguish their phones from the others. And Tecno also tried, but as in most cases the only thing that's distinctly different is the back plate.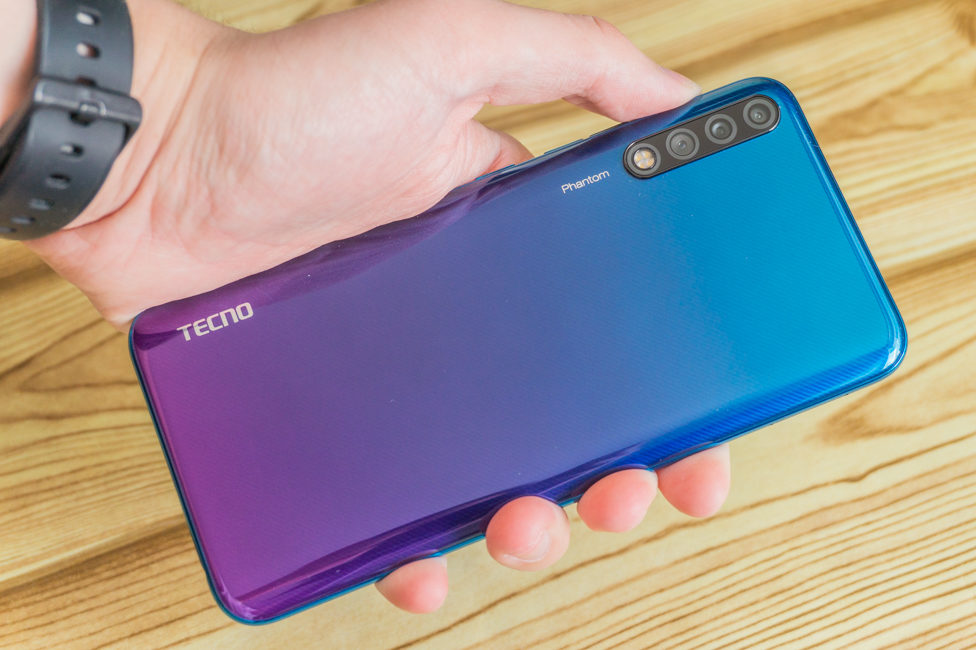 It's is worth briefly telling about the frontal part. To begin with, the bezels around the screen are not the thickest, which is very good. There is also no branding, and you can also note a very neat drop-shaped notch.
A plastic glossy frame runs along the perimeter. It looks like metal.
That back is more interesting. Firstly, the color. This is a gradient from blue to purple. If you look closely, you can see a lot of such diagonal lines (or notches) and they look good in the light.
In addition, in some lighting conditions, you can notice an additional wave-like effect. But to catch it in the photo is not an easy task. Other body colors currently do not exist.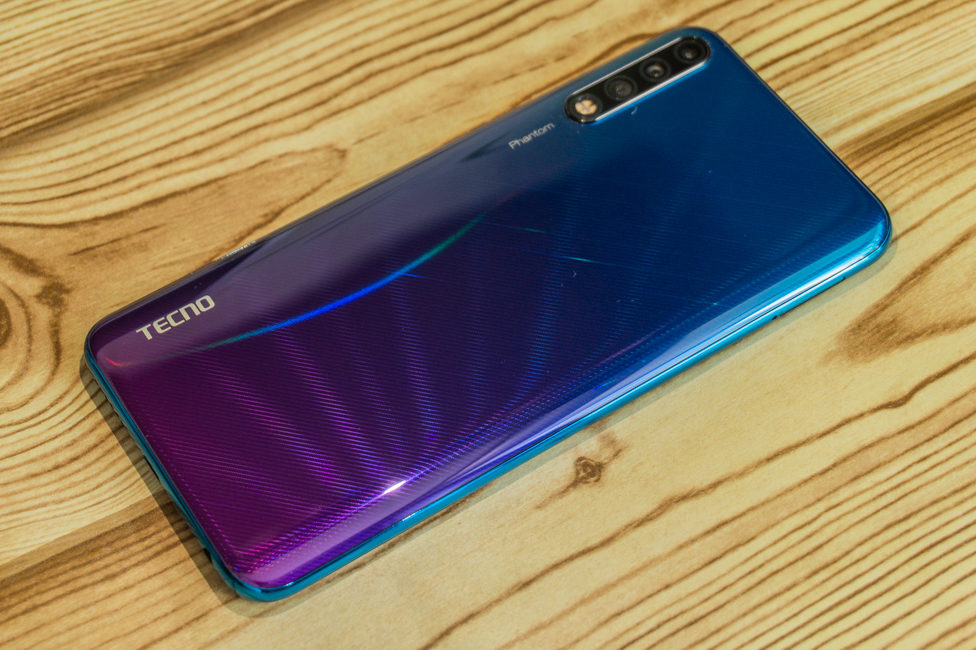 The back panel is made of composite plastic, which is more durable and lightweight than traditional. Again – almost like everyone else in this segment. He, in principle, is not bad at simulating glass. They even added an oleophobic coating, even if just a little. Fingerprints and stains still remain.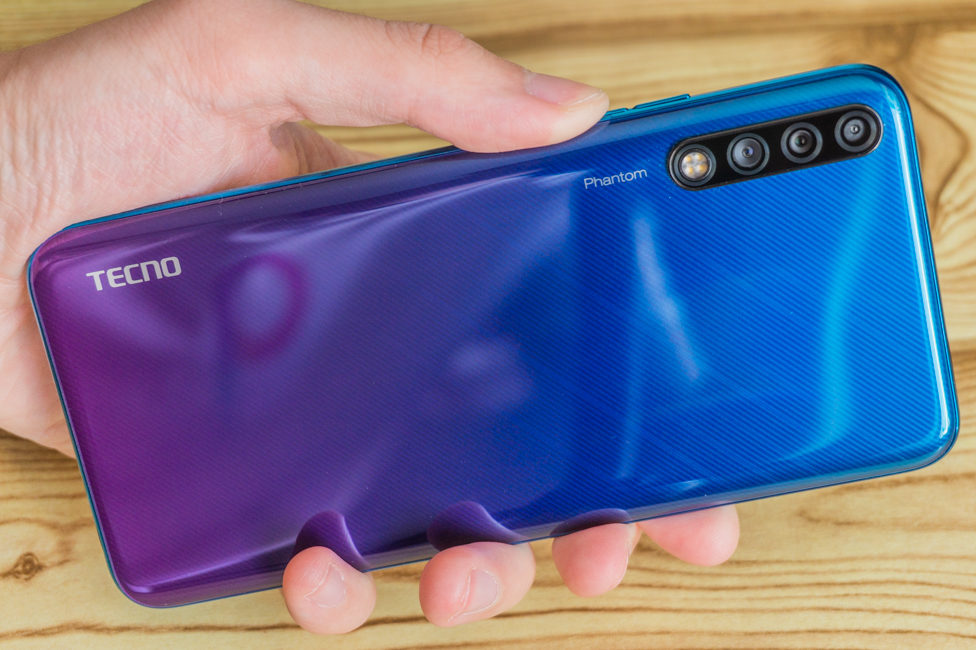 Front panel has a protective film, but without oleophobic coating. I don't know whether Corning Gorilla Glass 3 has oleophobic coating or not – I don't won't to rip off the film.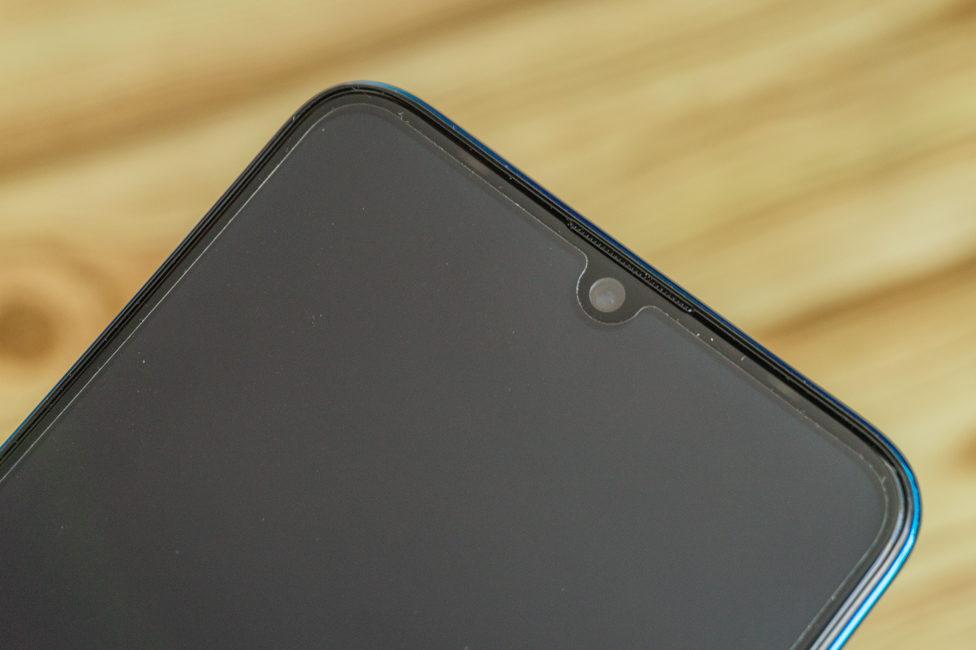 The build quality is perfect. The only problem is how much fingerprints it collects. Not everything is so bad, of course, but it does collect dust particles, especially around the camera block. But this nuance is easily fixed by the excellent cover from the box.
Officially, no protection standard is announced, but a card slot has a rubberized seal.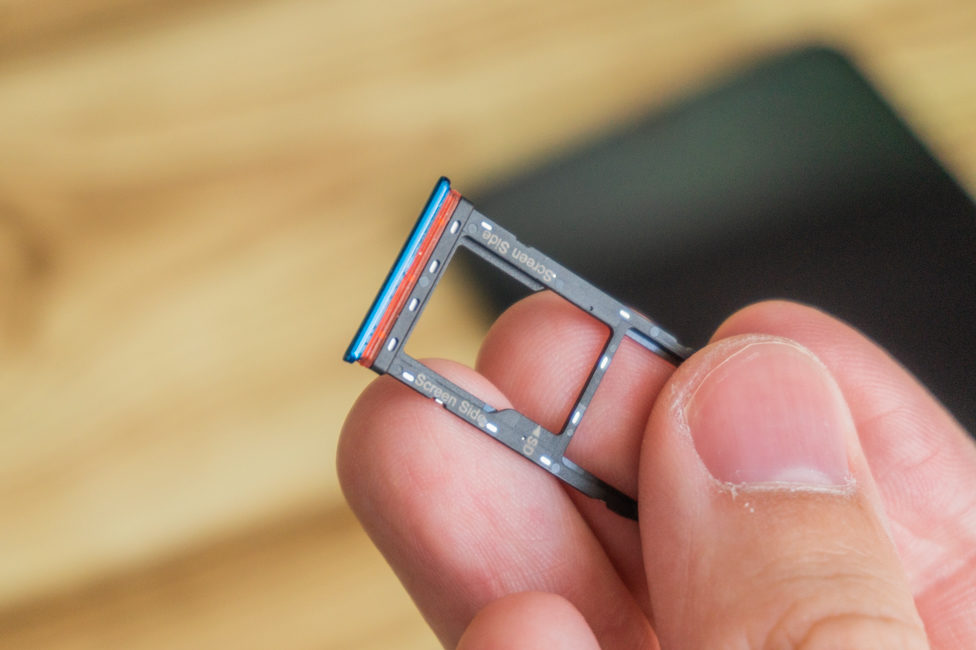 Elements configuration
On the top, the manufacturer managed to place the front camera and the earpiece speaker above in the center, as well as proximity and light sensors. And on the sides of these elements we have flashes. Yes, yes, this is a dual front flash. This is the first time I've seen this.
The field under the screen does not carry any additional functional elements, the LED notification indicator is also not here.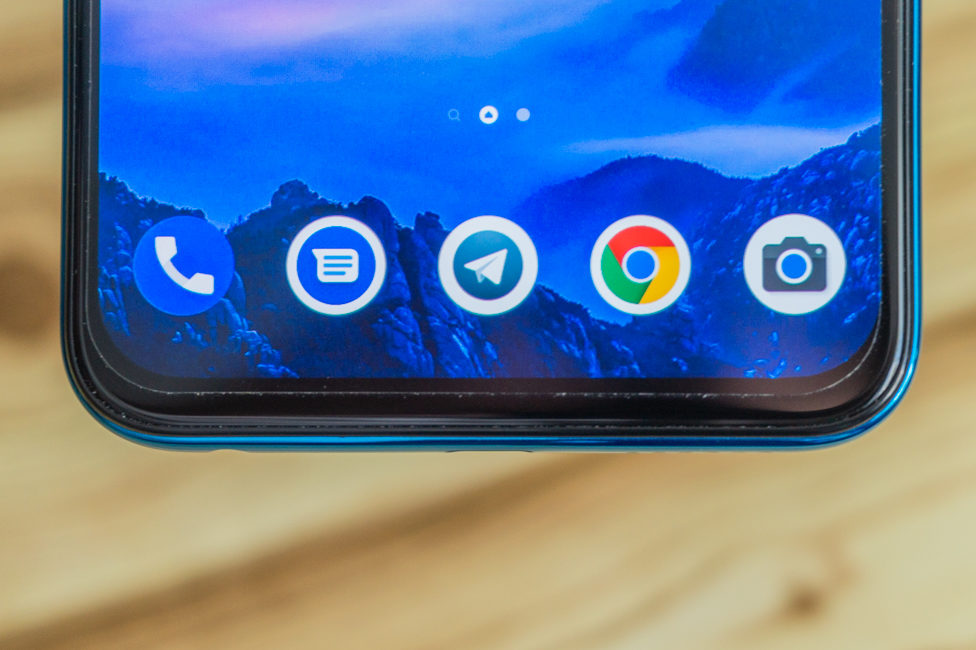 On the right side there are two keys – power and volume control. The manufacturer traditionally divides the second into two, so finding the right one is not a problem at all. On the left side there is a triple slot for two nanoSIM and microSD simultaneously.
The bottom end received a 3.5 mm audio jack, microphone, microUSB port and a multimedia speaker. The top one has an additional microphone. Perhaps I could only complain about the outdated connector. It's time to put a modern and versatile Type-C.
There is a common unit with three cameras and a flash. Under it there is a vertical Phantom inscription, at the very bottom there'a the Tecno logo. Simple and concise. I am glad that there are no other markings that spoil the appearance.
Ergonomics
Tecno managed to fit a 6.39-inch screen into a case with dimensions of 158.5 × 75.3 × 7.9 mm and this is actually not bad. After all, such dimensions are usual for smartphones with 6.26- or 6.3-inch displays.
So in general, it is comfortable to use. The shape of the case is comfortable, with a rounded back at the edges. All buttons are located in their places.
Tecno Phantom 9 Display
Tecno Phantom 9 is equipped with an AMOLED screen, which is unusual in this price segment. The diagonal, as mentioned, is 6.39″. Full HD resolution (2340 × 1080 pixels), aspect ratio 19.5:9, pixel density 403 ppi.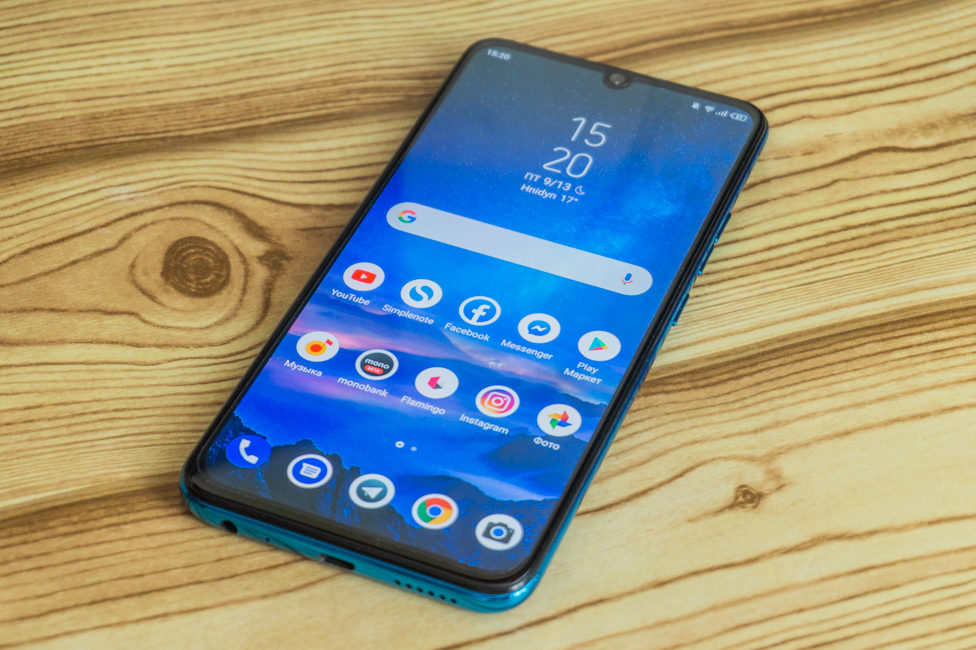 The installed matrix has all of the perks of AMOLED displays. The picture is bright, juicy and contrasty. At first, it may seem a bit oversaturated, but you quickly adapt to this, if we talk about the transition from the screen with a more natural color rendition.
Outside, the screen remains readable during the day. The viewing angles are good, but as in most matrices of this type, at extreme angles, the white color goes into multi-colored overflows. But such angles are unlikely in everyday use.
But the automatic brightness control has its issues. It does not work exactly as you want. Often brightness increases when it is not necessary, plus it happens slowly. Basically, I had to adjust the brightness myself.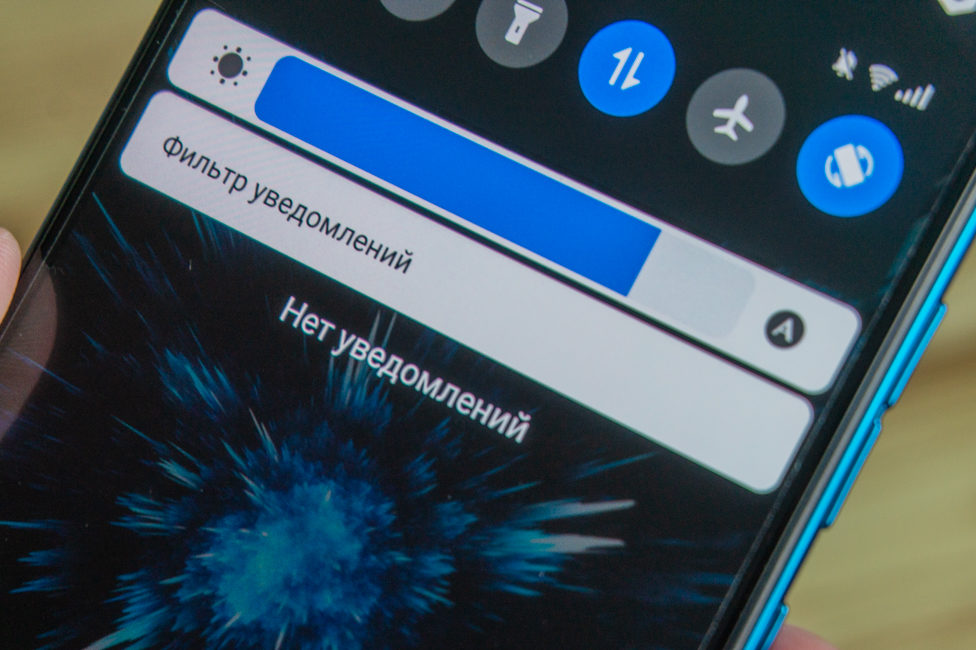 Of the available settings, there is a vision protection mode and a setting to display/hide the notch area. That is, this is a standard black top fill, but you can also configure this option separately for each application. But some kind of Always-On is not provided.
Tecno Phantom 9 Performance
Tecno Phantom 9 chipset is from MediaTek- MT6765 Helio P35. The platform consists of 8 cores: 4 Cortex-A53 cores with a maximum clock frequency of up to 2.3 GHz and 4 more Cortex-A53 cores with a clock frequency of up to 1.8 GHz. Graphics accelerator is PowerVR Rogue GE8320. Synthetic tests show the average results of this hardware.
But the RAM installed in the smartphone offers more than enough – 6 GB. This, obviously, is absolutely enough for everything at the moment. RAM can easily handle a dozen applications in the background.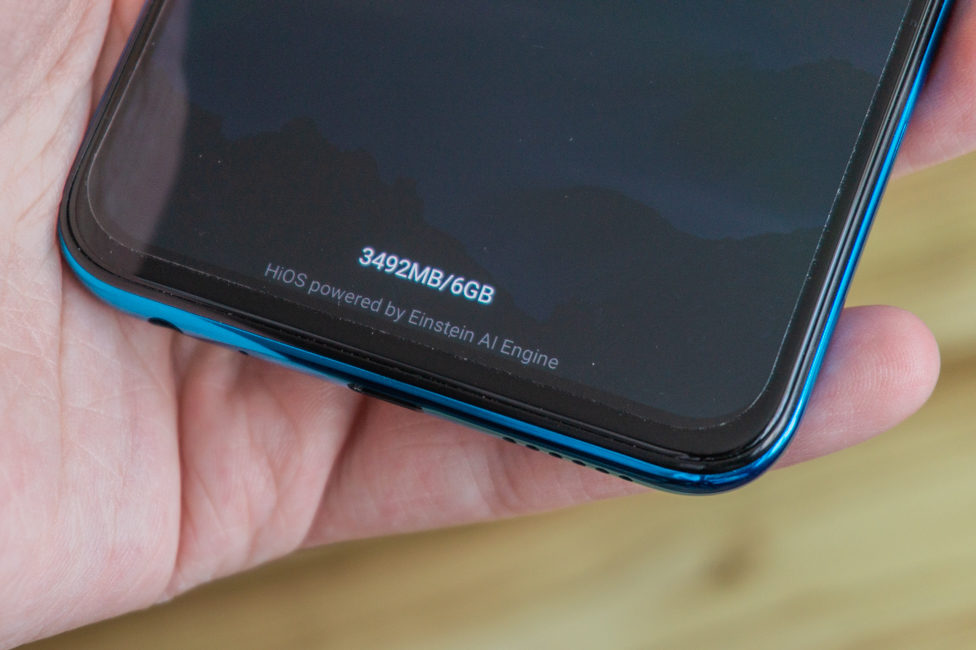 Storage is also fine: 128 GB. Of this amount, 108.98 GB remained available to the user. But if suddenly this is not enough you can always install a memory card. You won't even have to give up the second SIM card.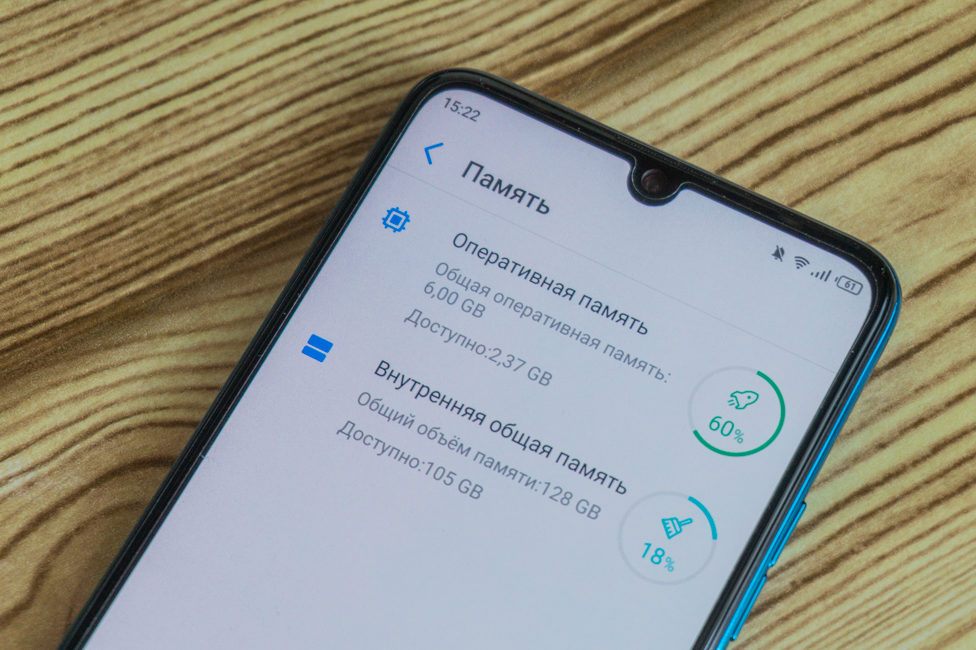 In total, the smartphone is fast and smooth in everyday use. No lags or slowdowns when scrolling through long lists.
With games, the situation is a little more complicated. The notorious PUBG allows you to choose balanced graphics and with such parameters you get an average of 26 FPS. Shadowgun Legends run with 17 FPS, according to Gamebench. It's okay for undemanding games, but for other cases you need to rely mainly on the minimum graphics settings.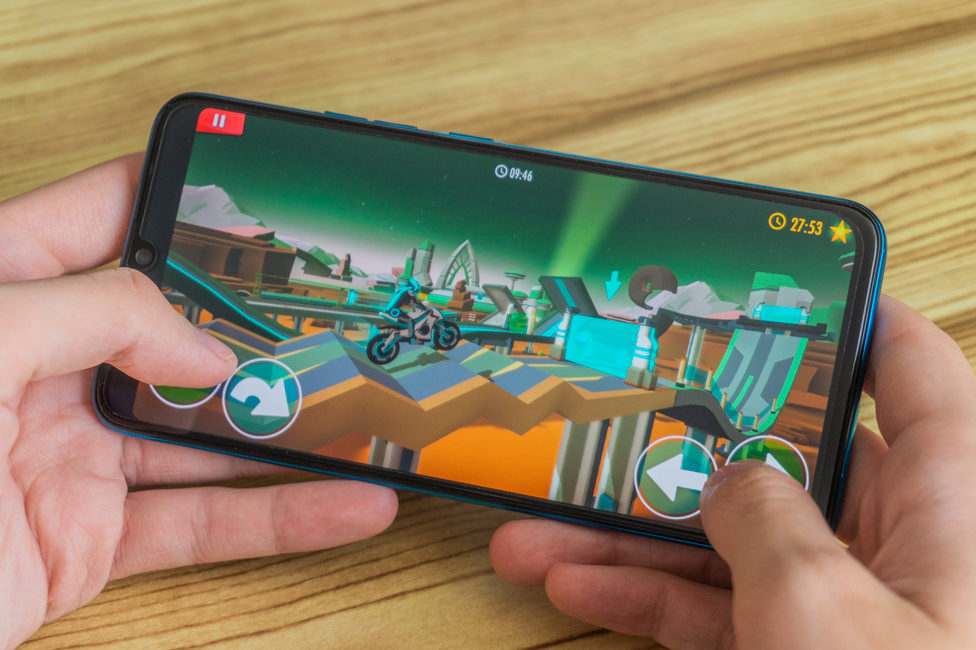 Tecno Phantom 9 Cameras
Tecno Phantom 9 has three cameras, very trendy. The first one is 16MP main wide-angle module with f/1.8 aperture and PDAF focusing. The second ultra-wide 8 MP module with f/2.4 aperture, and autofocus (!), And an equivalent focal length of 13 mm. The last one is a usual 2MP depth sensor, f/2.8.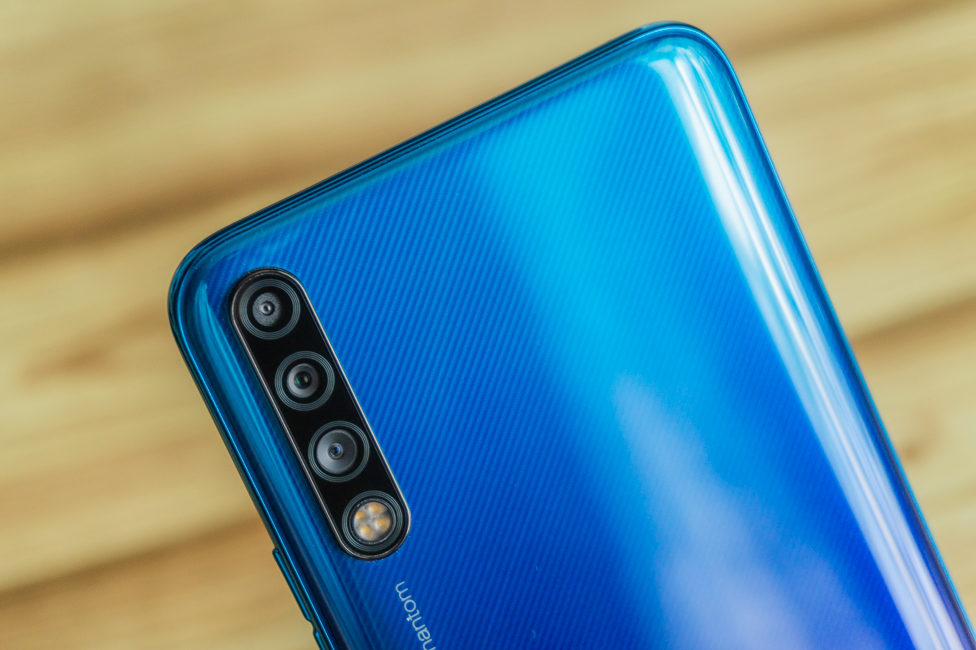 The main peephole copes well with its task in the presence of good light indoors or during the day on the street. But since our AI is turned on by default, it can make small adjustments to the color rendering. The resulting pictures are generally sharp, although they are often a bit overexposed. But with an insufficient amount of light things get worse. It becomes more difficult for the camera to focus, although even in the afternoon the focus is hardly fast.
EXAMPLES OF PHOTOS AND VIDEOS IN FULL RESOLUTION
Photos with bokeh effect mostly come out good. The object is separated from the background with little problems.
I did not expect anything special from the ultra-wide-angle module. It is quite common in smartphones in this segment and rarely boasts of some incredible quality. Again – there is a common problem with white balance. And in Tecno Phantom 9 from this point of view everything's the same.
But there is one very nice feature  – autofocus, which allows you to focus even at a very close distance from the subject. I do not know more than a single smartphone of this level, which has this feature. What can I say, when even in many expensive flagships from eminent manufacturers the focus is fixed. As a result, you can not just shoot anything on this module, but also take full-fledged macro shots at a distance of 2.5 cm. There is even a macro mode highlighted by a separate button. Tecno pleasantly surprised me, this is definitely a handy feature.
EXAMPLES OF PHOTOS AND VIDEOS IN FULL RESOLUTION
The smartphones makes average videos. The maximum resolution is only Full HD with 30 fps. There is neither 4K nor electronic stabilization.
Front camera offers resolution of 32 megapixels and f/2.0 aperture. You get great selfies with decent amounts of details.
The camera application has different modes, there are AR effects and panoramas, but there is no manual mode.
Unlocking methods
The AMOLED panel installed in Tecno Phantom 9 offers everything you might expect, including a fingerprint scanner in the display. And yes, this is the first smartphone of the company with such a solution.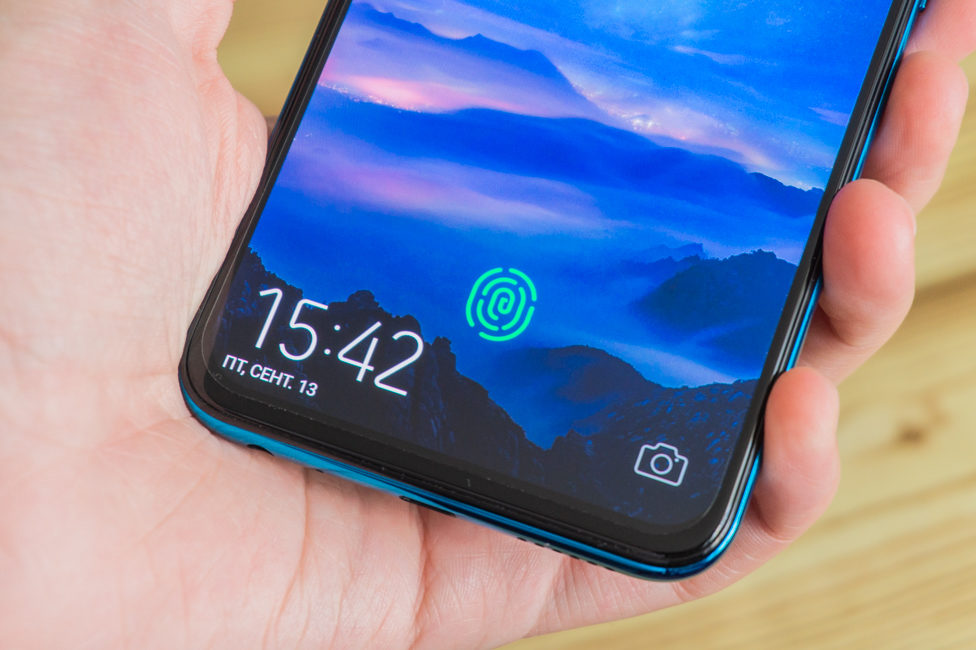 This is a "traditional" optical scanner, with a bright green backlight, which is turned on when a finger is applied to the selected area. The location with the scanner is also displayed on the deactivated screen when the device is lifted. If it's not highlighted, then putting a finger in the right place will not do anything. Be sure to somehow "wake up" the screen or something.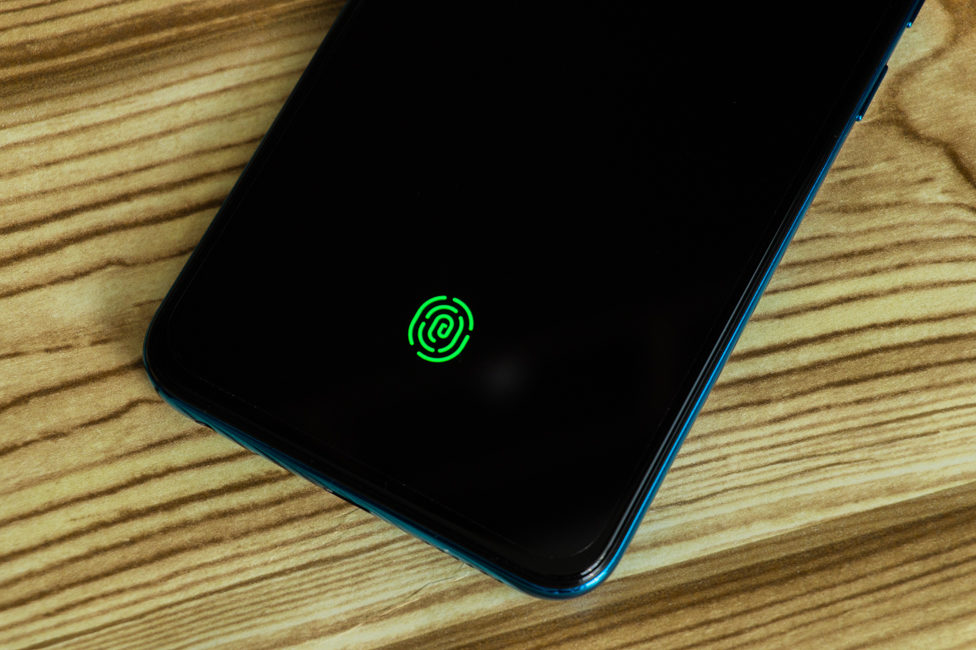 In terms of speed and accuracy, this scanner is slightly inferior to standard capacitive counterparts. Although if you apply your finger accurately, it unlocks the smartphone quickly. And keep in mind that this is all with a protective film.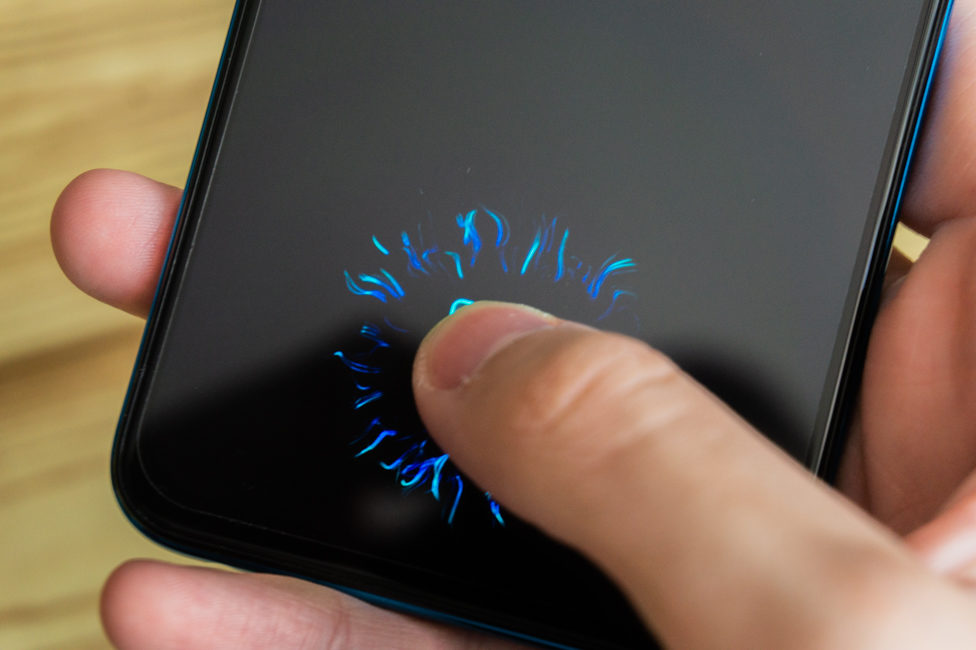 There's also face recognition. It's fairly speedy. It doesn't work instantly, but quite quickly in almost any lighting conditions.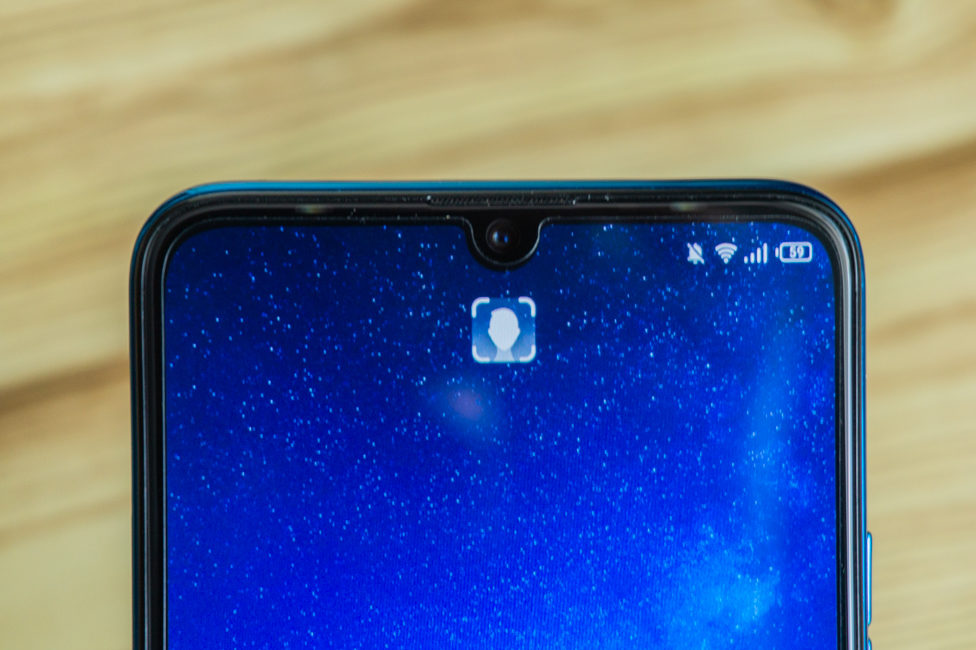 If you try to unlock in absolute darkness, the device will offer to turn on the front flash. And since it is also double, it's very effective.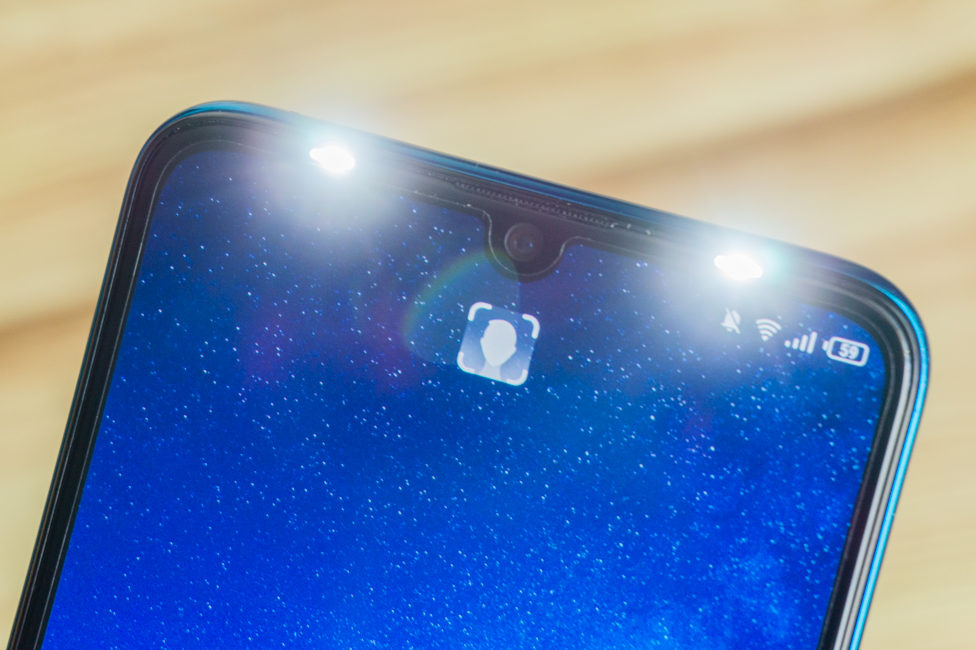 Tecno Phantom 9 battery life
Tecno Phantom 9 has a 3500 mAh battery, which is at least not bad on paper. In practice, you can count on the usual result – one day of use. The operating time of the screen in this case depends directly on the intensity of operation. I got 4-5 hours on average.
In PCMark 2.0 with a maximum brightness of the screen backlight, the smartphone worked for 5 hours 54 minutes. The Phantom 9 standard charge comes in about 2 hours, it's a pity it's just through the microUSB port:
00:00 — 3%
00:30 — 33%
01:00 — 65%
01:30 — 90%
02:00 — 100%
Sound and communication
The speaker here is set high-quality, the interlocutor is well audible. Multimedia is on the bottom line. It is quite loud and if you do not twist that volume to the maximum, it sounds pretty good. With maximum there are already slight distortions. In the headphones, everything is fine both through the wire and wirelessly.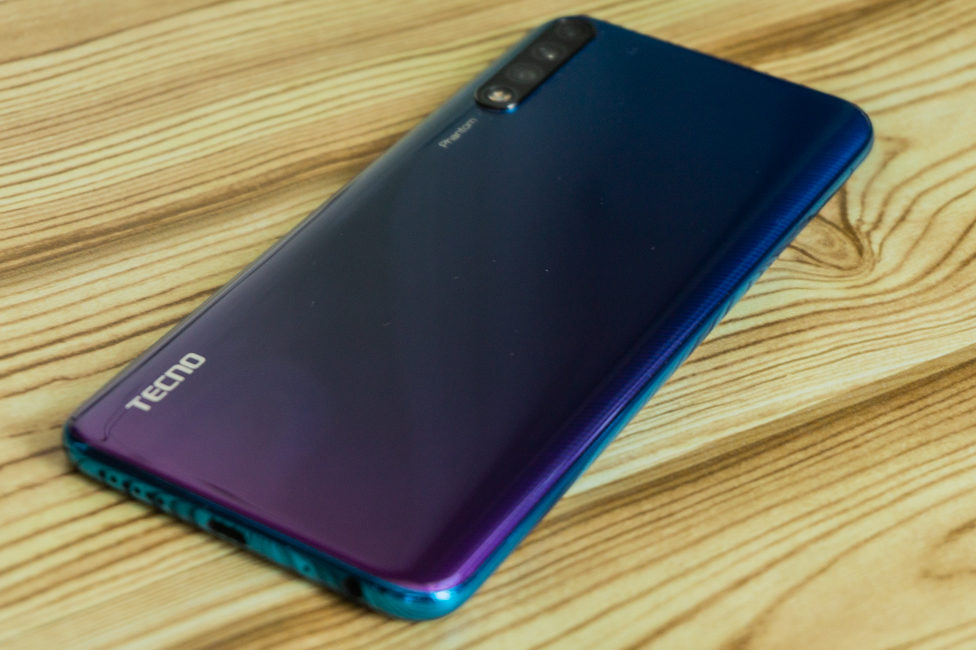 The set of wireless modules is pretty common for this class. Wi-Fi 802.11 a/b/g/n/ac with the ability to connect to 5 GHz networks, current and stable Bluetooth 5.0 (A2DP, LE), as well as GPS (A-GPS). The only thing that upsets me about this is that there is no NFC module. So there are no contactless payments or quick pairing with other devices.
Firmware and software
Tecno Phantom 9 uses HiOS 5.0 shell based on Android 9.0 Pie. It has everything you need for normal use and even more. You get customization, gestures, several ways to navigate the system, a separate driving mode, screen recording.
In general, there are a lot of interesting things, up to the ability to use the front flash as a flashlight, also in tandem with the main one. Now that's functionality you don't see often.
Verdict
Tecno Phantom 9 is certainly unique in its own way. It has autofocus in an ultra-wide-angle module, AMOLED screen with the "right" resolution, good amounts of RAM and storage, sufficient power for ordinary tasks.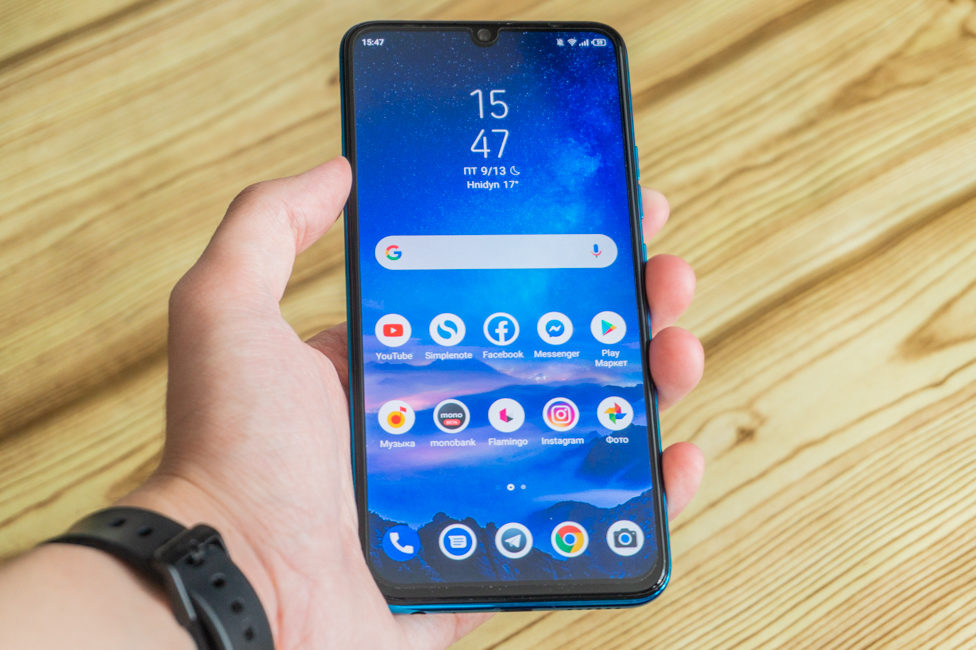 There are weaknesses too, which is understandable. Like there's there is no NFC module and Type-C port. You also can't make 4K videos. However, if you look at the price (up to $250), then Tecno Phantom 9 seems like a very good option.
Subscribe to our accounts: