At the Kyiv CEE 2019 exhibition in April Tecno, a rather young player on the Ukrainian market, presented a couple of new smartphones to the public. Among them are Spark 3 Pro and Camon 11s. Today let's talk about the first – Tecno Spark 3 Pro, and try to figure out what it is.
Our video about Tecno Spark 3 Pro
A short video – only the most important thing! If you need more detailed information – read the review below.
 Tecno Spark 3 Pro specs
Display: 6.2″, IPS, 1500×720 pixels, 269 ppi
Chipset: MediaTek Helio A22, 4 core Cortex-A53 with a maximum clock frequency of 2 GHz
Graphics accelerator: PowerVR Rogue GE8300
RAM: 2 GB
Storage: 32 GB
MicroSD memory card support: up to 128 GB
Wireless networks: Wi-Fi 802.11 a/b/g/n, Bluetooth 5.0, GPS (A-GPS, GLONASS)
Main camera: dual, main module 13 MP, f/1.8, PDAF and an additional depth sensor of 2 MP
Front camera: 8 megapixel, f/2.0
Battery: 3500 mAh
OS: Android 9.0 Pie with HiOS 4.6 shell
Dimensions: 154.29 × 75.54 × 7.88 mm
Weight: 146 g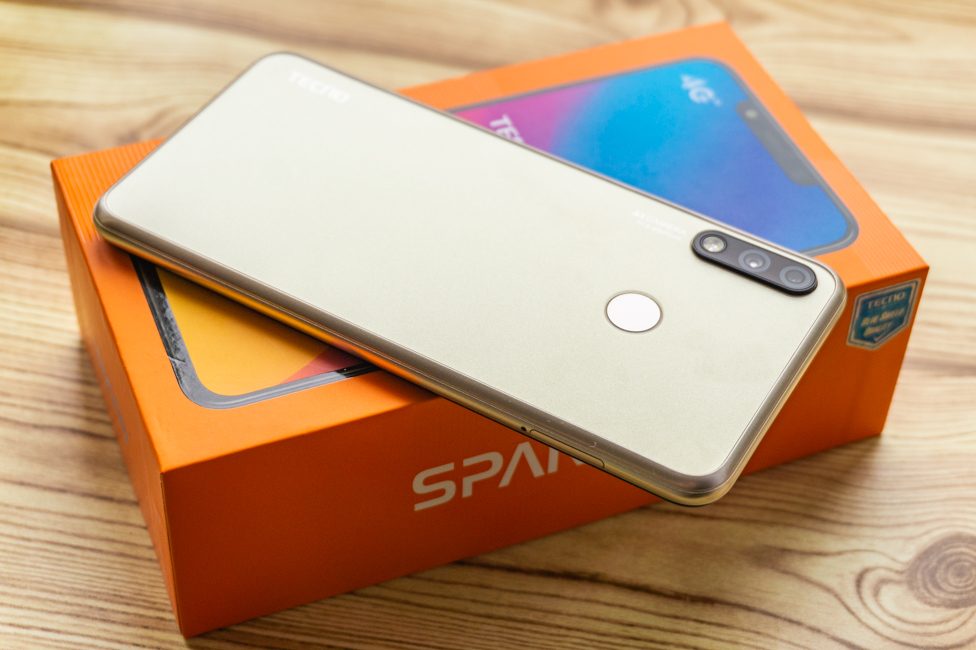 Spark 3 Pro costs about $120. There's only one version: 2/32 GB.
What's in the box
Tecno Spark 3 Pro comes in a bright orange box. Inside the frame made of soft foam we find the smartphone itself. Next in the box there's a silicone case, a power adapter (5V/1.2A), a USB/microUSB cable, wired in-ear headphones with headset function, a SIM card eject tool and a little book with some specifications.
In general, a complete set with everything you need immediately out of the box. Especially if you remember the cost. Of course, the headset is very basic, but how often do we see something like this lately in boxes with smartphones?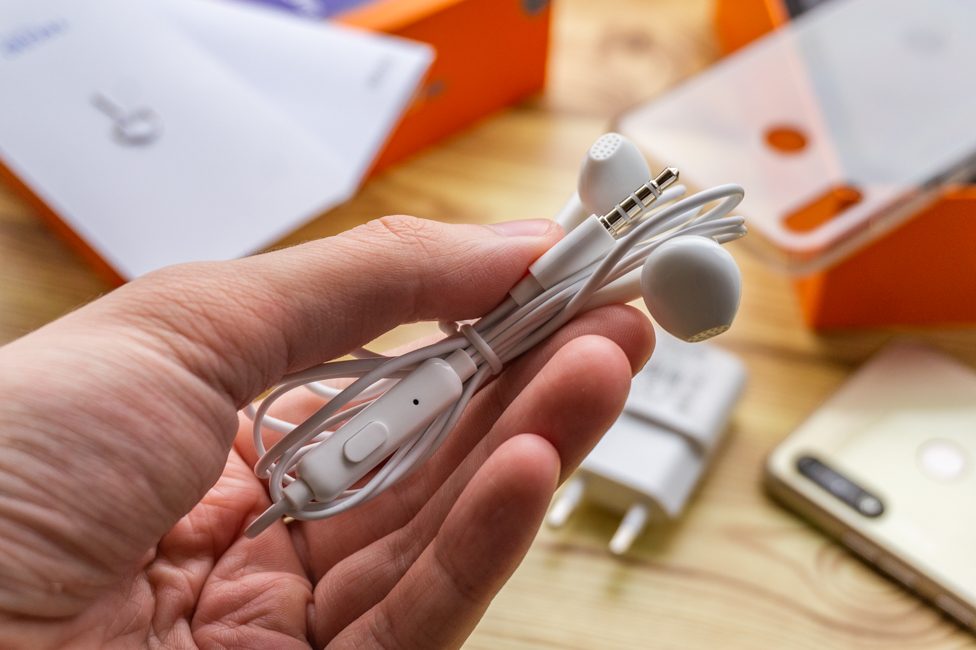 The protective case with a matte finish on the ends around the perimeter deserves my praise. It is very thick, for a bundled case, and it creates bumpers around the screen and a block of cameras behind it. Moreover, the ports below are protected from foreign elements such as dust or small fragments.
Design, materials and build quality
Externally, Tecno Spark 3 Pro looks concise. But this does not mean that the design is bad or very outdated. Here we have the notch above and not the largest area under the screen. On the one hand – now the manufacturers have moved away from similar notches to a neater, drop-like solution and are trying to reduce the frame around the screen. Therefore, it is difficult to call the Spark 3 Pro design trendy or modern.
But you always have to take into account one fact – the price tag. Are there many smartphones in such a budget with a "drop" or a very narrow frame? Even I will not be able to immediately recall even one without using Google.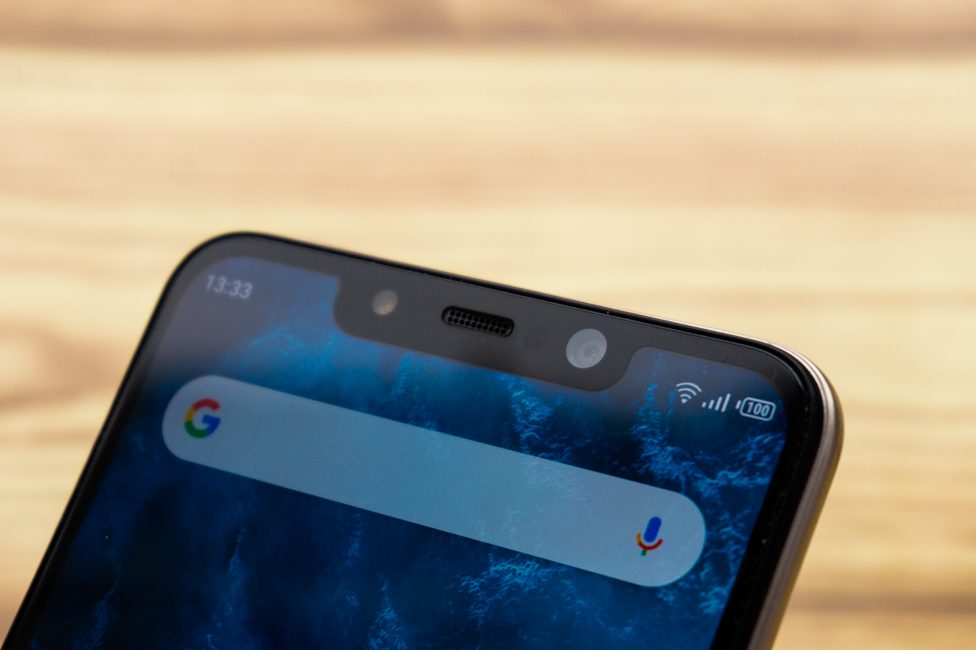 On the reverse side we have a traditional block with cameras – vertical, to be exact. It slightly protrudes, but not as much as in the last Xiaomi. The design of the case is interesting – the display unit protrudes a bit, but the frame seems to float on the back panel and the lid is thus quite a bit recessed and completely flat. Kind of protection from minor scratches from the contact of the plastic with a solid flat surface.
There are three colors of the case: black, golden (as tested) and with a dark blue gradient.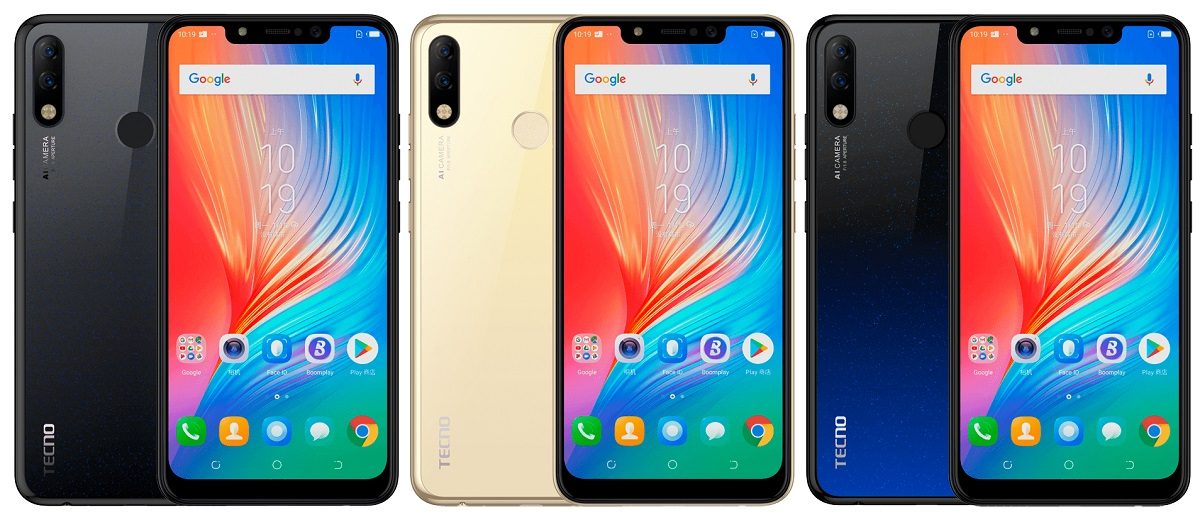 In the case of the first two variants, the back part is dotted with some small sparkles, which already looks original. And the gradient variation, besides this also has a smooth transition from black to blue.
Materials hardly surprise – plastic around the perimeter and rear, as well as glass with an oleophobic coating in front. Build quality is good. In the golden color of the smartphone you'll find lots of smudges, but they are hardly noticeable.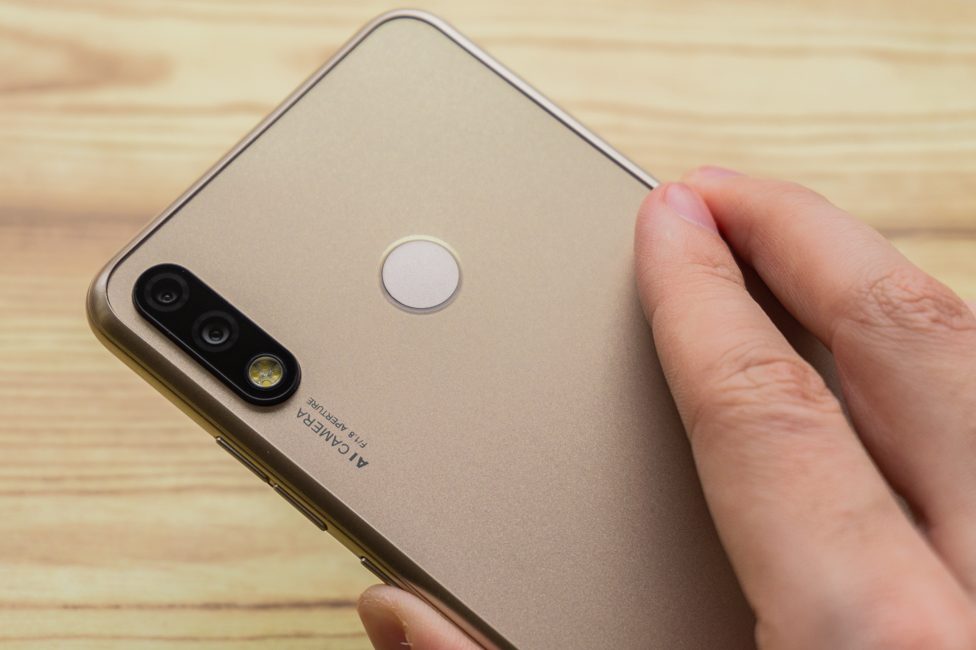 Elements' configuration
On the front panel in the notch, Tecno found a place for the flash, proximity and light sensors, a speaker and a front-facing camera. Below is an empty area without inscriptions. A small minus is the absence of the LED event indicator.
The right side received the power button and volume control key. It seems that they are separate, but they have the same basis. On the left there is a slot for three cards – two nanoSIM and microSD.
This is a very good bonus, to be able to expand the memory and use two mobile numbers at the same time. In addition, there is a small seal on the slot just in case – you definitely cannot call it surplus.
Above – nothing, all the main elements are located on the bottom. We talk about the multimedia speaker, microUSB port, microphone and 3.5 mm audio jack.
On the reverse side is a block with cameras and a flash in the upper left corner, below it there is a marking with some of their features. In the center there is a fingerprint scanner area, at the very bottom left is the vertical Tecno logo.
Ergonomics
In general, there's nothing to say really. The height of the smartphone is fully consistent with its diagonal – 154.29 mm. At the same time, its width is 1-2 mm more than it could be in a device with an extended 6.2-inch display – 75.54 mm. But it's okay, the smartphone is also relatively convenient to use.
The thickness and weight are 7.88 mm and 146 grams. Tecno Spark 3 Pro is light and does not slip out of the hand.
The location of the controls is also good – the buttons are in place, the finger scanner is similarly convenient to use.
Tecno Spark 3 Pro Display
Tecno Spark 3 Pro is equipped with a 6.2-inch IPS-display. It has a slightly unusual resolution, namely 1500×720 pixels. The density is 269 pixels per inch.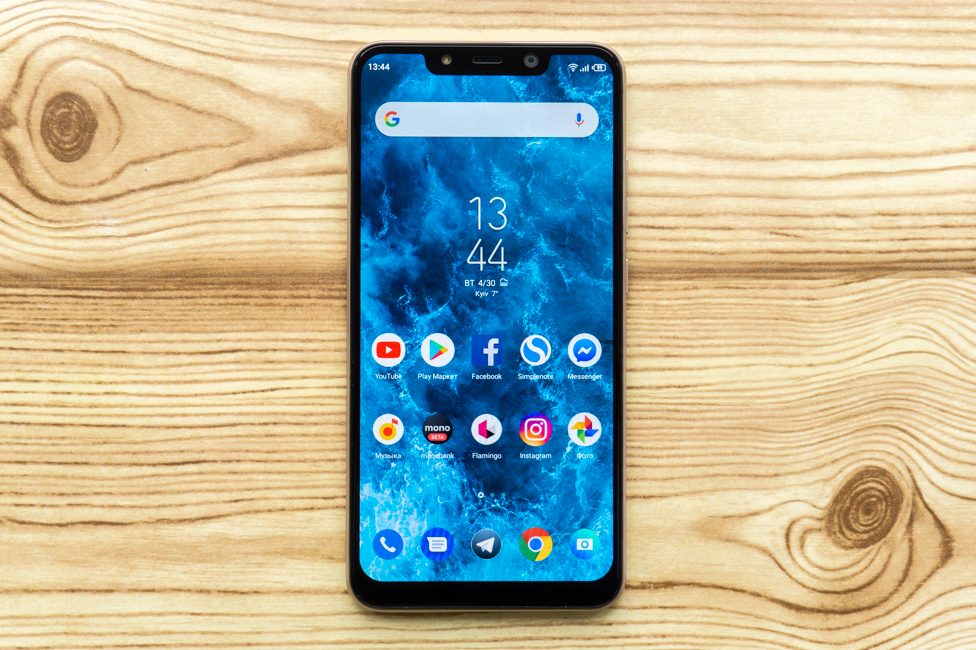 Matrix displays colors naturally. It, of course, does not have incredible contrast or very bright. Like any other smartphones from this segment. But I really would like more brightness. Everything else is okay. View angles are good, only with diagonal deviations there is a slight fading of dark shades.
But the white balance is a bit too cold, for me. In particular, this is most noticeable when directly comparing white color in Spark 3 Pro screen and other smartphones. But not to say that in everyday use it is very annoying.. But what is a little sad is the inability to correct the temperature.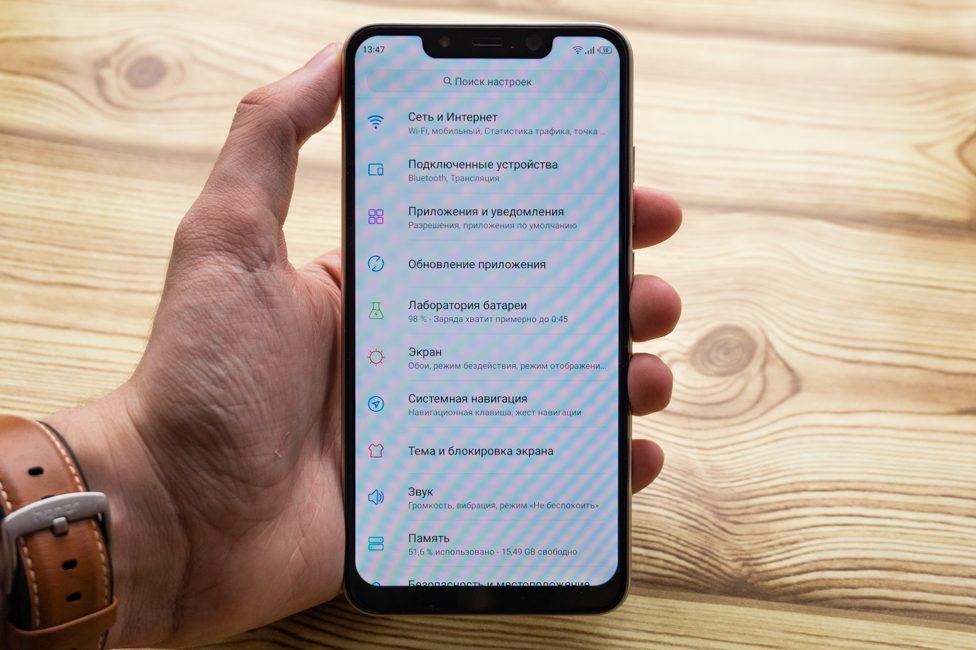 The notch can be hidden by regular means. Either completely, when the area on the sides is filled with black color, or in any way you want.
In addition to this function, a vision protection mode is provided. It reduces the intensity of blue color for comfortable use of the device in the dark. Adaptive adjustment of the light level works correctly, but not very quickly.
Performance
Inside there's a MediaTek Helio A22 (MT6761) chipset, which is made according to the 12-nm process technology and consists of four Cortex-A53 cores with a maximum clock frequency of 2 GHz. Graphics is handled by PowerVR Rogue GE8300. This is not surprising – this hardware usually show modest numbers in benchmarks.
We only get one modification: 2 GB of RAM and 32 GB of storage. That's definitely not enough. Although if you monitor open applications and close unnecessary ones, it'll suffice. For example, for a messenger and social network client along with one or two other simple applications.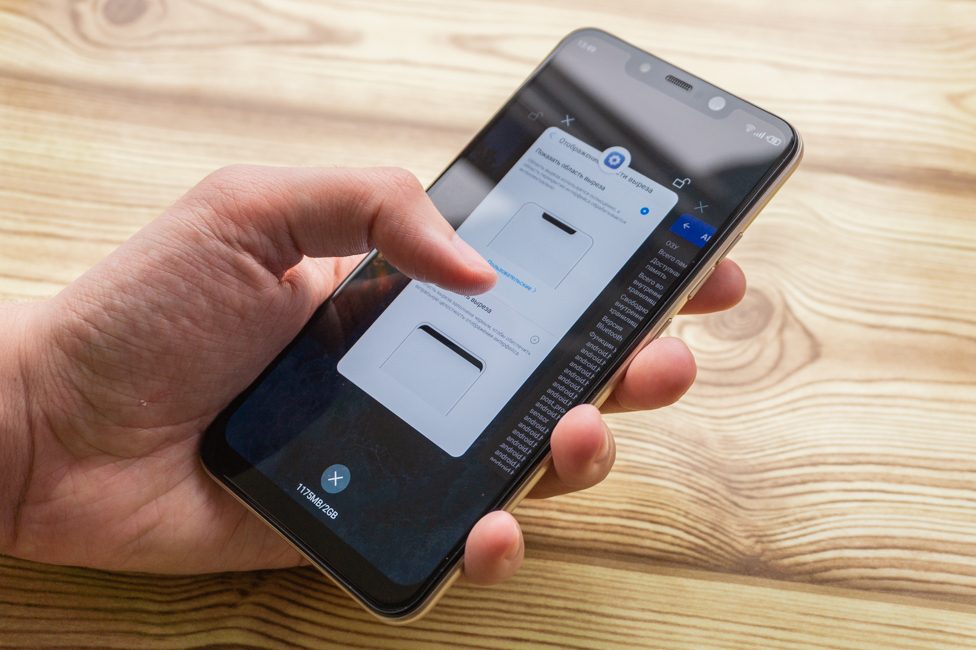 Of the 32 gigabytes of storage, 24.94 GB are available to the user. Now I want to praise the manufacturer for the fact that it is not 16 GB, because in this price range it happens a lot. The second plus is the space for a microSD card (up to 128 GB), a slot for which is separate and does not force you to give up the second SIM card.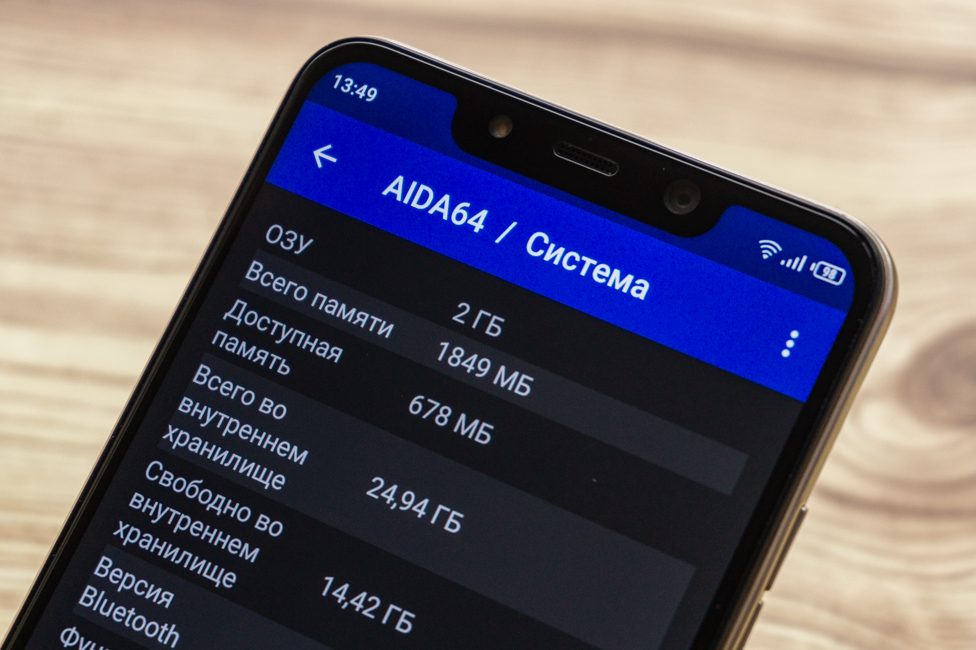 Surprisingly Tecno Spark 3 Pro shows a very good performance of the shell. Applications open quickly and rarely lag. But don't expect much from the games; simple arcades or undemanding apps run fine, but PUBG and such work only on the minimum settings.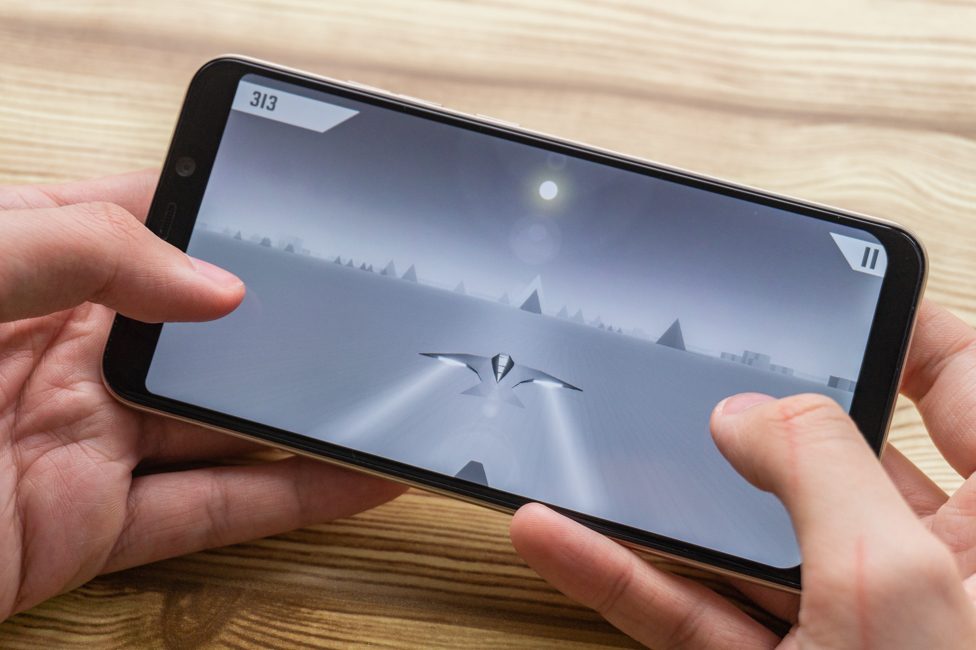 Tecno Spark 3 Pro cameras
In the main block of Tecno Spark 3 Pro cameras, there are two modules, with AI Camera inscription beside them. This is the main sensor with a resolution of 13 megapixels, f/1.8 aperture and autofocus. The second peephole is an additional 2 MP depth sensor necessary for blurring the background.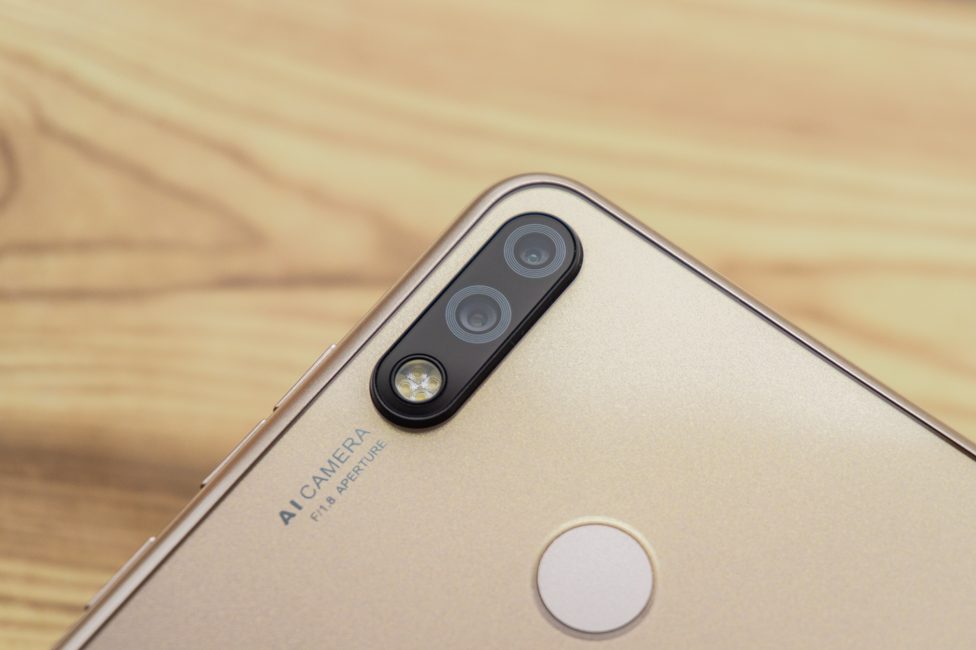 In the daytime, the pictures turn out bearable – they have relatively good detail, correct color rendition and white balance. With worse conditions, as usual, there are problems. At home you get digital noise, especially with bad lighting. But this isn't surprising in the budget segment.
PHOTO EXAMPLES IN FULL RESOLUTION
In the camera application, the main shooting mode is called "AI Cam". It's the default mode, but the definition of scenes depends on one thing – HDR. If it is turned on (off) forcibly – the scene will not be determined. But if you activate auto mode, icons will appear on the screen – movement, clouds, and so on. It doesn't spoil anything, so you can leave Auto-HDR always active.
The second camera is involved when shooting in bokeh mode. That way the object on the photo is a little closer, which is very important for correct geometry. The mode works with different results: it can both wash away small parts of the main object, and vice versa – separate the background with minimal errors. You can have fun with the feature – if you want.
You can record video in 1080p. As it often happens with budget devices, videos aren't the phone's strong suit.
The front camera (8 megapixels) (f/2.0) takes pretty good selfies. It can blur the background and apply various AR effects. Do not forget about the front flash, the brightness of which can be adjusted.
The application is minimalist, with a handful of modes: video, photo, beauty, bokeh and AR.
Unlocking Methods
Fingerprint scanner is speedy – it works almost as fast as Huawei's. It's only inferior in terms of stability, since here it is rather important to correctly apply the finger. Overall, it's good – I didn't expect it from a phone this cheap.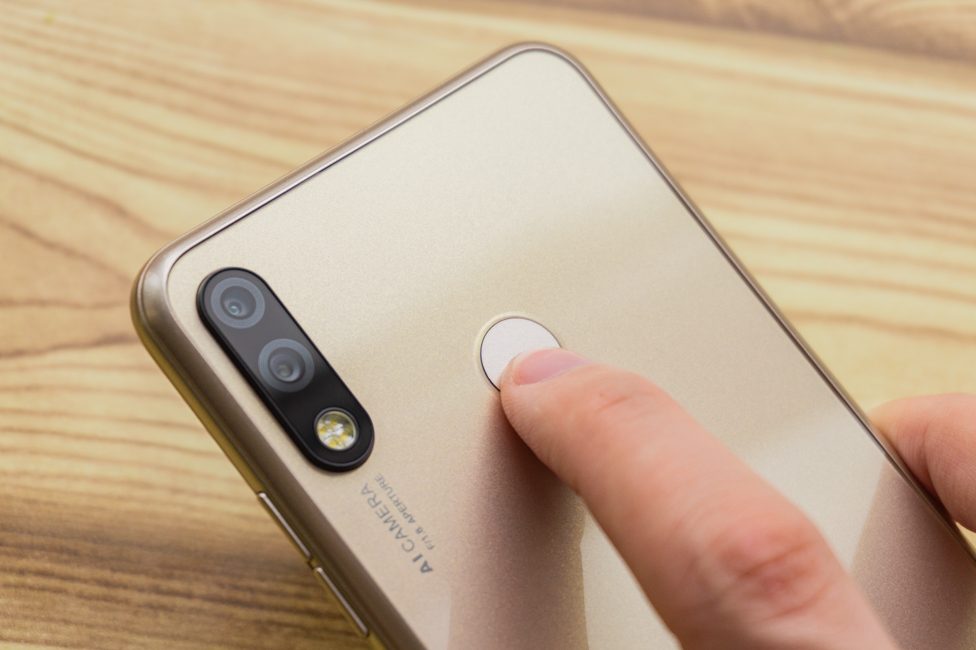 In addition to standard tasks, the scanner pad lets you can perform other actions. Manage camera, answer an incoming call, record calls and turn off the alarm.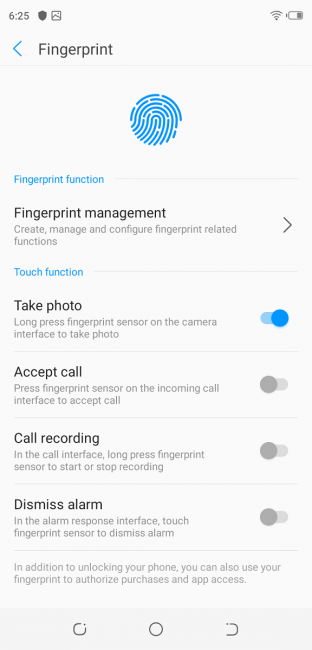 Unlocking with your face is also possible. For that, the phone uses the front camera. With a sufficient level of lighting, it works well, in the dark it refuses. Although you can activate the function which turns on the front flash. But it's too bright, which makes this feature somewhat uncomfortable to use. But hey, it works.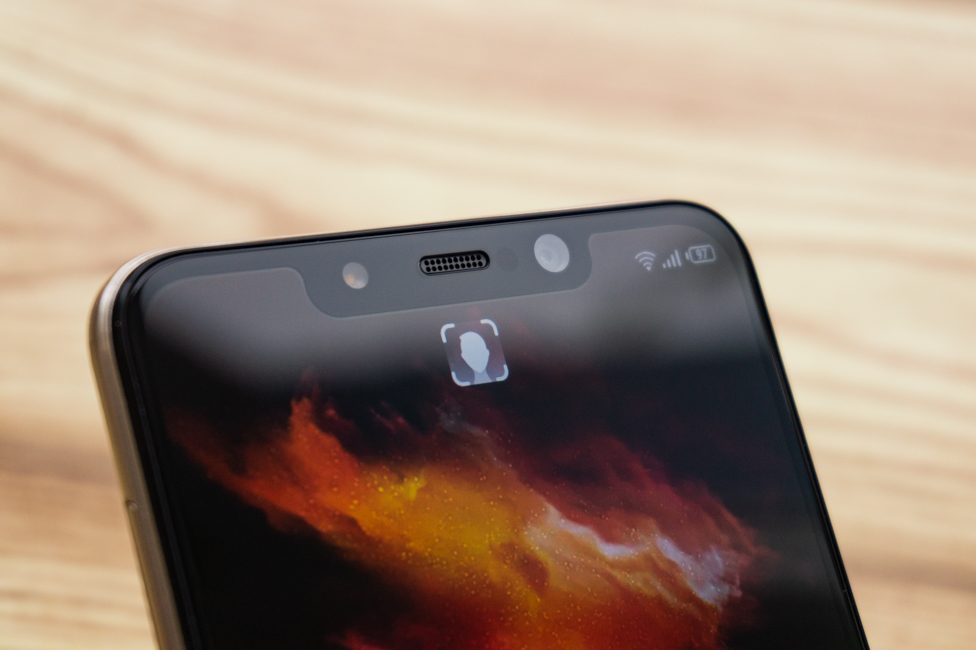 Battery life
Tecno Spark 3 Pro has a battery with a capacity of 3500 mAh, which is good, right? Especially with the energy-efficient chip and an HD-display resolution. But still it disappoints.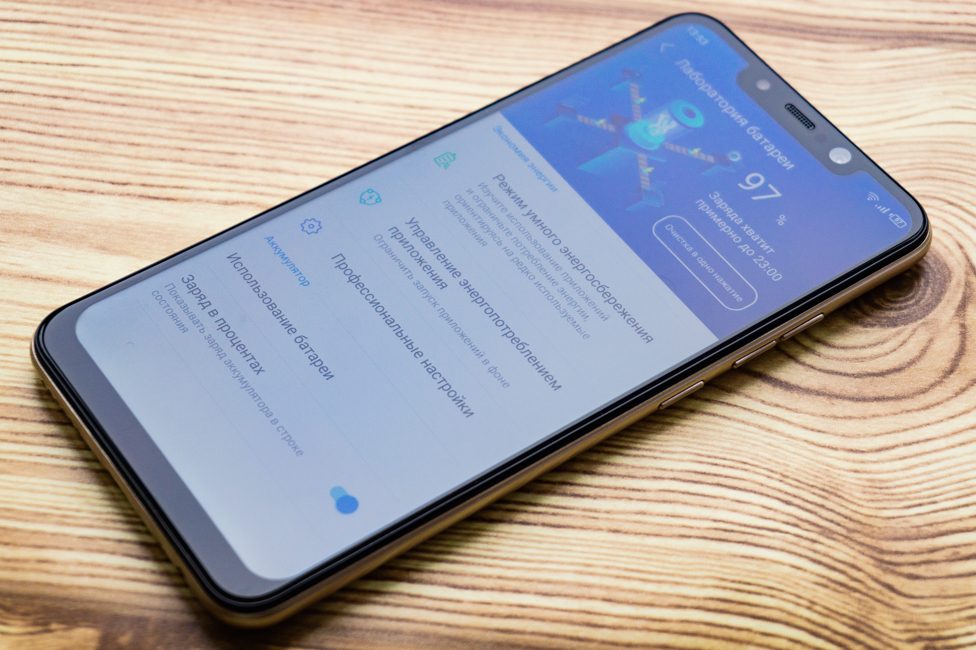 If we talk about active use, it is a day and a little more than 5 hours of display activity. Of course, you can try to play with various power saving settings, of which there are plenty, and stretch the battery for longer. But usually it's something like this.
The smartphone can charged via the microUSB port – modern USB-C has not yet arrived in this segment. However, from the bundled charger it is not very fast:
00:00 — 14%
00:30 — 31%
01:00 — 48%
01:30 — 64%
02:00 — 81%
02:30 — 95%
02:50 — 100%
Sound and communication
The earpiece speaker in Tecno Spark 3 Pro is okay. Multimedia sounds as good as you might expect – I wouldn't advice listening to music that way. But the volume is enough, you will not miss a call or notification. In wired or wireless headphones, the music sounds good, there is a normal volume margin. There's no built-in equalizer, but you can download one separately.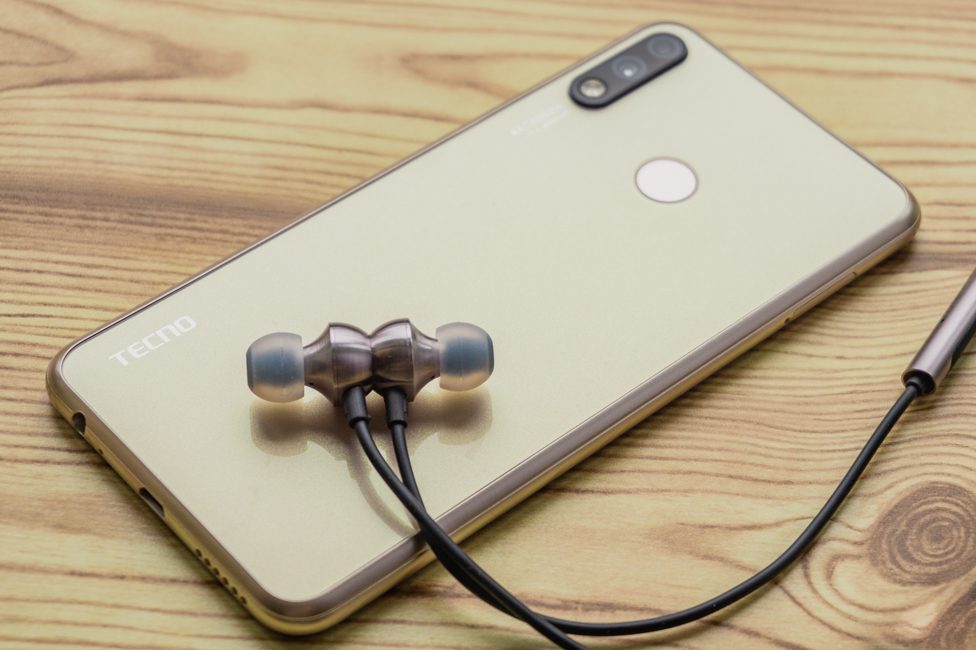 The set of wireless modules is not impressive, it is pretty basic. Single-band Wi-Fi 802.11 a/b/g/n, Bluetooth 5.0 and GPS (A-GPS, GLONASS). Mobile network, Wi-Fi and BT work fine. In our sample with the early software, the GPS module does is not very accurate. But in commercial versions, smartphones will get updates and most likely the positioning accuracy will be higher.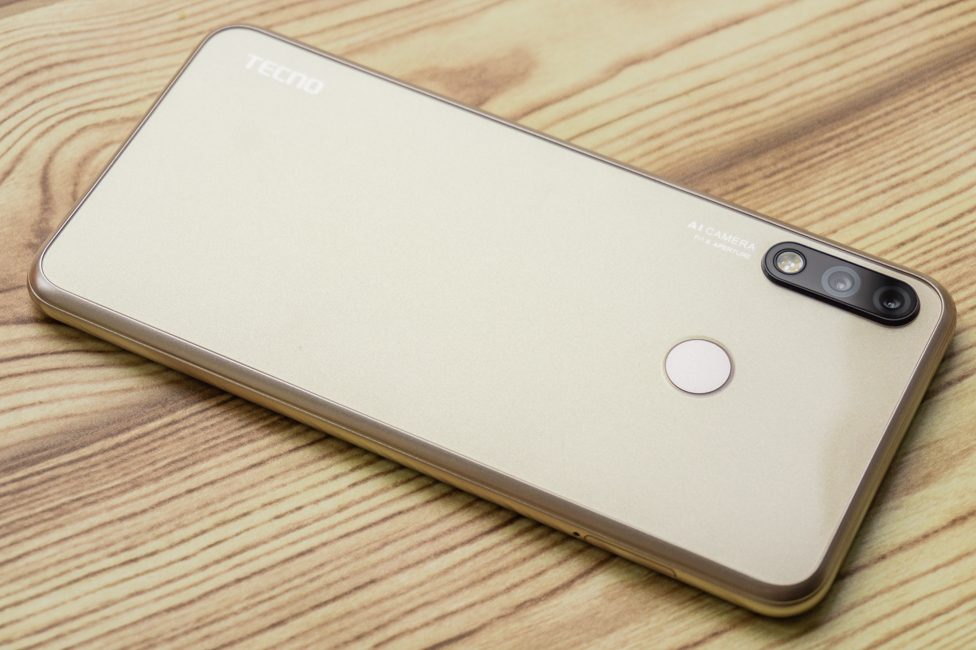 Firmware and software
Tecno Spark 3 Pro works on the current version of Android 9 Pie with proprietary HiOS 4.6 shell (Android Q is already in beta status). You can customize themes, change the grid of the desktop. You can also note a lot of gestures: drawing on the screen off for quick launch of applications or functions, rotating to turn off the sound, screenshots with three fingers and activating the display by lifting the device.
There's an interesting feature – the whole three ways of system navigation. Traditional three keys, the location of which can be changed. Full-screen gestures – the buttons disappear, but actions are performed by swipe up through the areas where they were located. As well as the combined navigation, which is completely identical to the original Android 9. You can move the "back" button to the right side.
Of the flaws in the firmware, I can point out the presence of advertising, which appears quite often in different places. Also, I didn't really the power management menu. A few things are simply duplicated there twice without any reason.
Verdict
Tecno Spark 3 Pro is a good smartphone in its price range. You get all the necessities without additional money or accessories. I especially liked the UI's responsiveness and surprisingly fast fingerprint scanner. These are still a rarity in the budget segment.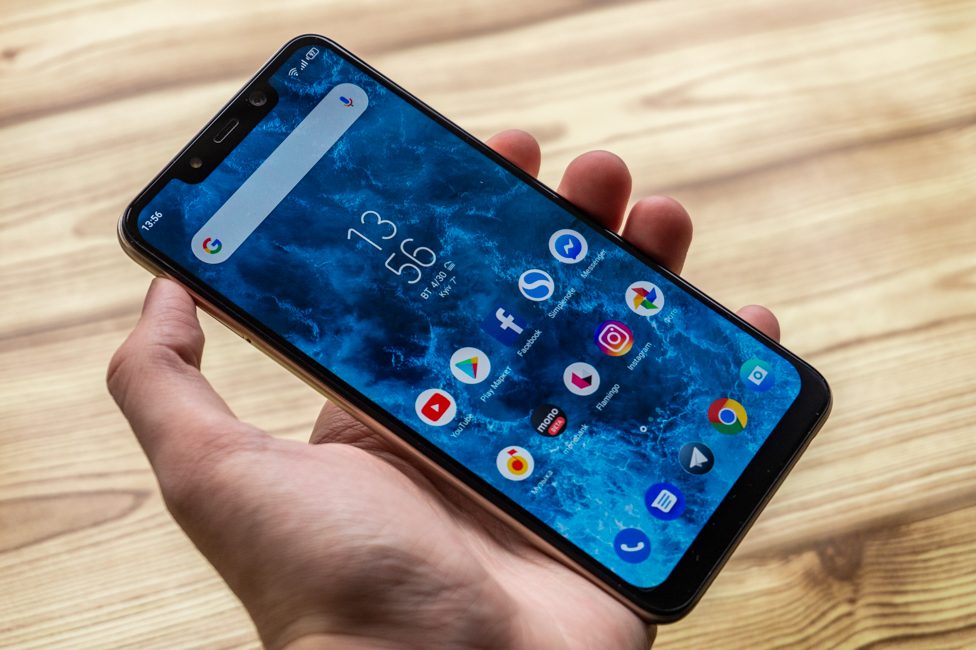 Considering the price, we can drop some of the things I disliked – like mediocre battery life and minor problems with the firmware.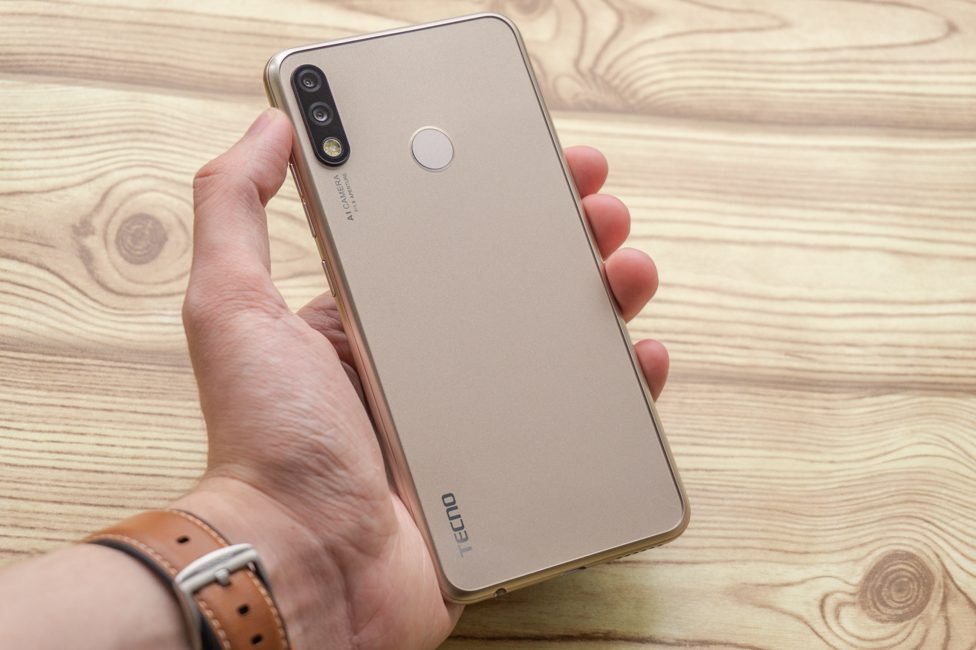 Otherwise Tecno Spark 3 Pro is a fine gadget, on par or even better than its more well-known rivals.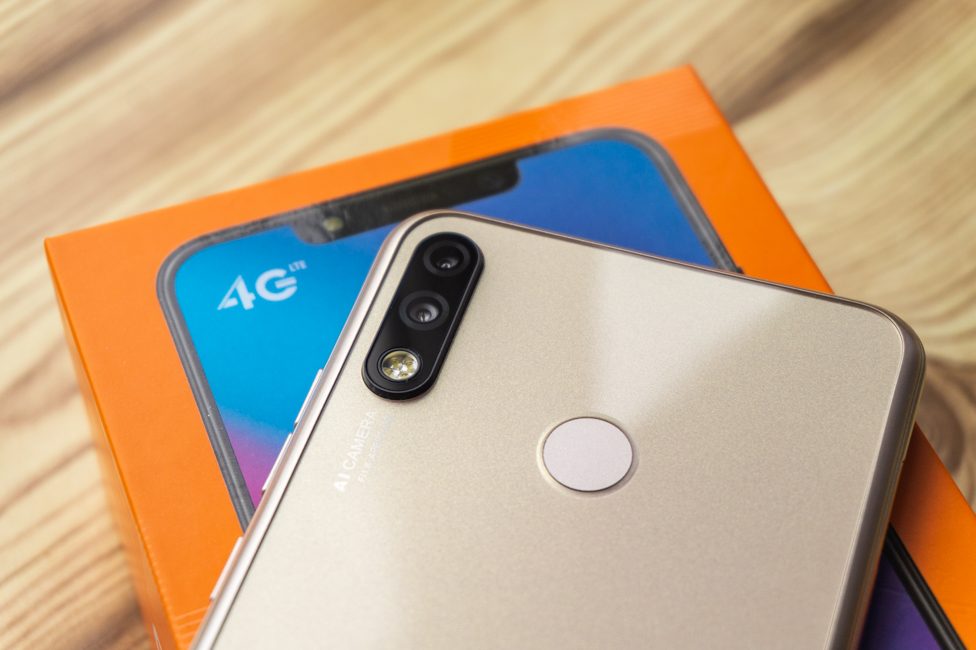 Subscribe to our accounts:
Read also: Android Q beta 3 review as in the case of Tecno Spark 3 Pro