Bayraktar TB2 is a strike operational and tactical unmanned aerial vehicle (drone) with which Ukraine successfully destroys Russian military equipment. Let's see what capabilities this modern weapon has.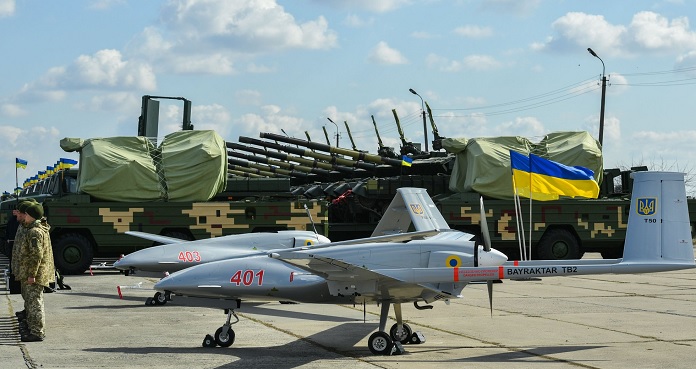 It is very difficult to write an article about weapons in these terrible days for our country, especially when you are in Kharkiv, where the invaders launch missiles and bombs every day. I don't even have the Internet because of the shelling of these ignorants. It's hard to hear sirens, it's hard to see my beautiful city destroyed, watch videos showing how one of the best cities in Ukraine is being systematically destroyed. Hard…
But life does not stand still. Ukraine is protecting itself, defending itself, crushes the occupiers. Civilians barehandedly stop the armada of orcs, boldly spitting in their eyes. Our army inflicts devastating blows on the enemy, proving that it can and knows how to fight it. We believe more than ever in our defenders, wish them health and inspiration, success, and victory. Of course, success would be impossible without state-of-the-art weapons.
Read also:
Today I offer you to get acquainted with the already well-known modern drone Bayraktar TB2. I am sure that almost all Ukrainians, and not only, have heard about this UAV or drone.
The first successes of Bayraktar TB2 in the liberation war of Ukraine
Since the Russian invasion of Ukraine, much has been said about the equipment available to the Russian army. But the Ministry of Defense of Ukraine also took care of the modernization of old vehicles, which were at the disposal of our army, and purchased new, modern weapons. One example of such weapons is the Turkish Bayraktar TB2 drone, which from the first days of the invasion our military has used very successfully to destroy columns of Russian military equipment, 9K37 Buk missile systems, and other weapons. The work of drones in the Malyna district of the Zhytomyr region, located less than 100 km from Kyiv, can be seen in a video provided by the Ministry of Defense of Ukraine, which clearly shows the destruction of the anti-aircraft missile system.
Байрактари в роботі. Наші оператори ювелірно криють колони ворожих військ. Знищено російський БУК в районі Малина Житомирської області.
Бійтеся, вороги! Не буде вам спокою на нашій землі!https://t.co/P5fCPeWTB8 pic.twitter.com/dH2UEUbKST

— Оперативний ЗСУ (@operativno_ZSU) February 27, 2022
The Ukrainian army also conducted a similar operation using Bayraktar TB2 drones in the southern suburbs of Kherson. The attack directed on a column of the Russian troops took place on the M14 highway connecting Kherson with Mykolaiv. Here we do not have very high-quality video, but the explosions of armored vehicles, including missiles that are part of the 9K37 "Buk" system, are clearly visible.
Що Байрактар животворящий робить!
с. Чорнобаївка, Херсонська область
Welcome to hell!🔥🔥🔥https://t.co/6dycEgj0lI pic.twitter.com/vDC68atVtI

— Оперативний ЗСУ (@operativno_ZSU) February 27, 2022
On Tuesday, March 1, Bayraktar TB2 carried out another successful attack on the Russian ground forces. This time in the Sumy region, according to the head of the regional state administration Dmytro Zhyvytskyi. Unlike the previous two cases, the videos were not distributed here, but the post itself received a wide response on social networks. Thanks to drones, 180 units of military equipment – cars, armored personnel carriers, and tanks – were destroyed.
The operations described above were not the first when the Ukrainian Air Force used Bayraktar TB2. The combat baptism of Turkish drones took place on October 26, 2021, during the destruction of the separatist artillery post of the so-called DNR near the village of Granite, as seen in the attached video. The separatists fired 122-mm prohibited howitzers at the Ukrainian side, but all positions were eliminated thanks to the drone.
Thanks to these successes, Ukraine has demonstrated that it continues to resist, despite Russia's significant advantage in armaments or military expansion, and is using such state-of-the-art technology to turn a theoretically unfavorable situation to its advantage.
Read also:
When these drones appeared in Ukraine
Bayraktar TB2 drones were purchased by Ukraine from the Turkish military concern Baykar Makina a few years ago. According to open data, by 2019 the number of these devices in the Air Force of Ukraine was 12, since then our Ministry of Defense has focused on the purchase of new weapons. In addition to purchasing ready-made drones, Ukraine has also received a license to manufacture Bayraktar TB2 at its plants. According to preliminary data, 48 such machines should be manufactured by the end of 2022.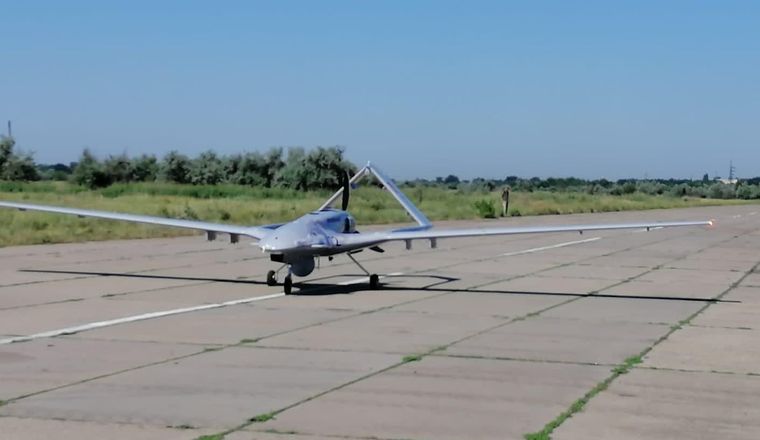 Bayraktar TB2 became a real horror for the Russian occupiers. They are afraid of him, they curse him, they try to avoid meeting him.
History of the Bayraktar TB2
Bayraktar TB2 is a relatively young drone. The first test flight took place in May 2014. This is a medium-altitude high-autonomous unmanned aerial vehicle, which belongs to the class MALE (Medium Altitude Long Endurance). The Bayraktar TB2 drones were created thanks to the US embargo on the supply of drones to Turkey, which was imposed due to fears that they could be used to fight the Kurds. Therefore, since the Turks could not obtain this type of weapon, they focused on creating it on their own.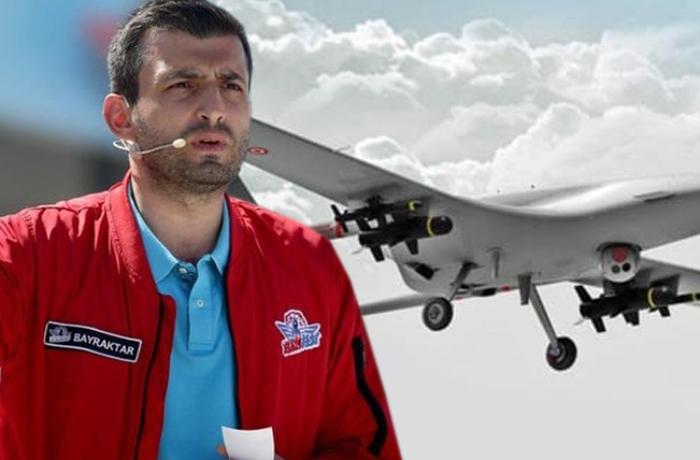 A breakthrough was the project by Selcuk Bayractor, which has a master's degree from the University of Pennsylvania and the Massachusetts Institute of Technology, a specialist in the development of unmanned aerial vehicles. After returning to the country, he turned his native auto parts company, Bayraktar Makina, into a defense company. His works have gained national recognition, and after 2020, international as well.
Who else, besides Ukraine, has Bayraktar TB2? Of course, they have been in the service of the Turkish army since 2015. In addition to Ukraine, Turkish UAVs were received by Azerbaijan, which used them during the Nagorno-Karabakh conflict. There are several vehicles in service in Libya, Qatar, and Morocco.
Bayraktar TB2 drones have proven to be a very effective tool for destroying enemy equipment. They were a horror to the Armenians, and now to the Russian soldiers.
What is Bayraktar TB2?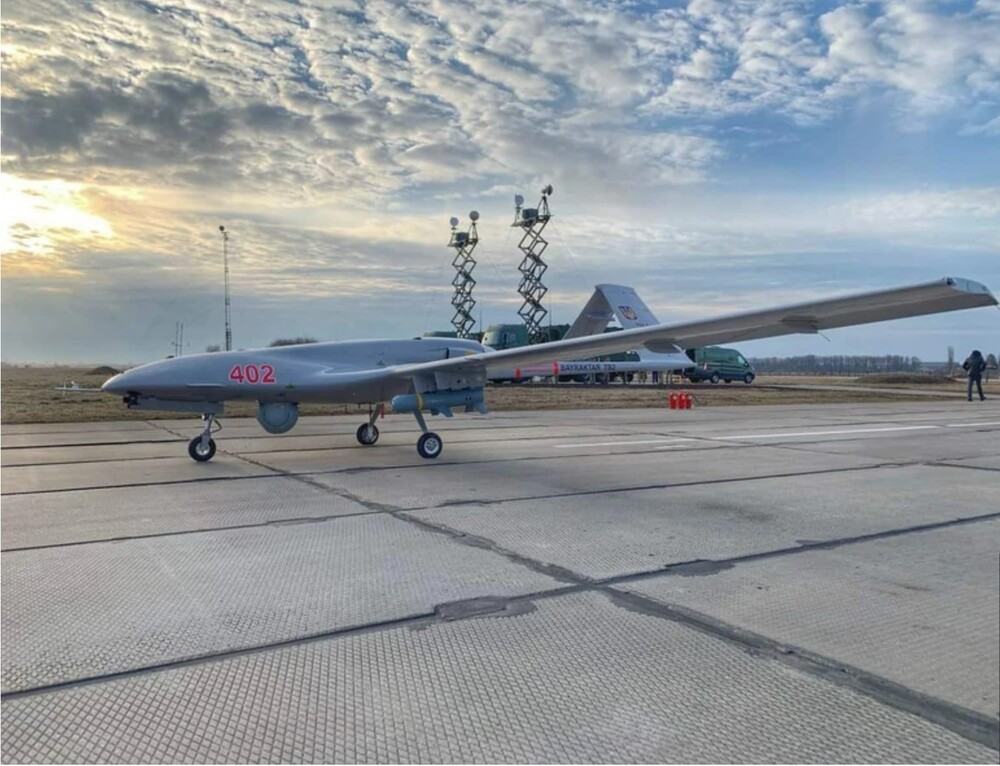 Let me remind you that the Bayraktar TB2 is a medium-altitude long-range unmanned aerial vehicle. This means that it is suitable for work at medium altitudes – from 3 to 9 km. The vehicle can be continuously in the air for up to 24 hours, with an operating range of up to 150 km. This is a combat reconnaissance drone, so it can be used both for reconnaissance and to destroy specific targets.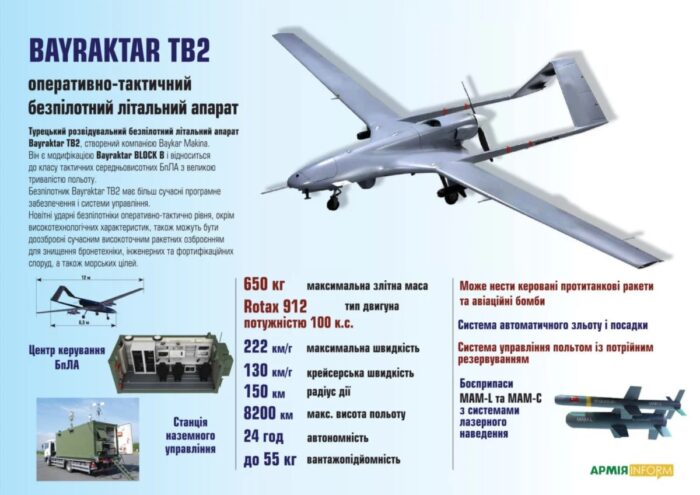 How does a UAV function and operate?
There is not much information on the Internet about how the operator manages the Bayraktar UAV. It is equipped with modular electron-optical and infrared cameras, laser rangefinders, target indicators, which are needed to control ammunition, and multifunctional AFAR radar. In addition, an REB module can be installed on the device to neutralize old air defense systems.
The ground crew of the drone consists of three people: commander, pilot, and weapons operator. When Bayraktar performs a combat mission, they are at the control station, which is transported in a van mounted on the chassis of a heavy truck. In addition, all equipment has an autonomous power supply. One such ground team is capable of piloting three UAVs simultaneously. The drone itself is equipped with software that constantly determines its exact coordinates and calculates the most optimal options for drone routes during the task.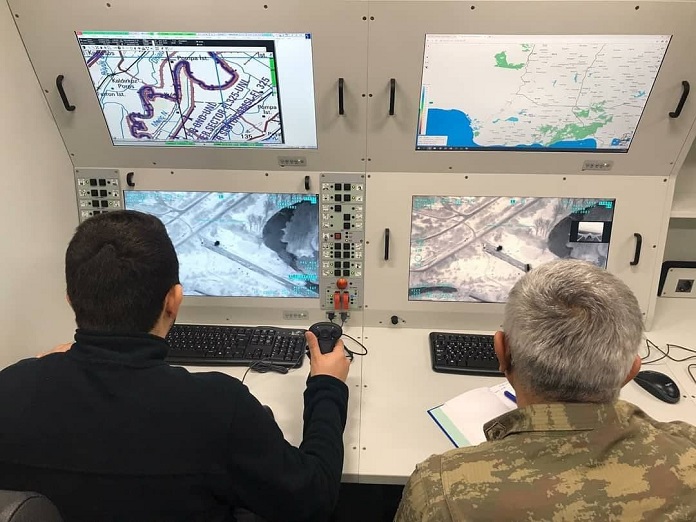 Bayraktar TB2 operates as a system consisting of six drones, through which the operator sees targets and directs high-precision projectiles in real-time (and from cameras that record spectacular video results), two ground control stations, three terrestrial data terminals, two remote video terminals, and ground auxiliary equipment.
What is it made of and does it fly fast?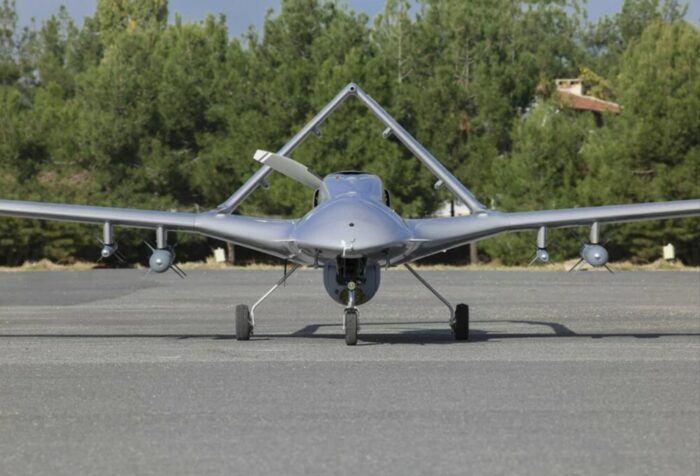 Much of the design elements of the drone were made of composite materials, which have recently been actively used in the aviation industry. Mainly due to its low weight, ease of formation, and resistance to high temperatures due to air resistance. Bayraktar TB2 is not very fast. The drive system consists of a single Rotax 912 iS engine with 100 hp, which allows the structure to accelerate to 220 km/h (Mach 0.18). However, this engine is a reciprocating unit, not a jet, as in the case of fighters or modern passenger aircraft.
Dimensions of Bayraktar TB2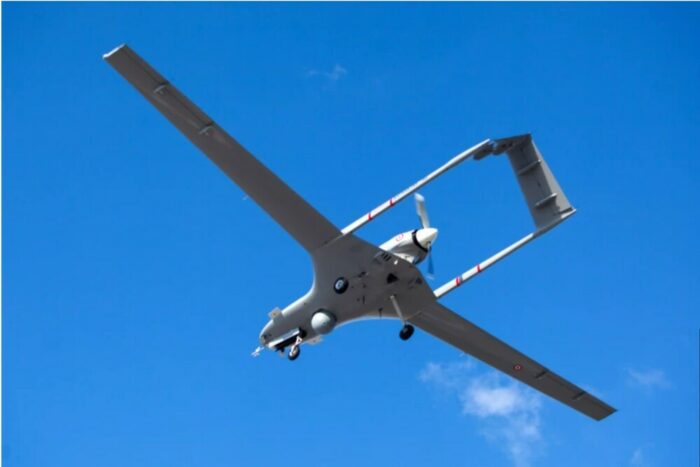 The wingspan of this drone is 12 m and its length is 6.5 m. Therefore, it is a fairly large structure weighing 650 kg. The tank holds about 300 liters of fuel.
Bayraktar TB2 Payload
The payload of Bayraktar TV2 is 150 kg, of which 55 – optoelectronic reconnaissance and targeting system. There is 95 kg left for combat payload. These can be an anti-tank missile with a range of 8 km, a high-precision high-explosive grenade, or an armor-piercing projectile.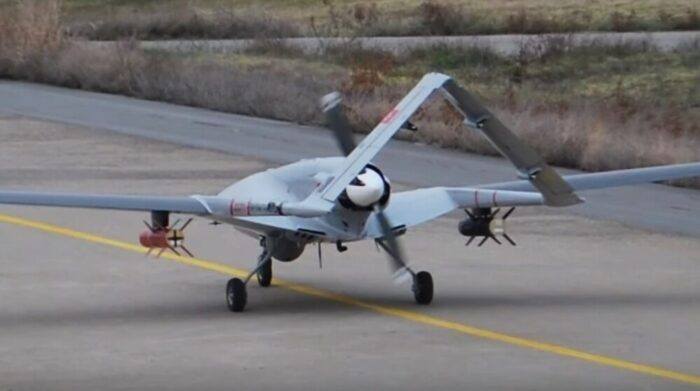 Combat equipment may include anti-tank guided missiles and light circulating ammunition. The main type of weapon for Bayraktar TB2 is universal air-to-air missiles of the MAM system, which can be used for ground purposes. I'm talking about the MAM-L version, which uses a laser tracking system. They are able to hit targets at a distance of up to 8 km or 14 km using an inertial (gravitational) navigation system. In addition, replaceable heads can be used: fragmentary-explosive, thermobaric, or tandem-cumulative nozzle. The drone can also be armed with MAM-C missiles with a universal warhead capable of piercing the steel armor of a tank 200 mm thick.
How far can Bayraktar TB2 work effectively?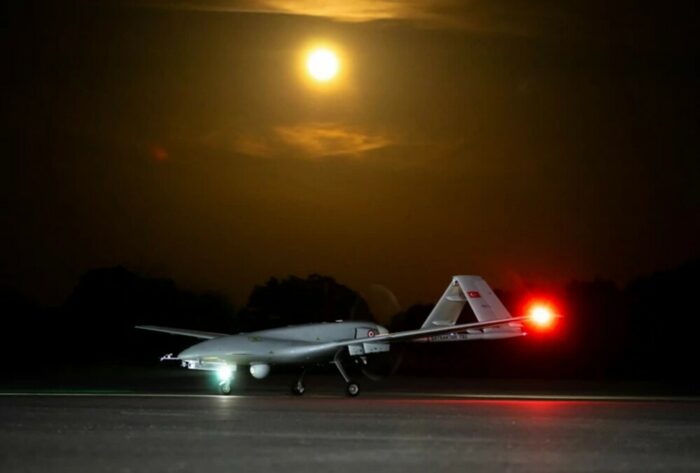 The maximum firing range using Bayraktar TB2 is 15 km, which allows operators to fire effectively without a chance of being detected. Especially if the other party is not expecting an attack or does not have electronic detection systems for unmanned aerial vehicles. As it turned out, the Russians were taken by surprise, which contributed to successful attacks. So it is clear that they do not have any systems.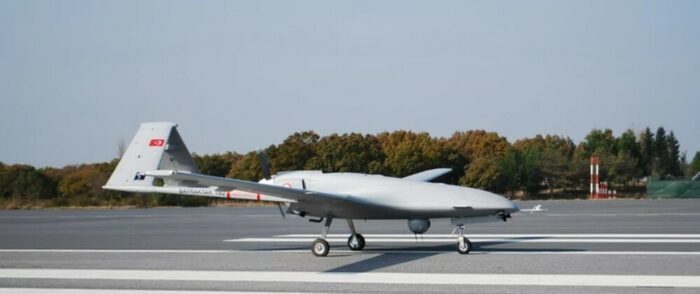 Let's hope that Bayraktar TB2 will continue to deal devastating blows to the enemy. I am confident that Ukraine will survive, will be able to give a decent rebuff to the Russian invaders, whom I have recently called only fascists, and an efficient and powerful Bayraktar TB2 drone will help to do it as quickly as possible. Because I believe in my country, in my proud people, which cannot be defeated. Glory to Ukraine! 🇺🇦
Read also:
If you also want to help Ukraine fight the Russian occupiers, the best way to do it is to make a donation to the Armed Forces of Ukraine through https://savelife.in.ua/donate/