Fitness, jogging, calories, steps, sports… These words do not give to live in peace a good half of the inhabitants of the Earth for several years. Mass sport is increasingly gaining popularity with the advent of sports-bracelets. Everyone started to run, monitor for the passed steps, calories burned. And to do this, we need an intelligent assistant. Your personal trainer, if you wish. Today the most accessible guide to the world of sports bracelets is Xiaomi MiBand. But its functions only enough for a minimum of problems – control the steps, calories and nothing more.
And what about more advanced athletes, who want to keep track of a large number of indicators while jogging? For example, George wants to monitor the average run rate, Peter is interested in the average heart rate and time of jogging, and Samantha wants to see a map of where she jogged with all the information after a workout. Simple gadget from China is not suitable for them. And today we will focus on what is suitable for them – Samsung Gear Fit 2, your advanced trainer!
Design and Display of Gear Fit 2
The first thing to note – Samsung Gear Fit 2 is quite compact bracelet, especially considering installed 1.5-inch display. As in the previous generation of Gear Fit, there it is rounded too. And this is the only similarity between the generations. The display itself takes up almost the entire front part, and the bracelet becomes its continuation. In contrast to the first generation, it nicely fits to the design. Hull shape is also curved, the capsule is no longer sticks and neatly bends around hand. This increases the comfort of using on over 9000 points.
Cover of Gear Fit 2 is made of plastic which can be painted in one of three colors: blue, black and pink. Bracelet of exactly the same color as the capsule.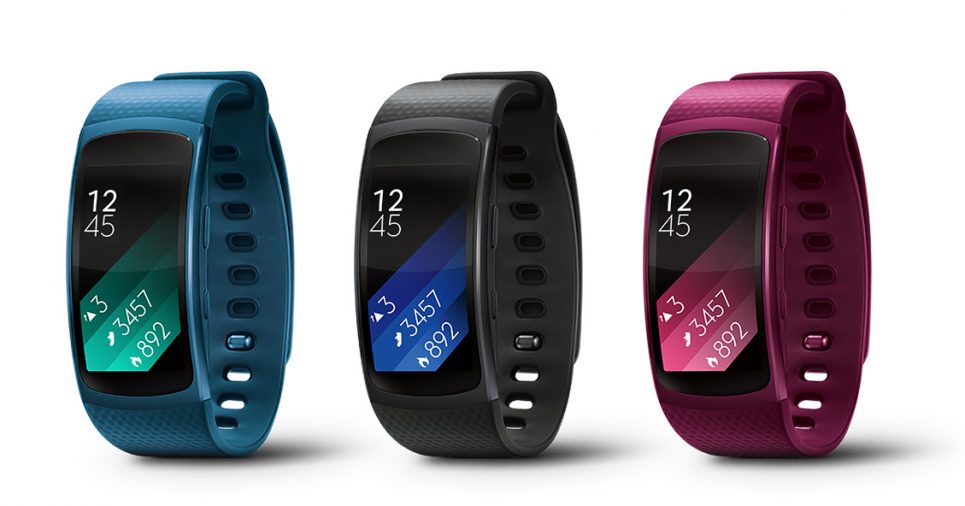 However, it is not made of plastic, but hypoallergenic rubber, as in Gear S2. Also from Gear S2 was borrowed method of fixing straps. Straps could be in three sizes: S, M and L. Also clasp worthy of special praise. Though this type is not uncommon, but, nevertheless, not every manufacturer uses it. Before you fasten the button on the strap itself, you need to pass it through a special hole. Thus, if the strap would unbutton accidentally, the bracelet will not fall to the floor, and will continue to hang on the hand for a while.
Before we will go to the display, let's see what else is laid out on Gear Fit 2 cover. The touch screen is not the only way to control bracelet. There are two buttons on the right edge. One is responsible for the "Back" action, the second – for "Home" action. Also double-clicking the button "Home" can be assigned to open any application. Below are contacts for charging and heartbeat sensor.
And now for the display. It is 1.5 inches with a resolution of 432×216 pixels. The matrix itself – Super AMOLED, as expected from a product from Samsung. The display is a high-quality, pleasant and easy to read information from it. However, in the street, you can do it only at maximum brightness levels, which unfortunately reduces the battery life. There are eleven levels of brightness. However, not all so simple – from 1 to level 10, you can put on a permanent basis. But the 11 level is called – "the street", and turns off after 15 minutes of work.There are eleven levels of brightness. However, not all so simple – from 1 to level 10, you can put on a permanent basis. But the 11 level is called "the street", and turns off after 15 minutes of work.
It is worth noting the presence of water-resistance and dustproof according to the standard IP68. That will allow the bracelet to be in the water for 30 minutes, to a depth of 1 meter. Of course, you are unlikely to do so, but it will allow get into the rain, wash your hands and even take a shower without taking off bracelet.
Interface and connectivity
Requirements to devices to be connected are standard as for Samsung wearables. Smartphone with Android 4.4 or later versions, 1.5 GB of RAM, Bluetooth or Wi-Fi for remote connection and Samsung Gear application. Last one you can easily download from Google Play.
Through this app comes the main bracelet setting. In it, you can change the clock faces, manage notifications that will be sent to the device, configure the placement of applications in the menu, send music to the Gear Fit, find the bracelet in the event of losses (it will start to vibrate until you turn off), and make other changes. "Out of the box" you will get 9 dials, half of which can be customized. But if that's not enough for you, wecome to the Galaxy Apps store, where you can find what you like. And also through the Galaxy Apps, you can download on your bracelet additional applications. But it is unlikely you will find something worthwhile, because there are very few programs in the shop.
Main bracelet management occurs through the touch screen, it is very simple and intuitive. On the Home screen your selected clock widget is shown. By pulling downward you'll get quite usual bar, where you can change the brightness level, switch to flight mode and turn on the music player controls. Thumbing through left and right, you will get access to all possible widgets. Here you can see the number of steps, calories burned, floors passed, the pulse data and control the amount of coffee and water were drunk. This is what you will use every day. If you need more – simply click on a mechanical button "Home" and get to the menu of all installed applications.
Another advantage of the Gear Fit 2 over other bracelets is comfortable working with notifications. All this thanks to the touch screen, because you can not only find out that there was a message, but also interact with it. If you are wearing headphones, you can answer a call without taking your smartphone. Also watch has extensive integration with many applications, directly with them you can reply to an SMS or email in Gmail.
The main function of the Gear Fit 2 bracelet
Since the Samsung Gear Fit 2 is a sports bracelet, the sports functions are defining it. And there are lots of them. Using the accelerometer and gyroscope bracelet counts the number of steps and floors. If the steps are more or less accurately, the situation with the floors are not so good. There were days when bracelet counted 50+ traveled floors, which, of course, I have not done. Also, these sensors can count other types of activities: squats, lunges etc.
For those who like to create routes, to watch the map and to train without using of smartphone Gear Fit 2 has installed GPS-tracker. With its help you can know the exact distance, speed, time and other parameters while jogging, walking or bicycle training.
And what else do love experienced athletes during training? That's right, keep an eye on the pulse. It's very important. All this you can do with Gear Fit 2. It is able to measure your pulse in calm mode and during exercise. In the first case, you get a more accurate measurement than in the second. Because when, for example, jogging our hands become sweaty, and it prevents the sensor to correctly read the pulse. Another feature is the tracking bracelet sleep, but I could not sleep in the Gear Fit 2. It is very bulky and interferes with sleep.
Autonomy
Pretty interesting moment. Samsung Gear Fit 2 is equipped with a battery capacity of 200 mAh. And this is can be enough either for 3 days or 1. It all depends on your lifestyle and use cases. If you will use the bracelet only in the "clock, notifications, pedometer" mode, they can easily work for 3 days. In my mode, it's all of the above + heart rate measurement every hour, bracelet worked 2 days. And if you add active training using a GPS to all of this – charge will be "sleeping bed" for your bracelet.
Conclusion
Over the month with the Gear Fit 2 I can tell you that I liked the bracelet, but I used it as a clock with a little touch of sports functions. For such people like me, the usual smart watches are more suitable. But for those who need sports component, I can easily advise this device.
Prices
Other models could be displayed, if this is not in the catalog for your region.
[socialmart-widget id="IWiijFTY" search="Samsung Gear Fit 2″]
[freemarket model="Samsung Gear Fit 2″]
[ava model="Samsung Gear Fit 2″]