Smartphone shipments in North America reached 39 million units in the Q1'2022. Of these, 51% of the market is Apple devices with sales growth of 19% thanks to the iPhone 13 sales. Samsung continues to hold firmly in the second place with 27% of the market and with a slight increase in sales – +1%. The new S-Series and A-Series devices contributed to this, covering a wide range of prices. The third place, still with a good gap from the pursuers, is occupied by Motorola, which continues to cover the market segment left by LG. TCL and Google closed the top five with market shares of 4% and 3% respectively.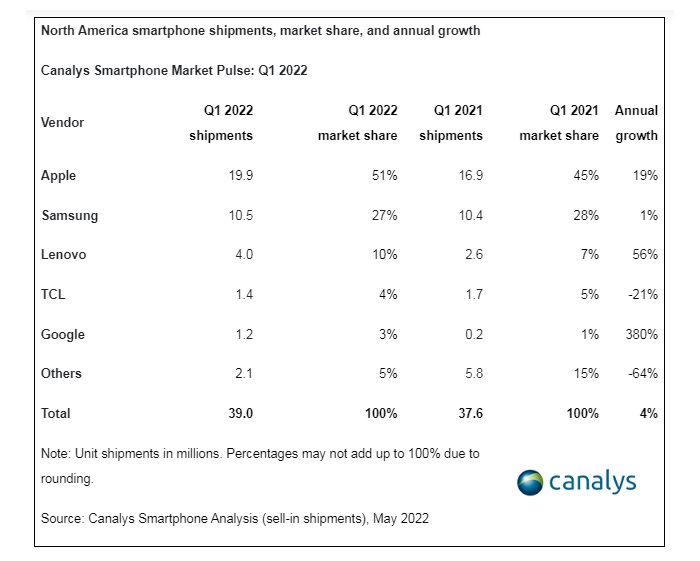 "Motorola is the new third brand in North America after it replaced LG last year," said Canalys Research Analyst Runar Bjørhovde. "Motorola used its wide carrier presence – particularly with prepaid- and mid-range-focused carriers – to discover and rapidly leverage new opportunities, while also forming new supply partnerships."
Google is right behind Motorola's back, as it plans to capture market share, building on its broad presence among carriers and unprecedented investment in the Pixel brand, both in traditional advertising campaigns and in a new partnership with the NBA. So Motorola should look over their shoulder to hold on to the hard-won third place.
You can also help Ukraine fight with Russian occupants via Savelife or via an official page of the National Bank of Ukraine.
Read also: