This year, the ASUS ROG Delta series of gaming headsets has been expanded with another model, ASUS ROG Delta S Core. These are wired headphones, which are made in a recognizable design, with a rather nice package, a detachable microphone and compatibility with virtually any device that runs games.
One of its features is its light and ergonomic design as the full-size headset weighs only 270 g. So let's see if the headphones are really as comfortable as the official website of the manufacturer says, what is the sound in them and whether they can be used not only for games.
Read also: ASUS ROG Strix Flare II Animate Review: Brand's Best Keyboard So Far
Specifications of ASUS ROG Delta S Core
Connection type: wired, 3.5 mm
Cable length: fixed 3.5 mm cable – 1.5 m, 3.5 mm audio/microphone splitter cable – 1 m
Speakers: 50 mm, neodymium magnet
Impedance: 32 ohms
Frequency range: 20 ~ 40000 Hz
Microphone: detachable, unidirectional, 40 dB sensitivity
Weight: 270 g
Compatibility: PC, MAC, PlayStation 4 and 5, Nintendo Switch, Xbox One, Series X and Series S, smartphones, tablets
Optional: 7.1 surround sound with Windows Sonic support, additional pair of ear pads included
Delivery set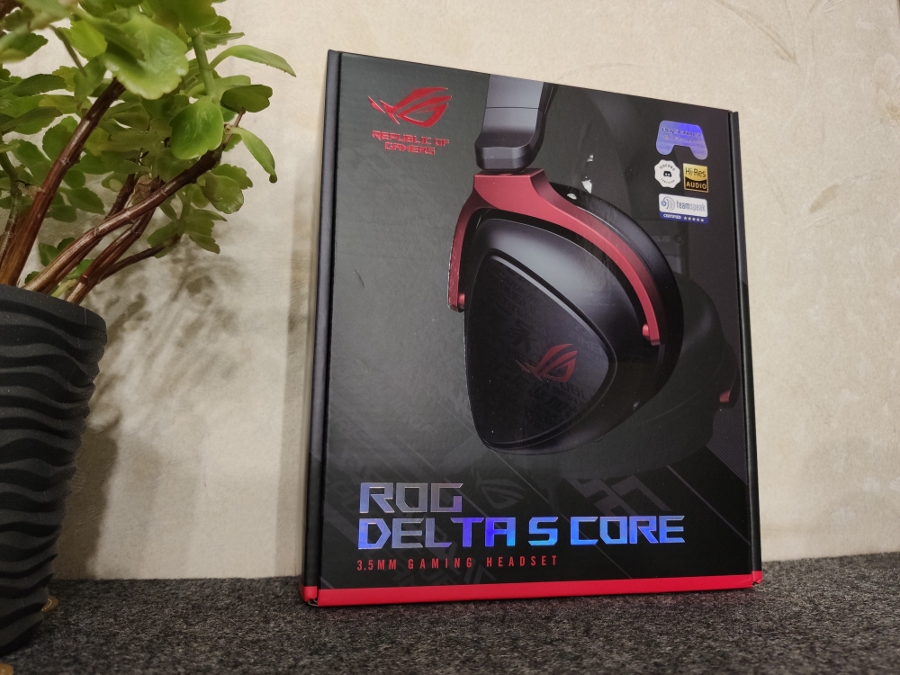 ASUS ROG Delta S Core headset came in a nice box with ROG branding. Along with the headset inside you can find an extension cable with a splitter for headphones and a microphone, an additional pair of ear pads (fabric), as well as a removable microphone and accompanying literature.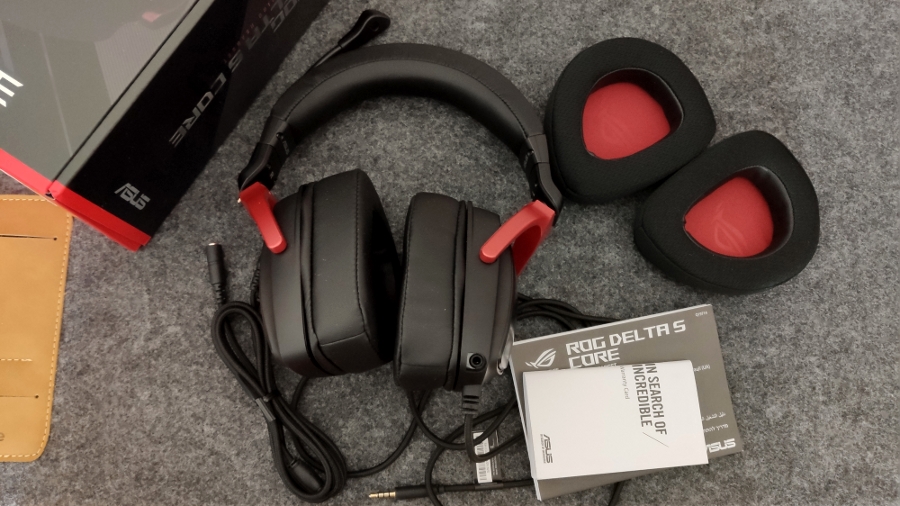 Market positioning and price
The ASUS ROG Delta line includes a number of gaming headsets with different types of connectivity and a variety of additional features, from backlighting to cool noise cancellation on the microphone. The series includes, for example, the flagship ROG Delta S Animate with a full range of features and a hefty price tag, and there are simpler ones like the ROG Delta Core.
The fresh ASUS ROG Delta S Core can be considered the latter: it is a full-fledged gaming headset with good functionality and high-quality sound, but without any bells and whistles. And at the time of writing this review, you can buy it for $150.
Design and materials of ASUS ROG Delta S Core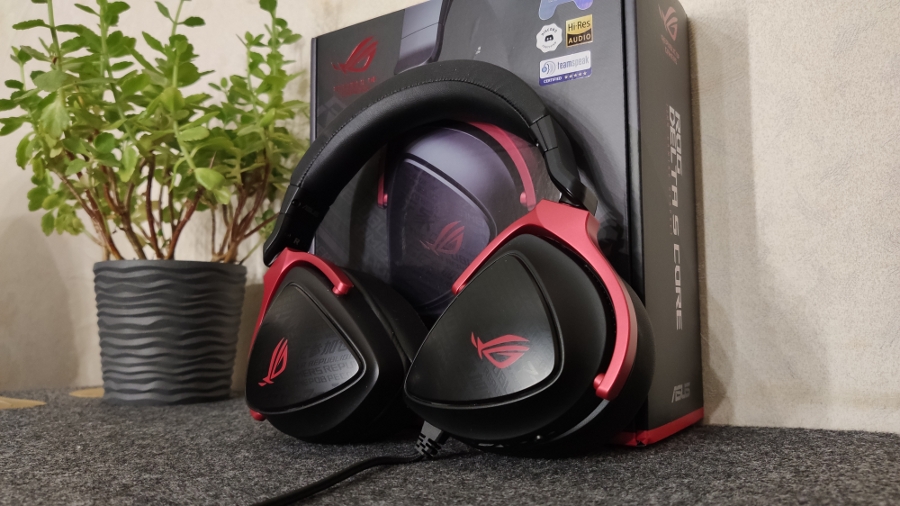 Like all models of the ROG Delta series, ASUS ROG Delta S Core is a full-size model with recognizable D-shaped "ears". The main color is black, but there are decorative elements marked with red. Thus, the logo on the cups and the "fork", on which the headphones are held, are highlighted with red. In addition, the cups have a textured surface with the name of the series "Republic Of Gamers" in different languages.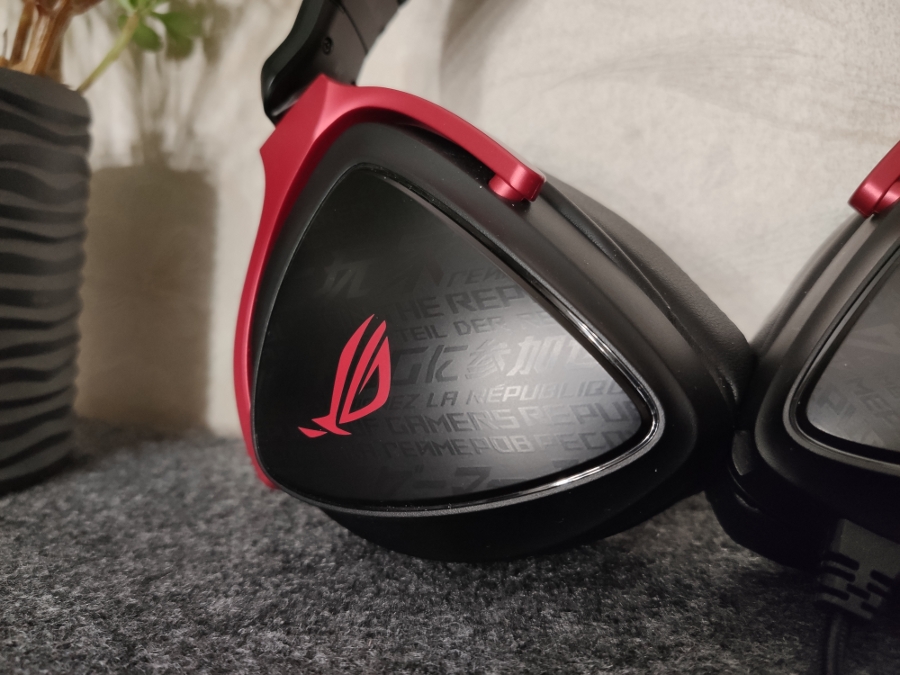 There are a number of holes on top of each cup.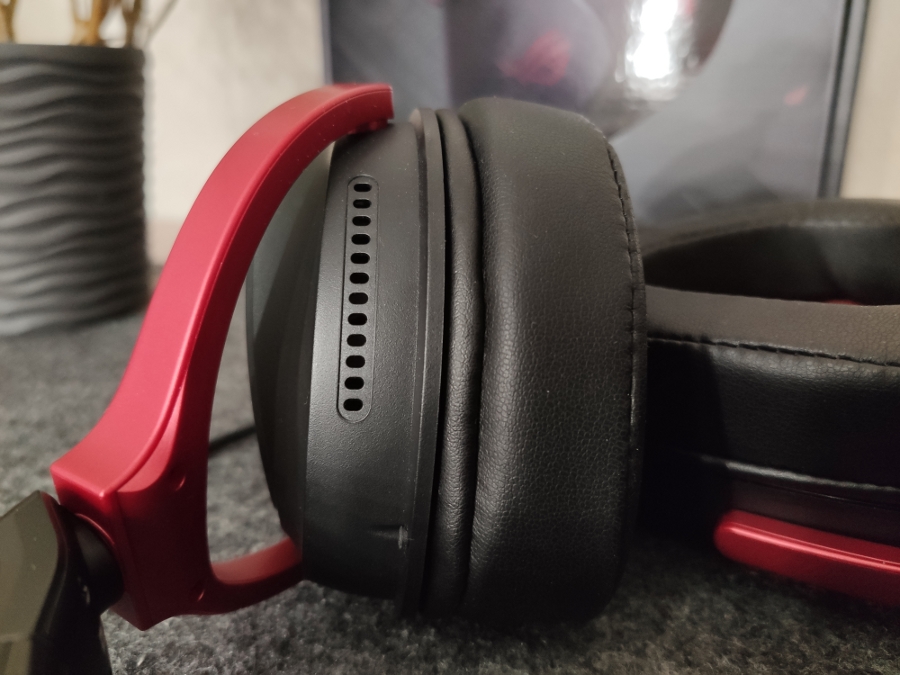 Inside there are marks L and R on the sides.
The headband is not foldable, but the ear cushions are rotated (90 degrees inward and a little bit to the back) and the size of the headband is easily adjustable. For convenience, there are notches on the inner metal plates.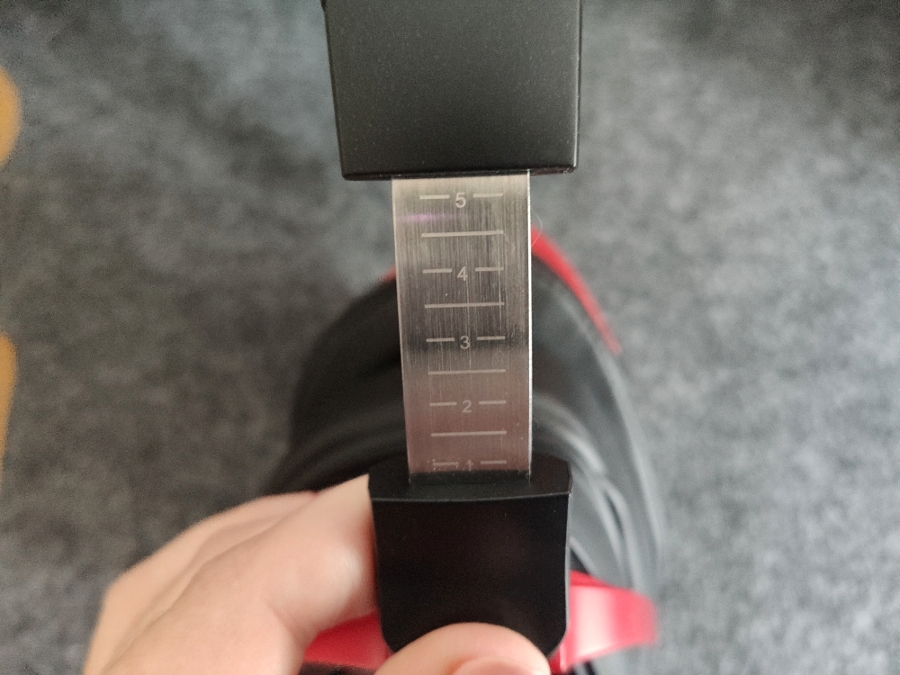 The body of the headphones combines a metal base, plastic and artificial leather, which covers the headband and ear cushions. The inside of the headband has a generous layer of memory foam. And on top you can see the embossing with the name of the line.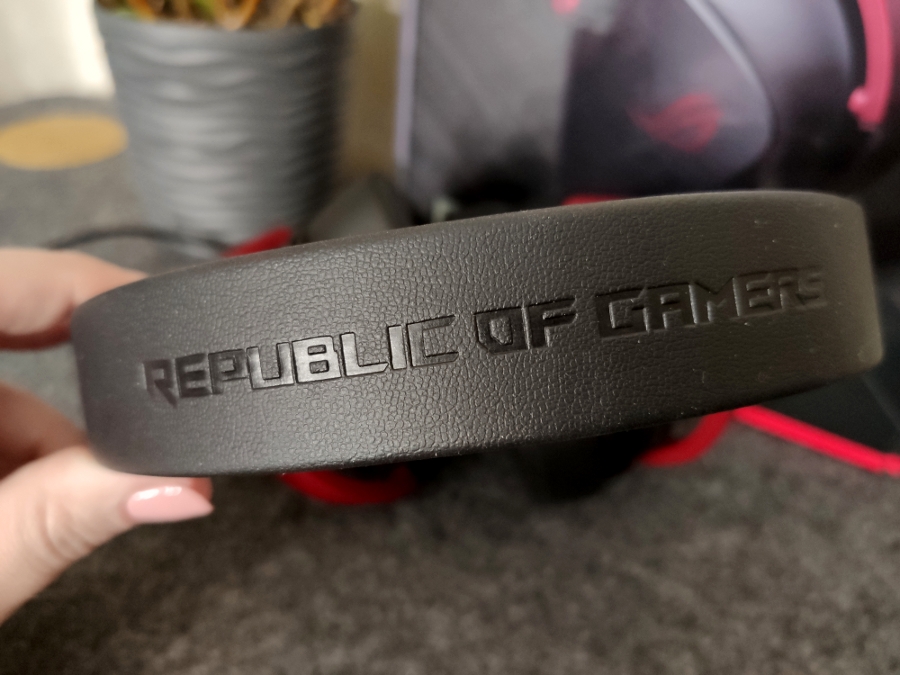 The ear cushions are replaceable. Out of the box, the headset has ROG Protein Leather ear cushions made of artificial leather that are soft and pleasant to the touch. And for those who spend a lot of time in headphones, there are ROG Hybrid pads made of breathable mesh fabric.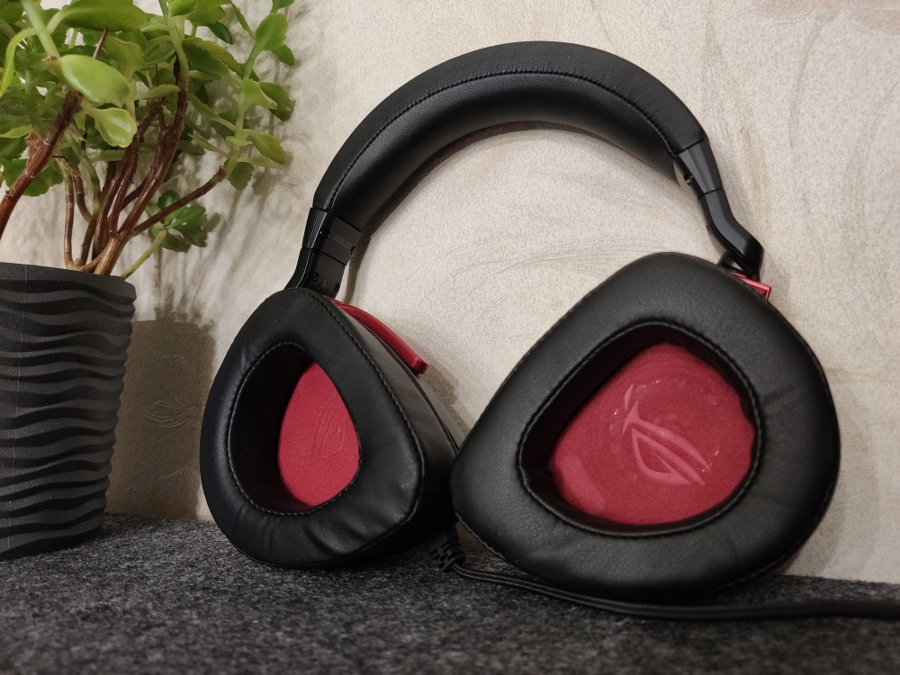 It is easy to remove the ear cushions, but it takes a little skill to put on the others. Although you will hardly have to face this often as you choose the right ones and use them.
Read also: Boosteroid cloud gaming service: how to use it to the max
Control elements
The right cup is devoid of any controls, all of them are concentrated on the left cup. Thus, there is a fixed cable connector on the bottom of it. The wire itself is braided and has a comfortable length of 1.5 m. It is also possible to increase the distance and use separate jacks for microphone and headphones by connecting the supplied branched cable.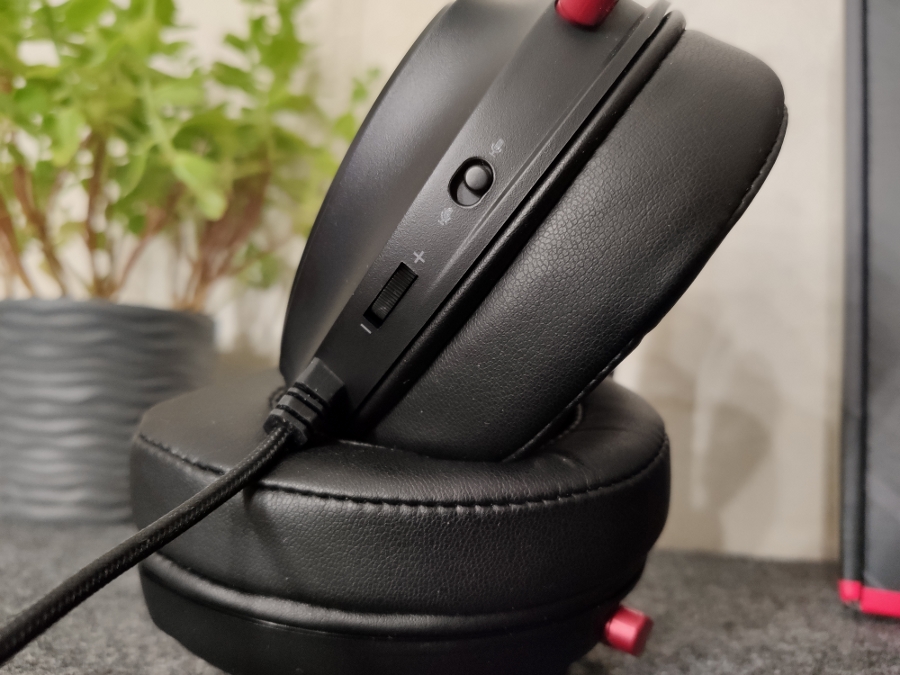 Next to the wire you can see a 3.5 mm jack for connecting a microphone. The microphone is flexible and looks quite simple. The volume control wheel and the microphone mute switch are located at the bottom.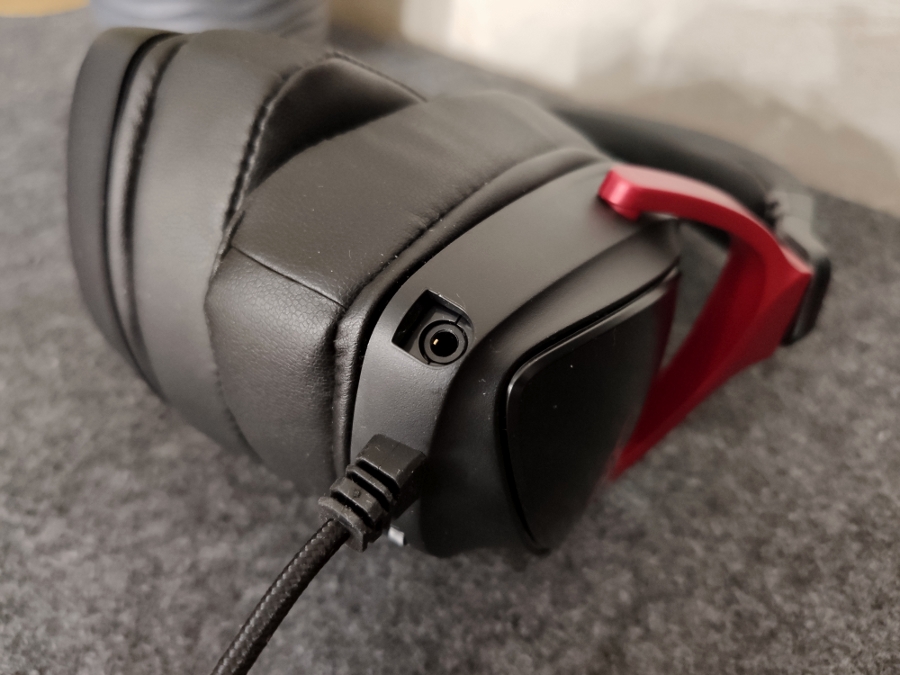 Ergonomics
One of the features of ASUS ROG Delta S Core is the weight – the full-size gaming headset weighs only 270 g, which provides the novelty with the title of the lightest headphones in the series. They are really light and you can spend a lot of time in them without feeling tired. Their fit is also very comfortable, because the cup just "hugs" the ear and the headphones do not press anywhere, and the fixation is quite confident. The producer says that in this model the contact area was reduced by 20% (I wonder, in comparison with what?), so maybe it also somehow contributed to the comfortable fit. Unfortunately, I have nothing to compare with, because I am not familiar with other models of the series. However, as for me, the ergonomics of ROG Delta S Core, without exaggeration, is a solid A.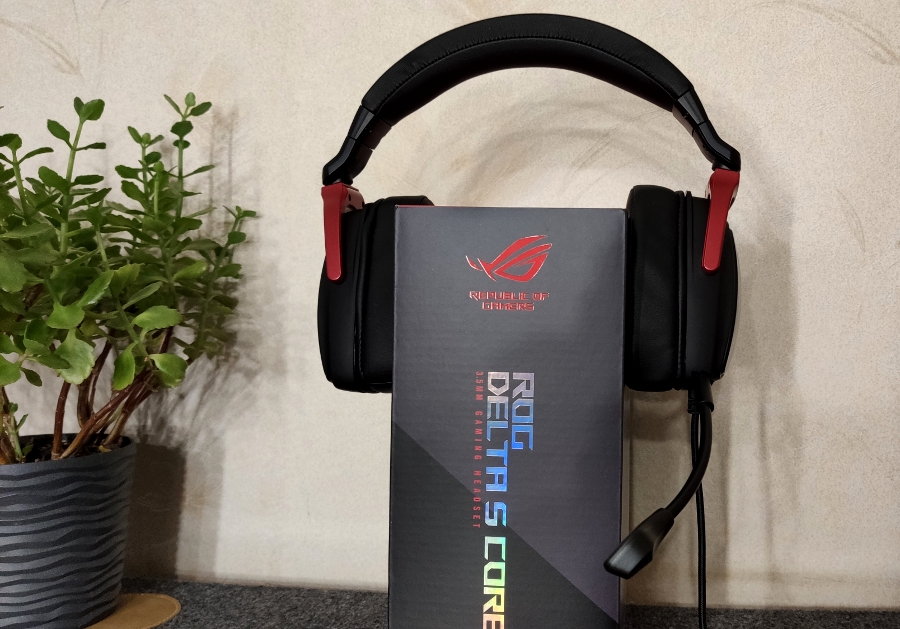 As for which ear cushions are better, it is a matter of taste and how much time you spend with the headset. I do not spend many hours in a row in headphones, so I prefer the ones made of artificial leather – they are softer and more pleasant. But for prolonged gaming, fabric ones will be more appropriate.
Features of ASUS ROG Delta S Core
ASUS ROG Delta S Core has 50mm ASUS Essence drivers with neodymium magnets. The reproduced frequencies are in the range from 20 Hz to 40,000 Hz, and the impedance is 32 Ohms. In addition, there is 7.1 surround sound with Windows Sonic support. Such characteristics of speakers should provide high-quality and detailed sound. And they do provide it, but we will talk about the sound quality in detail below.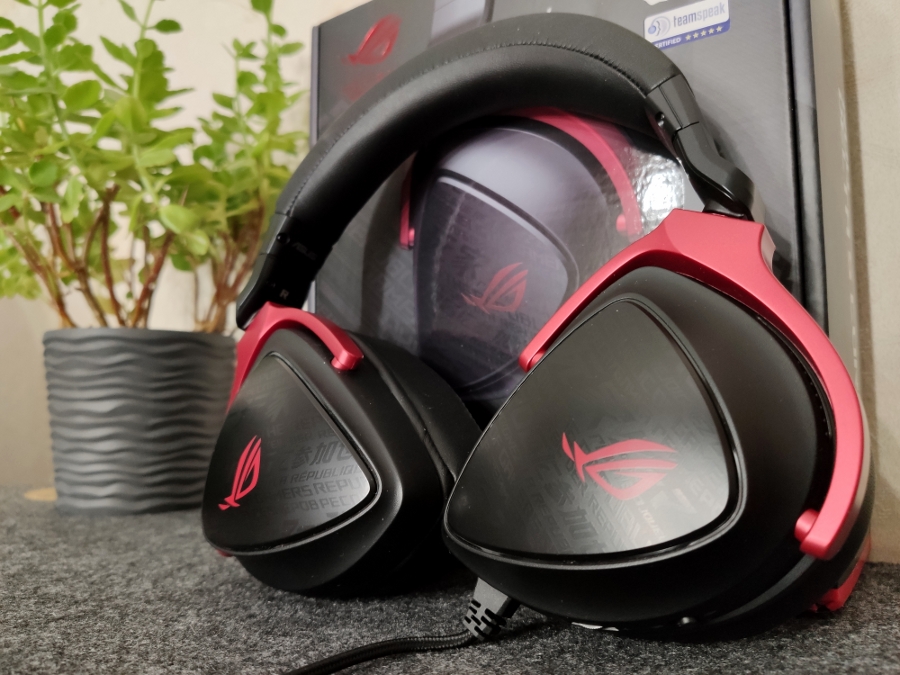 The microphone here is analog and does not have a noise cancellation system, but has received TeamSpeak and Discord certification. One of the advantages of ASUS ROG Delta S Core is its compatibility with almost all devices you can play on: from smartphones and tablets to game consoles, including Xbox and PlayStation.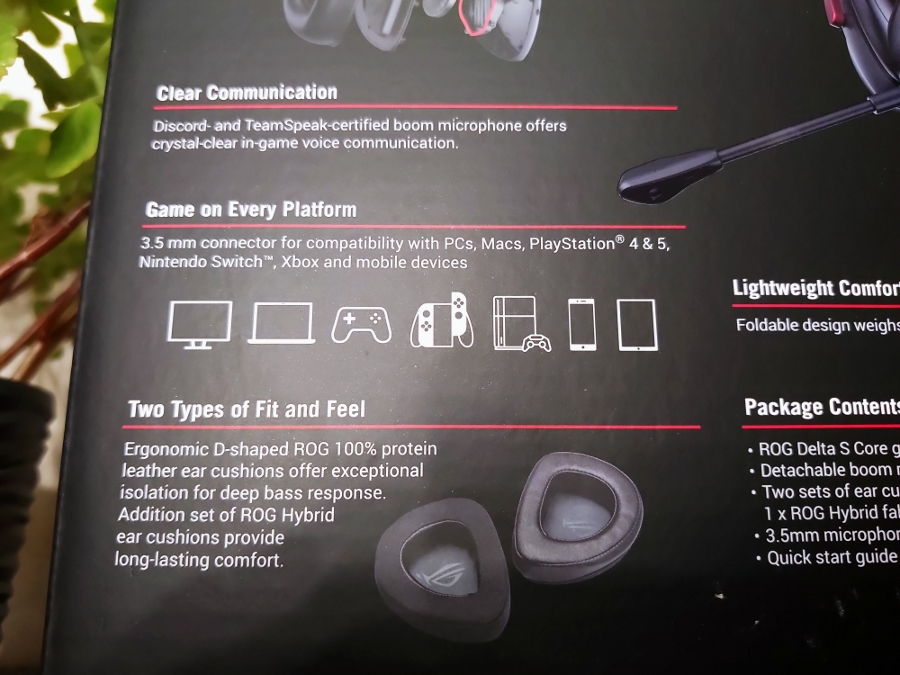 As for the proprietary Armoury Crate utility, ASUS ROG Delta S Core is not yet listed in the list of supported devices. Perhaps it will be added later (or maybe not – they are good at the start), but during the writing of the review it was not possible to get acquainted with the additional settings.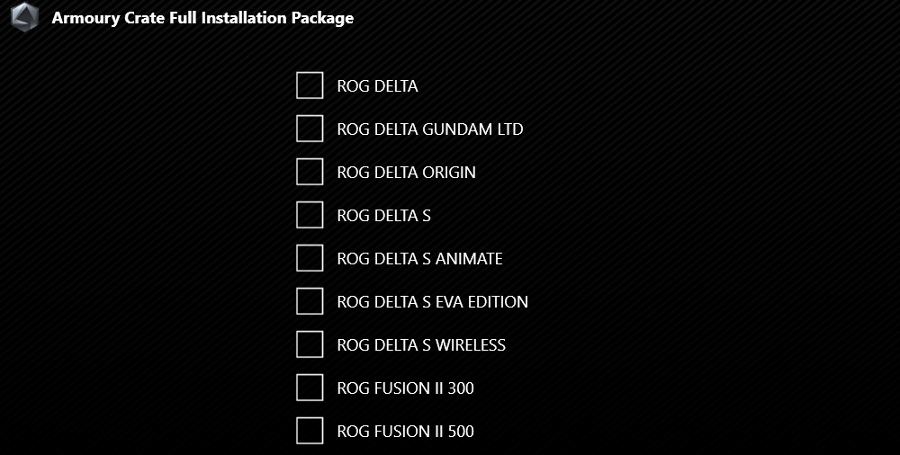 Read also:
Sound and microphone
ASUS ROG Delta S Core is, first of all, a gaming headset, which should provide the player with a clear understanding of where the enemy is sneaking up on him. The headphones cope with this perfectly well, as the sound can determine not only the direction, but also the relative distance. Of course, the sound quality depends on the device to which the headset is connected. The sound in games on a game console or an old but still powerful laptop is very different.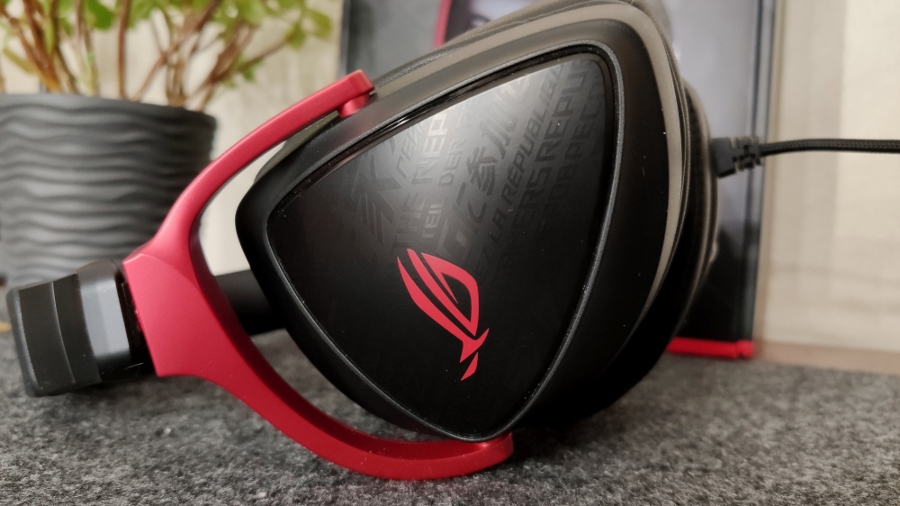 Despite the gaming nature of the headphones, I listened to music with pleasure during testing. Moreover, on a smartphone. By the way, here I came across an interesting thing, which I think I must share.
The first time I listened to music streaming on my old Mi 9, I was left without emotions as the sound was flat, quiet and completely inexpressive. Then I blamed the bundled Type-C adapter – audio jack, because there is no 3.5 mm jack in my device. I think there is nothing to be surprised here: the adapter is a poor solution for sound, and the headset is designed for games, not for music.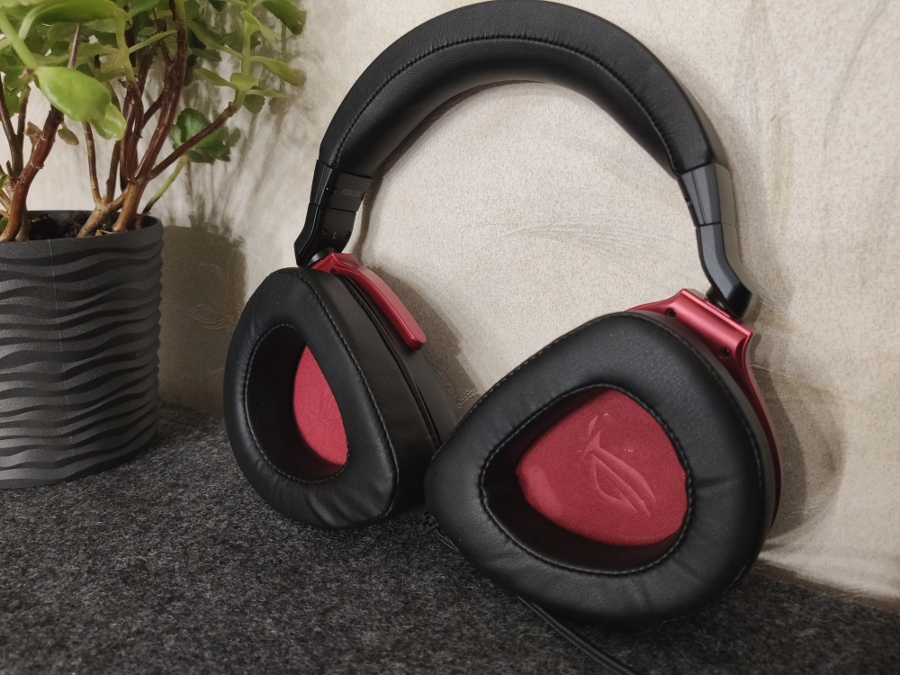 But a little later I dived into the settings with the purpose, perhaps, to tweak something there so that the headphones would sound better. After complete switching off of equalizers, which I usually use to fine-tune my simple TWS, the headphones opened up perfectly. The volumetric, panoramic (!) and balanced sound appeared, without distortions in the "bottoms" or "tops", but at the same time with clearly defined basses. Here I will also note that such sound was obtained when connected to Mi 9 based on Snapdragon 855, on Redmi Note 9 Pro with Snapdragon 720 the sound was much simpler. From this we conclude that the sound source is of great importance, and you should not interfere with normal audio devices to do their job with all sorts of improvements. By the way, the sound is also excellent when watching movies, so I recommend it.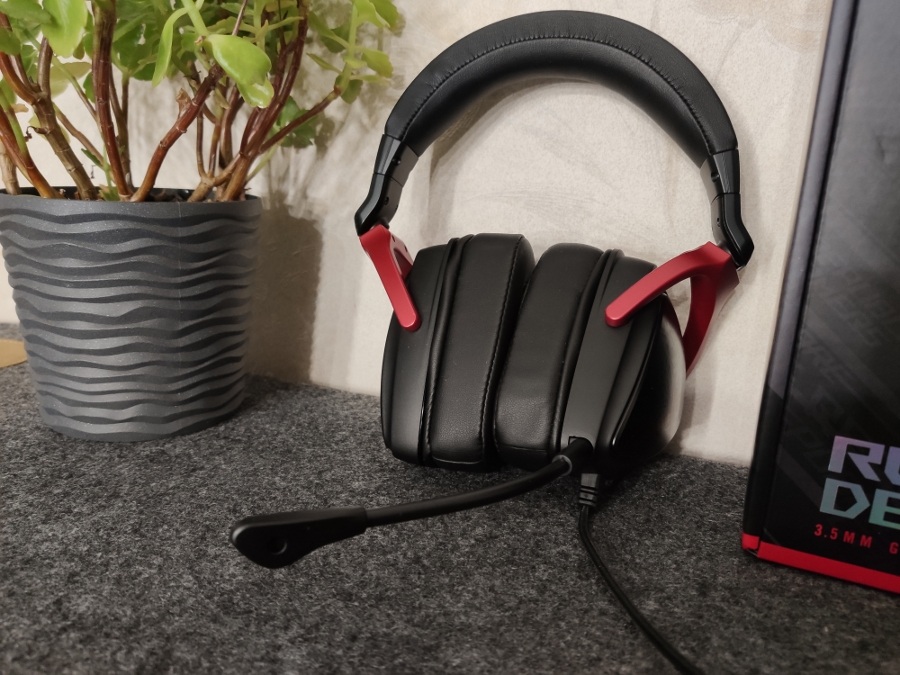 As for voice transmission, the microphone does its job well, but it lacks noise cancellation. Be prepared for the fact that in addition to your voice, the interlocutor will hear the surrounding noises and sounds.
Conclusions
ASUS ROG Delta S Core is a high-quality and lightweight gaming headset with good sound right out of the box. It does not need additional settings or equalizers to please the player with a clear and really pleasant sound. In addition, although headphones were created primarily for games, they are also perfect for music and watching movies. But it depends on what you connect them to.
Additionally, we would like to praise the headset for its laconic, but interesting design, excellent quality of materials and assembly, detachable microphone, which can be disconnected when it is not needed, very good ergonomics, as well as a pair of additional ear cushions included for enthusiastic players.
Read also: ASUS ProArt Display PA329CV Review: Professional Tool For Creators
You can also help Ukraine fight with Russian occupants via Savelife or via an official page of the National Bank of Ukraine.