Mobile monitors are no longer something unusual or surprising. Nowadays, many well-known computer manufacturers offer additional screens that can be easily taken with you just like a tablet. So today we'll talk about a brand new model from ASUS, which has already eaten more than one dog with similar devices – the ASUS ZenScreen OLED MQ16AH.
First of all, the model attracts attention with its OLED matrix with very interesting characteristics, extremely light and thin body, as well as an original stand case that comes with the monitor and allows you to install it at different angles and in both orientations. Let's take a look at what this device is and who might be interested in it.
Read also: ASUS ProArt Display PA329CV Review: Professional Tool For Creators
ASUS ZenScreen OLED MQ16AH specifications
Screen: OLED, 15.6 inches, Full HD (1080×1920), 16:9 aspect ratio, 0.179 mm pixel size, 60 Hz refresh rate, anti-reflective coating
Response time: 1 ms (gray to gray)
Horizontal and vertical viewing angle: 178°/178°
Brightness: typical – 360 cd/m², peak – 400 cd/m²
Optional: 100% DCI-P3 color coverage, HDR10 support, TÜV Low Blue Light and Flicker-Free certifications, 1/4″ tripod connector, portrait mode support, proximity sensor
Interfaces: 2×USB-C (with DisplayPort Alt Mode), 1×USB-C (for power), 1×mini HDMI, 3.5 mm audio jack
Dimensions without stand: 358.70×226.15×8.95 mm
Weight without stand: 0.65 kg
Fixation on the table: flexible stand (included)
Positioning and price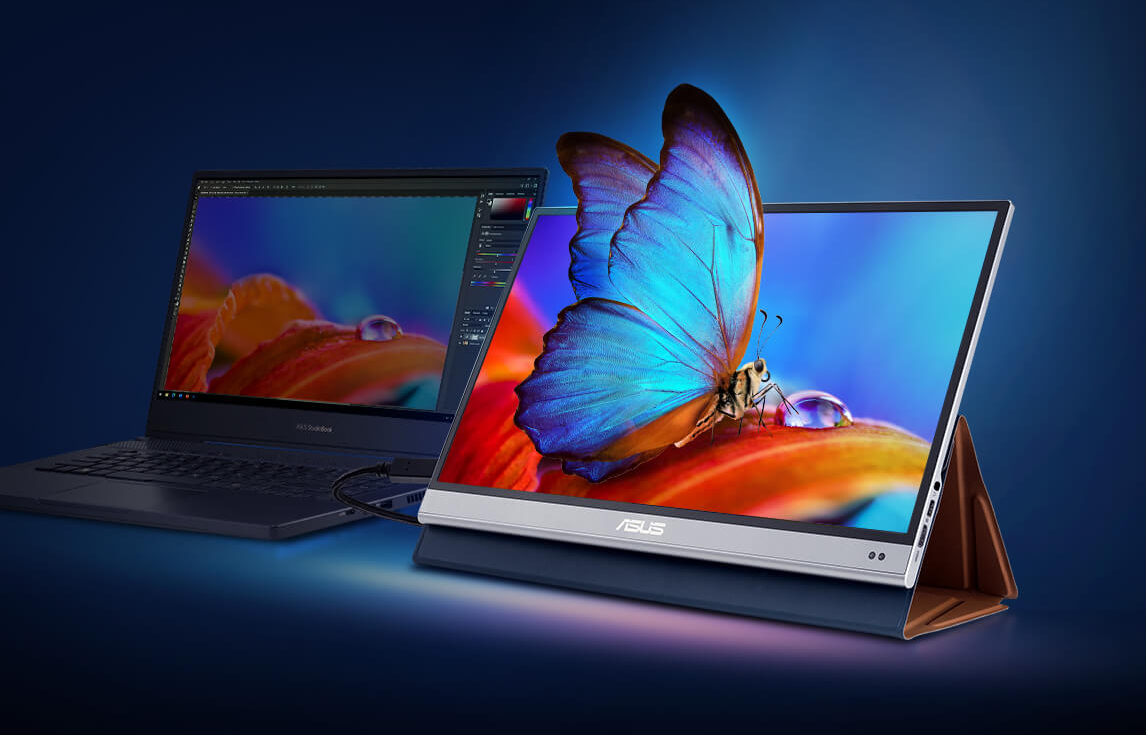 ASUS is positioning its ZenScreen OLED MQ16AH as an all-in-one mobile monitor for work, play, and leisure. We have here the best matrix on the market (OLED, after all), a whole bunch of image settings, TÜV certificates, lightning-fast response (only 1 ms), and all this in a lightweight, compact body. That's why the price tag is appropriate – the cost of the monitor today starts at about $540. Not very cheap, is it? So what does ASUS offer in return?
Package contents
ASUS, as always, completes its devices to the maximum, and even goes to the trouble of packaging, which has actually become a brand feature. The monitor arrived in a large shipping box with, as you might have guessed, the main package inside. The inner box is made of black matte cardboard and has magnets for fixing.
It's worth noting that it can be useful, not just a pretty little drawer for all sorts of little things. The company has provided a rather interesting use case for the box, which will come in handy if you use the monitor in a room that is too bright. In a few movements, the box turns into a blackout box, which should reduce glare and improve color reproduction if the environment is very bright. It looks like this: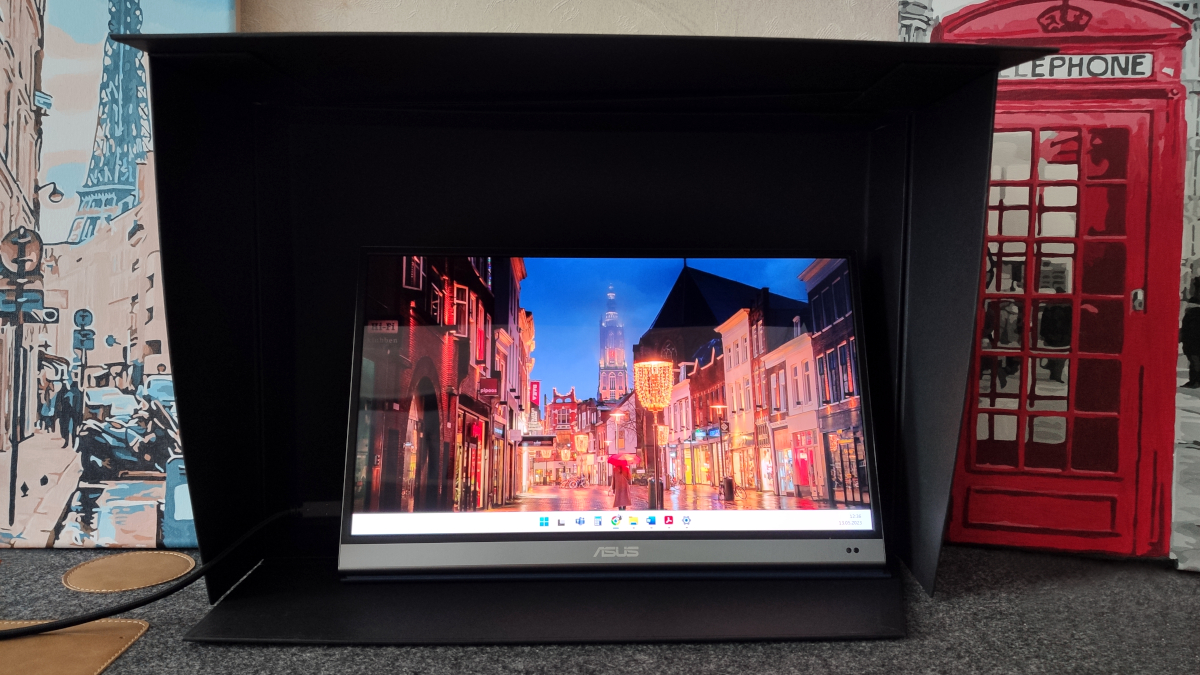 I cannot say that it will be used by every user, but it is better than nothing. But let's get back to the package. ASUS ZenScreen OLED MQ16AH is complemented by a flexible two-sided stand with magnets that can fix the monitor at different angles and in different positions – in landscape and portrait orientation.
By the way, there is also a visual manual that will teach the user how to fold the stand in the right way. And, frankly, at the beginning of use, you will often refer to it. The simple task of folding the stand, which seems obvious at first glance, raises some questions in practice. But that's at the beginning. After a couple of folds, you already know what, where, and how. It's like making origami cranes – you need practice and everything will work out in no time.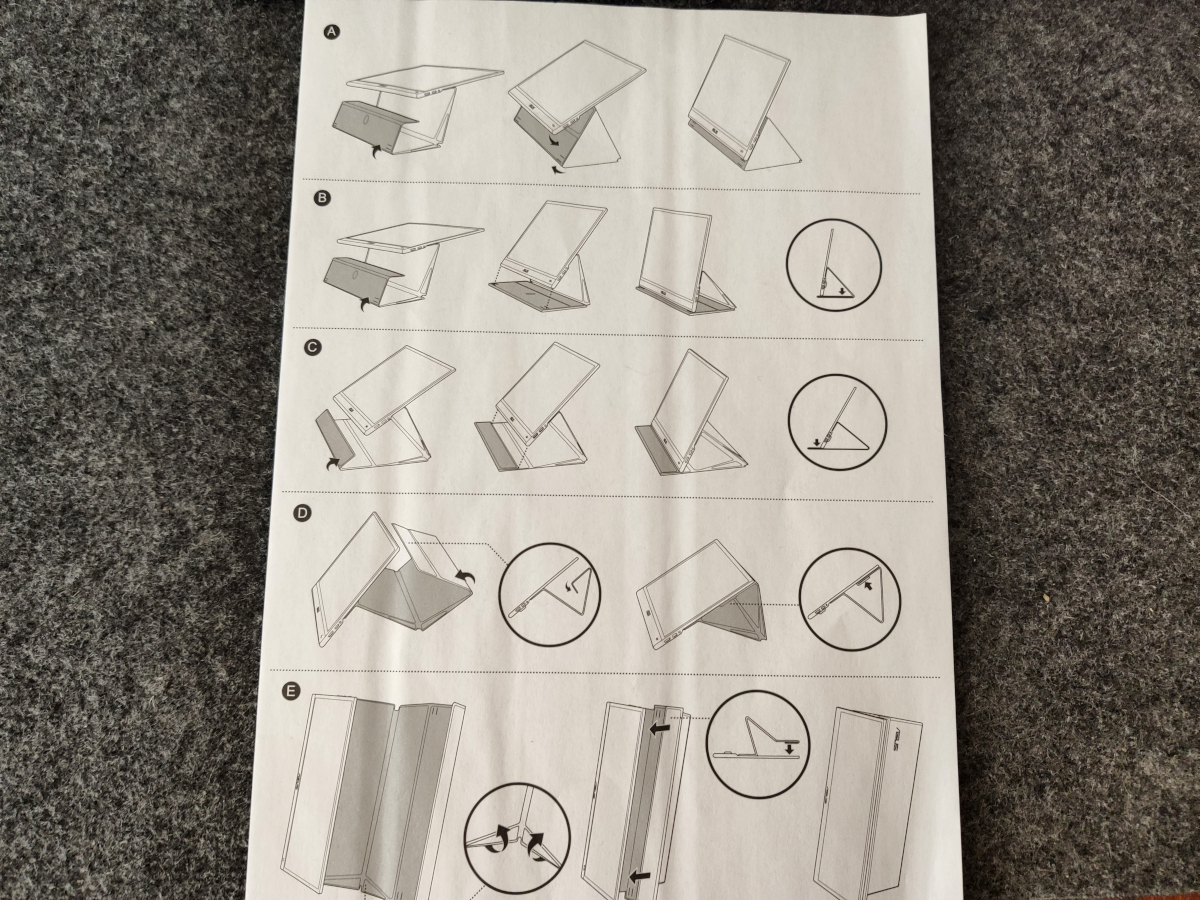 The package also includes supporting literature, a power supply with interchangeable adapters for different types of outlets, and two braided cables: Mini HDMI to HDMI and Type-C to Type-C.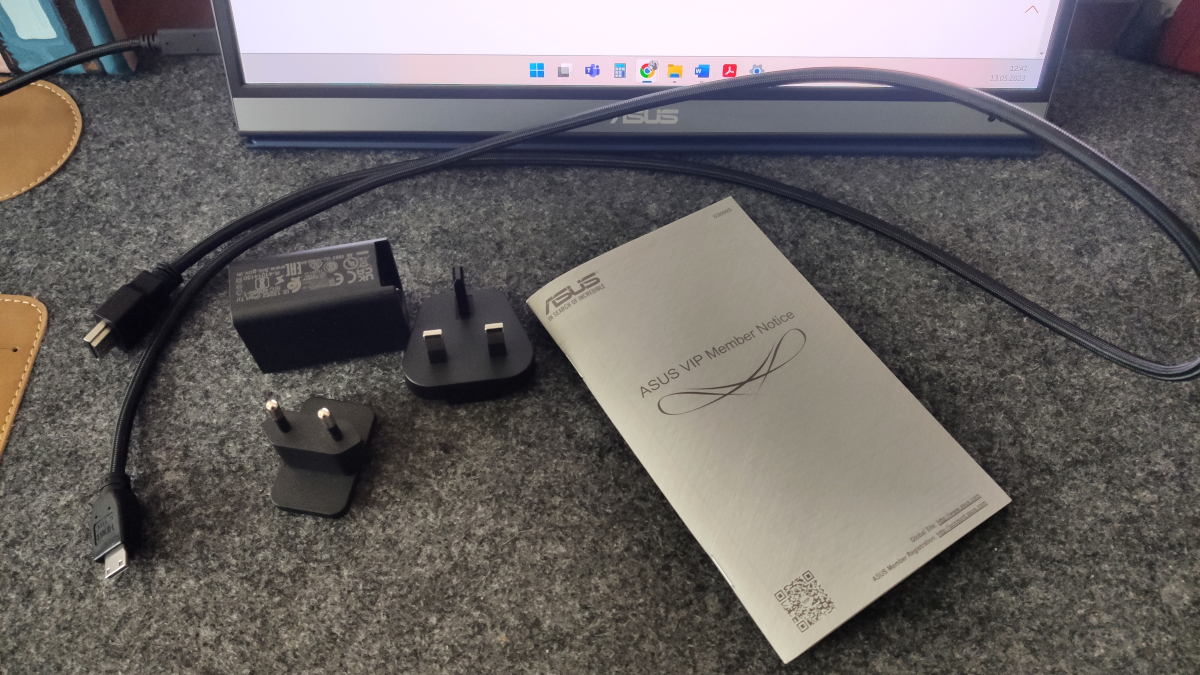 ASUS ZenScreen OLED MQ16AH design
The monitor has an attractive modern design that can even be called elegant. It weighs only 650 g without a stand and measures 358.70 × 226.15 × 8.95 mm, with a thickness of only 5 mm at its thinnest point.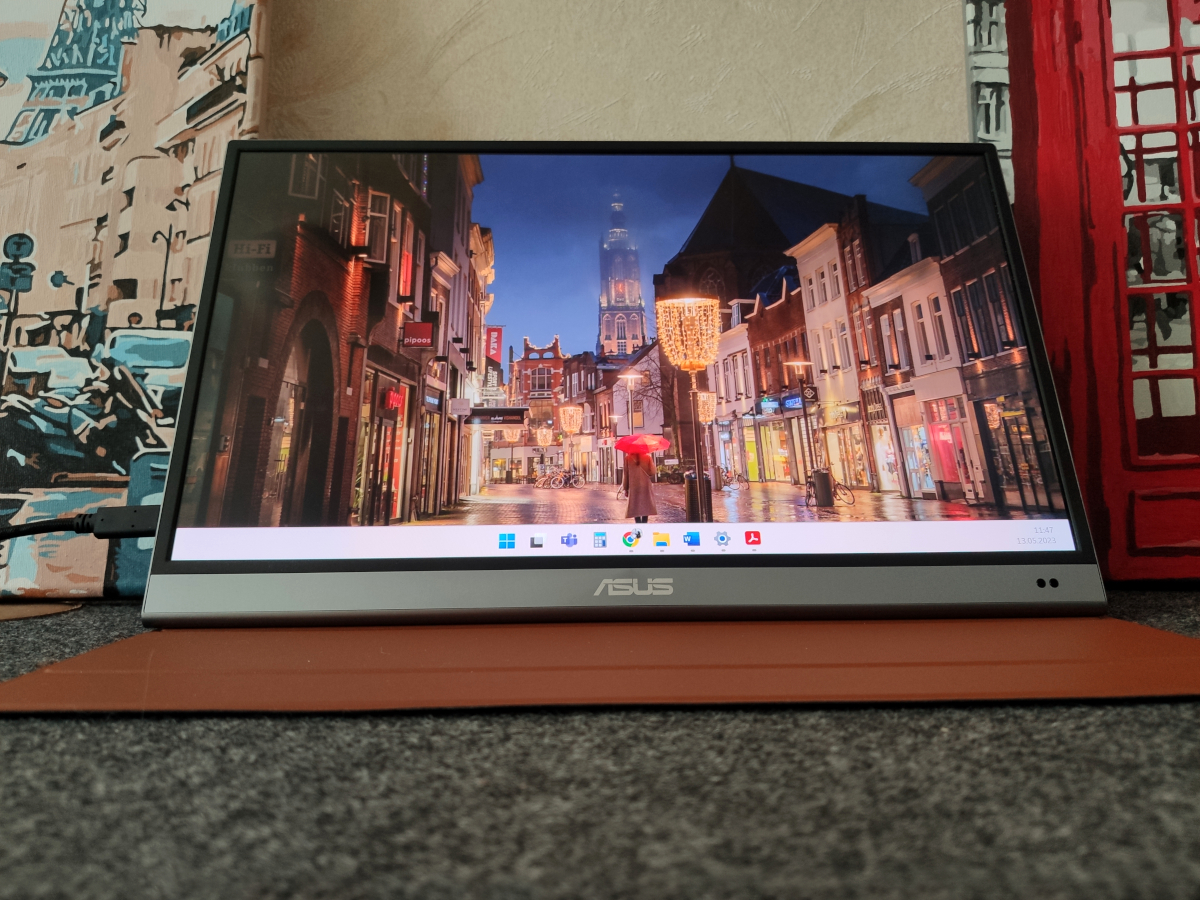 It's really lightweight and portable, so you can easily take it anywhere with you along with your laptop. To get a better idea of what this monitor feels like, imagine that it's just the top cover of a 15.6-inch ultrabook with a small extension on the back.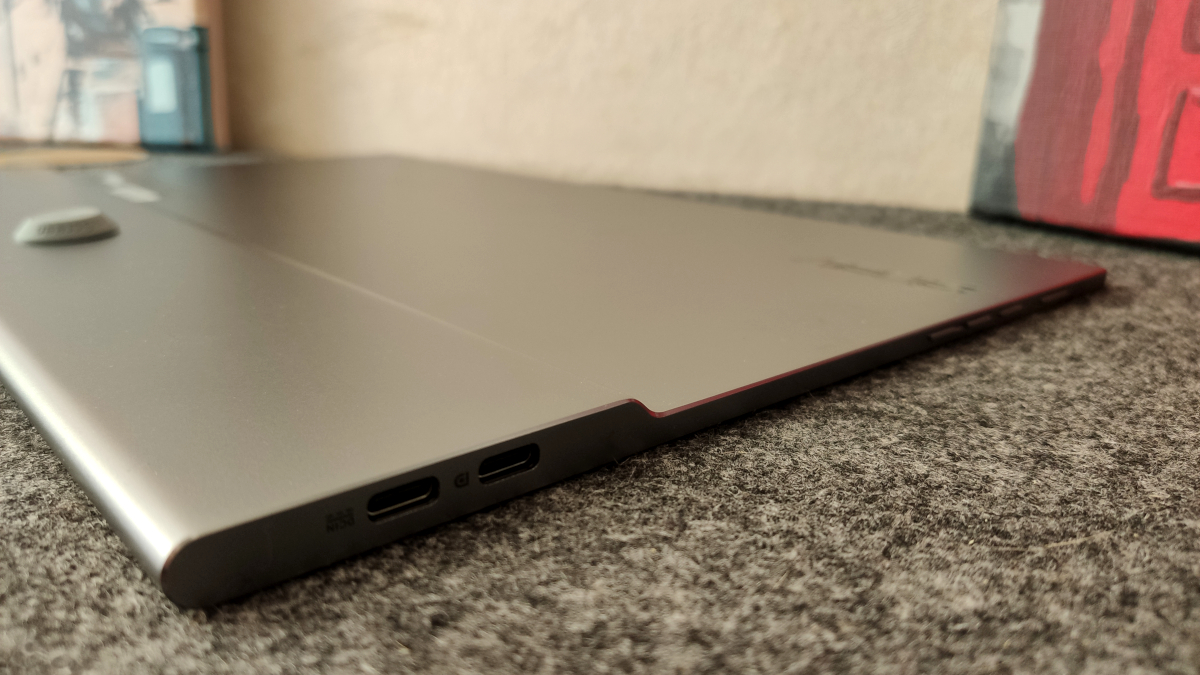 The base of the case, including the ends and a small panel on the front, is made of silver metal, but the bezels around the screen are plastic. The size of the bezels is quite compact, and only the bottom one stands out. On it, by the way, you can see the logo in the middle, and on the right is a dual proximity sensor. Its task is to track the user: it turns on the power saving mode when you leave the screen and turns off it on when you return to your workplace. A very useful thing that will help you save battery power when you are powered by a laptop. The screen coating here is glossy and it collects fingerprints perfectly.
If you flip the monitor over, you'll see the brand logo on the right and the line name on the left, a sticker with specifications, and a tripod connector hidden behind a plastic cap. In addition to the supplied stand, the monitor can be mounted on a tripod.
If you look at the left end of ASUS ZenScreen OLED MQ16AH, you can see a pair of Type-C connectors below. One of them (the lower one) is exclusively for power. But the upper one already supports DisplayPort Alt Mode and can be connected to a laptop, PC or tablet.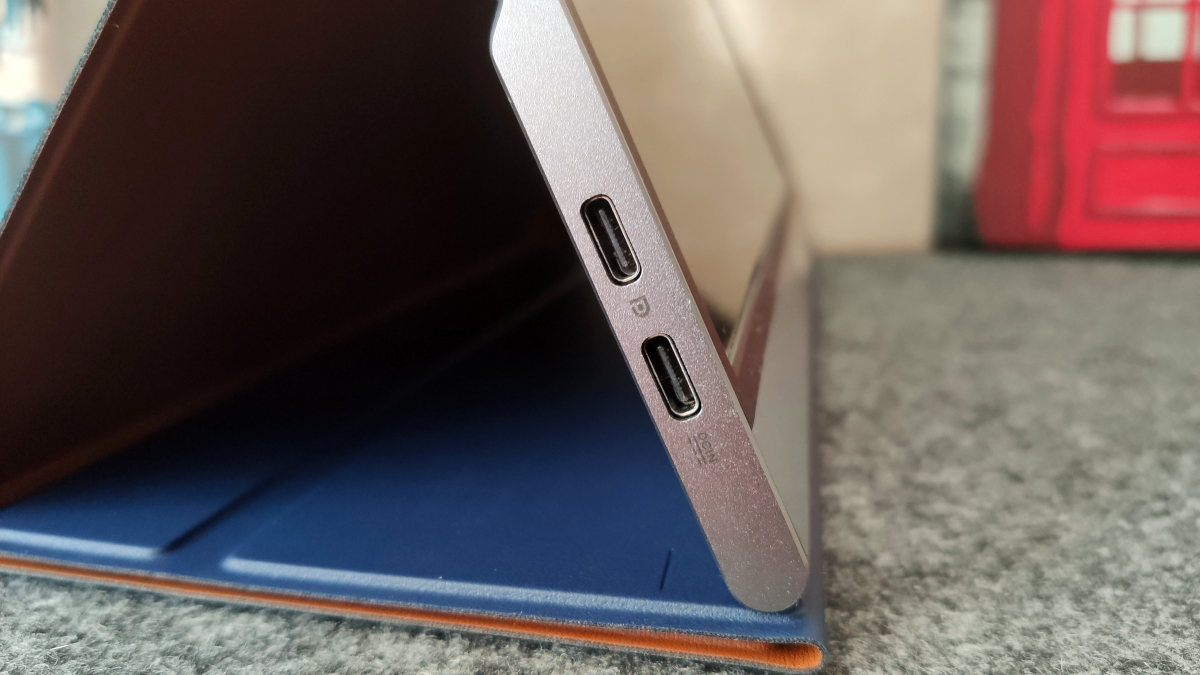 On top there is an LED indicator and 4 buttons for adjusting the display. We will talk about the menu in more detail later.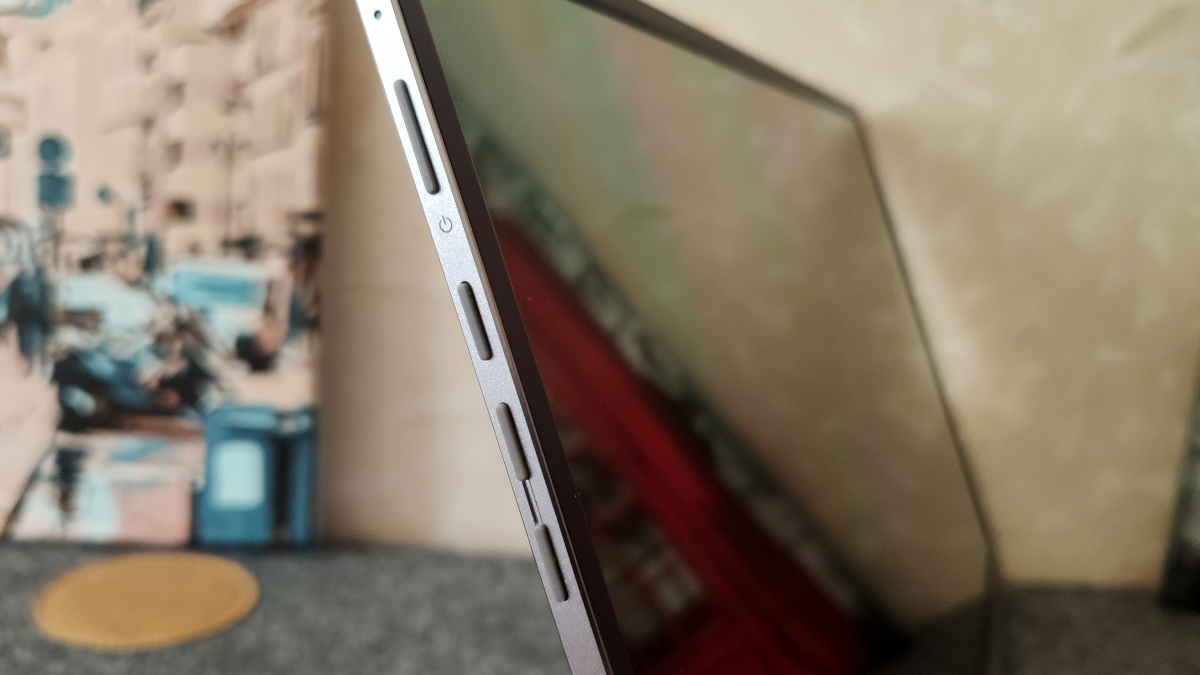 On the right side there are 3 more ports: a 3.5 mm audio jack, Type-C with DisplayPort and Mini HDMI. In my opinion, the arrangement and combination of connectors is quite successful: you have Type-C on both sides to connect to a laptop, so you are not tied to which side you have to have your monitor on, and there is also a plan B for connecting to PCs that do not have USB-C. It's worth noting that there are no speakers. To output sound through the monitor, you can only use a 3.5 mm audio jack or stream sound through the main device.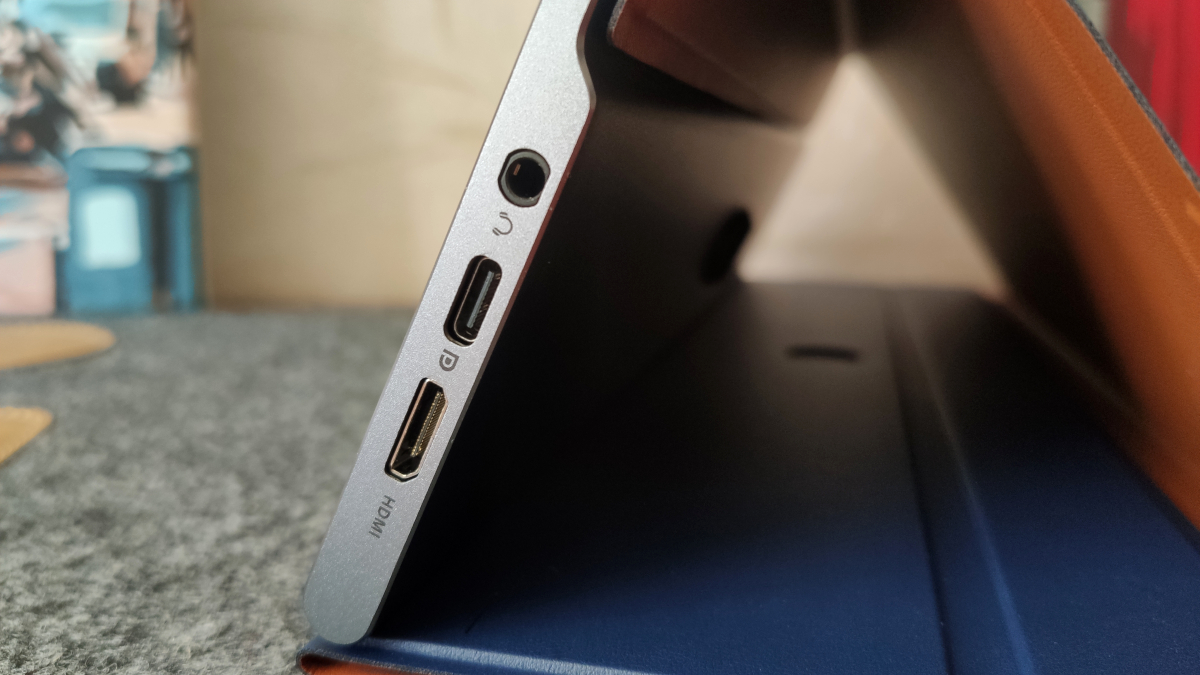 Ergonomics
The ASUS ZenScreen OLED MQ16AH's mobility is top notch. It's a really light and thin monitor that can easily slip into a laptop bag or backpack and be taken with you without causing any hassle. As an on-the-go option, it's a great portable solution.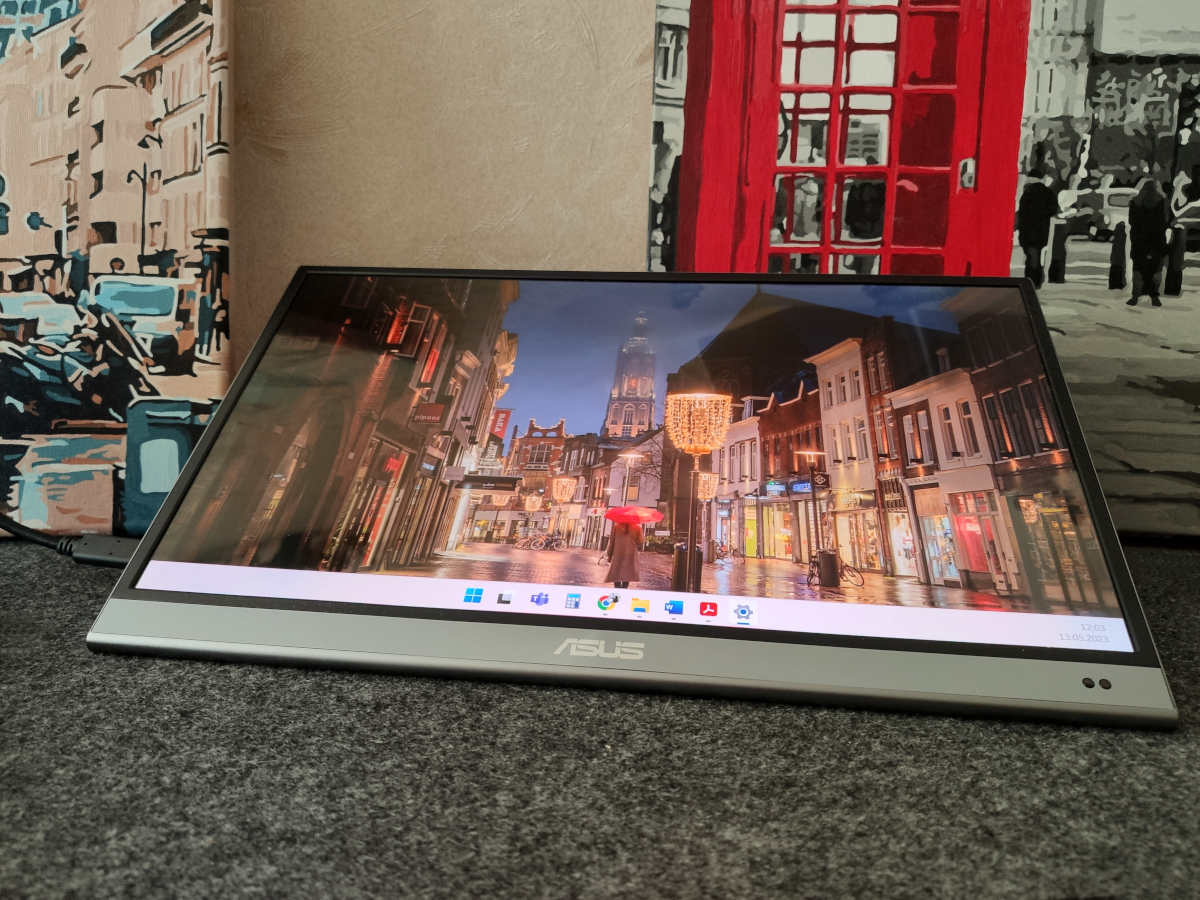 The duality of the most important ports (Type-C) on both sides and the presence sensor are great. But not only the device itself, but also the stand for it is well thought out. Thanks to it, you can choose the desired angle and be happy, although you will need to practice a little bit in assembling the stand. It's also convenient that the monitor supports screen rotation, which greatly expands its use, especially when working with documents, reading books, browsing long web pages, or browsing social media.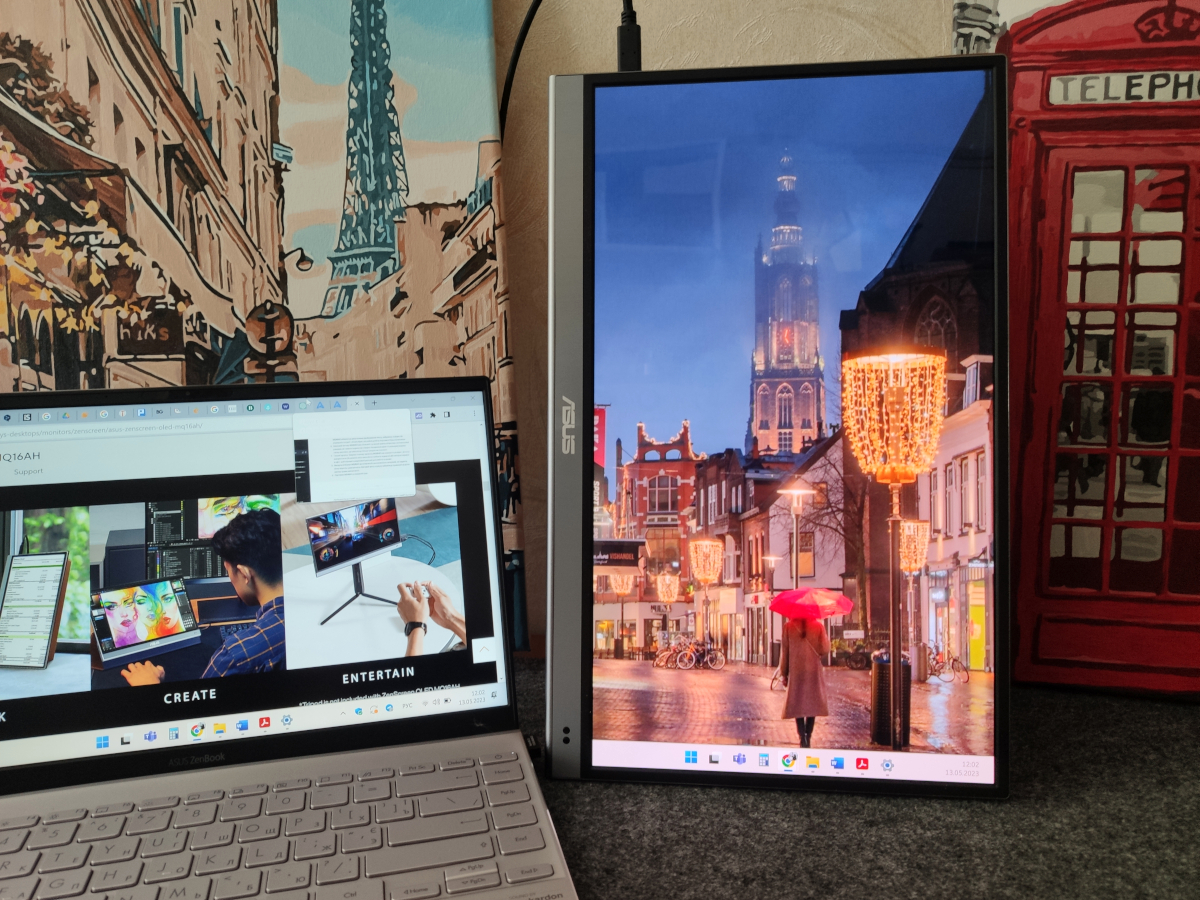 However, the included stand case is a good solution for horizontal installation rather than vertical – in this position it is not very stable. In my opinion, it would be better to use a tripod for this, but unfortunately, it is not included. A tripod will also be necessary if you need to connect a monitor via Mini HDMI in this position, because in portrait orientation the monitor is exactly on the side where the connector is located.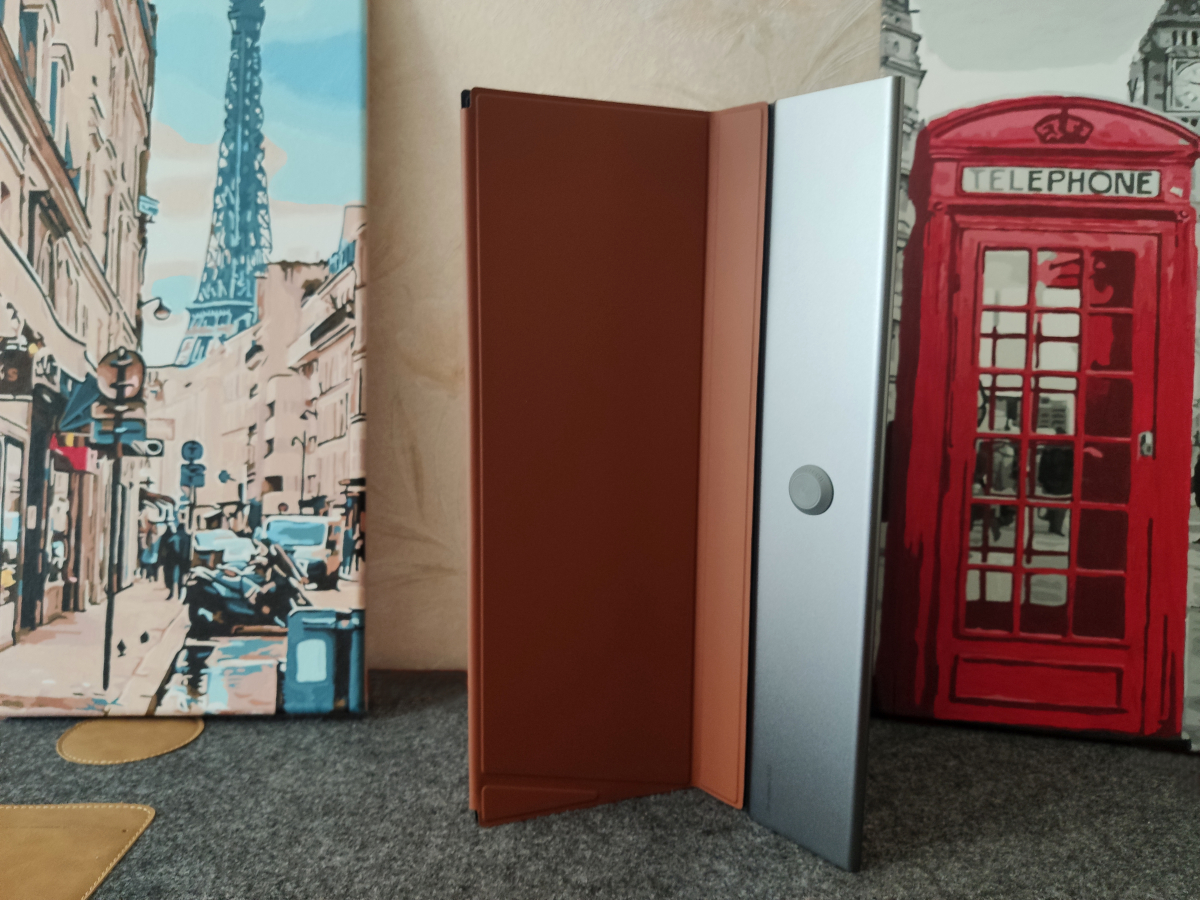 The screen settings are controlled by 4 mechanical buttons located on the left side on the right. The top power button performs the "Exit" and "Back" actions, the one below it is "OK", and the two lower ones allow you to move up and down the menu items. So everything is simple and logical, but it takes some getting used to.
In the menu, we see 7 large subsections in which the main parameters are hidden:
"Splendid" is a proprietary feature from ASUS that allows you to switch between display modes: "Standard mode", "sRGB", "Landscape", "Theater", "Gaming", "Night view", "Reading", "Dark room"
"Blue light filter" – smooth adjustment of blue radiation
"Color" – adjusts brightness, contrast, saturation, temperature, and skin color
"Image" – adjust sharpness, control proportions, use Vividpixel, ASCR, HDR modes
"Input selection" – switch between HDMI, Type-C 1 and Type-C
"System settings" – "Splendid demo mod", "OLED settings", volume, "GamePlus", "QuickFit", menu and auto-rotation settings, language selection, key and power button lock, power indicator and proximity sensor settings, and reset
"Favorites" – here you can add the most popular menu items for quick access
Characteristics of the ZenScreen OLED MQ16AH matrix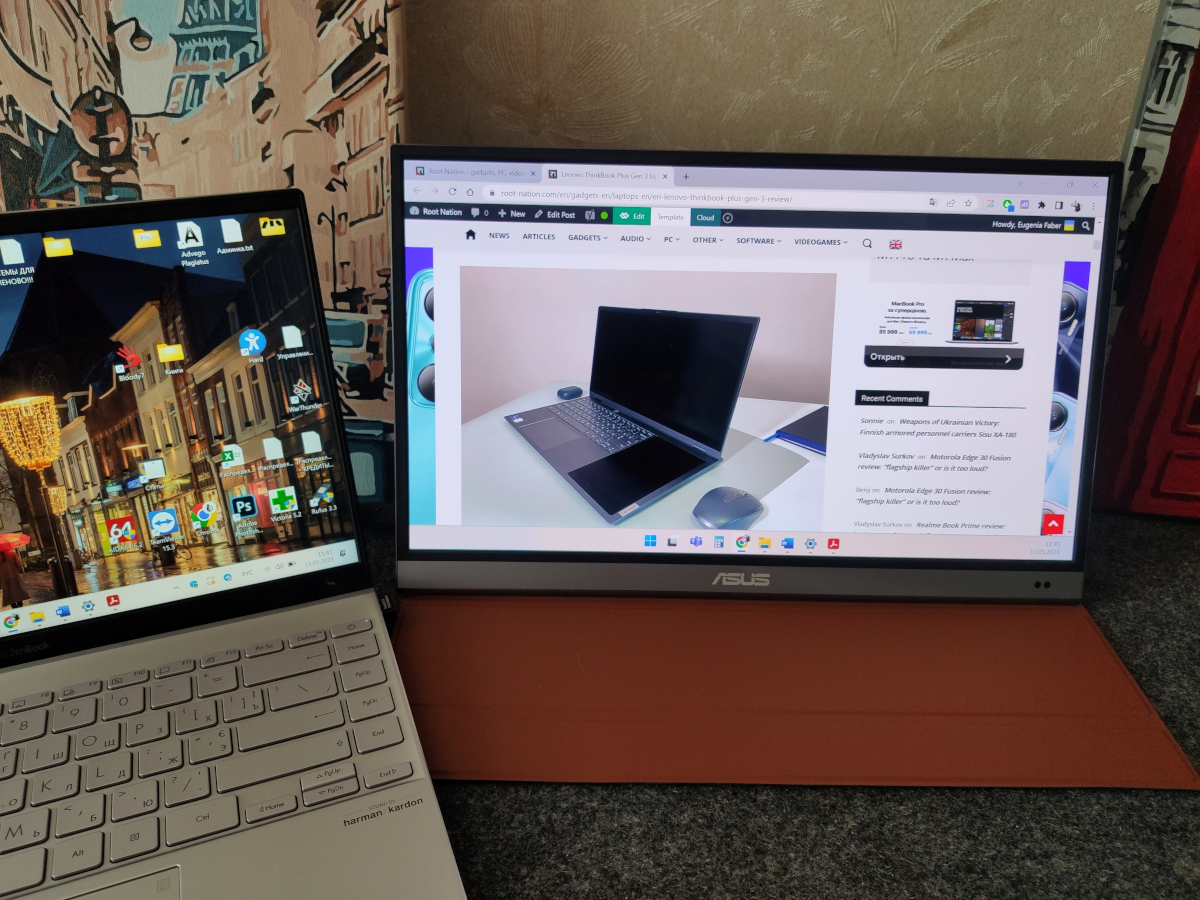 So, here we have a 15.6-inch OLED matrix with Full HD resolution, 16:9 aspect ratio, and 60 Hz refresh rate. The pixel size is 0.179 mm, and the gray-to-gray response time is only 1 ms. Also, don't forget about the TÜV Low Blue Light and Flicker-Free certifications, 100% DCI-P3 color space coverage, and HDR10 support.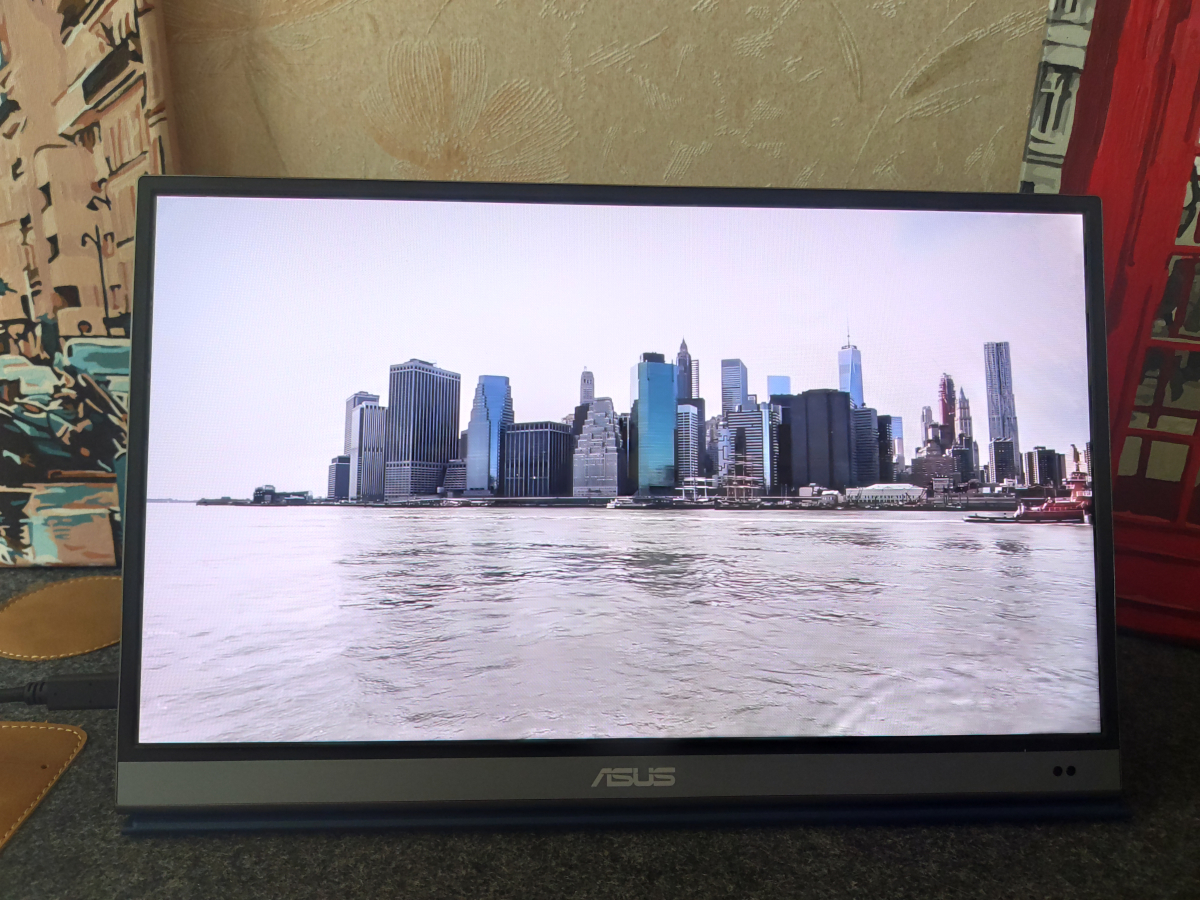 The screen has almost maximum viewing angles of 178° both vertically and horizontally. The brightness (typical is 360 cd/m², and at its peak it reaches 400 cd/m²) is enough for comfortable work indoors both in intense natural light and in bright artificial light. Of course, the color reproduction is top-notch, because it's OLED, which means deep blacks, good sharpness, and contrast are provided by default. However, if you need to customize the image, there are many tools for this – from smooth temperature, sharpness, and contrast adjustment to the use of automatic modes for different types of content. For example, the reading mode, which will help reduce eye strain and improve comfort during prolonged use of the monitor.
By the way, this is how grayer and less bright IPS looks against OLED. In real life, the difference is more obvious, because it's almost impossible to convey the quality of the screens in a smartphone photo.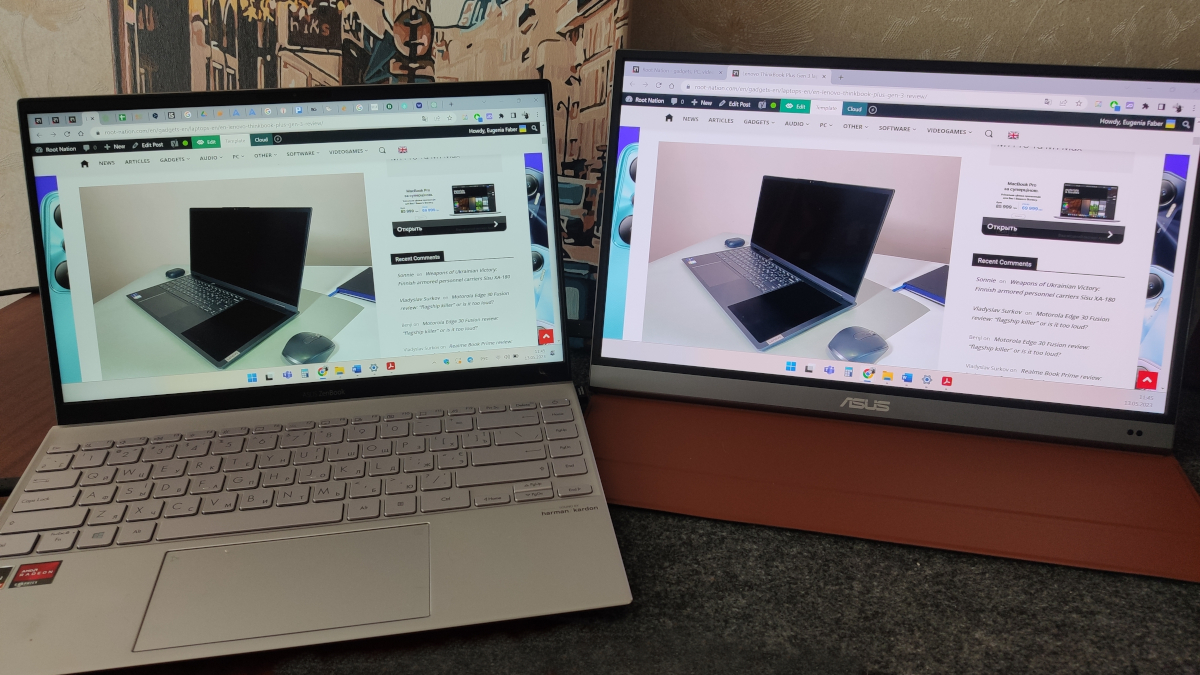 Impressions and summary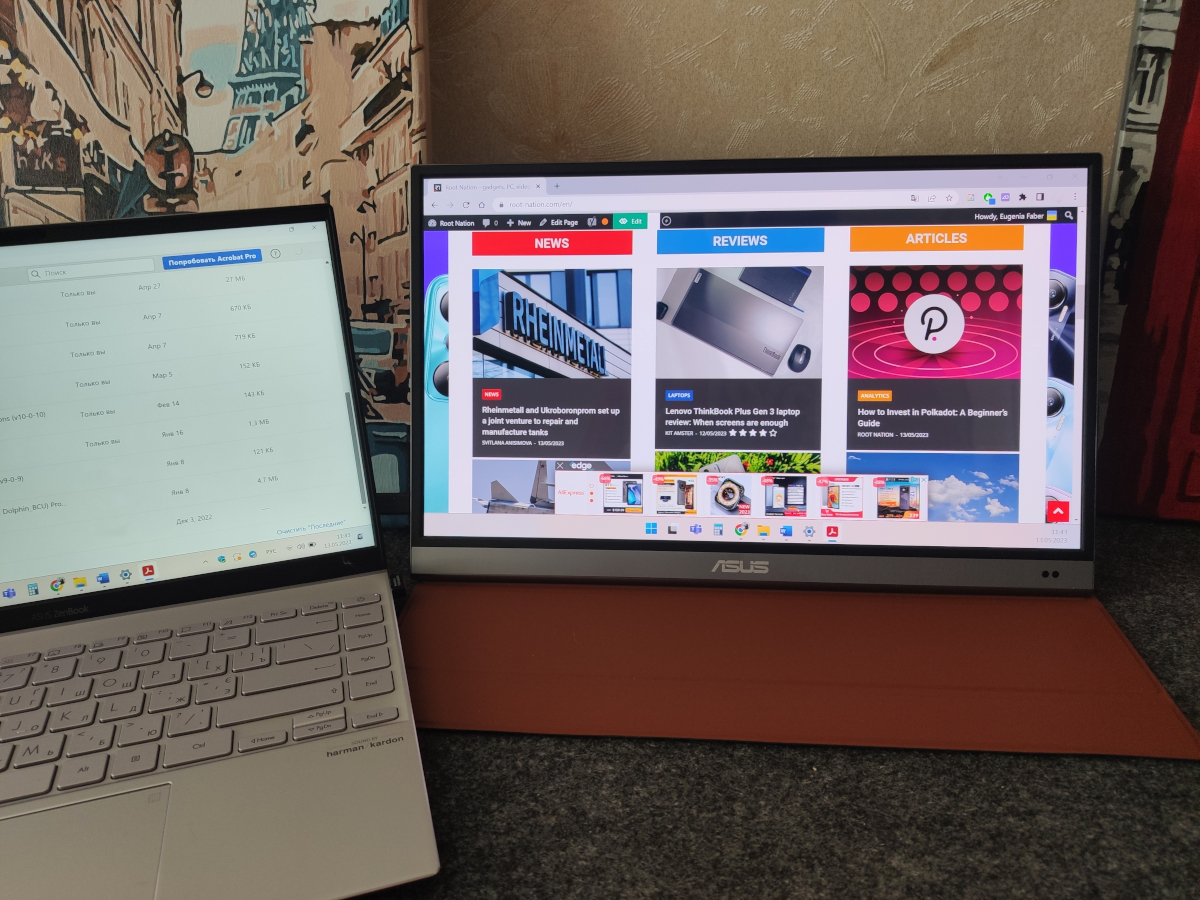 The ASUS ZenScreen OLED MQ16AH is a portable, well-designed and versatile tool for working in any environment. The screen here is top-notch, just 10 out of 10. The OLED matrix offers the deepest possible blacks, high contrast and sharpness, maximum viewing angles, and a very fast response time of just 1ms. The monitor is really great for consuming any type of information, be it multimedia or boring reports and tables. It should definitely appeal not only to office workers, but also to content creators and even gamers.
If the default color reproduction is not to your liking for some reason, the user has many settings to help achieve the ideal. It can also be mounted both horizontally and vertically, has a convenient stand case, supports tripod mounting, weighs only 650 g and is very thin. And for those who want even more mobility, there is the same monitor in a 13″ diagonal.
It seems like an ideal solution for hybrid workers, freelancers, and gamers who like to play games on the go, but it has a few drawbacks. The first is the price. Of course, OLED matrices are not cheap, but the average price tag for it is now about $600, and it cannot be called affordable. The second is the lack of built-in speakers. It is a bit unusual to see the picture on one side and hear the sound on the other. Thirdly, a matte finish of the screen would be more practical, because when you move it from place to place, you still touch the screen with your fingers and it looks a little untidy. To summarize: if you are looking for a good portable monitor for all occasions, and you are not too concerned about its price and some features, ASUS ZenScreen OLED MQ16AH is a good choice.
Read also: