Microsoft Office is probably the most used office suite in the entire world, with thousands of users around the globe. This software is known for featuring cutting-edge workplace innovations, and the 2021 version is not the exception.
But which are the main differences between this new installment and the 2019 version? Why should you prefer this last version instead of the latest version?  Is there more Office software available now? What about support for its apps on mobile devices?
In this Office 2021 Review, you'll find the answers to all these questions and more, including the functions of all the apps and the differences between all Office suites. Let's get straight into it!
Office 2021 Editions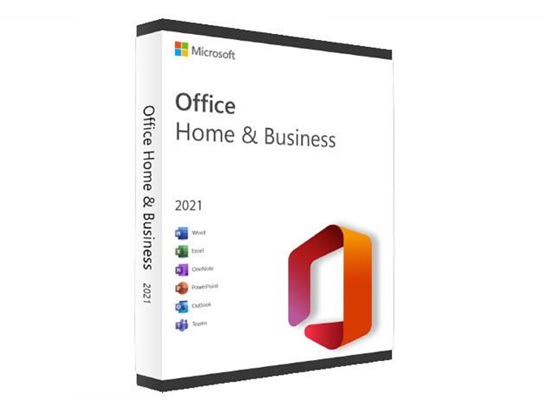 Currently, there are four editions of Office 201. Just like in the previous versions, these editions are designed for different customers, as they include some apps that are not available in the other editions. These are the versions of Office 2021 available for purchase:
Microsoft Office Home and Student 2021 (PC & Mac);
Microsoft Office Home and Business 2021 (PC & Mac);
Microsoft Office Professional 2021;
Microsoft Office LTSC 2021.
The first was designed for home users and students who do not require big software with difficult-to-use features. The second and third version were designed for consumers and small businesses. They work with the traditional model of "one-time purchases," and they'll be supported for five years from October 5, 2021.
These perpetual versions are more suitable for students and small businesses because they never expire. In addition, all these versions are one-time purchases, so they're ideal for those on a budget.
Furthermore, the Professional version includes enhanced accessibility features, visual improvements, and performance improvements across Word, Excel, and PowerPoint.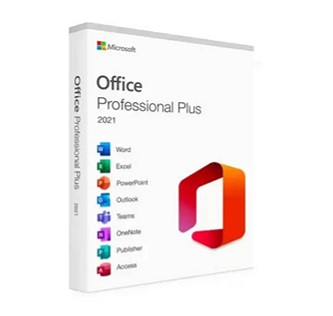 Business owners looking for long-term support can also rejoice with the release of Office 2021 LTSC. This is a separate edition for professionals looking for reliable applications to provide a strong company foundation at an affordable price.
The latest Office is a great way to get your feet wet with Microsoft's newest software, and it has some unique features competitors can't provide. It might not be suitable for everyone, though.
If you need updates, advanced security, and real-time co-authoring, Microsoft 365 (formerly known as Office 365) subscriptions are the only way to get that.
What's New in Office 2021?
Microsoft Office 2021 was released on October 5, 2021. Since its launch, Office 2021 has been impressive for its reminiscence of old versions. At the same time, it has integrated some new features, which we will mention next.
Visual Refresh
Office 2021 was released the same day as Windows 11, as it was designed to accompany the OS of Microsoft. Just like Windows 11, Office 2021 features performance improvements and new visual designs.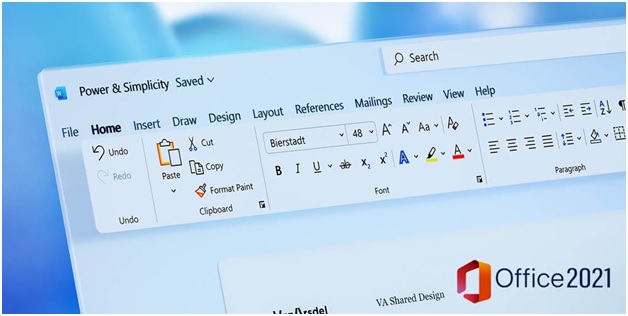 Office 2021 focuses on new and simple visual refresh work to offer a cohesive user experience. The corners have been smoothed – now look softer – and it integrates newly refreshed tabs and the neutral color palette of Windows 11.
New tabs and complete redesign help you with meetings and schedules. In short, you'll experience a minimalist setting with a neutral color scheme and softer window corners, which make the interface nicer to the eyes and more functional.
The sense of these updates is to integrate features with easy-to-understand visuals. Whether you're a student, a freelancer, an employee who works remotely, or a business owner, the latest version is perfect for you!
Most text editors and data software have begun to work with Internet applications and related features to provide more rich media content in co-author documents. In this regard, Office 2021 provides a similar mechanic.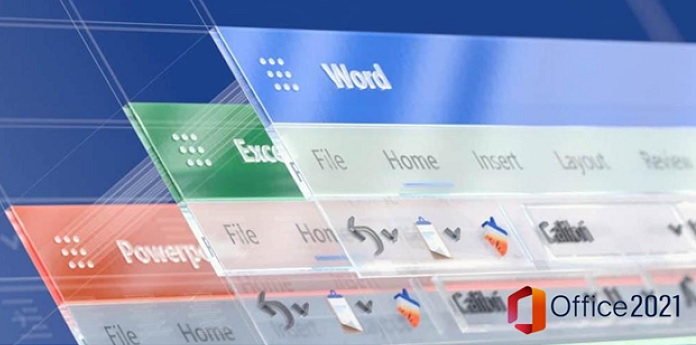 In Office 2021, real-time collaboration is a central point that you can't find in recent versions. For instance, Office 2019 provides real-time collaboration just in Word, but not in Excel or Powerpoint. This way, users have to use the cloud storage and the online versions to collaborate in real-time.
Office 2021 features real-time co-authoring. This means you can work on the same document at the same with other users.
When several users are working on the same document, they will be alerted when your or someone else does a change. This way, they can go to word processing work with no need to check extra notes or email messages.
Of course, co-authors can use the new consistent commenting experience to send extra notes and comments to each participant. This brings better collaboration to your team in apps like Word, Excel, PowerPoint, and more!
Real-time co-authoring is available in the three desktop clients, but the shared documents have to be stored in Onedrive. All the participants will see the changes as they happen.
Note. You may also need a Microsoft account to use this feature in all Office apps. For more collaboration features, try Microsoft 365!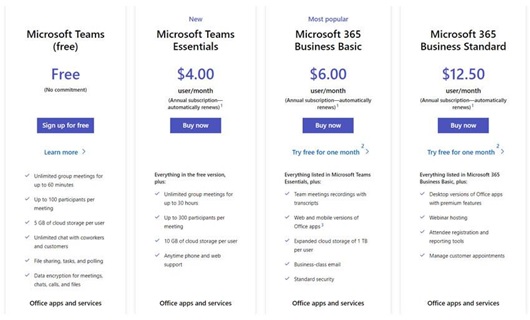 Integration with Microsoft Teams
Microsoft Teams is Microsoft's answer to Slack. It includes all the chat and video features that provide you with quick access to collaboration tools. Thanks to this, you can freely chat and be part of video calls from your home and/or within the office.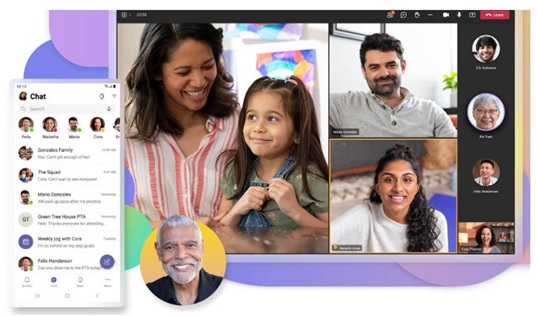 As Windows 11 has been released recently, it includes components for collaboration, such as managing calendar invites, translating from a cat to a call, background effects, and more. You can talk to teams directly, share an Office file from your computer, and more.
If your business relies on video calls, direct messages, and quick access to files, you'll love the new integration with Microsoft Teams. Office Home, Business, Office LTSC, and Microsoft 365 are all expected to benefit from the integration.
Note. A free version of Microsoft Teams provides you with basic features, such as unlimited group meetings for up to 60 minutes, and 5 GB of cloud storage per user.
XLOOKUP Function
This is one of the newest excel functions that are very useful for finding things in a table or range by row. Thanks to XLOOKUP, you can look in one column for a term and return a result from the same row in another column.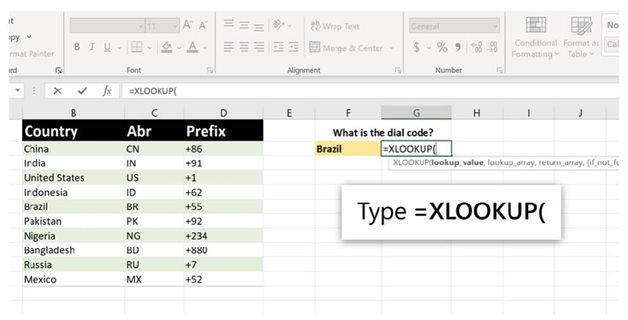 XLOOKUP searches dynamic arrays and then returns the item corresponding to the first match. If there isn't a perfect match, XLOOKUP can return the closest match. In short, row by row, find anything you need in a table or range with XLOOKUP.
LET Function
With the new LET Function, you can assign names to calculation results for storing intermediate calculations, values, or defining names inside a formula. Just like variables in programming, LET is accomplished through Excel's native formula syntax.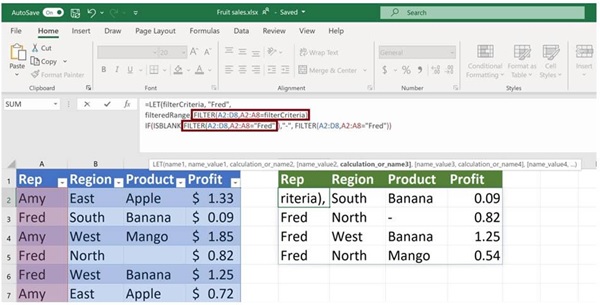 LET Function will provide you with better performance since Excel calculates the result multiple times if you write the same expression more than once.
XMATCH Function
XMATCH is a function that allows you to search for an item in an array of cells, to return the item's relative position. You can also use XMATCH to return a value in an array. In a few words, you use XMATCH to find the position of an item in a list.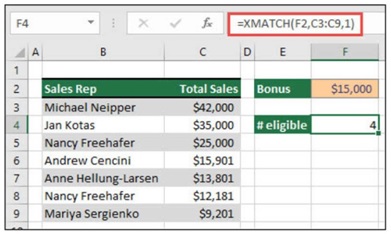 Updated Draw Tab
The Draw Tab is supported for OpenDocument format, and the Sketched style outline. The new drawing tools allow you to select and change the color of all your inking tools, all in one place. Besides, the new Sketched style outline gives a casual, hand-drawn look to shapes in your documents.

You can also draw or annotate email images in a separate canvas using the updated draw tab and the pen, your finger, or the mouse. Other features include other stock media and a new input field in the Colors dialogue for Hex color values.
Record Your Presentation
One of the most important features in PowerPoint 2021 is the improved version of the Record Slide Show. It now supports presenter video recording and laser pointer recording.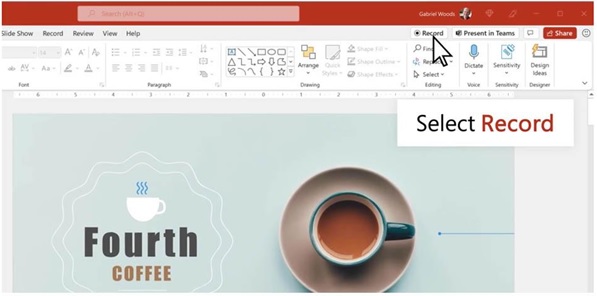 Thanks to this, you can record your PowerPoint presentation, capture natural sounding voices, ink gestures, and more. You can show your recorded presentations in Slide Show or a video file. This way, the audience will see your ink recording with your personality intact.
The only difference (no less important for that) between this new version and the older one is this new version offers convenient capabilities for capturing your presentations for later viewing. For instance, all the recording tools are in the Record tab in the ribbon.
What Microsoft Office Apps Are Included in Office 2021?
This non-subscription version includes all the basic Apps of the previous versions of Office, i.e. Word, Excel, PowerPoint, OneNote, and more. The four versions have the three most popular Office applications as well as extra programs depending on the edition you purchase.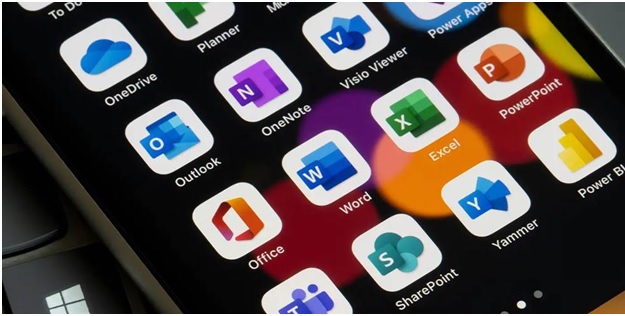 Before you make a decision, make sure to head to Microsoft Store and check which elements integrate each of the versions.
Microsoft Word 2021
The current version of this powerful word processor was designed for various purposes, from writing literary texts to carrying on scientific research. Currently, Word offers an intuitive interface with simple visuals that home users and employees will appreciate.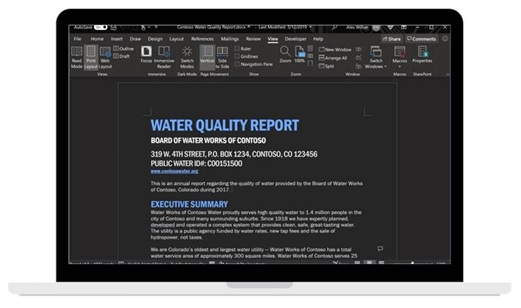 Additionally, it integrates new features like improved grammar checkers to catch even tiny mistakes, extensive formatting, and more, including:
Improved dark mode with a reduced eye strain;
Natural sounding text-to-speech voices;
Line focus which provides an improved comprehension of reading;
Modern commenting;
Creating a website from document.
An easy method to check what's new in stock images.
We recommend Word to anyone looking for a simple text editor to get work done efficiently. Whether you need to type up a document for school, or work, Word 2021 is a good option for both writers and screen readers. New icons also add visual impact to any file and that is something to note.
Excel 2021
Microsoft Excel is a complex product but an obvious choice for those who need to manage finances, daily work, create and edit spreadsheets, and organize data into different categories and view charts, such as addresses and finances.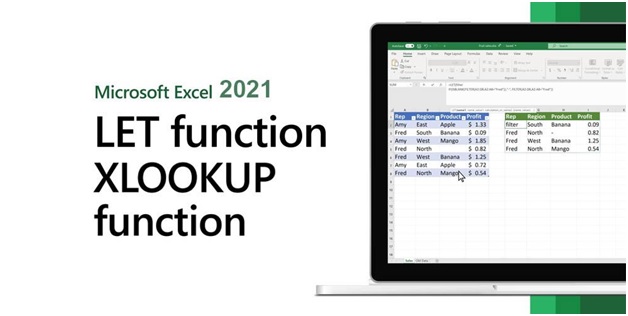 Thanks to many new features, Microsoft Excel offers us several services with an updated interface that makes it easier to use. This way, even beginners can work with Excel's new formulas. For example, they can visualize, calculate, and organize all sorts of data in both small and large volumes.
Some new features that Excel 2021 brings to us are:
Many new functions, such as XLOOKUP, and LET functions;
Stability improvements;
Customized views in the Excel worksheet without disrupting other functions;
Better digital inking;
A new "Watch Window" that makes it easy to audit, inspect, or confirm formula calculations and results in large worksheets.
Microsoft Excel supports up to millions of rows and columns and provides a clear style of organization. You'll never run into complications regarding data storage and analysis for a specified item. Now Excel includes even more commands and features to help you with tasks.
PowerPoint 2021
PowerPoint is everything that students, professionals, and regular users expect from a presentation builder. This app allows you to make presentations, slideshows, animated gifs, and all kinds of creative works.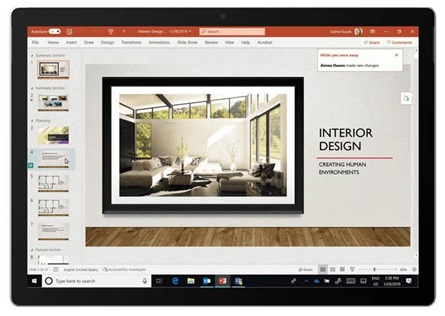 PowerPoint integrates hundreds of templates, visual elements, SVG icons, and built-in animations to help you brainstorm ideas from different parts of your mind.
PowerPoint is a very common app used in education and marketing communication. This way, teachers and creatives can communicate their ideas better. Even lobbying groups use this software when they need to introduce info and/or data with graphics, charts, transitions, and other visual elements.
PowerPoint 2021 introduces the following new features:
Major template updates.
New transitions and tools.
Expanded Office library for scalable vectors, 3D models, and much more.
Improved digital pencil case and inking features.
With the new PowerPoint, you'll have the ability to create all sorts of animations with professional elements and templates. PowerPoint provides the perfect service to your tool roster.
Outlook 2021
Microsoft Outlook 2021 helps you manage your work and personal life with extensive features that allow you to arrange various elements better. It includes scheduling, contact details management, and task completion records for each conversation, all in one place.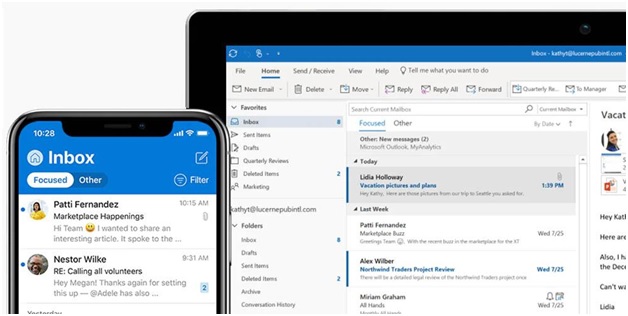 Microsoft Outlook 2021 is a good alternative to Gmail or Yahoo!
Some of the new features in Outlook 2021 are:
General PC and Mac app improvements;
A New Microsoft Search bar to quickly find emails;
Translator and ink in Outlook;
Revamped interface.
Outlook is a great alternative to keeping in touch with family, friends, colleagues, and clients, and this 2021 version brings the formerly office functionality to the next level! With its release, you'll get the one formula to do much more than ever before.
Project 2021
Microsoft Project 2021 will help you with your long-term plans by staying on top of your game with tools that give you the best chance at turning ideas into reality.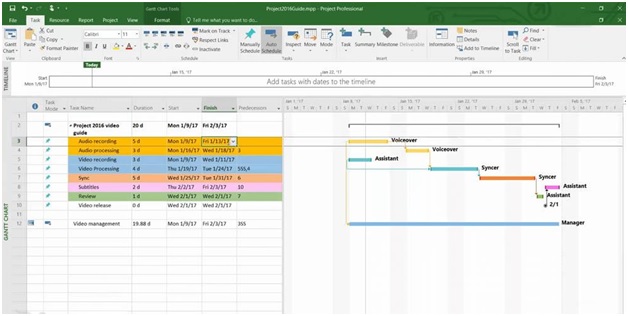 Microsoft Project 2021 is a project planning software designed for companies of all sizes and industries that want to improve their efficiency in the long term.
Use Artificial Intelligence to make predictions and keep track of tasks and quantities. Use tabs to check how much progress has been made towards goals. Project is the perfect tool to save your precious time and project your company into the future!
Note. Microsoft Project 2021 is only available for PC and is not included in Office Home.
Access 2021
Microsoft Access is designed for professionals who work with large amounts of data and business professionals who need to achieve accurate records. This app will help you keep inventory records and customer lists, create and manage databases, or track employee attendance time.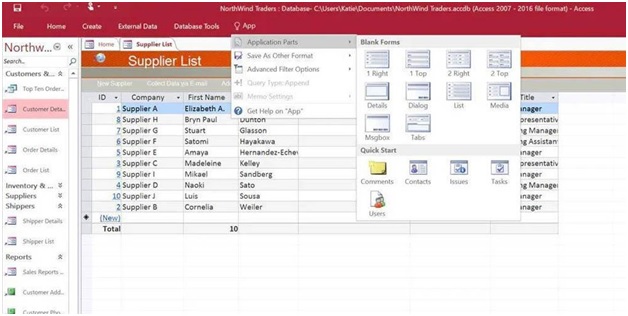 A lot of organizations prefer Access 2021 due to its flexibility, especially if you consider how easy it is to upgrade and get access to all its features, even if your projects are done with an older version of Access.
Note. Microsoft Access 2021 is only available for PC and is not included in Office Home.
Price and Availability
Depending on the version you want to buy, you'll pay a different amount of money. The Office 2021 Home & Student version costs $149,99, while for the Home & Business version, you'll have to pay $249,99. On the other hand, the Office 2021 Professional version costs $439,99.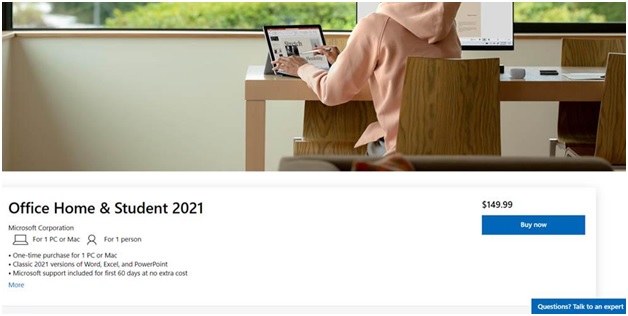 Of course, you can purchase Office 2021 in third-party stores. At RoyalCDKeys, you can buy Office Home and Professional versions. Specifically, the Microsoft Office 2021 Home & Business Key MAC Retail Global for €18,74, and the Microsoft Office 2021 Pro Plus Key Retail Global for $10,50. It is worth noting that these are not the only Microsoft products available in the offer. Windows 10 home cd key, which you activate on the Microsoft official website, is also very popular!
System Requirements for Microsoft 2021
Processor: Windows 10 or 11 with GHz, 2-core processor/recent macOS.
Operating System: Windows 10 or Windows 11 for PC; Mac OS for Mac.
Memory: 6 GB (64bit), 2GB (32bit), RAM for PC, 4GB RAM for Mac.
Hard Disk Space: 4 GB available disk space for PC, 10GB for Mac.
Display: 1024 x 768 resolution for PC, 1280 x 800 for Mac.
Graphics: DirectX 10 graphics card for graphic hardware acceleration for PC.
Additional system requirements: Internet Access.
Office 2021 Pros and Cons
Pros
Cons

One Payment
Core apps install
Classic experience
Security updates
Windows 10, 11, macOS support

One license
Limited features scope
No upgrades
No customer support
No support for older Windows
Microsoft Office 2021 Review Conclusions
Office 2021 is the new iteration of the classic Office suite for PC and Mac. This next version features all the classic apps you already know but takes them to a completely new level. Thanks to this, your tasks and work will be easier than ever!
FAQ
Is Microsoft Office 2021 free?
Microsoft Office 2021 is a paid purchase. There are various versions and licenses of MS Office. The cost depends on the version you get, as they include slightly different apps.
Do I need a subscription for Office 2021?
The 2021 version of Microsoft Office is a one-time purchase, so it doesn't require a subscription to use it. With this one-time payment, you'll get all the features and updates you need.
Is Office 2021 available for Mac?
The answer is yes. There is a dedicated version of Office 2021 for Mac. This includes all the major functions just like the PC version.
All trademarks are the property of their respective owners. All rights reserved 2022.