The Minister of Defense of Ukraine, Oleksiy Reznikov, recently noted that one of the preferred options for upgrading the Ukrainian Air Force is the Swedish Saab JAS 39 Gripen aircraft.
Ukrainian Air Forces are short on planes
Speaking to US lawmakers recently, Ukrainian President Volodymyr Zelenskyy made a strong plea for the United States to help Kyiv acquire military aircraft to fight Russian invaders and maintain control of its airspace.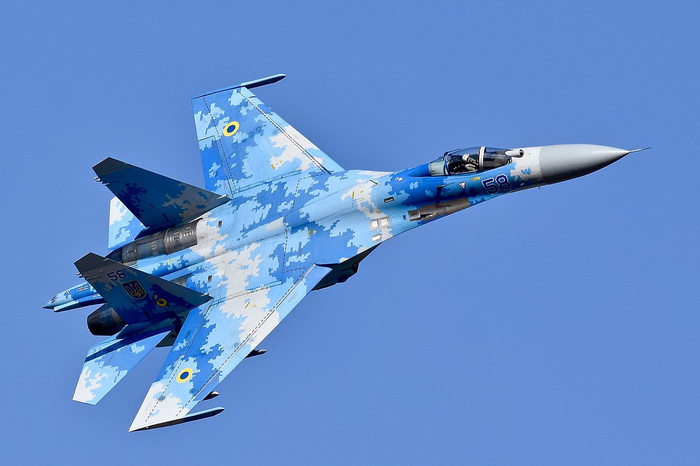 Yes, the Ukrainian Air Forces desperately need new planes, because so far the superiority of the Russian invaders in the air is significant. Ukrainian pilots have already proven that they know how to shoot down even the most modern Russian planes. But this is not enough.
It should be noted that the Air Force of Ukraine still has Soviet MiG and Su aircraft in service, somewhat modernized, improved, but already quite outdated. Their number in Ukraine was not particularly large either. Our pilots know how to fly the planes of these two design bureaus. At first, our allies tried to solve the problem by looking for MiG and Su aircraft for Ukraine in the countries that were part of the former Warsaw Pact. However, there are not so many of them, and in some places they are in a terrible condition. There are rumors that perhaps our pilots are already mastering the control of the F-15 or F-16, a comparison of the capabilities of which is available on our website. The appearance of such aircraft in Ukraine would be great, it would change the course of the war, it would give an opportunity to establish control over the airspace, but the implementation of this plan requires a lot of time, which we do not have. This is due to the fact that the infrastructure of our airfields is not adapted to the maintenance of such aircraft and needs significant modernization.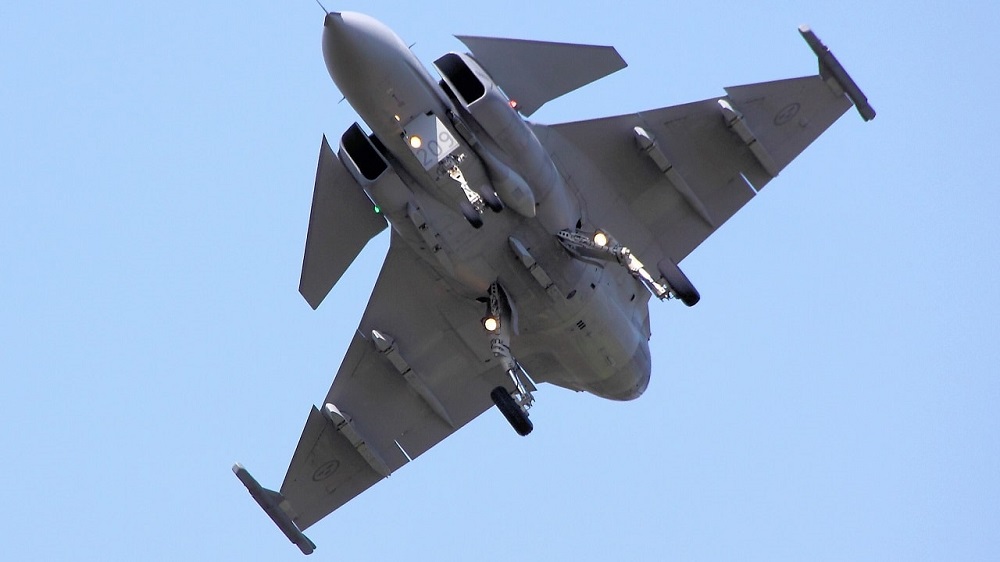 Among other possible options, there has been a lot of talk lately about the Swedish Saab JAS 39 Gripen. By the way, the possibility of replacing the MiG-29 and Su-27 with these modern aircraft was discussed even before the beginning of the Russian military aggression, but, unfortunately, it remained only at the level of conversations. However, recently the Minister of Defense of Ukraine, Oleksiy Reznikov, noted that the Saab JAS 39 Gripen is being considered as one of the options for our Air Force.
Today we offer you a closer look at the Swedish 4+ generation Saab JAS 39 Gripen aircraft.
Read also: How can M142 HIMARS and M270 rocket systems change the course of war in Ukraine?
Multirole fighter Saab JAS 39 Gripen
The Gripen, developed by Saab, first flew in December 1988 and entered service with the Swedish Air Force in 1997. At the time, it was planned that the JAS 39 Gripen would replace all variants of the Viggen and Draken combat aircraft that were in service at the time.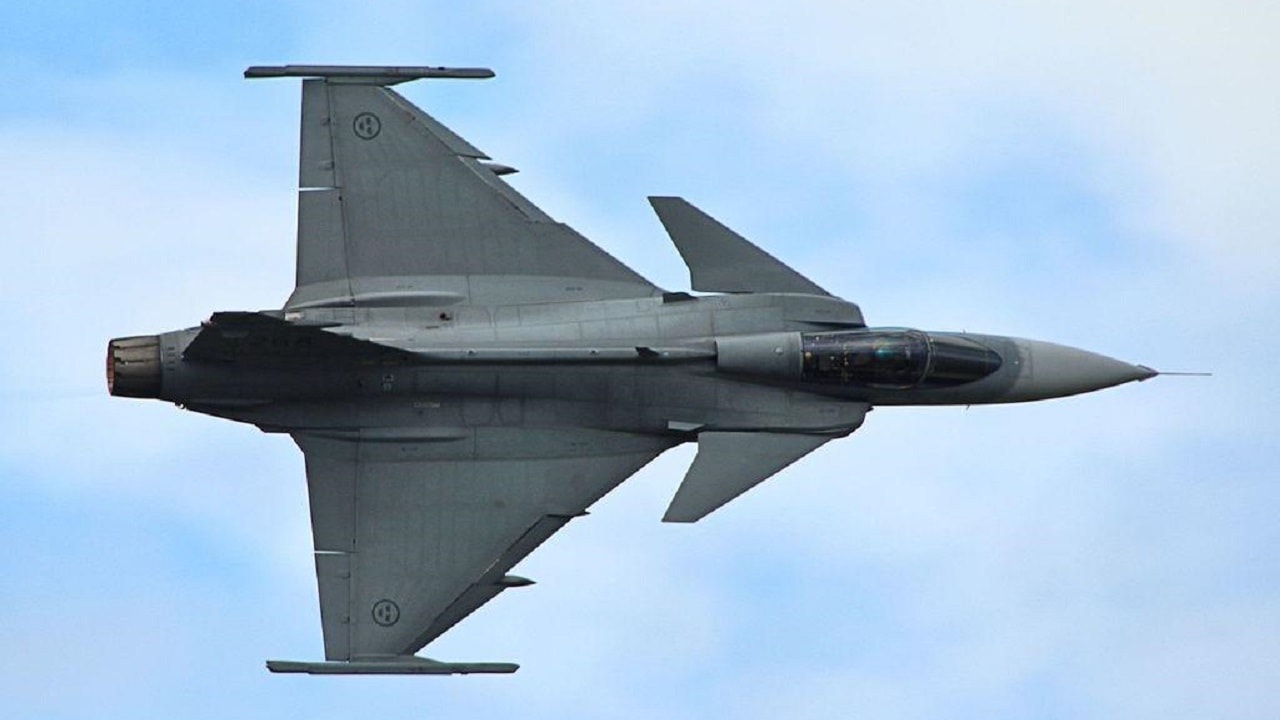 The JAS 39 Gripen was developed by an industrial consortium consisting of Saab, Saab Microwave Systems (formerly Ericsson), Volvo Aero Corporation, Saab Avitronics and FFV Aerotech. Saab and BAE Systems have formed a joint venture called Gripen International to sell the JAS 39 Gripen in foreign markets.
In January 2009, the JAS 39 Gripen demonstrator reached a supersonic speed of over Mach 1.2 without the use of an afterburner, allowing for increased range and fuel economy.
Read also: Weapons of Ukrainian Victory: NASAMS air defense that protects Washington
Modifications of JAS 39 Gripen
Saab has developed several variants of its aircraft.
The JAS 39A is a single-seat version of the Gripen. A two-seat trainer-combat version of the Gripen JAS 39B was also available, but it remained for use only at the Swedish Air Force's training centers. The JAS 39B is equipped with the same avionics and weapons package as the JAS 39A, except for the cannon.
The JAS 39C is the third variant of the aircraft, a single-seat, standard export version that was first delivered to the Swedish Air Force in September 2002. The JAS 39C has color displays in the cockpit, on-board oxygen generation system (OBOGS) and air refueling capability.
JAS 39D is a two-seat version of JAS 39C.
JAS 39NG  is a technology demonstrating platform.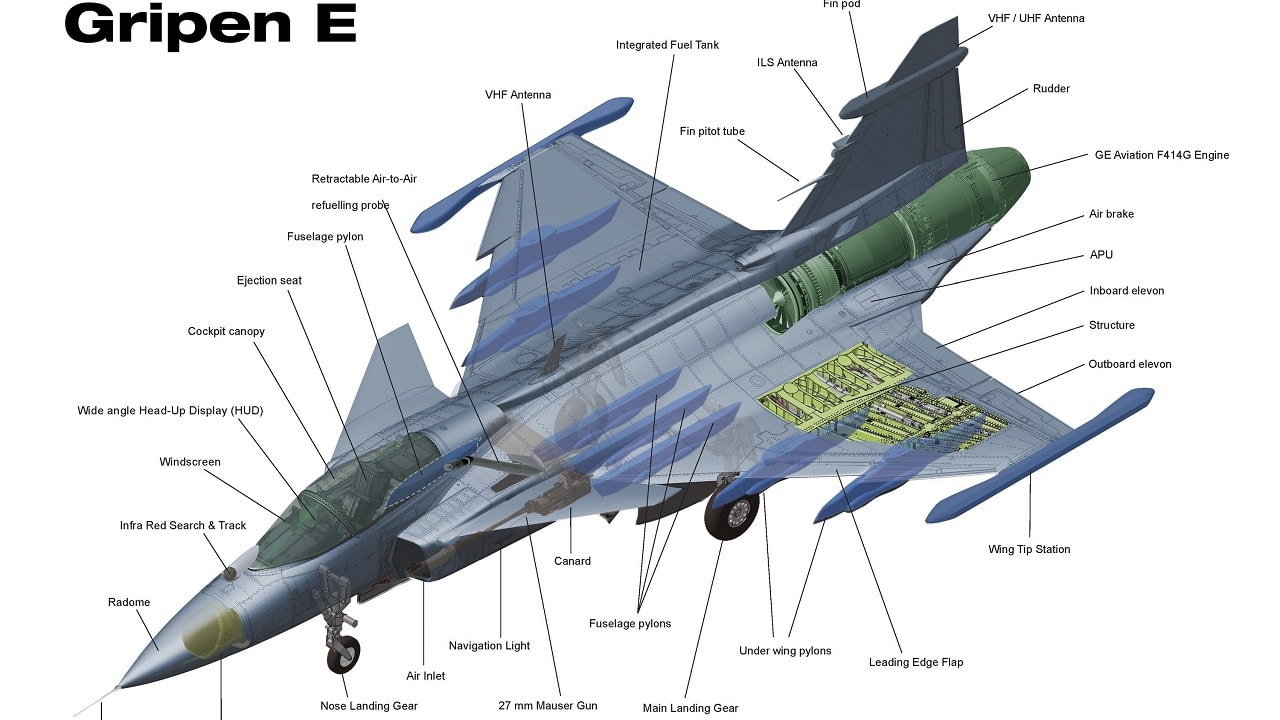 JAS 39E/F is a modernized aircraft of a new generation, with an active phased antenna array (AFAR), a new engine, increased flight range and maximum take-off weight.
Read also: Weapons of Ukrainian victory: The military praise the Piorun MPADS
Modernization program of new generation Gripen NG
Saab has developed a Next Generation (NG) version of the Gripen aircraft. The Gripen NG has several attractive features, including full compatibility with NATO aircraft, high operational speed, a digitally controlled cockpit with advanced functions, multi-frequency data link network connectivity and a modern avionics system.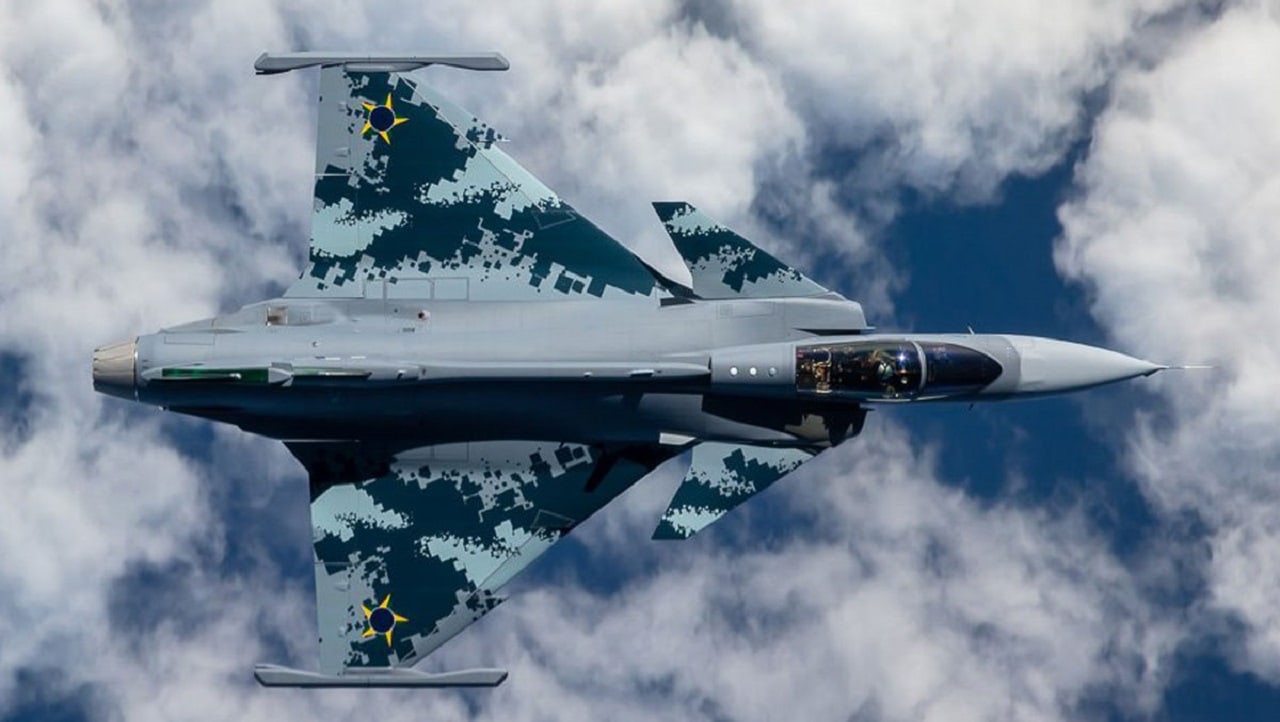 In October 2007, the Swedish government contracted Saab for the Gripen Demonstration Program to develop an upgraded version of the JAS 39C. Saab selected the GE Aviation/Volvo Aero F414G engine to be installed on the demonstration model. The F414G has a thrust of 96 kN and is equipped with a Full Authority Digital Engine Control (FADEC). Saab Microwave Systems and Thales are developing an Active Electronically Scanned Array (AESA) radar for the program. The demonstration variant, also known as Gripen NG, became a test bed for further development of the Gripen and made its first flight in May 2008. With high performance, maneuverability, an improved array of sensors and a fully digital cockpit, the next-generation aircraft was fully compatible with NATO standards.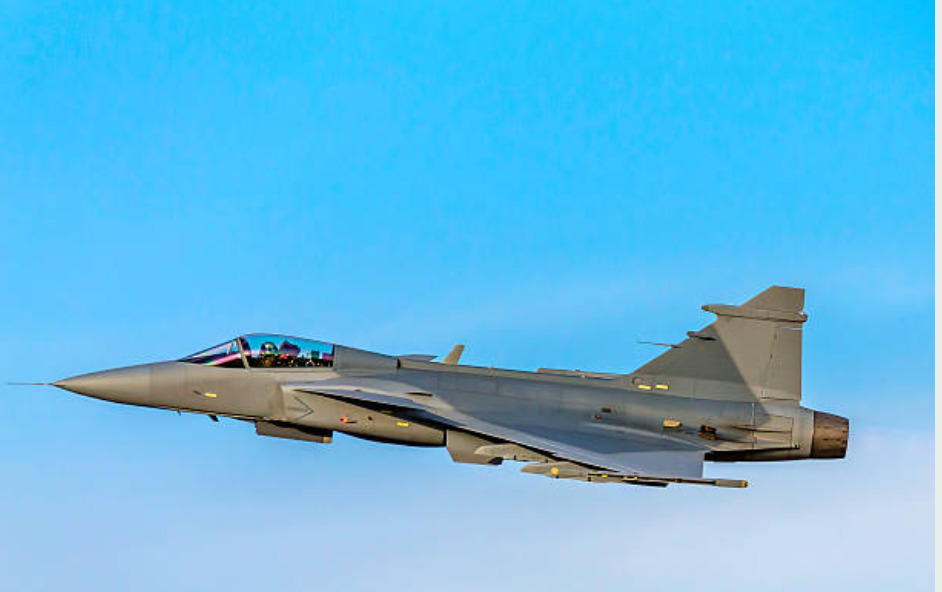 The first international debut of the new generation Gripen fighter took place in July 2010 at the International Air Show in Farnborough, Great Britain. Gripen NG has significantly increased speed, combat range, endurance and increased payload.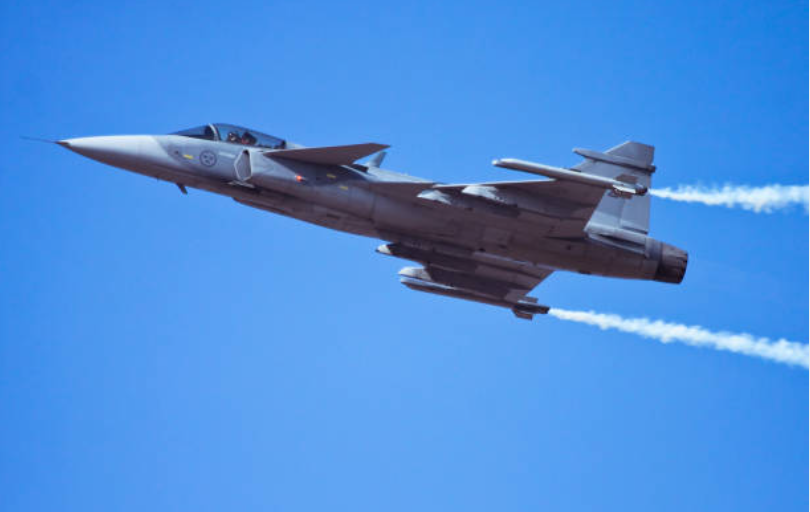 Saab has developed the Indian version of the Gripen IN aircraft, in April 2008, 126 multi-role combat aircraft were ordered for the Indian Armed Forces. The company also received an order from the Brazilian Air Force for 36 Gripen NG aircraft.
Read also: Weapons of Ukrainian Victory: Iris-T SLM for Ukraine from Germany
Cockpit of JAS 39 Gripen
The cabin is equipped with a Saab Avitronics EP-17 electronic screen, which consists of three multifunctional displays and a wide-angle projection display with diffraction of 22×28 degrees. Tactical data superimposed on a computer-generated map is displayed on the central screen on the windshield. The left and right displays show flight parameters and target data from the sensor arrays.
BAE Systems and Saab Aerospace, along with South Africa's Denel Cumulus, have developed an integrated head-mounted display (IHMD) system for Gripen, known as Cobra. The IHMD is an evolution of the Striker helmet designed for the Eurofighter Typhoon. Cobra has been installed on Gripen of all configurations since October 2007.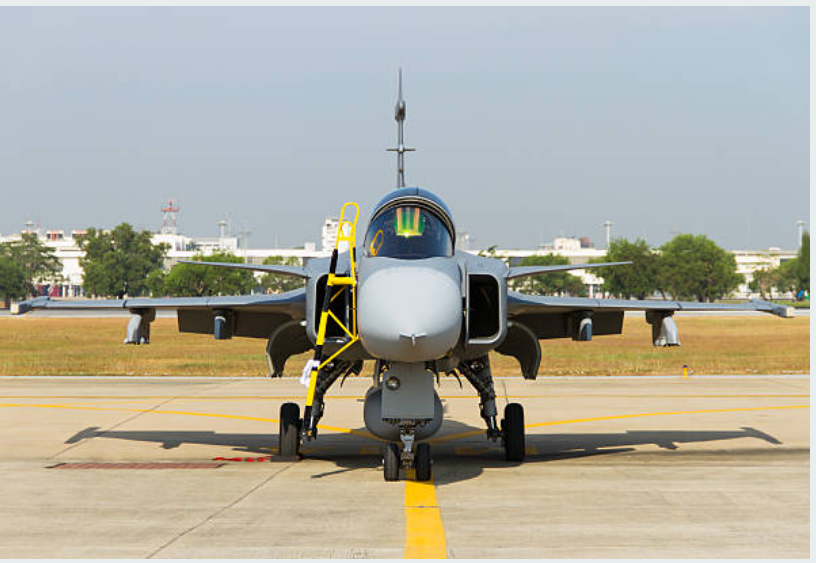 Critical systems controls (such as weapons and communications) are grouped on the hands on throttle-and-stick (HOTAS). The flight control system is a triple digital electronic remote control system from BAE Astronics and Lockheed Martin.
In other words, we have state-of-the-art aviation equipment in front of us, which in most components is superior to Russian avionics.
Read also: Weapons of Ukrainian Victory: Australian Bushmaster IMVs
Modern armament of JAS 39 Gripen
The JAS 39 Gripen has seven external payload bays: one on each wingtip, two under each wing and one on the fuselage centerline. MBDA (formerly Matra BAe Dynamics) MICA, Raytheon AIM-120B AMRAAM and Lockheed Martin/Raytheon Sidewinder AIM-9L air-to-air missiles are used.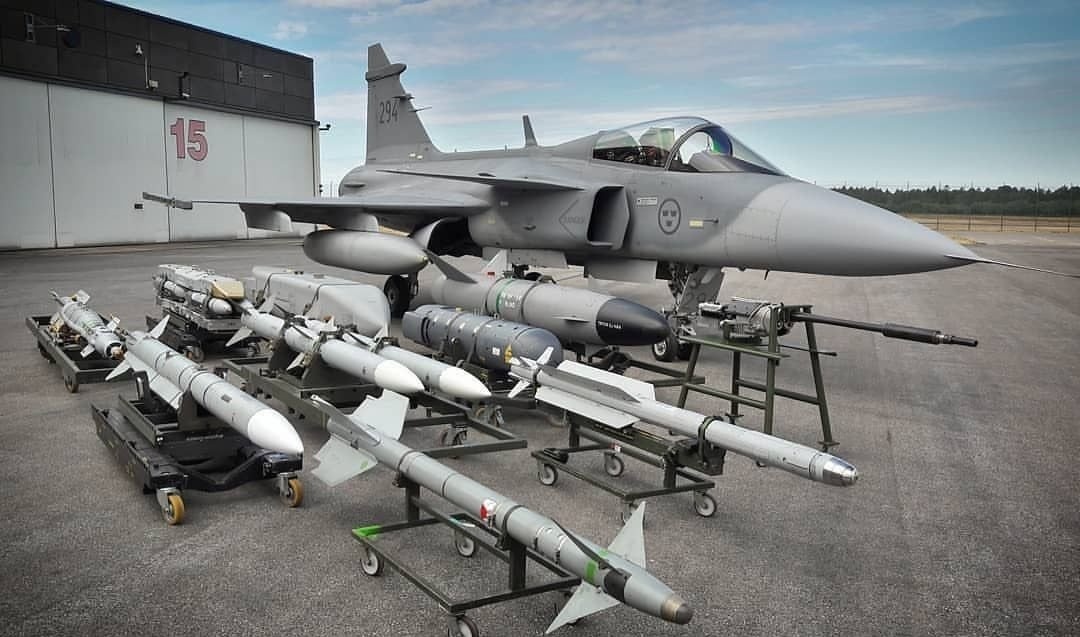 The wingtip-mounted Sidewinder is a short-range missile with enhanced air-to-air capabilities. Air-to-surface missiles include the Saab RBS15F radar-guided anti-ship missile and the Raytheon Maverick missile. In July 2008, Hungarian Air Force Gripen fighters successfully tested the Sidewinder air-to-air missile.
Later versions of the aircraft for Sweden were armed with the Diehl BGT Defense IRIS-T short-range air-to-air missile and the MBDA Meteor air-to-air beyond visual range (BVR) missile. IRIS-T deliveries began in December 2005.
In September 2010, the Swedish Defense Materiel Administration awarded a SEK 312 million ($42 million) contract to Saab to install the active beyond-visual-range radar (BVR) missile, Meteor, and radar and displays on Gripen fighters. A month later, Saab performed a test flight and test firings under the contract. The aircraft was also equipped with support and maintenance systems such as simulators and planning computers.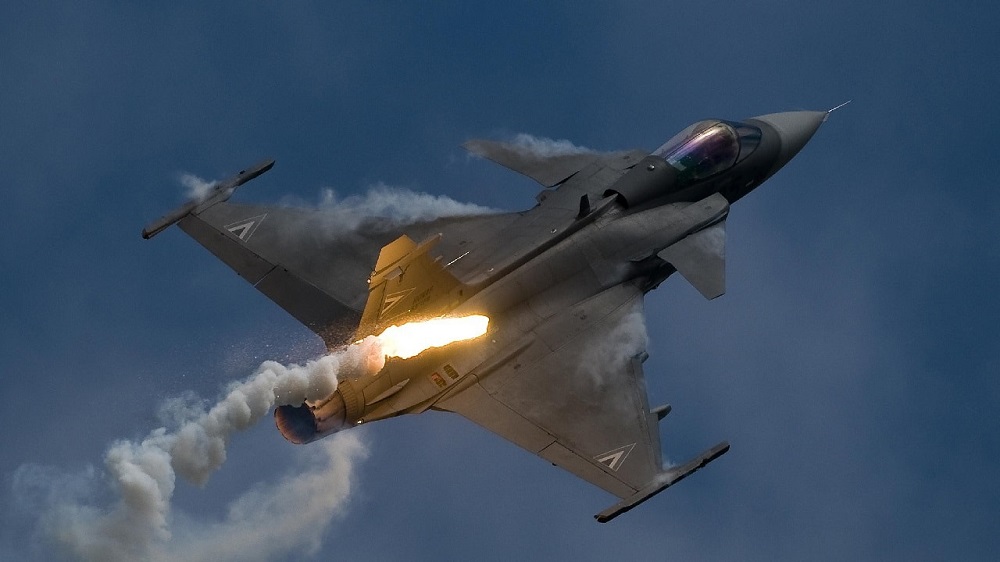 The Saab Bofors/MBDA Taurus KEPD 350 long-range missile with a range of 350 km was also successfully flight tested on the Gripen.
In May 2008, the Republic of South Africa placed an order for the IRIS-T air-to-air missile to equip its JAS 39 Gripen fleet, until the indigenous Denel A Darter missile entered service.
The internally mounted 27mm high-energy Mauser cannon can operate in auto-targeting mode with radar. The aircraft also received a  stand-off DWF39 dispenser from EADS (formerly DaimlerChrysler Aerospace) and Bofors. Subsequently, the Bofors ARAK 70 missile pod was also approved for equipping Gripen.
Read also: Switchblade: American kamikaze drones to protect Ukraine
Countermeasures package
Saab Avitronics developed the EWS 39 electronic warfare suite, which was ordered by the Swedish Air Force.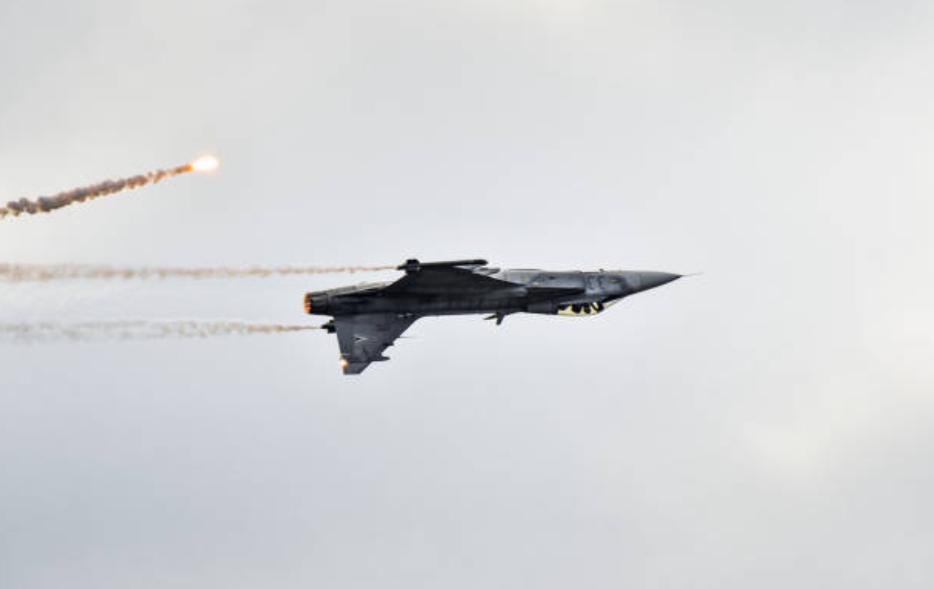 EWS 39 is an integrated EW system that provides radar warning, electronic support measures, and false target and flare systems.
Read also: Silent killers of modern warfare: most dangerous military UAVs
Sensors of JAS 39 Gripen
The Ericsson PS-05 long-range pulsed Doppler multi-purpose radar has air-to-air modes of operation that include long-range search, multi-target tracking while scanning, multi-priority target tracking, fast target acquisition modes, beyond-visual-range (BVR) missile flight assessment .
Air-to-surface modes include long-range target search/identification, multi-priority target tracking, high resolution, real-beam imaging, air-to-surface ranging, and Doppler beam enhancement. The aircraft is equipped with a forward-looking infrared sensor (FLIR) and the Saab IR-Otis infrared search and track (IRST) system.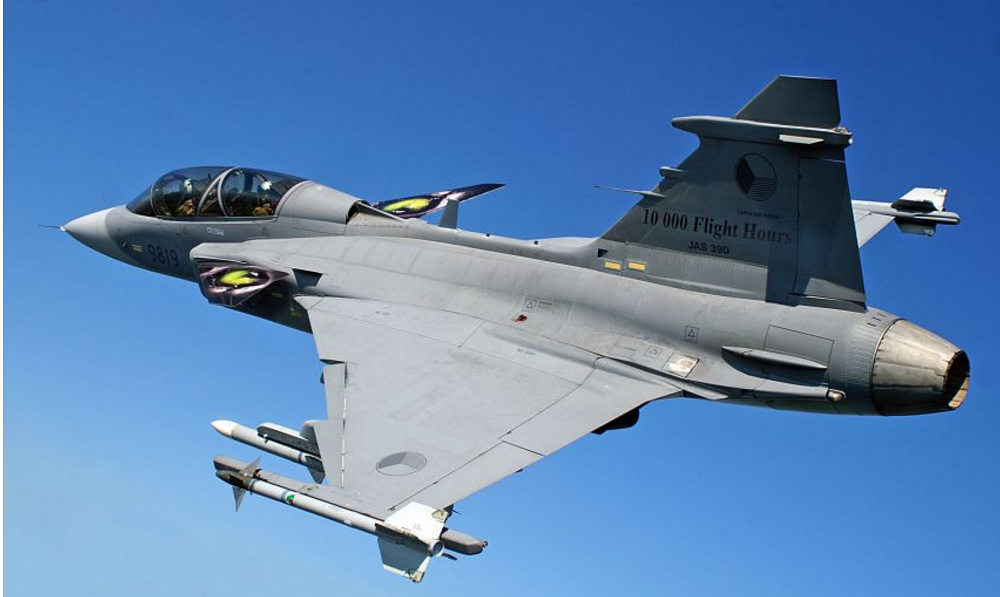 The Swedish Air Force's first nine JAS 39 Gripen were equipped with the Saab Avitronics modular reconnaissance platform, which includes the CA270 reconnaissance/optical infrared sensor. The system was put into operation in 2006.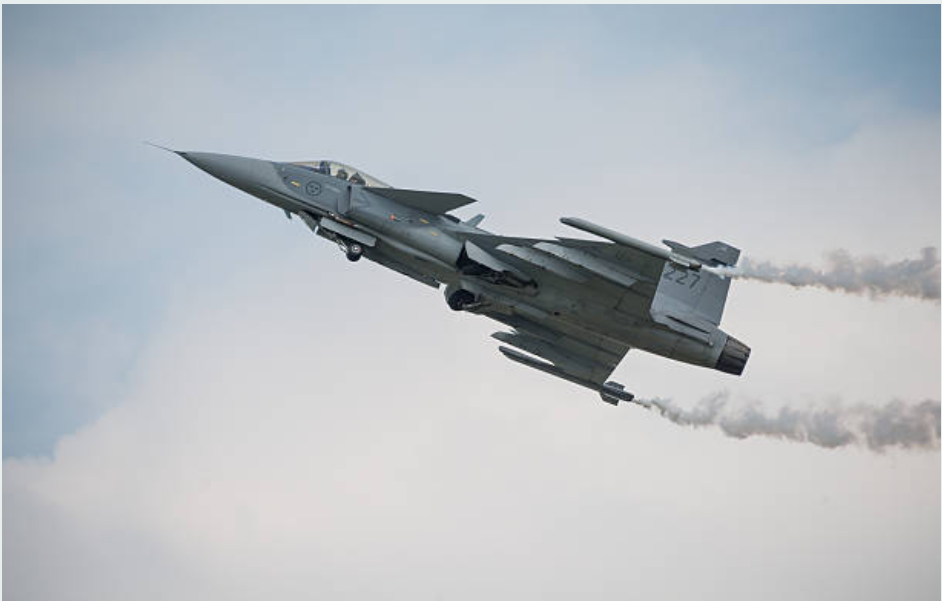 In April 2010, the Swedish Defense Materiel Administration awarded Saab a four-year, SEK 400 million contract to develop the Modular Reconnaissance Container System (MRPS), which was later installed on the JAS 39 Gripen fighter.
In August 2010, Saab awarded Terma a SEK 55 million ($7.4 million) subcontract to upgrade and manufacture a new Modular Reconnaissance Container System (MRPS) for the Swedish Air Force's Gripen fighters. The software and hardware required for the reconnaissance capsule system upgrade program were delivered by Terma under a contract until the end of 2012.
Read also: All about the General Atomics MQ-9 Reaper
Communications of JAS 39 Gripen
The aircraft is equipped with VHF/UHF transmitters and receivers from Saab Avitronics, as well as a Thales TSC 2000 friend-or-foe identification system. The air-to-air data link allows real-time exchange of tactical data within and between interacting aviation units.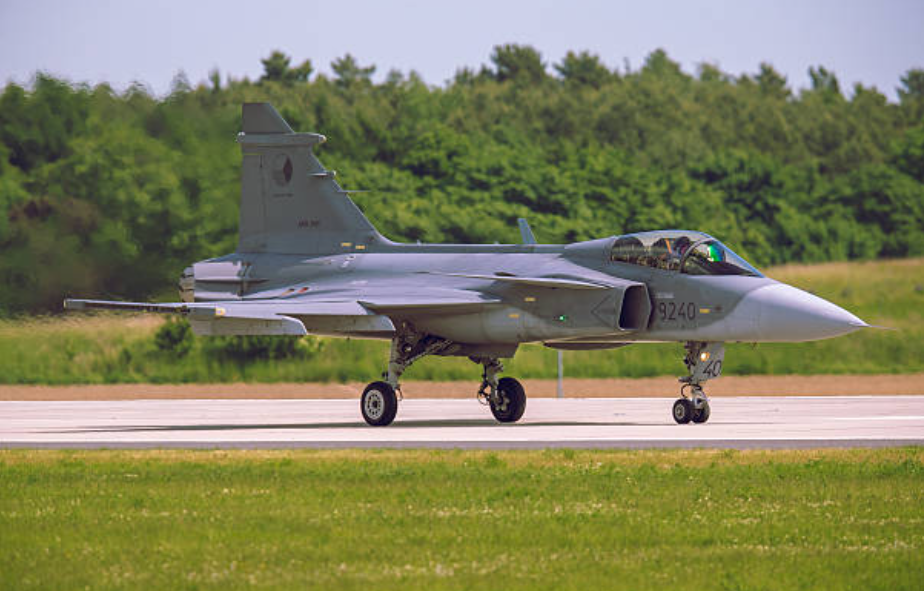 The data link allows the transmission of radar data from one JAS 39 Gripen to a group of other fighters or drones during attack or reconnaissance.
Read also: All about the 155mm M777 howitzer and M982 Excalibur guided projectile
Engine of JAS 39 Gripen
The RM12 engine supplied by Volvo Aero is the next generation of General Electric's GE F404 engine. The digital engine management system automatically monitors its parameters and activates backup systems when necessary. The condition monitoring system records flight data.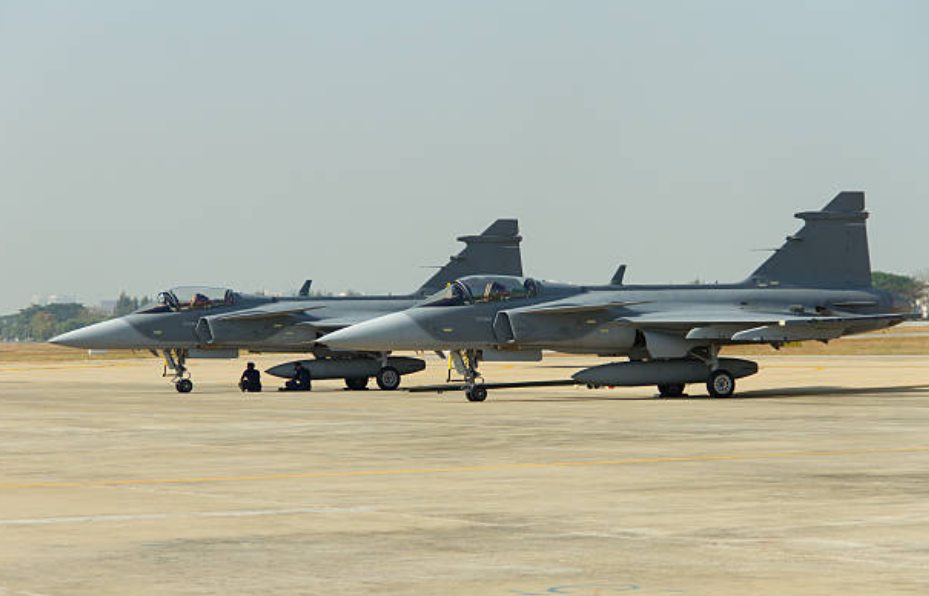 The air refueling probe is retracted inside the aircraft to maintain the aerodynamic profile. The longer flight time achieved by mid-air refueling results in the pilot needing a larger supply of oxygen, so an on-board oxygen generation system (OBOGS) was installed.
Read also: Comparison of F-15 Eagle and F-16 Fighting Falcon fighters: pros and cons
Flight capabilities of JAS 39 Gripen
Gripen can fly at a maximum speed of 2470 km/h. The combat radius and flight range of the aircraft are 800 km and 3,200 km, respectively.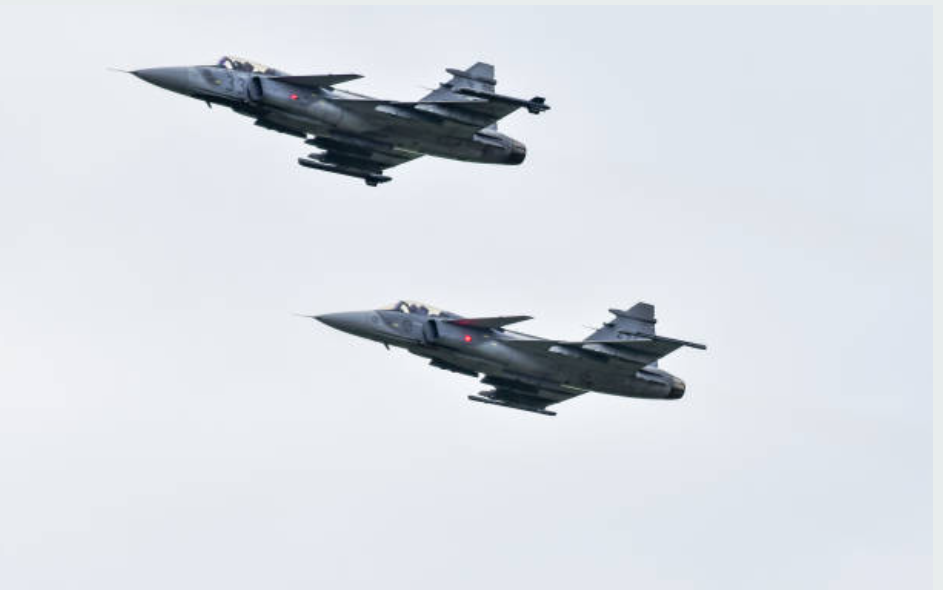 Its practical ceiling is 15,240 m. The aircraft weighs about 5,700 kg, and its maximum take-off weight is 14,000 kg.
Read also: Weapons of Ukrainian victory: ATGM Stugna-P – Russian tanks are in trouble
Is the JAS 39 Gripen the ideal option for the Ukrainian Air Force?
Of course, there are no ideal options, but the Swedish planes are maneuverable, with modern avionics, and quite cheap compared to the F-15 or F-16. In addition, Sweden is not yet formally a full member of NATO, so it will be happy to supply Ukraine with the aircraft it needs.
The most important question is whether the JAS 39 Gripen is better than, for example, the Su-27? There is an example in history of direct combat collisions between these two aircraft. Yes, these were training fights, but they still give us a clear idea of the capabilities of these two modern 4th generation aircraft. In 2015, joint Sino-Thai exercises codenamed Falcon Strike took place. The Royal Thai Air Force deployed Gripen fighters of the 701st Fighter Squadron (it has eight JAS-39Cs and four JAS-39Ds in service), and the Chinese – Su-27SK fighters (an export modification of the Su-27) imported in the 1990s from Russia.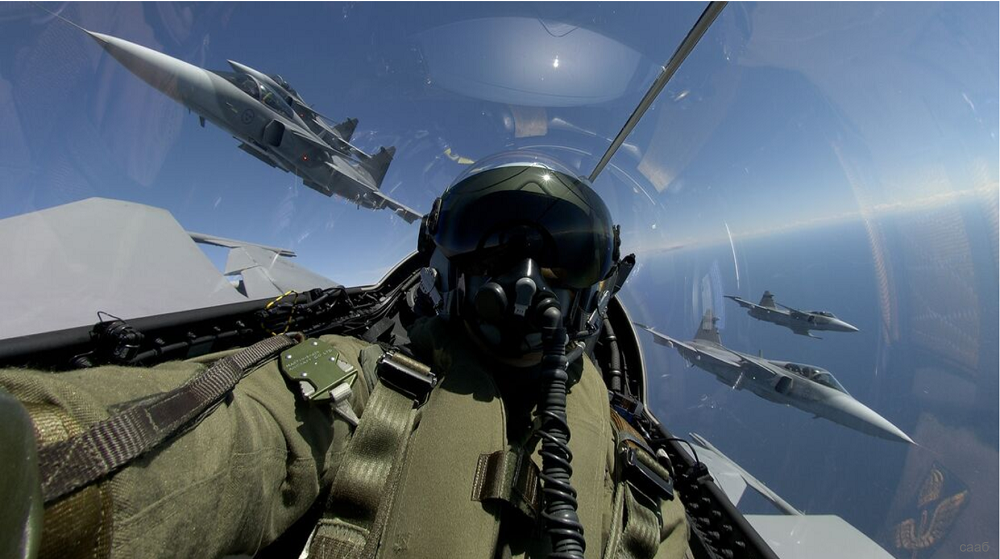 Later it became known that during the training battles, the planes engaged  each other at a distance greater than the visual range (BVR – Beyond Visual Range). Under these conditions, the JAS 39 Gripen managed to make 41 'effective hits' against the enemy, while the Chinese Su-27SK pilots scored only nine. During simulated battles at a distance of 50 km and more, JAS 39 Gripen pilots scored 10 victories, and Su-27 – none. Western fighters achieved the greatest efficiency at a distance of 30 km and more, when the number of effective shots was 88%. The Chinese at this distance achieved only 14%, that is, only one shot out of seven hit the target. Draw your own conclusions.
In addition, the JAS 39 Gripen was developed in such a way that it could be operated from unprepared airstrips or sections of highways. It would be very appropriate for Ukraine, with not the highest quality runway coverage.
Of course, we still do not know for sure whether the Swedish JAS 39 Gripen aircraft will appear in service with the Air Force of Ukraine, but their appearance is very desirable and could fundamentally change the situation in the airspace of Ukraine, that is, the course of the war itself.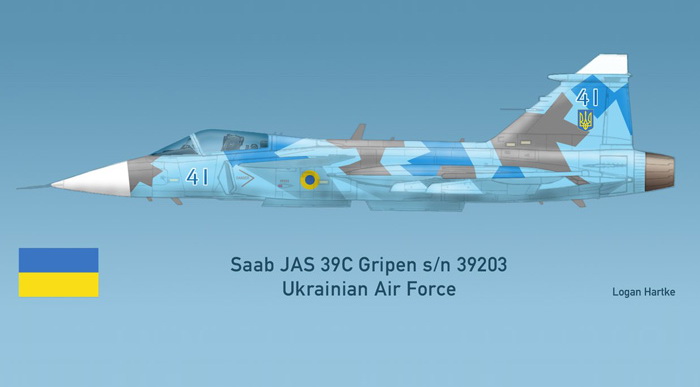 The invaders have nowhere to escape from retribution. We believe in our Victory! Glory to Ukraine! Glory to the Armed Forces! Death to enemies!
Read also: 
You can also help Ukraine fight with Russian occupants via Savelife or via an official page of the National Bank of Ukraine.