The Armed Forces of Ukraine have already received 155 mm M109 Paladin self-propelled artillery units from our Western partners. Today we're talking about these powerful howitzers.
In modern warfare, heavy artillery still remains a very effective weapon, although many theorists have predicted that it will lose its relevance many years ago. But combined with modern technology, these weapons have become a real deadly threat to enemies. We could see this during the war with Russia. Until recently, the occupiers ruthlessly destroyed residential buildings in my native unbreakable Kharkiv, but with the appearance of new modern 155-mm NATO howitzers in our military, the situation has changed dramatically.
Our artillerymen cause devastating blows to the enemy, using all the power of these howitzers and state-of-the-art technical means, such as the GIS Arta application, which we recently described in detail. It was the successful actions of artillery units that allowed our defenders to drive the racists away from Kharkiv and inflict powerful blows on them in the Donbas and southern Ukraine. And this is just the beginning.
When I wrote an article about the M777 howitzers, I mentioned that many 'sofa experts' were outraged that we were not given 155 mm M109 Paladin self-propelled artillery units. And today the Minister of Defense of Ukraine Oleksiy Reznikov said that powerful weapons in the latest modification are already in the service of the Armed Forces, and this is extremely good news for us.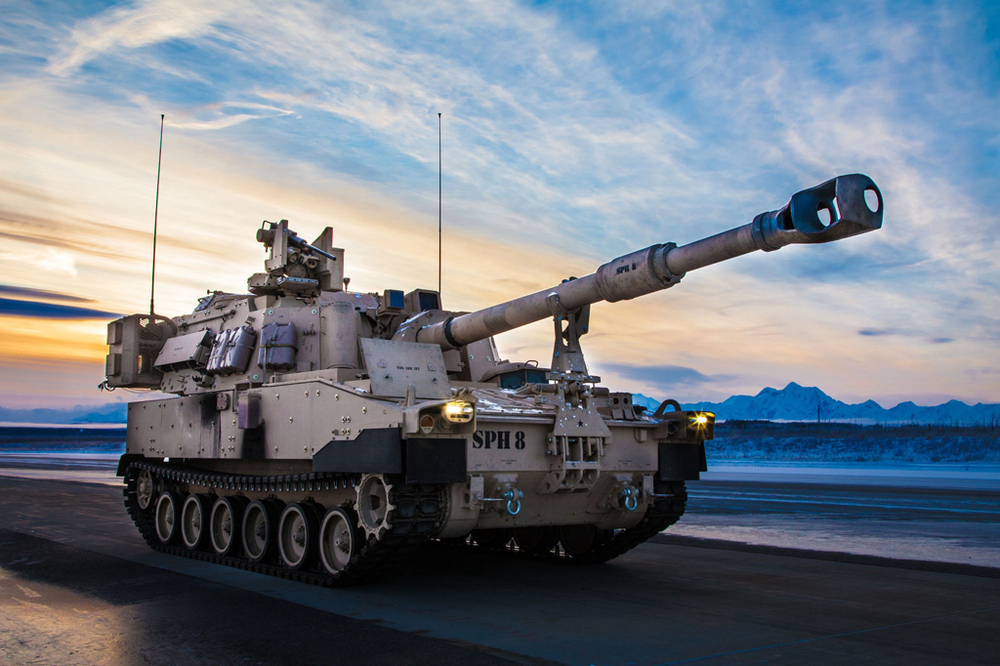 Let's take a closer look at 155 mm American-made M109 Paladin self-propelled artillery units.
Read also: Modern artillery is Ukraine's superweapon. And what does Elon Musk have to do here?
Why is the M109 Paladin the best option for Ukraine?
The new generation Paladin M109A7 artillery system, manufactured by BAE Systems, is an upgrade of the battle-tested Paladin M109A6 artillery artillery system. The improved artillery system provides key fire support during a variety of combat missions in a variety of conditions, which greatly increases their effectiveness.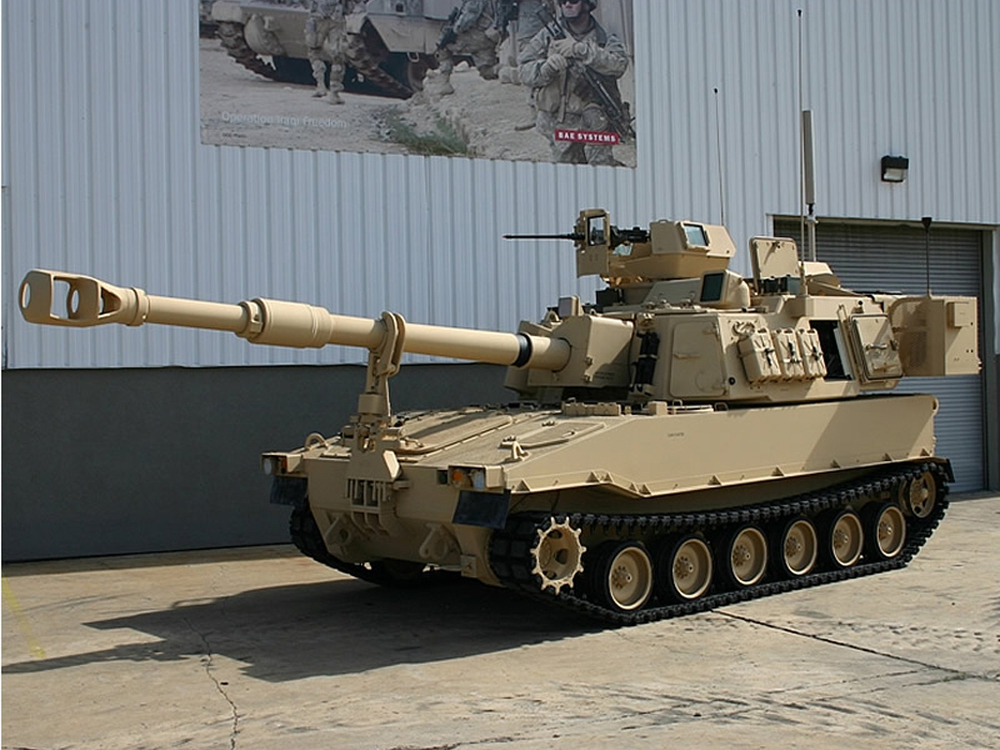 In October 2013, the US Army signed a $ 688 million contract with BAE Systems for the production of Paladin M109 artillery systems, planning to purchase a total of 66 complexes consisting of self-propelled howitzers and ammunition transporters. In May 2014, the experimental production of a new generation artillery system was launched, and in 2018 – mass production.
Under the initial $ 195 million contract, BAE Systems built 18 M109A7 howitzer and M992A3 tracked ammunition carriers, which entered service with the U.S. Army in April 2015. And in October 2015, BAE Systems received a contract worth $ 245.3 million for the supply of 30 additional complexes.
In December 2017, BAE Systems received a contract for $ 413.7 million to complete the test phase and start mass production of M109A7 howitzers.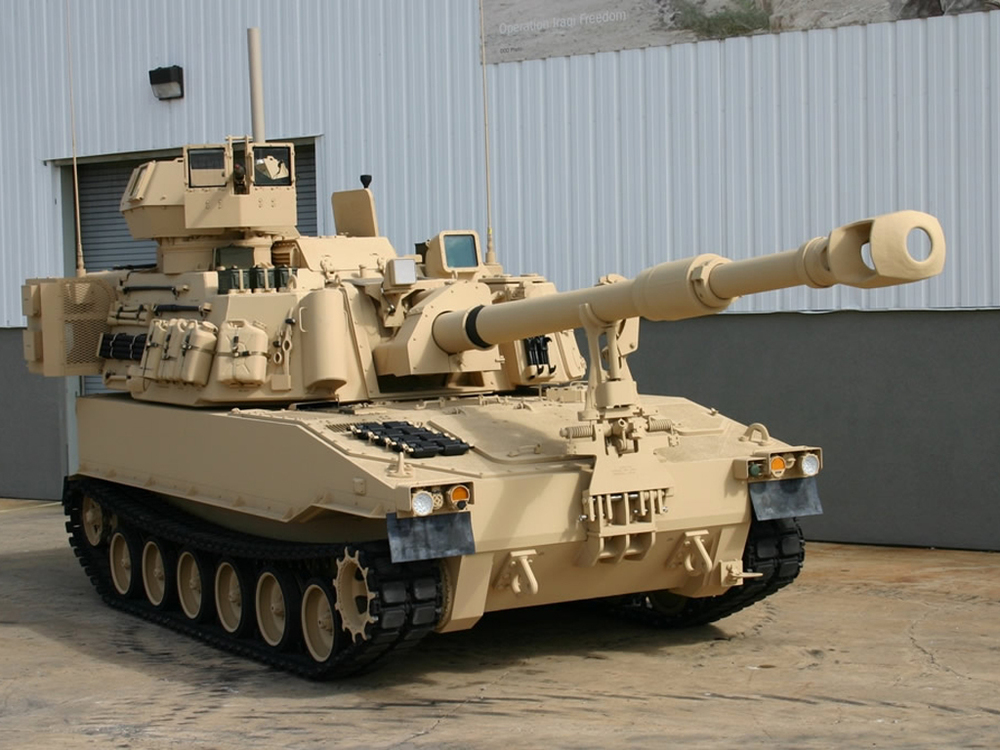 Currently, the 155 mm M109 Paladin self-propelled artillery is the latest weapon of this type in the US Army. This means that Ukrainian artillerymen received state-of-the-art weapons, not old decommissioned SPH.
Read also: All about the 155mm M777 howitzer and M982 Excalibur guided projectile 
History of creation and development of M109 Paladin
M109A7 is a new artillery system for the US Army, it is an upgraded version of M109A6. Previously, this system was known as M109A6 PIM or Paladin Integrated Management. The first prototype was introduced in 2007. Unofficially, the M109A7 is still called Paladin. The prototypes of M109A7 have passed state tests, and in 2013 this artillery system was approved for mass production. A contract has been signed with BAE Systems to upgrade the first M109A6 systems to the M109A7 standard. The US Army planned to obtain a total of 580 M109A7 howitzers and as many accompanying armored ammunition carriers. After modernization, these self-propelled artillery systems are expected to last until 2050.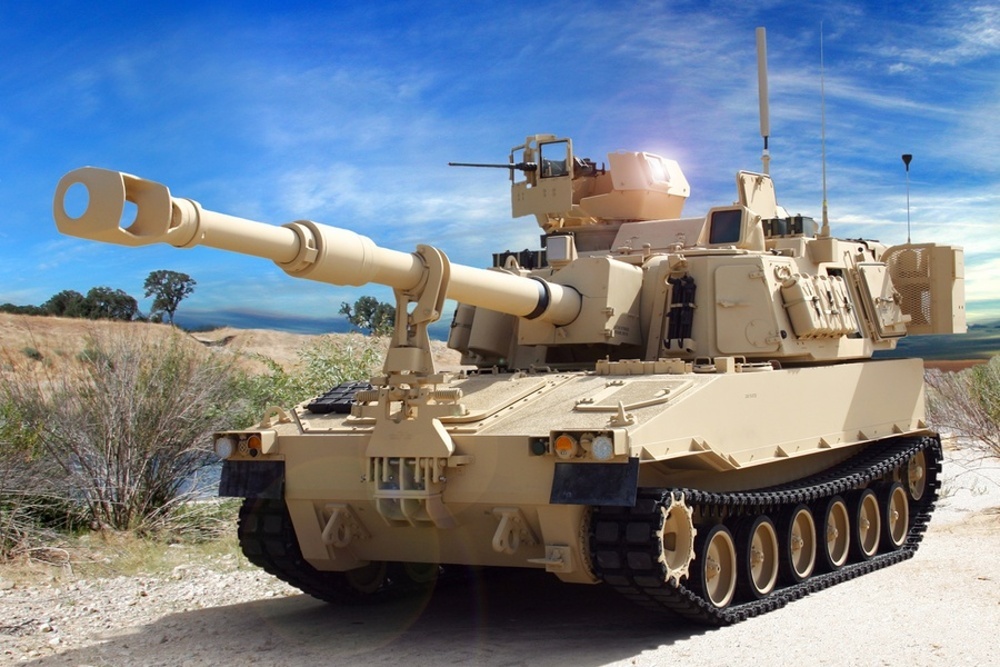 The new M109A7 SPH uses some technology that was originally developed for the XM2001 Crusader and XM1203 NLOS-C self-propelled howitzers.
Read also: 'Neptunes' knocked out 'Moskva' cruiser: All about these anti-ship cruise missiles
Design and features of the M109A7 Paladin artillery system
Some civilians call this self-propelled unit a tank because it is a mechanized tracked vehicle. But do not make this mistake, because we are dealing with a mobile field artillery gun with a long barrel.
The Paladin Integrated Management (PIM) upgrade program includes upgrades to the hull, turret, engine, and suspension systems for greater reliability, survivability, and efficiency compared to the M109A6 artillery system. The upgraded system is able to provide consistent fire support in all weather conditions. The gun is equipped with a digital fire control system and an advanced charging system and is mounted on a chassis with suspension elements and transmission from M2 Bradley IFV. The tower can rotate 360°.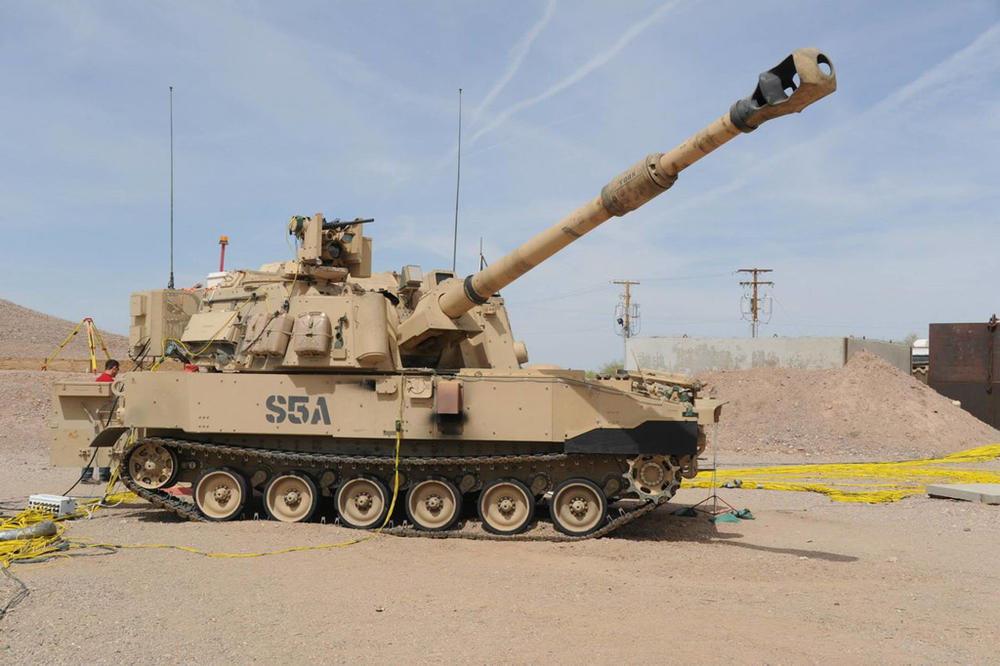 The M109A7 has a total length of 9.7 m, a width of 3.9 m, a height of 3.7 m and a maximum gross weight of 35,380 kg. The upgraded unit received a digital backbone architecture and a built-in digital fire control system, a navigation system and a computer with comprehensive diagnostic programs.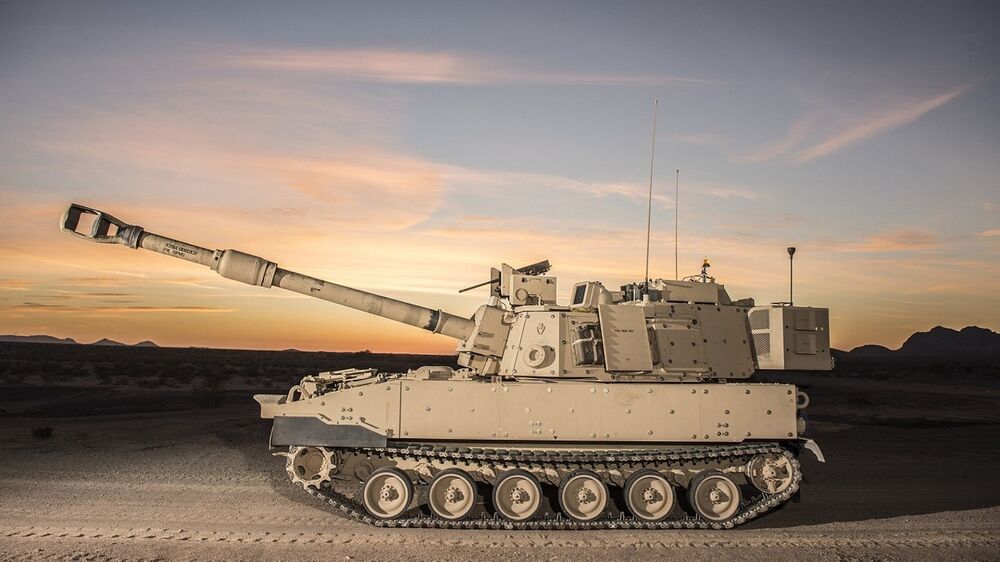 The new artillery system can select and occupy firing positions, as well as automatically unlock and direct the gun while moving.
Read also: Silent killers of modern warfare: most dangerous military UAVs
Armament of M109 Paladin
This artillery system is equipped with the same 155 mm/L39 howitzer as the previous M109A6. However, now the SPH is equipped with a new automated loader. That is, the Paladin M109A7 artillery system is armed with a 155-mm M284 cannon with an M182A1 cannon installation and automatic loading. It can fire at a steady rate of one shot per minute, while the maximum rate of fire is 4 shots per minute. The maximum range of standard projectiles is 24 km, and 30 km for jet projectiles. The M109A7 can also fire M982 Excalibur high-precision guided projectiles with a maximum range of up to 40 km.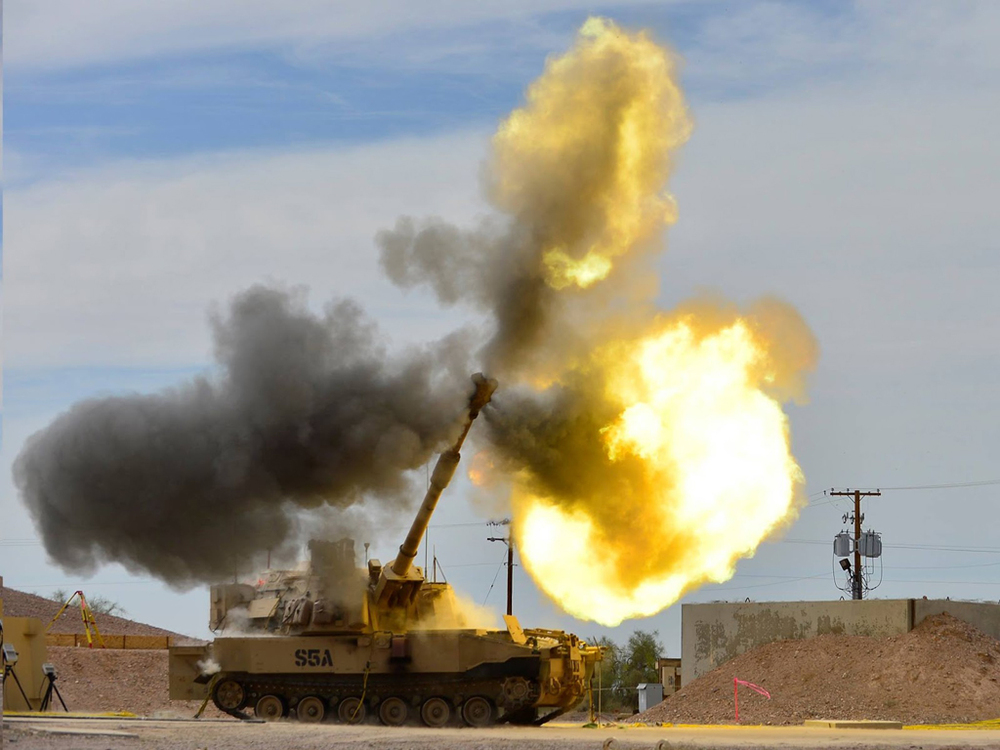 That is, the Paladin self-propelled howitzer can use not only standard but also high-precision ammunition, including Excalibur, and is equipped with a precision guidance system.
The modernized artillery system is equipped with an automatic fire control system with an integrated navigation and inertial positioning system. It is also equipped with a muzzle reference system. Upon arrival at the firing position, the system independently determines the location of the SPH, processes information about the target and provides data for shooting.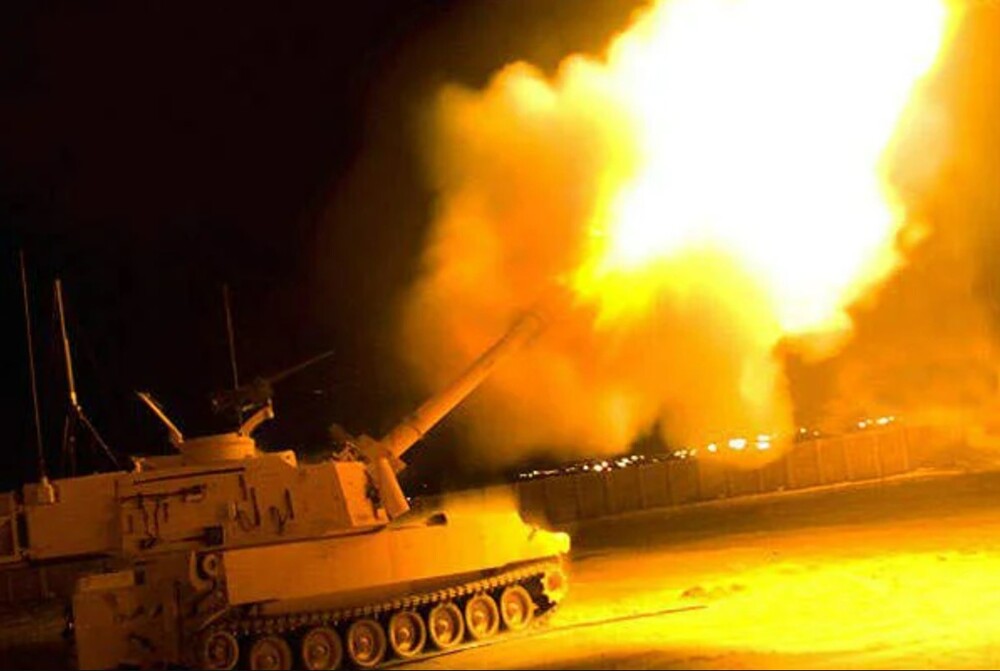 M109A7 Paladin has a short response and relocation time. This allows you to start moving immediately after the shot, which helps avoiding enemy counter-battery fire. Once the M109A7 Paladin moves to a new position, it will be ready to fire again within 60 seconds. Such mobility ensures significant firepower of the ACS.
Read also:
Defense features of M109 Paladin
The armor of this self-propelled howitzer provides protection from small arms fire and fragments of artillery shells. It can be equipped with an additional set of armor, as well as a set of armor of the highest level of protection. The turret is equipped with a Kevlar lining, which provides protection against shrapnel and high-explosive shells. Like all modern ACS, the M109A7 Paladin is equipped with NBC protection system, gunner protection kit (GPK) and automatic fire extinguishing system (AFES).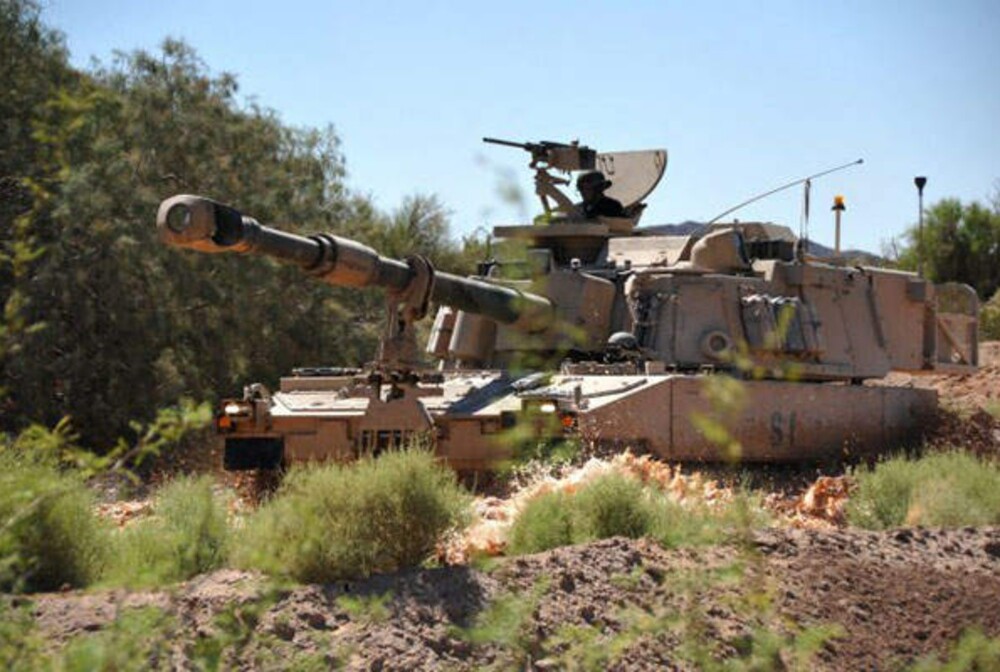 This howitzer is also equipped with the Blue Force Tracker system to provide 'friend-or-foe' recognition. The new electric drives and transmission components, as well as the air conditioning system, are powered by a common modular on-board electrical system at 600 volts. Each self-propelled howitzer M109A7 is accompanied by a corresponding M992A3  tracked ammunition carrier.
Read also: All about the General Atomics MQ-9 Reaper
Engine and mobility of M109 Paladin
Like its predecessor, the 155-mm M109A7 Paladin self-propelled howitzer is equipped with a 600 hp Cummins engine from the standard Bradley combat vehicle. However, the transition to an electric turret drive involved a significant overhaul of the machine's power system. 600 hp engine provides various on-board systems with a direct current of 70 kW and a voltage of 600 V/28 V. The torsion suspension of M109A7 on both sides consists of seven double rubber support wheels with a leading sprocket at the front and a tension wheel at the rear. There are no support rollers.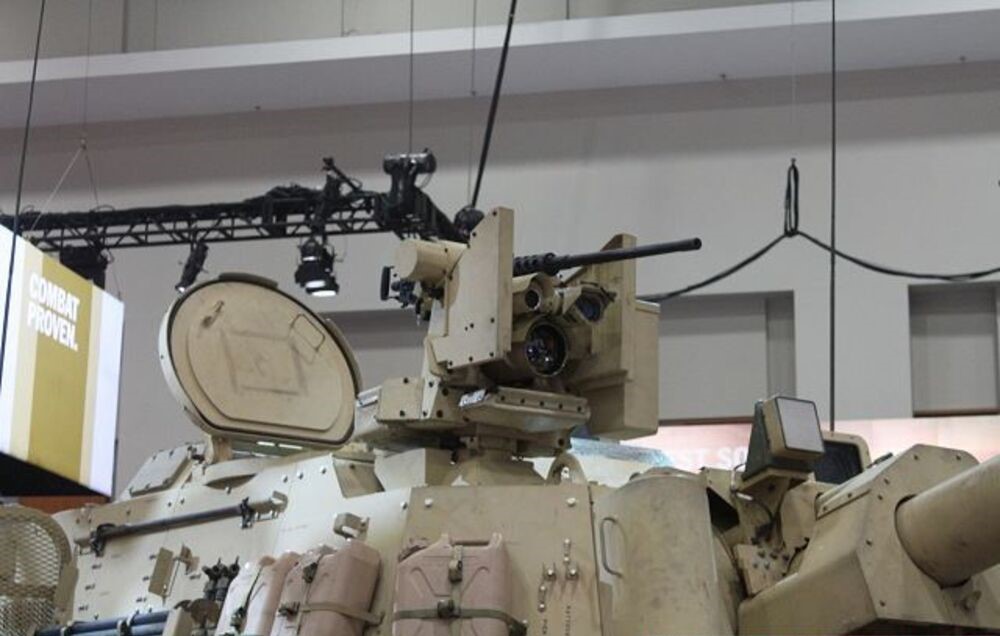 The modularity of the power supply system means that if any of the internal motors fail, it can be replaced in the field in less than 15 minutes. Specifically, this means that the howitzer crew can cope with the problem and continue to perform the combat mission, instead of going to the rear for repairs. The new chassis is made and assembled from Bradley M2/M3 components (eg engine, transmission, transmission, etc.). Although this has lead to the increase of the overall weight by about 5%, the combined effect of using a new chassis and more reliable drive components allows the Paladin PIM to work with heavier loads than its current maximum gross weight of around 39 t/35.4 t. The M109 has a fuel tank capacity of 545 liters and a ground clearance of 0.4 m. The SPH can cross the ford at a maximum depth of 1.05 m and cross trenches with a depth of 1.8 m. The inclination and lateral slopes of the vehicle are 60% and 40% respectively, the speed the road is 61 km/h and the range is 322 km.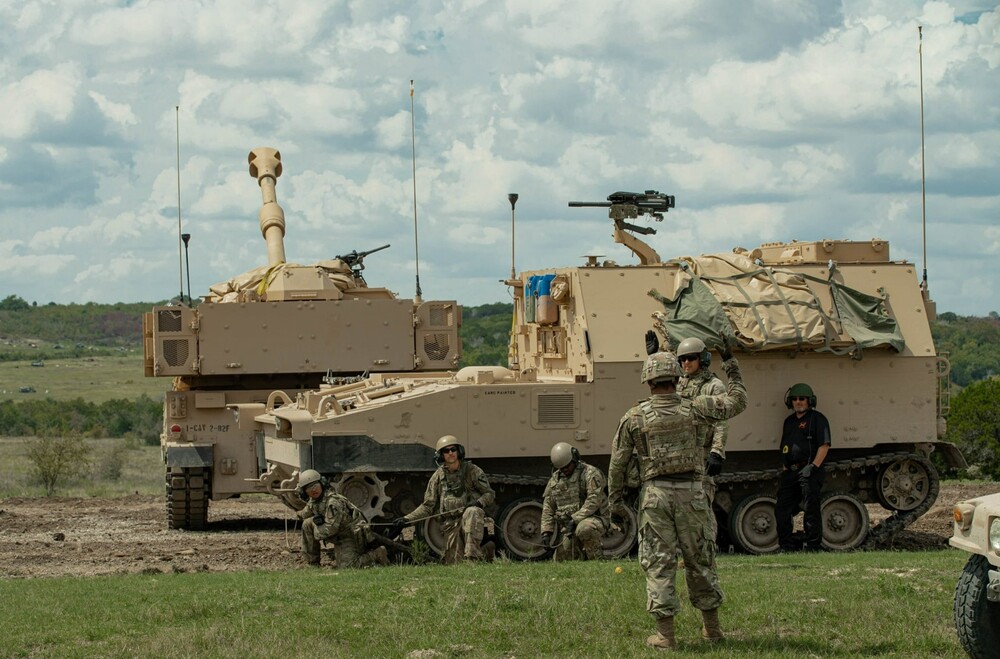 The crew of M109A7 Paladin consists of 4-6 people (commander, driver, gunner, gunner's assistant, 2 loaders), depending on the tasks. The driver's seat is located in the front of the hull to the left of the engine, and the gunner is located on the left side of the turret. The commander's seat, located in the turret on the right, is equipped with a periscope surveillance device, a rotating turret mount for a large-caliber machine gun, and a hatch.
Read also: TOP-10 'unmatched' Russian armaments destroyed by the Armed Forces of Ukraine
Specifications
Armament: 155 mm M284 gun with MA182A1 gun installation and automatic loading, 12.7 mm large-caliber machine gun on the roof
Armor: all-welded aluminum for the hull and Kevlar lining for the turret, protection from small arms fire and shrapnel from artillery shells
Weight: 35 380 kg combat ready
Top speed: 61 km/h
Cruising range: 322 km
Dimensions:  length 9.7 m, width 3.9 m, height 3.7 m
Equipment: computerized fire suppression system, panoramic day/night sight, day/night direct fire sight, laser rangefinder, NBC protection system
Crew: 4-6 people
Manufacturer: BAE Systems, USA
The appearance of such a powerful self-propelled artillery unit at the forefront of the Russian-Ukrainian war will allow our defenders to land powerful blows at the occupiers' positions, which could significantly affect the course of the confrontation.
Now the Russian occupiers are in real trouble. Every shot of the powerful M109A7 Paladin ACS will bring our Victory closer! And it will definitely come, because we believe in our Armed Forces, we believe in the power of our strength of spirit and the ability of our guys to destroy the enemy. And the orcs will burn in hell!
You can also help Ukraine fight with Russian occupants via Savelife or via an official page of the National Bank of Ukraine.
Read also: