I requested this laptop for a review on purpose. It is very, very nice to test models that cost $1000, surely, but coming back to Earth might sometimes be very useful in my line of work. Finally a chance to refresh the taste buds, so to speak, and to look at something an ordinary user probably doesn't dream about. At something he will probably buy. At ASUS VivoBook S15 M533IA.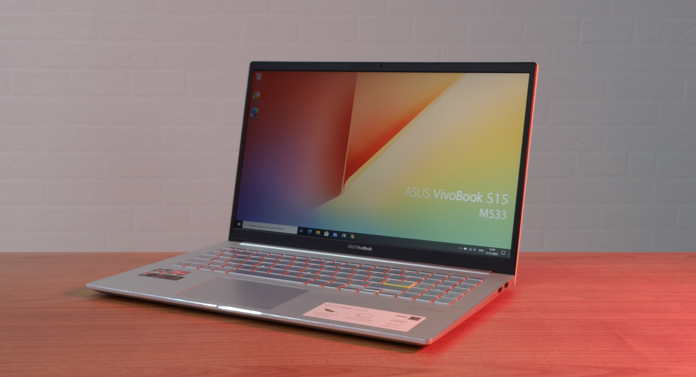 The price
The cost of my specific configuration is about $1000, give or take. There are other options on the market, with the same case, and even in different colors, with much more testosterone. But the version with 16 GB of RAM comes only in the top version on Ryzen 7. And yes, unfortunately, the RAM is unsoldered.
What's in the box
The package consists of the laptop itself, as well as a 45W charger with a standard laptop 4mm plug.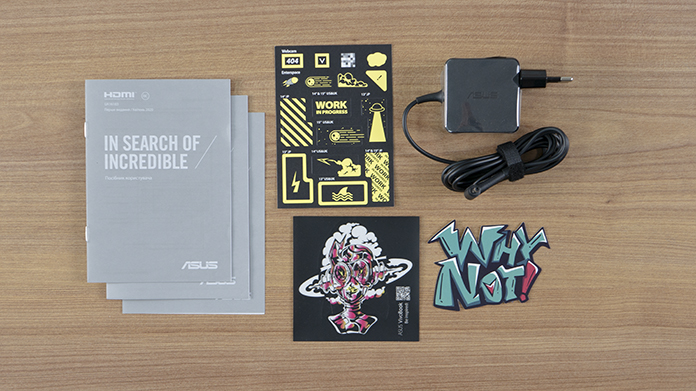 As a bonus, a bunch of fun stickers that were immediately put to use.
Design
The design of ASUS VivoBook S15 is defined by this particular color, called Dreamy White. It's sorta of white, but kinda pink-ish, with a crazy and delightful iridescence.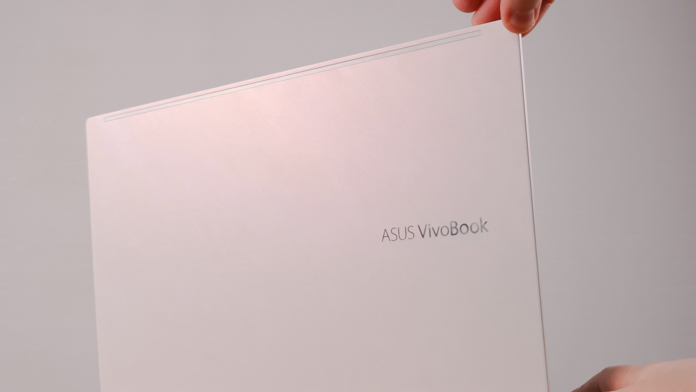 VivoBook is generally an expressive series, a little rebellious and very artistic. And the S15 in the specific Dreamy White color feels feminine and sophisticated.
Read also: ASUS ROG Zephyrus Duo 15 review – Premium Gaming Laptop with Two Screens
What I liked right away was the case. Yes, it's full metal, but that is only one of its advantages. But yes, this is a metal-clad laptop, with a 15.6-inch screen and a thickness of 16.1 mm, weighting 1.8 kilos. The details of the case are exquisite and the surface is very pleasant to the touch.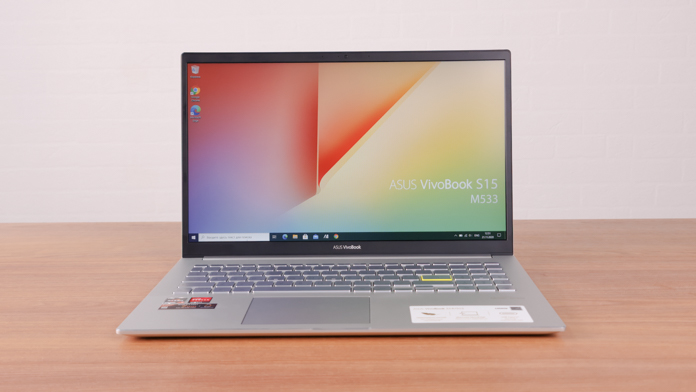 But there's an unexpected issue here, spoiling all the fun. The laptop cannot be opened with one hand. Not a biggie, sure, but for a model that is so refined and elegant, this is kinda important.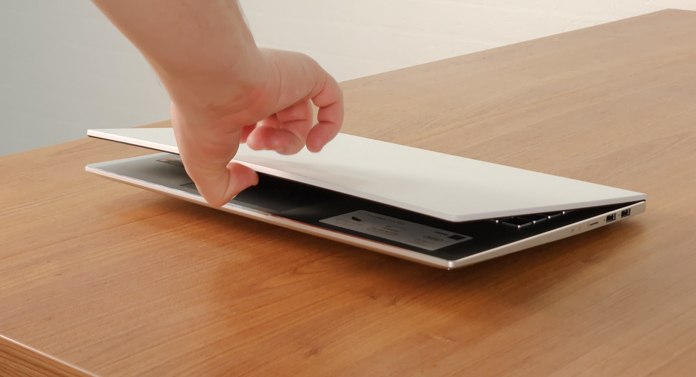 To be fair, thanks to tight hinges, the upper part of the lid itself does not rock back and forth, and nothing's loose. A piece of metal is a piece of metal wherever you are. It's solid and reliable.
The layout
The laptop's peripherals consist of a pair of USB 2.0, two USB 3.2 Gen1 (Type-A and Type-C side by side), a combined audio jack, HDMI, a power supply and a microSD card reader.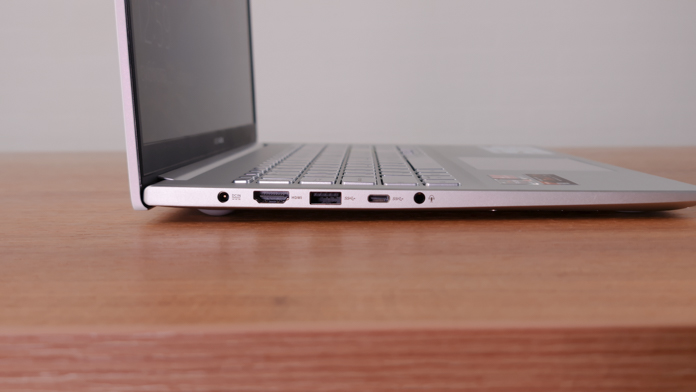 The absence of a full-size SD reader on a 15-inch laptop is disheartening, especially considering that the S15's audience is creative and certainly includes professional photographers. But, apparently, for those people ASUS has a ZenBook Flip up its sleeve.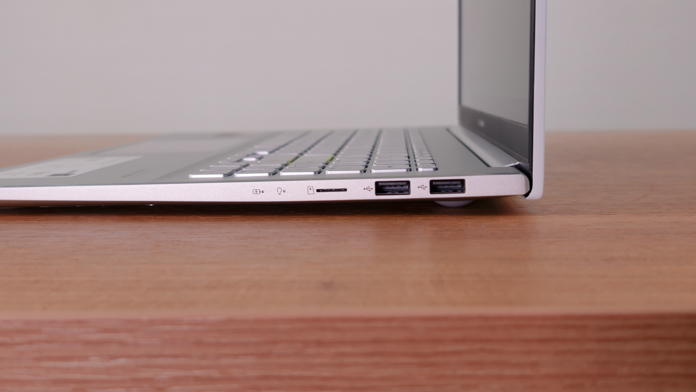 Touchpad and Keyboard
The touchpad is medium in size and is kinda mediocre. It works, but don't expect much. It might have a fingerprint scanner, but it's optional. I didn't get it, but I did come across a version of a laptop with backlit keys, which is also good.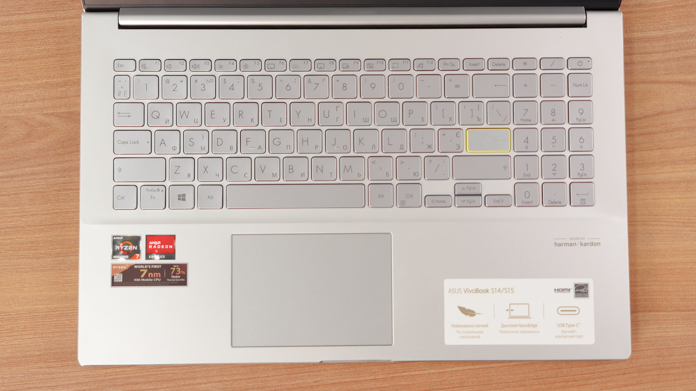 I'll tell you about the keyboard right away. I do not like it, but you might think otherwise. It looks nice, there is a backlight, NumPad is available. And the layout is as standard as they come.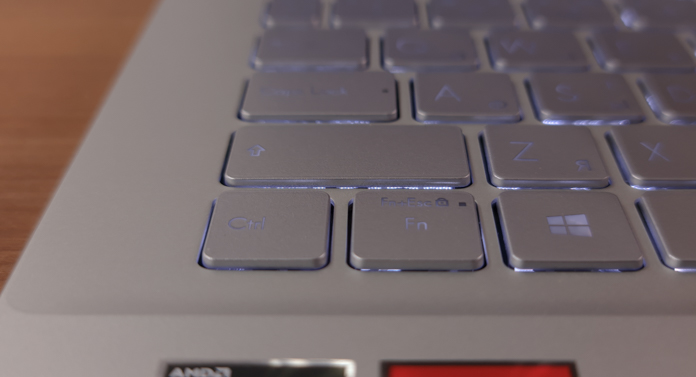 And yet, the Enter button has a yellow border for some reason. At first I liked its rebellious look, but then I realized that the white yoghurt model of this laptop looks plain bad with this Enter button.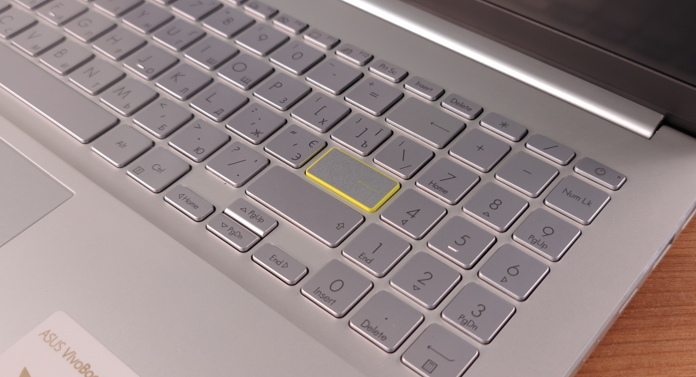 And typing on the keyboard is not very pleasant as well. For fast typing for a a short while it's fine, don't get it wrong. However, I would not type long texts on it if I had a choice.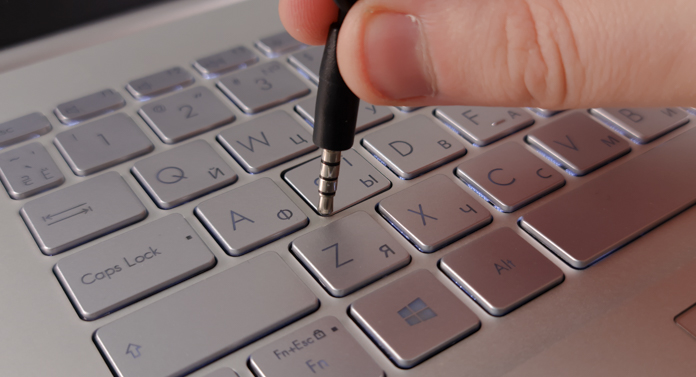 VivoBook S15 will definitely not lure professional creators with its keyboard. But again, you can type a message in Facebook/Telegram and even play games without any problems.
Screen
ASUS VivoBook S15 has a 15.6-inch sceen, IPS, FullHD 16:9, 60 Hz, with NanoEdge technology, which provides thin bezels. The screen occupies 86% of the front panel, on top there is a webcam and microphones, which ASUS has recently improved.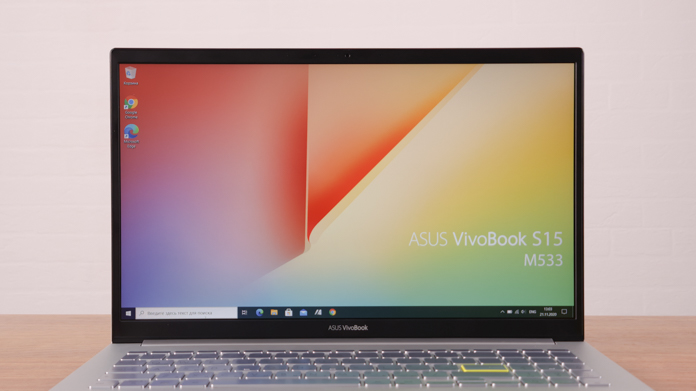 When it comes to color rendition, we have about 70% sRGB with a brightness of only 250 Nits. However, the color rendition can reach 100% for certain models, but the brightness, judging by the reviews, does not always reach even 250 nits, which is not very pleasant (though the reviews mentioned LP156WFC-SPD1 display module which I couldn't test). Since it's IPS, you get 178 degree angle without fading of colors.
Performance
S15 M533IA includes an AMD Ryzen 7 4700U with an integrated Radeon video core, as well as 16 GB of RAM in dual-channel mode and a 512 GB PCIe drive. The latter, by the way, can be upgraded, which is nice.
This is an eight-core processor with a Boost frequency up to 4.1 GHz, a base frequency of only 2 GHz and an L3 8 MB cache. The average TDP is 15W, and thanks to the Zen 2 core architecture the CPU is amazing. Although in comparison, say, with the Core i7 of the Tiger Lake generation, it loses in a single thread, and the video core is slightly worse.
In CS: GO at FullHD and maximum settings, for example, we have 40 FPS on average for AMD and 60+ for Intel. But you have to understand that the 4700U is a low-end processor  that wants to be a mid-ranger. And the Core i7 of the Tiger Lake generation can be found in machines where the installation is not always necessary, because the affordable models even allow to install the GTX 1650.
And yes, the full name is Intel Core i7-1165G7, but I'm not going to mention it again since such naming is idiotic.
In terms of power, the AMD Ryzen 7 4700U is fine for e-sports games, and it's good for rendering as well. Fortunately, there are 8 honest cores here, and a cooling system that makes full use of the metal of the case.
It's no joke, while I was filming the video review, all this time the AIDA64 stress test was going on in the background and the laptop barely warmed up, up to 65 degrees C maximum. Yes, with a drop in frequencies, but it's still impressive.
The drive can be replaced, but the RAM is unsoldered. And worst of all, there's a VivoBook S15 model on the Ryzen 5, and it costs less, but only has 8 GB of RAM, and not a byte more.
Data transfer, sound and software
With connection everything is fine. Wi-Fi AX in the best version, plus Bluetooth 5.1, although the Ethernet connector is missing. And there is no adapter to USB.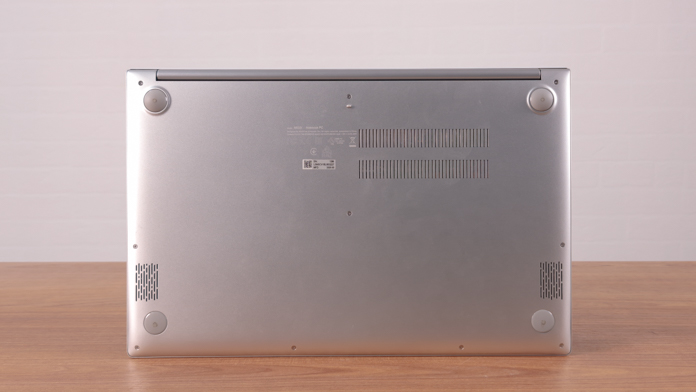 It makes little sense to discuss the OS since it's a laptop with Windows 10, Home or Pro versions are available, and the absolutely minimal amount of bloatware is preinstalled. Almost all the software from ASUS is stylish and functional, and most importantly, useful even for a beginner.
The sound of the laptop is very pleasant. The Harman Kardon audio system produces very sweet bass and does a good job of handling the high and middle frequences. ASUS AudioWizard will help you to adjust the sound, and it's simple and convenient. Which once again confirms what I said about proprietary software.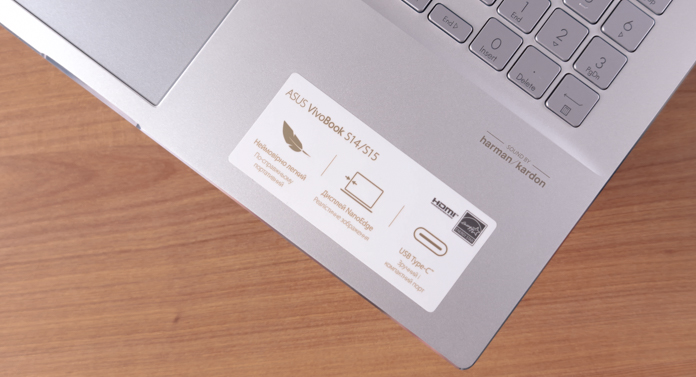 Battery life
Nothing bad here. You have a 50 Wh*h battery, and the most economical Ryzen Renoir, and low screen brightness. The laptop is at maximum performance, but 50% brightness survives for incredible 11 hours in the PCMark Battery Test in Modern Office.
BUT! The charging process takes inadequate 2 and a half hours due to the weak bundled charger, and there's NO support for USB charging. Yes, Type-C supports DisplayPort AltMod, which is nice, but beside the point.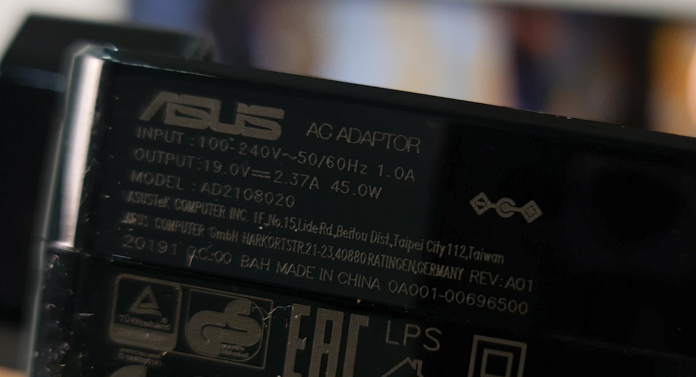 ASUS VivoBook S15 M533IA: The Verdict
If you evaluate this model solely for its intended purpose – and this is a creative laptop for expressive and emotional people – the ASUS VivoBook S15 M533IA produces very … mixed results. The overall elegance is broken by the inability to open the lid with one hand, the decent screen lacks brightness, and the outstanding battery life is slightly spoiled by the charging capabilities. 8 out of 10 on the Dolce & Gabbana scale, 7 out of 8 from me for the metal case.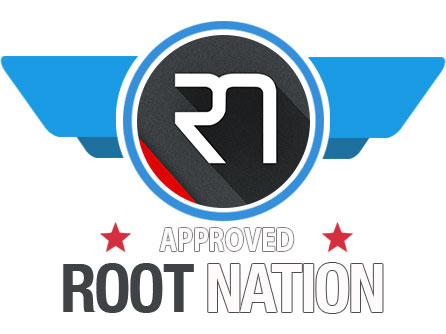 Subscribe to our accounts: