Let's talk today about Lenovo ThinkPad X1 Carbon 7th Gen, a laptop with a good battery. What does the seventh generation of X1 Carbon series offer to a potential user who needs a small, fast, durable and convenient working tool?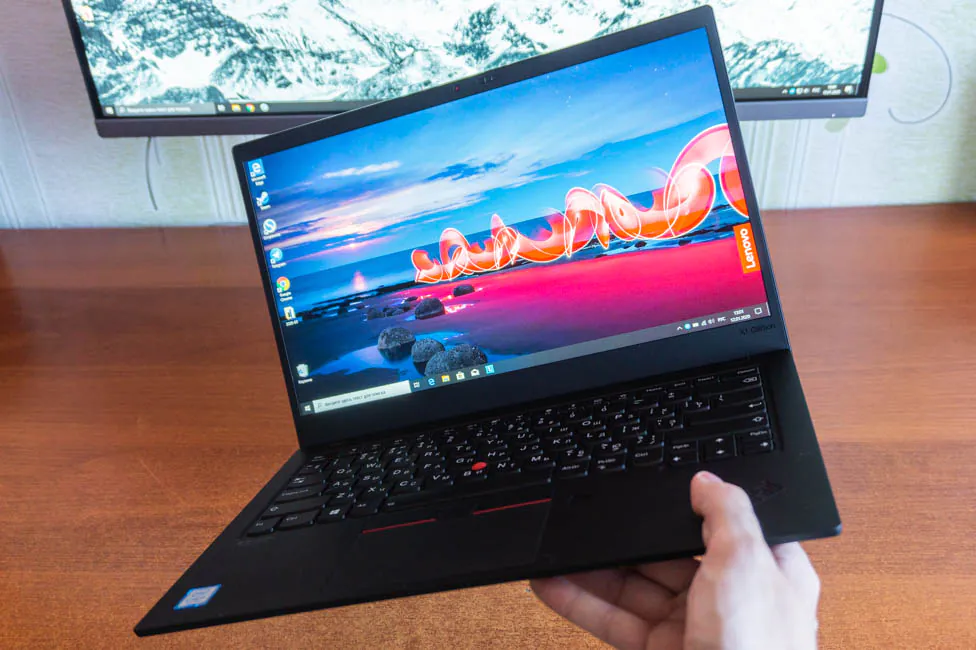 Technical specifications of Lenovo ThinkPad X1 Carbon 7th Gen
Specifications and parameters of Lenovo ThinkPad X1 Carbon 7th Gen marked 20QD003DRT are in the table below. This is the basic version with the minimum configuration of all available laptop models.
Type

Ultrabook

OS

Windows 10 Pro

Diagonal, inches

14

Coating
Anti-Glare
Resolution

1920×1080

Matrix Type

IPS

Sensor

–

Screen refresh rate

60

Processor

Intel Core

i5-8265U

Frequency, GHz

1,6 – 3,9

The number of processor cores
4 cores, 8 threads
Chipset

Intel

RAM

8

The maximum amount of RAM

8

Memory Type

LPDDR3

SSD, GB

256

HDD, GB

–

Graphics
Integrated Intel UHD Graphics 620, allocated from RAM
External ports

Kensington lock, HDMI, 2×USB 3.1 1Gen, 2×USB Type-C 3.1 (Thunderbolt 3), miniEthernet, 3.5 mm combo audio jack

Card Reader

–

Webcam

HD

Keyboard Backlight

+

Fingerprint Scanner

+

Wi-Fi

802.11 a/b/g/n/ac

Bluetooth

5.0

Weight, kg

1,09

Size, mm

323×217×14,95

Case Material
Magnesium Alloy, Carbon
Case Color B

Black

Battery W

51
Cost
There are a lot of modifications of Lenovo ThinkPad X1 Carbon 7th Gen, as you understand, so here I just mention the cost of the basic version (like ours) and the top one, so that the price range is clear. Our model with the marking 20QD003DRT will cost $1643, and the most advanced version (20QD003MRT) will cost $2667.
Lenovo ThinkPad X1 Carbon 7th Gen versions
The versions differ in screens: Full HD options are equipped with IPS-matrix with Low Power, brightness 400 nits, anti-reflective coating, plus there is one option with a touch screen. The only version with WQHD doesn't have Low Power, with 300 nits brightness and a matte finish. UHD models support HDR 400, brightness reaches 500 nits, but it's only glossy. Plus in the latter, the top cover is different in design.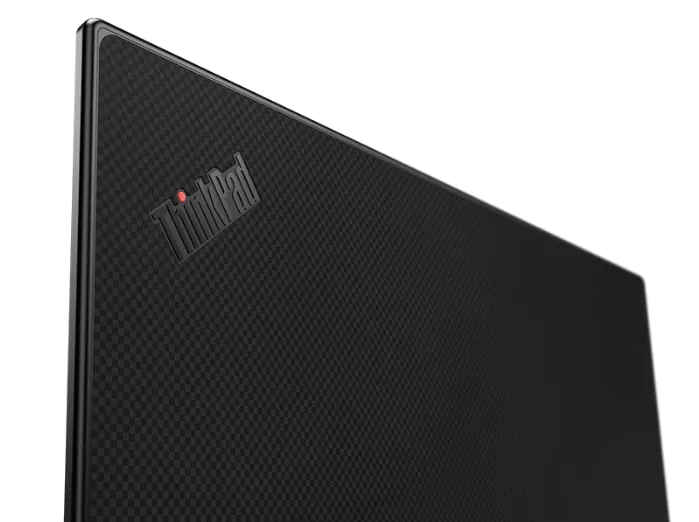 Processors: either Intel Core i5-8265U or Intel Core i7-8565U. RAM is 8 GB in the base version and 16 GB in the rest, SSD drives differ from 256 to 1024 GB. Half of the models also have additional support for 3G/4G.
Roughly speaking, only an SSD disk is subject to user upgrade, because the RAM is soldered to the motherboard.
What's in the box
Lenovo ThinkPad X1 Carbon 7th Gen comes in a standard-sized cardboard box, inside there is a second box with a power cable and power supply, as well as a proprietary adapter with miniEthernet to a full RJ-45 connector.
The device itself is in a separate box with premium design. There is also a set of supporting documentation.
Design, materials and build quality
The features of ThinkPad line in this device are easy to recognize. Which is actually characteristic of many products that belong to this series. The ultrabook in terms of design is not very far removed from the previous generation.
Personally I didn't review the 6th Gen, but judging by the images they only juggled the placement of some elements. But we will talk about them in the next section. So how does Lenovo ThinkPad X1 Carbon 7th Gen look? Strict and concise, with the usual color scheme: black with red accents. Honestly, even there is nothing special to tell here – this is the classic ThinkPad.
The top cover of the laptop in our case is simple matte, like the rest of the case, but in models with 4K displays it looks like carbon. When you open a laptop, it also does not impress with any unique design solutions. Minimalism is a typical feature of this lineup.
There are bezels around the screen, large ones above and below the screen and small on the right and left. Smaller than in ThinkPad X390 Yoga, but still relatively wide.
The case is made mainly of magnesium alloy, and the lid is made of carbon. The coating is very pleasant to the touch, but stains and other traces of operation will become obvious with use. And wiping them is also not easy.
As a whole, everything is fine with the build quality, which is a kind of standard for ThinkPads. But this does not mean that it is impossible to bend the keyboard or the area above it. The display unit also lends itself to bending, but when exposed to it from the outside, there will be no stains or spots on the display.
The manufacturer also declares that the device's keyboard is protected from moisture and accidentally spilled coffee will not damage it. Risk is a noble cause, but I did not dare to verify this statement in practice.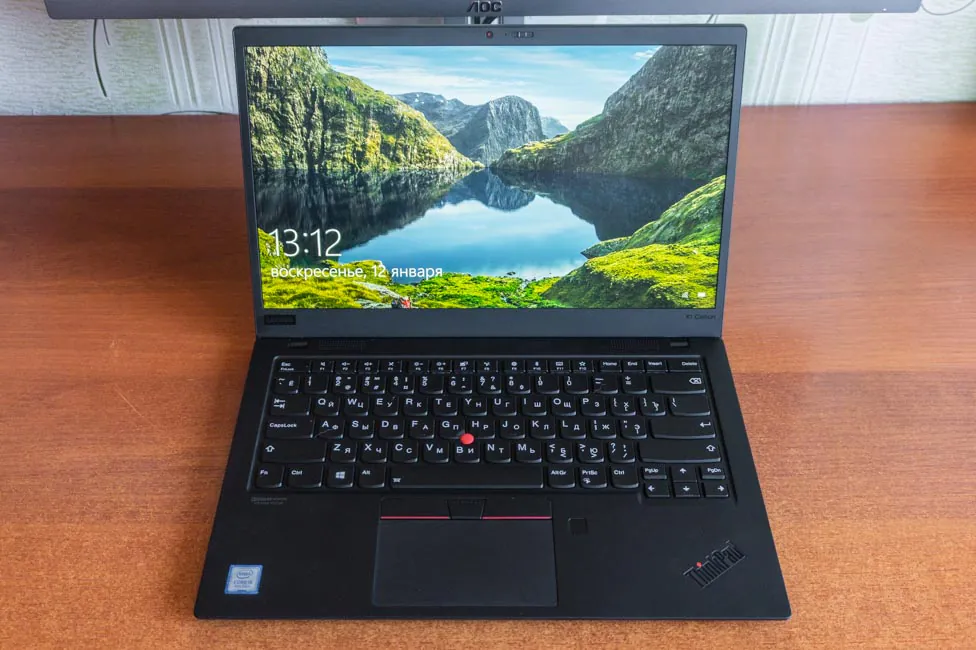 The hinges hold the screen well, it does not dangle when typing, but opening the device with one hand is problematic. Be sure to hold the bottom part. The dimensions of the laptop are just right for travel.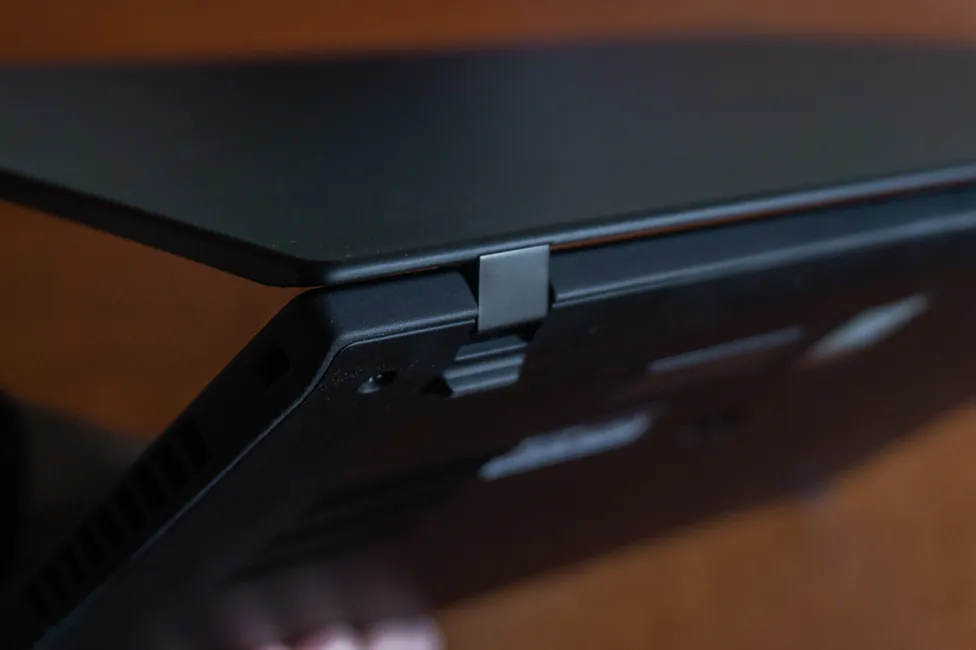 Case dimensions are 323 × 217 × 14.95 mm and 1.09 kg weight allow you to carry a gadget with you every day and never bother about the extra weight in your bag or backpack.
Element configuration
On the cover of the screen unit in the upper left corner there is a ThinkPad logo, which has a red dot on when the device is working and blinks when it is in sleep mode. Bottom right has a small neat X1 icon.
The bottom is covered by a lid, which is fastened with just five screws; there are cooling slots, recesses for the docking station, four rubberized legs, service labels and stickers, plus a couple of speakers.
On the right are: Kensington lock, air outlet grille, USB 3.1 Type-A (1Gen) with Always-On and a power button with a light indicator.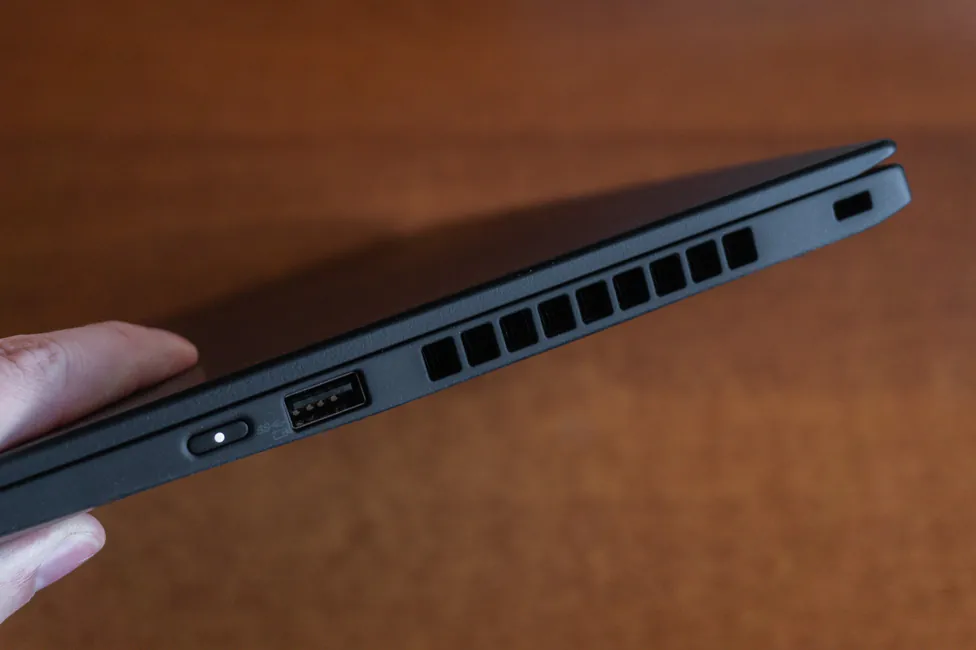 On the left there is a USB Type-C 3.1 with Thunderbolt 3 and a tiny LED – through it the ultrabook is charging, it can charge another device, and of course, the monitor can also be connected. There is a second USB Type-C 3.1 with Thunderbolt 3 and a miniEthernet port in one solid cut-out – this combination is necessary to connect proprietary docking stations. But it is not prohibited, and judging by the adapter, it is even encouraged to use them separately. Then we see another USB 3.1 Type-A (1Gen), HDMI and a combined 3.5 mm audio jack.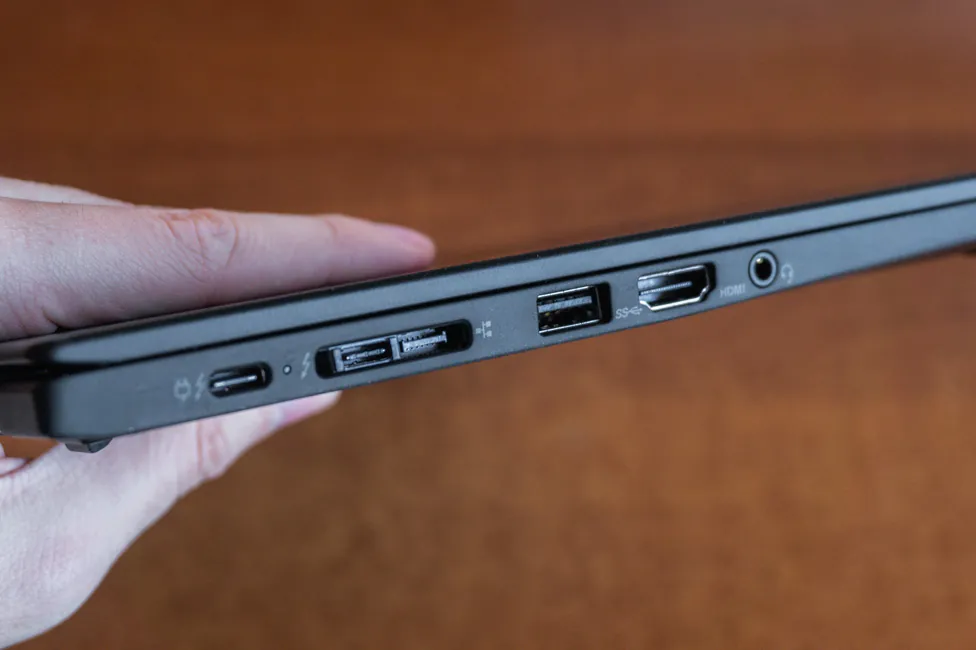 There is no card reader and the laptop is a little less tailored for the corporate segment, since there is no smart card reader either. In addition, in our model there is no SIM card slot, but where there is support it will be at the back, on the hinge side.
There are four openings with microphones on the front, there is no additional recess for the fingers. However, the screen block protrudes slightly above the topcase, which eliminates the need for such. There are no elements at the back except two hinges.
Above the display, we observe a front camera with a privacy curtain and an LED-indicator of operation. Below it is the Lenovo logo on the left and the X1 Carbon inscription on the right.
On the topcase there is a keyboard unit with a TrackPoint joystick, three buttons for it, a touchpad and a fingerprint scanner. In the same area there are mentions of Dolby Atmos and the ThinkPad logo.
Lenovo ThinkPad X1 Carbon 7th Gen Screen
Lenovo equips the seventh generation ThinkPad X1 Carbon with different screens depending on the configuration. Their size is identical – 14 inches, but the resolution can be both Full HD (1920 × 1080), and WQHD (2560 × 1440) and even UHD (3840 × 2160). There are other parameters as well. Like the screen can glossy or anti-reflective (matte). Brightness: 300, 400 or 500 nits. Some are HDR 400 certified and there are even touch options.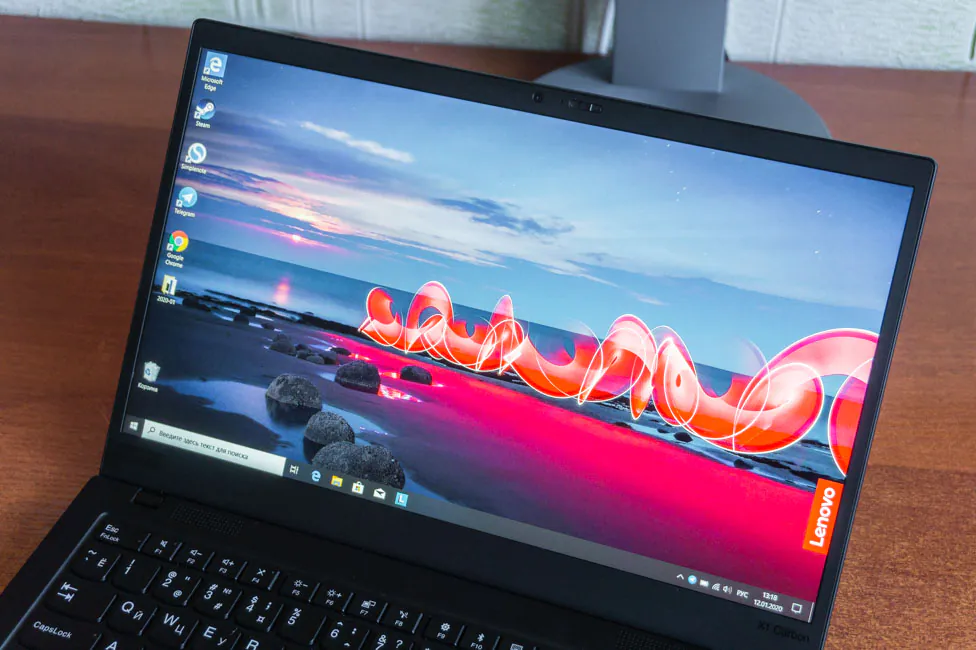 Our test base version has a Full HD screen (1920 × 1080 pixels), Low Power IPS-matrix, maximum brightness of 400 nits, matte finish, and no touch support.
The screen has a good margin of brightness and good viewing angles with minimal fading at certain angles. We also have balanced color reproduction without excessive contrast, just like ThinkPad X390 Yoga.
But response time could be better. It is noticeable that it is not high enough. With the simple movement of objects on the screen, a trail is observed behind them, which is not good. Yes, this is most important for gamers and this machine is not about games, but nonetheless – it is really noticeable during normal operation. On the other hand, there is a possibility that this is due to the energy efficiency of a particular display (Low Power) and this will not be observed in models without it.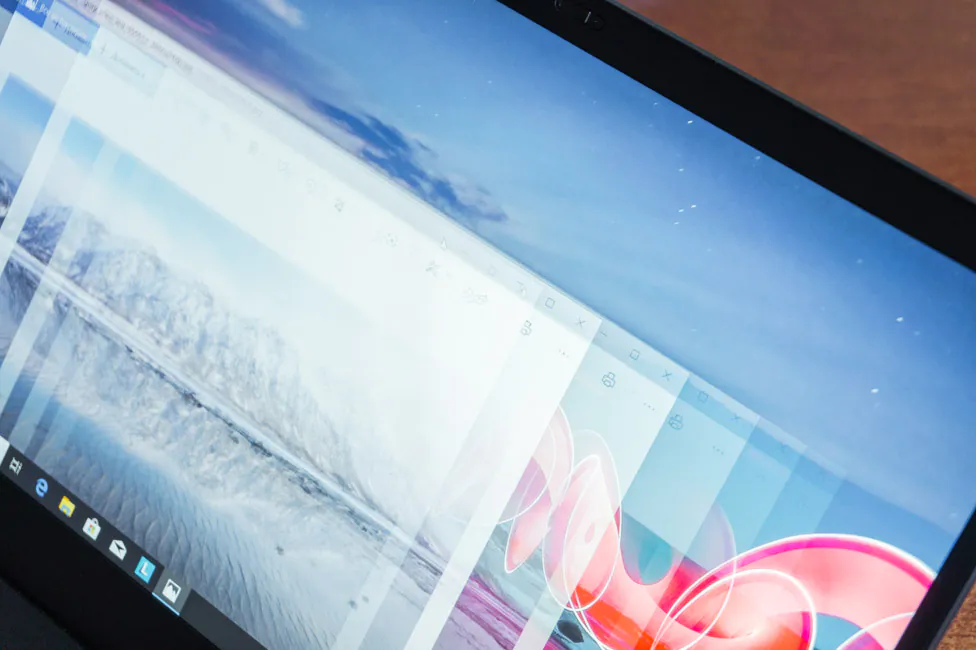 That, in general, is all that can be said. A normal screen that could have been great without the disappointing response time. Settings for it can be changed a little in Lenovo Vantage: adjust the temperature and turn on eye protection.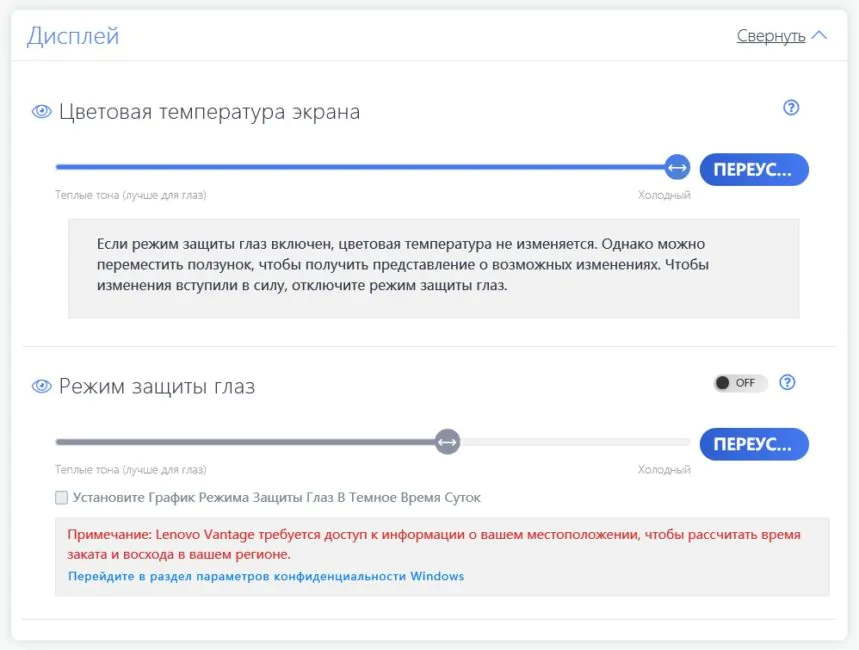 Sound, microphones
Lenovo ThinkPad X1 Carbon 7th Gen has as many as 4 speakers, which is rare in general in laptops. A pair of them are directed down, and the second pair look up. They are located on the top case, above the keyboard on the sides.
And such an increase in the number of speakers has a positive effect on sound quality. That's very good, as for a small ultrabook. The sound is loud, the frequencies are fine and the bass is relatively dense. In general, it's good enough to listen to music and watch movies with sound through the speakers. These are far from ordinary "tweeters."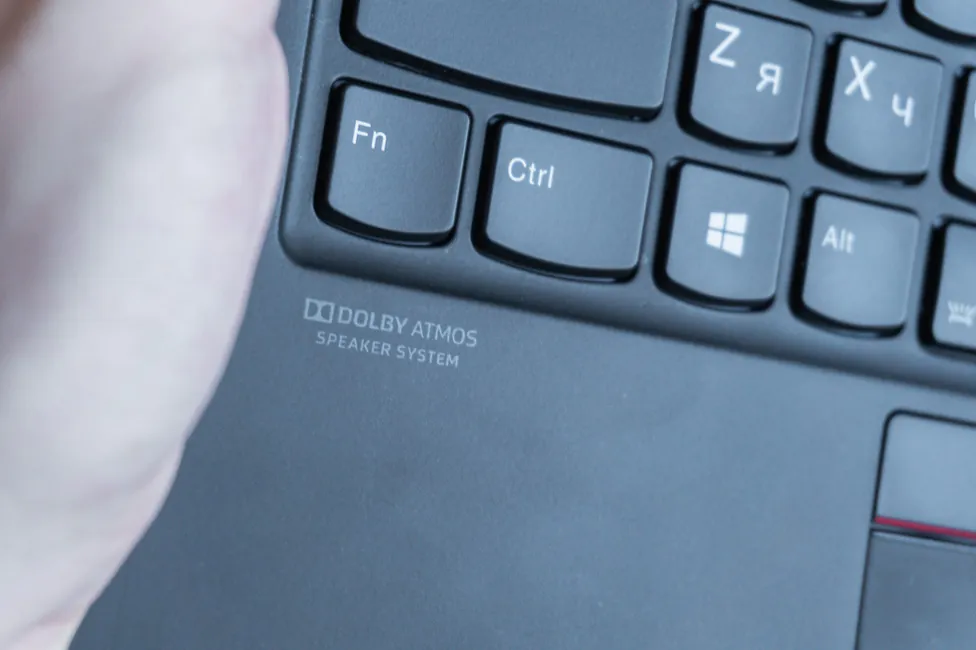 In addition, there is support for Dolby Atmos effects. The software supports several profiles and the ability to independently adjust the equalizer.
There are also four holes with microphones, and they are located at the end of the display unit cover. Speech is not very clear, but at a satisfactory level. They can also be additionally configured in Vantage software: turn on keyboard or acoustic echo silencer and select the mode.
The fingerprint scanner
The built-in security system is represented by a fingerprint scanner, which is located to the right of the touchpad. There are no complaints about its work, the sensor is fast and stable in terms of response. But it doesn't always work. If the ultrabook goes into sleep mode for 4 hours or more, then you can't log in with a fingerprint afterwards. When you put your finger, nothing happens and you have to enter the password.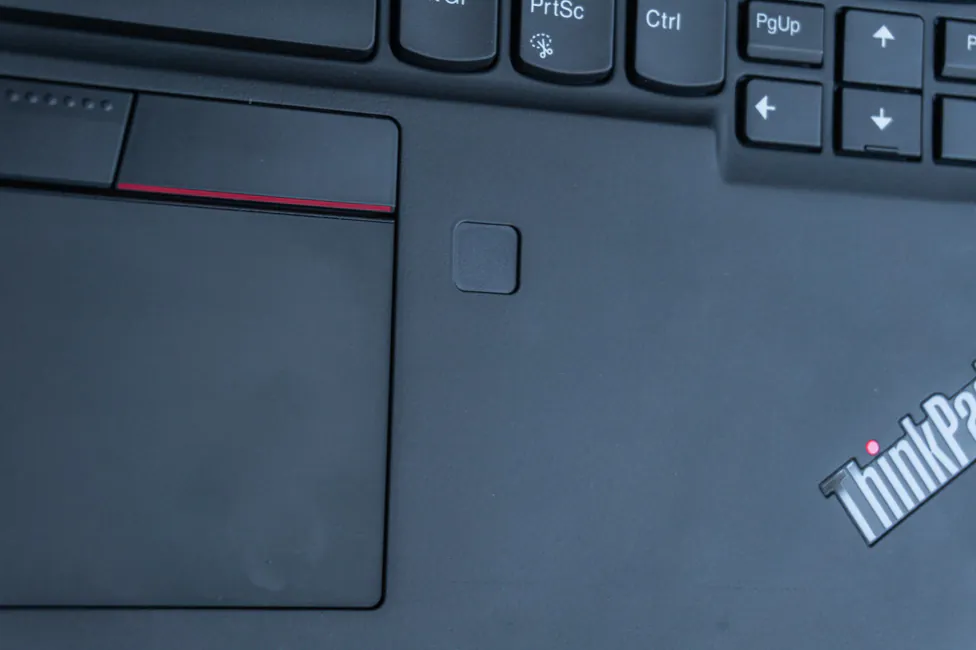 I tried to solve this by disabling turning off the device to save energy and turning on biometrics in the Group Policy Editor, but I still did not overcome this problem.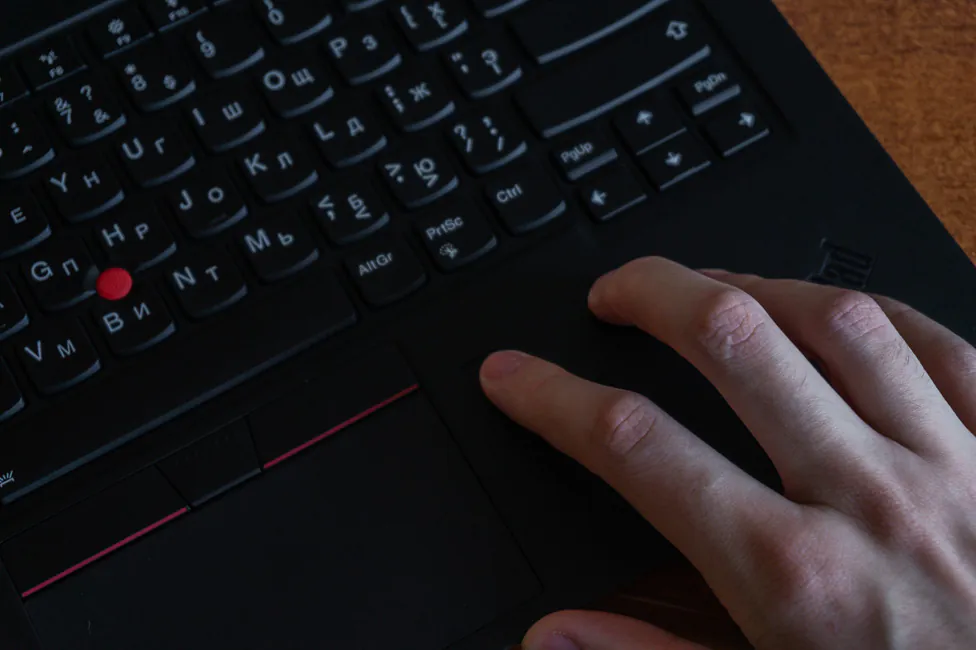 Sensors in addition to the webcam for Windows Hello face recognition weren't provided. But the camera itself has a ThinkShutter physical privacy curtain, which can be important for the corporate sector and for any user who needs to maintain maximum confidentiality.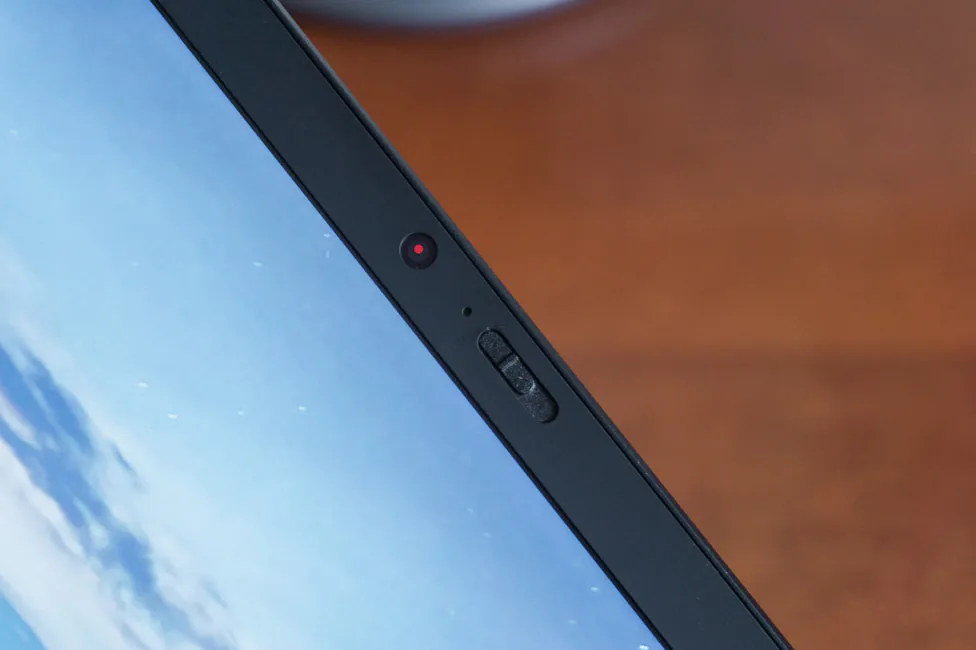 Keyboard, TrackPoint and touchpad
The keyboard on the Lenovo ThinkPad X1 Carbon 7th Gen is island type. The block has 84 keys, 4 of which have their own activity indicator. The layout is generally familiar: long Shift, one-story Enter. The only nuance is related to the location of the Fn key in place of the left Ctrl. Last time, on ThinkPad X390 Yoga, I virtually swapped them in the proprietary software, but here, for some reason, this is not possible.
In general, this keyboard is very good. Despite the not very deep key travel, each press is felt clearly, the response is instant. Typing large volumes of texts on an ultrabook is easy and fairly quick, there are no complaints in this regard at all.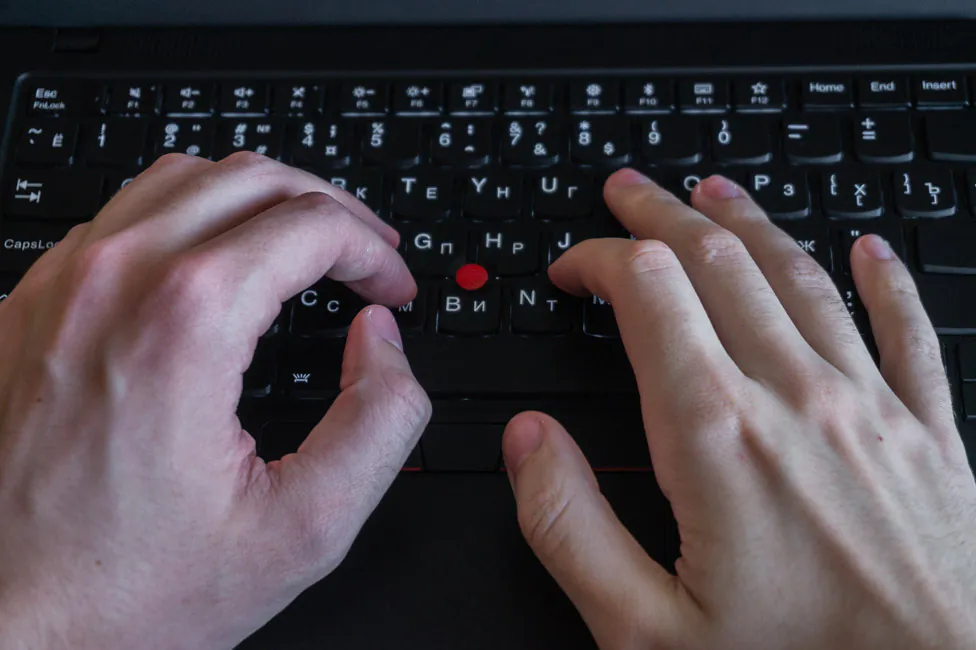 The top row with function keys is configured by default to perform special functions, not F1-F12 functions. To use these, you must press them together with Fn. But it is possible to change this by using Fn + Esc combination. On F12, you can configure the input of a text or the opening of a web page.
There is of course a backlight here, white and two-level. It is not very uniform: some keys shine brighter than others, while others may be slightly dimmer.
There is also a TrackPoint, as usual for this series. Placed in a familiar place. Three additional buttons o the level of the topcase. Their move is short but clear.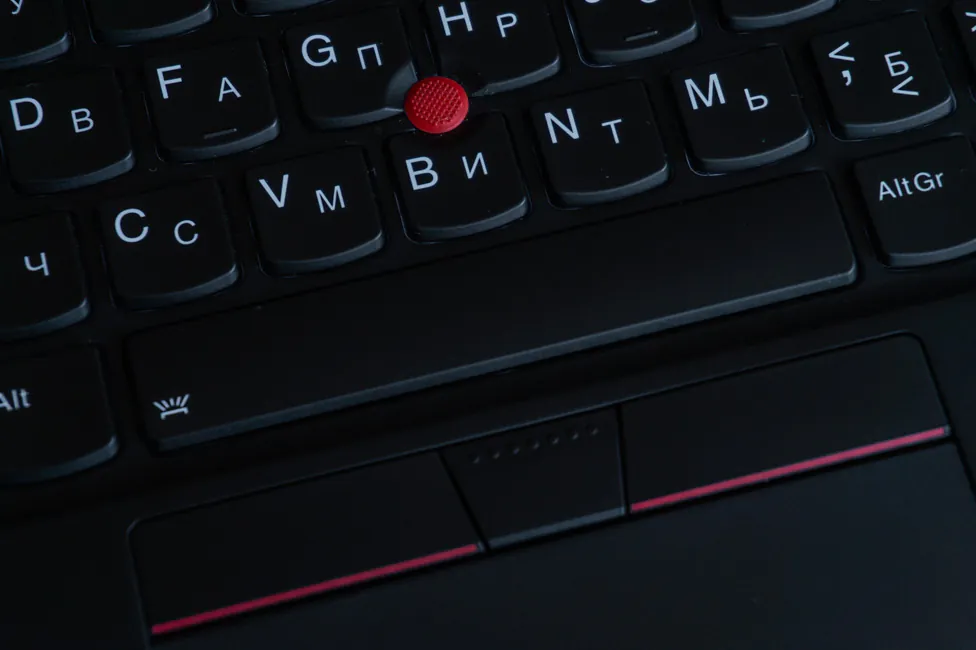 Settings for this item are available in ELAN TrackPoint for Thinkpad. There you can turn it off completely or when connecting a mouse, change the sensitivity and adjust the behavior of the middle button.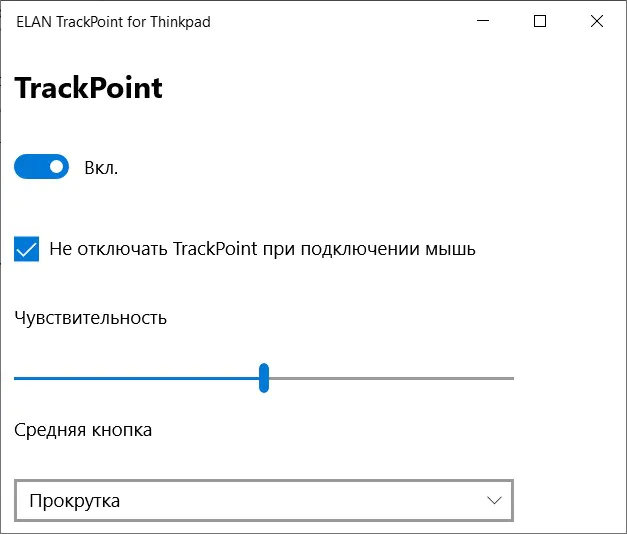 The touchpad in this model is not the largest, but for such dimensions of the device as a whole it is enough. It is pleasant in tactile sensations. Keys have a clear and pleasant stroke. Naturally, you have various gestures.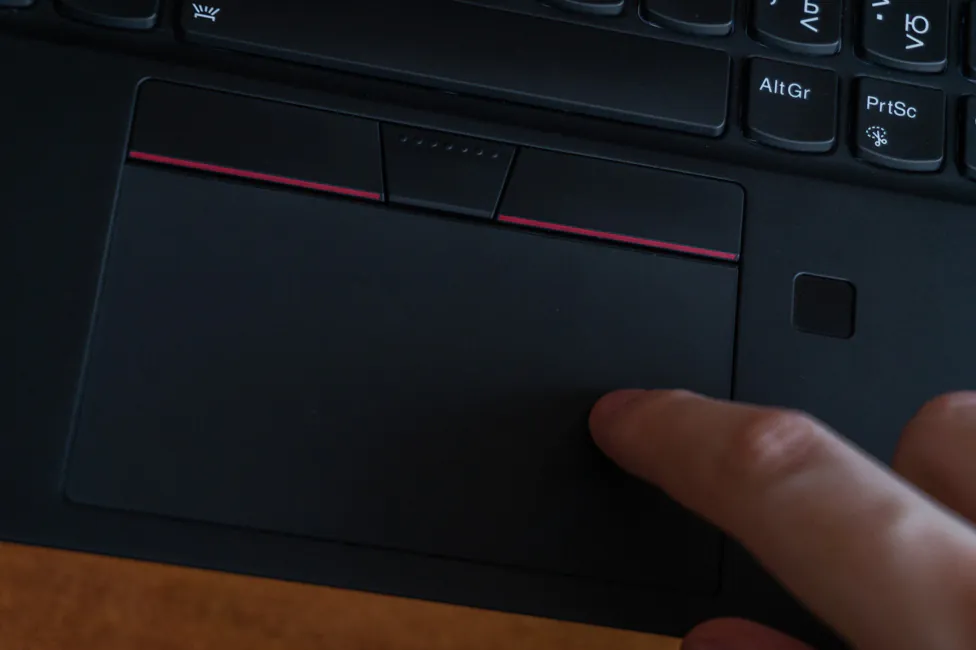 Features and performance
As noted earlier, on the test I have the basic version of Lenovo ThinkPad X1 Carbon 7th Gen marked 20QD003DRT. This means Intel Core i5-8265U with integrated Intel UHD Graphics 620 graphics. The model has 8 GB of RAM, a 256 GB SSD drive. Also, at the beginning of the review, I noted which other options are available, so we will not dwell on this again.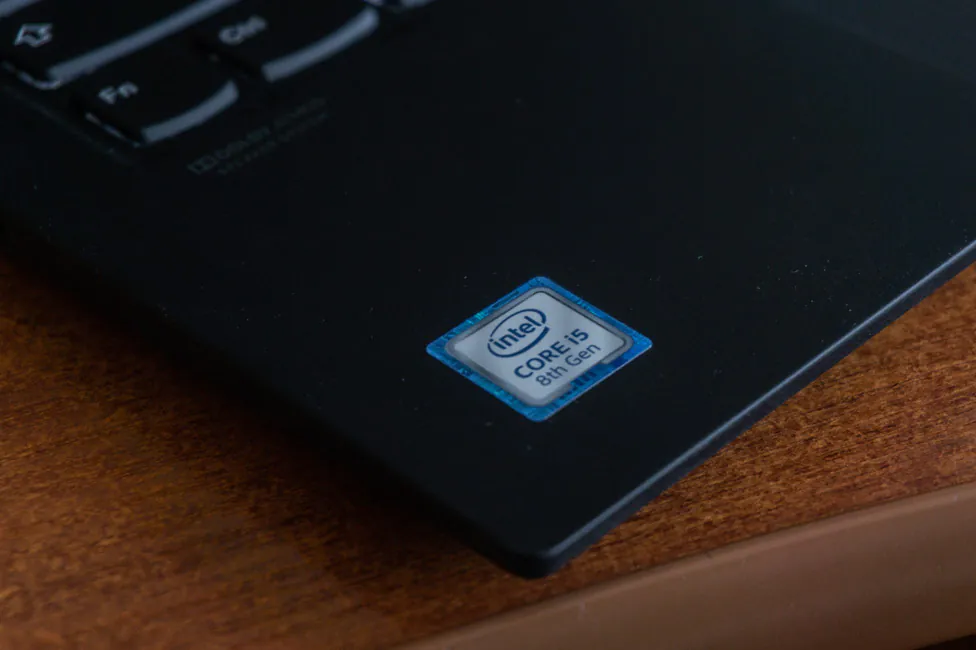 Mobile CPU Intel Core i5-8265U belongs to the processors of the 8th generation. Manufactured according to 14-nm standards, includes 4 cores capable of working in 8 threads. The base clock frequency is 1.6 GHz, and the maximum with Turbo Boost reaches 3.9 GHz. The cache is 6 MB (Smart Cache) and the rated power (TDP) is 15 W. It differs from its predecessor Kaby Lake R in essence only with a higher maximum frequency.
As for the graphics subsystem, here, obviously, we have integrated graphics – UHD Graphics 620. We are already familiar with it from other devices. Frequencies from 300 to 1100 MHz, the memory is allocated from the operational. In general, nothing new in this regard.
RAM in the base model is only 8 GB. Interestingly, only this version comes with such a volume. The rest have 16 GB on board. Since RAM is soldered to the motherboard, you should think carefully before buying. Perhaps it is better to consider other configurations if there is an opportunity to increase the budget. RAM is LPDDR3, which is not the best. The frequency is 2133 MHz, the operating mode is two-channel.
Western Digital NVMe 256GB SSD (PC SN720). Its test results are good, although it could have been better. In X390 Yoga, Toshiba's drive speeds were slightly higher. But overall, the performance is quite good, so I don't see any problems here.
The level of performance of the laptop is clear. This is the office tool first and foremost. Ultrabook is clearly not about games or other tasks where a productive graphic component is needed.
When running on battery, the processor under load heats up to a maximum of 93 degrees, and on average stays at 80.5°. The graph with the temperature of AIDA64 stress test resembles some kind of sea wave, which is clearly not very good. From this we have unstable frequencies, drops to as much as 1 GHz have been noticed, but on average not higher than 2 GHz, somewhere around 1.3-1.6 GHz.
From the electrical grid a half-hour stability test produced approximately the same figures. The maximum temperature was below 96 °. On the other hand, in everyday office tasks there are no issues with the hardware. And it is unlikely that anyone will consider this machine for serious tasks, because it is designed for other models of use.
The device heats up in the keyboard area, stronger in its right side. But it does not burn fingers, you can use it. The cooling system is active, but not very noisy.
Lenovo ThinkPad X1 Carbon 7th Gen battery life
Inside Lenovo ThinkPad X1 Carbon 7th Gen we have three-cell battery with a capacity of 51 watt-hours. The operating time promised by the manufacturer is up to 18.3 hours, but in practice, of course, it will be less. Nevertheless, this ultrabook is one of the most autonomous that I have ever used. It can be completely safely removed from charging in the morning and carried away with you for the whole day, returning to the power source only in the evening. It can easily survive for a whole day.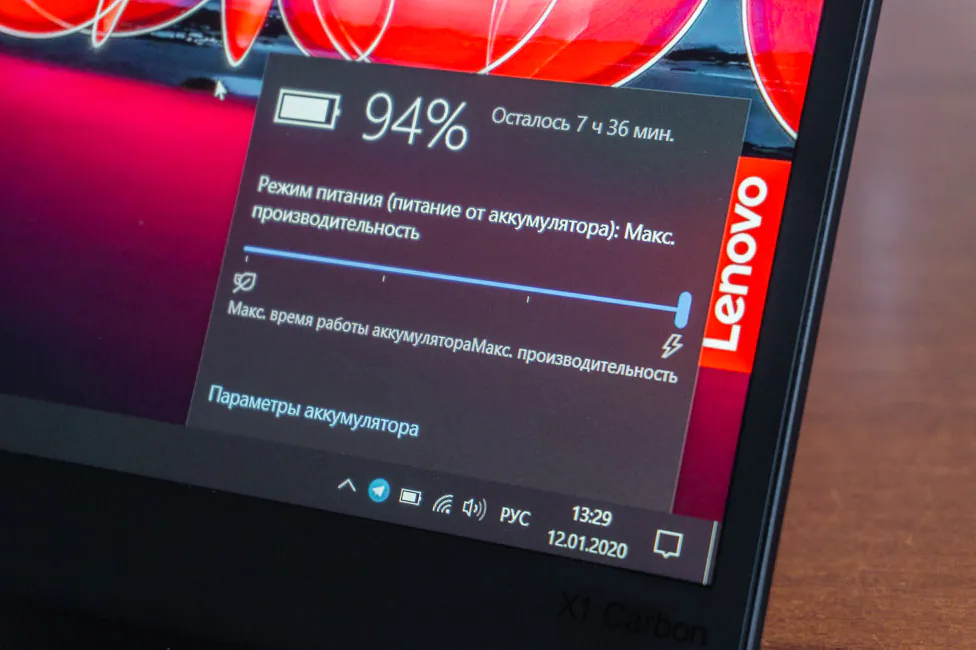 According to the figures, you can count on 8 hours of such work, and since the equipment is again not the most powerful, it is unlikely that anyone will play games or edit video on this ultrabook. Therefore, the battery that melts before our eyes can be forgotten when using ThinkPad X1 Carbon 7th Gen. The Modern Office test from the PCMark 10 benchmark, which imitates active office work with traditional optimal performance mode and 50% screen brightness, produced 11 hours and 29 minutes. This is two times more than ThinkPad X390 Yoga, for example. It is possible that this is achieved through the use of Low Power IPS-matrix, but it is also worth considering that in more advanced models these numbers will be lower.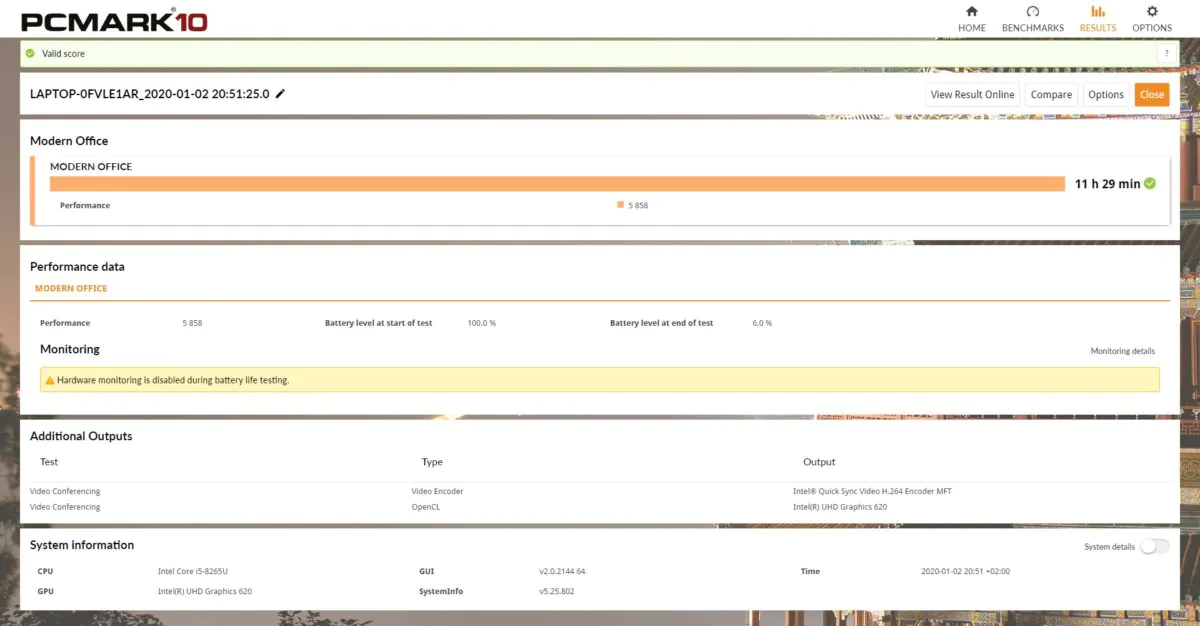 The laptop is charged via Type-C port, but the proprietary 65 W power supply cannot boast of particularly compact dimensions and a convenient form factor. It has a separate removable power cable, so it takes up more space than we would like. But there's USB-C, which means you can purchase another more convenient power adapter. Fast charging with pretty decent speed is supported:
00:00 — 15%
00:30 — 61%
01:00 — 91%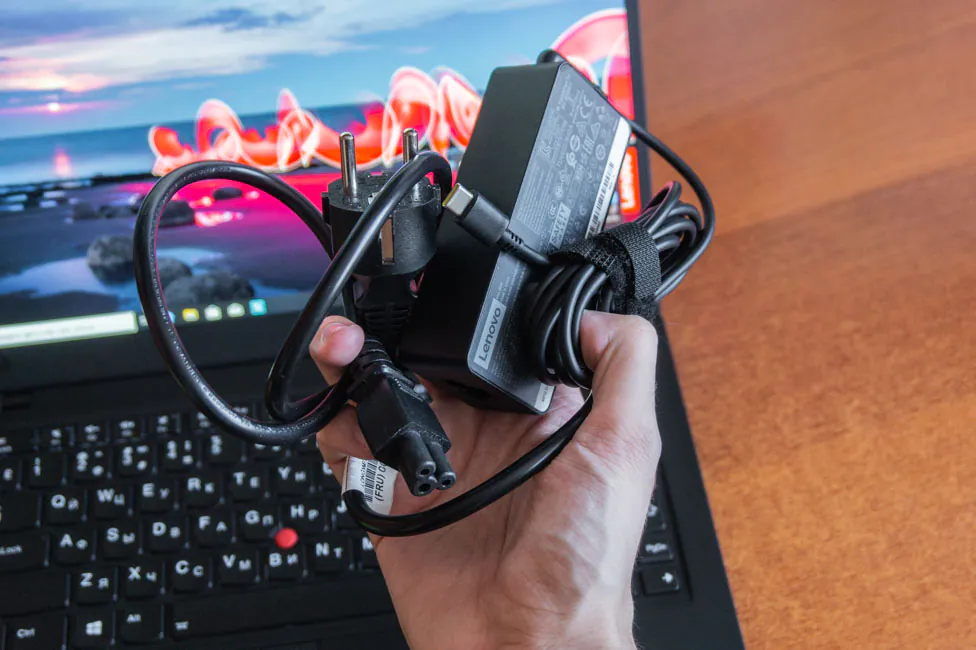 Verdict
Lenovo ThinkPad X1 Carbon 7th Gen is a good device for those who value mobility, battery life and reliability. It's not particularly powerful, and there is throttling, but the machine is clearly designed for other tasks, and not for gaming or video editing.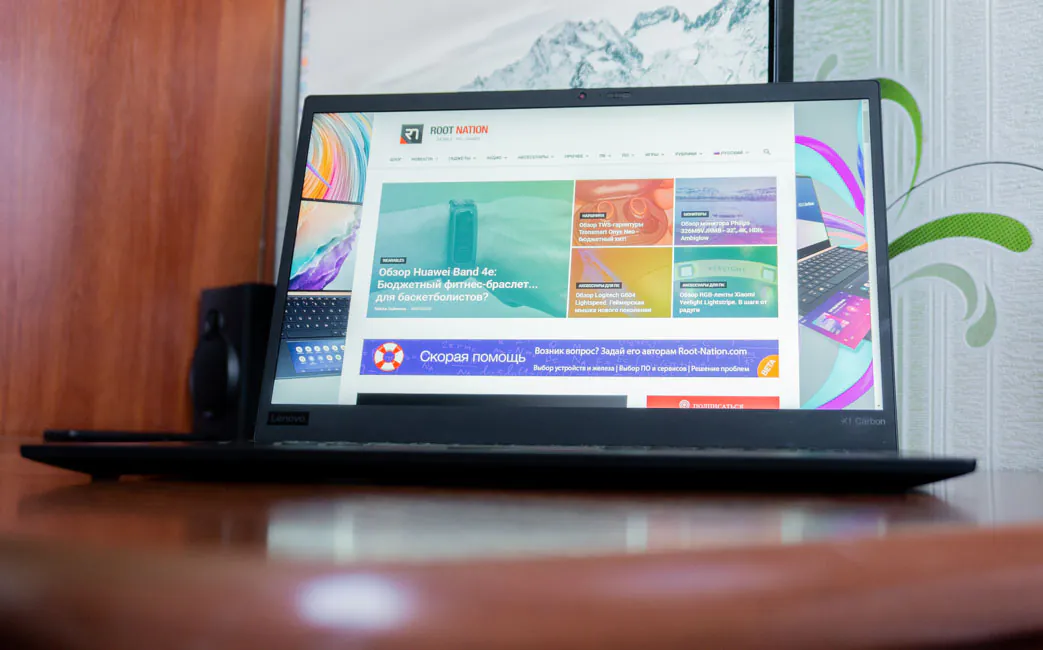 The excellent keyboard and surprisingly good sound of the built-in speakers complete the list of its advantages. However, there are questions about the response time of the screen, which are likely to be inherent only in models with Low Power IPS-matrices. And this point is subject to verification.
Subscribe to our accounts: