It's no secret that in his early products Chinese company Xiaomi much imitated Apple style. But its popularity grew, and today all that makes Xiaomi, is in great demand.
Xiaomi Notebook Air 12.5
Xiaomi – a company that is able to take the best from competitors (yes, sometimes you can just say "to copy"), to complete at its original style and to provide suitable product to the market at an affordable price. Company in a short time has proved itself in the smartphone market, wearable electronics and do not even hesitate to make the air cleaner, scales, temperature and humidity sensors and other home accessories.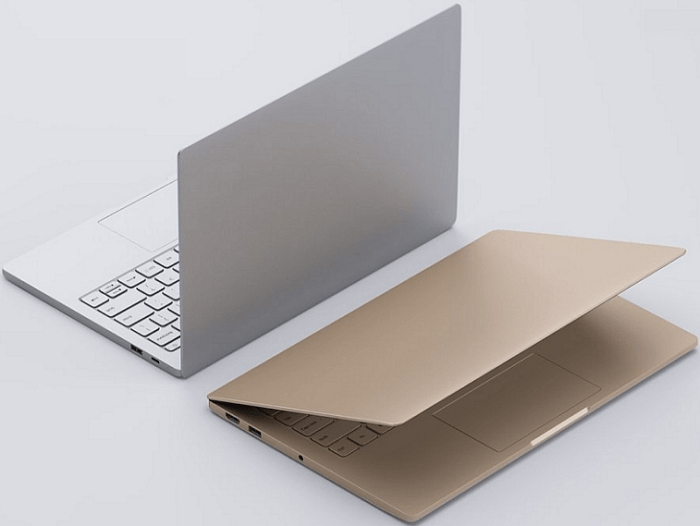 Millions Xiaomi fans waited the same from notebook too: everything exactly like in MacBook, but more profitable and with no restrictions on services. And at the end of July 2016 at an exhibition in China, the company introduced its first notebook: two versions of the Mi Notebook Air. As expected, everything was copied from Apple: design, materials, form factor, even the trackpad and CPU.
I was very interested, whether Xiaomi actually introduced the «killer» of MacBook Air, as company itself said on presentation of their first laptops. Thanks to my good friends recently I've got Notebook Air 12.5, so I could had tested it. In this review, I want to describe it in details and share my opinion.
Boxing and complectation of Xiaomi Notebook Air 12.5, first thoughts
Xiaomi Company delivers his laptop in a large cardboard box. When you open the box for the first time and see what's inside, the first thought that comes to mind is that even in the packing a Chinese company tried to copy some company that all of us know.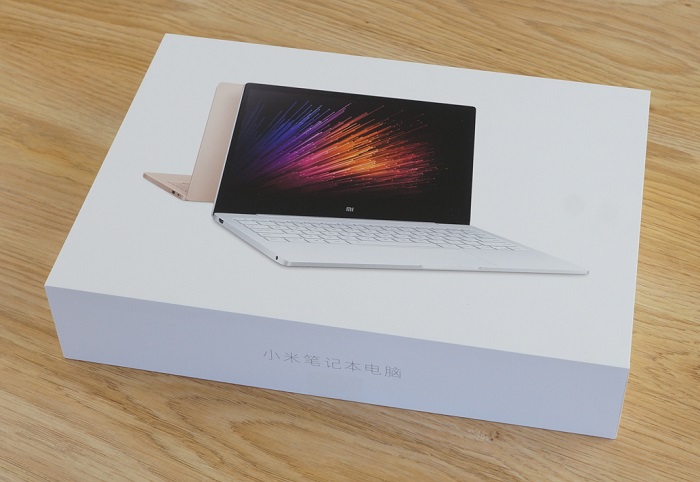 The same hard cardboard with perfectly molded edges, only Xiaomi laptop photo is on the front. The only difference is the fact that the product information at the Chinese packing on the rear side of the box is printed on the sticker, and not on the box itself.
It is worth noting that the laptop itself neatly packed in a plastic envelope. Under the device itself in a special recess in the cardboard is the charger, covered by documentation. Again, exactly like a competitor.

Power supply is massive, but catches the eye that it can not be disassembled. So, if for some reason you damage the wire, it'll be impossible to fix it yourself, and to buy it will be very difficult as well.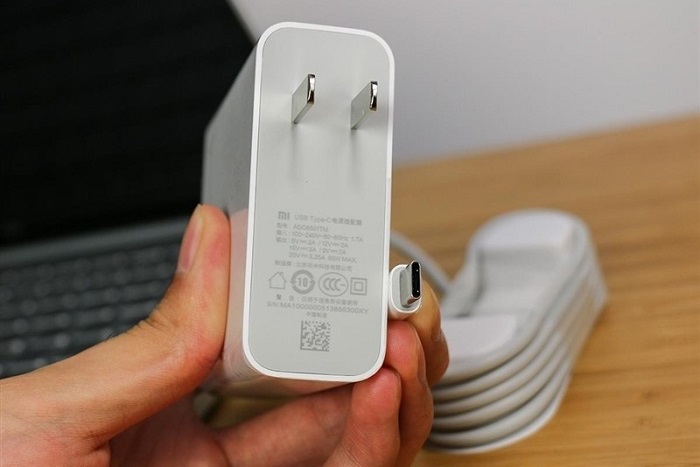 Charger supports fast charging technology with current of voltage up to 20 V, which is a great advantage in our time.  In practice, it turned out that all is not so good.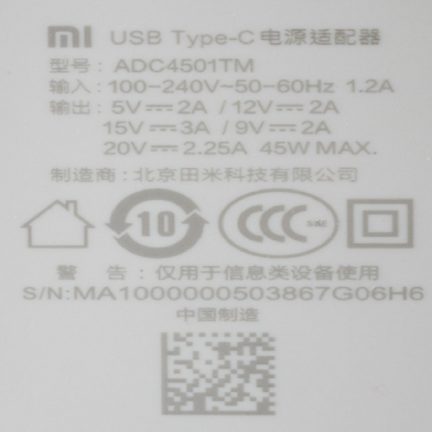 Design of Xiaomi Notebook Air 12.5
When I first got the laptop out of the package, the first thing I noticed – small size and weight.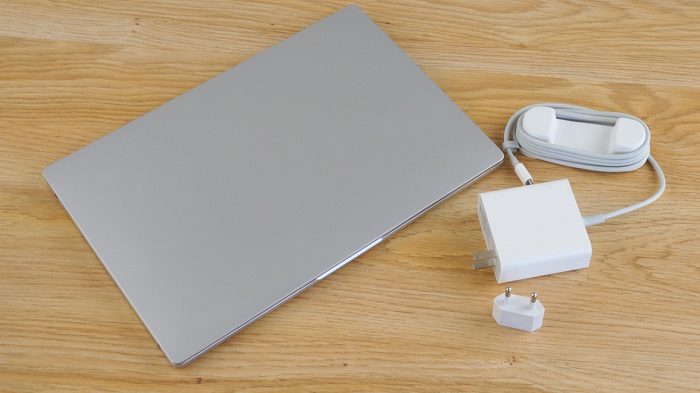 Xiaomi Notebook Air 12.5 is made of aluminum, glass and plastic. It has a simple, friendly design: the screen with a black frame, backlit keyboard, trackpad. It is worth noting that the design is very, very good.

If I was a fan of the brand, then, perhaps, I would have admired it, but I kept in the hands ultrabooks with more elegant design, for example, ASUS Zenbook, but this is purely my personal opinion. Frankly, I was expecting something similar to the luminous bitten apple, but producers have decided to disappoint me – there is no logo. It can be found just below the screen, if you look closely.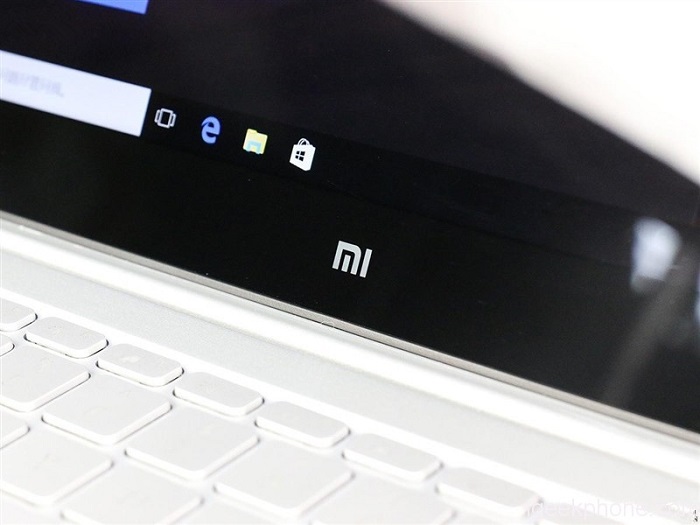 All external part of the Xiaomi Notebook Air 12.5 body left in all its beauty of metal that only decorated notebook. Bold and justifiable solution: those who want to show off their "modishness" will buy Apple devices in any case. A Xiaomi once said that laptops created for those who need characteristics, accuracy and efficiency.
At the touch of laptop texture is very pleasant, the metal does not slip out of your hands, it is easy to hold with one hand and open it with one hand is also very easy due to the the deepening in the housing. Due to low weight, it is perfect for girls: stylish, lightweight, metal, it will look cool in the ladies' hands. From my own experience I would say that it is a pleasure to carry your laptop in a bag. The body is made with very high quality.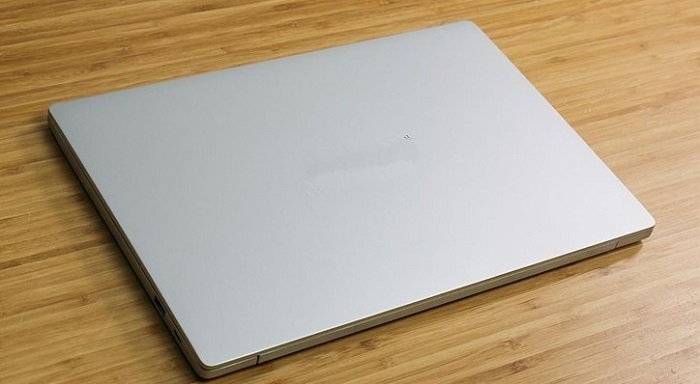 There are no seams, metal is processing perfect. I even read somewhere that the manufacturer offers a stickers on the cover in the form of drawings of famous artists, as well as branded covers made of cloth and leather.
Ports
A weakness of Xiaomi Notebook Air 12.5 is the small number of connectors. Although, if you have to compare with the Apple MacBook Air, the Chinese notebook clearly wins. I understand that for the thickness and style of laptop the company decided that user has no need in more that desiners decided, but…
On the right side of the case you will see only the port USB Type-C (very shaky, as in my opinion, power supply often dropped out of the charging socket), a traditional USB 3.0 and battery charge LED-indicator.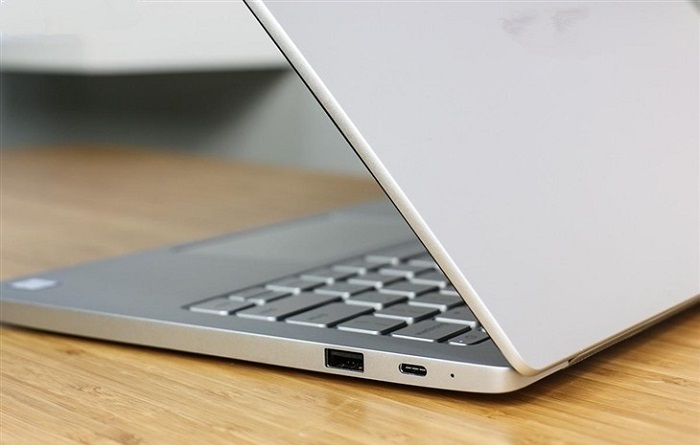 Why not add at least one more USB 2.0 or 3.0? I like to use a mouse, working behind the laptop, often using a USB flash drive or external hard drive. And where toplig all this stuff? At least an adapter for USB Type-C was supplied to the notebook.
On the left side of the Xiaomi Notebook Air 12.5 is one the HDMI-port and audio jack of 3.5 mm. And also a lot of free space.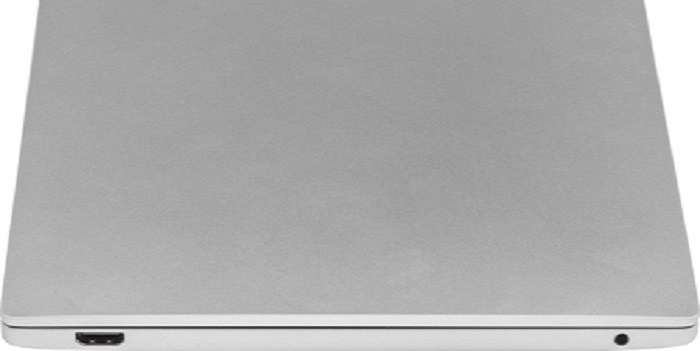 Wireless comunications
The notebook has Bluetooth 4.1 and Wi-Fi 802.11 a/b/g/n/ac. Wi-Fi operates in the frequency ranges of 2.4 and 5 GHz, and also supports 2×2 MIMO technology – the simultaneous transmission of data by two antennas.
However, in the first days there were cases when the Wi-Fi-connection simply disappeared. Drivers were OK. The problem was able to be solved only through diagnostics of wireless networks. Still didn't get why such a problem appeared. The tests showed that Xiaomi Notebook Air 12.5 shows good results in data transfer.
Display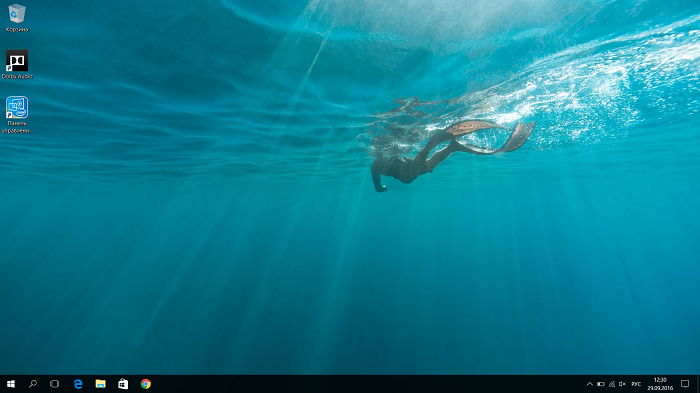 Xiaomi Notebook Air 12.5 has IPS-screen 12.5-inch size with FullHD resolution (1920×1080 pixels) and a pixel density of 176 ppi. The viewing angles are good – 170°, and the contrast is not as good – only 6000:1.
Certainly glare in low light will not notice, but still 300 nits quite a few in our time. In sunny weather, the information is difficult to read the display.
Keyboard and touchpad
The keyboard of the laptop is island-style, buttons from high quality plastic with a nice pleasant touch. All the keys are full-size, except for the top row and the "up and down" buttons.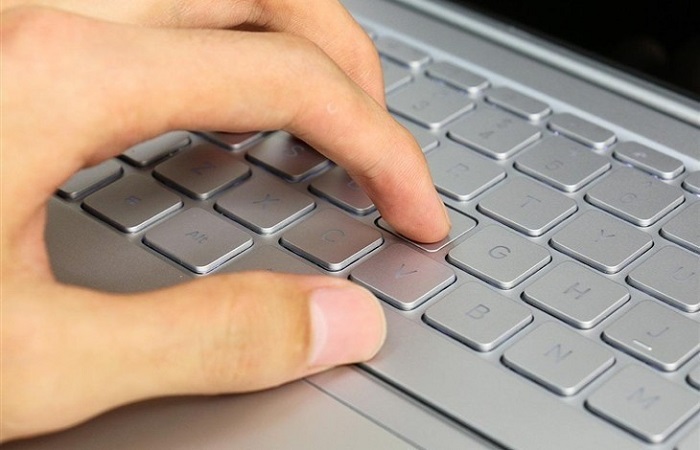 The laptop came to me already engraved with the Cyrillic letters. But you should keep in mind that as standard you will have a keyboard in Latin, and you will have to take care of the labeling or engraving letters in your native language.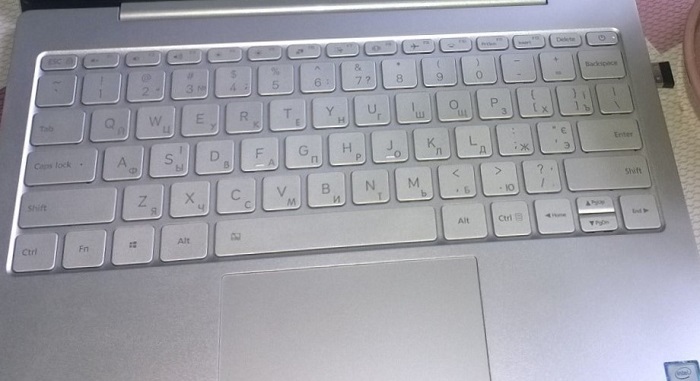 You get used to the keyboard very quickly. However, due to the proximity of the keys sometimes I got past them and pushed another button. So that people with thick fingers will have to adapt. I have to say some unpleasant words about Delete key, which for some reason is very close located next to the Power button. A couple of times a week I missed, thereby shifting the laptop into sleep mode. I had to disable the mode in the Control Panel.
We were pleased with backlit keys, which is activated at the slightest touch, and almost immediately turned off if you stop typing. The keyboard is silver-white, so it is easy to get dirty. And many of us often manage to eat while working at laptop.
The touchpad Xiaomi Notebook Air 12.5, as for me, could be more. The surface is smooth, you can press anywhere, although the lower part is pressed better. Discomfort in the work is not felt. I can say that itis almost as good as many competitors.
Multimedia
For sound reproduction in Xiaomi Notebook Air 12.5 responds speaker AKG, whose inscription proudly emblazoned on the rear cover of the laptop. Here you can see speakers itselves that support Dolby Digital Surround Sound technology.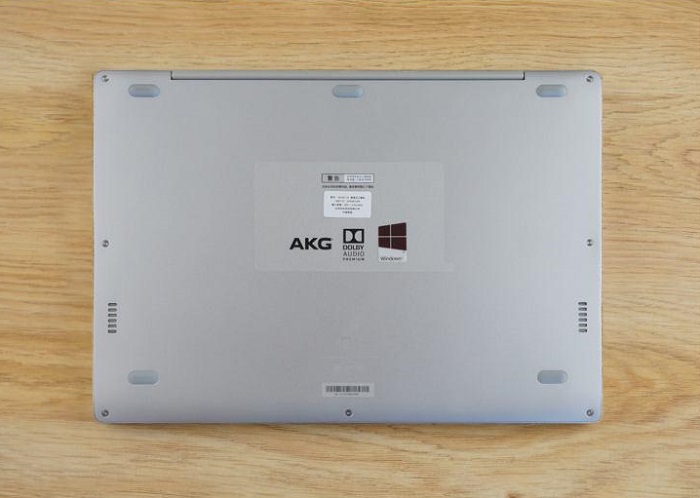 To the quality of the speakers' sound I have no complaints – it is high, the sound is clear, extraneous noise is very small. So watch movies, TV shows and listen to music in the company is quite possible.
I would say that this is not the best solution to place speakers at the bottom. Because when the notebook is on your lap, the sound, as you know, becomes quieter. Better solution could be to place speakers either on the side edges, or even near keyboar.
The camera in the laptop could also be better. Though it is 1 megapixel, even image in Skypecalls is poor, unclear. I don't even mention to use it to take pictures.
It is also strange that cameras, that support Intel RealSense technology are not used in Xiaomi laptops. Then it would be possible to use Windows Hello to log in. Apparently, the company decided that it will only raise the price of the device.
Performance and Windows 10 Home Edition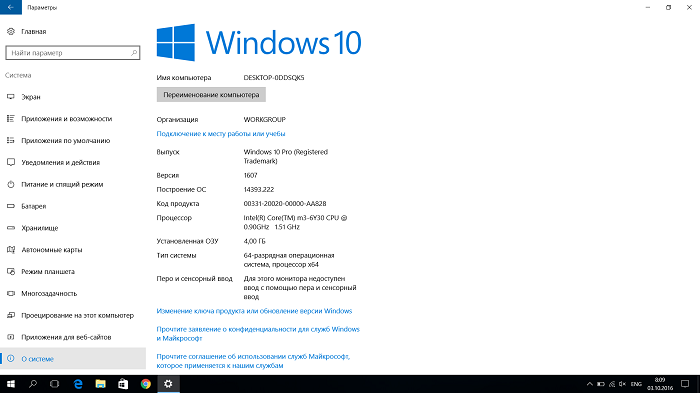 The heart of Xiaomi Notebook Air 12.5 is sixth-generation CPU with Skylake architecture made by the Intel company – Core M3-6Y30. Declared rate is just 1.1 GHz, but if you use TurboBoost technology, you will be able to overclock the CPU to 2.2 GHz. This processor is Intel flagship in devices with a passive cooling system. That is, you will not hear the fan noise while using a laptop, as notebook simply does not have it.
The notebook has 4 GB DDR3 RAM, which in modern conditions is sufficiently small. Also, you will not be able to upgrade as there is no additional slots.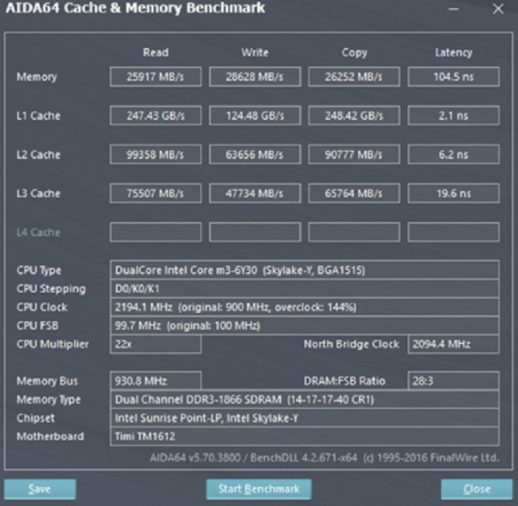 GPU, which is responsible for the graphics is Intel HD Graphics 515, which suggests that the main purpose of this laptop – working with office applications, Internet surfing, view multimedia files. Indeed, playing games on it is not very convenient.
As a drive in Xiaomi Notebook Air 12.5 installed SSD Samsung MZNTY128HDHP of 128 GB and interface M.2.0. Qualitative and fast. As shown in the screenshot, the speed of reading from the drive in the Xiaomi Mi Notebook Air reaches 547 MB/s and write speed – 358 MB/s.

Out of the box in Xiaomi Notebook Air 12.5 pre-installed Windows 10 Home Edition in Chinese. That is, if you buy a laptop, you can not set a different interface language (at least no one has yet succeeded, judging by the comments on the forums), but you can install required version of Windows 10, if you buy a license disk, or you have an activation key from the Windows 7/8. And the most radical way – learn the Chinese language, which also bring benefits. Laptop came to me with Windows 10 Pro and the Russian language in the system interface. This suggests that to completely reinstall the system is possible.
I had no major complaints to the laptop while working. He quickly opens the page in the browser, scrolling is smooth, a laptop almost not get heated, except for metal heat.
However, you should be prepared for the fact that you will not be able to to run multiple applications simultaneously. So I ran Paint, OneDrive app, Word Office pack, multiple tabs in browser and looked in Task Manager. There is almost entirely CPU was loaded, the disc has worked more than half, and the memory is almost gone. I did not even venture to try at this time to play the game.
Battery life of Xiaomi Notebook Air 12.5
Xiaomi Notebook Air 12.5 is equipped with the battery capacity of 4866 mAh at a voltage of 7.6 V. It is about 37 Wh. As stated in the company, a single charge should last at 11.5 hours, but in reality I was not able to use a laptop more than 9 hours. And while playing video  Notebook Air charge is living only for 4 hours. I could not estimate laptop while playing games, because I could not play more than half an hour with such small screen.
Also, the manufacturer claims that the battery charger supports fast charging, which allows you to charge a laptop up to 50% in less than 30 minutes.Once I discharged the laptop up to 10%, it is literally in 20 minutes loaded it up to 35%, but fast charging seems stopped. Perhaps, I strongly discharged laptop or did something wrong, but maybe it's just a marketing ploy. A full charge cycle was about two hours.
Conclusions
In general, I liked the the laptop. It is possible to say with full responsibility that the first attempt at the company Xiaomi obviously did not turned lumpy. Xiaomi released decent ultrabook with a strong design, a thin metal body, a good display brightness, color reproduction quality, energy-efficient processor, rather capacious battery. In other words, suitable for both office work and for home use or travel.
In the title I made a thesis about whether Xiaomi Notebook Air 12.5 alternative to Apple MacBook Air. I never got a clear answer to this question. If you need a laptop for social networking, Internet browsing, perform basic office tasks, then it can afford to buy it. Also, the female half of your really like this stylish, lightweight device in the metal.
Advantages of Xiaomi Notebook Air 12.5:
very compact, lightweight and durable housing
great design
quality display
long battery life
passive cooling
good sound
Disadvantages of Xiaomi Notebook Air 12.5:
the presence of only Chinese language in Windows 10 interface
only Latin keyboard
inability to expand RAM
insufficient number of ports
Characteristics:
Manufacturer
Xiaomi
Type
Ultrabook
Construction
Classic
Display
Screen size, inch
12,5
Type of matrix
IPS
Screen coating type
glossy
Definition
1920×1080
Touchscreen
–
CPU
Model
Intel Core m3-6Y30
Frequency, GHz
0,9-2,2
Number of cores
2
OS
Pre-installed OS
Windows 10
Complectation
Chipset
no info
RAM, GB
4
Max RAM, GB
4
Memory type
LPDDR3
HDD, GB
–
SSD, GB
128
Optical drive
–
GPU
Intel HD Graphics 515
Ports
USB Type-C; 1xUSB 3.0; 1xHDMI, headphone/mic-in(combo)
Expansion slot
–
Cardreader
–
WEB-camera
1 Mp
Keyboard backlit
+
Comunication
Ethernet
–
Wi-Fi
802.11 a/b/g/n/ac
Bluetooth
4,1
3G
–
Parametres
Weight, kg
1,07
Size, mm
292х202х12.9
Body matherial
aluminium
Color
silver
 Battery
Number of cells
4
Power, Wh
37
Type
Li-Pol
Product on the manufacturer's website
HERE
Prices
Similar models could be displayed, if this is not in the catalog for your region.
[socialmart-widget id="IWiijFTY" search="Xiaomi Notebook Air 12.5″]
[freemarket model="Xiaomi Notebook Air 12.5″]
[ava model="Xiaomi Notebook Air 12.5″]