They say dull work can drive anybody mad, and I tend to agree. Sometimes it's great to do something different. That's exactly what I've done when I got the chance to test the new ultrabook from ASUS. I was glad to say no to my job as a proofreader and threw myself into the world of computer hardware, premium materials and sleek style. I have ASUS ZenBook UX430UQ – the one from the presentation in Kyiv.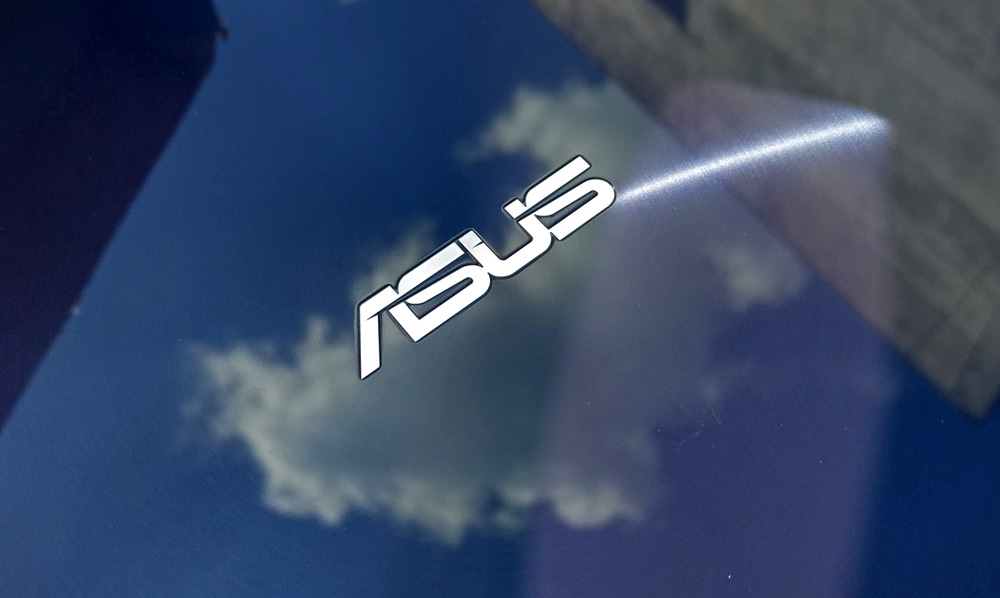 1. Packaging and overall design
2. Screen
3. Sound
4. Hardware and performance
5. In games
6. ASUS software
7. Battery life
8. Verdict
Packaging and overall design
In the last couple of years we grew accustomed to small and thin boxes from ASUS. ZenBook UX430UQ is no different, although in the back there's a new detail: the company assures us that everything was printed with soy ink to preserve nature. Good for them.
The inside of the box is austere to say the least. There's a black soft cloth case and standard packaging with the ultrabook itself. On one side there's a small and convenient charger and USB-RJ-45 adapter. On the other side there's a small box with the computer mouse.
So, let's cut to the chase. I can describe the design with one word – AWW – and with corresponding meme.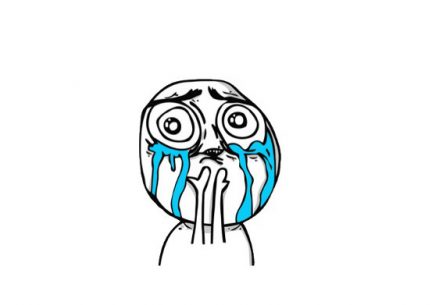 I really don't want to be trite and use old clichés and usual phrases, so let's be different here. It's always bad to write something like "I don't want to put it away" or "it's made of…" and other stuff about "functionality" and such, so don't, young writers. Don't use clichés, be bold and original!
So, back to our memes, I mean the design. And I really, really dig ZenBook series for its design.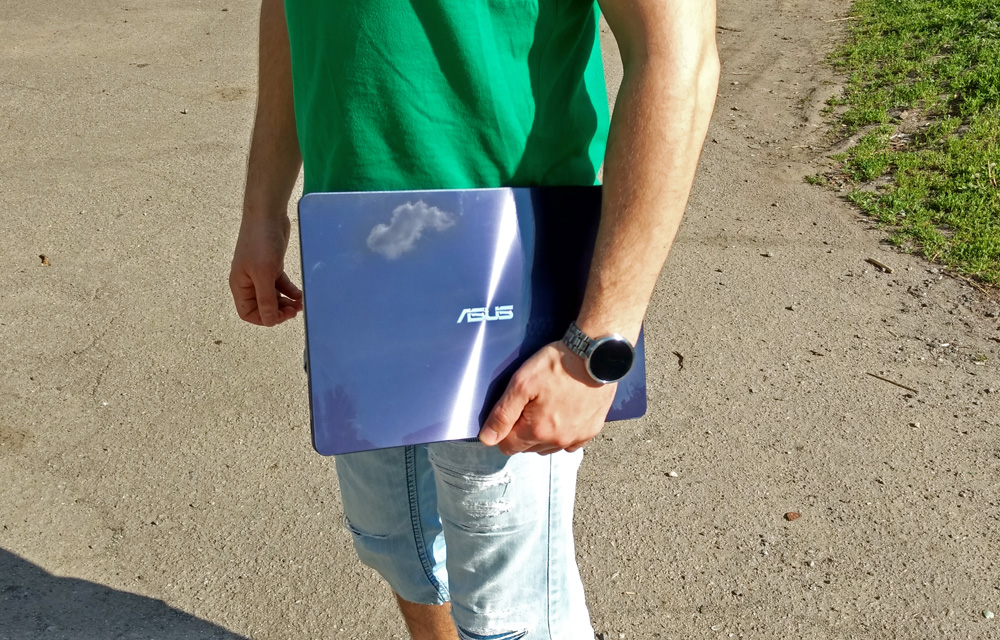 Everything here is great. Materials, little details. The full aluminum body is sturdy and solid. The cover is also aluminum with elegant concentric pattern. Why use gloss coating on aluminum, I don't know, but it sure looks dashing. There are four colors available: royal blue, grey quartz, pink gold and shimmering gold.
By the way, about the little things. Everything is taken care of, starting with ultrathin 0,3 mm rubberized edge, which completely negates the loud unpleasant sound when closing the laptop with force. The light indicators were moved to the right side so that they won't distract the user. All these small details create the secondary impression of the device. These are the impressions that will dictate whether you will use the laptop in everyday life or not.
A little info about slots. On the left: proprietary connector for memory storage, USB 3.1 Gen1, microHDMI, 3,5 mm, USB Type-C 3.1. On the right: USB 2.0, SD.
The total weight is just 1,25 kg. It is 15,9 mm thick.
ASUS ZenBook UX430UQ has a full-sized keyboard with white backlight and key depression of 1,4 mm. The touchpad is very comfortable. It's made of glass and it can ignore palms and supports signature multitouch gestures and has built-in fingerprint scanner. The scanner helps to completely forget about pin-codes, passwords etc. with the help of Windows Hello technology. Just touch it with your finger and start working without any kind of delay.
ASUS ZenBook UX430UQ screen
How is it possible to enjoy a high-end device that has great hardware but only mediocre display? It is possible to make yourself and others believe that only specs matter and not the display? The question is purely rhetoric, of course.
You won't worry yourself with that problem with ASUS ZenBook. The ultrabook has a great 14-inch IPS Full HD (1920×1080) matrix with great view angles (up to 178°), matte anti-reflective coating and improved colors. This ultrabook can display 100% of sRGB color model. In reality we have a sharper, juicier image compared to other, cheaper displays.
Another great thing about UX430UQ is the thinness of bezels – only 7,18 mm. Thanks to that, the matrix covers about 80% of the whole screen.
Overall, I really liked the picture quality. The display reminds me of X302UJ which I use constantly for work, although UX430UQ has a more even backlight and larger diagonal (X302UJ has 13,3 inch display). It's curious to compare the two: ZenBook obviously has a smaller top cover, but it's screen is still bigger.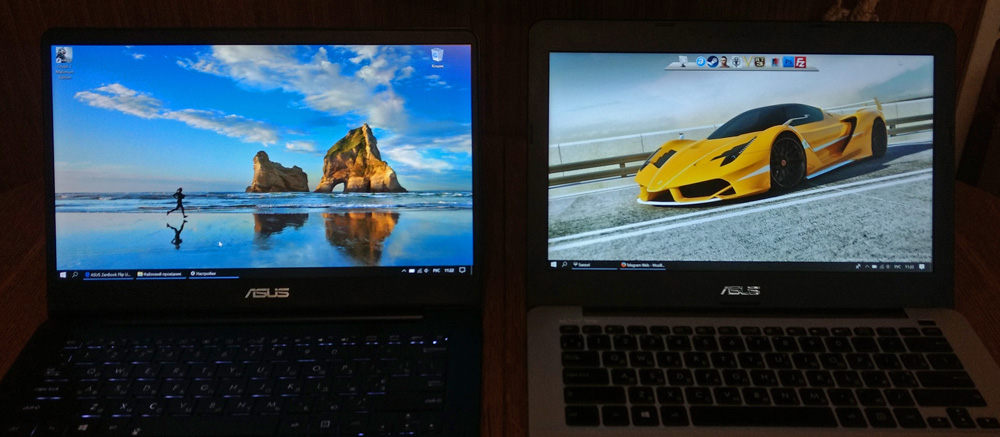 Sound
ASUS ZenBook UX430UQ is equipped with two stereo speakers. In order to get the best possible sound, the ASUS engineers joined forces with Harman Kardon, and these are serious guys who know their stuff. And the result is impressive. Once again, compared to my ASUS X302UJ, ZenBook UX430UQ sounds juicier – without using any workarounds like Realtek HD manager. It works right of the box. Unfortunately, I can't say the same about ZenBook Flip, where sound quality is simply incomparable. ASUS ZenBook UX430UQ, which is visibly thinner, allows us to enjoy great soft sound thanks to its hardware and software perks (SonicMaster technology plus Smart Audio application).
Hardware and performance
I got ZenBook UX430UQ with these specs:
Processor
Intel Core i7 7500U, 2,7-3,5 GHz
Screen
14″ (16:9), FHD (1920×1080), matte, 178˚ view angle
Memory
16 GB DDR4 SDRAM 2133 MGz
Storage
SSD 512 GB, SATA3, SanDisk
Video
Integrated – HD Graphics 620

Discrete – GeForce 940MX

Connectivity
Wi-Fi 802.11 AC, Bluetooth 4.1
OS
Windows 10 Home
This is the best possible configuration.
Processor
Intel Core i3 7100U Processor

Intel Core i5 7200U Processor

Intel Core i7 7500U Processor

OS
Windows 10 Home

Windows 10 Pro (ASUS recommends Windows 10 Pro)

Memory
DDR4 2133MHz SDRAM Onboard Memory, up to 16 GB SDRAM (On selected models)
Screen
14.0 (16:9) LED backlit FHD (1920×1080) 60Hz Anti-Glare Panel with 72% NTSC with 178˚ wide-viewing angle display
Video card
NVIDIA GeForce 940MX with 2GB VRAM
Storage
Solid State Drives:

128GB SATA3 SSD

Solid State Drives:

256 SATA3 SSD

Solid State Drives:

512GB SATA3 SSD
Great hardware. The model is also the thinnest in ZenBook series that has discrete video card.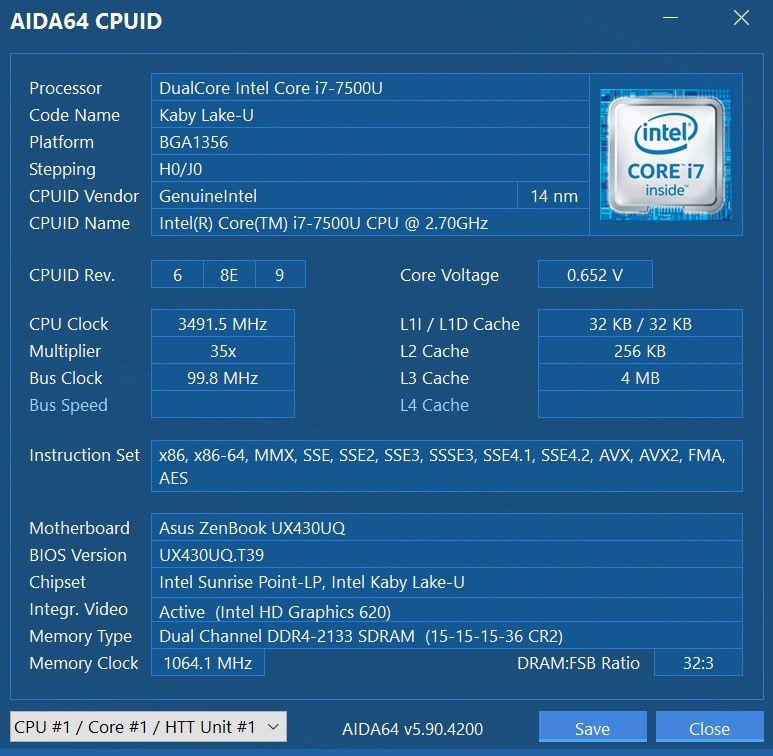 The only problem (and I'm not even sure it one) is the noise it makes. ASUS ZenBook UX430UQ is quite noisy. I think that's because of the size – the cooler doesn't have enough space.
The storage uses SSD SATA3 512 GB disk made by SanDisk.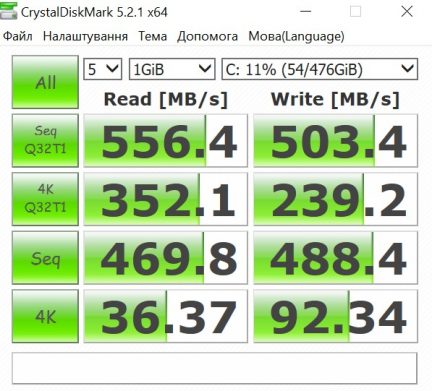 Let's check the synthetic performance tests. Let's compare it with ASUS X302UJ with Intel Core i5 6200U and NVIDIA GeForce 920M. X302UJ is on the right.
Sure thing, Fire Strike Ultra ZenBook UX430UQ didn't pass the test. It's no gaming device.
Reading, writing and copying:
Video accelerator and processor:
So what do these results tell us? The ultrabook has a lot of power – more than needed just for everyday tasks like web-surfing, using office programs or Adobe Photoshop and Premier. It also should run decent titles from Steam. Can it? I tested ZenBook UX430UQ and found out.
…In games
I tested: Doom 3: BFG Edition, Mass Effect 2, Sid Meier's Civilization V, Warhammer 40000 Dawn of War II Retribution, The Elder Scrolls V Skyrim Special Edition, Darksiders 2, Crysis Warhead and Crysis 2 Maximum Edition. Nothing brand new, but these are great to test the level of performance.
Below are screenshots and graphic settings.
Final results:
| | | | | |
| --- | --- | --- | --- | --- |
| Game | Settings, resolution | ~fps | Performance, impressions | Recommendations for comfortable play |
| Doom 3: BFG Edition | High, 1920×1280 | 60 | 10/10 | – |
| Mass Effect 2 | Low, 1920×1280 | 50 | 10/10 | – |
| Sid Meier's Civilization V | Middle, 1920×1280 | 40 | 10/10 | – |
| Warhammer 40000 Dawn of War II Retribution | Middle, 1920×1280 | 40 | 10/10 | – |
| The Elder Scrolls V Skyrim Special Edition | Middle, 1920×1280 | 30 | 10/10 | – |
| Darksiders 2 | Middle, 1920×1280 | 28 | 10/10 | – |
| Crysis Warhead | Low, 1920×1280 | 22 | 9/10 | – |
| Crysis 2 Maximum Edition | Middle, 1920×1280 | 21 | 8/10 | Lower the resolution |
Nothing unexpected: ZenBook UX430UQ with Core i7 7500U and GeForce 940MX performs about 30% better than X202UJ with Core i5 6200U and GeForce 920M, which I often use for gaming, frequently on lower settings. And don't forget about Windows 10 Creators Update with the Game Mode which allows additional 4 to 8 fps. I might seem like not a big deal, but the difference between 21 and 27 fps is very noticeable.
So, what's the verdict? If you enjoy slaying monsters or using tactics in Civilization, ASUS ZenBook UX430UQ will do just fine.
ASUS software
There is pre-installed software, but not too much. Almost everything has its use. Nothing really changed since the release of ZenBook Flip, so I won't repeat myself in describing these programs.
The only new thing in ZenBook UX430UQ is called ASUS Touchpad Handwriting, which makes it possible to use handwriting even without sensor panel or additional devices.
To use the function, start the application from the Start menu or by using Fn + Space hotkey combination. Normally, only English is supported, but you can add more if you follow the tutorial:
Right-click on the icon in the tray
Select Touchpad Handwriting
Select the language
If you don't see the needed language, click on More Recognizers to add more
More about ASUS Touchpad Handwriting here.
Battery life
ASUS ZenBook UX430UQ has Li-Pol 3-cell accumulator built by the company, which boasts 4,64 ampere-hours (or 50 watt-hours).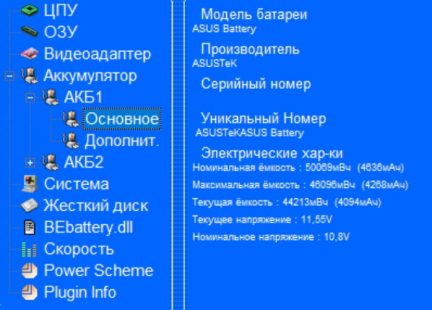 I tested the battery life in following modes (with Wi-Fi turned on):
Maximum workload, 50% brightness
Reading mode, 40% brightness
The results? During maximum workload with Wi-Fi Battery Eater on, ASUS ZenBook UX430UQ worked for 2 hours 03 minutes. Surprisingly bad – ZenBook Flip with 54,05 watt-hours, worked for 4 hours 20 minutes, which is plain weird.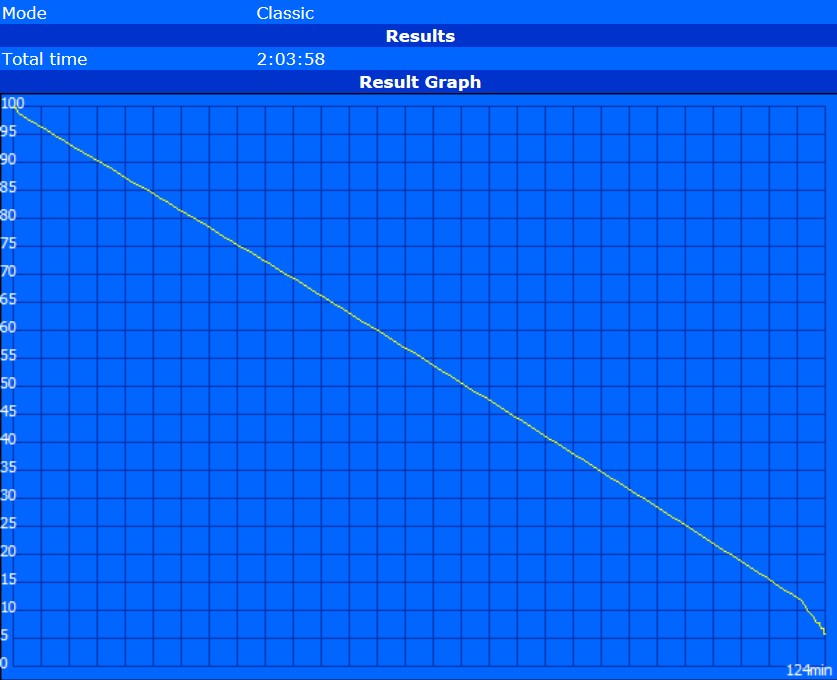 At first I thought it was some kind of mistake, but the second test shows similar results. There's an obvious problem with software optimization – either NVIDIA and GeForce 940MX driver or something with Microsoft 10 CU. Maybe an update with fix this bizarre performance. During maximum workload (like gaming) battery life drains twice as fast.
In reading mode everything is great. With 40% brightness the ultrabook worked for 15,5 hours! It worked for so long, I even lost patience and turned it off at 6%.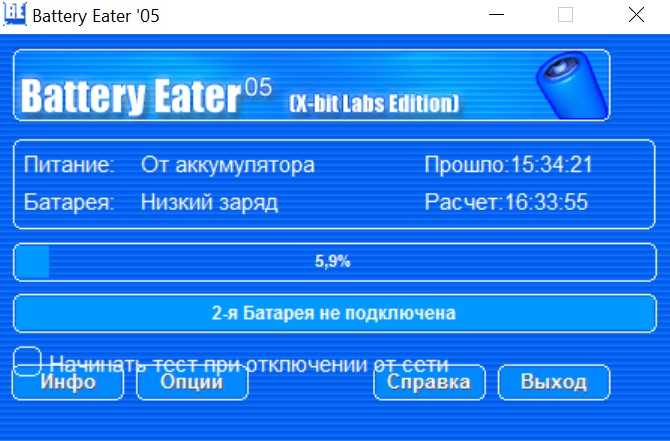 It is 5 hours longer than ZenBook Flip, which proves once again that energy optimizing soft is king when it comes to battery life.
Test results in one table:
| | |
| --- | --- |
| Test, conditions | Worktime |
| Maximum workload, 50% brightness | 2 h 03 min |
| Reading mode, 40% brightness | 15 h 34 min |
As you can see, the battery life is excellent; let's just hope for a quick fix in the next software updates. ZenBook UX430UQ is actually great for long journeys, especially if you plan to read or edit documents. This ultrabook in terms of battery life is better than a lot of competitors.
Verdict
This is the most important part of the review for those who do not particularly enjoy long texts with tons of details. In short, this new model of the ultrabook is a success. ZenBook UX430UQ was made with no compromises; it is compact, stylish and powerful with great screen and nice sound. The engineers have created 13-inch ultrabook with 14-inch screen. Forget about the need to choose between portability and screen size – ZenBook UX430UQ has it all.