Recently ASUS showed their new ZenFone lineup with one main feature – dual cameras. This is the most important feature of these devices. Today we'll learn if cameras are the only thing that separates ASUS ZenFone 4 from the others.

ASUS ZenFone 4 specs
Display: 5.5 ", Super IPS, 1920 × 1080 pixels
Processor: Qualcomm Snapdragon 630/660, 8-core 2.2 GHz
Graphics Accelerator: Adreno 508/512
Memory: 4 GB / 6 GB
Storage: 64 GB
Support for microSD memory cards: up to 2 TB
Wireless networks: Wi-Fi 802.11 a/b/g/n/ac, Bluetooth 5.0, NFC (optional)
Main camera: Sony IMX 362, 12 Mp (f / 1.8), Dual Pixel, OIS 4-axis and an additional 8 Mp, wide angle (120°)
Front camera: 8 Mp (f / 2.0), 84 °
Battery: 3300 mAh
Dimensions: 155.4 × 75.2 × 7.5 mm
Weight: 165 g
The phone is not cheap and costs about $530. There are different models. I had the one with Qualcomm Snapdragon 630 processor and 4 GB of memory. There's no NFC module.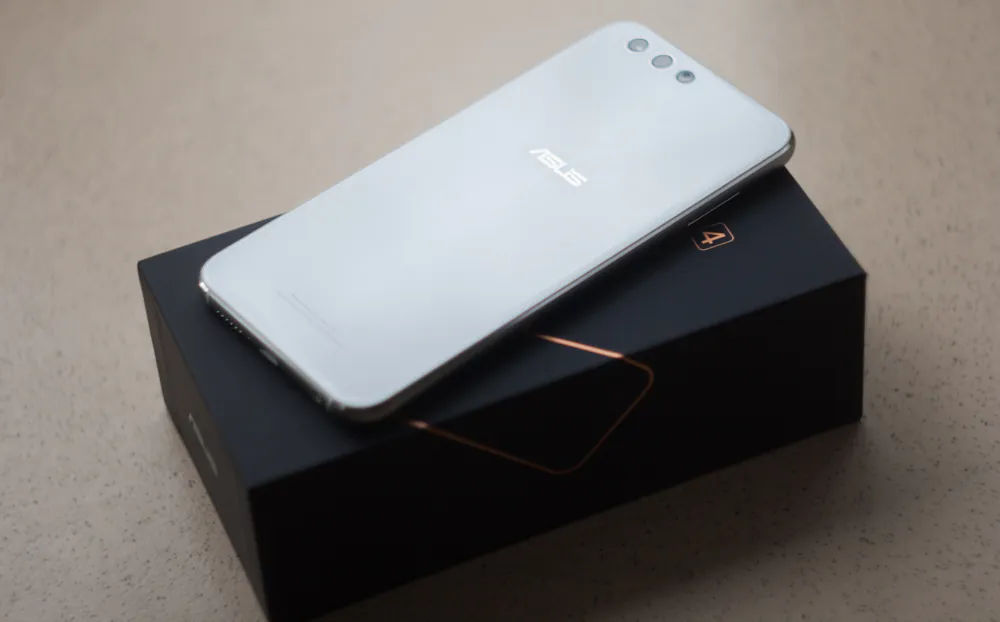 Packaging
ASUS ZenFone 4 comes in a big minimalistic dark blue box, which is nice to the touch. Inside there are various documents, a SIM card ejector pin, USB/Type-C cable, a power adapter (5В/2А) and wired headphones with headset function with two pairs of ear cups.
These headphones sound, well, mediocre. Still, it's nice to have them packaged with the phone, especially for those who don't really care that much about the sound quality.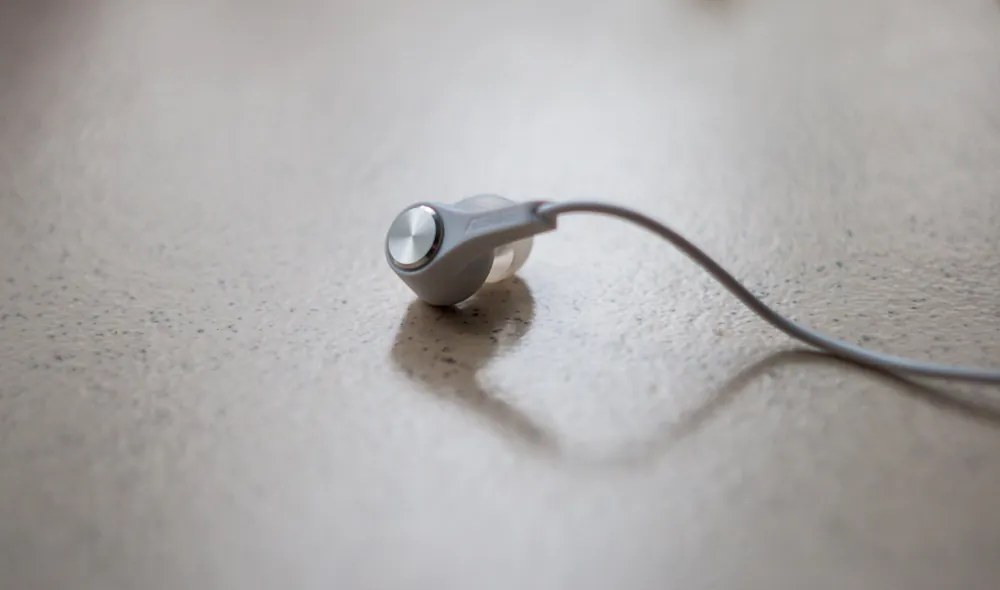 Design, materials, build quality, elements' configuration
There are three colors available – Lunar White, Starry Black and Mint Green. I have the first one. One of its perks is that you practically can't see your fingerprints on the back of the device. I can't say how it is with other models. I have a suspicion that the black model might become a fingerprint magnet.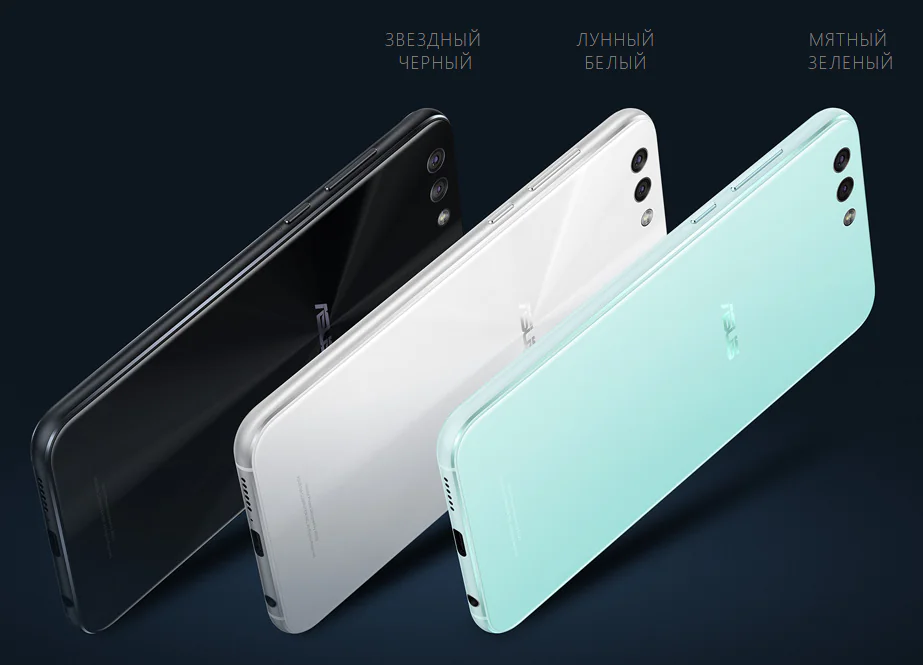 The design can be described in two words – simple and stylish. Corning Gorilla Glass on both sides of the smartphone and a metallic frame are nothing new, but it still looks great. But ASUS ZenFone 4 has something unique: concentric circles on the back. Placed under the glass, they make the phone gleam – a very nice effect. This is not a feature of ASUS ZenFone 4, though – other tech from ASUS also has it.
Some of my acquaintances noticed that the phone looks extremely like a Meizu. One shouldn't blame ASUS – a lot of smartphones have this design nowadays. In terms of design ASUS ZenFone 4 is not extraordinary. I like it, but bezels above and under the screen might be a tad too wide. Compare ZenFone 4 with Xiaomi Redmi Note 4.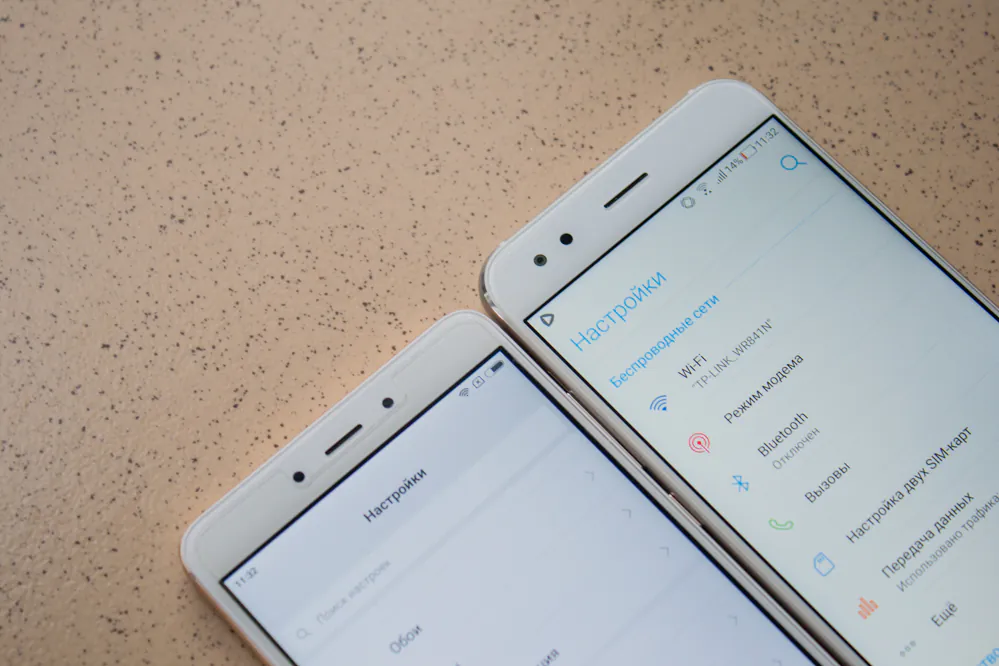 Side bezels are thinner, though.
The build quality is excellent, although the buttons for power/unlock and volume are a bit loose.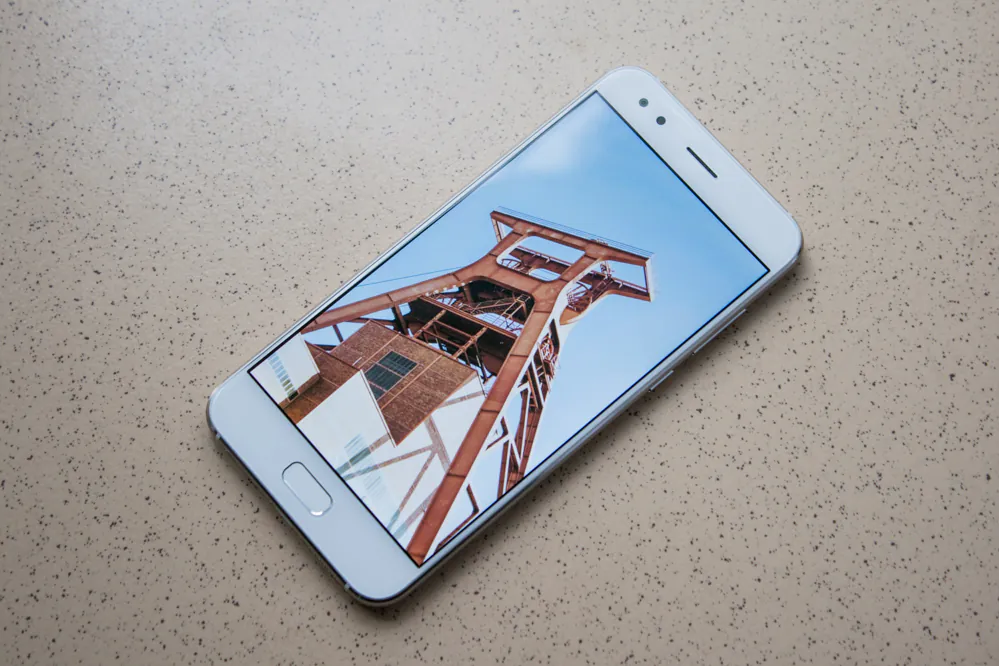 The elements' configuration is pretty standard. Above the 2,5D screen are: frontal camera, proximity and brightness sensors, a speaker and an LED indicator for notifications. The while frontal panel has oleophobic coating.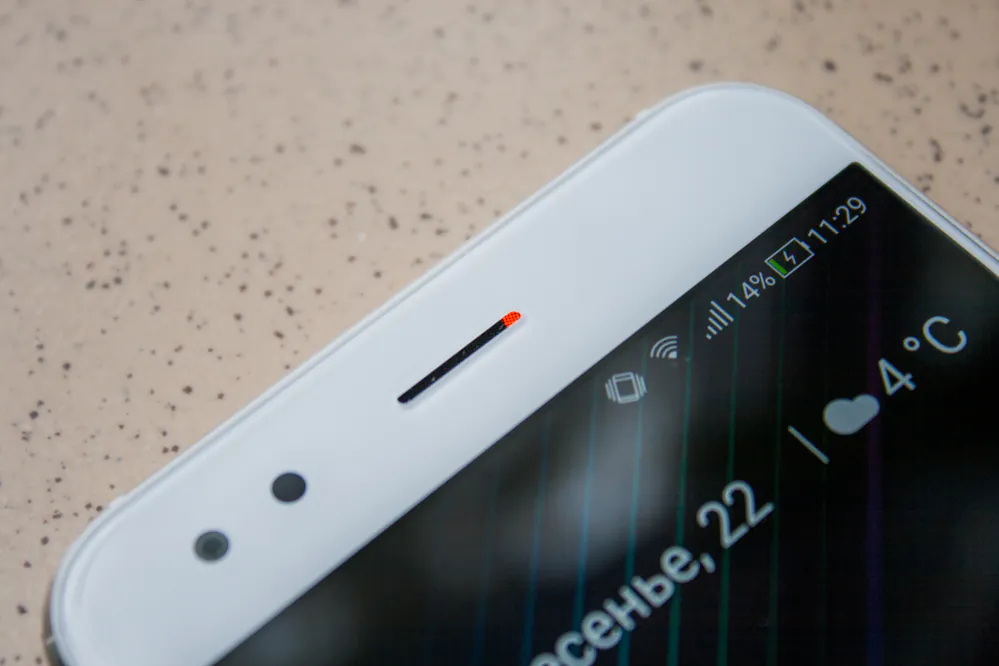 Below the screen is a sensor Home button merged with a fingerprint scanner. On the left and right are two other sensor buttons.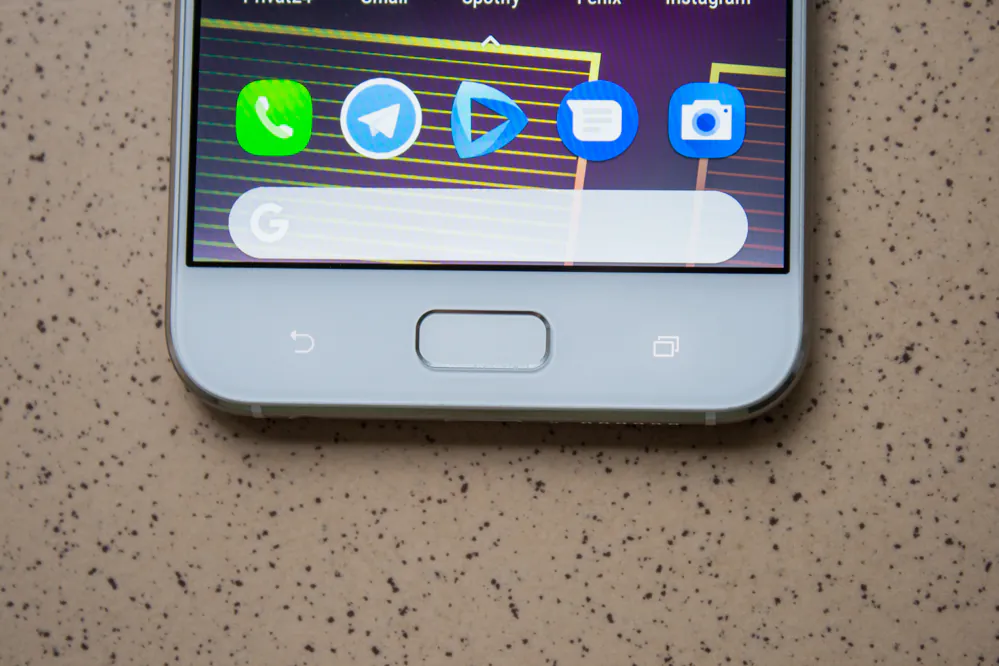 The buttons can light up depending on the settings: they are either on all the time when the screen is active or only when you touch them. You can turn them off completely. When you turn off the backlight, you can't see the buttons at all.
On the right edge there's a power/unlock button and volume controls.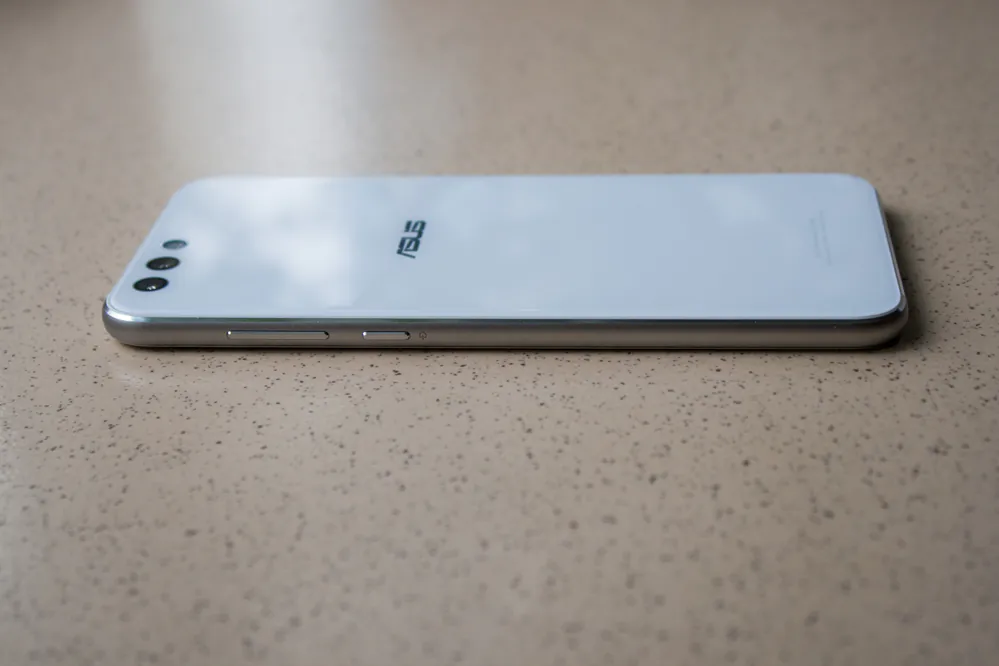 On the left edge there's a combined slot for two nano SIM or one SIM and a MicroSD card.
On the lower edge there's a USB Type-C slot. On the right – the main mic and 6 holes above the main speaker. On the left there's an 3,5 audio jack. On the sides are plastic separators covering the antennas.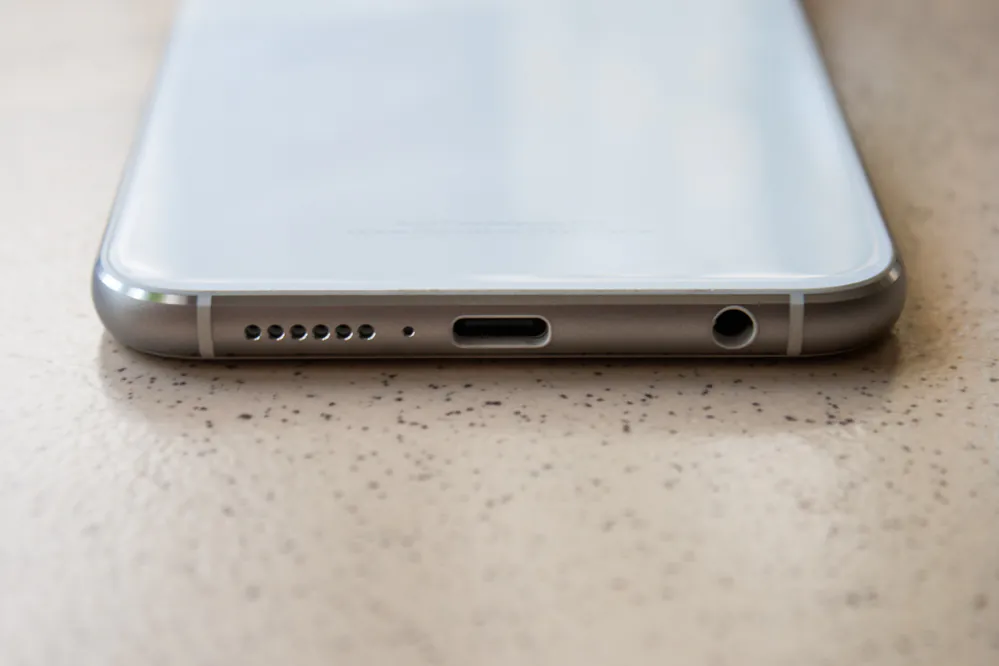 The same separators can be found above the screen – along with an additional mic with noise cancellation.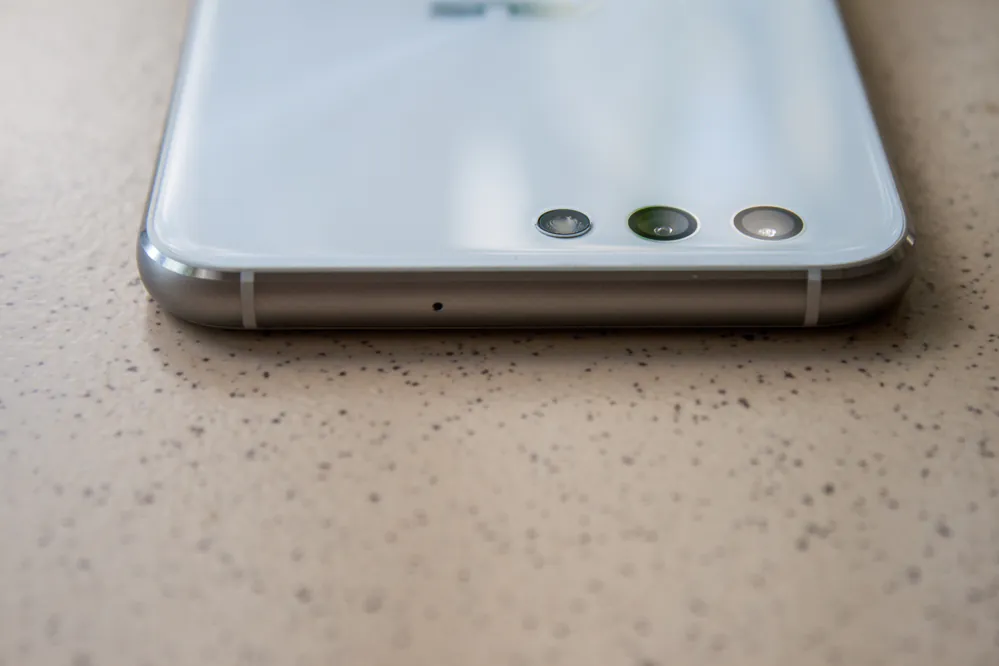 On the back in the upper left corner is a dual camera with flash. Below is a logo and service markings. Oleophobic coating is also present.
The cameras do not protuberate as if often happens. I don't know whether it's good or bad: without some kind of protection there's a high risk of scratching cameras or completely destroying them if you drop the phone.
ASUS ZenFone 4 ergonomics
I have nothing bad to say about ergonomics of ASUS ZenFone 4. Wide bezels above and below the screen make it longer than other similar devices, but there's no discomfort in use. ASUS ZenFone 4 is nice to the tough without sharp angles and protuberances.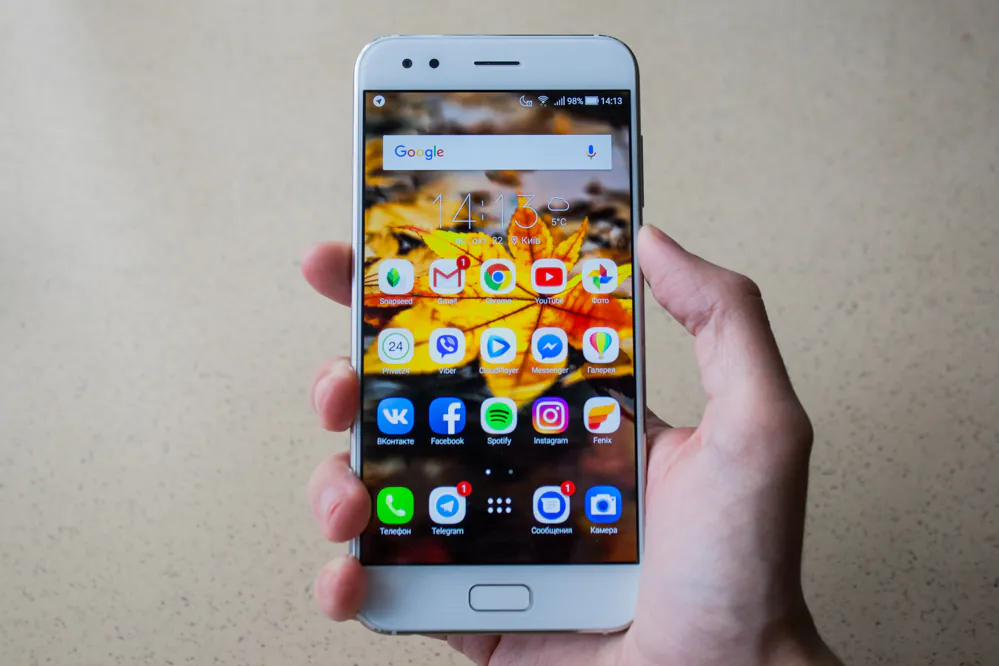 ASUS ZenFone 4: Display
ASUS ZenFone 4 has a 5,5-inch super ISP display with the resolution of 1920x1080p. The density is higher – 400 ppi,
The display is great – it is bright and high in contrast. The view angles are maximal, there's no color loss. Colors are very natural, but you can change it in the settings, where you have control over saturation.
You can also turn on the blue color filter and regulate the temperature of the screen. The adaptive brightness works like a charm.
Perfomance
ASUS ZenFone 4 has Qualcomm Snapdragon 630 processor and Adreno 508 graphics accelerator. Not an exciting match, but it gets the job done and is more than enough for the majority of users. I don't why it's here, though. This is not a cheap smartphone.
AnTuYu and Geekbench 4 tests results:
Numbers are one thing, but in reality ASUS ZenFone 4 is fast, and the apps open quickly.
4 GB of memory is enough for multitasking. Storage is neither big nor small – 64 GB, of which 12 GB is reserved. You can expand the memory with MicroSD cards (up to 2 TB). Also all ASUS ZenFone 4 buyers get a neat bonus – 100 GB on Google Drive for one year.

The phone runs all simpler games, but the heavy stuff works only on middle or middle-high graphics settings. When hard at work, the device heats up, but not critically.
Cameras
Cameras are a big deal. It's obvious – just look at the official page or even the box. So are they any good?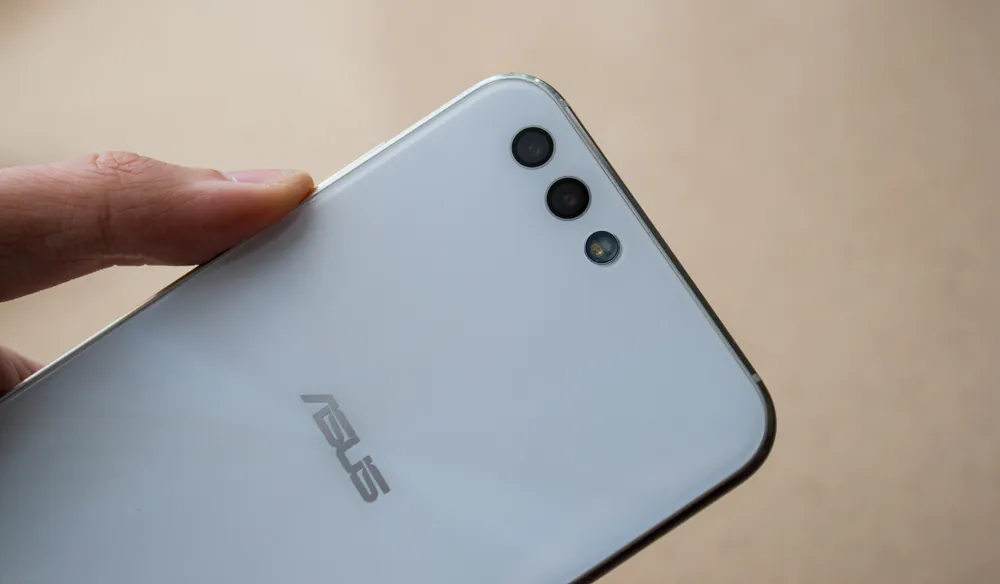 Zenfone 4 is equipped with two main cameras. The main module is Sony IMX362 with a resolution of 12 megapixels. The aperture is f/1.8, the matrix size is 1/2.55 ", the pixel size is 1.4 μm, and the viewing angle is 83°. There's a 6-element lens, a two-pixel phase auto focus (Dual Pixel), as well as 4-axis optical stabilization. The additional module has worse specs, but it serves another purpose. The second module: 8 MP, f/2.2 diaphragm and the main feature – viewing angles. The second camera can be used for wide angle shots and video just like in LG G6.
The picture quality is good. Great detalization and dynamic range. No problems with auto focus – it's plenty fast. The camera is quick, but the additional module is even quicker. The minimal distance between the camera and an object is 5-7 cm. For quality macro better use the manual mode. At nighttime the quality is still acceptable even in auto mode.
The additional module has a viewing angle of 120°. Both detalization and the dynamic range are worse here, as expected. The balance if while is a little off and pictures tend to be a bit "colder". The quality is ok – you won't use the module very often.
Both modules can snap pictures in portrait mode with the ability to blur the background.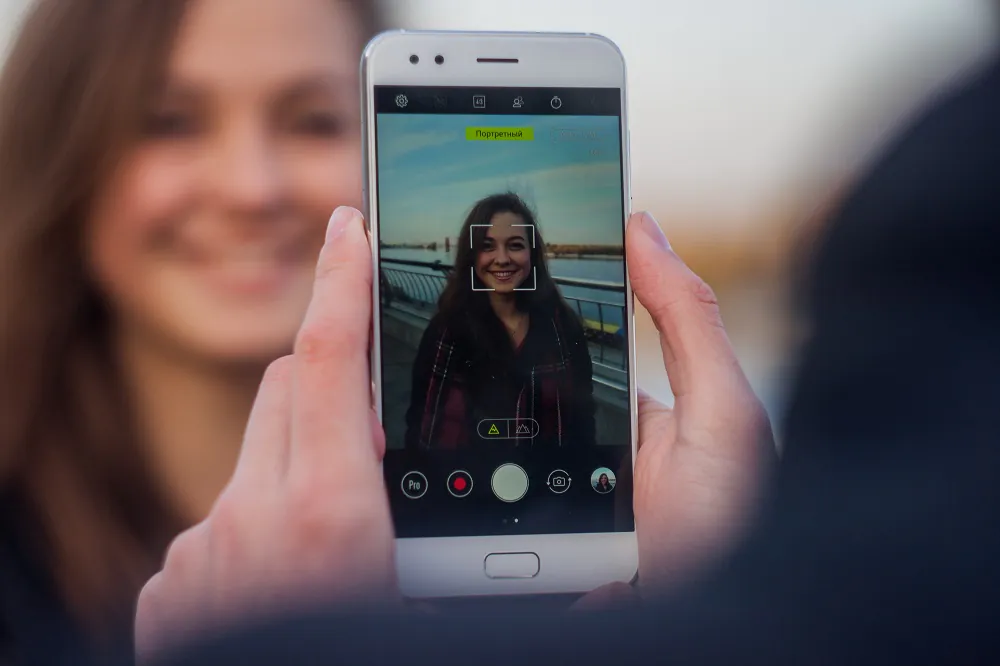 The results are not great. This mode needs to be reworked.
The portrait mode only works when photographing people. It won't work with anything else.
Maximum video resolution for recording is 4K at 30 fps; you can also choose 1080p at 60 and 30 fps. The quality of videos is quite good, especially in 4K. In addition, there is both optical and electronic stabilization. Also there are slow-motion modes – 1080p at 120 FPS, and 720p at 240 FPS, and even accelerated (time-lapse) in 4K.
Front camera module has a resolution of 8 megapixels and f/2.0 aperture. The viewing angle is 84°. Quality is okay. Here, too, you can make photos in portrait mode. Maximum resolution of video is 1080p with electronic stabilization.
The camera app is convenient and has a lot of features. On the main screen above the shutter release button you can select camera modules. On the right is the button for switching to the front camera and access to the gallery. On the left is video recording and transition to manual mode. In the upper part is the settings button, enable/disable HDR, select the aspect ratio (16:9, 4:3, 1:1), activate portrait mode, the timer and flash.

Swipe to the left will bring up the screen with filters; swipe to the right makes you choose shooting modes. In manual mode, which can also be used for video recording, it is possible to adjust the focus, shutter speed, ISO, exposure and the balance of while, as well as shoot in RAW format.
Fingerprint scanner
The fingerprint scanner is located under the Home button. It works great – it's quick and unlocks the phone in a matter of milliseconds. There are some hiccups, but very rarely.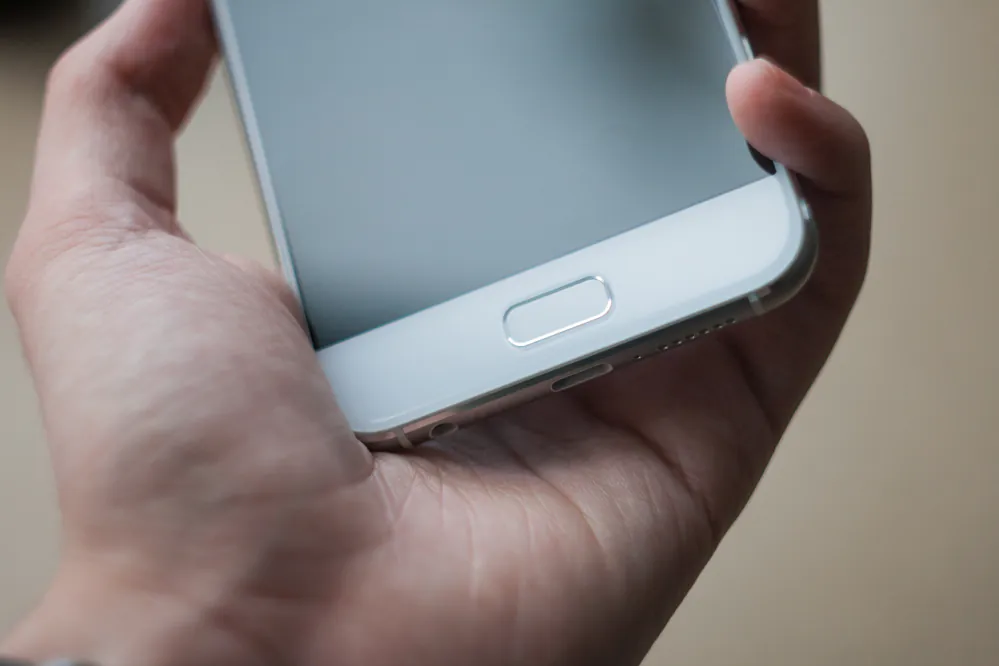 The scanner has the usual set of features: device unlocking, entering apps, authorizing payment for purchases and answering an incoming call with a fingerprint. The latter makes it impossible to answer a call if the person is not the owner of the smartphone, since in order to answer you need to put finger on the scanner, or enter a password.
ZenFone 4 battery life
The smartphone has a non-detachable 3300 mAh battery. Nothing impressive, but the phone will last through the day of active use. The screen will work for about 5-6 hours.
I got this result while using Wi-Fi and 3G. The battery is enough for one day. You can play with energy saving features and prolong the battery life, but don't expect miracles.

The phone has a quick charge technology called ASUS BoostMaster. It is stated that a five-minute charge with ASUS power adapter will allow for a 2-hour call, and 50% can be charged in 36 minutes. In reality, the smartphone charges up to 50% in 47 minutes, and up to 100% in 1 hour 55 minutes.
Sound
I was pleasantly surprised with sound. There's an app called AudioWizard which allows for deep customization of the sound. Let me tell you about it and the sound quality overall.

The app allows the user to choose "speaker effects" like stereo, mono and outdoors. The last two are self-explanatory. Stereo effect works by using both speakers.

I advise you to use this mode – the difference between mono and stereo is stark. The sound becomes larger and louder without any loss in quality.
And a bit about the headphones. There's a special "DTS sound stage" with different settings: normal, in front and wide. These are surround effects. I prefer "normal" sound.

There's even a personal profile for different headphones. There are tons of models to choose from – even with separation between in-ear and over-the-ear headphones.
You can also set up the listening profile.

I liked the sound quality of ASUS ZenFone 4. It's loud and clear.
There's also a built-in equalizer with different effects for pop, rock, vocal etc. Or you can make your own profile. This works for both speakers and headphones.

There's even a way to regulate the intensity of vibration for different modes.

Overall, audio in ASUS ZenFone 4 is excellent.
Communications
There are no problems with communications at all. Mobile network is instantaneous, there are no breakages or failures. GPS works fine, starts quickly, and the positioning is accurate. The Wi-Fi module (802.11a/b/g/n/ac) works well, the range is sufficient.
What's important is that the device has a Bluetooth-module version 5.0. This new standard allows to exchange files 2 times faster than before, and the range is 4 times bigger. Another big feature is the support several sources. This means that you can connect two pairs of Bluetooth headphones or speakers to one device. And the energy consumption is even lower than before.
Firmware and software
ASUS ZenFone 4 has Android 7.1.1 Nougat with ZenUI 4.0 shell. The design is, well… peculiar, but when it comes to features, there's nothing to complain about.
Some ASUS apps can be updated via Google Play, which is great – there's no need to update the firmware in order to add new features.
The lock screen changes wallpaper every time you turn the phone on – or once a day. You can even set up custom shortcuts for any apps (up to 3 apps).

ZenUi is the default launcher, but you can spice things up a bit with different themes. You can also change icons (and their size), gestures, the grid and even folders.
There are a lot of features: OptiFlex (it allows to speed up most frequently used applications), SafeGuard (the ability to send SOS signal in emergencies), Twin Apps (create a second copy of the application for a second account), Page Marker (save Chrome webpages for offline) and Game Genie (will speed up games, records streams to YouTube and Twitch and more).
There are a lot of customizable gestures. Turn on/off the screen with a double tap and so on.

Overall, the shell has loads of options and useful features.
Verdict
ASUS ZenFone 4 turned out to be a great smartphone. It has a lot of pros and a couple of cons, which are hard to explain. Nothing big, just weird.
For example, the price. $530 is no joke, but the phone has a midrange processor. Chinese phones offer better hardware for the same price. But in other aspects ASUS ZenFone 4 is a great device.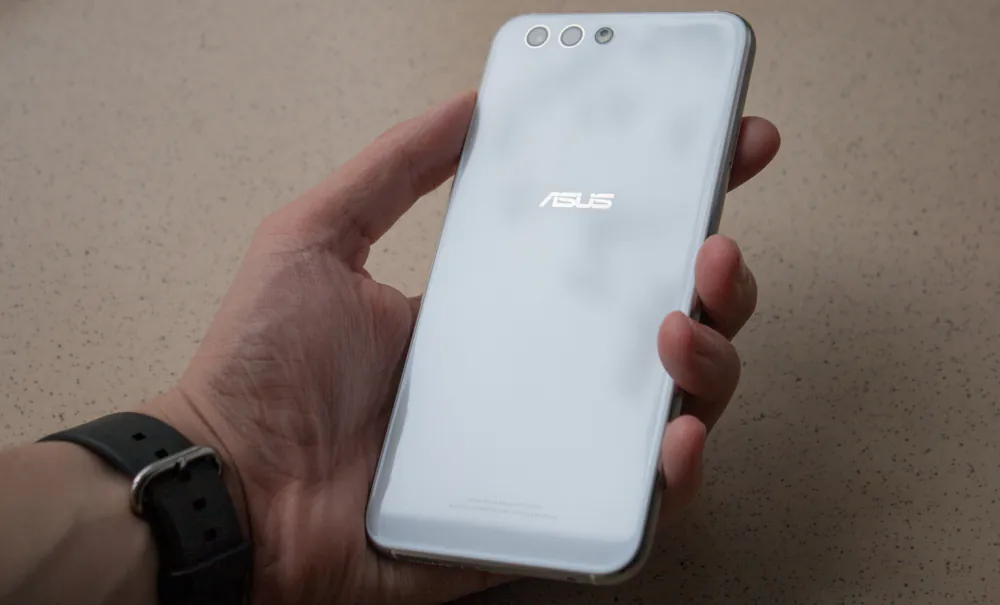 A great smartphone from a well-known brand. Only time will tell whether it'll be a success.