When I got a smartphone Doogee T5 Lite, I was a little surprised. Unlike modern smooth rectangle with slightly rounded corners, this device looks absolutely original. The combination of glass, plastic and metal in the most unusual way – and quite stylish way, let me say. Of course, not everyone will like a smartphone – it is very massive, thick and heavy, but this is the price of protection against moisture, dust and shock. One of the most unusual of budget smartphones of 2016 – Doogee T5 Lite today in our review.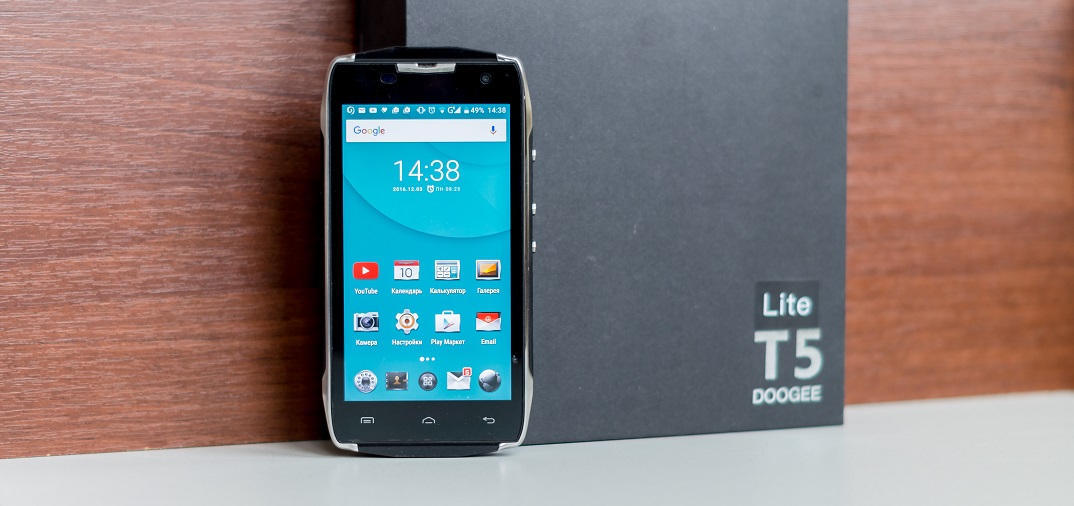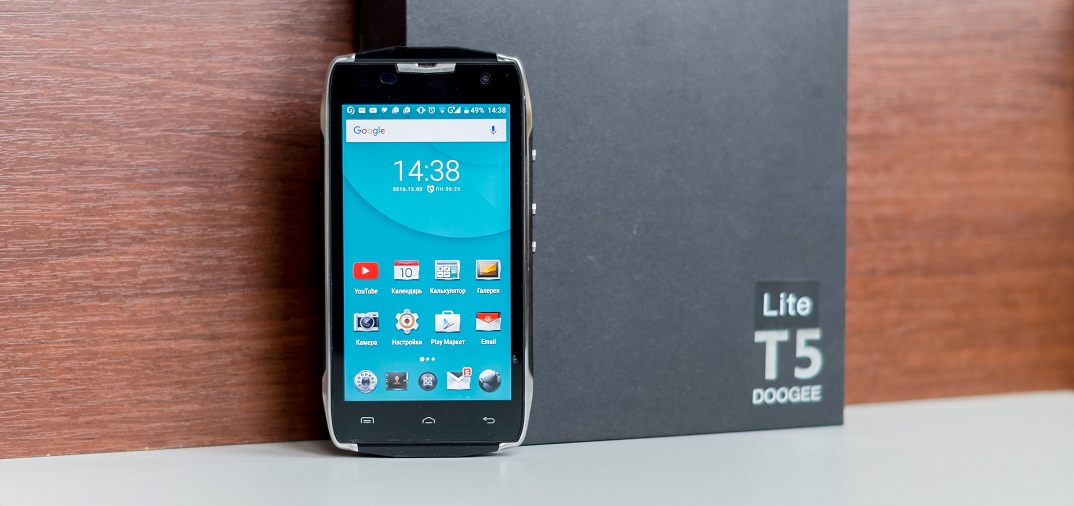 Technical characteristics
Technical characteristics of Doogee T5 Lite are pretty ordinary as for an inexpensive device (about $130). Nevertheless, it is worth noting the battery capacity, which is quite high. But let's talk about it separately.
CPU: MTK6735 Quard Core, 1 Hz, 4-core
GPU: Mali-T720 MP3
Protection level: IP67
RAM: 2 GB
State memory: 16 GB
Memory card supporting (microSD): up to 128 GB
Wi-Fi: 802.11b/g/n, Bluetooth 4.0, GPS
Mobile networks: GSM – 850/900/1800/1900 MHz
LTE – 800/1800/2100/2600 MHz
Display: 5″, IPS, 1280 x 720 pixels
Main camera: 8 MP, autofocus, flashlight
Front camera: 5 MP
Battery: 4500 mAh
Size: 153 x 79 x 14 mm
Weight: 251 g
Contents of delivery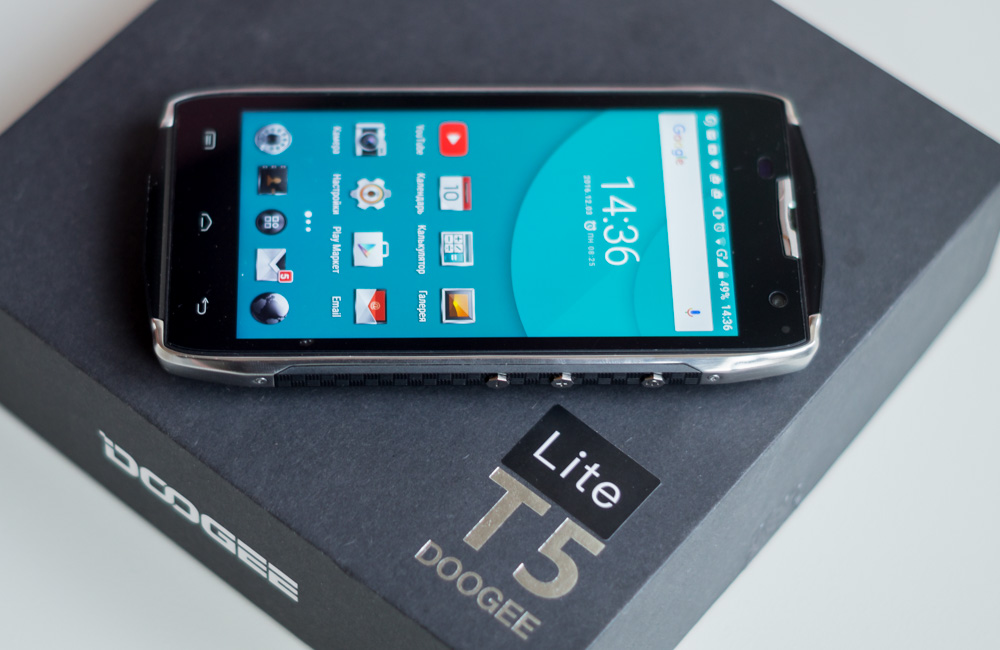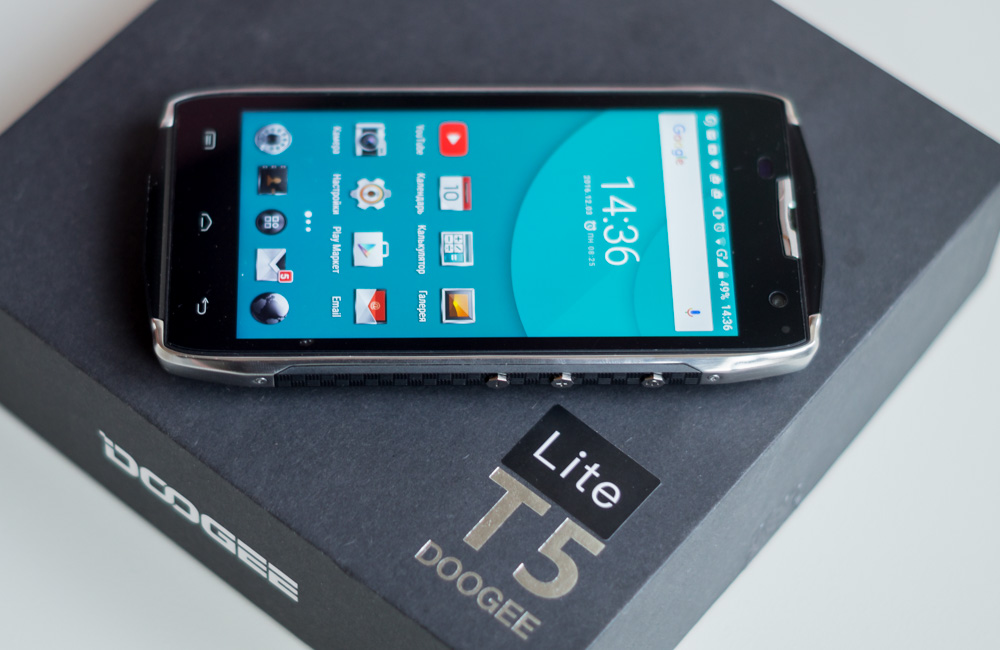 In the box, besides the smartphone, you can find a user manual, power adapter, USB / microUSB cable, OTG-cablechangeable rear cover and side panels, as well as a protective film, a special screwdriver to replace the side panels and spare screws for these panels. By the way, the protective film is a spare film, because there is already affixed one on the smartphone directly from the factory.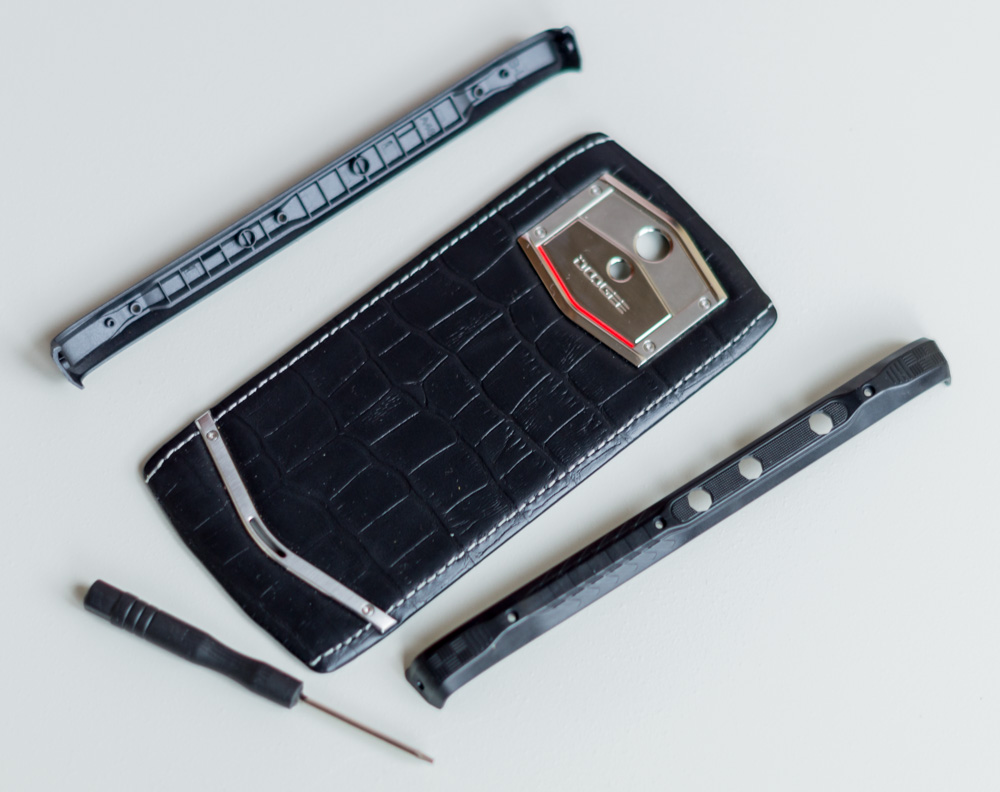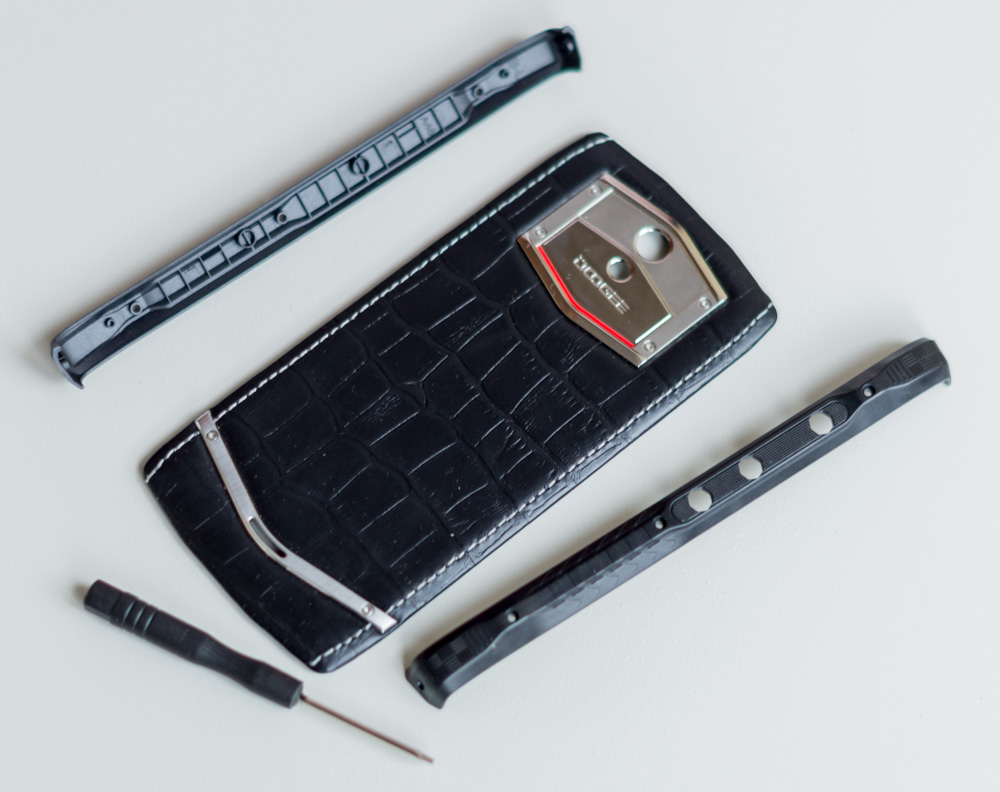 In addition, either covers and pairs of side panels are completely different in style – black cover made of artificial leather with metal inserts and metal side panels with inserts of black plastic, which are installed initially, can be replaced by sporty dark gray cover and black plastic side panels.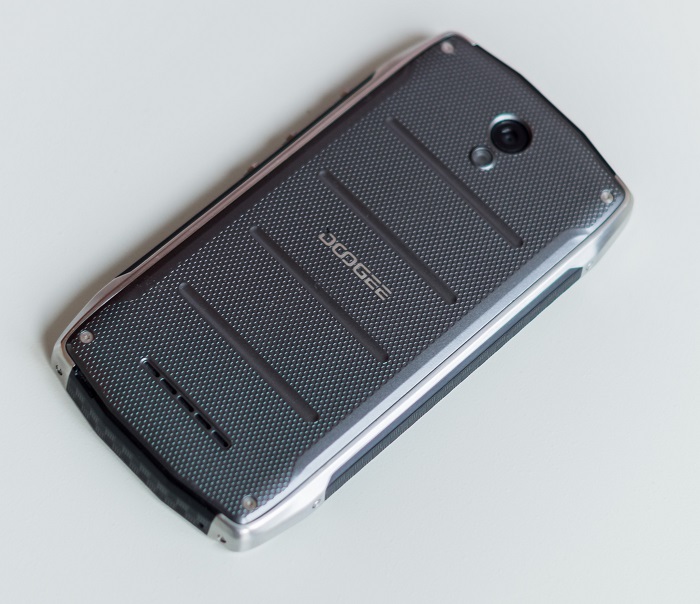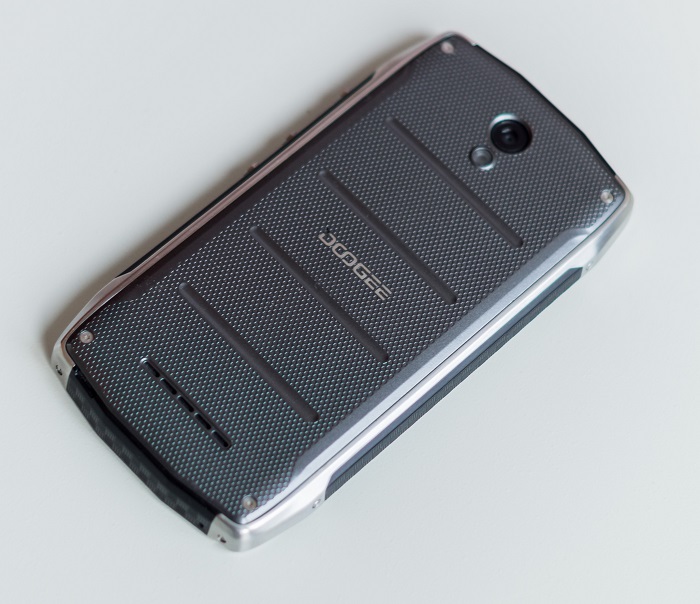 Design, materials, assembly
At the beginning of the review, I noted that the smartphone design is rather unusual. Instead of the standard rectangle with rounded corners, we see something like protuberances on each of the faces, furthermore, smartphone looks trapezoidal on all the sides – it is narrowed towards the rear side.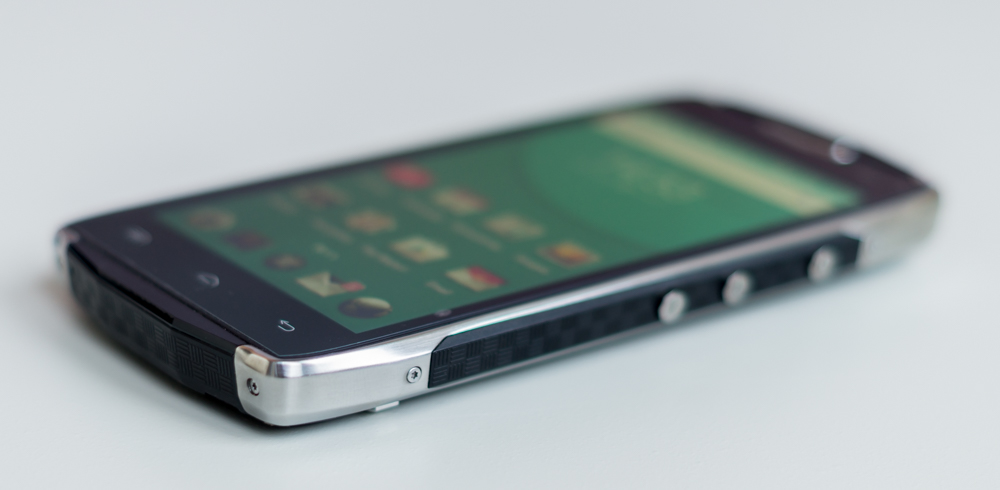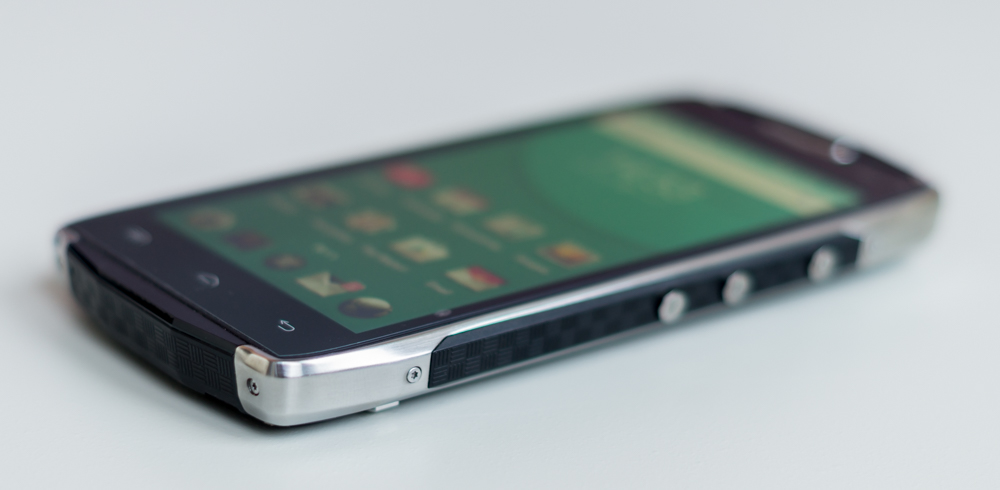 Also, one of the features of a smartphone is its dust and moisture protection by IP67 standard. This is facilitated by the plugs for ports and special sealing membranes for speakers and microphone. On the one hand, this is a plus, but there are also disadvantages. However, this topic I will reveal later.
The package includes two rear covers and two pairs of side panels. The cover can be changed at any time, but to change the panels you have to unscrew a few screws – a screwdriver is present in the kit. As planned by the manufacturer, metal plates look best with leatherette cover and black plastic – with dark gray plastic cover. But no one will blame you if you install, for example, metal panels and plastic cover, like I did.
Thus, you get at once four smartphone design, appearance can vary from owner's preferences, and be either a la luxurios or sports.
Now – about the location of components. It is quite typical. On the front side – the screen, above it – the earpiece under a steel insert, front camera, light and proximity sensors, under the screen – three touch buttons without illumination – Menu, Home and Back. Notification LED is not presented, alas.
On the back side – main camera, flash and speaker. The appearance of the rear of the Doogee T5 Lite depends on the chosen cover.
When you select a cover made of artificial leather, hexagonal insert of metal with a red stripe on the bottom two edges surrounds the camera and flash, and a company logo adorns right under flash. Hole speaker is decorated with v-shaped metal strip. It should be noted that the hole in the cover is slightly narrower than the speaker itself, which could affect its sound.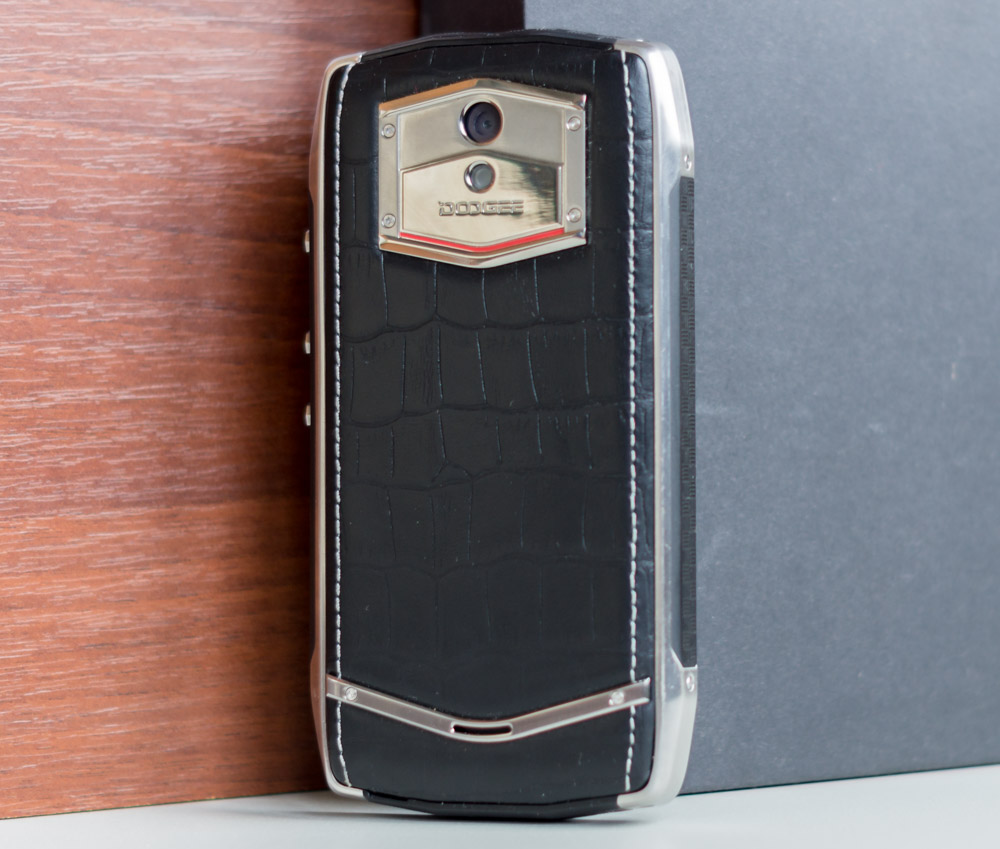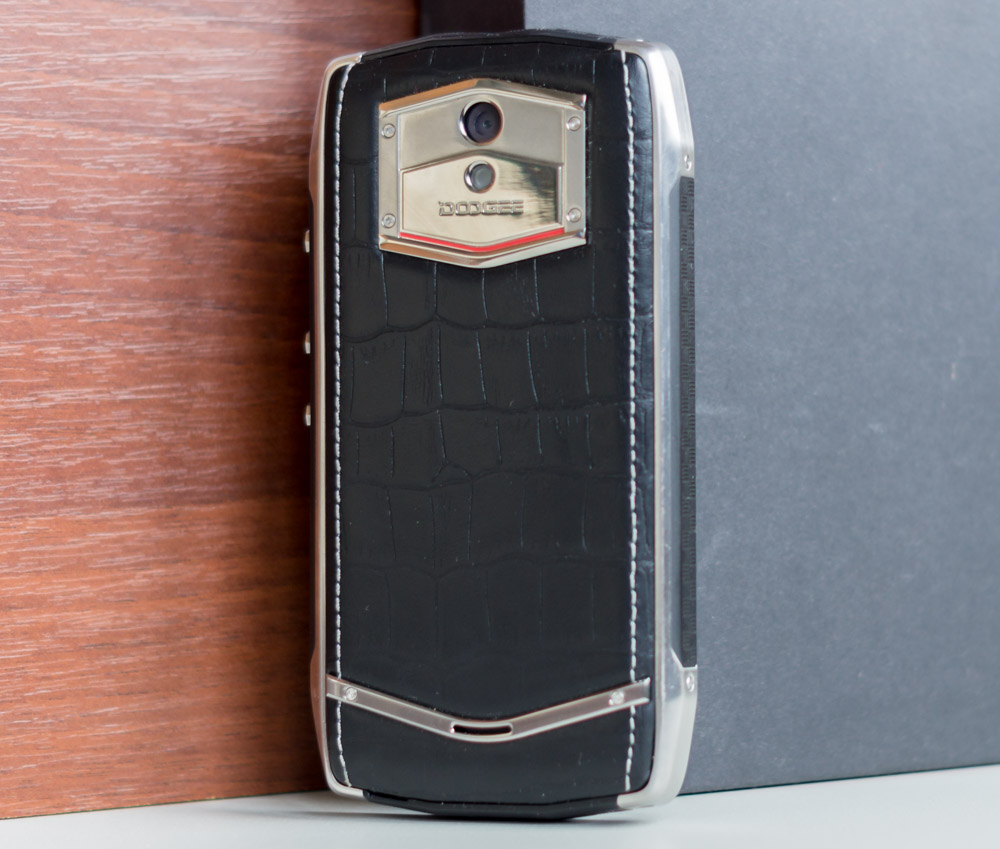 If your choice fell on the plastic cover, you will not get decorative inserts – it's just covered with grooved surface pattern in the form of small hexagons. However, the cover has four dented smooth strips which are at regular intervals, the manufacturer's logo is placed between the central two stripes. In this cover speaker hole is made in the form of a lattice, which is wider than the actual speaker.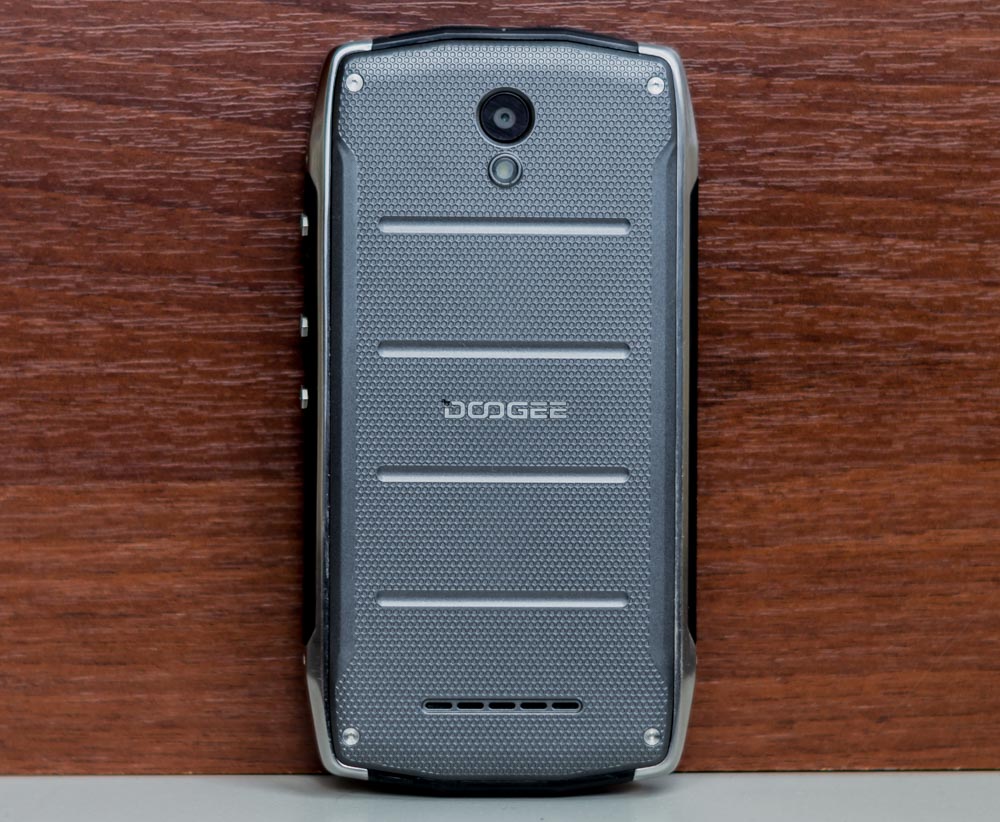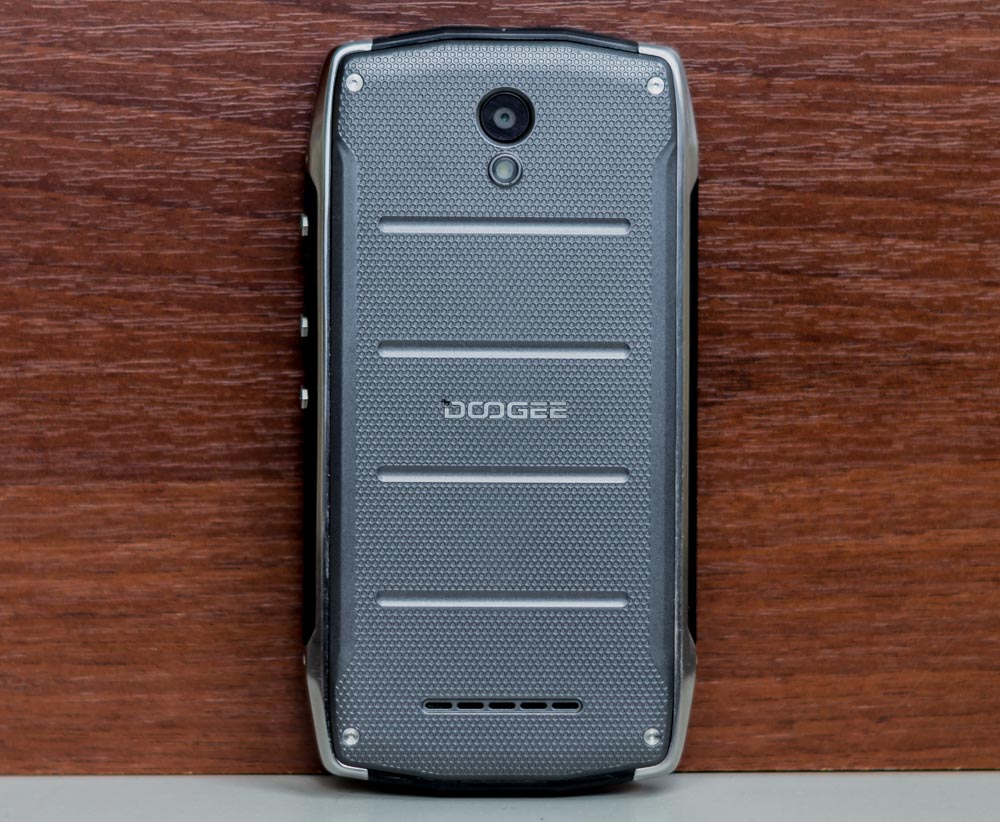 On the bottom only microphone is placed, which is protected by special waterproof membrane.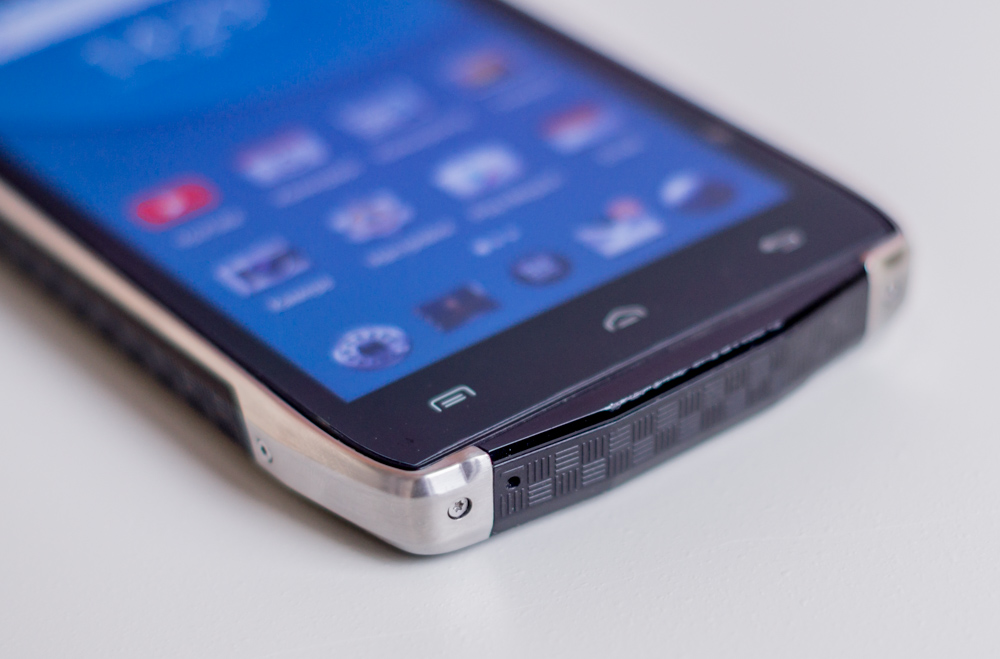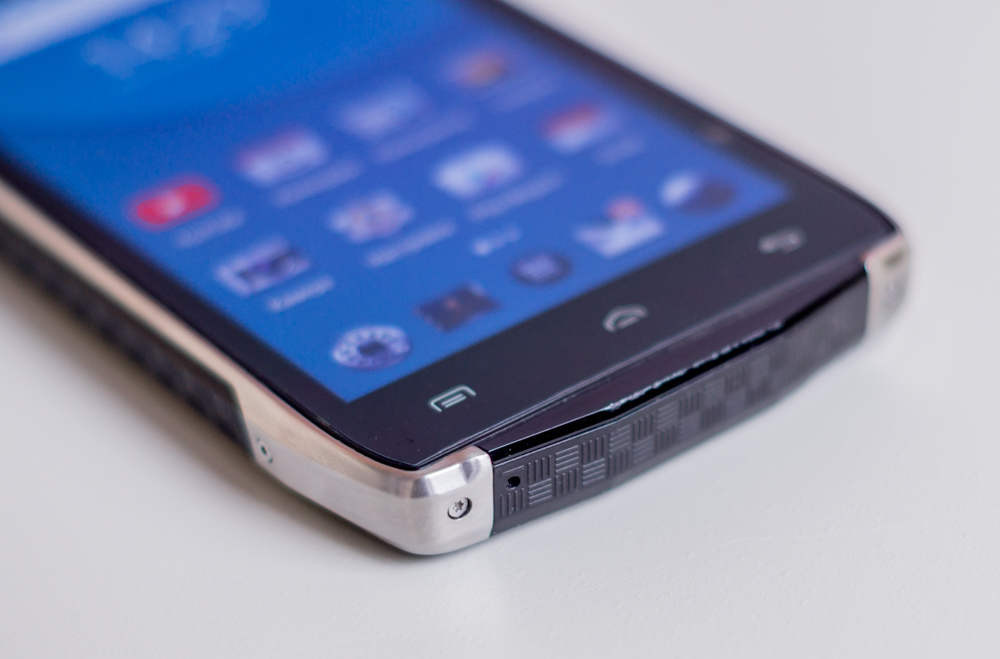 On the upper face – the USB-port and audio output, closed by rubberized caps – again, for protection against dust and moisture.
The left side is empty, but on the right are the metal power and audio control buttons in the form of octahedron.
After removing the rear cover, we see the rubber pad that protects the battery, SIM-cards (there are two slots for SIM cards – one for standard SIM cards, the second – for microSIM format), and a microSD memory card.
Assembly of Doogee T5 Lite is conditioned by its composite construction. There are no gaps or cracks, the smartphone base is strong, but the smartphone creaks under compression and torsion in the area of a removable cover and plugs. Also buttons are rattling a little, if you swipe on them, lightly pushing.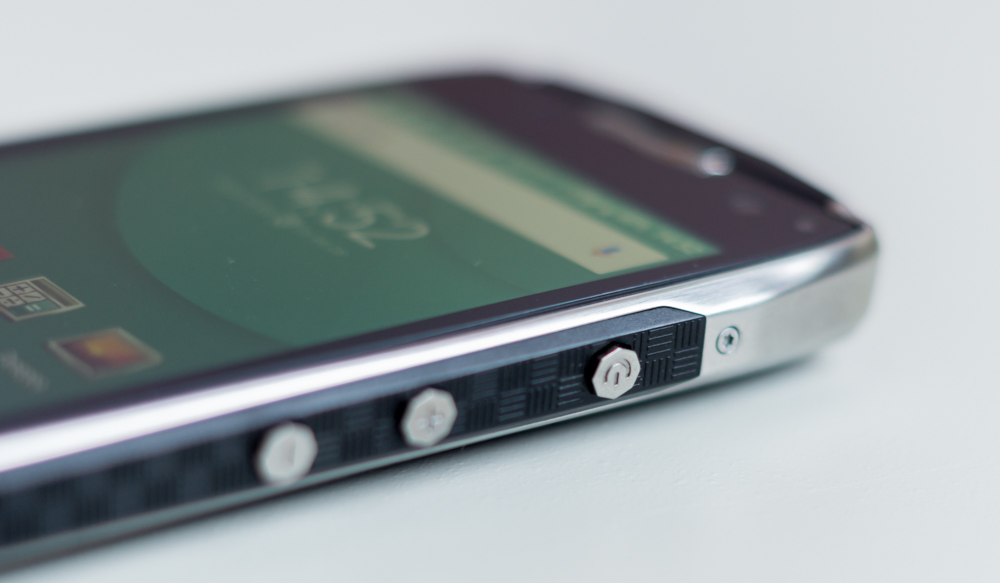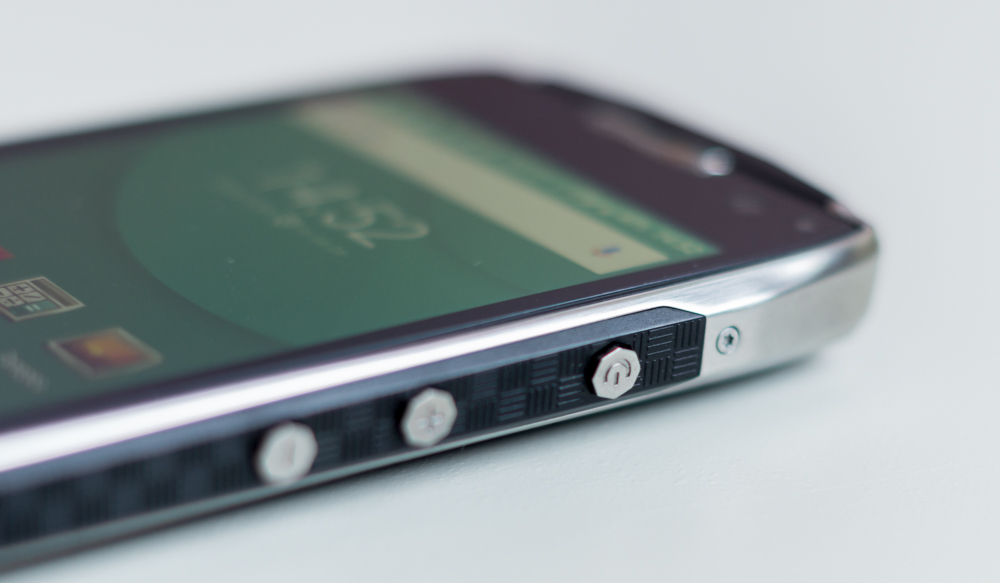 Ergonomics
Due to relief of the side panels and the back cover, if it is plastic, or to the surface, if it is leather, the phone does not slip out of your hands, it is convenient to hold it in hand. Power and audio control buttons are easy to get while holding the smartphone either in the right hand or in the left. In general, it was easy to use the phone with one hand.
One of the above-mentioned disadvantages of protection against water and dust caps are on the USB port and audio output. If in the case of the first I had no problems, the second is too close to the plug fastening, becouse of what, when headphones are connected, it is necessary either to forcibly positioning the cap so that it settled down along the edge, while it will rest on the plug, or to accept the fact that it sticks out of the way and prevents putting the smartphone into a pocket without fear to tear the cap.
Display
Five-inch display, which Doogee T5 Lite is equipped with, has a resolution of 720×1280, made by IPS technology, and it says everything. A good range of brightness and contrast, vivid colors and the correct color reproduction, viewing angles are almost all 180 degrees, although the colors are a bit distorted at sharp angles.
But there are also disadvantages. Auto Brightness Control is not always properly exhibited the appropriate level of brightness, sometimes smartphone just dazzled me in the dark, or I had to manually raise the brightness on the sun.
Doogee T5 Lite performance
The characteristics show that the smartphone – not for games. So it is. Doogee T5 Lite results in synthetic tests you can see in the screenshots.
In a real game practice – easy launches smartphone WoT Blitz on medium settings, at the maximum, we get quite unplayable drop fps. However, for undemanding users, including myself, the device will be enough – it can run my favorite card game from Blizzard and some offline timekillers, and I do not need more.
Smartphone interface runs quickly and smoothly – there is generally no complaints. It should be noted that the orientation sensor in Doogee T5 Lite is very sensitive. I would even say that too sensitive. I do not care about it, I do not use Screen Auto-rotate, but is obliged to mention this.
Cameras
Doogee T5 Lite is equipped with 8 megapixel main camera (takes 13 megapixels pictures in the interpolated mode) and a 5 megapixels front camera. We'll go through each of them.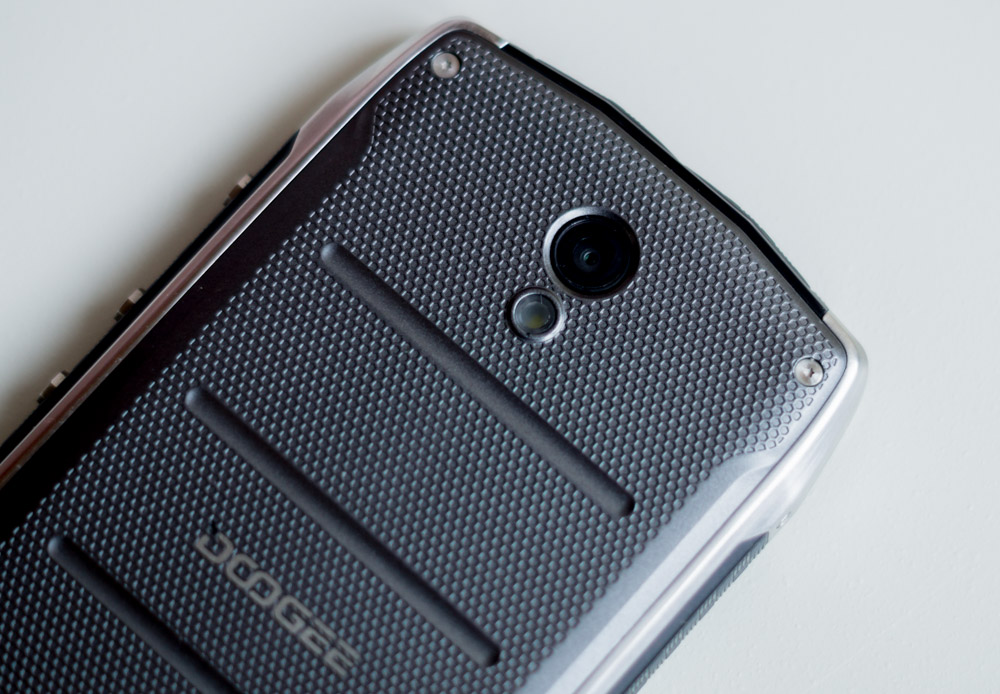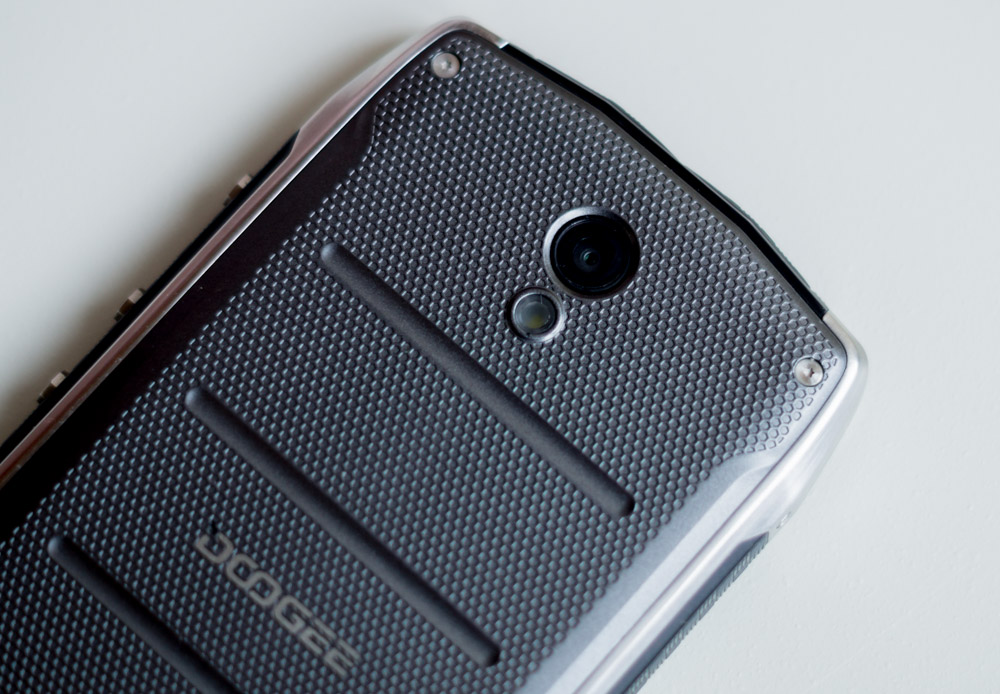 The main camera was rather mediocre. Autofocus focuses nice when he can do it. And this does not occur every time. Manual focus is also does not always work. HDR mode is also present. To some extent, it even improves the picture by adding the atmosphere, but in this mode capture rate drops. In general, the main camera module provides good image, but far from ideal.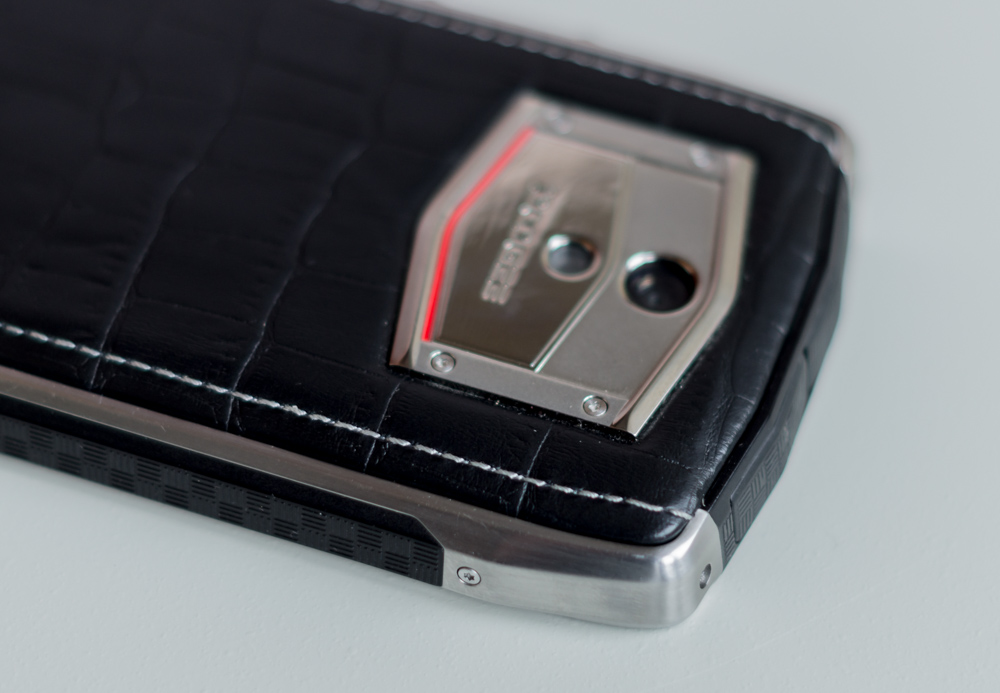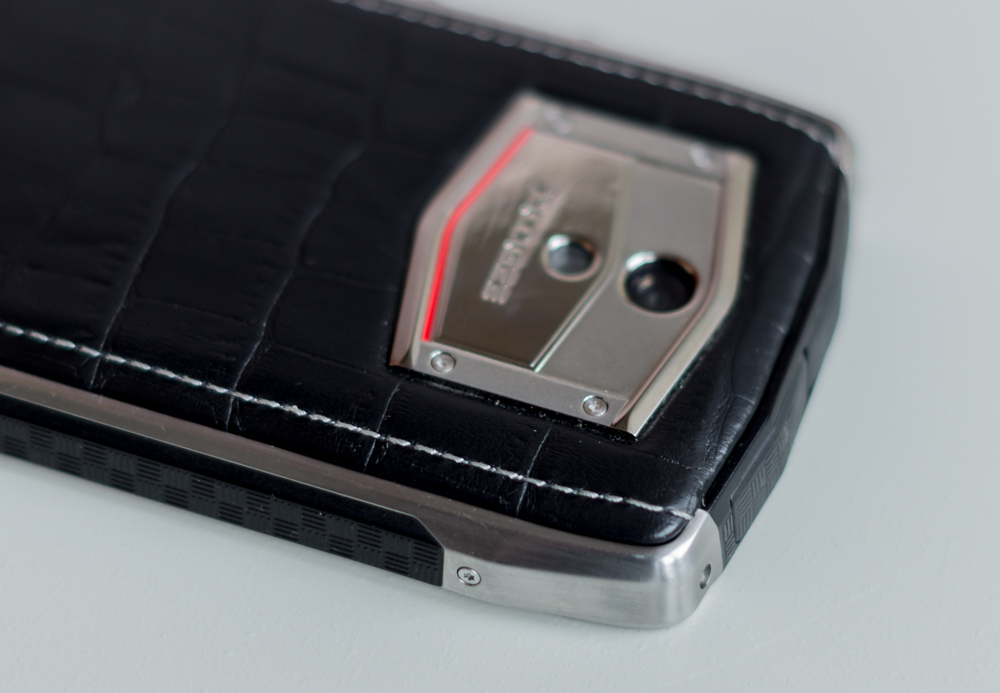 But the front camera – surprisingly good. In addition, there is built-in "Beauty face" in the camera, which smooths out facial features, however, the result looks a little artificial. The results of both cameras taking pictures can be seen here:
Battery life of Doogee T5 Lite
Theoretically, with such undemanding hardware and battery at 4500 mAh Doogee T5 Lite should work for a long time. Well, I must admit, it does.
Despite my fairly active usage mode, which is permanently turned on network data transfer, synchronization of email and social networks clients, a couple of hours of music through the speaker and headphones and 2-3 hours of gaming per day, smartphone confidently works two days. Even being in a few percent to complete devastation, the battery has been kept for hour in airplane mode with the music through headphones so I could get home and finally put the device on charging.
In Doogee T5 Lite there is built-in automatic switch to Power Saving Mode mode when the battery charge is less than 20%. In this mode, all wireless connections are disabled, except for mobile communication, and the screen brightness is set to minimum. However, the mode does not disable turning all over again, which means that you can easily activate something that you need, and even increase the screen brightness.
Sound of Doogee T5 Lite
Here it follows the second minus of moisture and dust protection – the dynamics of Doogee T5 Lite. And the main, and conversational speaker choke at high volume, and listen to your favorite music through the speaker with enabled built-in BesLoudness function of increasing volume could be a total disappointment.
The sound from the headphones is pretty good, especially if you disable the local fumction BesAudEnh, which purpose is to improve the sound, and play with the equalizer by setting the parameters to your liking.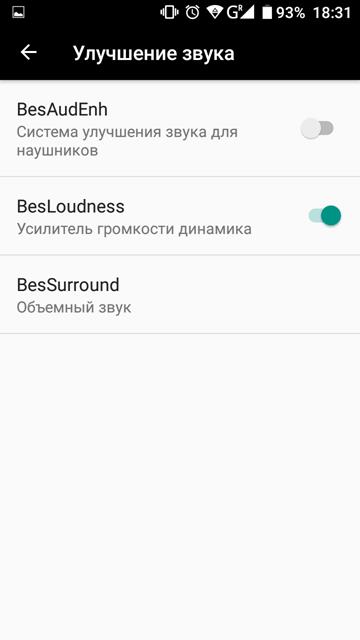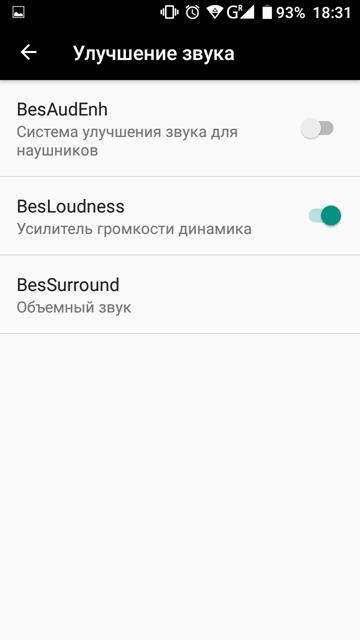 Surround sound function BesSurround, as for me, deals only with silencing of the sound, but did not surrounding it.
Firmware and software
The device has the Android 6.0 Marshmallow. It can not be called clean – most embedded software icons were changed (I was especially pleased with the IE icon at the browser), the status bar is also modified, there is a built-in keyboard Bagan Keyboard, which I has not risked to use, and of QR-codes reader completely in Chinese.
The system operates smoothly, there is no lags. The firmware is integrated control function using gestures – the phone can wake up by double-tap or run an application that is associated with the correct gesture. It also supports a number of intelligent action, for example, you can call to the person which contact is opened at the moment, by simply setting phone to your ear.
Read also: Elephone S1 review – stylish smartphone from China for $85
Conclusions
Doogee T5 Lite – is an interesting instance of the low-cost device from China. An unusual and diverse design, dust, moisture and shock protected, in addition to the capacious battery, make it a good choice either for the urban environment, and while traveling.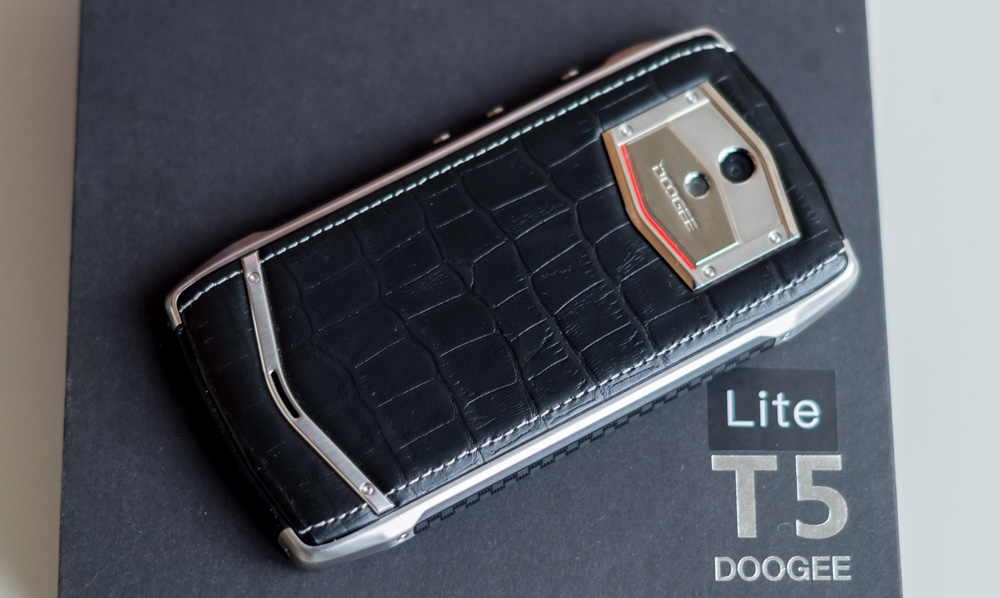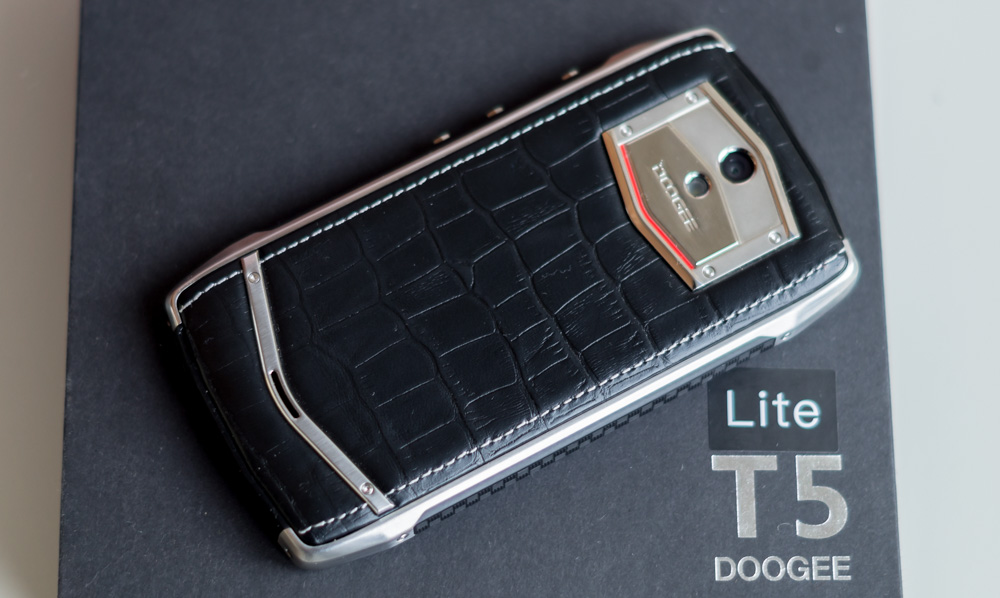 The phone can appeal to business people who often travel on business trips, but it will satisfy the demands of gamers only with capacious battery. However, Doogee T5 Lite is suitable for the usual undemanding users, especially those who often drops and breaks smartphones (eg, such as me). Finally we'll go through the advantages and disadvantages, so you can decide for yourself whether this device is suitable for you.
Pros
Original design, removable rear covers and side panels
Pretty comfortable in use
Great battery life
Good IPS-display
Dust and moisture protection by IP67 standard
Shock-resistant body
It can be used to fend off bullies in a dark alley
Cons
Big size and weight
Mediocre camera, focus, which does not always work
The sound of both speakers at maximum volume begins to choke
Not the most convenient ausio output location relative to the protective cap
Buy Doogee T5 Lite with free shipping in GearBest.
Use T5Lite coupon to get a discount when ordering.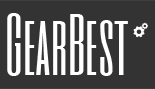 Prices
Other models could be displayed, if this is not in catalog for your region.
[socialmart-widget id="IWiijFTY" search="Doogee T5 Lite"]
[freemarket model="Doogee T5 Lite"]
[ava model="Doogee T5 Lite"]