In mid-March 2021, Samsung revealed two new Galaxy A line smartphones: A52 and A72. In this review, I will tell you in detail about the new mid-range A-series – the Samsung Galaxy A52 smartphone. Let's see if the manufacturer succeeded in making a worthy successor to last year's super popular Samsung Galaxy A51.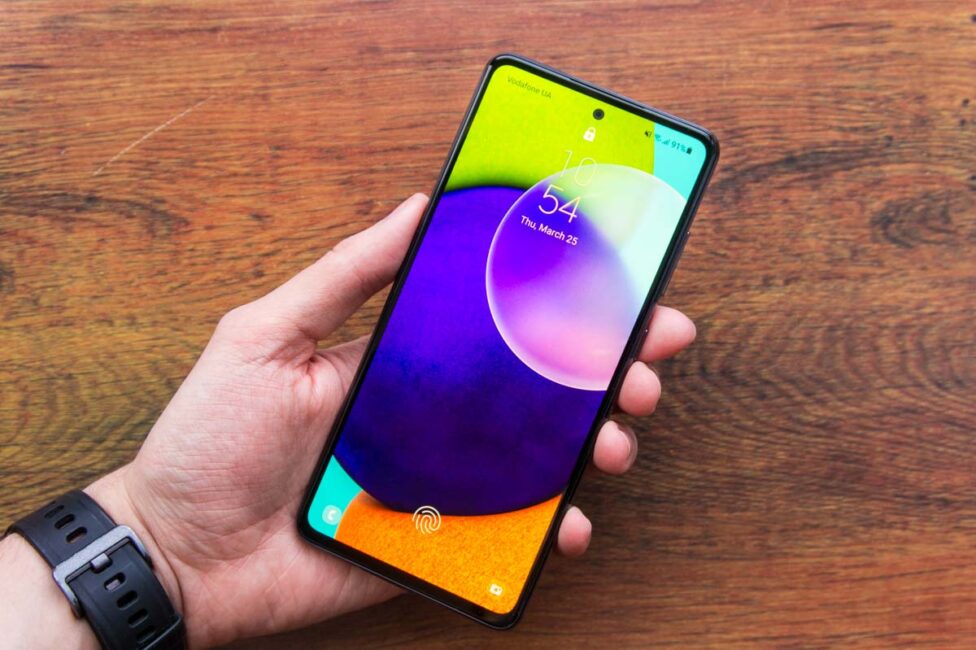 Together with two gorgeous devices, a simpler, but no less interesting Samsung Galaxy A32 was officially presented in some markets.
Samsung Galaxy A52 specifications
Display: 6.5′′, Super AMOLED, 2400×1080 pixels, 20:9 aspect ratio, 405 ppi, 800 nits, 90 Hz
Chipset: Qualcomm SM7125 Snapdragon 720G, 8 nm, 8-core, 2 Kryo 465 Gold cores with 2.3 GHz, 6 Kryo 465 Silver cores with 1.8 GHz
Graphic accelerator: Adreno 618
RAM: 4/6/8 GB, LPDDR4x
Storage: 128/256 GB, UFS 2.1
Support for microSD memory cards: up to 1 TB
Wireless networks: Wi-Fi 5, Bluetooth 5.0 (A2DP, LE), GPS (A-GPS, GLONASS, BDS, GALILEO), NFC
Main camera: quadruple, main module 64 MP, f/1.8, 1/1.7′′, 0.8μm, PDAF, OIS, 26 mm; ultra-wide-angle module 12 MP, f/2.2, 1.12μm, 123 ̊; macro 5 MP, f/2.4; depth sensor 5 MP, f/2.4
Front-facing camera: 32 MP, f/2.2, 1/2.8′′, 0.8μm, 26 mm
Battery: 4,500 mAh
Charging: fast wired up to 25 W
OS: Android 11 with One UI 3.1 shell
Dimensions: 159.9×75.1×8.4 mm
Weight: 189 g
Price and positioning
This year, smartphones of the series have risen in price, and now the top-end Samsung Galaxy A52 costs like last year's Galaxy A71 at the start of sales, and the base A52 is even slightly more expensive than the top-end A51. The new smartphone arrived in two versions: 4/128 GB and 8/256 GB at $358 and 11,999 at $430, respectively.
But let's not forget that the new phone has got large amounts of memory, so I personally don't see any particular tragedy in such a rise in price. And looking ahead, I would also note that there are much more interesting innovations here than expanded memory, so in the rise in price might be justified. Moreover, last year A51 was initially cheaper than the A50, but that's a completely different story.
What's in the box & protective cases
By tradition, the smartphone arrived for the test without the box with all the contents, but what is included in it is known. This is a 15 W power adapter with a USB Type-A output, a USB Type-A/Type-C cable, a SIM eject tool and a set of documentation. Not bad, comparing with Samsung S, but there is a small nuance: the smartphone supports 25 W fast charging, while the standard adapter is obviously weaker. Not very pleasant, but perhaps better this way than without a charger at all.
Read also
But I can show the original protective silicone cases in two colors, which are sold separately. They are pleasant, the ports are wide, and the buttons are duplicated. True,  dust will stick to it, which is not so easy to remove later.
Samsung Galaxy A52 Silicone Cover
Design, materials and build quality
The design of the smartphone is fresh and it has something in common with the current flagship Samsung Galaxy S21 Ultra. But it looks simpler, of course. Last year, the similarities between the Galaxy S and Galaxy A devices were much more pronounced. This year flagships and mid-rangeers look different and rightly so.
The shape of the Samsung Galaxy A52 is more straightforward and, in a sense, more "rough" compared to its predecessor. The front panel is made in a similar way: at the top in the middle there is a neat notch of the front-facing camera with an additional edging in the form of a silver ring, due to which it looks more striking. But the bezels around the screen seem wider. At least the top and side margins seem wider than they were in the A51.
On the back side we see a large rectangular block with cameras and flash. It protrudes slightly above the body. It seems to merge with the entire back plate. But the layout of the modules, I repeat, is similar to that of the S21 Ultra. Three sensors with eyes of the same diameter with additional edging are arranged vertically in the first row. On the left there are smaller eyes, with another sensor and flash.
The matte finish of the rear panel should also be noted. The back is slightly rough, collects prints and stains, but they will not be noticeable. But the panel is made of plastic and with strong pressure you can feel how it bends. True, only if you press closer to the edges. But plastic is fine, nowadays it's not strange to see it even in more expensive models. Even the Galaxy S21 uses plastic, you can read about in the review from Eugenia Faber.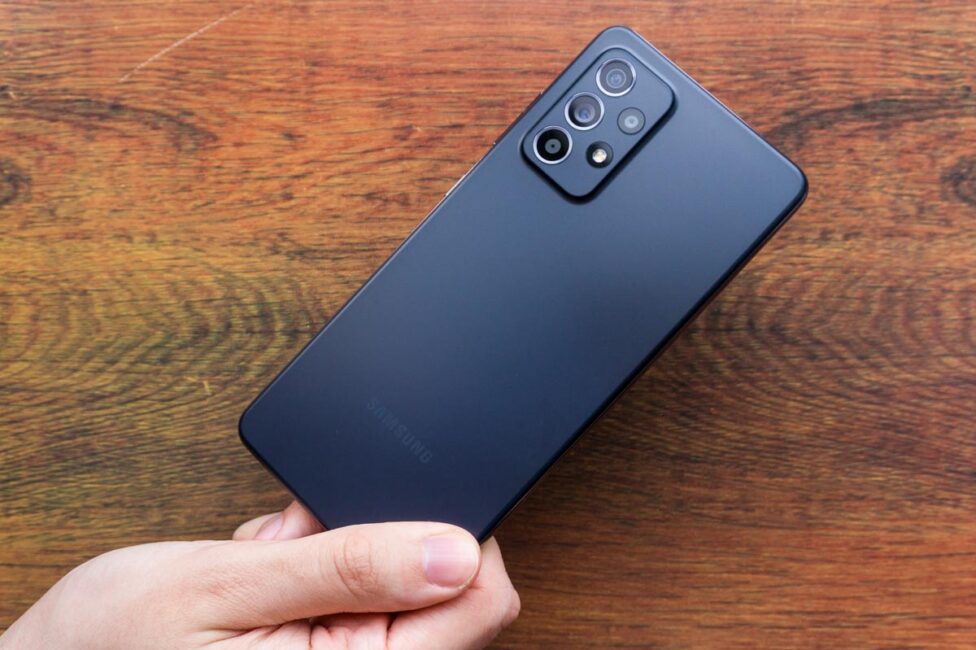 Our Samsung Galaxy A52 test device comes in black, but it's not as simple as it might seem at first glance. At certain angles, when less light falls on the panel, you can see an iridescent effect in the form of a kind of semicircle in dark blue. The body of the smartphone is also made of plastic, but it has a glossy finish. In our case, it imitates dark steel.
In addition to black, the smartphone comes in three other colors: blue, white and purple. And let me remind you that the lighter the color, the less it will get dirty.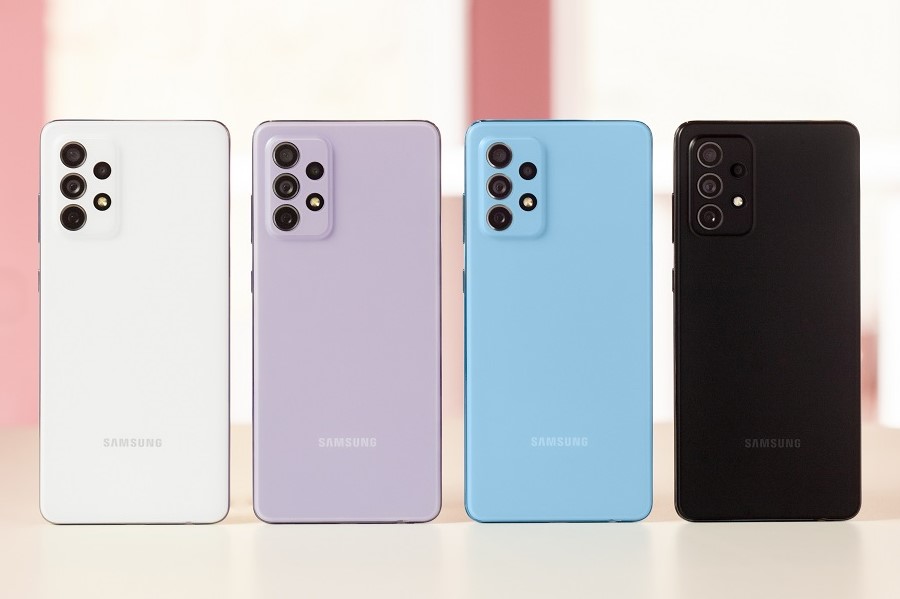 In front there's Corning Gorilla Glass 5, with a high-quality oleophobic coating. The smartphone has received protection from moisture and dust in accordance with the IP67 standard (immersion in water to a depth of 1 meter for 30 minutes). This is the first for a modern Samsung mid-ranger. Although, until 2019, some Galaxy A smartphones were equipped with IP67 or IP68 protection. Such a return to the roots is definitely a great advantage of the Galaxy A52 both over its competitors and over its predecessors. Consequently, the build quality is good, except for some squeaks.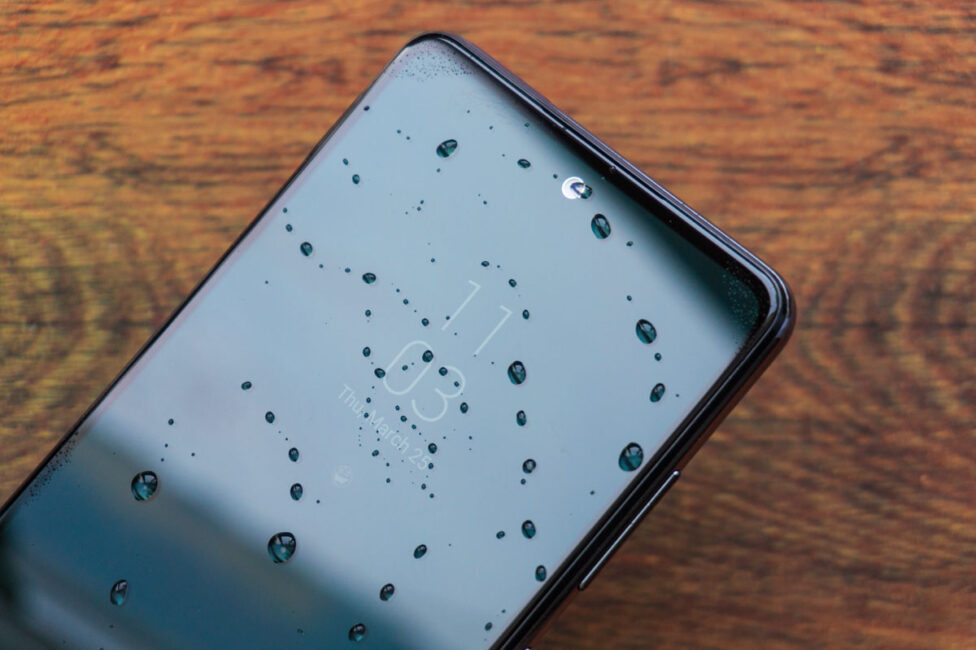 Read also:
The layout
The following elements are located in front: a camera, light and proximity sensors, an earpiece speaker and an additional speaker in the same place.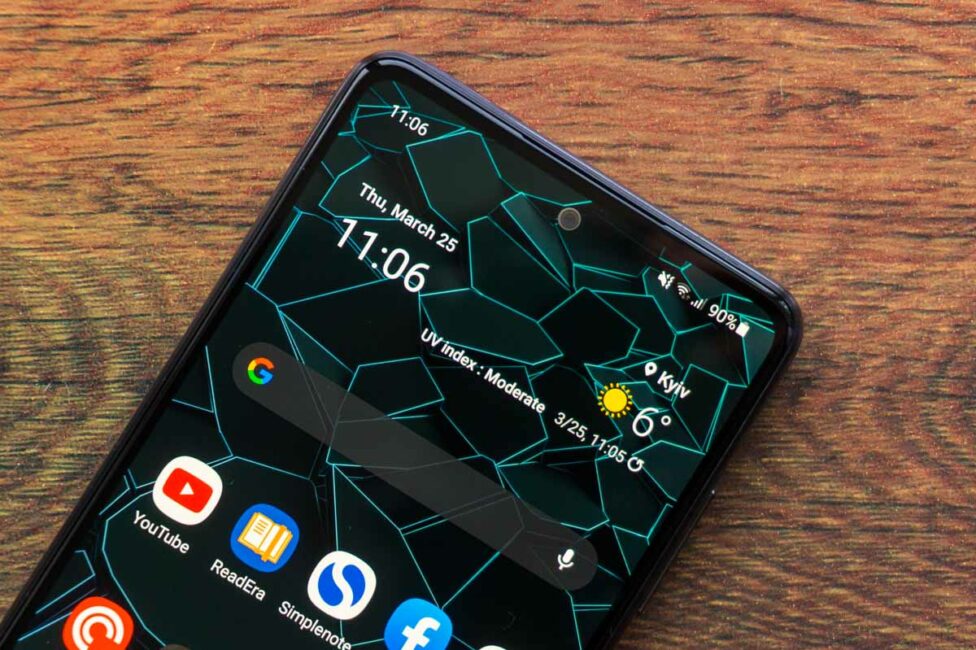 On the right side of the smartphone, you can find the power and volume keys, while the left side is empty.
Above there is a hole for an additional microphone and a combo slot, designed for either the simultaneous use of two SIM cards, or one SIM and a microSD memory card. Now, unfortunately, you won't be able to put three cards at once.
Below is the main multimedia speaker, USB Type-C port, main microphone and 3.5mm audio jack.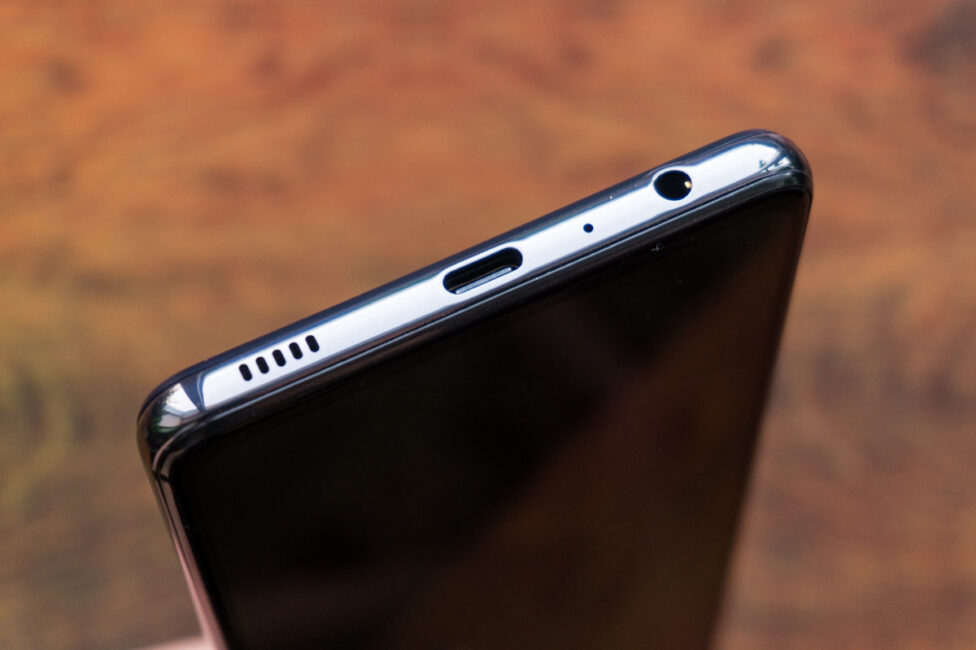 There is nothing on the back, except for the unit with cameras and the Samsung logo, plus the serial samples will have technical information, of course.
Ergonomics
Sadly, it's not as convenient to use as its predecessor. Despite the same display dimensions, the new smartphone is bigger in all respects. Its dimensions are 159.9 x 75.1 x 8.4 mm and it weighs 189 grams. That is, it is sometimes not comfortable to use it, especially with one hand. The Samsung Galaxy A52 is really large and you will definitely have to change the grip and use your other hand to reach some element at the top of the screen.
The buttons on the right side are located at a okay height, but I did not really like the position of the fingerprint scanner built into the screen – it is placed low. Yes, about the same as in the A51, but after the S21 series smartphones, you have to get used to it again. It would be nice if Samsung installed scanner platforms higher in mid-range devices.
Samsung Galaxy A52 display
The display of the smartphone also received a pleasant update. It is a 6.5-inch Super AMOLED matrix with FullHD+ resolution (2400×1080 pixels). The aspect ratio of the screen is 20:9, the pixel density is about 405 ppi, and the maximum brightness declared by the manufacturer can reach 800 nits. But the main feature of this screen is support for an increased refresh rate of 90 Hz. And the Galaxy A52, along with the A32 and the A72, is the first Samsung Galaxy A series smartphone with this feature.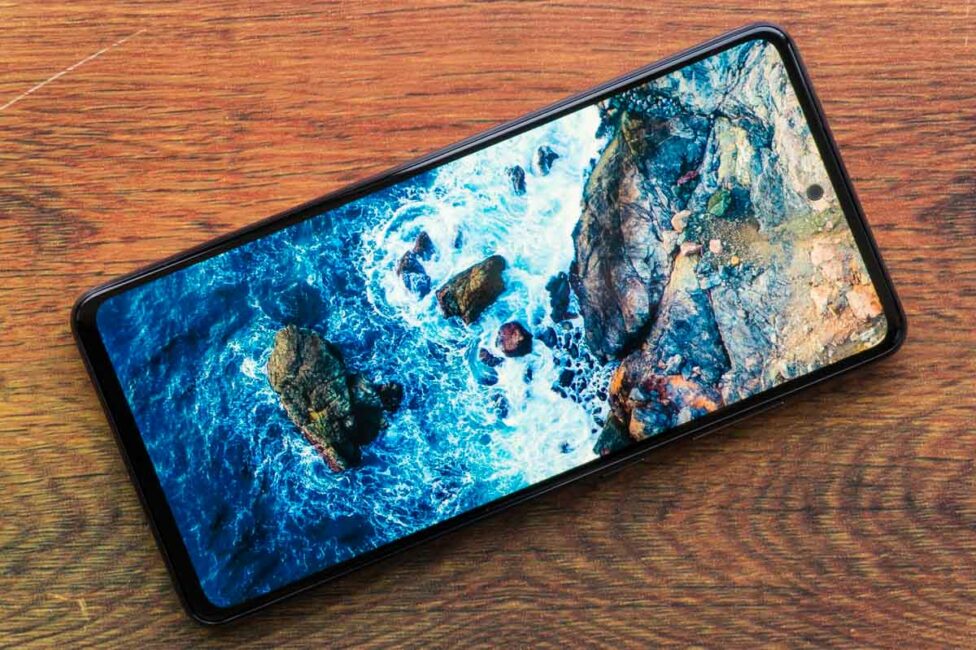 The display is definitely very good. After all, it is Super AMOLED by Samsung, which means that there are no problems with colors, contrast, or brightness. Color rendition, as usual, is customizable and the user himself can determine what colors he wants to see: saturated or natural. The viewing angles are traditionally good, but with typical green and pink tint in color at the edges of the screen.
The 90 Hz refresh rate is better than the classic 60 Hz. In addition, do not forget that Super AMOLED is rare for this price segment. Most often such devices use IPS screens, although now the situation is gradually changing and there are already smartphones with both Super AMOLED and 120 Hz. In any case, this is a nice feature and the difference in the smoothness of the interface between 60 and 90 Hz will definitely be visible. The increased frequency works in most apps, in the shell and even in some games.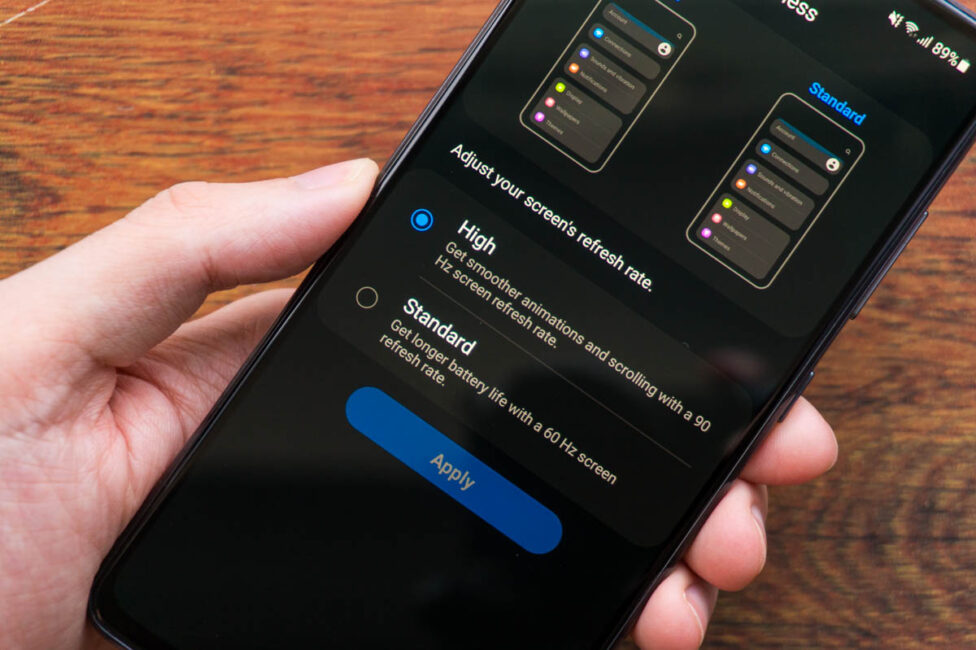 The display settings are quite familiar: light or dark theme, choice of refresh rate (60 or 90 Hz), eye comfort (reduction of blue color), color profile (rich or natural). There is a simplified desktop mode, Edge panels for quickly launching some apps, several ways of system navigation (gestures or buttons), as well as protection against accidental touches and increasing the sensitivity of the touch screen. There are also Always On Display settings.
Samsung Galaxy A52 - Display Settings
Samsung Galaxy A52 performance
This year, Samsung did not divide the middle Galaxy A52 and the top-end Galaxy A72 in terms of hardware, and it is identical for the smartphones. This is important because last year the A71 had a Qualcomm chipset while the A51 used Exynos. This time the phone is equipped with an 8-nm Qualcomm Snapdragon 720G chipset, which consists of 8 cores: 2 Kryo 465 Gold cores operate at a maximum clock speed of up to 2.3 GHz, and 6 Kryo 465 Silver cores with a clock speed of up to 1.8 GHz. Graphics processing is assigned to  Adreno 618.
Samsung Galaxy A52 - Benchmarks
The hardware is not the newest and is already well known from other smartphones. Its performance level is higher than that of the A51 and in some places even surpasses the A71 on the Snapdragon 730. Under load, the CPU practically does not lose in performance, which is also good compared to its predecessors, which lost about 15% of the maximum performance level.
But there are some issues with RAM. First, the smartphone can be equipped with 4, 6 or 8 GB of LPDDR4x RAM. But in some markets, only two options will be available: with 4 and 8 GB of RAM. And if the second variant is fine, then 4 GB in the database is already so-so. It's enough for a mid-ranger, but after all, the Samsung Galaxy A52 is hardly cheap and it would be wiser to equip the basic version with 6 GB.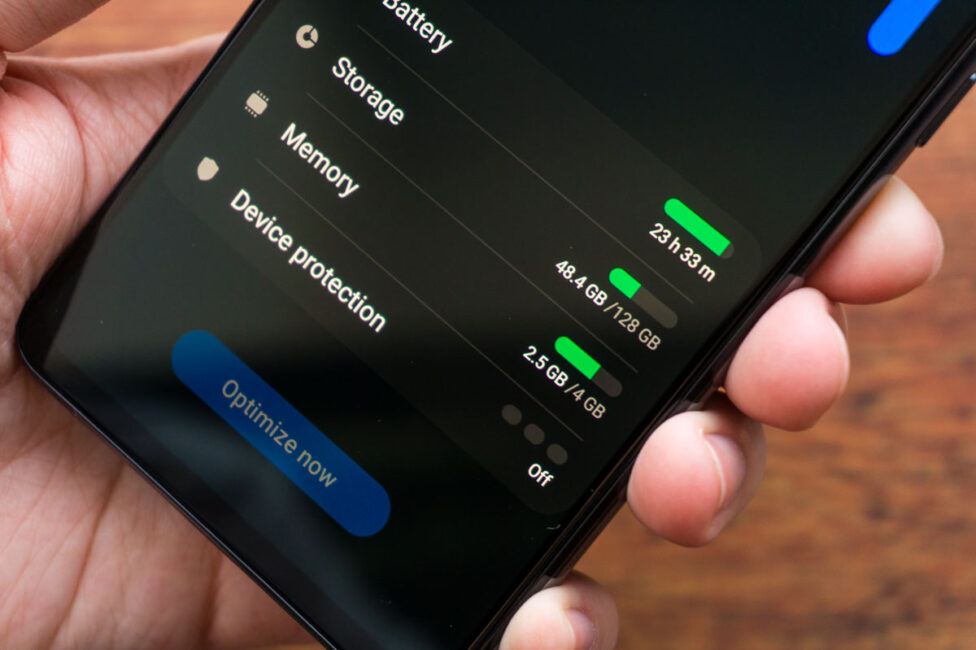 There can be either 128 or 256 GB of UFS 2.1 storage. My version for 128 GB, of which 106.45 GB is available to the user. Let me remind you that there is support for microSD memory cards up to 1 TB, but the slot is combined, and, as a result, you will have to choose one thing: either more storage, or a second SIM.
Speaking about the speed and smoothness of the smartphone, they are… fine. That's it. In some places, animations might jerk a little. Most likely, it will be fixed with updates, but so far things are not perfect. With games, the situation is as expected – the smartphone copes with all simple and heavy titles, but not always at maximum settings. Here's what the measurements taken with Gamebench show at the maximum settings available:
Call of Duty: Mobile – very high, all effects are enabled except for reflections, Battlefront mode ~ 54 FPS; Battle Royale ~ 38 FPS
PUBG Mobile – high graphics settings with anti-aliasing and shadows, ~ 30 FPS (limited by the game itself)
Shadowgun Legends (ultra graphics) ~ 50 FPS
Samsung Galaxy A52 cameras
The main camera block of the Samsung Galaxy A52 uses four modules, three of which do not differ in specifications from the modules installed in the Galaxy A51. Nevertheless, the main and most frequently used sensor has been seriously updated. The set of smartphone cameras is as follows:
Wide-angle module: 64 MP, f/1.8, 1/1.7′′, 0.8μm, PDAF, OIS, 26 mm
Ultra-wide-angle module: 12 MP, f/2.2, 1.12μm, 123 ̊
Macro: 5 MP, f/2.4
Depth sensor: 5 MP, f/2.4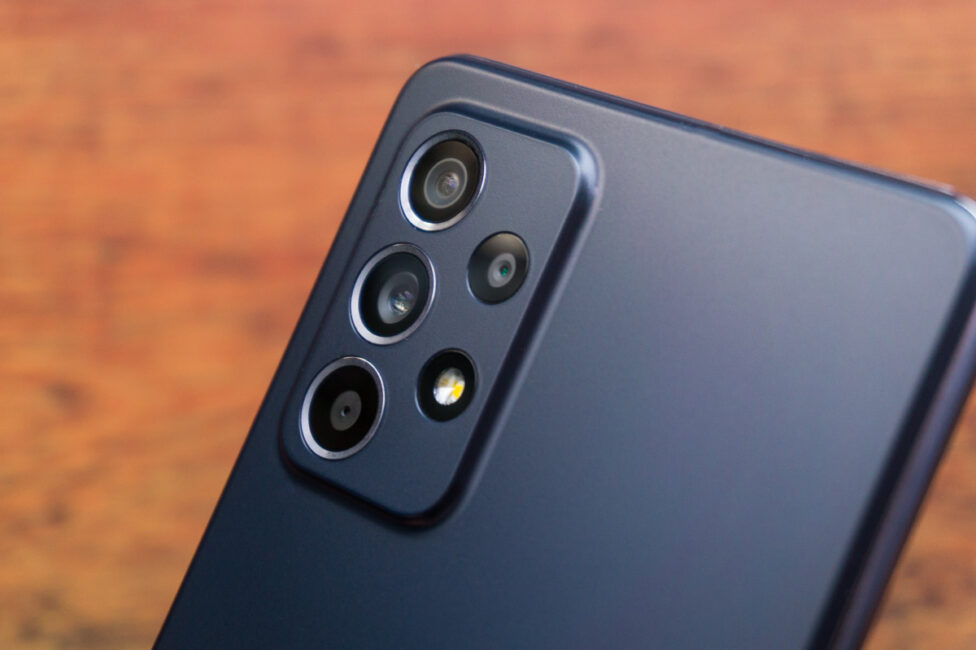 The main camera, in addition to the higher resolution, has acquired an optical stabilization system, which is definitely a rarity for a mid-budget smartphone. In general, during the day and in good lighting, this camera shoots quite well: the colors are natural, the detail is normal, although even so in the dark areas you can notice digital noise. With the deterioration of lighting conditions, a rather aggressive noise reduction turns on and all small details of the picture in this case get blurred. At night, it is advisable to use the night mode, since then the pictures will be brighter and clearer, and given the optical stabilization.
Samsung Galaxy A52 Photo Samples
EXAMPLES OF PHOTOS IN FULL RESOLUTION FROM THE MAIN CAMERAS
The ultra-wide module compared to the main camera is much simpler in terms of characteristics and, as expected, shoots significantly worse. These are not very detailed shots, weak dynamic range is noticeable, the edges are blurry and there are issues with automatic white balance. But the angle of 123˚, of course, does its job. In short, it can be used, but it is best with excellent ambient lighting, because it is poorly suited for other situations.
EXAMPLES OF PHOTOS FROM ULTRA WIDE ANGLE MODULE
There is a macro camera and you can play with it, but you need a lot of light. The resolution is not high enough and it is very easy to get a blurry frame. There is also no autofocus, it is fixed and in order for the object to be in sharpness the distance between the eye and the subject should be about 4 cm.
EXAMPLES OF PHOTOS IN FULL RESOLUTION FROM A MACRO CAMERA
You can shoot video with a wide and ultra-wide angle lens in UHD resolution (3840×2160) at 30 FPS, and interestingly, you can switch between the two cameras while recording. The video quality itself is decent. Again, optical stabilization helps out and we can say for sure that in this regard the new product turned out to be better than its predecessor. At the same time, it is possible to switch to Full HD with 60 FPS, but ultra-wide module is no longer able to shoot in this format – only 30 FPS in Full HD is supported.
The 32 megapixel front-facing camera (f/2.2, 1/2.8″, 0.8µm, 26mm) is generally no different from the Galaxy 51 selfie camera. It shoots just fine, and can record video at maximum resolution up to UHD and 30 FPS.
The camera app is quite familiar and contains many modes for both photo and video. There are manual options, panoramas, portraits, as well as slow-motion and fast-motion videos.
Samsung Galaxy A52 - Camera UI
Unlocking
As you already know, the fingerprint scanner in the smartphone is located under the screen and is rather low, so I will not repeat myself. But, unfortunately, this is not all its problem. The scanner here is of the standard optical type, but it's mediocre. Often it does not recognize the fingerprint the first time and you have to reapply your finger. What is even stranger is that the reading speed is unstable: sometimes it is fast, and sometimes it is slow. This does not mean that it is impossible to use it, just its instability spoils the impression.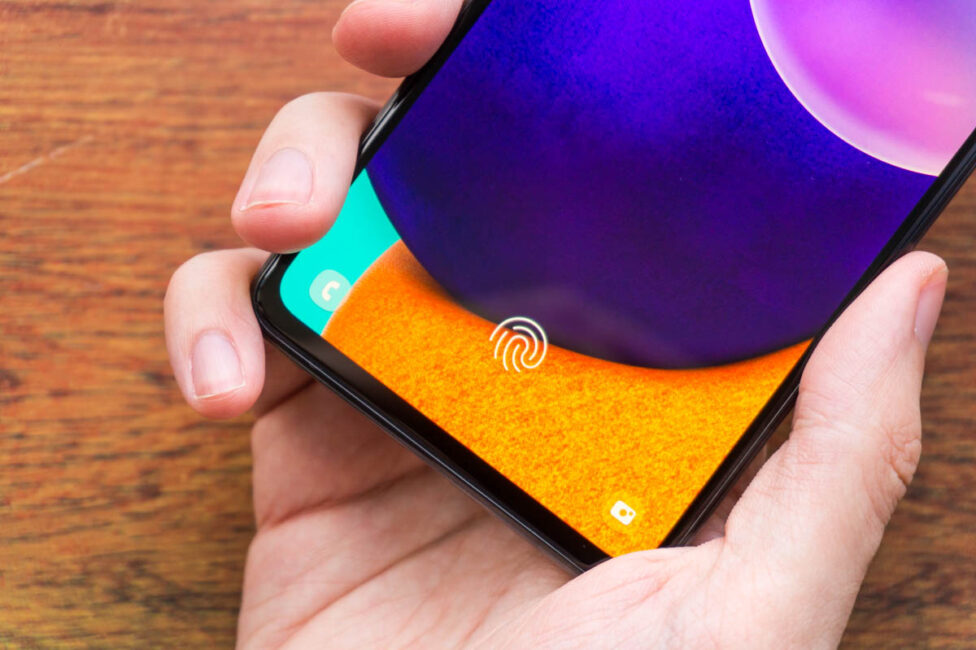 In total, you can register up to three fingerprints, and in the settings you can enable fingerprint reading when the screen is off, when to display a hint icon and turn off the unlocking animation.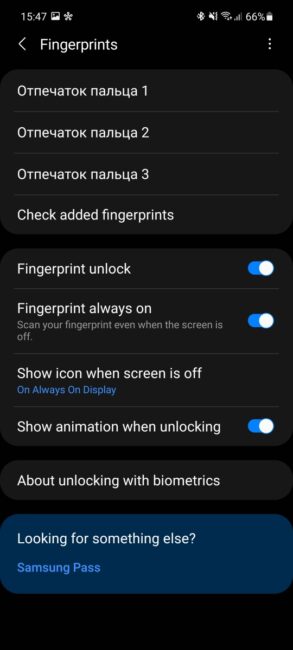 Unlocking by face recognition is also available, and unlike a fingerprint scanner, this method is very stable. But, alas, not as fast as we would like. And this is with the accelerated recognition option enabled. It is strange to observe this in a smartphone of a famous brand, when even mid-rangers of lesser-known manufacturers can be unlocked instantly. Naturally, we are talking about recognition in good lighting conditions. In complete darkness, the method will not work, but you can turn on the automatic increase in the brightness of the display.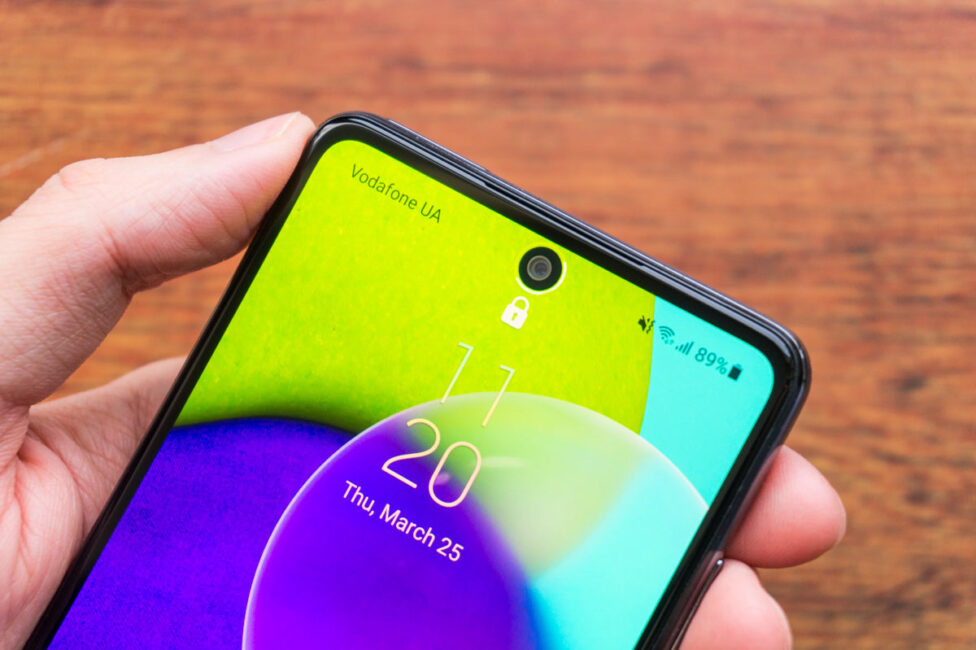 In addition, you can add an alternative view, prohibit unlocking with closed eyes and stay on the lock screen after successful recognition.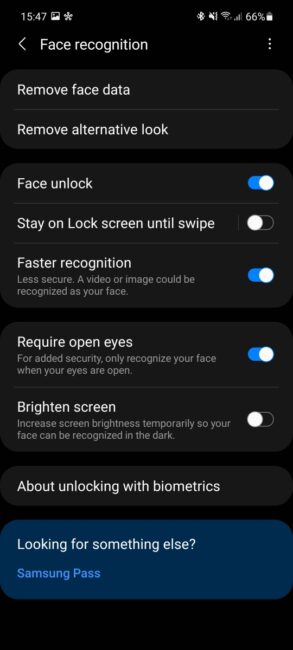 Samsung Galaxy A52 battery life
The capacity of the built-in battery in the new product has grown from 4,000 to 4,500 mAh, which, of course, has a positive effect on the overall operating time of the device. However, I would not say that the difference compared to the Galaxy A51 is big.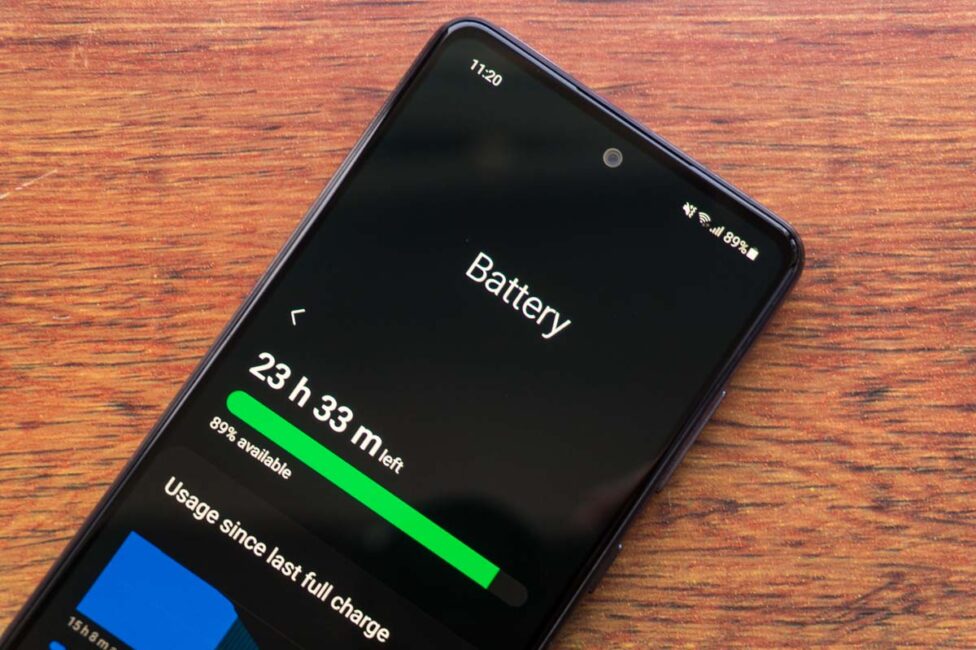 The smartphone is stable enough for a full day of use with about 7-8 hours of active screen on average. And this is with the Always On Display enabled from 8:00 to 20:00. If you use it not actively, then it easily holds for two days without recharging. The battery test from the PCMark benchmark showed a result of 8 hours and 3 minutes at maximum display brightness – that's a lot.
Read also:
Sound and communication
Another cool smartphone innovation is stereo sound. Now this is not only a feature of the flagship models, but also of mid-rangers like the Galaxy A52. The implementation of stereo is familiar: the earpiece plays along with the main multimedia speaker. The latter also copes well with its main task, and therefore the interlocutor is heard very well. As for the reproduction of music, then in this regard, too, everything is pretty decent.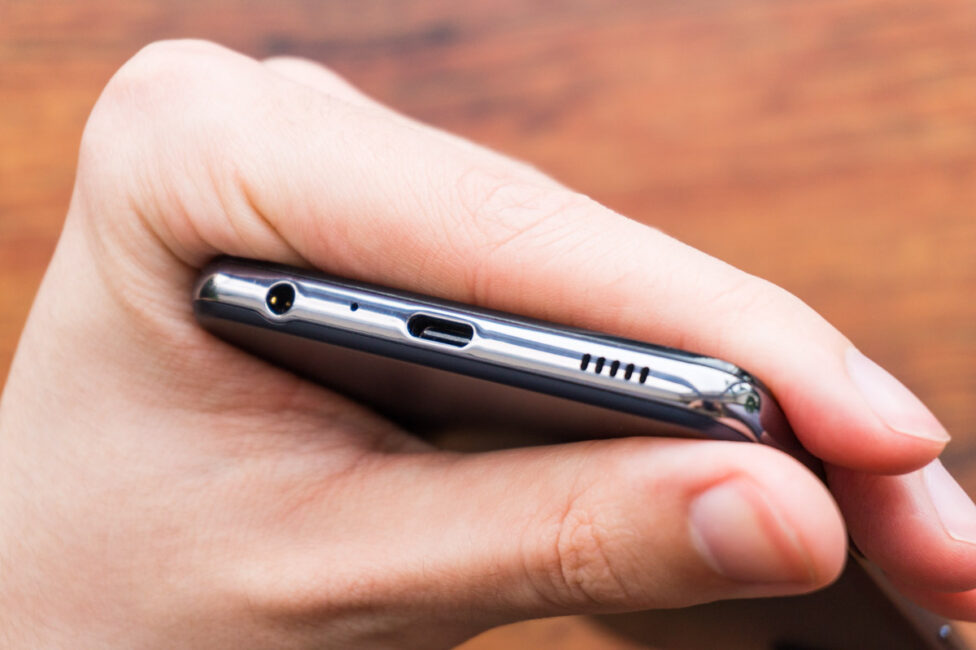 The stereo sound itself is in every way better than the usual mono sound in terms of positional audio. Secondly, the quality of these speakers is quite good. But I recommend enabling Dolby Atmos, because without it, the sound will still be a little flat. It is clear that the lower speaker is a little louder than the upper one, but there is no discomfort in general, as well as serious distortions at the maximum volume level. Good speakers, but not the level of top flagships, of course.
The above effects work for both speakers and headphones with any type of connection (wired and wireless). There's also Dolby Atmos for gaming, a custom EQ and UHQ upscaler. True, the latter, as always, is available only for wired headphones.
Read also: Samsung Galaxy Buds Pro review: TWS earbuds with unique features and a couple of compromises
Everything you need is there: Wi-Fi 5 with dual-band support, Bluetooth 5.0 (A2DP, LE), GPS (A-GPS, GLONASS, BDS, GALILEO) and an NFC module. The classic Galaxy A52 does not support 5G networks, but there is a Galaxy A52 5G on a different chip that supports 5G networks.
Firmware and software
The software is represented by the Android 11 OS with the proprietary One UI 3.1 shell. It's comfortable, customizable and functional, and more details can be found in the Galaxy S21 Ultra review. There are practically no differences in the software.
Samsung Galaxy A52 - OneUI 3.1
Verdict
The Samsung Galaxy A52 is a great update to last year's Galaxy A51 with a number of great innovations. The model has IP67 moisture protection, a 90 Hz screen, a large storage volume, optical stabilization of the main camera and stereo sound. There are a lot of changes and it is very pleasing that features of more expensive models are coming to the middle segment.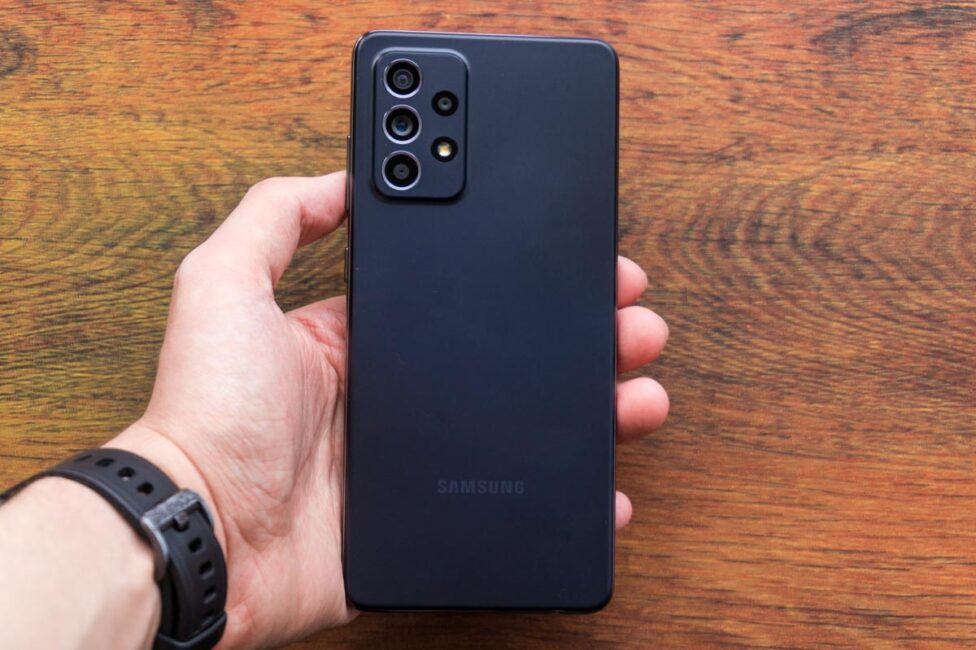 At the same time, the unlocking remains a problem, and for some reason, a separate slot for an SD card has disappeared. If these moments are not critical for you, then Samsung Galaxy A52 will be a good choice.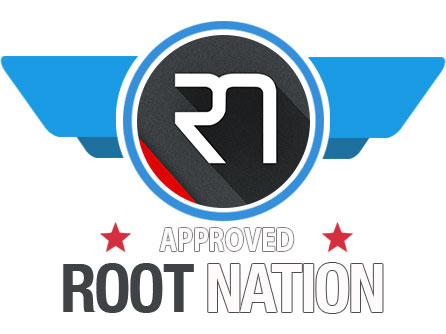 Subscribe to our accounts: