Today we take a look at the new Samsung Galaxy Z Fold2 – a smartphone (or tablet?) that you are most likely not going to buy. But the fact that you want to read about it says a lot. Undoubtedly, the topic of foldable smartphones is of interest to anyone who is interested in mobile tech. And who knows, maybe after reading the review you will even think about buying this unusual device.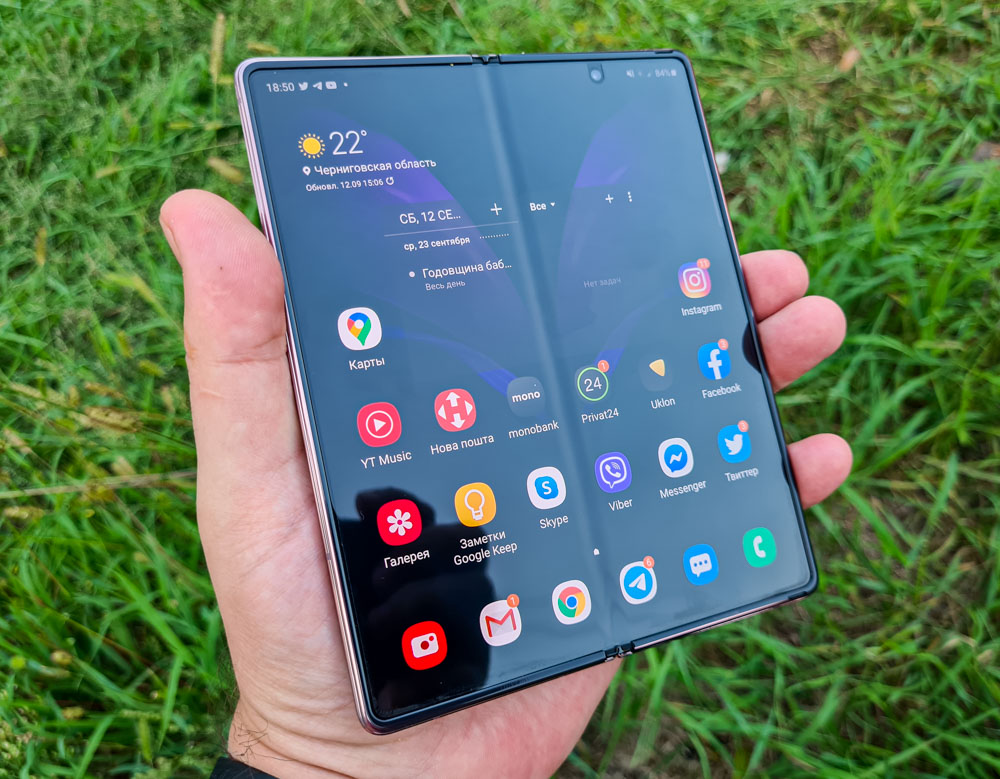 Why would you want a folding smartphone?
I understand you perfectly, because I am the same. I am fond of mobile technologies and I am interested in everything that is at the forefront of progress. And you must admit that there has been a lack of innovation in this market lately. The progress has been sluggish, because all the innovations can be described mainly in numbers. While smartphone performance is improving at an insane rate, the process is more like running on the spot, constantly accelerating. But somewhere there must be a point when quantitative changes turn into qualitative ones. And foldable devices are now probably the most significant innovation after the advent of bezel-less phones a couple of years ago. In fact, we are witnessing the emergence of a new format for mobile devices.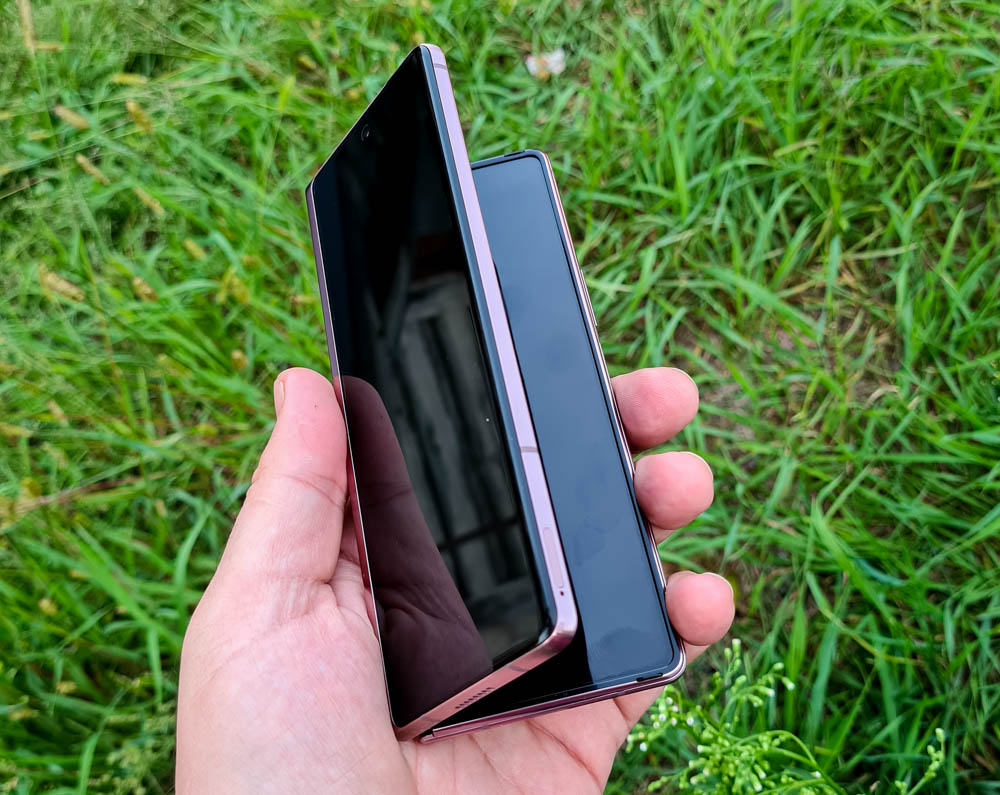 To what extent this format is generally in demand, who needs it and why I will try to find out. First of all – for myself. After all, at first I had a purely academic interest in the Galaxy Z Fold2 and had absolutely no idea why would I need it. Has my attitude towards the folding smartphone changed? Let's find out.
How I Became a Smartphonebender
A little personal background. It's not that I haven't come across foldable smartphones at all until now. I managed to try the first version at the official presentation. But to be honest, I didn't understand it much, because a quick acquaintance cannot be compared with the long experience of using the Fold2 as the main device. Next up was the Galaxy Z Flip, which I tested for quite some time and even wrote a review of it. I generally liked this smartphone, but I didn't want it. For, in addition to the cool factor, it just didn't seem all that functional. It was mostly like a regular smartphone. Yes, it folds and becomes smaller, but at the same time it is noticeably thicker and it is not very convenient to carry it in your pocket. It's cool, fashionable, innovative. But for what? Surely this format will have a lot of fans, because it revives the proven clamshell phone format. But once again I realized that it is not for me.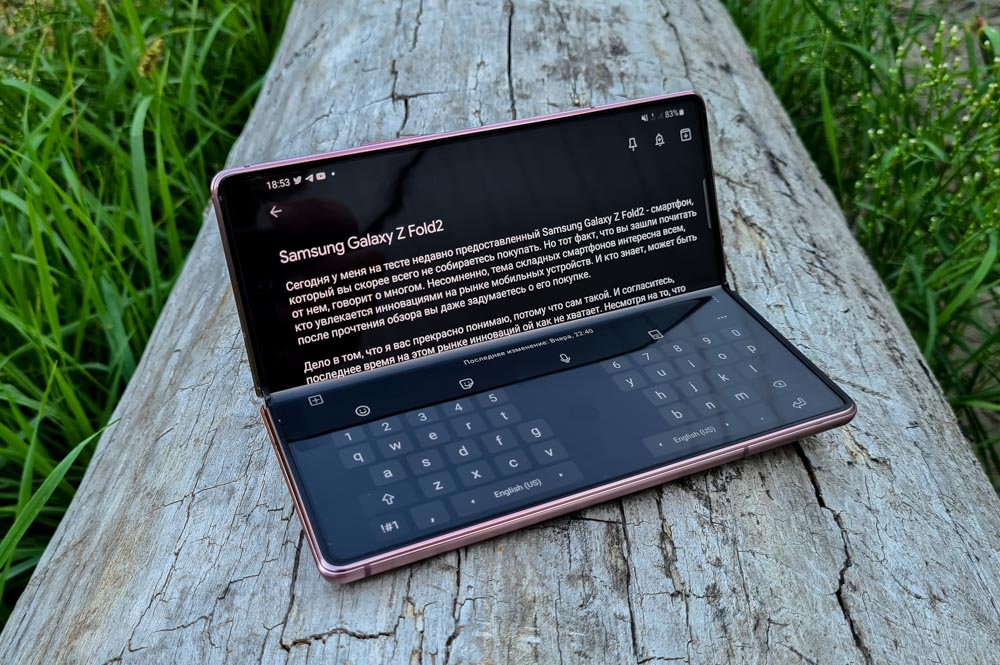 Looking ahead, I will say that for all the conceptual and constructive similarity, the Galaxy Z Fold2 is completely different, since it provided me with an unprecedented user experience. I warn you that in this review I will not focus on numbers. Because you can study the characteristics of a smartphone anywhere. For example here. But I'll tell you about the experience in detail. During testing, I came up with different use cases and tried to test them in order to understand what a similar smartphone format is capable of. This will be the focus of my story.
Positioning and Price
Most innovative means most expensive. Yes, 2,000 euros means the phone won't become a bestseller. But remember how bezel-less smartphones first conquered the flagship segment and in a few years the technology reached the most inexpensive segment. Something similar will hopefully happen with folding smartphones. But, most likely, not as fast as we would like. Although the price will go down anyway when Chinese brands take over. Yes, Huawei (Mate Xs) has an rival of the Galaxy Z Fold2, but it costs even more. Surely soon Xiaomi and Oppo will enter the game.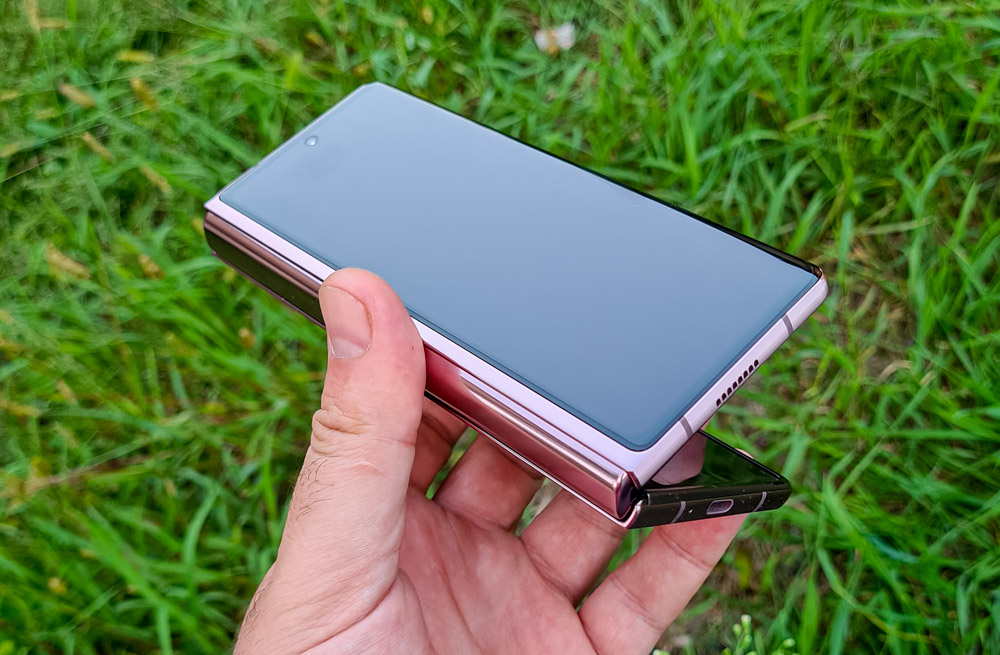 However, those who want to innovate now have to pay the price of two flagship smartphones. But if you think about it, the Samsung Galaxy Z Fold2 is definitely a flagship and is very similar to two smartphones connected to each other. In fact, it performs the functions of three devices – a smartphone, a tablet and a miniature laptop. In such a scenario, the price of the gadget no longer seems all that unreasonable.
Where to buy Samsung Galaxy Z Fold2:
Samsung Online US Store
Samsung Online UK Store
What's in the box
As always, I have an test sample. And such devices are usually provided without a box at all. But Samsung made an exception this time. In addition to the gadget, I found in the box a proprietary fast charging adapter, a USB-C cable, a wired AKG in-ear headphones (like the ones that come with all the company's flagships now) and a SIM card eject tool.
Design, materials, build quality
Samsung Galaxy Z Fold2 exudes premium quality, especially in the trendy copper color. Actually, there is nothing unusual in the design, this is a typical Samsung device.
Weighty and solid smartphone is completely made of metal and glass. Different types of finishes are used: the polished metal of the hinge and frames around the displays goes well with the imitation of rough grinding on the edges and a matte glass backplate (I hope this is not some kind of polycarbonate).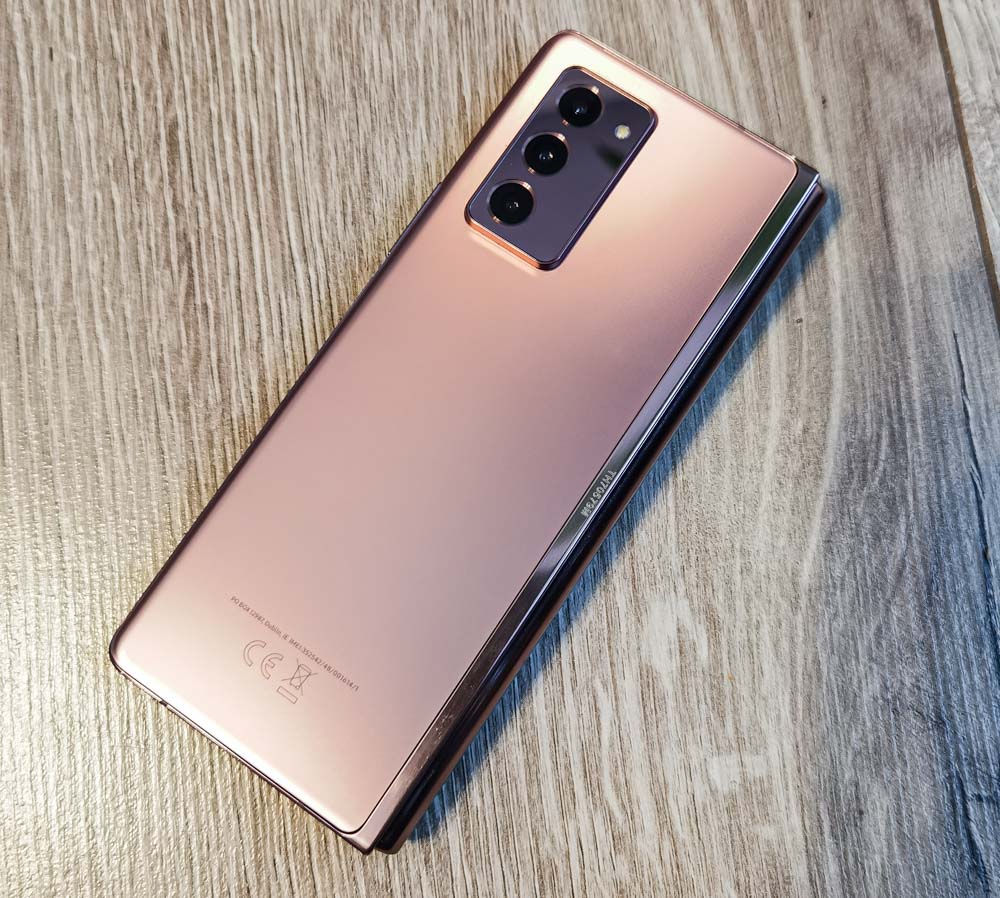 But in general, you can imagine two Galaxy Note20 connected by a swivel joint. Which in itself is unusual and guaranteed to attract everyone's attention to the smartphone. If you want to stand out from the grey mass, there is simply no better solution.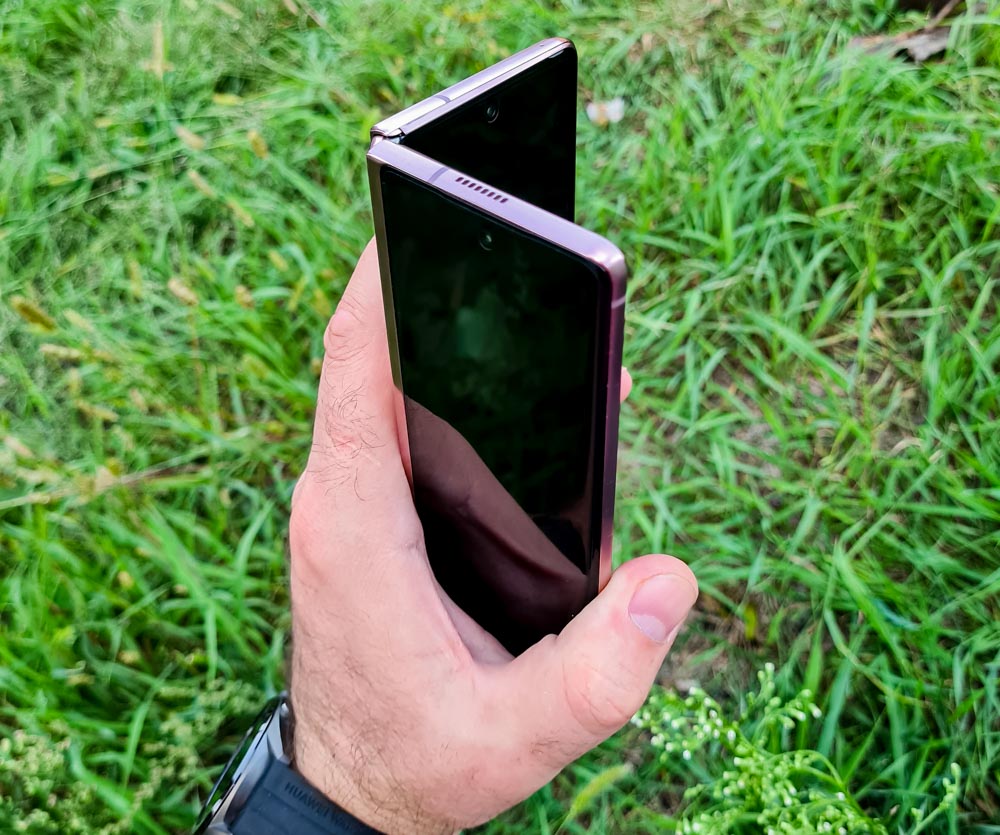 I haven't got the slightest complaints about the build quality, and it would be strange it it were otherwise – well, for that kind of money. The construction is incredibly strong and tough. If necessary, you can use the Galaxy Z Fold2 as a brass knuckle or a mallet for 2,000 euros, since there is a feeling that it can incapacitate any attacker willing to steal a flashy smartphone.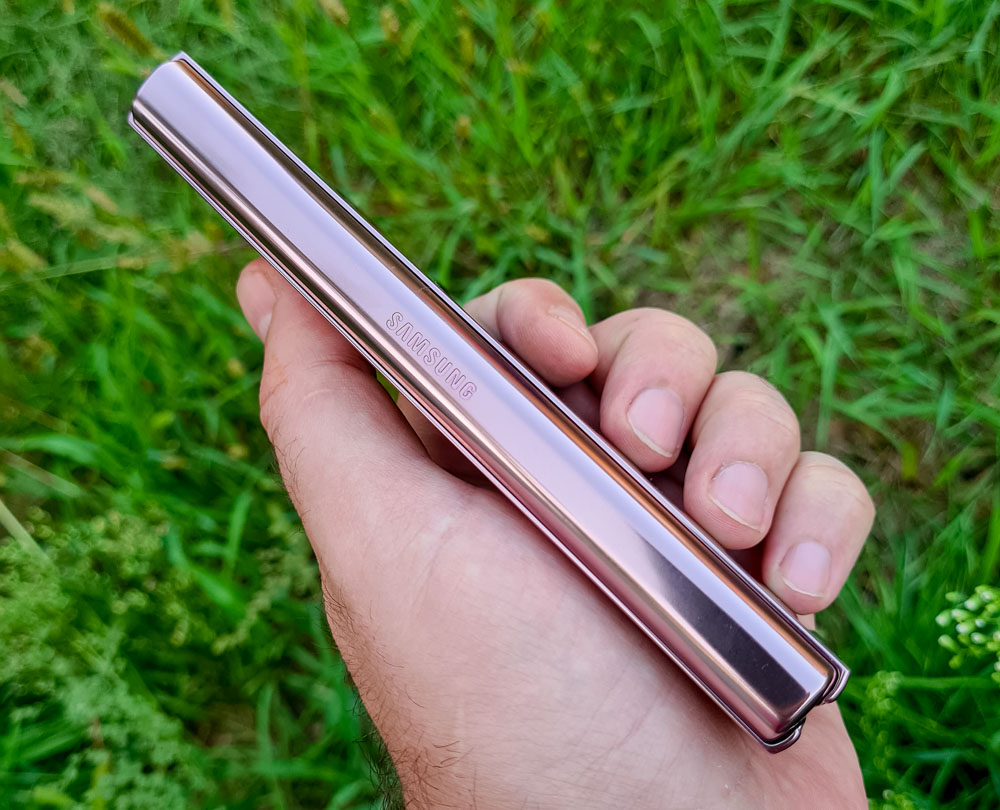 Elements configuration
Let's start inspecting the device in the folded state. In front is an unusually elongated display with small bezels and a rather wide metal frame on the left.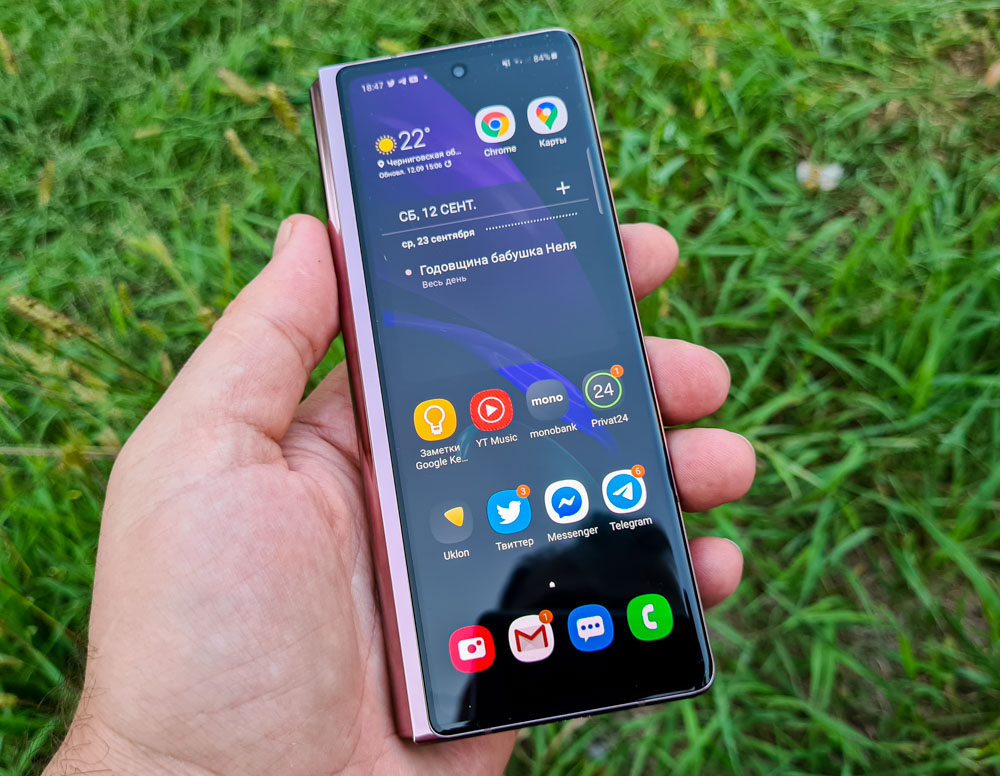 The first Infinity-O front camera is cut into it at the top center. And even higher is the microscopic slit of the earpiece speaker, which can only be seen through a magnifying glass. Also, somewhere here there are light and proximity sensors.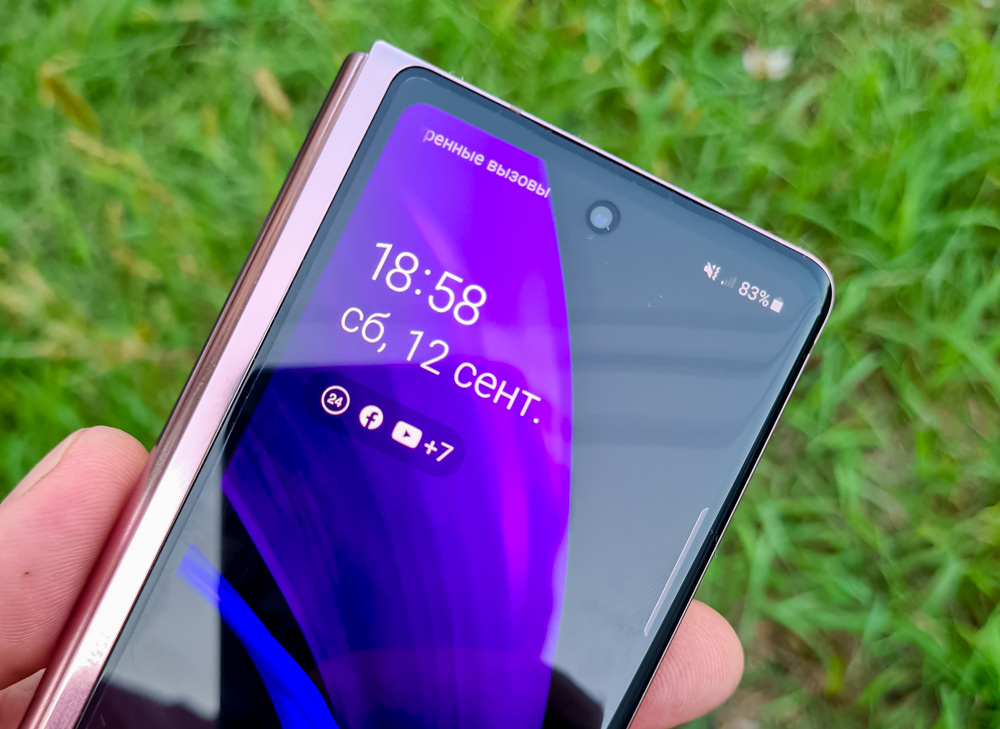 At the back on the left is a block of three cameras with flash. Very similar to that of the Galaxy Note20, only without the microphone hole. Service information is at the very bottom.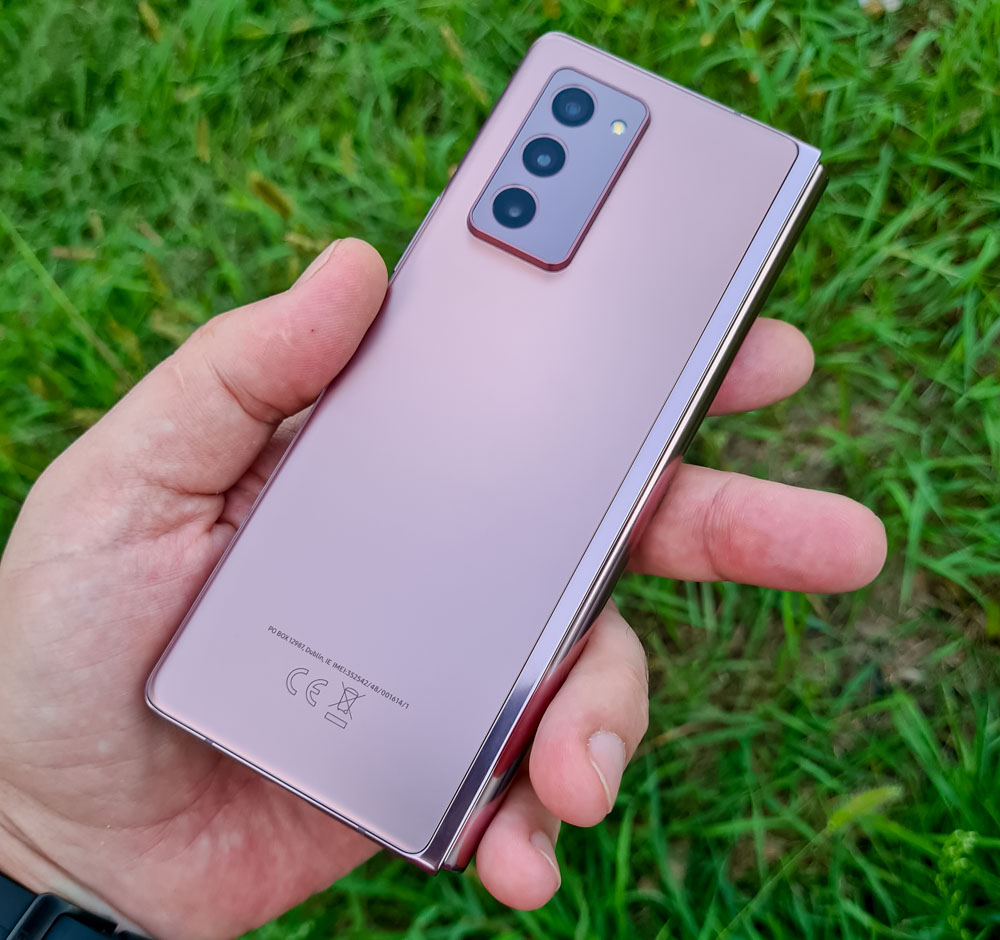 Below, on the back half, there is a USB-C port and a microphone hole. And on the front is the grill of the first main speaker.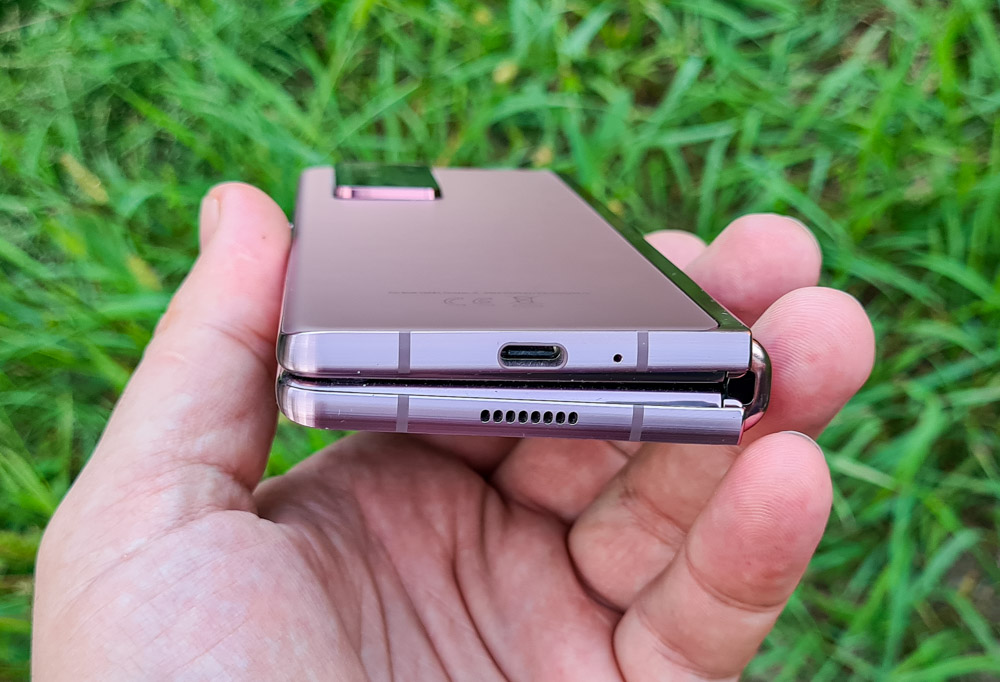 Above is another microphone and speaker.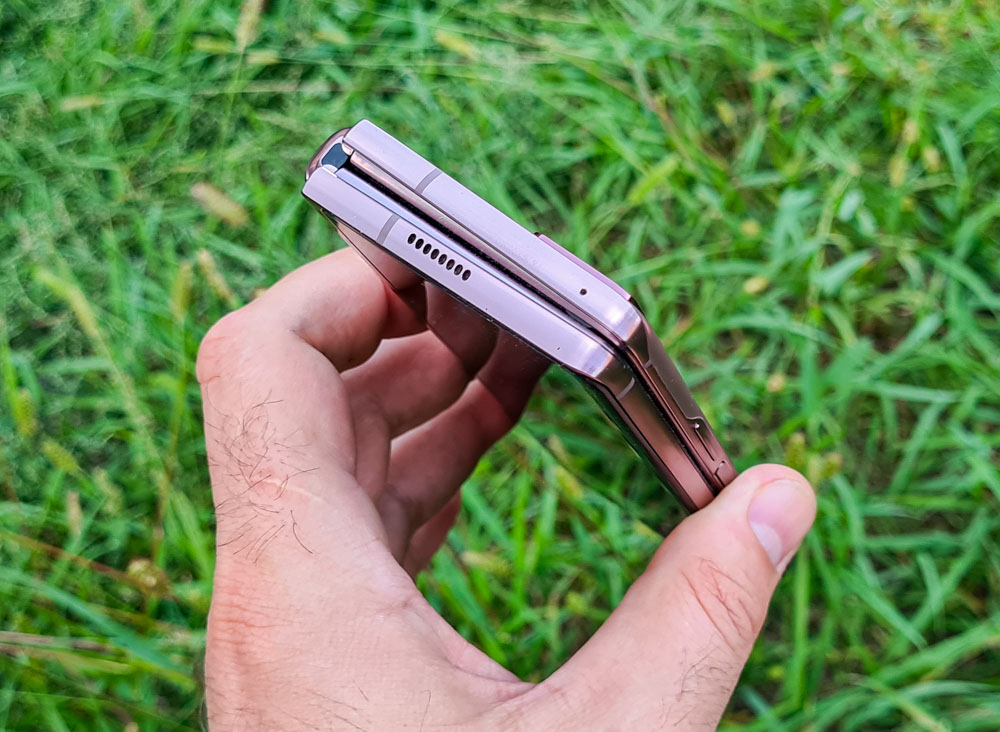 On the left is a massive hinge with the manufacturer's logo.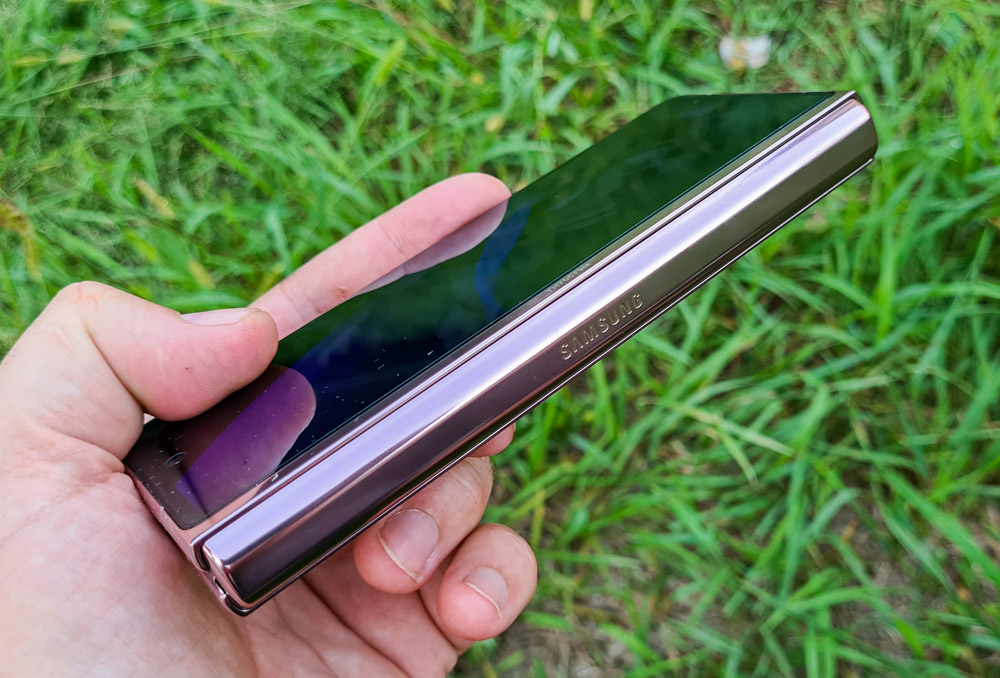 On the right side of the back half is a thin volume key and a slightly recessed power button with a built-in fingerprint scanner. And on the front half at the bottom there is a slot that accepts only one SIM card in nano format.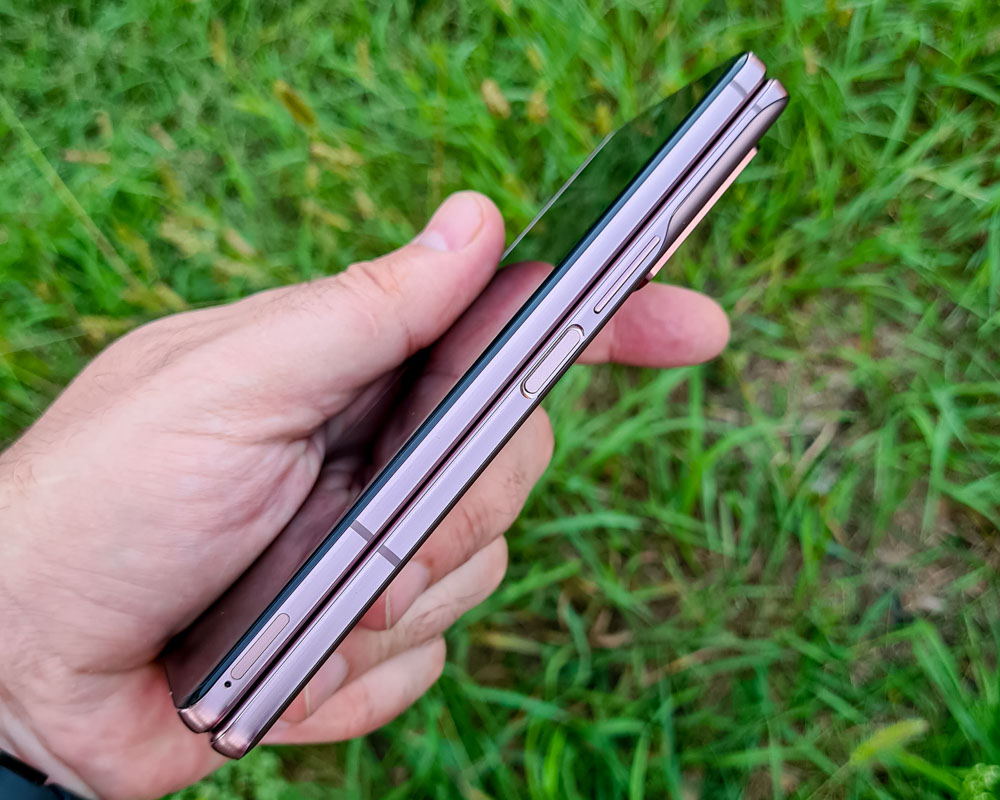 Let's open the smartphone and turn it into a tablet.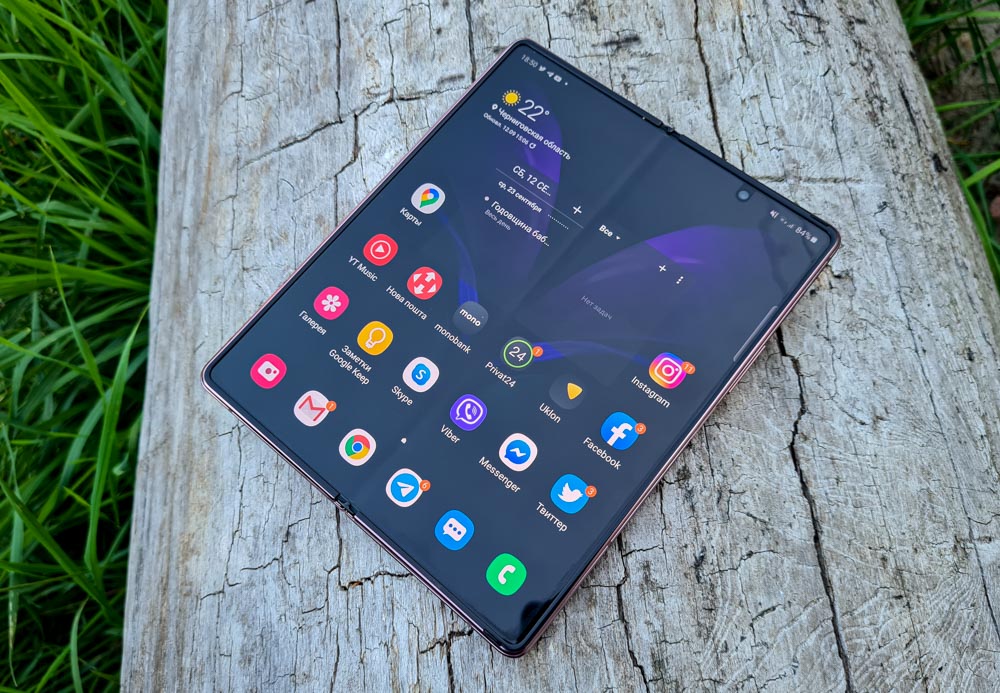 In front of us is a large internal display.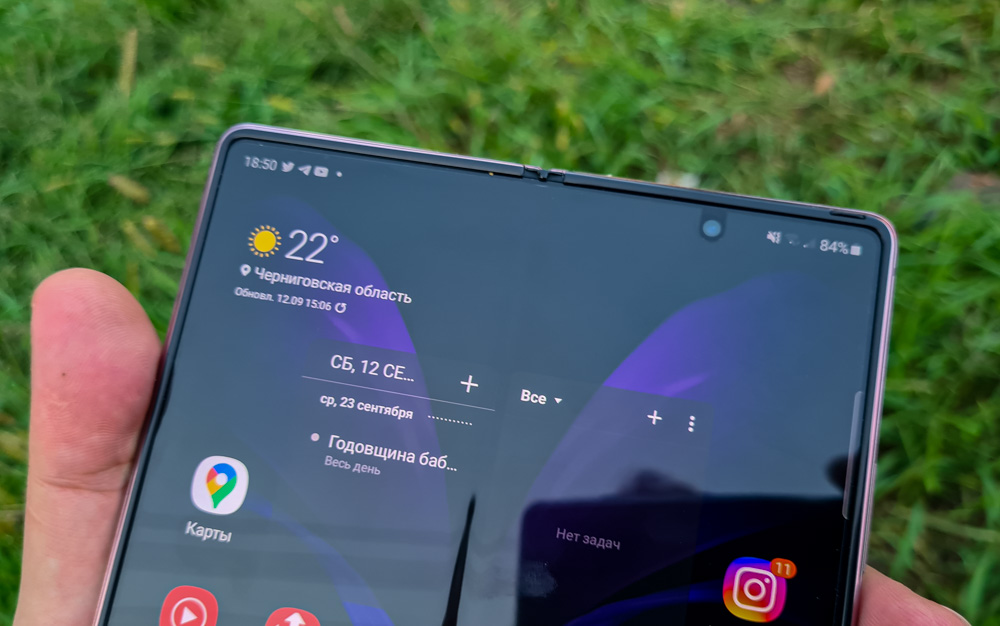 The bezels are quite thin. The screen itself is slightly recessed into the body. On the right side, you can see several rubber bumpers that protect the halves of the screen from hitting each other when folded.
Ergonomics and dual-screen operation
Since the Galaxy Z Fold2 is a hybrid device, it can be used in several ways. The two most obvious are the smartphone folded and the tablet unfolded. But there are still a lot of options due to the fact that when you unfold the gadget, the inner screen can be fixed at any angle. I'll tell you about all the options in more detail.
Smartphone mode
Actually, from the unusual here, we can note the non-standard 25:9 screen aspect ratio. And also, the smartphone is 2 times thicker than usual.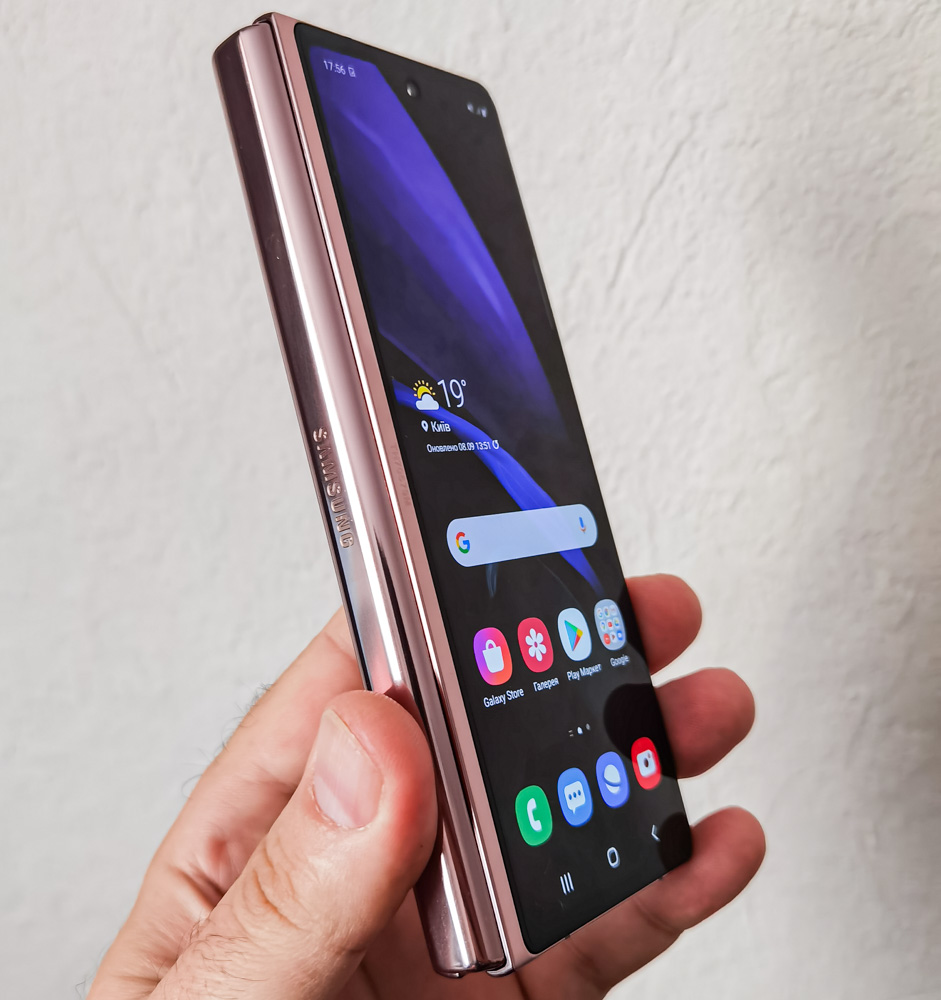 The main purpose of the external screen for phone calls or the role of the viewfinder when shooting with cameras without folding it into tablet mode. You can use the Fold2 folded like a regular smartphone on the go and with one hand. The increased thickness does not interfere, but even helps, since it improves the grip.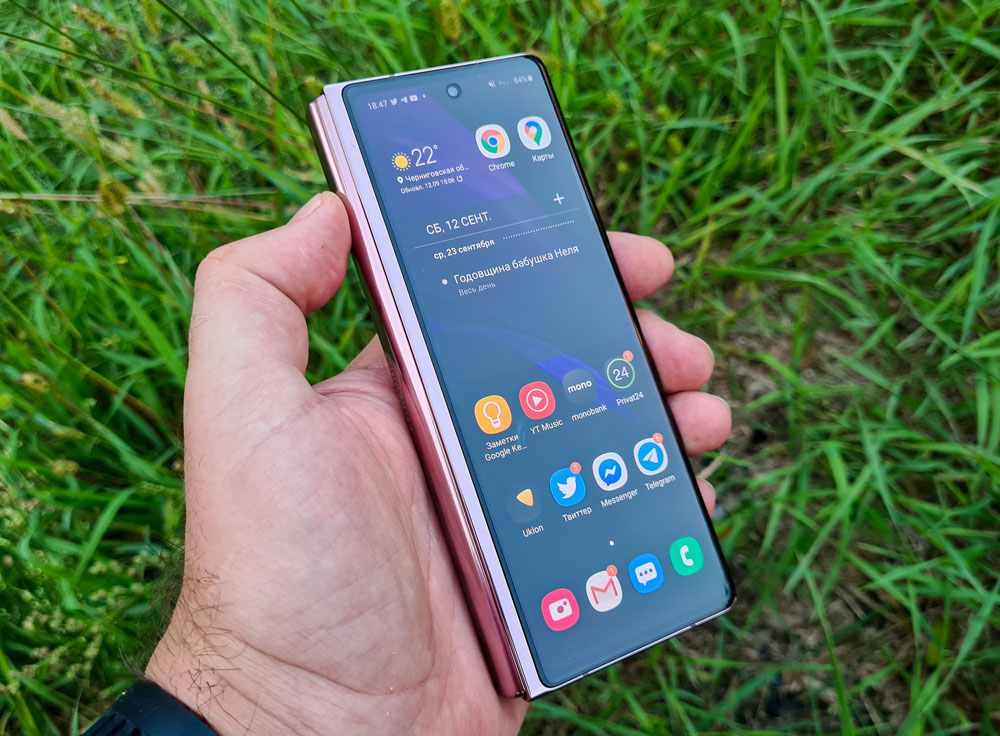 The enlarged screen is convenient for viewing long lists, such as social media feeds and messenger chats. But by default, the content on it seemed to me too small, so I had to increase the font size in the settings. But if you are younger and have sharper eyesight, you may be able to use the default settings.
In general, when folded, the experience of using the Fold2 does not differ much from a regular smartphone, except with certain unusual features that you quickly get used to. As for the reach of the scanner in the power button and volume key, everything is fine with this point. It is quite possible to use the smartphone with one hand, especially if you activate gesture control.
Tablet mode
When unfolded, the smartphone turns into an unusual relatively thin tablet with an almost square screen. However, you can still hold it with one hand in portrait orientation. But you can also hold the tablet like a smartphone, supporting it with your little finger from below.
You should be prepared to use both hands to control the device in tablet mode. Especially when flipped to landscape orientation. Although, personally, I still have enough fingers to hold it with one hand in the reading mode or watching a video, but whether everyone will succeed in this, I cannot vouch. It is clear that for games or typing you need two hands.
Micro laptop mode
This is a very controversial use case and it is related to the main feature of the device interface – in landscape position, the keyboard area and the input field are located exactly on the bottom half of the screen, and the content area is on the top.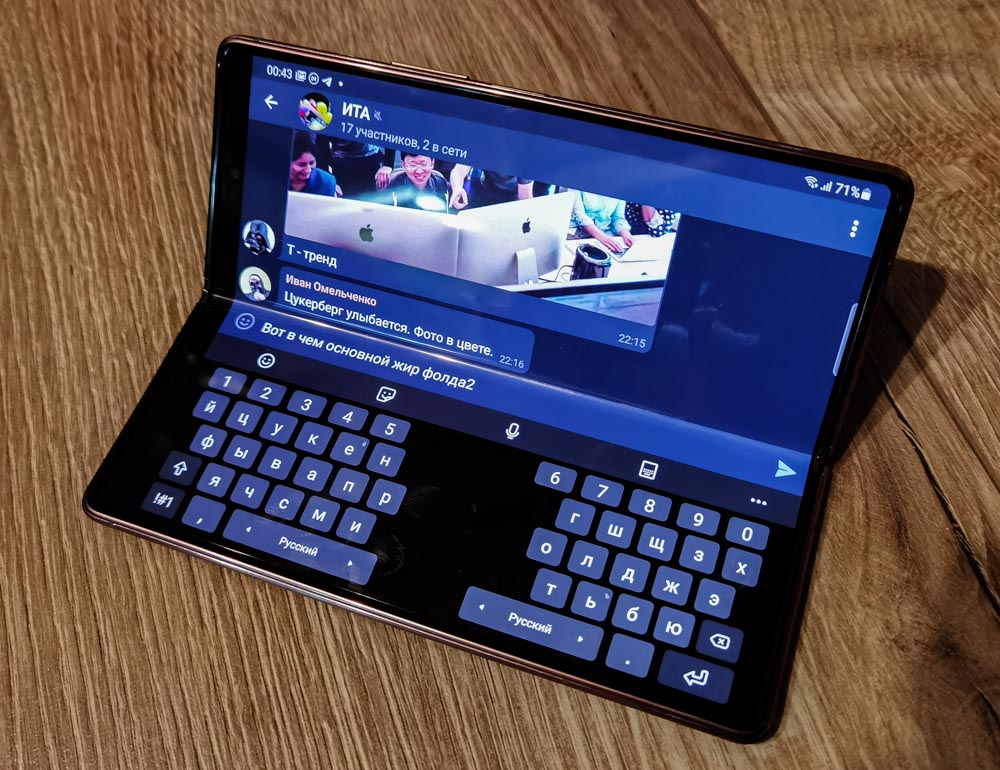 In fact, you can fix the Galaxy Z Fold2 in a bent position and even use it on a desk like a miniature laptop with a touch keyboard for typing. With the proper skill, after a little getting used to it, you can type quickly enough.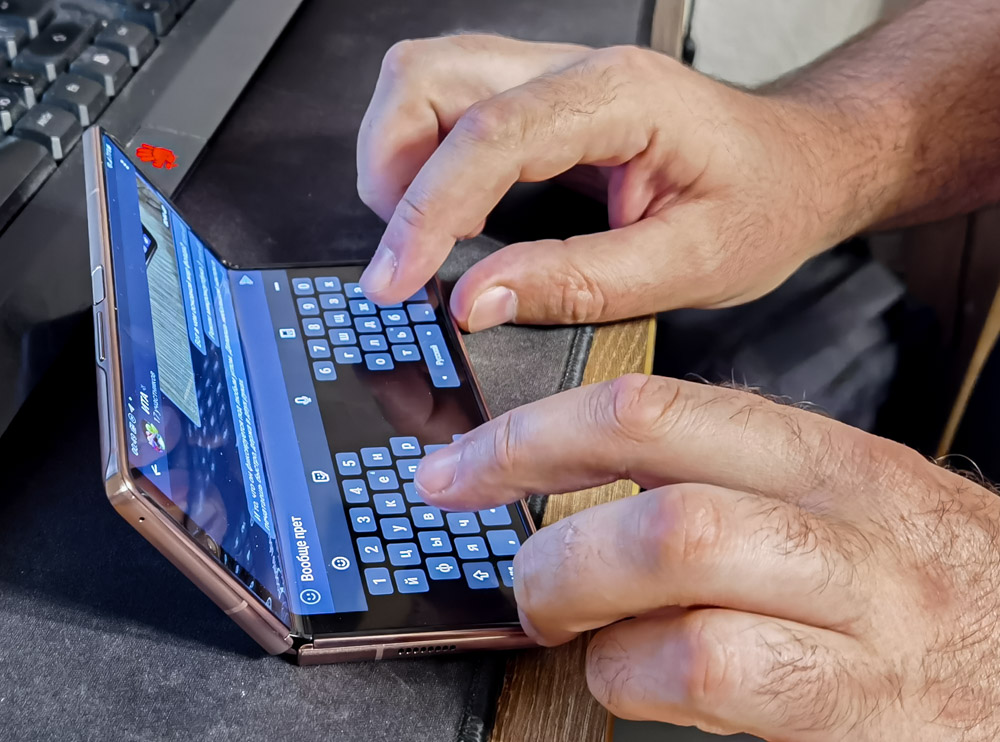 The convenience of typing in this position is a rather controversial point. But it is possible, which means this mode has the right to exist. Although, on a regular smartphone with keyboard with continuous input I still type faster. But I notice that people generally do not know this technique and often tap on the keyboard, and often with two fingers. In this case, the micro laptop mode may seem like a logical step.
Communicator mode
This mode is a lot like the previous one. Here we are bending the internal screen of the device at any angle and leave the virtual keyboard at the bottom of the display.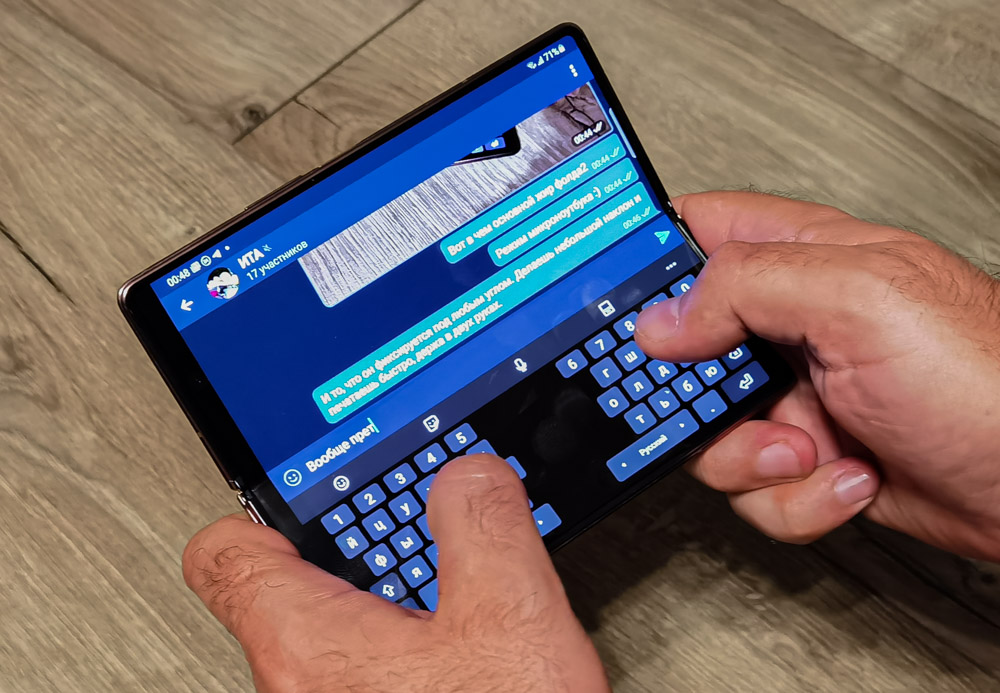 We take the device in landscape orientation, bring up the keyboard and slightly bend the screen so that the upper half is located at a comfortable viewing angle. We type the text with two fingers, while holding the Galaxy Z Fold2 with both hands. It reminds me of old communicators with a physical keyboard below the screen. It's very similar, but cooler in that the screen with text or chat can be turned towards you at any convenient angle.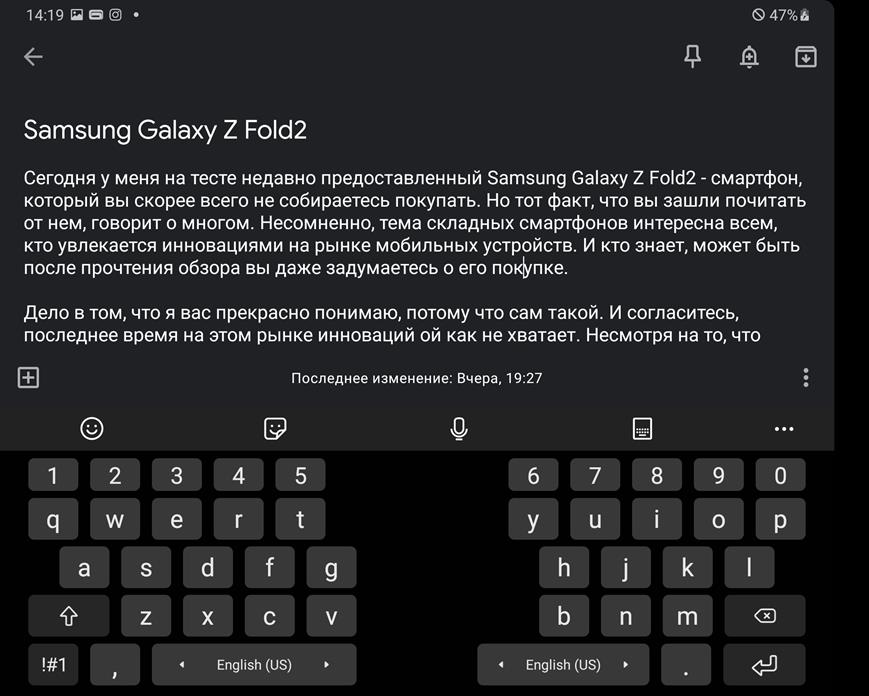 Optional tripod mode
This feature of the Galaxy Z Fold2 has very real uses. You can place your smartphone vertically on any surface. Something like this: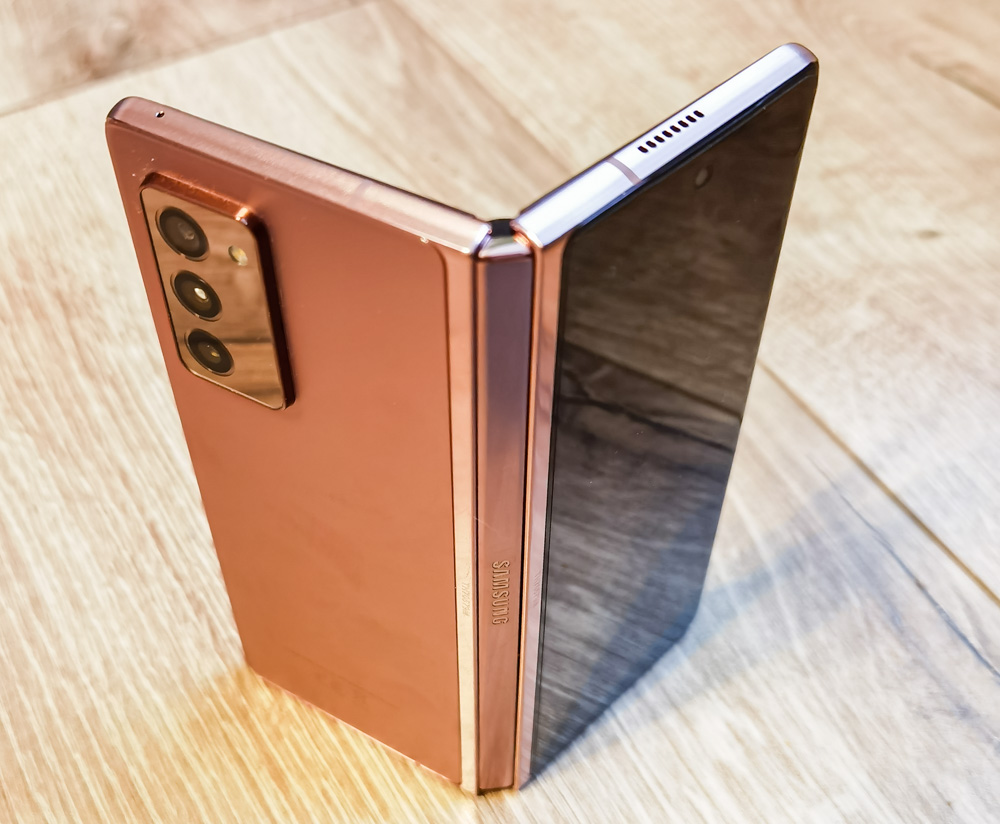 Or horizontally – something like this (in this position, you can also adjust the angle of the camera over a fairly wide range):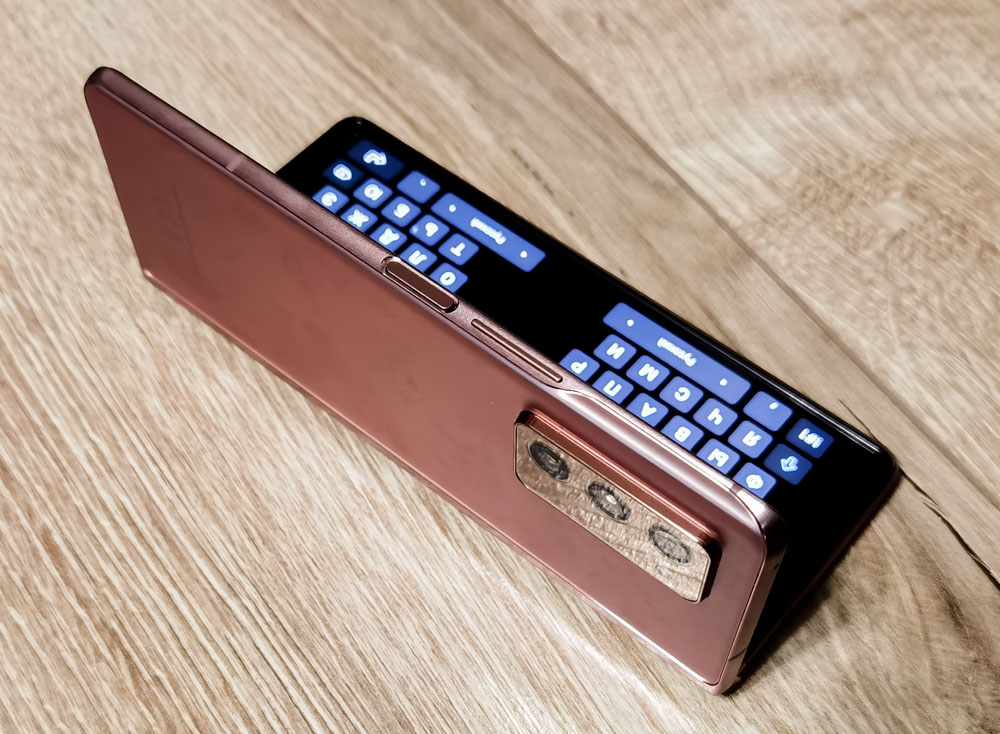 By launching the camera, you can take a photo in tripod mode. For example, using the timer built into the software or other functions available in Samsung smartphones, like voice control, or pressing the volume button on the headset. In addition, you can use the release button on your smartwatch or tracker, if you have one. As you can imagine, you can shoot in this position with any of the cameras.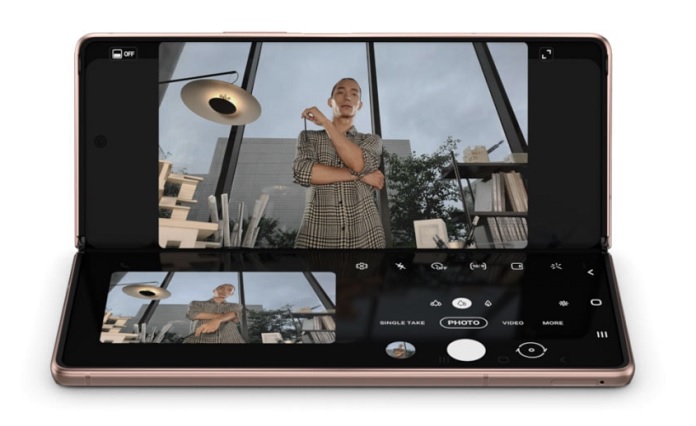 The advantages of tripod mode are obvious – there is no need to hold the camera, you get rid of shaking hands when shooting with long exposure and you get the opportunity to participate in a group photo, instead of asking someone (usually strangers on the street) else.
General ergonomics
The smartphone is slippery, which is to be expected from a smartphone made of metal and glass. But the Galaxy Z Fold2 is doubly slippery as it is 2 times heavier than a regular smartphone. Therefore, it constantly strives to slip out of your hand or a pocket. In general, you have to be two times more careful not to drop this expensive device. I mostly succeeded, although once the smartphone slipped onto the wooden floor from a small height, fortunately without consequences. So yes, a cover is highly recommended.
Displays
Let's start with the cover display. It is 6.23-inch, Super AMOLED, 816 x 2260p. Basically, a typical Samsung screen. High quality, maximum contrast and excellent color reproduction. Viewing angles and brightness are excellent. Since the display is essentially auxiliary, its refresh rate is standard, 60 Hz. And there is no HDR support. Similar displays were used in Samsung flagships a couple of years ago, and now they have migrated to the middle segment. In general, all sacrifices are justified, since there is a second, main screen.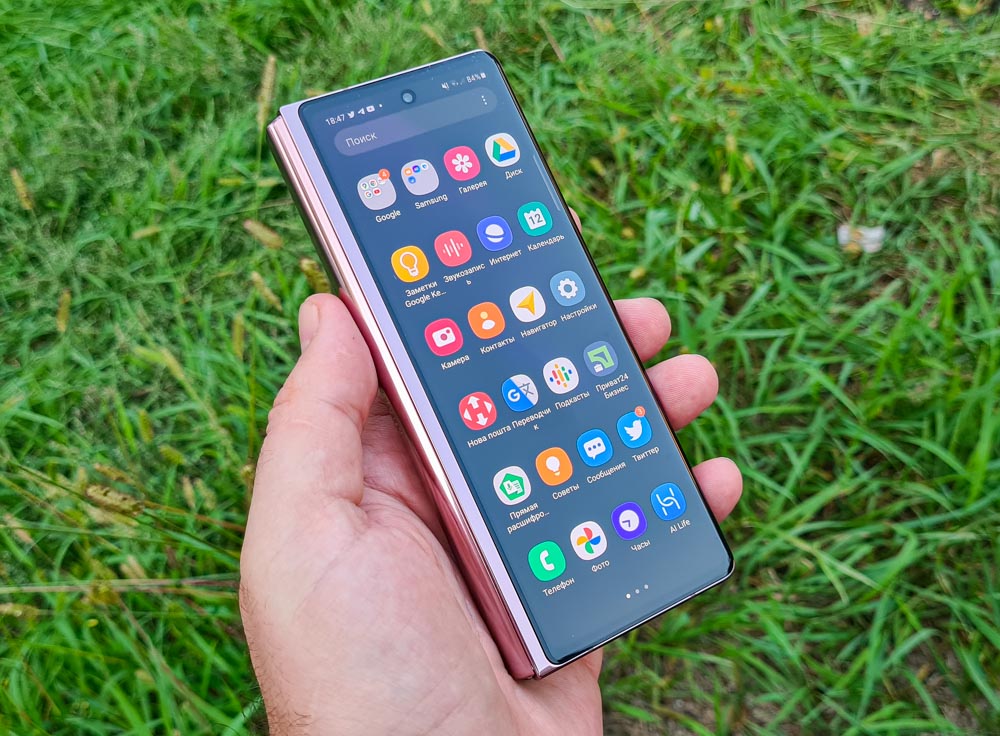 The main focus of the Samsung Galaxy Z Fold2 is placed just on the internal 7.6-inch screen that folds in half. It uses the modern flexible Dynamic AMOLED 2X matrix with a resolution of 1768 x 2208 pixels and a density of 373 ppi. The screen is really cool and in addition to excellent performance, it has a refresh rate of up to 120Hz and supports HDR10+ wide dynamic range.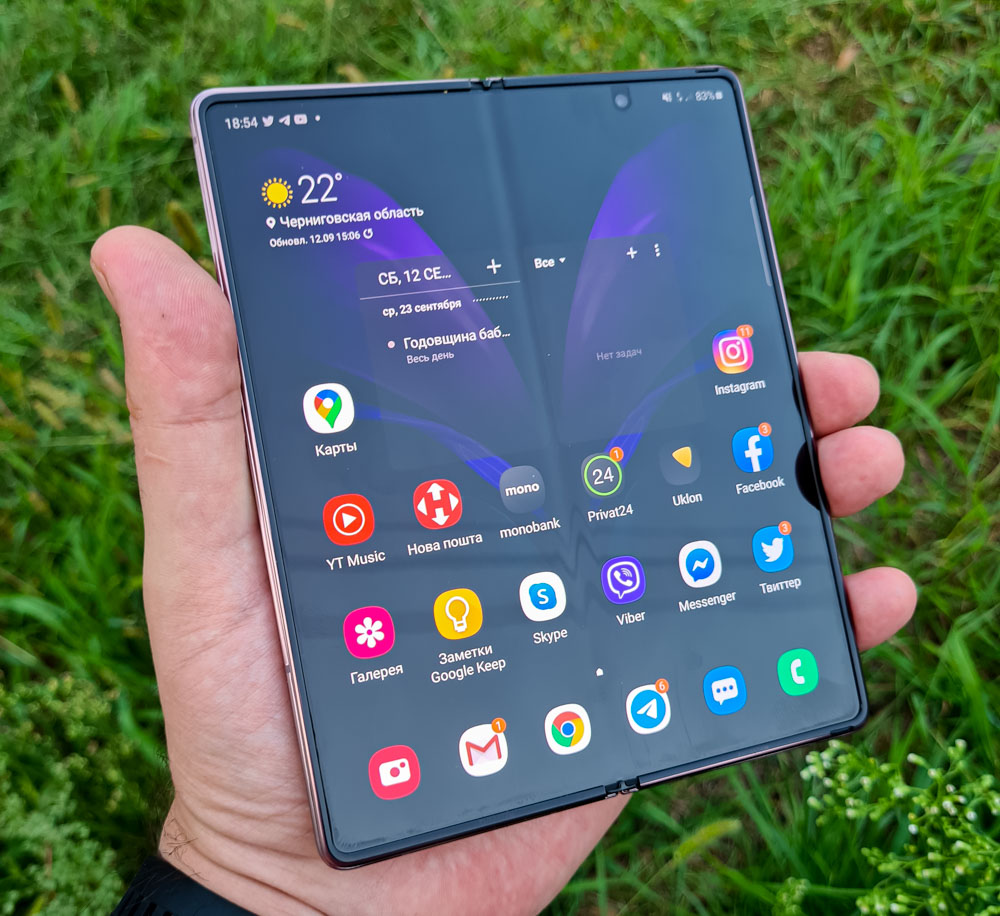 Samsung claims that the screen is covered with a special thin flexible glass. I can't say whether this is real glass or not, especially since an additional protective film from the factory is glued to the top of the display.
Many of you are concerned about the crease in the middle of the screen. Yes, it's there, but it is not particularly annoying and you quickly get used to it. When you hold the tablet in portrait orientation, the fold is vertical and not very noticeable. The interface is conventionally divided into two halves and the fold line looks harmonious most of the time.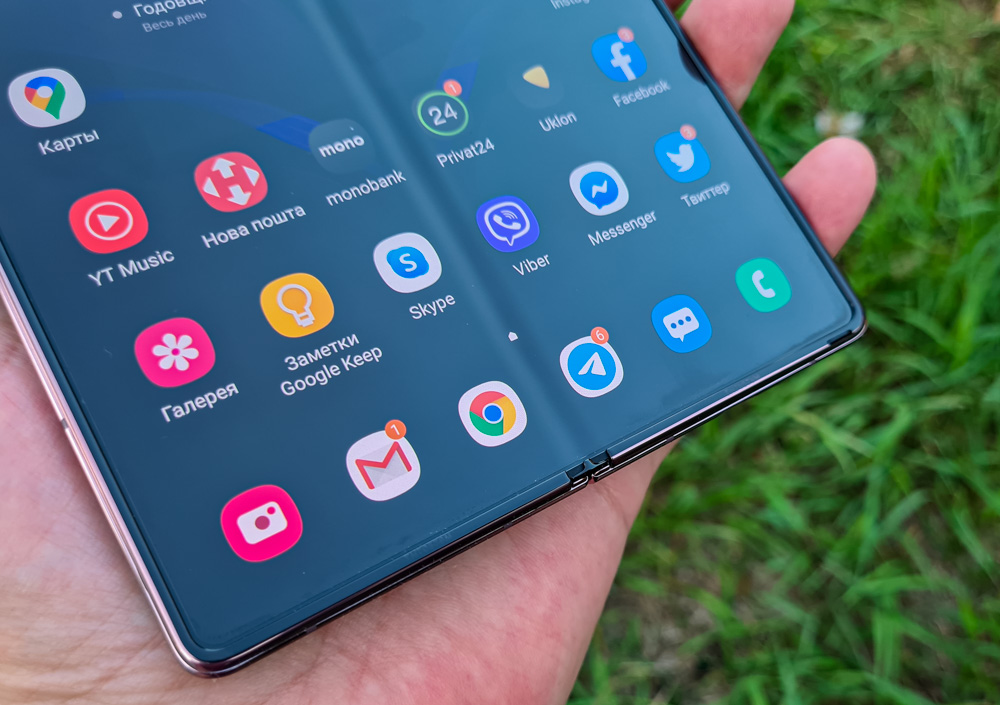 When watching a video, you can choose the angle of view at which the crease is not visible. And in games… most likely you will be so carried away that you will not think about any folds. In general, yes, the bend line is noticeable, but you get used to it and stop noticing it. Although the finger can cling to it from time to time. This is a certain compromise, but apparently at this stage in the development of flexible screen technology, this "artifact" cannot be dispensed with yet.
As for the screen settings, they are standard for all smartphones of the company, so I will not focus on them. There are two color profiles – rich and natural colors, a blue filter, and other settings like changing the resolution and enabling dynamic refresh rate.
In general, the screens are fine. The inner one is gorgeous. The displays correspond to the premium status of the Galaxy Z Fold2 and provide a comfortable operation in any modes and conditions.
Performance
To be honest, I didn't even have a desire to run synthetic tests on my smartphone. I think this is a pointless exercise in the case of modern flagships in principle. Moreover, the Galaxy Z Fold2 has the most powerful mobile processor at the moment, an eight-core 7-nanometer Qualcomm Snapdragon 865+ (1x 3.09 GHz Kryo 585 & 3x 2.42 GHz Kryo 585 & 4x 1.8 GHz Kryo 585) paired with an Adreno 650 graphics accelerator. The best of the best.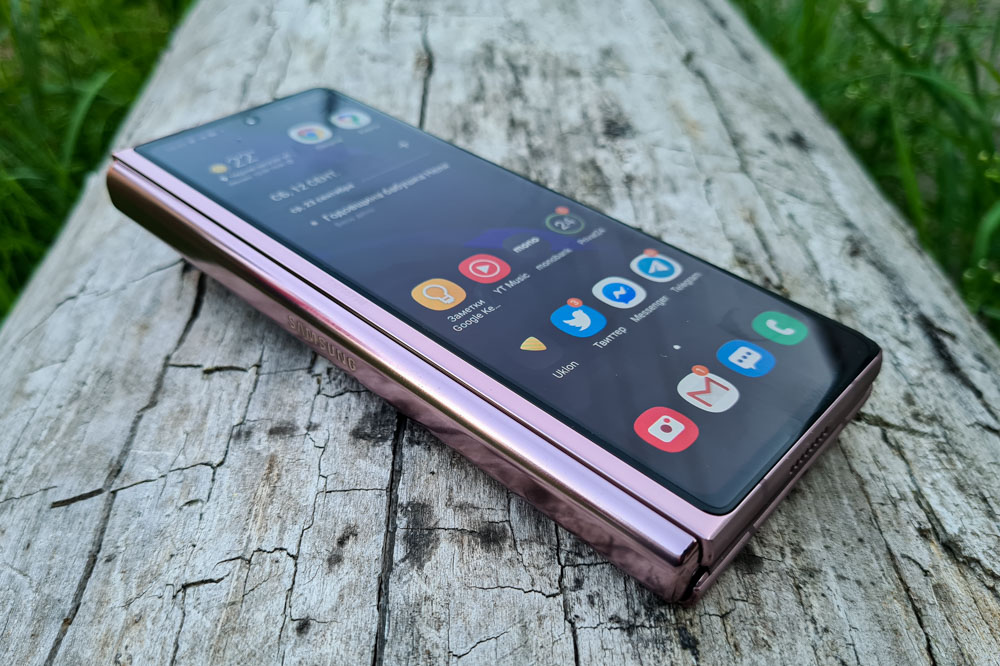 Any tasks can be solved with lightning speed. Any of the heaviest games run on maximum graphics settings and with all the effects. The smartphone barely gets warm during normal use and even in games there is no excessive heating. This chip is close to ideal.
Memory, too, is more than enough: 12 GB of RAM and 256 or 512 GB of storage of the latest UFS 3.1 standard. There is no support for memory cards. The slot only holds one SIM card in nano format, but there is support for e-sim.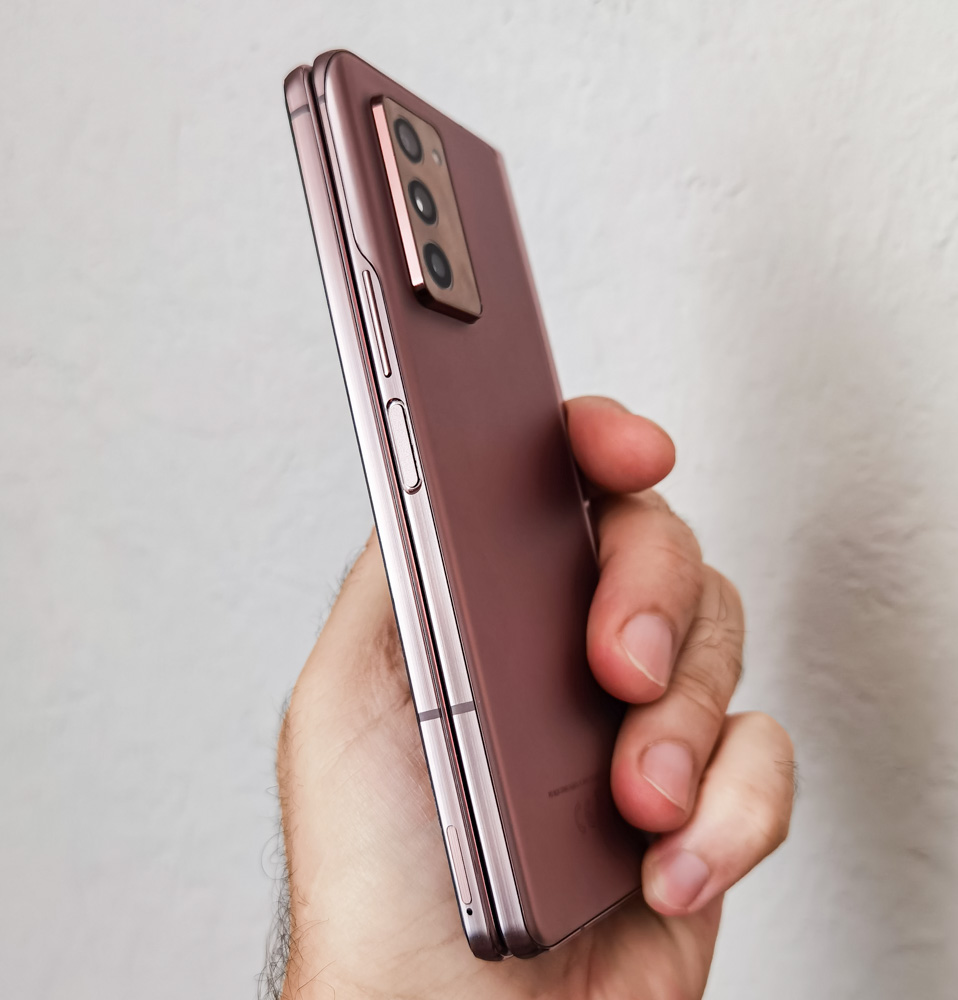 In real life, the Fold2 is as fast and smooth as you'd expect from an Android smartphone. Multitasking is fine too, but when you unlock your device, you probably won't see the same app you were using before turning off the screen. But these are features of the dual-screen interface, which I will talk about later. If you call the application through the task menu or from the desktop, you will see that it is actually still running.
Cameras
If you expected to see the best cameras in the most expensive Samsung smartphone, then alas, this did not happen. Because the top modules this year are all in the Galaxy Note20 Ultra and Galaxy S20 Ultra. And the Fold2 uses "just" a set of cameras from the Note20/S20+, and with a simplified telephoto lens, which resolution has been reduced from 64 to 12 megapixels. The ToF module is also missing. For some reason, the manufacturer decided that no one needed this element, so this year the TOF module is available only in Galaxy S20+ and Ultra. And maybe ToF really is unessential? What do you think about this? Feel free to tell us in the comments.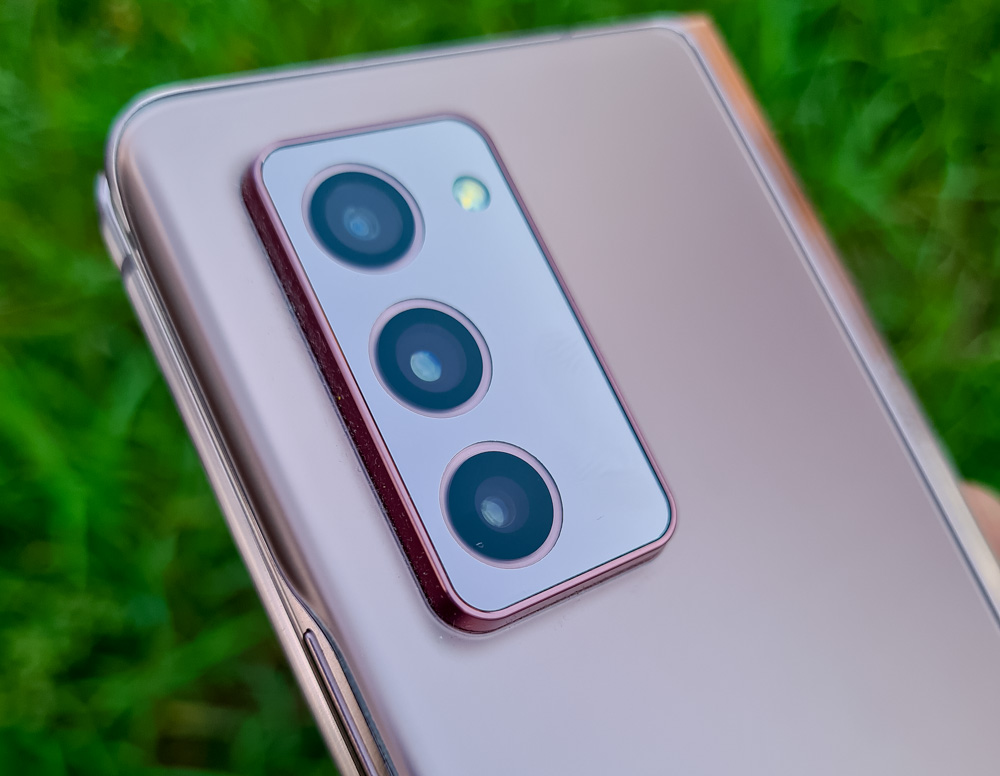 I will list the main parameters of all cameras so that it is clear what we are dealing with.
12 MP, f/1.8, 26mm (wide), 1/1.76″, 1.8µm, Dual Pixel PDAF, OIS
12 MP, f/2.4, 52mm (telephoto), 1/3.6″, 1.0µm, PDAF, OIS, 2x optical zoom
12 MP, f/2.2, 123˚, 12mm (ultrawide), 1.12µm
I'll be brief since we have already tested these cameras several times. If you wish, you can read the reviews on the site, where all the nuances are painted in great detail:
Therefore, I will go through the differences which are few and far between. And I'll show you examples, of course. Shooting with the Galaxy Z Fold2 only confirmed that we're dealing here with the Galaxy S20+ cameras. Which are still very good. At the output, we have excellent photos, both on the main and on the wide-angle modules. Especially in good lighting conditions. If necessary, you can use a 2x optical zoom from a telephoto lens, albeit with some deterioration in detail.
There is a special mode for night photography, but it's far from perfect. The camera always tries to brighten any photo in the dark as much as possible. Until noticeable noise appears. And the night shots themselves become very similar to the day shots. This is of course justified if you want to see more details. But the atmosphere of the pictures is lost. Moreover, this is not a problem that's specific to the Galaxy Z Fold2 – it applies to all current Samsung smartphones. The features of the camera software are such that in automatic mode the AI ​​simply determines the ISO and shutter speed for a specific scene and takes a photo with these parameters.
Samsung Galaxy Z Fold2 Night Mode
Let me remind you that rival devices do it all in real time during shooting with a high exposure and at any time you can interrupt it by pressing the shutter button again to take a photo with a lower exposure if necessary. But in Samsung, adjusting the shutter speed and ISO is available only in professional mode. Which is not very convenient, since you need to switch to it through an additional menu. But if you have already got there, everything will be fine with the photos.
СМОТРЕТЬ ВСЕ ПРИМЕРЫ ФОТО И ВИДЕО В ОРИГИНАЛЬНОМ РАЗРЕШЕНИИ
Simplification of cameras also affected video capture. There is no 8K like in the Note20/S20+. But the main modes remained: [email protected] without super stabilization, and [email protected]/240fps, [email protected] with gyro-EIS and HDR10+ support.
The smartphone has 2 front-facing cameras. And here we see the same proven wide-angle modules from Note20/S20+, namely: 10 megapixels, f/2.2, 26 mm, 1.22µm. In general, everything is fine, you can take high-quality selfies and communicate comfortably in video chats.
The camera software is also standard for One UI. A feature for the Galaxy Z Fold2 is the default floating shutter button that can be moved to any area of ​​the screen.
Battery life
On the one hand, the Galaxy Z Fold2 resembles 2 smartphones fastened together which means it should consume 2 times more power, right? On the other hand, it has a 4500 mAh battery, just like the Galaxy S20+. And I confess that I had fears that such a battery would not be enough for comfortable work without frequent recharging, but I was wrong. Everything is simply fine. You get the whole day of work with a small margin with fairly active use without games. I think the main credit for these numbers belongs to the energy efficient system-on-a-chip from Qualcomm. As a result, the Galaxy Z Fold2 on Snapdragon 865+ with a large screen works for even longer than the Galaxy S20+ on Exynos 990.
As for the charging speed, it is roughly similar to the S20+. Galaxy Z Fold2 supports 25 W fast charging from the included charger (30 minutes – 30%, an hour – 57%, full charge in about 2 hours). But the power of wireless charging has been reduced from 15 to 11 W. In addition, the smartphone can charge other devices wirelessly. Reverse charging power is 4.5 W.
Communications
Most importantly, the Galaxy Z Fold2 supports the latest 5th generation mobile networks. We have full-fledged flagship equipment. Wi-Fi 802.11 a/b/g/n/ac/6, dual-band, Bluetooth 5.0 (A2DP, LE) with support for streaming music using AAC codecs, aptX HD and proprietary Scalable Codec (relevant for Samsung headsets). Naturally, GPS, A-GPS, GLONASS, GALILEO, BDS are all here. The wired connection supports the USB 3.1 standard via the Type-C port. The NFC module for contactless payments and fast device connection is present. I warn you right away: FM-radio and IrDA aren't included.
Sound
I can praise Samsung endlessly because it provides stereo sound to external speakers in almost all flagships. And in the case of Fold2 it's even better, because it does not use the earpiece speaker for this, but a full-fledged second speaker on the upper edge.
The speakers are loud and of high quality. When unfolded, rotated to landscape orientation, they are in the correct acoustic position which is right and left. But the trouble is, if it is logical to position the device with the main camera up, the speakers turn out to be too low and they can be easily covered with palms when gripping with both hands. So you have to turn the tablet upside down in order to ensure normal sound when playing games or watching videos.
A separate 3.5 mm audio jack, of course, is absent in the Galaxy Z Fold2, which is a tradition in the flagship segment. I understand that this annoys many users, but in my heart I even approve of such a decision, since I have not been using wired headphones for three years already. Perhaps this is how Samsung is persuading buyers to purchase TWS. Moreover, as far as I know, if you pre-order, you can get the latest Galaxy Buds Live headphones as a gift along with your smartphone. As a last resort, you can use a bundled headset with a USB Type-C plug.
As for the microphones, there are two of them in the smartphone – on the upper and lower edges. And besides, there is a feature of the new version of One UI (also found in the Note20 series) that lets you choose a microphone to record sound while shooting a video. Including external wired or wirelessly ones.
Firmware and software
At first glance everything seems standard: the smartphone is running Samsung One UI 2.5 based on Android 10. But there are some peculiarities associated with the hybrid format of the device.
First of all, a desktop on 2 displays creates 2 completely independent copies of the working environment. This is expressed in the fact that you can put on each of them your own set of screens with unique application icons and widgets. Which is logical, since you will most likely use the outer cover screen on the go with one hand, and the inner one while sitting or lying down, using 2 hands. Therefore, you will most likely run different applications in each format. Nevertheless, these sets may overlap at your discretion.
Samsung Galaxy Z Fold2 UI
The second point is that not all applications can maintain their performance without restarting if you switch from using one screen to another. All built-in Samsung applications are adapted for this particular device, but as far as third-party software is concerned, it's always a mystery. Some apps do not know how to stretch to the entire screen at all. Instagram, I'm pointing my finger at you!
You will often see warnings on the screen when you open or close your device.
This happens due to the fact that Android apps are reluctant to change the resolution and DPI on the fly, and most likely they will need to be restarted when the screen changes. In an ordinary smartphone you turn off the screen and lock the device and after the next unlocking you will see the same application already running. But in the case of the Galaxy Z Fold2, you will most likely be taken to the desktop. The exceptions are Samsung own apps, such as gallery or camera.
The main feature of the Z Fold2 interface is its advanced multitasking. Apps can be launched both in a split screen (up to 3 applications), and in a floating window that can be dragged and resized anywhere on the screen. In addition to the obvious improvement in multitasking, these display modes provide quick transition between apps and the transfer of content between them; text and files can be dragged from one window to another.
Samsung Galaxy Z Fold2 One UI
Verdict
The main thing that I realized during testing the Samsung Galaxy Z Fold2 is that it's no longer an experimental concept, but a well-established flagship with specific unique use cases. Yes, this device does not add anything absolutely new to the Android OS, but the user experience changes dramatically.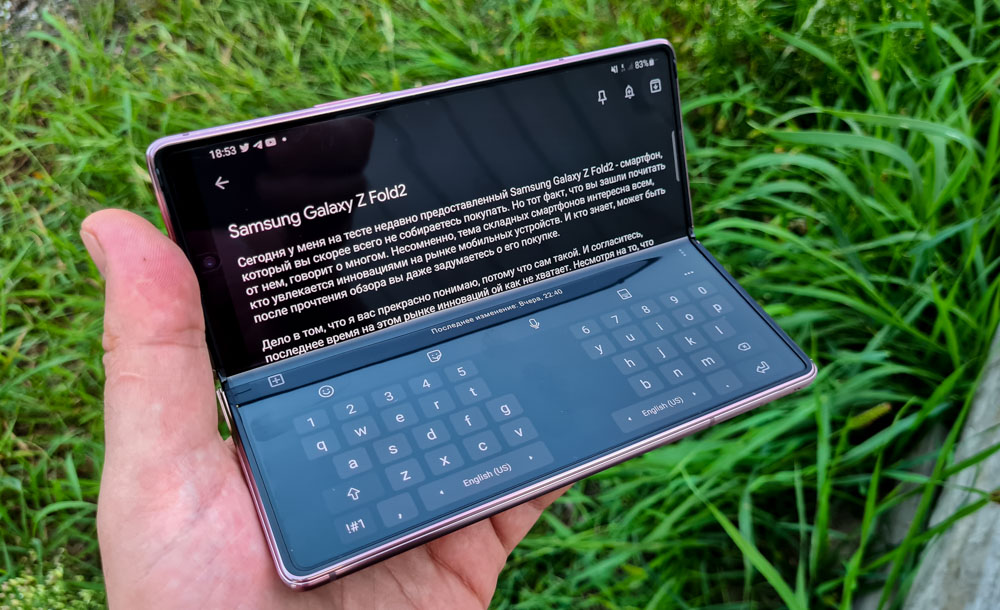 Like any hybrid, this compact multifunctional device has a number of compromises, such as increased thickness, a fold across the main screen and a slightly odd profile in the form of an asymmetrical beveled trapezoid. But you quickly get used to these features and stop noticing them. I would also like to see moisture protection in a premium device, but most likely I'll have to wait for the next generations of Fold.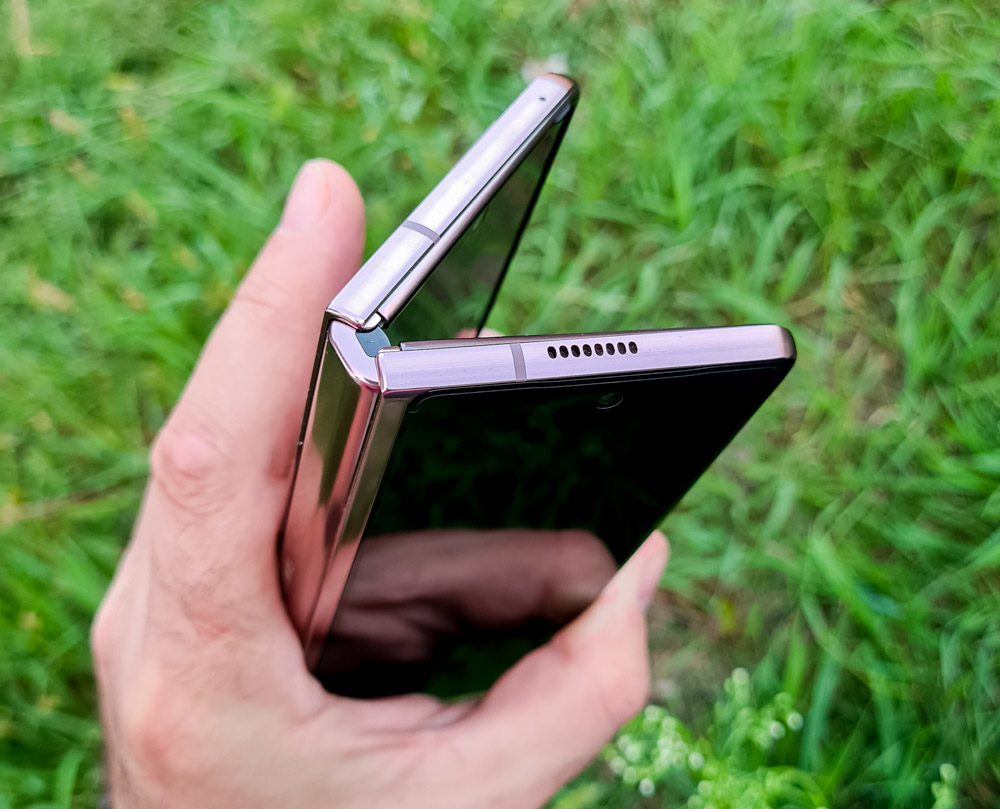 Personally, I am confident in the future of the line, and sure that the device will surely find its fans. I am already one of them. This form factor is really cool and the device is easy to use. I hope I'll get the chance to get a hold of the Z Fold2 for a longer time, because in a week I was not able to fully experience all this device has to offer.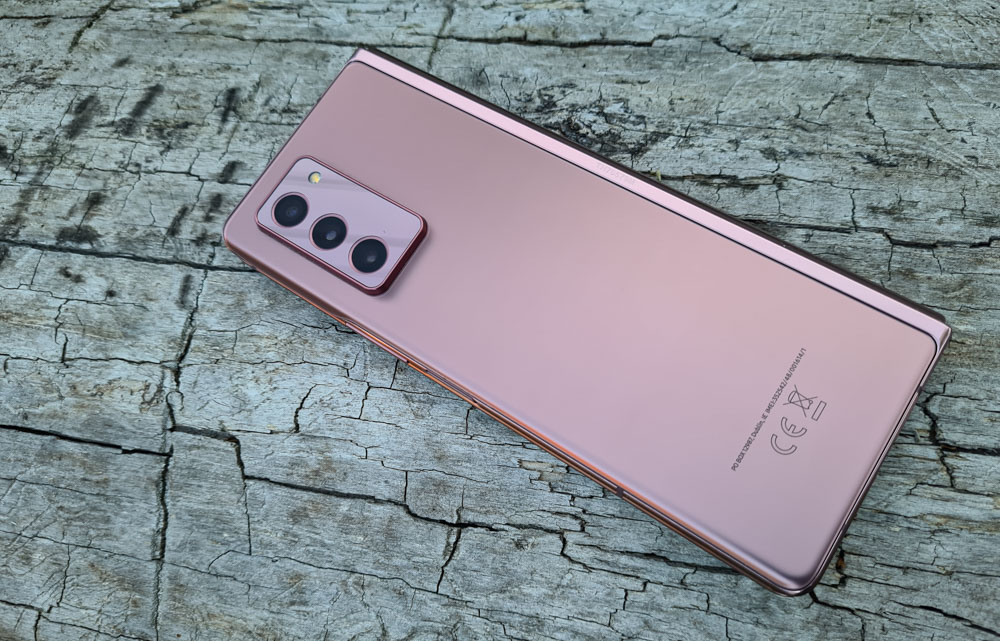 Can I recommend this device for purchase? Of course, if you are ready to allocate the appropriate budget for it. In addition to the obvious uniqueness and pronounced coolness component, this smartphone is quite practical and it provides improved comfort and increased multitasking as well.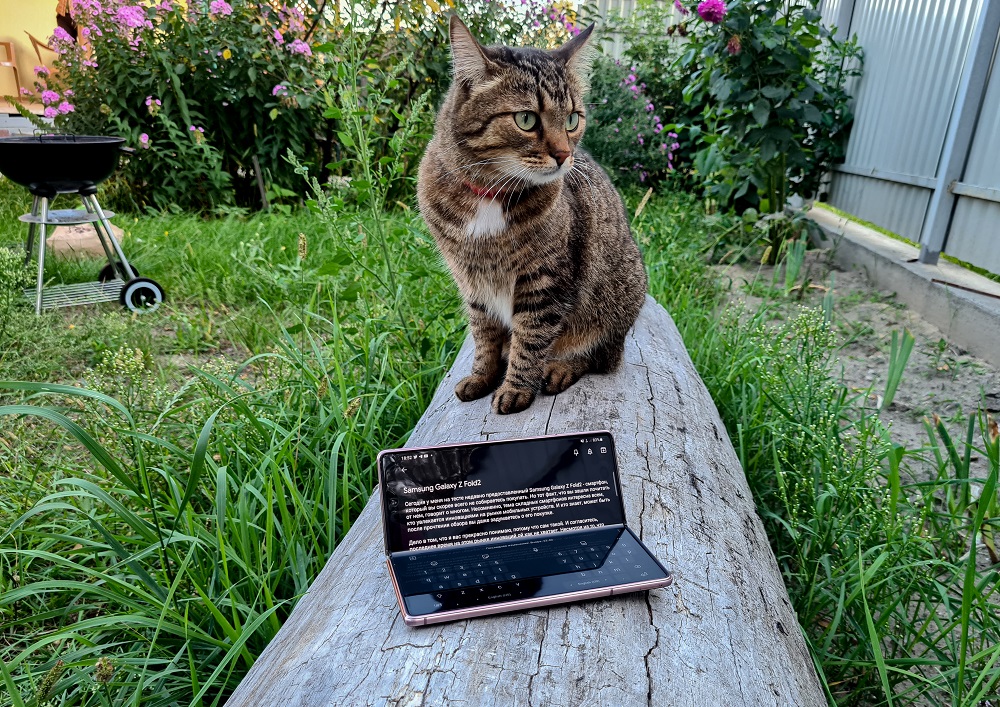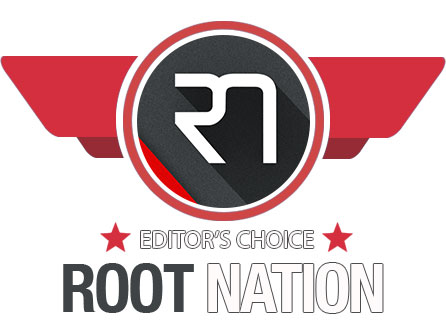 Where to buy
Samsung Online US Store
Samsung Online UK Store
Subscribe to our accounts: