After a bunch of premium Samsung launches and a high-profile Galaxy Note9 release it's hard to remember the number of low-cost devices from the company, including Galaxy J8 2018. This model, that costs about $290, is an interesting specimen that shows just how exactly Samsung is planning to fill its mid-range lineup.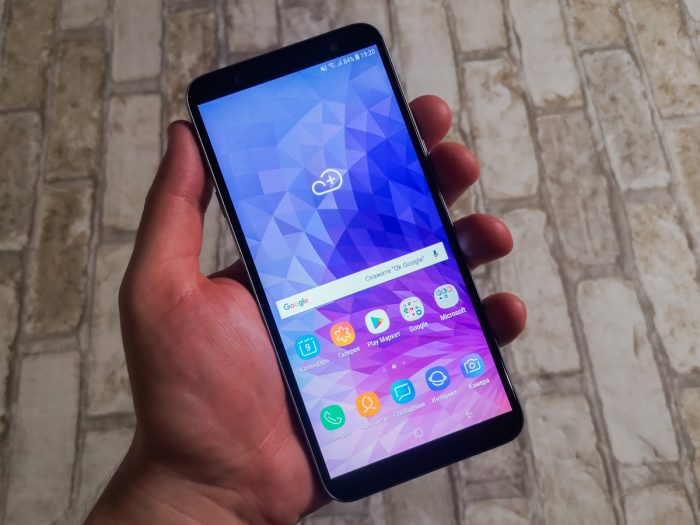 Positioning
Galaxy J8 2018 is ready to rumble with the likes of Doogee S60, Sony Xperia XA2 Dual and Xiaomi Mi Max 3. As we see, these are the older devices, excluding the last one. A cozy price range for Samsung.
What's in the box
Unfortunately, I cannot review the box and its contents because I only got to test the phone itself, free of any accessories.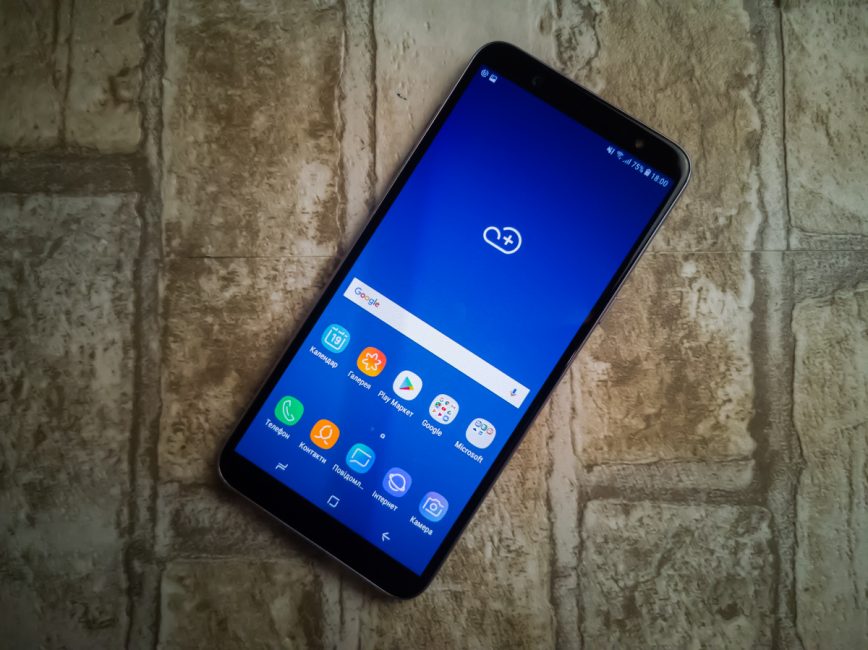 Design
Samsung Galaxy J8 2018 is massive. That's the first thing that comes to mind upon seeing it. Massive, strict and pleasant. Seamless edge with the same color and texture as the back plate surrounds the phone. The display is 2.5 with a slightly curved glass.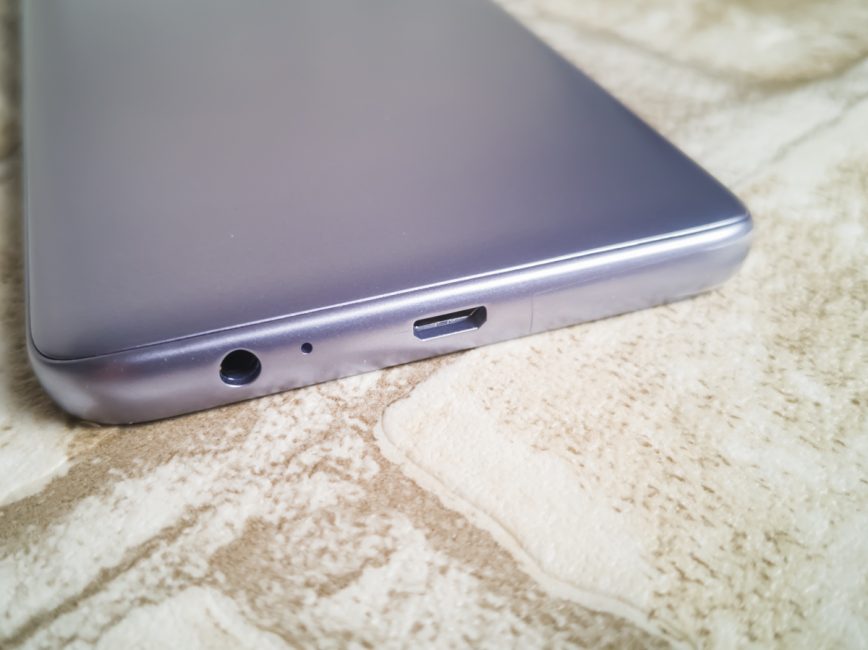 In front we have the display, above is the selfie camera, an earpiece speaker and the flash.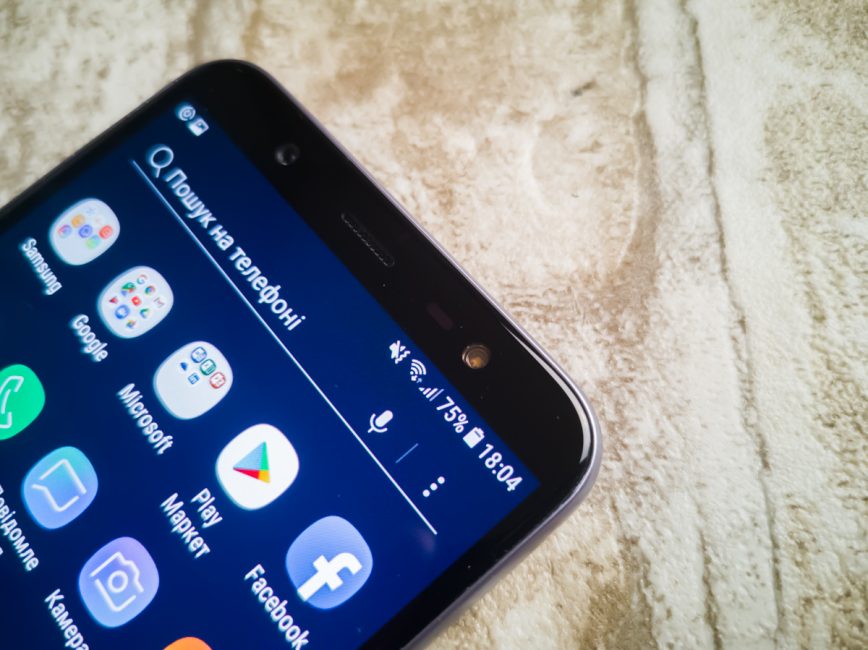 Below the screen there's a 3,5 mm jack, microUSB port and a mic.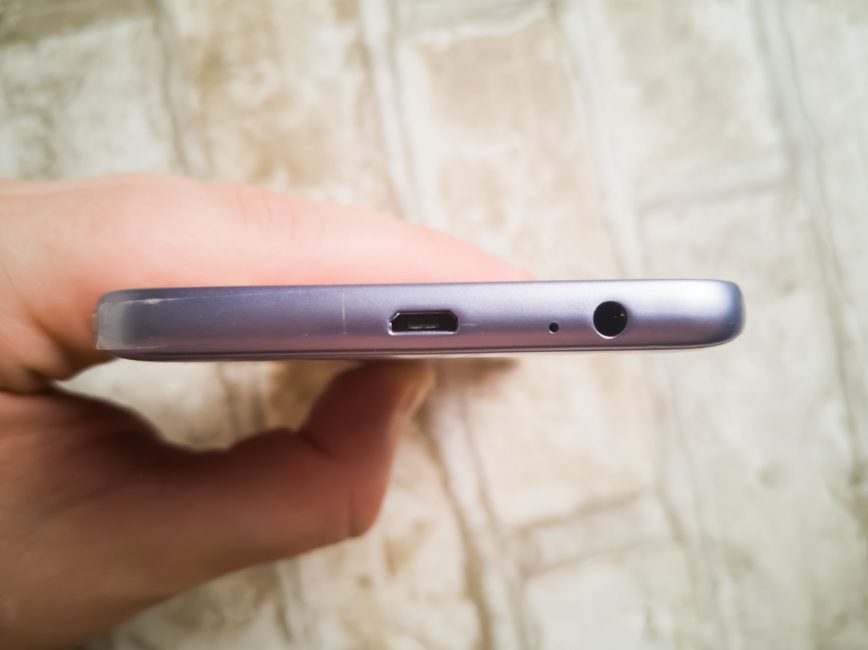 On the right we have the power button and the main mic. The main mic on the right? Yes, that's right. Unusual to say the least.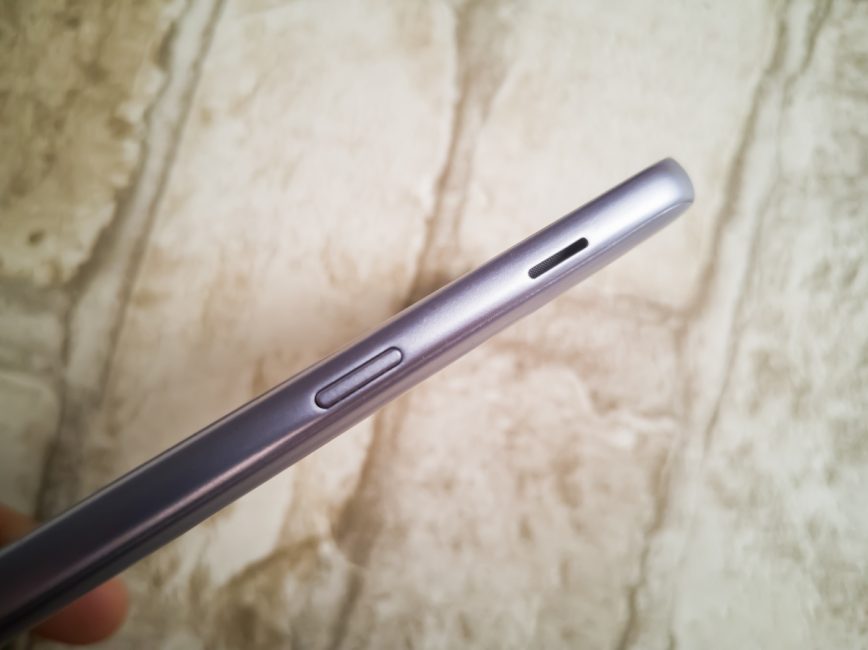 On the left we have volume keys and two slots for SIM cards and a microSD card.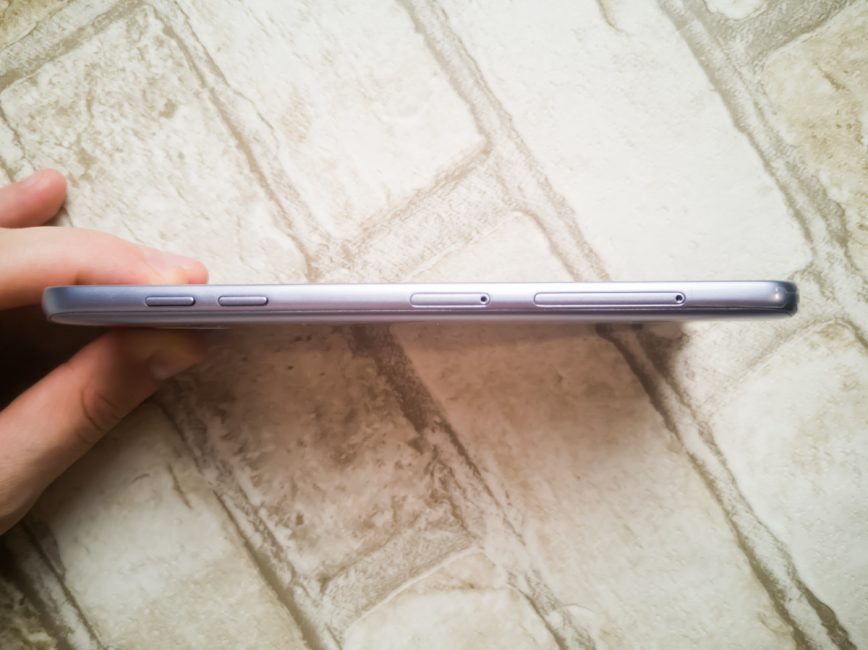 Yes, two separate slots. Very nice.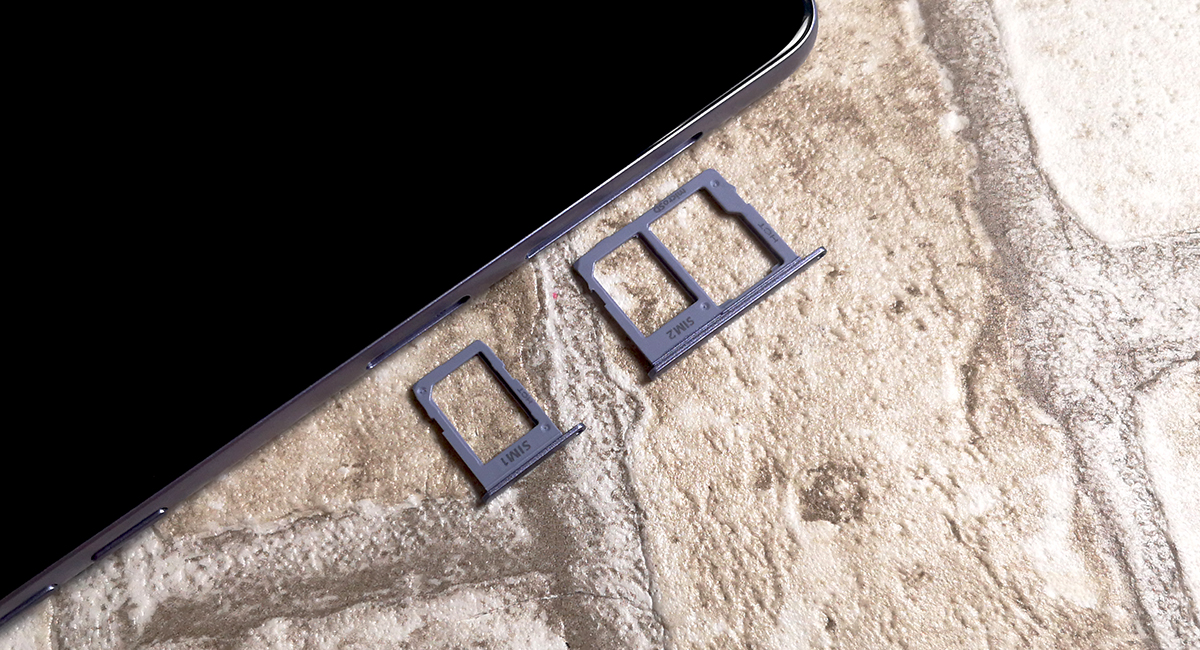 On the back the phone has a dual camera in the center, the flash to the right and a fingerprint scanner below. Even lower is the Samsung logo.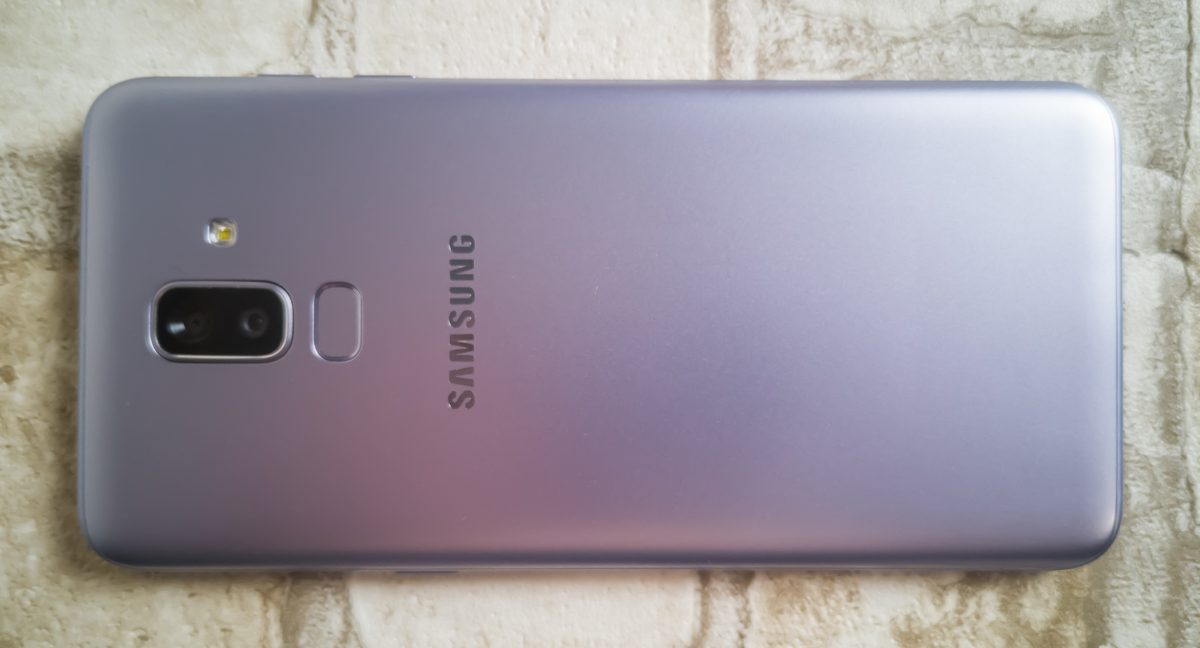 Why did Samsung Galaxy J8 2018 move the main speaker sideways? To help you during gameplay, probably, so that your hand won't obstruct the speaker. Why two trays? To insert simultaneously a memory card and two SIM-cards, considering the monolithic case and the non-removable battery. Good solutions all around. Still, it all fells a bit awkward.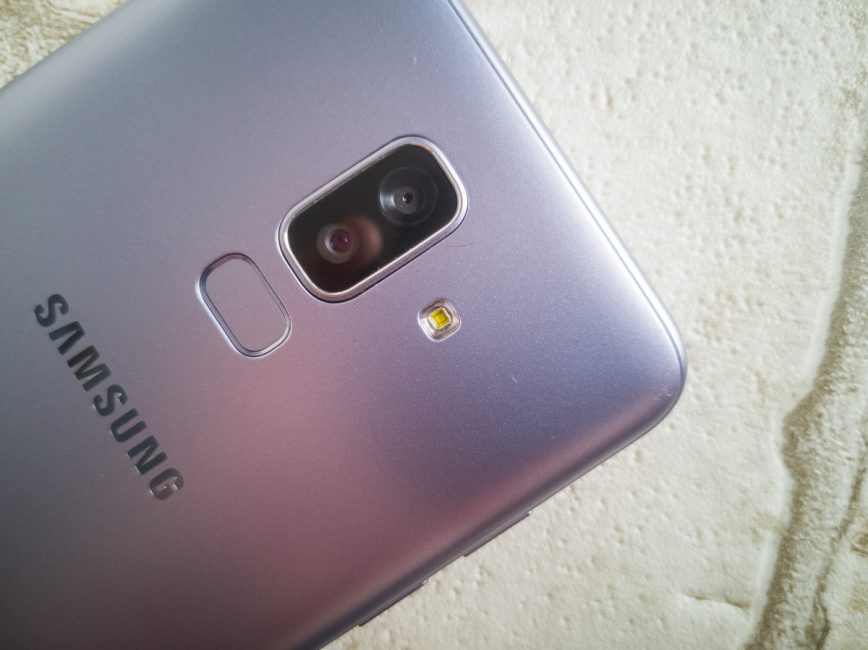 Ergonomics and build quality
The body is matte plastic that is nice to the touch. It's not slippery and looks like metal from afar. No creaks; the back plate can be a bit too flexible, but nothing serious.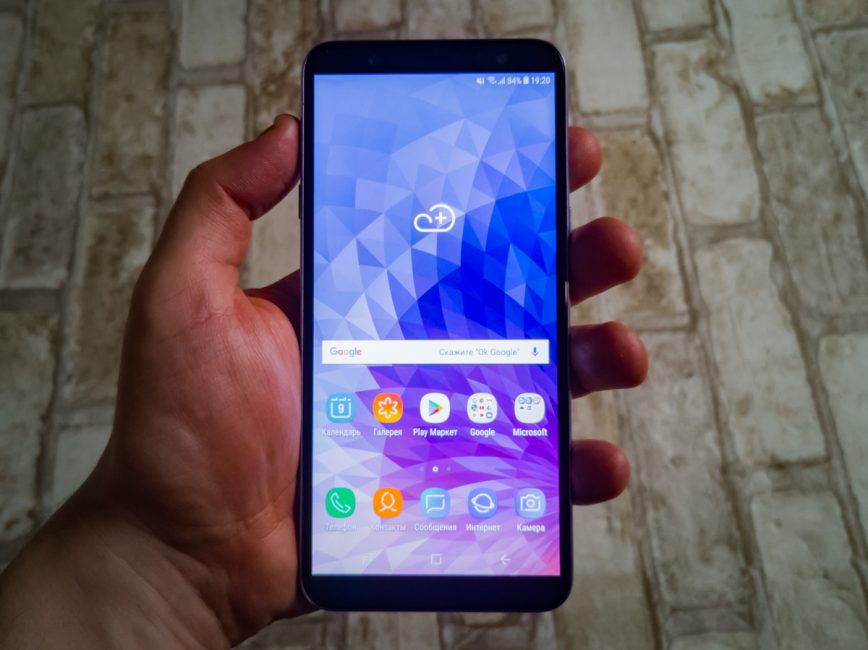 Even with this size  Samsung Galaxy J8 2018 feels wholesome in hand. Even if it is hard to remember that the volume key is located on the left, and not right. When you finally get used to it, every other smartphone feels weird.
Screen
Samsung Galaxy J8 2018's display is its pride and joy. Super AMOLED, 6 inches, 18.5:9. True, the resolution is only 1480 × 720 pixels, and PPI is only 274.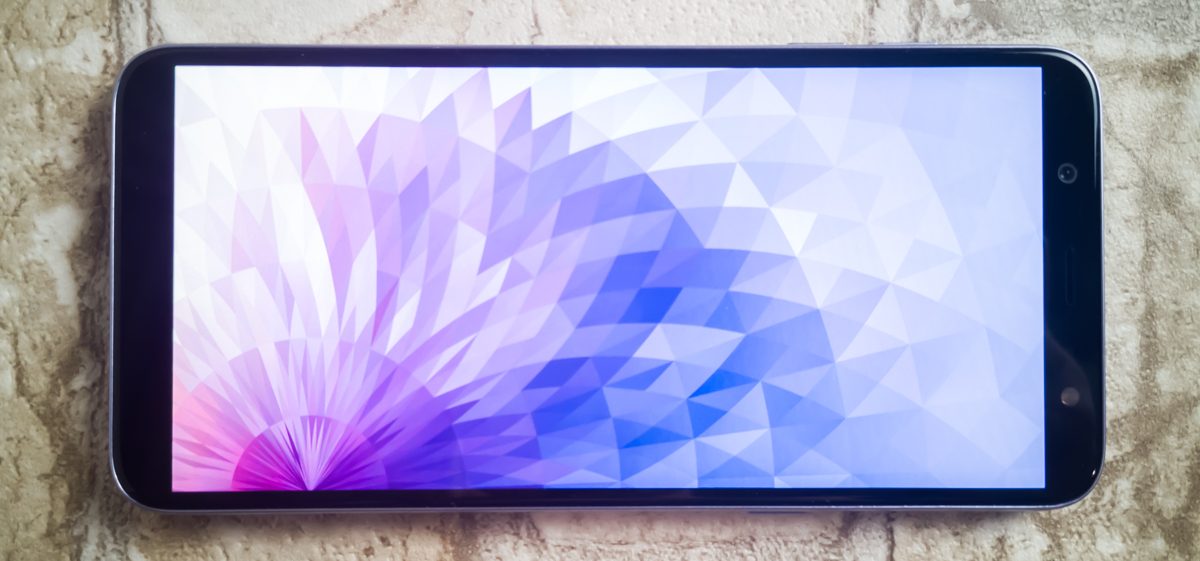 There's a noticeable green tint when looking at an angle, but overall the display is fantastic. As usual for the company, there's no brightness sensor for this price.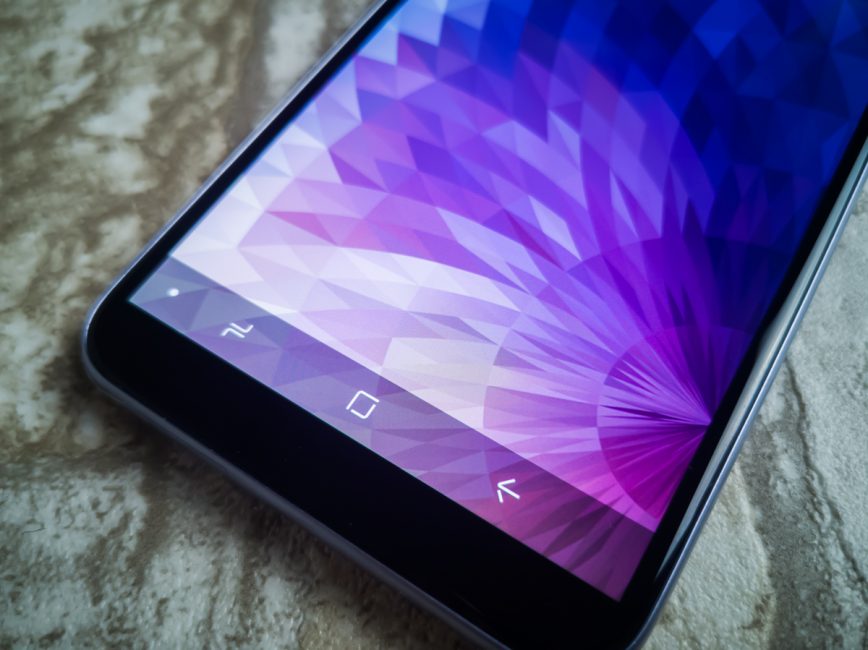 Characteristics
The phone works on a Qualcomm Snapdragon 450 system-on-a-chip. Eight Cortex-A53 cores, frequencies up to 1.8 GHz, Adreno 506 video core. 3 GB of RAM, 32 GB of permanent memory. Memory cards are supported.
The results of synthetic tests for the Galaxy J8 2018 are as follows:
AnTuTu: 69771
(CPU): 34898
(GPU): 12047
(UX): 17802
(MEM): 5024
Geekbench Single-Core: 735
Geekbench Multi-Core: 3772
As you can see, nothing outstanding, the average budget performance. Enough for games and work, and multiple apps. Games are rarely a problem, ranging from Angry Birds 2 and ending with PUBG. Asphalt 9 runs smoothly. Naturally all this at low graphics settings. And do not forget about the small screen resolution.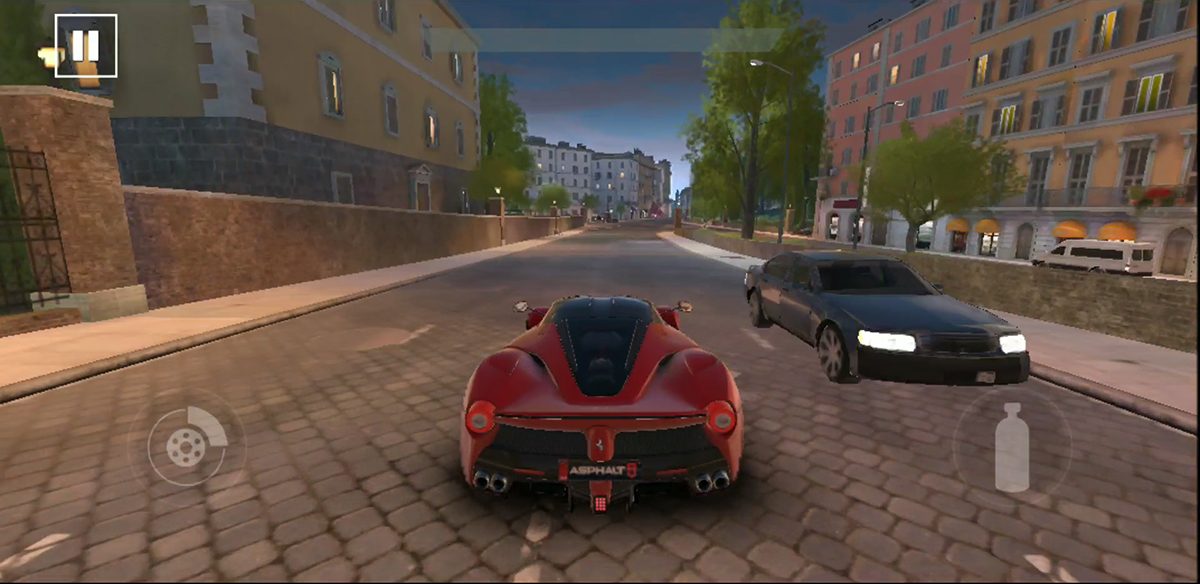 Камеры
Samsung Galaxy J8 2018 is equipped with a dual main camera, which is good. 16 Mp and 5 Mp modules with f/1.7 and f/1.9 apertures respectively; the bokeh effect is supported. The quality of the photo is excellent, the bokeh effect works. Even in bad lighting the quality is decent.
SEE EXAMPLES OF PHOTO AND VIDEO IN FULL RESOLUTION
The proprietary camera application supports beauty mode, stickers, a pro-mode with four switches, live photos, and night mode.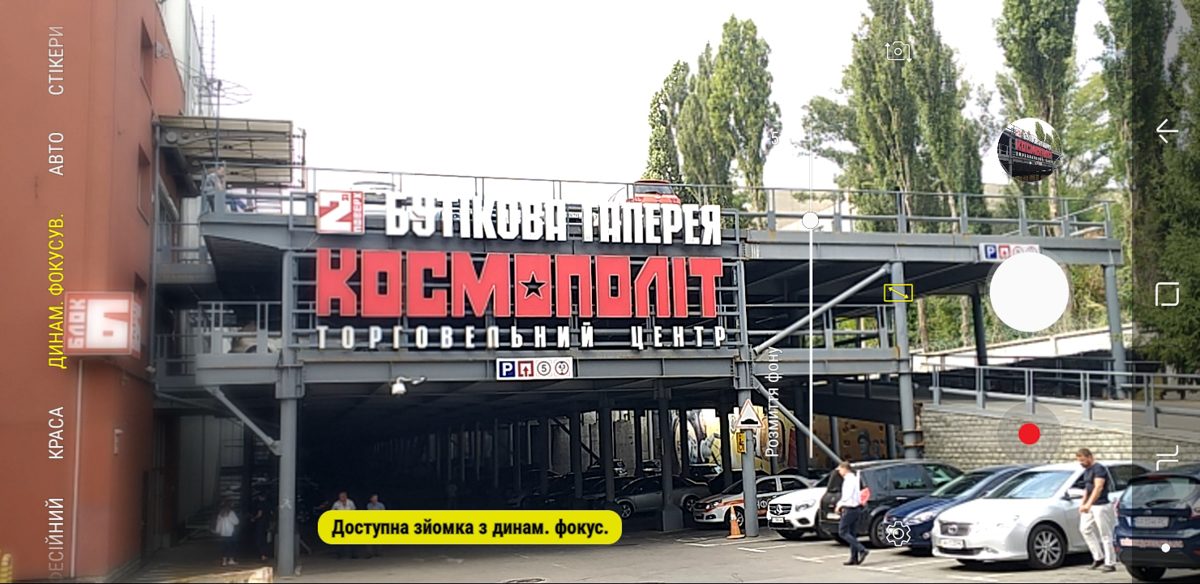 The front camera is not inferior to the main camera – 16 Mp, the aperture is f/1.9. Selfies turn out excellent.
But the video quality is subpar. The resolution is only FullHD 30 FPS, digital stabilization is available. Also automatic color correction leaves much to be desired: below is a natural color on the left, and the "corrected" on the right. The turquoise tone is obvious:
Examples of photos in high resolution can be seen here.
Firmware and software
Galaxy J8 2018 runs on Android 8.0 and the proprietary Samsung Experience 8.0 shell. The latter looks traditionally elegant. Fancifully professional, I would even say, and personally I like it. Smooth animation, thoughtful navigation through the menu and a wealth of features, including face unlocking.
Not to say that the shell is ultra-fast here, but everything is fast enough. Iris recognition, however, is not, so additional levels of protection for the user are not available. As well as waking up on double tap. But there is a game mode, just like in the best flagships.
And there were glitches. For example, every time I open Google Play application, keyboard launches automatically, although I do not click on the search bar. Given that for testing you need to download a ton of programs, this glitch was a major pain.
Connectivity
The smartphone supports 3G/ 4G, Wi-Fi 802.11 b/g/n, Wi-Fi Direct, Wi-Fi hotspot, Bluetooth 4.2, including A2DP and LE, as well as GPS/AGPS/GLONASS/BDS. The microUSB version is 2.0, OTG supported. Wi-Fi speeds are lower:
It's sad to see another smartphone without support for NFC and W-Fi 5 GHz. Considering that even ultra-budget models from Doogee (like X50L) how support dual band, I do not know what to believe anymore.
Sound
Galaxy J8 2018 is equipped with one main speaker, which will be much more difficult to obscure in games. But there is a fairly deep system for improving the sound quality, including Dolby Atmos for headphones and surround sound in speakers.
Battery
Here we have a lithium-ion battery with a capacity of 3500 mAh. In PCMark Work 2.0 testing at the maximum brightness of the screen the device survives for 6 hours 36 minutes. Given the display matrix, a small resolution and a economical SoC, the result is predictable. Pleasant and predictable.
I don't the know the exact time it takes to charge the phone with the bundled charger, but the 2-ampere Xiaomi charger took about 2 hours.
Verdict
What can I say in the end? Samsung can do miracles with a mid-ranger. Great screen, two SIMs and an SD card, fantastic cameras that rival some flagships and a nice battery. There are some cons, too: mediocre hardware, only decent connectivity and the absence of light sensor. The body is also a bit weird. Overall, a balanced smartphone for an average budget.