Who would have thought that Samsung will return to the budget sector. It's been ages since it's been claimed by the likes of Xiaomi and Huawei, but in 2019 Samsung strikes back with a very potent new device. Surprising indeed. Gone are previous unsuccessful strategies – Galaxy M20 is something new entirely. Let's see what it brings to the table.
Samsung Galaxy M20 Specifications
Display: 6.3″, PLS TFT, 2340×1080 pixels, 19.5:9 aspect ratio
Processor: Exynos 7904, 8-core, 2 Cortex-A73 cores with a clock frequency of 1.8 GHz and 6 Cortex-A53 cores with a frequency of 1.6 GHz
Graphics accelerator: Mali-G71 MP2
RAM: 3/4 GB
Permanent memory: 32/64 GB
Support for microSD memory cards: up to 512 GB
Wireless modules: Wi-Fi 802.11 b/g/n, Bluetooth 5.0 (A2DP, LE), GPS (A-GPS, GLONASS, BDS), NFC
Main camera: main module 13 MP, f/1.9, 1/2.8″, 1.12μm, PDAF and wide-angle module 5 MP, f/2.2, 12 mm, 1/6″, 1.12μm
Front camera: 8 megapixel, f/2.0
Battery: 5000 mAh
OS: Android 8.1 Oreo with Samsung Experience 9.5 shell
Dimensions: 156.4×74.5 × 8.8 mm
Weight: 186 g
Price and positioning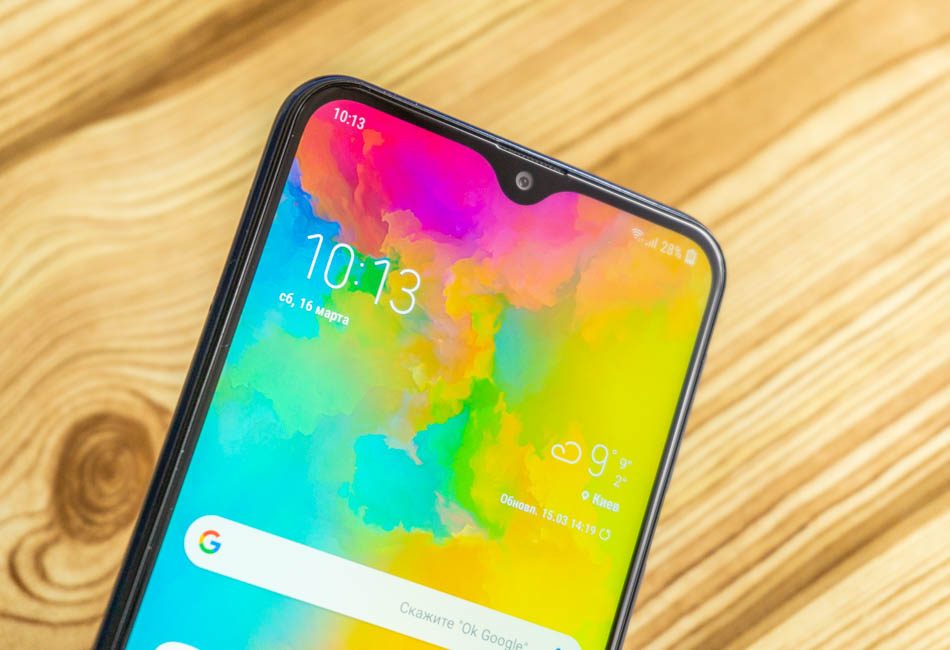 The usual cost of the Samsung Galaxy M20 is $230 for a modification with 4 GB of RAM and 64 GB of storage. The "junior" 3/32 GB version will be missing in certain markets.
Design, materials and build quality
This is is the rare case when a budget smartphone has a decent front panel. Firstly, Samsung has never used the notch. Here we have a nice looking droplet, and the display itself is therefore called Infinity-V. In general, the notch is very similar to that of OnePlus 6T.
Some people like notches, some not, but nobody likes wide bezels. Samsung Galaxy M20 has narrow bezels and a very thin bottom area. The frame is thin and does not go to any comparison with its closest competitors, surpassing all similar rivals. Some even still add logos to them. None of that here.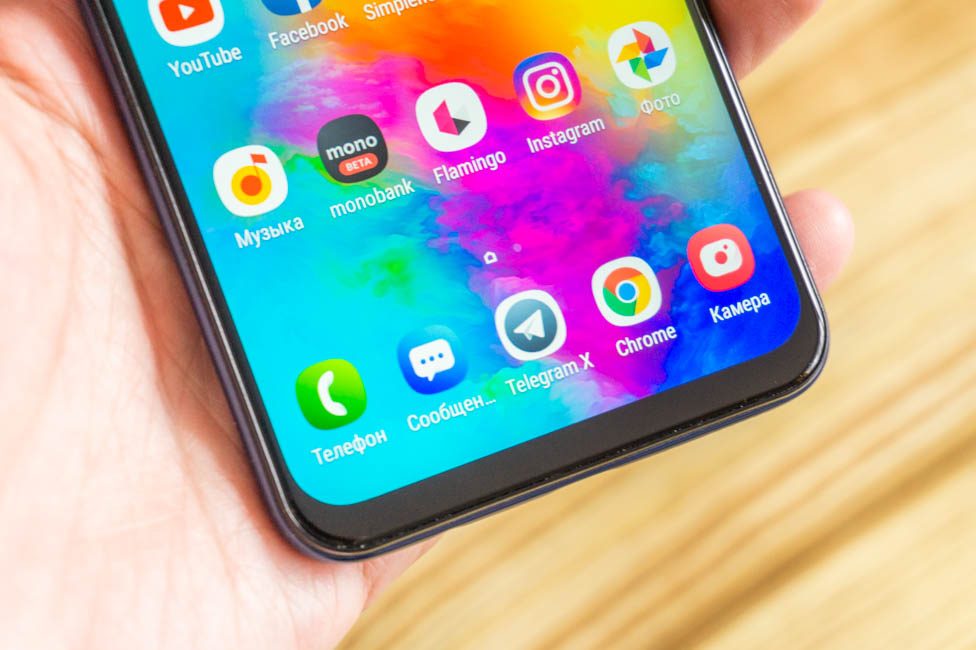 So the front of the smartphone looks great, plus the glass has a slight rounding. And this only additionally emphasizes the style and in no way spoils the frontal part.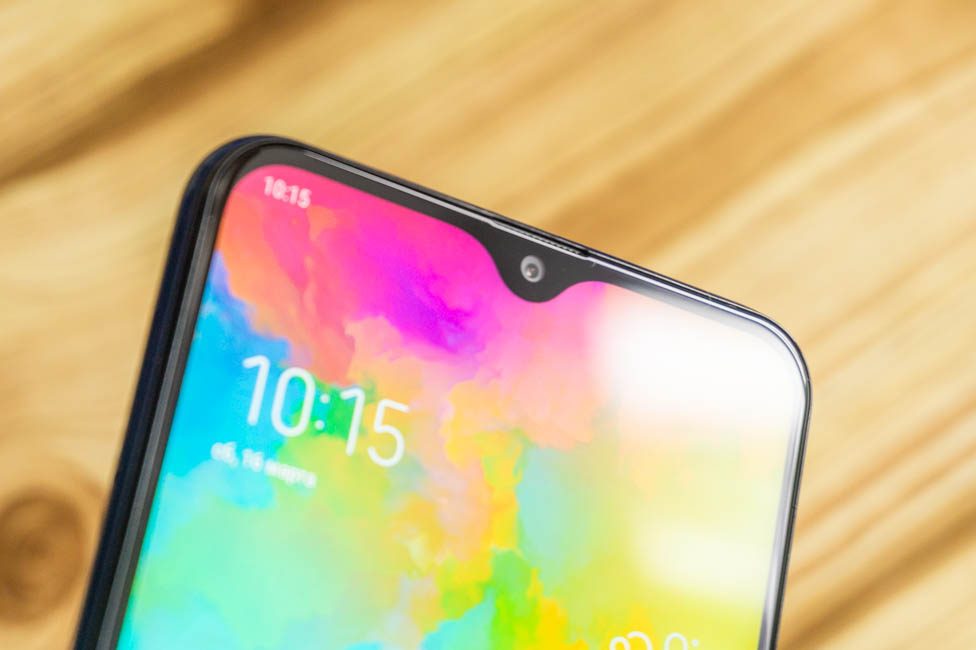 The back side, of course, is not so interesting. More precisely, there is nothing for the eye to catch on – monotone gloss is all there is to it. The dark blue color of the case in the only interesting thing about it.
The back plate is a monolith. But the display unit strongly protrudes above. Redmi Note 7 is somewhat similar.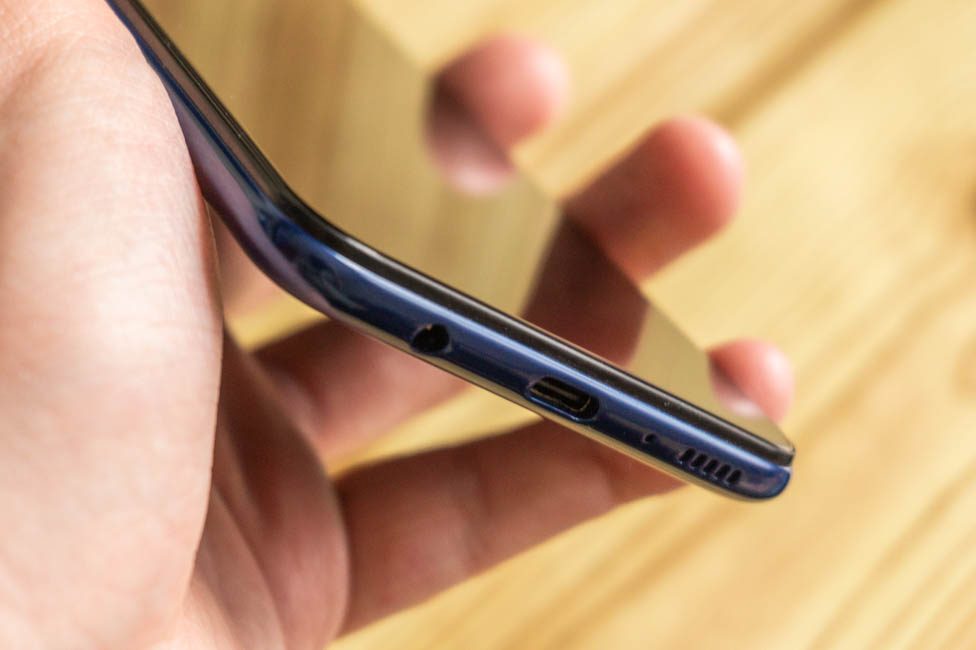 The materials are as simple as they come, which is only natural. Plastic is a popular solution in this segment, so the Galaxy M20 can be excused.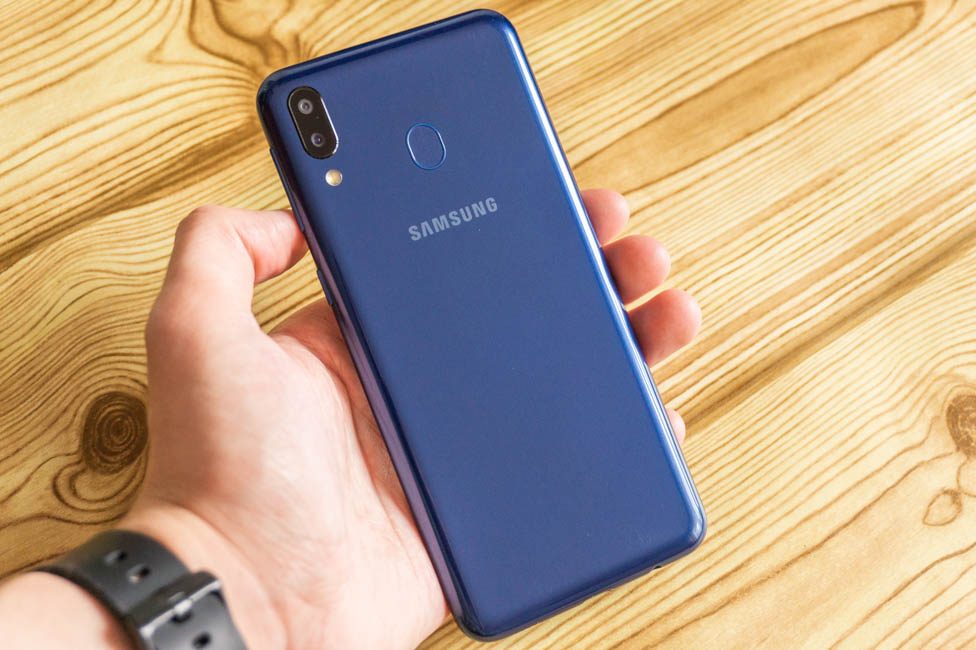 From a practical point of view, however, not everything is so good. Be ready to constantly wipe off the stains, because M20 sure is a fingerprint magnet. In addition, there will definitely be scratches on the case, no matter how neat the user is. In simpler terms, you'll have to buy a protective case.
Glass in front has an oleophobic coating, but it doesn't protect it from scratches. The build quality is very good – no gaps or loose fitting parts. There's no dust or water protection.
Elements' Configuration
Above the screen there is a proximity sensor, in the center above the front camera is the earpiece speaker. Near the very eye of the camera is a light sensor. There's nothing on the bottom. There's even no LED indicator.
The right end has a power button with a paired volume button. On the left is a separate triple slot for two nanoSIM-cards and a microSD memory card, for which I am very thankful. This is better than a combo slot.
The bottom gathered all the other elements – a 3.5-mm audio jack, an unexpected USB Type-C port, a microphone and five slots with a multimedia speaker. I must stress how great it is to see USB-C here. The process of transition to a new port in budget phones has slowed down, and I am very glad that Samsung, unlike the others, does not ignore it.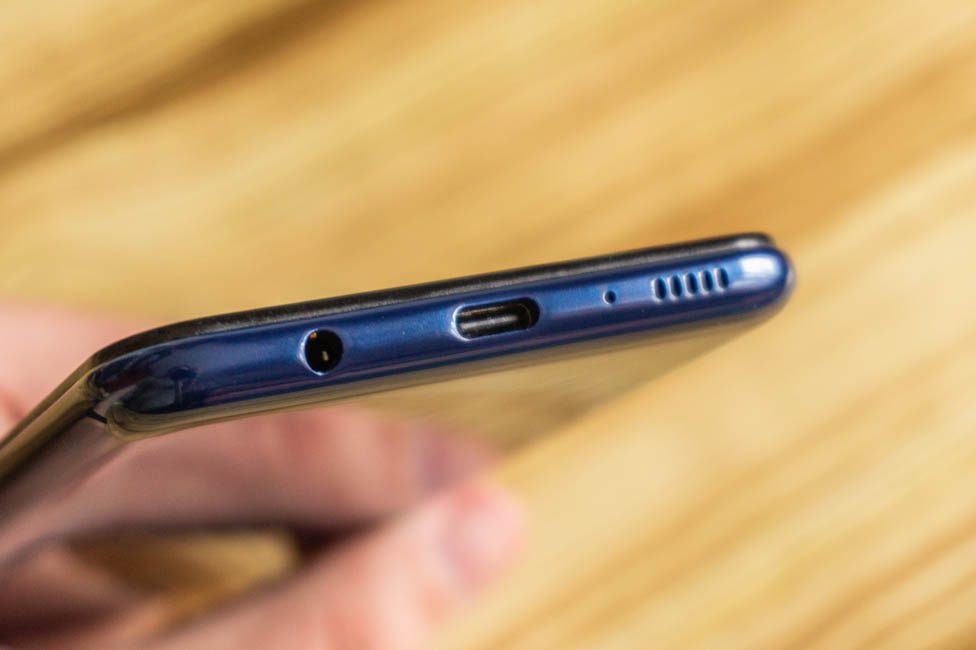 At the top there is a lonely additional microphone.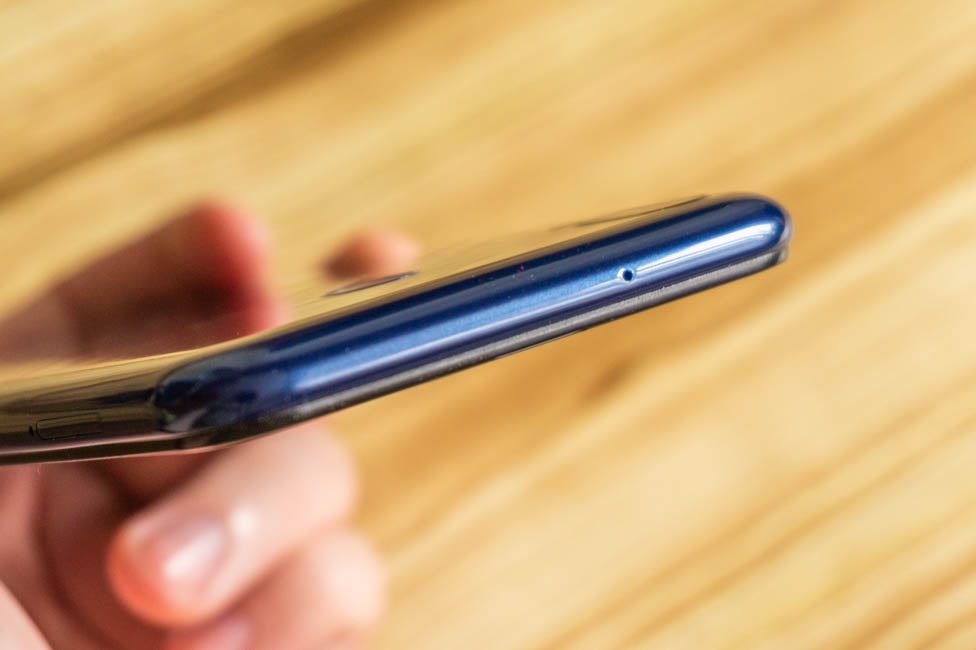 On the back everything is minimalist: a vertical block with cameras in the upper left corner and a flash below it. The module emerges above the surface for one millimetre, which does not bother me at all. In the center below there is a platform with an oval fingerprint scanner. Below it is the Samsung logo.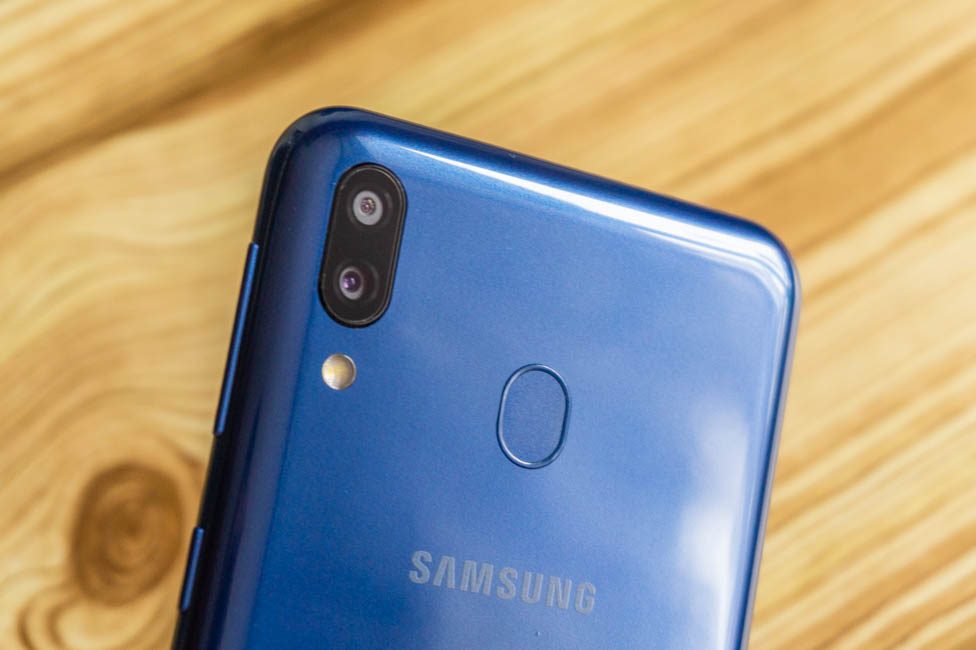 Ergonomics
The 6.3-inch screen is already becoming a standard in smartphones. In terms of dimensions, Samsung Galaxy M20 is a pleasant surprise. This is one of the smallest devices with a similar diagonal, judging by the height and width of the case.
Huawei Y7 2019 is similar in terms of dimensions. A direct comparison only shows that Galaxy is even smaller. As a result, the smartphone is more convenient. But the mass is noticeably bigger, which personally does not bother me. The smartphone is not very slippery – but not very grippy either.
But there are a couple of other small nuances, such as the volume key. It is too high for my liking. If it is still possible to lower the volume without changing the grip, but good luck raising it.
The fingerprint scanner also has its moments. Roughly speaking, it is not recessed at all. It has a border around the edge and nothing else. I had to get used to this decision, but at least the location is very convenient.
Samsung Galaxy M20 Display
Samsung Galaxy M20 has a 6.3″PLS TFT matrix. If you don't go into details, PLS is essentially IPS with Samsung's touch. But in the context of smartphones, you can omit the question of the difference between the two technologies. 2340×1080 pixels, 409 ppi density, 19.5:9 aspect ratio.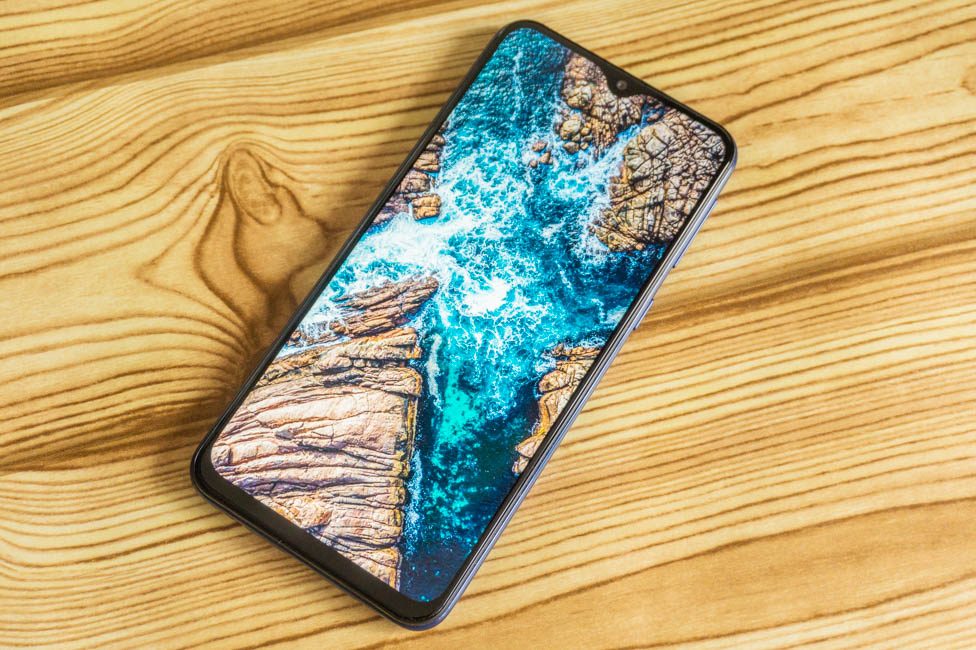 It is important to know that this is not AMOLED we've grown used to. So the color rendition is not so juicy and contrasty. But in general it is a solid display, not inferior to competitors. The colors right of the box are natural, there are no problems with the white balance.
The viewing angles are good, but the contrast gets lost when you look at it at certain angles. The stock of brightness is enough for use on the street, but not in direct sunlight. Auto-adjustment of the brightness works okay, I wanted the level to change a little faster.
If you hate notches, it is possible to hide it with a standard black fill on the sides. In most cases, when masking is activated, indicators and notification icons are displayed on the sides. But in the Samsung Galaxy M20 it is beaten differently – here the entire status bar shifts down.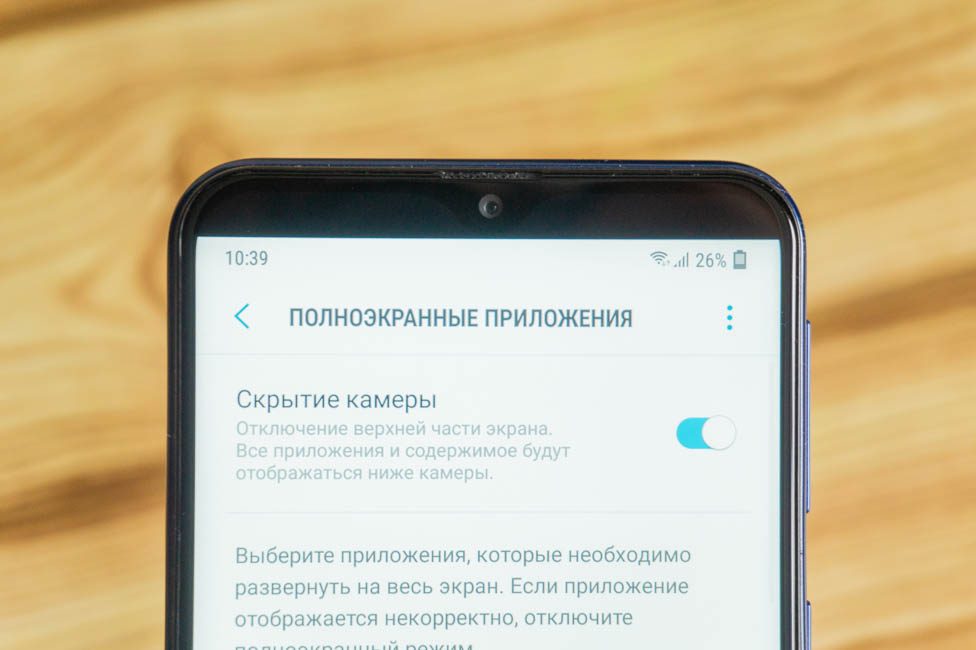 This disguise does not look very good. The thing is, below the angles are rounded, bit this is not the case with the angles above.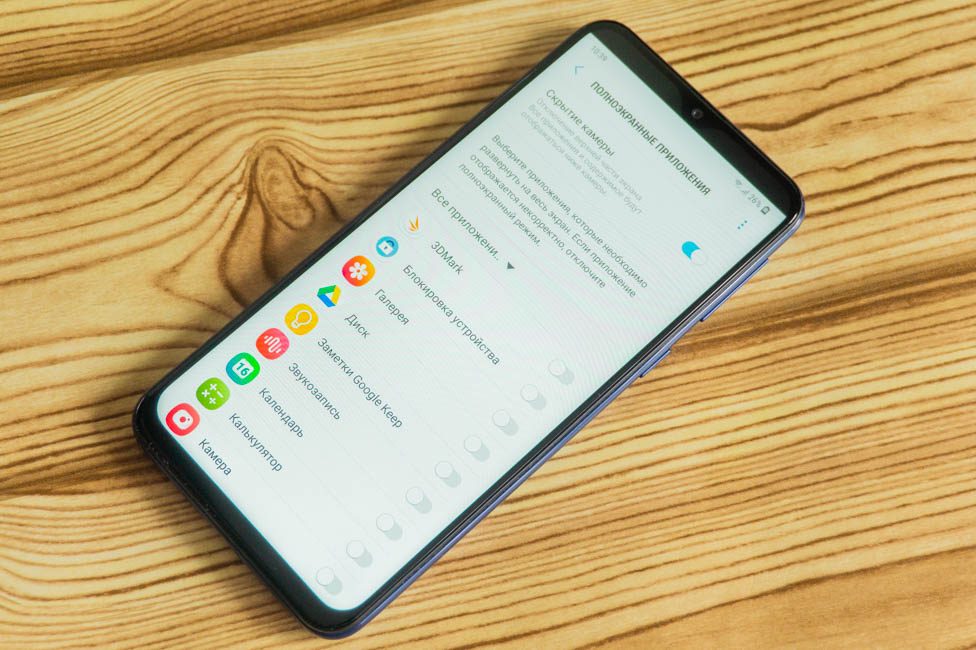 Another important fact is that in the settings there are no all color image profiles and even night mode settings. But the latter can be activated from the curtain switches. Always On Display is also absent, but this is the prerogative of AMOLED-matrices.
You can only force the full-screen display of applications from the settings. Since there are almost no unadapted ones left, this option can be used in a slightly different way.
By default, in games or when watching a video on YouTube the area to the sides of the notch is filled. We get a black stripe, which is also asymmetric with respect to the field on the opposite side.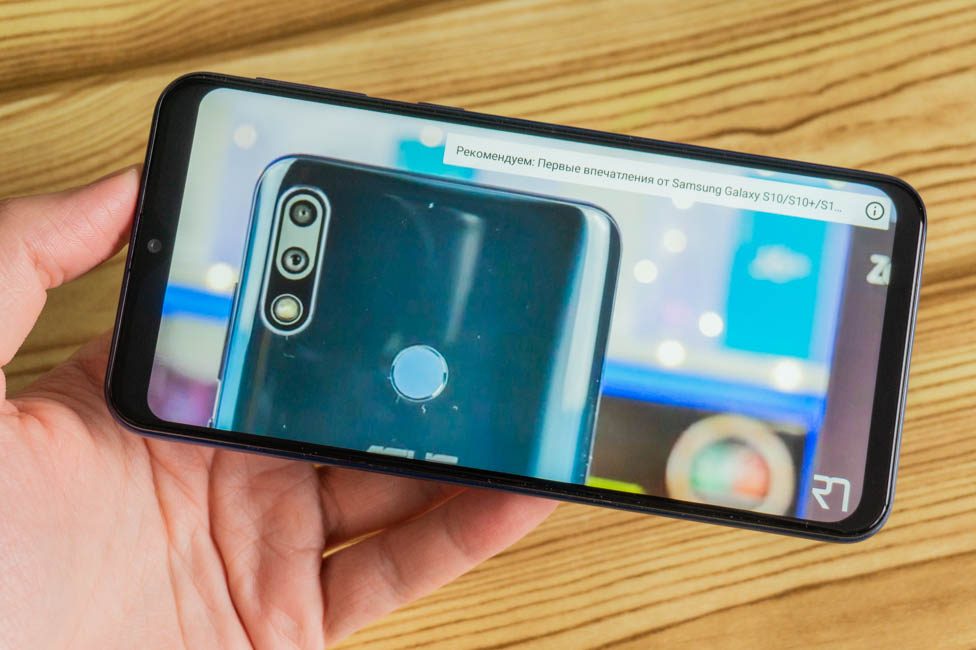 And if this confuses you, you can remove the stripe by activating the switch. For example, in YouTube, the video will be displayed in full, but the cutout will then eat off a small part of the image.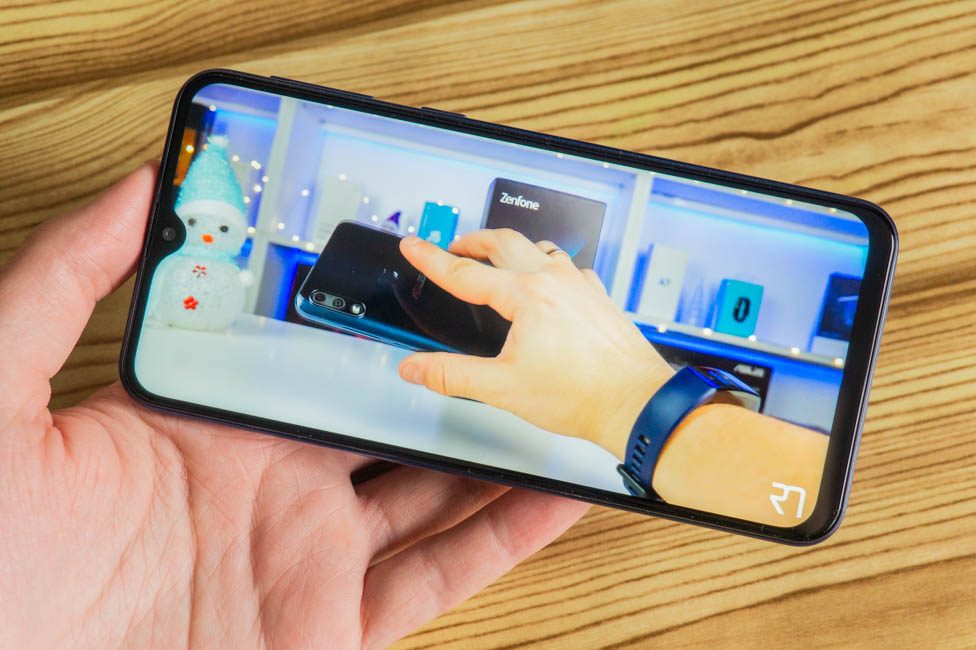 Samsung Galaxy M20 Performance
The Galaxy M20 is powered by Samsung Exynos 7904 processor. This new chip is manufactured using a 14nm process technology. It consists of eight cores: two Cortex-A73 with a clock frequency of 1.8 GHz and six Cortex-A53 with a frequency of 1.6 GHz. Graphic Accelerator is Mali-G71 MP2. The performance of this bundle is at the level of Qualcomm Snapdragon 632 or slightly lower than the 636th.
I tested a smartphone with minimal amounts of memory: 3 GB of RAM and 32 GB of storage. There is also a version with 4 gigs of RAM and 64 GB of storage. It's incorrect to talk about the number of apps the device can hold in its memory. I think there will be no problems with this in the commercial version.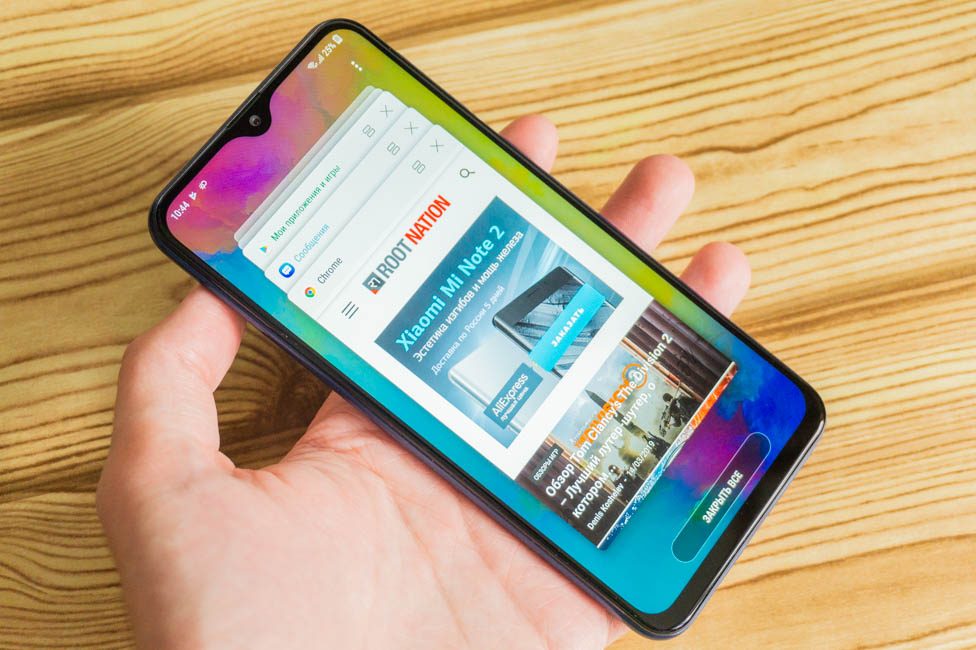 What can I say about the storage? in my modification, 24.46 GB is free. 64 GB model should be enough for the average user, but you can expend it further. You can install a memory card up to 512 GB without having to choose between it or a second SIM card.
Both system and applications are quick. The shell is smooth with almost no microfreezes.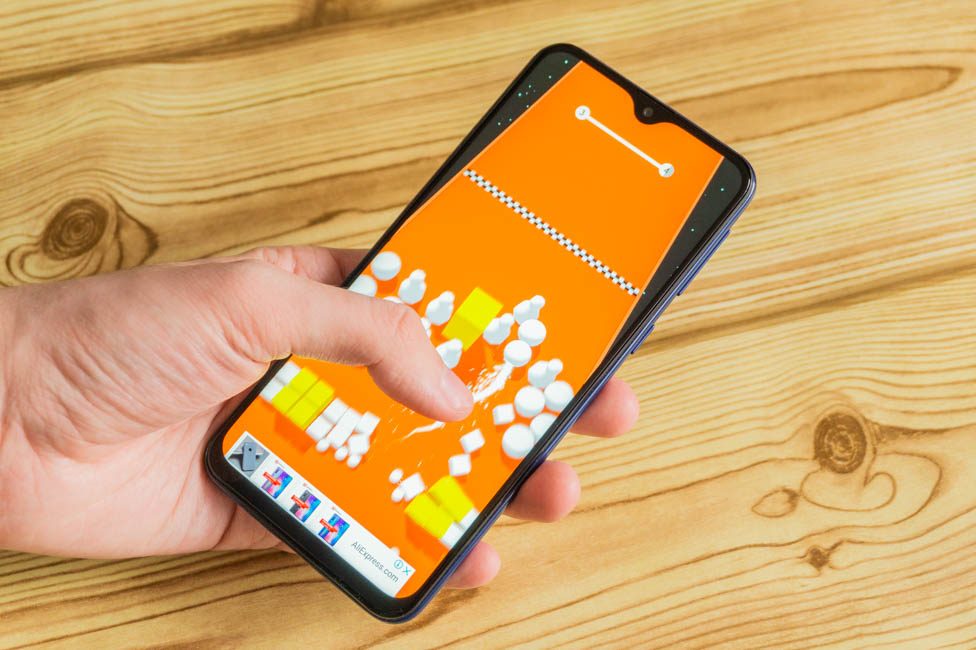 With games, the situation is much worse. Primitive time-killers run flawlessly, but if you plan to play heavy games often, M20 is not the best choice for this purpose. Despite the fact that PUBG Mobile is available on high graphics you better lower it to the minimum. Lags usually occur at the worst moment.
Samsung Galaxy M20 Cameras
Samsung Galaxy M20 received two main camera modules. The first and main one is 13 Mp, f/1.9, 1/2.8″, 1.12μm, PDAF. The second wide-angle module is 5 Mp, f/2.2, 12 mm, 1/6″, 1.12μm with a viewing angle of 120°. I like this: it's better than when the second module is just a mere depth sensor.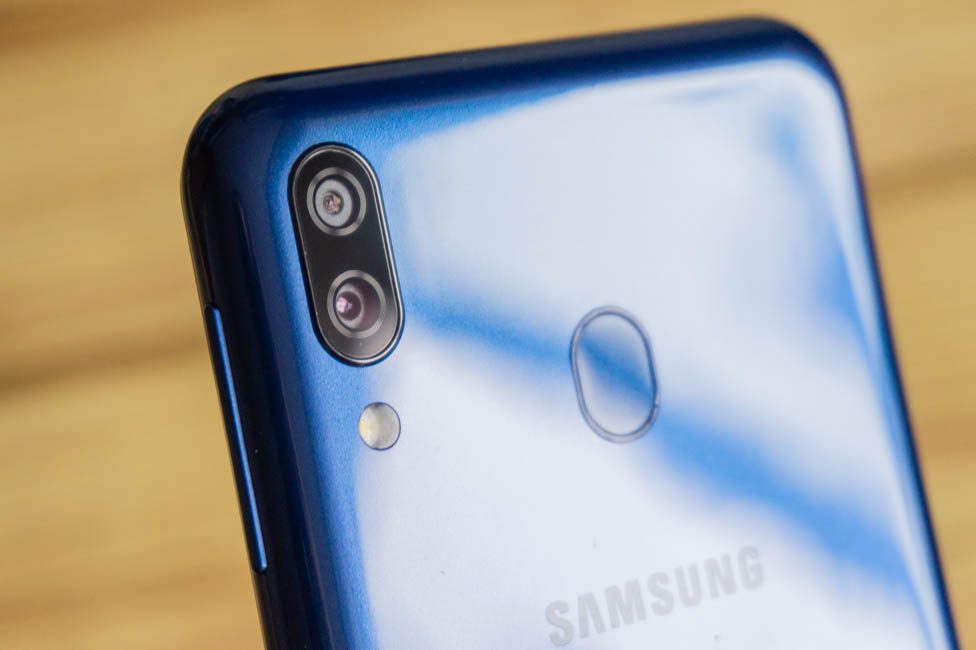 The main module shows itself quite well with the proper level of light around. Detailing is not bad, the color rendition is natural and without any beautifiers. The dynamic range is slightly above average. In the room with artificial lighting details already worse. In a bad light or at night the problem is not only with the expected amount of noise, but also in the autofocus operation. It copes normally during the day, but in difficult conditions it can be hard for it to focus in the right place. The focus constantly "jumps", trying to grab the object.
PHOTO EXAMPLES IN FULL RESOLUTION
There is no depth sensor, but as practice shows, even without it you can blur the background. The Live Focus feature only works if it recognizes a person. It's mediocre when it comes to separating the background. Switching between the standard and wide-angle module is performed by pressing the corresponding button on the shooting screen or by zooming in/out.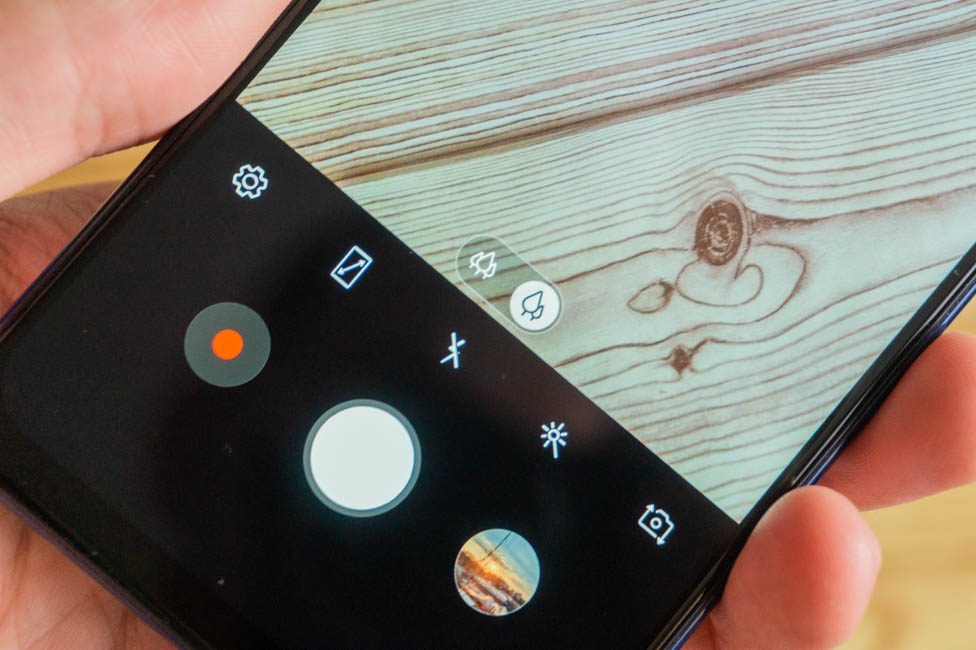 As usual, a wide-angle module is much simpler, but here its purpose should be taken into account. That is, shooting everything in a row will not work. Normal images can be obtained by taking pictures of, for example, architecture during the day. If the light is low, the quality suffers, and the details get lost. Autofocus is understandably absent. The white balance is not correct in all situations, but by and large there are no critical errors.
PHOTO EXAMPLES IN FULL RESOLUTION
Interestingly, after taking pictures you can go into standard gallery where you can correct the characteristic wide lens distortions. It looks something like this.
Video can be shot in Full HD and 30 FPS. The quality is normal, but nothing supernatural – everything is as usual. The second module writes with the same resolution.
And then there's a 8 megapixel front camera, f/2.0. When you switch, a droplet with a camera gets nicely highlighted. It shots good selfies, and you can also blur the background.
The camera application contains the necessary set of shooting modes, including manual ones. In it, however, you cannot adjust the shutter speed and focus. In the settings you can turn on automatic HDR or add a watermark on the photo in the lower left corner.
Unlock Methods
The fingerprint scanner in the Galaxy M20 is not very fast or stable – it's clearly inferior to many smartphones in this segment. Also, there's no recess, and you can't easily find the scanner by touch. You can solve this by buying a case.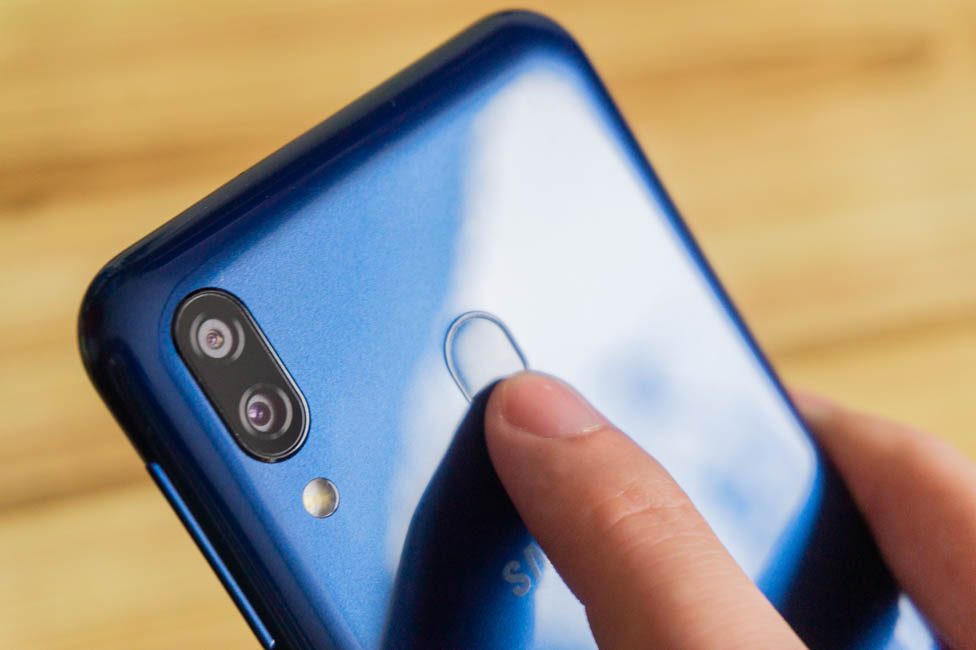 For the reason above, I used face recognition. It is also inferior in speed and it is not always possible to unlock the device. However, it is possible to use even with disabled accelerated recognition. This feature increases the speed, but also decreases the security.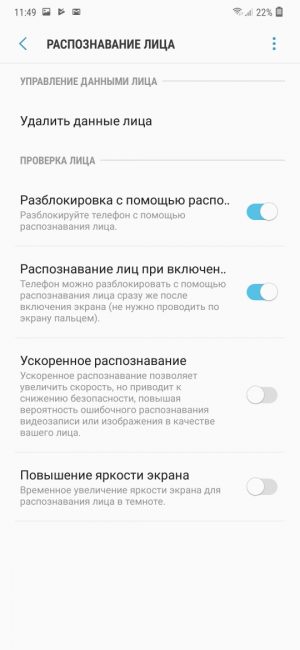 To use the it in the dark you can activate a temporary increase in the brightness of the display to highlight the face. During the scan, the drop-like notch is additionally emphasized by animation.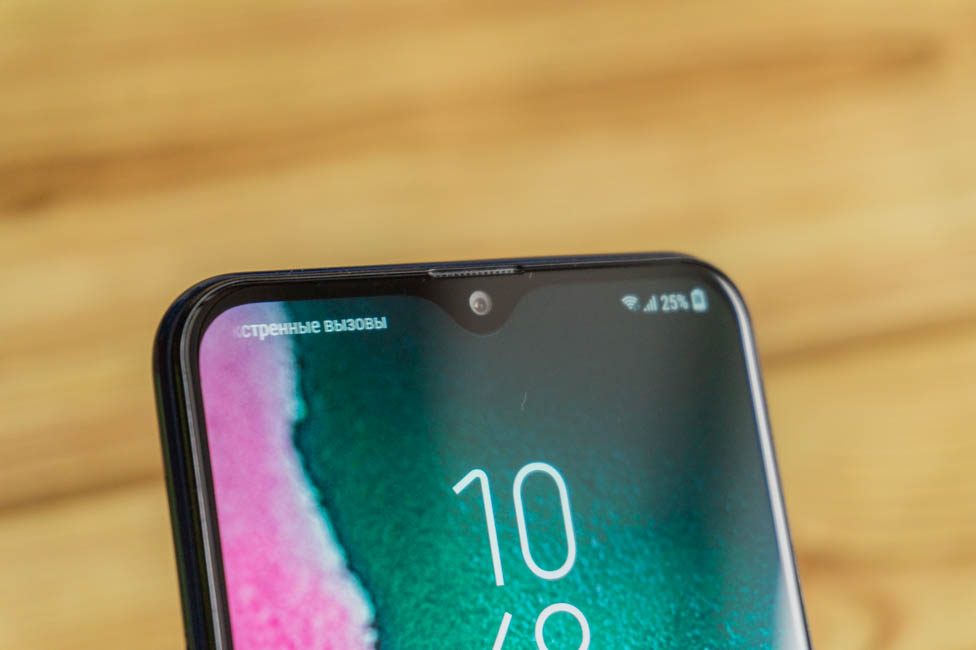 Battery life
Inside the Samsung Galaxy M20 is a large 5000 mAh battery. There are other phones with big batteries on the market, but in general they are still pretty rare. I can remember ASUS ZenFone Max Pro M1 and M2 with batteries of similar capacity. But the fact that Samsung will take this step also surprised me. Undoubtedly, this is a plus, and a weighty one.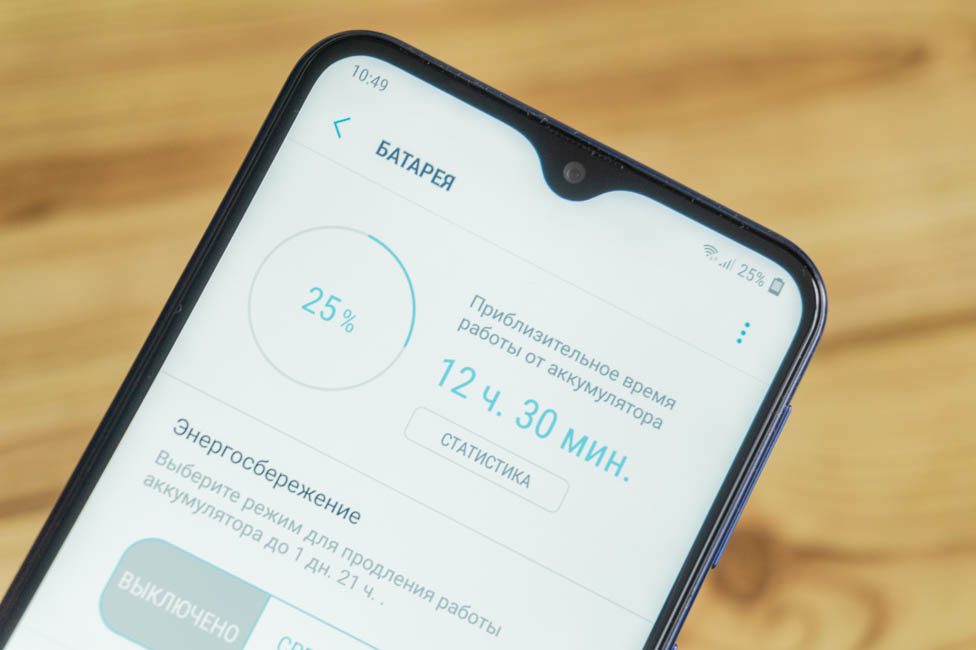 In practice, the M20 lasts for two days of use. The active display time was about 6 hours. In general, it seems to me that this is not the limit. I think you can squeeze more, but the test sample prevented me from trying. I am talking about tracking software and GPS which are ON all the time and can not be disabled. But in general you can count on 2 days easily, which is very, very good.
Since I had a test sample without the bundled charger, I can't tell you exact numbers. But let me remind you that the charging process is carried out through Type-C.
Sound and communication
The earpiece speaker is good, no issues with the sound quality. The multimedia speaker on the bottom of the smartphone is loud, but not very high quality. You can feel the lack of frequency range  at high volume, where there are no low frequencies. In principle, nothing special, it's good for calls/notifications.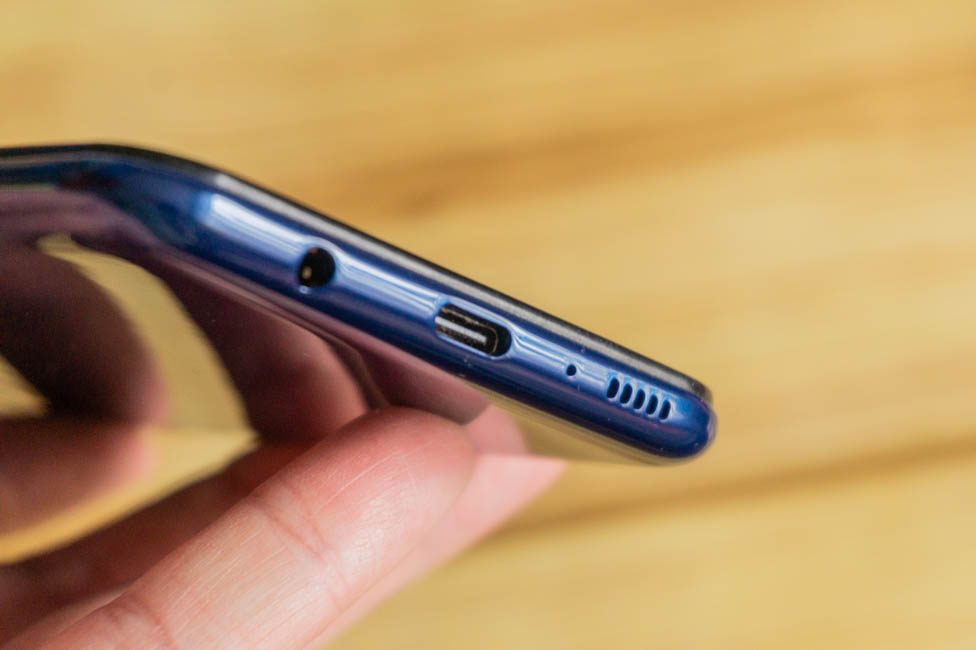 But in headphones M20 sounds good even by default. At least with the RHA MA650 Wireless, I didn't even want to immediately run into the sound settings and turn the equalizer sliders. Although it can be done this way – effects do work with wireless headsets. If you don't like being wireless, you can connect your favorite headphones via the audio jack.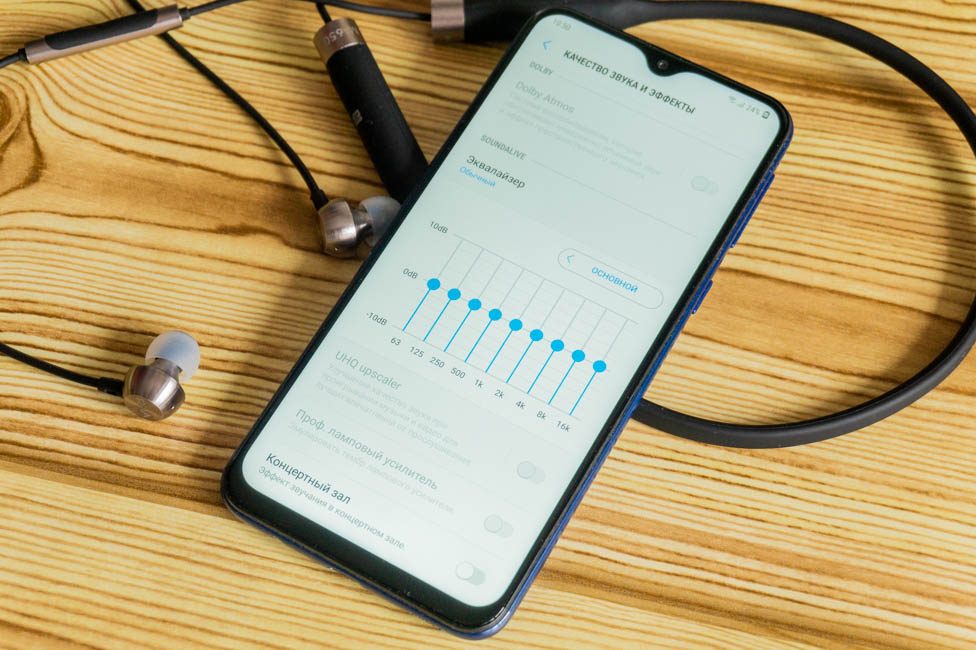 The settings are: Dolby Atmos effects, equalizer, Adapt Sound and several other toggle switches.
On communication opportunities, I have no serious complaints. Rather, there is only one complaint – there is no dual-band Wi-Fi (only 802.11 b/g/n). Otherwise it's a complete set: Bluetooth 5.0 (A2DP, LE), GPS (A-GPS, GLONASS, BDS) and even NFC. How do you like it, Redmi Note 7? Once again, Samsung manages to surprise.
Firmware and software
From a software point of view, of course, there is something to complain about. For example – the old version of Android 8.1 Oreo. Perhaps … with Samsung Experience 9.5 it hardly matters what kind of robot is underneath, but it would be fair to note this fact. But the shell is crammed with all sorts of features.
There is your own Game Launcher with some useful options, one-handed control mode, application cloning. The navigation buttons can be swapped, there is a kind of gesture control. The latter is peculiar, because in fact they are the same three buttons, but you can swipe up, not tap them.
When you select this navigation bar, three marker bars appear on the screen below. If you remove them, which I did, the phone gains full-screen gestures. But you need to get used to it, especially if you switch from any other navigation methods.
Verdict
Samsung Galaxy M20 is the result of a completely new strategy which can ruin those unwilling to adapt to this reality. Samsung does not kid around: modern design, good screen, adequate hardware, nice cameras and battery life. There's even NFC and Type-C – what else can you possibly need?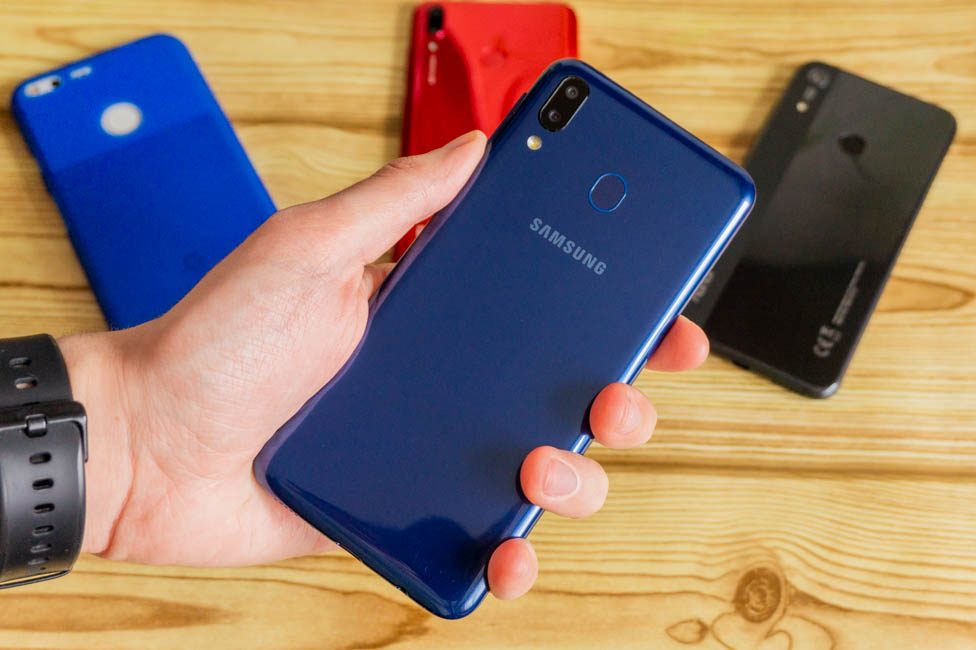 There are cons, as usual. The body is hardly practical, the fingerprint scanner (as well as face recognition) is slow, and Wi-Fi ac is missing. But these things don't matter that much if we look at the price. How can you kill the middle market with one budget phone? Who will buy anything else?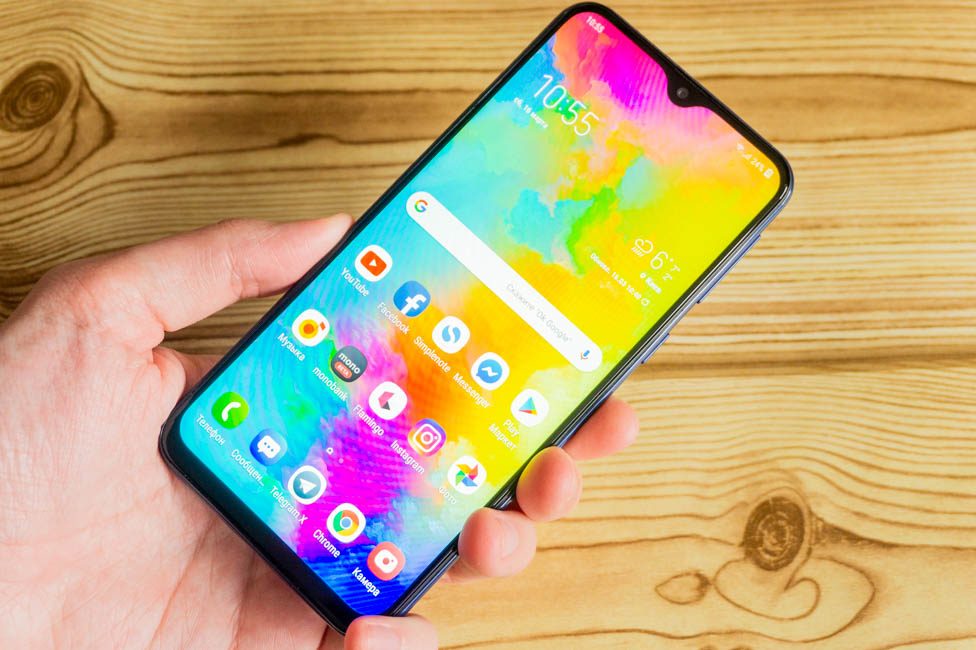 Samsung Galaxy M20 sales already speak for themselves. What does the buyer want? The most the modern smartphone can offer for the lowest amount of money. That was Xiaomi's selling point, but they aren't the only ones who can play by these rules. Maybe it's time they start installing NFC in Redmi, if you know what I mean.