Not so long ago, the "sparkling" series of smartphones from the TECNO brand was replenished with a new device – TECNO SPARK 10 Pro. This is an updated version of last year's "nine", which has changed not only the design, but also more significant characteristics, such as the display diagonal and RAM capacity. This, of course, affected the price, but the smartphone still remains quite affordable. So let's take a look at what the latest generation of TECNO SPARK has to offer in the Pro version.
Read also:
Technical specifications
Display: IPS, 6.8″, 1080×2460, 395 ppi, 90 Hz
Processor: Helio G88, 8 cores, 2×Cortex-A75 (2.0 GHz) + 6×Cortex-A55 (1.8 GHz)
Graphics processor: ARM Mali-G52 MC2
Permanent memory: 256 GB
RAM: 8 GB (+8 GB of virtual memory)
MicroSD memory card support: up to 256 GB
Wireless networks: Wi-Fi 5, Bluetooth 5.0, NFC, GPS, A-GPS, GLONASS
Main camera: 50 megapixels + 2 auxiliary sensors
Front camera: 32 megapixels, dual flash
Battery: 5000 mAh, 18W fast charging
OS: Android 13 with HiOS 12.6 shell
Dimensions: 168.41 x 76.21 x 8.46 mm
Price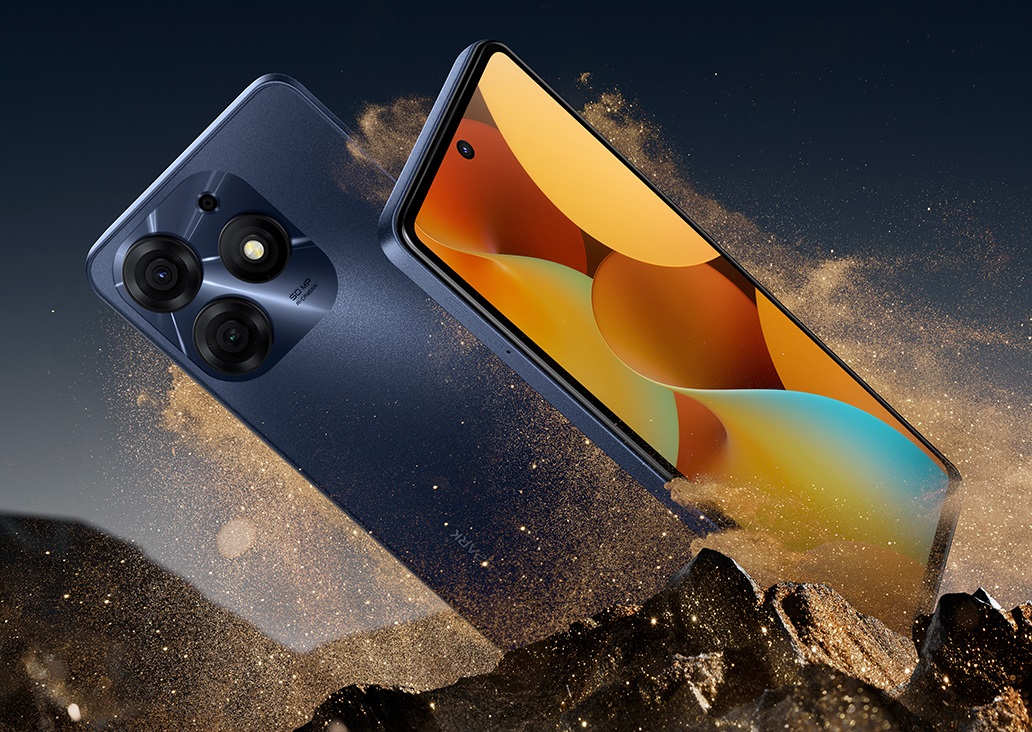 TECNO SPARK 10 Pro in the 8/256 GB version can be purchased today for an average of ∼$200. But a smaller 8/128 GB version is also being prepared for the market. It should cost a little less, but the exact figures are not yet known.
Package contents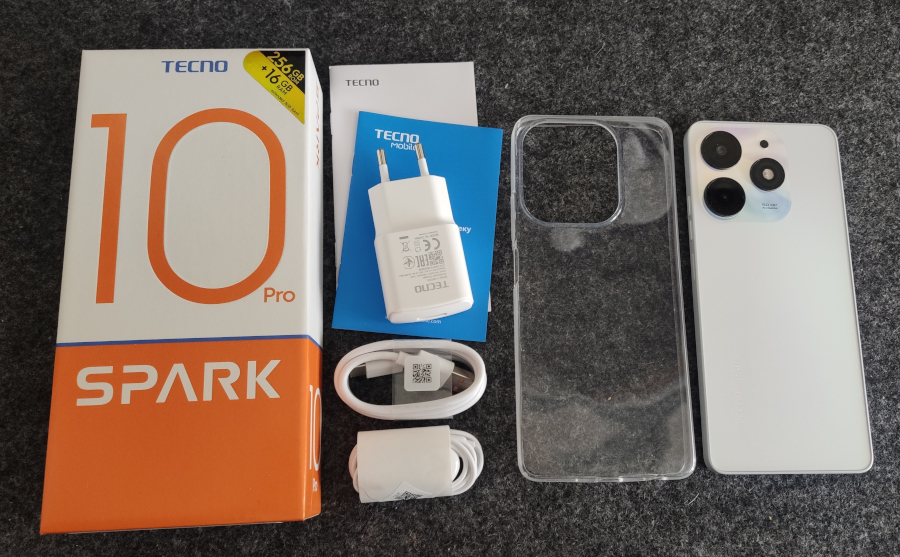 The smartphone arrived in a neat orange and white box, which contains the smartphone, an 18W cable and charger, a silicone bumper, wired headphones, and, of course, the accompanying literature and a SIM card slot key. In addition, the screen comes with a factory-installed screen protector, so the Spark 10 Pro comes with everything you need to pick up and use your smartphone right out of the box.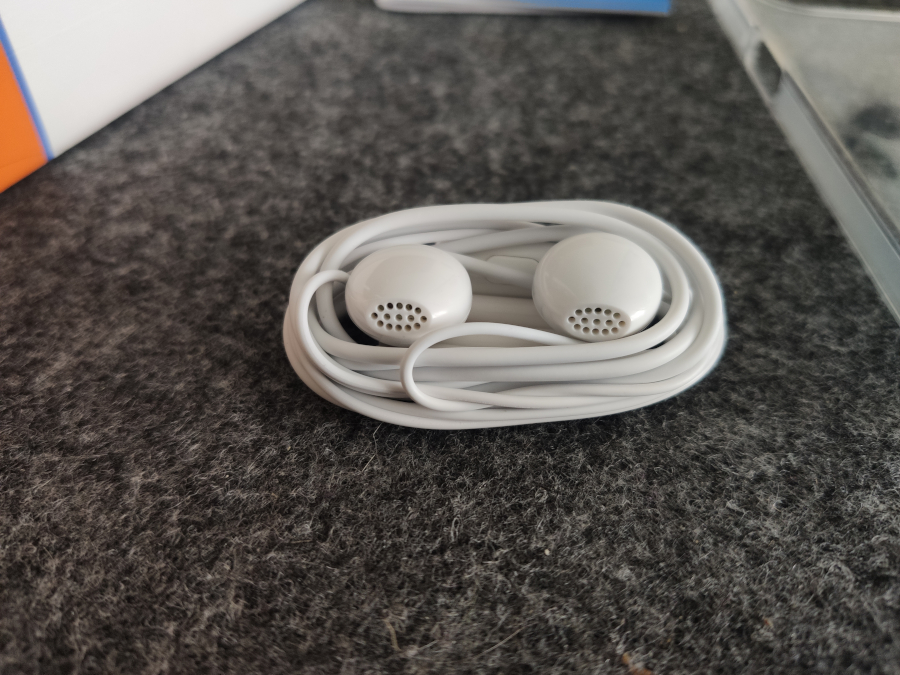 The case here is standard, made of moderately dense transparent silicone. Although it is unlikely to last long and will lose its original appearance over time, the bumper does a good job of protecting your smartphone. It has protective bumpers around the screen and camera unit, so you can be sure of their safety.
Read also: TECNO POVA Neo 2 Review: 90 Hz and 7000 mAh
Design and materials
SPARK 10 Pro has a modern design and is made according to all the canons of modern smartphones: with massive camera modules, flat edges and minimalist design. The back looks interesting – it's light, made of frosted glass with a pearlescent texture that shimmers beautifully from different angles. The manufacturer has named this colour Pearl White, but SPARK 10 Pro is also available in Starry Black, the texture of which resembles the starry sky. Thanks to the matte surface, there are no traces of use on the back of the case.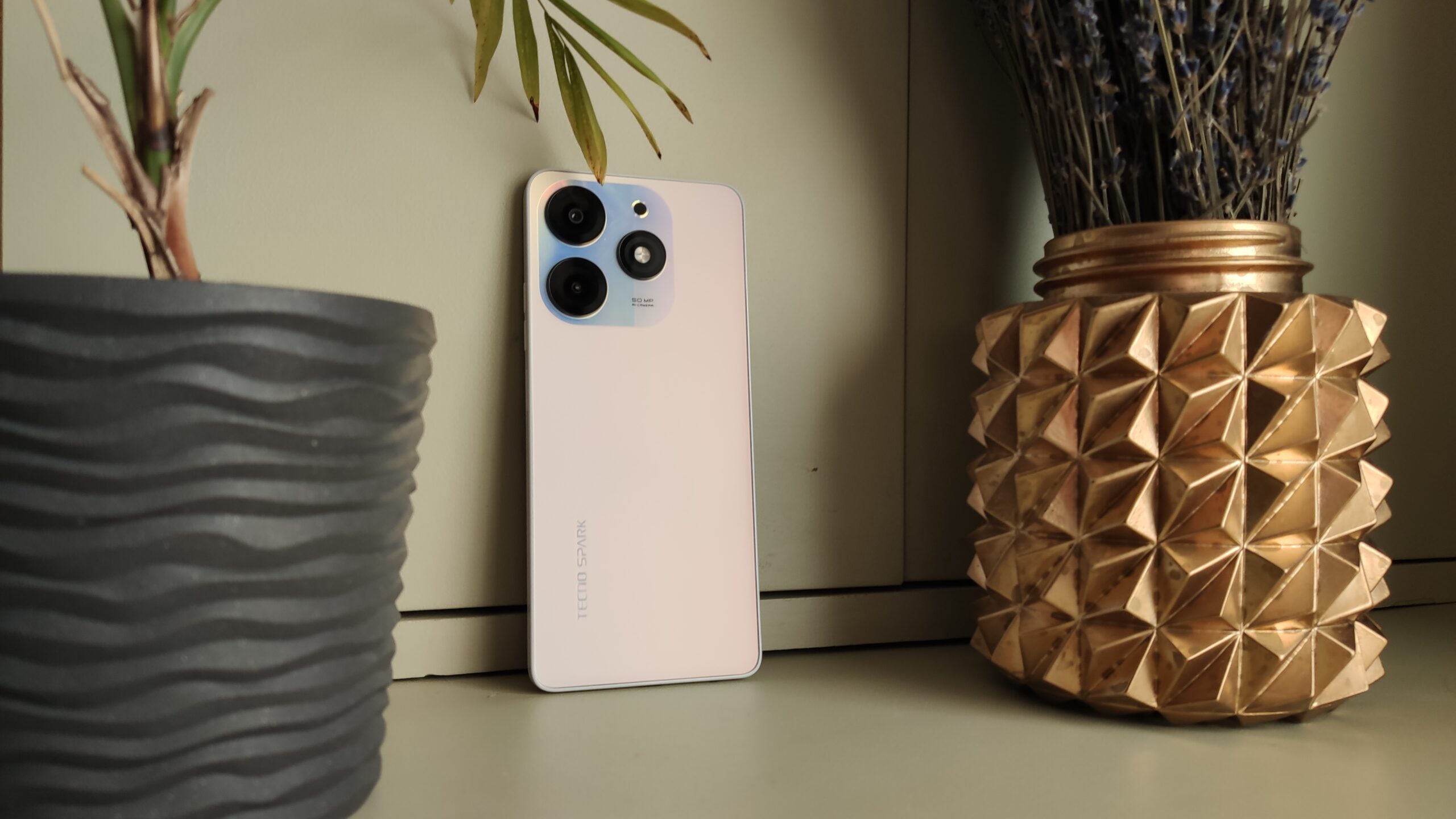 In the upper left corner, it's impossible not to notice the camera unit. The modules themselves are small, but the bezel around them is quite large. Some may like it, some may not, but this is the fashion for smartphones in 2023.
The flash is placed on the right in a slightly smaller module, and the camera area itself is highlighted by a pearlescent surface with a mirror-like glossy texture. The combination of frosted glass and mirror pearl contrasts well against each other and looks very nice in real life.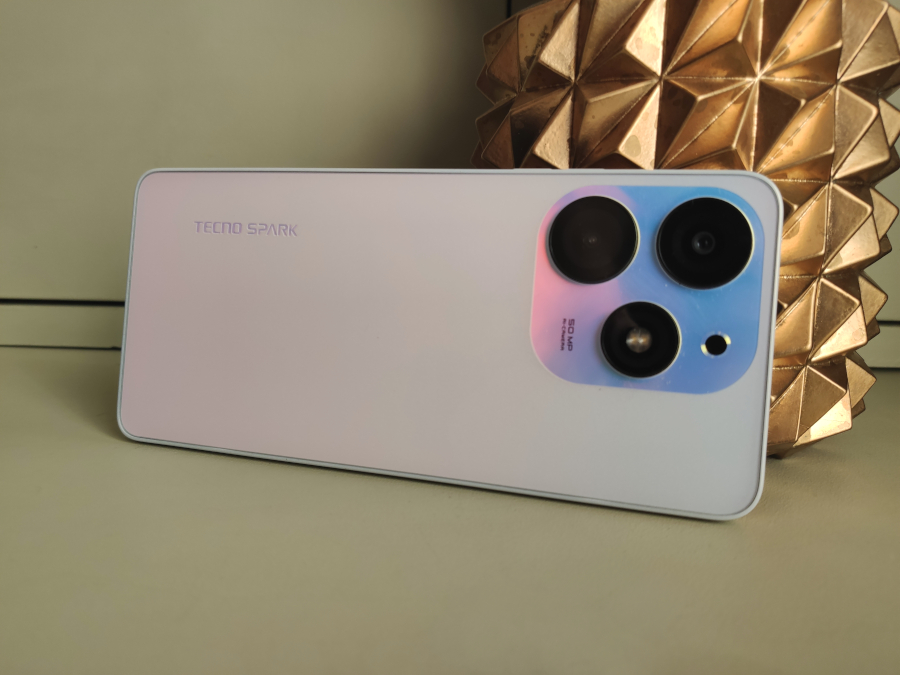 The lower right corner bears the brand logo and the name of the series – "TECNO SPARK". Against the matte back, it looks three-dimensional and feels like a thin silicone coating.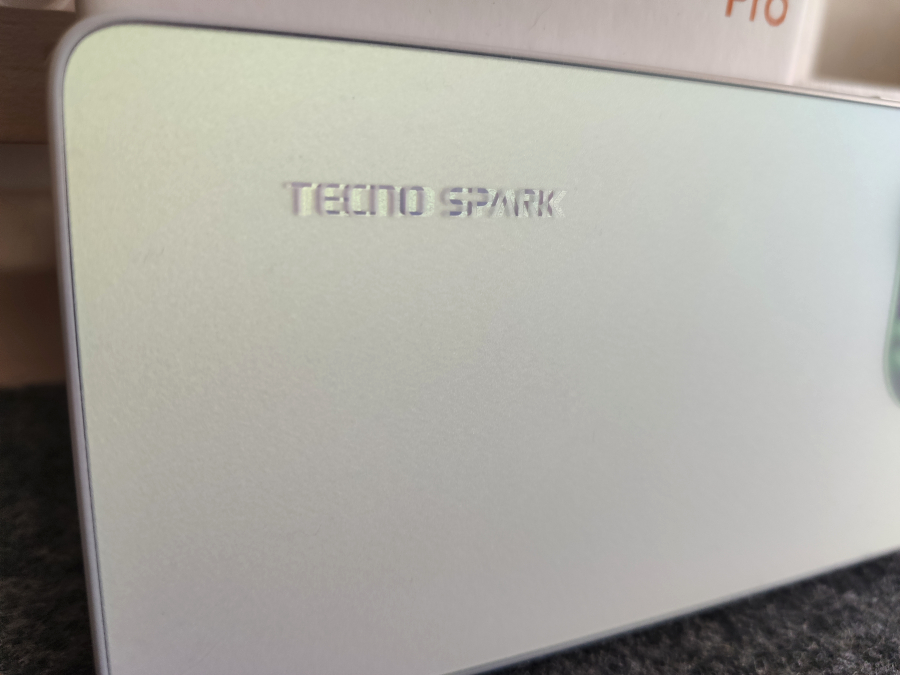 Turning the smartphone over and we see a 6.8-inch screen with small bezels around it, the most noticeable of which is the bottom edge. Compared to the previous version of SPARK 9 Pro, the front camera notch is no longer in the form of a "drop", but is designed into a neat hole on the screen. The display itself, compared to its predecessor, has become larger – 6.8 inches versus 6.6.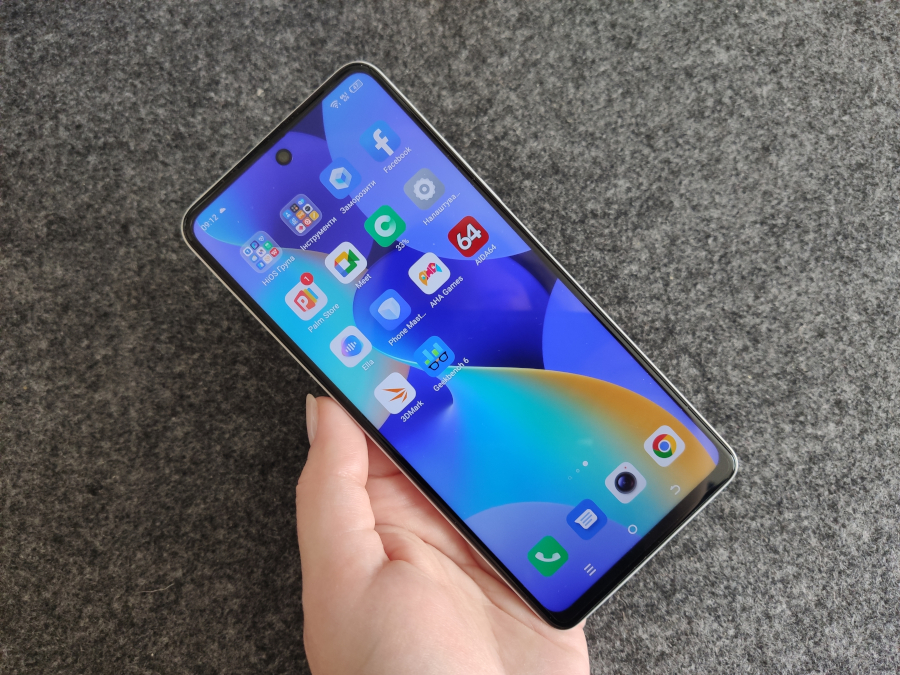 The earpiece speaker hole is located, as usual, at the junction of the display and the top end. But there's one more element that most smartphones on the market can't boast of – the front camera flash. It's not visible when you look at it normally, but when you switch it on in the camera app, you can see a pair of LEDs located in the upper right corner. They give off a neutral-warm glow that will help you take clearer and more interesting selfies.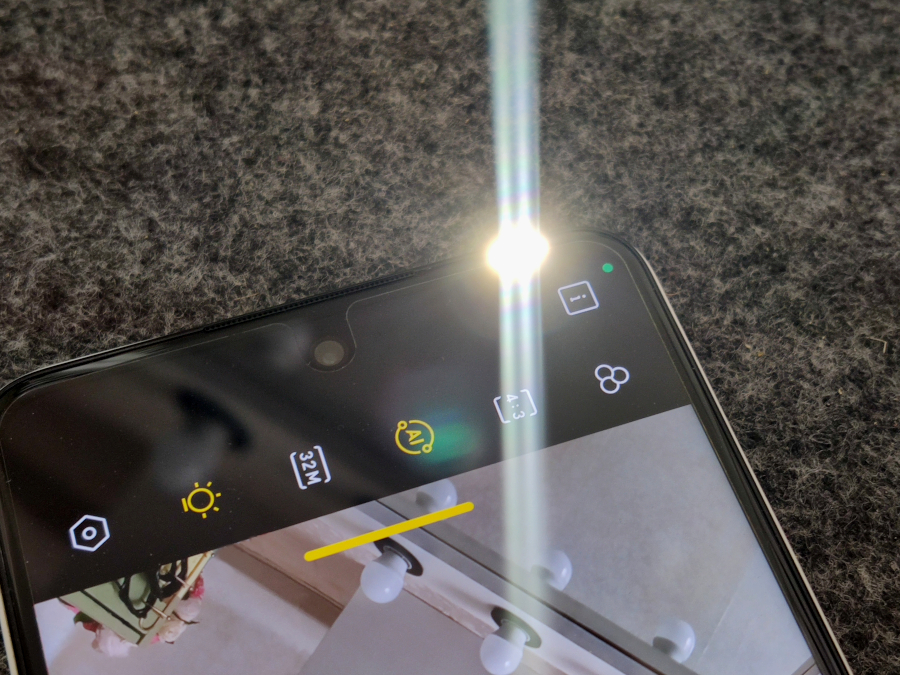 Element layout and ergonomics
The top edge is blank, and below you can see a Type-C port for charging, a headphone jack, an external speaker, and a microphone hole.
On the left is a slot for a pair of SIM cards and a microSD card. On the right are the volume buttons and the power button with a built-in fingerprint sensor.
Although the base of the case is made of glass, the ends are plastic and painted to match the colour of the device. They are absolutely flat and have no hint of any rounding. Well, not counting the corners. Given the format of the edges and the considerable diagonal, the "ten" feels like a really large smartphone. But, thanks to the flat matte edges, it is held securely in the hand and does not try to slip out.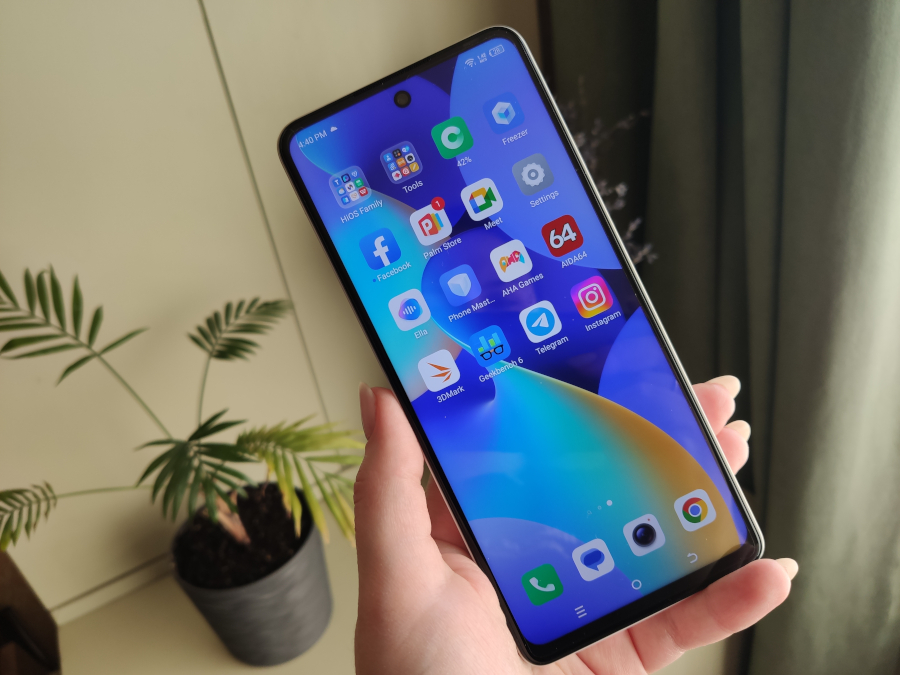 Is it convenient to use the device with one hand? Of course not. And with a smaller diagonal, it's impossible for most users, what can we say about a 6.8-inch phablet without 5 minutes of charge time? But the power button, which is also a fingerprint scanner, is very well placed. When you take the smartphone in your right hand, the scanner is immediately under your thumb. A second later, and the smartphone is ready to go.
Read also: TECNO Pova 3 Review: Large and Lasting Mid-Level Phone
TECNO SPARK 10 Pro screen
TECNO's new product has a 6.8-inch IPS matrix with a resolution of 1080×2460, a pixel density of 395 ppi and a refresh rate of up to 90 Hz. Why "up to"? Because here, as in most smartphones, there are several display modes – 60 Hz, 90 Hz, and adaptive mode, which independently adjusts the refresh rate depending on the type of content. And the latter option allows you to save battery power.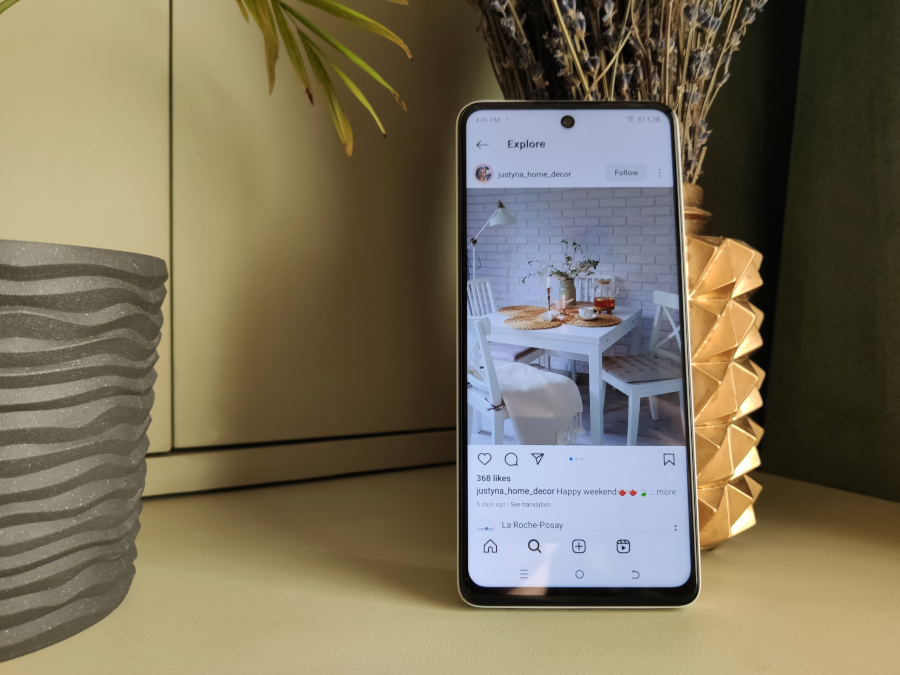 The display has quite pleasant colour reproduction, a good level of brightness for comfortable indoor use, but readability is significantly reduced in direct sunlight. Viewing angles are not record-breaking here – some colour distortion is observed already at a slight deviation, but the text can still be read.
In the settings, you can choose a dark or light theme, set a schedule for switching between themes, enable adaptive brightness and eye protection, set the picture temperature, configure the lock screen, and set the display timeout. Interestingly, there is an option to adjust the sensitivity of vertical scrolling and animation effects when switching between applications.
TECNO SPARK 10 Pro дисплей
Performance and wireless connectivity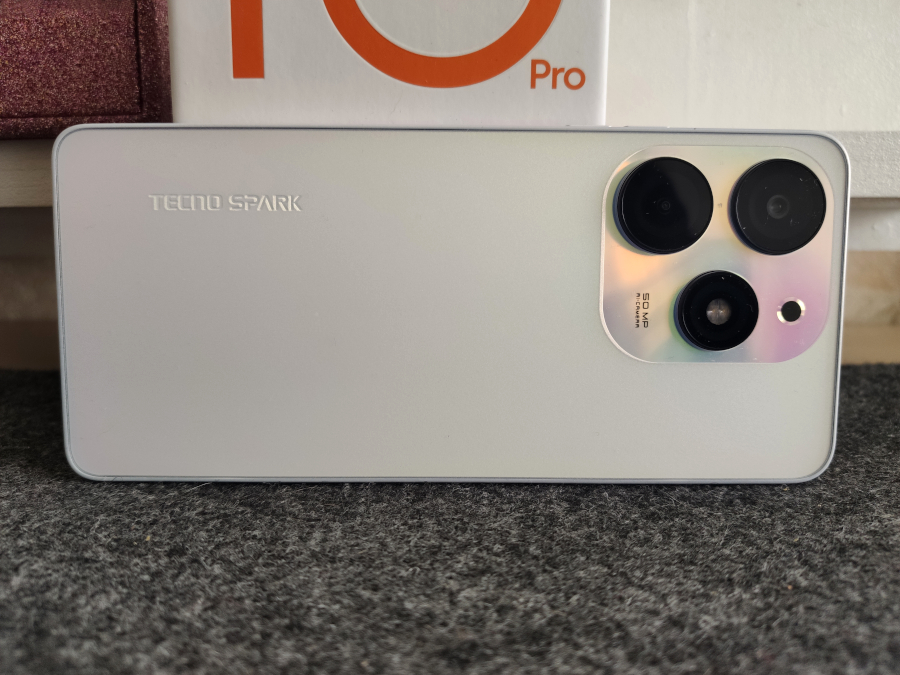 TECNO SPARK 10 Pro is powered by an 8-core Helio G88, where two are high-performance Cortex-A75 cores clocked at 2.0 GHz and six are energy-efficient Cortex-A55 cores clocked at 1.8 GHz. ARM Mali-G52 MC2 is responsible for graphics processing. The smartphone will be available in two versions – 8/256 GB, as we have in our review, and a junior 8/128 GB version, which should be available in the near future. In both cases, there is support for memory cards up to 256 GB. But the older version has one nice bonus that the younger one lacks: the ability to increase the amount of RAM by another 8 GB with a flash drive and get 16 GB of RAM. In terms of wireless connections, we have everything we need: Wi-Fi 5, Bluetooth 5.0, NFC and GPS services.
Although the processor of SPARK 10 Pro is average, they didn't spare any RAM. Thanks to this, the smartphone works quickly and accurately, and the 90Hz refresh rate makes it smoother and more enjoyable. It copes well with multitasking mode, allows you to play modern mobile games (especially demanding ones – at low or medium graphics settings) and perform any task for which a smartphone is used today. During testing, we did not feel any power shortage, the device copes with all tasks without any problems.
Read also: OPPO Reno8 T review: a mid-budget smartphone with a microscope
Software
The software part is represented by the proprietary HiOS 12.6 shell based on Android 13. It has a lot of TECNO software, including its own translator, an app store, and the Ella voice assistant, which, however, currently only understands French and English. There are really a lot of functions and different features. Among the interesting ones, I would like to highlight the protection against snooping, the sidebar for quick access to applications and functions that you use frequently, children's and game modes, application duplication, a variety of gestures and the function of activating applications by "drawing" with your finger on the locked screen.
Unlocking methods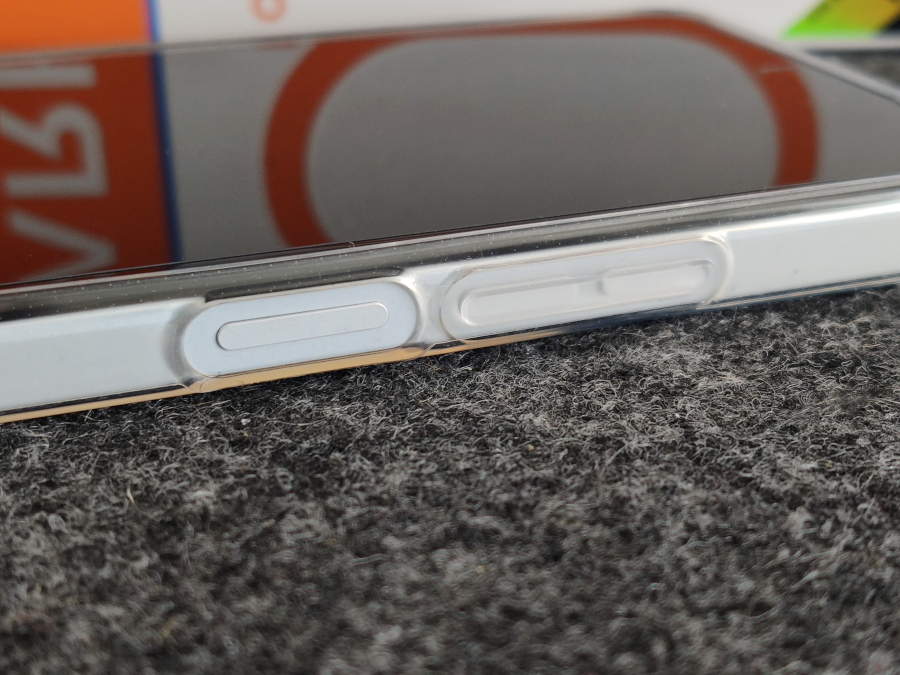 SPARK 10 Pro has a standard set of unlocking tools – a face scanner and a fingerprint sensor built into the power button. In both cases, the smartphone is unlocked quickly and almost without errors. The fingerprint scanner requires a quick tap and is ready to go. With the face scanner, it's the same. Even if you try to unlock the device in pitch darkness with a low display brightness, when you wake up the screen, the smartphone lights up brighter and the recognition is lightning fast. So, no complaints here.
Sound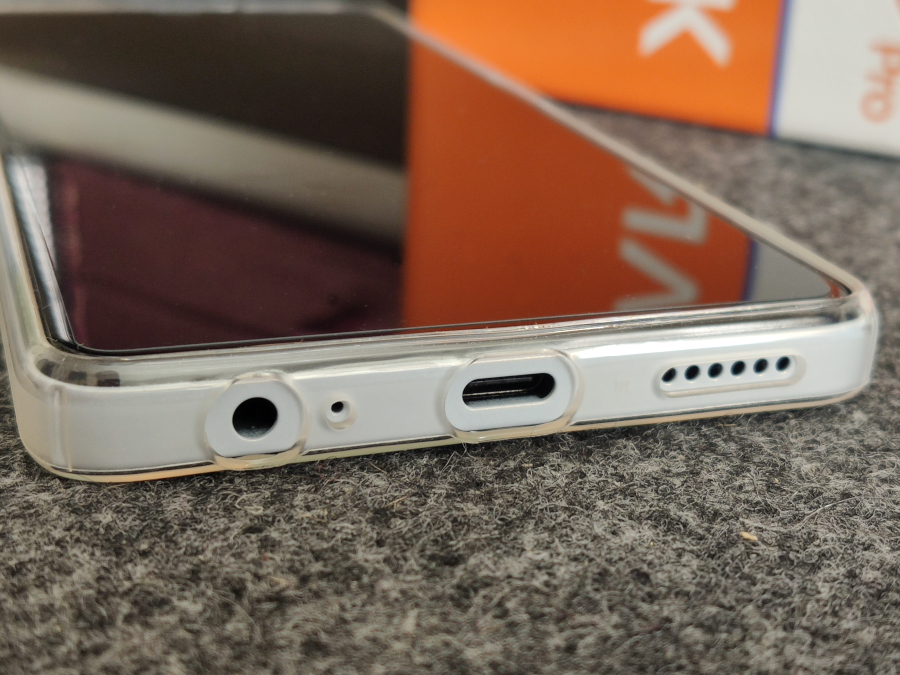 The smartphone has a single speaker at the bottom, so we have classic mono sound. There is nothing special about the emitter itself, the sound is quite standard. But in the settings you can find the DTS Sound item, where you can select the playback mode depending on the type of content. There are presets for video, music, and games with advanced settings, as well as a separate intelligent mode that will independently select the sound quality. In addition, there is an equaliser, so you can adjust the sound to the desired level.
Read also: Samsung Galaxy A54 5G Review: New king of the mid-range?
TECNO SPARK 10 Pro cameras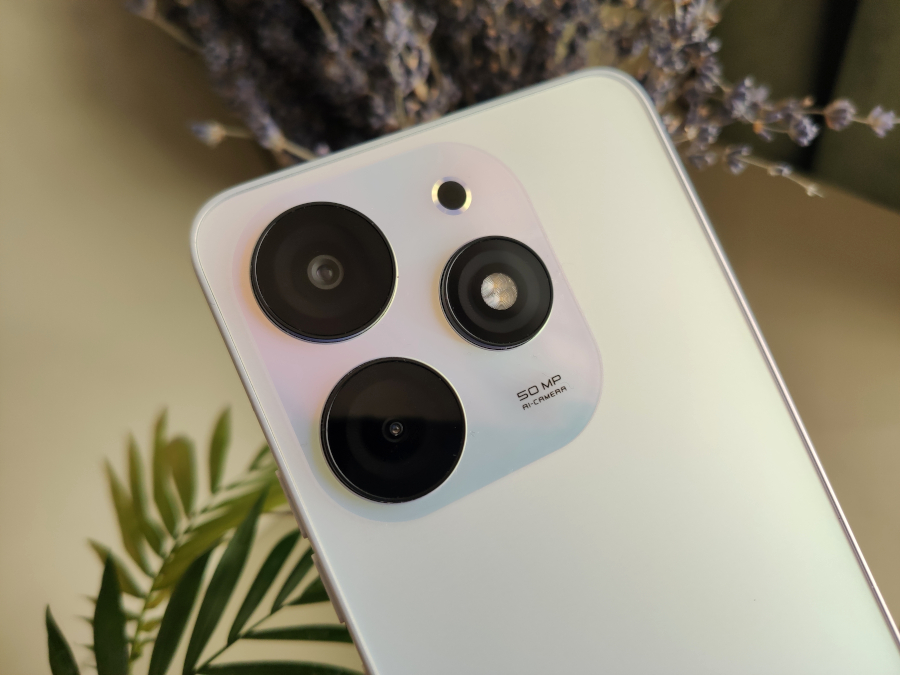 There are three rear camera modules here – the main one with 50 megapixels and a couple of auxiliary ones, the characteristics of which are not specified on the official website. Their task is to support the main sensor to obtain certain photo effects, such as bokeh. By default, the main module takes pictures at a resolution of 12 megapixels, but you can take pictures at all 50 by selecting the appropriate mode. However, I do not see the point in this, because shooting at 50 megapixels does not differ in quality from the standard one, and such photos take up less space in the memory.
Let's go through the shooting modes. For photos, there is the basic AI Cam mode, Beauty with a built-in beautifier, Portrait, Night mode, AR Shooting for creating 3D emojis, Panorama, Documents, and Pro mode. For video, there's the basic Video mode, Movie with many effects and transitions for beautiful videos, Slow Motion (4×120 fps or 8×240 fps), Short Video with various effects, and slow motion (up to 2K at 30 fps). In general, those who create content for social media or for the soul should like the built-in set of tools.
TECNO SPARK 10 Pro камери
What about the shooting quality? The camera focuses quite quickly in any light, so it's a pleasure to work with. I liked both day and night photos. Of course, SPARK 10 Pro doesn't produce flagship-quality photos, but for its positioning, the camera is very usable. As for me, the artificial algorithms in the smartphone have quite competent settings and the images are more saturated and atmospheric. Although this is a matter of taste – some people, for example, do not recognise the use of photo enhancers and for some it is rather unnecessary. But in some cases, they can help you get really interesting shots.
Let's take a look at a few pictures for example. On the left, without AI, and on the right, with it.
Processing makes the photo more saturated, but there is a "drag" on the contrast and sometimes you can see blurred details. Without it, you can achieve a more natural image if it is a priority.
The night mode makes the pictures warmer, sharper and also "overwhelmed" in contrast. On the left is a shot in normal mode, on the right – in night mode. But, in my opinion, it's worth experimenting with to get something interesting.
And a few more images in standard mode using AI.
Yes, the main camera did not receive video stabilisation, and some may be upset by the lack of a wide-angle module in the package. Although let's be honest – how often do you use a sensor with wide viewing angles in your life? I do – almost never. Therefore, the fact that the smartphone does not have a wide-angle camera, in my opinion, cannot be attributed to the disadvantages.
The front camera is 32 megapixels, but due to the 4-in-1 technology used here, the actual resolution is 8 megapixels. As mentioned above, the selfie camera is equipped with a full-fledged flash. There are several options for taking selfies in low light: the flash has 3 brightness modes, and there is also a softer light due to the screen backlight. For self-portrait enthusiasts, the smartphone should be a handy tool for adding beautiful photos to their social media feeds.
For self-portraits, there is an intelligent beautifier and the ability to widen the viewing angle for group selfies. As for video, here, as on the main camera, you can shoot in a resolution of up to 2K at 30 fps. But 60 fps is not available in any of the shooting modes.
Battery life of TECNO SPARK 10 Pro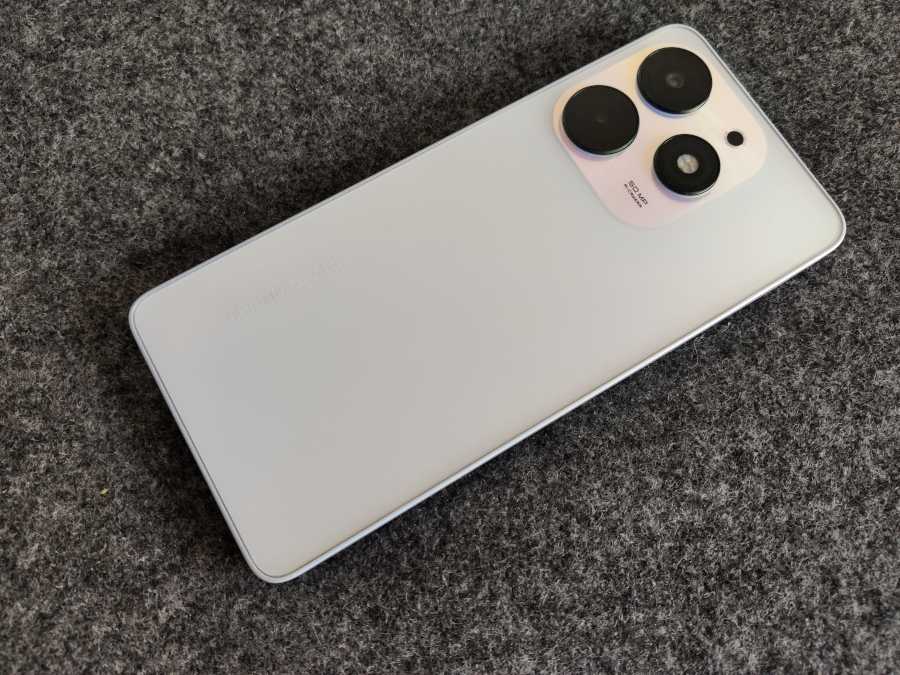 SPARK 10 Pro has a 5000 mAh battery. It's not a record-breaking capacity, but it's enough for a day of intensive use, with video viewing, gaming, social media and photography. Less active use and the use of the charge saving mode will allow the smartphone to last up to 2 days, but you will have to sacrifice the comfort of use.
Fast charging at 18W is claimed, but for a battery of this capacity, it's not very fast. Thus, the smartphone charges from 20% to 100% in a little more than an hour and a half. So I would like to see the next generations of SPARK charging faster.
Read also: Moto G53 5G smartphone review: Motorola, wtf?
Conclusions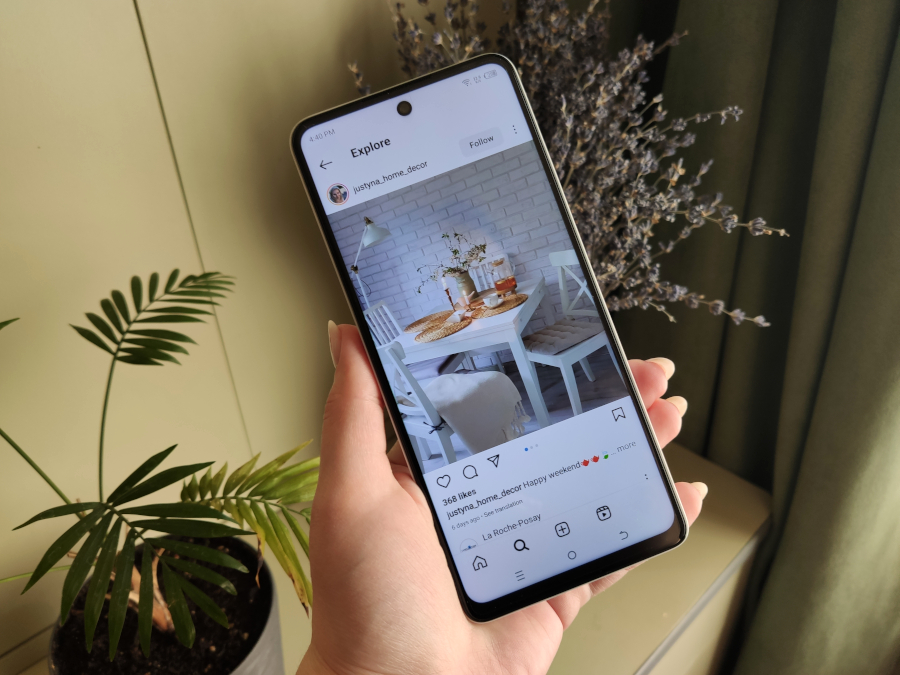 The SPARK 10 Pro is a very interesting and competitive smartphone in its class. It has a nice design, a large 6.8-inch screen with a frequency of 90 Hz, not advanced but very good performance, generously seasoned with a large amount of RAM that can be expanded, a fast fingerprint scanner, good cameras with a flash on the front and a decent battery that will last for a whole day of intensive work. It also comes with a good package that includes bonuses in the form of a protective film, a case, and wired headphones. With a price tag of around $200, the SPARK 10 Pro is a decent solution for everyday use.
Video review of Tecno Spark 10 Pro