A good tradition by this time, we decided to once again forget all new devices and talk about interesting gadgets that were released a year ago. Nothing odd about that: these devices are still new and can be bought. Oftentimes they are a lot cheaper than they used to a year ago. Pre-owned devices are sold for virtually nothing. One of such phones is Huawei P9, which I have been using ever since the middle of 2016. Today I want to tell you about my experience with this great phone and tell you whether there's a reason to buy it today.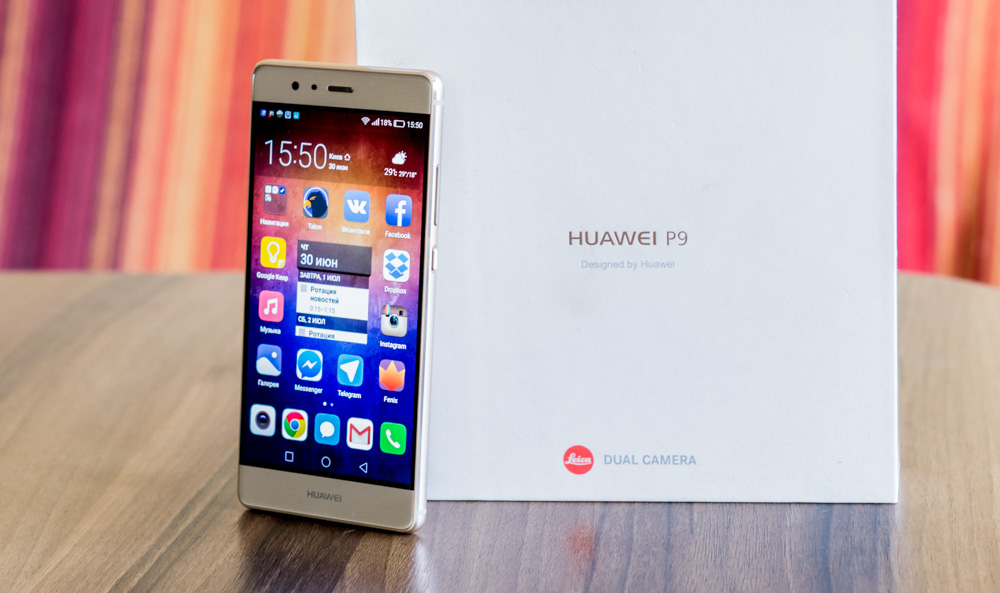 Huawei P9
For the whole year I've been busy writing all kinds of articles about P9. Take a look:
So, let's begin. This article is about my experience with the smartphone, along with some practical analytics, comparisons with its rivals and more modern P10, which has already been reviewed on our site.
Also read: Huawei P10 review – New and improved
Design, materials, build quality
The phone has a classic look, no less modern now than a year ago. Sure, the newer Huawei P10 is even better, but that's my own subjective opinion. Someone likes rounded design, some prefer more angular shapes. The important thing is that Huawei P9 looks every bit as trendy as any other new device. No one will think that you hold some old relic.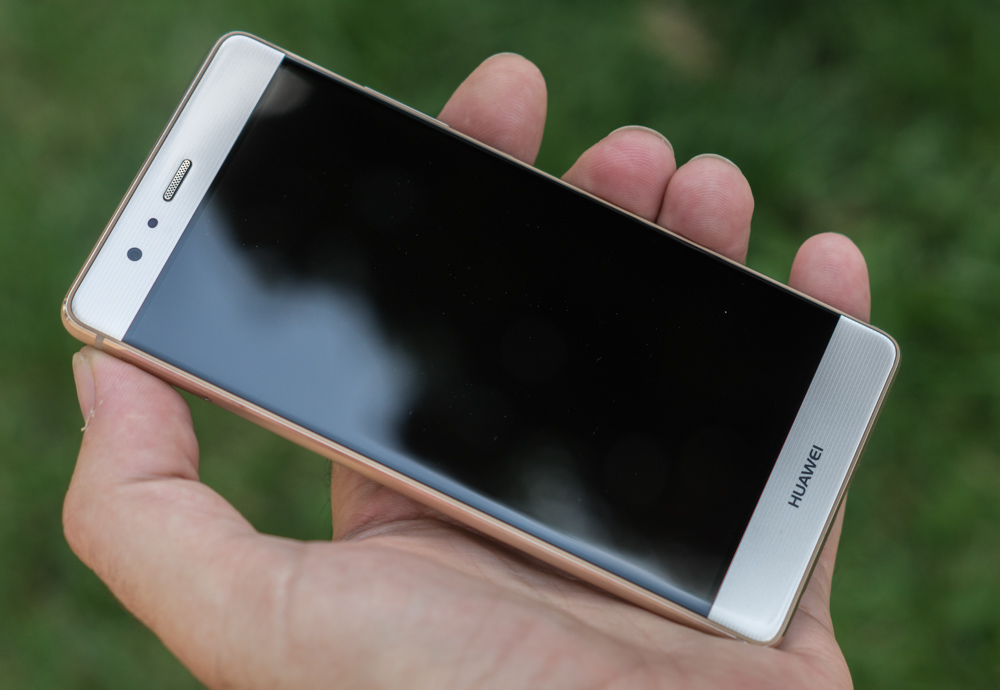 Thanks to premium metal and glass, the phone feels expensive – especially in gold. In fact, last year's Huawei P9 may look even more premium than Huawei P10, which feels a lot more modest.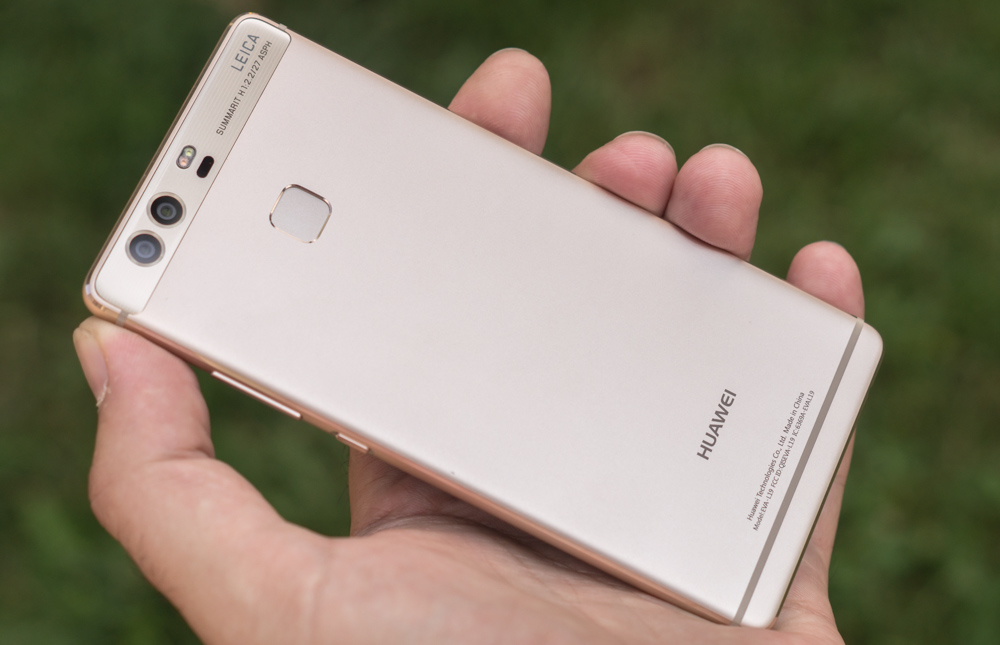 A year has passed, but the build quality is still fantastic, Nothing's loose, nothing's fallen off, no squeaking of any kind. The same old monolith – ever after a couple of unfortunate falls.
Toughness and resistance to damage
In terms of natural wear all is well: the body looks like it's never been used. There are no signs of attrition. I was being careful with it, of course.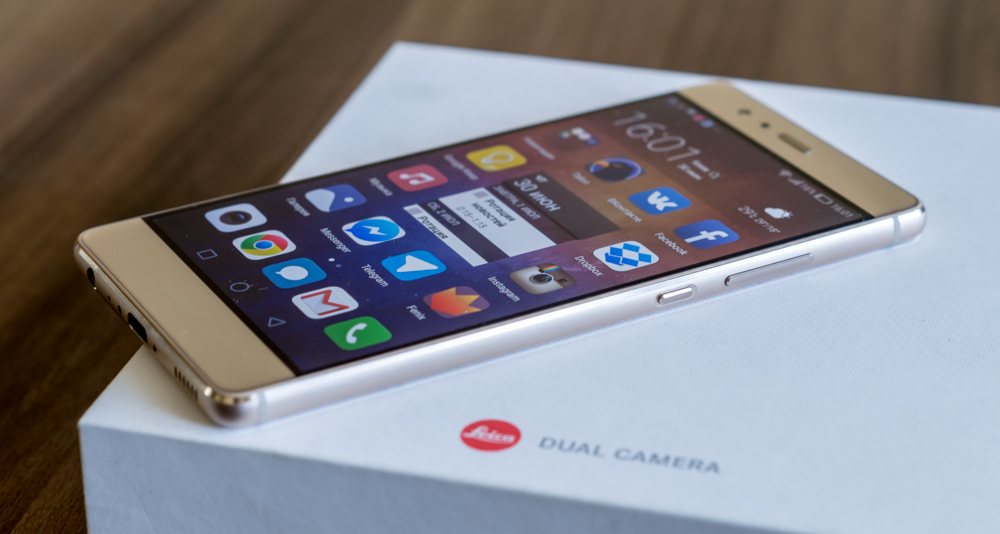 In terms of protection, don't expect miracles. The phone's made of metal and therefore is slippery. It survived a couple of falls, including a very bad one, when it fell on a ceramic tile screen down. The protective glass didn't survive and has cracked in two. What's even worse, it happened a day before I got my protective cases from China. I should have bought more expensive cases without waiting for a delivery.
What did I do? Honestly – nothing. The crack is noticeable only at a certain angle and it doesn't prevent me from using the smartphone. Nothing was broken. A cosmetic problem – that's all. Sure, it's very unpleasant, but oh well…
I could have fixed it – I had different options. I can call the official service center and replace both the glass and the screen matrix. Fast, safe and expensive. Or I can order it in China. A lot of sites sell original parts. It's possible to replace the screen on one's own or ask for help from other "masters". There's a risk of getting a low-quality part. Also, you have to wait for the delivery from China. There's a third option to change only glass and not the screen. It's hard – you have to separate the screen from the glass and them attach it to the new panel. Sometimes something goes wrong and you get glue spots or dead zones without touch sensitivity. I thought things through and decided to let it go.
Why am I telling you this? Simple: always protect your phone, especially if its expensive and made of metal. This is a lesson which bears repeating.
Ergonomics and convenience of use
Huawei P9 was and still is very comfortable to use. A year passed and the industry hasn't invented anything new. 5,2" is still the most comfortable dimension for a screen, which is both big enough for any kind of content and compact enough for me to use it with only one hand. Also I like that the power and volume buttons are located on the right side directly under the thumb of my right hand (or the index finger of my left).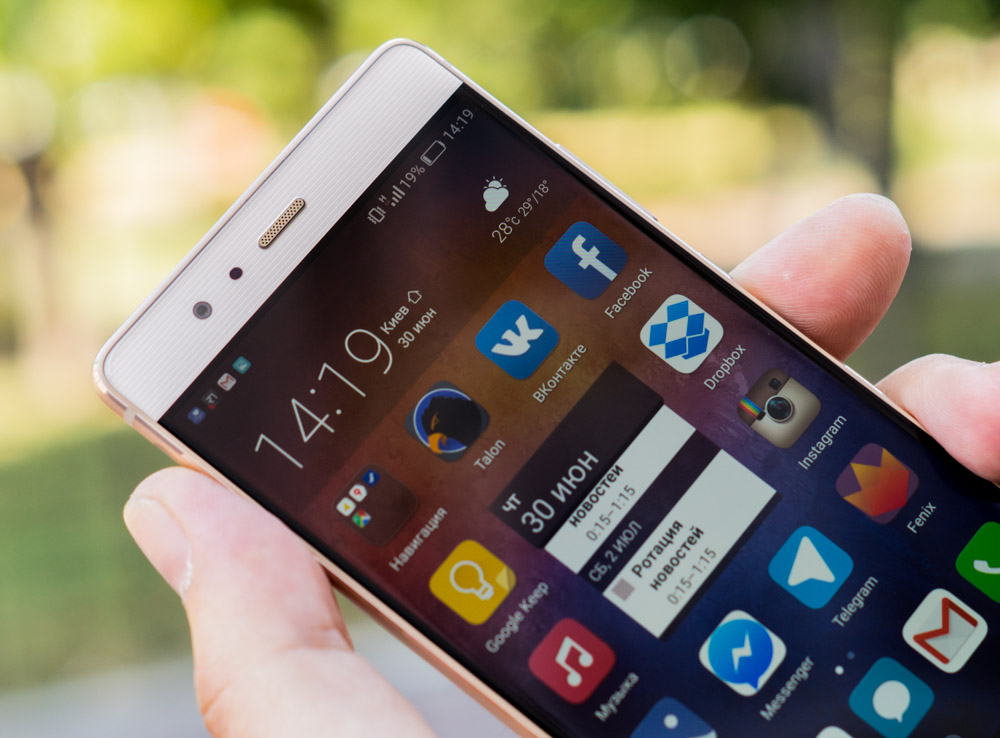 Huawei P10 ergonomically is an improvement over P9 thanks to the new place of a fingerprint scanner under the screen. Scanner works fine in P9, but it's the navigational feature that I like so much. When it's on the front, it's much more convenient and helps to free up space on the screen. More on that in our review.
A couple other small but important things: USB Type C port. I enjoy not caring about the way I insert my cable into the phone – especially in the dark.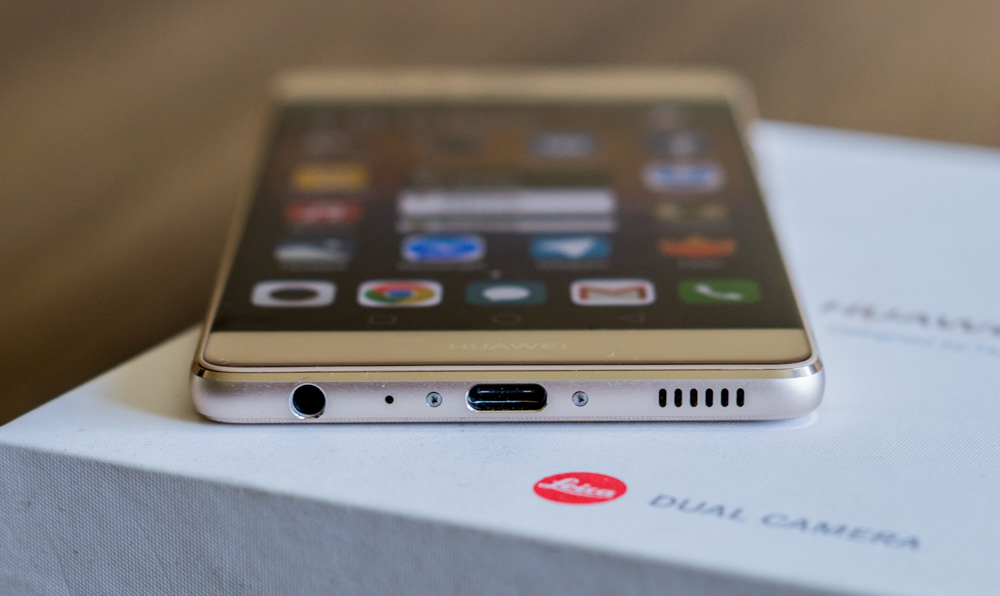 Another plus is 3,5 mm audio jack, located on the lower part on the smartphone. Sure, I read a lot of angry comments about it being the worst place for an audio jack, but I insist – these people a wrong. When P9 is in my pocket with the headphones connected I always take it out in the right position – and not upside-down, like it happens with other phones where the audio jack is above the screen. You don't have to rotate the phone, risking to drop it. Isn't it obvious that below the screen is the only right place for an audio jack?
Huawei P9 display
Huawei P9 1080×1920 423 ppi IPS display is still one of the best on the market, although I like P10's display a little better. Still, there were no breakthroughs in that regard, and Huawei P9 still feels modern.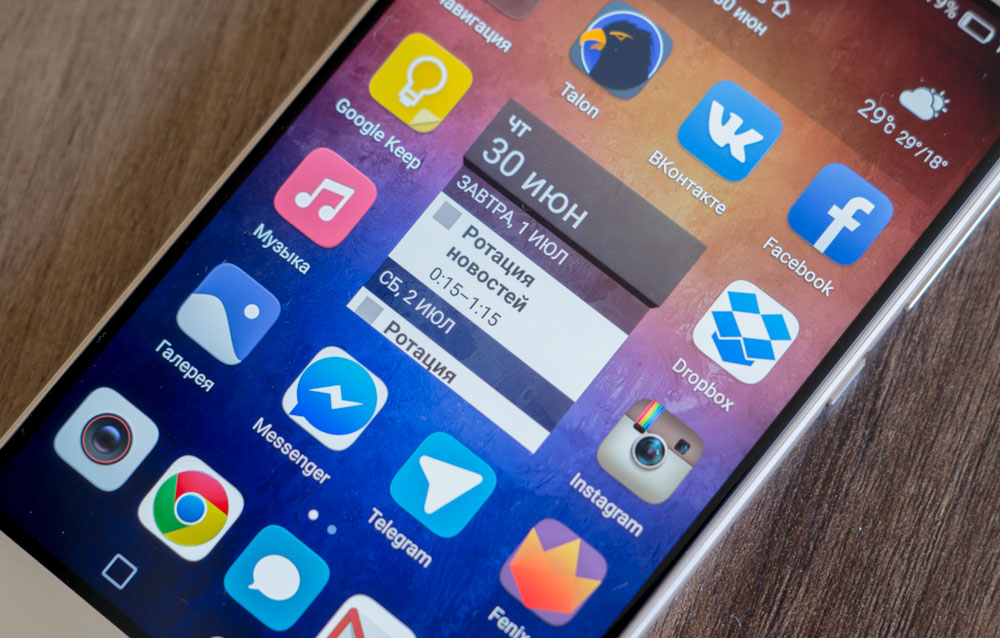 Huawei P9 has some problems with colors, which may feel a little bit too cold. You can change that in the settings, but that's not a cure – this setting screws with colors' calibration.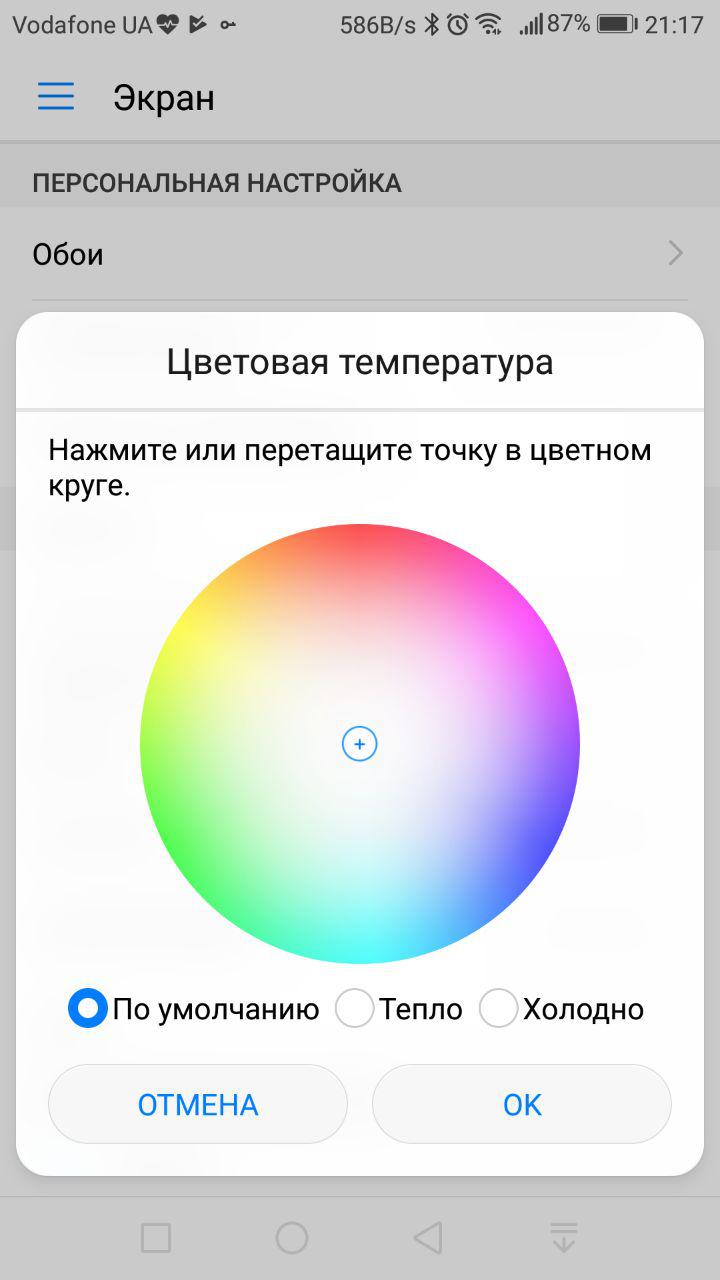 Overall it is a great display for everyday use. I had the whole year to appreciate it. I can read text in any situation or lighting. The picture is clear and contasty, the brightness and view angles are perfect. Automatic brightness works fine so there's no need to adjust brightness levels manually.
Performance
It's always hard for me to talk about power of modern phones just because I know all too well that we don't really need all that much in real life. And yet the manufacturers make their phones more and more powerful. There's a possible reason for them doing so: they may be preparing us for the age of virtual and augmented reality or even the unification of all computing devises into one united network for storage and data processing. Or was I watching too much Silicon Valley?
You might really need that power for playing big 3D games. For other means Snapdragon 625 is more than enough. Even a lot less powerful chip would suffice.
That's why mid-range phones are looking better and better with every year. There are not that many differences between them and flagships – they are even better in terms of battery life. You might also want to buy older flagships, which are much less expensive after a year or two.
Overall, it's better to buy older flagships – mostly because of cameras. If that's what's important for you. But let's talk about performance first.
Let's look at what's inside: 64-bit 8-core Huawei HiSilicon Kirin 955 processor, Mali-T880MP4 graphics accelerator, 3 GB of RAM and 32 GB of internal memory which can be expanded with SD card. Is it enough for 2017? I think yes – more than enough. One year hasn't changed much.
And yet if we look at synthetic benchmarks, the difference between Huawei P9 and modern flagship may seem massive. AnTuTu shows that it's almost twice weaker than the leaders – mostly due to GPU. But try and compare these phones side by side and you won't notice any difference. Huawei P9 is still a powerful device which works fast and smooth and is capable of handling any task or any modern game.
Автономность Huawei P9
The meek 300 mAh battery didn't impress then and doesn't impress now. Still, it's kind of a standard for modern devices, although new flagships boast small improvements in that regard.
The thin and light Huawei P9 with 5,2' screen survives for one day with 4-5 hours of active use. Sometimes I manage to squeeze 6 or 7 hours while reading social networks or chat while connected to Wi-Fi.
The battery life is average and adequate for this class. New P10 has a bigger 3200 mAh battery, but there are no noticeable improvements.
I couldn't notice any degradation of the battery, although after a year something must have changed. From experience I know that noticeable problems appear after about 2 years. After 3.5-3 it's better to buy new battery. If you buy a phone that's already been in use, expect one year of normal perfomance. That is, if the battery wasn't killed by over-discharging.
One thing is worth mentioning: a SOC Kirin coprocessor for handling non-resource-intensive tasks in the background. What's a coprocessor? It is one core, which consumes very little energy. On the other hand, it's not very powerful – but powerful enough for handling syncing in the background or playing music when the screen is off. It also handles fingerprint scanner – that's why it's so fast.
Cameras
If you don't mind, I won't dwell on the frontal camera, which I almost never use, since I'm not a fan of selfies. I'll only say that the camera is there – 8 mp, f/2.4 and quite good, with software enhancements for selfies.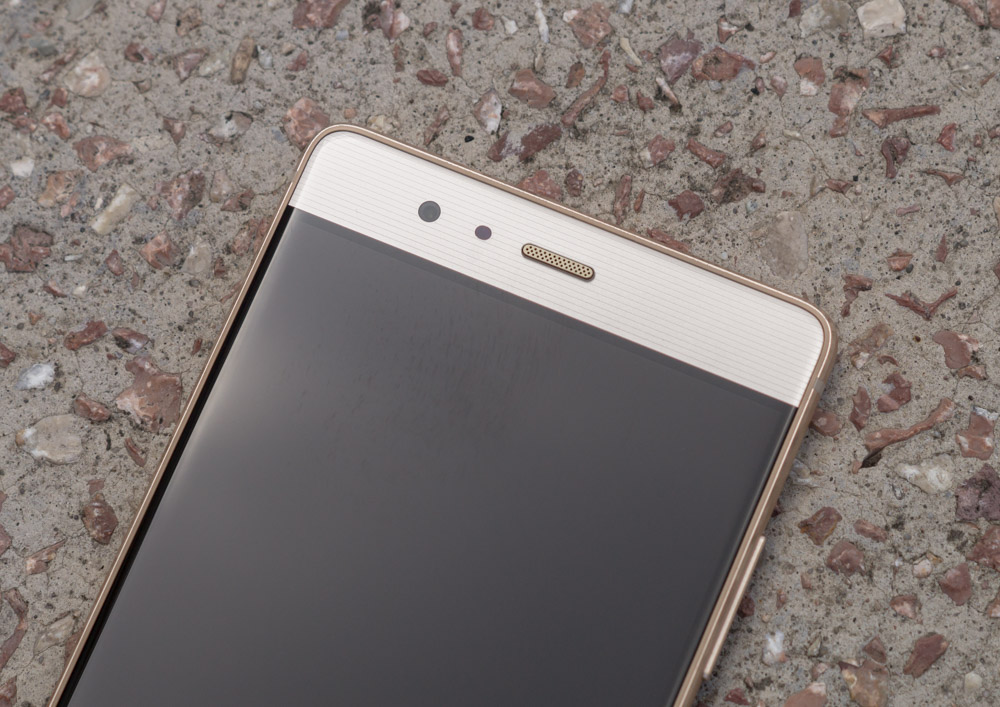 Now, the main camera is great. It's made in partnership with Leica – a company which makes premium cameras. The camera is Huawei P9 is dual. Both modules are 12 MP, with f/2.2 aperture and Leica Summarit-H optics; also there's phase autofocus and laser focus block.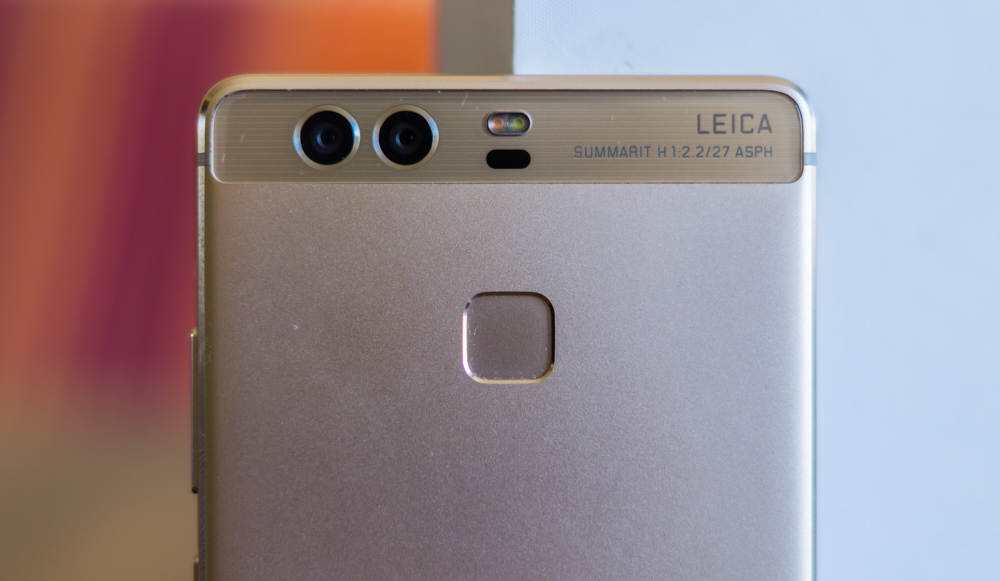 The first module is black-and-white – it handles detalization and creates wide dynamic range. The second module is for color. After you take a photo, the phone merges two pictures into one. The result is pretty good.
Huawei P9 is the first result of the partnership with Leica, and it is a success. Since P9, Huawei started making decent cameras no worse than those from Apple, Samsung and LG. Mate 9, P10 and P10 Plus all have cameras with Leica technology.
New Huawei-Leica cameras are better, but Huawei P9 still holds up. There's one real problem – no optical stabilization. The lack of stabilization makes it harder to snap a picture, but you just have to get used to it. Try to make photos when the camera isn't moving. Also watch for the object you're focusing on, especially when there are many objects on the screen. The phone can automatically refocus on the wrong object in the background. You've got to try a little harder to make a decent photo. Once again, practice makes perfect. Try to "understand" the camera and you'll make a lot of good pictures.
ALL PHOTOS IN FULL DEFINITIONS
Huawei P9 is great for any kind of photos. I especially like the macro mode. The phone can focus on an object from 3,5-4 cm. The lack of stabilization is even worse here, though – you have to hold the phone very still.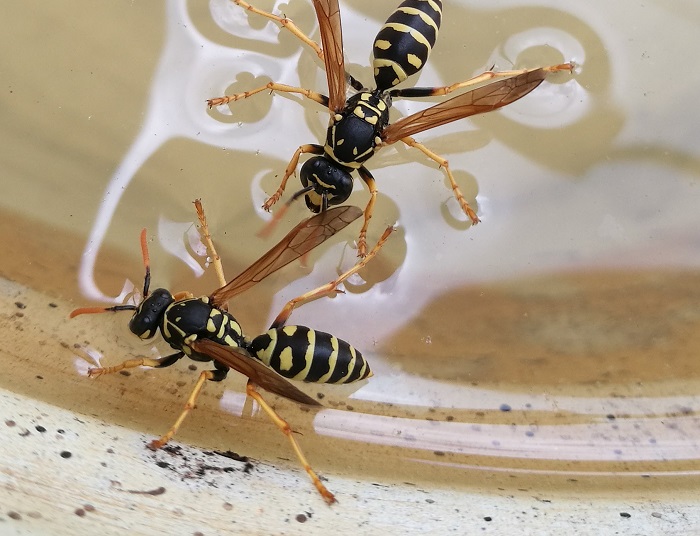 Camera also shows great results in bad lightning – but up to the point. You've got to have some light. And once again – stabilization. Again and again the phone shows "holds the phone still to improve clarity" massage, and is generally slow when shooting in darkness.
Huawei is proud of their black-and-white module, which can work separately and be used to snap monochrome photos. Why though? Most users won't use it, but professionals and enthusiasts will be happy. Myself, I never really use it.
The smartphone also makes great artistic bokeh, blurring the background, perfectly imitating SLR cameras. It also reproduces wide diaphragm – there's a special soft button in the camera's UI. Later, in the gallery, you can change the point of focus thanks to dual modules.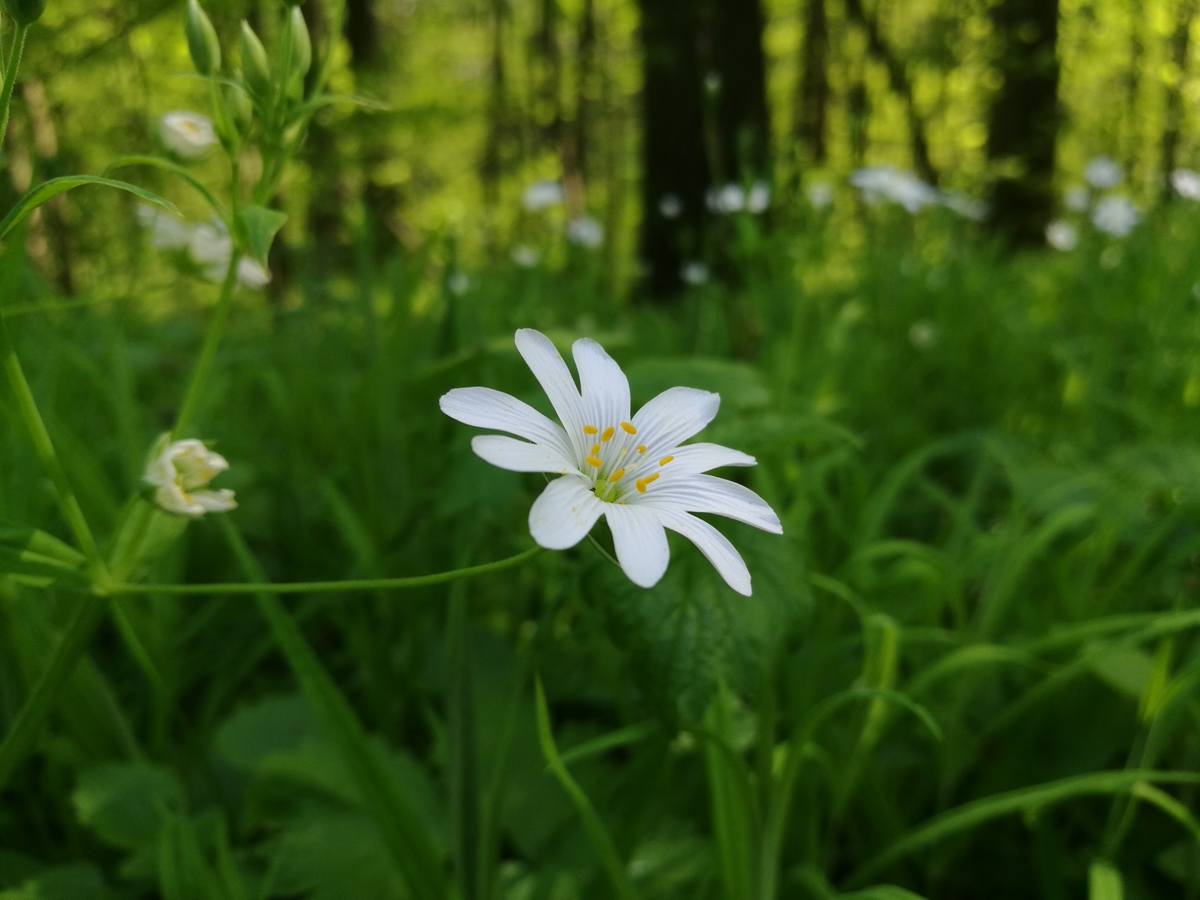 Overall, the camera is great, with wide array of options and a professional mode, which allows to create true masterpieces. You just have to get used to it and learn basic ways of taking photos. If you enjoy mobile photography, Huawei P9 may be the cheapest device with that kind of camera.
Now Huawei P9 is cheaper and it makes its camera far better than anything that can be found on mid-range devices. If you care about snapping photos – buy it now. Its camera was one of the best then and it still is now. Sure, modern flagships (and Huawei P10 among them) have more advanced cameras, but they cost a lot more. The difference in quality is not that high anyway. Still, Huawei P10 was more comfortable thanks to optical stabilization and 20 MP matrix (photos are clearer and sharper). The difference can be seen here:
Sound
Huawei P9 has a great receiver – it's loud, saturated and clear. Nothing else is acceptable in a flagship. The difference between this and low-cost phones is astonishing.
The main speaker in located below the screen. Unfortunately, there's no Stereo+ function that makes use of both speakers while using the phone in landscape orientation. The "junior" P10 also doesn't have this feature – only P10 Plus.
The speaker is great, but it lacks scope and bass. The louder is the sound, the weaker are the lower frequencies – probably so that the speaker doesn't break up. It works for notifications and is okay for games and video. Well, you'll hear everything fine, but there's nothing pleasant about the sound. Standard smartphone speaker of decent quality. One year hasn't made it worse in any way.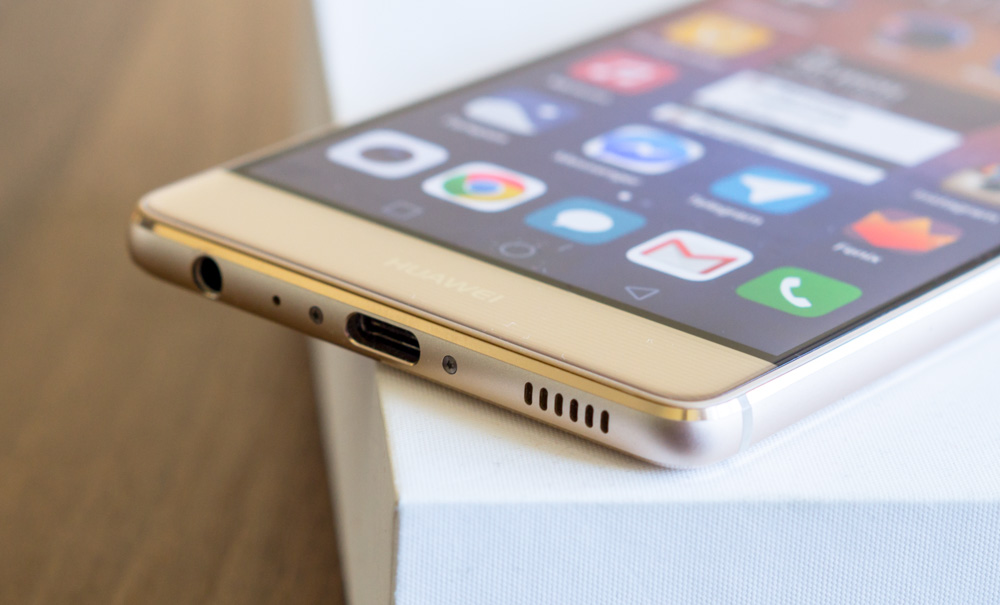 Only in 2017 I've become aware of the fact that all smartphones with Kirin processors are equipped with custom Huawei sound chips, which are able to play Hi-Res Audio – 24 bit 192 kHz. Huawei P9 has such cheap, and with good headphones it sounds wonderful. There's no amplifier, though. Thankfully, there's DTS software enhancing, which helps a lot. Just turn it on and never touch it again. The sound is bigger, louder, more saturated and bassier that way.
Networks
Huawei P9 is great when it comes to cellular network. It holds the signal until the very last thanks to improved triple omni-directional antennas, which were in the center of last year's presentation. And they weren't lying – the phone finds the signal with ease while others struggle.
Wi-Fi doesn't disappoint either. While close to router, it's very fast. Weak signal doesn't mean trouble – the phone either doesn't lose the signal, or automatically changes to cellular network. Situations when there's a Wi-Fi logo, but no Internet almost never occur.
Bluetooth module also works fine. I use a couple of wireless headsets with the phone. A lot of other phones have problems with sound stream when paired to a lot of devices like a fitness bracelet or a smart watch. Also a big group of people can create interferences. But Huawei P9 is confident in any situation with zero problems.
GPS is great – it supports GLONASS and BSD. The cold start takes about 5 seconds, satellites are found instantly, the positioning is precise.
There's no NFC module (only in the Asian EVA-L09 model). That is one of the only real problems with the phone, especially since contactless payments are becoming increasingly popular. If you want to pay with your smartphone, Huawei P9 is not for you.
Shell, Software, Updates
In the last year Huawei P9 got about 6 updates. Whether it's a lot or not enough, decide for yourself. After the release the phone worked with EMUI 4.1 shell on Android 6.0. After the update (which fixed Wi-Fi 5 gHz bag) the phone got numerous safety patches and EMUI 5.0 with Android 7.0. Since then there was a small security update.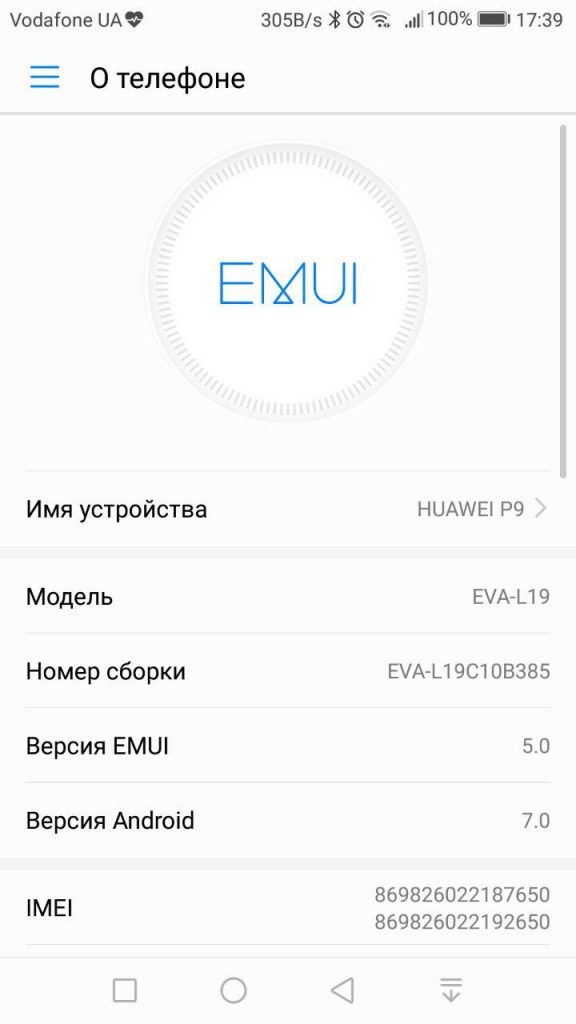 Verdict
I think that Huawei P9 is a worth a buy, especially considering the price. You can buy it pre-owed for only $200-250. After a year it's not that new, but it's still better than any mid-range smartphone in 2017. It excels in both features and convenience of use. It works perfectly and never causes problems for its user.
Strong pros of the smartphone:
Premium design and classic flagship feel
Quality materials, ideal build quality
Good ergonomics
Display with excellent specs
High performance
Dual camera module with excellent quality – the main feature Huawei P9
Lightning-fast fingerprint scanner
Good sound capabilities
Stable firmware, convenient and fast interface, functional shell
Cons (decide if you are willing to accept them)
No optical stabilization of the camera
No NFC module – no contactless payments with the smartphone
3/32 GB of memory – maybe not enough in 2017 (there's a 6/64 GB version – EVA-L29)
Hybrid SIM slot – if you use microSD, you will have to say no to the second carrier