Android tablets still get released by well-known companies, and judging these new products from a technical point of view, users are mostly interested in inexpensive models. In today's review, we will talk about the new inexpensive Lenovo Tab M10 FHD Plus.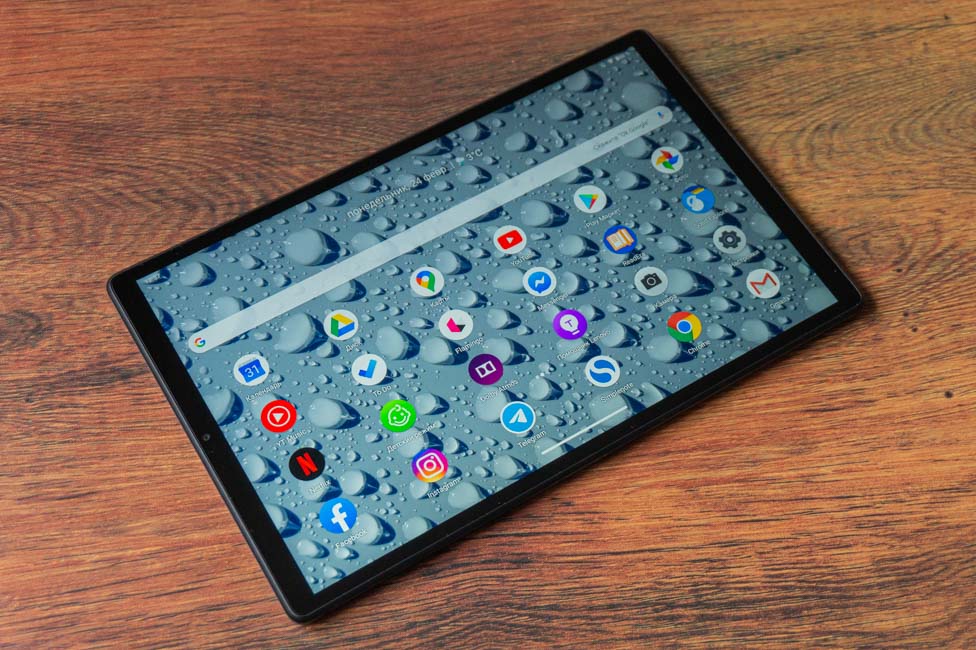 Lenovo Tab M10 FHD Plus specs
Display: 10.3″, IPS LCD, 1920 × 1200 pixels, 16:10 aspect ratio
Chipset: MediaTek Helio P22T (MT8768T), 8-core, 4 Cortex-A53 cores with a frequency of up to 2.3 GHz and 4 Cortex-A53 cores with a frequency of up to 1.8 GHz
Graphics Accelerator: PowerVR Rogue GE8320
RAM: 4 GB
Storage: 64/128 GB
MicroSD memory card support: up to 256 GB
Wireless networks: Wi-Fi 5, Bluetooth 5.0
Main camera: 8 MP, f/2.0, autofocus
Front camera: 5 MP, f/2.8
Battery: 5000 mAh
OS: Android 9.0 Pie
Dimensions: 244.2 × 153.3 × 8.15 mm
Weight: 460 g
Lenovo Tab M10 FHD Plus pricing
Lenovo Tab M10 FHD Plus exists in two versions: 64 and 128 GB of storage. The models cost about $245 and $277, respectively. Both come only with Wi-Fi, and the LTE version is currently not on sale.
What's in the box
The tablet comes in a thin, not very large box with a stylish and concise design. Inside, there is the Tab M10 FHD Plus itself, a power adapter, a USB/Type-C cable, SIM card eject tool, and documentation.
Design, materials and build quality
I think many will agree that tablets in terms of design almost never surprise. Manufacturers rarely experiment not only with appearance, but also with materials. But you should not blame them for this at least because devices of this type, in my humble opinion, should always be practical. However, it is still necessary to follow some general trends.
In the case of the Lenovo Tab M10 FHD Plus, we get both moderate conservatism and the desire to comply with modern trends. The front has a relatively thin bezel. If you look in a vertical format, then the sides are slim, but thicker above and below. On the back, we see very unpretentious practicality.
The front part is covered with glass with an oleophobic coating. The back side consists mainly of dark gray metal, but there are narrow plastic overlays on the top and bottom, which are needed for high-quality signal reception of the wireless modules installed in the device.
There are two possible colors: Gray and Platinum. In the review we see the Gray model. The second one will be lighter and something tells me, the stains on it will be less noticeable. Of course, the dark version is hardly a fingerprint magnet, but over time it will collect stains.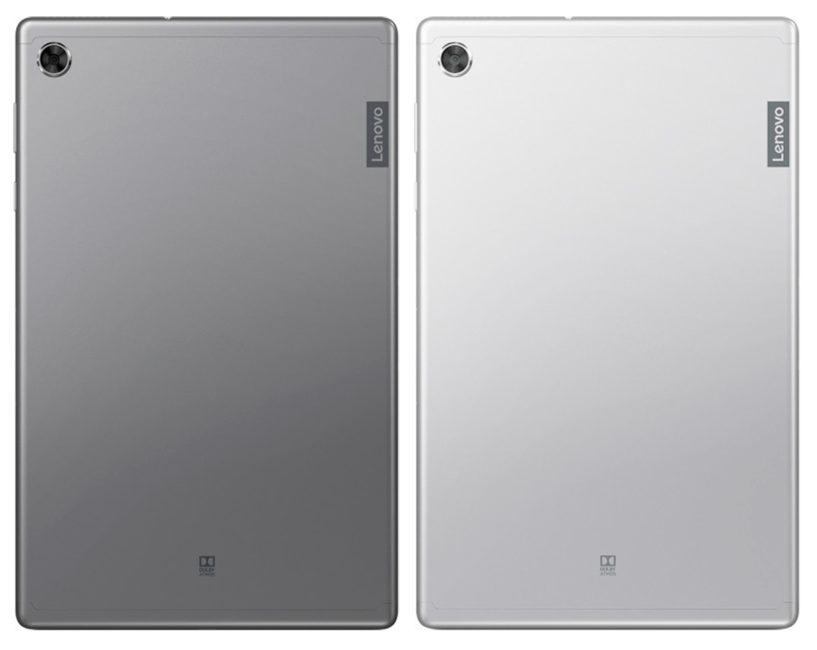 The build quality is just wonderful, in this regard there is absolutely nothing to complain about. The design is quite rigid due to the use of metal.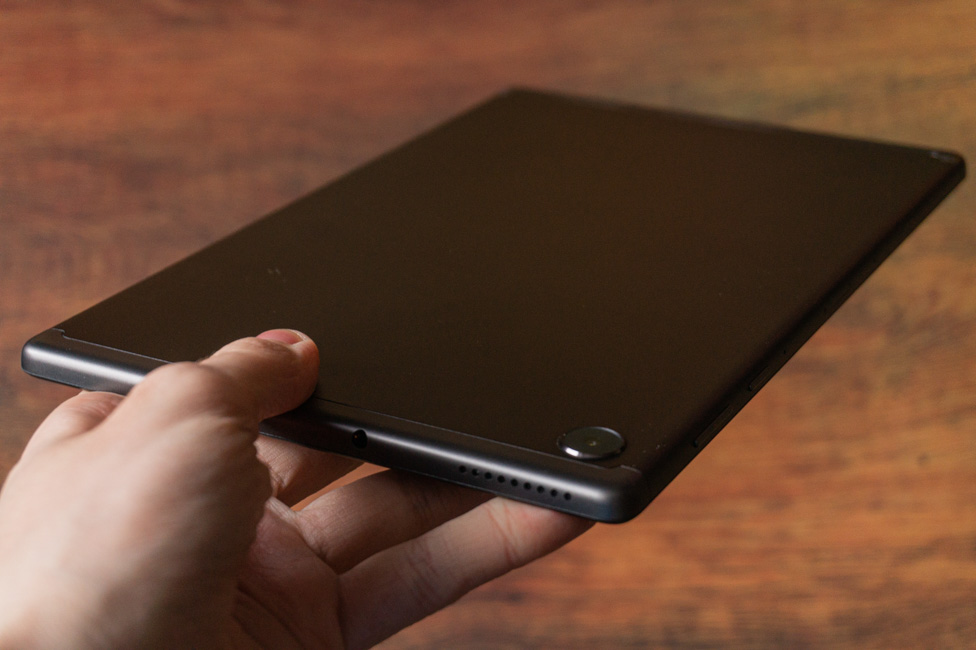 Element configuration
There is a front camera in the center above the screen, and to the left of it there is a window with a light sensor, as well as a small LED. Below is an empty area without unnecessary logos.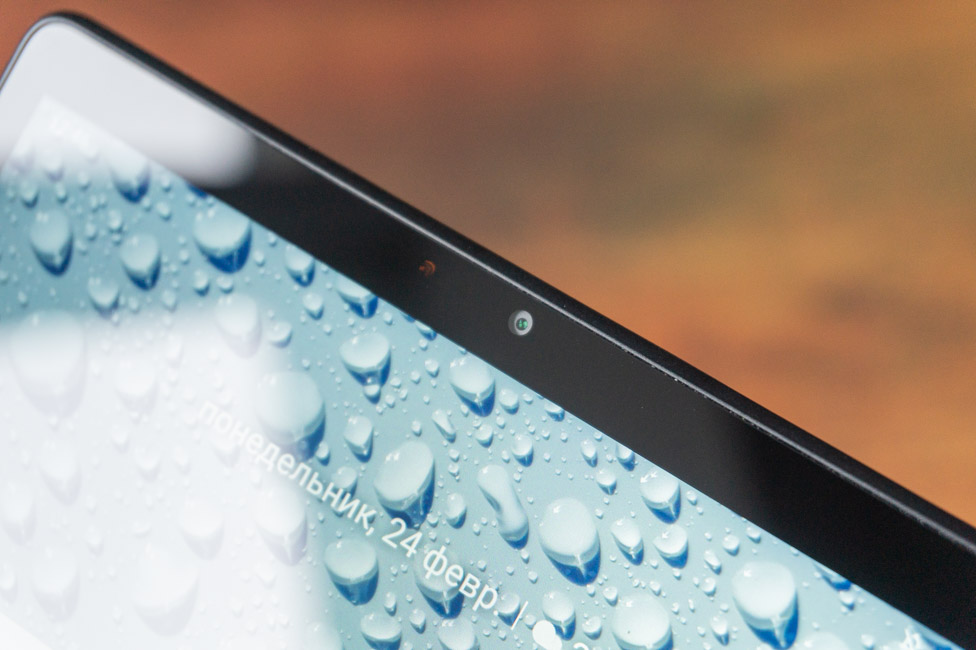 On the right side is a volume button, a power button and a pair of microphones, between which there is a slot for a microSD memory card. On the left you can find two magnetic connectors and a pair of recesses, most likely to connect the tablet to the dock.
The bottom end has one multimedia speaker and a USB Type-C port in the center. On the top there is a second speaker and a 3.5 mm audio port, which is slightly offset from the center for obvious reasons. We'll talk about it in the next segment.
In the upper left corner is the lone peephole of the main camera, and the Lenovo logo on the right side. At the very bottom is the Dolby Atmos badge and other markings.
Ergonomics
For its diagonal, Lenovo Tab M10 FHD Plus has good dimensions, but the tablet does not claim to be the most compact or thin. The case measures 244.2 × 153.3 × 8.15 mm and weighs 460 grams.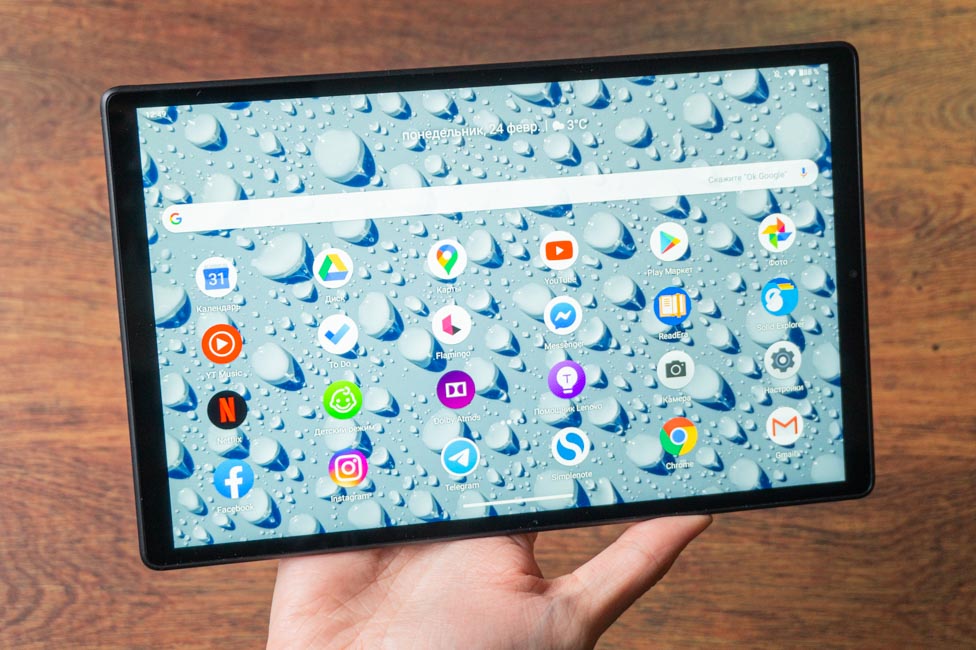 Thin bezels do not cause any problems with handling and there are no false touches by and large. However, the tablet is not convenient to hold in vertical format with one hand: fingers can fall on the screen area and cover the edges a little. The metal back is also slippery, which additionally forces you to hold the device tighter. But there are practically no other typical problems with the arrangement of elements.
There are only two speakers, but with the correct horizontal grip, they do not overlap at all. In addition, due to a slight shift of the audio jack up closer to the speaker, when connecting wired headphones, their plug will not interfere under your fingers. The eye of the main camera is so low that the tablet does not stagger at all on a flat hard surface when you click on its screen. Buttons are easy to find. Although I would like to observe deeper notches on the power button to quickly detect it blindly.
Lenovo Tab M10 FHD Plus Display
Lenovo Tab M10 FHD Plus uses a 10.3″ display made using IPS LCD technology. Its resolution is 1920×1200 pixels. The aspect ratio is 16:10, and the density of dots per inch is 220 ppi.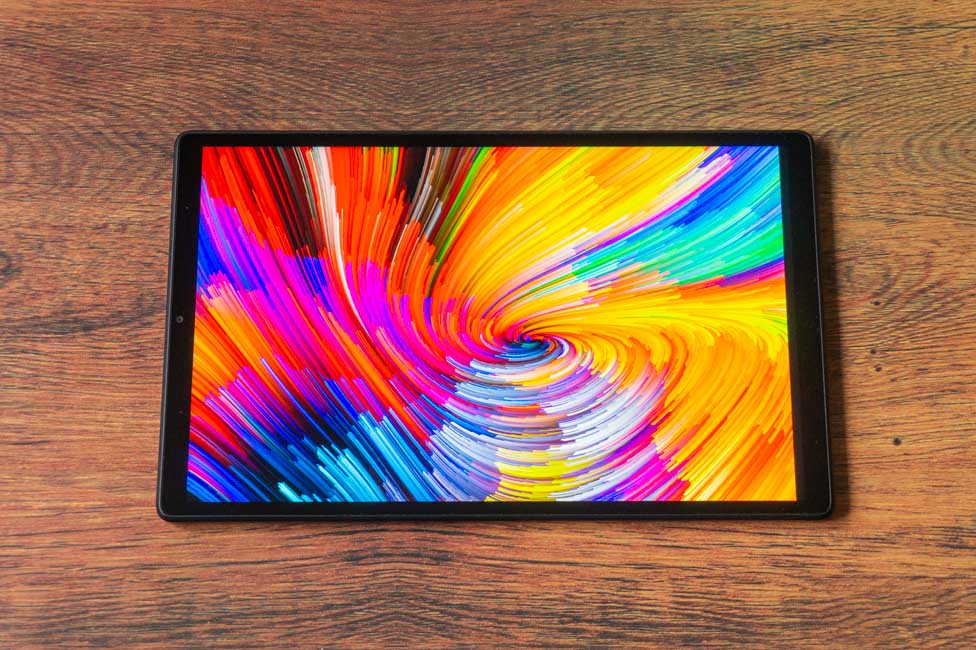 For its segment, this display at least does not disappoint. It has a normal brightness level, which is suitable for most situations. Although I suppose that on the street on a sunny day it will not be enough. But in contrast and saturation there are no questions to it. By default, everything looks natural and it's nice to use. Viewing angles are normal, with typical fading slightly at an angle, but without distortion of other colors.
In the settings, it is possible to set the display profile to "Vivid", with which the color saturation increases, but the naturalness of the picture is also lost. However, if you want to look at bright and saturated colors, you can. Having a choice is always good.
In addition to choosing a display profile, the user has a circle of color temperature for manual white balance settings and three main presets: default, warm and cold. Of course there is a mode to reduce the blue color, on schedule. There are also other screen settings, but I will traditionally tell about them in the software section.
The tablet has a light sensor, which seems like a good thing. But on the other hand, it does not work out of the box, and it needs to be trained. It selects the brightness incorrectly, and if you will manually adjust it to the desired values ​​in such situations, then soon the device will remember the individual settings and the situation will become better.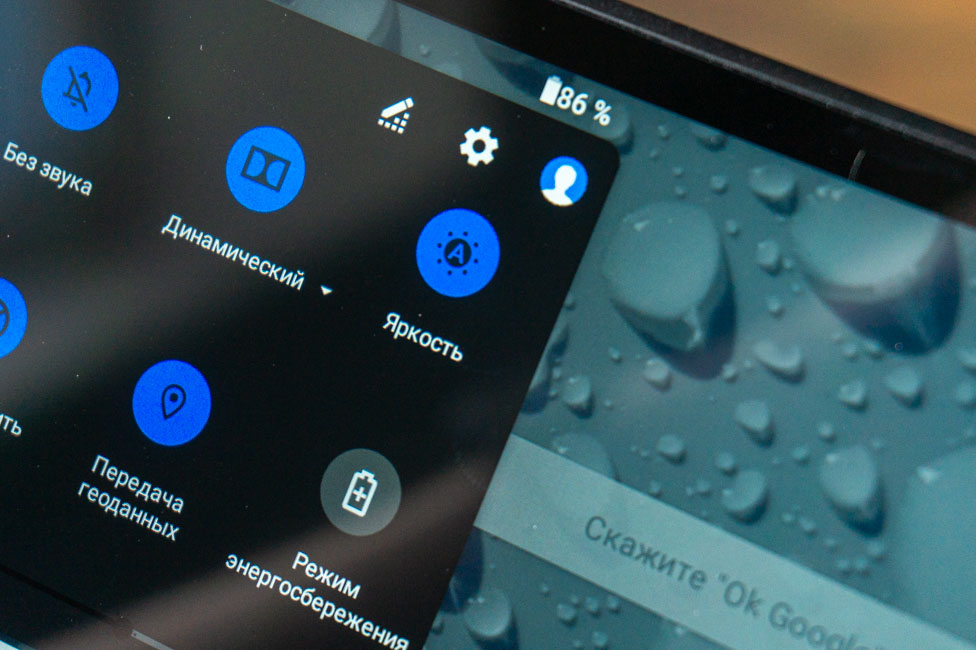 Lenovo Tab M10 FHD Plus Performance
The device runs on a platform from MediaTek – Helio P22T, which is also known as MT8768T. The chipset includes eight Cortex-A53 cores, four of which work with a clock frequency of up to 2.3 GHz, and four cores with a maximum clock frequency of up to 1.8 GHz. The Rogue GE8320 graphics accelerator is from PowerVR.
There are 4 GB of RAM in all versions and this amount is generally enough for comfortable work with a tablet of this level. Especially if you recall that most competitors have only 2 or 3 GB, which is really not enough today.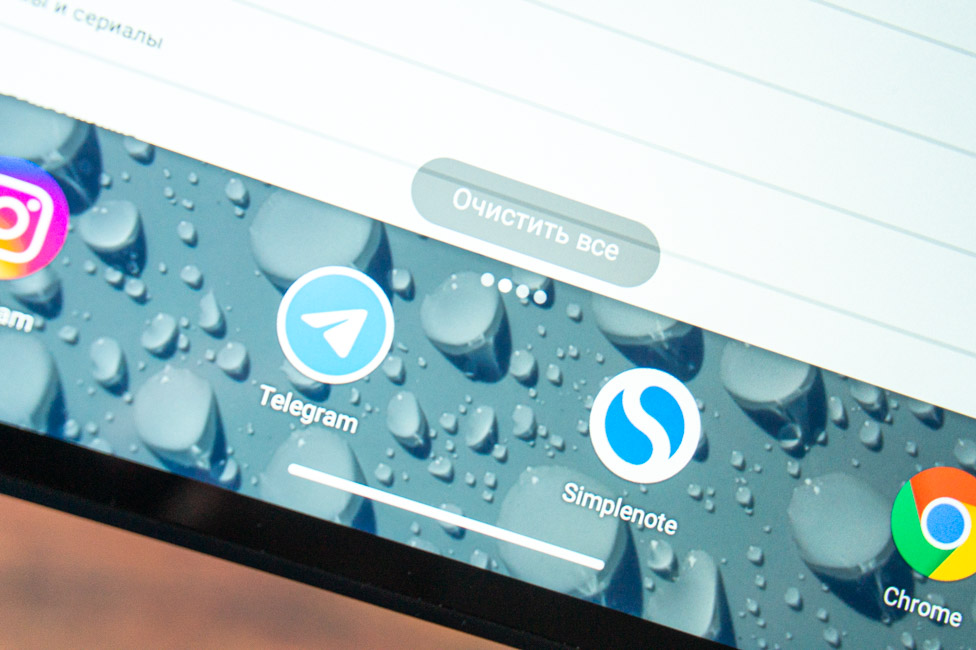 There can be 64 or 128 GB of storage. I tested the 64 GB version. Out of this number, 51.51 GB is free, and you can expand it with a microSD memory card up to 256 GB.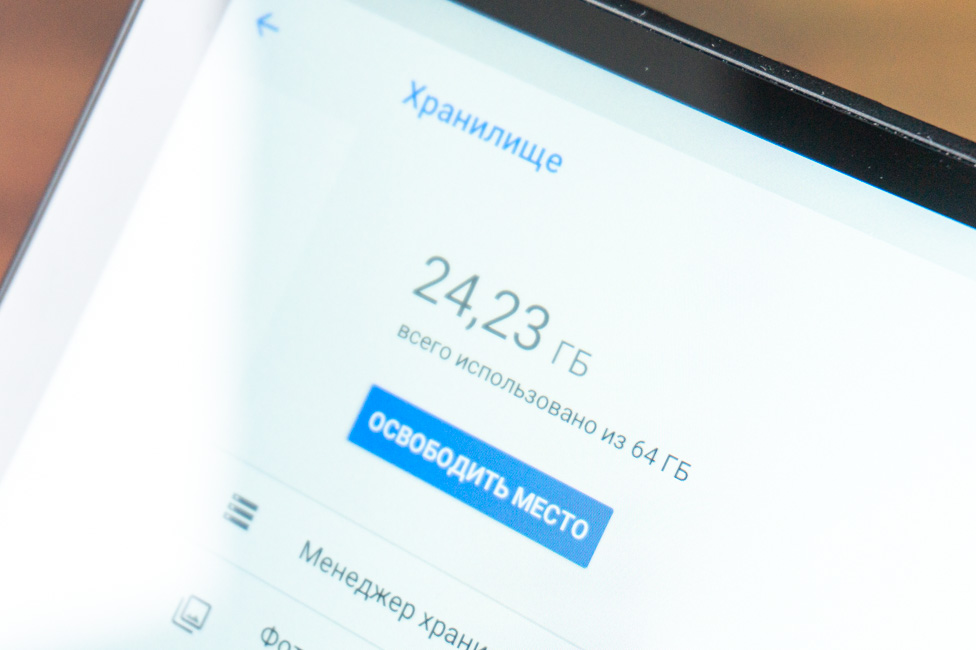 The tablet is quite fast. It even surprised me a little, because I did not expect something like this from Helio P22T. Nevertheless, there were practically no lags during the testing period, and those that were could not be called critical. With games, however, everything is somewhat different. Hardware is enough for simple arcades, and serious titles can only be played in comfort using the minimum graphics settings. Below are a few of them, and FPS were measured using Gamebench:
PUBG Mobile – balance, included shadows, an average of 26 FPS
Shadowgun Legends – low graphics, average 35 FPS
Call of Duty Mobile – low, depth of field is on, the "Battlefont" mode is ~ 56 FPS; Battle Royale – ~ 39 FPS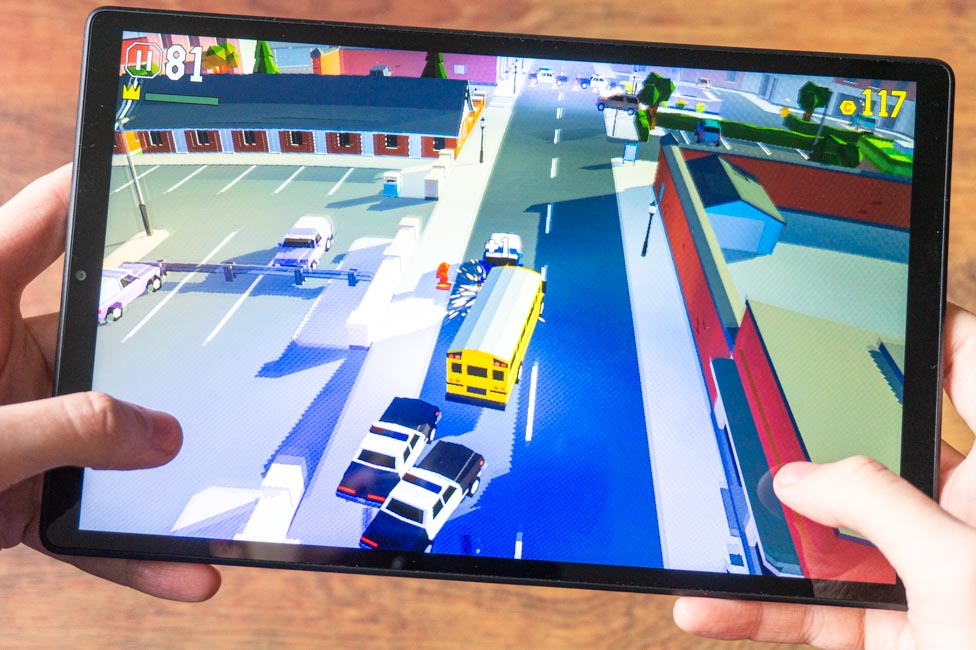 Lenovo Tab M10 FHD Plus Cameras
The main camera of the Lenovo Tab M10 FHD Plus is represented by a sensor with a resolution of 8 megapixels, f/2.0 aperture and autofocus. The characteristics, of course, are not impressive, but this is not at all surprising. The quality of cameras in tablets has never been at the forefront and when choosing such a gadget you probably won't care too much about how it snaps photos.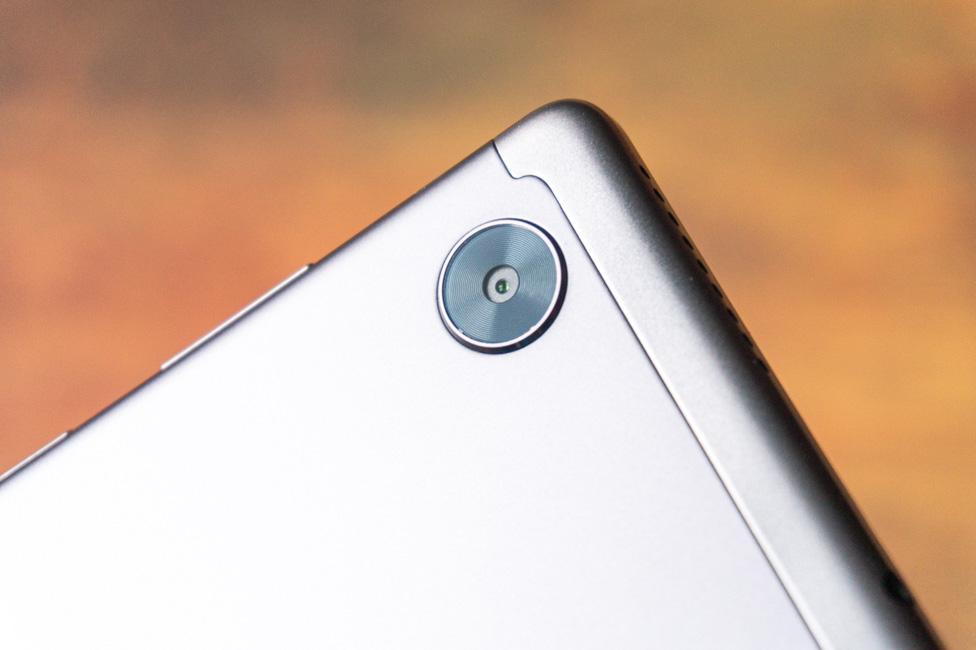 Therefore, in the specific case, the camera is pretty mediocre. The detail is not very high, there's a decent amount of noise, the colors are pale. The video is exactly the same situation – Full HD, the quality of the videos is very poor.
EXAMPLES OF PHOTOS IN FULL RESOLUTION
There is nothing more to describe here. It does what it should – it makes photos when you absolutely need it. By the way, it seems to me that the manufacturer himself understands this, and therefore, along with the photo and video buttons, there is another one – document. In essence, this is a mode that will detect the text, align it and translate it in black and white.
The front camera is also nothing particularly interesting: a 5 megapixel module, with a very closed aperture – f/2.8. It will work, for example, for video calls and the color reproduction will even be a little more interesting than the main one.
The camera application is minimalistic, there are few effects, in the settings you can select the ISO, white balance, exposure compensation, shooting mode, grid, timer and so on.
Unlocking methods
There is only one unlocking method – face recognition. For its implementation, only the front camera is used. I cannot call the method particularly fast, just an average level in speed. But sure, it is faster than manually entering a password. But in terms of stability, everything is fine, if there is light around.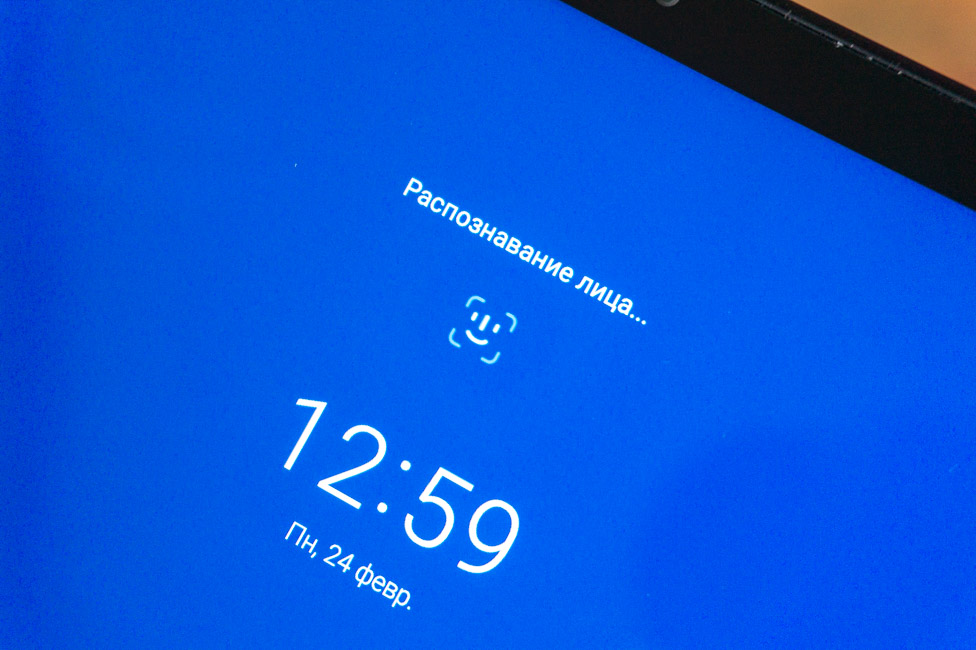 In the dark, the method will not work, which is expected, and the options for automatically increasing the brightness of the display are also missing. You can, of course, raise it manually and thus burn your eyes, but this is hardly a perfect solution. And the level of the minimum brightness of the backlight, even despite the large display area, will still not be enough to fully illuminate the face. In this situation, only a password or pattern will save you.
Lenovo Tab M10 FHD Plus battery life
Lenovo Tab M10 FHD Plus has a 5000 mAh battery, which isn't that much by today's standards. Moreover, even much thinner tablets on the market are equipped with 6000-7000 mAh batteries. This figure is for smartphones, not tablets with a large diagonal. A strange decision… Lenovo should've installed a larger battery.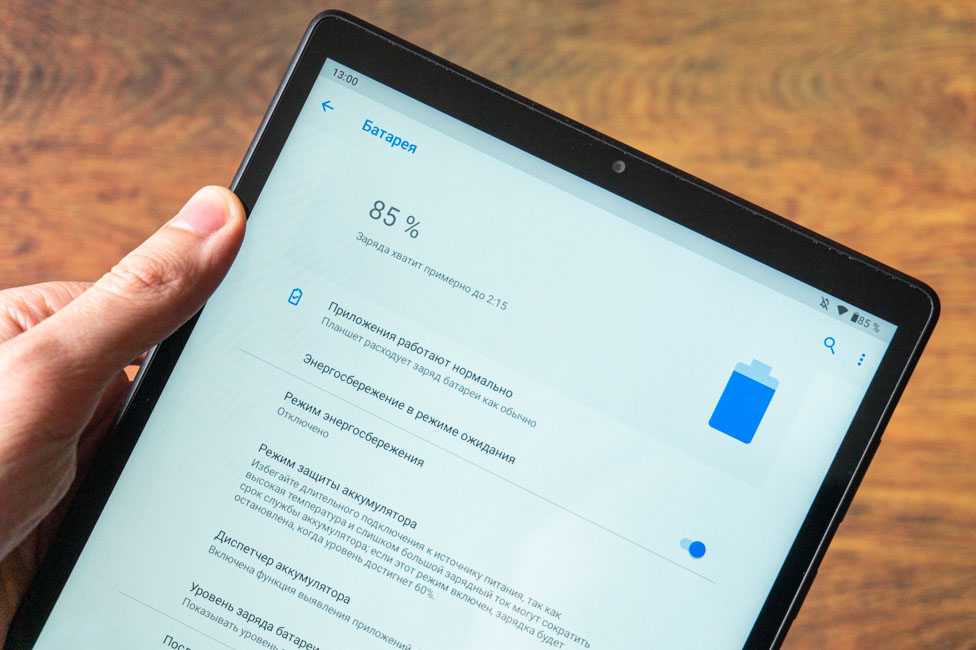 How long the tablet can work on a single charge directly depends on you. If you touch it only in the evenings, in order to watch something in the streaming services, surf the Internet or read, then the batteries will last for 2-3 such evenings. In the case when the tablet is actively used from morning to evening, it will last no more than a day. The PCMark 2.0 test at maximum screen brightness lasted only 4 hours and 6 minutes – not enough.
Charging is performed via Type-C:
00:00 — 8%
00:30 — 28%
01:00 — 50%
01:30 — 71%
02:00 — 89%
02:30 — 97%
Sound and communications
There are only two speakers in the tablet and they play in stereo. The volume margin in general is enough to watch movies, TV shows or games and music, but it won't break any records. The quality is quite normal, at maximum volume, slight distortions are barely audible, which is pleasing. There is an Dolby Atmos add-on with three presets and a custom equalizer, which will allow you to adjust the sound to your own preferences.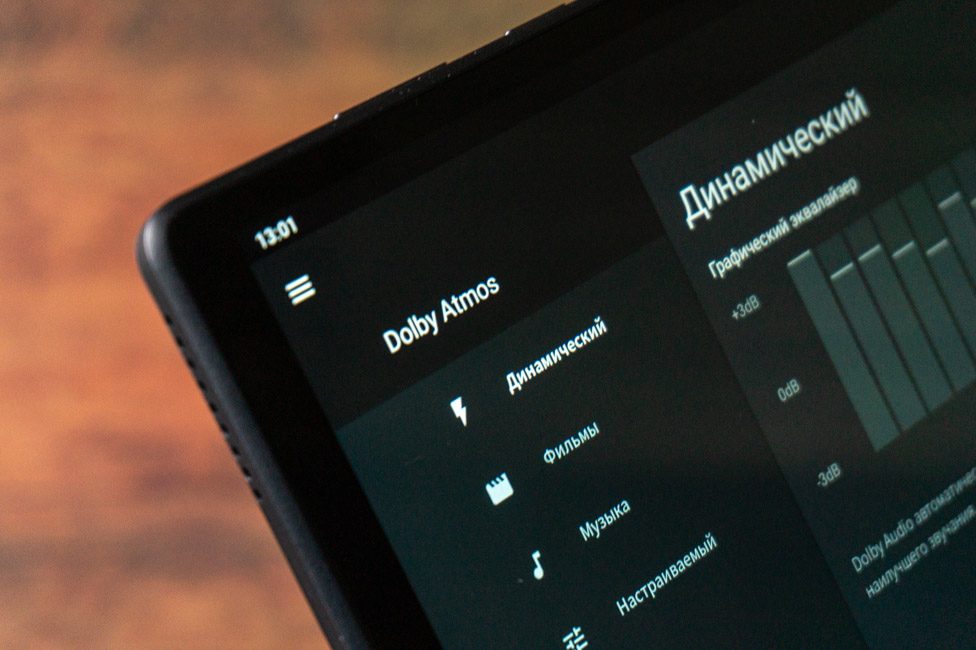 The sound in the headphones can be described as decent through both wired headphones and wirelessly. The same audio effects are applied to them, so here everything can be customized.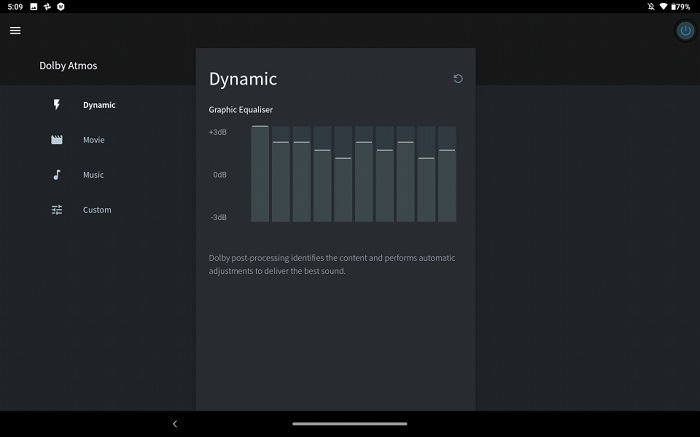 It's nice that the wireless modules in the tablet are up-to-date. Namely dual-band Wi-Fi 5 and Bluetooth 5.0. By the way, they work with no issues.
Firmware and software
The tablet runs on Android 9.0 Pie without a third-party shell, but with features from the manufacturer. Lenovo juggled with items in the settings and added a few options that increase the comfort. You can choose how the desktop will be displayed: all applications on the desktop or in a sliding menu. A navigation panel has three modes: classic (three traditional buttons), business (the buttons are shifted to the left, and the rest of the area will be filled with application shortcuts) and the gesture control mode (the original two-button system from the 9th version of Android).
You can activate the display not only with a button, but also by double-tapping the deactivated screen or when lifting the device. There is a "Screen Assistant": a small toolbar with quick access to some functions from screenshots, screencast, night mode or changing the color profile, and so on. Among the pre-installed applications, you can find the previously mentioned Dolby Atmos, tips for using the tablet and child mode.
In the latter, there are many useful functions for parents: a child's profile, a time limit, a blue light filter, warnings about incorrect posture and a ban on using the tablet while shaking. There are several applications preinstalled in it (camera, coloring) and you can add downloaded ones there.
Verdict
Lenovo Tab M10 FHD Plus is an example of an inexpensive tablet that looks good, is well-made and has a solid screen. But its performance level is average. However, this nuance is noticeable only in games and complex tasks. Among other pros, there's lots of storage and good built-in speakers.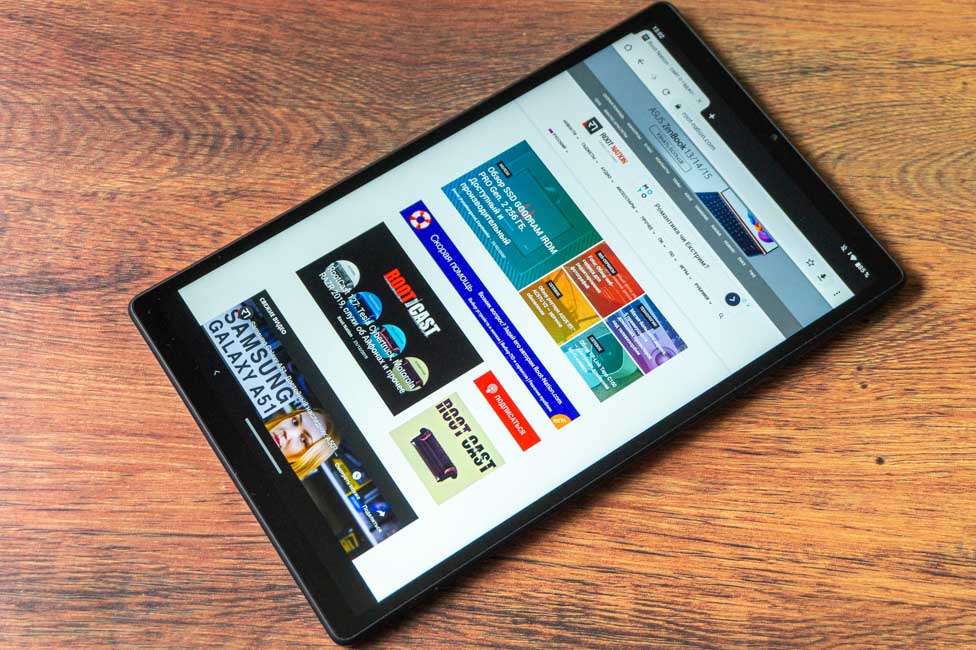 What are the disadvantages? Personally, I was very upset by the battery – you really expect more from the tablet and definitely not 5000 mAh. The cameras are of course mediocre, but that's to be expected. In general, for its price, Lenovo Tab M10 FHD Plus is a good choice.
Subscribe to our accounts: