It's been a long time since Samsung updated its lineup of tablets. We tested the flagship Samsung Galaxy Tab S5e which was a bit costly. But the company knows that affordable options are usually the most popular. Today it's time for Samsung Galaxy Tab A 10.1 (2019).
Our video about Samsung Galaxy Tab A 10.1 (2019)
If you do not want to read the text – watch the video!
Samsung Galaxy Tab A 10.1 (2019) specs
Display: 10.1″, IPS LCD, 1920 × 1200 pixels, aspect ratio 16:10
Chipset: Exynos 7904, 8-core, 2 Cortex-A73 cores with a frequency of 1.8 GHz and 6 Cortex-A53 cores with a frequency of 1.6 GHz
Graphics accelerator: Mali-G71 MP2
RAM: 2 GB
Storage: 32 GB
Support for microSD memory cards: up to 1 TB
Wireless networks: Wi-Fi 802.11 a/b/g/n/ac, Bluetooth 5.0 (A2DP, LE), GPS (A-GPS, GLONASS, GALILEO, BDS)
Main camera: 8 MP, f/2.0, autofocus
Front camera: 5 megapixel, f/2.2
Battery: 6150 mAh
OS: Android 9.0 Pie with One UI 1.1 shell
Dimensions: 245 × 149 × 7.5 mm
Weight: 460 g
Price and positioning
By tradition, Samsung released a tablet in two versions – Wi-Fi (SM-T510) and LTE (SM-T515). It turns out that the only difference between them is the support of SIM cards in the LTE version.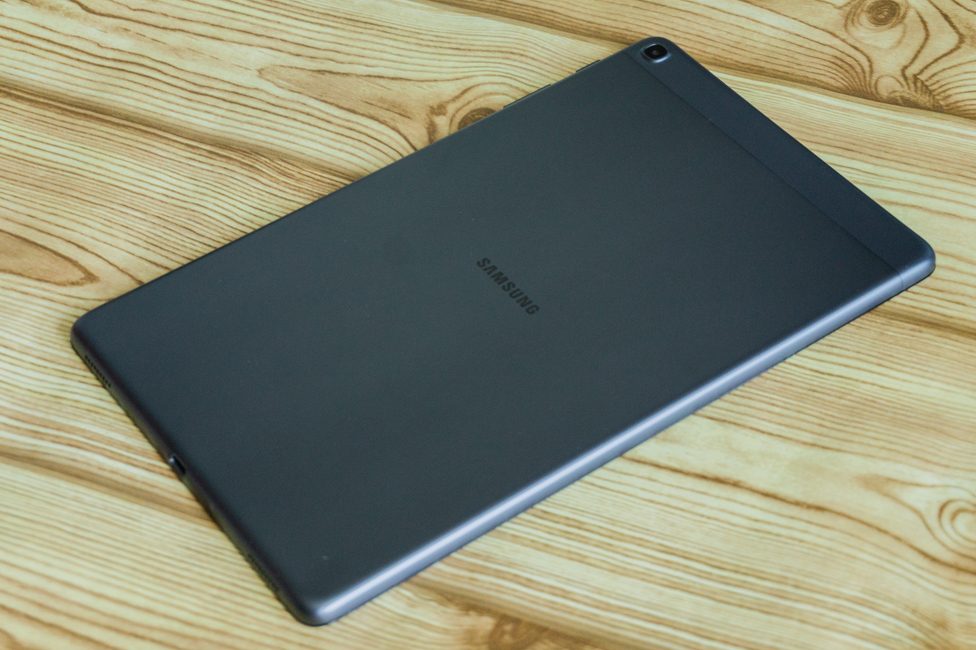 Now to the prices. The Wi-Fi version costs about $270, and Galaxy Tab A 10.1 (2019) with 4G costs about $296. An affordable tablet, compared with Galaxy Tab S5e.
Design, materials and build quality
Tablets rarely surprise with something special or new in terms of design. They are big and rectangular, that's about it. The front panel is devoid of identification labels with the name of the brand. The bezels above and below are thicker than on the sides.
If we draw an analogy with Samsung Galaxy Tab A 10.5, there is certain development in terms of materials. I think this is also important. In the 2018 model, the case was plastic, and this one is mostly metal. On top of the back panel there is only a small plastic insert.
The consequence of this is a more pleasant tactile sensation. But there is a fly in the ointment – paint can be peeled off the case. But of course, it depends on the accuracy of use and some other conditions. It is also worth noting that the coating easily gathers fingerprints.
The overall build quality is good. Parts fit properly. There are three colors of the case.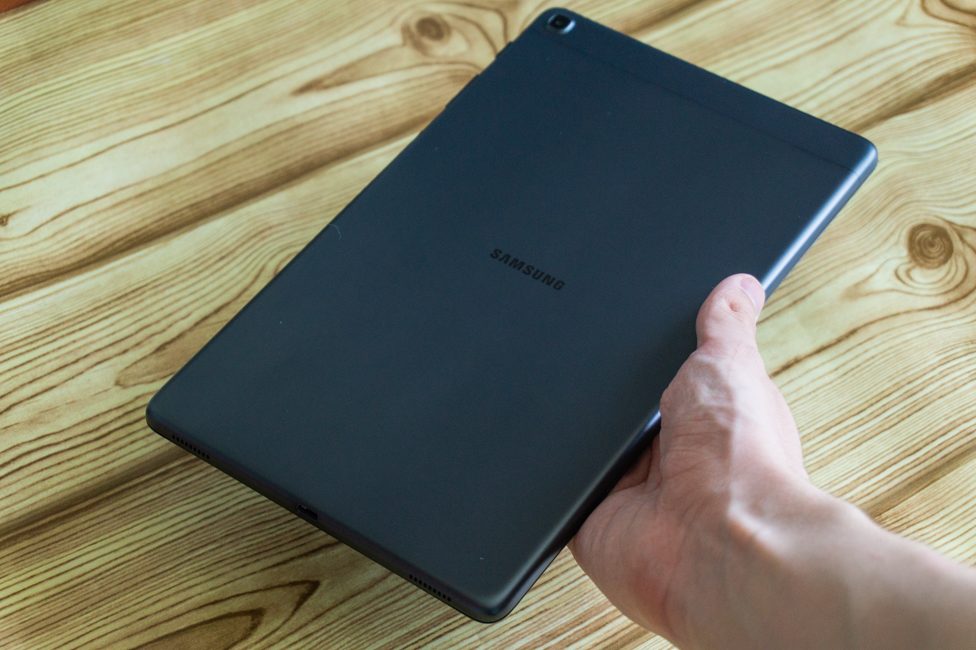 Elements' configuration
On the front panel we have a selfie camera and nothing else. There are no other sensors here. But where is the light sensor? Why isn't it here? You can find it in any ultra budget smartphone, Samsung, what's gone into you?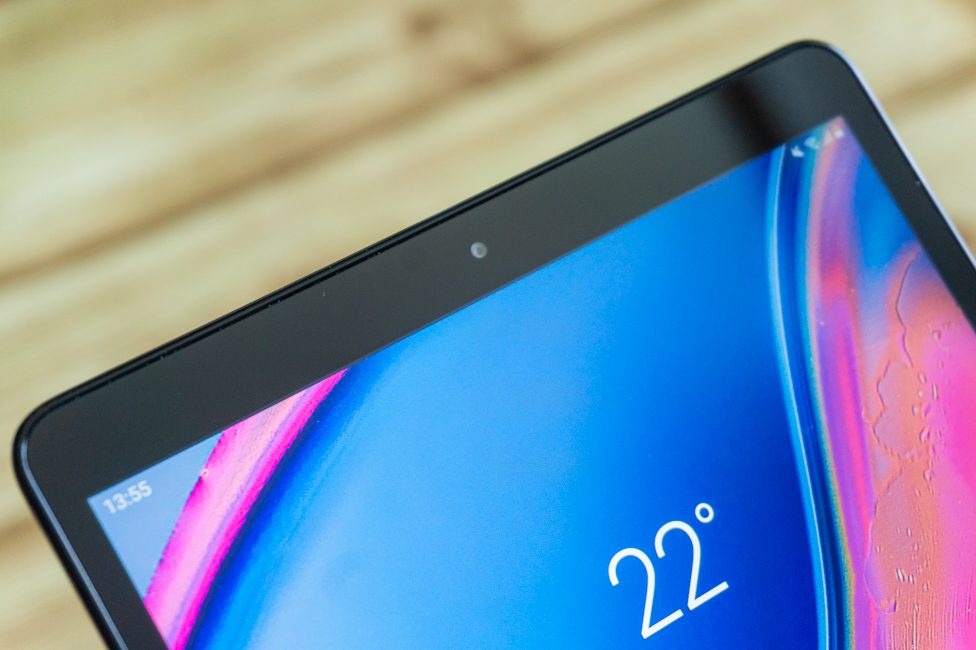 On the right side all the main elements are collected: the power button, the volume button and the slot for a microSD memory card. And in the LTE version (like mine) there is also a place for nanoSIM. On the left there's nothing.
The bottom has two speakers and a Type-C port. On the top is a microphone and a 3.5 mm audio port.
The back panel contains the left eye of the main camera, and in the center there a Samsung logo.
Ergonomics
Samsung Galaxy Tab A 10.1 (2019) has standard dimensions: 245 × 149 × 7.5 mm and a mass of 460 grams. Of course, after Galaxy Tab S5e, it was a bit unusual for me to use; the difference on paper is small, but in reality, S5e is much more convenient being one of the lightest tablets currently available. But Tab A 10.1 (2019) is more than fine in that regard as well.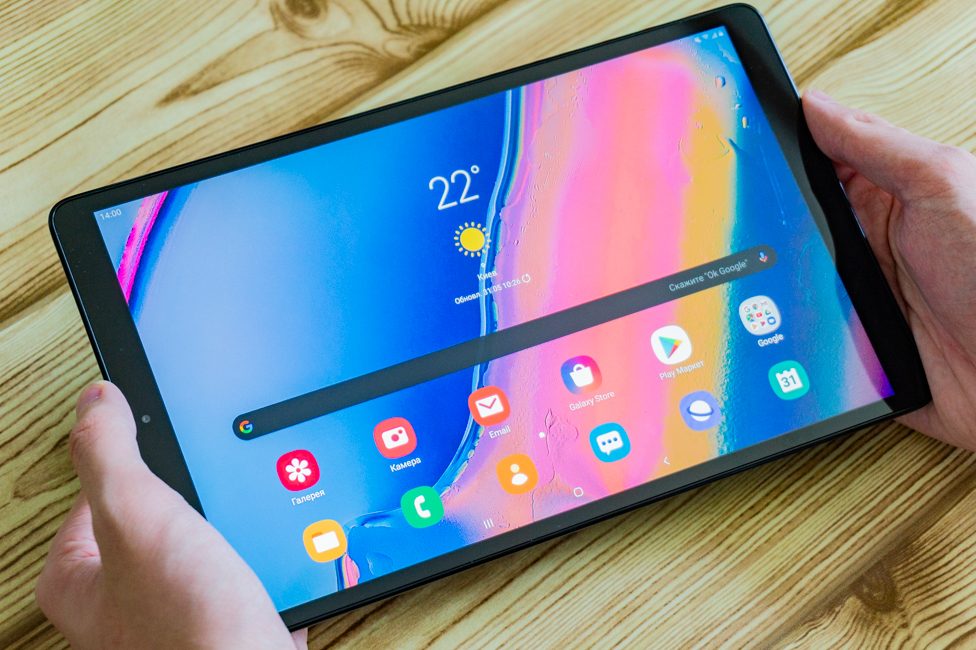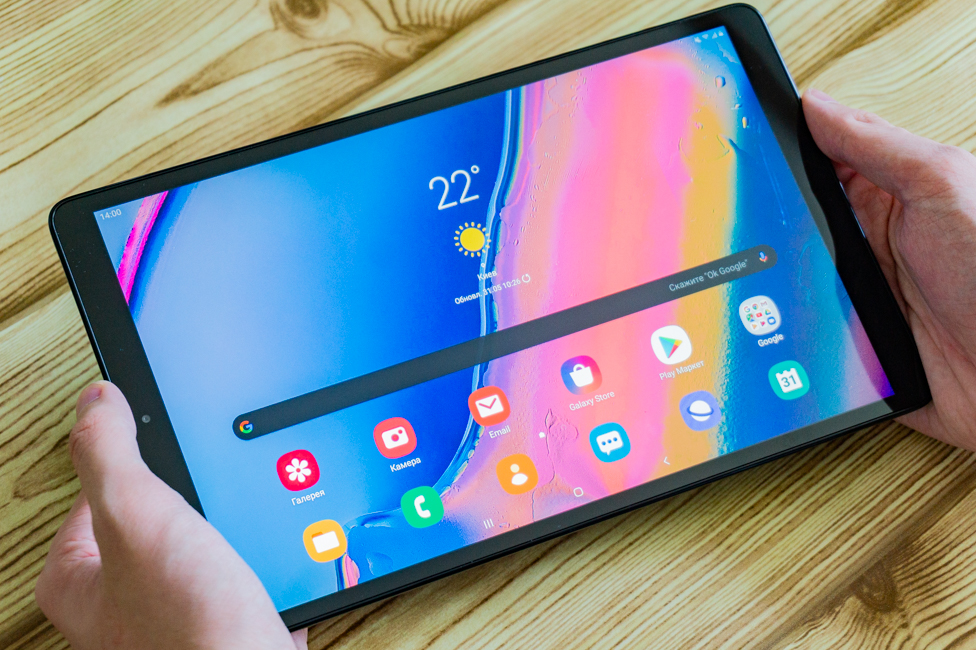 The bezels around the screen have comfortable thickness and false touches occur. But one of the speakers is almost always covered with a palm if you keep it in landscape orientation.
But the fact that it rests steadily on a flat solid surface despite the slightly protruding camera makes me happy.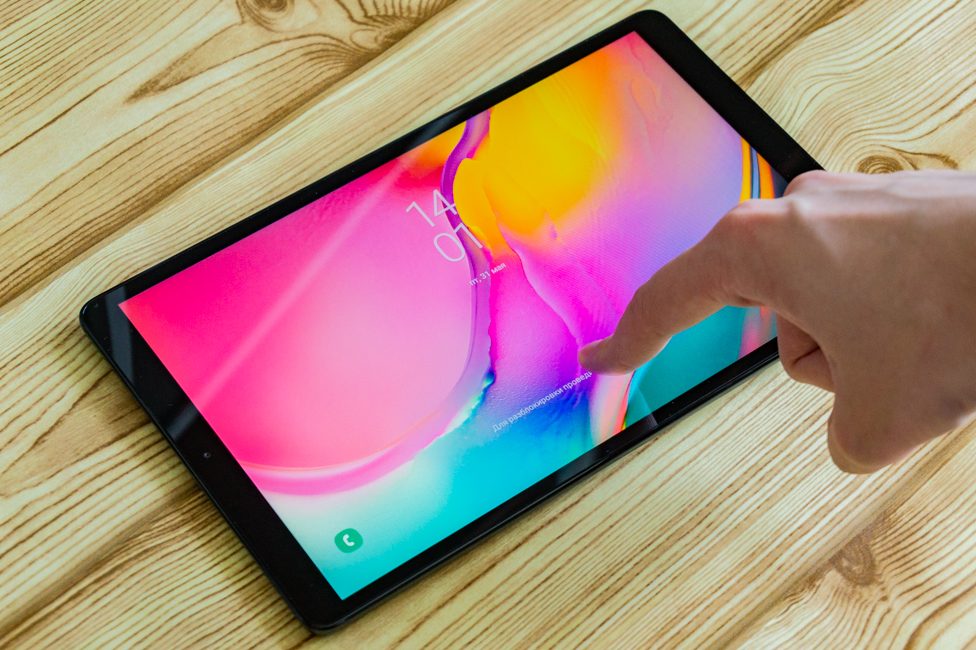 Samsung Galaxy Tab A 10.1 (2019) display
Samsung Galaxy Tab A 10.1 (2019) has a screen size that's easy to decipher from the title. It's 10.1″, made with IPS LCD technology with a resolution of 1920 × 1200 pixels, a density of 224 ppi and a ratio of 16:10.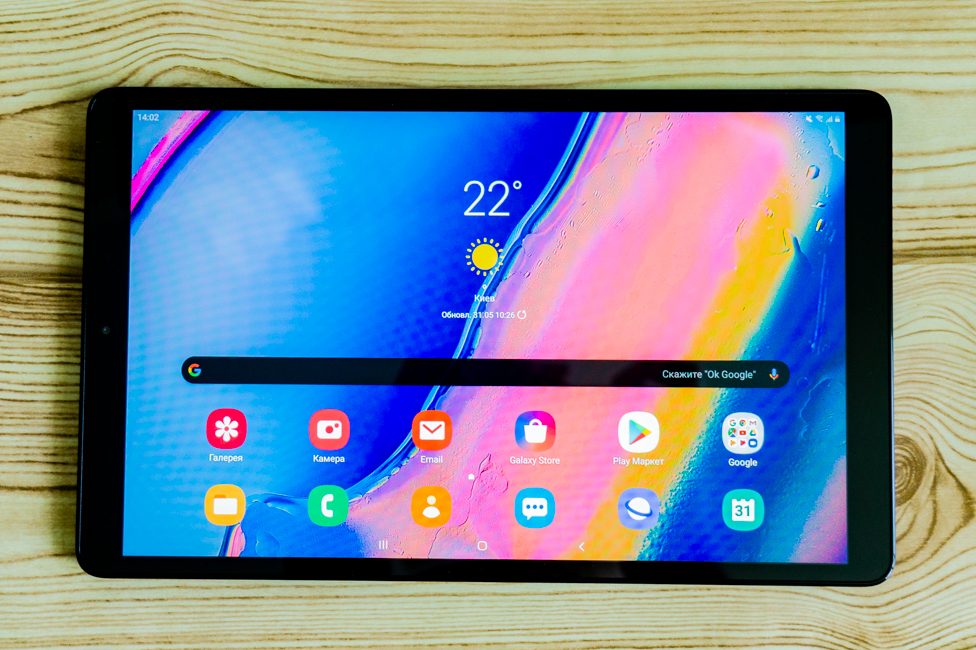 This is a good IPS-screen: bright, relatively contrasty and colorful. But do not forget that it's not AMOLED. Viewing angles are decent. In general, just a normal display without significant flaws. The only conditional nuance inherent in many screens with this type of matrix is ​​the fading of dark shades at certain extreme angles.
In the settings there's nothing special, you can't choose the color mode or adjust the white balance. The only thing that can be done is to turn on the "outdoors" mode, at which the maximum brightness level will become even higher. But if the tablet screen is inactive for more than 15 minutes it will turn off.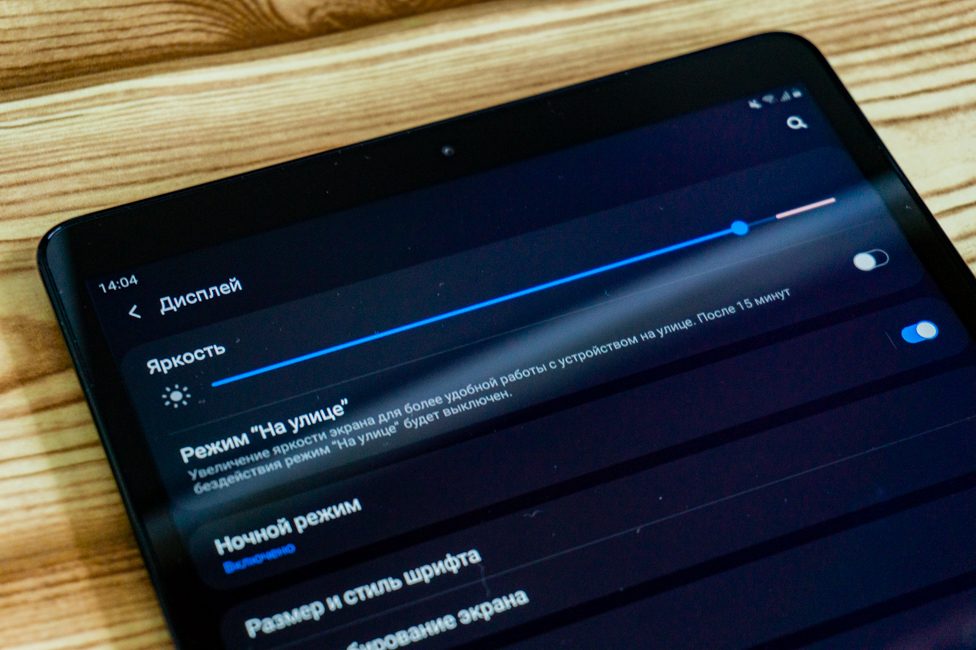 Samsung Galaxy Tab A 10.1 (2019) Performance
Inside Samsung Galaxy Tab A 10.1 (2019) is a proprietary Exynos 7904 platform. The chipset is familiar to us from a number of manufacturer's smartphones, such as Galaxy A30 and M20. It consists of 8 cores, two of which work on Cortex-A73 with a maximum clock frequency of 1.8 GHz and six cores of Cortex-A53 with a clock frequency of 1.6 GHz. Mali-G71 MP2 handles the graphics.
RAM is a bit lacking: 2 GB and no other options. In general, I can say that this is enough if you follow the opened applications. So you can flip through Instagram, go chat in the messenger and keep an article in Chrome. Although even in this case there will be some unpleasant slowdowns. So, Galaxy Tab A 10.1 is not a multi-tasking device.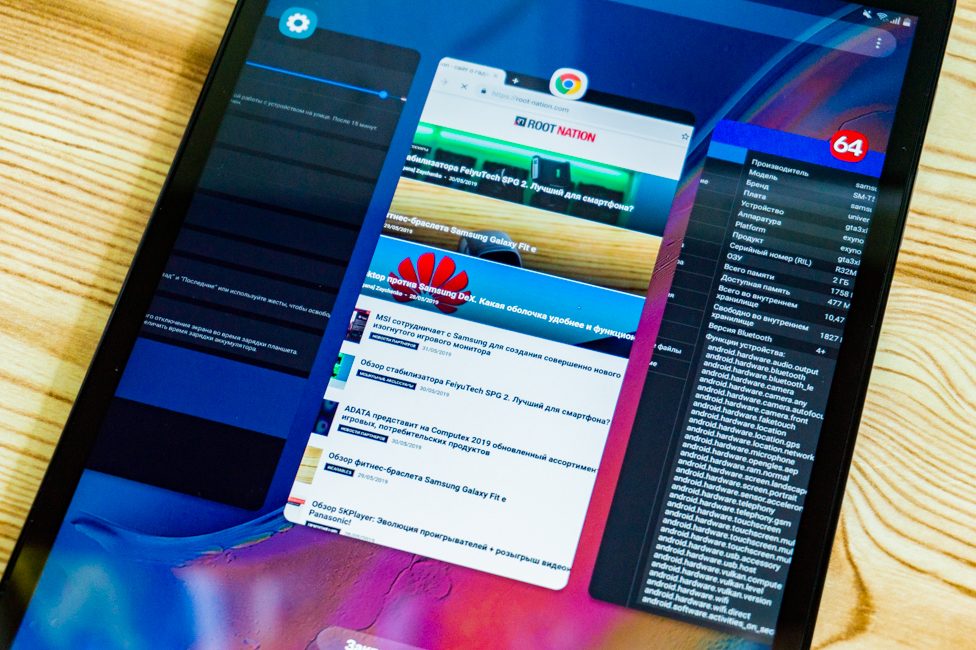 There's 32 GB of storage, but in the test sample I had only 16, so I can't reliably say how many gigs there'll be in the commercial sample. However, there is also a slot for a microSD memory card up to 1024 GB. So there's that.
So how does it work? The shell works well, not inferior in terms of responsiveness and speed compared to smartphones on the same hardware. With games, too, everything is the same, you can play in the majority. But the graphics will have to be set either low or medium – depending on the game.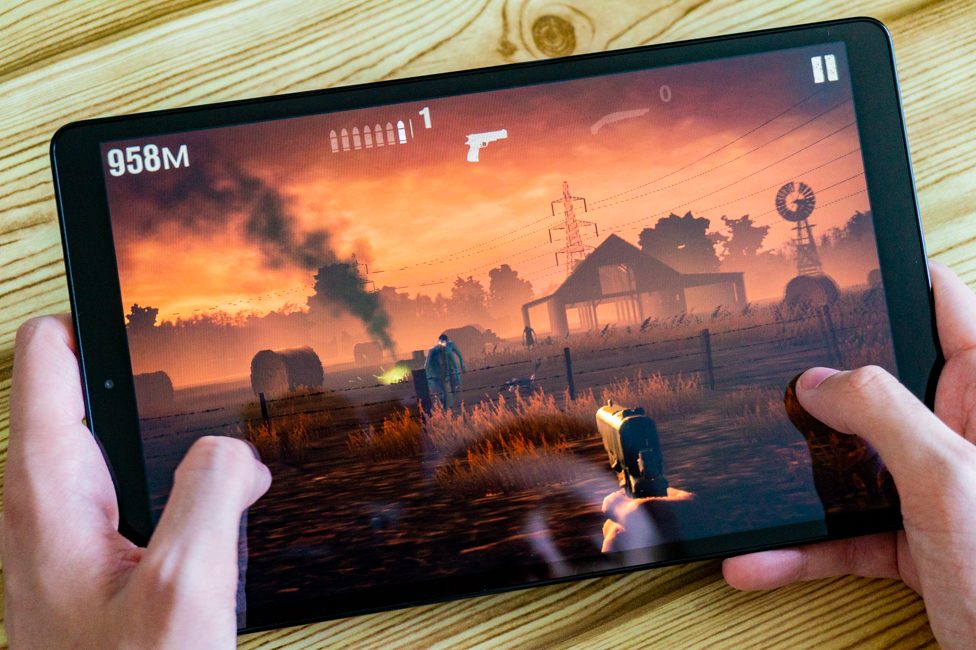 Cameras
Now about the main camera. 8-megapixel f/2.0 sensor with autofocus.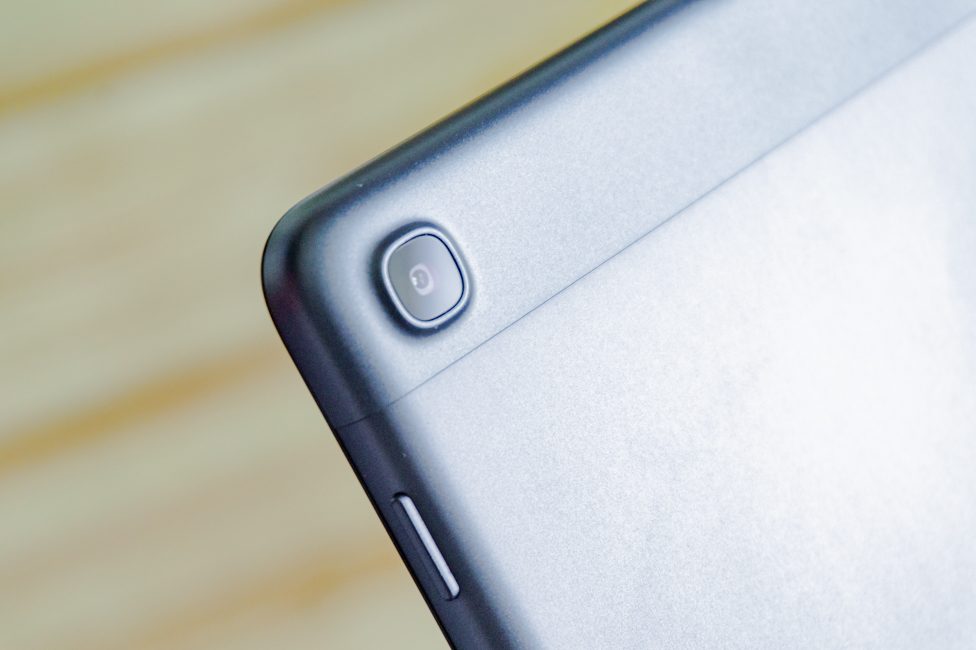 It's enough to take a photo of a document or something important. Just a normal camera that just works.
PHOTO EXAMPLES IN FULL RESOLUTION
There is an optimization of scenes using AI and even a double-zoom button. I still don't really see the need for it neither here nor in S5e. There's nothing extreme about that, and the digital zoom is as good as you might think. It would be better to transfer this feature to Galaxy S10e, seriously.
The video capabilities of the tablet's camera are at an average level, and the recording is carried out at maximum in Full HD at 30 frames per second, without additional enhancements, such as electronic stabilization.
The front camera has a resolution of 5 megapixel, f/2.2, which is enough for infrequent selfies or video calls, if you want.
The application contains two additional shooting modes: professional (manual) and panoramas.
Samsung Galaxy Tab A 10.1 (2019) battery life
This part of the tablet is very different from smartphones. Both in terms of total battery capacity and operation scenarios. Samsung Galaxy Tab A 10.1 (2019) has a 6150 mAh battery installed.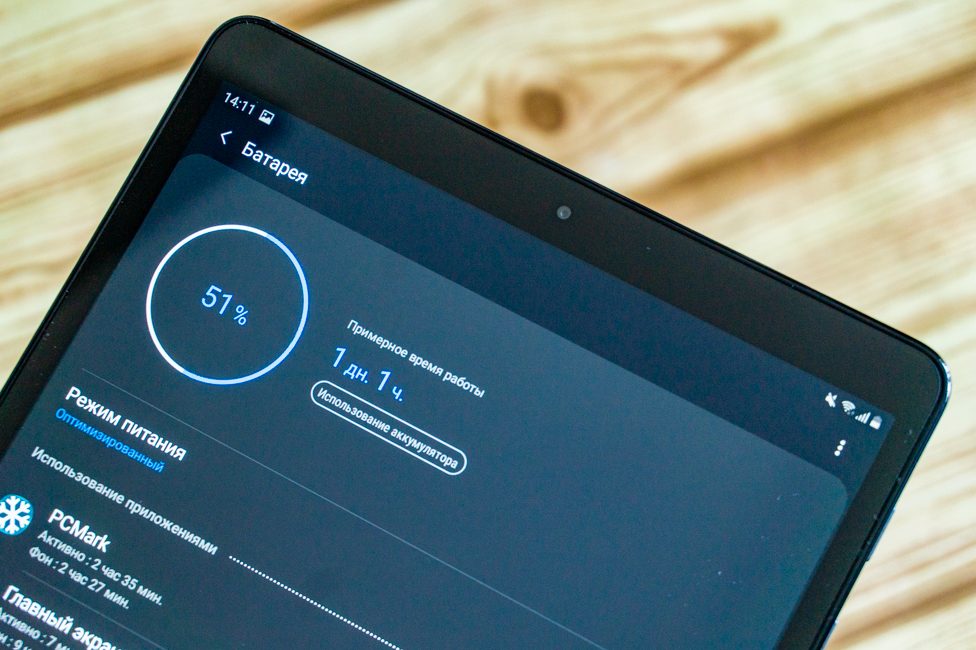 For example, my evening routine is looks something like that: sometimes a browser, more often social networks and instant messengers, sometimes streaming Full HD video. In total, a single tablet charge is enough for a couple of evenings with a total of 6-8 hours of screen activity. In PCMark 2.0 at maximum brightness, the tablet lasted 6 hours and 50 minutes.
Sound and communication
Galaxy Tab A 10.1 (2019) has two speakers installed on the lower edge, which are able to form stereo sound. Two speakers is not enough for a tablet. Especially when one can be easily covered up, as I said above.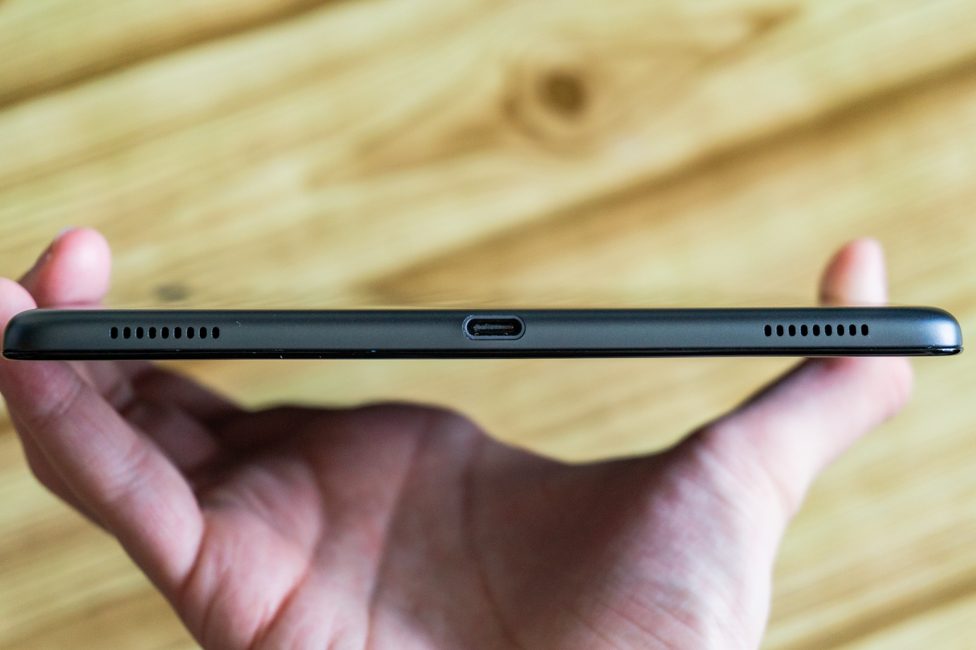 Even in last year's Samsung Galaxy Tab A 10.5 there were four of them, and why half the speakers were removed I have no idea. Nevertheless, they are decent in quality – they reproduce sound loudly enough. Enough for music, movies, and games. In headphones, too, everything is good, plus there are various means to adjust the sound.
With wireless communications, all is fine: Wi-Fi 802.11 a/b/g/n/ac works in two bands, there is Bluetooth 5.0 (A2DP, LE) and GPS (A-GPS, GLONASS, BDS, GALILEO). In the 4G tablet version, you can use the mobile Internet, make calls or send SMS. I have no comments on the work of all available modules.
Firmware and software
Samsung Galaxy Tab A 10.1 (2019) works on the current version of Android 9.0 Pie with proprietary One UI 1.1 shell. It has the necessary set of features. Although there are some problems.
The fact is that the tablet cannot be unlocked with the face (and there is no fingerprint scanner here). This imposes certain inconveniences – you have to constantly enter the password manually. But one can get used to it.
Verdict
Samsung Galaxy Tab A 10.1 (2019) is a simple multimedia tablet with big enough screen to comfortable watch movies, surf sites and read articles. It's also a good enough device for a child.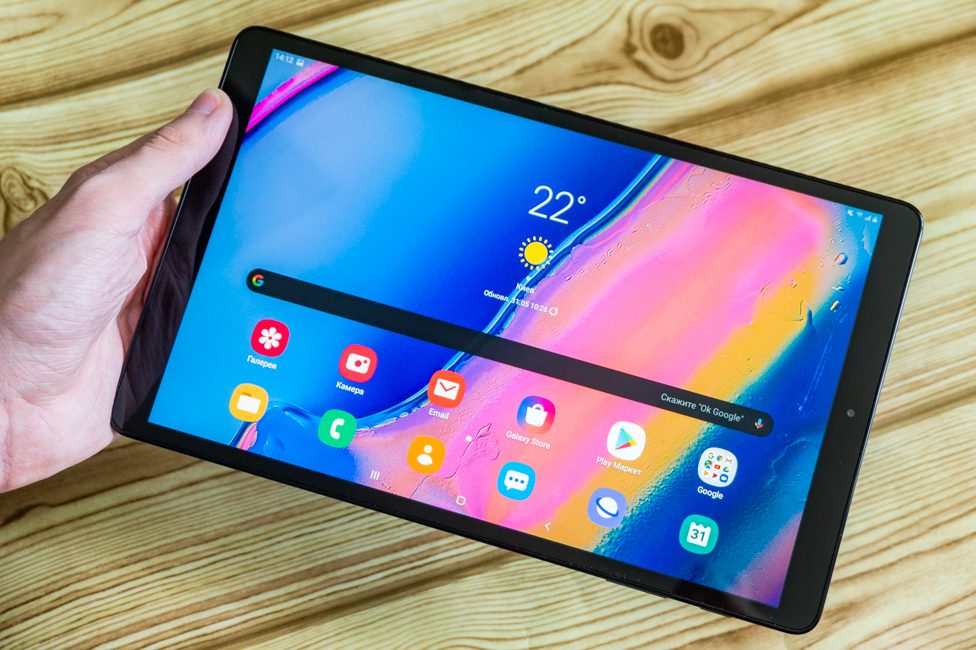 The build quality is good, the screen is fine and the sound is decent, but the hardware leaves much to be desired. If you need an affordable and simple tablet, it's not the worst option.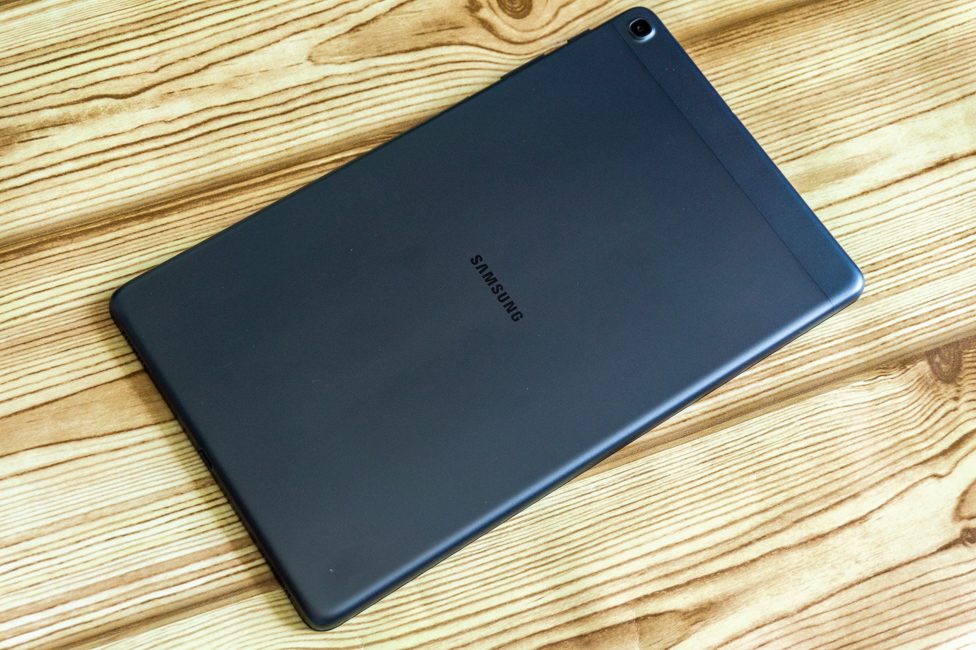 Subscribe to our accounts: