Good news from Turkey. Baykar Technology stated that they were impressed by the desire and spirit of solidarity of the Ukrainians to achieve their goals. And three Bayraktar TB-2's  that were the subject of the latest fundraiser will be sent to Ukraine free of charge.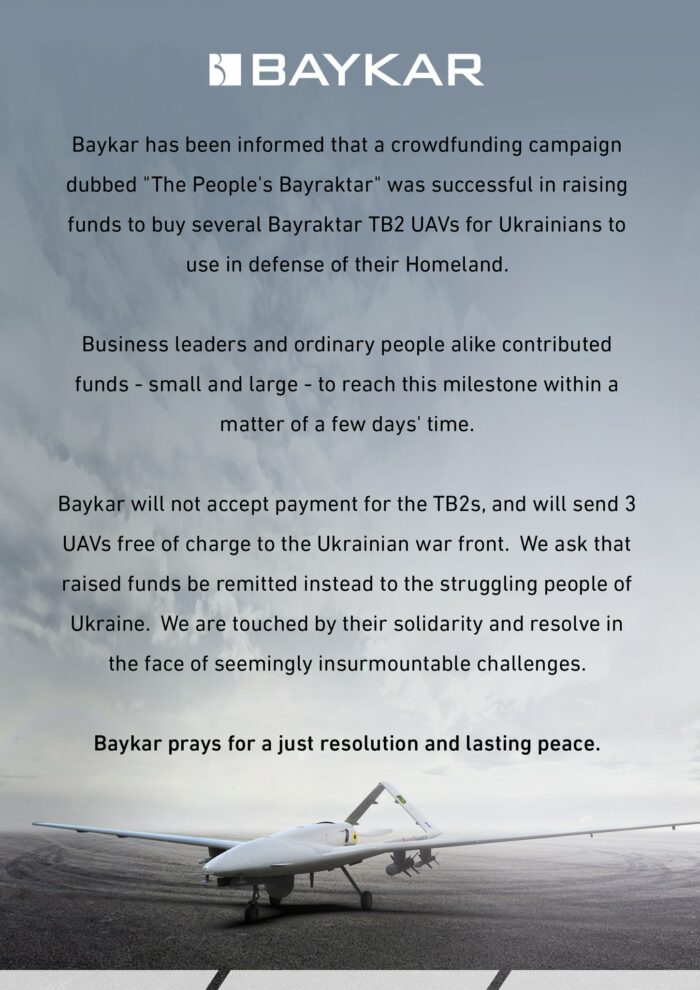 "Baykar has been informed that a crowdfunding campaign dubbed "The People's Bayraktar" was successful in raising funds to buy several Bayraktar TB2 UAVs for Ukrainians to use in defense of their Homeland.
Business leaders and ordinary people alike contributed funds – small and large – to reach this milestone within a matter of a few days time.
Baykar will not accept payment for the TB2s, and will send 3 UAVs free of charge to the Ukrainian war front. We ask that raised funds be remitted instead to the struggling people of Ukraine. We are touched by their solidarity and resolve in the face of seemingly insurmountable challenges.
Baykar prays for a just resolution and lasting peace."
https://youtu.be/6iH3tK9O0CM
Bayraktar TB2 specs:
Length: 6.5 m
Height: 2.2 m
Wing span: 12 m
Maximum takeoff weight: 650 kg
Load capacity: 150 kg (of which 55 kg is an optoelectronic station)
Top speed: 222 km / h.
Cruising speed: 130 km / h.
Communication radius with the control center: 150 km, updated version – up to 300 km
Max altitude: 8200 m
Can operate on one charge: up to 27 hours
Required operators: 3 in a ground control center.
Armament:
MAM intelligent ammunition: controlled MAM-C (high-explosive) and MAM-L (thermobaric)
long-range UMTAS anti-tank missiles
Roketsan Cirit missiles (70 mm)
TUBITAK-SAGE BOZOK laser-guided missiles
TUBITAK-SAGE TOGAN bombs (81 mm)
modular ammunition (with and without engines, with different warheads) TUBITAK-SAGE KUZGU.
You can also help Ukraine fight with Russian occupants via Savelife or via an official page of the National Bank of Ukraine.