You live in your favorite country, in your favorite city, you do your favorite thing. And here, in the neighboring Reich, from the bunker comes the supreme dickhead and declares that you must be immediately denazified. The Kremlin dwarf orders, and your country is attacked by massive missile strikes, and the borders are crossed by invading forces – columns of orcs on tanks and all sorts of military equipment. Enemies expect to capture Ukraine in shortest terms. And, in fact, none of the authoritative military experts believe that your country will last under the pressure of the 'second army of the world' for more than 96 hours.
Ukraine stands and will be victorious
The whole country immediately rallied to repel the aggression. It has been more than a month since the beginning of the war. Ukraine surprises and inspires all progressive humanity with its heroic struggle. Ukraine does not give up, the occupiers' plans for a blitzkrieg have finally failed, it is already clear even to the enemies. We will not discuss the reasons now, but I am going to write an article in the near future about how the whole world underestimated Ukraine and overestimated Russia's strengths. In short, it's all about the Ukrainian people. And, of course, in the best part of this nation – the Armed Forces of Ukraine, with the support of the Territorial Defense Forces, the Security Service, the Ministry of Internal Affairs and the National Guard. Our military and security forces continue to demonstrate the wonders of modern military affairs, which made a massive enemy offensive crumble, and our defenders are beginning to counterattack and even liberate previously captured settlements.
Ukrainian military destroy 2 Russian tanks in 1 minute.#Ukraine️ #UkraineRussianWar #UkraineUnderAttaсk #UkraineAppeal pic.twitter.com/8lzHRU25R9

— Root Nation EN (@RootNationEN) March 6, 2022
During this month, the lives of millions of Ukrainians have turned upside down, several times. Entire cities and villages have been partially or completely wiped off the face of the earth, infrastructure has been significantly destroyed, successful businesses have been frozen, and millions of refugees have been displaced or left the country. And the most terrible and irreparable is losing thousands of dead citizens. Russia is pursuing a policy of genocide against Ukrainian citizens. Of course, the war affected everyone in one way or another, and our website is no exception.
Today I will tell you how we cope with the difficult situation, how we've rebuilt to work in wartime, what is happening with the staff of the website, how we overcome organizational and financial difficulties, how we participate in informational and practical resistance and, of course, how we support the economy and help the Armed Forces of Ukraine.
Multilingualism is the basis of Root Nation structure
First of all, to understand the following sections, I will describe the main feature of the site. The last few years we have been operating as an international multilingual blog (or portal, however, I'm not very strong in such classifications). In general, structurally we have not one site, but four – Ukrainian, English, Polish and Russian. I have arranged these languages in descending order of priority for the editorial activity at present.
But this is not the way it has always been. In 2012, we had only Russian at the start, we positioned ourselves as a niche collective blog for IT geeks and mobile technology enthusiasts, where founders from Ukraine, Russia and Canada published their unique author's content. In addition, we invited any of our readers from the then CIS to become an author through the 'Sandbox' tool for publishing guest posts. In a few years we became a 'well-known in narrow circles' technology site, gradually increasing audience, and by 2014 the project was finally formed in terms of topics and sections as a specialized portal with reviews of gadgets, audio devices, PCs and components, video games, software.
In 2015, we launched the Ukrainian version, by the way, one of the first among the sites with technical reviews. In the fall of 2016, the English version of Root Nation was launched. Finally, in early 2021 – Polish. In the period  of 2014-2022, our subject was constantly expanding, we began to write about movies and TV series, 'smart' home, the Internet of Things, 'smart' appliances, drones, electric vehicles and other manifestations of high technology in modern life. During the last calendar year, we began to actively cover space-related topics.
Usually, the content published on the site is synchronously localized in several languages, but sometimes it is unique to each language version. For example, regional Ukrainian or Polish news does not make sense in Russian or English. But reviews and best articles are commonly published in all four languages.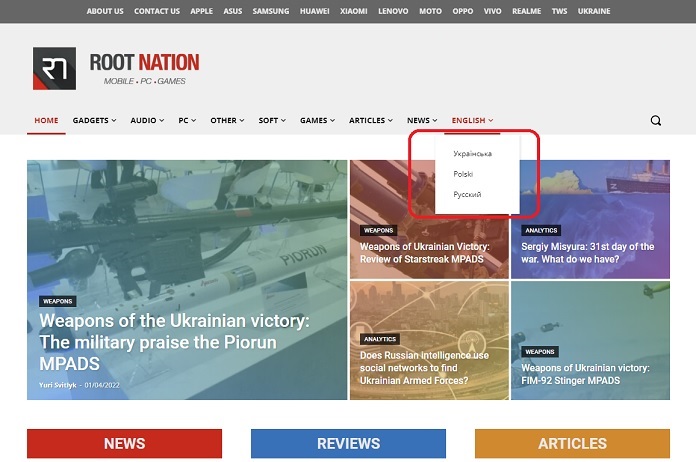 By the way, the fact of multilingualism may not seem so obvious to ordinary Root Nation visitors. Because it all depends on the browser language. If it matches one of the languages of the site, then when you go to https://root-nation.com/ you will be automatically redirected to the home page of the corresponding language version of the site. And if such does not exist, you will get to the main default, and now it's an English site. And then you can, of course, switch languages from the main menu.
Our current reality is the 'military and political review portal Root Nation'
The most important thing that happened to the site after the war was a sharp change in topics from technical and entertainment to military, economic and even political. These are, for the most part, conscious changes, although we have never sought such a transformation. But changing conditions dictate their rules. It is clear that now few people are interested in gadgets and new technologies, if they do not help a country that is at war to survive and defeat enemies. We just couldn't stay out of current trends. So we started writing about what really concerns us as citizens of Ukraine and, logically, interests all our readers.
Our main section at the moment and our main work is posts related to Ukraine, the realities of the war, the struggle of Ukrainians against the fascist Russian reich on all fronts, all aspects of humanitarian aid, mutual assistance and volunteering, informing about new government services appearing literally every day in a rapidly changing warring country. Of course, first of all, we create content for the citizens of Ukraine in the Ukrainian language.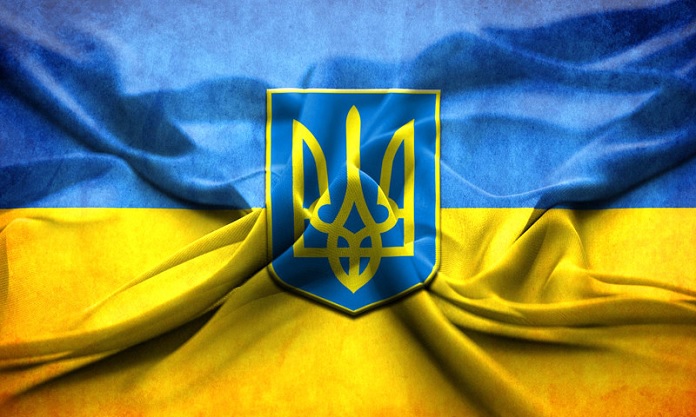 We also follow the 'Techno-bloggers in support of Ukraine' video marathon, in which the most popular Ukrainian technology YouTube bloggers express their attitude to the current political situation in connection with Russia's invasion of Ukraine. You can watch these videos HERE.
Suddenly, we discovered a whole new niche – improvised analytical reviews of high-tech weapons, which are now used by the Armed Forces of Ukraine to protect the independence and territorial integrity of our country. Of course, our author Yuriy Svitlyk uses only data from open sources, supplementing them with numerous photos and videos of the practical application of these types of weapons in Ukraine. There is no secret information in the articles, but these post let you get acquainted with the topic in detail on one page. Recent reviews include, for example, the legendary Bayraktar UAV, the mysterious Switchblade drone, the Javelin and Stugna portable anti-tank missile systems, and the Stinger, Starstreak, and Piorun anti-aircraft missiles. We tried, and it turned out that this topic is also interesting to a wide range of our readers from around the world. Therefore, we publish these articles in all languages.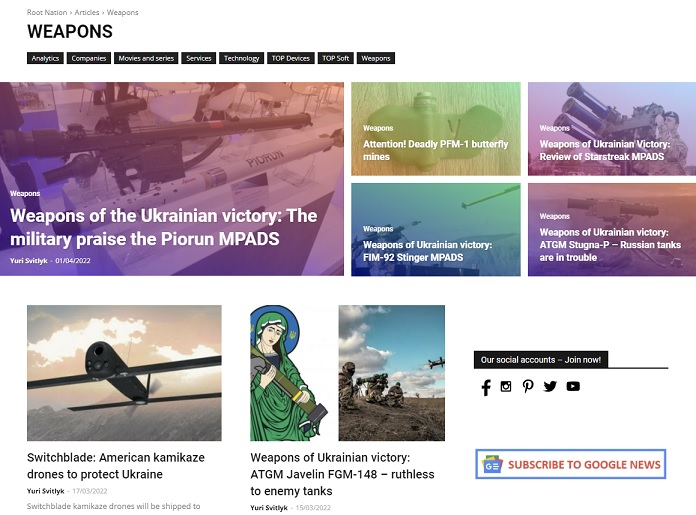 But at the same time, news and articles related to Ukraine are now of interest to people all over the world, without exaggeration, so we are duplicating the most important posts in Polish and Russian. In addition, we create a lot of unique content in English to show the realities of the Ukrainian war to a wide international audience.
Read also: Best video games developed in Ukraine
Life and work of the staff
We always worked without an office, taking full advantage of remote work since long before the breakout of Covid. In the fall of 2014, we tried to rent an office in Kyiv, but it didn't last long, literally 3-4 months. I was finally convinced that if you have the motivation to participate in the project, then you'll be doing it from anywhere. And if you don't want to work, no office will help. In general, renting an office is just an extra budget expense and it is better to use these funds to reward authors. I will not say that this statement is true for any business, on the contrary, there are many segments where you cannot do without a physical place of work, especially if employees work for a fixed salary. But it was for our site that the office turned out to be an unnecessary business attribute, so after one unsuccessful attempt, we decided to abandon this idea completely.
Besides, our team has always had a wide geography. At first, when we invited user content, authors wrote for us, literally, from all over the world. Later, we formed a team mostly from Ukraine, but still, it united residents of different regions – Kyiv, Dnipro, Kharkiv, Mariupol, Kryvyi Rih, Odesa, Lviv. And since recently it is also the Polish Lublin.
Accordingly, our office is virtual – a few chats, cloud files and folders, site admin page. From time to time before the war parts of our team met in real life  at presentations, exhibitions and other specialized events, but not everyone, I have never seen some members of our team live in my life, but I feel that these people are very close to me,  my colleagues. We follow each other in our personal lives through social networks, communicate in chats on various topics, share thoughts and impressions about any event. Indeed, modern technologies are converging. I can say for sure that there are no random people in our team now, and everyone is in their place, doing their part of the common task.
In general, it turned out that we were ready to work from anywhere at any time. The main thing is the presence of a laptop or PC and an Internet connection. And in wartime, this model of joint work has shown itself to be the best.
Of course, the war affected our lives. For the most part, we all stayed in our cities. In the first days we used to run to the shelters, later we mostly got used to air raid sirens and discipline in this regard fell slightly. But not always and not everywhere, for example, our editor-in-chief Eugene and his wife Irina (who also works as an editor for our site) and their daughter live in Dnipro in relative proximity to military and civilian infrastructure that is under constant rocket fire. Therefore, they cannot ignore air alarms and hide in the basement every time when the danger of shelling is announced.
Not everyone could to stay at home. Several authors and editors moved to western Ukraine. Nobody went abroad. Let's talk about some typical cases.
The war drove our Yuri Yurievich out of his beloved Kharkiv. He was not drafted neither into the army, nor into Territorial Defense. He sent his family to western regions in the early days of the war, and remained at home despite the shelling. But within a week it became clear that the siege of Kharkiv was dragging on, and there was no point in sitting in an apartment with shells and rockets flying over your house and falling in neighboring yards. So in the end he went to Transcarpathia, where he comes from. And from there he writes cool analytical and review articles on military and political topics.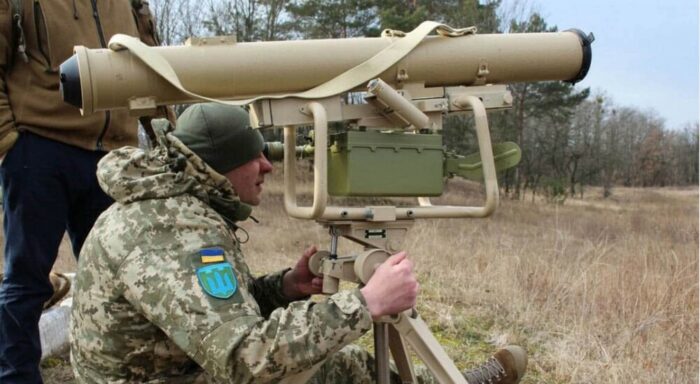 Our news editor Julia stayed in Mariupol to the last, did not leave, although there was an opportunity to leave at the beginning of the invasion. She said, 'But we are already used to shelling, when it starts to pound, we just go out into the corridor and continue to work.' Later, I was very sorry that I did not persuade her to leave the city while I had the opportunity. The communication with Julia was lost on March 2. For three weeks we did not know anything about her fate. Very scary. Then she got in touch from Mariupol, literally for a minute, and it was a great relief. We felt great joy when we learned a few weeks later that the person was alive. But after that the connection disappeared for another week. Fortunately, a few days ago, Julia called no longer from the combat zone. How she and her husband got out of hell, which was arranged by orcs in Mariupol is another story, which she may tell us one day.
Photo: Mariupol after weeks of russian shelling https://t.co/ApTs6dzY16 #News #Ukraine pic.twitter.com/yZnzVcRhyS

— Root Nation EN (@RootNationEN) March 30, 2022
Now Julia is in Kryvyi Rih and even started working, literally in a few days. Indeed, we all admire the endurance and willpower of this fragile-looking girl. I asked her if she was ready for work, maybe she'd like to get some rest. She replied that it would be better for her to do something. After all, if you are not distracted with work, you mentally begin to return to all this horror.
I can tell you more about my personal experience, well, just because I can only write about others what they say, and I know absolutely everything about myself.
I decided to stay in Kyiv. Although almost every morning for several weeks my wife tried to persuade me that it was time to evacuate. The car with a full tank of gasoline is still in the garage. Immediately after the attack, we were all a little shocked and trying to understand what was happening. Not that the war started unexpectedly for me personally. On the contrary, the events of the last few months (the concentration of the Russian army near the borders and the blackmail of Europe, NATO and Ukraine, which did not achieve its goal) have led me to believe that an invasion will definitely take place. Putin would not go away just like that. But on the first day we were still trying to assess the general situation and the level of danger of staying in Kyiv.
I will describe the chronology of events. On February 24, for some reason, I woke up at 4 am, as if I felt that something terrible was going to happen. I took to Twitter and saw the message that 'the bastard is just declaring war on Ukraine right now.' I opened YouTube, found a live broadcast of Russia 24 and listened to this whole stream of schizophrenic delusions live. Immediately after its completion, cannonade was heard outside the window. I woke up my son and wife and told them that the war had started. They quickly began to get dressed and pack their backpacks in order to be ready to leave the apartment quickly.
After that, we met with other relatives and went to the nearest shelter, where we were mainly engaged in monitoring developments with smartphones. Sometimes, after the air raid siren went off, we would leave the shelter and go home, and then we would return  to the bomb shelter again.
Спасибо братской России за то что освободила меня от поездки в Барселону на MWC в этом году. Вместо отеля Marriott: pic.twitter.com/phUVrLfuKk

— Vladyslav Surkov (@5sv7) February 25, 2022
Of course, from the first day of the invasion, I was confident of Ukraine's victory. Here is my post on Facebook, written 5 hours after the start of the war.
The next day I could no longer stare at the smartphone screen. That was the morning when enemy saboteur teams began to break into Obolon. I decided that I needed to go to the military enlistment office immediately. We were in hiding at the time. It was pounding hard at that time. I went outside to investigate and met a neighbor and an acquaintance who told me that our district military enlistment office was gone, as he had supposedly seen a Russian tank arrive and shoot the building. Then a woman came up and told us that our nearest mall above the metro station had been demolished.
Later it turned out that everything was not true. Fear has big eyes. This was exactly the panic the Russian occupants were counting on. But in a couple of hours all saboteurs trying to break through to the center were already down. The equipment of the occupiers was captures by the territorial defense with the help of old ladies, local hooligans and a few chunks of asphalt (this is not a joke), and later handed over to the AFU.
But at that moment I still did not know the details. I found the phone number of the  military enlistment office and called. I explained that I was in the third wave of mobilization, but I'd volunteer to sign up to the AFU right away. They replied that it's not needed at the moment, and that I'd be called if needed, and advised me to turn to the camp of the Territorial Defense in our district. I ran home, quickly stuffed my backpack  with everything that seemed necessary for me in this situation, and went straight to the indicated point (3.5 km). And when I got to the place, I was stunned with a half-kilometer queue of those willing to enlist to the Territorial Defense.
It turns out I arrived late. Many people have been here since the morning and those who came earlier were already distributed weapons, formed into units and sent to locations. Here is what happened in the queue a few hours earlier:
Just in case, you better not believe the phrase 'no documents needed' from this video , it's a bold exaggeration. Passport and military ID were checked and all data were recorded in the database. Although it is possible that in the morning, when there was a critical danger of saboteurs breaking into Obolon streets, the simplified procedure for obtaining weapons was further simplified, I can't say for sure.
By the way, a similar picture was observed in the first days throughout Ukraine. A huge number of people wanting to defend their country without waiting for mobilization. For example, here is a video from Zaporizhya:
#Ukraine. Zaporizhya. Еveryone men who wants to join the territorial defense to protect the city from the Russian troops attack.#UkraineRussianWar #UkraineUnderAttaсk #UkraineAppeal #UkraineWar pic.twitter.com/5tnqrOYBYy

— Root Nation EN (@RootNationEN) March 5, 2022
In general, I stood in line for about 4 hours, met men of different ages and nationalities (actually, there was even a local Chinese), people spoke Ukrainian and many spoke Russian (Russian language does not interfere with the desire to kill the occupants). I'd that this communication has become a real anti-stress therapy for me, after a day and a half of anxious uncertainty, I finally calmed down and was inspired. It became clear that with such men the country is reliably protected, and we will not allow anyone to encroach on our Mother Ukraine with impunity.
In the evening, we moved closer to the goal by several hundred meters, although the tail behind us grew even faster, and in general it was almost a kilometer queue. We have all managed to make friends with our neighbors, because we assumed that we would get to the same unit, so we need to get to know each other better. But then the colonel came out of the reception building and started shouting, urging us to leave, because there were no more rifles, and it was not when more would arrive. And in general, the local Territorial Defense was already over its enlistment capacity, so it was decided to take people only with combat experience and those who wanted to sign a contract for 3 years. After that we went home, somewhat disappointed but hugely inspired.
I didn't try to join the Territorial Defense anymore, because I realized that there were just too many people willing and there were more combat-trained people, so I decided that I'd better do what I do best – fight in the information field and make money, which were so needed by the family, the staff and the economy of Ukraine. Moreover, during all these days, despite the war, commercial inquiries continued to arrive in the mail. After all, the world around us continued to live the same life and, probably, many clients did not even suspect anything about our war at that time. In fact, as a result, we rebuilt the site in accordance with the new conditions and continued the work of the editorial office. Of course, the business component has also undergone major changes. That's what I'll talk about next.
Read also: Does Russian intelligence use social networks to find Ukrainian Armed Forces?
Wartime economy
I don't think it's necessary to explain to you that the income of content projects like ours is approaching zero in wartime, and considering the small but still persistent costs of maintaining the site, they become unprofitable. This is not surprising, since traffic is falling, the gadget market that feeds us is shrinking, advertisers are leaving it en masse. And you can forget about allocating funds to editorial budgets during the war. In addition, many men and women simply fill the ranks of the Armed Forces or the Territorial Defense, volunteers, and they can no longer create content. I know that many projects freeze their work or even close it. Probably the only source of income that can sustain in wartime is subscriptions and donations. But due to the general decline in income and the fact that Ukrainians now prefer to donate more to the army than to content projects, these sources are also significantly reduced.
All that I have described above applies to typical of Ukrainian sites, which are focused only on the Ukrainian audience (partly on Russia and the countries of the former CIS) and publish content in Ukrainian and Russian. But in the case of our site, I even feel a little proud that we have managed to create an economic model that depends only partially on the domestic situation, and generally has an increased safety margin due to traffic diversification.
Yes, our revenues have also dwindled, moreover, very significantly. By more than 50%, and it is not surprising. But due to the English and partly Polish sections, we still manage to stay afloat, not ask anyone for help and even help others. In addition, it should be understood that martial law has reduced not only revenues but also costs. After all, what does a person need during a war? Demands have become much more modest compared to peacetime – these are basic necessities, housing, heat, minimal clothing, communication. We do not want to make any serious purchases, even if there are opportunities, people try to spend as little as possible, because it is unclear when it will end.
Therefore, the site continues to operate and earn money. The income is enough to cover basic business expenses, minimally support the staff and, of course, regularly donate to the army and volunteers and do charity. Not much, but at least we are not feeding on the state budget, and on the contrary, in the current situation we have the opportunity to earn hard currency, bring it into the country, pay taxes and inject funds into the overall economy of Ukraine. Yes, the turnover is modest, but if every structure that can continue to work during the war will act in a similar way, the economy will survive. In general, we make our best contribution, I think.
Remember, I described the language sections of the site in descending order of priority. In terms of declining profitability, the situation is now somewhat different: English, Polish, Ukrainian and Russian. Moreover, if in the case of  Ukrainian segment the profitability has fallen significantly, for obvious reasons, but still remains at a minimum 'near the bottom' level, then in the case of Russian traffic, despite its presence, there is absolute zero coming from banner advertising, and we do not accept direct orders from the Russian Federation  for obvious reasons. Although they come from time to time, but we send 'colleagues' in the direction that follows the Russian warship.
A clear example is the graphs of profitability of banner advertising in the Google Adsense network, TOP-5 by country. For comparison, a relatively peaceful February and a military March of 2022. As you can see, Russia's share has simply evaporated.
Of course, before the war, Russian traffic brought some income. But this share was insignificant in total turnover. These were mainly passive revenues from banner networks. And for other political reasons, we have been systematically trying to reduce our dependence on Russian money since 2014. The English section was later launched for this purpose, and later the Polish section. And now this approach is justifying itself. The main income we now receive from traffic that is not related to Russia and Ukraine. And of course, we perform direct orders for customers from around the world. Most of them are publications in English.
Another important aspect of current business. Before the war, we worked closely with Chinese stores and manufacturers who sent us various devices for testing. As you know, the Chinese were interested in reviews in Russian and Ukrainian. We were happy to test these gadgets, keep them or sell them, and provide links in texts and videos so that readers and viewers can go straight to the store to buy the device, respectively, we earned a small commission on the operation. With the beginning of the war, this type of cooperation was completely lost. Delivery of purchases from China to Ukraine is practically impossible for obvious reasons. As for the Russian Federation, there are some local warehouses, probably for AliExpress, but not for all goods. In general, I do not know what's going on with the purchase of Chinese goods in the Russian Reich now, and I do not want to know. The fact is that there is no more cooperation with the Chinese. Even requests ceased to arrive, although they were plenty before the war.
Summary
I will say briefly. I think we are holding up worthily. We fight around the clock on the information front, we work hard, we don't ask anyone for anything, we don't feed on the state. On the contrary, we manage to earn in incredibly difficult conditions and pay taxes, and therefore, support the country's economy. Almost every day I try to allocate at least 300-500, and often 1000-1500 UAH from the budget to help the Ukrainian army. We periodically donate funds to volunteers and various social projects. So, we do everything right, as much as possible in the current situation. We survived, saved the team (I am immensely proud of all of you and love you) and we are going to be victorious together with our beloved Ukraine. We have no other option. We believe in the Armed Forces! Glory to Ukraine! Glory to heroes!
You can also help Ukraine fight with Russian occupants via Savelife or via an official page of the National Bank of Ukraine.