Imagine that you have a $1000 credit to buy yourself a new working gear, with no constraints on the form factor, operating system, or specs: what would it be? For me a base M1 MacBook Air was the answer. I've got used to a 2018 model and Apple ecosystem in general, so an upgrade with improved battery life, more storage, and passive cooling was a no-brainer.
However, I've always wondered what other options $1000 can buy? Acer Swift X is not a direct apple-to-apple comparison (what a wonderful wordplay) – it's a comparatively big 16-inch laptop with Intel's x86 processor, a dedicated graphics card, and a full array of ports. Swift departure (here's another wordplay) from Apple's minimalistic approach.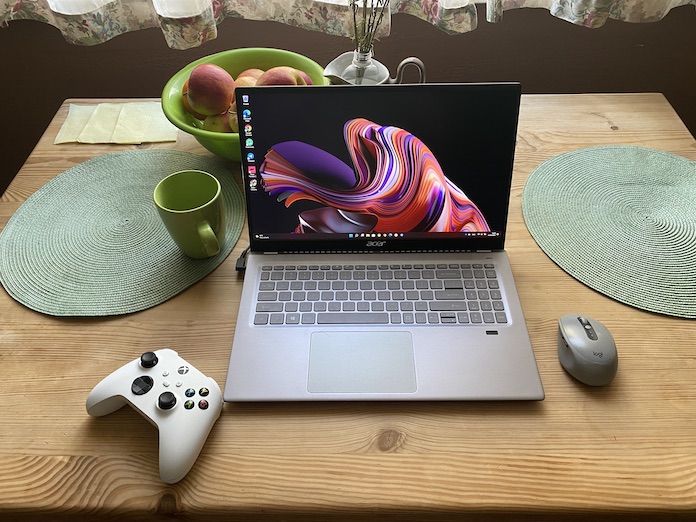 But it starts with the same $999 price tag, and I can work on it (it's so refreshing to be OS-independent). So I put my trusty Air in a drawer for a week and used Swift X exclusively as my working machine. So here are my observations.
Available configs and pricing
Acer Swift X 16 Intel is currently offered in 3 configs that differ slightly in terms of specs and price.
SFX16-51G-76HE

Windows 11 Home

Intel® Core™ i7-11390H processor Quad-core 3.40 GHz

NVIDIA GeForce RTX 3050 with 4 GB dedicated memory

16.1″ Full HD (1920 × 1080) 16:9

16 GB, LPDDR4X

1 TB SSD

$ 1279.99

SFX16-51G-538T

Windows 11 Home
Intel® Core™ i5-11320H processor Quad-core 3.20 GHz
NVIDIA® GeForce RTX™ 3050 with 4 GB dedicated memory
16.1″ Full HD (1920

×

1080) 16:9
8 GB, LPDDR4X
512 GB SSD

$ 1279.99

SFX16-51G-756N

Windows 11 Home

Intel® Core™ i7-11390H processor Quad-core 3.40 GHz

NVIDIA® GeForce RTX 3050Ti with 4 GB dedicated memory

16.1″ Full HD (1920 × 1080) 16:9

16 GB, LPDDR4X

512 GB SSD

$ 1199.99
I wasn't able to find the exact review modification for sale anywhere. But SFX16-51G-76HE looks mostly similar, although with RTX 3050 instead of RTX 3050 Ti, and Windows 11 Home instead of a Pro.
There's also a 12th-gen Intel-based model, but it's a very different beast, that deserves a separate review.
Acer Swift X 16 Specs (as tested)
Dimensions: 368 mm (w) × 236 mm (l) × 18.9 mm (h)
OS: Windows 11 Pro
CPU: Intel Core i7-11390H, Quad-core, 3.40 GHz Max
GPU: Intel Iris Xe, 1 GB + NVIDIA GeForce RTX 3050 TI, 4 GB
RAM: 16 GB, LPDDR4X, 4266 MHz
Storage: 1TB, NVMe, PCIe 3.0
Screen: 16.1″, FullHD, IPS
Connectivity: WiFi 6, Bluetooth 5.0
Ports: 2× USB 3.2 Gen 1 Type-A; 1×Thunderbolt 4; 1× HDMI 2.0
Battery: 59 W•h, up to 7h of workload
Additional features: 720p webcam, Fingerprint scanner with Windows Hello support
What's in the box, design, build, and ergonomics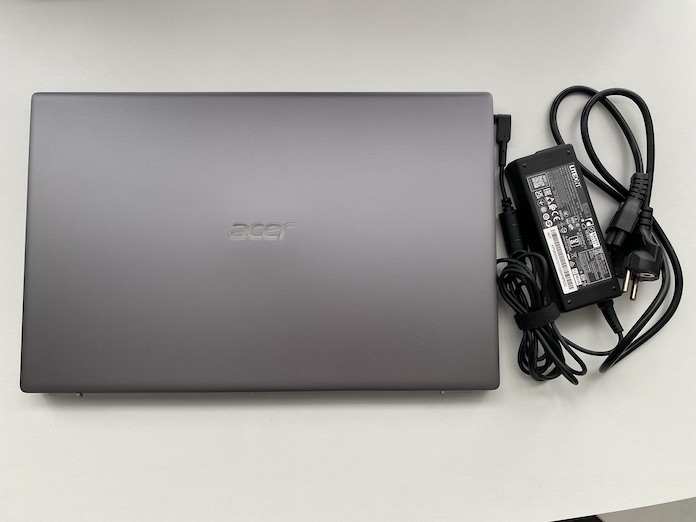 Given the available ports and overall size of the laptop, I didn't expect to see anything more than the laptop and power brick in the box. And that's exactly what you'll receive: a 16.1" laptop, and a 90W power brick. While the laptop itself supports charging via Thunderbolt 4 port, the charger has a proprietary port, so I don't recommend losing it, especially if you plan to game on Swift X.
But don't judge the laptop by its charger, Swift X has a very stylish and minimalist look. Except for a chrome Acer logo on the lid, and a subtle Swift name on one of the edges (the one which will be hidden when you open the lid) it doesn't have any more logos or stickers (I have a review unit, so your mileage may vary).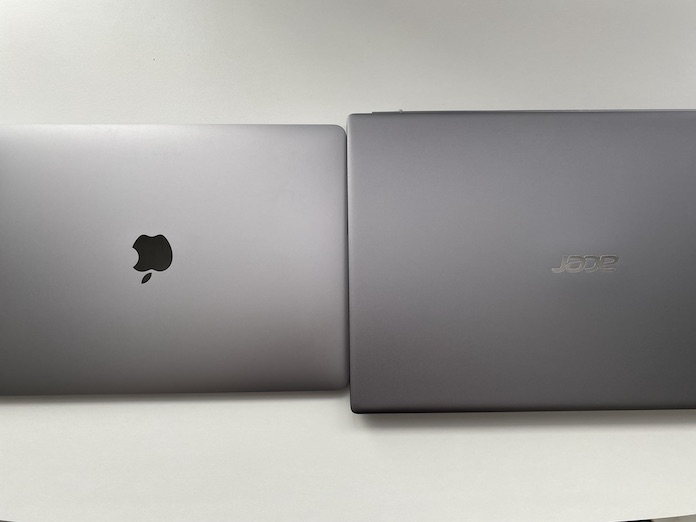 The laptop comes in the one and only steel gray color, which is slightly darker than my Space Gray MacBook Air. But don't expect it to be made of any sort of metal or alloy – Swift X is made out of plastic, and it flexes, especially the lid, as it has an arc curvature of sorts (it's likely a design choice to open the lid easily, so don't panic).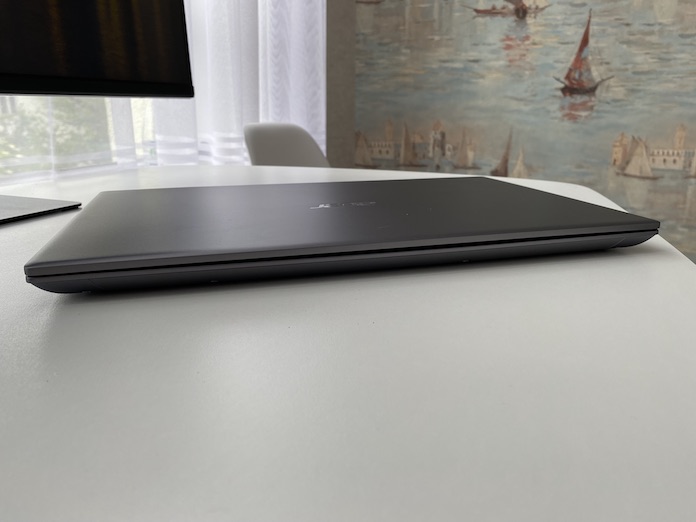 Despite the flex, the overall build quality is pretty solid – Swift X feels like a sturdy working machine, rather than a plastic toy, especially given that I have a review unit, that likely changed hands a couple of times.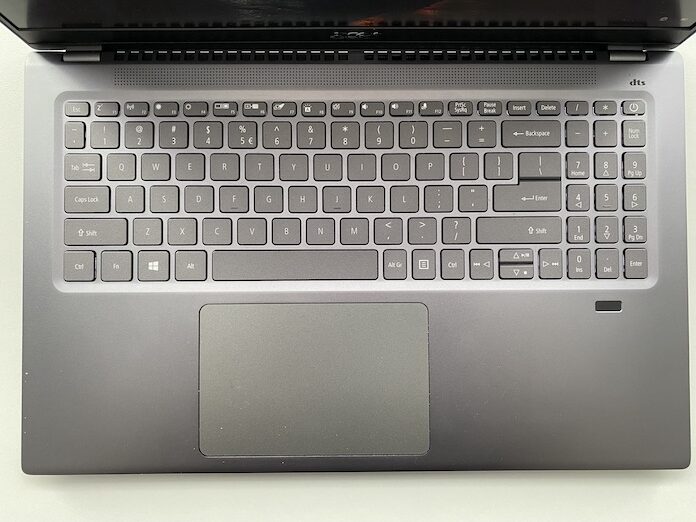 Under the lid, you'll see a dark-gray backlit keyboard, which is an interesting design decision. I would have expected black-colored keys, like on my MacBook, but color choice, thankfully, does not affect everyday use.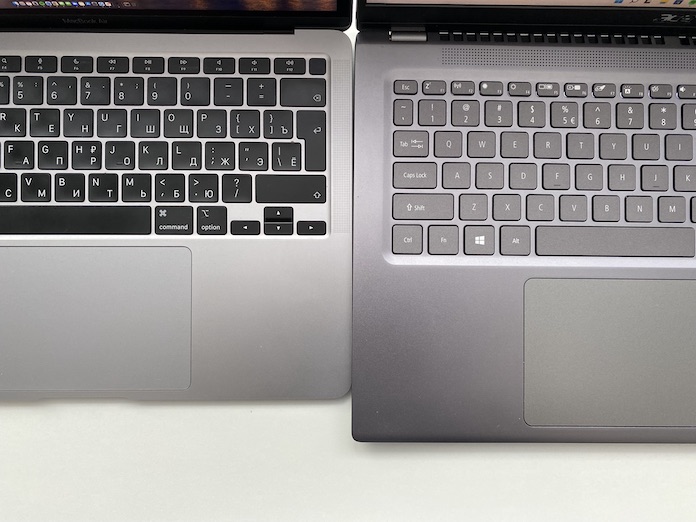 Just like the backlight, which slightly bleeds under the keys, but still allows to work in the dark. Whether or not it affected the decision to ditch the Caps Lock indicator – I don't know, but if Caps Lock is important to you – be prepared.
What I didn't like about the keyboard is the size of the keys. Acer decided to cramp a Numpad in Swift X, so the overall key size is smaller than on my 13" MacBook. That's not a dealbreaker, but if I was given a choice, I'd better go with a TKL layout of a bigger size.
Another thing that I would have chosen instead of an available one is a better touchpad. Spoiled by a Macbook's touchpad with some quality of life improvements, like glass surface, force-touch, and palm rejection I found myself disabling the Swift X's touchpad most of the time, and using a mouse instead. The built-in fingerprint reader, although not as stealthy as a MacBook offering, works flawlessly, and allows for a very quick log-in.
Thankfully, you'll get used to the keyboard and touchpad. You'll also get used to the number of ports available: as you'll have a charging port, Thunderbolt 4, HDMI, USB-A (and that's just the left side), another USB-A, and a 3.5 mm jack (these two are on the right side). Yeah, sometimes having a thicker laptop gives you a lot of benefits.
But let's raise our eyes from the bottom of the laptop to the other side of the lid. Don't mind the chin with an Acer logo, the company's designers deserve some credit for integrating a 720p webcam in the thin top bezel. Overall, thin bezels create an illusion of a much smaller laptop, making the MacBook look like all bezels and a tiny screen.
The screen
While we're at it, let's talk about the screen. I'll start with some praises for the laptop. Having a 16.1-inch screen in a 15.6-inch body is an advantage, especially for your bag or backpack. And you'll love to take it with you to a cafe: matte finish is good for fighting glares, so you can seat under the lights or near the window without any problems.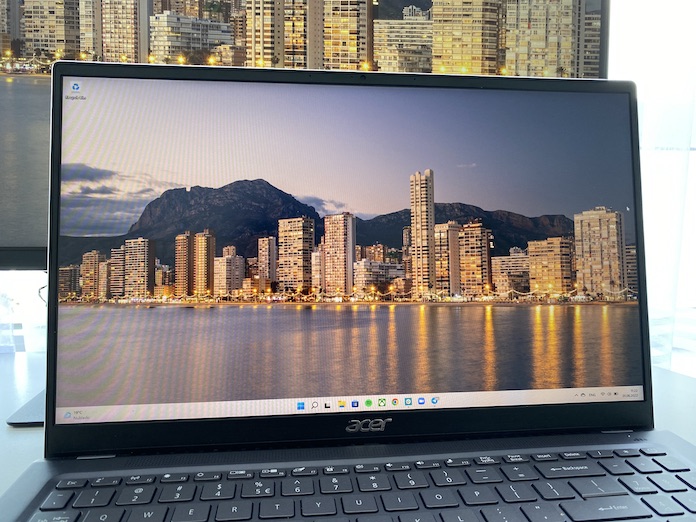 Especially given how bright the screen is. While Swift X does not come up with an HDR-ready screen, or high peak brightness, (some reviewers noted that it peaks at 300-350 nits), I found the screen on par or even brighter than my MacBook. To the point where I have to put both laptops side-by-side to tell which one looks brighter to me.
But in my opinion, the screen is the most controversial part of the laptop (or a cost-cutting measure, depending on how you look at it). Because of its resolution and a refresh rate. Acer went with a trusty FullHD 60 Hz, meaning that you won't get any additional resolution for productivity or much-needed Hz for gaming.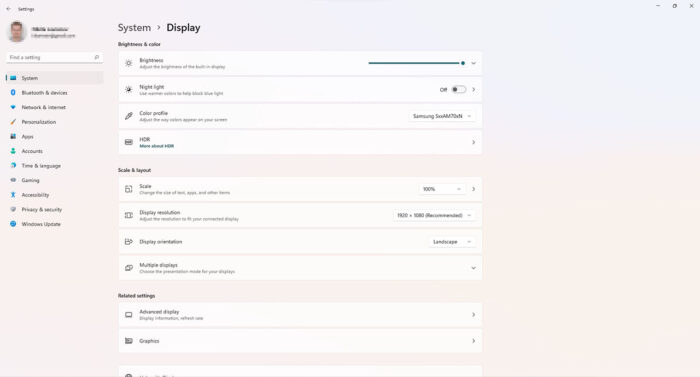 And don't get me wrong, while Swift X is not a top-of-the-line business laptop or a balls-to-the-wall gaming machine, it's capable enough to have either a high-resolution or a high refresh rate screen, with me personally leaning towards the first option (that's why I ended up with an external 4K 60 Hz monitor).
But does the screen ruin the whole experience for Acer Swift X? Spoiler alert: it doesn't!
Working on it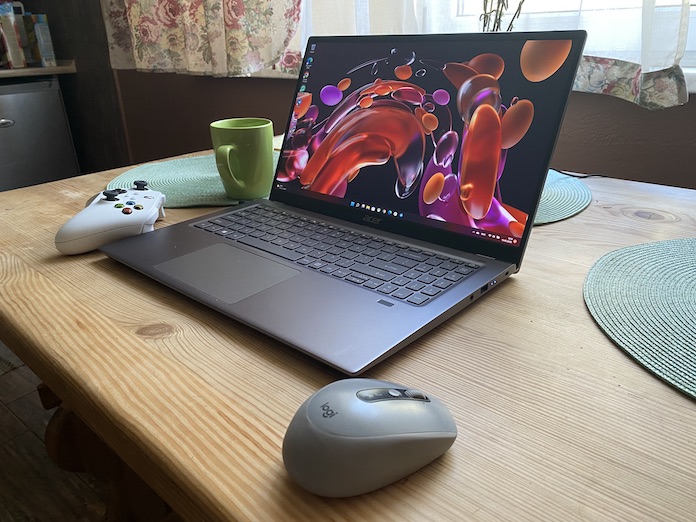 My daily working experience is a mix of Slack, Slack's Block Kit Builder, Google Docs, Zoom, WordPress editor, occasional Photoshop editing, and very rare presentation creation in the Keynote. Except for a Keynote, which is a Mac-only experience, for most of these tasks, I don't need a powerful machine. However, I do have some requirements for the laptop:
Quick set-up process: I wanna spend my time working on a laptop, not tampering with the settings;
Smooth multitasking: whether it's multiple browser tabs or app windows opened at the same time;
Portability: I love working from different locations, whether it's just another room, a cafe, or a park nearby;
Great typing and navigation experience: whether on the go, with an onboard keyboard and touchpad, or at home, with an external monitor, keyboard, and mouse;
Decent video-call experience: camera, mic, and speakers, and work with wireless earphones.
Overall speed and responsiveness: decisionmaking has to be fast, there's no time to wait for the app to launch or UI to respond.
And I was pleased by how Swift X can handle all of my working tasks. But let's go one by one.
Setting it up
Days, when Windows installation and setup was a special event, are long gone. With NVMe SSD, the laptop swipes through a setup process pretty quickly. And no, I wasn't bothered by a prompt to set up a Microsoft account as I already have one.
What truly bothered me is the amount of bloatware from both Acer and Microsoft: I can't even remember all the apps, game trials, and links to download some garbage that was installed on the laptop. Microsoft, Acer, please stop this!
After dealing with bloatware, the installation and setup of other apps went as smoothly as possible. Both from Microsoft Store or through 3rd-party installers.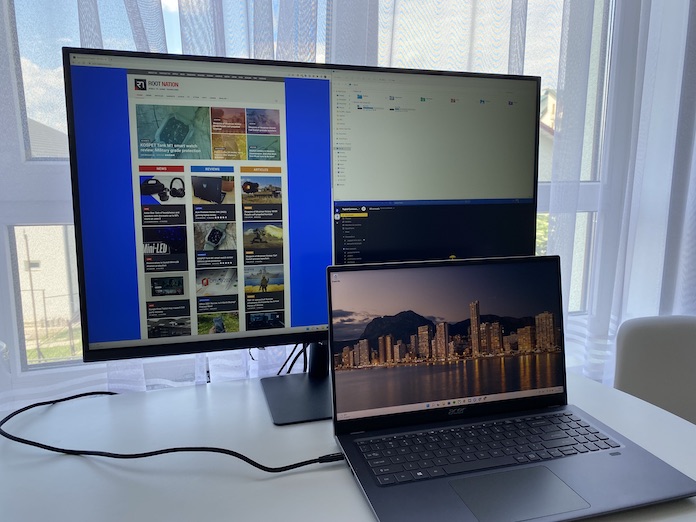 The laptop also plays nicely with all the peripherals: I was impressed that with the proper Thunderbolt/USB-C 3.2 Gen 2 cable, Samsung's Smart M7 monitor works like a charm – no driver installation required, just plug the cable to the Thunderbolt 4 port on the laptop – and voila, enjoy your work in crisp 4K.
Multitasking
Microsoft's patented Windows Snap is something that I've missed on a Mac – no other 3rd party solution can arrange windows in the same way as Windows does, and with Windows 11 it became even better with smart layouts.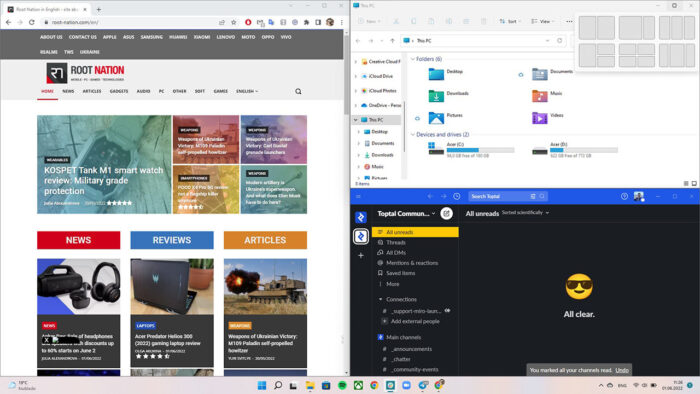 External monitor support on Windows 11 is absolutely amazing – I forgot how great it is to disable any connected monitors. And your app windows automatically move to the external display, once connected, just like on Mac. You might be wondering at this point, why am I talking too much about external monitors? Well, that's because I'm working with very scaling-sensitive environments, like Slack's Block Kit Builder, for example. The more screen resolution you have – the more instances of this horrible tool you can open side by side. And that's where both my MacBook Air and Swift X fail miserably.
MacBook's problem is scaling, while Swift X's problem is a lower resolution and so-so Virtual desktop environment. Add to this not very pleasant touchpad experience (Touchpad is essential for multitasking on Mac, I got used to it very much), and you might find yourself in a position where you'll need to buy an external monitor, simply to be more productive.
Portability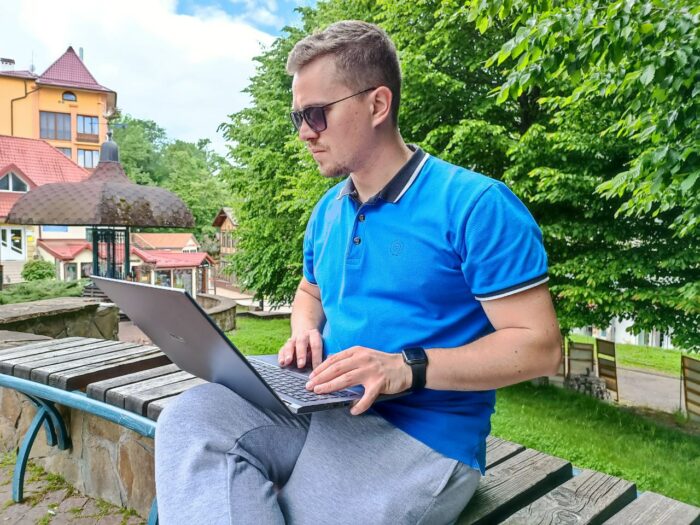 When I'm not trying to cram multiple Block Kit windows on the same screen, I might consider moving a laptop around the house, or working outside. Interestingly enough, it's still comfortable to sit with Swift X on the lap, despite the fact that it's larger and weighs more than my go-to laptop (it's a LAPtop at the end of the day, not a desktop replacement).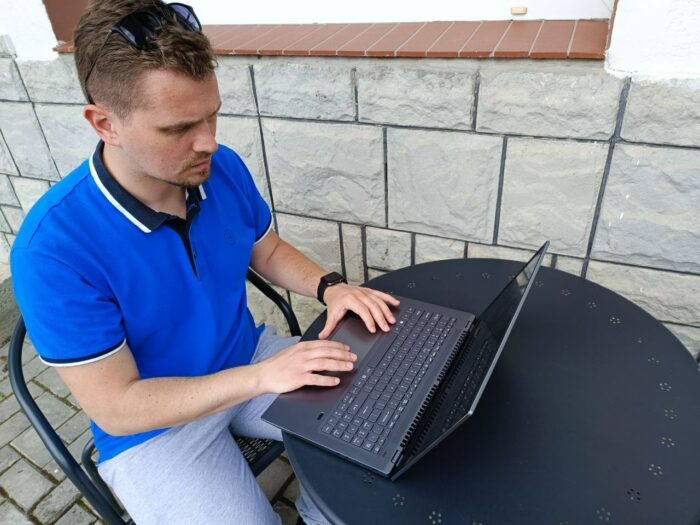 It's easy to take it with you to the cafe as well. It's still heftier than a 13" Air, but not too heavy to move around. But don't forget to take a charger with you, either an in-box brick or your USB-C charger of choice. Because battery drains pretty fast.
4 hours of news writing on the browser with max brightness and 20 minutes of YouTube watching afterward – and the battery went from 100% to 20%. Yeah, you can decrease the brightness, and it's not a battery-friendly U-series CPU in this laptop, but it's unimpressive battery performance anyways.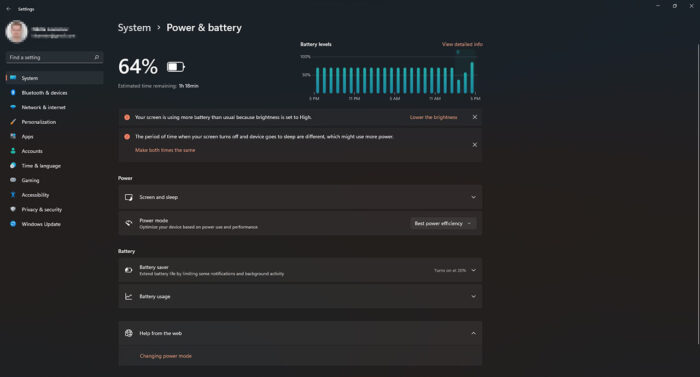 Also, keep in mind the charging speed. It takes up to 2 hours to fully charge the laptop with the 90W in-box brick. It takes even more if you try to charge it via USB-C
Typing and navigation experience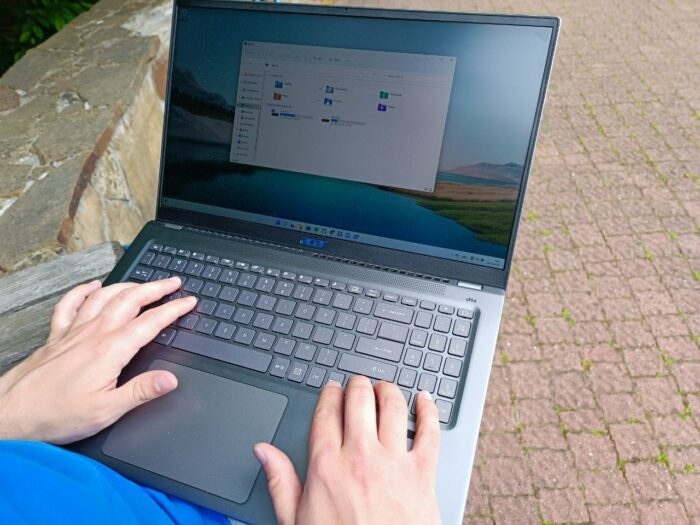 Typing on Swift X's keyboard is good enough. My typing speed and accuracy weren't hurt by any means: even though the keys are smaller than I prefer, and my review unit doesn't have a Cyrillic layout (yes, I'm Ukrainian, and I never tried to type blindly). Numpad has also proved to be a useful addition, even with even smaller keys than the rest of the keyboard.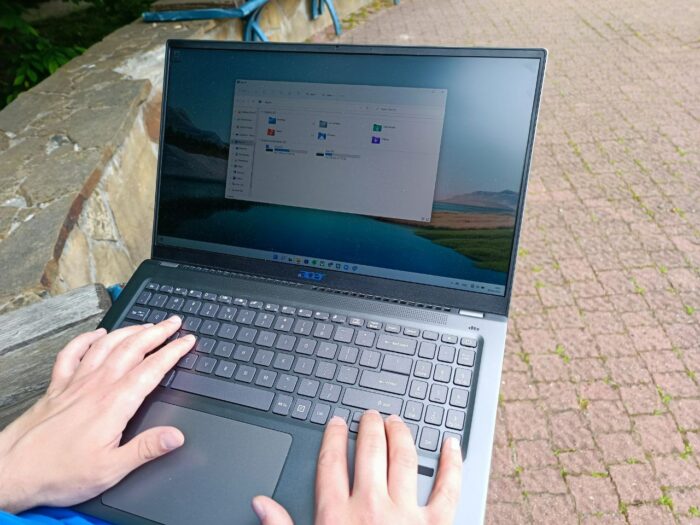 But the touchpad always tries to stand in my way, whether I'm working with or without a mouse. I'm always hitting it with my palm, no matter how I try to avoid it. Maybe that's because there's no palm rejection of any kind, or that's because it's not perfectly centered in relation to the keyboard – anyway, as I said before, I was better without it than with it. Other aspects of the touchpad, like sensitivity and size, seemed good to me, although not exceptional.
Making video-calls
All laptops have awful webcams. Regardless of make and resolution you can't break the laws of physics and have an image quality of at least a smartphone selfie cam in a tiny bezel of the lid.
Acer Swift X 16 is not an exception. Its 720p webcam does just enough for your colleagues to recognize you. But I've missed Mac's ISP, that somehow manages to take photos from my relatively dark room and make them a tad brighter. You can judge by yourself from the samples below.
Sound quality-wise both mic and speaker were decent enough. During multiple Zoom calls, my colleagues never complained about my sound quality, and I've heard them clearly as well. Probably that was due to Acer's Purified Voice software. It turns on automatically when you're connecting over Zoom. However, it does not detect the camera app, so the video sample below lacks this miraculous app treatment. But you can compare it with Macbook Air's "studio-quality mics", and hear yourself that it's not much of a difference (for a zoom call, anyway).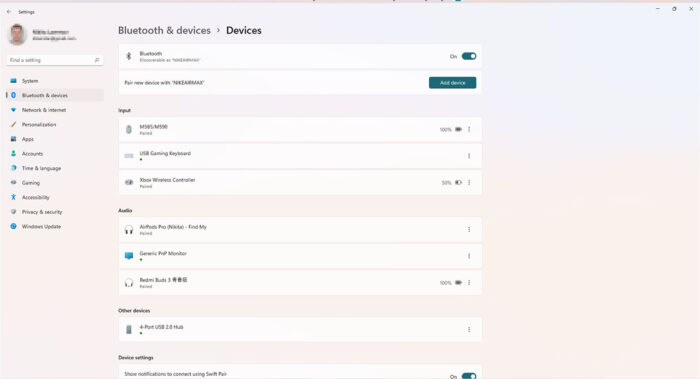 I'll also use this section to address some strange Bluetooth behavior when connecting TWS earphones. I don't know who's fault is this: Acer or Microsoft, but I don't want to restart the PC after connecting my Airpods Pro or Redmi Buds 3 Lite. Especially when it's 1 minute before the Zoom call. So my advice with Acer Swift X – use a wired headset. It will save you some time and nerves.
Overall experience
I don't know whether Swift in the laptop's name is in relation to its speed or responsiveness, but to me, it is very much true. I never felt any sluggishness or long load times. Microsoft Office files and Photoshop load almost instantly. Any day-to-day task is a charm on Acer Swift X, thanks to a snappy processor and 16 gigs of RAM.
My only concern is the fan profile. Even with the "night" mode, the fans start to spin every 15-20 minutes. Probably that can be fixed with a software upgrade or BIOS settings. But so far, if you want to work in silence, make sure that you have good ANC earphones.
Acer Swift X 16 as a gaming machine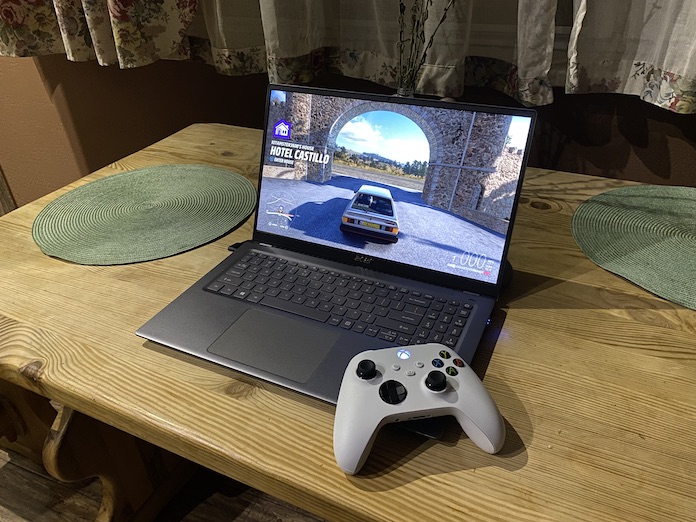 Every laptop for me is first and foremost a working tool, that helps me to do my job effectively. But I'm also a gamer, and Swift X has a dedicated GPU. So why don't I try to run some games on it? I'm not going to pretend Linus Tech Tips or Gamers Nexus, but I understand the difference between 30, 60, and 120 FPS, and what is considered to be good graphics.
Nvidia GeForce RTX 3050Ti with 4GB of video memory is an entry-level GPU by all means. However, we're limited by the 1080p 60Hz screen. So I'll try to push the graphics as high as possible, while firmly hitting 60 FPS.
Forza Horizon 5
With Forza Horizon 5 (remember, I'm a big fan of the racing games), I've managed to play on all-high settings, with an almost constant 60 FPS framerate, both during online and offline races. While in some intense moments my FPS counter sometimes dipped below 55 FPS – it posed no problem to the actual gameplay.
And all this while enjoying really great graphics. I was expecting to see something similar to Xbox Series S Performance Mode when you exchange a bit of the graphics fidelity for a stable 60 FPS framerate. But comparing the two side by side revealed that Acer manages a much better picture, with almost the same performance.
However, I'm not inclined to throw away my trusty game console, because where it underperforms in terms of Graphics, it outperforms in storage speed. Microsoft's higher-speed internal SSD loads Forza Horizon 5 races much faster than Acer. Probably, a PCIe Gen 4 SSD in Swift X, might have brought parity to the loading speeds, but it looks like we're limited in the number of available PCIe Gen 4 lanes. So let's give Xbox this small win.
Tropico 6
Is Swift X capable of more in Gaming? With DLSS/Fidelity FX and an external monitor, you can try to run non-demanding games at 4K. I've tried Tropico 6 this way, and it is playable, mostly. The game runs on low to medium settings, and the rendering resolution was 50% of the original. Even with these settings, the Swift X struggles to hit 60 FPS, with 53-54 FPS on average. Anyways, this is not a bad result for a working laptop.
The only complaint here is the laptop's thermals. No, not the throttling or decreasing productivity. Acer Swift X becomes hot, to the point where it gets uncomfortable to touch the upper parts of the keyboard. The fan also ramps up like crazy. The solution here is to use a gamepad or an external mouse and keyboard. Noise-canceling earphones are also welcome.
But maybe I'm pushing the working machine too much. In the end, it's not a gaming laptop – it's an ultrabook. And ultrabooks were designed to be thin and light in the first place. So if you want a laptop with a proper gaming cooling solution, Swift X is not a laptop for you.
Summary
All-in-all, Acer Swift X 16 is an example of a "Jack of all trades" formula. It packs everything that you need, and even more. If you have a $1000 limit – that's a good option that gets the job done and helps you relax after a working day. Where it falls short is in details: it doesn't have the highest-resolution screen, the most comfortable touchpad, the best cooling solution, or record-breaking battery life. But these are the compromises you have to take if you want everything at a $1000 price tag.
The question is would I change my Macbook Air for something bigger and more capable, like Acer Swift X? Probably not. I got used to a smaller laptop footprint, a better touchpad, and a battery life. But would I recommend it to the others? Absolutely. If you need a laptop that gets the job done – Acer Swift X 16 is a laptop just for that.
You can also help Ukraine fight with Russian occupants via Savelife or via an official page of the National Bank of Ukraine
Read also: