Acer Predator Helios 300 model range has been available on the market for several years. Bright and powerful laptops that are suitable for gaming and for working with graphics, video. In this review, we are going to talk about the PH315-54-582Q model. With a 15-inch 144Hz refresh display, an Intel Core i5-11400H processor, and a GeForce RTX 3050 Ti graphics card, this device is a curious combination! Let's find out how everything works in practice.

Hardware configurations and price
The Acer Predator Helios 300 is available in a wide range of variations. You can choose from "mid-range" to the most advanced models – i5, i7, i9 processors, 16 or 32 GB of RAM, GeForce RTX 3050Ti, RTX 3060, RTX 3070, RTX 3080 video cards, with video memory from 4 to 16 GB, SSD – from 512 GB up to 2 TB, there are also versions with an additional HDD. There are also two screen diagonal options available – 15.6 or 17.3 inches.
The resolution can be standard 1920×1080 or extended 2560×1440 pixels. In short, there is plenty to choose from. Prices also vary quite a lot – from ~$1300 to $4400.
All modifications are available on the Acer official website, you can check them out if necessary.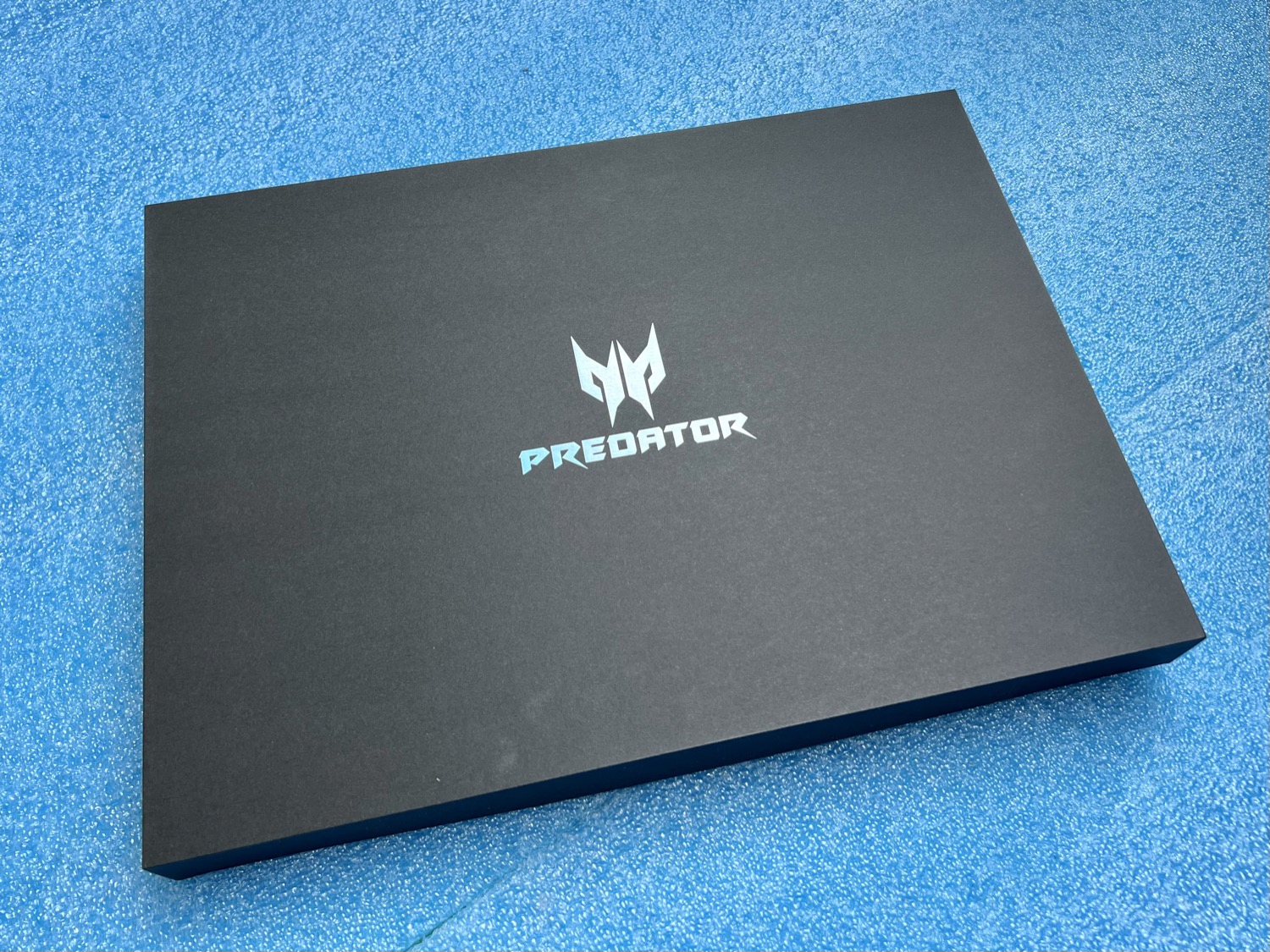 Read also: Acer Aspire Vero review: Eco-Friendly Laptop
We, of course, can only test the model that came to our editorial office, namely PH315-54-582Q. This is the basic variant of the range with a 15-inch 144Hz display, Core i5 chipset, 16GB RAM, 1TB storage, and a GeForce RTX 3050Ti graphics card with 4GB VRAM. Its price is around $1300, which is acceptable. Let's figure out what kind of performance this gaming fellow shows.

You can buy Acer Predator Helios 300 on Amazon
Specifications of Acer Predator Helios 300 PH315-54-582Q
Model

Acer Predator Helios 300 PH315-54 

Display

15,6″, IPS, 1920×1080, 144 GHz

CPU

Intel Core i5-

11400H, 6 cores,  2.7 GHz

Integrated graphics

Intel UHD Graphics

GPU

GeForce RTX 3050Ti  (4 GB GDDR6) with DLSS support

RAM

2×8 GB DDR4-3200 MHz

Storage 

1 TB SSD PCIe 3.0

Ports

2×USB 3.2 Gen 1 Type-A 

1×USB 3.2 Gen 2 Type-A 

1×USB 3.2 Gen 2 Type-C

1×HDMI

1×Mini DisplayPort

1×RJ45

1×3,5-mm combined audio jack

Audio

stereo speakers, two microphones

Webcam

720p

Network interfaces

Wi-Fi 6 (802.11ax), Bluetooth 5.1, Gigabit Ethernet

Battery

4 sections, Li-Ion, 57 Wh, 180 W charger

Dimensions

363.0×255.0×22.9 mm

Weight

2.9 kg

Color

Black

ОС

Windows 10 Home (with free update to Windows 11)

Warranty

Brand warranty 2 years
Read also: Acer Nitro 5 AN515-45 review: AMD Ryzen and RTX 3070 powered gaming laptop
Delivery set
The laptop is sold in a compact black box, packed securely and neatly. In the box you will also find a power supply (in two parts), and aт separate envelope with manuals and cute stickers from the Acer Predator collection.
Design of

Acer Predator Helios 300
The model turned out beautiful. Someone might say that it's up to one's taste. Maybe. But, in my opinion, the device is elegant (by the standards of a gaming laptop), with distinctive features. Perhaps the Helios 300 will not fit into the office environment, but it cannot be called overly gaming or 'youngster'.
Black body, turquoise accents, backlit logo on the lid, backlit keyboard in all colors of the rainbow – we have a classic Predator. The vents are very interestingly designed, and on the inside of the laptop its edges are beveled to a shiny silver metal, and the whole thing looks great.
The body is completely metal. The laptop is very pleasant to the touch. True, fingerprints remain on the lid, but you can't say that they are too striking.
The laptop is easy to open with one hand, hinges perfectly fix the screen in the chosen position. The maximum deflection of the top cover is approximately 140°.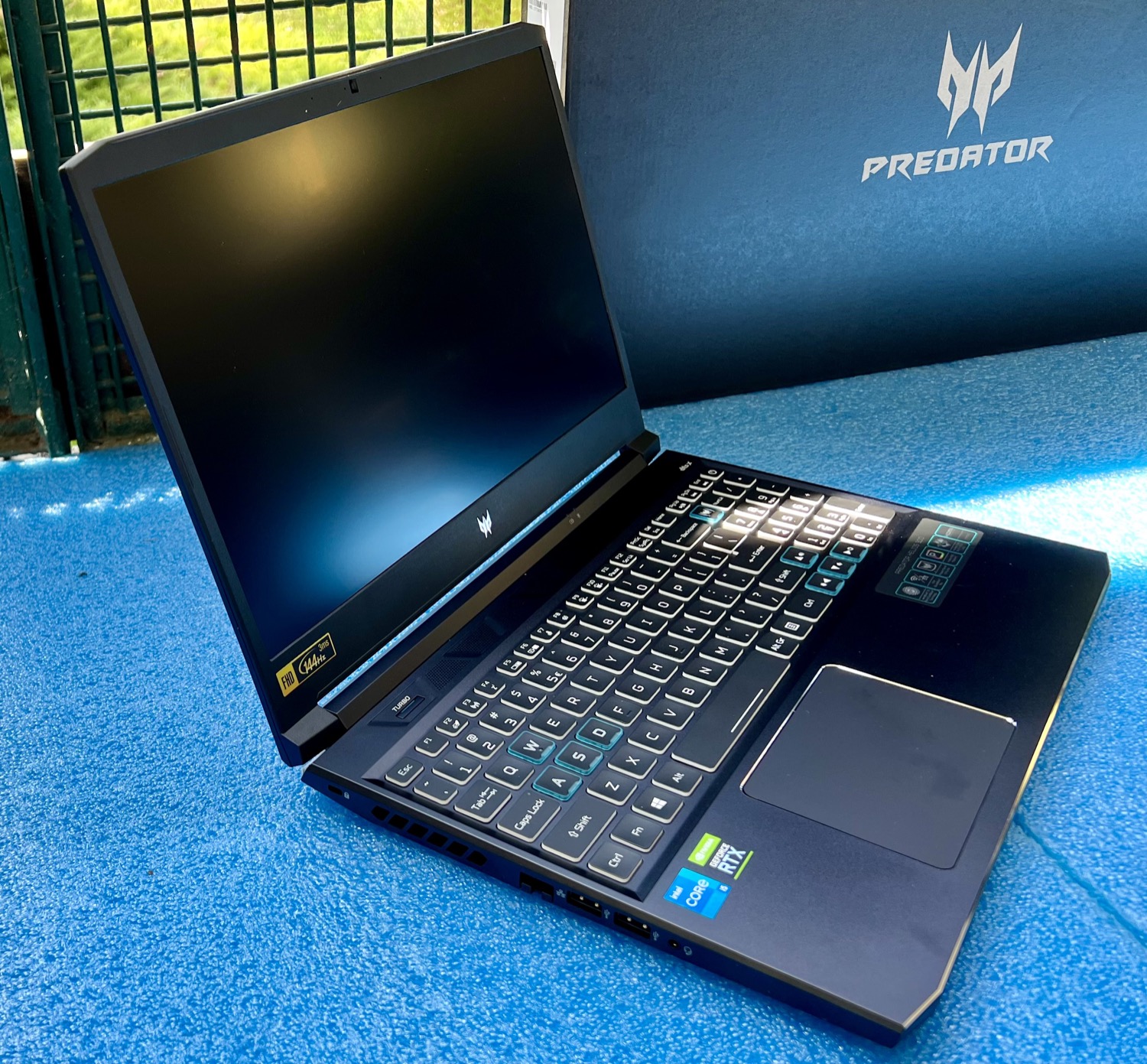 There are enough connectors – there is RJ-45, HDMI, Mini Display Port (aka Thunderbolt 4), three regular USB ports, and one USB Type-C. There is also a Kensington Lock. But the lack of a card reader is likely to upset someone. The distance between the connectors is minimal, if, for example, you install a flash drive / plug the cable into the Type-C connector, the adjacent full-size USB will no longer be available.
Also above the keyboard, to the left of the ventilation holes, the Turbo button is located, which increases the processor frequency and fan speed.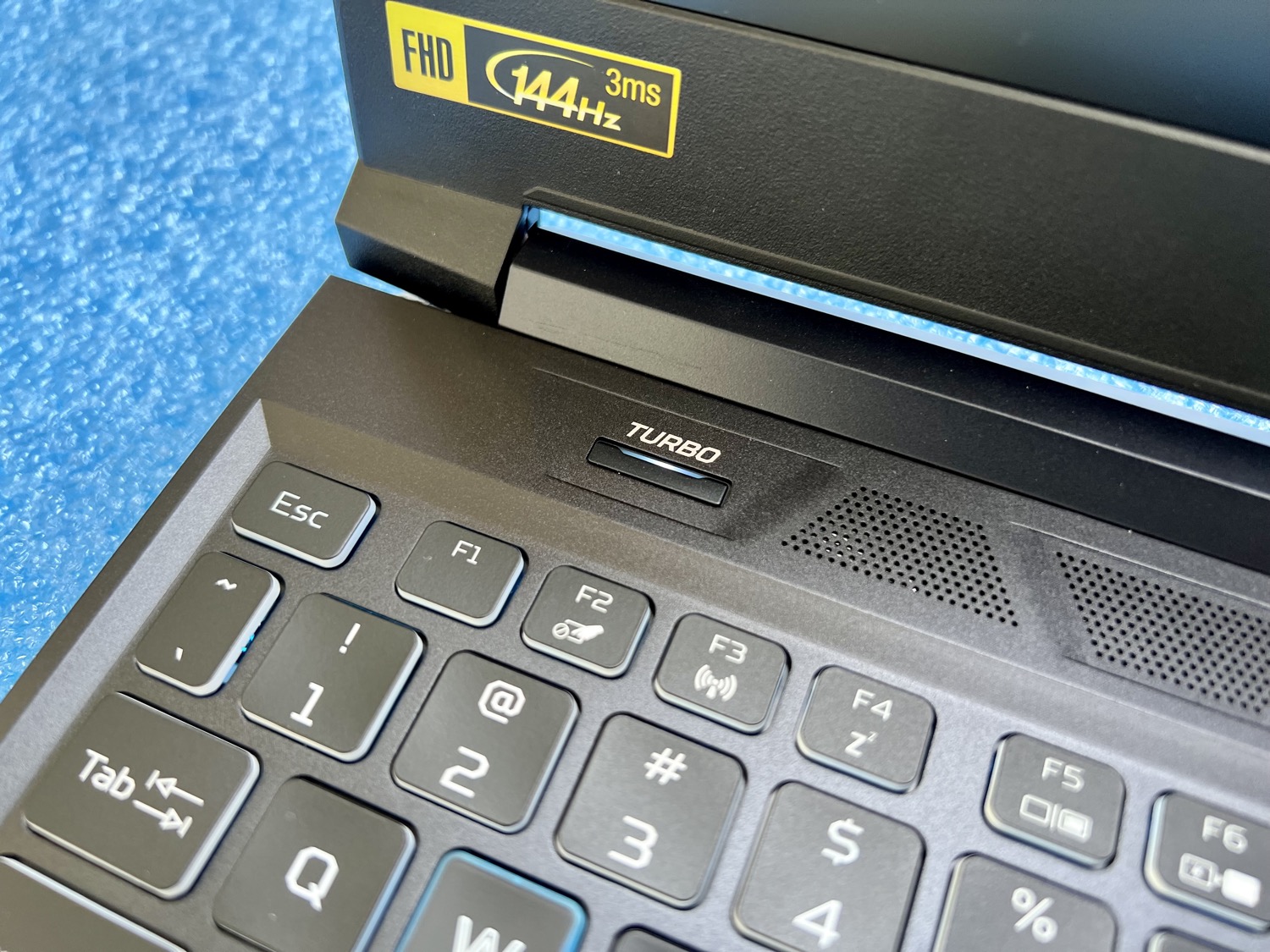 Note that the charging connector is located at the back of the laptop. It is very convenient, as nothing gets in the way on the sides.

The Predator Helios 300 is relatively compact by gaming laptop standards. Of course, 2.9 kg is a lot, so carrying it in a shoulder bag is not very comfortable, however, this model is not for daily carrying. The laptop is well built.
Touchpad and keyboard
The keyboard is full-sized, contains a numeric keypad (its keys are slightly narrower). The keys are pleasant to the touch, they have a clear and comfortable stroke. The keyboard is also pretty quiet. In general, it is good both for games and for working with texts.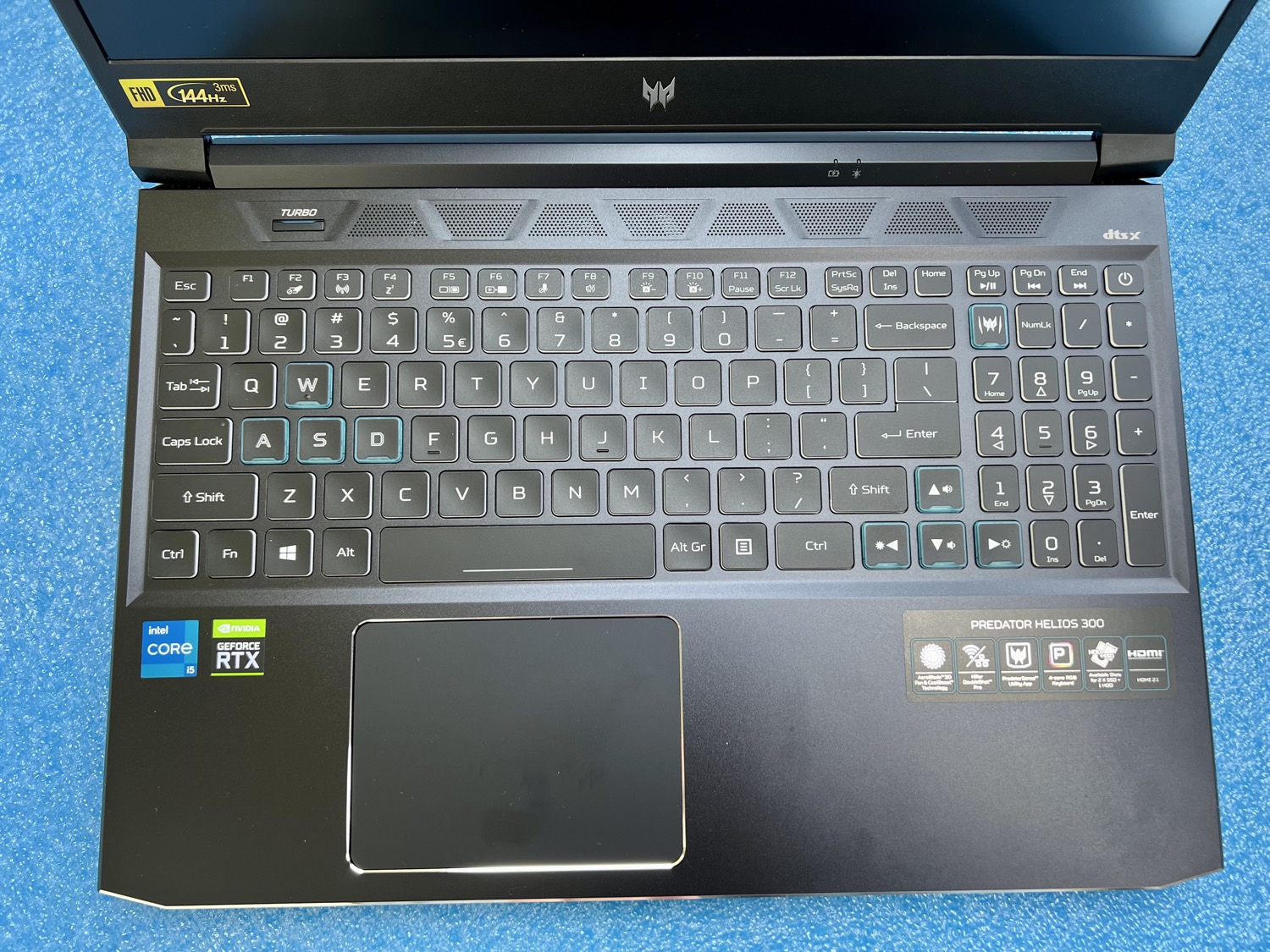 Part of the 'gaming' keys has a branded turquoise lining, but the entire keyboard can be backlit with any color from the RGB spectrum.
The built-in Predator Sense application will help with the settings, in which you will find a huge number of profiles for different games, you can choose different colors for different zones on the keyboard, brightness levels (there are 4 of them), and set up dynamic backlighting. the illumination is comfortable and even.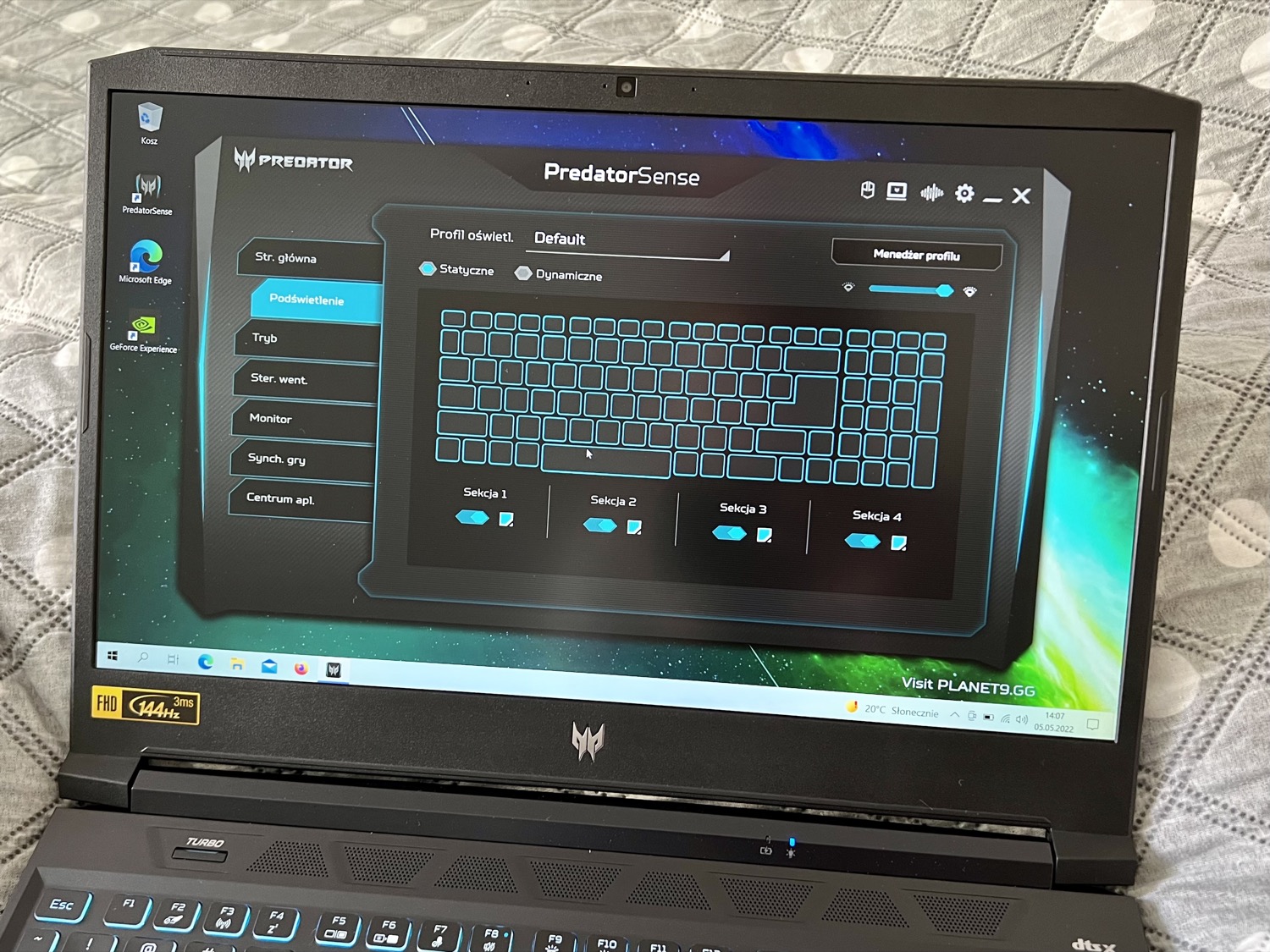 The digital block also houses the 'PredatorSense' button, whose function is to launch a proprietary utility for setting up a laptop (backlight settings, Acer TrueHarmony sound equalizer, component load monitor, the ability to change the mode of the cooling system, more details on the Acer website). Because of it, some of the keys have shifted (in particular, Num Lock), and the '+' button shrunk, so this may take some time to get used to. Also, the power button is located in the corner of the digital block, which can cause erroneous pressing of it when typing numbers.
Once again, let me the presence of the Turbo key above the keyboard – it activates the most powerful (and noisy) mode of the cooling system and takes the processor to maximum frequency.
The touchpad is not huge, but it is large enough, has a backlight around the perimeter, and conveniently located (somewhat offset from the center), pleasant to the touch, a finger slides easily over it, and touches are read well. Such a touchpad may do as a substitute for a mouse when working on the go.
Read also: MSI Katana GF66 11UD review: a versatile gaming laptop
Display
Full HD-display with an IPS matrix and a refresh rate of 144 Hz – you can't dream of anything better for this price. The matrix is excellent: sufficient viewing angles, good contrast, juicy shades, high brightness (fading under the sun is not too critical), everything is very smooth, and this is especially valuable for fans of intense multiplayer games, where high refresh rate and great animation smoothness can become an advantage over competitors.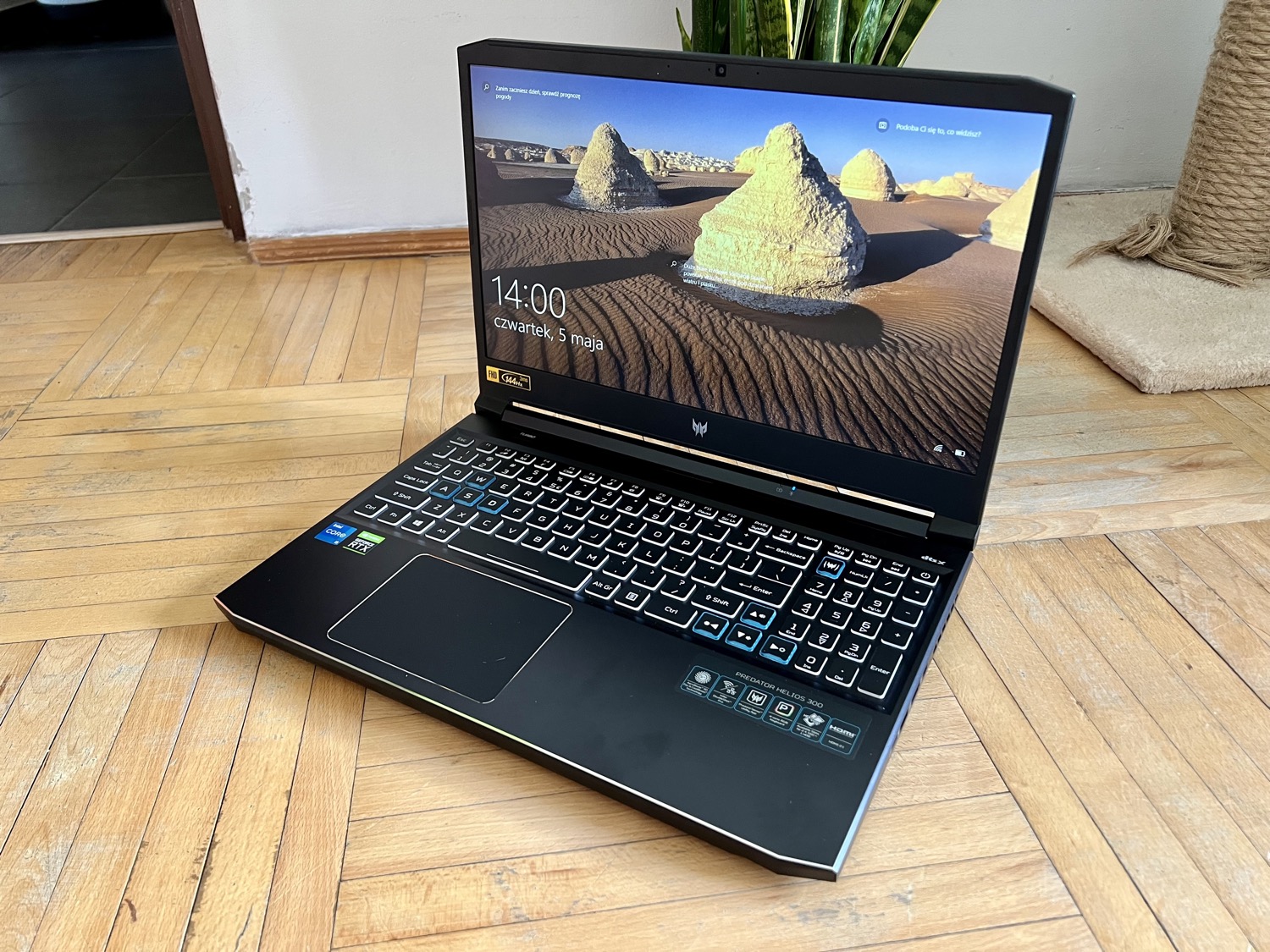 Performance and cooling
An Intel Core i5-11400H with a GeForce RTX 3050 Ti graphics card is a great pair. Our configuration of the Acer Predator Helios 300 will handle any game with medium-high graphics settings. And there will be no problems when working with design software. If we return to the section on configurations, it is worth noting that there are even more productive models in the Helios 300 range, which will run anything you want at maximum speed. Obviously, an accelerator like the RTX 3070 or RTX 3080 will do even better, but the RTX 3050 Ti is a great option for a reasonable price, especially with a 1080p screen.
Speaking specifically about the PH315-54-582Q variant, then, for example, Far Cry: New Dawn won't be a problem for the RTX 3050 Ti graphics card, and games with higher hardware requirements also support a decent amount of frames per second. Assassin's Creed Valhalla hits around 53fps even at ultra-high settings, and Metro Exodus, which is one of the biggest GPU killers with ray tracing enabled and ultra settings, tops 45fps. Cyberpunk 2077 ran at about 50-60 fps with an average graphics. It is often very helpful to enable DLSS (NVidia's proprietary graphics enhancement feature, an alternative to ray tracing) for smoother gaming and higher fps at high settings.
The laptop scored an overall score of 5693 in the PCMark 10 test (Essentials – 9011, Productivity – 8023, Digital Content Creation – 6922). In the 3DMark Time Spy benchmark, Acer Predator Helios 300 PH315-54-582Q scored 5430 points. In the 3DMark Time Spy test, the laptop scored 5283 (slightly below the gaming laptop average of 5730).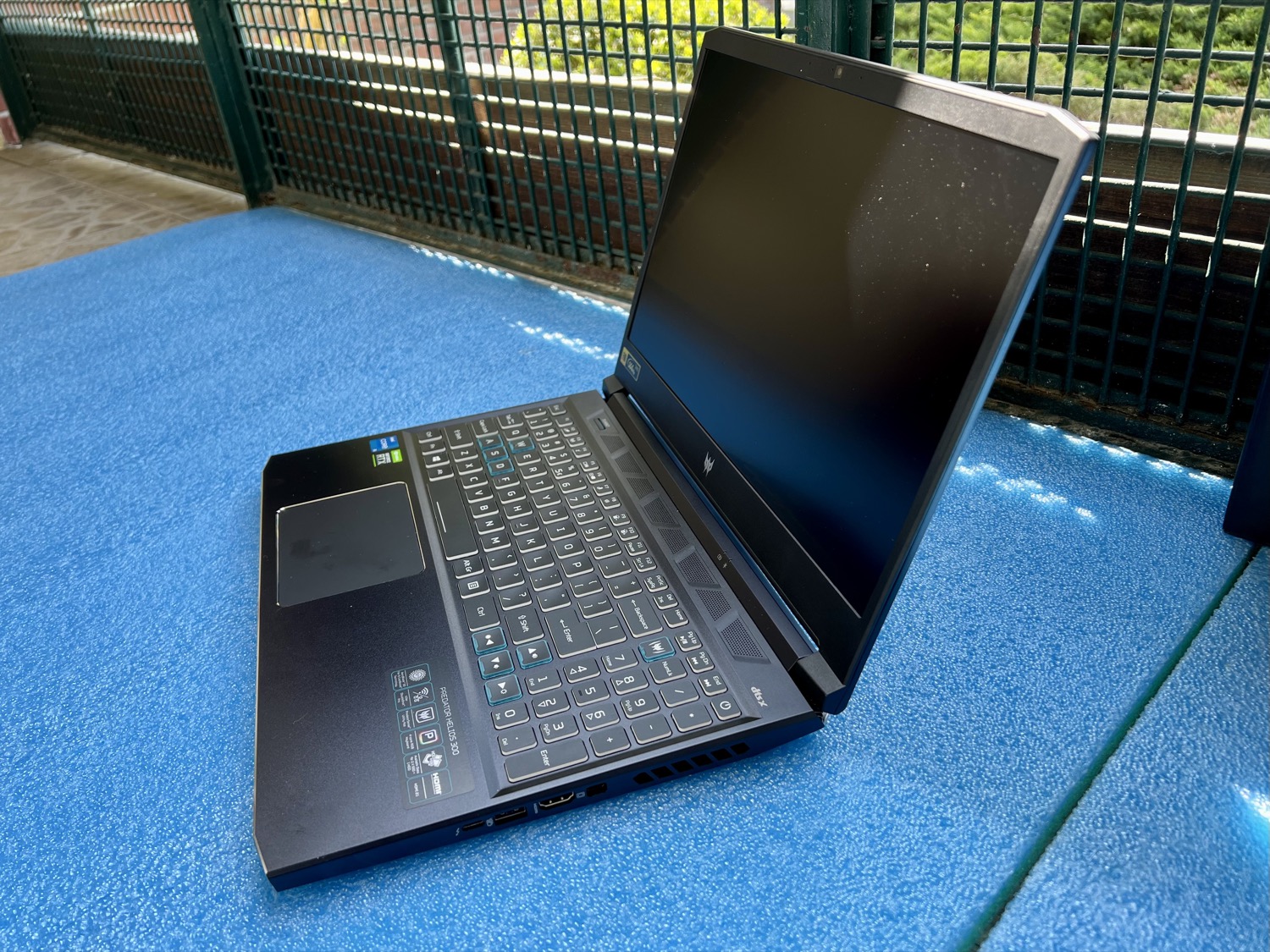 The PredatorSense app has different modes of operation: Quiet, Default, Extreme, and Turbo. You can't say that the laptop is too noisy in normal operation mode, two fans work quietly and efficiently. The cooling system noise ranges from subtle noise to muffled noise during typical office tasks.
On the other hand, when the graphics card kicks in and the processor is used at full capacity, the noise level rises significantly and even drowns out the speakers. However, it will still be more comfortable to play with headphones. And yet, according to the sensations, the Extreme and Turbo modes do not increase performance as much (maybe by a couple of percent) as the noise level from the coolers increases. However, one thing cannot be taken away – the fans work efficiently, the Predator Helios 300 does not overheat.
Battery life of 

Acer Predator Helios 300
During normal office work Predator Helios 300 will last 4-5 hours. In game mode – up to 1.5 hours. But that's the reality of any gaming laptop today. In any case, it makes little sense to play on battery feed, since the laptop will not reach top performance. It takes just over an hour to fully charge.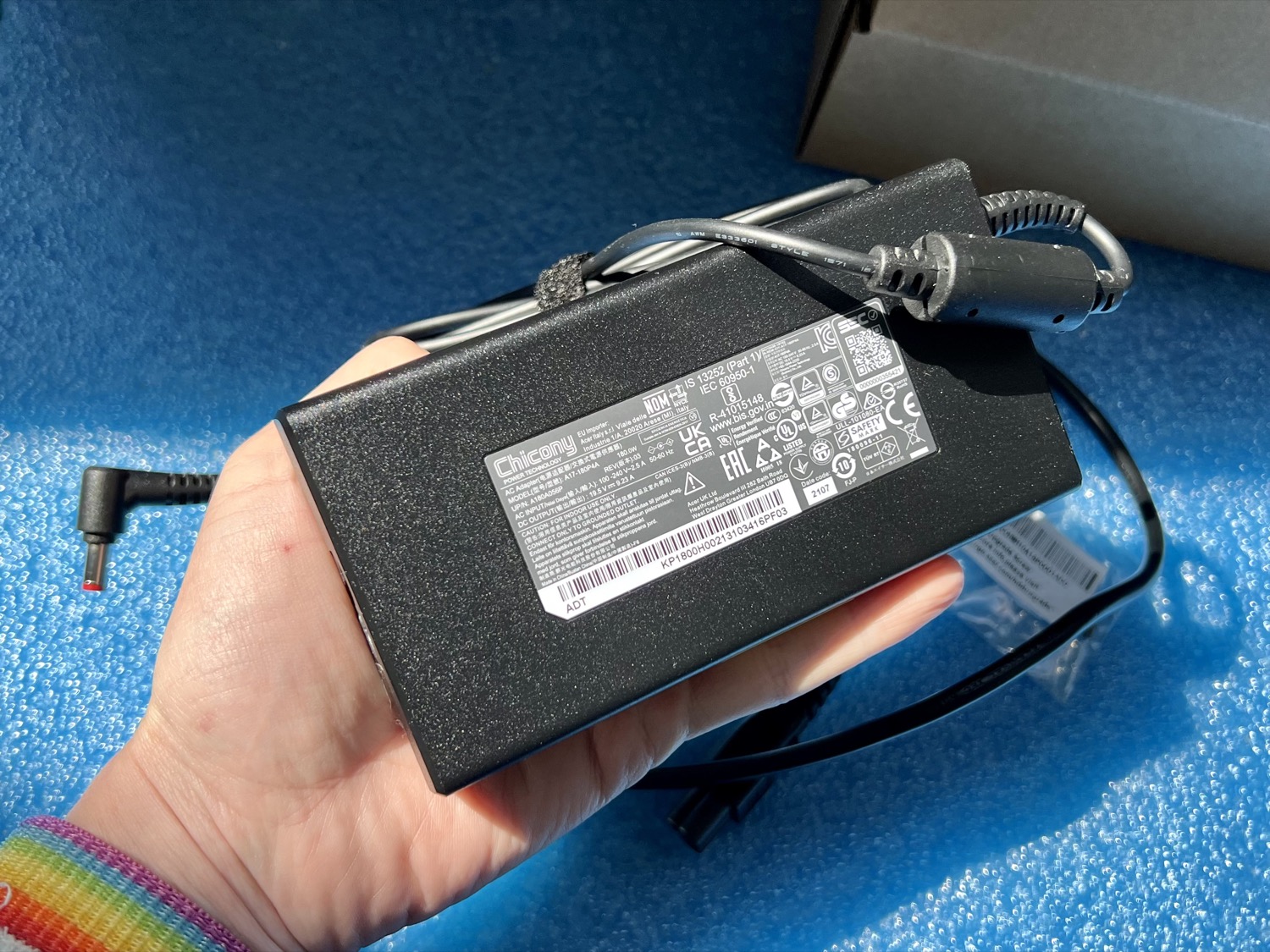 Sound and camera 
The laptop is equipped with stereo speakers located at the edges on the bottom of the device. This arrangement may affect the sound volume if the device is placed on your knees, for example. But in general, nothing critical, since the edges are raised. The speakers produce high-quality sound, although not the loudest. Perhaps music lovers will not find it ideal (I lacked bass a little), but watching YouTube or watching a movie will not be a problem. But for gaming, it is better to use a gaming headset. In addition, after connecting headphones or external speakers, we will be able to enjoy all the musical preferences that the DTS:X software provides.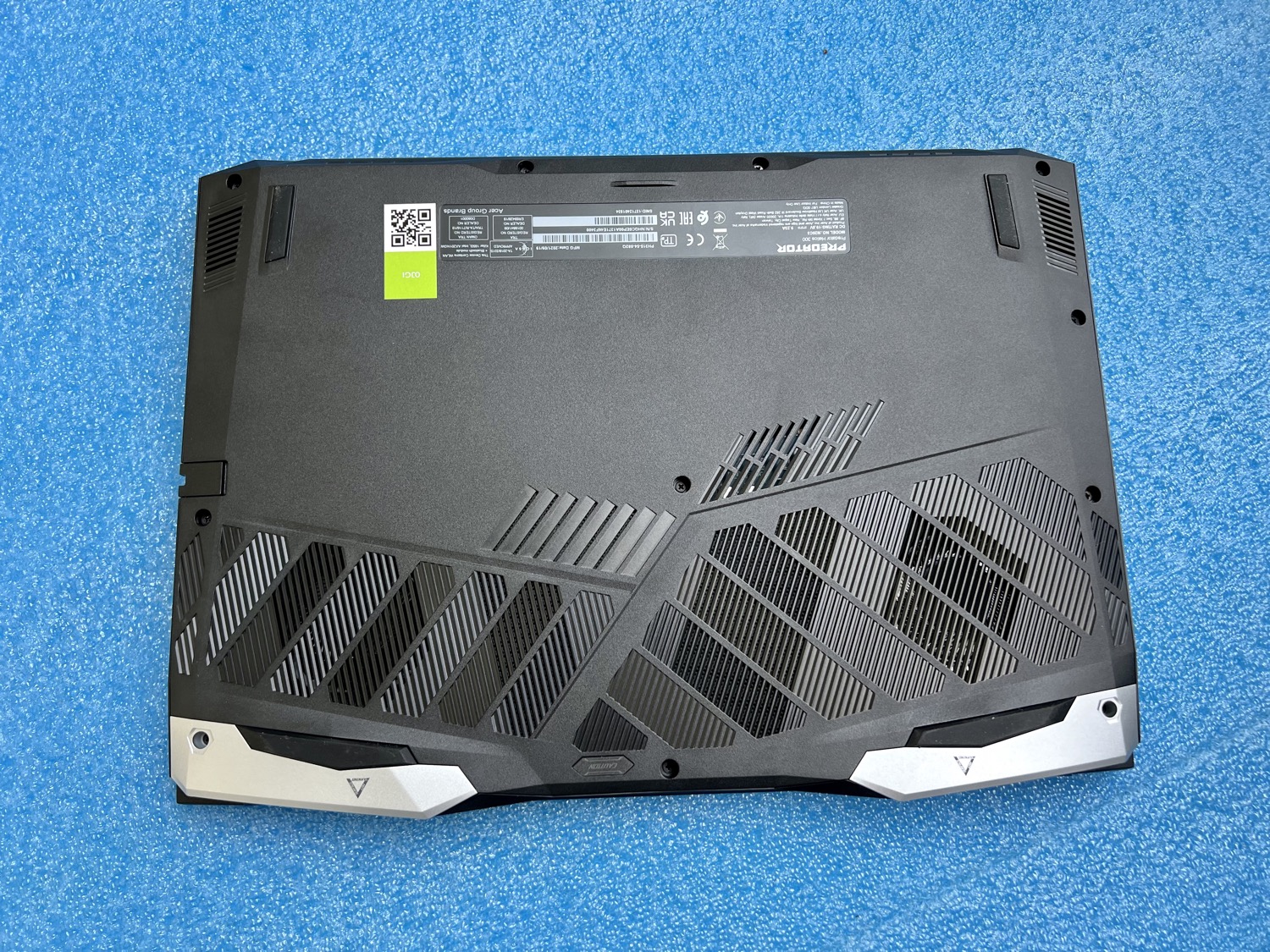 The webcam is a 1MP HD module. There is no additional infrared camera that would include the Windows Hello function (face recognition). The main camera is characterized by average image quality, and does not differ much from those that we can find in other gaming laptops in this price range.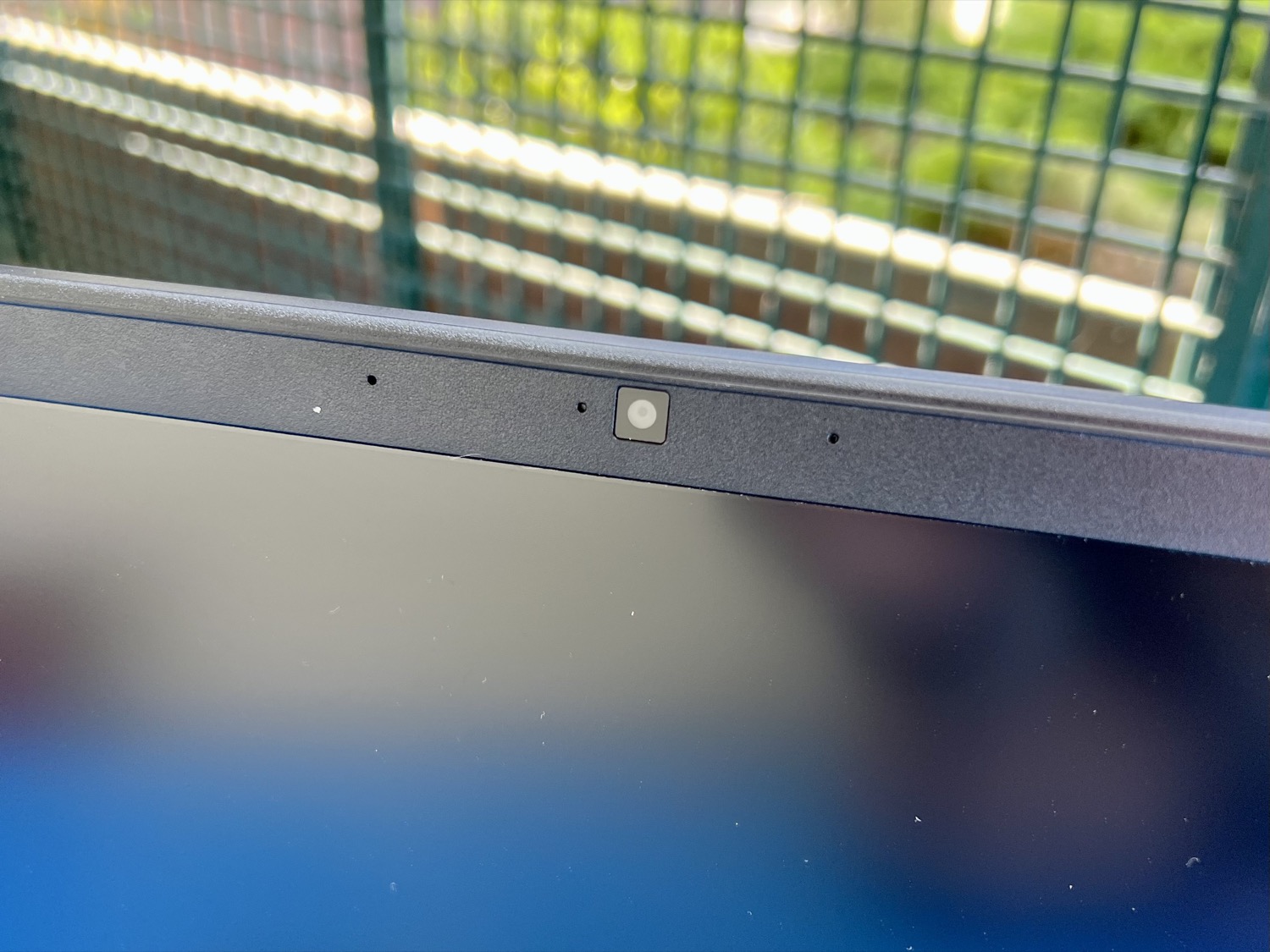 Read also: Huawei MateBook 14s laptop review: 90 Hz and premium design
Conclusions
Acer Predator Helios 300 is a gaming laptop with an attractive design with a metal body, excellent workmanship, high performance (which depends on the specific configuration and, of course, price). We have a reasonable selection of ports, a comfortable keyboard and a screen matrix that is more than decent for this price range. It is impossible not to note the 144 Hz screen refresh (fans of shooters and MOBA will like it), high-quality backlighting and a high level of sRGB display. Helios 300 also has a very comfortable keyboard with widely customizable multi-colored backlighting and a high-quality touchpad. The speakers may not be perfect, but given the reasonable cost, this can be considered a nitpick.
The laptop cannot be considered quiet, however, the fans will not distract much in 'office' tasks. Well, in extreme and turbo modes, of course, you might want to turn them off, or rather, put on headphones, and preferably with noise reduction. The battery also cannot be attributed as the most 'survivable', but this is a common case for gaming models now.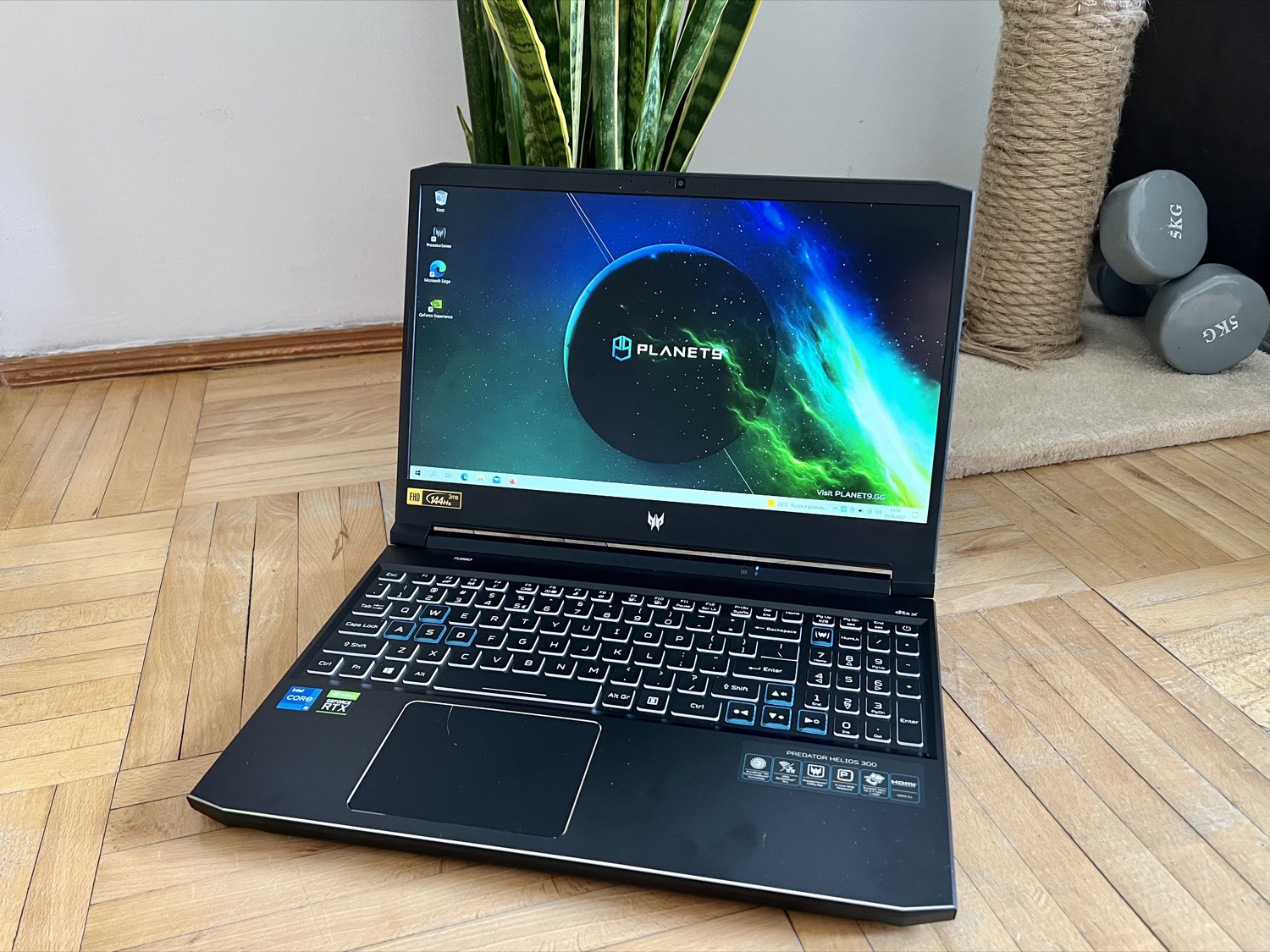 To summarize: Acer Predator Helios 300 is worth buying if you need a versatile (not only gaming, design is quite reasonable) laptop for demanding tasks – be it games or work with graphics and video. It offers high performance, a great screen, and is generally well designed.
Where to buy
Read also: 
You can also help Ukraine fight with Russian occupants via Savelife or via an official page of the National Bank of Ukraine.