Every time Huawei presents a new smartphone, Honor brand follows suit. It happens all the time in the budget segment. What's even more interesting, Honor devices aren't just cheaper, but are also a lot more interesting. There are certain features Huawei desperately needs. There are exceptions, but Honor 8A is not it. Let's learn if it's a good alternative to Huawei's Y-series of 2019.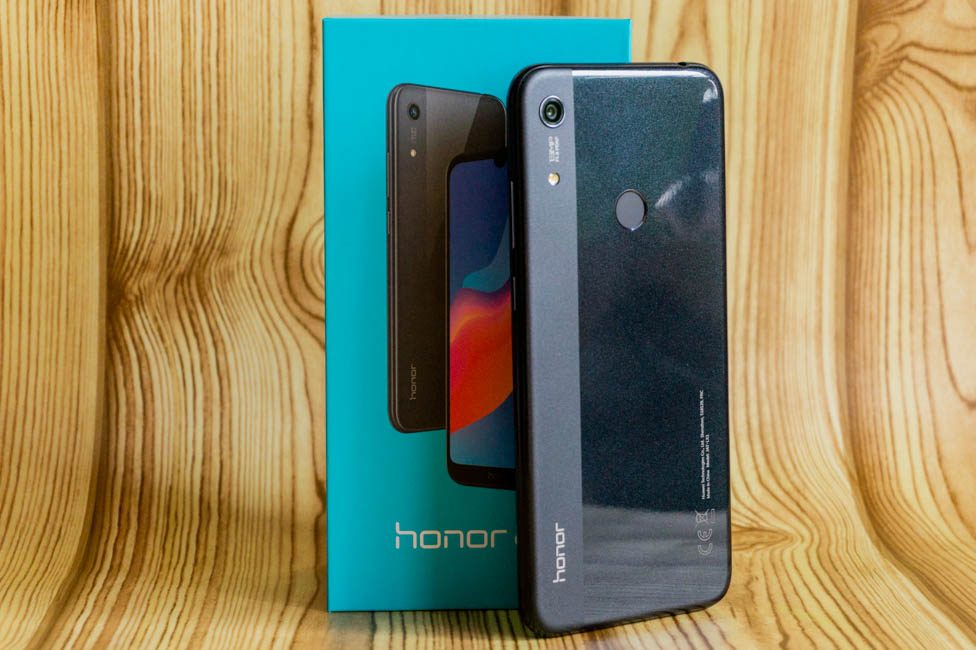 Technical characteristics of Honor 8A
Display: 6.09″, LCD, 1560×720 pixels, aspect ratio 19.5: 9
Processor: MediaTek Helio P35 (MT6765), 8-core, Cortex A53, 4 cores with a frequency of 2.3 GHz and 4 cores with a frequency of 1.8 GHz
Graphics accelerator: PowerVR GE8320
RAM: 2 GB
Permanent memory: 32 GB
Support for microSD memory cards: up to 512 GB
Wireless networks: Wi-Fi 802.11 b/g/n, Bluetooth 4.2 (LE, A2DP), GPS (A-GPS, GLONASS, BDS), NFC
Main camera: 13 MP, f/1.8, PDAF
Front camera: 8 megapixel, f/2.0
Battery: 3020 mAh
Dimensions: 156.28 × 73.5×8.22 mm
OS: Android 9.0 Pie with EMUI 9.0 Shell
Weight: 150 g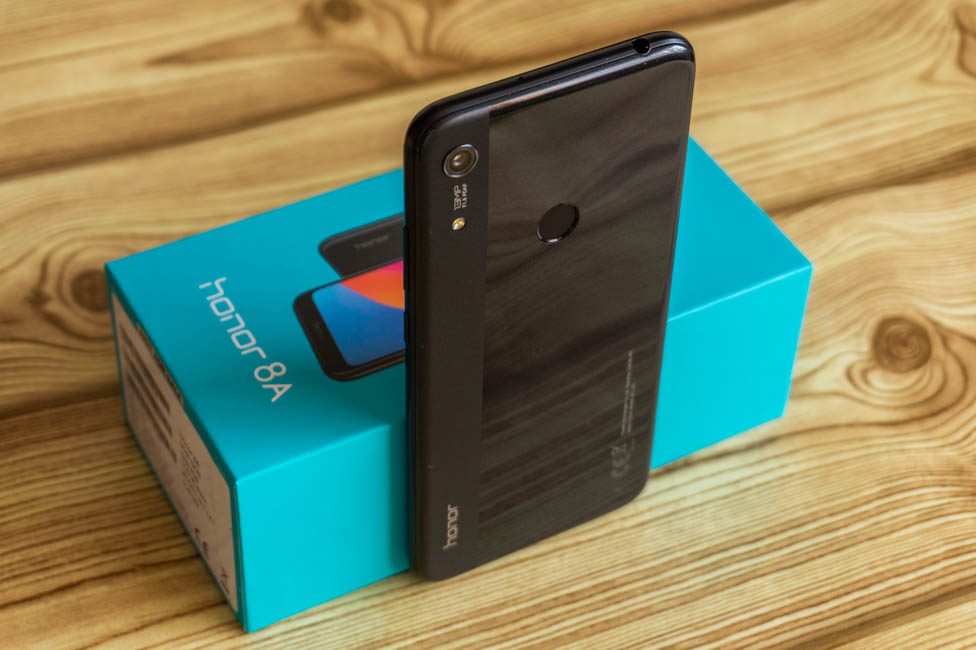 Honor 8A costs about $148.
What's in the box
Honor 8A box consists of usual stuff. Inside the box is a power adapter (5V/1A), a USB/microUSB cable and a SIM card eject tool.
Design, materials and build quality
Now even the budget devices in some area resemble "big league" smartphones. Here Honor 8A looks like a modern smartphone of the end of 2018 and the beginning of 2019. There's a drop-shaped notch and an interesting back plate.
Drop-shaped notch is a good solution, even if a bit unoriginal. But, unfortunately, at the same time there is a thick bezel below. In general, it is about the same size as the first smartphones' with extended displays. In the case of Honor 8A, this doesn't look very organic, speaking frankly.
But you need to remember that this is a budget phone. But besides the large size, below there's also the brand logo.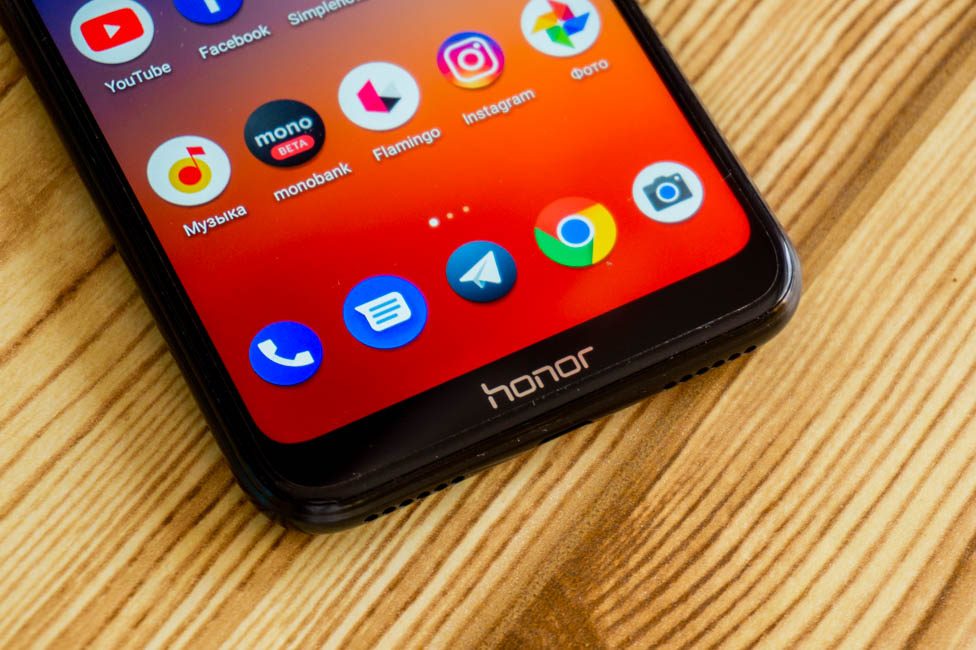 On the back things are better. First of all, the visual separation of the panel catches the eye. These are two different surfaces – glossy and matte, in a ratio of approximately 70/30. Some readers, looking at 8A, will surely remember 8X.
But instead of the gradient in Honor 8A, we see something like a "starry sky". It looks good and certainly better than it would be with the usual black color. On the matte strip, this effect is less noticeable.
The fact that the body is completely plastic is obvious. The glossy part in black gets dirty easy. The smartphone itself is not slippery at all and its build quality is excellent. A protective film with an oleophobic coating is pasted on the glass.
There are four colors of the case.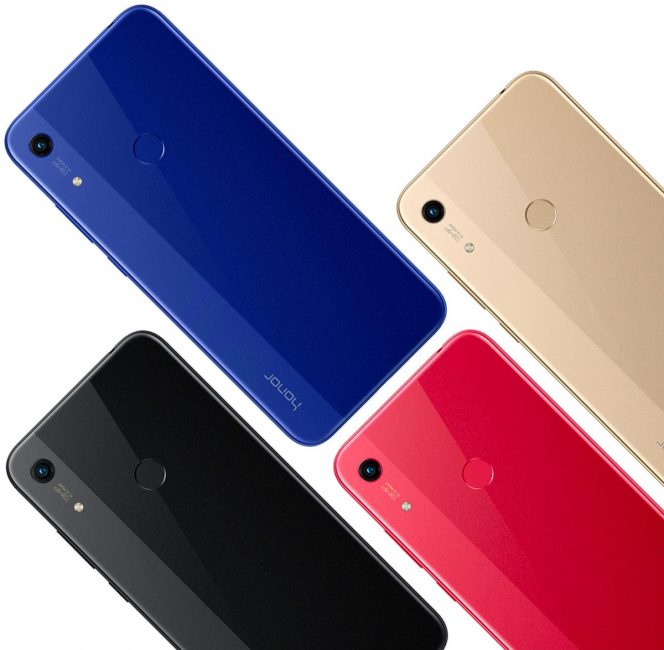 Elements' configuration
On the frame above we have the earpiece speaker and light and proximity sensors. To the right side there is a small LED for notifications. Under the speaker in the notch is the front camera. Below is the Honor logo.
On the right are the power and volume buttons. The left side has a slot for two SIM-cards and a microSD memory card. It's nice that you do not have to choose and sacrifice something.
The bottom end with six round holes offers a microphone, and on the right a multimedia speaker. Between them in the center is the old microUSB port. Don't expect Type-C for this price. The top end comes with a 3.5mm audio jack and an extra microphone.
The back panel has a camera eye with a flash on the left. In the center is a fingerprint scanner. There are also different vertical labels and service marks.
Ergonomics
Honor 8A is a compact smartphone because of the small screen size. Narrow, not very big in height and weight. Thanks to that, you can use the gadget comfortably even with one hand, very convenient. Buttons, scanner etc. – everything is in its right places.
Honor 8A Display
The smartphone is equipped with a LCD display with a diagonal of 6.09″ with low HD+ (1560 × 720 pixels) resolution. It is about 283 dpi. The aspect ratio of the screen is 19.5:9, and it occupies 87% of the front panel. The manufacturer also talks about TUV Rheinland certification for eye comfort, which means that the screen has less blue light.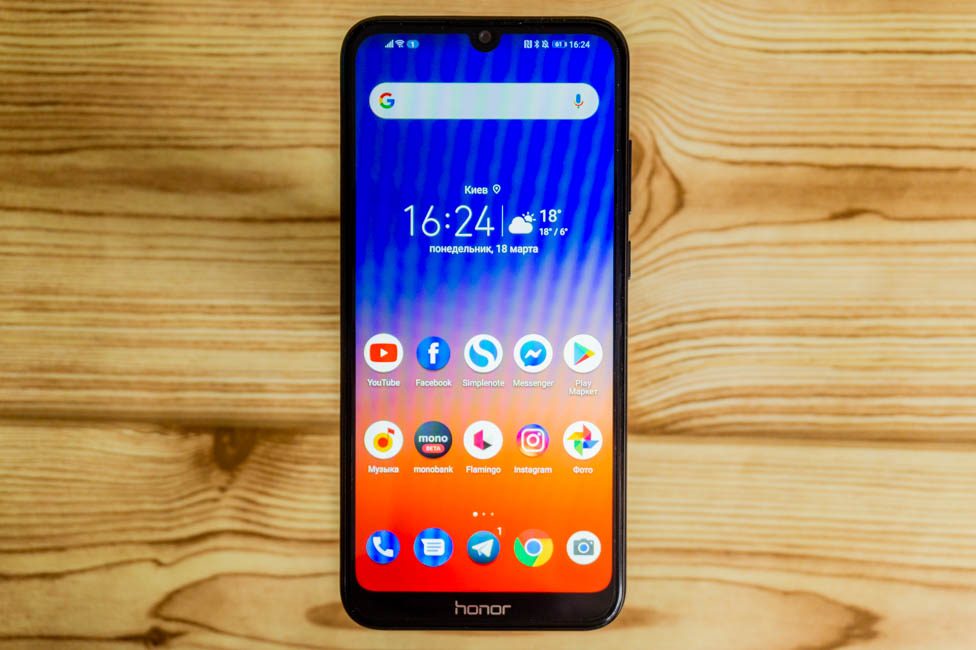 In practice, the display is quite good. The picture is nice – the color and contrasts are fine. Maximum brightness is not bad for a smartphone of this level.
As for the viewing angles, everything is standard. There are no distortions when looking at different angles, but there is a slight fading of dark shades.
The resolution is fairly low for this screen size. The text look fine, but the small elements of some applications do not look very clear. And in Instagram, in general, all icons show pixels. But I think that this is fixable, because in other smartphones with HD+ I have not encountered this problem.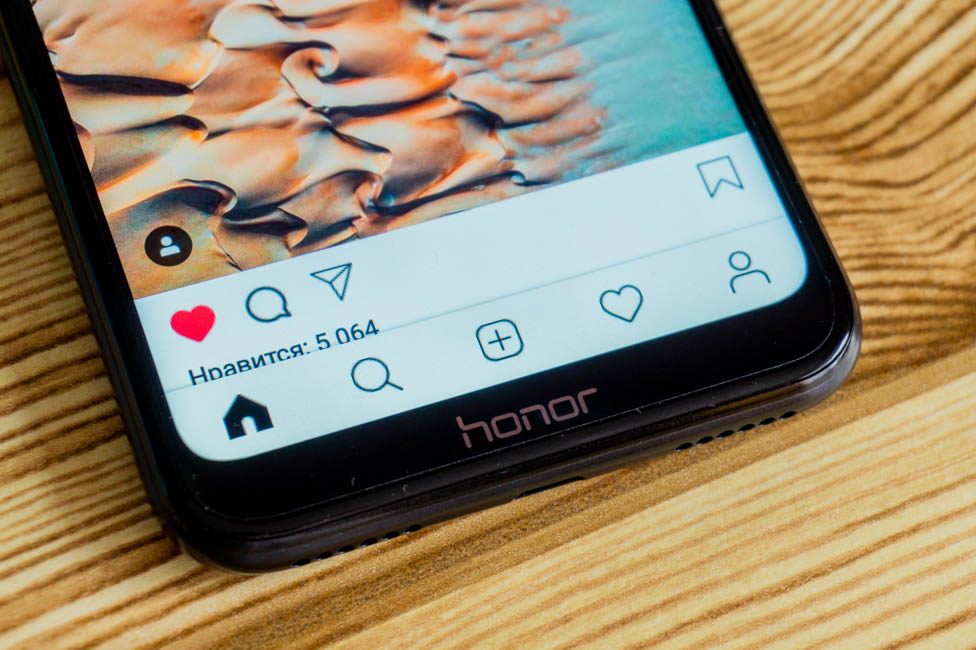 Auto brightness adjustment works correctly and relatively quickly. There is a display temperature setting using a color wheel or presets. For comfortable use in the dark there is an eye protection mode.
In addition, you can force full-screen display in all applications and hide the notch. As usual, you can choose applications in which the notch will be masked or vice versa.
Honor 8A Performance
The heart of the device is a relatively fresh 12-nm MediaTek Helio P35 (MT6765) system-on-chip. It consists of 8 Cortex A53 cores. Four operate at a maximum frequency of 2.3 GHz and four more at 1.8 GHz. Graphic tasks assigned to the PowerVR GE8320 video accelerator. In synthetic tests, the results are approximately the same as in Snapdragon 625.
The amount of RAM is hardly staggering – 2 GB. This amount is enough to keep open up to 5 applications. If there are more of them in memory, they will probably reboot all the time. Such are the realities of the budget segment. From 32 GB of storage the user has 23.81 GB. If it isn't enough, there is a separate dedicated slot for a microSD memory card up to 512 GB.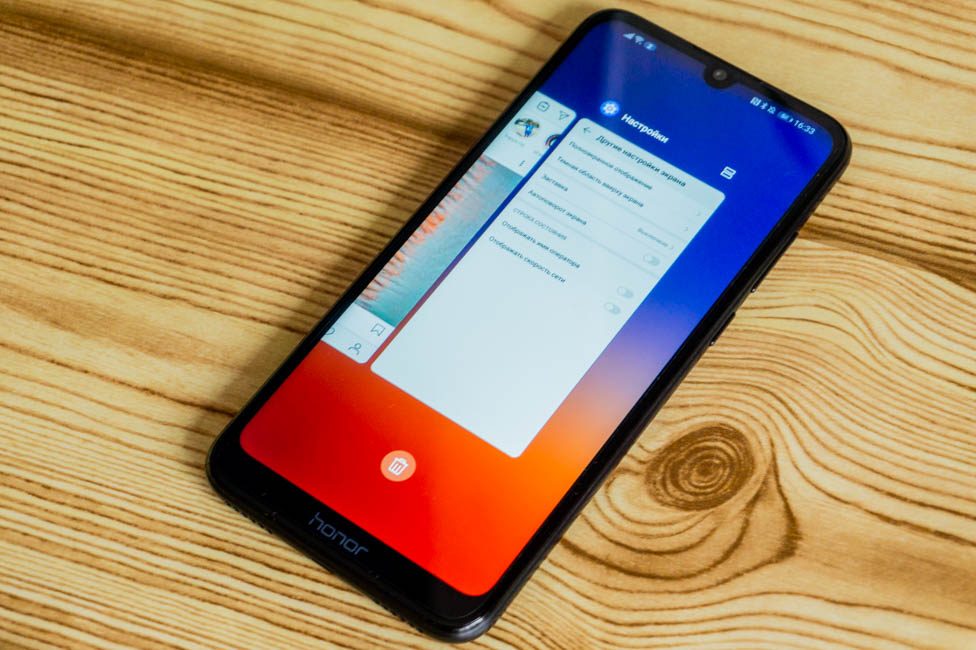 Surprisingly, the shell is very quick and smooth. Within this budget, there is no point in waiting for lightning-fast response. Honor 8A can run the most primitive arcade time-killers, but that's about it. PUBG Mobile will run with medium graphics, but it's better not to have high expectations. You can play on low settings, but don't expect much.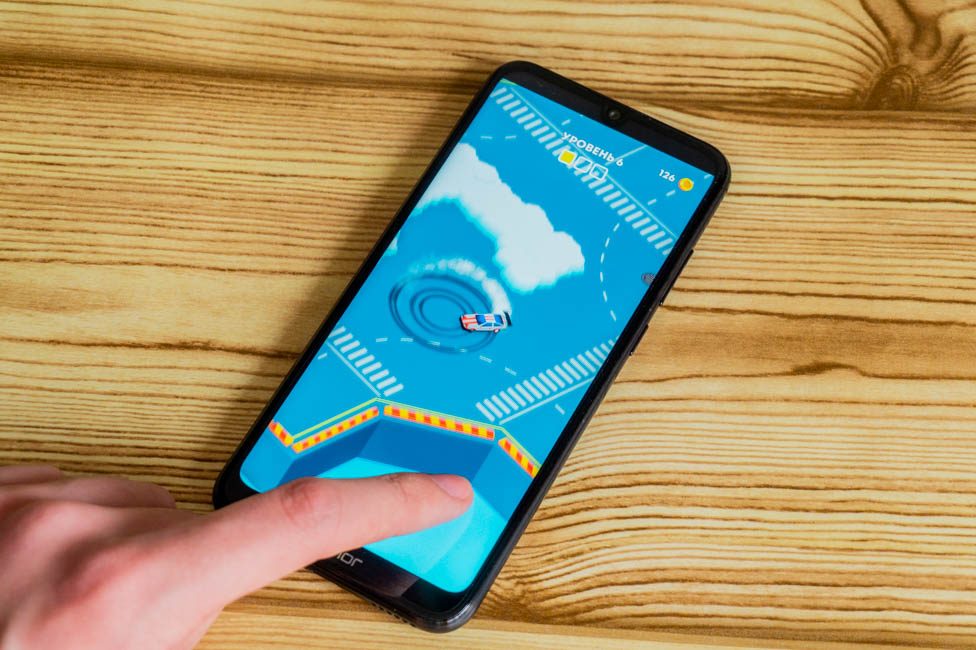 Honor 8A cameras
Seeing only one camera module of the back is actually weird now, even on low-budget devices. Usually even the cheap devices have second sensors to measure the depth of the image. The fact that there is not much benefit from them is another question. The main camera in Honor 8A is represented by a single sensor with a resolution of 13 megapixels.  f/1.8 luminosity, a phase autofocus (PDAF).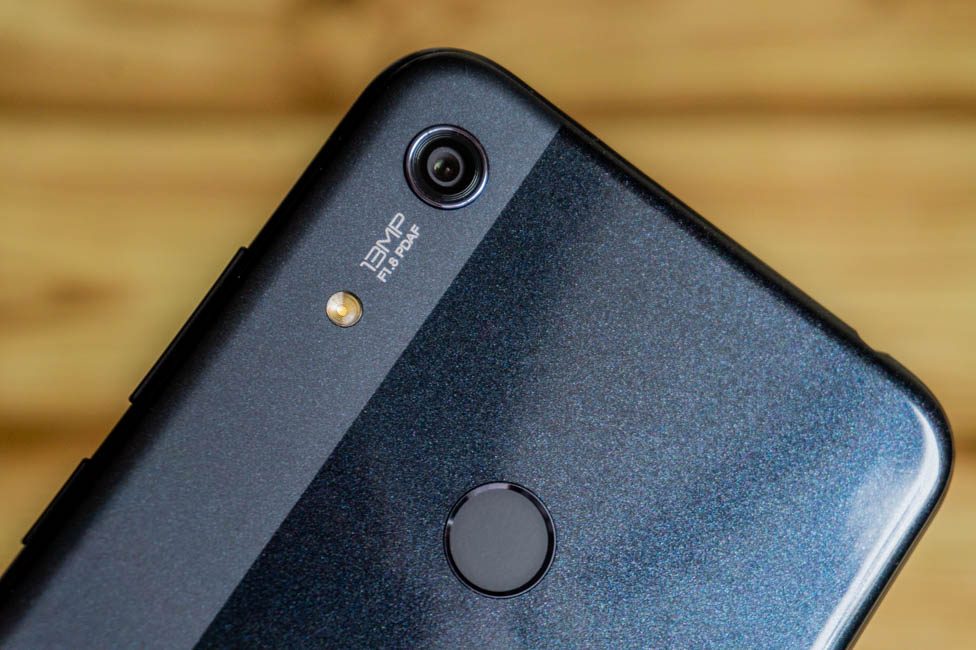 The photo quality is actually decent. During the day, it is really possible to get a high-quality photo with all the key parameters. Good detail and sharpness, excellent color reproduction, dynamic range is acceptable for this price. The app does not spoil the picture in any way – the exposure and white balance are set correctly. If you shoot in a room with a medium light, the noises get most noticeable. They are not actively suppressed, so there is no watercolor effect.
PHOTO EXAMPLES IN FULL RESOLUTION
Video is recorded with a maximum resolution of Full HD with 30 frames. Electronic stabilization is not provided. In short, the video quality is not very good.
The front module is 8 megapixel (f/2.0), and it makes decent photos.
There are a few modes in the camera application: beautification, manual mode, panorama and HDR. There are few settings: grid, timer, audio control.
Unlock Methods
The fingerprint scanner in Honor 8A works great: 10 points out of 10. But this is already not surprising, given the experience with previous models of Huawei/Honor. Additional functionality remains the same. You can control the camera release, answer calls, turn off the alarm, open the notification panel and flip through photos.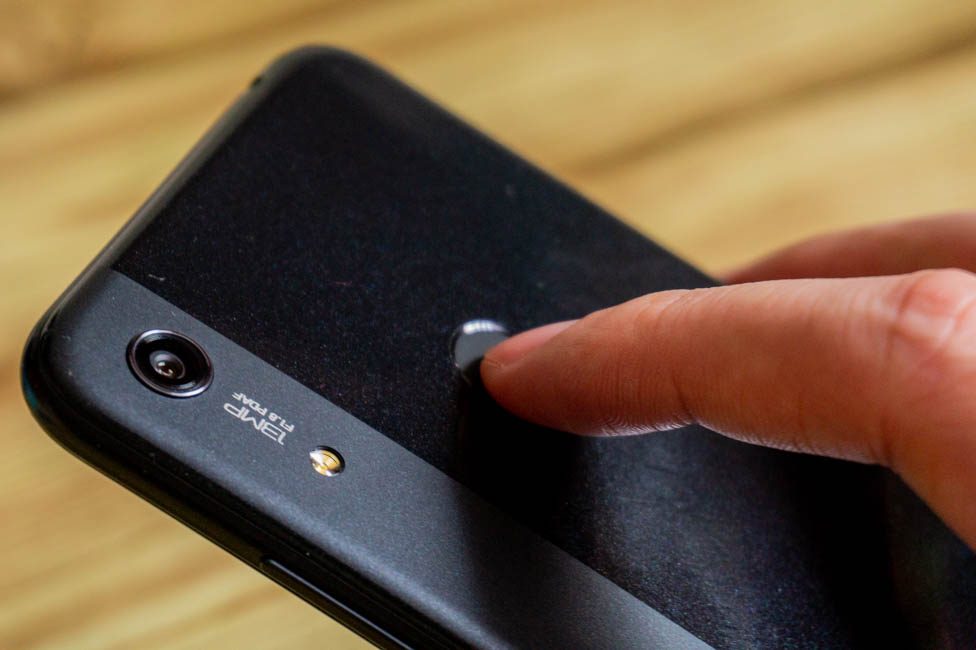 Unlocking by facial recognition is naturally there. The method is also not bad and in most cases it works quickly. In the dark, the brightness of the screen will increase until the face is fully highlighted. So yeah, you can use the function in any conditions.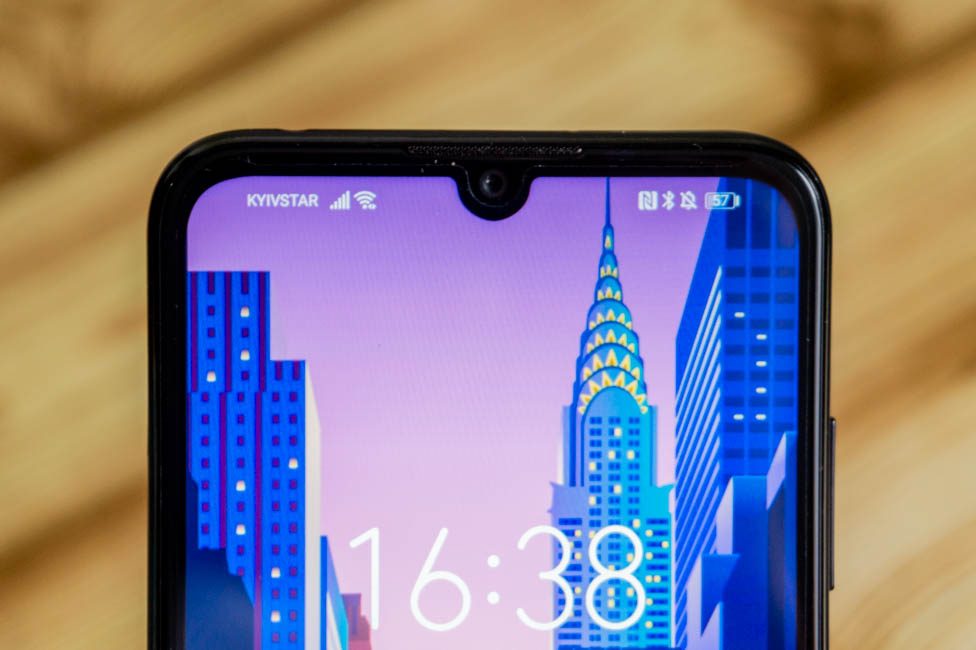 Battery life
The battery in Honor 8A is not large, so don't expect much. It's only 3020 mAh. This is exactly enough for a whole day, after which you'll have to charge the phone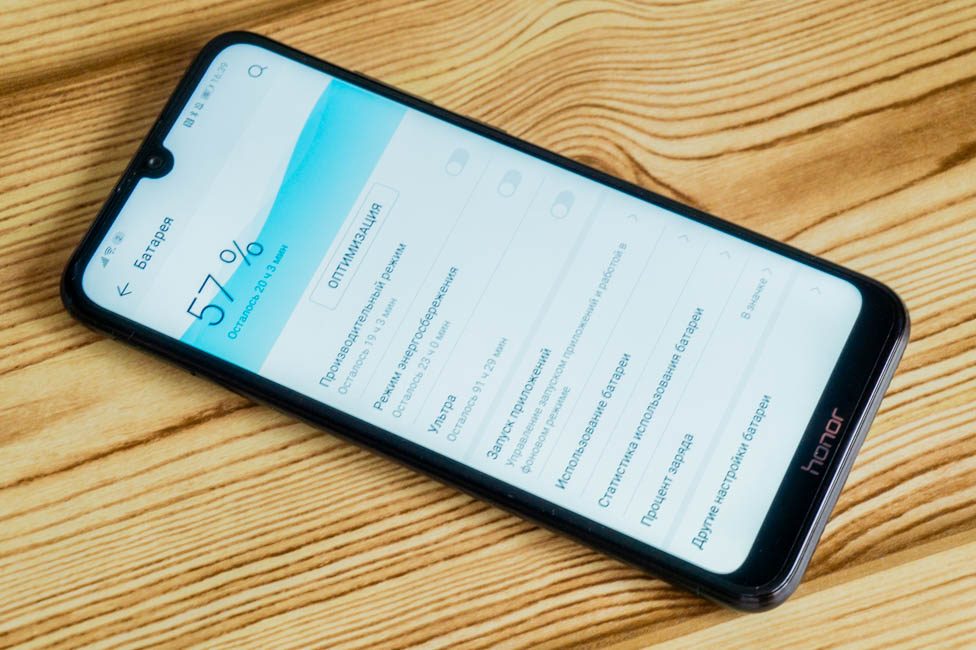 With the usual usage scenarios – with messengers, listening to music, social networks and similar undemanding tasks – I managed to squeeze about 5 hours of screen activity from a smartphone.
Charging speed with a regular charger and cable took a little longer than two hours:
00:00 – 12%
00:30 – 30%
01:00 – 50%
01:30 – 70%
02:00 – 89%
02:20 – 100%
Sound and communication
Speaker quality does not particularly shine, and the frequency range is too narrow. Multimedia speaker in nothing special. The volume level is not bad, but the quality will be enough for most. For typical tasks, such as calls and notifications, it's okay.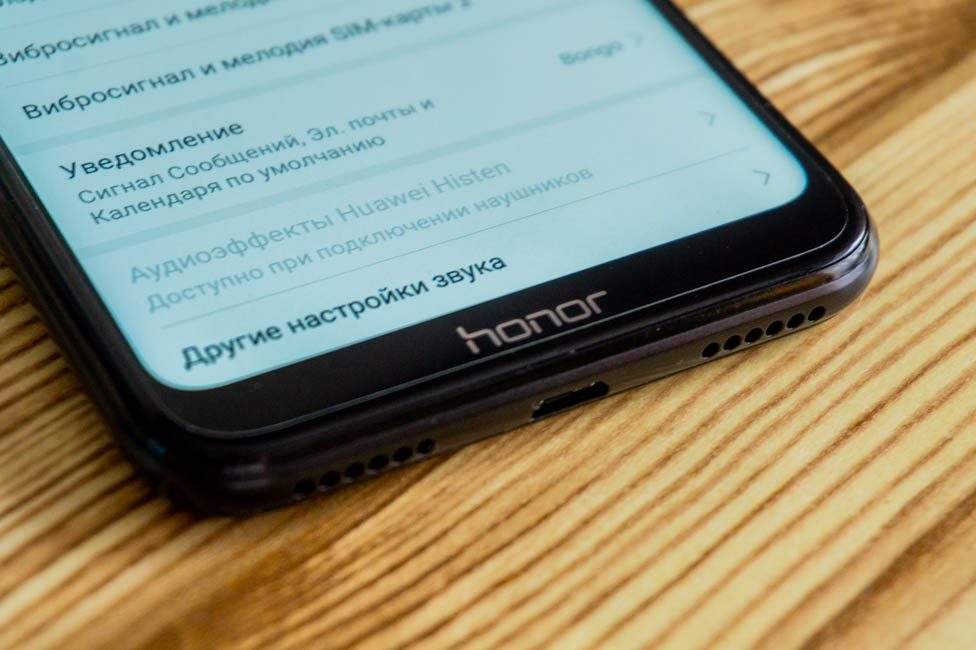 In wired headphones, the sound is a bit flat and the built-in Huawei Histen audio effects do not help much. If you don't care about the sound quality, it'll do. When using wireless headphones there is a critical lack of volume. I had to crank up the volume to maximum, but even that way I always wanted more.
At first glance, all smartphones of this price range do not differ in terms of wireless modules. Simple single-band Wi-Fi 802.11 b/g/n, Bluetooth 4.2 (LE, A2DP) and GPS (A-GPS, GLONASS, BDS).
But how many of these devices come with NFC? Very few indeed, but not Honor 8A. This is a very correct step on the part of the brand and a good reason to think about purchasing a device. If you have long wanted to get a budget phone with contactless payments, then you should pay attention to this unit.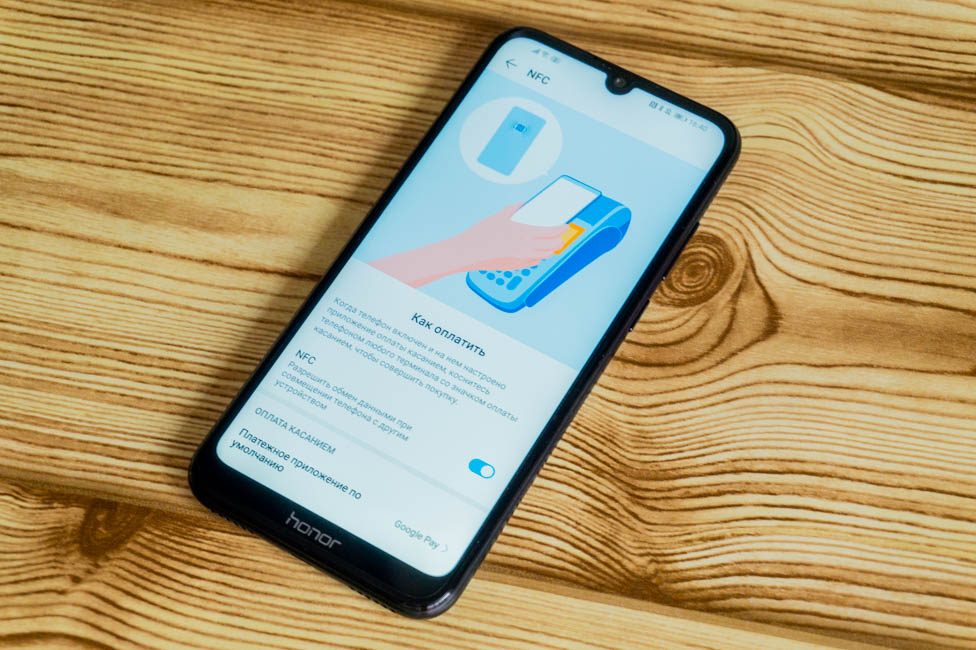 Firmware and software
Honor 8A works on fresh Android 9 Pie with a proprietary EMUI 9.0.1. shell. The UI design has not changed. In terms of functionality, there is a familiar set of features of the EMUI itself and typical of the original Pie.
From the "Movements" there are three gestures: rotate the smartphone to turn off the sound of calls/alarms, activate the screen when picked up, and take a screenshot with three fingers. There are only two ways of system navigation: traditional buttons, the location of which can be changed, or full-screen gestures.
Verdict
At first glance. Honor 8A looks like an ordinary run-of-the-mill budget phone. But after closer inspection I concur that it is not the case. The most obvious plus is the inclusion of NFC. Even Huawei Y7 2019 doesn't have it, and it costs way more. There's also fresh OS and a stable shell. What's not to like?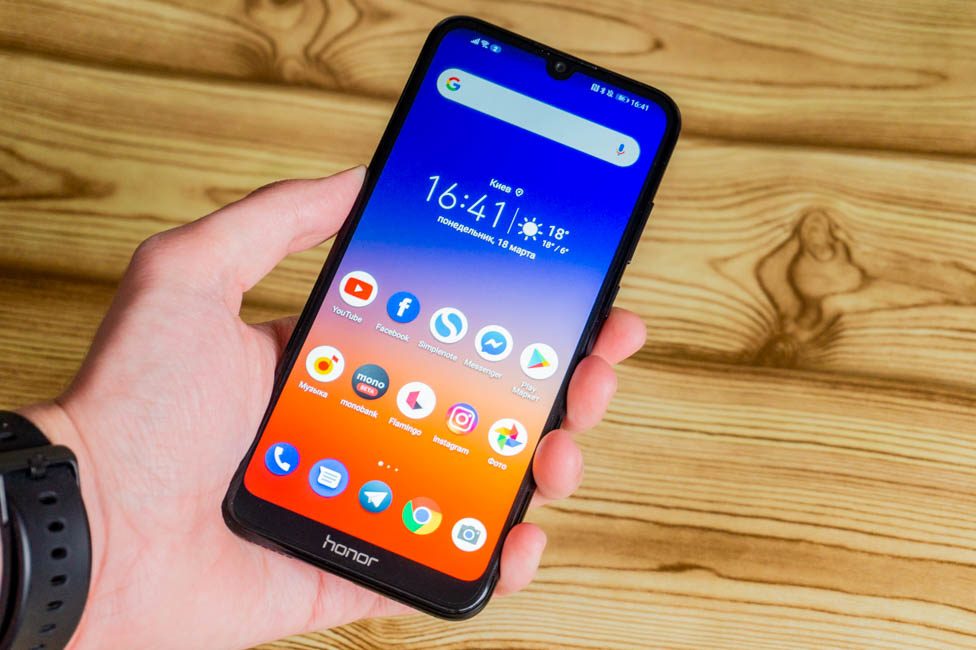 Everything else is… okay. No surprises: all the usual perks of a low-priced smartphone. Hence, if you need an affordable device with NFC, Honor 8A is a good choice.