Huawei Mate 10 Lite created a bit of a confusion. Unlike Mate 10/10 Pro, it was released quietly, without fanfare. It has different names in different countries. Nova 2i, Maimang 6, Honor 9i are all one identical device. It is a "little-known" smartphone from a famous brand which doesn't even have a single name. In Ukraine, it will be sold instead of regular Mate 10. But does it warrant your attention? It sure does!
Huawei Mate 10 Lite: Main characteristics
| | |
| --- | --- |
| Characteristics | Huawei Mate 10 Lite |
| Screen diagonal | 5,9" |
| Display | 2160 x 1080 (FHD+), 18:9 IPS |
| OS | Android 7.0, EMUI 5.1 |
| Processor | Huawei Kirin 659, 8 cores (4x Cortex A53 2.36 GHz + 4x Cortex A53 1.7 GHz) |
| RAM | 4 GB |
| Storage | 64 GB |
| Memory | microSD slot; up to 128 GB |
| SIM slot | two, nanoSIM + nanoSIM or microSD |
| Main camera | 16 Mp + 2 Mp |
| Front camera | 13 Mp + 2 Mp |
| Battery | 3340 mAh |
| Other | Fingerprint scanner, WiFi 802.11b / g / n, 2.4 GHz; GPS; Bluetooth 4.2, digital compass, light sensor, proximity sensor, Huawei Histen audio algorithm |
| Dimensions, mm | 156,2 х 75,2 х 7,5 |
| Weight, g | 164 |
Design, materials, elements' configuration
When I take Huawei Mate 10 Lite in my hands, it feels like a premium smartphone. The phone is quite large, but one should also note sleek and refined design and the overall lightness.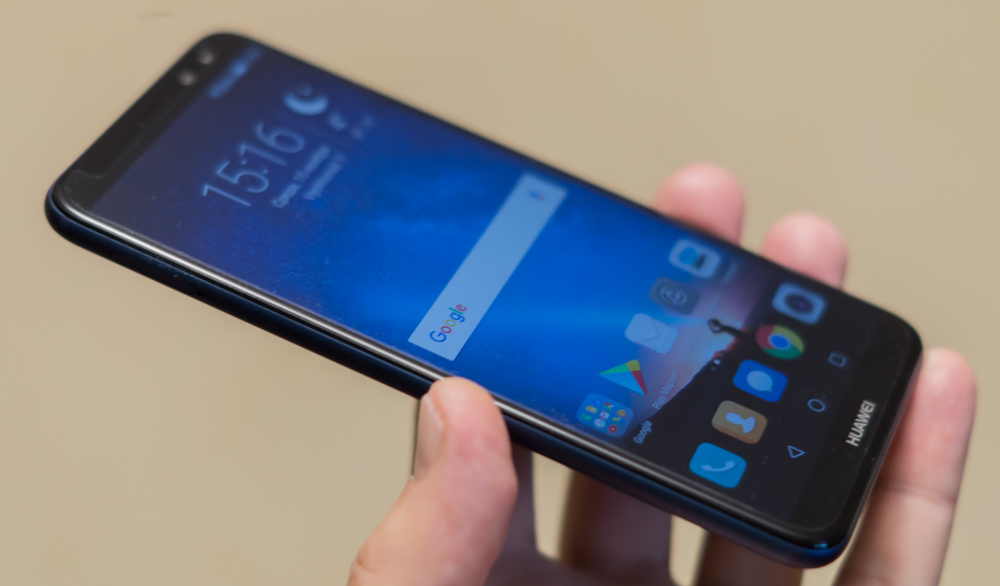 I don't usually like metal as a material, but sometimes it just feels right – like with Huawei Mate 10 Lite.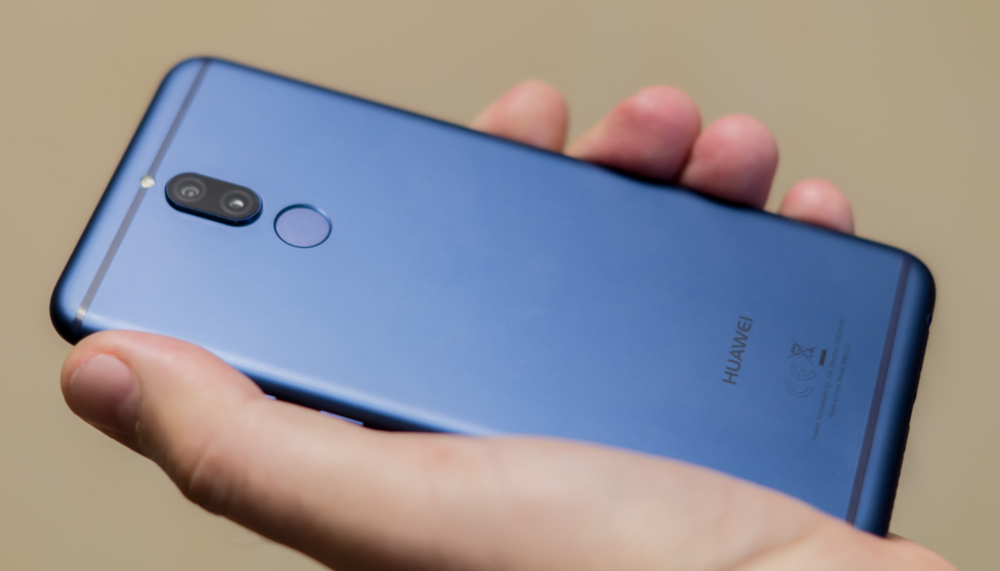 In the front there's a screen, above which is a front camera, a speaker, a light indicator for notifications and a flashlight. Under the screen is Huawei logo.
On the upper bezel there's an additional mic. On the lower bezel is the main mic, a 3,5 mm audio jack, the main speaker and a MicroUSB slot.
On the left side there's a combined slot for a SIM card and microSD memory; on the right side there are volume and power buttons.
On the back there's a dual camera block, slightly protruding from the frame (as per usual) and a fingerprint scanner below it. Above is a flashlight. Two antenna strips on the top and the bottom complete the composition of the back of the smartphone.
One couldn't fault Huawei Mate 10 Lite for not looking great – especially the darker models. I was fortunate to test the dark blue model, which glows with ultramarine when under direct sunlight.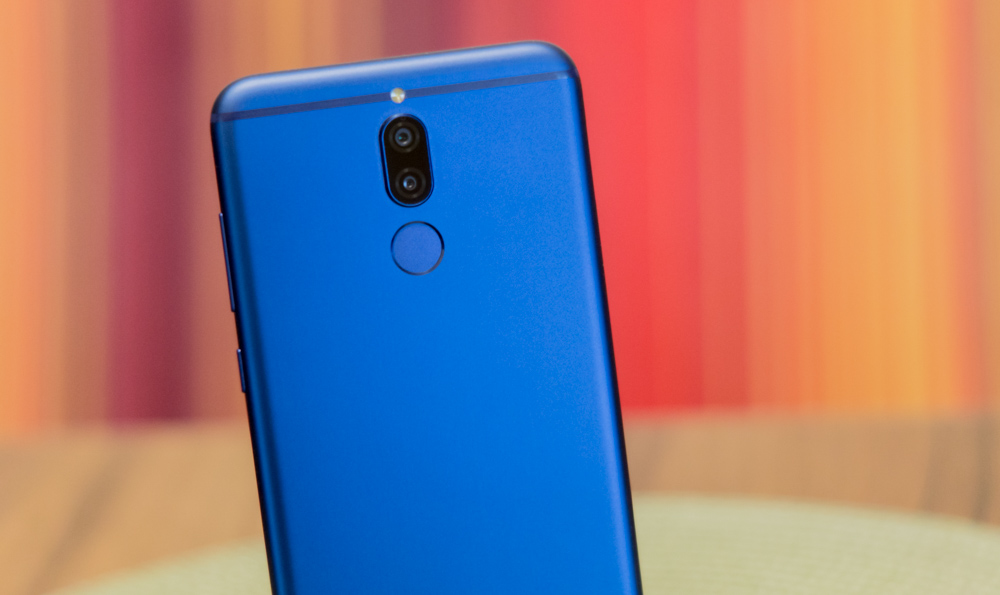 The smartphone comes with the screen protector and matte plastic case, which makes the phone look less dashing, but has its pros.
Screen
The main pride of the device. Press releases dazzled with statements about how a classic 5.5-inch smartphone contained 5,9-inch IPS display. In reality, the screen just has an unusual aspect ratio of 18:9; it's basically stretched vertically. That's why the resolution has changed to FullHD+ or 2160×1080. The screen to body ratio is 83%. You probably can call Huawei Mate 10 Lite bezel-less, although it does have bezels.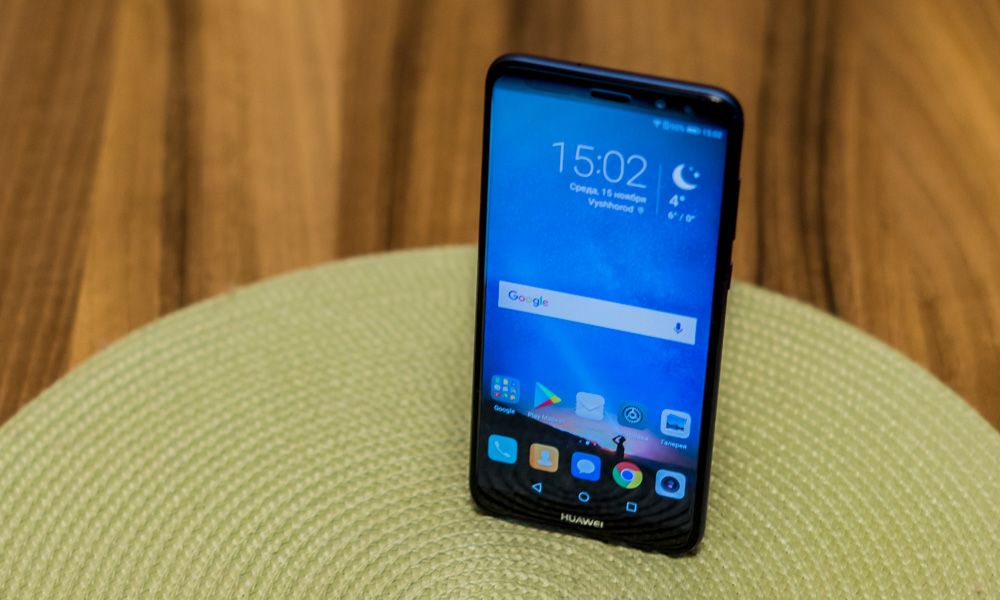 In comparison with other devices Mate 10 Lite might seem a bit big. It is larger than P10 Plus, for example.
The display is phenomenal – especially for a midrange smartphone. The colors are rich and saturated. The screen has an improved resolution, automatic brightness and good view angles.
The pixel density is 401 ppi, which means that Mate 10 Lite will work with Google Cardboard. It doesn't support Google's native VR, but third party apps fix this with no problem.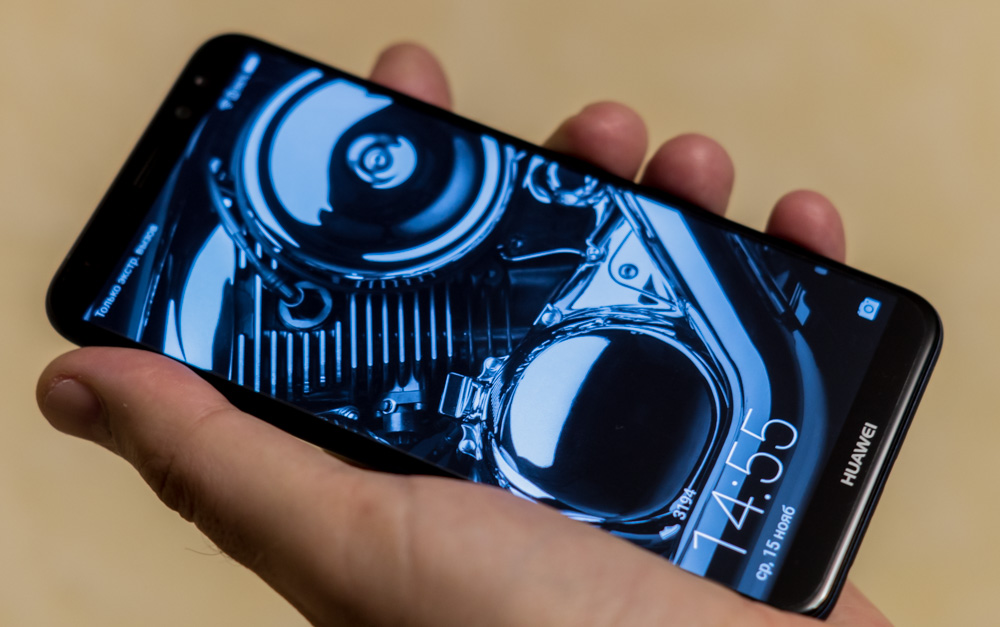 Just like many other Huawei smartphones, Mate 10 Lite has a mode for reducing eye strain which "warms" the picture. The mode can be set up to turn on automatically when the time is right or manually on the control panel. The color temperature can be adjusted manually, but only when the eye protection is off.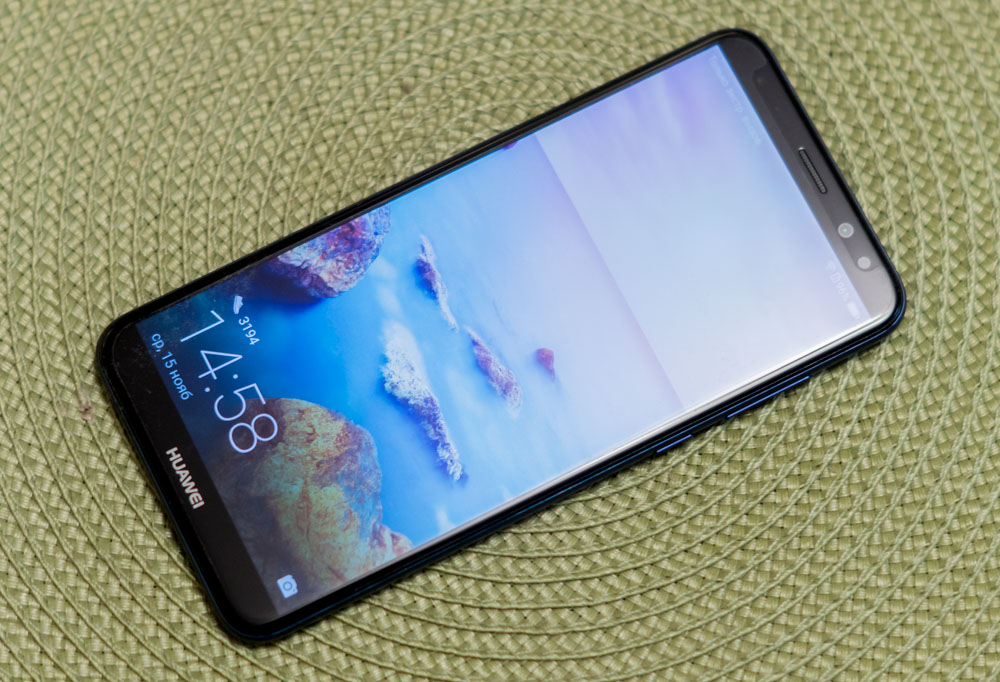 Hardware and Performance
Unlike more premium big brothers Mate 10 and 10 Pro which have the newest HiSilicon Kirin 970 processor with special AI chip, Mate 10 Lite has more modest Kirin 659 which is somewhat comparable with Qualcomm Snapdragon 625 in terms of power. The same exact processor is used in Huawei Nova 2. The SoC consists of eight Cortex-A53 cores with a frequency of 2.36 GHz, as well as Mali-T830 video core, 4 GB of RAM and 64 GB of ROM.
What can I say about all this? Don't expect from Mate 10 Lite what you might expect from its bigger brothers. In AnTuTu the device scored 62628 points, including 10064 for 3D, 25712 for UX, 21509 for CPU and 5343 for RAM. In 3DMark, in the Sling Shot Extreme test the device earned 427 points, in GeekBench 4 – 908 points for performance per core and 3535 points for multi-core computing. In the RealPi Benchmark test, the smartphone processed a million digits in 15.04 seconds, and in PCMark it earned 5016 points.
In terms of power, the phone's is in the midrange. This is its biggest weakness. The bigger the resolution, the harder it is for the hardware. Even games which ran on the highest graphical settings on Huawei Nova 2 (60000 in AnTuTu, but with Full HD display) might struggle here.
Consuming content on 18:9 screen
Let's take a brief pause for a minute and consider the fact that when I talk about the device being not powerful, I'm speaking as a power user who managed to make Huawei P9 sweat. Yes, Mate 10 Lite might not run the newest 3D titles, but everything that it can run, it runs perfectly.
If you worry about the unusual aspect ratio – don't. The phone can adjust content, stretching the UI. It works almost every time, but when it doesn't, it's bad. The app just crashes. And the situation repeats itself, because the smartphone just can't remember whether it could stretch the app before. The stretching indicator just doesn't go away until you close the app. It's infuriating. You can't close the stretching panel, but it's very easy to open in by mistake.
Games are not affected – they always run in full screen. And, after some testing, I'm sure that if a game doesn't run with normal FPS, that's the game's fault, not the phone's. I had no problems with Modern Combat 5, Real Racing 3, Angry Birds 2, or Asphalt Extreme. From 20 games only one was slow – Nobleman.
In terms of pictures and video, 18:9 once again proved to be a great format for multimedia. I might even call Mate 10 Lite a portable cinema, especially with that great speaker, even if it's not stereo.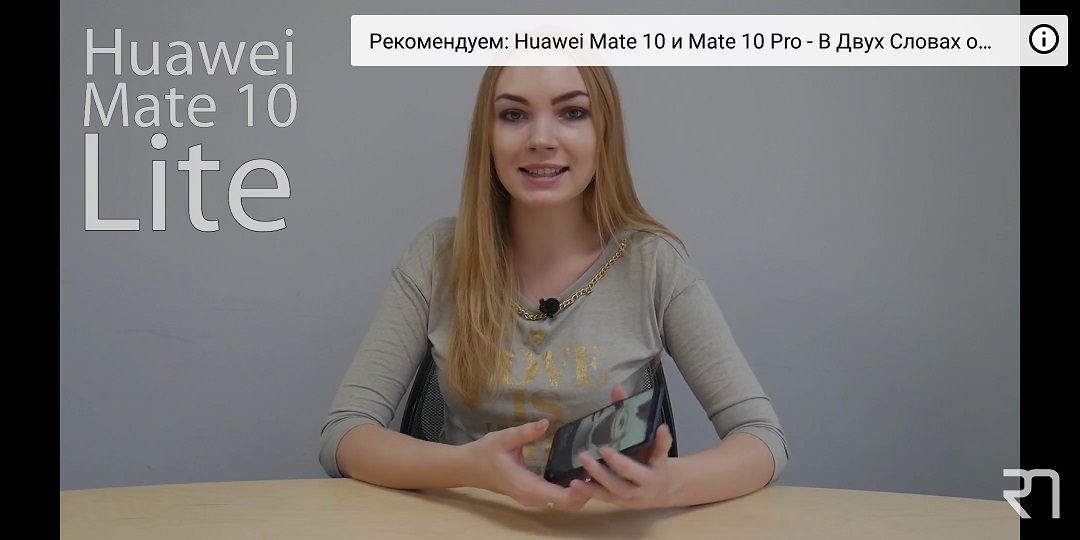 Cameras
Huawei Mate 10 Lite is the first Huawei smartphone equipped with four cameras. The main camera consists of 16 Mp and 2 Mp modules with F/2.2 aperture. The front camera is also dual – 13 Mp and 2 Mp, aperture is F/2.0. Both are fine. Slightly worse than the flagship devices, but still decent.
About the main dual module. The main camera that makes a photo is 16 megapixels. The second is purely for determining the depth of field. Due to this, during shooting, you can switch the wide aperture mode to blur the background. You can postfocus images already in the gallery. The second camera performs auxiliary functions during shooting and isn't essential for making a photo. For this purpose, a 2 Mp module is enough.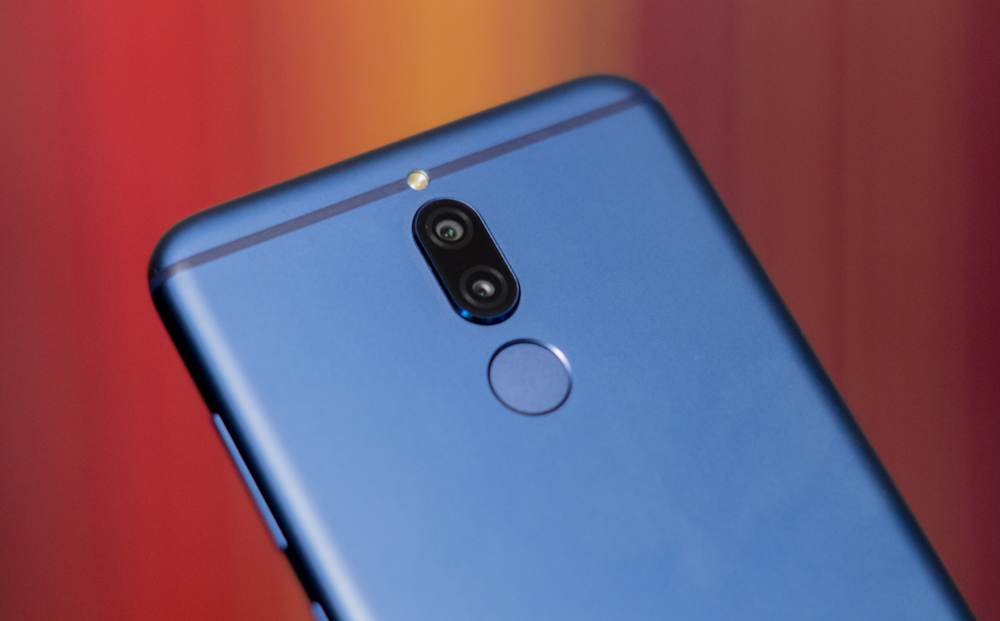 The dual front camera allows you to make a selfie with bokeh effect, which is a rarity even for flagships at the moment. This function, however, works only in the selfie mode. The switch for this mode is kinda hard to find. The quality of bokeh is excellent if you don't nitpick. Even flagships like Galaxy Note8, Google Pixel 2 and iPhone 8 Plus have some problems with the effect.
Sound
Huawei Mate 10 Lite has amazing sound. The main speaker, located below, produces load and clear sound. And the output of music through the 3.5 mm connector is improved by the built-in Huawei Histen software. Thanks to the proprietary audio chip AKM4376A with Hi-Res Audio 24-bit / 192kHz, the sound in the headphones is exceptional. Its easily on level of the flagship lineup.
It's not 10 out of 10 because the phone lacks fully-fledged stereo sound, and doesn't work that well with Bluetooth headsets. The sad fact is, without the case the smartphone cannot transfer the audio stream to a wireless headset – it stutters.
If you want Bluetooth to work, the protective case is essential. After I got the device, I almost never took off the plastic case. During my time with the phone, Bluetooth would almost never stutter – maybe once or twice in seven of eight days. After I took it off, it just couldn't work properly. Maybe the metallic body simply short circuits in my pocket? I have no idea, but one thing is clear: if you like wireless headphones, the case is a must.
Communications
Huawei Mate 10 Lite supports GPS, A-GPS, GLONASS, BDS, 4G/LTE as well as Wi-Fi 802.11 b/g/n (but only 2.4 GHz), Wi-Di, Hotspot, Bluetooth 4.2 with A2DP support, LE and even aptX.
As for the communications, everything is fine – GPS is fast and spots satellites quick, Wi-Fi is fast – about 100 Mbit/s.
Battery life
Huawei Mate 10 Lite is equipped with 3240 mAh battery, which shouldn't be enough for a screen that large and bright – but it is. The smartphone easily lives through the day. Battery Test in PCMark showed 7 and a half hours of continuous productivity. In games, the smartphone lasts for 5-6 hours, because the SoC is relatively weak and doesn't need much power.
There is no official support for fast charging. Still, even with the basic adapter the phone charges real quick – from 20% to 100% on 1,5 hours.
Shell and software
Huawei Mate 10 Lite runs on Android 7.0 with the proprietary EMUI 5.1 shell. It works VERY fast, without any hiccups, demonstrating fully (well, almost) the benefits of software from Huawei. Some of the preinstalled applications (and there are about 10 of them) can be deleted.
Fingerprint scanner
The fingerprint scanner is almost instantaneous. Rarely, is ever, it is wrong or there's some kind of lag. Never did it fail to recognize me – even after an accident with the superglue, when my finger was especially hard to read.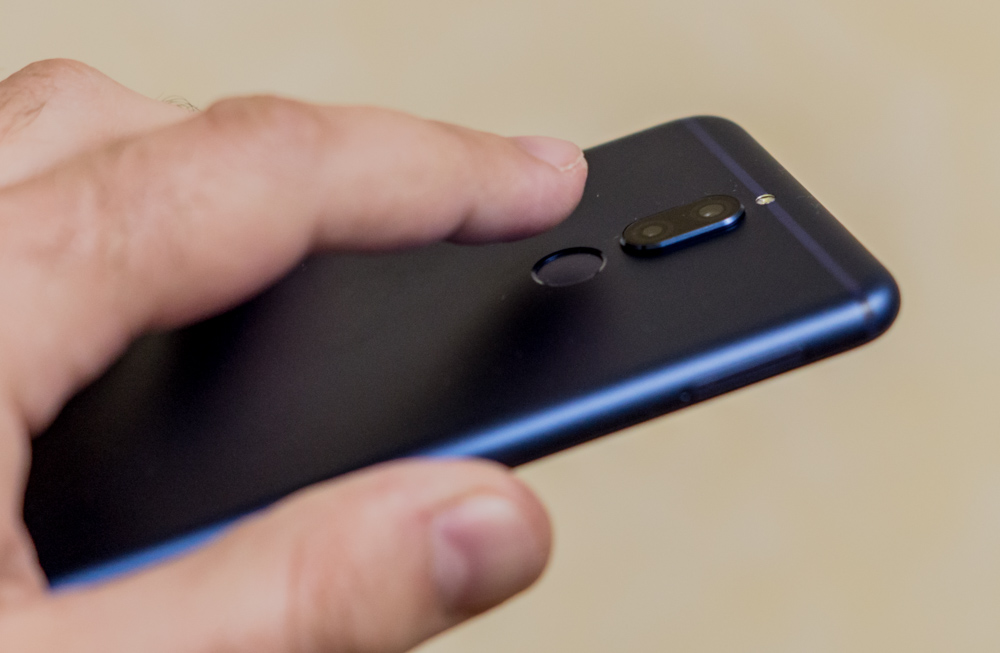 Fingerprints can be read in apps. Gestures are also supported – like, for example, for making photos, answering a call, turning the alarm off. A swipe on the scanner opens notification panel and helps to review photos.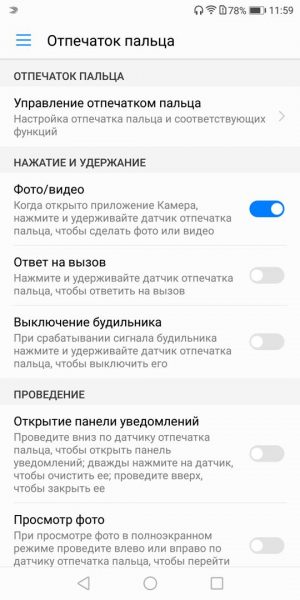 Verdict
For $380 Huawei Mate 10 Lite is a good choice for people who like making photos and consume multimedia. Watching movies on a screen like that is a treat. Mobile gamers might enjoy the phone as well, although it could have been even more powerful.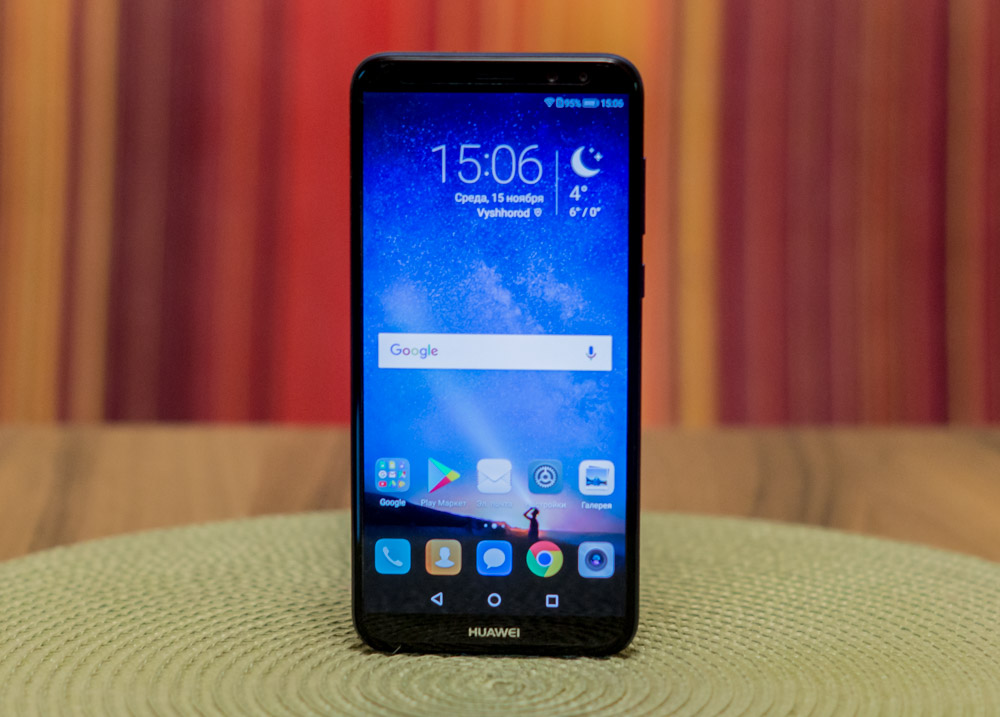 In terms of cons, I didn't like how the phone always asked to turn on the wide format without ever remembering the settings. There's also no support for Wi-Fi 5 GHz and NFC, which is a shame, since Android Pay is becoming more and more common.