Last year's Huawei Mate 9 was, in my opinion, the best 6-inch phablet there was. In 2018 the Mate lineup got the biggest update in its history, and I was curious to see the result. The smartphone has quite a few variations, and I tested Huawei Mate 10 Pro with 18:9 AMOLED display.
Design, Materials, Build Quality
The design of Huawei Mate 10 Pro can be simply described as fantastic. Huawei has produced the best-looking smartphone yet and it's hard to imagine how will they amaze us in the future.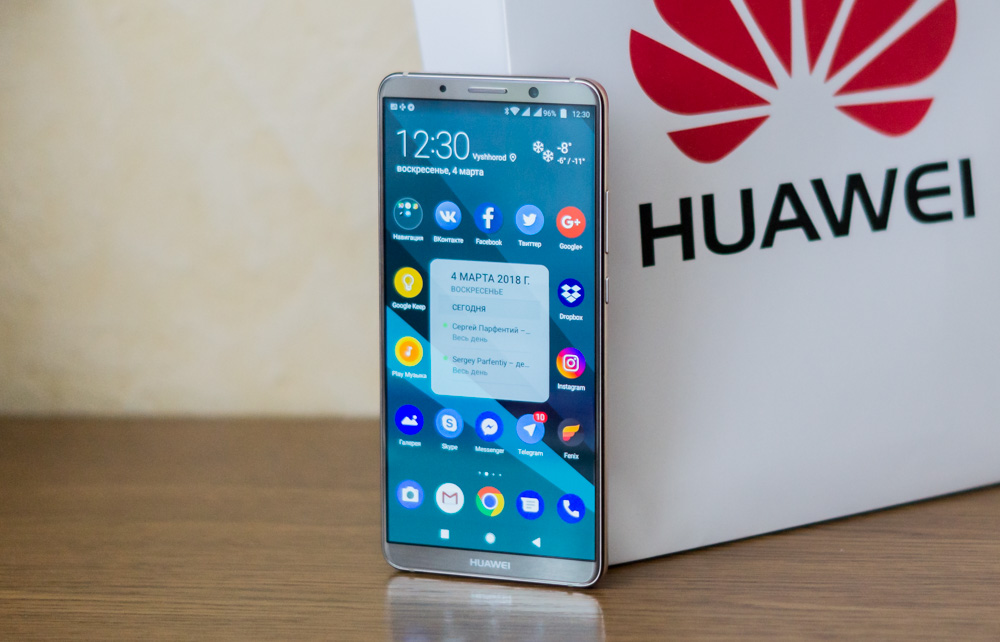 Huawei Mate 10 Pro is the most impressive Huawei device yet – simply perfect in terms of design, materials and build quality. The metal body and glass on the back is the trendiest mix nowadays, but Huawei did it best.
I especially like the color I got – Mocha Brown. The brown shade is very pleasant, with a bronze shimmer, and under certain lighting the case seems to be either steel gray, chrome, or dark golden.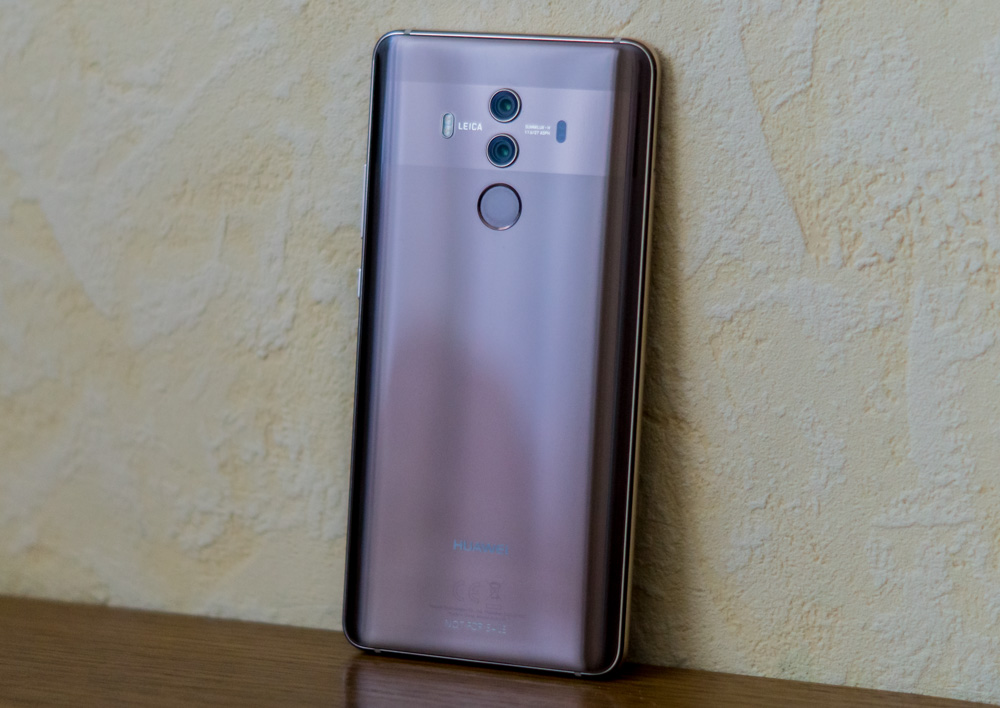 At the same time, the smartphone retained the signature forms of the Mate line – almost flat sides, a slight bend of the back and a vertical block with cameras centered at the back in the upper part. A highlight of the Mate 10 Pro design is the strip crossing the back of the plate, and highlighting a block of cameras. Under different viewing angles it becomes lighter than the rest of the body, or darker. Unusual and beautiful.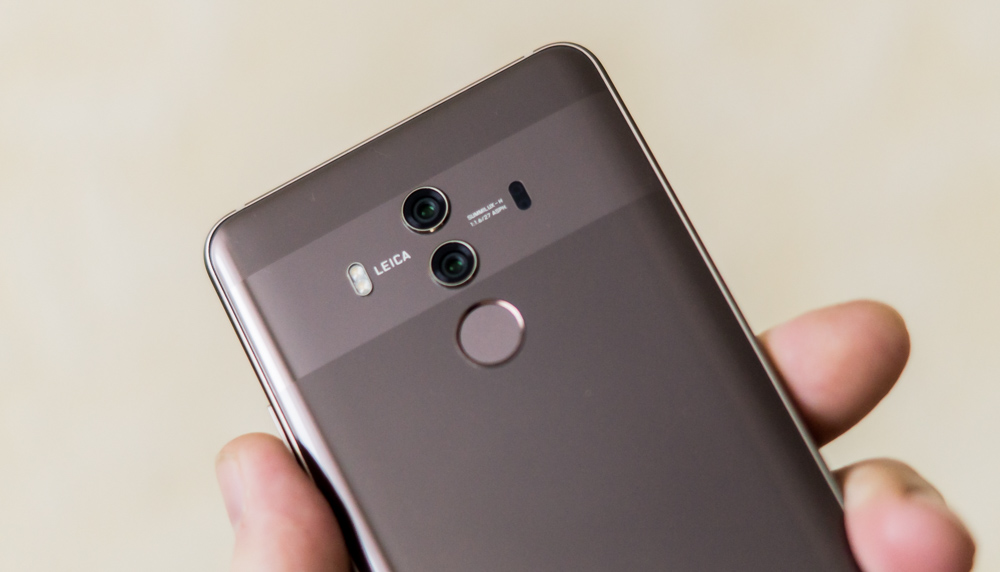 The build quality is excellent. The phone is also IP67 dust- and water-resistant.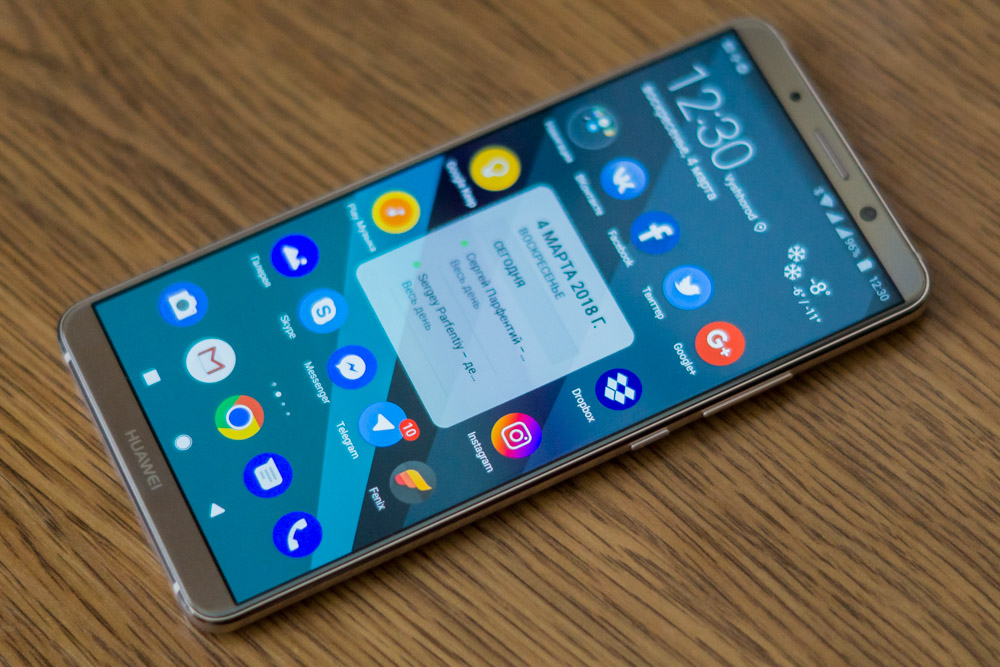 Elements' configuration
The screen occupies almost 81% of the area of the front panel. It is covered with a protective Corning Gorilla Glass (the version is not disclosed). The glass is slightly rounded around the perimeter (2.5D effect). Above and below the screen there are small symmetrical fields, approximately 7 mm. On top is a speaker, a front camera, light and proximity sensors and a multi-color LED indicator. Huawei logo is located below.
The smartphone has a metal frame with 4 dielectric inserts for wireless communication modules.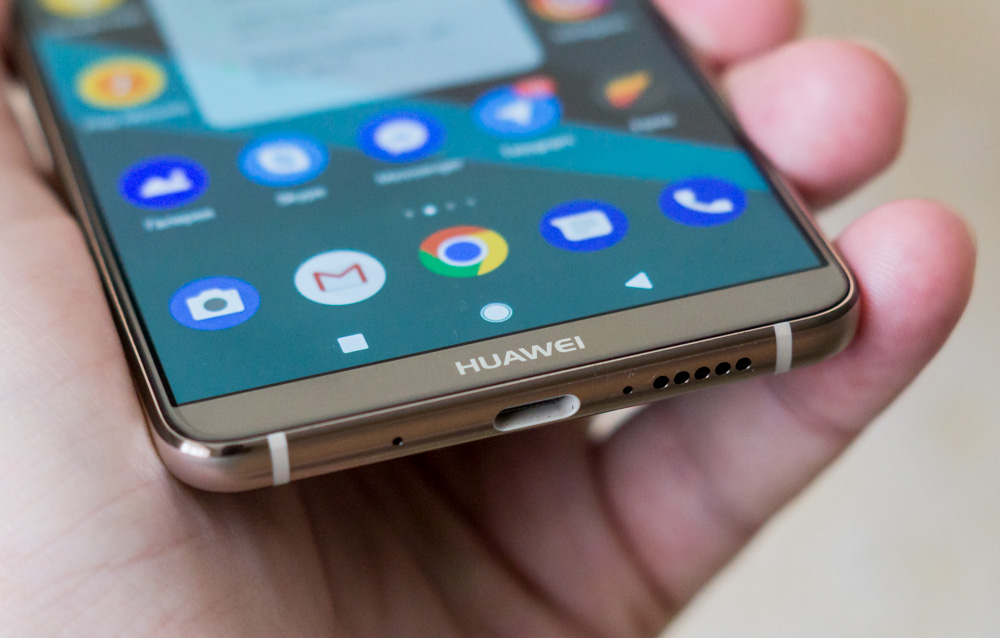 On the right side there's a smooth volume key and a knurled power button. On the left there's a slot for 2 sim cards (nano) with a rubber seal at the base. SD cards aren't supported. On the bottom there is a USB Type-C port, two microphones (one for speech and one for recording audio in video) and a speaker. On the upper edge is an infrared port and a third microphone.
On the back there is a double module of the main camera; each eye slightly protrudes above the lid and is framed by a metal ring. To the left is a double LED flash, to the right – a laser focus unit and characteristics of the LEICA SUMMILUX-H1: 1.6/27 ASPH optics. Below is a round fingerprint scanner in a small recess. At the very bottom is another Huawei logo and service markings.
Ergonomics
As for ergonomics, there's nothing unusual for a 5.5-inch smartphone. Although, it's important to take into account the screen size – 5.9 inches. Compare the sizes of Mate 10 Pro and Huawei P10 Plus: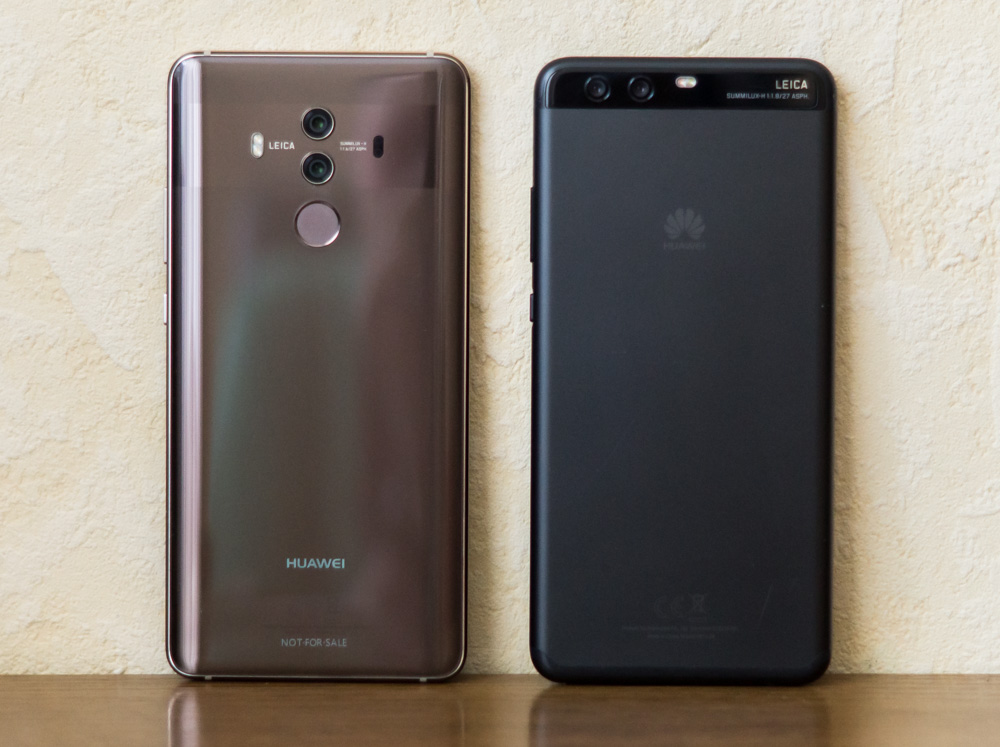 Huawei Mate 10 Pro is very nice to the touch, but very, very slippery. Probably that's why the manufacturer added the protective cover to the box. I didn't get one, though, and had to endure the life without it. Every time I was with someone on the phone, I felt the device slipping from my hand. Still, not once during these three weeks did I drop it.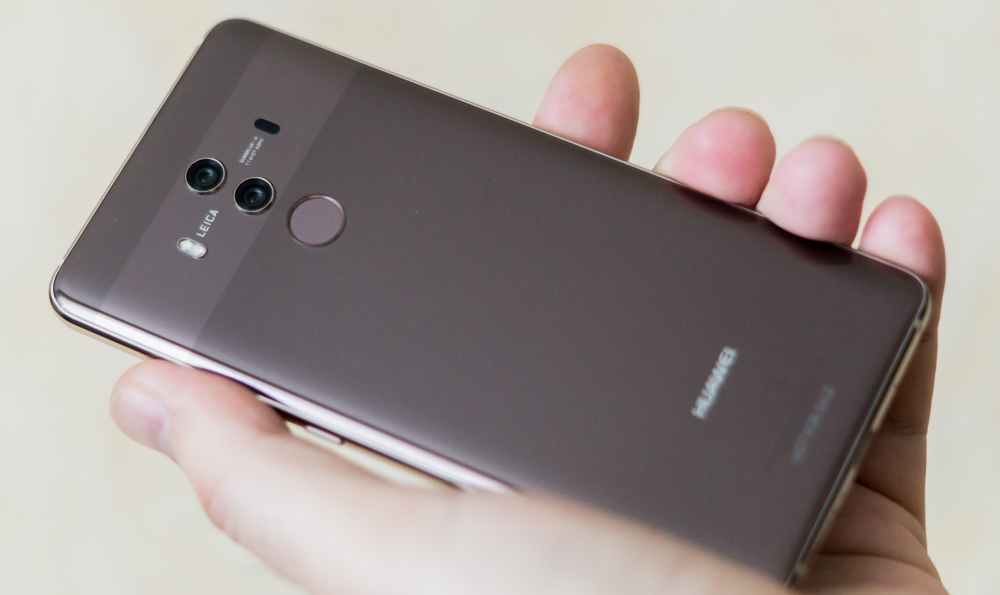 All hard buttons are in their usual (how Huawei) places. They are comfortable to use no matter how you are holding your device.
Screen
Prepare for a wall of text: screen is the most important part of any smartphone, and Huawei Mate 10 Pro deserves to be described in full.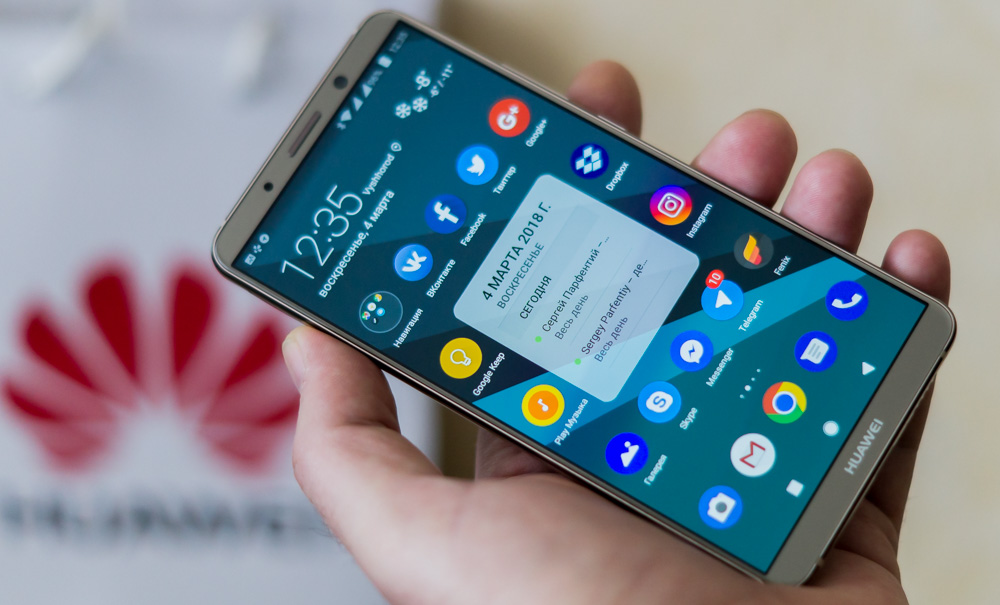 Huawei Mate 10 Pro has a trendy AMOLED display, which was recently "redeemed" by the latest iPhones.
Still, I never care about trends – only about the facts. Simply imagine a great AMOLED display. That's what Huawei Mate 10 Pro has. Just a great display. I won't speculate whether it's better or worse than Samsung's or Apple's. Let's be real: all modern flagships have fantastic displays.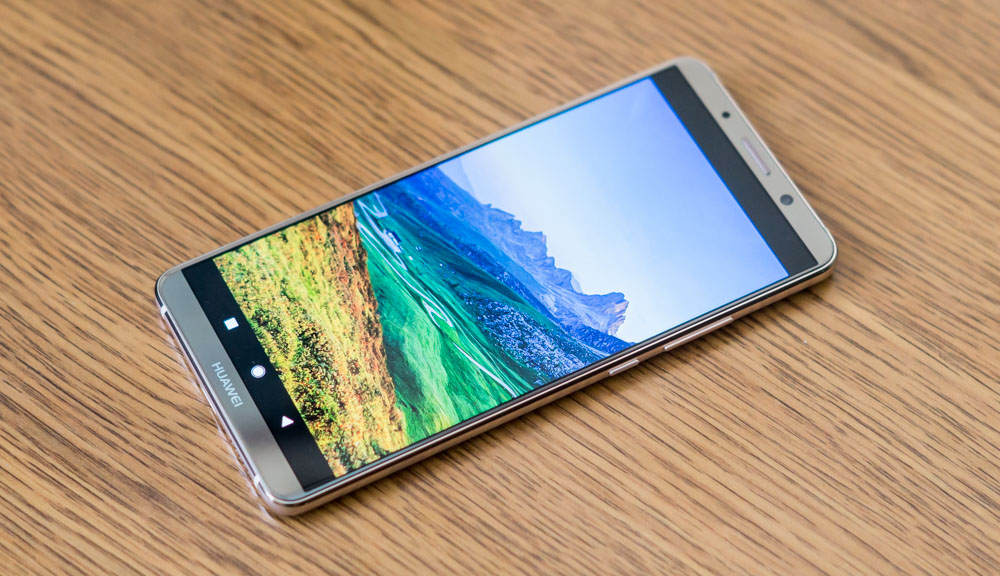 And yet… in one hand I hold Huawei Mate 10 Pro, and in the other – P10 Plus. And I like the IPS screen better (let's not forget that its density is 35% higher). IPS is just more pleasing to the eye. But that's me – it is a matter of taste. If you don't really care about the matrix, Huawei Mate 10 Pro won't disappoint. Objectively, it's great – just look at the specs.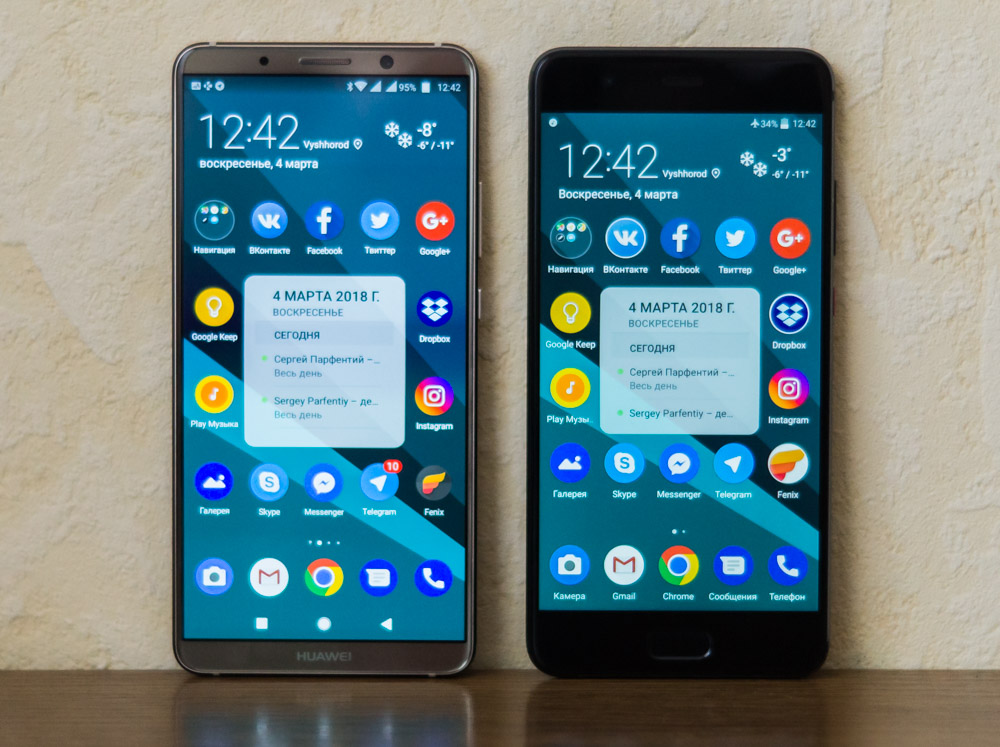 If you want to be technical, we have AMOLED matrix with an aspect ratio of 18: 9 and a resolution of 1080×2160 pixels, a density of 402 ppi and support for a wide dynamic range of HDR10.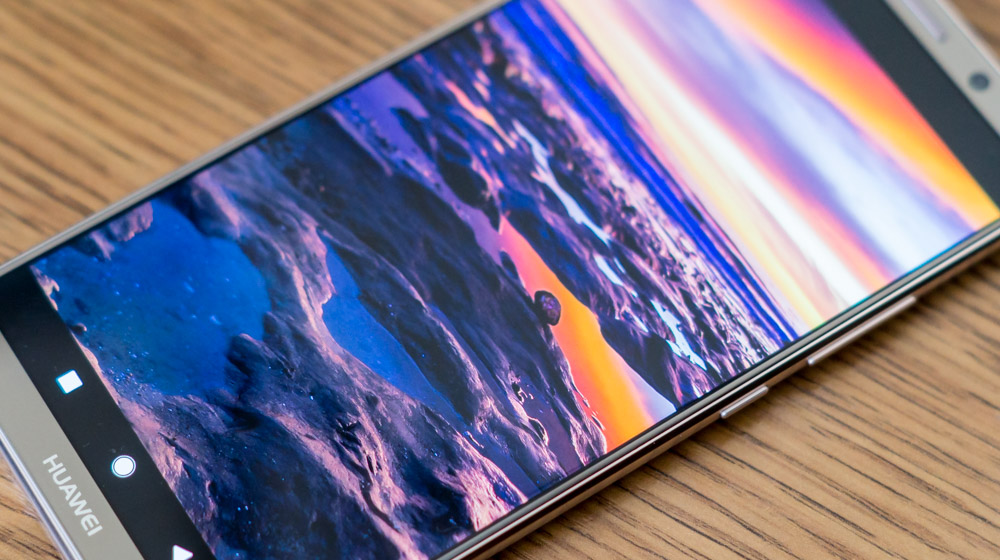 And it's great for everyday use. The brightness is just right so you can use it in any situation. The automatic brightness works flawlessly and can be adjusted however you want. The colors are also very natural and even warmer than in P10 Plus.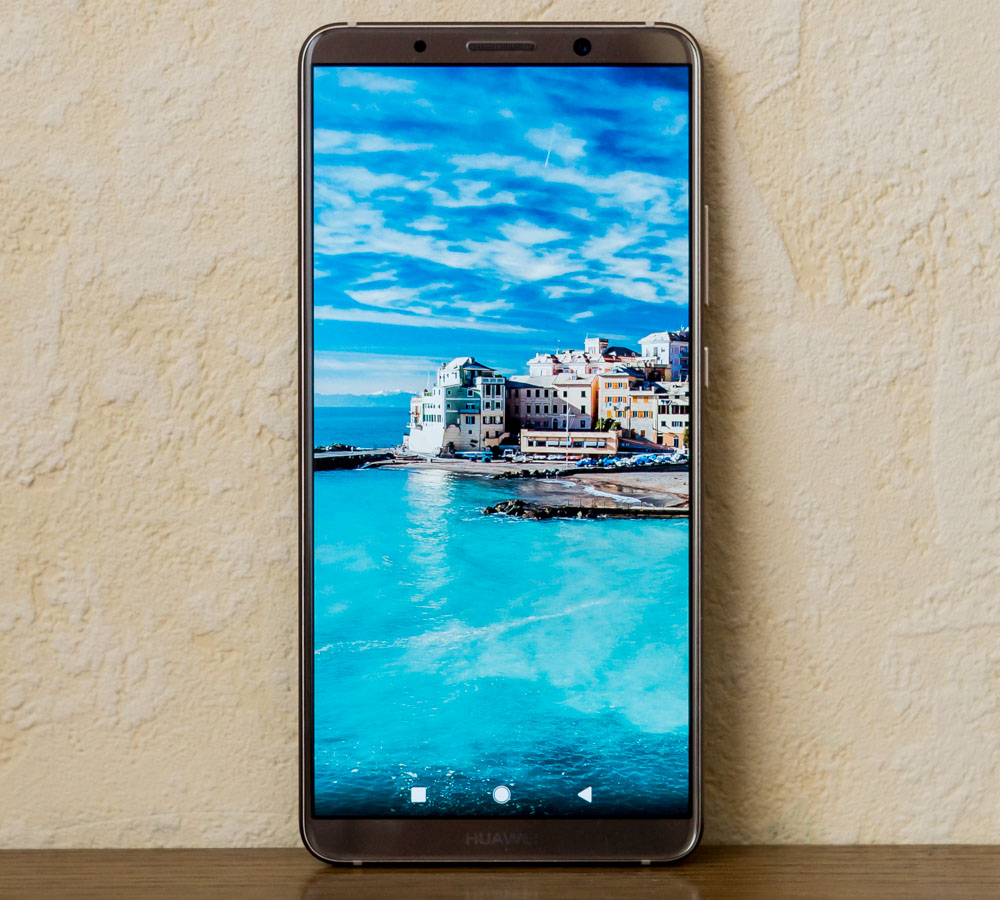 In the settings you can choose between "normal" and "bright" colors. The bright is the default setting, while "normal" colors are dimmer and warmer.
There is a night mode, which lessens the intensity of blues. The oleophobic coating is very nice – the finger slides perfectly and the dirt wipes off easily.
The view angles are excellent, but sometimes white color becomes a bit green or blue depending on the angle. Still, nothing unusual for OLED screens. It was worse before.
I'd advice to choose the dark theme which will help with the battery. That's another one of my gripes with AMOLED – I got tired of black Samsung screens a long time ago. Personally, I changed nothing and used the while theme, which didn't seem to matter in terms of battery. More on that later.
Features and performance
The Huawei Mate 10 Pro is equipped with the latest 8-core Kirin 970 processor (4 × 2.4 GHz Cortex-A73 and 4×1.8 GHz Cortex-A53) and the Mali-G72 MP12 graphics accelerator.
The smartphone is lightning fast, just like Huawei P10 Plus. Trust me, you won't really see the difference. That's another proof that right now Android just doesn't need any more power. Only benchmarks will tell the difference.
Multitasking is fantastic, but I expected nothing else. 6 GB of RAM is no joke. The games also work great thanks to the top graphical accelerator. My sample has 128 GB of storage – there's also a 4/64 GB model. Mate 10 pro does not support SD cards.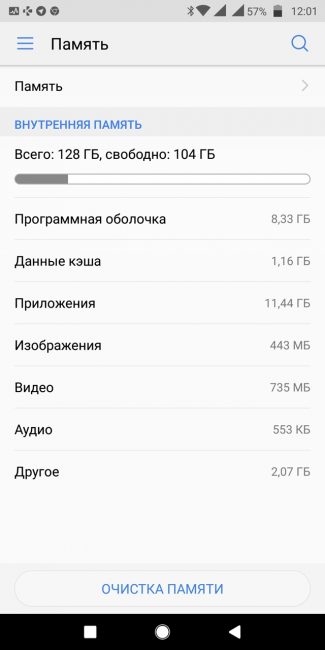 NPU
One of the key features of the smartphone is a dedicated Neuro-network Processing Unit (NPU). Huawei Mate 10 and 10 Pro are the world's first smartphones with this module. What this means is that the device supports artificial intelligence and machine learning. It sounds futuristic, but is it of any use to us?
To be honest – not really. The phone "understands" what it sees when you're using the camera. It's supposed to help it determine the optimal settings for the best quality.
NPU is also essential for the Translator app, which works as a virtual interpreter. You can "speak" with a foreigner in real time, but both parties must have the same app.
Machine learning can be used to optimize the smartphone and accelerate the shell. It is its best feature right now. The system monitors your habits and determines the priority applications that you use the most to ensure accelerated launch. In addition, based on the accumulated information, you are periodically encouraged to optimize the performance of the device via the built-in "Phone Manager" utility.
NPU really is for the future. Since API is open source, the other developers will create something unique. Thus, Huawei Mate 10 Pro is, in fact, ready for a variety of solutions that the neuroprocessor will use. For example, to demonstrate the capabilities of the smartphone, it was taught how to drive.
In short, NPU does impress. The tech that the phone uses is very futuristic – we just have to wait for the developers. The introduction of neural networks and machine learning to smartphones is still a completely new trend, which began in late 2017. Huawei Mate 10 Pro can be a real opportunity to test the latest technology before anyone else.
Fingerprint scanner
Typical Huawei scanner is very fast, and works impeccably. In addition to unlocking the smartphone, you can authorize applications with encrypted data – photos, audio, video and other files.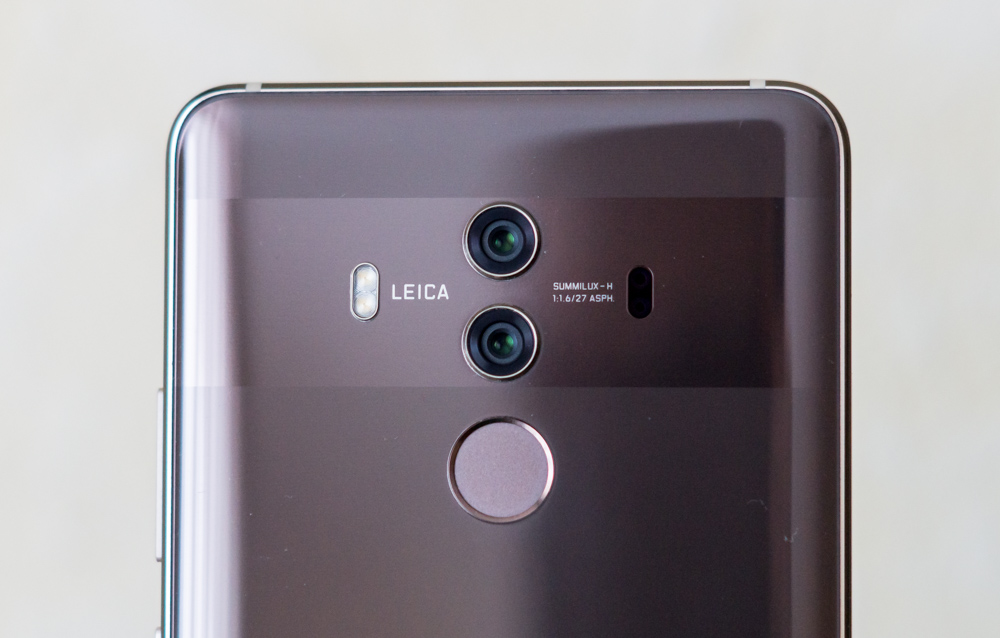 Also, you can perform various actions with the scanner – touching and holding allows to take pictures, answer calls, and turn off the alarm. Gesture down, and lower the curtain and flip the photo in the gallery.
Cameras
Mate 10 Pro's camera is the result of continued cooperation between Huawei and Leica. After P10 Plus, it seemed that there was virtually nothing left to improve, but the manufacturer found the way. On paper, nothing really changed, but the wide diaphragm makes even more detailed photos in conditions with bad lighting. Another difference is artificial intelligence support for determining the scene; a handy feature for inexperienced photographers.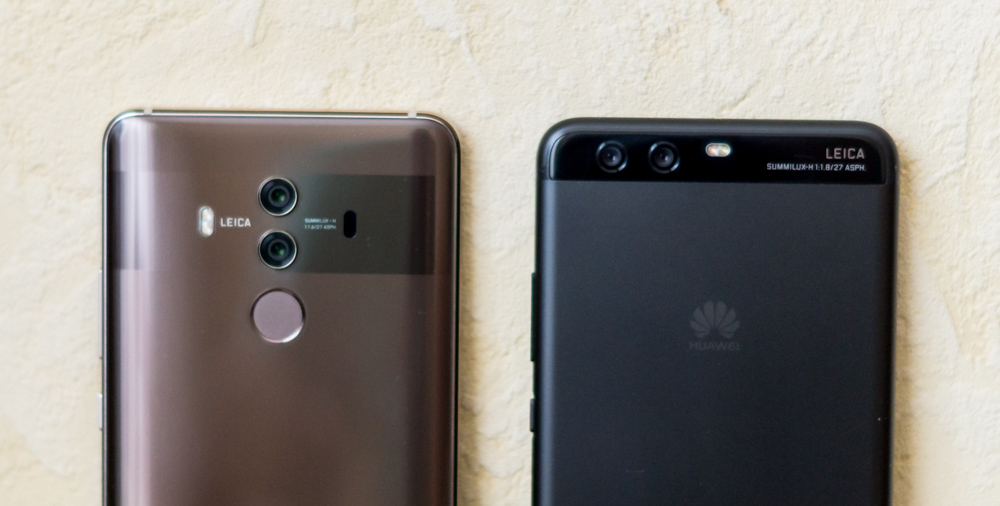 Mate 10 Pro has a dual module of the main camera. The first module is 20 megapixels (f/1.6, 27 mm), black and white as usual, and the second is 12 megapixels (f/1.6, 27 mm), RGB. There's a twofold optical zoom without loss of image quality, optical stabilization, Leica Summilux-H optics, hybrid phase and laser autofocus.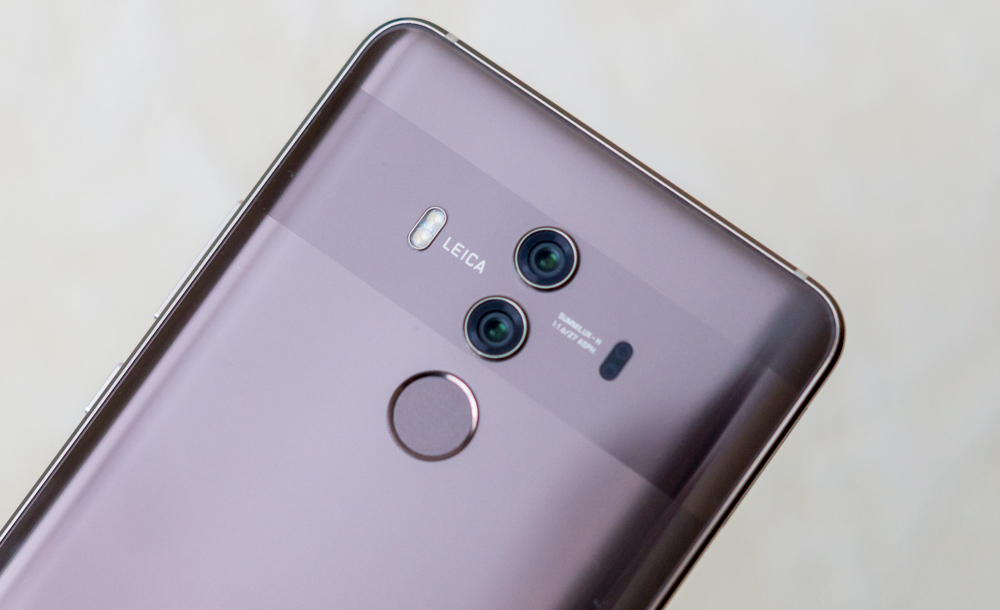 Photos come out great almost every time. In dim light there are some losses in terms of details, but there's almost no noticeable noise. Great camera.
PHOTOS AND VIDEO IN FULL DEFINITION
PHOTOS AND VIDEO IN FULL DEFINITION
As for camera software, almost nothing changed in comparison with phone's predecessors. When taking picture, you can activate the wide aperture mode to get blurry background effect. There is a portrait mode, a "live photo" function for shooting short videos, art filters and masks. There is a possibility of snapping a pic when a smile is detected and there's a tracking autofocus for moving objects.
The professional mode is still there: the basic parameters of the photo can be adjusted manually, and you still can save in RAW format. The camera as a whole works very well – it is very fast.
The smartphone can take 4K videos, and the quality is excellent. There is optical and electronic stabilization, but it only works when shooting in 1080p 30 fps. When switching to 60 fps or 4K, this function becomes greyed out.
There's only one selfie camera, unlike in Huawei Mate 10 Lite, but that can be explained by the more "serious" approach. There's your typical portrait mode, background blur and face enhancement effects. The quality is okay.
Battery life
When it comes to battery life, Huawei Mate 10 Pro has no rivals. It is the only flagship with 4000 mAh battery. But it's great not only in terms of quantity, but also in quality: the phone has very good optimization of energy consumption.
With my tests (2 active SIM cards, synchronization of all accounts, synched smart-watch, messengers, email, social networks, browser and online video viewing), the smartphone lasted for 2 days – it's about 6-7 hours of active screen time, a couple of hours of music in Bluetooth headphones and an hour of conversations. If you use the smartphone continuously, it will work for 12 hours or more in usual tasks (without games and camera).
Even if you play for a couple of hours and take pictures and shoot video, Mate 10 Pro is likely to last for the whole day, or even longer.
I was also glad to see the super-fast charging, especially given the record capacity of the battery. Below are the timings for charging from 10%.
00:00 – 10%
00:20 – 49%
00:30 – 65%
00:60 – 91%
01:10 – 95%
01:20 – 98%
01:30 – 100%
In general, I did not bother with energy saving modes at all. Still, there are lots of things you can do to make it last even longer; for example, switching to a dark color scheme of the interface will help. You can also reduce the screen resolution, limit background applications, activate maximum energy saving mode and so on.
Sound
This is where I was disappointed, as Huawei Mate 10 Pro does not have a 3.5 mm audio jack. Therefore, I was not able to fully test the sound of the smartphone with normal headphones. There was no USB-C adapter with the sample, and I myself don't have one. I listened to music with inexpensive Bluetooth AWEI A980bl headset. It's okay, but not amazing. I was frustrated, as the smartphone has so much to boast about in this regard: the sound chip supports playback of audio stream with improved sampling parameters of 32-bit / 384kHz (24-bit / 192kHz in Huawei P10 and P10 Plus).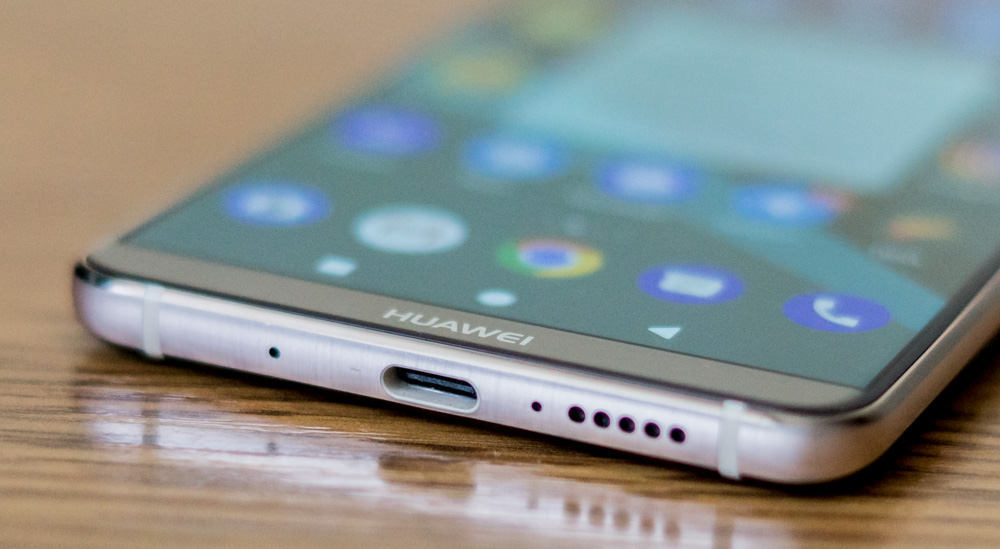 The smartphone supports stereo audio output via the built-in speakers. P10 Plus has this feature as well. Unfortunately, the sound quality of Mate 10 Pro is slightly worse. Apparently, because of water resistance the smartphone sounds a little quieter and the frequency range is clearly smaller. In P10 Plus, the speakers are louder and juicier. But in general the sound quality is okay, for a smartphone.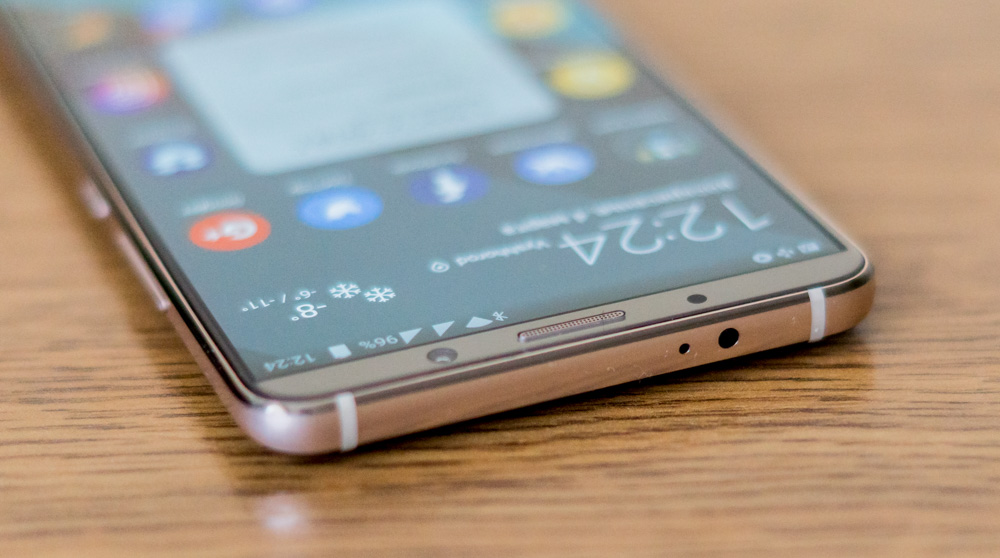 During phone calls the sound is once again okay, but not great. Water resistance strikes again! In that regard the device is obviously worse than P10 Plus. But during calls it's not that obvious.
Communications
Everything is fine here. The smartphone never loses the signal. The device has Wi-Fi 802.11 a/b/g/n/ac dual-band 2.4 and 5 GHz; Bluetooth version 4.2, with support for A2DP profiles, aptX HD codec, and energy-saving LE standard. Of course, there is NFC for contactless payment. The geolocation module supports GPS, GLONASS and BDS networks. Fast start, precise positioning.
Also, as usual, the Mate 10 Pro has an infrared port for consumer electronics. There is a proprietary application for creating remote controls for any electronics with an infrared port.
Firmware and software
Mate 10 Pro is the first Huawei smartphone with Android 8 Oreo and EMUI 8 shell right out of the box. For convenience, EMUI now also has the number 8 in its title – just like Android itself.
In general, EMUI 8 differs little visually from EMUI 5. The main differences are in functionality. You can separate the screen into 2 parts for simultaneous use of several applications. Also there are smart pop-up notifications that allow to perform actions without quitting the current application. There's also a new floating control button that can be placed anywhere on the screen for gesture control. You can call up a list of quick actions with a long hold on the application shortcut. Don't forget the round markers that indicate unread messages.
EMUI 8 allows connecting the phone to a monitor or a TV without any docking stations using a conventional type-C / HDMI cable (D-Sub or DisplayPort). Huawei Mate 10 Pro fully supports this functionality.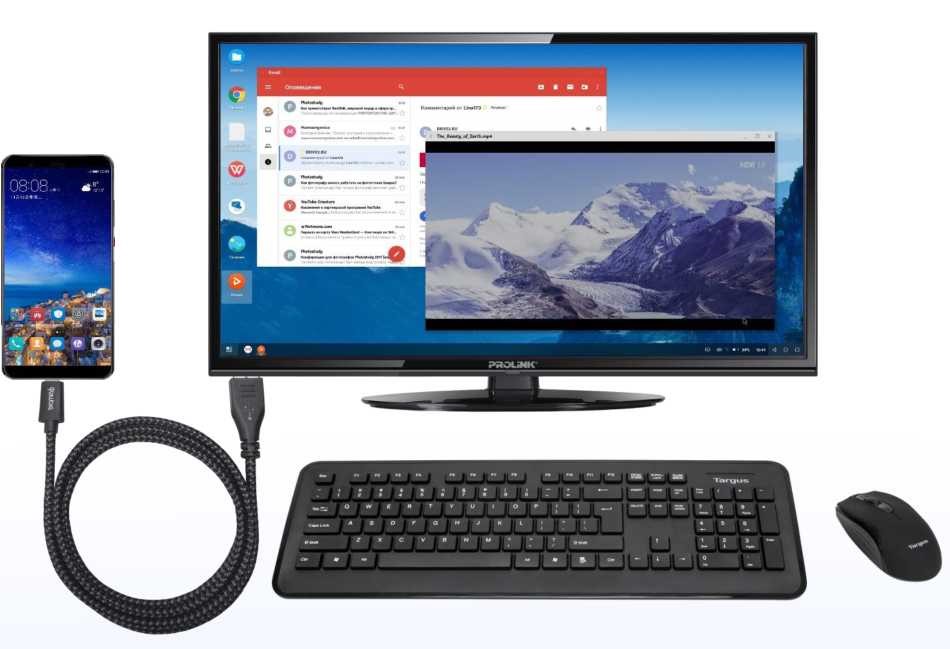 The smartphone screen can be used as both a keyboard and a mouse. And you can also connect an external Bluetooth keyboard and mouse and use the applications on the big screen. In this mode, the monitor displays a special interface, similar to Windows – with the Start button and the status bar with the notification panel.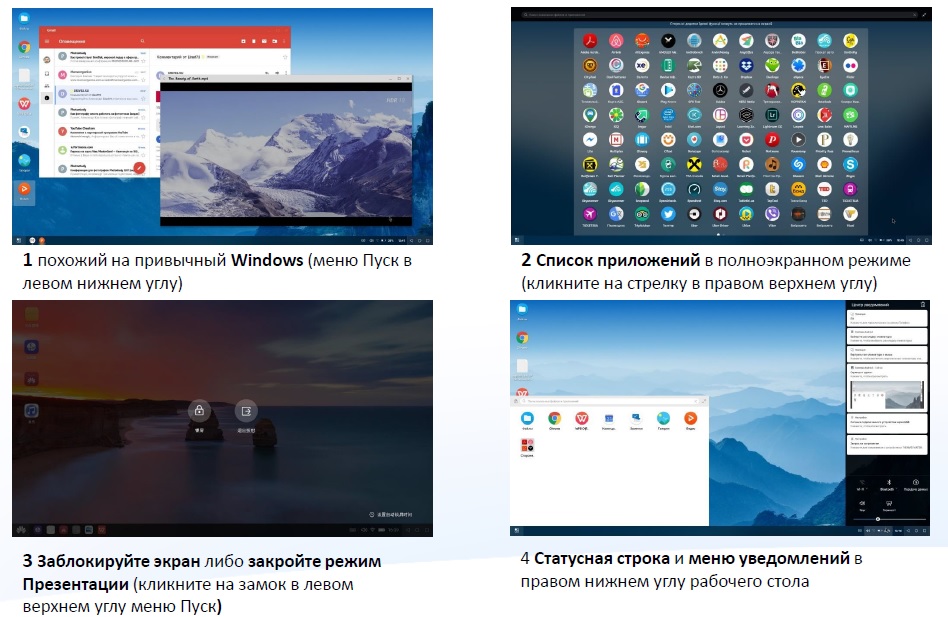 In general, EMUI is one of the most convenient and functional shells. It has everything! Long screenshots, screen recording, control with one hand, flip actions, anti-spam and blacklist, antivirus, fine-tuning of application activity and optimizing the performance of the firmware. Most of the built-in functions and applications are useful, and unnecessary programs can be easily removed.
The main EMUI feature for me is customization with different themes. What you see on the screenshots below is "clean" Android style. In general, there are many themes, both in the official, and third-party stores (for example, I use EMUI Themes Factory for Huawei). Themes can be used as a whole, or combined with each other. I sincerely do not understand those users who complain about the "Chinese" shell design. These people obviously don't know what they are talking about.
Final thoughts
What else can I say: Huawei Mate 10 Pro is the ultimate flagship with the latest and best tech available today.
As of right now, the phone can't fully realize its potential when it comes to the neuroprocessor, but that will change very soon, with the help of third-party developers. Competitor chips from Qualcomm are already on thу market. This is the new big battle.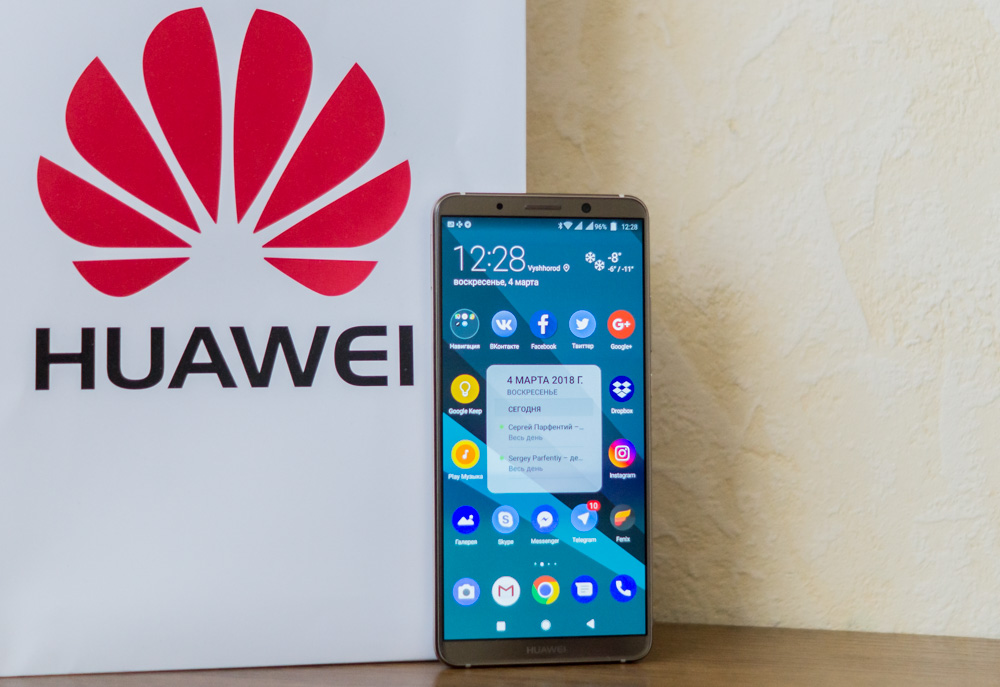 The device has everything you might want from a high-end smartphone: great looks, perfect build quality, good screen, powerful hardware, amazing camera and water resistance. Even the battery life is exceptional. Let's not forget about other features, like the ability to connect to a big screen.
There are some cons, and most of them are forgivable: the lack of 3,5 audio jack, the worse speakers (due to moisture protection), the lack of SD card support (but who needs those with 128 GB, or even 64 GB?) and the slippery body. And, well, the price… I'd like it to be cheaper, but understand that that it not possible. Overall – good job Huawei, carry on.