They say that Motorola has changed for the worse after the acquisition by Lenovo. They say that it's "typical China" or that Motorola has lost their identity or that "hardware is not the same". Overall, it's bad. But is it? Let's try and find out. Today we take a look at Motorola Moto G5 Plus – a new middle-budget smartphone from Motorola by Lenovo. We'll see if the haters were right or wrong.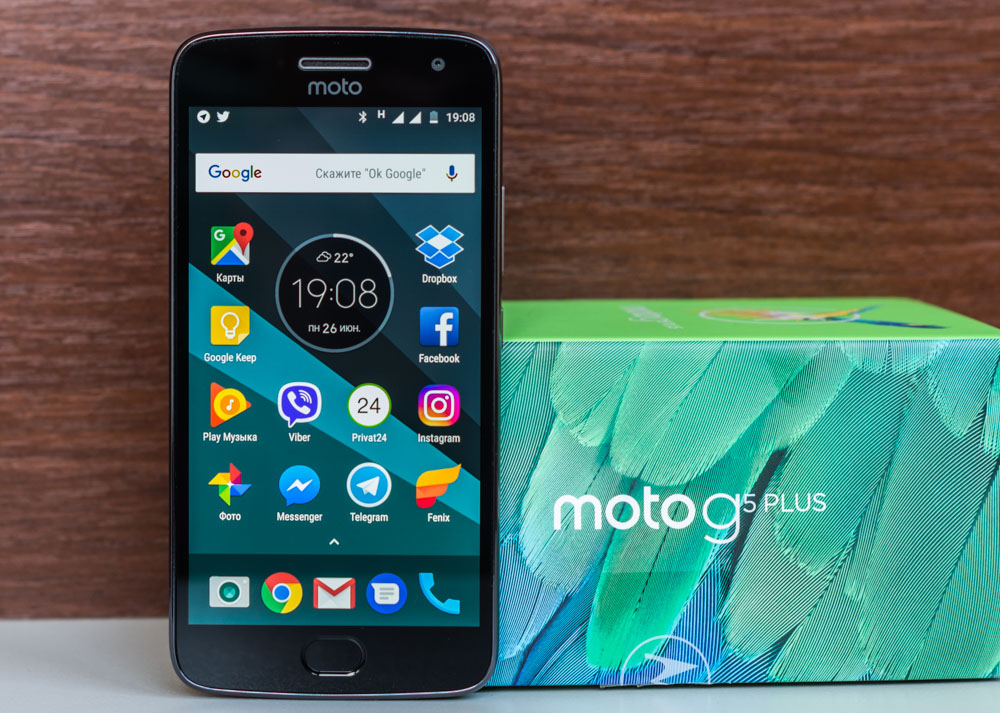 Moto G5 Plus packaging
Modesty is the best policy, says Motorola. The phone is located in a small green box, with little to no accessories.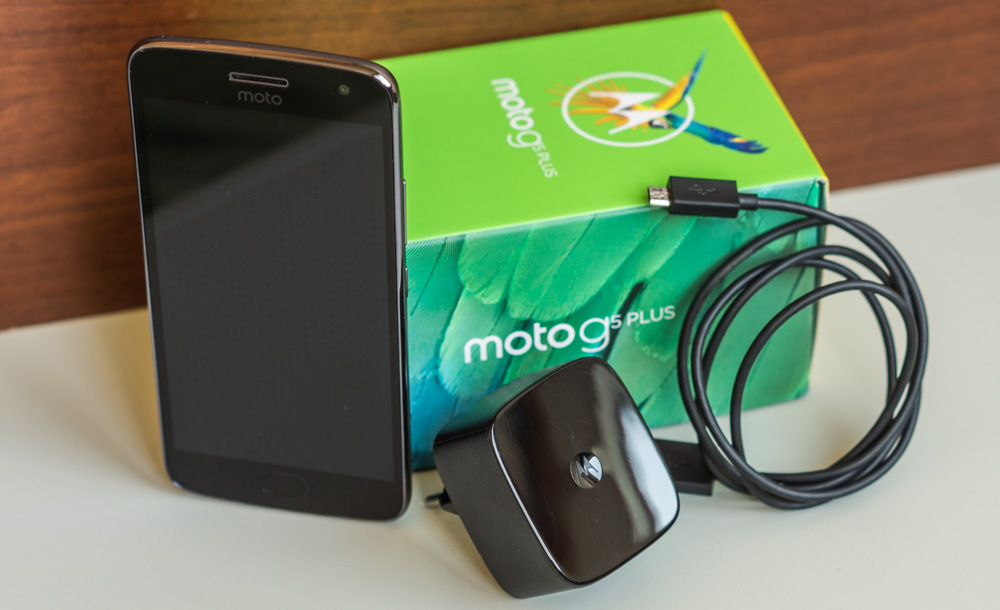 Inside we have a Turbo Power charger, USB/microUSB cable, a clip forSIM/microSD and some papers.
Does this all look like a typical Chinese package? Where's the case, two screen protectors and other free stuff? I see nothing of the sort. Checkmate, haters!
Motorola Moto G5 Plus design
When I imagine Motorola Moto G5 Plus's designers, I see a team of voluntary prisoners, living on an uninhabited island where they had been transported after the company's acquisition. They have a great live, they drink cocktails on a beach and think of exciting new designs, while completely isolated from the rest of the world. And they don't give a damn about what other manufacturers are doing. Compact sizes, bezel-less screens, 2.5D glass? What's all this nonsense?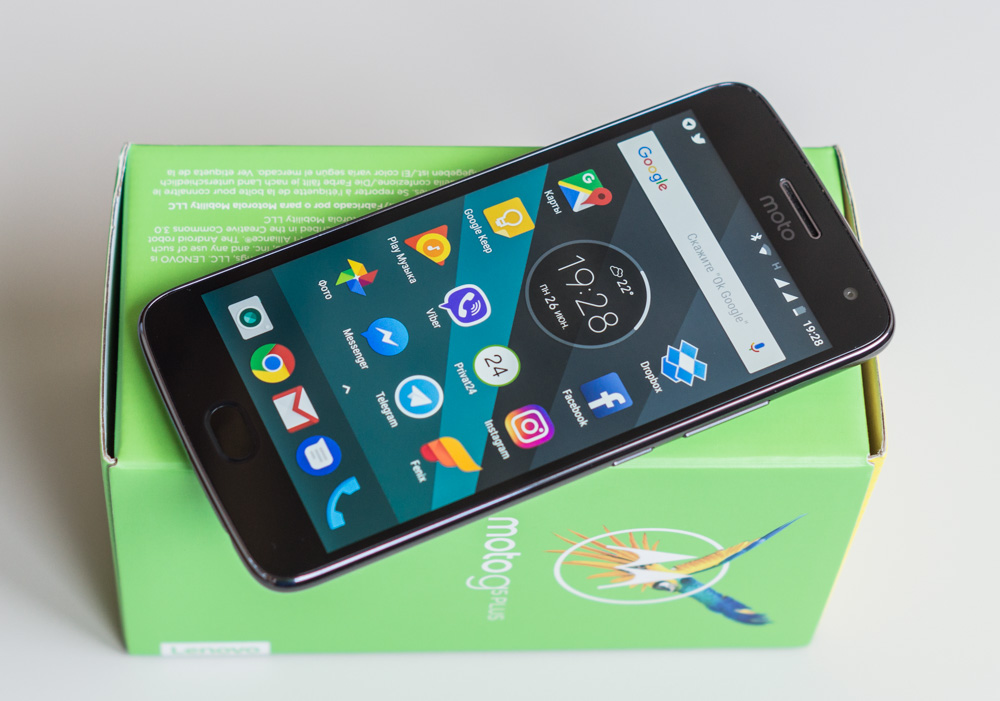 Every year they get their tasks and parameters, and they create… whatever they want. I give them the medal "for heroic fighting against modern trends of the mobile industry"!
And damn me for liking those prisoners I created in my imagination. Even with big bezels, a huge "forehead" and "chin", and bigger sizes (Moto G5 Plus with 5,2" screen is bigger in height compared to Moto X Play with its 5,5" display).
Moto G5 Plus and all other modern Motorola phones have something specific about them, something original. Things that make them recognizable. Most phones look like iPhone, but not Moto – they have their own style. The style is characterized by curved lower and upper sides and a round camera block.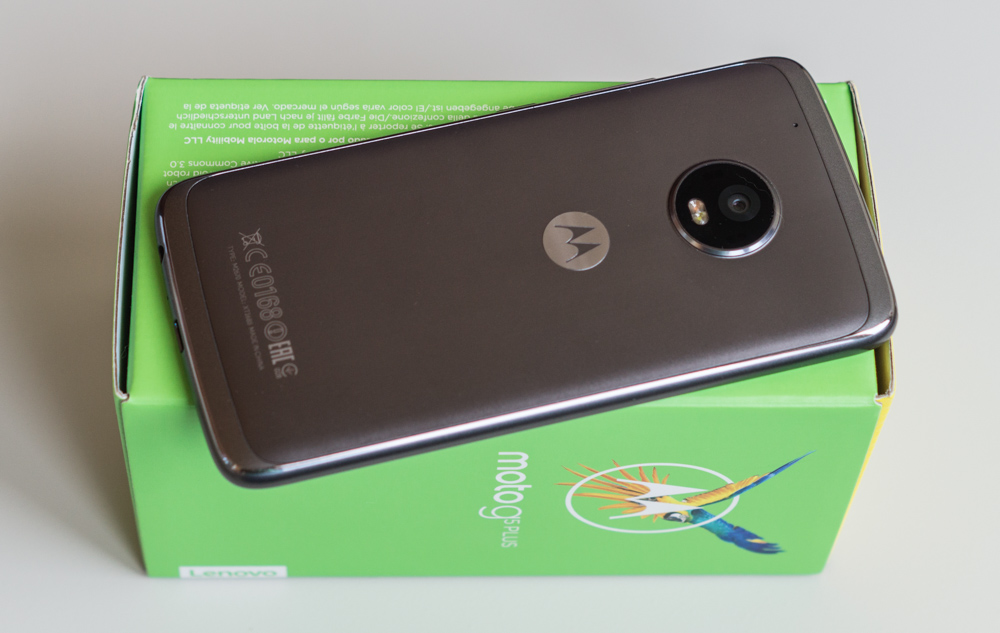 Let me say it again – I like how it looks. I can't even say why, I just do. No reasons. I'll be honest: at first the smartphone looked a bit silly to me. I didn't like it at the official presentation. But after some time with it I've grown to love Moto G5 Plus on unconscious level. Not only Apple has that kind of magic!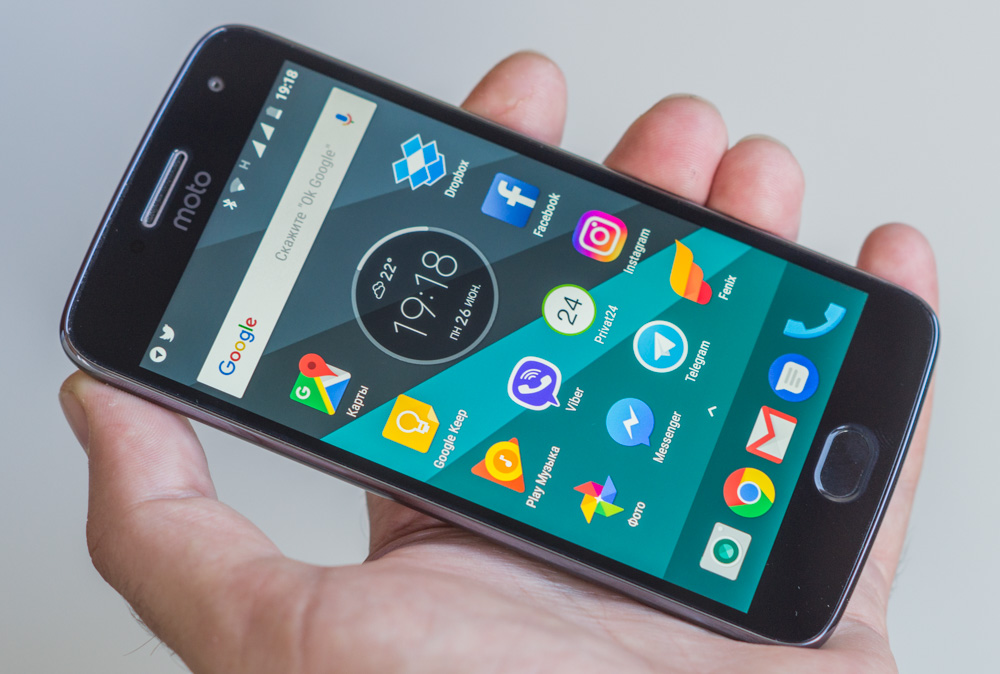 Right now I could spit in the face (virtually, of course, I'm a well-mannered person) of the whole Internet for bashing "the obviously Chinese face" of Motorola. I have nothing against the Chinese – I respect many of them. But right now I don't even need a genetic analysis to say that Moto G5 Plus has nothing in common with other smartphones from the Celestial Empire. You have to be blind to say otherwise. I'm sorry if I offended any blind persons (I hope they don't read us), but the difference between the phones is noticeable even by touch!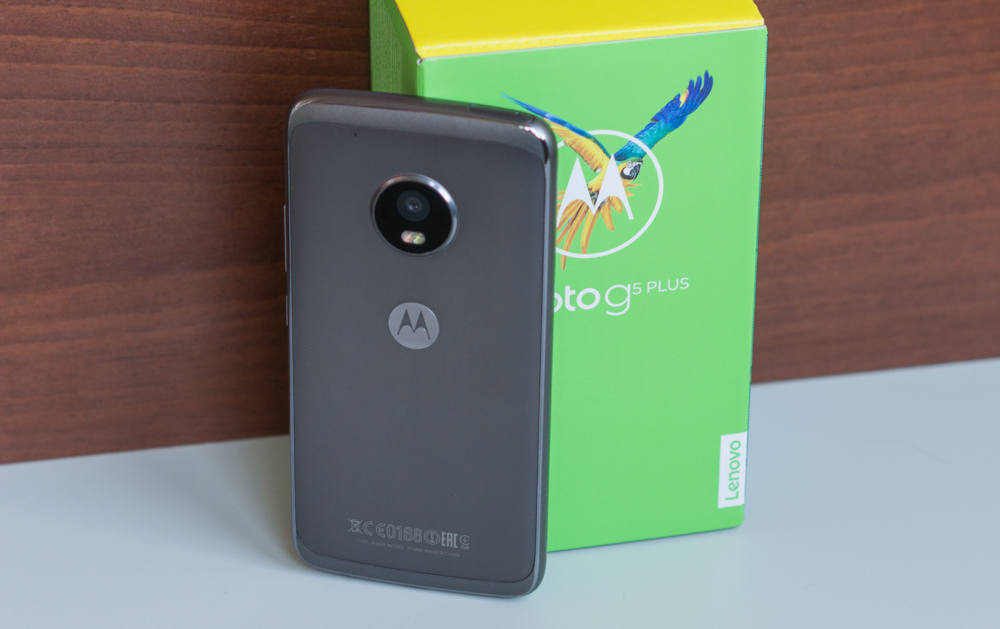 Materials and quality of assembly
The official site proudly says: "One of the first new Moto G phones made from high-grade aluminum, it looks as great as it performs." The official presentation also mentioned metallic body (let's take notice that the picture shows the inferior model without the "Plus", so they even managed to screw up the pictures).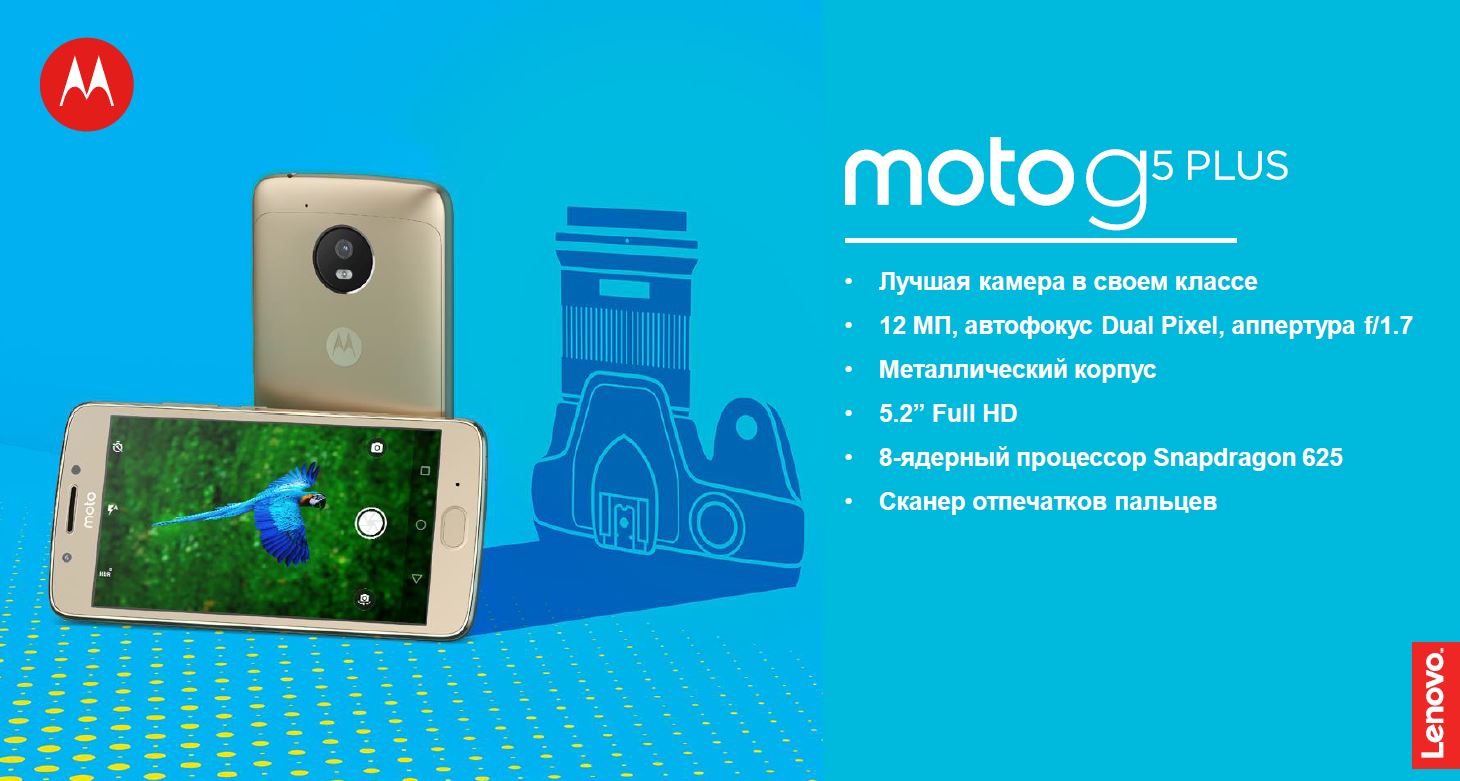 When I got to the phone, it turned out that only the back non-detachable panel is made of metal. The body overall is plastic – a good kind, but still! If you want proof, just look for detailed videos. The body is 100% plastic.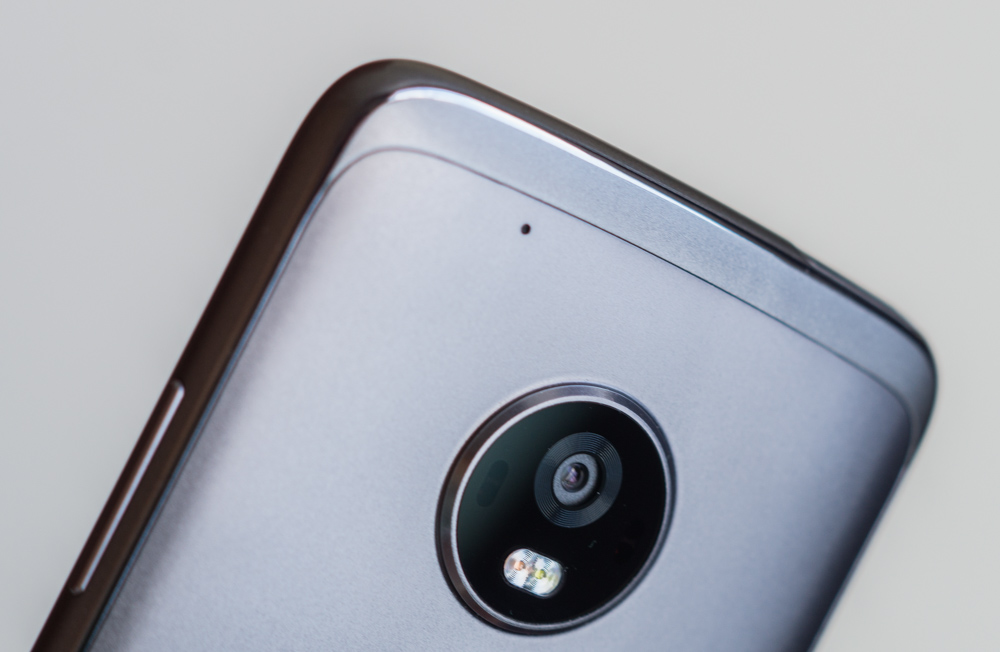 Personally, I don't care. Yeah, the marketing team botched the message, and metallic panel turned into metallic body, but otherwise the build quality is solid. Everything is tight, there are no cracks or creaks. The buttons are a little loose, though. And those are made of metal, by the way!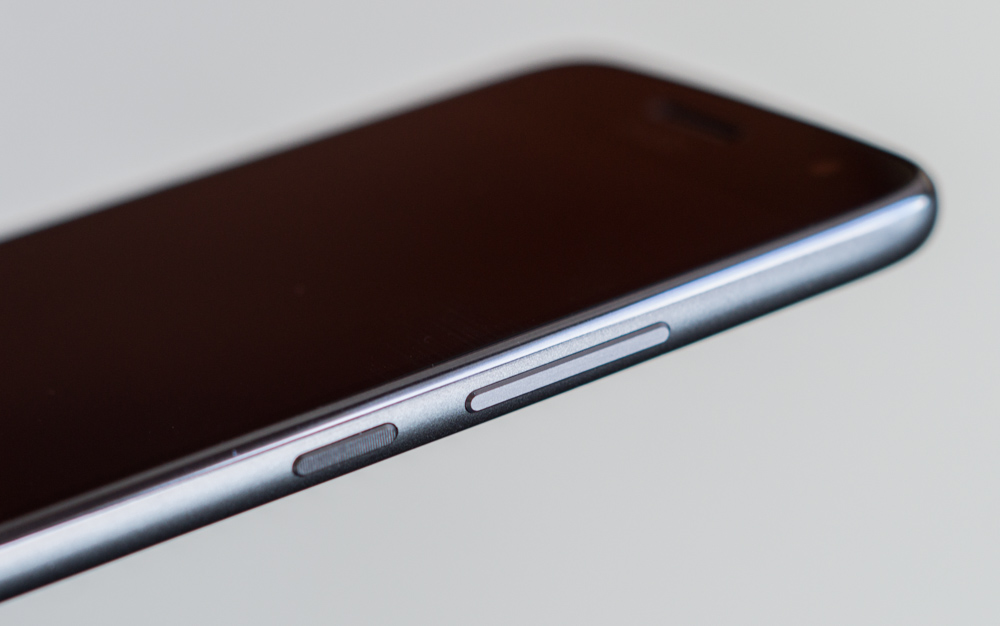 That's it. Although no, there's one little thing: the invisible component – a water-resistant nano-coating that covers the whole phone. This primitive (or high-tech, you choose) tech protects the phone from water. I wouldn't advice submerging the phone into water, but rain and splashes shouldn't damage it.
Elements' arrangement and ergonomics
The front is (obviously) covered by the 5,2-inch screen. The bezels are massive – the screen takes 67% of the whole front, while record number is about 72-75%. The display is covered by Corning Gorilla Glass 3.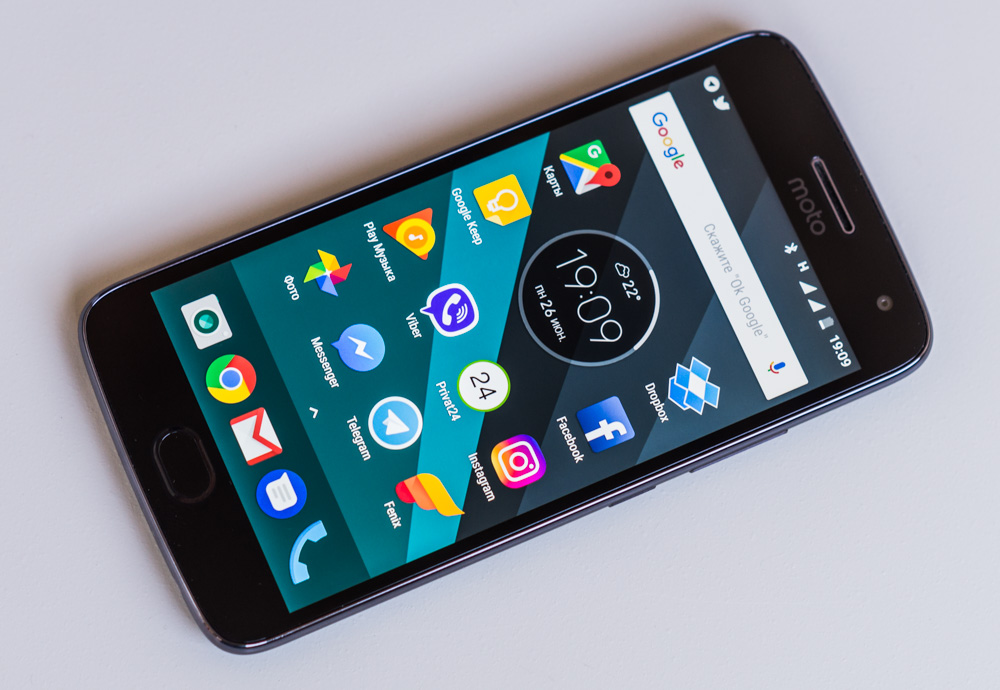 Under the screen we see a recessed fingerprint scanner with gesture control. The same thing can be found in Huawei P10 and P10 Plus. Moto G5 Plus offers a simpler implementation of the technology: the screen has an oval cut, inside of which the sensor is located. Huawei has a recession in the glass, and the scanner is a part of it.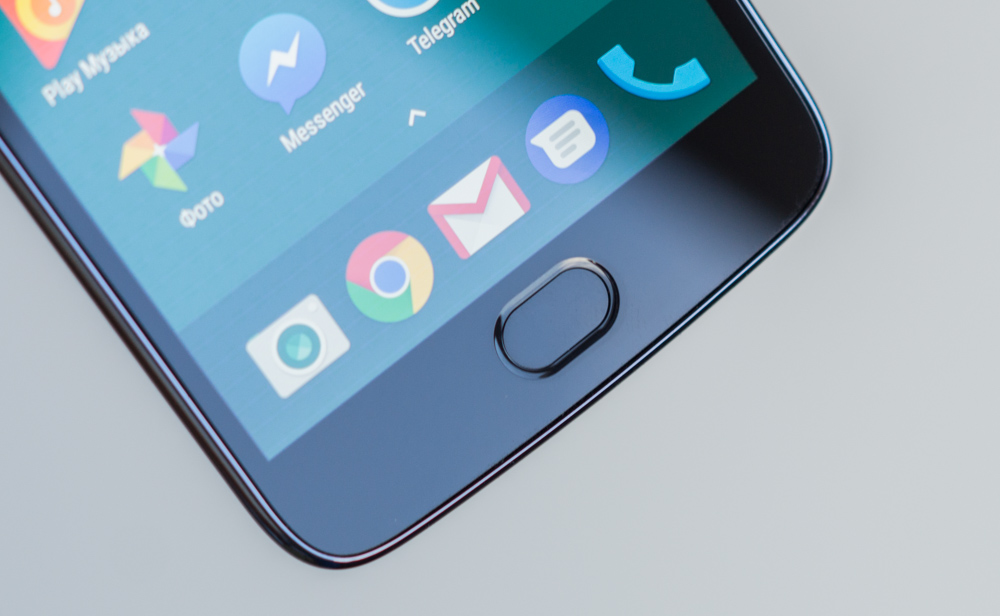 Above the display there's a speaker, encased in metallic frame; a frontal camera and various sensors. There's no LED indicator, which is a shame.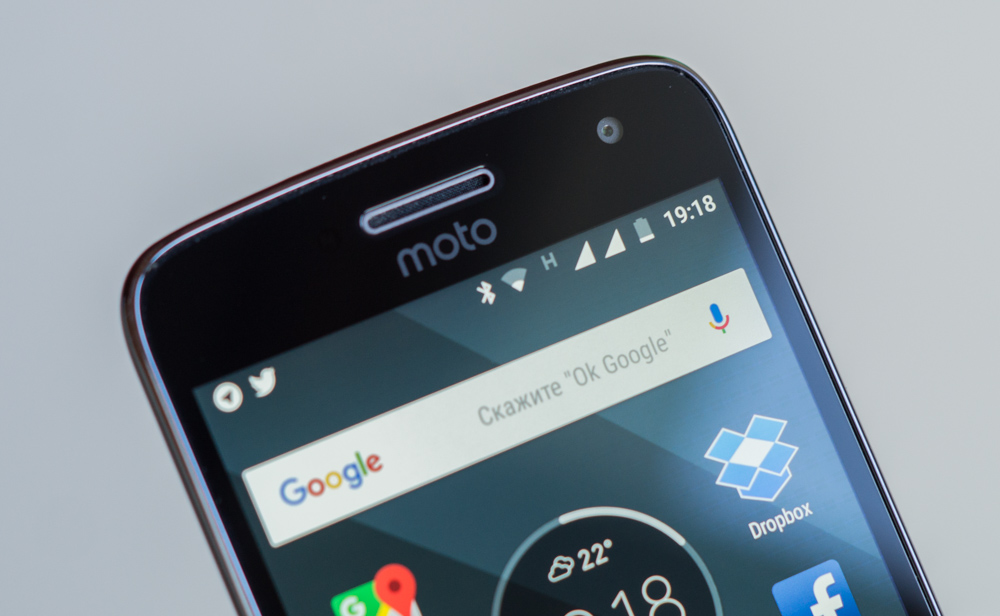 On the right side there's a power button and a smooth volume button. As I mentioned, all made of metal. The left side is empty. Below is a microUSB port, a mic, 3,5 audio jack (nice to see it in the right place). Above is a plastic tray for 2 nanoSIM and microSD card. And no trendy hybridism! Take that, Moto by Lenovo haters! These are two SIM slots and a microSD slot, and that almost never happens in Chinese phones.
Screen
The smartphone has a typical middle-budget IPS 5,2 1080×1920 screen with 424 ppi. Nothing fancy, but that's not a bad thing.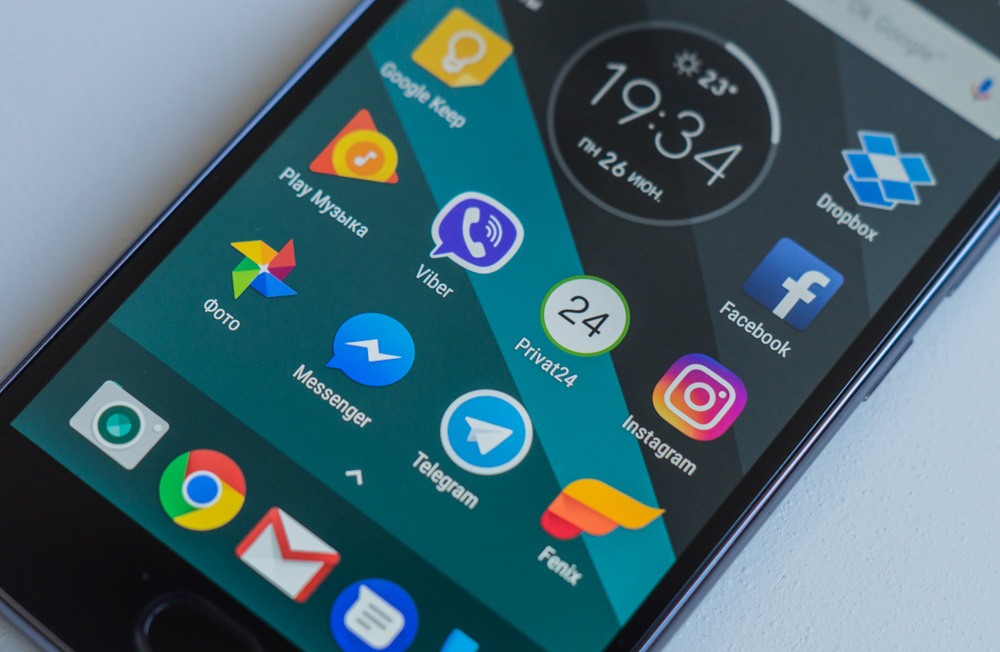 I noticed that the screen looks natural, even too natural, which is unusual in our times, when companies make their screens too saturated and contrasty to make the colors look juicier. One again, trends are completely ignored.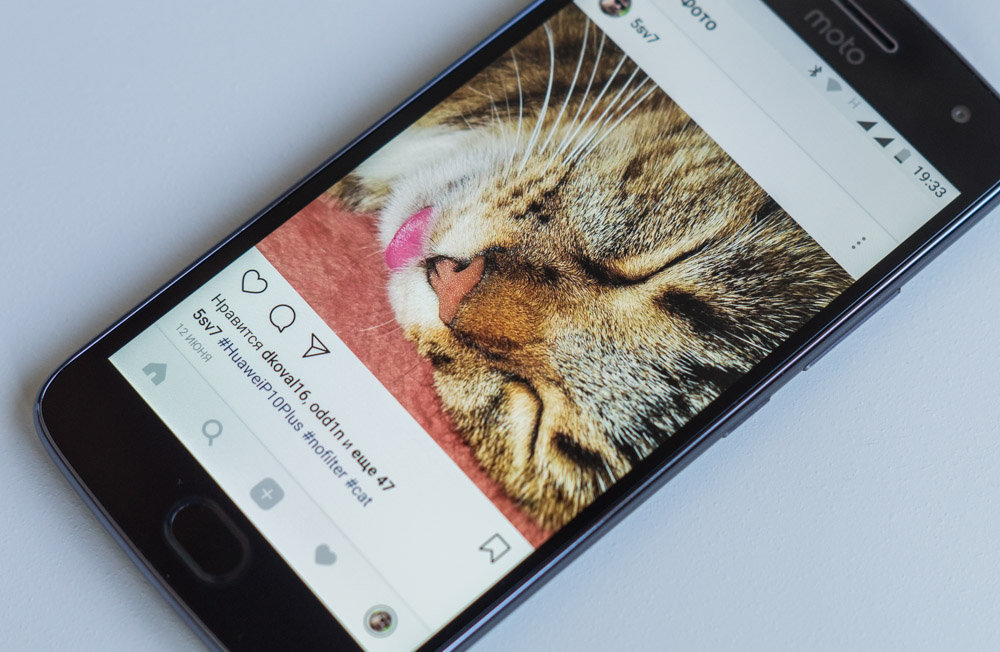 At the same time, the display is… decent. Good view angles, good brightness range for using both in the dark and on a sunny day. My time with the display has been good, I'm happy with it.
Automatic brightness works fine. There's an antipolarization layer, which makes it possible to read the display in sunglasses. Oleophobic coating works great. There's an interesting feature: even when turned off, the screen still allows to see the sensor touch panel grid. I haven't seen this feature in a long time.
Hardware and performance
Inside there's a 8-core 2 GHz Qualcomm MSM8953 Snapdragon 625 processor and Adreno 506 video accelerator. Once again, a typical middle-budget hardware. The platform itself is fine – it's plenty powerful and energy-efficient. But let's talk about the battery life later. Right now let's see how Moto G5 Plus performs.
On paper, it's nothing much. Synthetic tests show mediocre results. But in reality, the power is enough for the phone to feel fast during work. And in usual tasks it is as fast as flagships. There must be some kind of magic from Motorola's engineers and programmers, who optimized the system.
Batter life
Moto G5 Plus has a 3000 mAh battery. By today's standards, it's not much. But once again, in real life the phone shows great results. You can surf the Internet for 5 hours straight, or you can mix tasks and work for about 6-7 hours. With Wi-Fi the phone will last for 8 hours. Overall, the phone survives 1,5 to 2 days. Very good indeed, don't you think? It reminded me of the good old LG G2.
All these great results are thanks to Qualcomm Snapdragon 625 processor. And, once again, the programmers.
The phone has a quick charge feature, which is even more important these days than good battery life.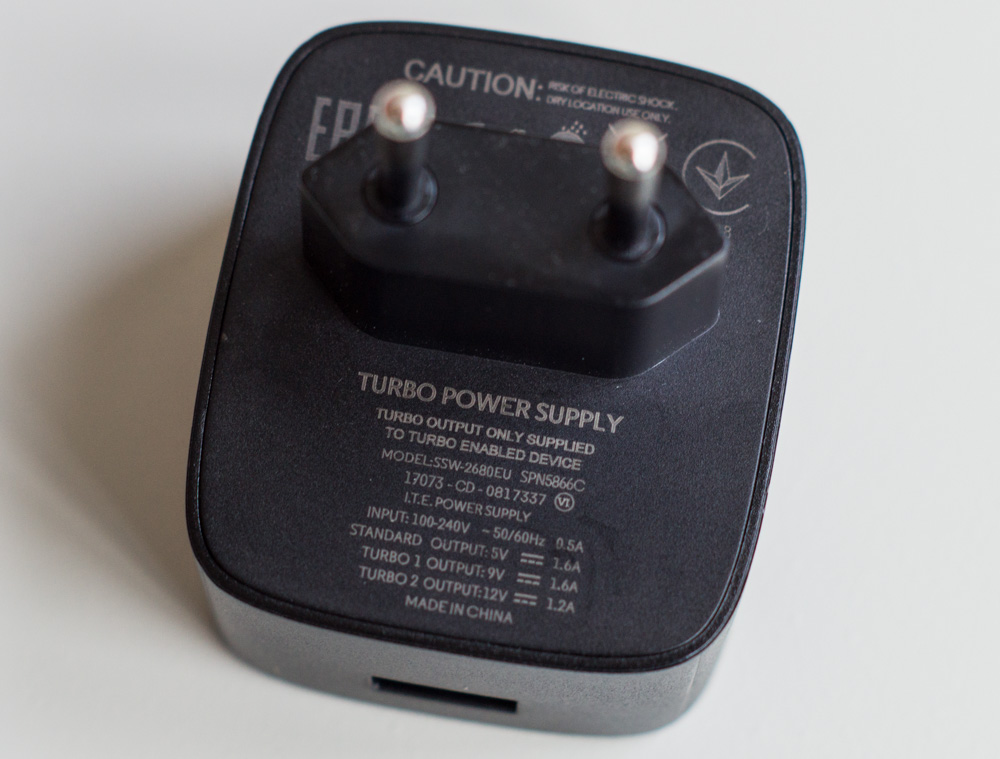 What is curios, is that the smartphone has a microUSB port – a big flaw. Type C would be much better in a modern device. I don't understand the creators. Why the outdated port? Probably too much sun on the beach – and thus another trend is ignored.
Cameras
Official presentation had a lot of time dedicated to the main camera, which was labeled as "the best of its class". Let's see, how great it actually is.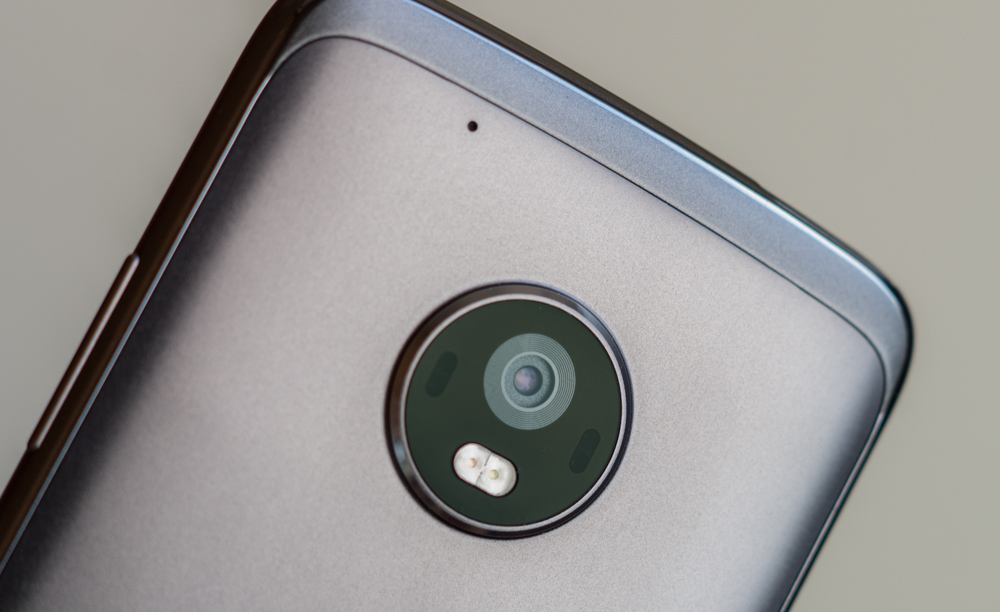 Let me get technical: the main module is 12 megapixel with f/1.7 diaphragm, Dual Pixel autofocus and phase autofocus. Good specs allow for optimistic expectations.
In reality, the camera is good. But let me repeat myself – it's not flagship level. Yeah, focusing is fast, which is a plus. The photos look great in good lighting, but they lack in detalization and there are problems with dynamic range, when both bright and dark objects get into the shot. The darker are your surroundings, the worse is the quality of the photos.
I was also saddened by the macro mode. Modern flagships can focus from the distance of 3-4 centimeters, but Moto G5 Plus has a minimum distance of 10 cm. There's no real macro here – you'll have to use the editor and crop the shot.
PHOTOS AND VIDEO IN FULL RESOLUTION
PHOTOS AND VIDEO IN FULL RESOLUTION
Is this the best camera in this price range? That's debatable, but it is one of the best. Huawei P8 Lite 2017, Huawei Nova and Huawei GR5 2017 (Honor 6X) – these are its main competitors from what I've personally tested this year. Overall, I was fine with the camera – for a middle-budget phone.
And a little bit about the video. The smartphone shoots video in 1080p in 30 and 60 FPS and 4K in 30 FPS. The quality is admirable – a big plus for Moto G5 Plus, if you pardon the pun.
The frontal camera (5 megapixels, f/2.2) has wide angle optics. All I can say is that it simply works. Nothing special about it.
The camera app is simple and easy to understand. Auto HDR is on by default, and there's the ability to jump between the modes with a button and a tap on any place on the screen. The volume button serves as a shutter releaser. The focus zone and the exposition can be adjusted. In the settings here's a slow-motion mode, a panorama mode and a professional mode (with tons of manual customization).
Sound
In terms of sound the smartphone is okay. It's above average, but that's not a flagship, and it shows. The main speaker is merged with the earpiece, and thanks to that the speaker is always pointed in the direction of the user when you play or watch a video. It works fine; it's loud and the frequency range is wide enough. It's a pity that there's only one speaker. The body this big could host a couple of them.
In headphones, the sound is okay. It's better with quality headphones. Once again, nothing there reminds me of high-end devices. There are different sound effects and an equalizer, but different settings don't improve the sound. I tried and failed – it only makes matters worse.
Communications
Cellular network (GSM / HSPA / LTE or CDMA/ EVDO (USA)
I haven't noticed any problems with cellular network. I use two SIMs, both in 3G. I could hear the other person's voice clear enough. During data transmission, Moto G5 Plus loses the 3G network more frequently than Huawei P10 Plus. It often jumped to EDGE while I was driving in the countryside where the network signal is weaker. I wouldn't even notice the fact if both phones weren't working simultaneously. Also, the mobile Internet lags when leaving subway. I had to turn it off and on again.
Wi-Fi 802.11 a/b/g/n
The phone supports 2,4 GHz and 5 GHz Wi-Fi. It works okay – near the router. In distance Moto G5 Plus loses the signal faster than Huawei.
GPS, A-GPS, GLONASS
Geolocation works fast – it finds satellites in about 20 seconds. The precision is about 60-80 meters. Wait for 40 seconds, and the precision will rise up to usual 8-0 meters. Weak results. It's not very noticeable during use, though.
Moto G5 Plus also has these modules. They work without any problems:
Bluetooth 4.2, A2DP, LE, EDR
NFC
FM radio
Fingerprint scanner
The scanner works great. The sensor is fast, but not lightning fast like in Huawei smartphones. The omnidirectional scanner works almost flawlessly.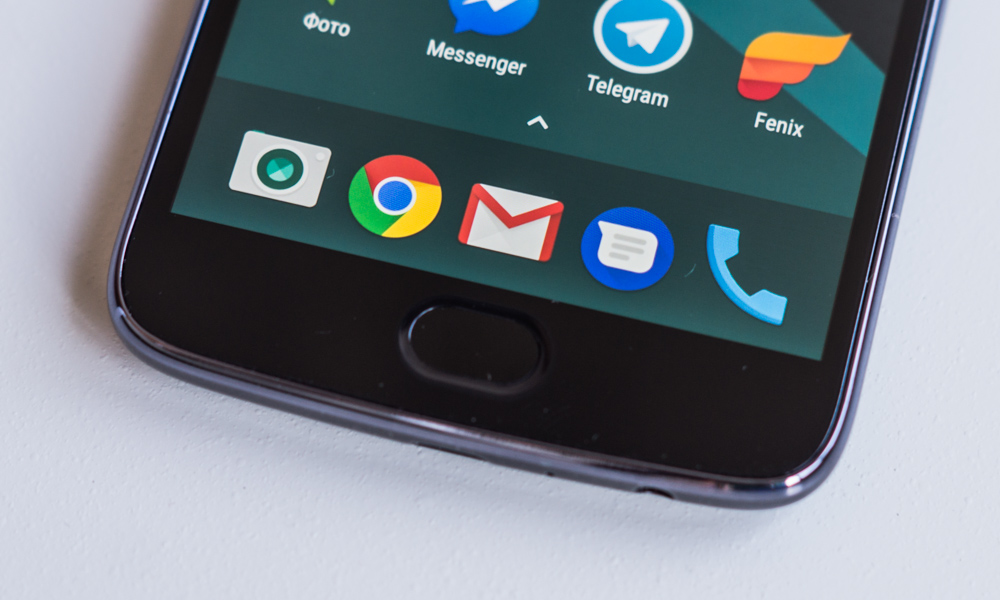 Along with the usual tasks like unlocking and replacing passwords the sensor can be used for gesture navigation. It can be turned on in the Moto app. The soft buttons disappear, freeing the screen space.
It works fine, but takes time to get used to. I don't like it that gestures can't be set up as I want – the pre-installed ones aren't convenient for me. Huawei P10/P10 Plus allows to use quick tap as "back", which is logical, as we use the back button more often than the others. In Moto G5 Plus short tap means "go Home" and long tap means "lock the phone" – a completely useless gesture, considering there's a hard button for that already. The "back" option and multitasking are activated by side swipes, which is plain silly.
Overall, the feature works, but it's not polished. Maybe someone will find it useful; I use it frequently and advice you to do the same.
Firmware and software
Moto G5 Plus uses seemingly pure Android 7.0 – a usual thing for Motorola. The system is still reworked inside and optimized for additional smoothness. The shell works fast and without any lags.
All features are concentrated in the Moto app. I've already talked about navigation with the fingerprint scanner, but there's also other kinds of gestures. Like, you can turn on the flashlight by shaking the phone twice – very convenient. With circular movement of the wrist in different directions you can activate the camera.
There's another feature, when the screen automatically turns on when you take it in your hands – you can check the time, the battery charge or notifications. I don't see the point – I'll unlock the phone anyway, but someone might like it.
Google services are deeply integrated into the phone – the left screen of the desktop has Google Now cards, and the system often notifies me about weather, traffic jams and public transport routes. OK Google always works when the screen is on.
Verdict
Overall, I liked Moto G5 Plus. Even after active use of 2017 flagship from a known company I still enjoyed it and found no serious signs of downgrade. This doesn't mean that Moto G5 Plus can replace any flagship smartphone – the specs here are obviously weaker. But it's close enough.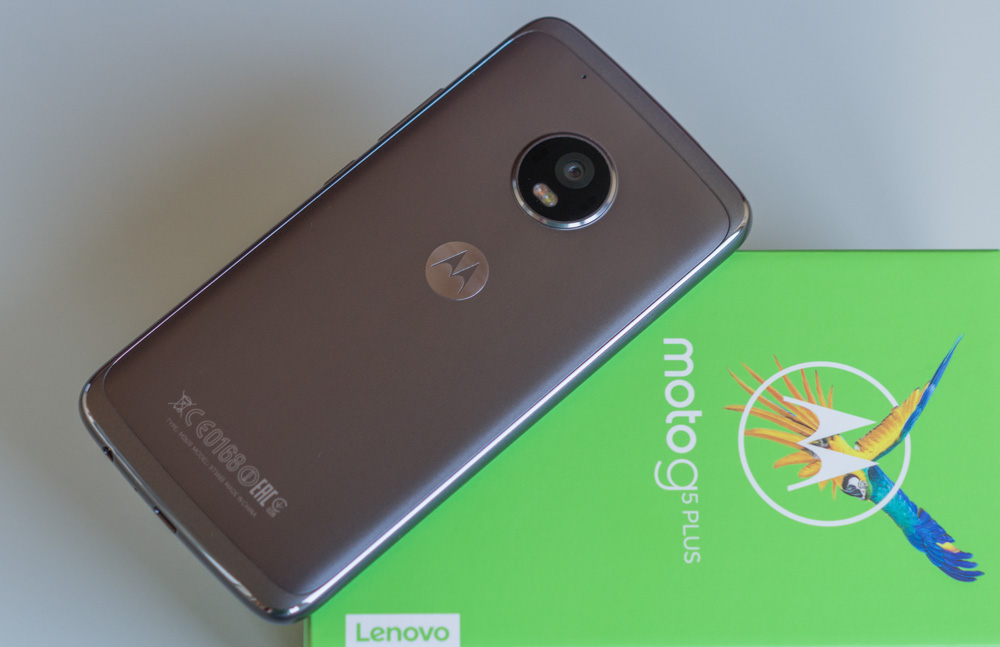 As a user, I was satisfied. The phone is fast and smooth, without any bags, and boasts various features. Can I advise the phone to potential buyers? Surely. Were it a bit cheaper, and it'd be a hit. But right now it has too many rivals. Still, it has this Moto charm, an interesting unique design, a good camera and speakers, a decent display and a (almost) pure Android, which could be updated in future, with added new features from Motorola.