It seems to me that Tecno Mobile, famous for their cheap top-end smartphones, just can't be stopped. Take Tecno Camon 12 Air for example. The most obvious feature of the device is the front camera embedded in the screen. Previously features like that had been available exclusively in the flagship sector of $500 and more. But times have changed, fortunately.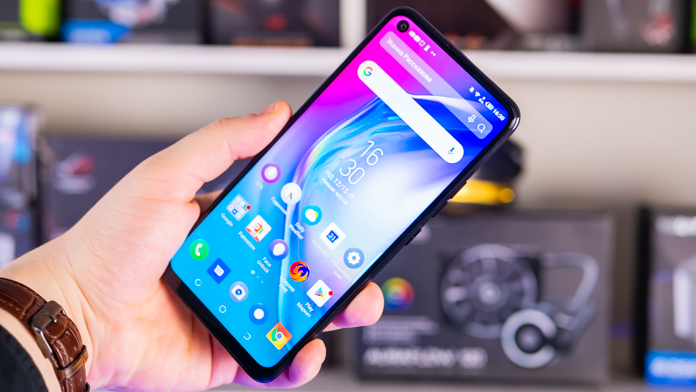 Market positioning
How much does Tecno Camon 12 Air cost? $200? $250? Nope, the price starts at $135, although you can find cheaper, up to $114. There's only one version, 3/32 GB.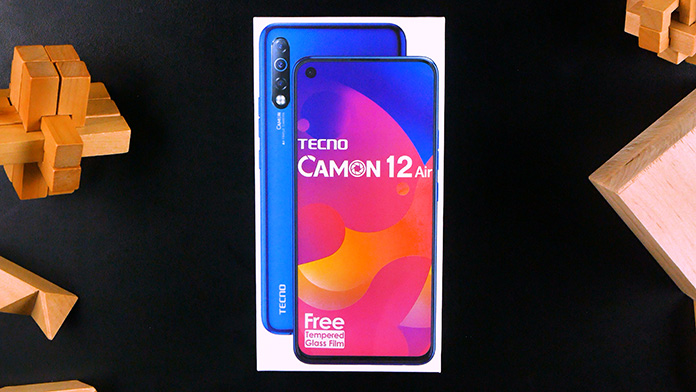 What's in the box
Although the price of this model is affordable, the box it comes in doesn't feel cheap. Inside you will find the smartphone itself, a silicone case with a cool texture in a certain area, as well as a protective glass on the screen, a charger, a microUSB power cable, wired in-ear headphones with a microphone, as well as an instruction and warranty for 12+1 months.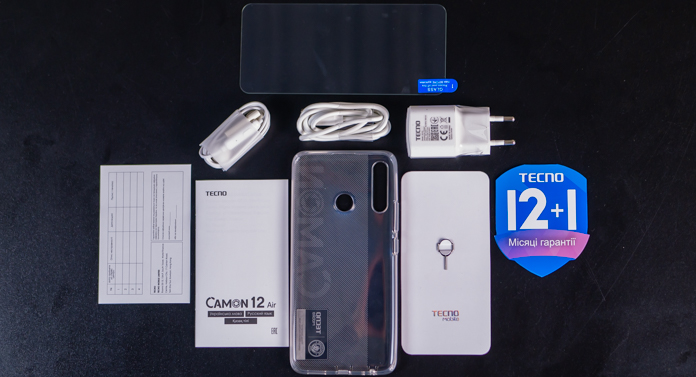 Even the location of the headset, cable and the charger is kinda cool. Everything is neatly placed in plastic baths – lovely! But I have a small issue. The fact is that even though the smartphone has one memory version, it can have two colors of the case, Alpenglow Gold and Bay Blue.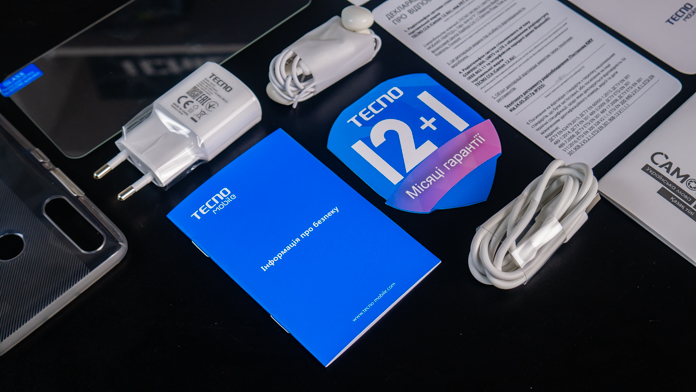 And on the box is always has Bay Blue color. As I said, this is nit-picking, but I have my right to address it!
Appearance
Fortunately, the nit-picking stop here: Tecno Camon 12 Air case is practically perfect. The smartphone is very convenient, weights 175 grams, and has dimensions of 164.2 x 76.1 x 8.15 mm. Materials are: glass and metal. Yes, the case is not plastic, as one might assume based on the price.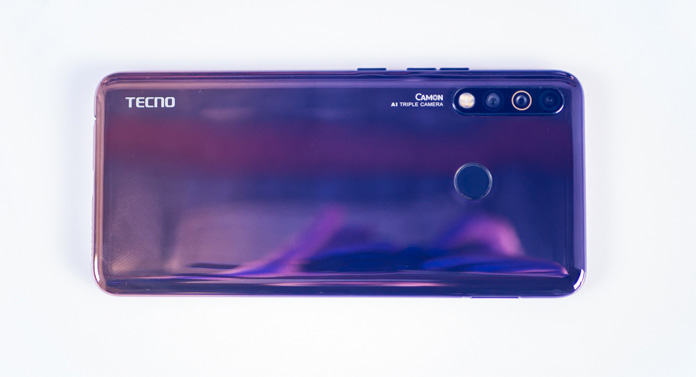 The front side: a display with a front camera embedded on the top left, and corners rounded inward.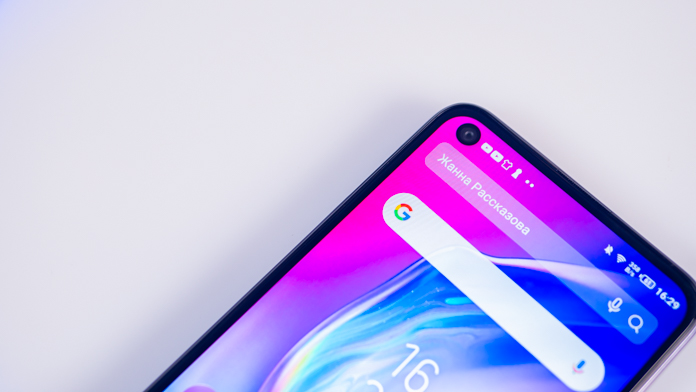 Below is a speaker, microphone, microUSB and a mini-jack, the top is empty.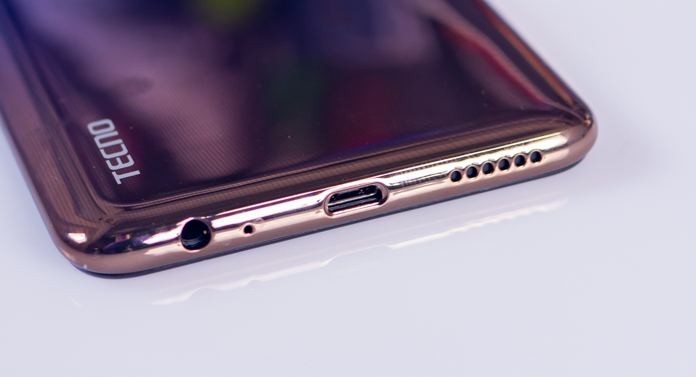 On the left is a SIM card slot, on the right are two volume buttons and one power button.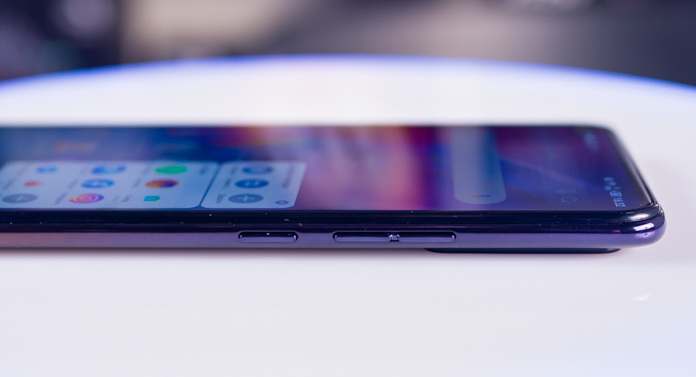 Behind in a small elevation is the main camera – a trinity of modules plus a flash. Just above the center is a fingerprint scanner, and the Tecno logo below.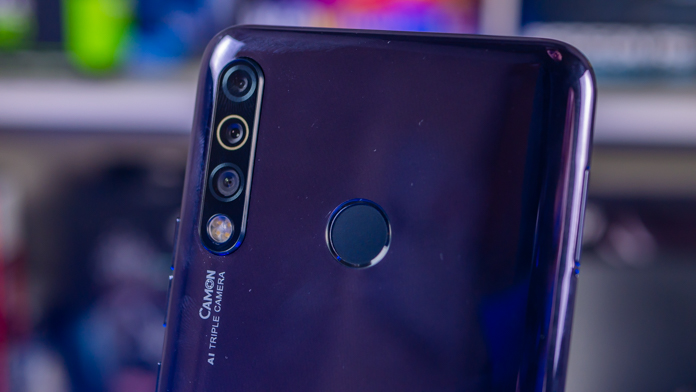 Both colors have an entertaining gradient. In the case of Alpenglow Gold it goes from pale lilac to golden. The gradient, interestingly, is asymmetric, and the transition is noticeable closer to the last third of the case from below. I also note an unusual pattern of lines diverging to the bottom.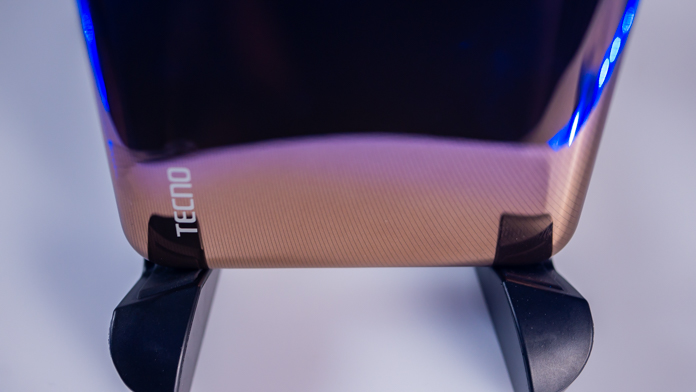 The smartphone case easily collects dust and scratches. Therefore, I advise you to immediately adapt the cover from the box for its intended purpose – especially if you are a fan of Manchester City football club, whose logo is embossed on the back cover.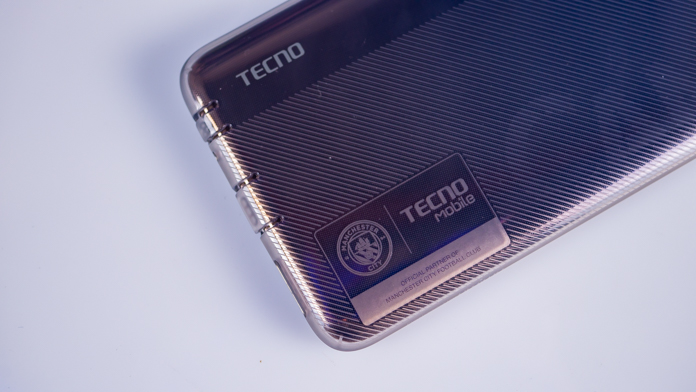 The case, since they were talking about it, is funny, but usual for Tecno. It has plugs for the bottom connectors, including a mini-jack and microUSB. They save from dust, but not from water, which is obvious.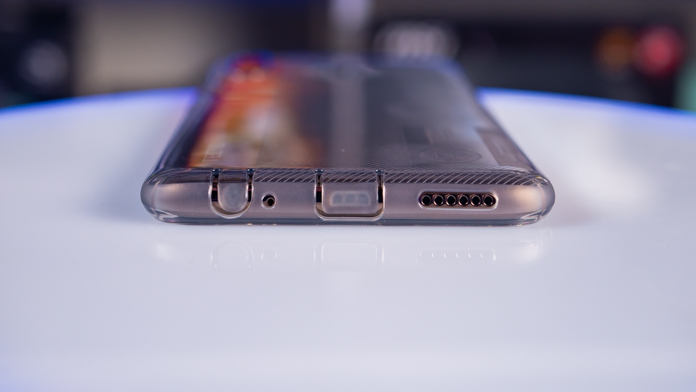 Display
Tecno Camon 12 Air feels great, not least because of the 6.44-inch screen. The resolution is HD+, 1600×768 pixels, the PPI is only 269. But this is IPS, and the matrix quality is quite good.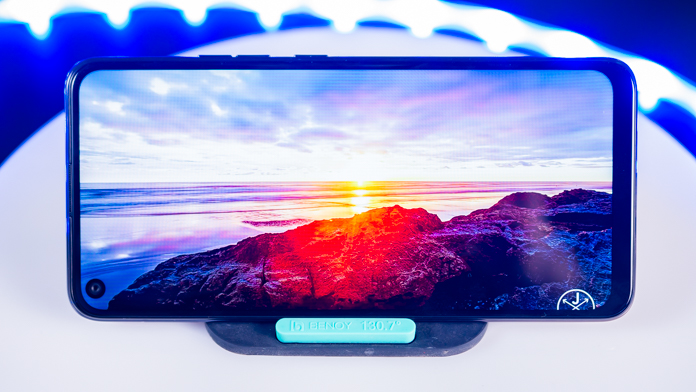 Viewing angles in general are normal, fading is minimal, and the brightness is adjustable in decent intervals. The lowest level is sufficient to read news in the dark, and the highest provides normal readability on a sunny street.
Performance
Inside the phone is SoC MediaTek Helio A22. Four 12-nanometer Cortex-A53 cores, 2 GHz frequencies, PowerVR GE8320 video accelerator. RAM, as mentioned earlier, is 3 GB, RAM is 32 GB.
Such a configuration is obviously not amazing, but in my opinion, the A22 is the right budget base. Yes, in terms of power, it is not a champion (although 80,000 points in AnTuTu is generally a good level), but there is support for Bluetooth 5.0. If there was support for USB Type-C, I would be completely happy.
It is clear that the smartphone is not for gaming, but I tested it nonetheless. Even Angry Birds 2 sometimes crashed, and Asphalt 9 paused in difficult places. Which is strange, since I remember that 80K in AnTuTu allowed me more in games. I will not say that you can't game on Tecno Camon 12 Air, but you should not buy it exclusively for games.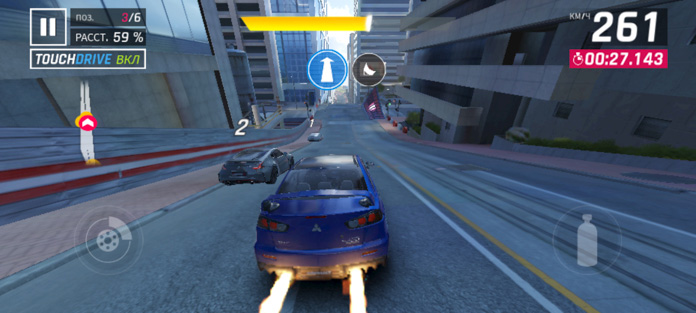 I also noticed an unpleasant glitch – when trying to install certain benchmarks, Google Play reported that the smartphone does not support them. But after a few minutes and a couple of attempts, everything worked out fine. Perhaps the point is to update the store itself, I'm not sure.
Cameras
We get a triple set of cameras. The main one is 16 megapixels with PDAF + 5 megapixels wide-angle + 2 megapixel depth module. There is a four-module flash too.
The standard module shoots pretty well, as for its price, in good light the noise is minimal and the detail of the picture is quite level. The color rendition is weak, faded, and the AI ​​image enhancement mode often misfires, thus spoiling image.
The wide-angle camera is characterized by the familiar problems of such modules. It is noisy, without autofocus and differs slightly in white balance from the main module.
Macro shooting is also available, and its quality directly depends on the amount of light during image creation.
There is no night mode, as well as pro-mode. Therefore, the ability to shoot in low light is practically absent.
But I enjoyed the bokeh mode. It blurs the background with no problems, and the picture looks natural, if you do not look closely. It would be possible to complain about how I cut the background next to my hand, but I'd say it was my fault, not the phone's.
Tecno Camon 12 Air supports shooting in HDR mode, but it's nearly imperceptible. In general, the mode works well, and really equalizes the dynamic range, although sometimes it will be necessary to pay a price in the form of a noticeable color gradient.
Smartphone video shooting is supported, 1080p 30 FPS. There is no optical stabilization, and I noticed no digital stabilization as well. The front of the smartphone is 8-megapixel, the quality is generally okay. There's a face beautified that I immediately used.
EXAMPLES OF PHOTOS AND VIDEOS IN FULL RESOLUTION
Data transfer
The smartphone, as mentioned above, supports Bluetooth 5.0 – the only outstanding detail about it. Single-band Wi-Fi, MicroUSB 2.0, 4G and a 3.5 mm jack are all here.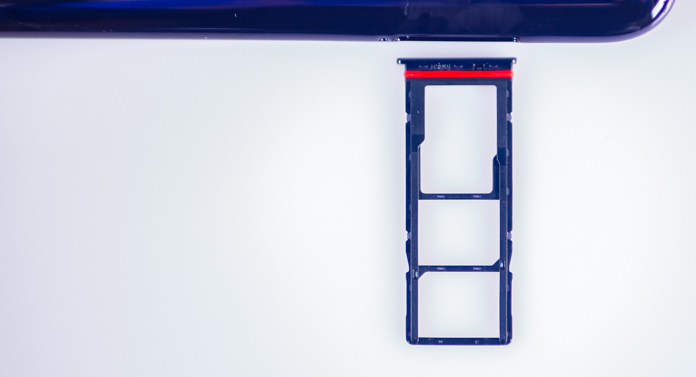 It's nice that the SIM card tray supports two nanoSIM and one microSD.
Shell
The smartphone runs on Android 9.0 with a proprietary HiOS shell. This is one of my favorite shells, both in terms on cheaper phones, and in terms of elegance and smoothness.
The animations are soft and enjoyable, there's lots of customization, there are features like face recognition (in addition to a fingerprint scanner), a smart panel with quick access to key applications, a game mode with automatic RAM management and a split-screen mode.
Gestures on the deactivated screen all work, double-tap to turn on and use gestures to control music. If you don't want to see the notch, you can mask this area in the settings.
Battery life
The endurance of the smartphone is good since the system-on-chip is relatively economical, and the screen is energy-efficient and, most importantly, inside there's a 4000 mAh battery. Nearly 8 hours in PC Mark Battery Test 2.0 mean full day of work with maximum screen brightness.
But charging is not very good. Firstly, from 5% to 96%, the smartphone charges in more than 4 hours. Despite the fact that the first 35% were scored in 45 minutes. Secondly, there is no fast charge of any kind.
Camon 12 AirTecno Camon 12 Air Verdict
It's a cheap device, but surely can surprise anyone. Four camera modules, one of which is a front camera embedded in the display. Nimble work and a nice looking shell. High capacity battery and outstanding endurance. Good hardware and the divided SIM tray. And all of that for a smartphone worth less than $150.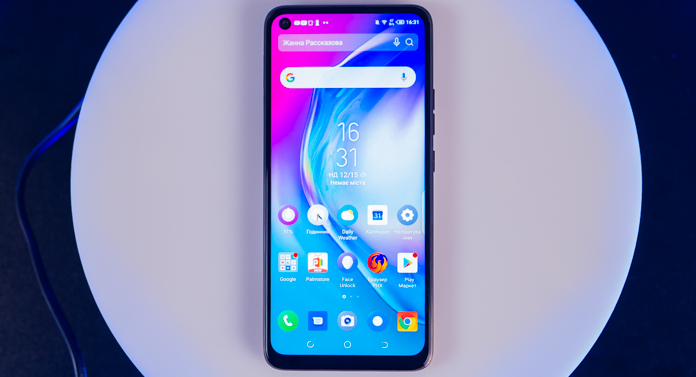 There are disadvantages as well. The biggest one is charging speed. Tecno Camon 12 Air is bad at gaming, and the cameras quality (at night, in particular) leave much to be desired. Overall, Camon 12 Air is a pretty workhorse. Just do not forget to charge it at night.
Subscribe to our accounts: